I hope you all had a great Easter weekend! We had lots of family time, sunshine a good food! We have a busy week ahead of us (and Kurtis' birthday on Thursday)!
This post contains affiliate links for your shopping convenience. Click here to read my full disclosure policy.
Home Projects & Updates
Our latest rental house is so near the finish line! Sod went in last week, and it's hard to believe just how much the yard had been transformed!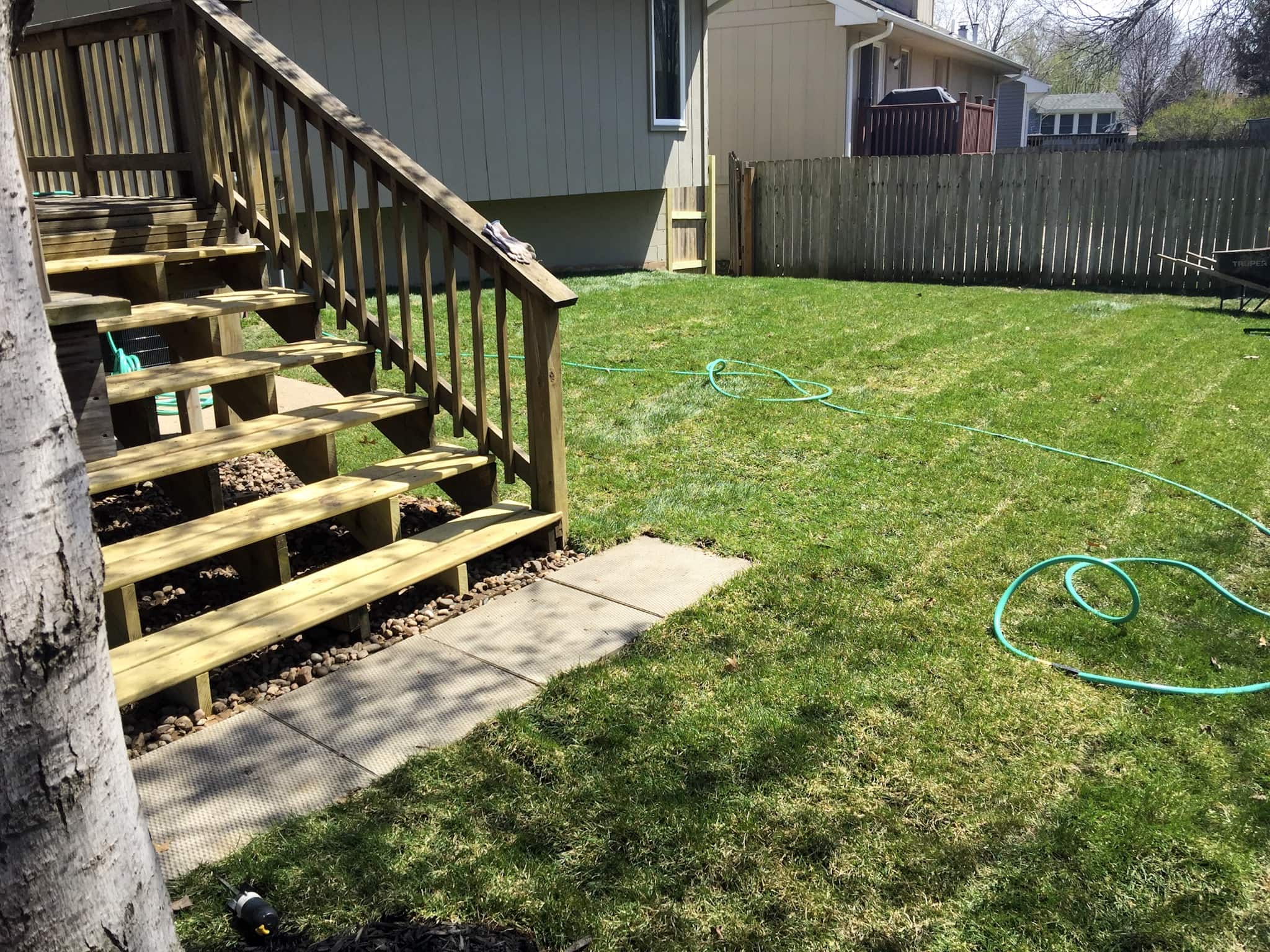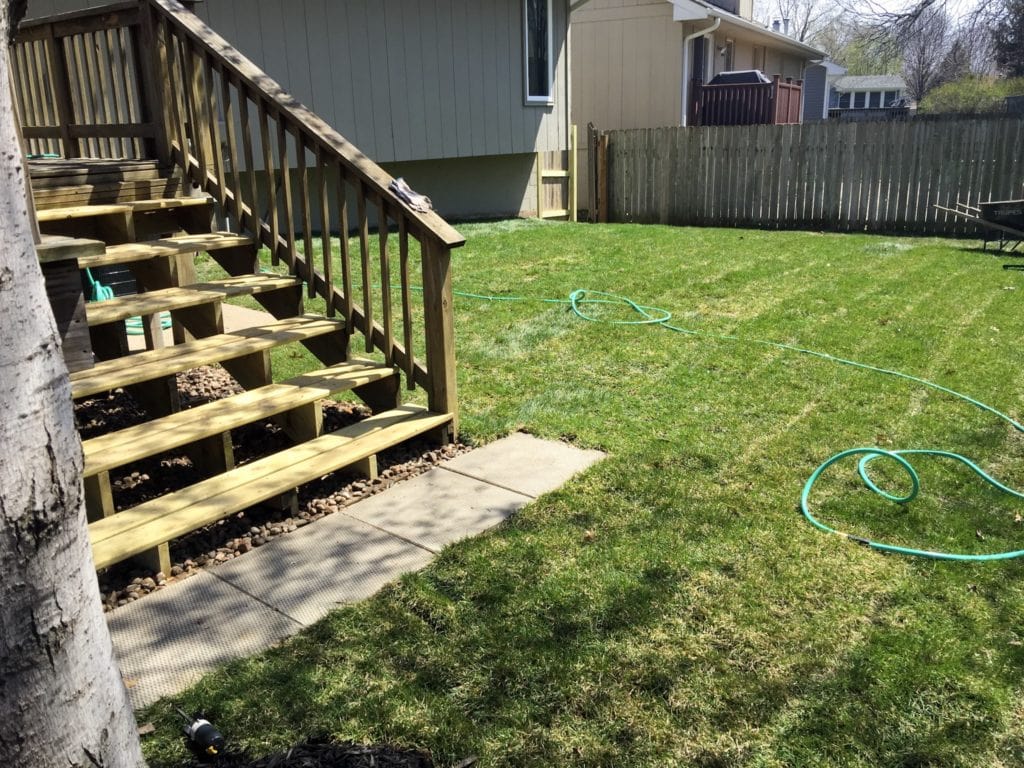 Here's a little peek at just how terrible it was before.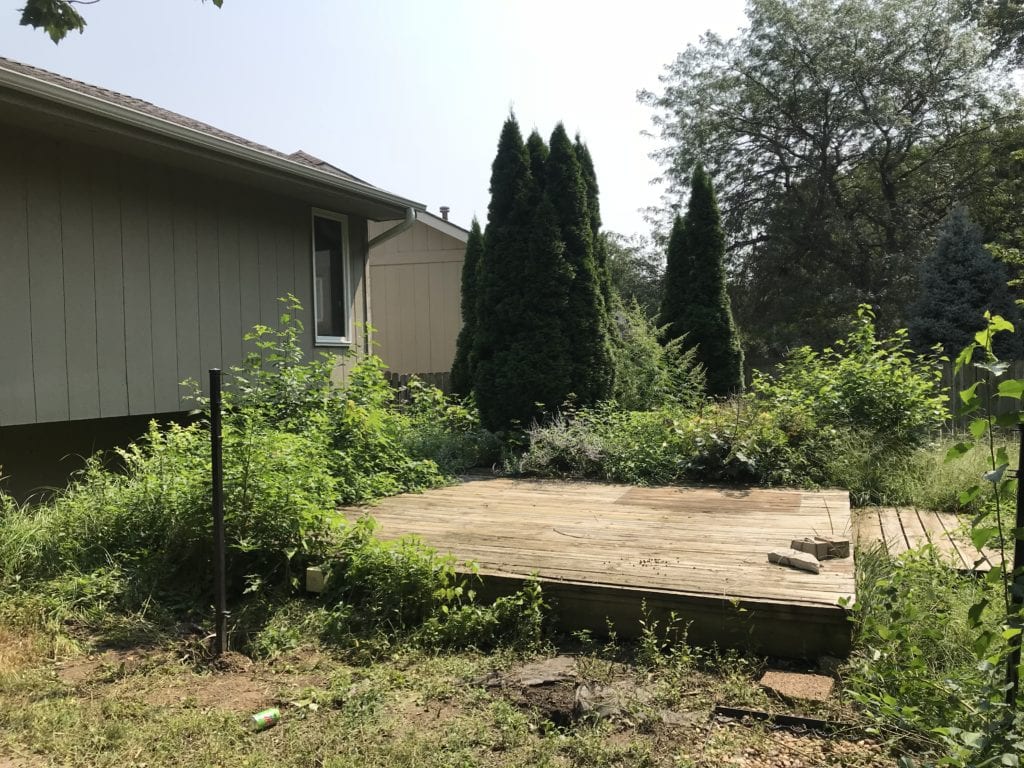 I can't wait until this one is behind us!
Thursday I ran a few errands and stopped at Lowe's to check their selection of plants. I hit the jackpot with my favorite yuccas, a palm tree, and a few pot fillers. Walmart had some yuccas as well, but they were a bit smaller and about $7 more expensive. You can read all about my summer planter ideas and how to plant flowers in a pot if you want more info on either topic. I love creating planters each year and can't wait to get started on mine this year!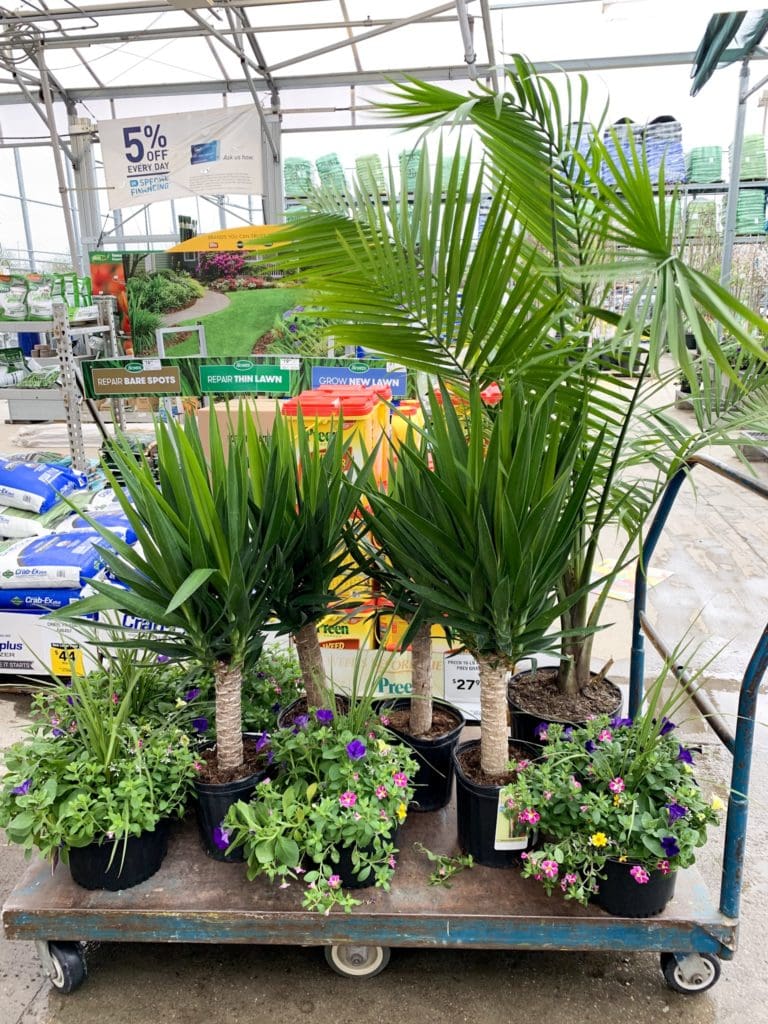 I actually went ahead and planted two of the yuccas in our courtyard and the palm tree on the porch. They're both protected enough areas that I felt like it was fairly safe, being this far into April. Fingers crossed! But I get so excited seeing snippets of green outside our windows now!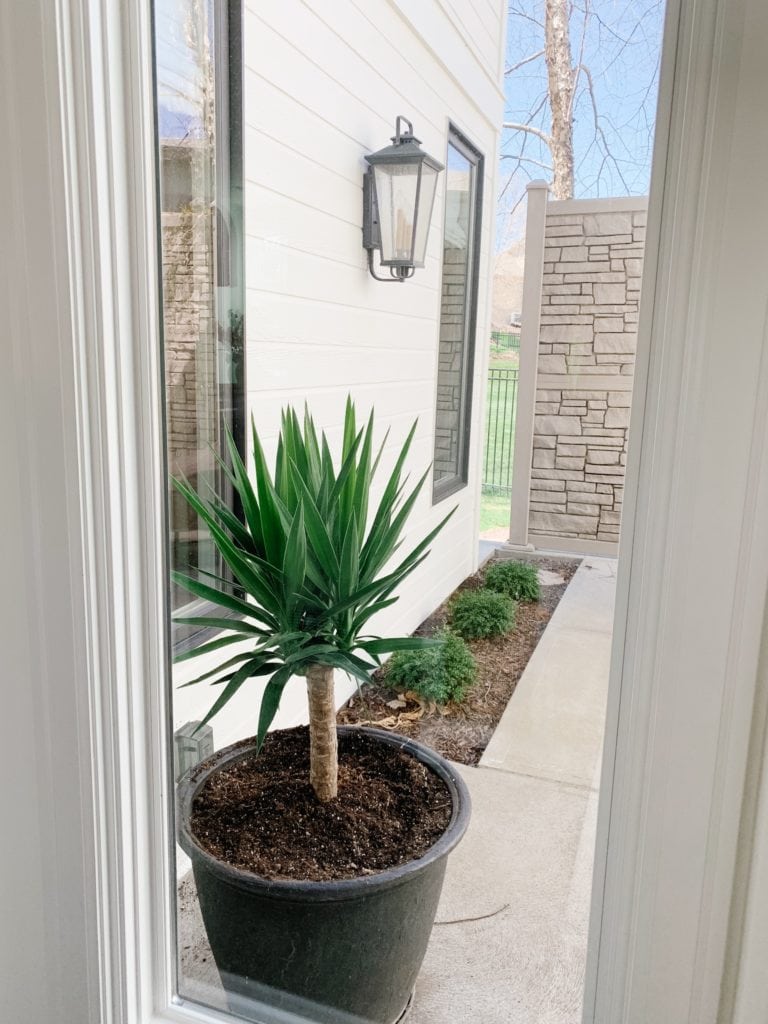 Did anyone else's garage have a box graveyard after the winter? I was actually really good about taking the smaller boxes out every week we had recycling. But the bigger boxes kept stacking. It was always too cold to go out and deal with them!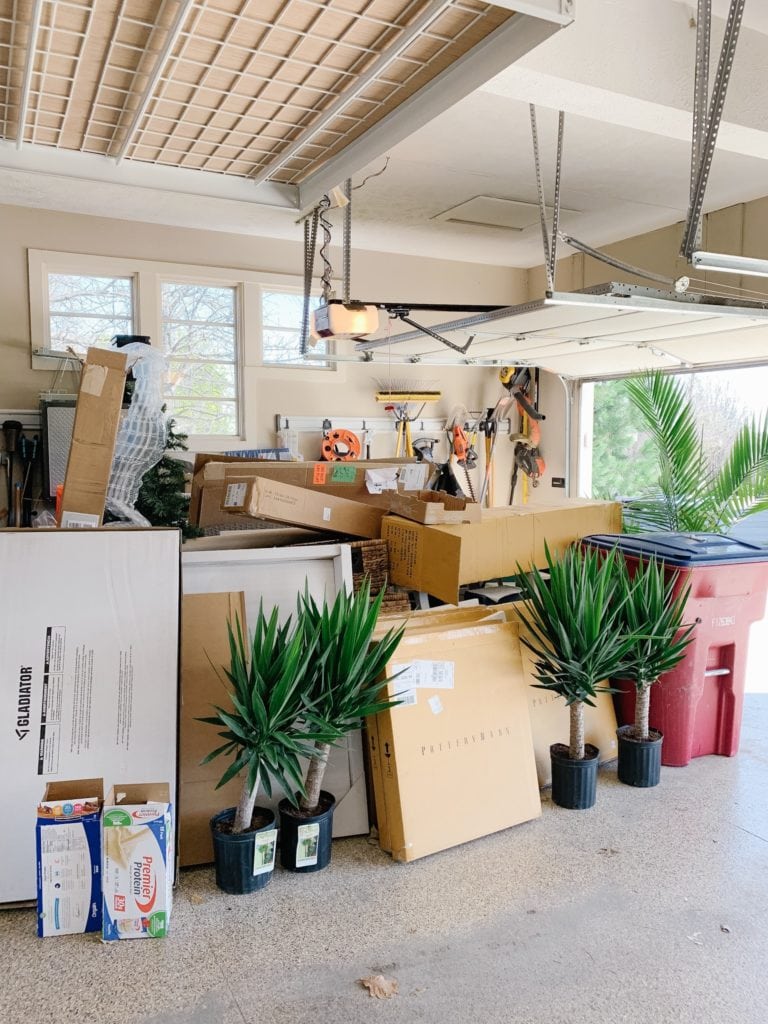 The weather was so beautiful on Friday I finally decided to head out and deal with it. Two hours later, I had all the boxes cut down and ready to take out. It feels good to have most of that area cleaned up and box free! Now we just have to get all our pool furniture back outside! Speaking of pool – we're actually hoping it will get opened this week!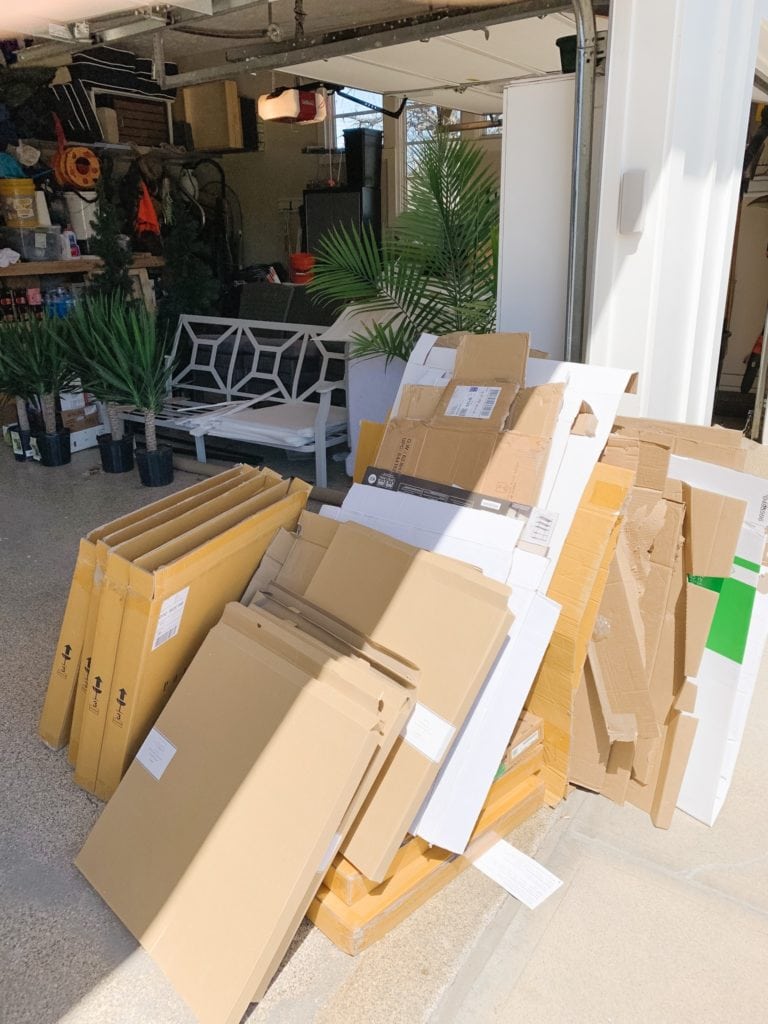 Friday night after heading to dinner, we got home and headed up to the den. Kurtis ended up falling asleep while I assembled the new TV stand. I wouldn't have even mentioned his nap until I realized his feet were poking out in this picture. Side note: it may be time for Kurtis to splurge on some new socks 😉 It took quite a bit to assemble (it reminded me a little of IKEA furniture) but it looks really good now that it's all done!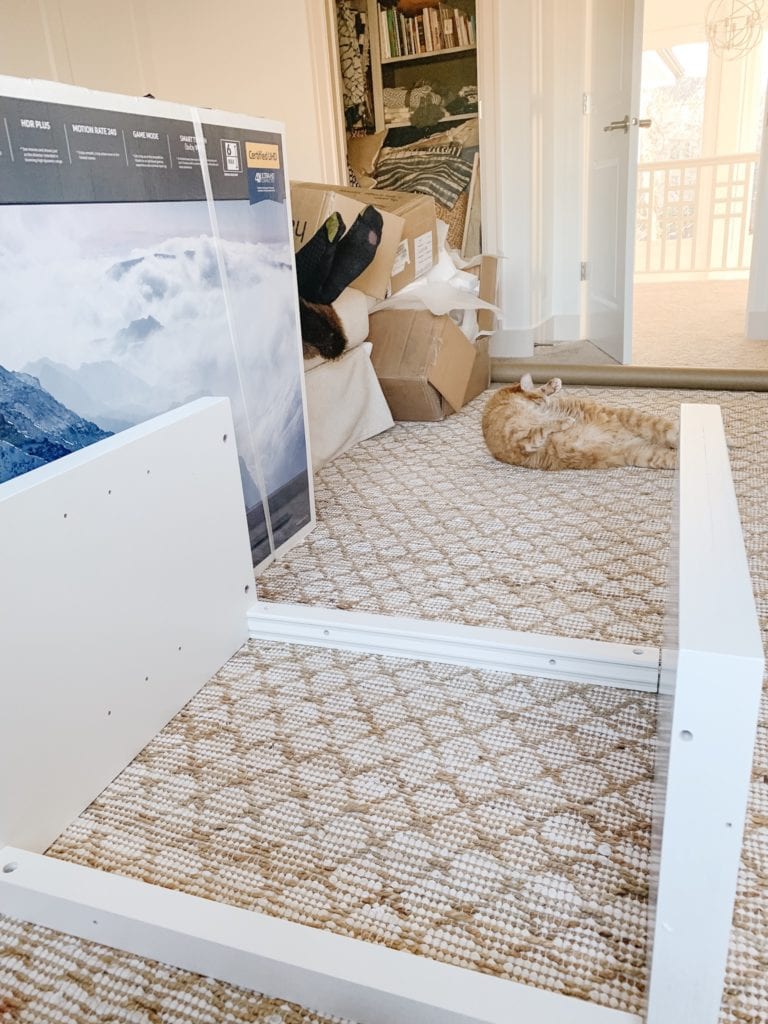 You can see I already have the rug down, and the coffee table is supposed to get delivered today. It's starting to look like a finished space! Can't wait to share more with you next week!
It's a busy week for our yard this week. In addition to the pool opening, we're also having fresh mulch delivered, the windows cleaned and the sprinkler system opened. It's all weather permitting, but I'm hopefully by this time next week we'll be mostly prepared for summer!
Around Town & For Fun
Most of Kurtis' family came in town for Easter so we spent a lot of time with them. You may recall Kurtis' dad helped us quite a bit in the early stages of our rental house (before we realized just how big the project was going to be). Saturday afternoon, we gave them a tour of all the updates. We then hosted the family for a pre-Easter dinner. We were all talking so much and having so much fun, I didn't realized until everyone other than his sister and brother-in-law left that we didn't get any pictures! So, I snapped this quick picture while we were cleaning the kitchen in memory 😉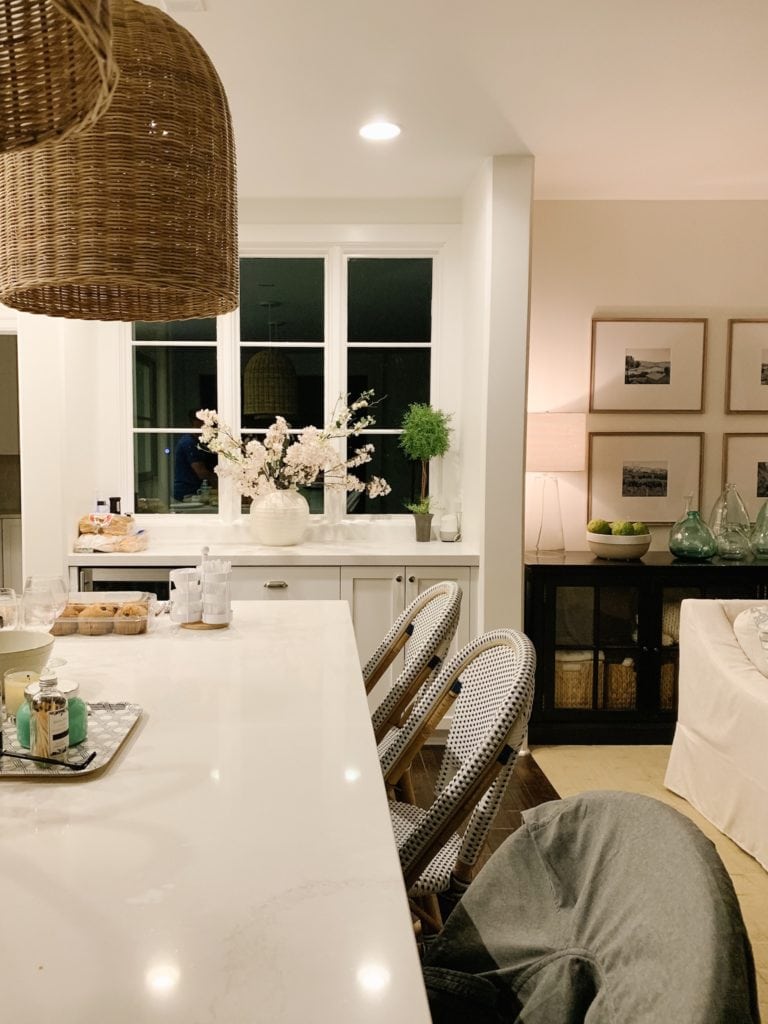 Sunday after church, we headed to Kurtis' sister's house for Easter lunch. They planted a magnolia shrub last year and it's just starting to bloom. It's so beautiful!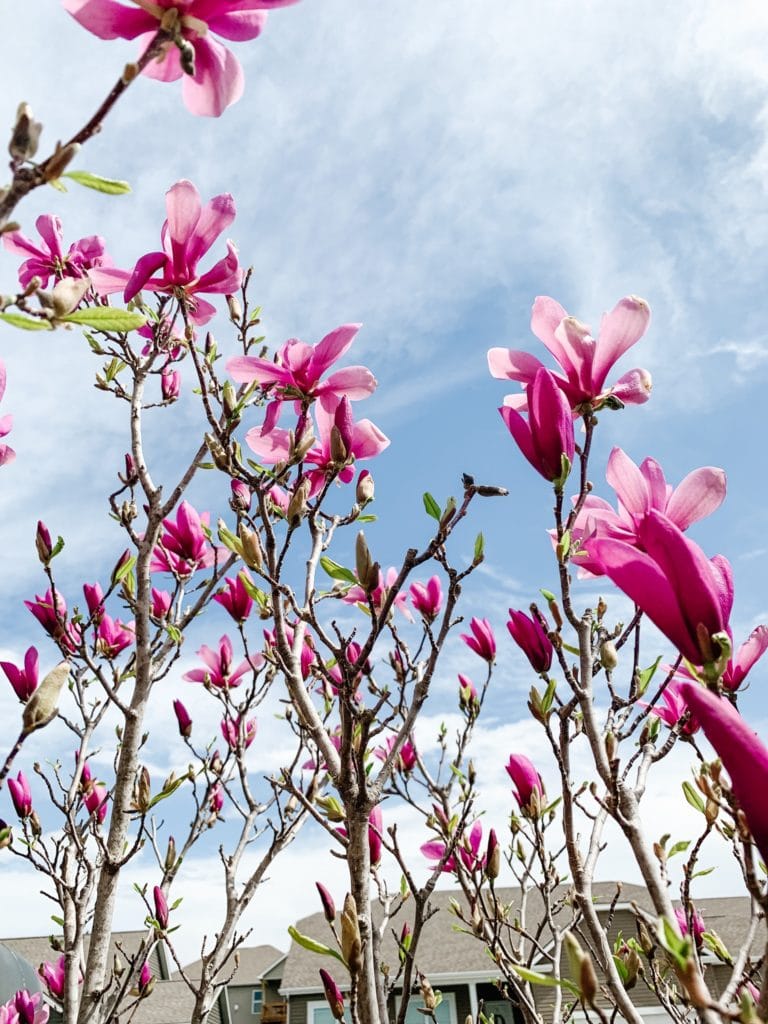 After eating entirely too much food, we all sang happy birthday to the birthday boy. His sister always makes the best cream puffs for Easter dessert!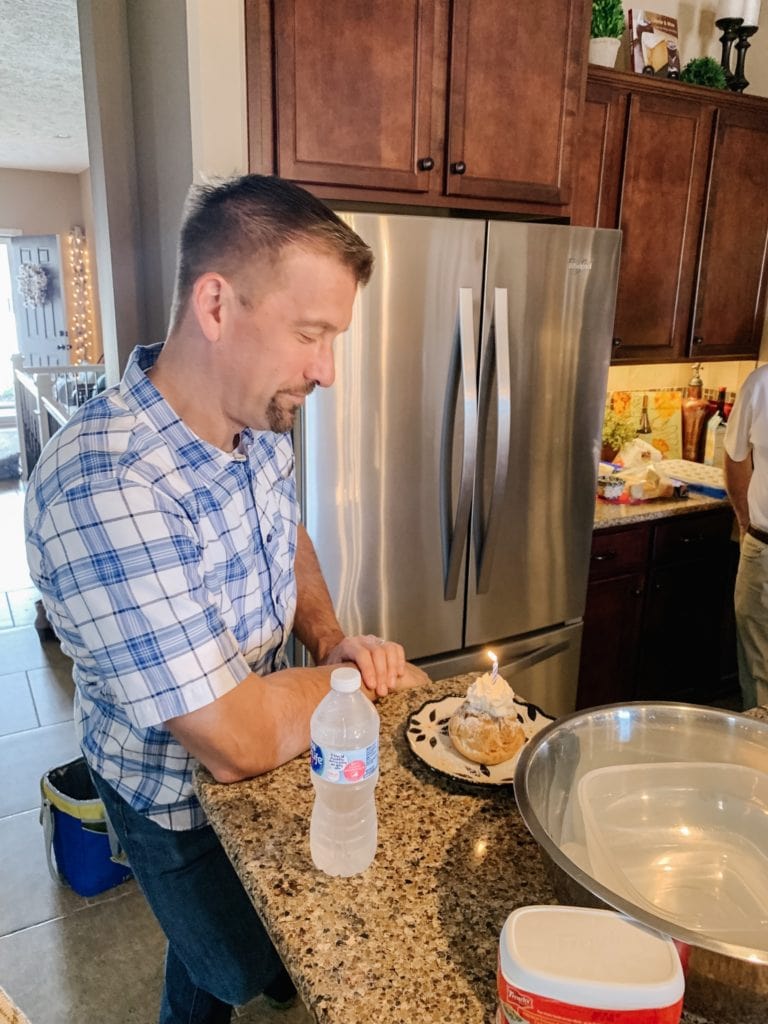 After a few hours with the family, we headed home and swung by Nick and Jill's quickly to wish them a happy Easter. Zoe was rocking her bathing suit we gave her and having a blast with her new water table! We couldn't have asked for better weather this weekend and I think everyone in Omaha was loving time outside in the fresh air!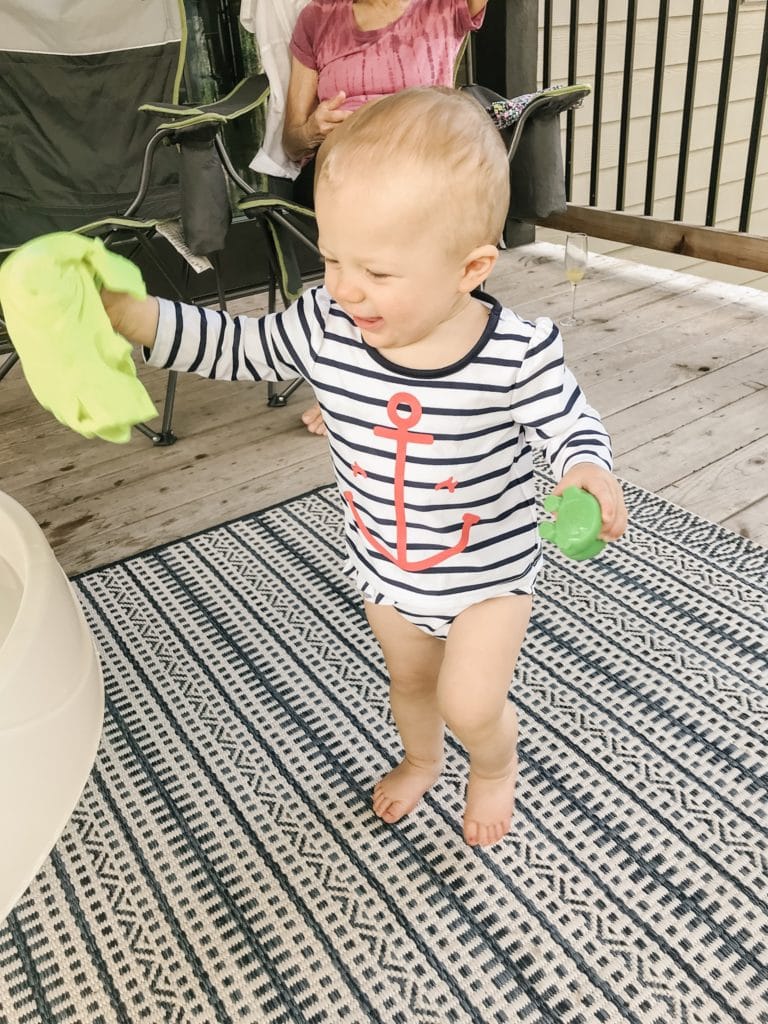 She also got to try the deviled eggs Kurtis' sister sent home with us and she was just as obsessed as we are! Her grandma kept sneaking her bites and she loved it.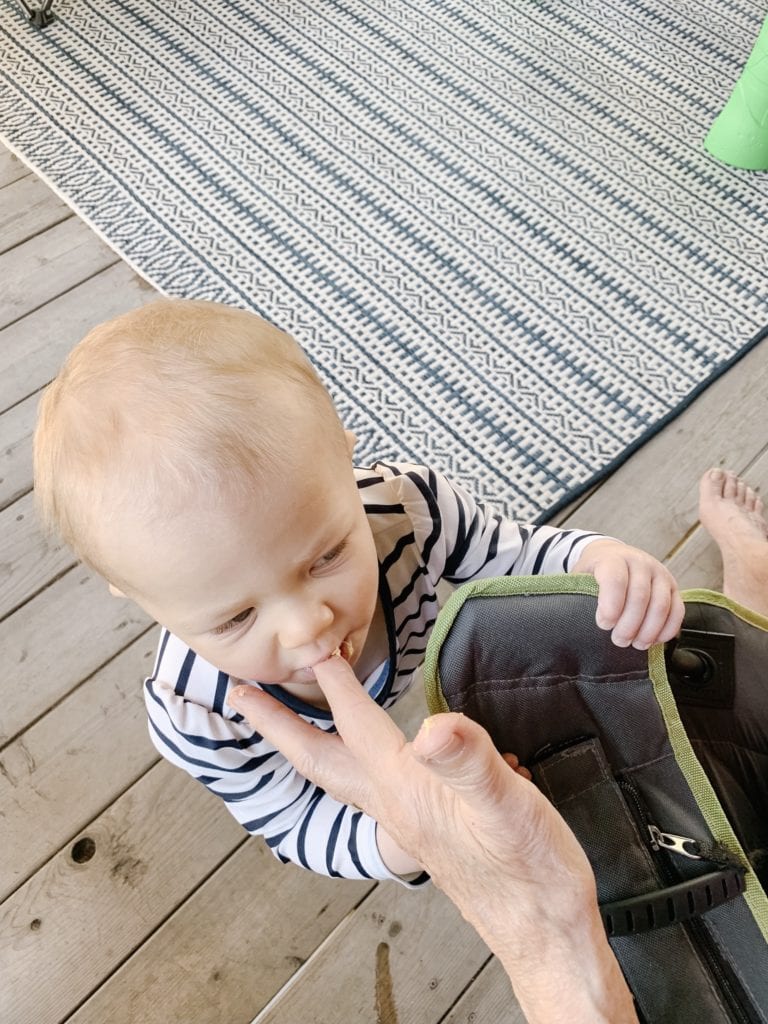 I'm headed off to Nashville later this week for a blogger retreat with some of my original blogging friend posse. It should be a fun and productive weekend!
Recent Buys & Sales
The dress I wore yesterday for Easter is now fully restocked again in this striped version. It's such a cute dress for spring and summer!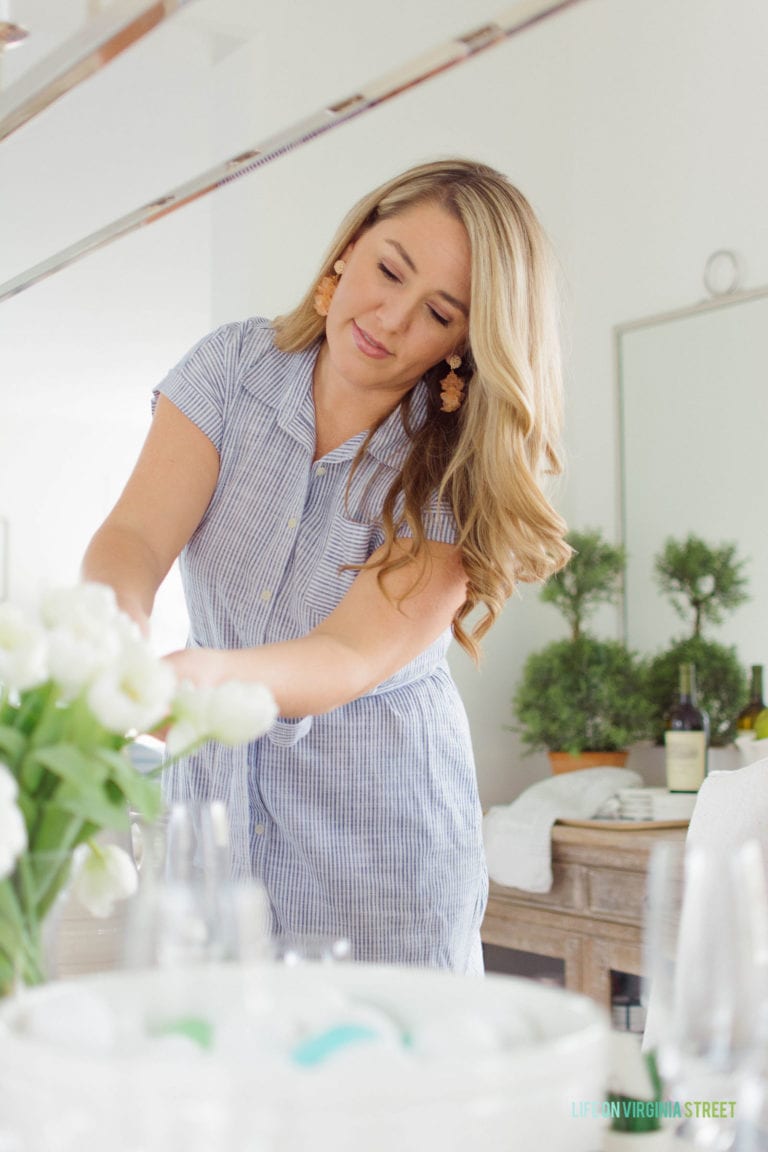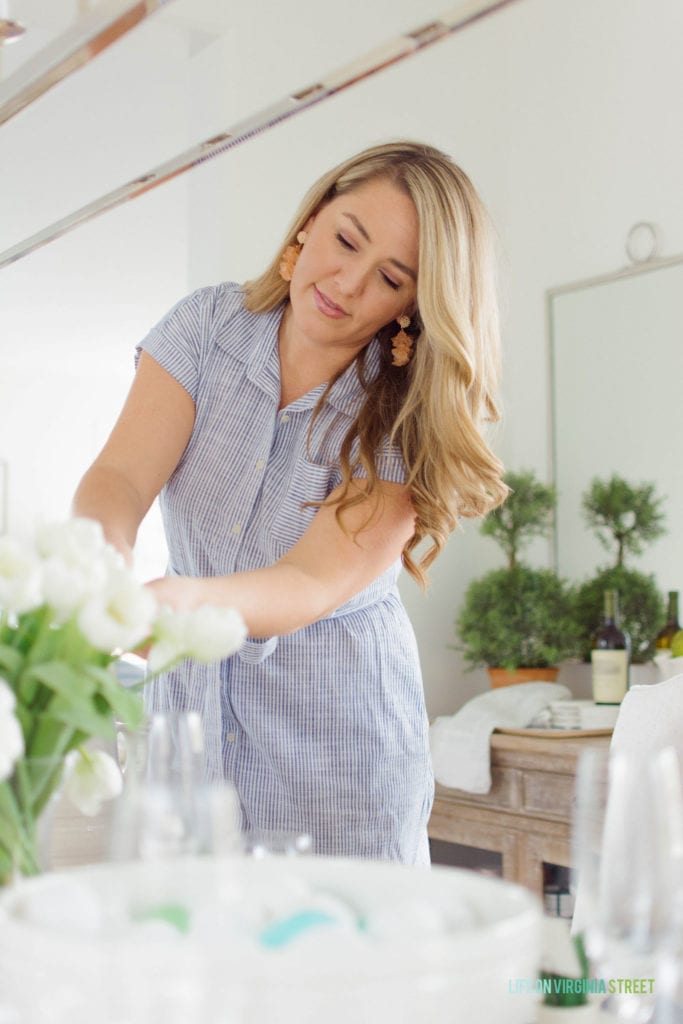 Following are some of the sales that have carried over from the weekend (a few have actually gotten better)!
I hope you all have a great week!
If you would like to follow along on more of my home decor, DIY, lifestyle, travel and other posts, I'd love to have you follow me on any of the following:
Pinterest | Instagram | Facebook | Twitter 
disclosure: some affiliate links used