Happy Presidents' Day! Hopefully it's still technically the weekend for many of you! Kurtis and I are both still working but we're both trying to get things in order before we leave town late next week. Today's post is a bit lengthy because we had a pretty product weekend but I'll try to keep it concise! I've also included all the Presidents' Day sales at the end of the post – several of which have gotten even better today!
This post contains affiliate links for your shopping convenience. Click here to read my full disclosure policy.
Home Projects & Updates
I had to meet our contractor at our latest rental house on Thursday. The progress was pretty impressive, so Kurtis and I swung over Saturday morning to check out it. I won't share too much now as it may make more sense to wait until it's all done. But were' hoping it's wrapped up in about four weeks! As a reminder, here was the living room before.
And here is now after a lot of work and some fresh paint! The whole home honestly feels like a new build at this point even though it was built in the early 80's. Although let's be honest – with what we've had to do, it basically is a new build 😉 And this paint color is Sherwin Williams Agreeable Gray for those of you that were asking on my IG stories. It's the color we almost always use in our rentals because it really is the perfect greige. It looks gray sometimes, and beige others, so it works with virtually any decorating style. Highly recommended!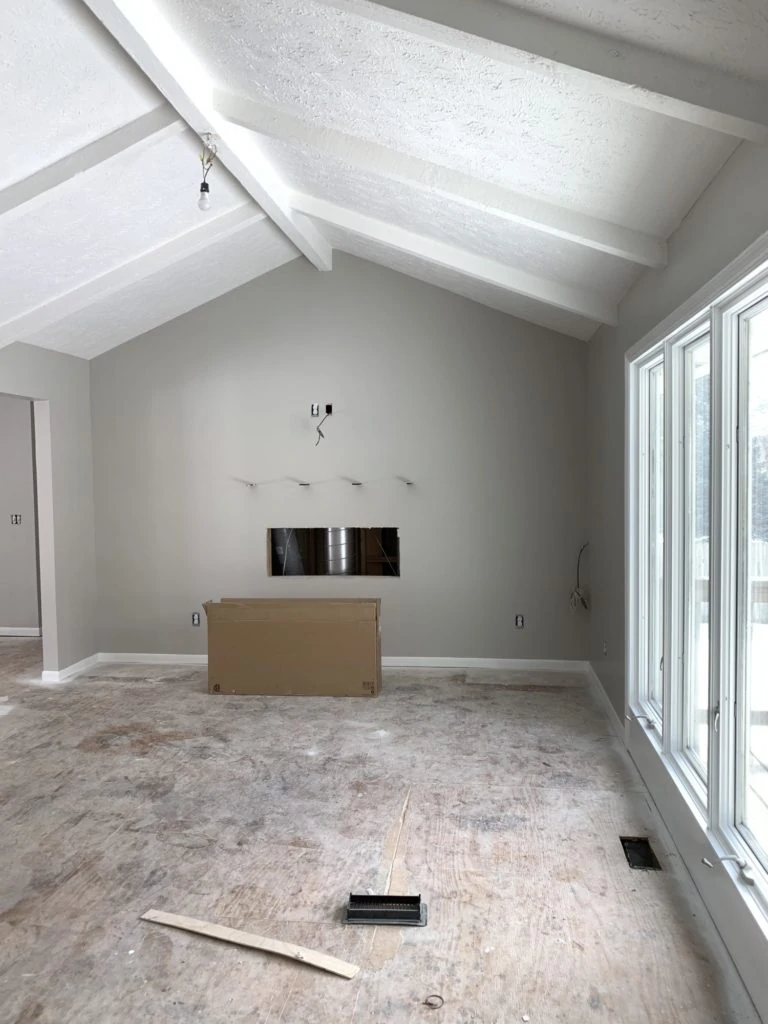 I finally got our new console table styled late last week. And I found the table 25% off here right now with code SAVE25! I got the mirror at HomeGoods last week. I've tried to stay away because I find I end up buying stuff from there just because it's a good price – not because I need it. I don't think I had stopped in for at least four months, but I specifically went in for a mirror and found it helped keep me from getting distracted by other things! The lamp is a gorgeous (and affordable!) find and I think it looks so much more expensive than it is! I featured this maidenhair fern in a wood pot a few weeks back in my Wednesday Watch List as well. And the glass vase and wood bead with concrete heart strand were basically the extent of my Valentine's Day decor! Although it's been freezing here, when the sun comes off and reflects off the snow, it's creating such pretty light in our home!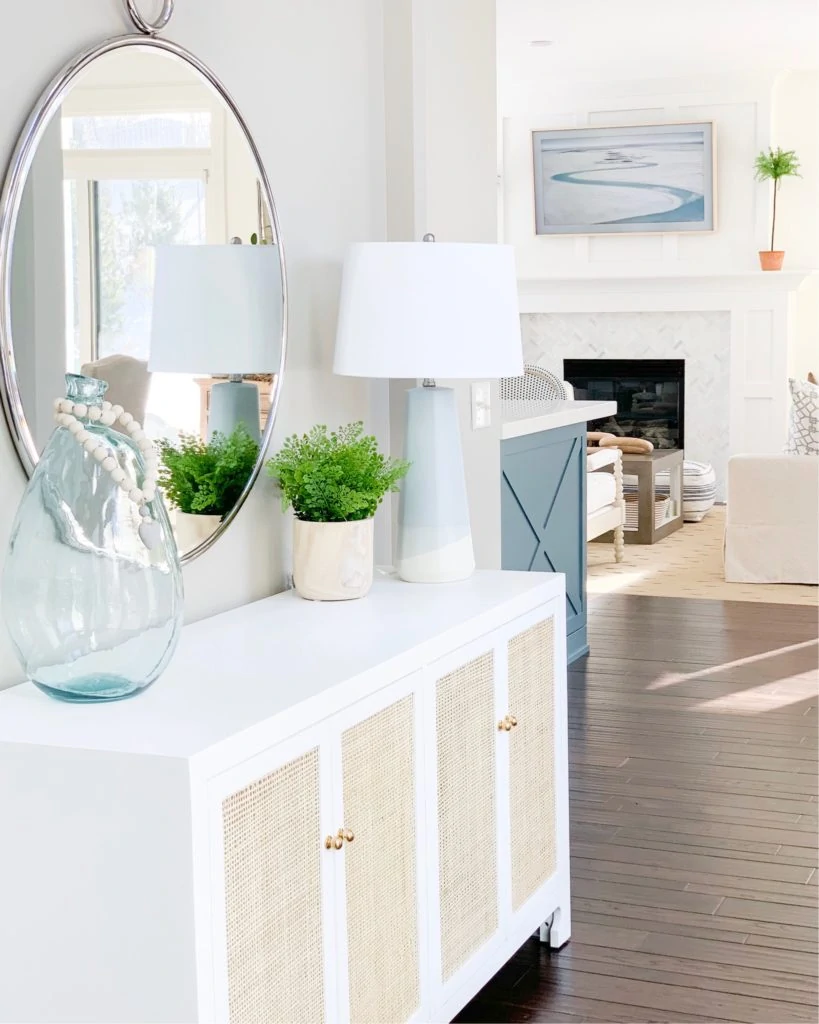 A few of you had questions about some other master bedroom sources from my master bedroom progress post yesterday. I found the new nightstands also 25% off with code SAVE25. The lamps are ones I've had for ages from HomeGoods. I also had questions on the bench and the rug (which is one Jill and Nick gave us after they moved because they didn't have a spot for it). The rug may or may not stay once I finish decorating everything but it's perfect now as a placeholder to visualize what I'm looking for! Our bed is about eight years old (it's a Bernhardt), but this bed is almost identical.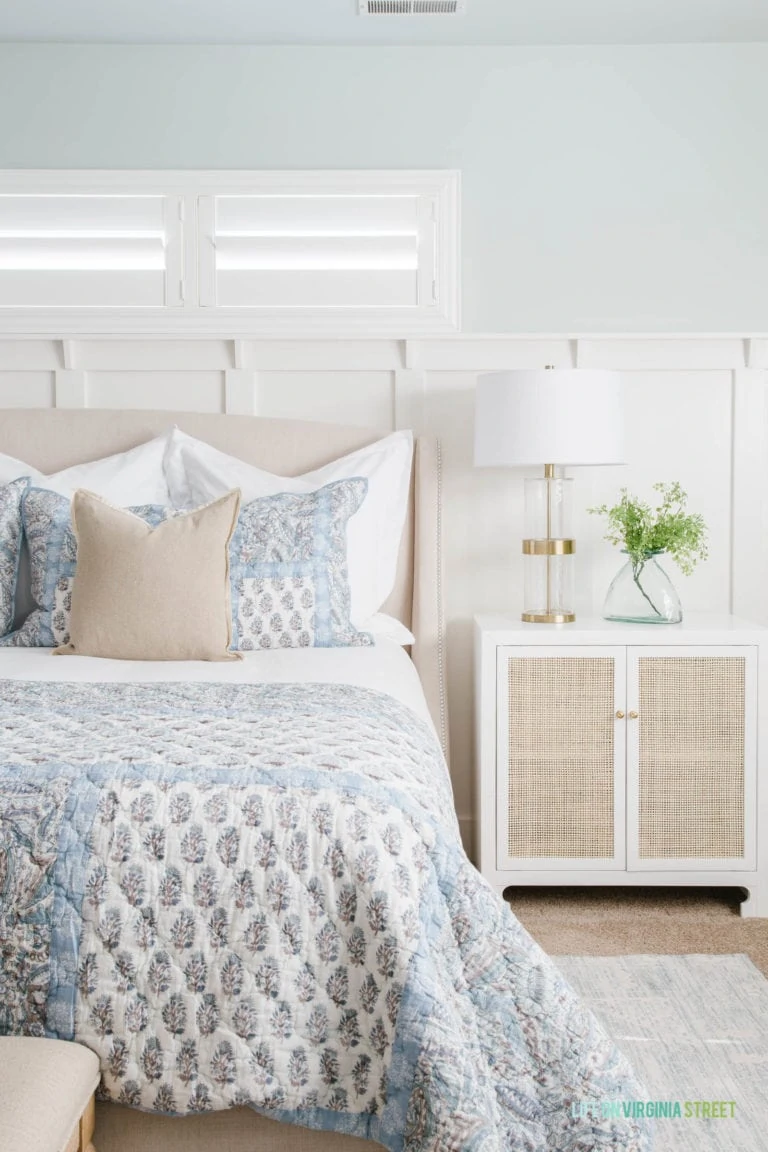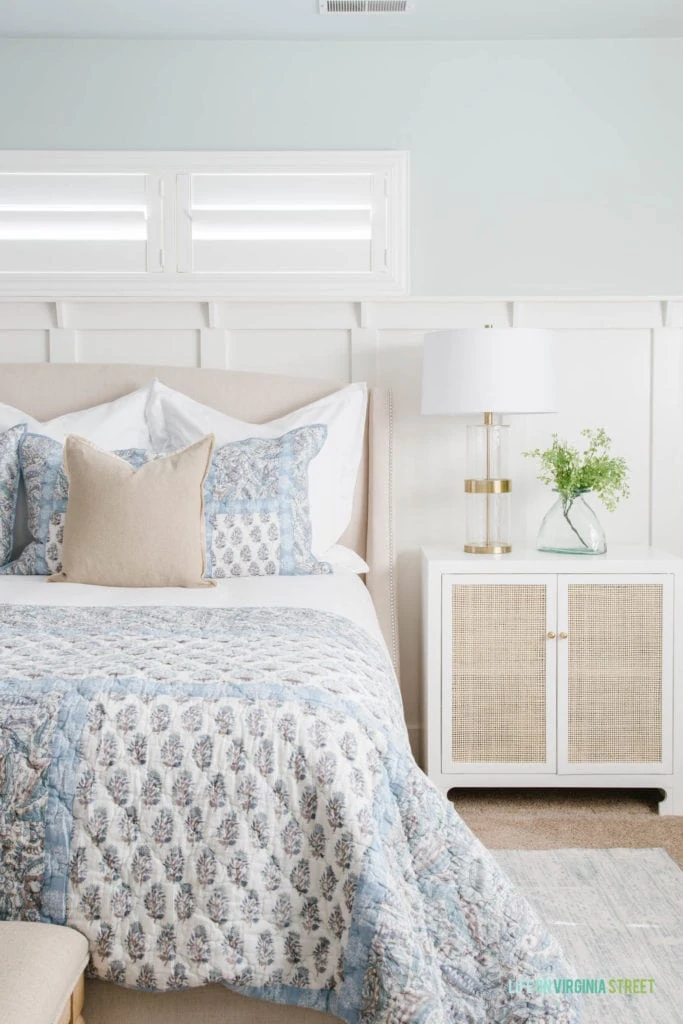 The new pantry light arrived and we got it installed yesterday! So much better than the boob light that was still in here!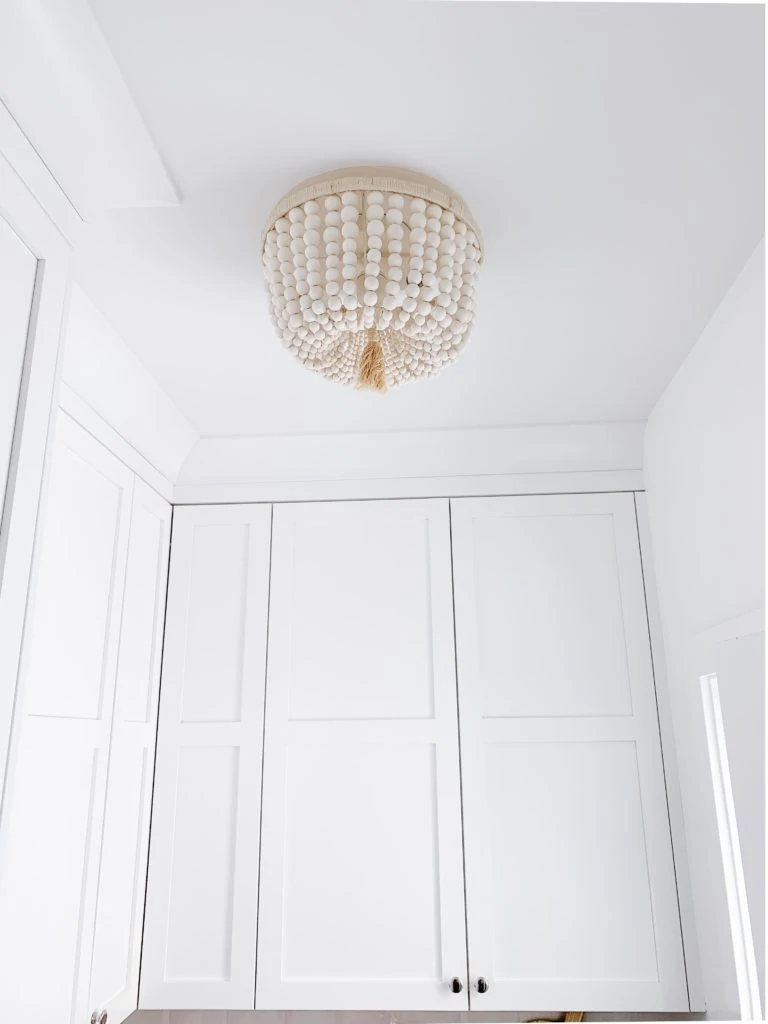 And, I finished the paint on the front door! I have a bit more work to do, but I'll share the new look very soon! I'm loving how it's coming together! Such an easy and impactful makeover for about $20 in supplies! I ended up going with Benjamin Moore Water's Edge and it's the perfect muddy blue-gray-green I was looking for!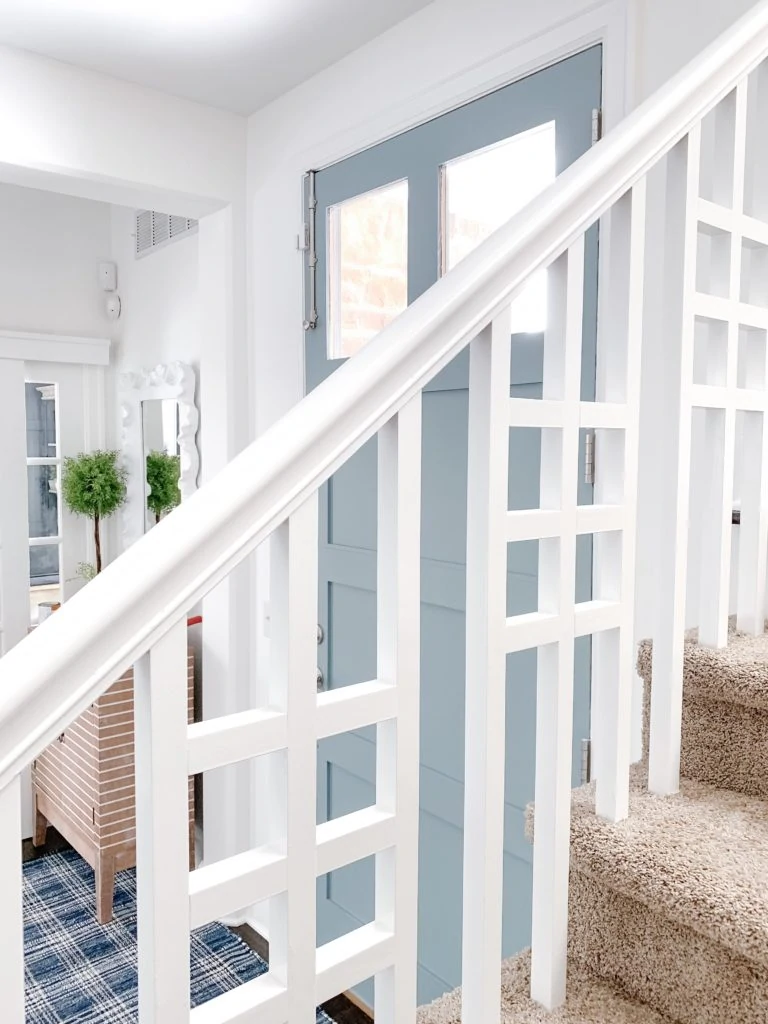 Plaid Rug | Mirror | Cabinet | Surface Bolt (on door)
Around Town & For Fun
Wednesday nights are when we teach confirmation at church. However this past week, it was a service event in lieu of typical class. We packaged meals for Kids Against Hunger for our third year in a row. It always amazing me that in under an hour, the group of kids and adults package more than 30,000 meals! Here's Kurtis' look this year. They add the beard net as a new requirement this year. He loved it 😉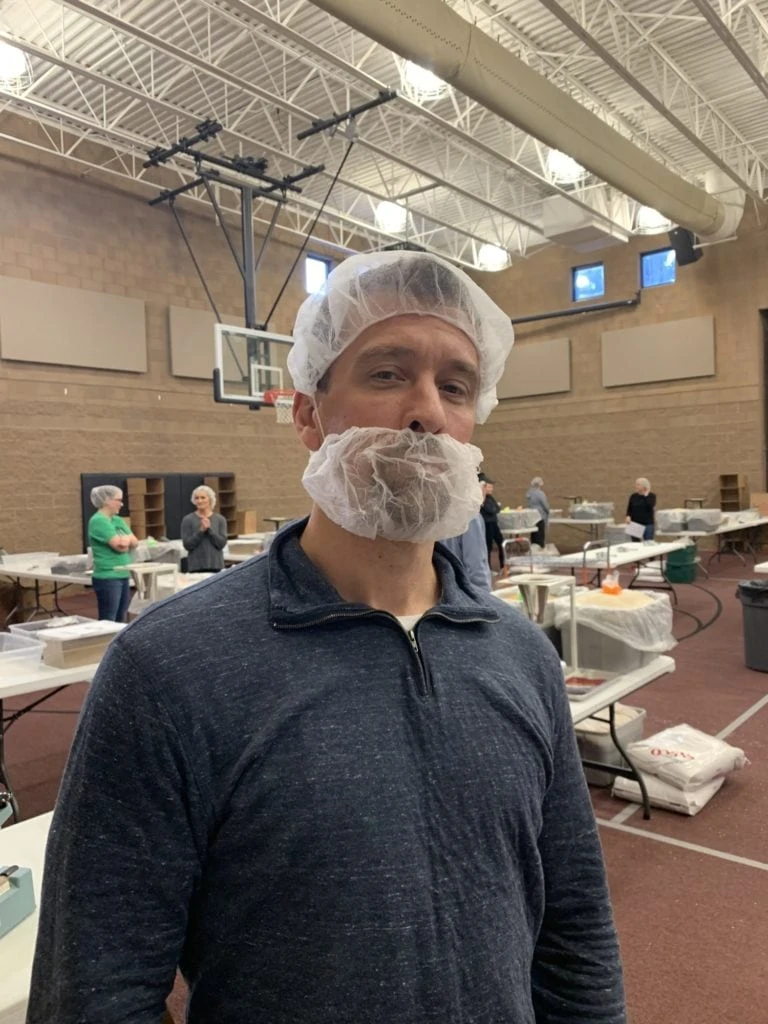 Kurtis had to go to Denver on Valentine's Day for a quick day trip. The highlight of the day was the sugar cookies my mom had shipped to us. They really are the all-time best!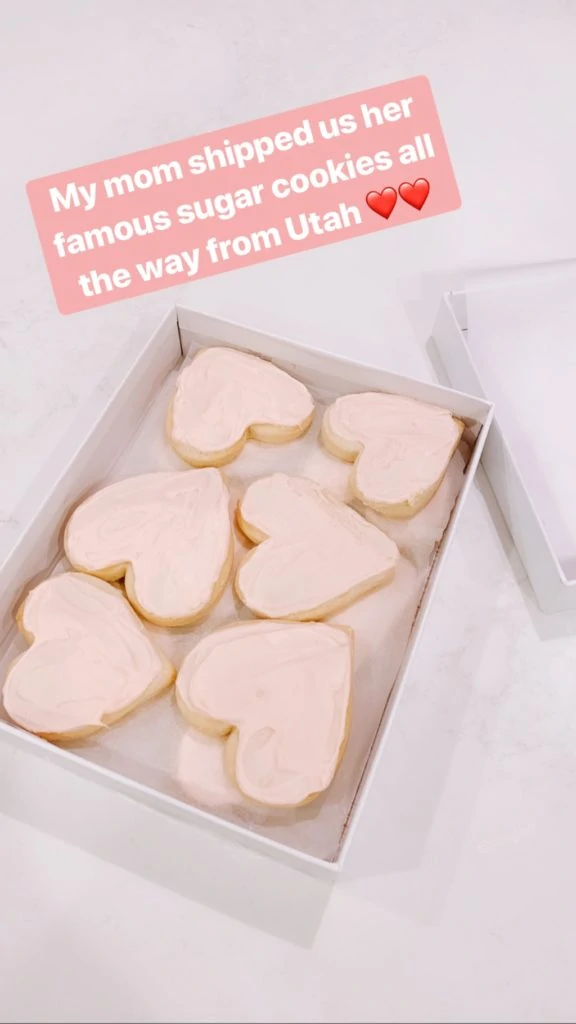 Saturday after heading to our rental house, we had lunch at Stokes. We usually don't branch out of a five mile radius to eat, so it was fun to try something we hadn't been to in a while. We were going to head to Village Pointe to do some shopping for our trip next week as well. However, when we saw the crowds, we quickly abandoned that idea! We didn't need anything that badly 😉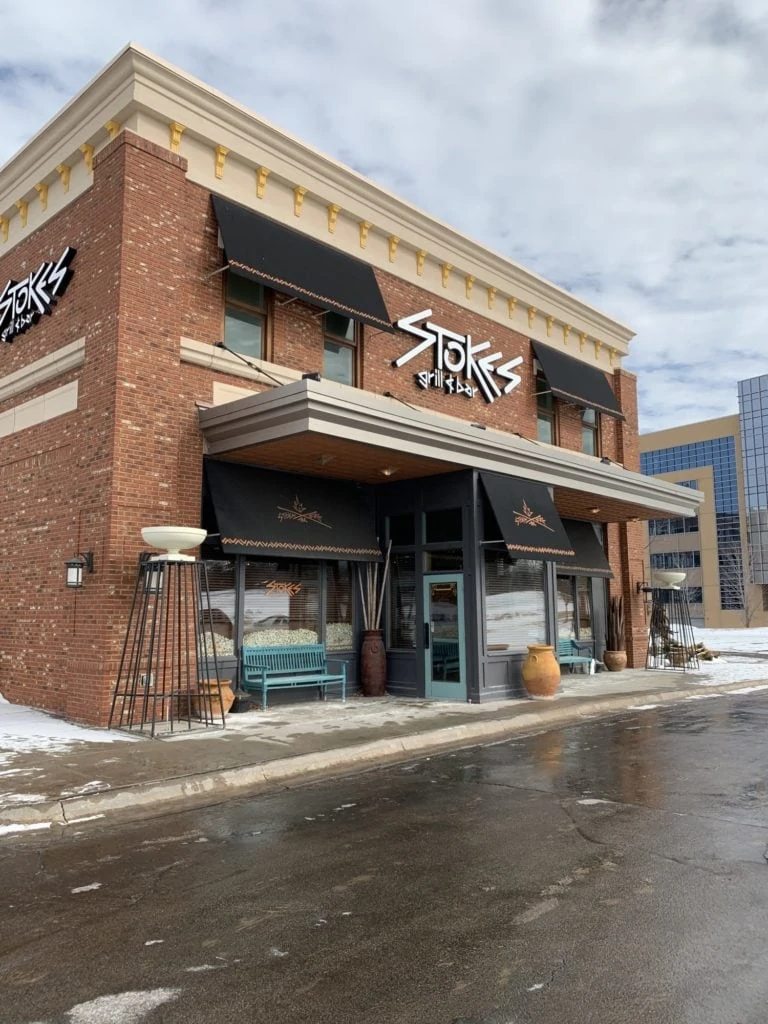 We woke up to about six more inches of snow yesterday! That's a pretty solid storm for Omaha. But it sure was pretty!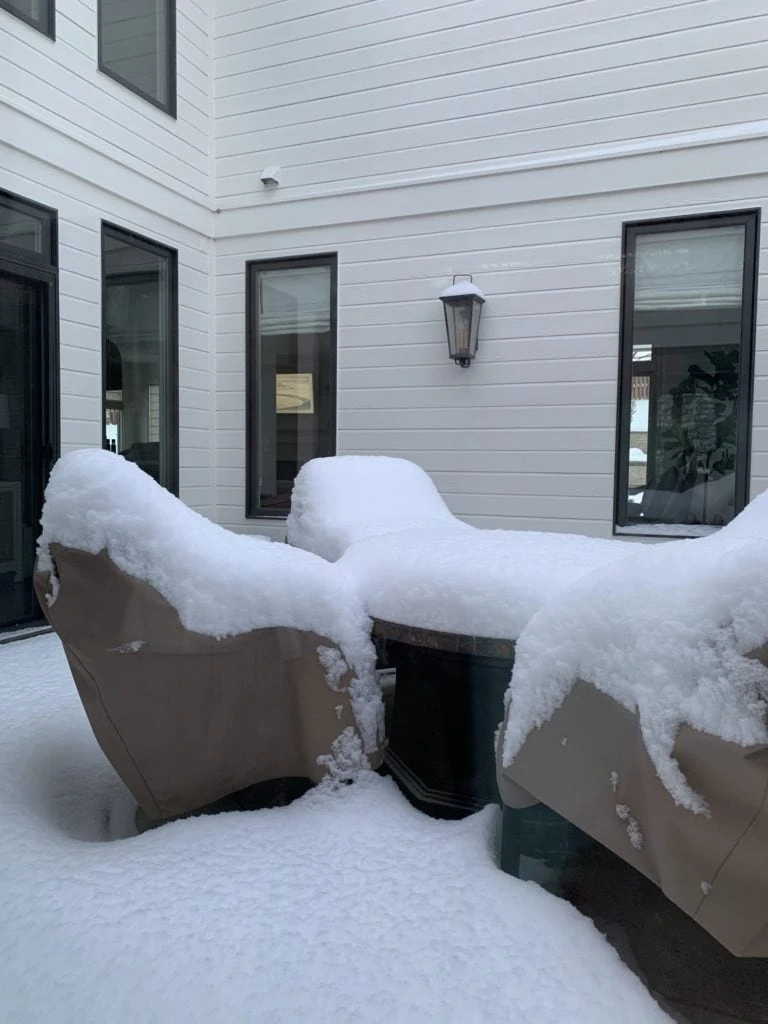 We always call Henley our best little assistant because she always has to be involved when we're working on a project. Or at least supervising!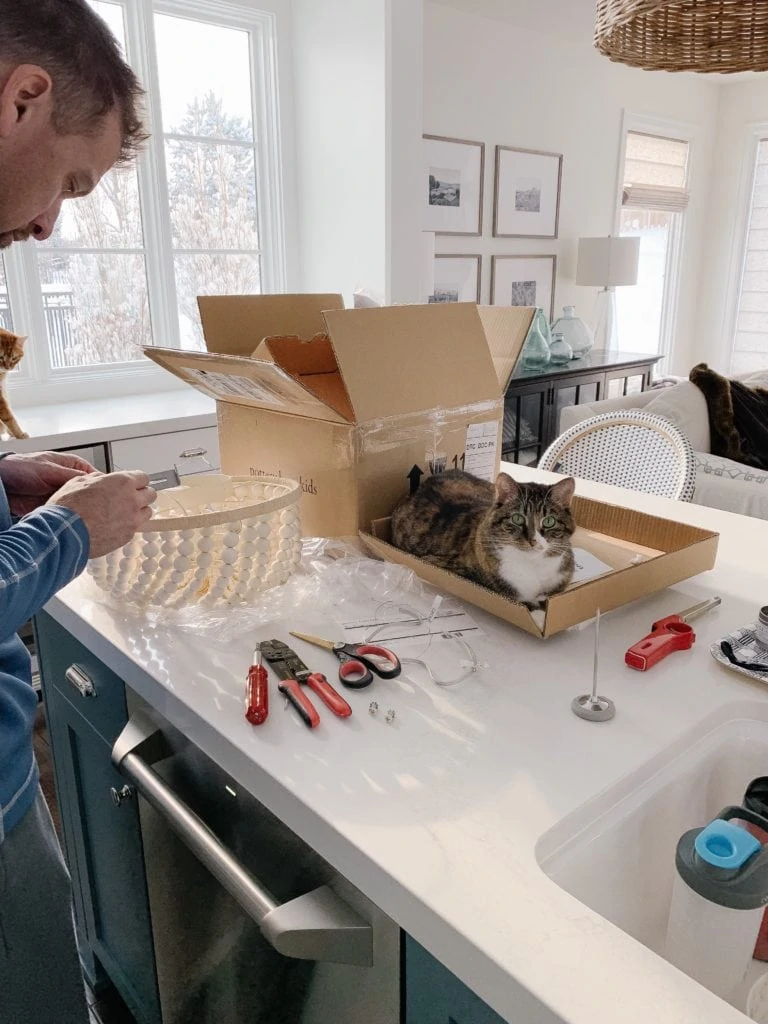 Sunday we had a visit from miss Zoe (and her parents, obviously). Zoe was having a blast exploring some new digs, and I think she thought of our long entryway hallway as her own personal runway. She hadn't been to our house since summer because we usually go down to their house now for convenience. So, she was also a bit intrigued by the cats (only Hawkeye came out to see her). I loved her little cat top and faux ballet slipper socks!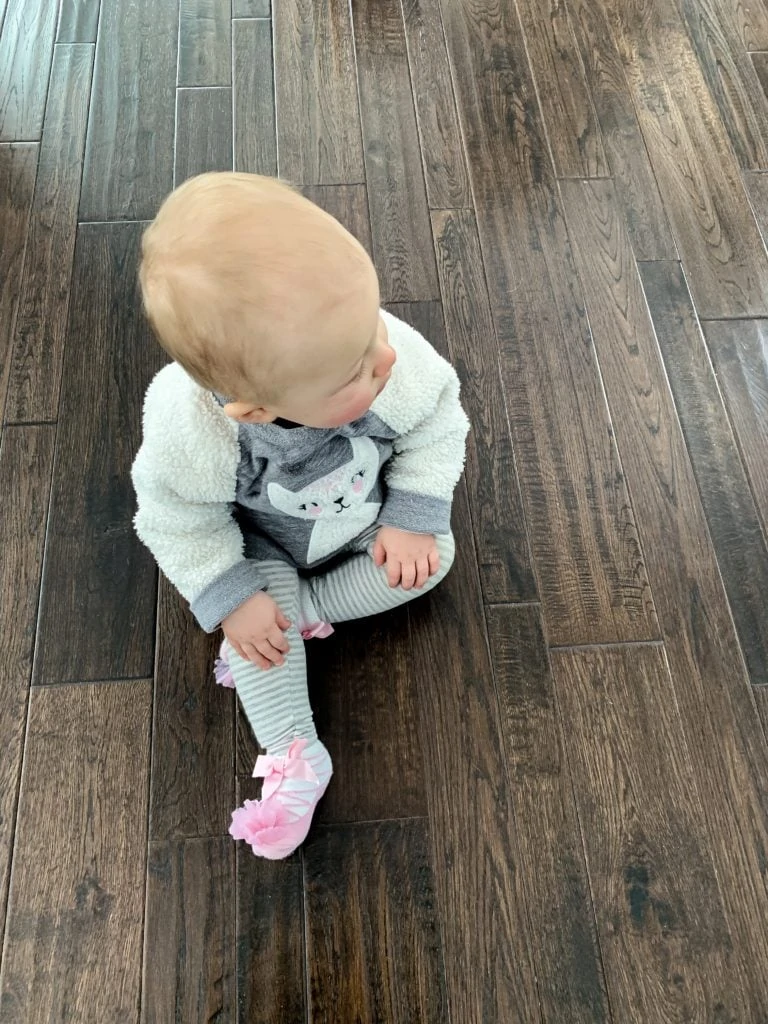 We ended the weekend binge watching some more Schitts Creek. I looked down at one point, and all four cats were within three feet of me. I think they enjoy these types of nights as much as we do!
Recent Buys & Sales
All the holiday weekend sales are still going strong! But first I wanted to share this recent outfit (also the top I shared in my Wednesday Watch List last week). Such a fun look for spring! And these jeans are ones I can't get enough of! I've talked about this brand before, but the fact the waist is stretchy makes them so comfy! I love this slightly lighter wash for spring.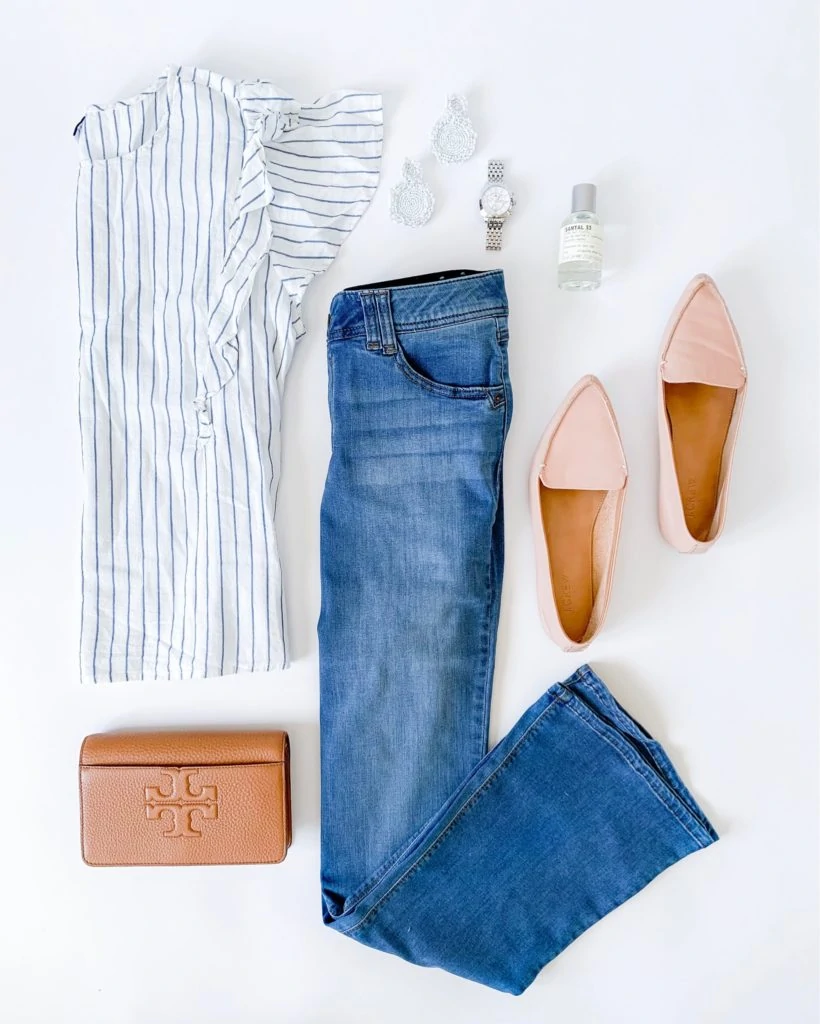 Striped Ruffle Top | Jeans | Loafers | Earrings | Watch (similar) | Cologne | Clutch (similar)
As a reminder, you can check out all of my recent outfit ideas in one place!
Following are updates to all of the weekend sales for Presidents' Day. Some have even gotten better for the holiday!
I hope you all have a wonderful week!
If you would like to follow along on more of my home decor, DIY, lifestyle, travel and other posts, I'd love to have you follow me on any of the following:
Pinterest | Instagram | Facebook | Twitter 
disclosure: some affiliate links used