Slowly but surely, I've been making some progress in our master bedroom. You may remember that completing this room is one of my top 2019 home goals, and I feel like I finally have some clarity on the direction I want to take the room.
This post is sponsored by The Company Store. As always, all thoughts and opinions are my own. Click here to read my full disclosure policy.
As mentioned in the goals post, I desperately need to paint our walls and ceiling in the space, but I've been waiting for things to slow down a bit and really make sure I pick a wall color I know I'll love long-term! I also want to swap the Craig's List light fixture and get some real drapery (rather than the length of fabric I currently have hanging).
In the meantime, I've been focusing on making our bed cozier and upgrading our decade-old bedding essentials. You may remember last month I talked about tips for creating a comfy bed. We are still completely in love with the items I featured. And our duvet still feels like I heavenly cloud each night we crawl into bed!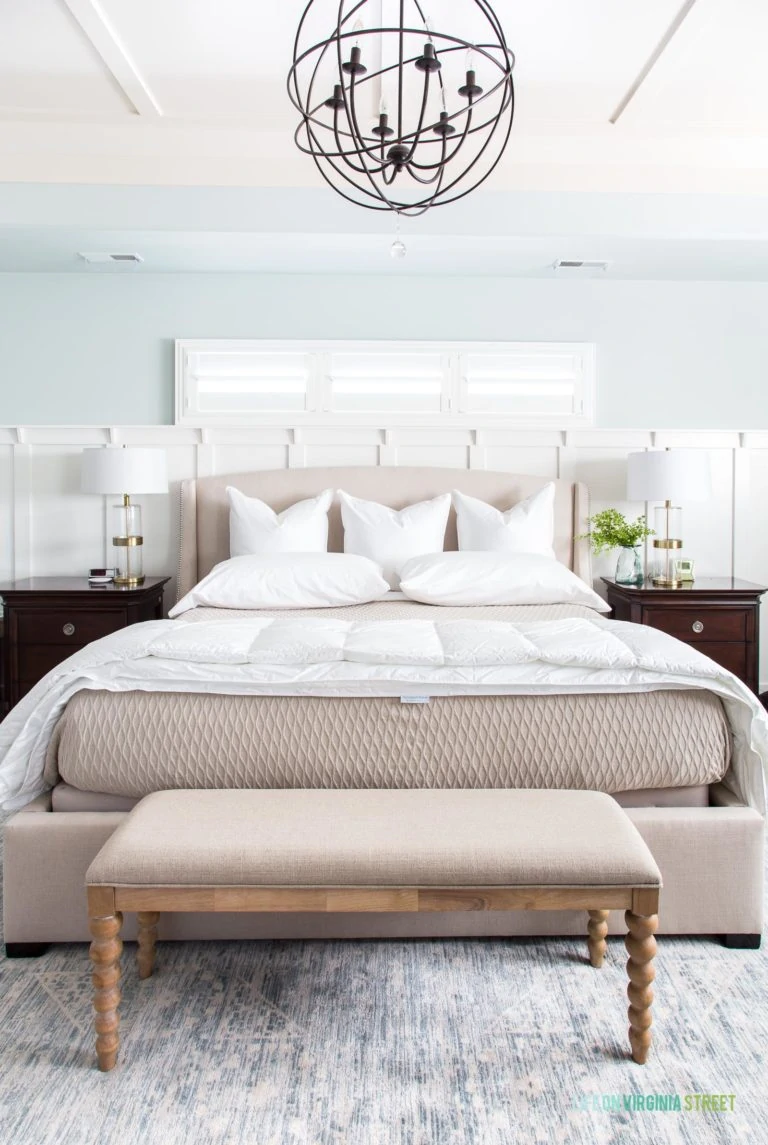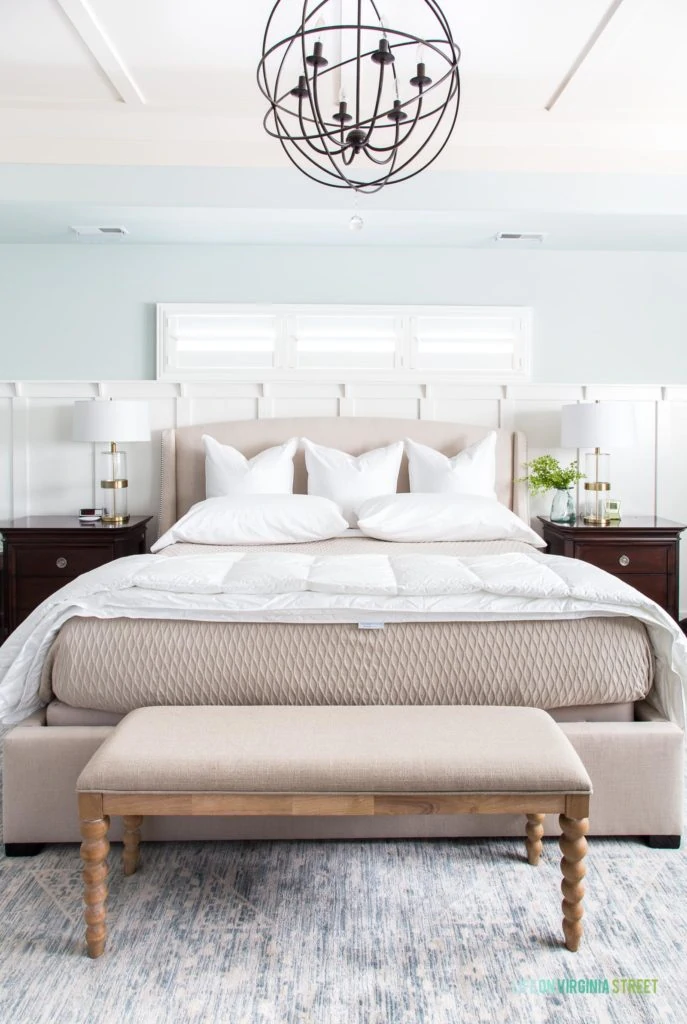 Duvet | LoftAIRE Down Alternative Pillows | Euro Pillow Inserts | Blanket | Wrinkle-Free Sheets
Today, I'm sharing more about the "fashion" side of bedding and how to add a bit of personality to your bedding basics! Not only that, I'm giving a sneak peek at our new dressers that arrived (you can read more about them here). Although these are more minor cosmetic updates, they're getting me motivated to finish up the space.
In my post last month, I hadn't yet selected a duvet cover because I thought I may get adventurous and go with a color or pattern. But, at the end of the day, I went with this basic white duvet cover because I truly love a bed with crisp white linens! Then, as I change things up seasonally, the core bedding will always work with whatever I choose to pair it with.
But, in order to add a punch of personality, I ordered this gorgeous cotton quilt and shams. If you've followed me for any amount of time, you likely know I love a good paisley pattern, and this one is so beautiful in person! The Company Store is known for their bedding and other soft goods, and they have such an amazing selection of fashion bedding and patterns you won't find in other stores. I loved that this quilt had all my favorite colors and added a bit of a boho beachy vibe to our otherwise pretty traditional bedroom!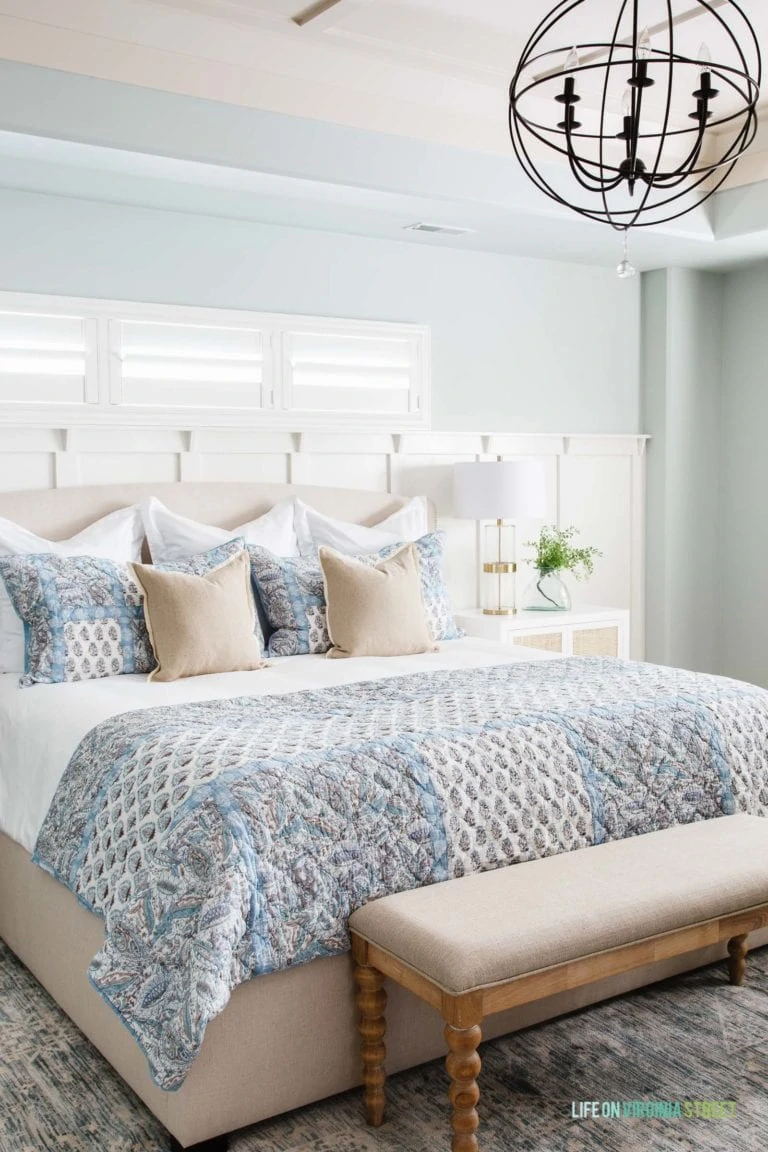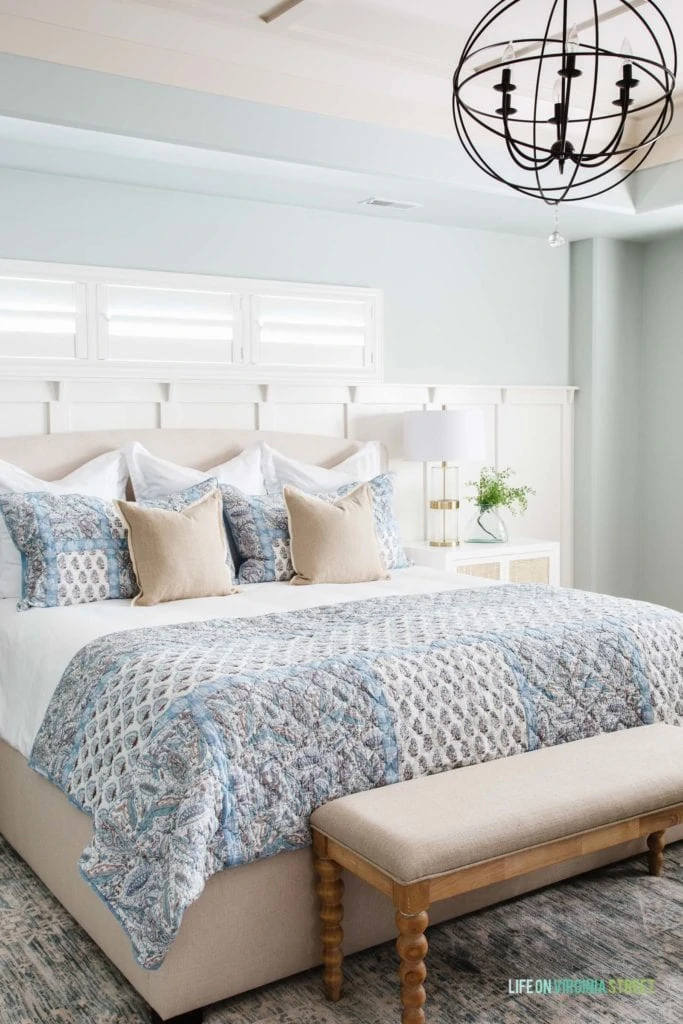 The combination of patterns is so good! I love the mix of shades of blue, aqua and brown tones. The quilt also reverses to a solid blue color so there's so many ways to use it! I love using quilts folded at the end of a bed to add a punch of color but also on colder nights when you need some extra warmth!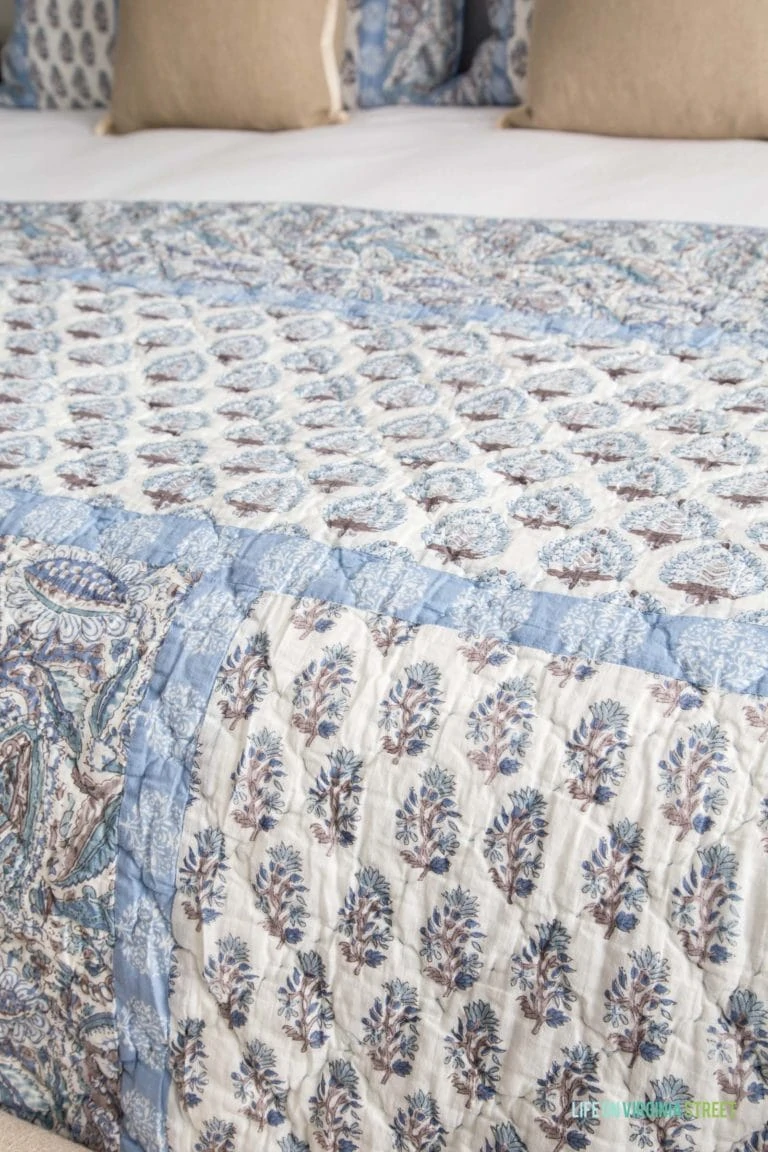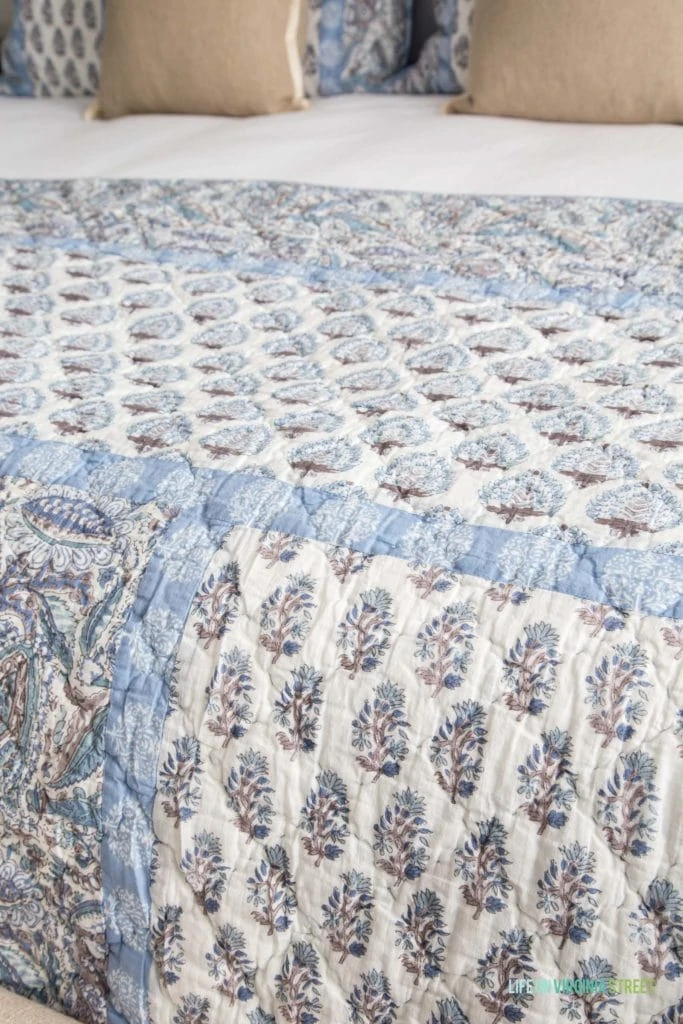 The quilted shams (this is the king size, but I also have the Euros) tie in the back (which is also a solid blue) and look perfect paired with white Euro shams and these cotton linen pillows. I actually had the navy trim version of the linen pillows in our living room (you may remember them from my Christmas home tour). We loved them so much I got the cream version for our bedroom! By mixing pillows from a few sets, it helps make the overall look cohesive without being too matchy-matchy. I also love the layers of varying textures!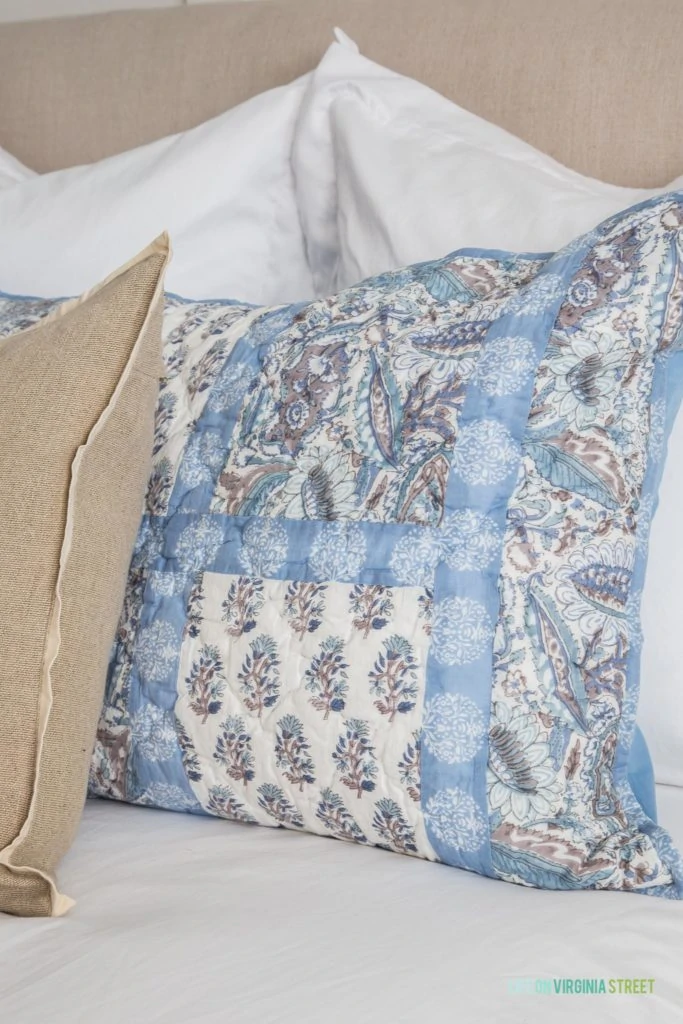 I couldn't be happier with how everything is coming together. I still have a ways to go, but it feels so much better coming into our room each night with fresh and beautiful linens on our bed! The sun reflecting off the piles of snow outside helps creating some pretty great lighting, too – I just have to pretend it's summer sun!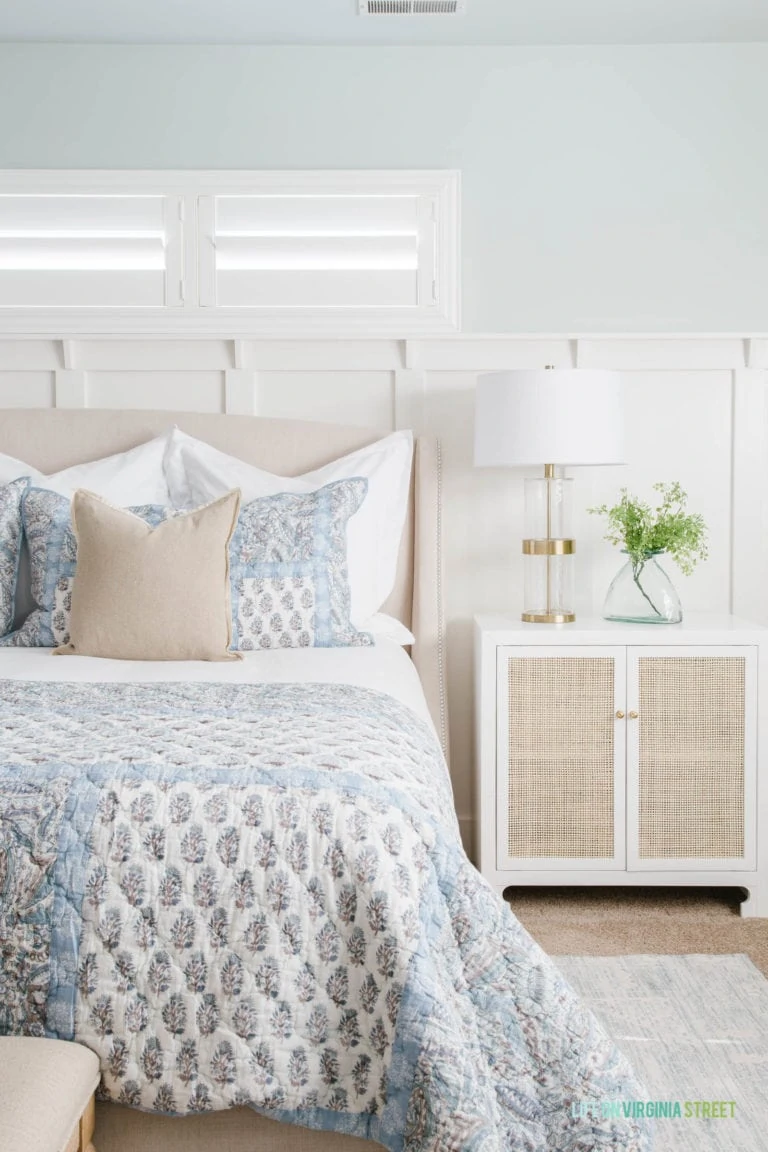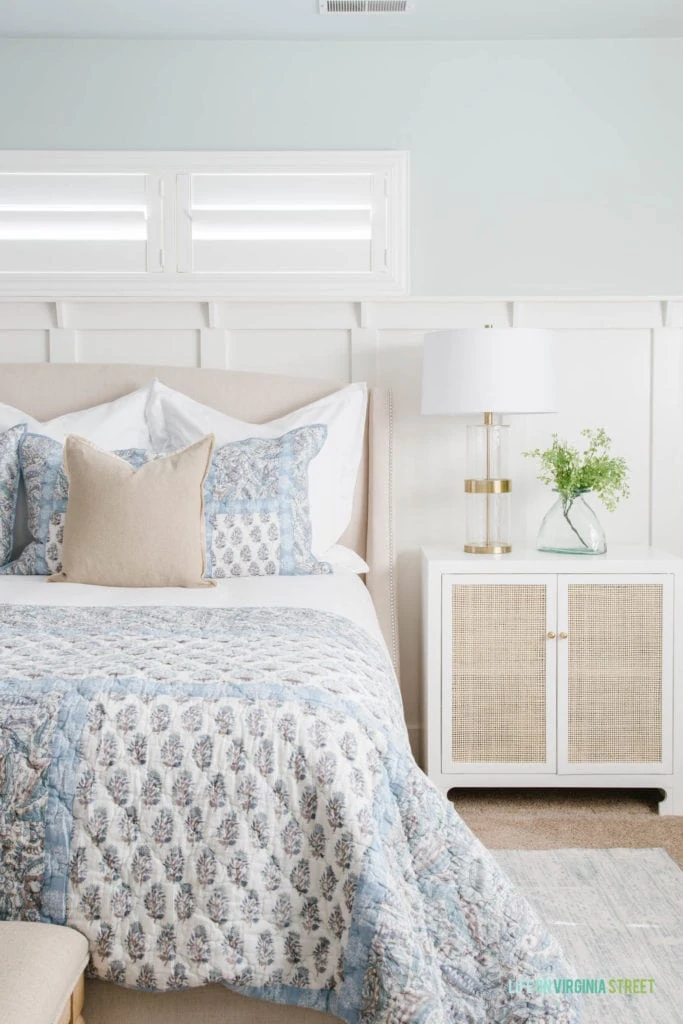 If you love this bedding as much as I do, you can currently get 20% off and free shipping on your order of $75 or more at The Company Store with code B19SAVINGS for their Presidents' Day Weekend Sale!
I'm hoping to have all the painting and other to-do list items in our bedroom wrapped up before summer starts! My goal is a May 31st deadline to have it all completed so we can enjoy the space all summer long without having to work any more on it! I'll keep you posted.
Enjoy the rest of your weekend!
If you would like to follow along on more of my home decor, DIY, lifestyle, travel and other posts, I'd love to have you follow me on any of the following: