I hope you all had a wonderful weekend! It's hard to believe October is already gone and Thanksgiving is in 17 days!
This post contains affiliate links for your shopping convenience. Click here to read my full disclosure policy.
Home Projects & Updates
I haven't given a rental #4 update recently, and that's probably because it's become a project that has spiraled out of control. We're basically going to have to double our original rehab budget to get it where it needs to be. We could start an HGTV show all about what type of property you shouldn't buy for your first renovation. We're officially pros on that now 😉 I actually hadn't visited in a few weeks but we had a meeting there with our contractor on Friday. Thankfully, seeing the updates makes me slightly less angry at the house. It's basically going to be a new house by the time we finish everything.
Lesson one. Don't buy a house with a backyard like this. The landscaping alone ate up nearly 1/3 of our original budget. And we don't even have grass yet.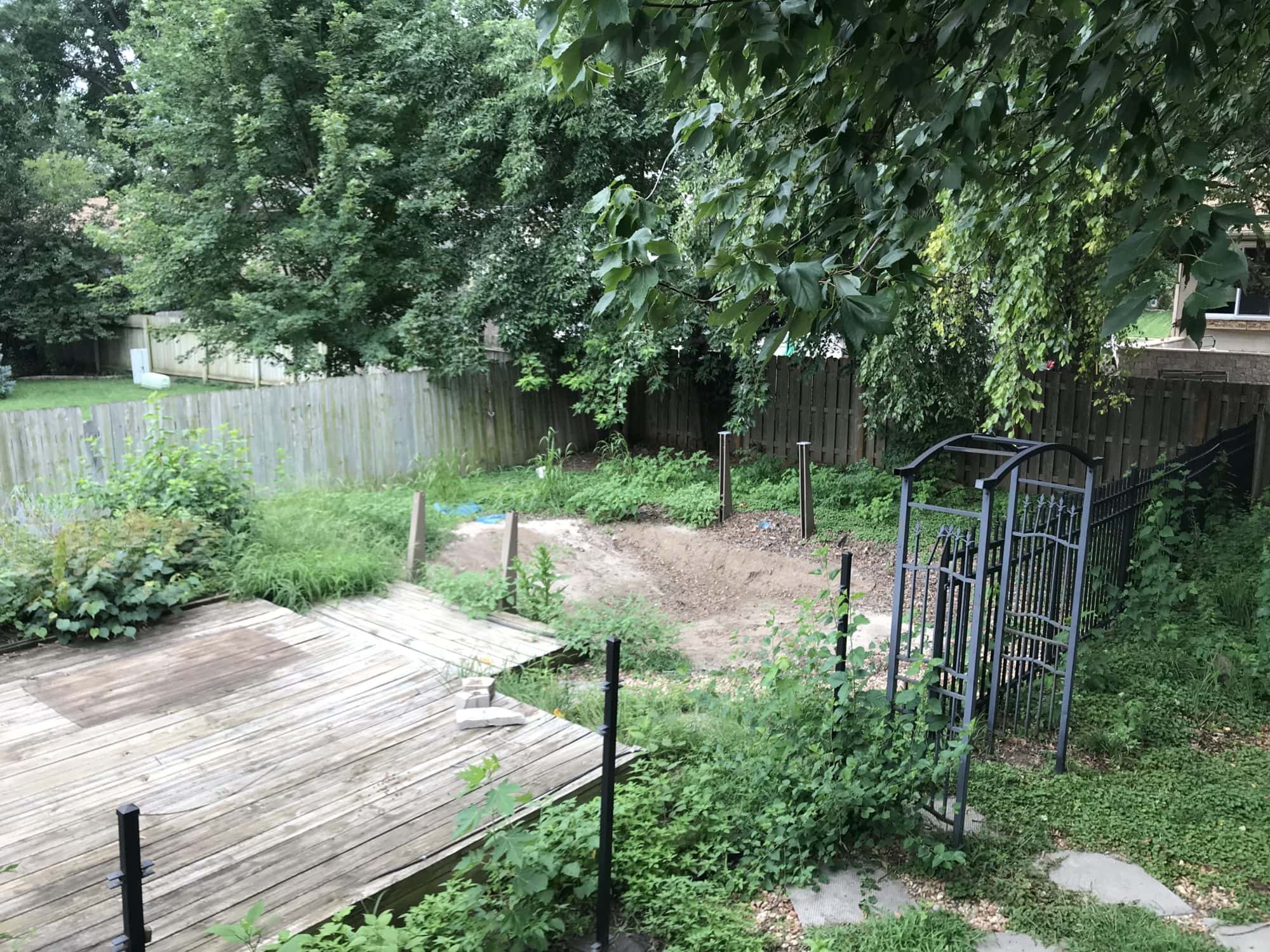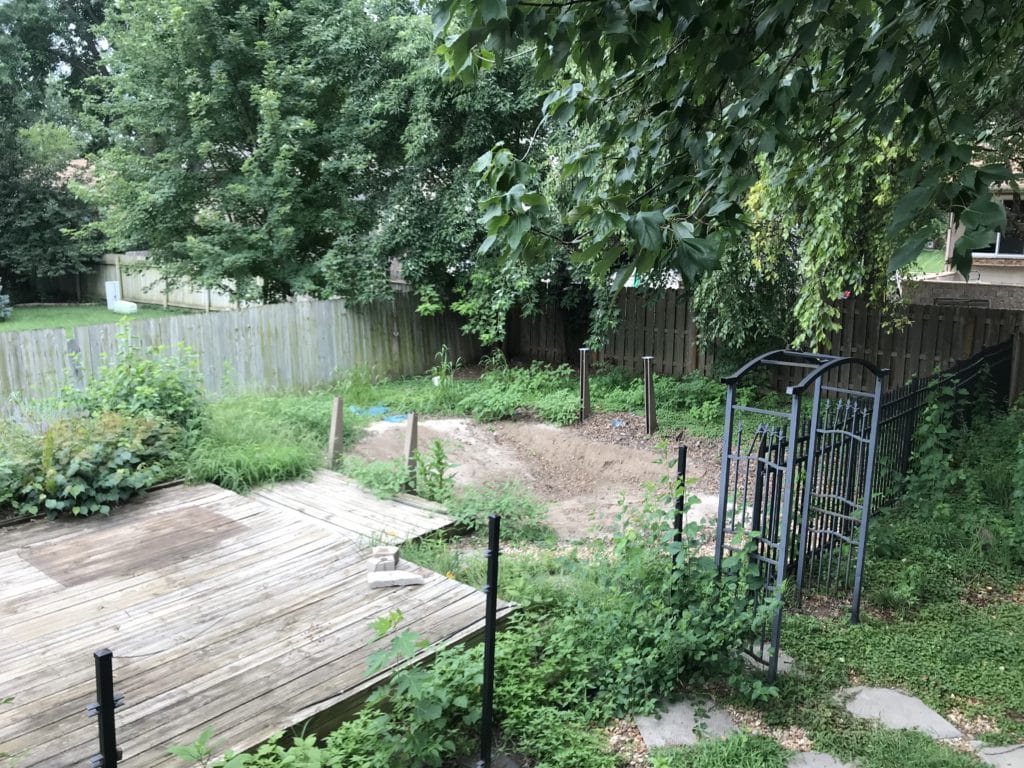 But you can see how it looks now. Such a major improvement! It's a huge backyard with tons of potential. And I'm sure the neighbors are thrilled it's no longer the neighborhood eyesore!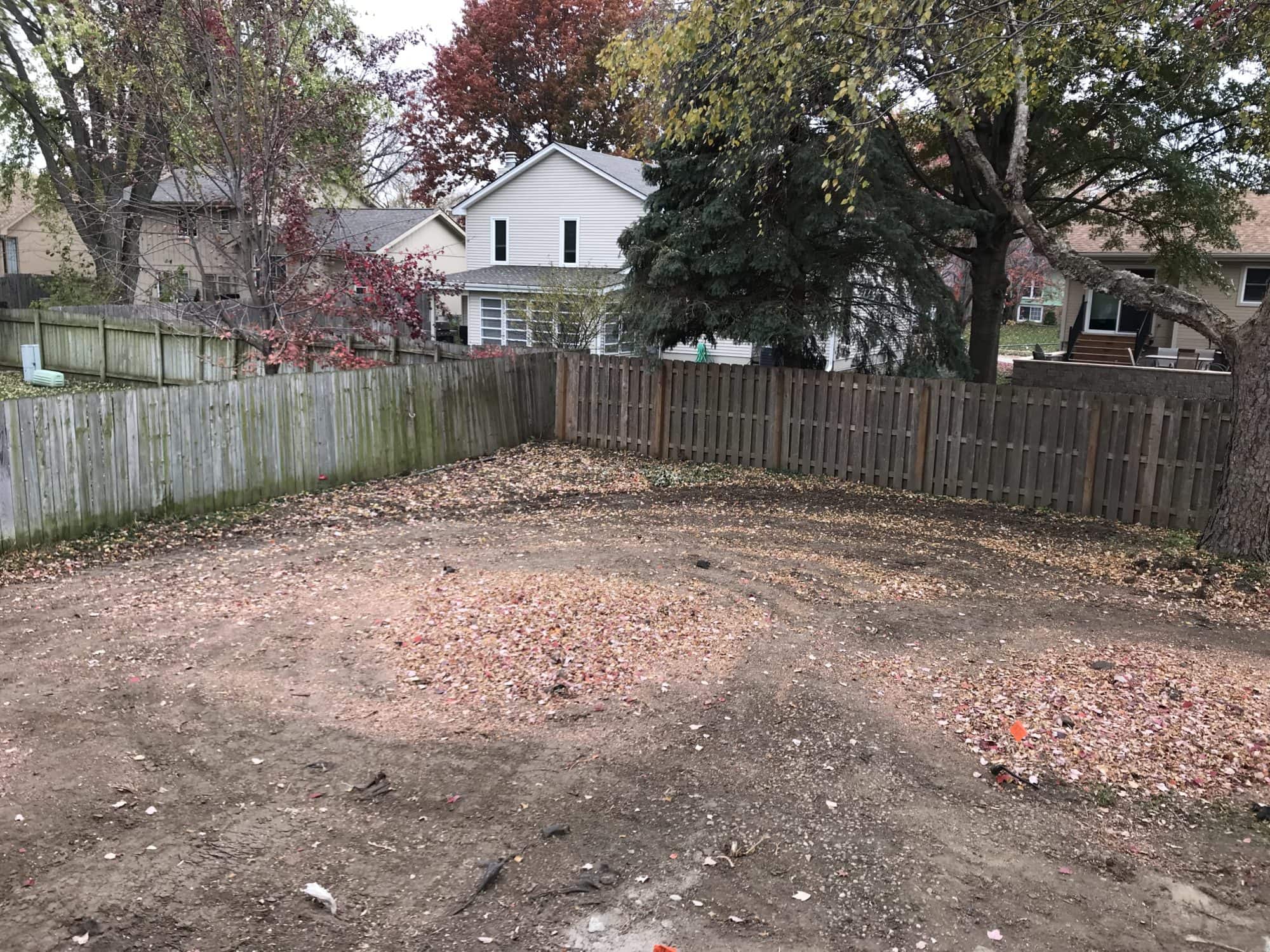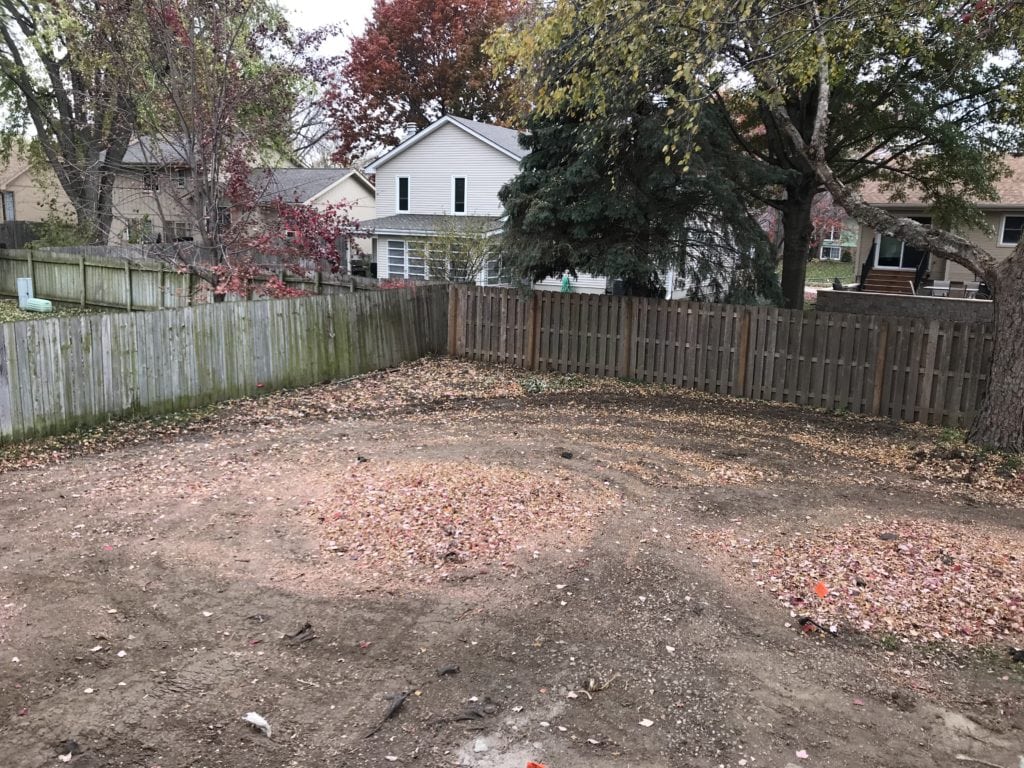 This was a room in the basement we wanted to convert to a 4th bedroom. We knew having an extra room would help increase the overall property value but also how much we'd be able to get for rent. We're also adding a third bathroom near this area as well.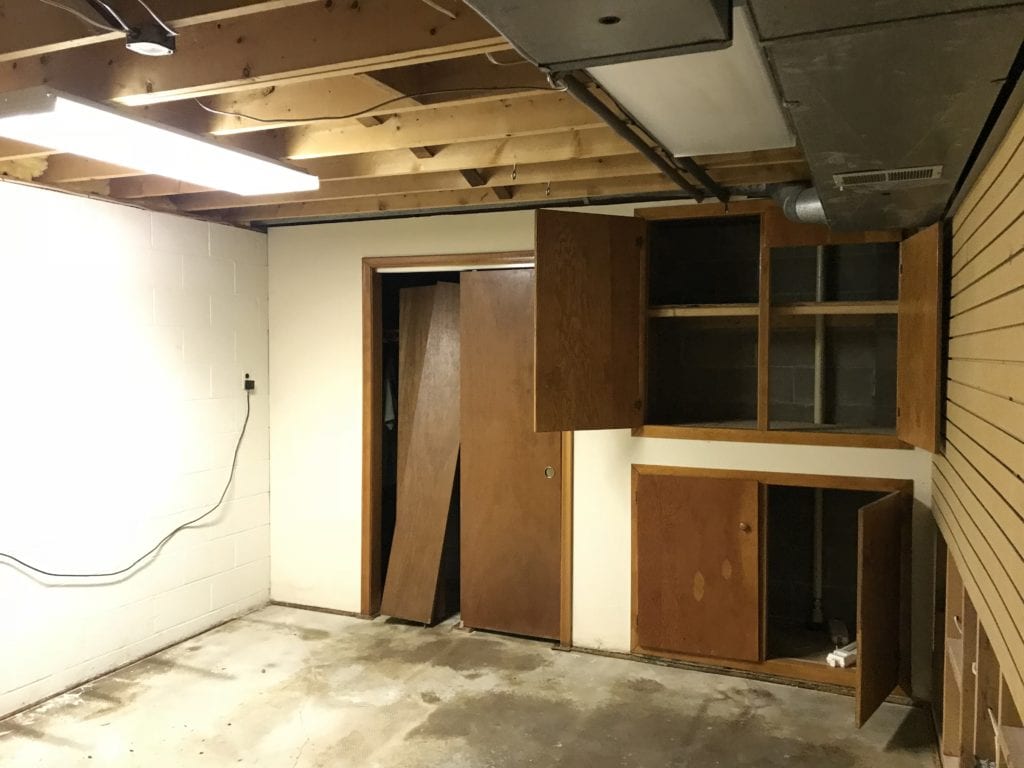 And here's how the bedroom looks now with the new window. It instantly made the basement way less creepy!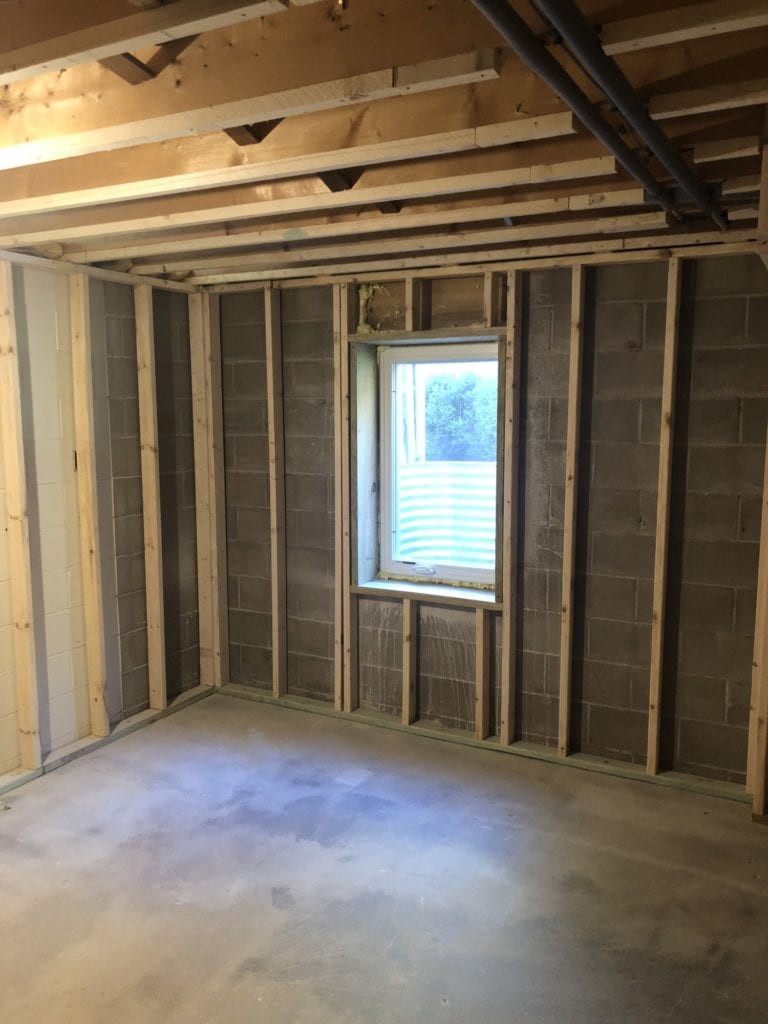 You may remember this shot of the kitchen before. Kurtis did the bulk of the demo but the sliding door was rotten and the subfloor was a mess from water damage.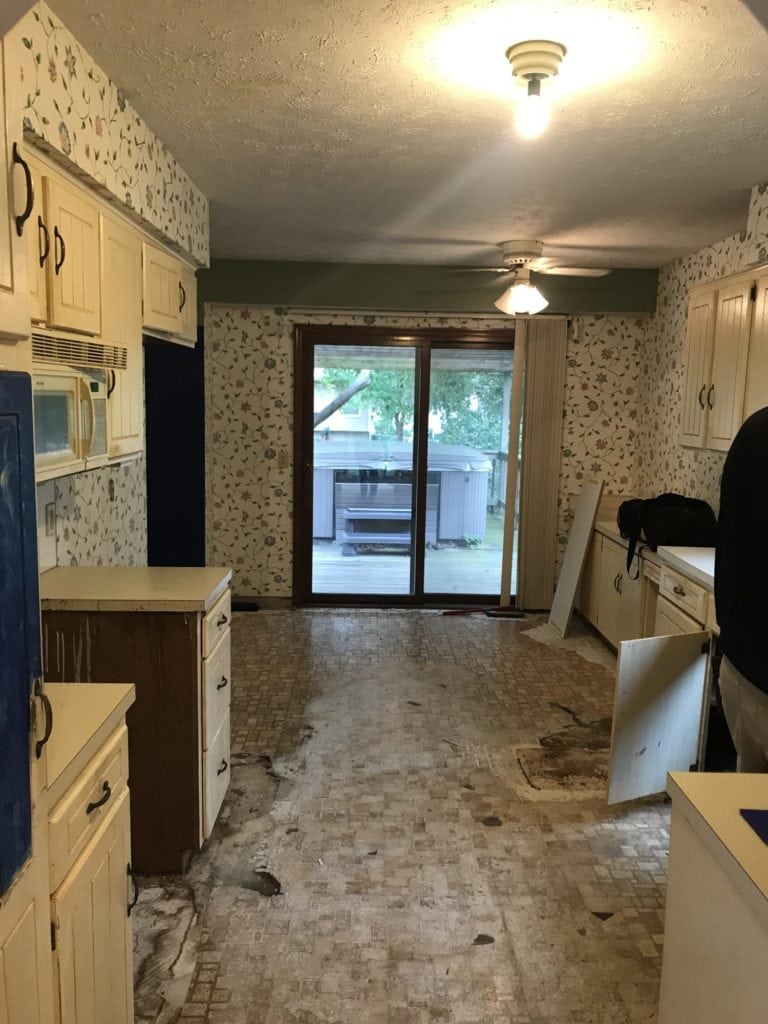 Here's the same view now with a new slider and new/cleaned subfloor!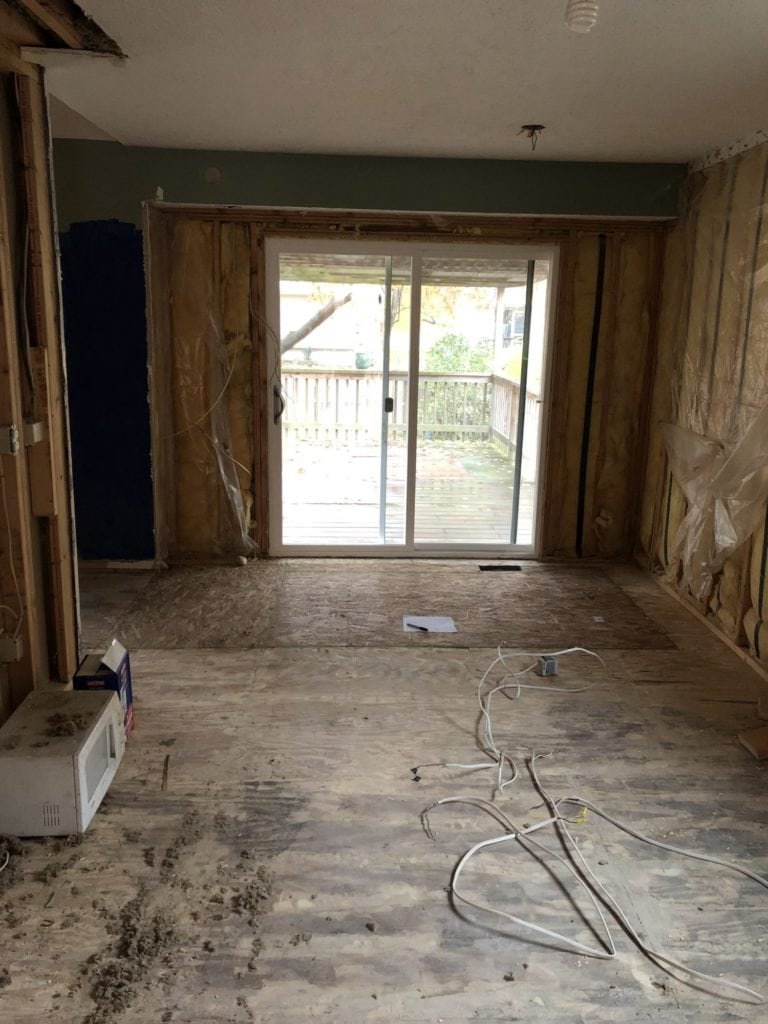 Slowly but surely it's getting there! It actually smelled like new construction when we walked in – which is also a major improvement from how it smelled when we originally bought the property! Now that a lot of the behind-the-scenes boring stuff is done (fixing rafter supports, cleaning drains, new water heater etc.) I think everything will start to move along much more quickly. There's a light at the end of the tunnel!
Over at our original rental, we recently had it all painted after we weren't able to find any tenants in the first few weeks. We used our reliable standby: Sherwin Williams Agreeable Gray. Seriously the day after I posted the updated photos with the new color we started getting interest again. It's amazing what fresh paint in the perfect neutral can do to spark interest! The colors look a bit odd here because the redwood-toned deck outside is reflecting majorly on the walls. But it's a great color if you need a good neutral and it's rare people don't make comments on it when they see it! It's the perfect mix of gray and beige that works with most decor styles!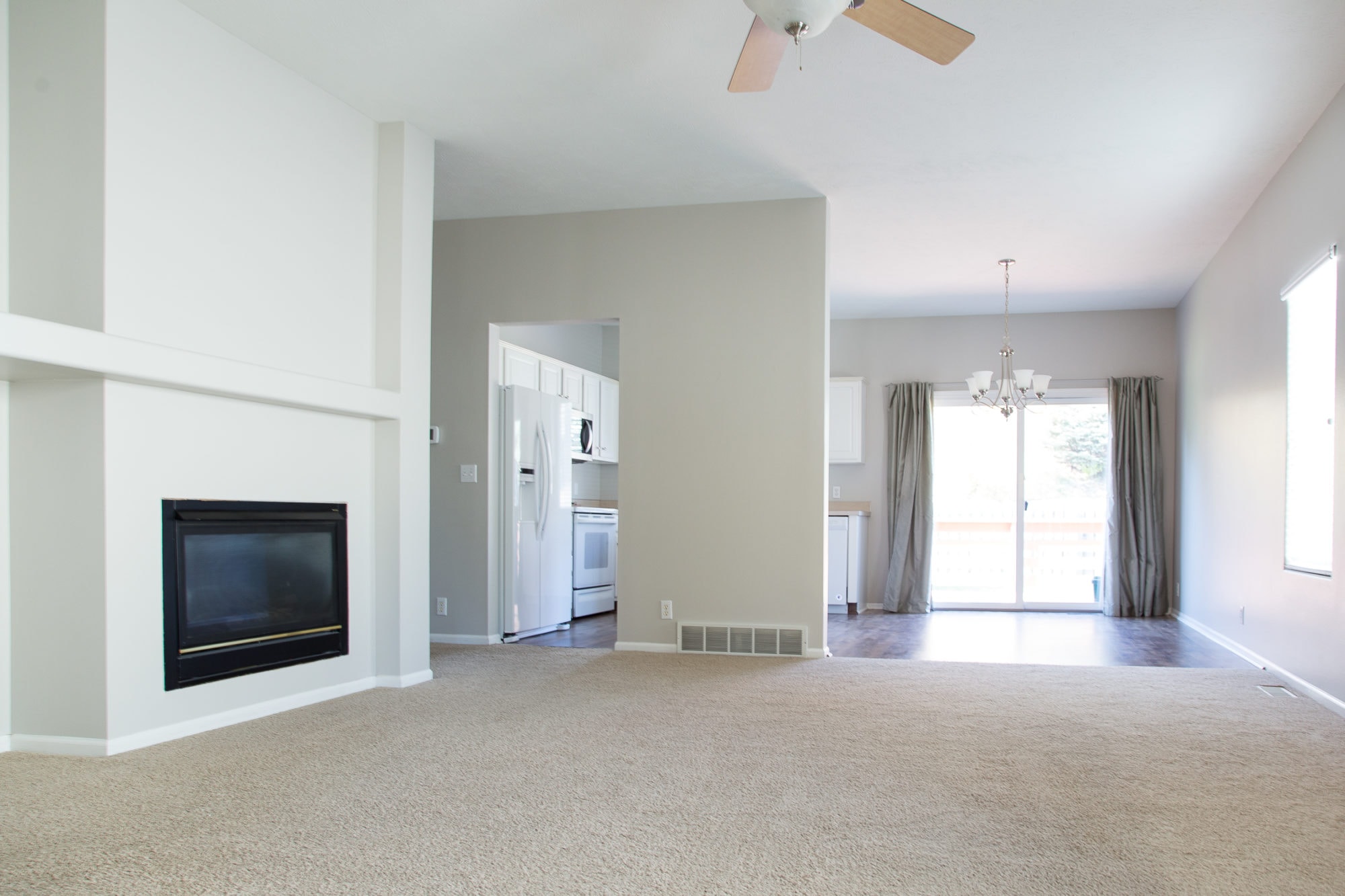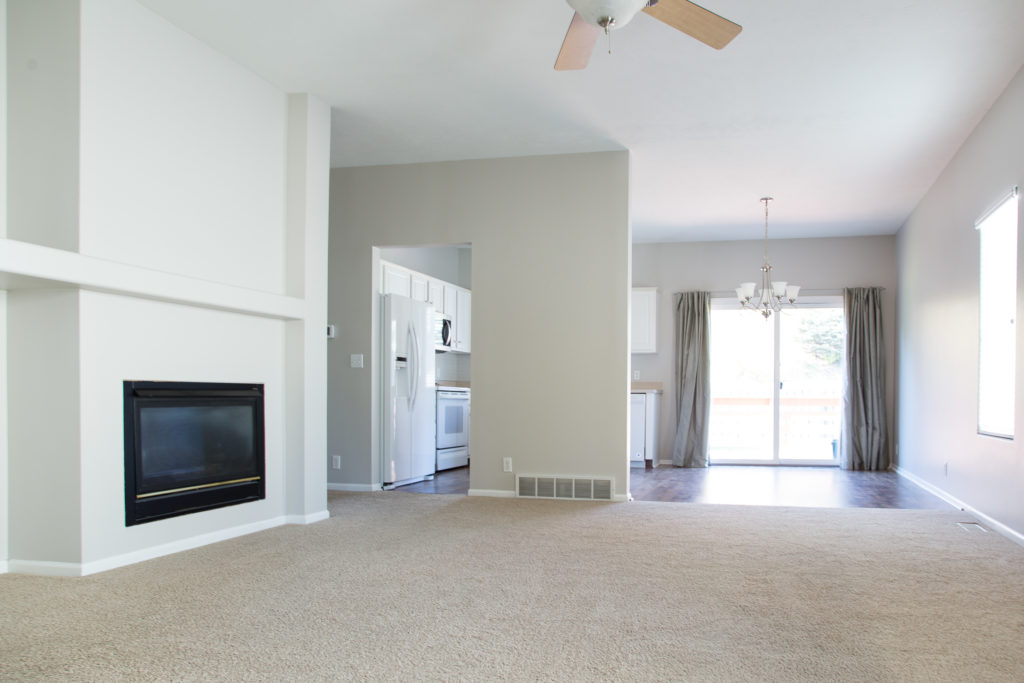 We had two very interested potential tenants, so we think this week we'll be signing a new lease. Thankfully! It was getting a bit crazy with the demo at the other property and then this one not renting (although it had only been about five weeks since our last tenant left – it was starting to feel like ages)!
Around Town & For Fun
On Halloween, we met Pat and Janine for dinner at Lazlo's and then swung by Nick and Jill's to see Zoe's costume. She was Peppa Pig and was basically the cutest thing ever (like always).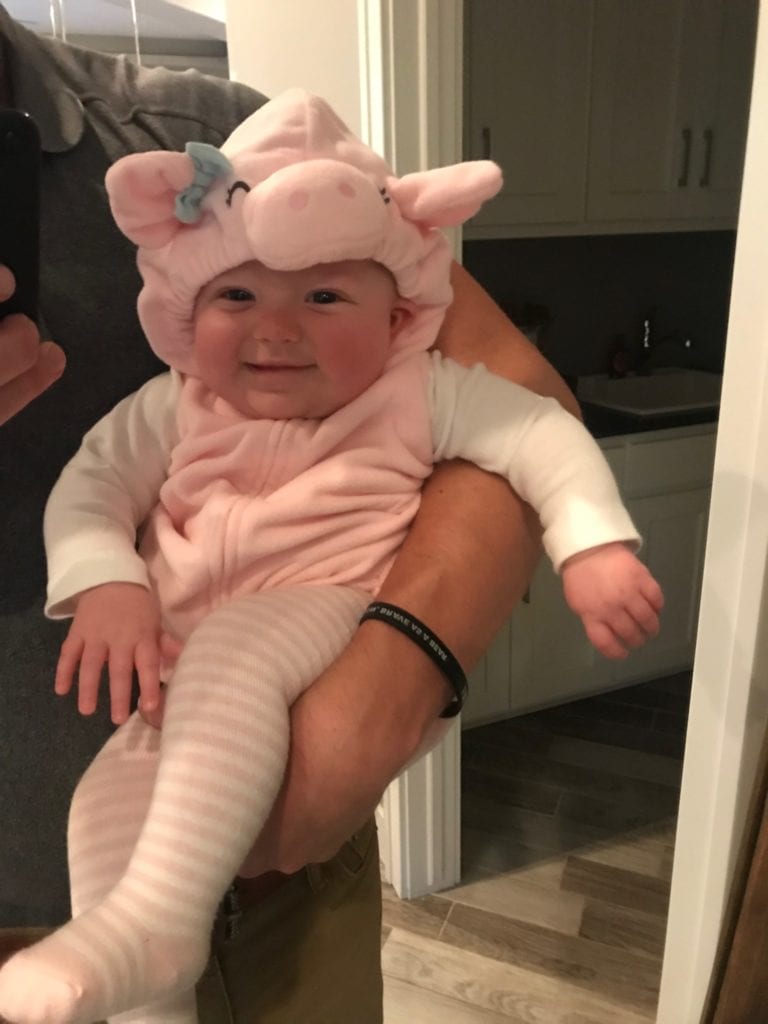 Cute little Scout was interested in every single trick-or-treater and really wanted some of the candy we were all eating! He was having just as much fun as all the kids in the neighborhood!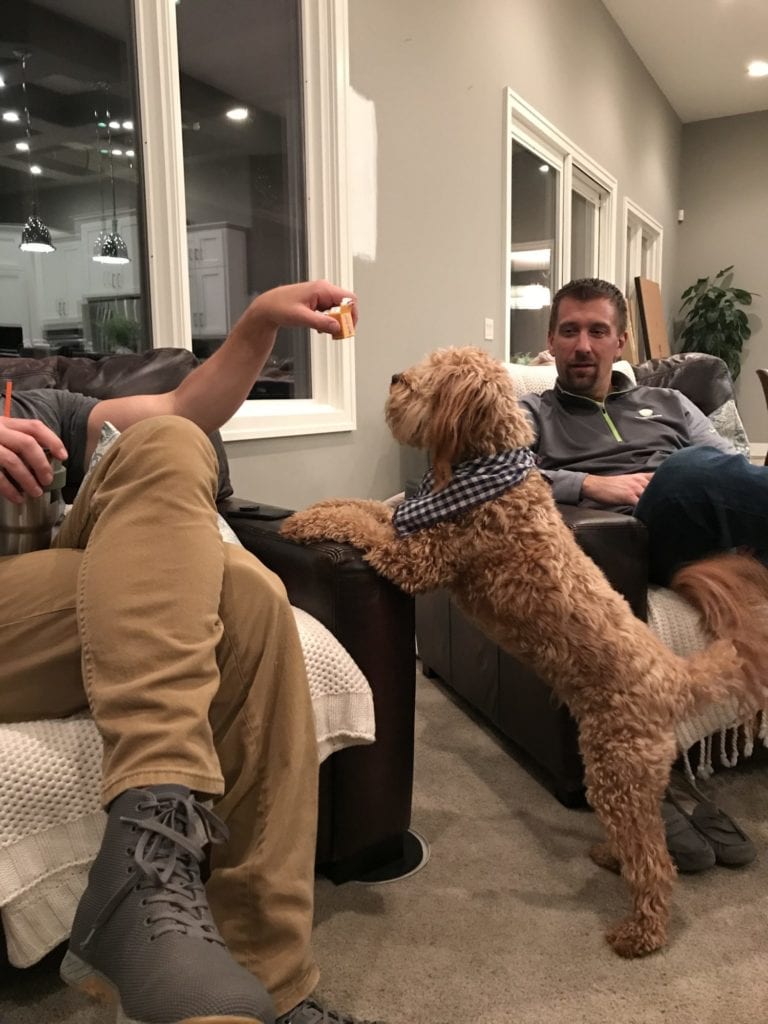 Thursday was a holiday open house in Countryside Village, so I swung into one of my favorite home decor stores, Amethyst Home.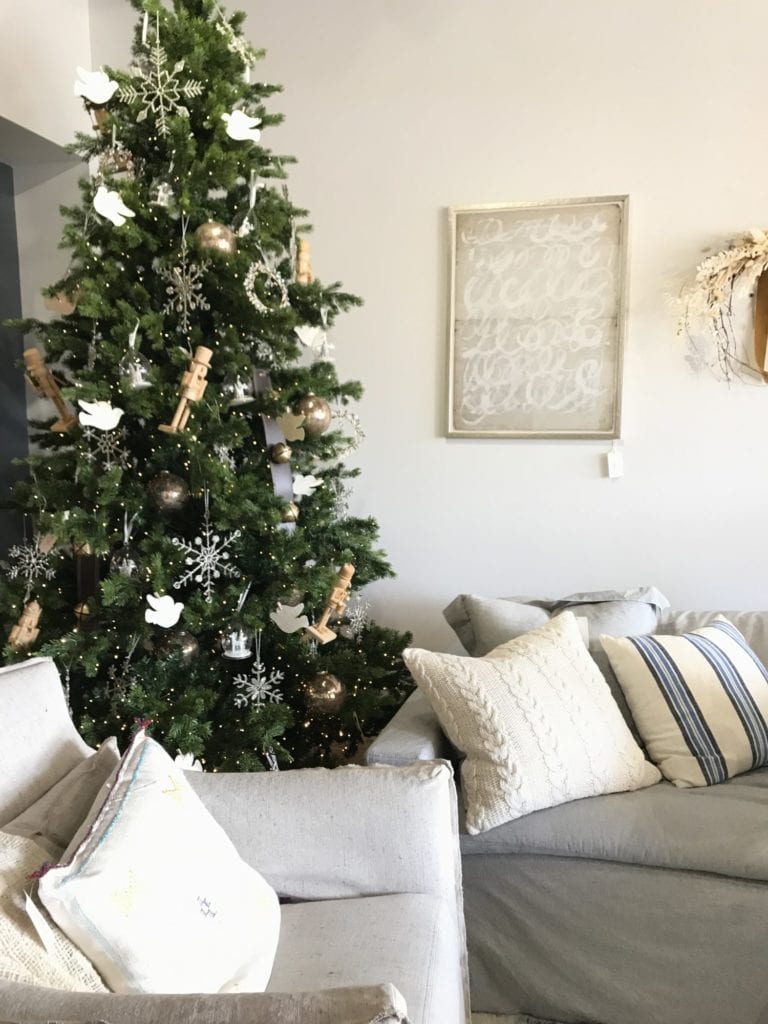 I brought a few goodies home with me and can't wait to use them in my holiday decor!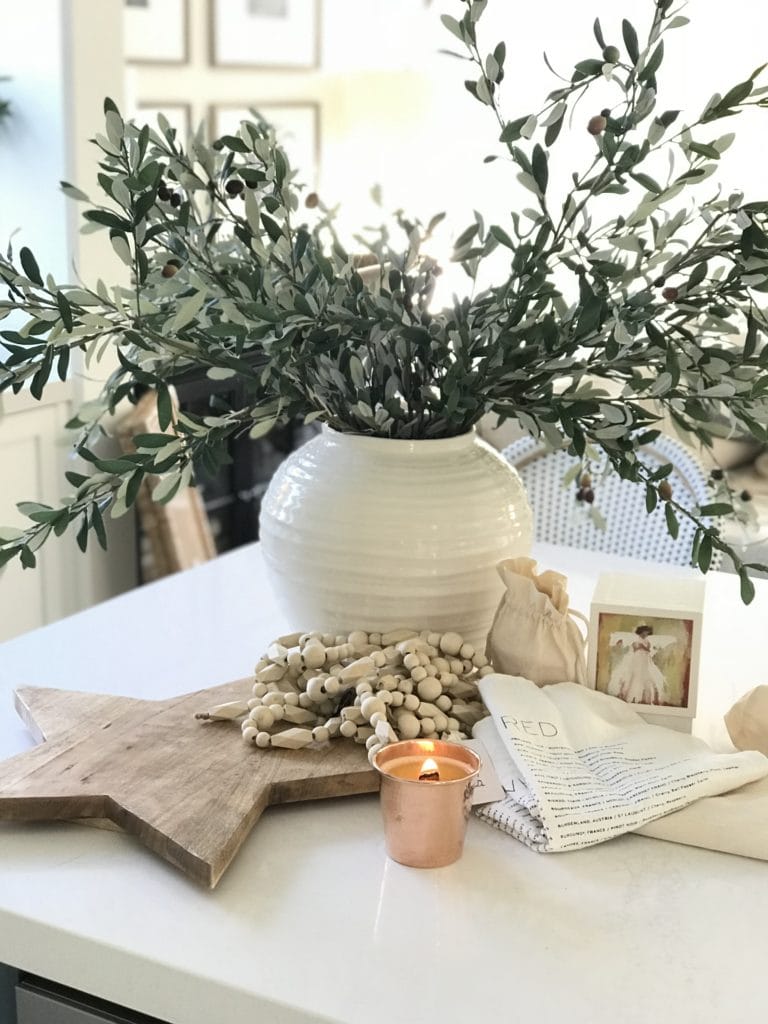 Speaking of holiday decor, I officially started putting stuff up last week. In past years I would have cringed at the idea of decorating so early. But, with Thanksgiving so early this year (and only just over two weeks away), I actually feel relieved at the progress! My goal is to be completely done before we head to Utah for Thanksgiving so that I can just relax and enjoy the decor for a full month! I actually managed to get my Christmas cards ordered too – which is serious progress given that I didn't send any out the last two years because I waited too long! I ended up going with this style and am excited to see how they turned out! The photo we used is much lighter and brighter so it will have a totally different vibe.
After meeting at the construction site on Friday, we went to my sister-in-law and brother-in-law's house to celebrate my birthday! We had tried to get together several times since September, but we weren't able to get together until Friday. We had a great night with homemade pizza, cake, cards, and lots of laughs!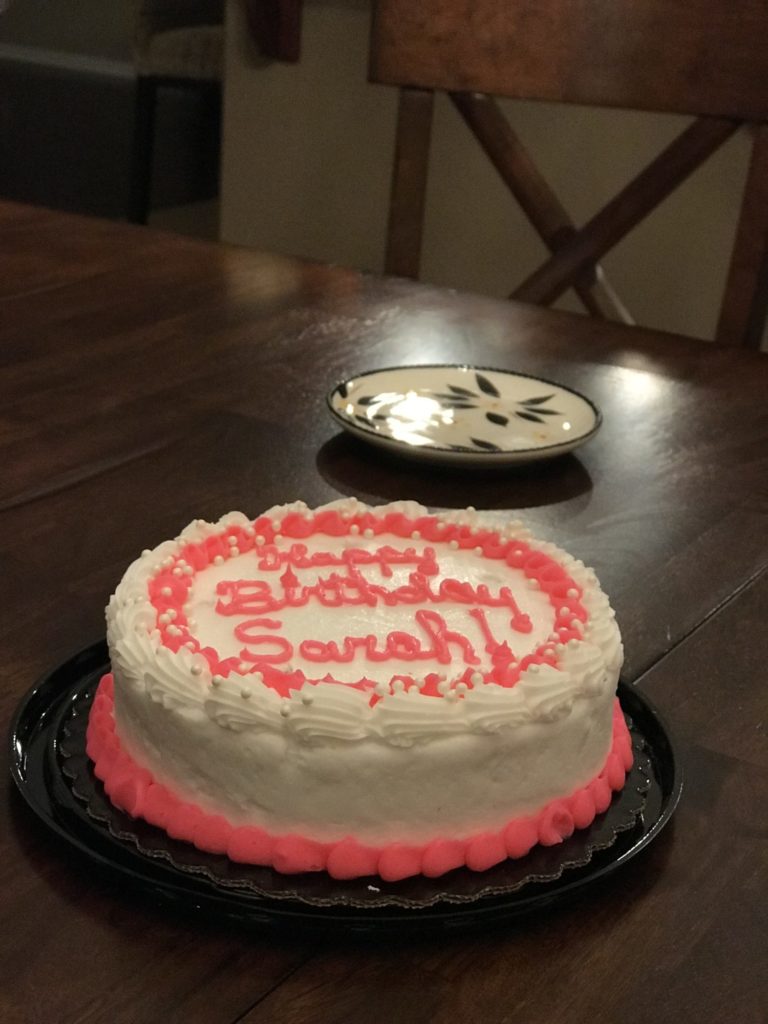 My sister-in-law had her Christmas village set up already. They built a custom table with foam tiers to perfectly hold their village. It always makes me so happy to see it!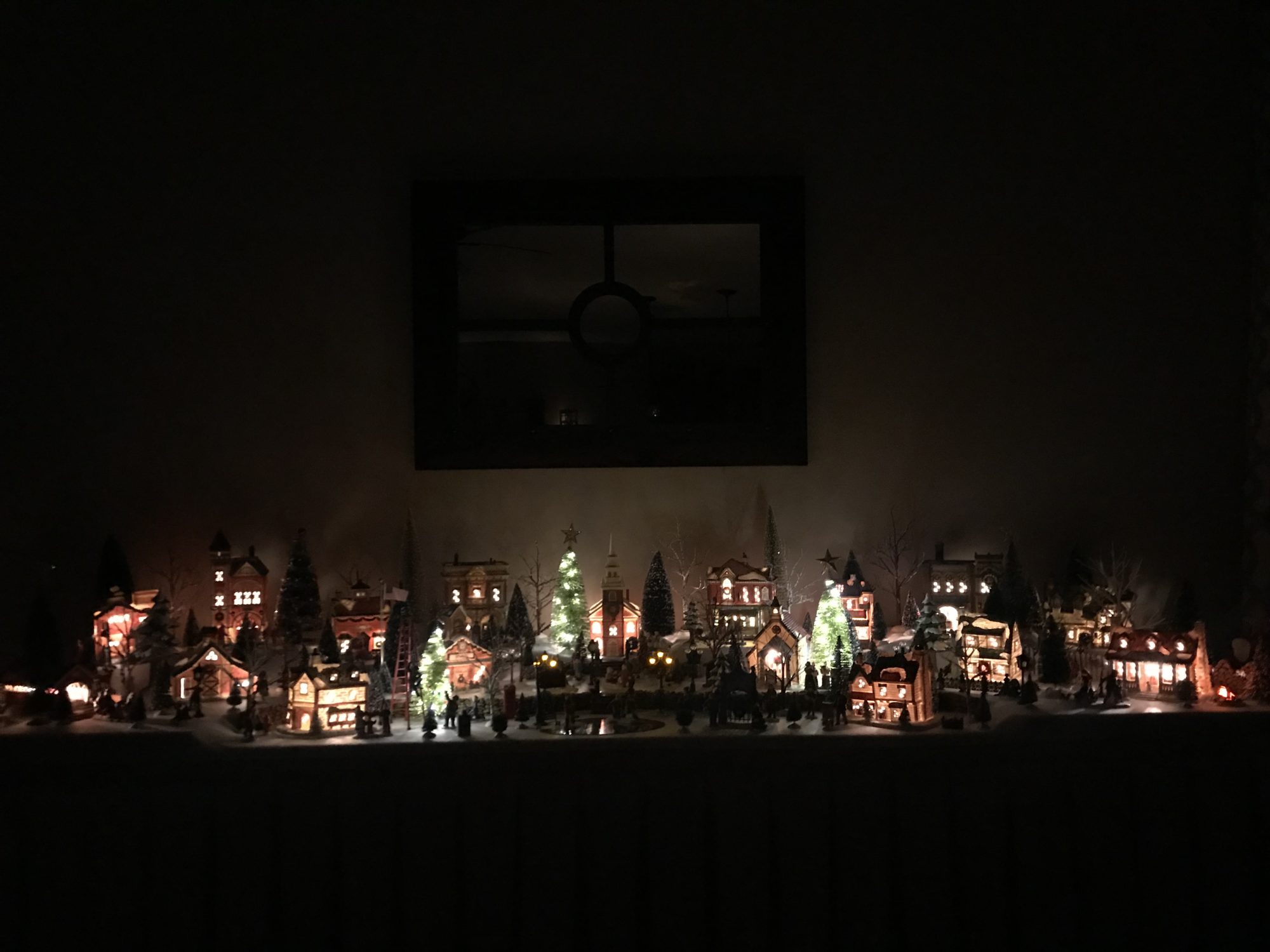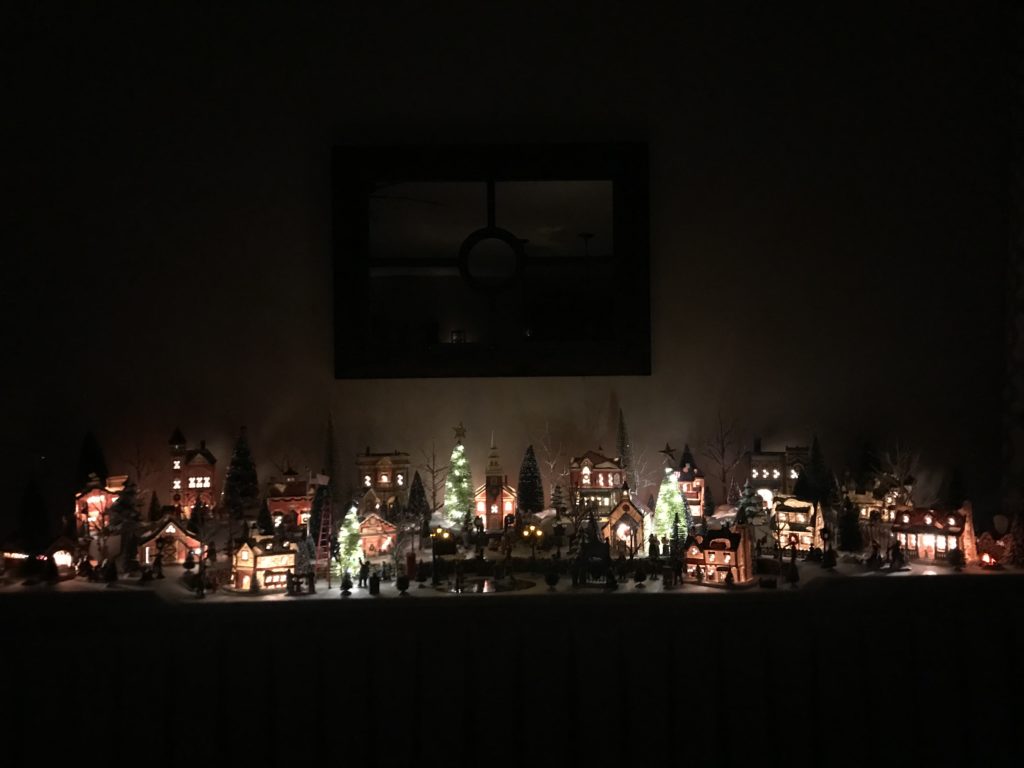 Saturday was a pretty lazy day, which was much needed! We managed a bit of cleaning around the house before watching football and a Netflix Christmas movie at the end of the night! Bailey will literally lay like this for hours on end with the fire roaring. It's crazy how hot she is, yet she's obsessed. Between that and begging for fresh water out of the bathroom sink, she doesn't do much else all day. But she's definitely mastered both skills!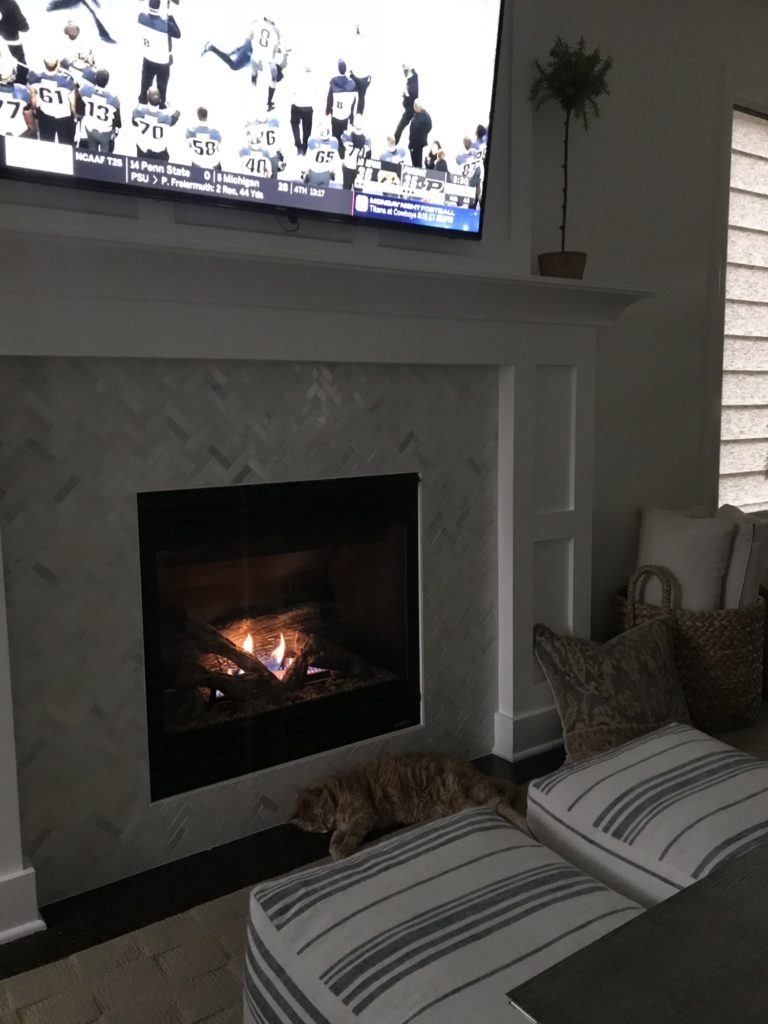 Although we may have some Christmas decor up in a few limited rooms, our kitchen and living room still very much look like fall! I love how the changing colors outside completely change the look of things inside! The bald cypress outside is trying to match our basket pendant lights and bistro stools (which are $60 off thru the end of the day) and I love the seasonal look!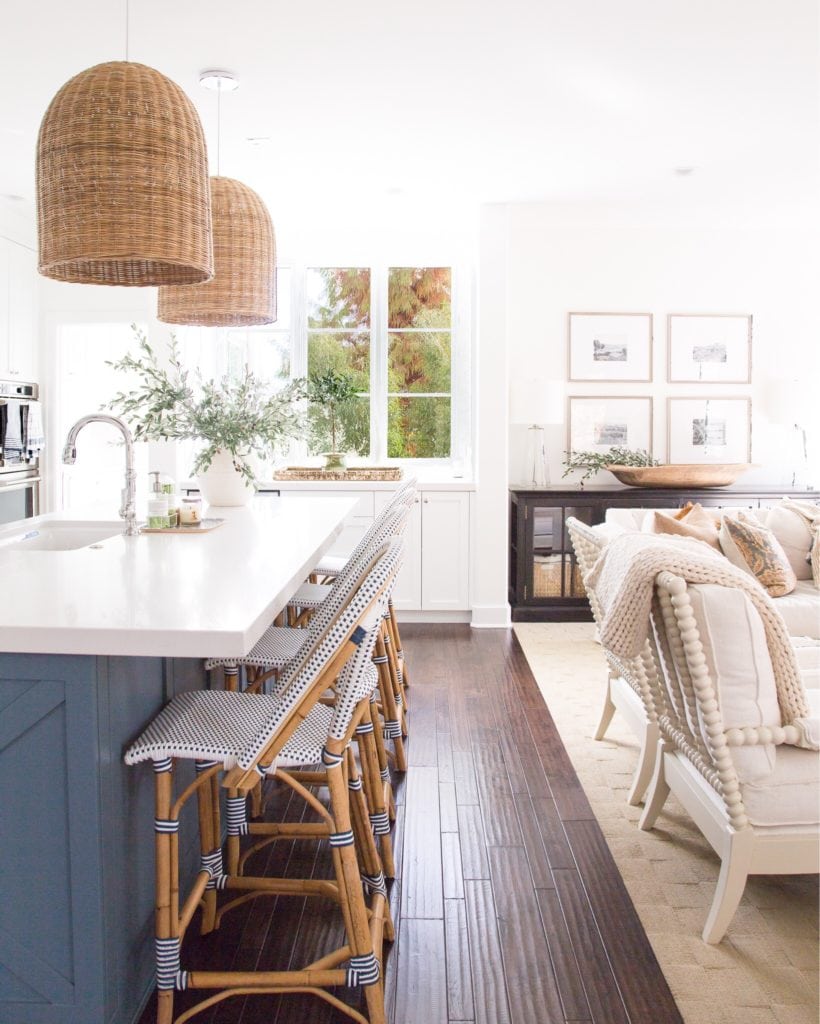 I woke up bright and early Sunday, as I'm sure most of you did. I actually love the time change this time of year – other than how dark the evenings are. By 9 am yesterday, I felt like I'd finished a full day's worth of work! Kurtis cranked out a lot of random projects at our original rental that needed to be wrapped up. I worked on the dining room decor and cleaned while he was gone. It felt good to get so many items off our to-do list!
I shared this shot of our dining room yesterday on Instagram. It's last year's decor, but I was surprised by the reactions and how many other people have already started decorating! My dining room is mostly done at this point (I still have a bit of work on the tree). I haven't dared move into a space we use more frequently yet! I've listed all sources for this image below under the image. I'm still loving last year's flocked tree! It's already set up in that same spot again for this year! You can see even more of the decor from last year (in the living room and dining room) here.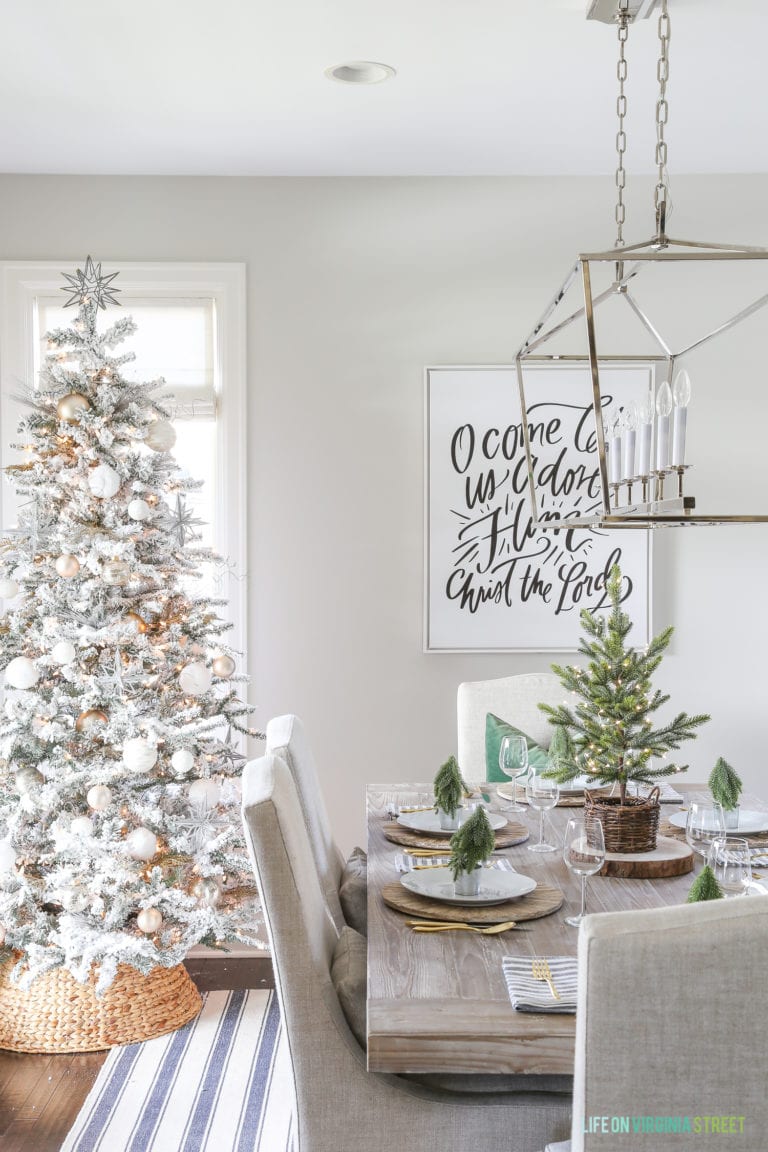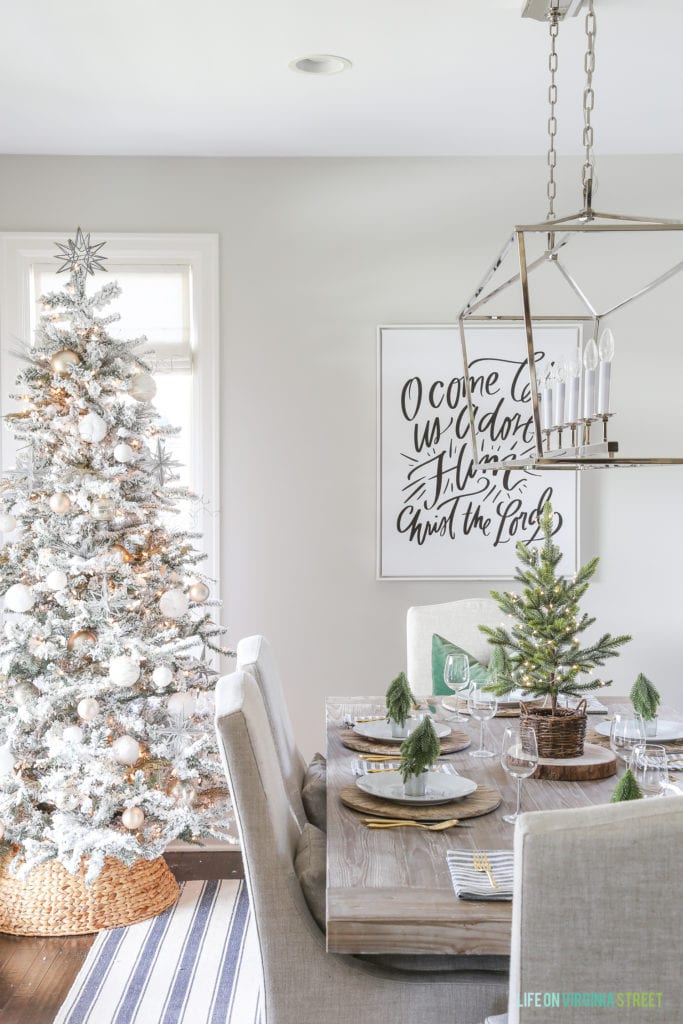 Flocked Tree | Tree Collar (similar here) | Canvas Art | Chandelier (knock-off here) | Dining Table | Dining Chairs | Chargers | Potted Tree (similar) | Rug | Velvet Pillow Cover
We ended the evening on Sunday by watching one of my all-time favorite movies: The Mirror Has Two Faces. Basically Jeff Bridges is everything in that movie!
Recent Buys & Sales
I mentioned this look last weekend and then shared this flatlay on Friday on my Instagram feed! I love the fit of this sweatshirt (more fitted than many) and the bracelet length sleeves. Such a fun top for fall and winter!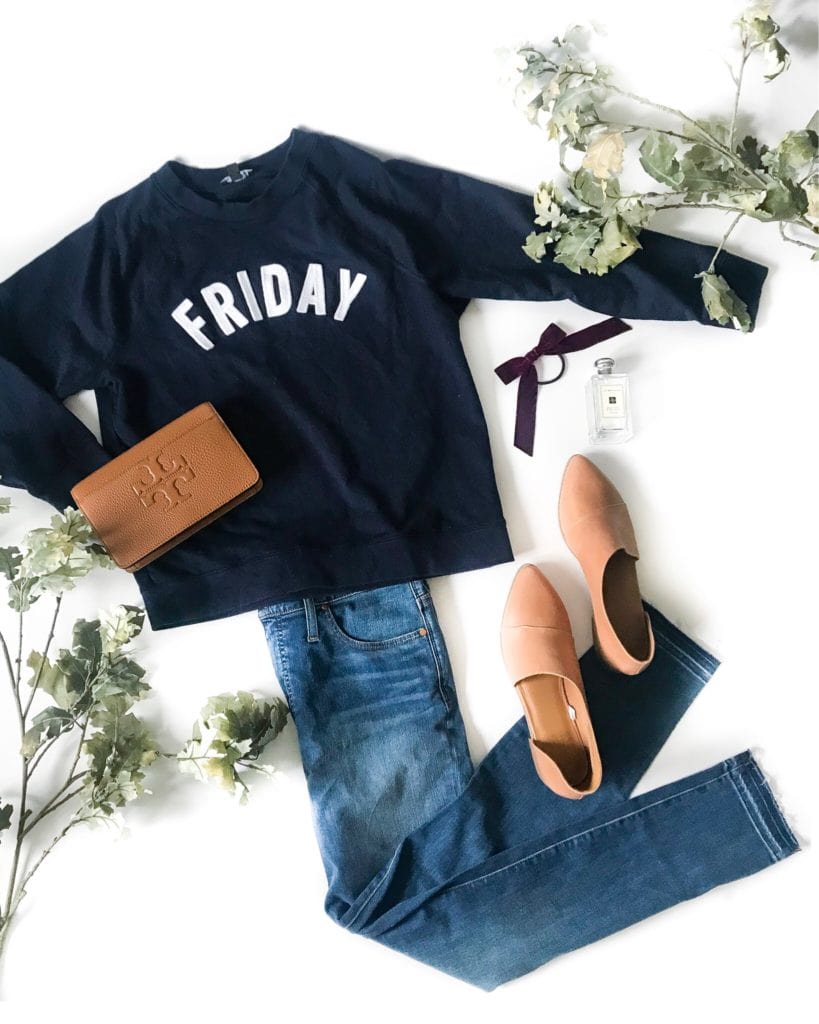 FRIDAY Sweatshirt | Velvet Bow Hair Tie | Released Hem Jeans (similar here) | Booties (color is Tan) | Cologne | Clutch (similar)
Some sales that carried over from the weekend (or are new today) that you may be interested in:
I hope you all have a great week!
If you would like to follow along on more of my home decor, DIY, lifestyle, travel and other posts, I'd love to have you follow me on any of the following:
Pinterest / Instagram / Facebook / Twitter / Google+
disclosure: some affiliate links used