I've got both our Weekend Recap and Wednesday Watch List coming to you today. It's been a busy week!
This post contains affiliate links for your shopping convenience. Click here to read my full disclosure policy.
Home Updates & Projects
Now that I've wrapped up most of our fall decorating, I've been trying to focus on other projects that need to be done around the house and yard. Last week, I pulled out most of our planters. It ends up taking a lot longer than I expect it too. It's amazing how rooted everything can get in a few months! You can see below, most of the color was gone at this point. The potato vines were still doing okay, but I knew with the overnight temps we were getting last week and this week it was only a matter of time before they died. So, I pulled them before they became additional leaves in the pool!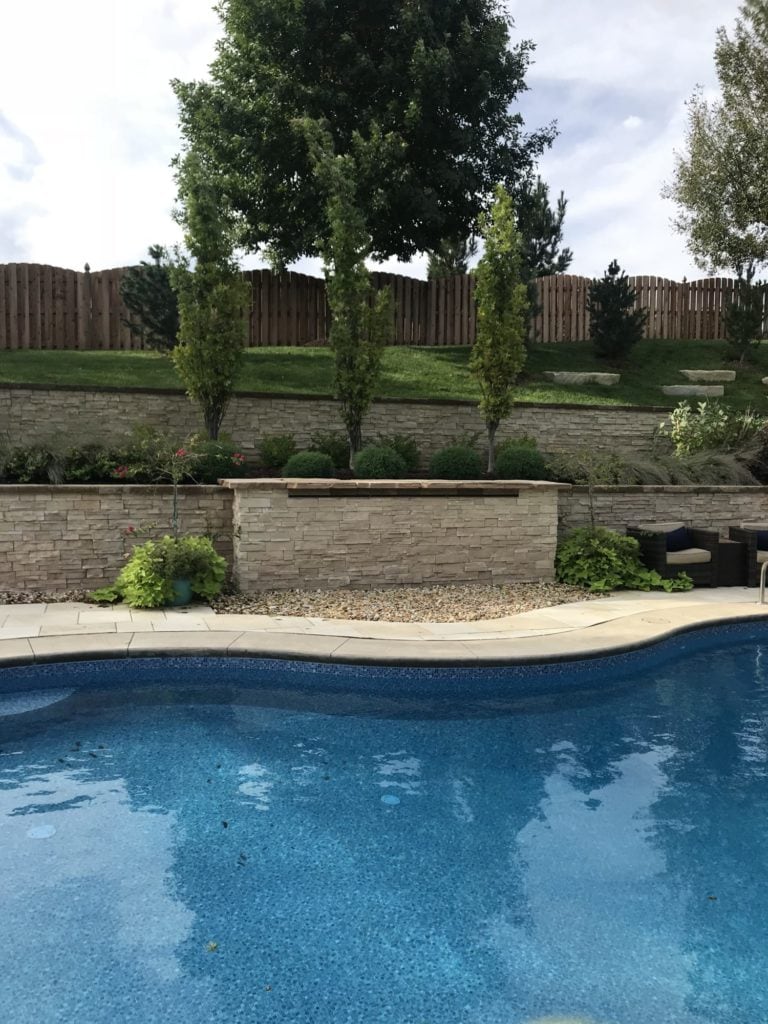 I actually showed the process of removing the potato vines on my Instagram Stories because each year, so many people are shocked that they actually grow potatoes. Keep in mind I usually buy the plants that only have a handful of leaves on them. They're tiny! But most of them produce multiple potatoes – and they're usually pretty big! I've now been getting tagged on Instagram when people go "potato hunting" in their planters and it's hilarious! I also received a ton of questions asking me if we eat them. I put way too much fertilizer on mine for the flowers to consider trying them. But I have heard from a few people that they're edible!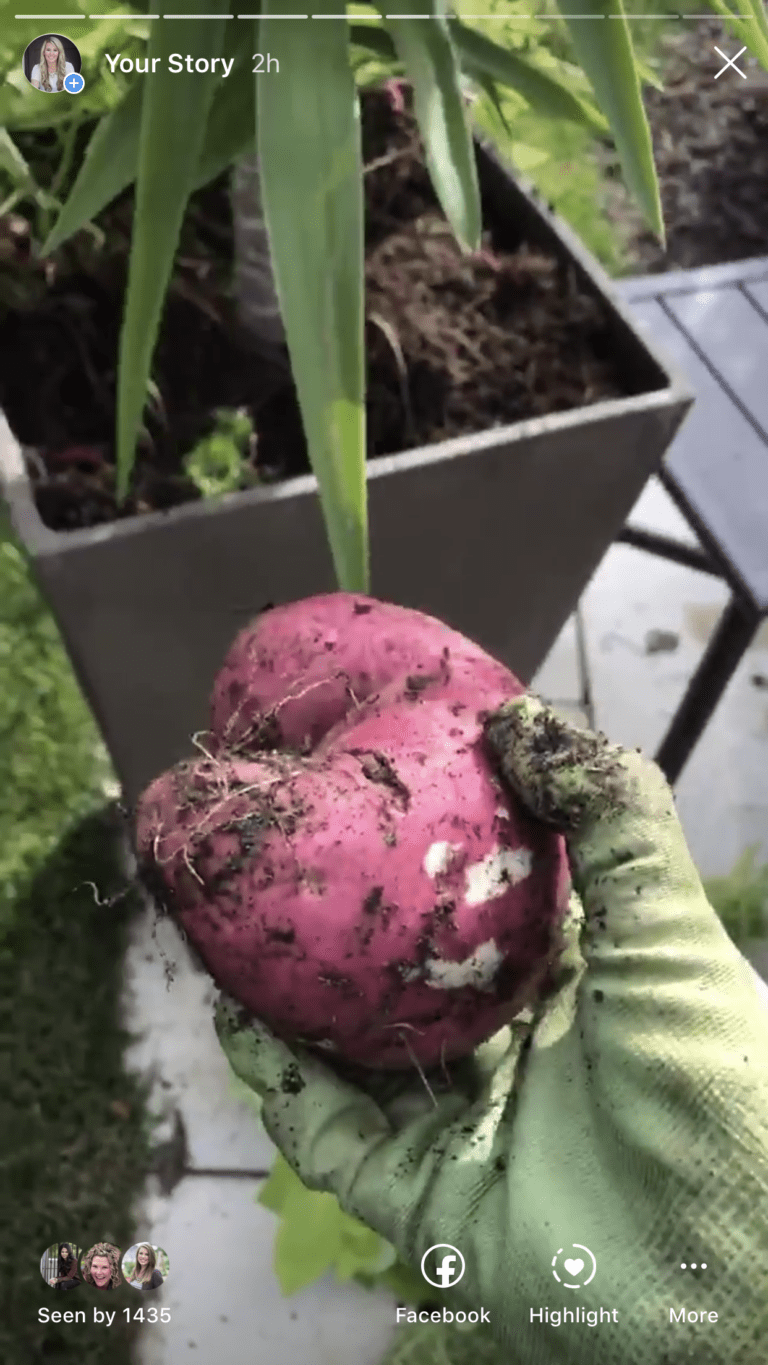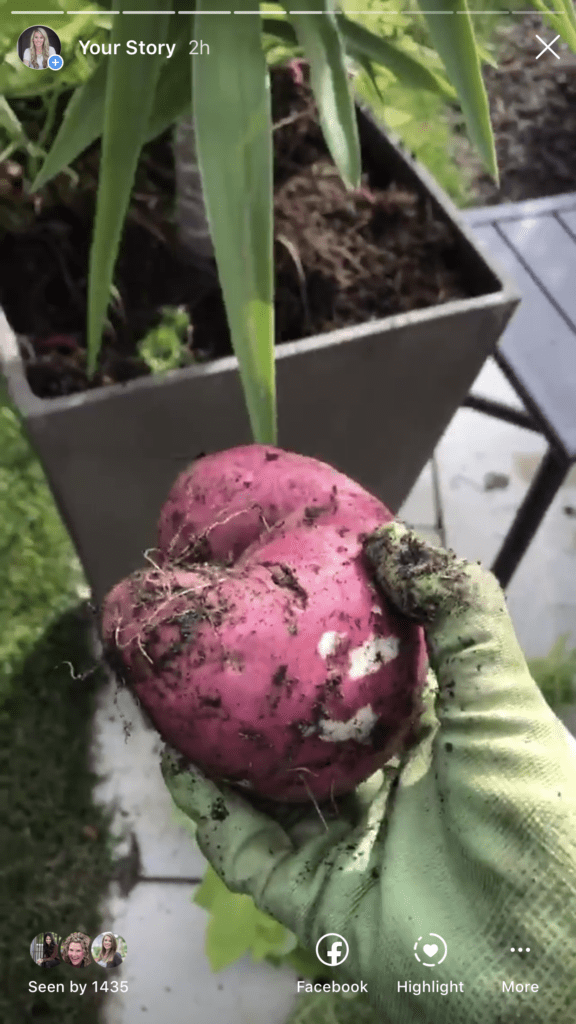 Kurtis had to work from home three days last week. We quickly learned we would never both be able to work from home together and survive our marriage! I shared this view of his new "office" last week on Stories. As you can tell, he finally moved his office outside. It's screenshot of a video I discreetly took of him, but you can see his fine digs. And air conditioner 😉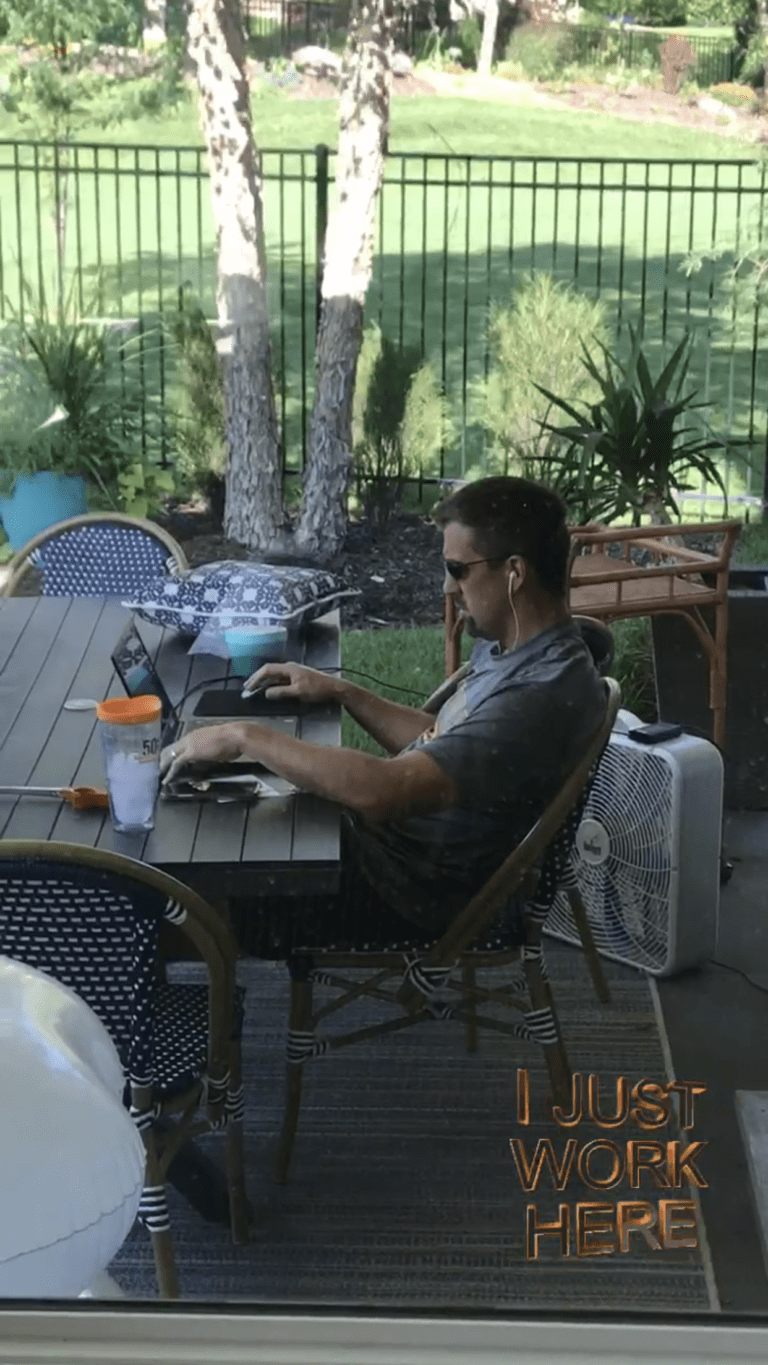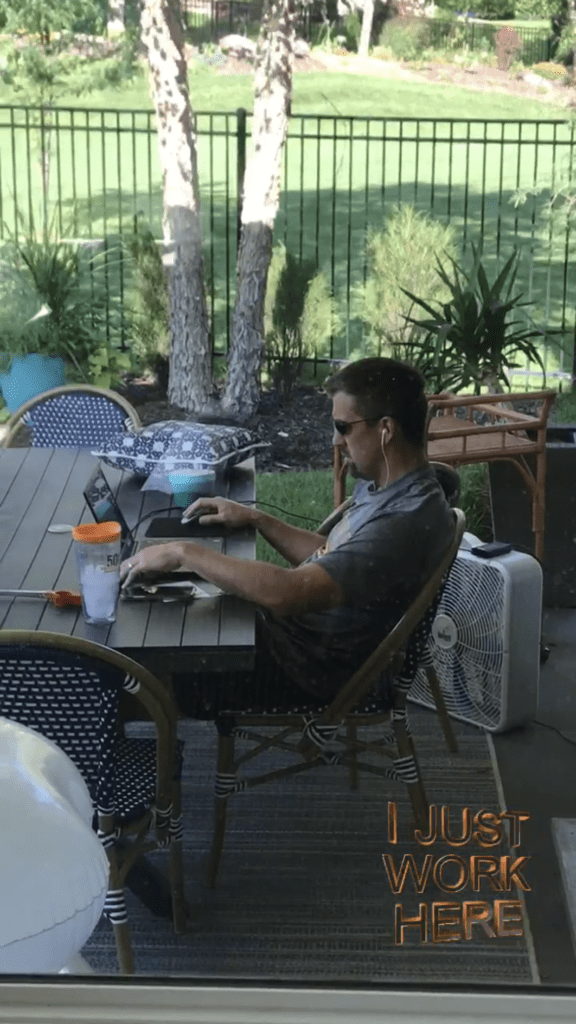 I mentioned our original rental house is vacant for the first time in two and a half years. Interest has been a little slow, so we took the opportunity last week to swap out a few light fixtures to freshen everything up. We used my favorite knock-off lantern in the entryway. I decided to do the 4-light version (rather than the 6-light version I really wanted) due to budget restraints. But it looks great! If you want lo learn more about these lights and all the varieties and finishes offered, I wrote a really thorough post about them here. The finish we used here was Antique Silver Leaf, which I feel looks best with satin nickel.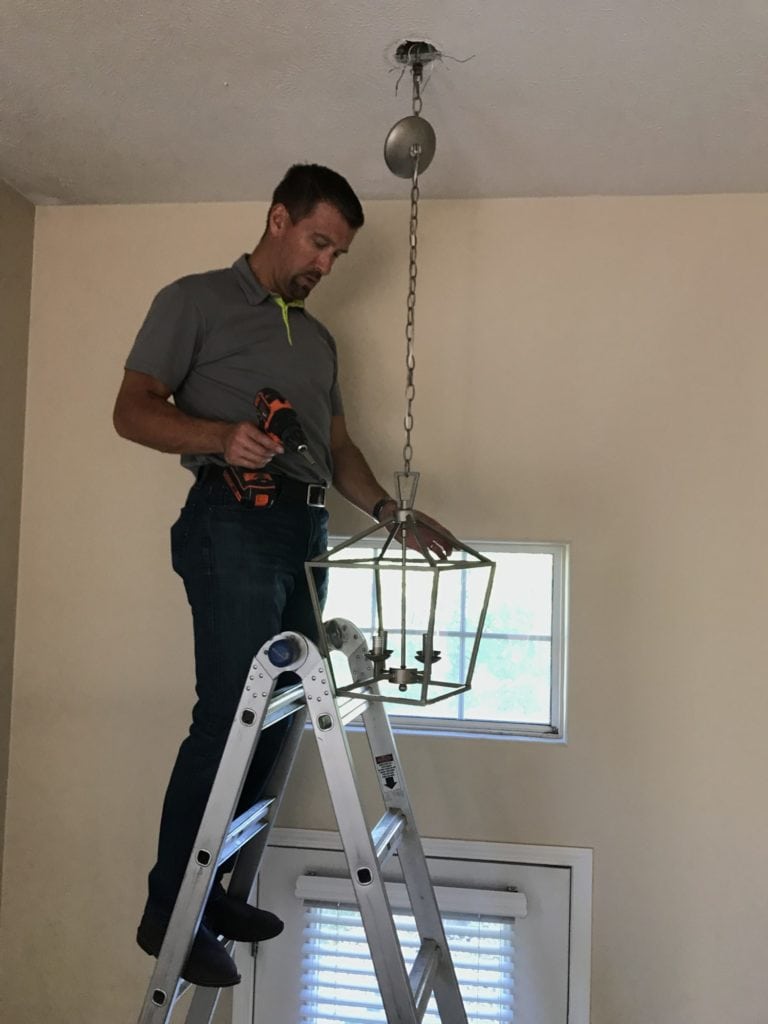 We also felt this light fixture in the hallway was a bit dated. So we actually replaced it with a boob light. In rentals, you really just have to go with cost-effective pieces that look good, clean and go with the most varieties of styles.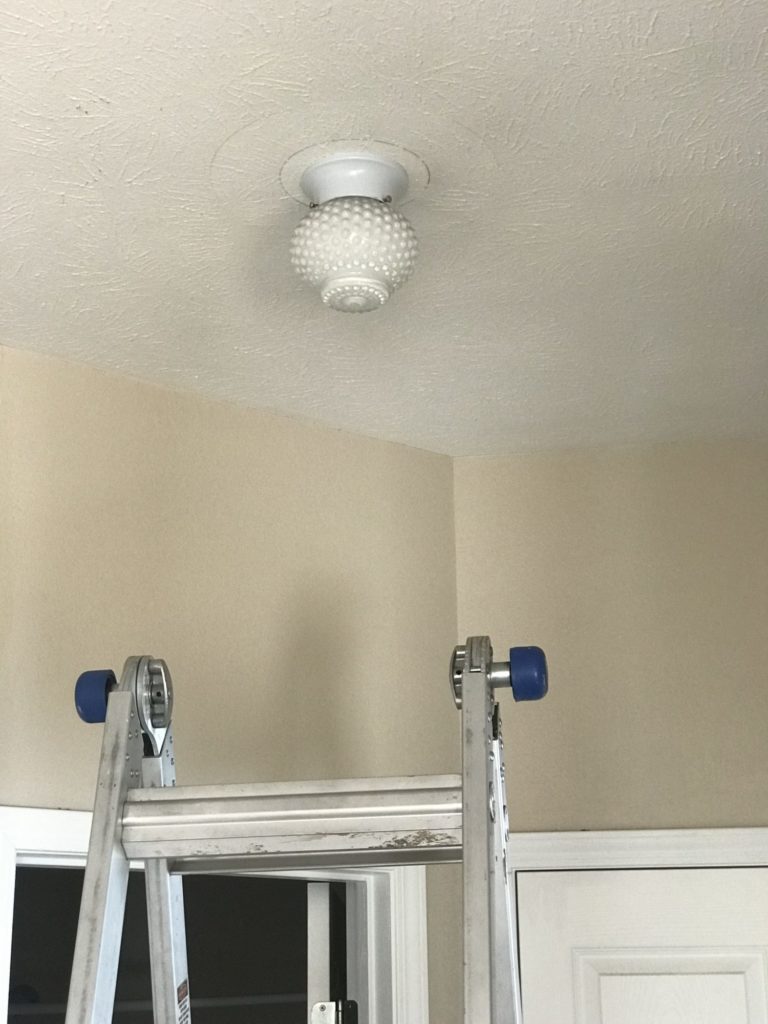 Saturday afternoon I worked on our front porch while Kurtis watched football. You can see how it turned out on this week's Fall Porch and Planters post!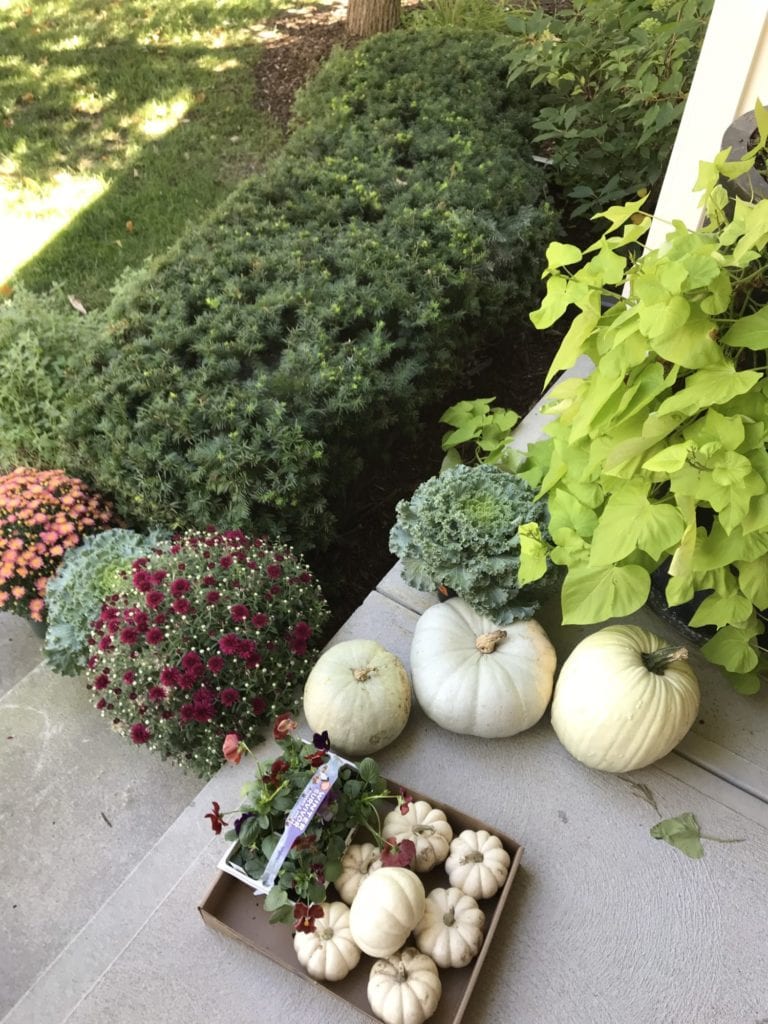 Around Town & For Fun
Saturday morning we had to make a Costco run. While we were out, we did some driving around in The Prairies. We have some friends moving there and we wanted to drive by their lot. We drove past this stunner, and I can guarantee I'll be stalking it. The windows alone are a total dream. I just hope they finish the exterior exactly how I envision it 😉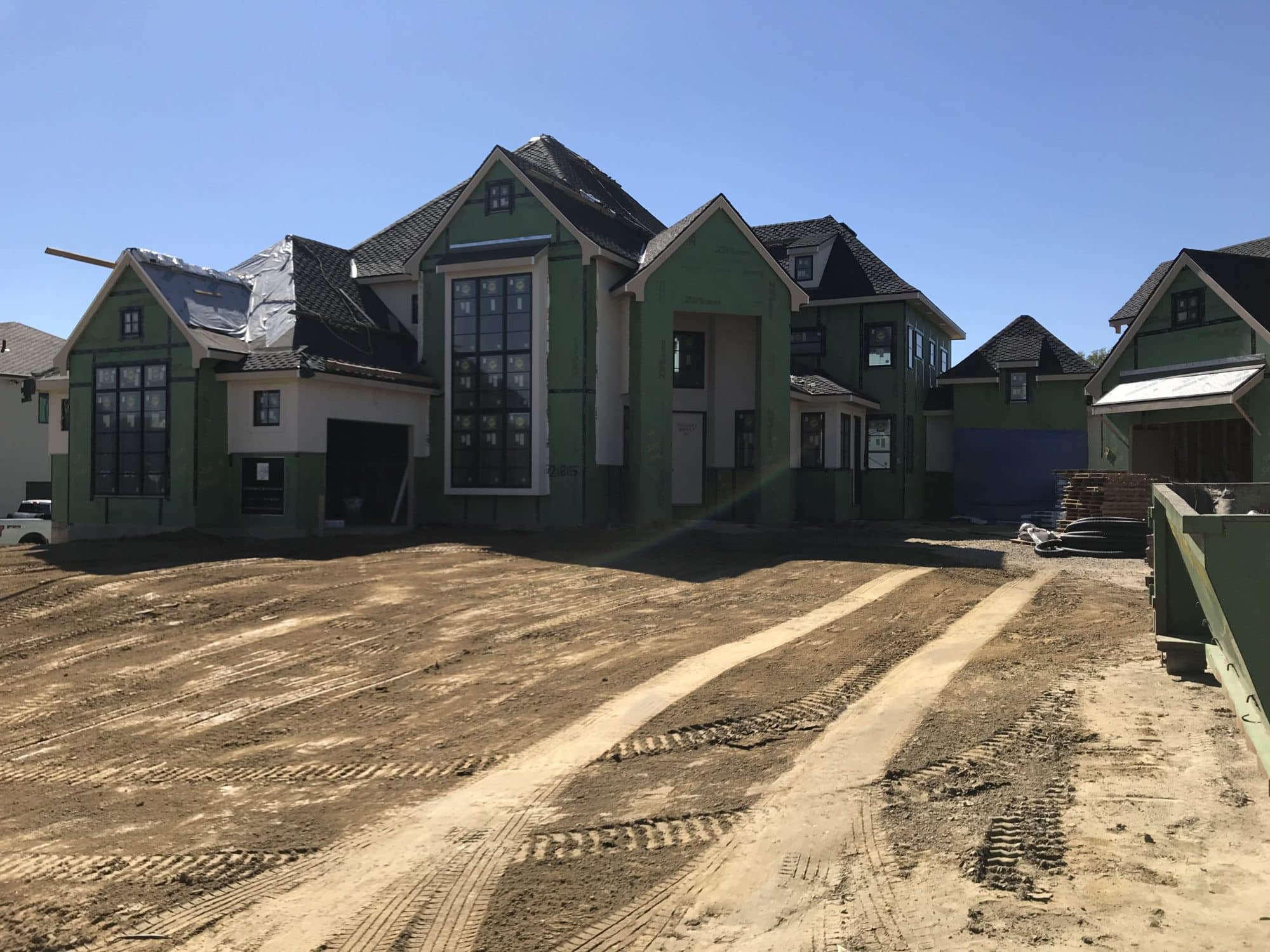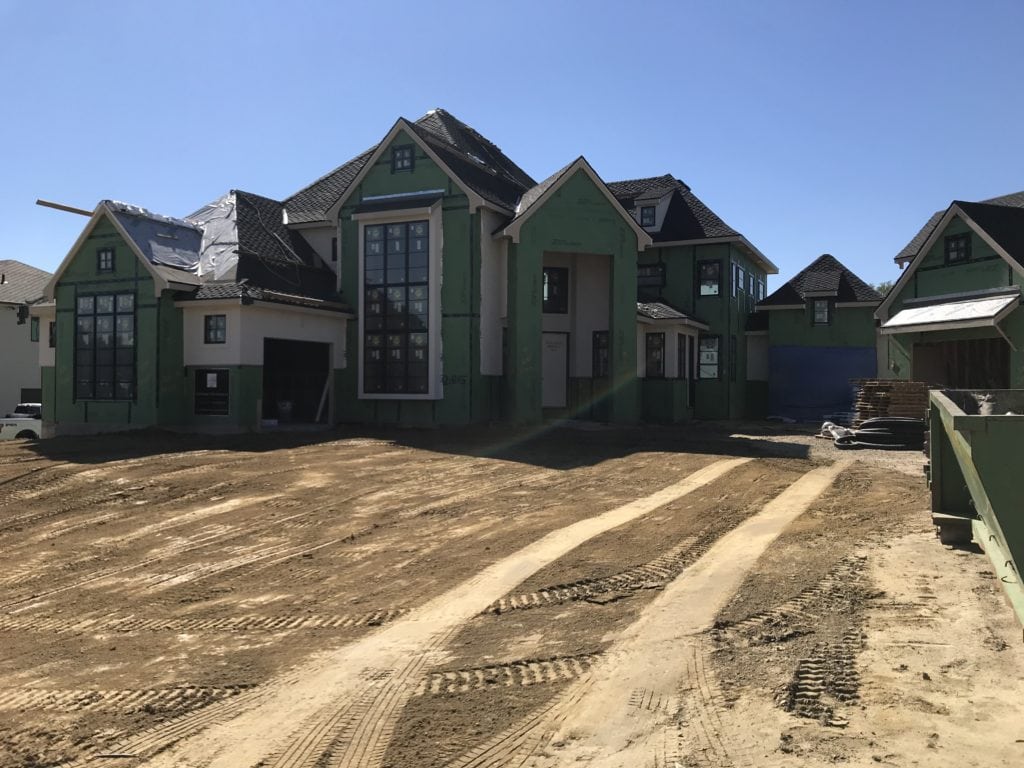 Sunday morning, we had to go to Vala's Pumpkin Patch for a work party for Kurtis. I wore these flat booties that I rave so much about. These are the ones I got last year, and I feel like they get more and more comfy the more I wear them! My black ones arrive next week!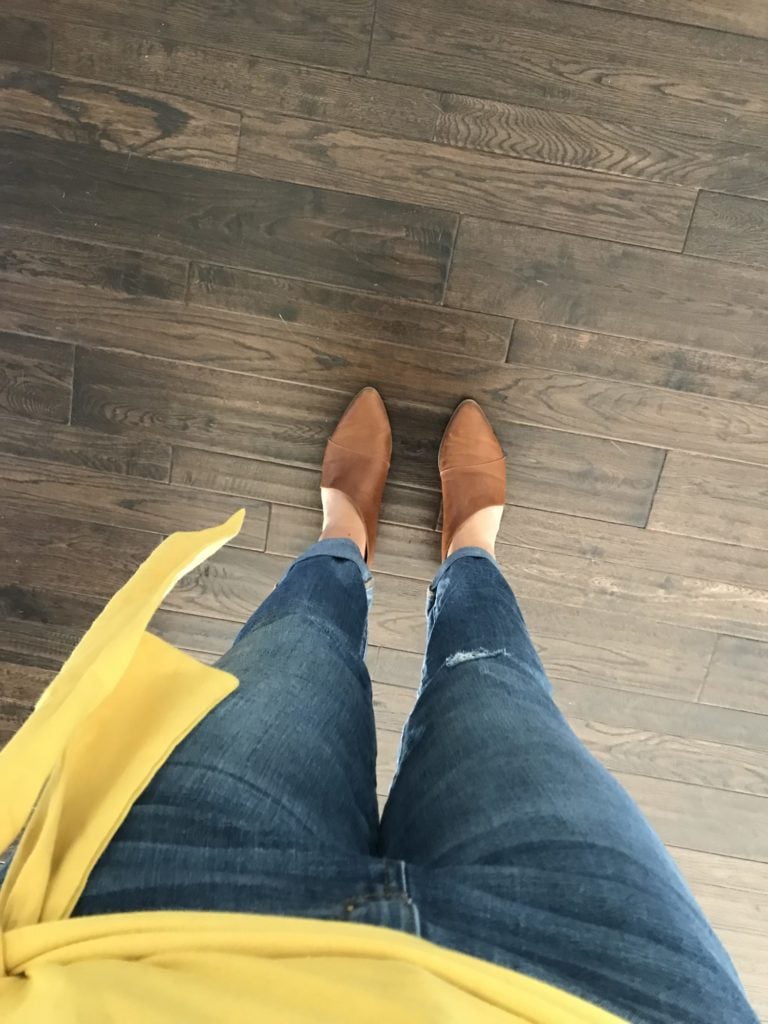 If you're not local, Vala's is a pumpkin patch, but it's also the equivalent of Disneyland to a fall lover. We honestly hadn't been out there in close to ten years (it's geared more towards kids). But we had so much fun. Kurtis' sister works for the same company so we met up with them for a morning of fun. They have apple launching cannons that we were all enjoying a bit too much. I think this was the highlight of Kurtis' day.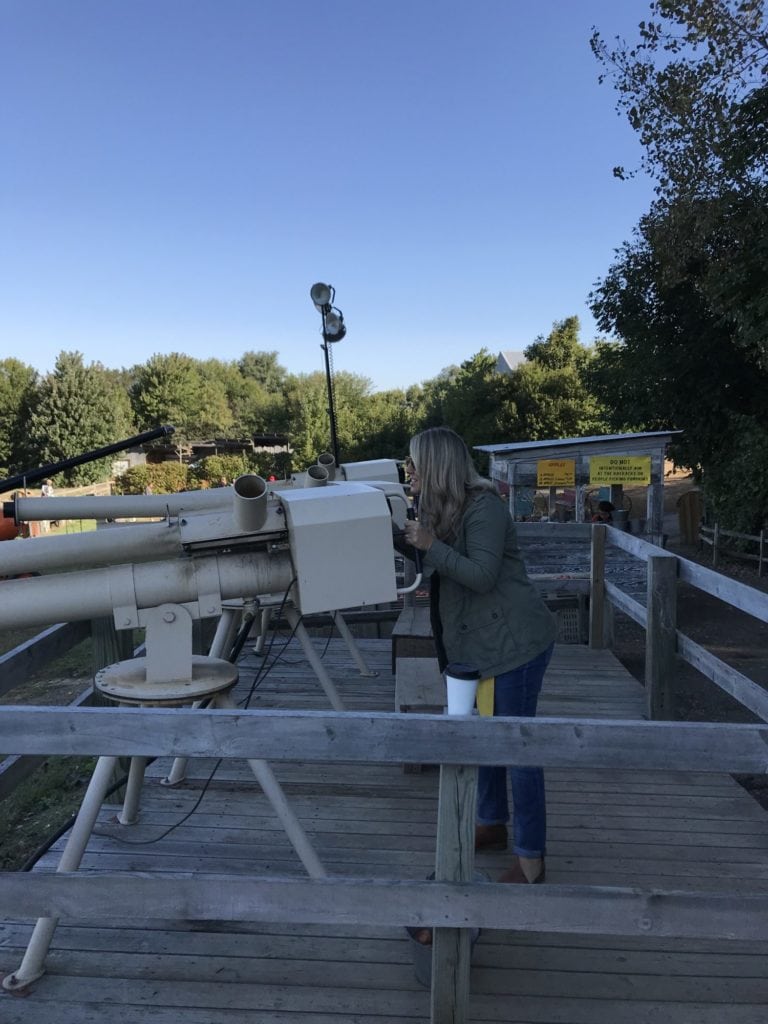 They also have a petting zoo.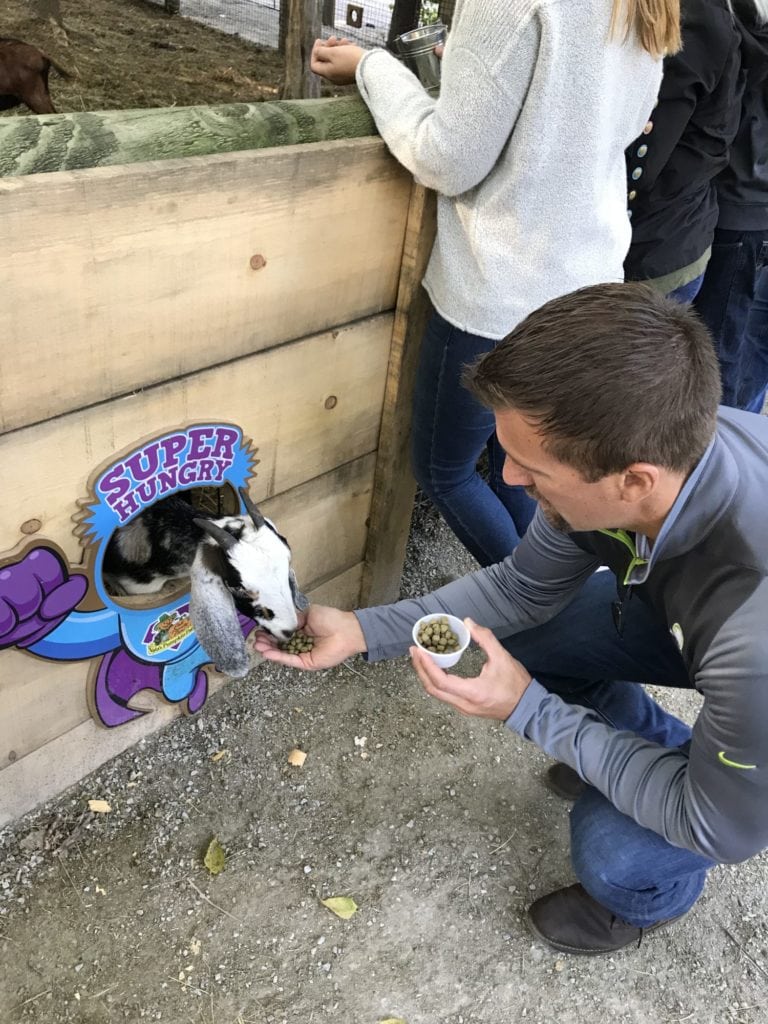 And giant turkey legs. Even though it was only 10:30 am, Kurtis wouldn't leave without one (even though we were heading to lunch). I think Kurtis ended up having more fun than any of the kids there 😉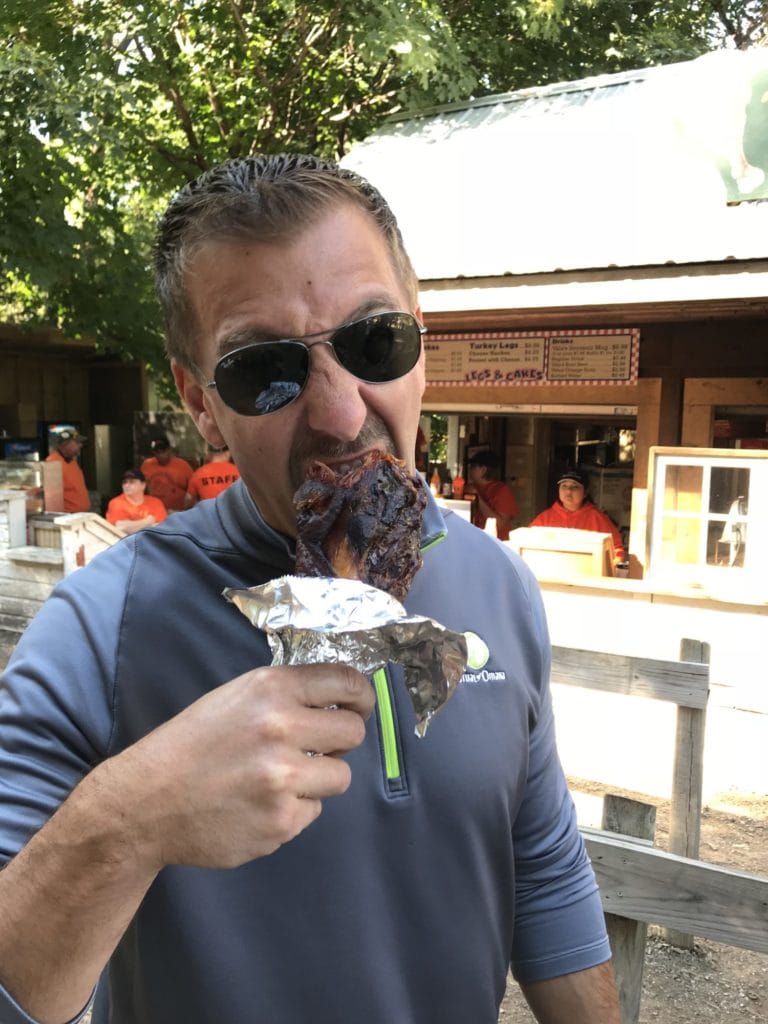 Afterwards we headed to Lazlo's for an early lunch with Pat and Janine. I did blog work most of the remainder of the day. But, Sunday night, we did start Ozark after so many of you recommended it. We're loving it so far!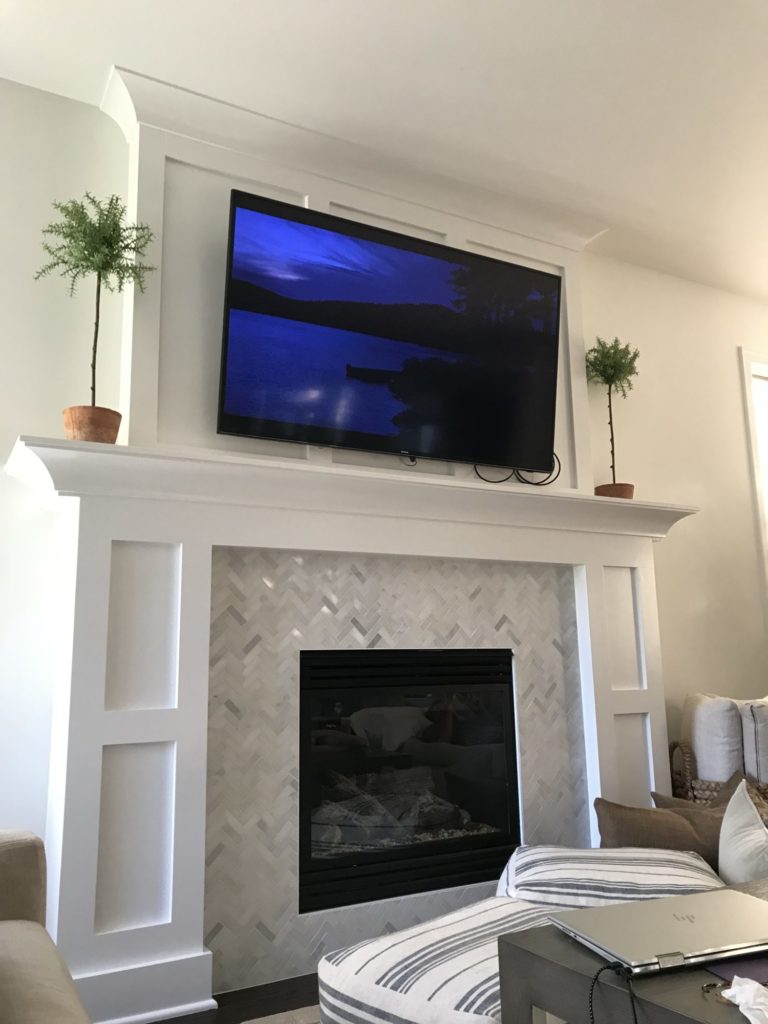 Fall seems to be the season I burn candles most frequently! I've been rotating between those front two candles the past week or two. I bought the small spiced cider version last year and loved it so much I decided to try the pumpkin version (in the copper color container).  Since these two scents are only sold seasonally, I'm already wishing I had gone with the larger sizes!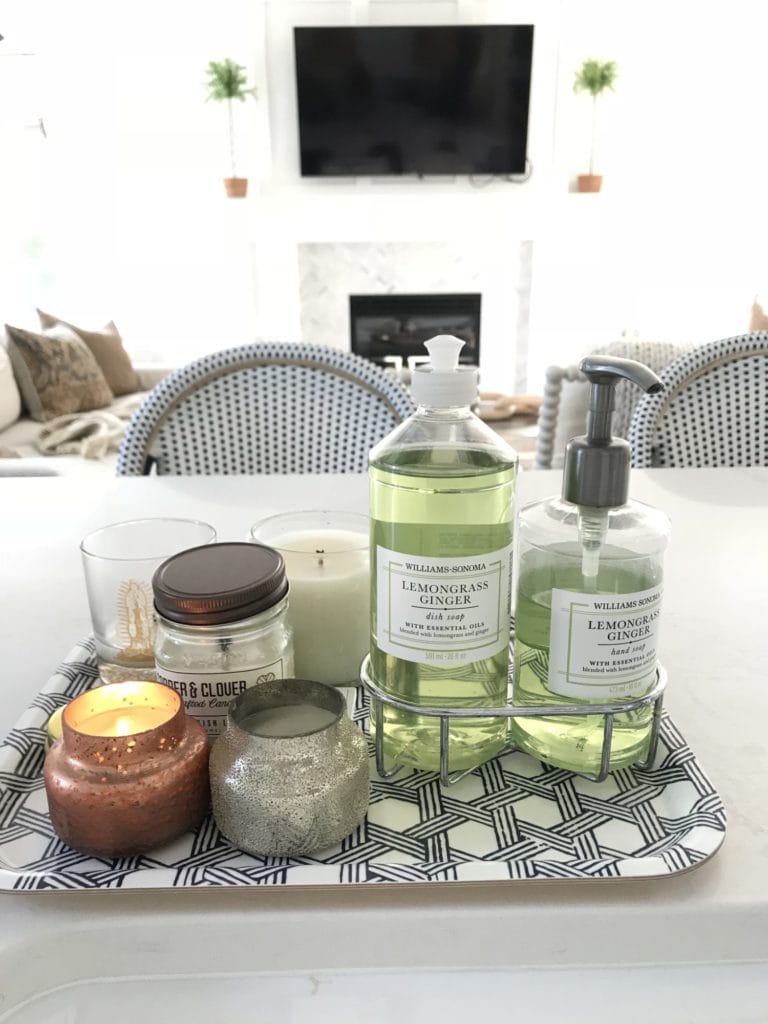 I hope you're all having a great week! The weekend will be here again before we know it!
If you would like to follow along on more of my home decor, DIY, lifestyle, travel and other posts, I'd love to have you follow me on any of the following:
Pinterest / Instagram / Facebook / Twitter / Google+
disclosure: some affiliate links used