Let me show you how to decorate your fall dining room using non traditional colors but still capturing the seasonal look!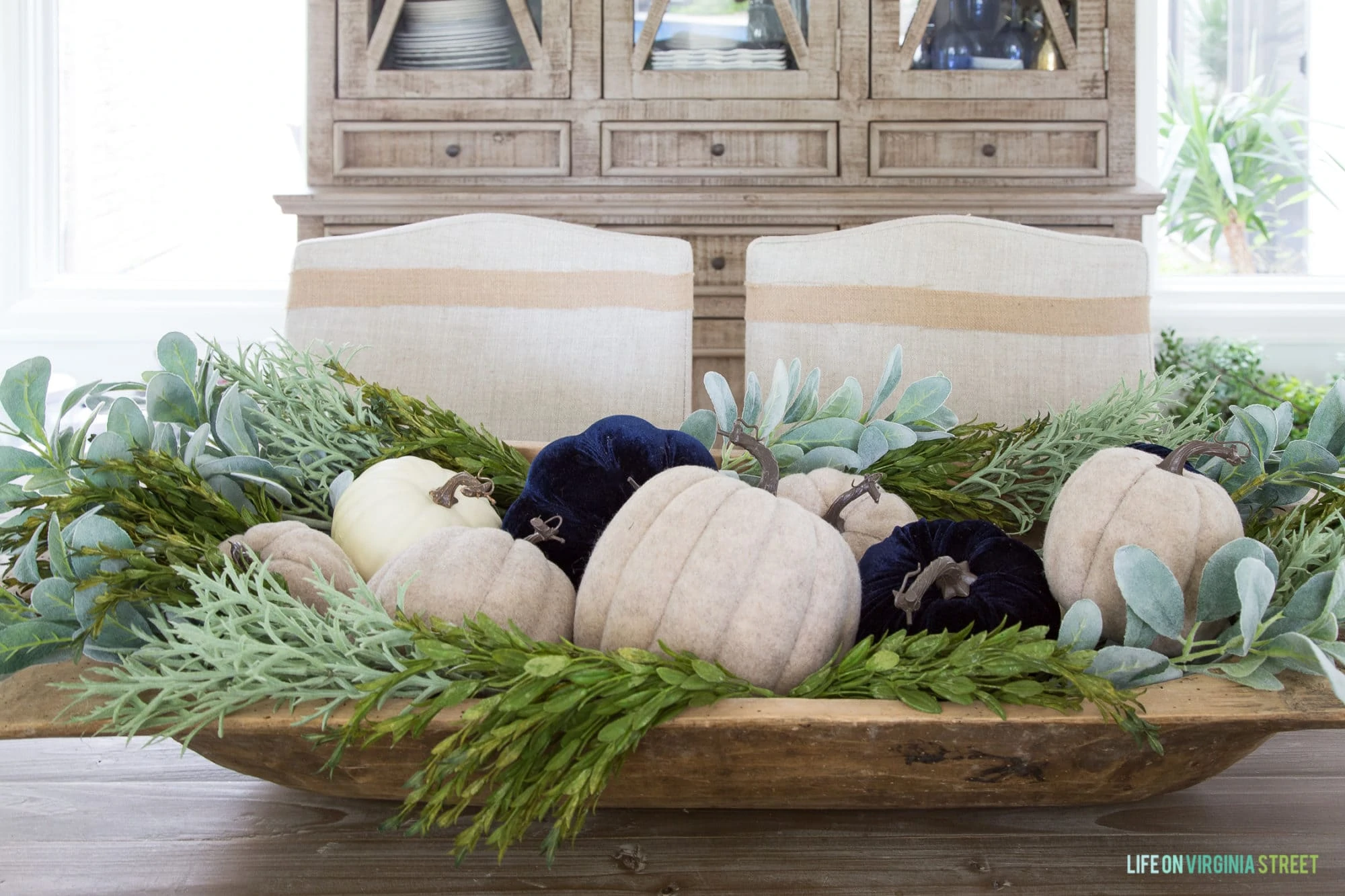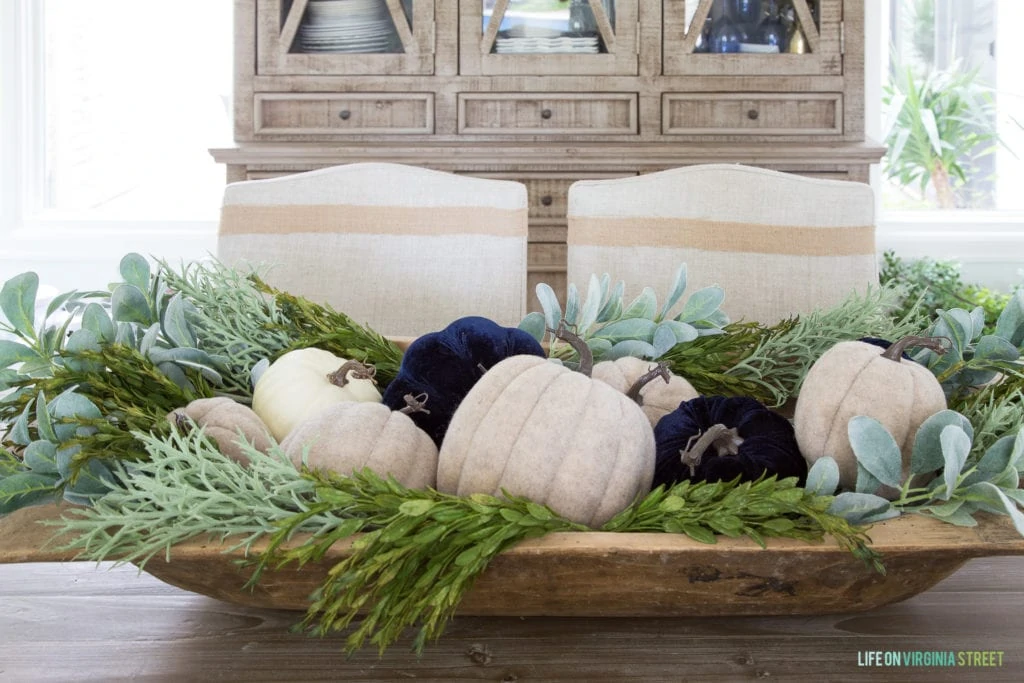 This post is sponsored by JOANN and contains affiliate links. As always, all thoughts and opinions are my own. Click here to read my full disclosure policy.
As little as a few years ago, I felt that when fall rolled around, I had to decorate with "fall colors". Oranges, browns, golds, red-tones, etc. Warm colors that are the exact opposite of my usual cooler toned decor style. However, I've been slowly learning that I can still decorate seasonally without using traditional colors but also still capture the feel of the season. Today I'm going to share some fall decor updates to our dining room I made without using a single traditional fall color!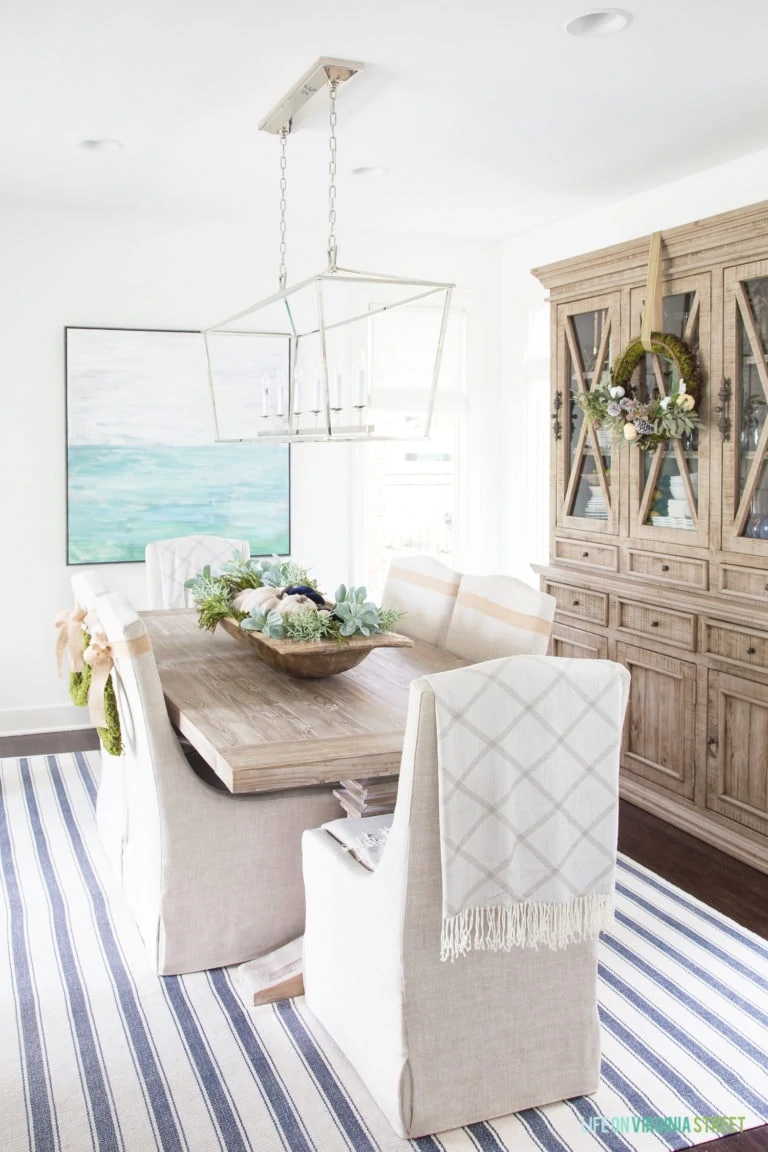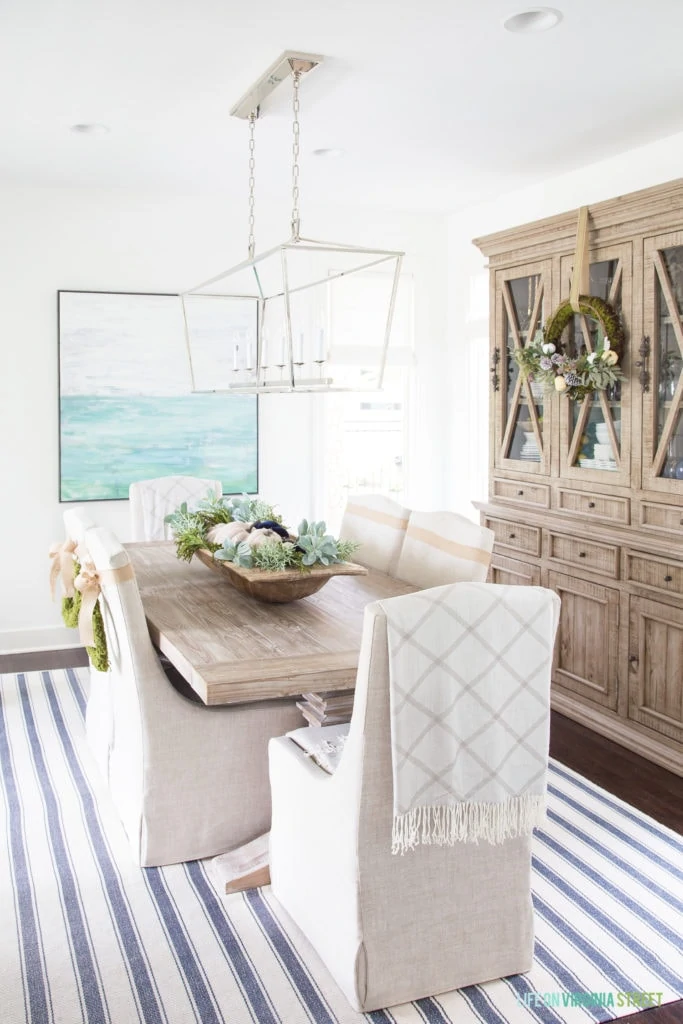 As you may know, my favorite colors to decorate with are blues, greens, and neutrals. Because of the core elements in our dining room like our blue and white striped rug and hutch, I was determined to stick with my usual color scheme rather than force myself to use traditional fall colors.
The Versatile Throws
In lieu of using throw pillows at the head chairs, I draped these plaid throws over the back of each chair. They reverse to opposite colors, so I love that they have multiple looks and uses! Although the throws are neutral, the plaid gives a traditional preppy fall vibe that I love! I love that JOANN has so many home decor items, like these throws, that you can incorporate into your home, even if you aren't feeling crafty!
You may have also noticed my updated "painting" in the back of the room. It's still a work in progress but I'm already much happier with the updates I've already made simply using acrylic craft paint.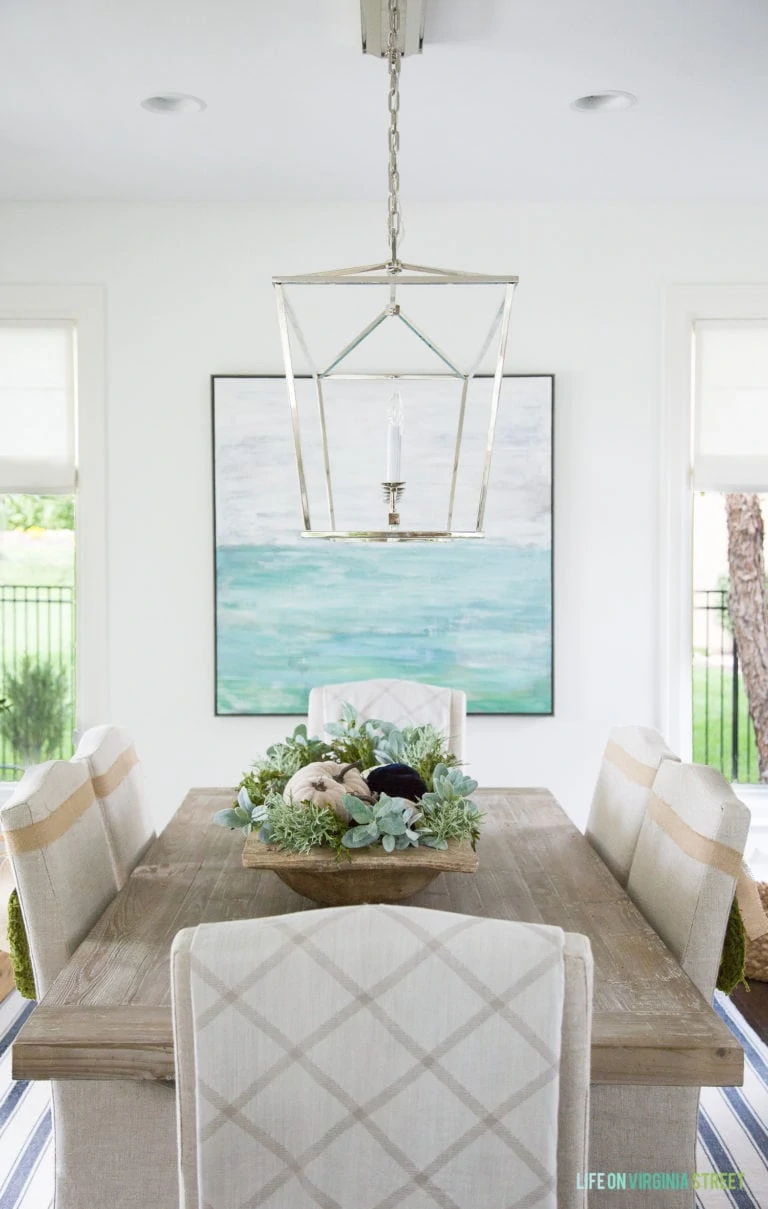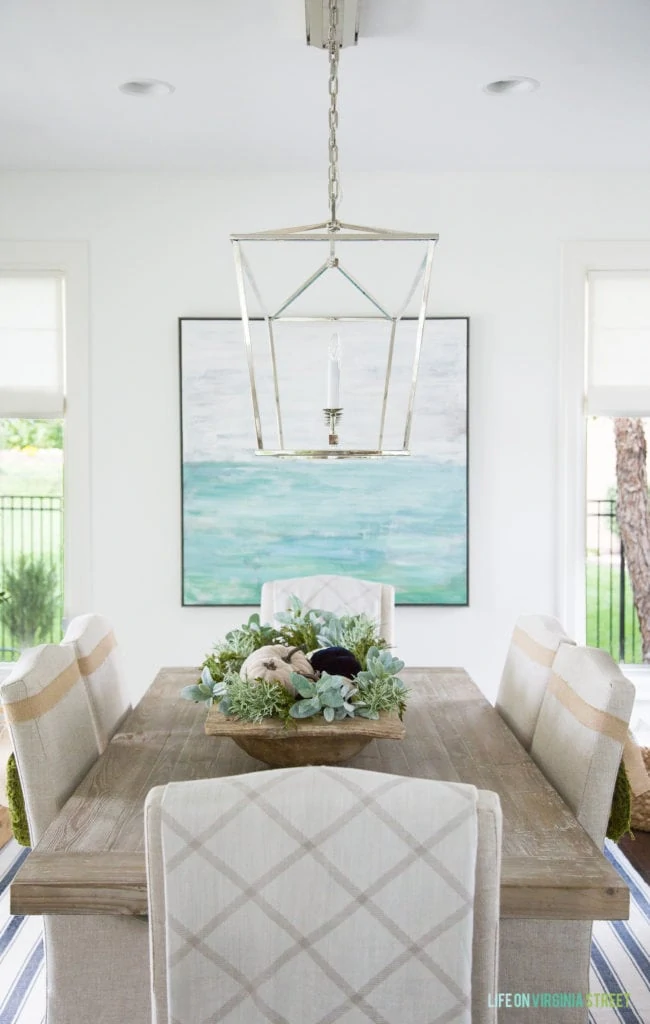 One of my favorite fall updates is the pretty decor in our dough bowl. I filled it with a variety of velvet navy blue pumpkins and cream felt pumpkins! Then I then mixed in a variety of greenery, like this lamb's ear, tea dried leaf spray, and gray green leaf spray. I love how they all pair so beautifully together! Not only that, it definitely feels fall-like, but I could still stick to my favorite colors!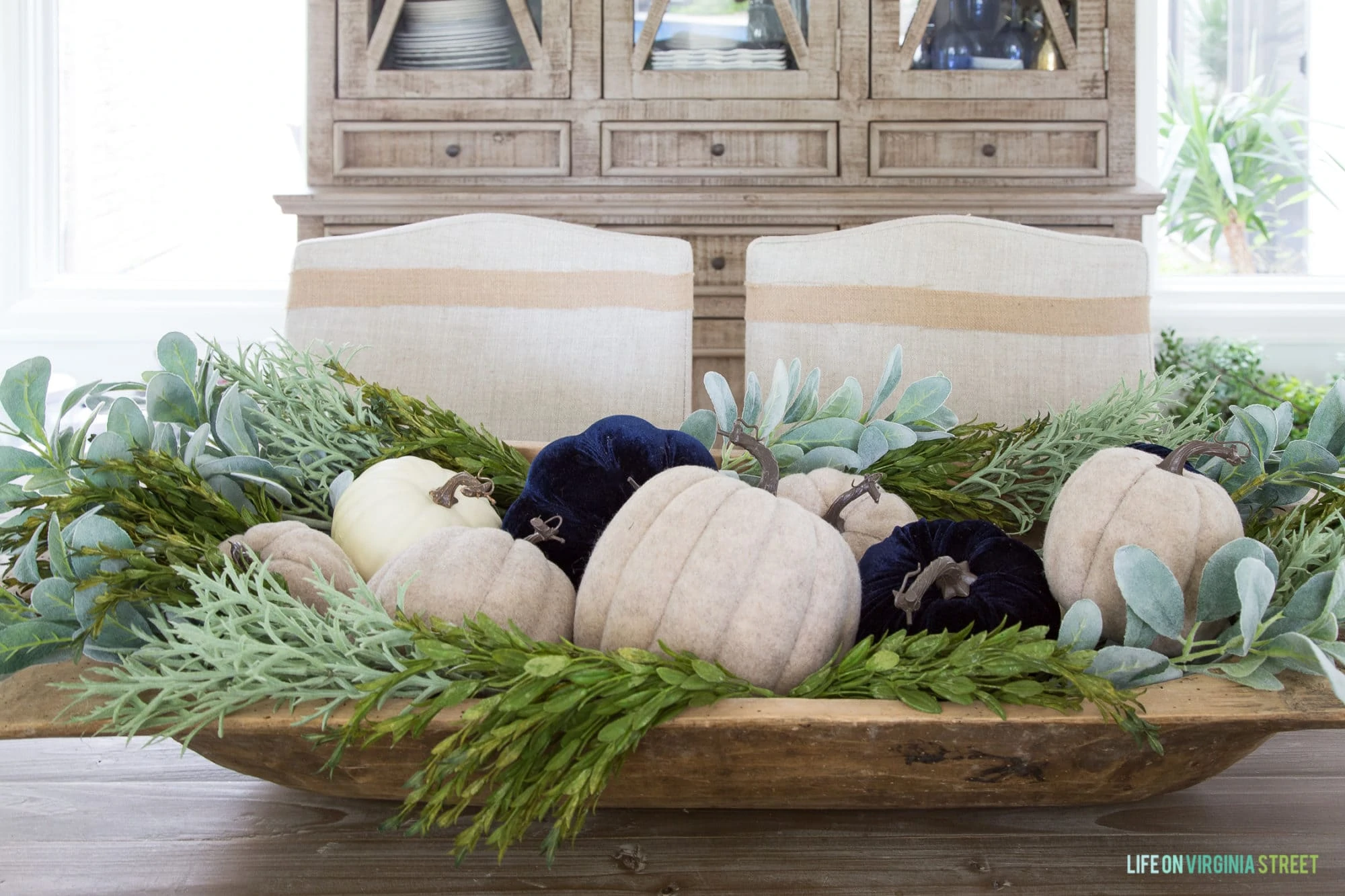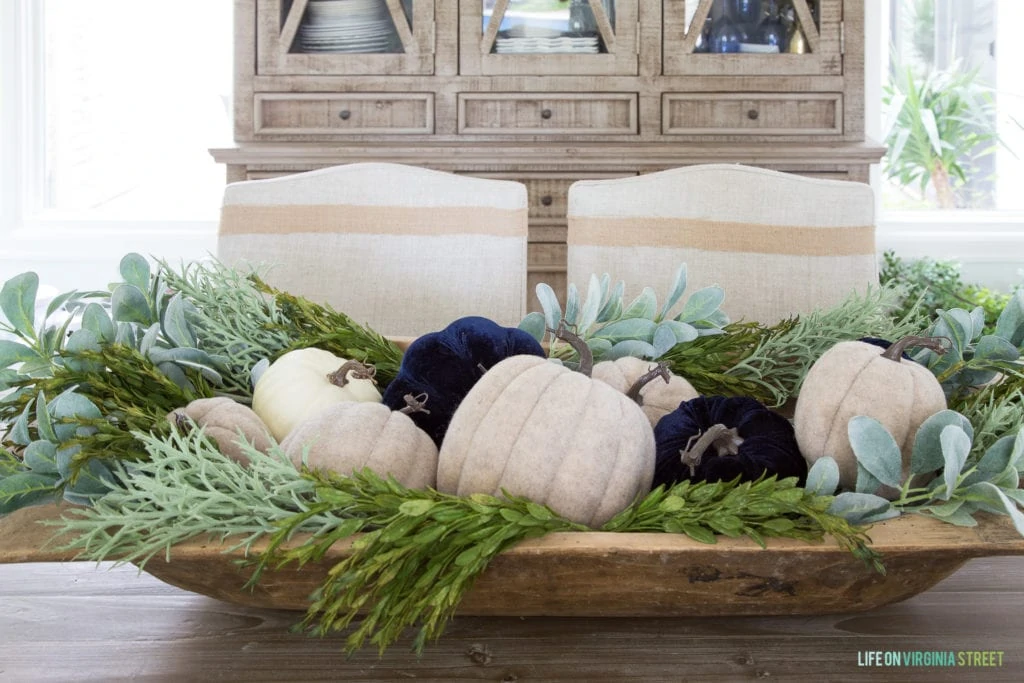 I can't tell you how long I've been on the hunt for small wreaths to use on the back of our chairs during the holidays. But, I refused to pay $20+ for each mini wreath – which seemed to be the going price everywhere I looked! So, I scooped up six of these 10″ moss rattan wreaths as soon as I saw them! I think the moss wreaths will work well for every season! Because of the attached ring, they were super easy to tie to each chair with some burlap ribbon.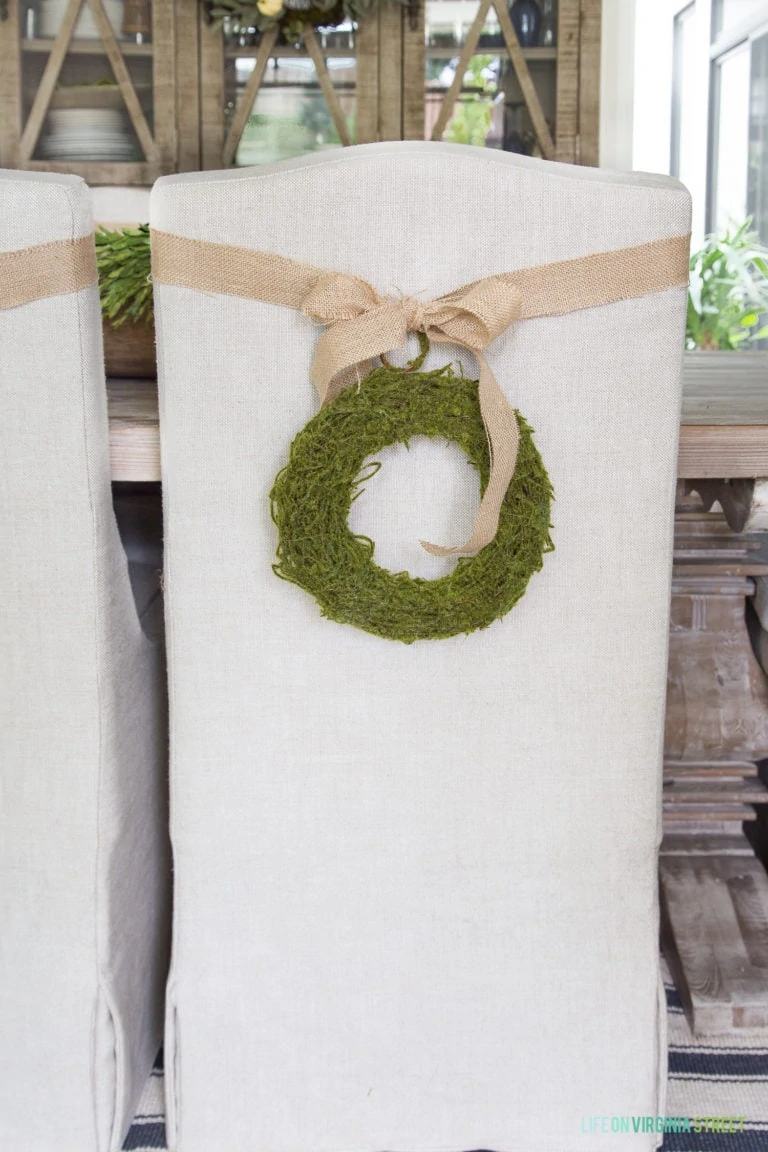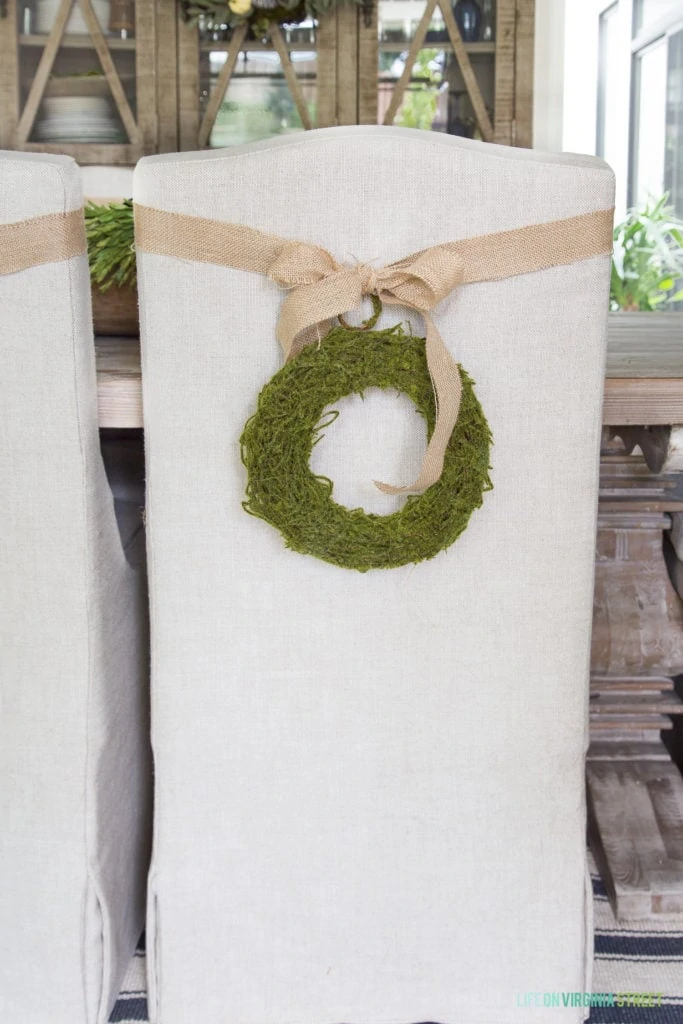 The wreath on the hutch is a semi-DIY that I custom-made for fall. I love swapping out wreaths seasonally on our wooden hutch!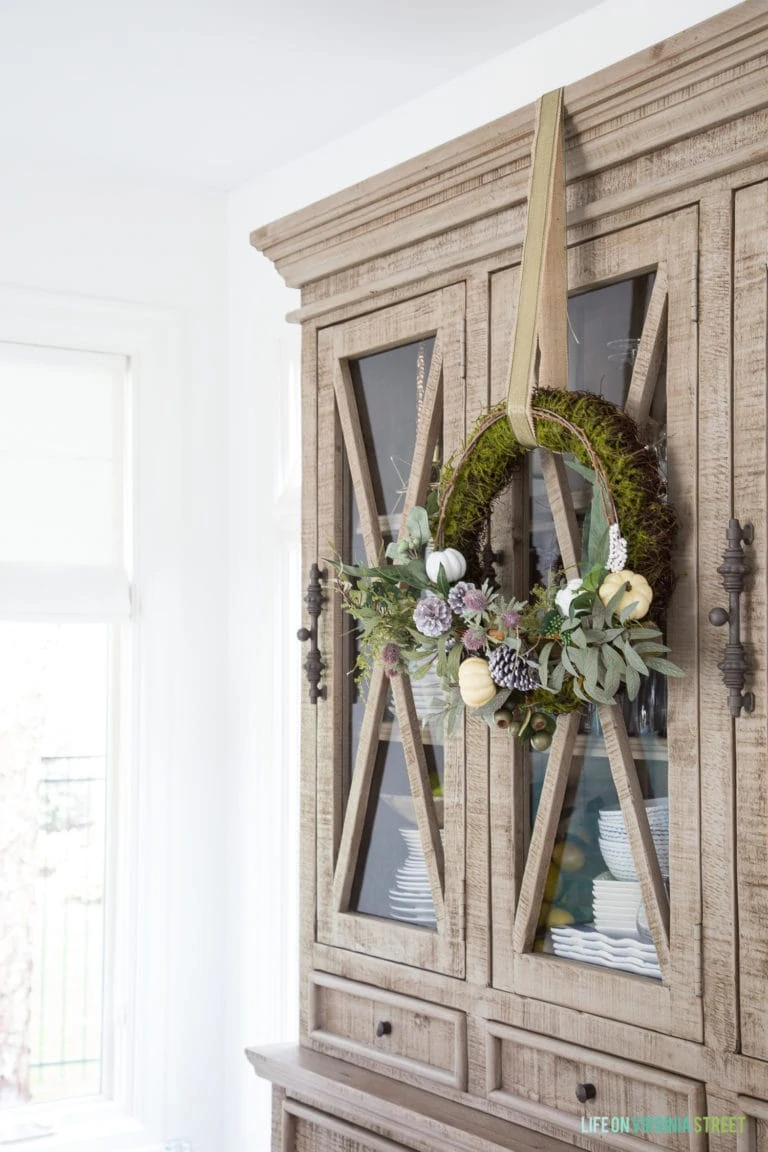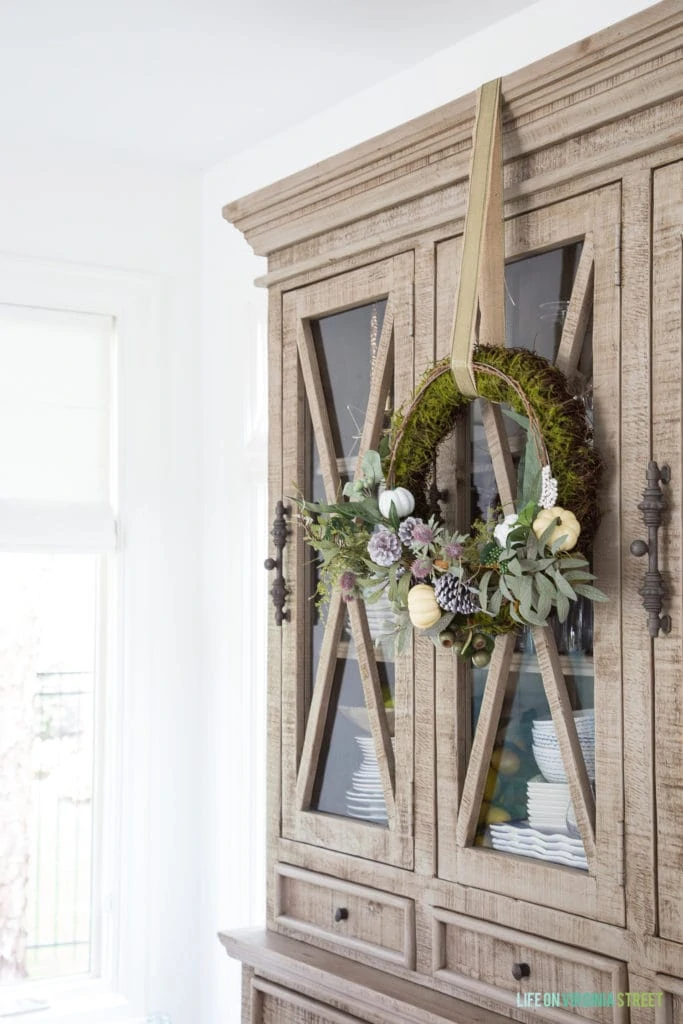 For the wreath, I fell in love with this autumn wreath (especially the thistle elements!) but I felt like it needed to be bulked up in order to not get lost on our hutch. So, I bought this large moss rattan wreath along with some fall floral picks and floral wire. I also wanted to add in some neutral pumpkins to add to the fall vibe. I'm outlining the steps below but you can also get the full tutorial and supply list in the JOANN app. Here you can see everything I used: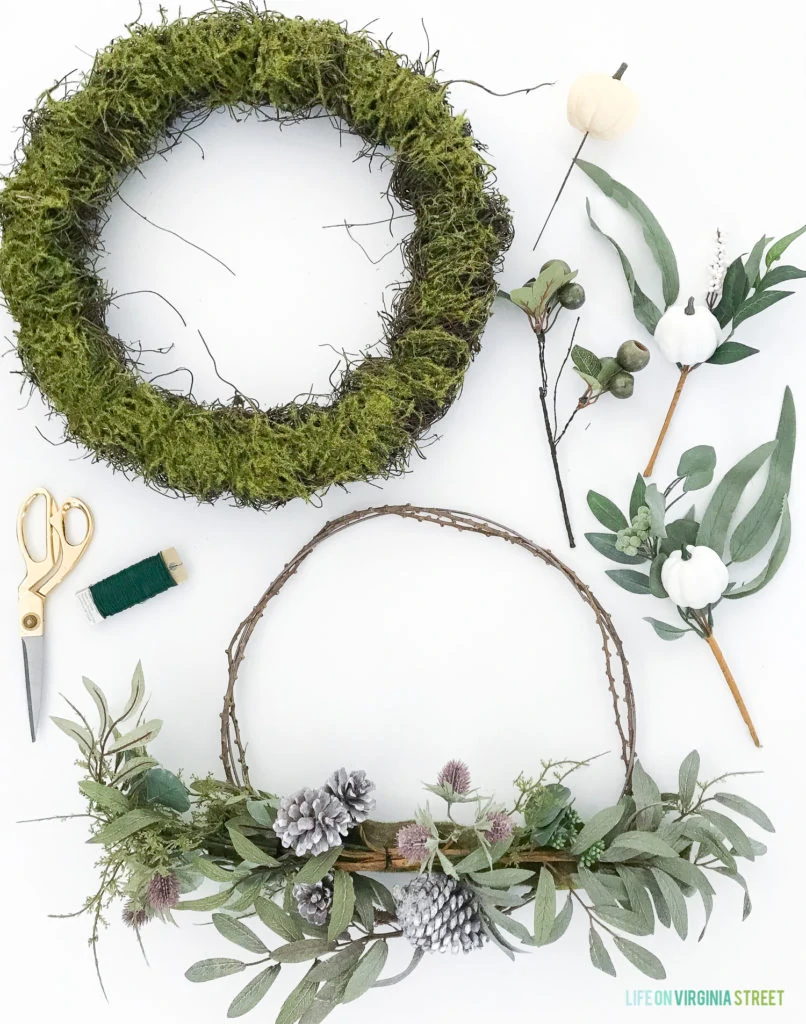 I started by layering the autumn wreath on top of the large moss rattan wreath and then attaching it with the floral wire. Then I wired it in three locations: the top middle and then again on each side right near where the greenery starts (to cover it as much as possible).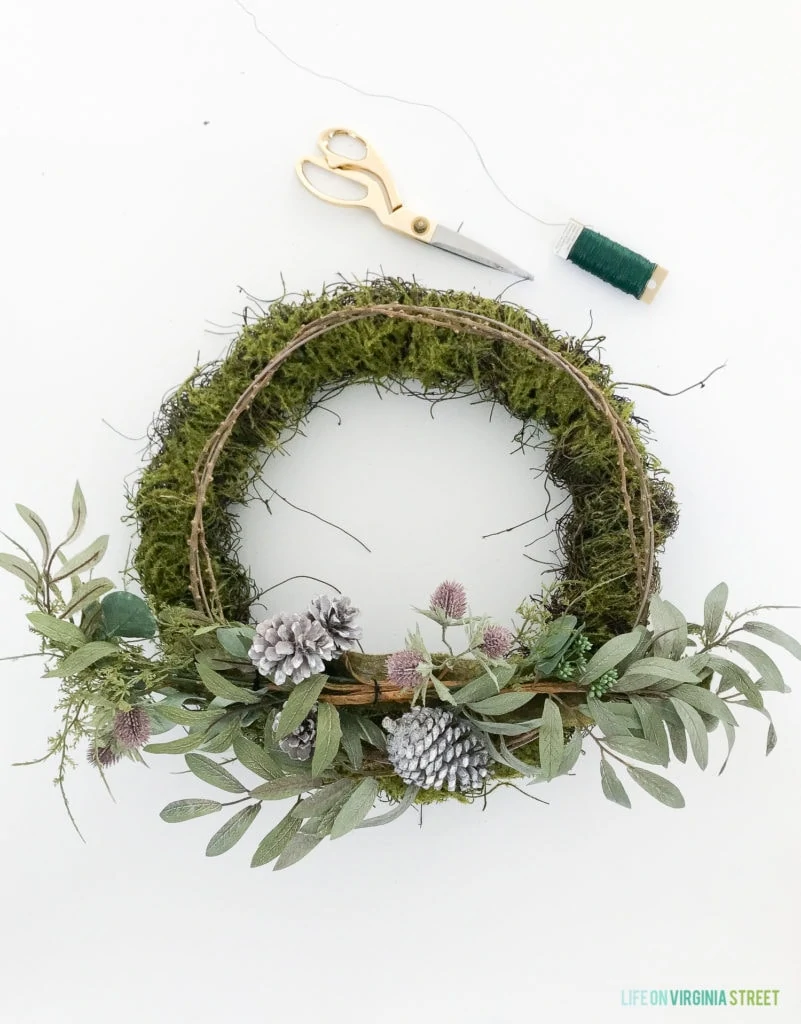 I then just stuck in a few floral and pumpkin picks. No wiring necessary for the picks – just stick them in where you want them! Add in as many or as few as you like to get the look you're wanting to achieve. I love that by simply using floral wire, I can disassemble the wreaths at any time and use the elements in new ways! It looks perfect with the other fall items in our dining room now!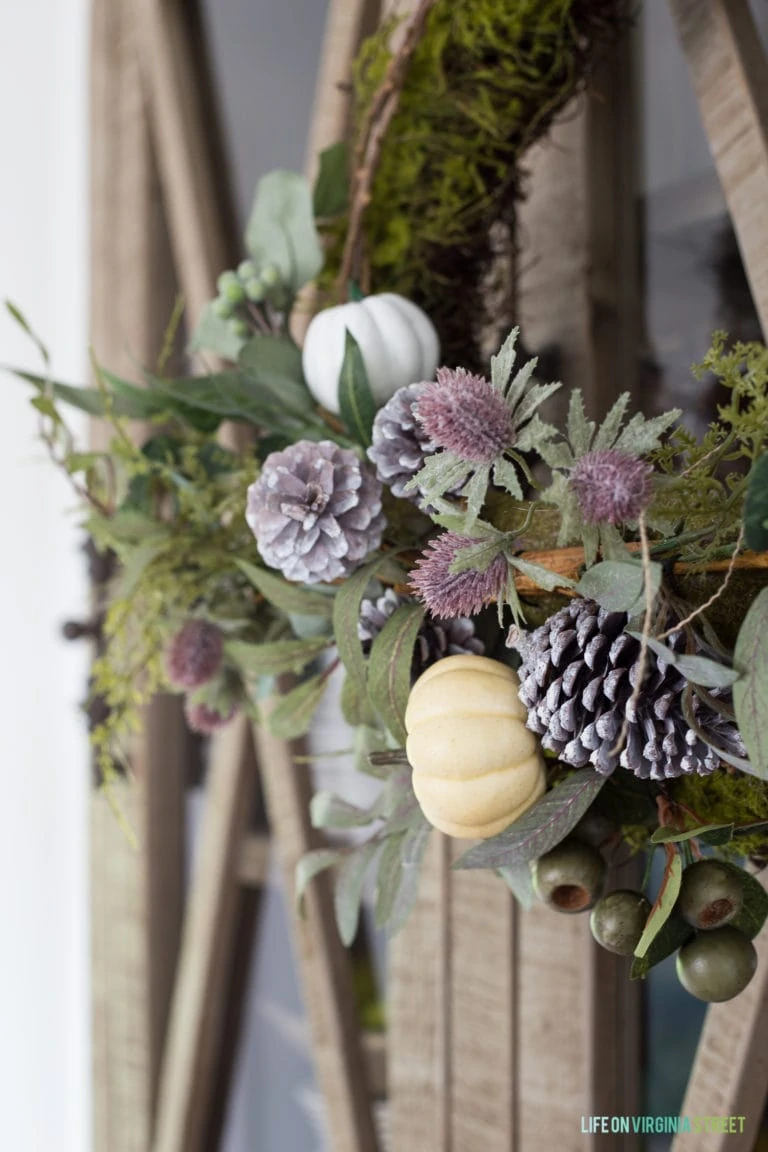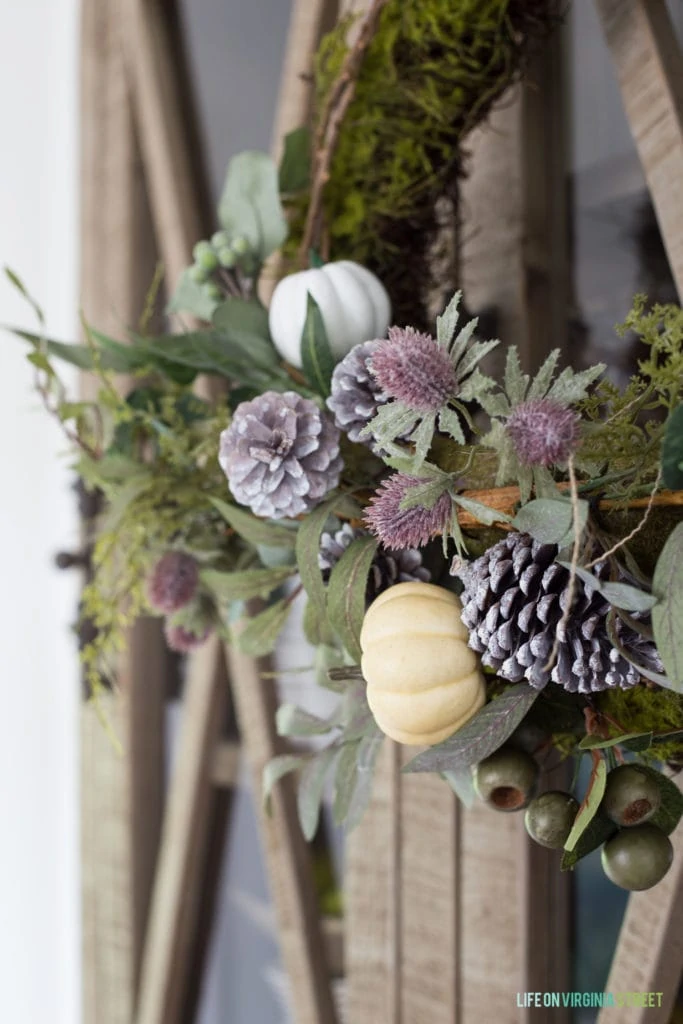 It's so refreshing to decorate seasonally with colors I truly love! So, I'd love to hear – do you stick with "traditional" seasonal decor colors each year? Or do you stick with your tried and true favorite color combos?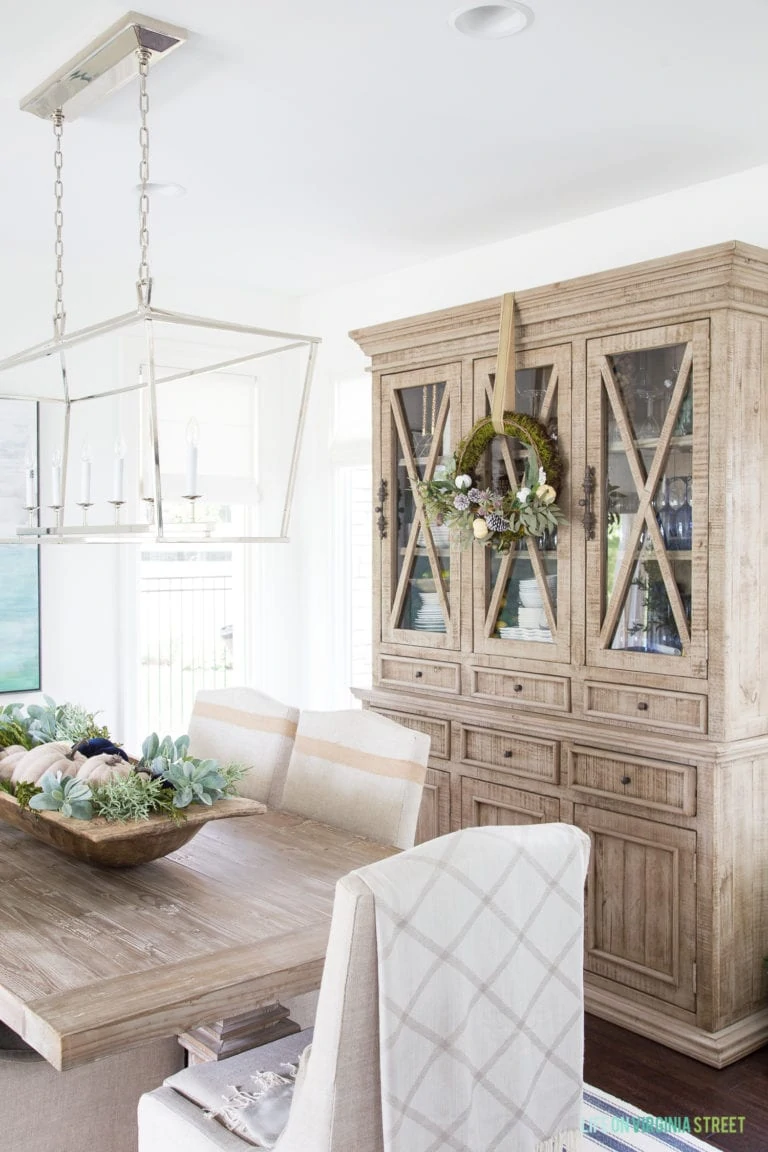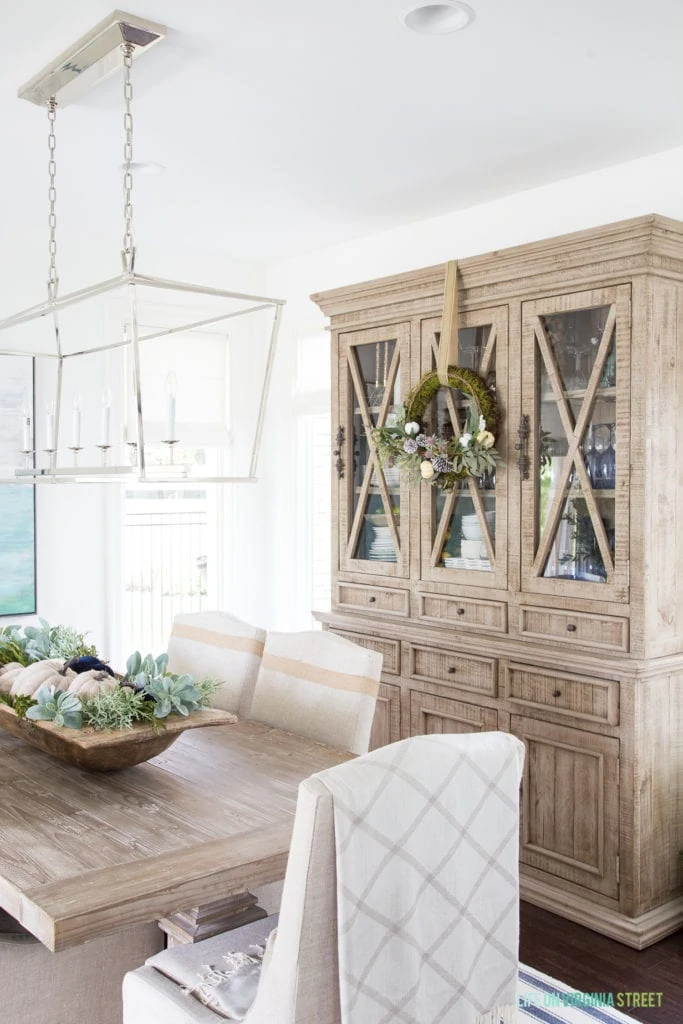 If you would like to follow along on more of my home decor, DIY, lifestyle, travel and other posts, I'd love to have you follow me on any of the following:
Pinterest / Instagram / Facebook / Twitter / Google+
disclosure: some affiliate links used