I hope you all had a great weekend! I have a lot of updates and random thoughts to share with you today, and then tomorrow is the big kitchen reveal! Thursday we're hosting a large work event for Kurtis at our house, so as you'll see below, I have quite a few things I need to wrap up over the next few days. Now, on to this week's weekend recap.
This post contains affiliate links for your shopping convenience. Click here to read my full disclosure policy.
Home Updates & Projects
Last week, I started thinking about updating this painting I got from HomeGoods earlier this year. With the new island color it now looks super purple and really muddy in the neighboring dining room. I took the question to an Instagram poll and about 75% of you said to add some paint! As a reminder, here's how it first looked. I haven't quite finished it yet, so I'll wait to share how it looks now (it needs a little TLC still) but I'm loving the updates so far. Hopefully I can share the updates next week!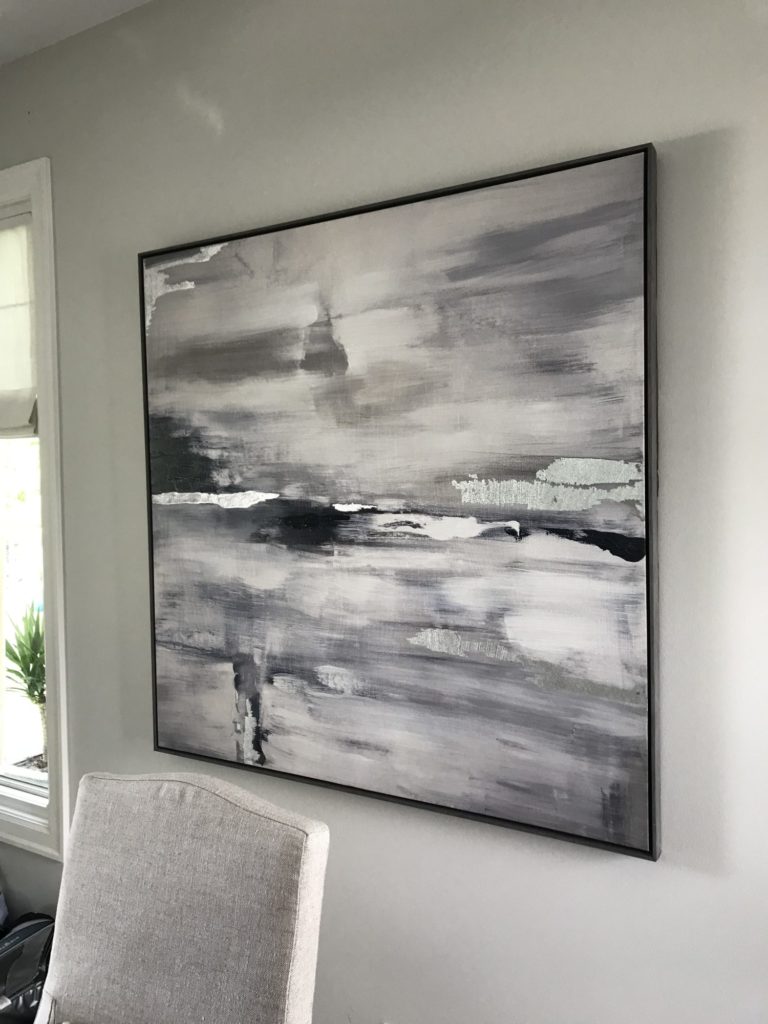 With that, I also decided to paint the dining room walls. You know, because I didn't already have enough unfinished projects around here 😉 They were previously Behr Silver Drop, which is a really pretty, light warm gray. But, now that the living room and kitchen were both BM Simply White it always looked dull and muddy in here. Not only that, I still had never filled the curtain rod holes or re-painted the giant wall patch the electricians had created to install our chandelier. After it all sitting like that for a year or two, I figured it was time! I have one coat done, and I'll probably do two more. It already looks so much brighter in here!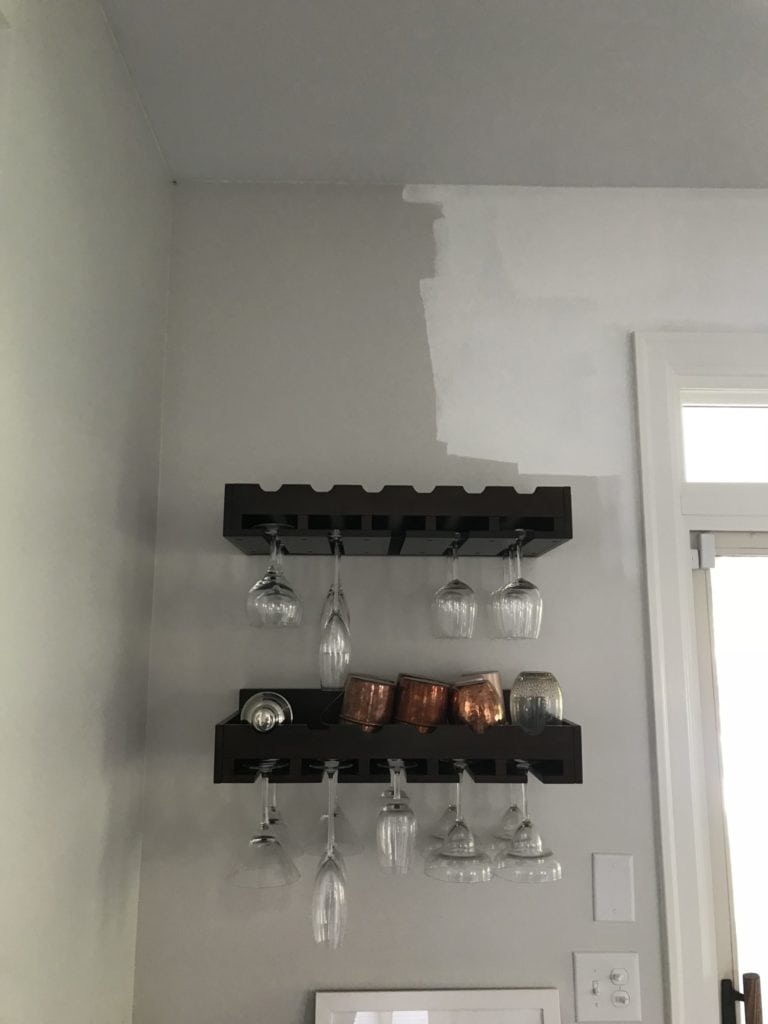 On Wednesday, our fireplace tile was set! I ended up going with the tile most of you loved (or had used). The Carrara marble herringbone tile off the shelves at Lowe's! They came back to grout it on Thursday and it all looks so good! I'm hoping to share the full details next week once my living room window coverings arrive and I can share the whole room!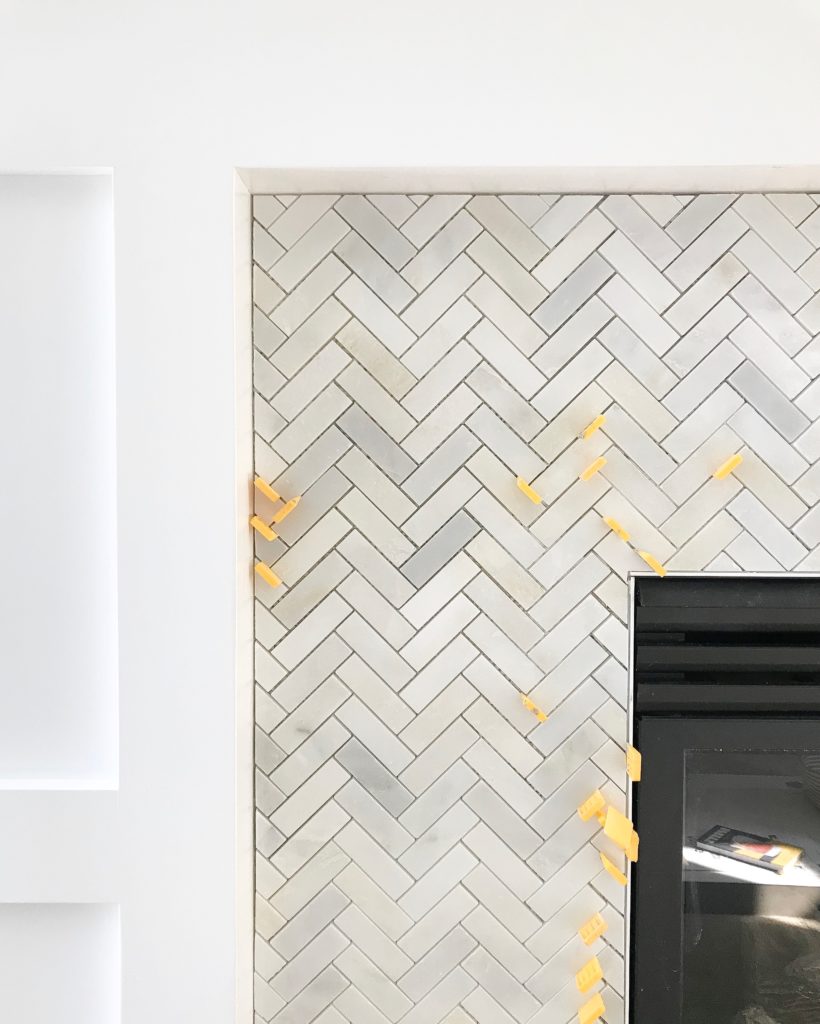 I spent most of Thursday, Friday and Saturday prepping for and/or photographing the kitchen for the big reveal tomorrow! Our electricians finally came back Friday, too, and got the can light inserts all added so it's definitely looking a lot more finished. We still have some minor wiring they're supposed to come back and finish today, but then it will all be done!
Yesterday on my Instagram, I shared a fun little update to that nook just off our entryway that I did with At Home. It was previously so dark and the recipient of old furniture we hadn't used elsewhere in the house. After I painted the walls Simply White a few months ago, and then with the recent trim paint, I decided to give it a little refresh. Everything shown (with the exception of our old table) is from At Home. Both Henley and I love the striped pouf so much, I bought another one for her to use in the living room in front of the fireplace.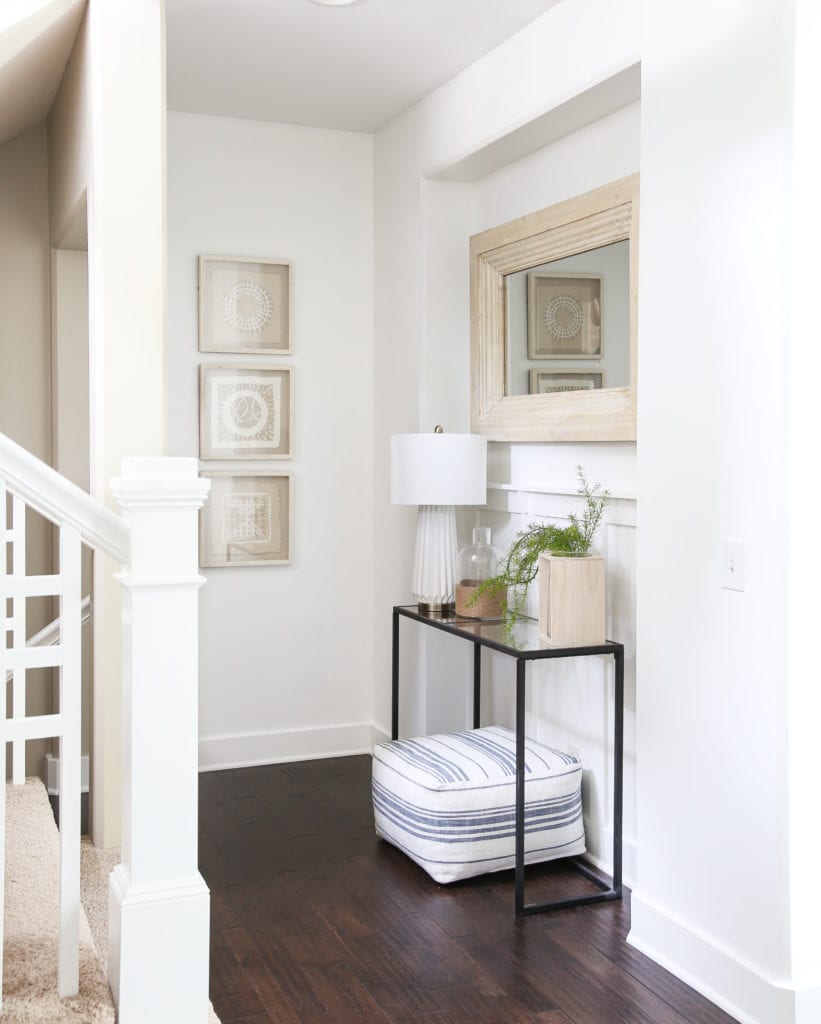 Rental House Updates
Well, the MAJOR news of the week is that we bought another rental house! We don't close for another two weeks, but the offer has been signed and accepted! If you watch my Instagram stories, I shared a quick tour of the space (not knowing we would end up buying it). From the street, it looks good, but the inside is a whole other story. Moldy sub-floors, holes in walls, a rough-in for a "pool" in the backyard. It's definitely going to be a serious project. But, we're excited (although a bit nervous) to tackle a project of this scale. It will basically be a full gut job, and will be equivalent to a flip, except we'll continue to own it and rent it out. We love the area it's in, and think long-term it will be a really great investment. Now we just need a bunch of contacts to help us out with it 😉 Once we close, we anticipate we'll be doing all the demo and some of the drywall work, and then from there, we'll just make selections and hire out the finish work. It should be a fun adventure and I'll plan to share it here!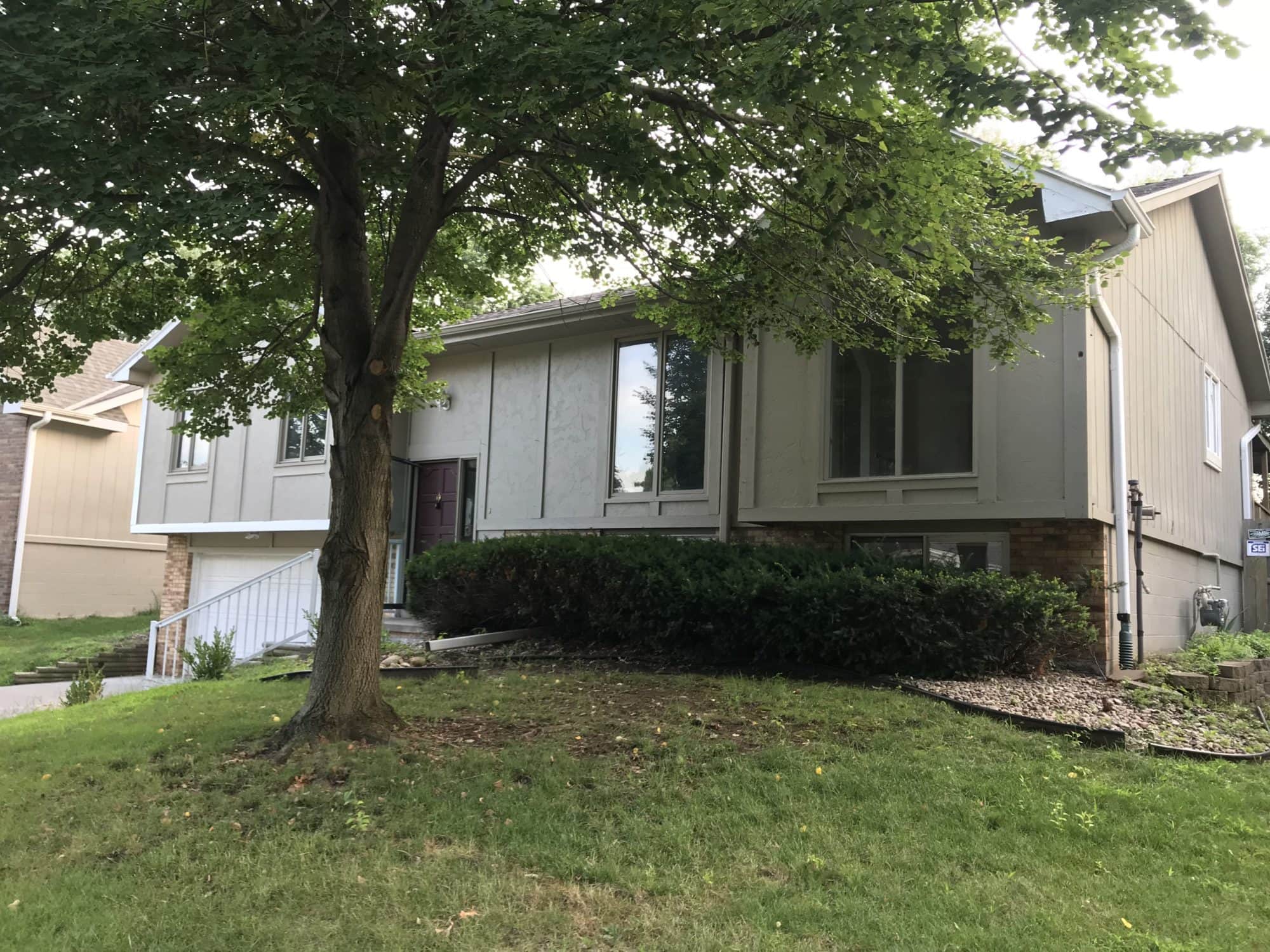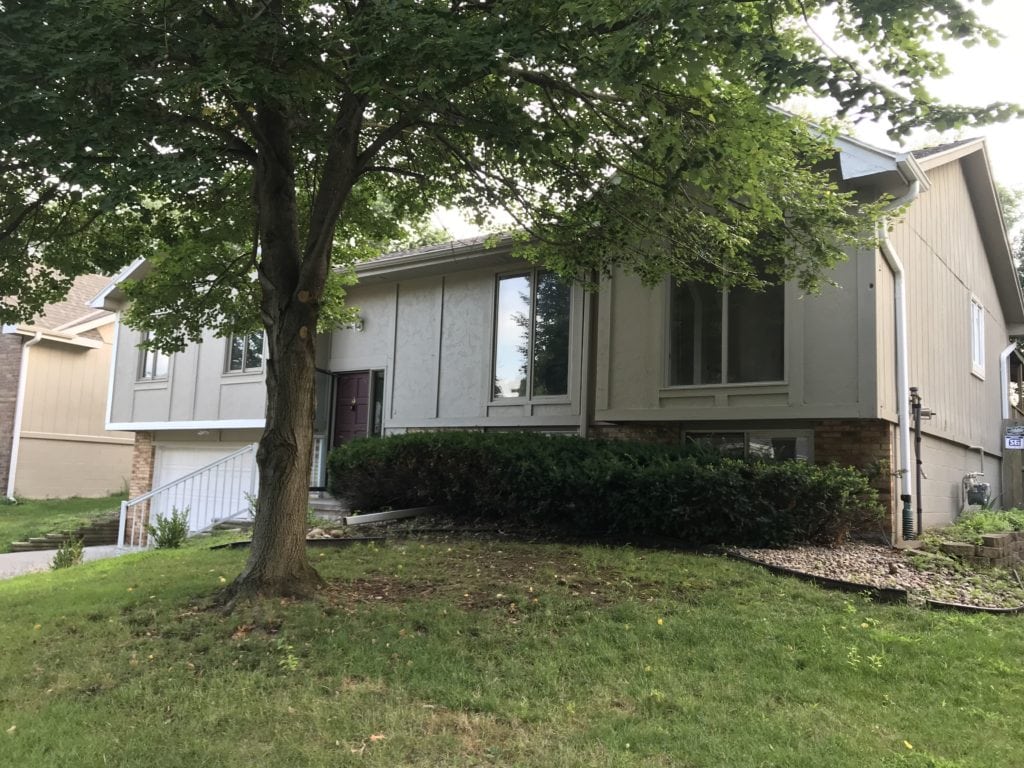 And in other rental property news, I had to shop for a new microwave for one unit and a new washer and dryer set for another. When it rains it pours!
Around Town & For Fun
Friday afternoon we spent a few hours in the pool. It was one of the first days in a two week window that worked with our schedule and/or the weird weather we've been having! The party we're hosting on Thursday is a pool party, and so far, the forecast makes it look like it will be perfect pool weather!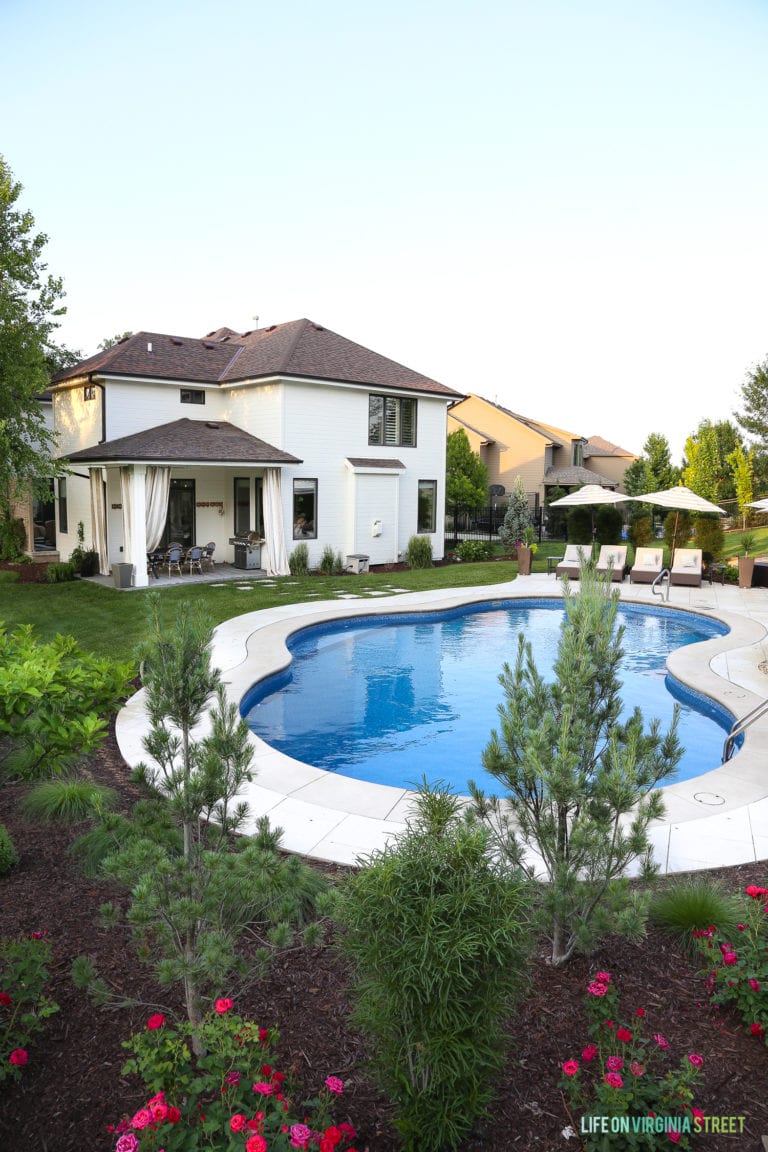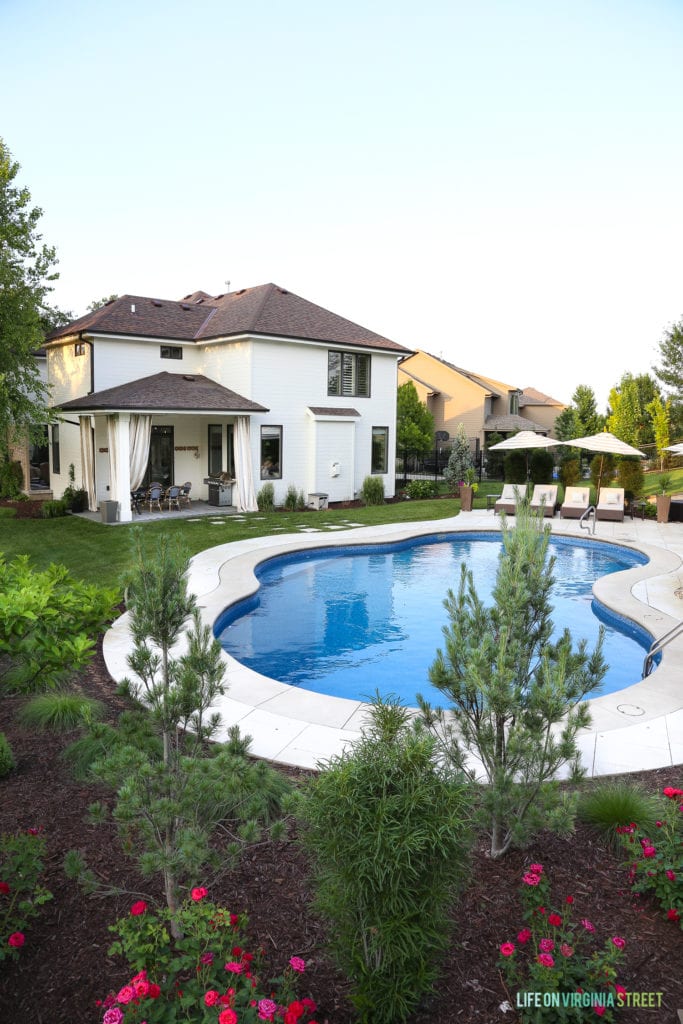 Outdoor Drapes | Bistro Chairs | Umbrellas | Chaise Lounges
Saturday was my 20 year high school reunion (WHAT?!?!) back in Salt Lake. Flights were crazy high so unfortunately I wasn't able to make it out. It's still mind-blowing to me that I've been out of high school for that long! For your viewing pleasure is this little beaut of a scrapbook page I found with my graduation photos. Big bangs, white eye shadow, Doc Marten mary janes, bottle dyed blonde (gold?) hair, acrylic nails – does in get any more 90's than that?! 😉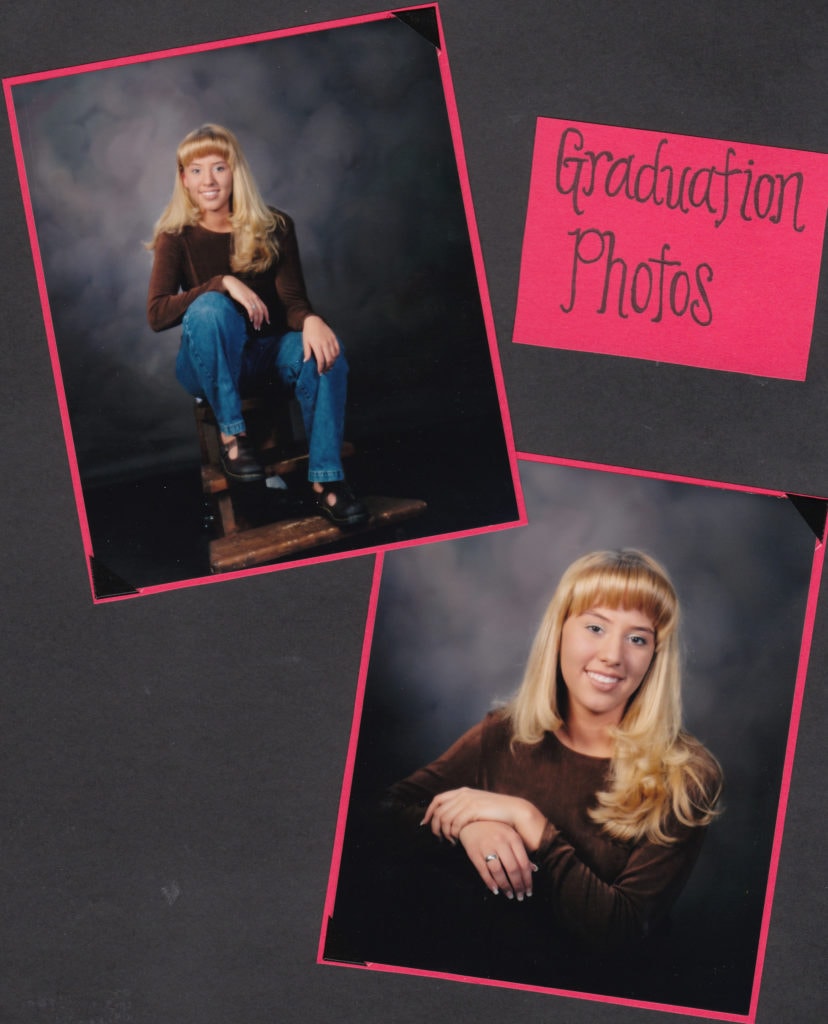 Saturday night, we went to Jill and Nick's for dinner. They've found with Zoe, it's just easier for us to come eat there than to go out or come up to our house, which totally works for us! We've been using Door Dash, which has been amazing for getting meals from whatever local restaurant we want! Zoe was an angel all night and was so alert. She also snuck in some Moana with Uncle Kurtis. We ended the night with our second round of s'mores for the summer!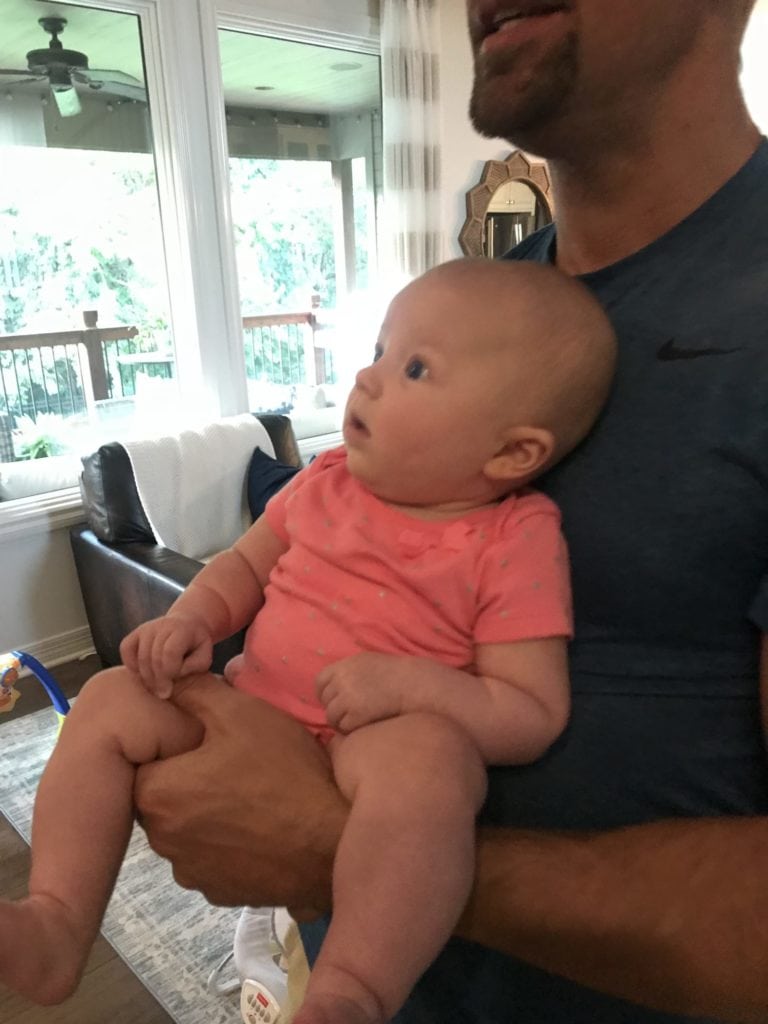 We made our own little Sunday brunch and enjoyed it out on the patio. It was such a beautiful morning! Just some toast with an egg, avocado, gouda, olive oil and sea salt – and a mimosa.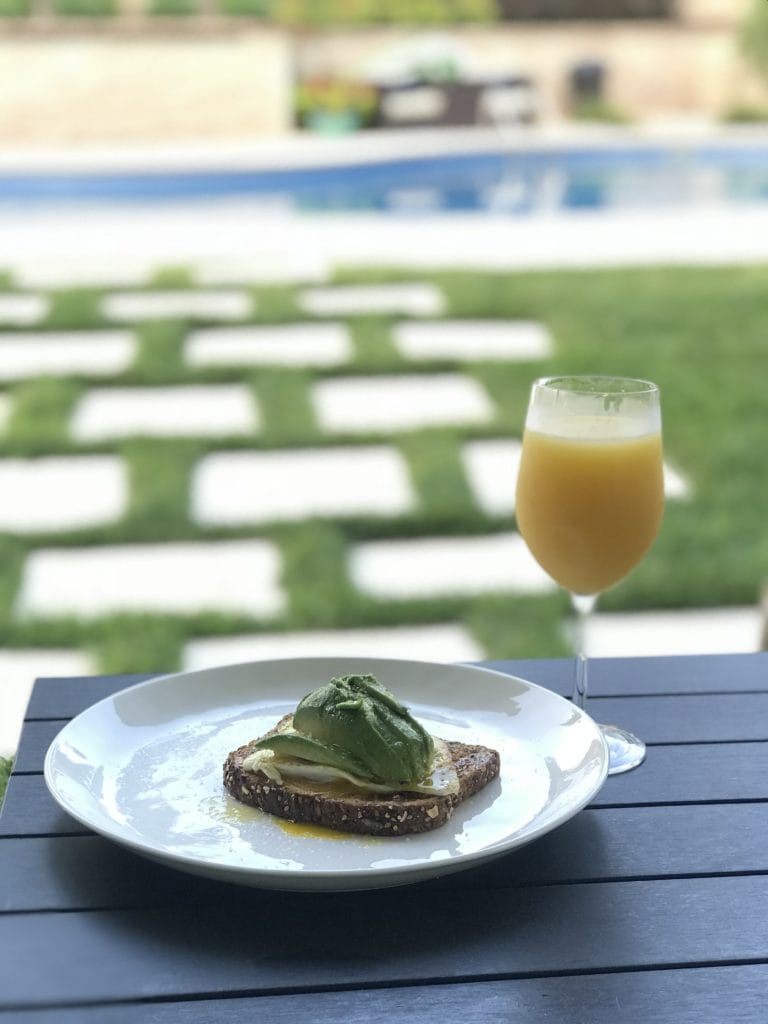 We then went and saw the new Mission Impossible movie (not sure what number they're on now). There's nothing like a giant tub of buttered popcorn at 10 am!! I was a bit skeptical about the movie (especially since it was almost two and a half hours long), but it was actually really good and we really enjoyed it! Super action packed and rarely any slow moments.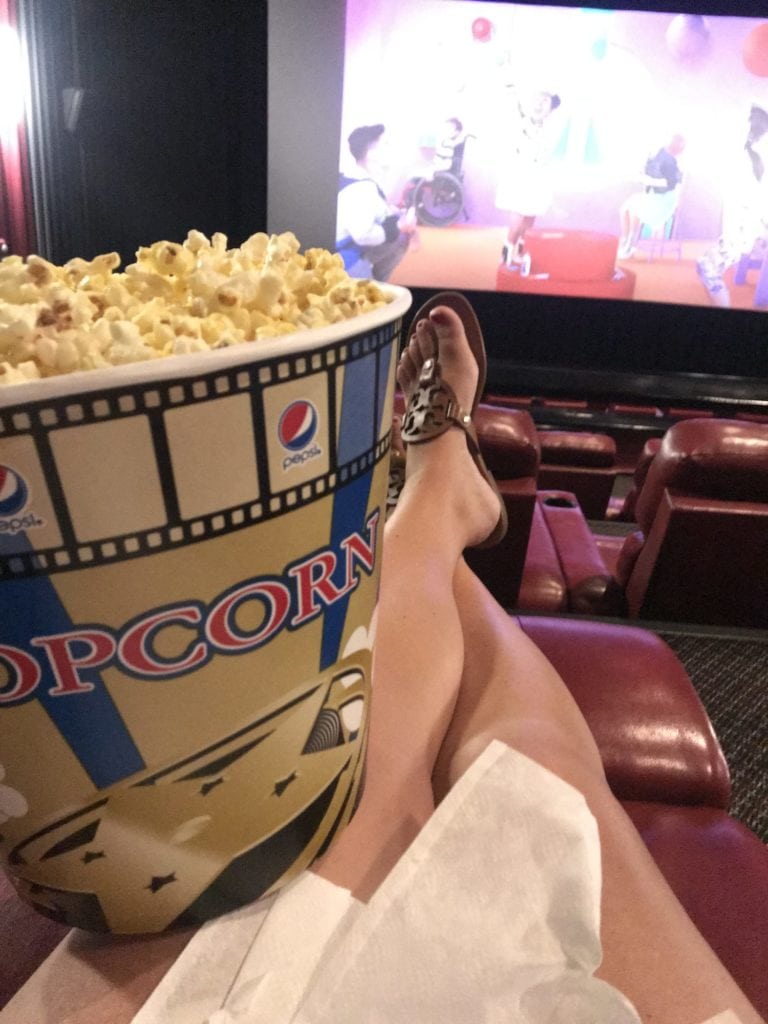 We ended the night with fresh caprese salad, corn on the cob and steak. Basically the perfect summer meal!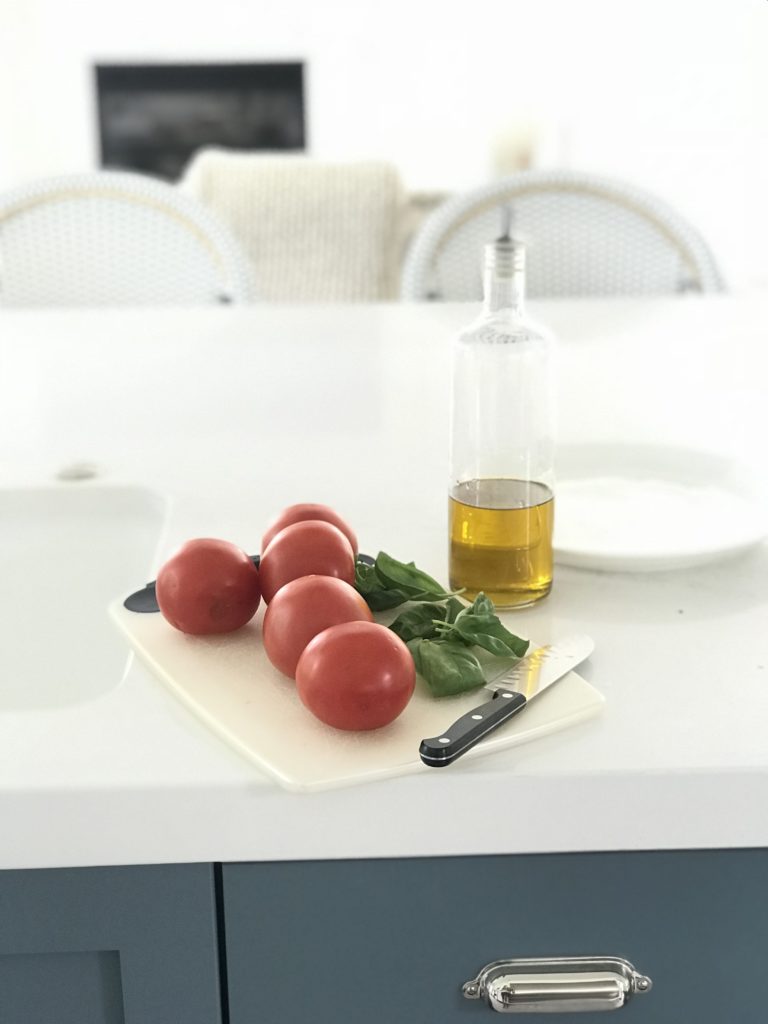 And after over-indulging all weekend (and summer, for that matter), I'm going to give Orangetheory a try this week. I keep hearing more and more about it, and whenever I admire some serious abs, toned arms, etc. lately, the common response I've been getting is that it's due to Orangetheory. So, I texted my friend Mandy yesterday who has been going for a while and she said she's addicted and could go on for hours about it. So, I'm going to try a free class with her later this week (sounds like your first class is free). I'd love to hear if any of you have experience with it! The good, bad, and ugly! I hate leaving my house to workout, but clearly, the working out from home thing also isn't working for me since I never do it! So, I'm excited to give this a try and see if I like it or not. I'll keep you posted!
Recent Buys & Sales
Following are some sales that carried over from the weekend!
Have a great week! I'll be back tomorrow with a massive kitchen post. I'm still scrambling to get the post ready and am trying to decide if it needs to be split up into multiple posts. Either way, all of the imagery will for sure be live tomorrow so be sure to check back in! Happy Monday!
If you would like to follow along on more of my home decor, DIY, lifestyle, travel and other posts, I'd love to have you follow me on any of the following:
Pinterest / Instagram / Facebook / Twitter / Google+
disclosure: some affiliate links used