Did last week just seem crazy busy to anyone else? I don't know if it was the fact the weather got warmer or just the end of the month, but things were wild around here! The roof was 90% completed, the pool was opened, we celebrated Kurtis' birthday, we made some kitchen decision progress, and had some fun thrown in to make the perfect mix! Grab your coffee (or wine!) and settle in, because it's a long recap today!
Around Town & For Fun
Kurtis' 41st birthday was on Wednesday so he decided to take the day off and use some vacation time up that he was going to lose. I let him plan whatever we were going to do for the day, so it was action-packed. First, we had to meet with our kitchen designer (I'll try and share an updated tomorrow)! We then headed to La Mesa for lunch. We've been long-time customers so they brought Kurtis a (very large) shot of tequila and sombrero when they sang to him. Mexican food is always a good idea when it's your birthday!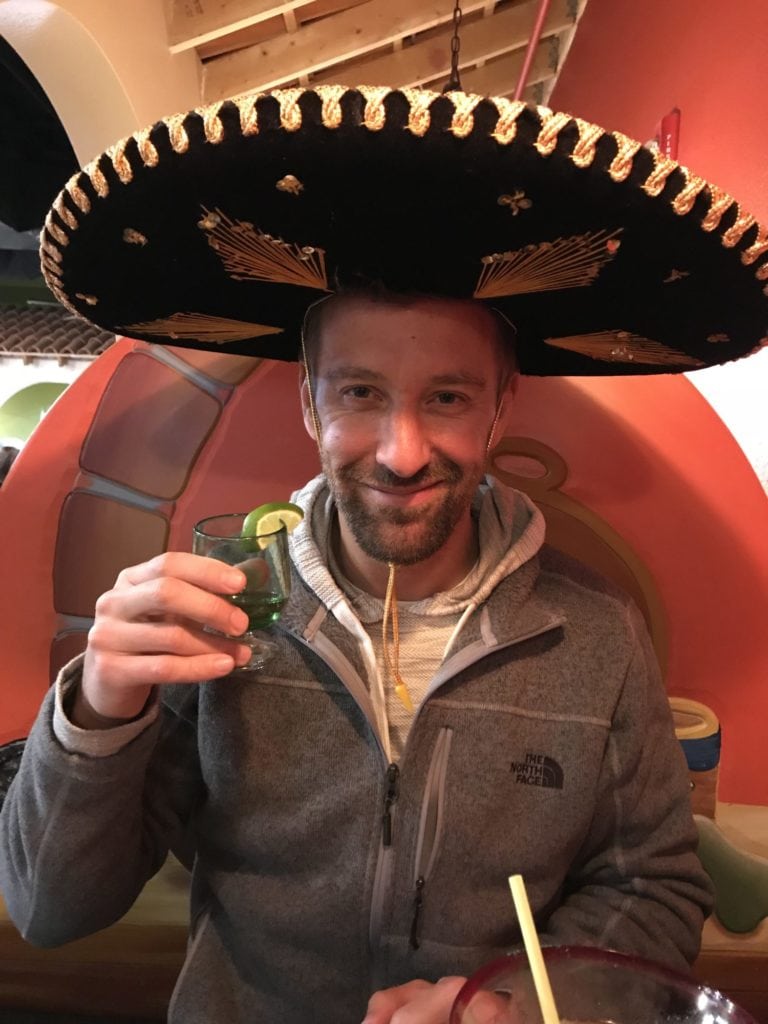 Afterwards, we had to run to Nebraska Furniture Mart (not Kurtis' choice) to make a final kitchen decision. I'll fill you in on the details in my next kitchen post. But, then we grabbed a beer downtown before heading back west. We decided to swing by to see Jill and Nick since they are both on maternity/paternity leave. We ended up staying for an unexpected, but amazing, dinner they cooked for us! Here's Kurtis on his 41st birthday and Zoe a few hours short of her two week birthday!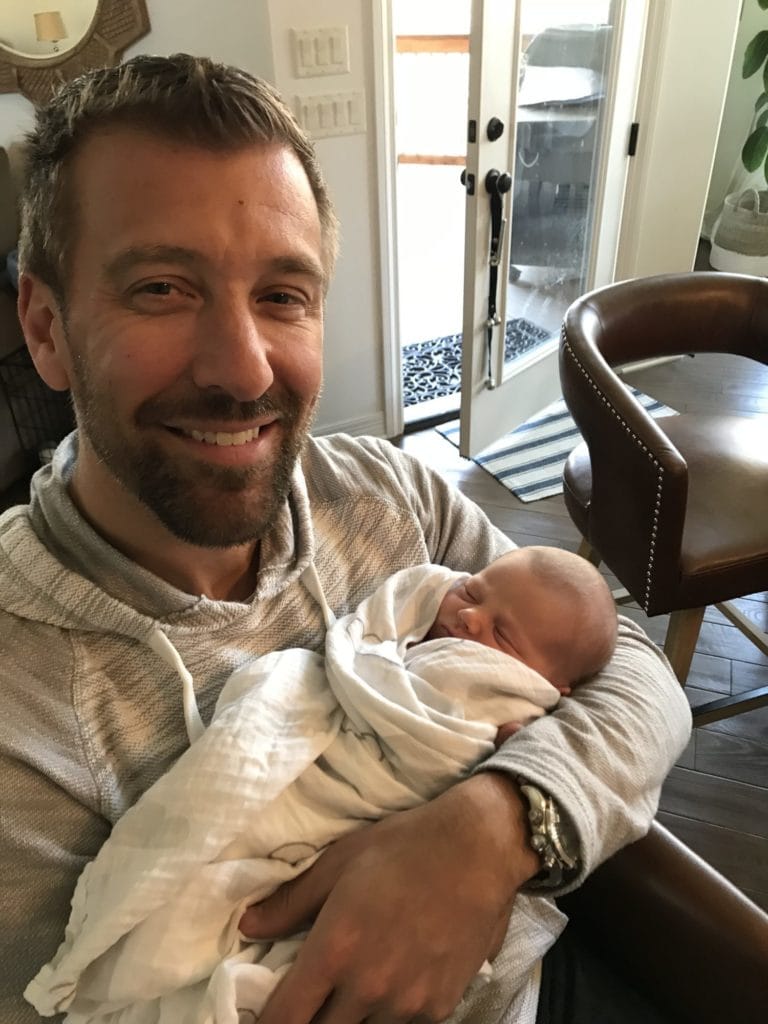 We came home to find out our pool had been opened while we were gone. Cause for even more celebration! It's still pretty gross at this point because they were able to come back during the week to finish the process. But, hopefully by tomorrow we should have blue water again!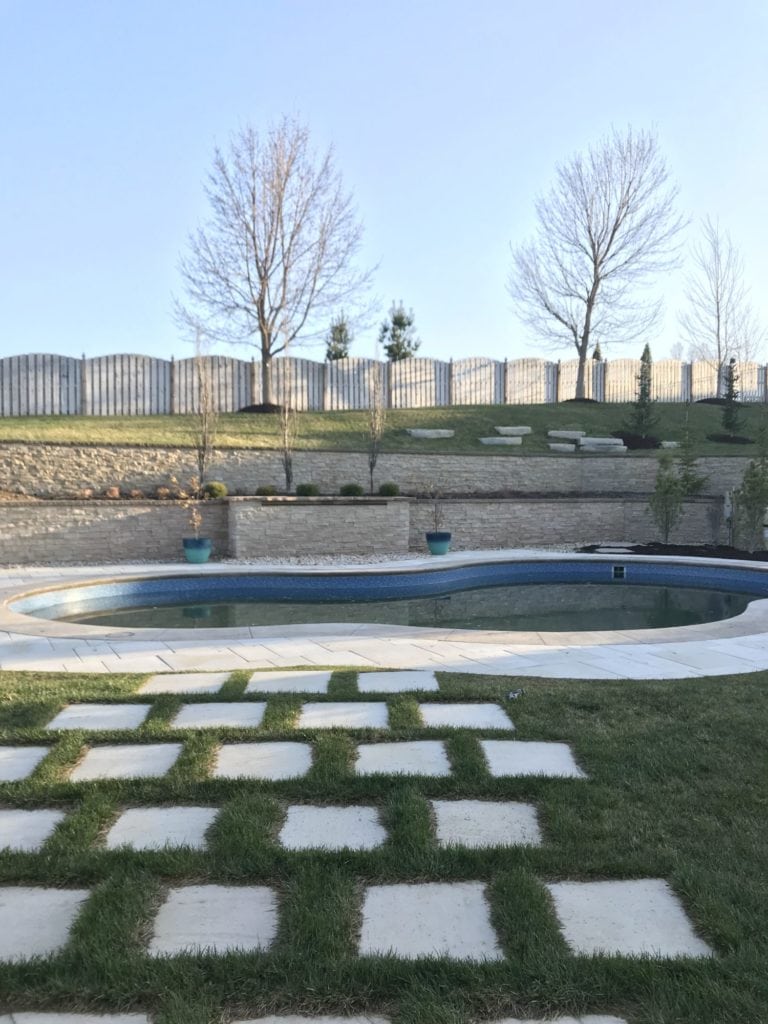 And a bit of a closer view in case you didn't believe it was as gross as I said 😉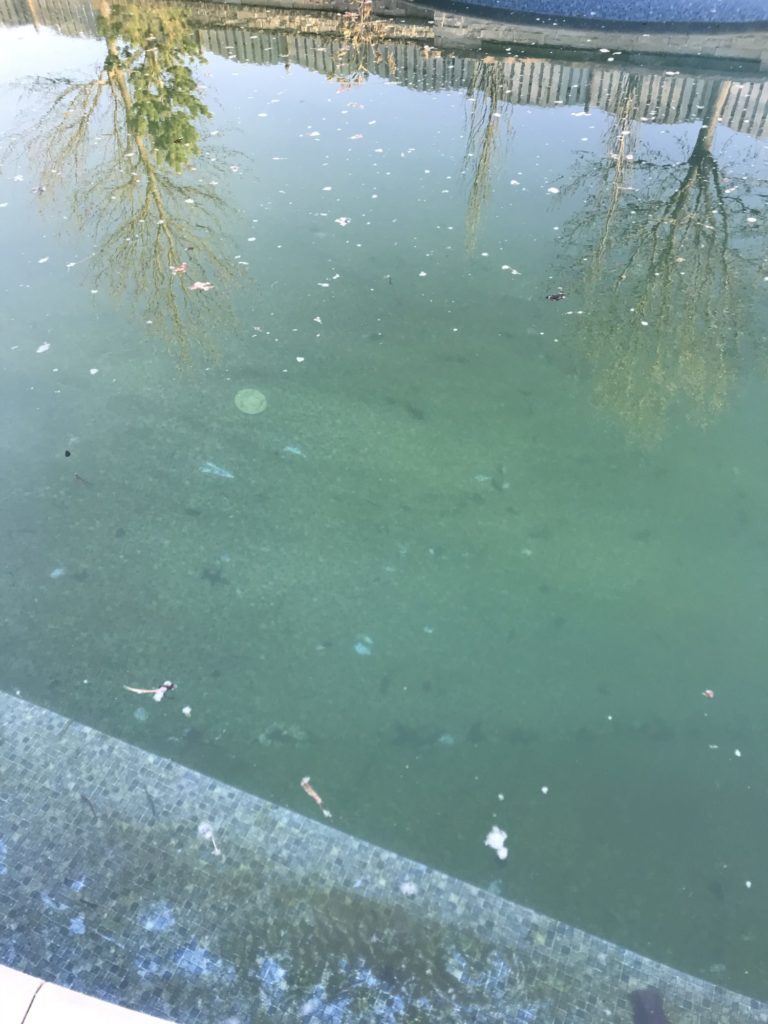 Friday night, I attended a benefit for a new non-profit cat cafe and adoption center in town, Felius (which will open early summer) with my friend Jen from The Striped House!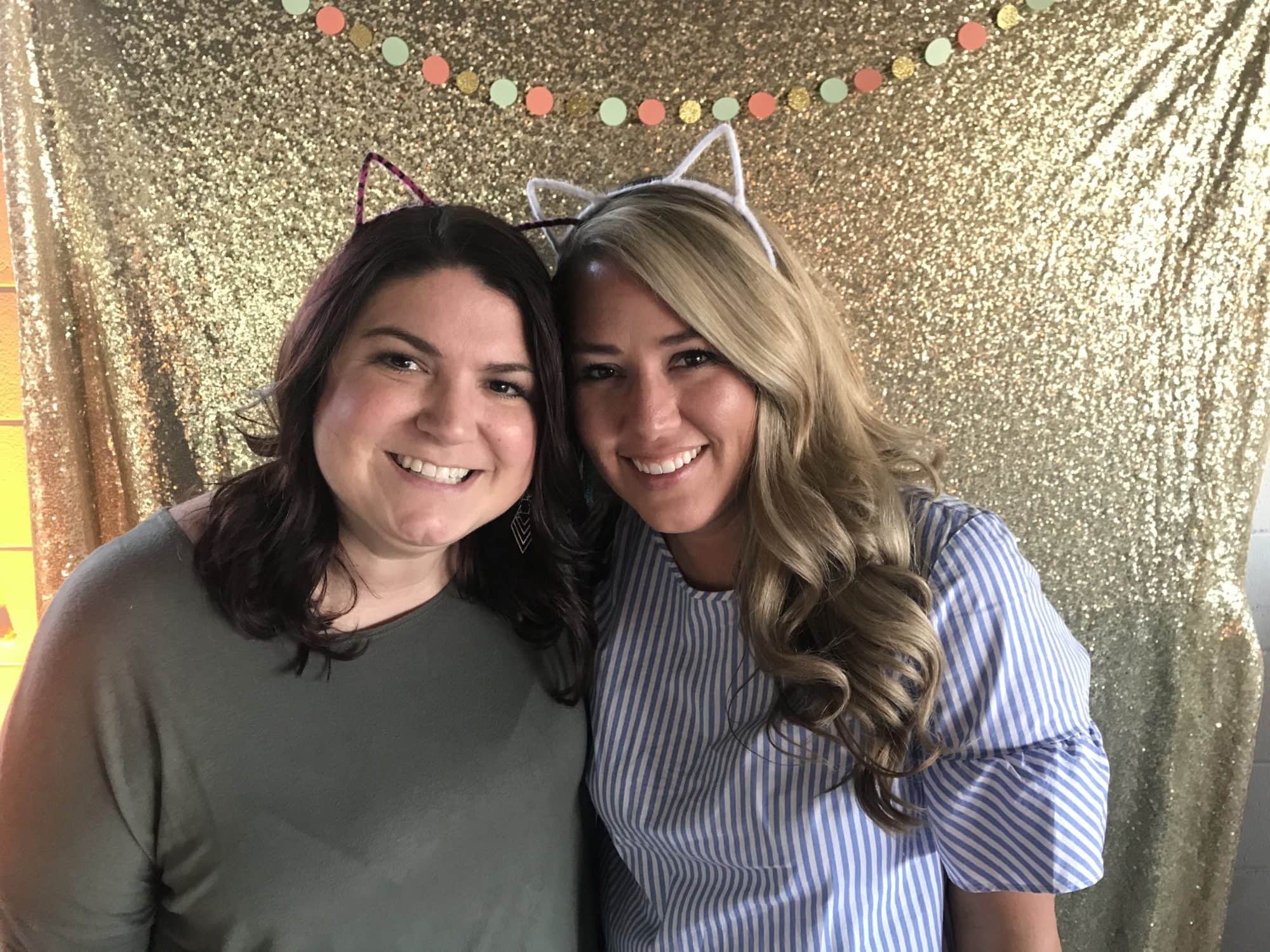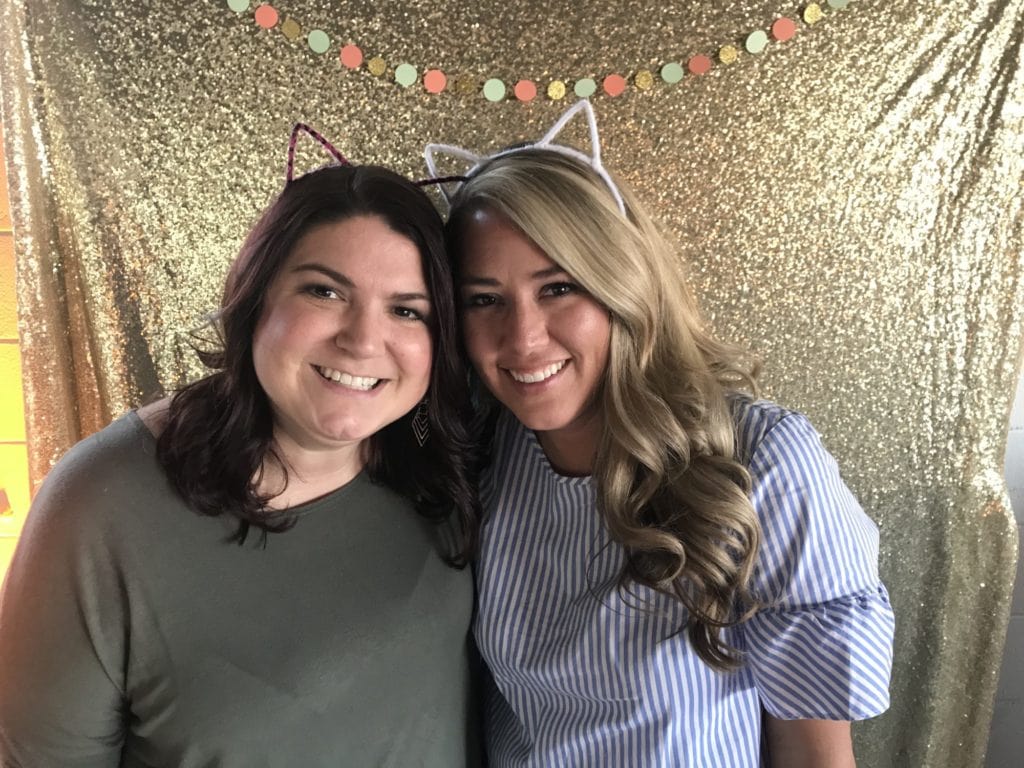 They had the cutest macaroons and other treats for the attendees! It was a fun night raising money for a great cause!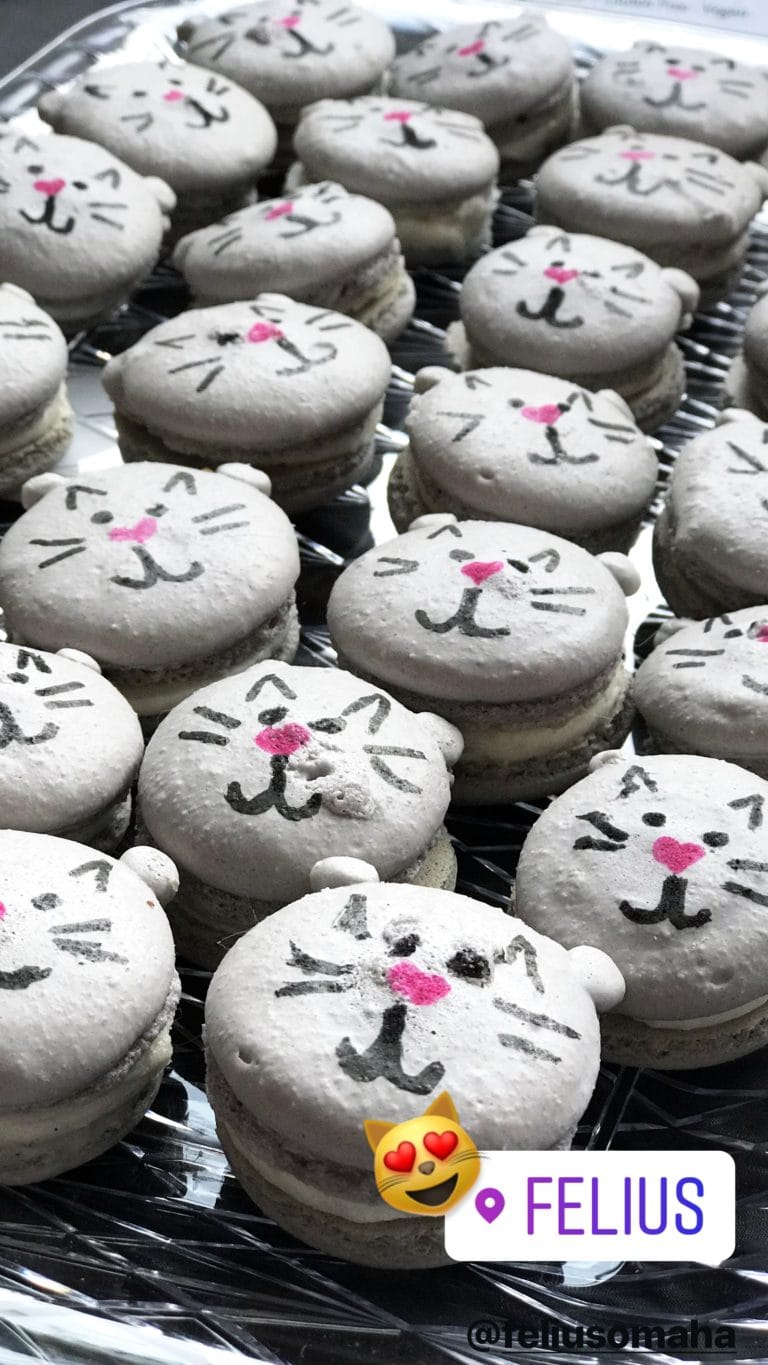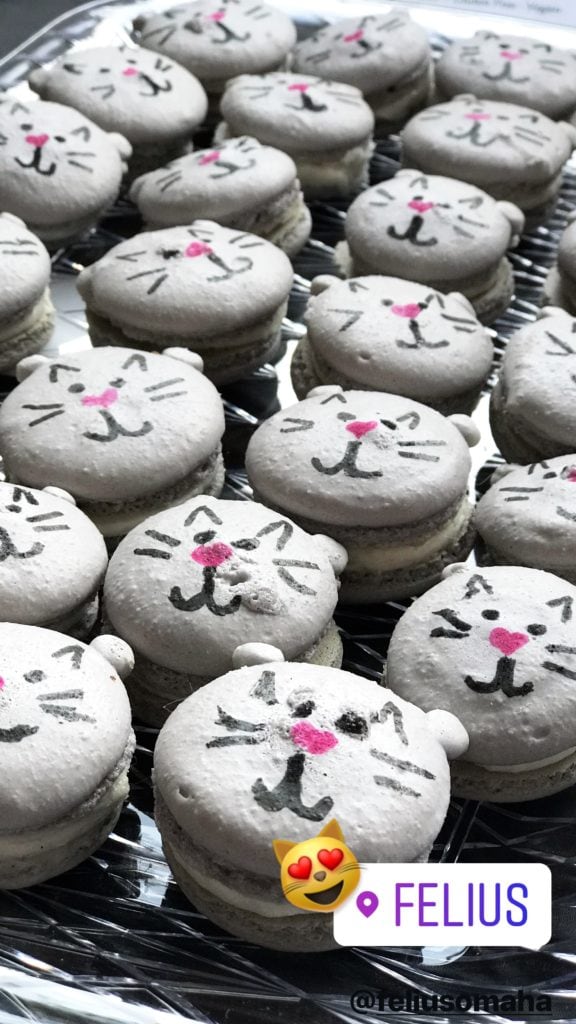 Saturday morning we got up bright and early to run to a local countertop store, Lowe's and then a local nursery for a sale they were having. They had a giant Plinko game for you to try and win discounts. I got 25% off our purchase – which was major since we were planning to buy some trees.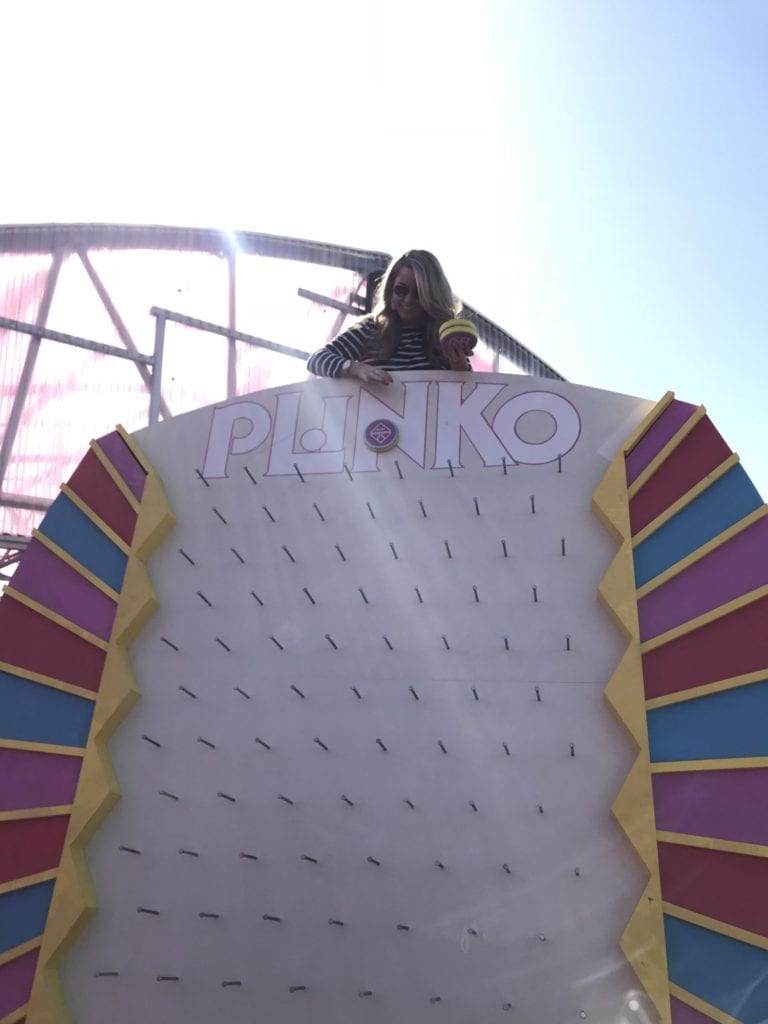 Kurtis got zero percent. Oops.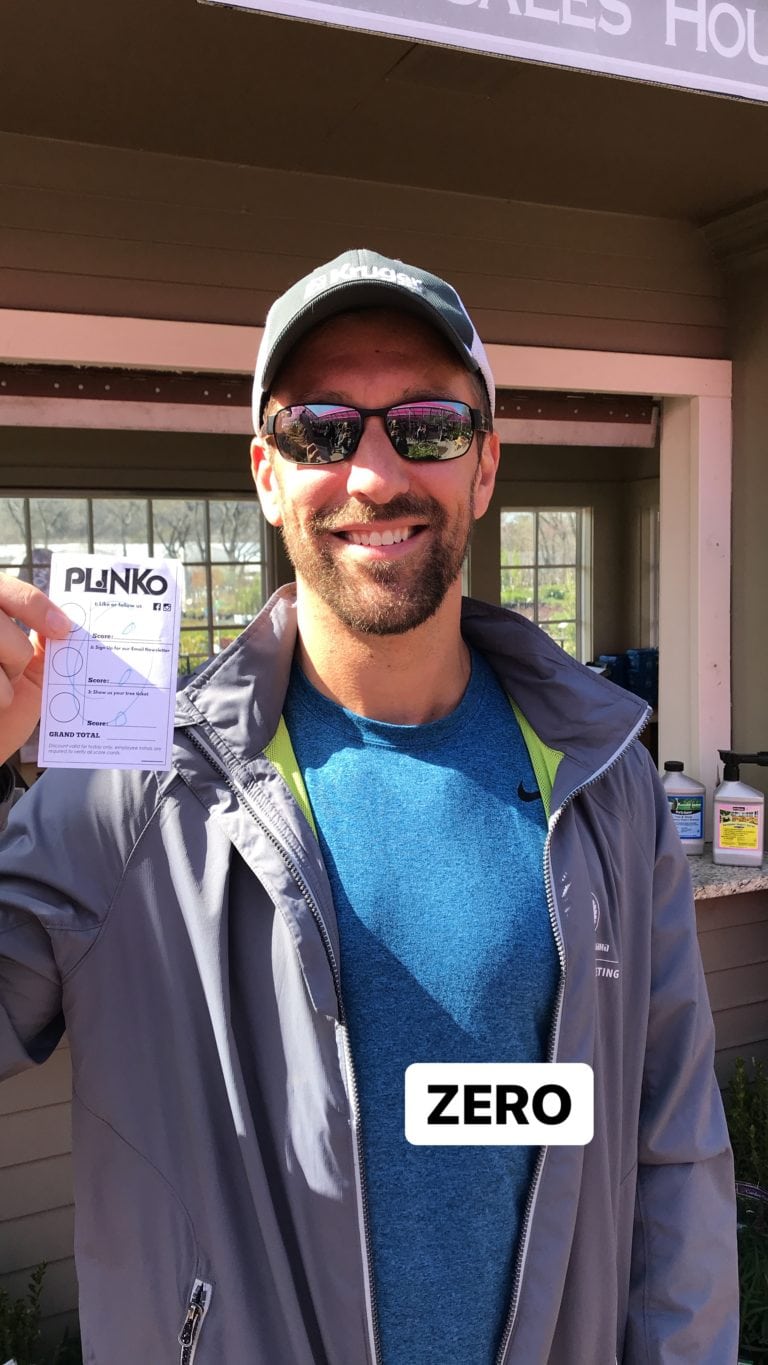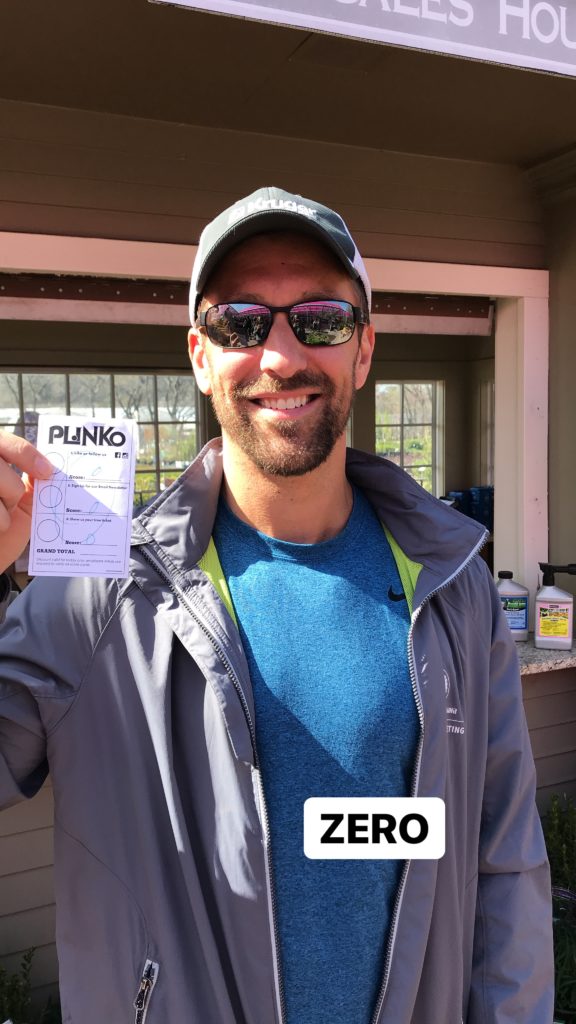 We came home and did random things around the house. After being out of town so much the past two months, I needed to catch up on laundry and just random picking up around the house.
Once we decided to chill for the night and watch Justified, our cats were out of control. Hawkeye went from the top of the fridge to laying on top of the microwave. Bearcat was clearly not amused.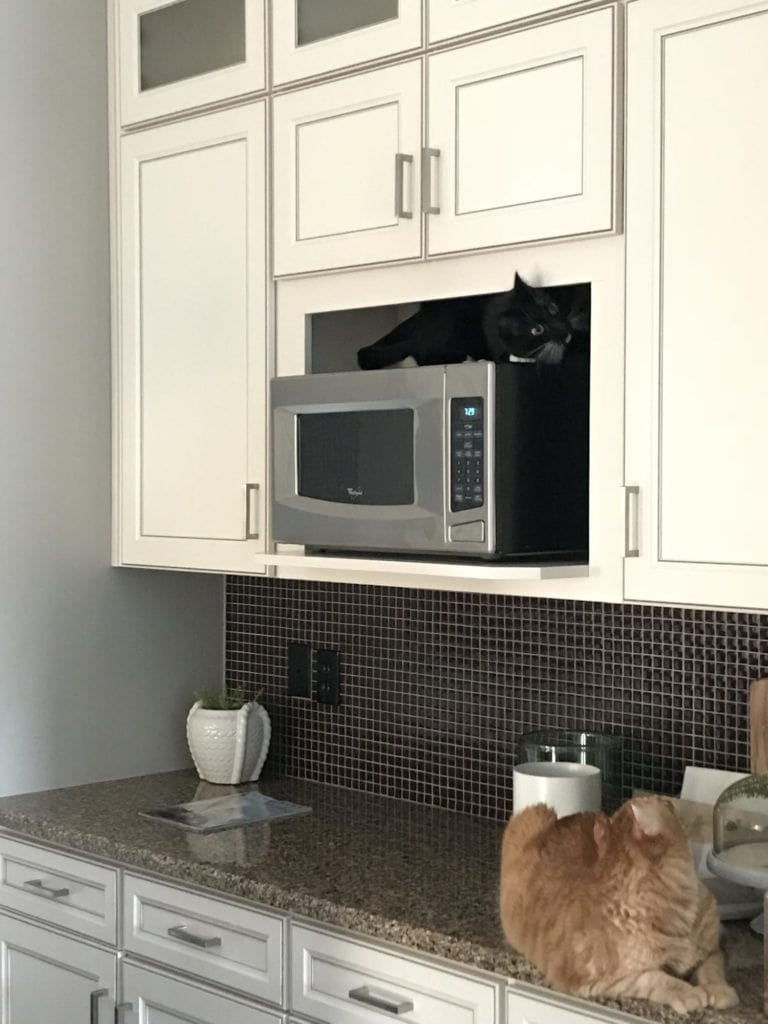 Sunday morning, we went to Jill and Nick's for brunch. We were going to go out, but they were worried Zoe may not be ready for a public brunch 😉 The guys were in charge of food and the girls were in charge of drinks and the baby.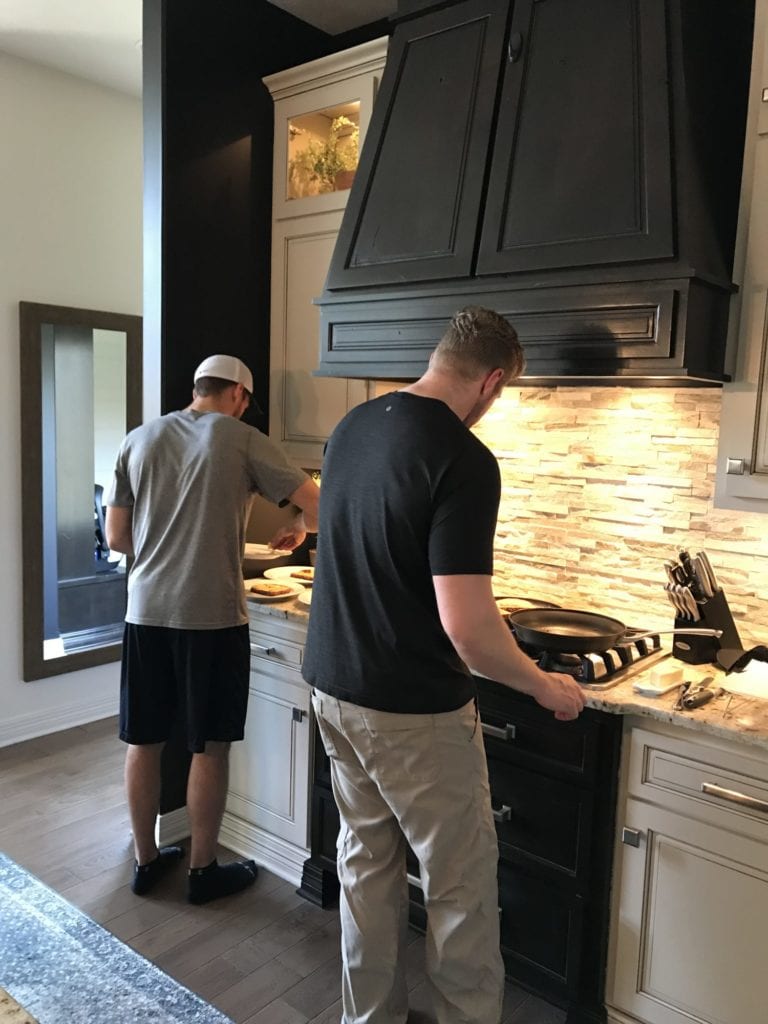 The breakfast sandwiches they made were unreal. Dave's Killer Bread, bacon, gouda, arugula, and avocado mash (made of avocados, garlic salt, lime juice and olive oil). It was seriously one of the best breakfast sandwiches I've ever had! We've all since decided this needs to be a monthly tradition.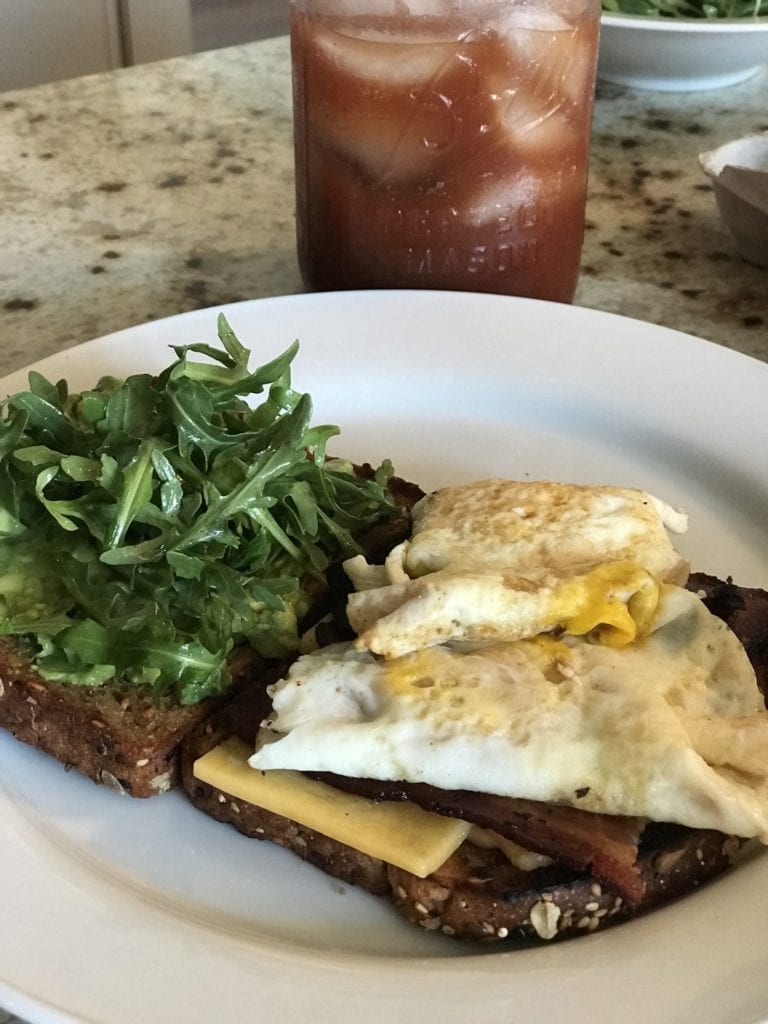 Nick and Kurtis had some random projects to wrap up, so Jill and I grabbed a Starbucks and then I came home and did more laundry and cleaned up. It doesn't sound fun, but I was in one of those moods to get random things done that I had been procrastinating. So, it made for a great end to the weekend!
Home Updates & Projects
As I mentioned, a lot got completed around the house last week, thanks in part to the nicer weather! The roof is now 90% done (they just need to finish the metal portion and the gutters).
I also got a call from Lanoha, a local nursery, that the trees I had been waiting on were freshly dug. We love VanderWolf pines because they do so well in our yard! So I picked three out and we bought them on Saturday after I earned the Plinko discount I mentioned! I could seriously spend hours upon hours at the nursery. I basically want one or more of everything I see.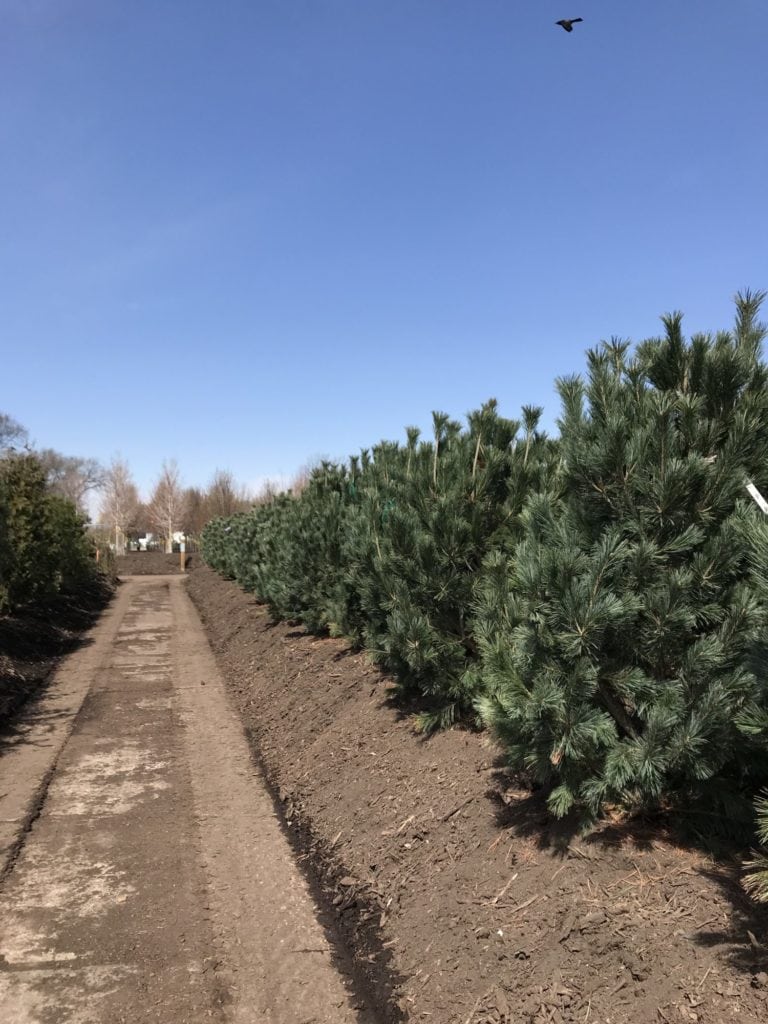 Saturday, we placed the little white flags where we plan to add the six (!) new trees we bought. We were only supposed to get three, but I told Kurtis we'd likely never see a 25% off discount again so I conned him into more. They are all pretty small since 5 of the 6 are for the hill. If you look closely, you'll see those flags! The other tree will go on the side of our house.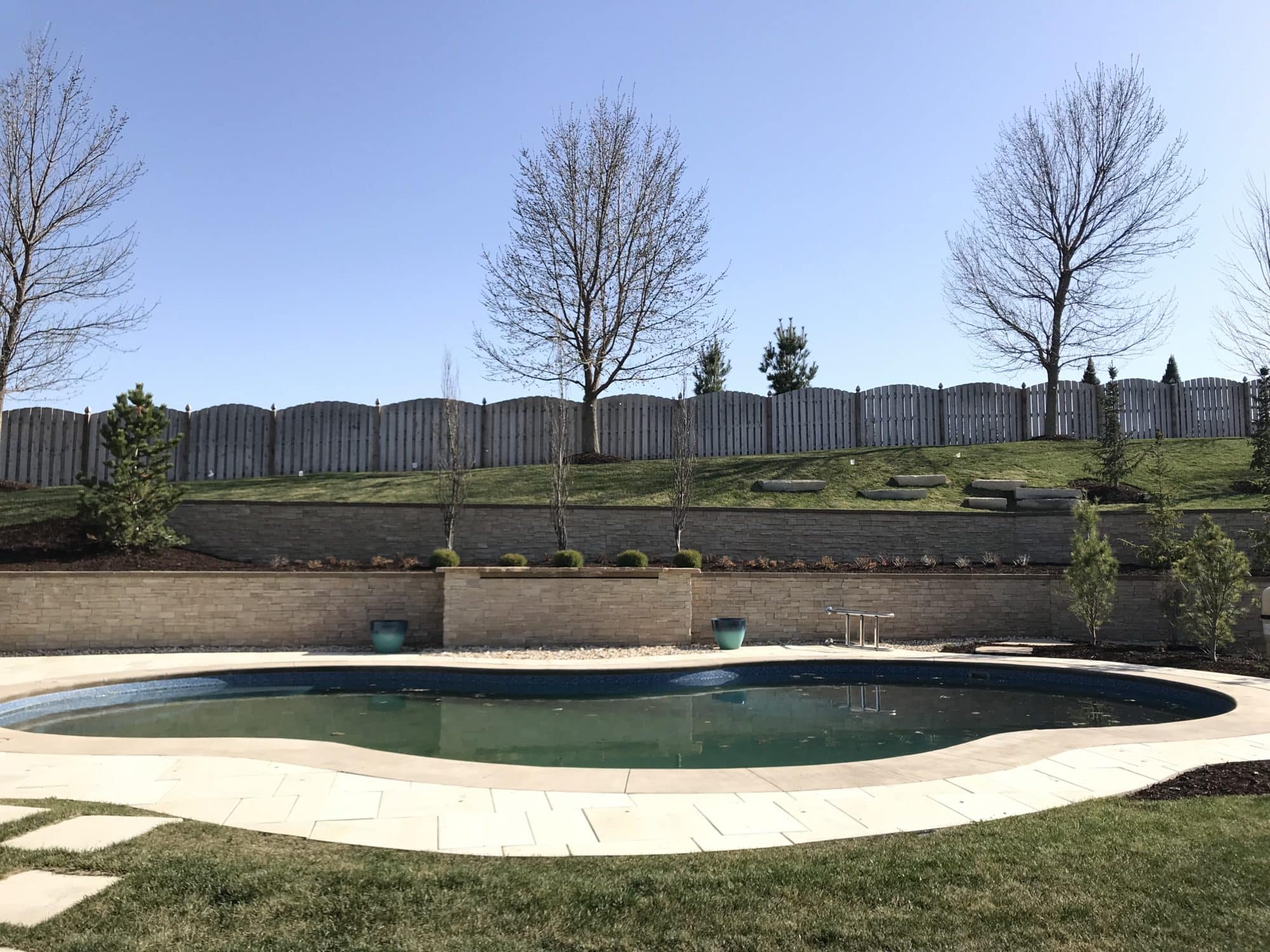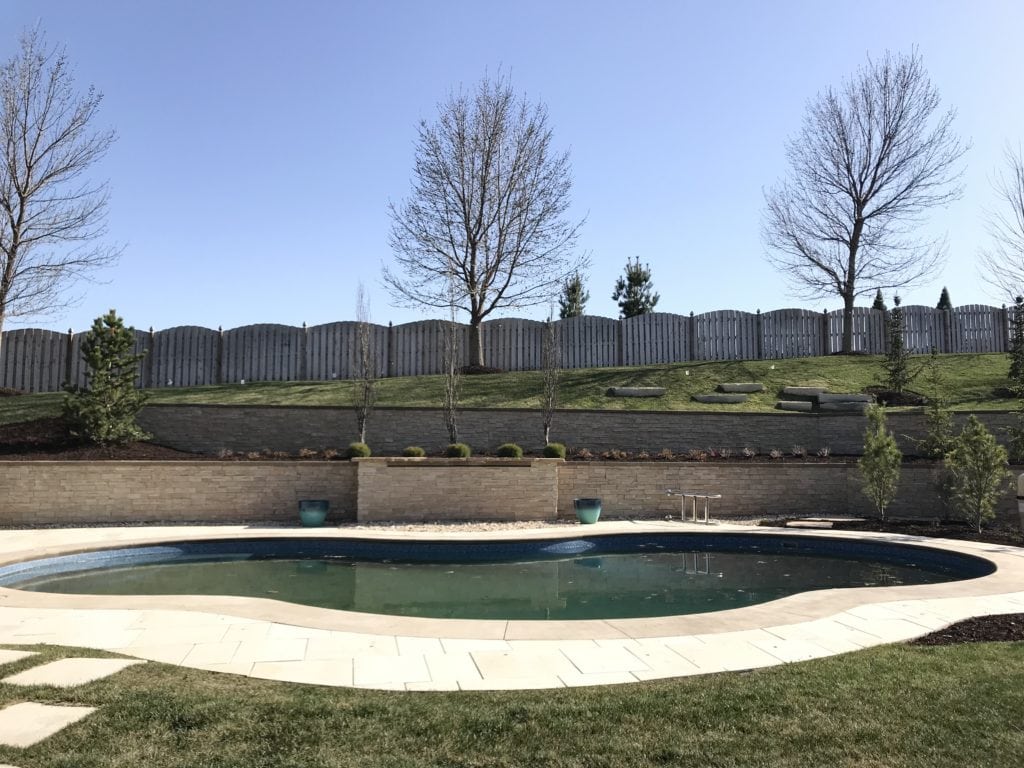 After the roof was completed, our landscapers (Outdoor Inspirations) were able to come back and finish our mulch. It looks so good when everything is so fresh!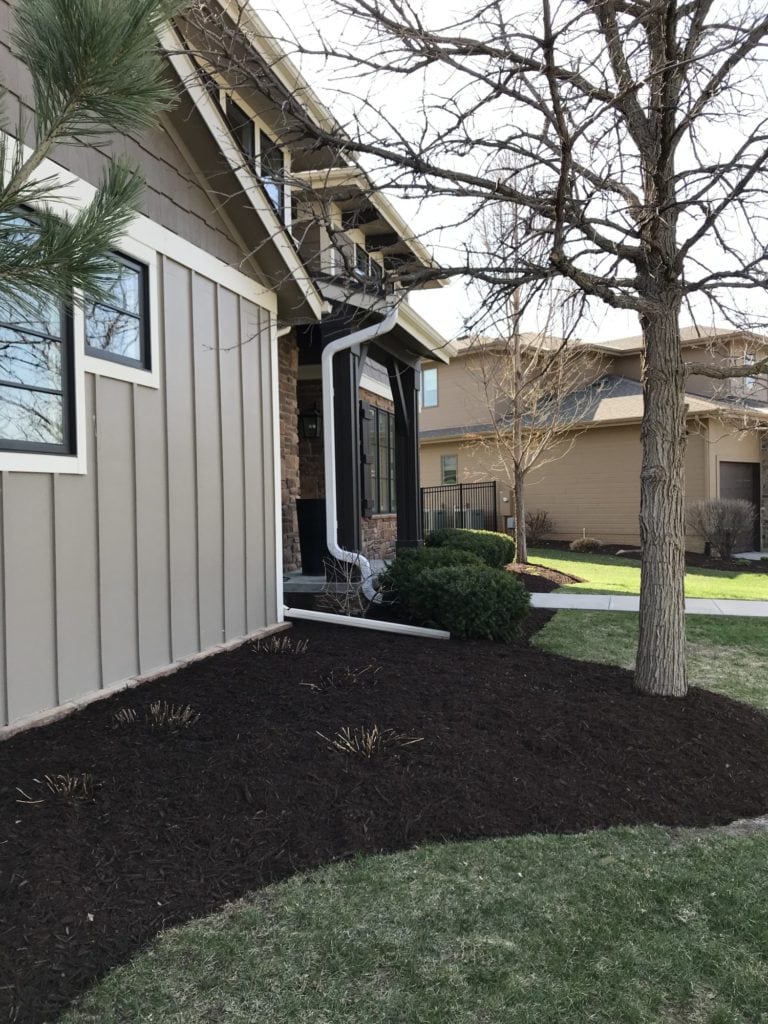 Late Sunday afternoon after we had finally wrapped up our other projects, Kurtis agreed to finally hang our new guest bedroom beaded light fixture. We only have 8′ high ceilings on our second level, so it may be a bit long, but given that it's over a bed, I think it will work fine. I plan to trim the tassel significantly too. But I love the new vibe it adds to the space. I'll share better photos of the new look soon!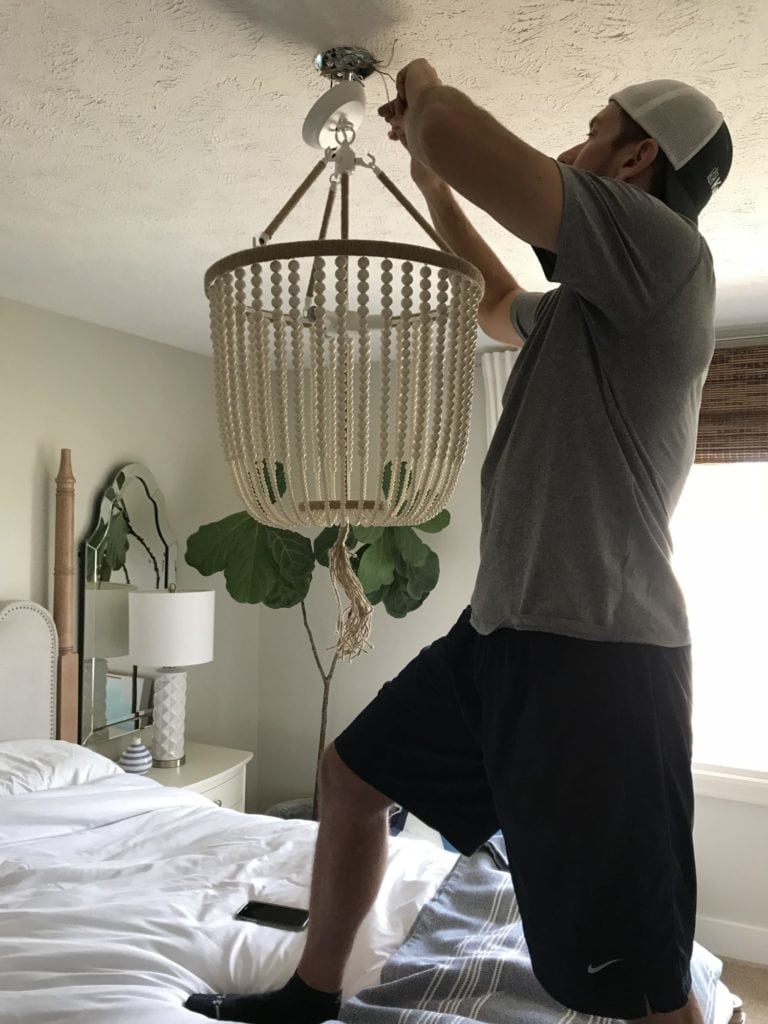 Earlier in the week, I had painted a few white swatches on the house. The one shown here is Benjamin Moore Simply White. I also bought some boxwoods for the courtyard at the nursery sale, and I think I'm going to be obsessed with how all this turns out soon! Our painter is planning to start the third week in May so I really need to finalize colors soon!!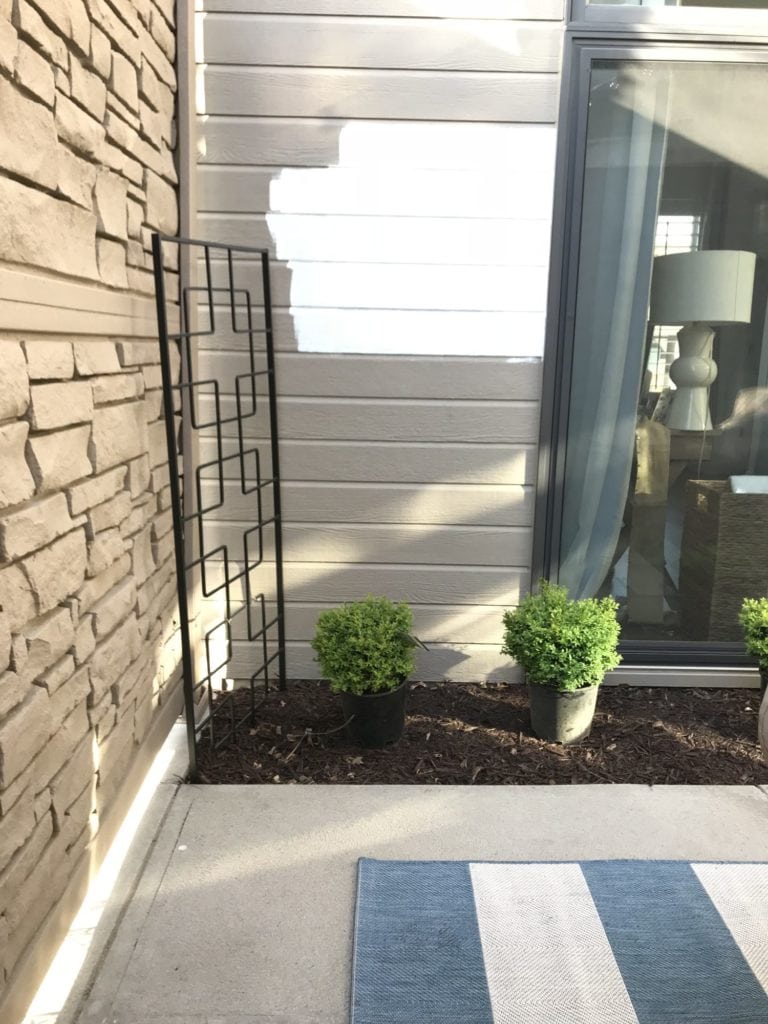 Recent Buys & Sale Alerts
Here's a fun outfit I wore recently for spring now that the warmer weather than finally decided to arrive!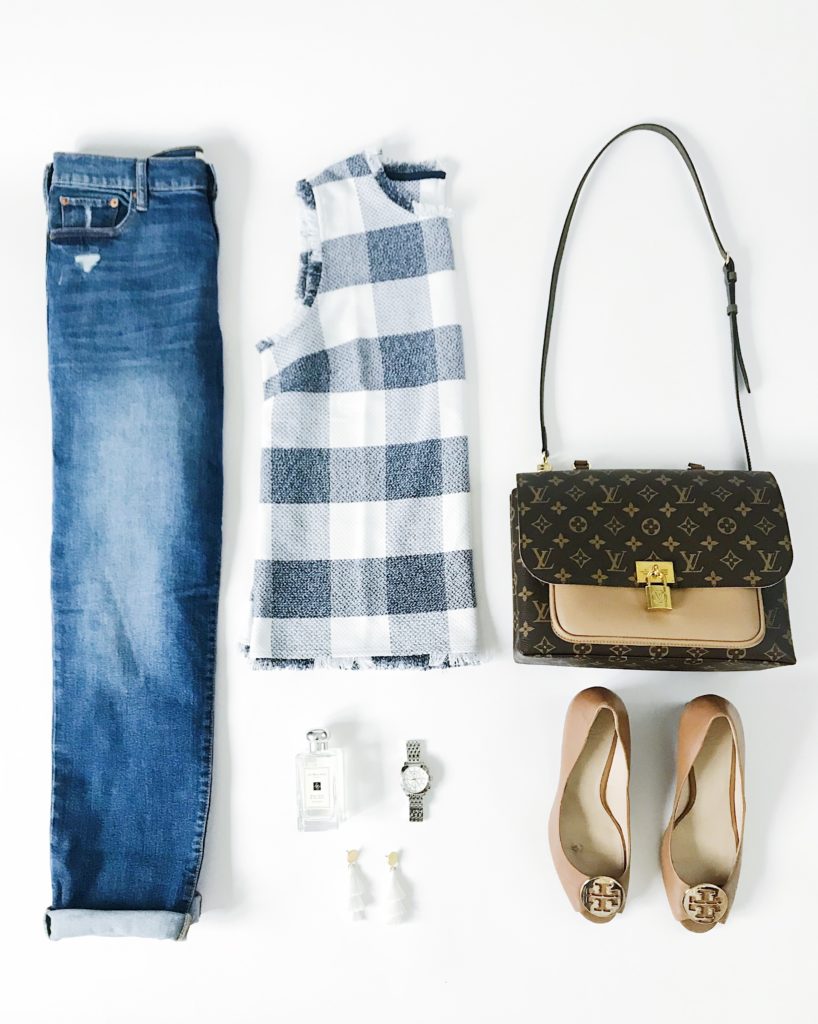 Gingham Shell | Mid-Rise Jeans | Wedges (similar here) | Louis Vuitton Marginan Bag (similar hereand here) | Tassel Earrings | Favorite Cologne | Watch (same brand similar style)
When I was at Target last week, I came across these striped pillows. I loved the pattern and how soft they were. And, although I don't think they were down-filled, I think Target has finally gotten the hint that their polyform pillows need a little work. Whatever this was stuffed with fluffed (and karate-chopped) well and I was impressed with the overall quality!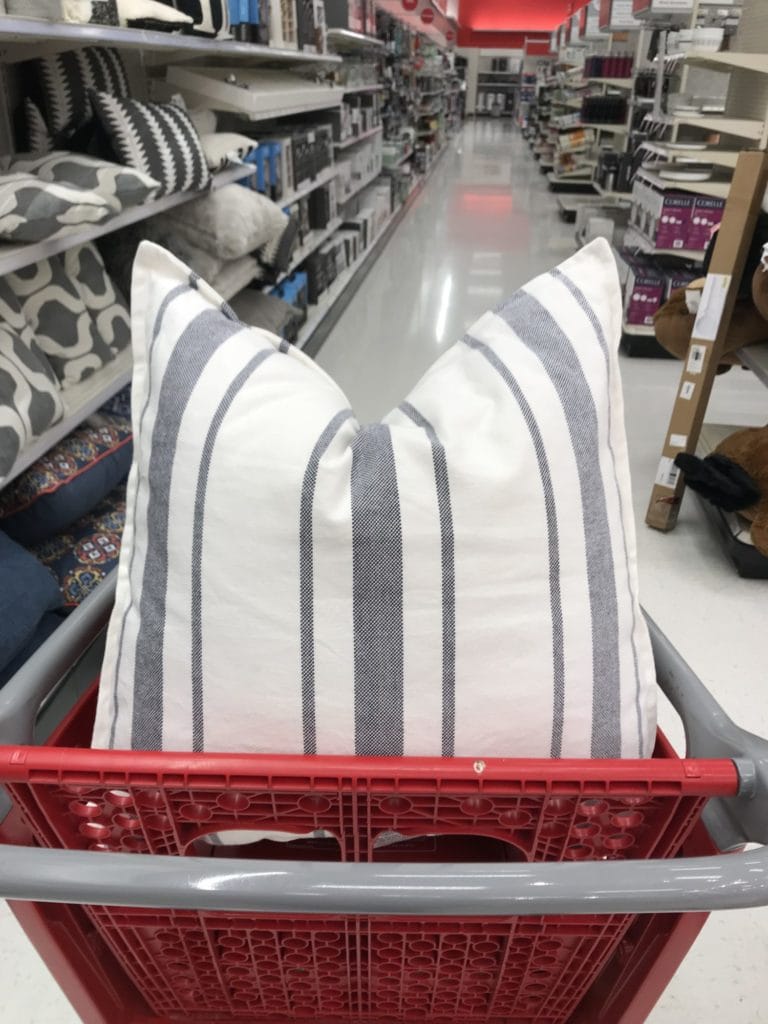 I ended up buying this mirror and this striped vase while I was there because I felt both were such great prices! But, now I'm regretting I didn't get the pillows as well. I already have the mirror hung and the vase styled so I'll plan to show you them in real life rooms within the next week or so!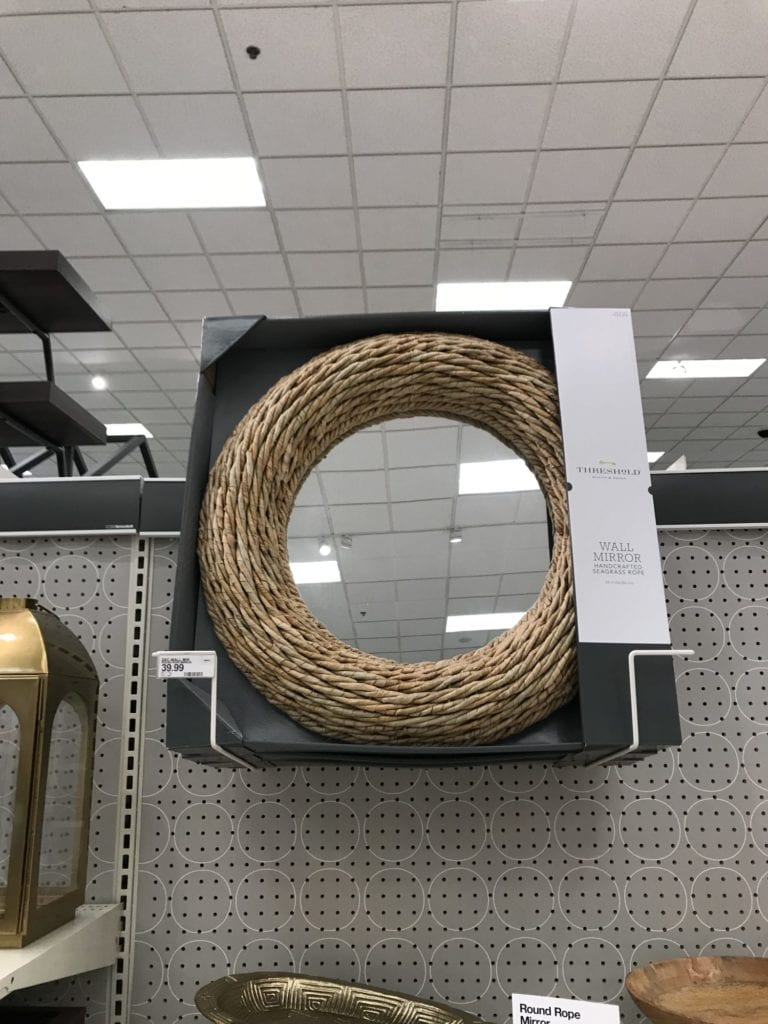 I have a new part-time assistant starting tomorrow so I'm really excited about that! In February, I opted to discontinue service with my two virtual assistants that had been helping me out. Needless to say, the past two months have been a bit chaotic with me handling all my open Pinterest re-pins and other behind the scene tasks. My new assistant is local and she'll be helping me in person occasionally so I'm really looking forward to this new model. Especially since I can start focusing on creating new content again!
I hope you all have a great week!
If you would like to follow along on more of my home decor, DIY, lifestyle, travel and other posts, I'd love to have you follow me on any of the following:
Pinterest / Instagram / Facebook / Twitter / Google+
disclosure: some affiliate links used