Happy Monday! We're one day away from the official start of spring, so that's never a bad thing! It was a crazy busy week so I have a lot to fill you in on!
Home Updates & Projects
Wow! Where to even begin on this one. Bear with me, because it's about to sound completely crazy.
If you recall, our roof, along with our three rental homes, had totaled roofs in a hail storm last spring. We had the rental home roofs fixed last fall, but because of the pitch of ours and the complexity (shingles mixed with metal roofing mixed with lots of roof lines) and the timing, we opted to move ours replacement to spring. So, I'll be meeting with the roofing company today to finalize all of that (and hopefully have it all done in the next month or so). But, that prompted some other conversations.
I had to get bids to have all of our rental decks re-stained (also damaged in the hail storm) and we needed our back wood fence stained since it had never been done before. So, while I had the painter handy for those four bids, I asked him to bid painting our house (keep in mind the gutters were already going to have to be painted because they're getting replaced with the roof). I told you this was all going to get complicated 😉 Our house is ten years old, so we figured our house probably needed paint soon. Turns out it's probably a year or two past due. But, the good news is, we got the bids back, and we're going to move forward with everything. Which means…. we're going to paint our house white like I've always wanted! More details to follow soon, but I can't tell you how excited I am for these unexpected changes! You can read more about my initial paint plans here.
I'm not a stain expert, but our painter loves the Benjamin Moore lines for exterior projects. I want a natural look on our back fence but I'm a bit more lenient on our rentals because the decks are older and have been stained several times. If you have any recommendations let me know – I just don't want anything super red-toned. Turns out our Benjamin Moore doesn't have sample cards you can take so I'm going to have to rely on the photos I snapped while I was there. It complicates things a bit further, because our fence needs semi-transparent, two decks need semi-sold and one deck needs solid!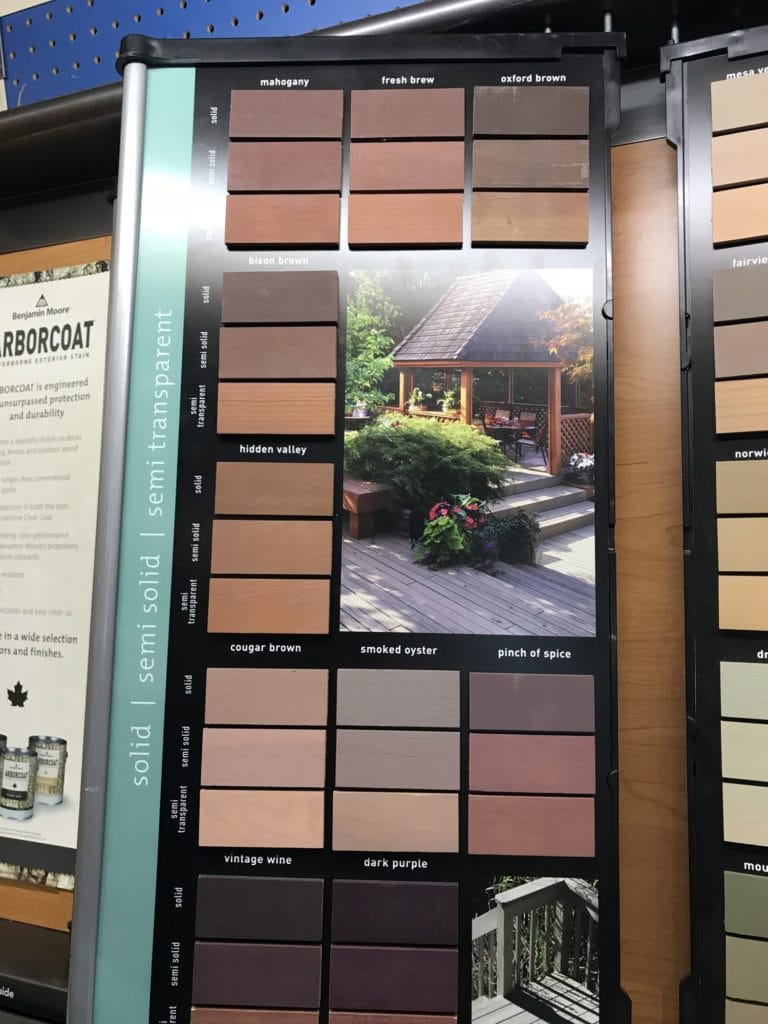 On top of that, I met with our designer on Wednesday that I'm using to help with our kitchen plans. We're actually meeting again tomorrow with a cabinet maker to finalize the bids for new cabinet doors in our kitchen. We're going to try and keep our actual cabinet boxes and layouts to save a lot of money. Goodbye Thermofoil doors!
Kurtis had his infamous March Madness event from Thursday to Friday (he actually sleeps at his sister's/brother-in-law's house). It's basically their favorite week of the entire year because they watch games, go to breakfast, watch games again and talk about their upcoming fantasy baseball drafts.
While Kurtis was away, I got the itch to start painting. Because, we really didn't have enough projects in the works already 😉 I felt like I would get in less trouble while he was at his March Madness party if I started something new, rather than finish what I'd already started (the entire living room). But, I took advantage and started painting our entryway Simply White (something I had actually wanted to do in this makeover). This area gets so little natural light and feels like one of the darkest places in our home – especially compared to the entryway hallway which is so light! Kurtis came home and said we needed to have a conversation and he told me I can't paint our entire house white. It really hasn't been my intention to do that, but I think lately I've been attacking the darkest places and wanting to make them lighter so it's happened naturally. I promised I would paint our bedroom "a color". Disaster averted. Here you can see just how dramatic the color difference is. The old color is Behr Castle Path. I am leaving the entryway hallway Castle Path, just painting this little foyer area the white.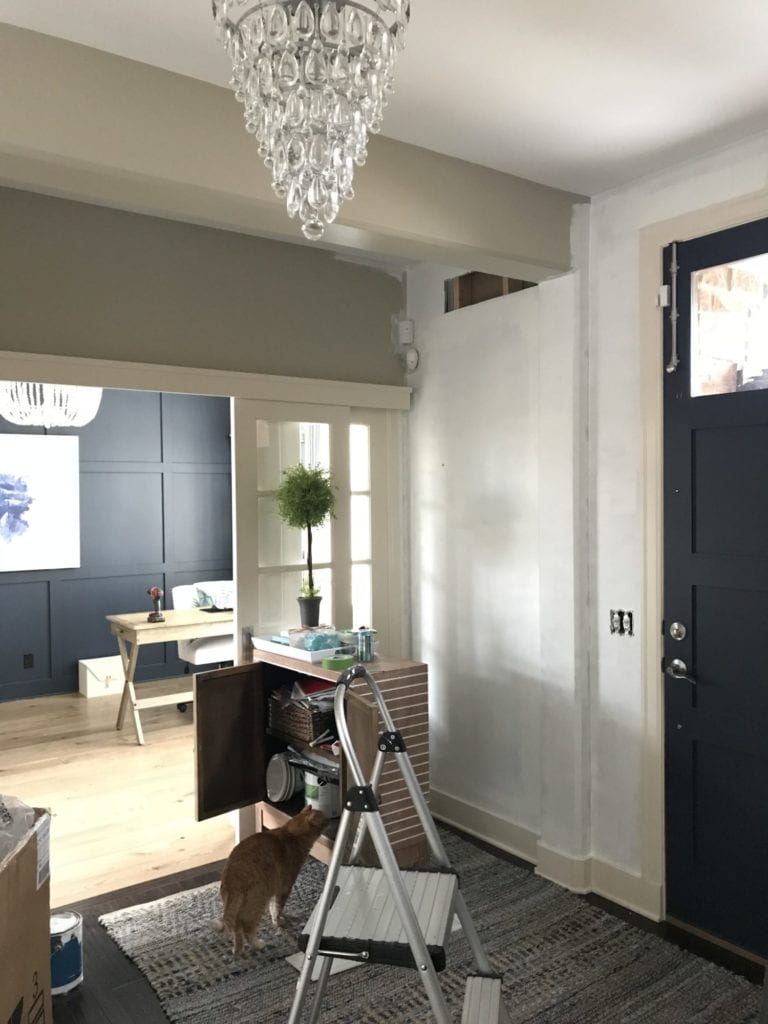 Sunday I spent no less than six hours painting again. I really wanted to get things wrapped up before I leave town later this week, but I still have a few hours left. So close! This little corner of the entryway is the one I'm most excited about updating. It was so dark before and I never really loved how it was decorated (but never changed it because it always looked so dark).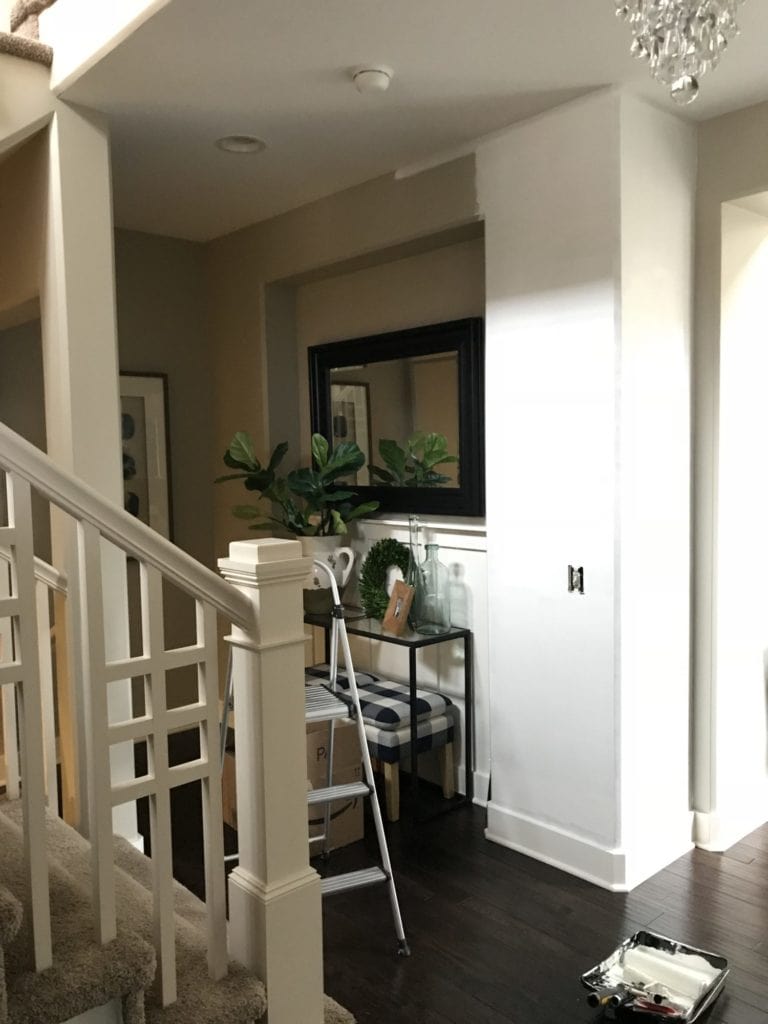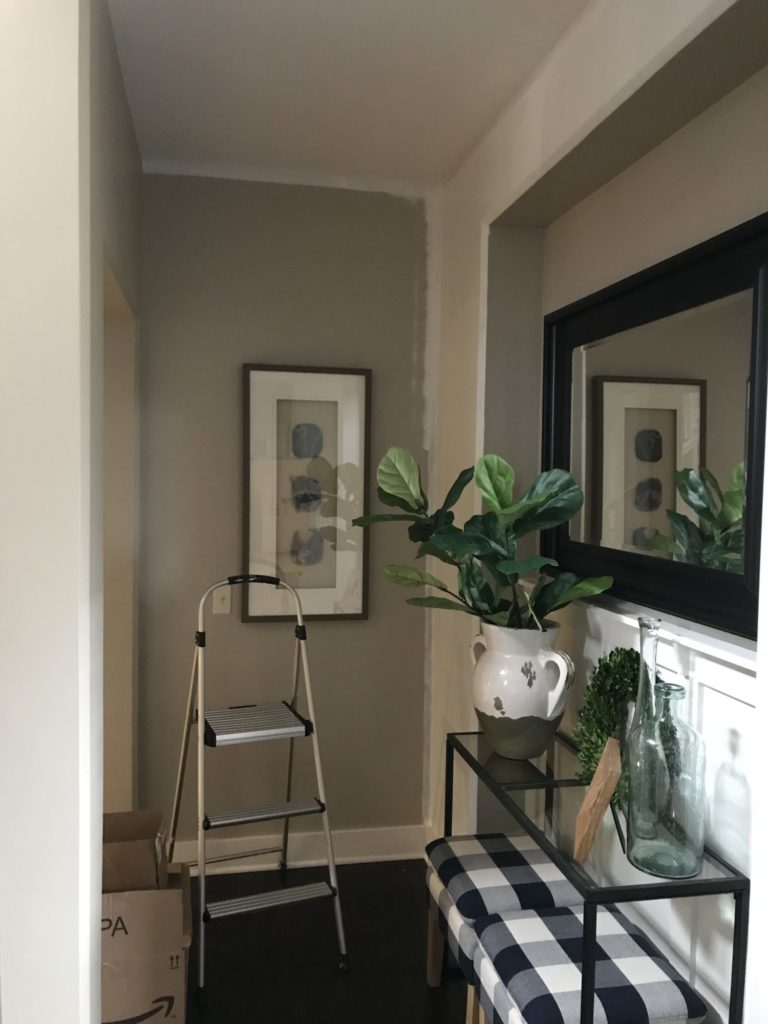 You can see here just how much better the entrance will be! It's hard to believe just how different the Castle Path look on the little foyer arch compared do down the hallway! Without the natural light it is so dark.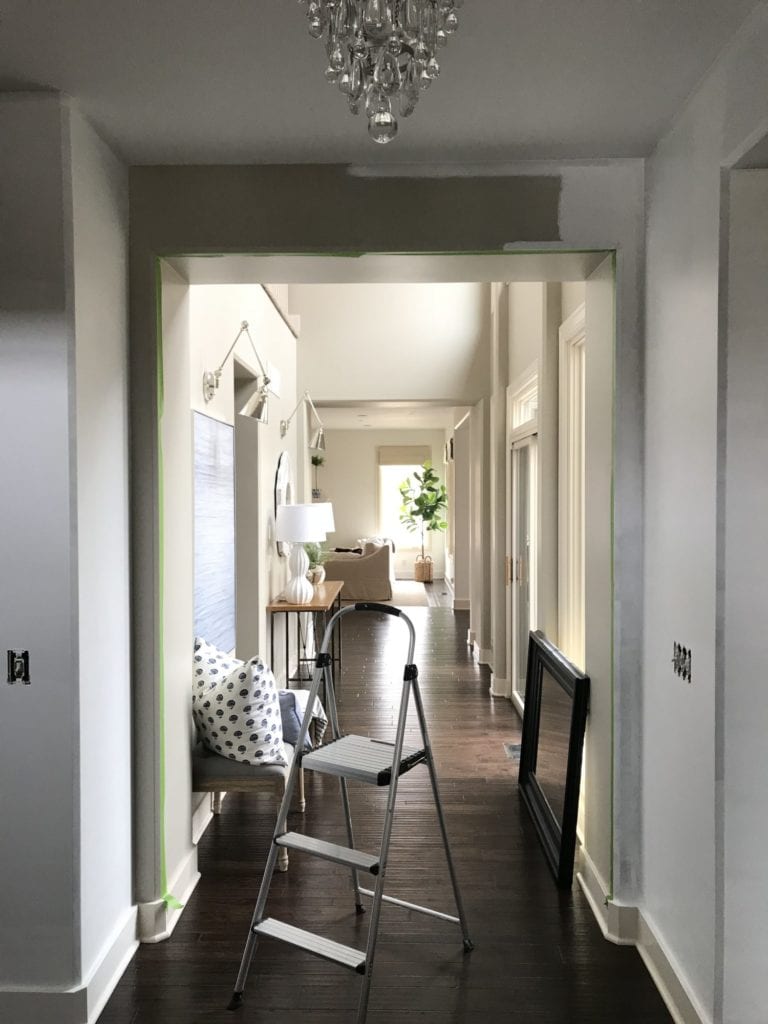 Here you can see the difference one coat vs. two coats makes in the color. I actually always do three coats of Simply White to get the best coverage – which is also why it's taking me so long to finish this relatively space!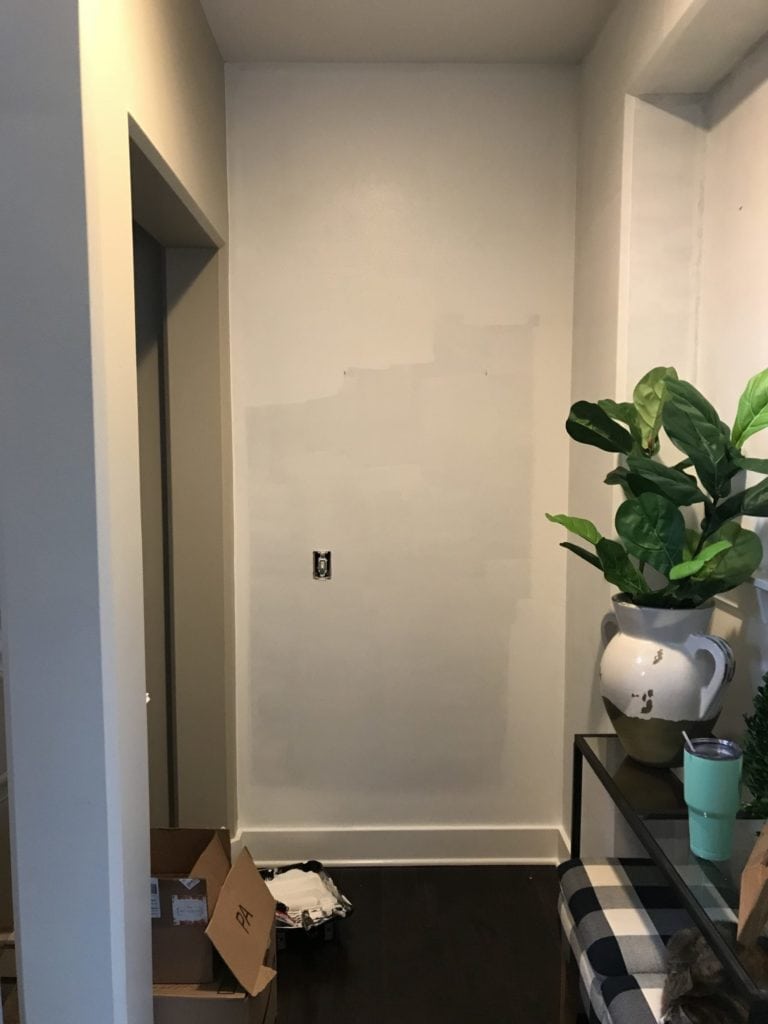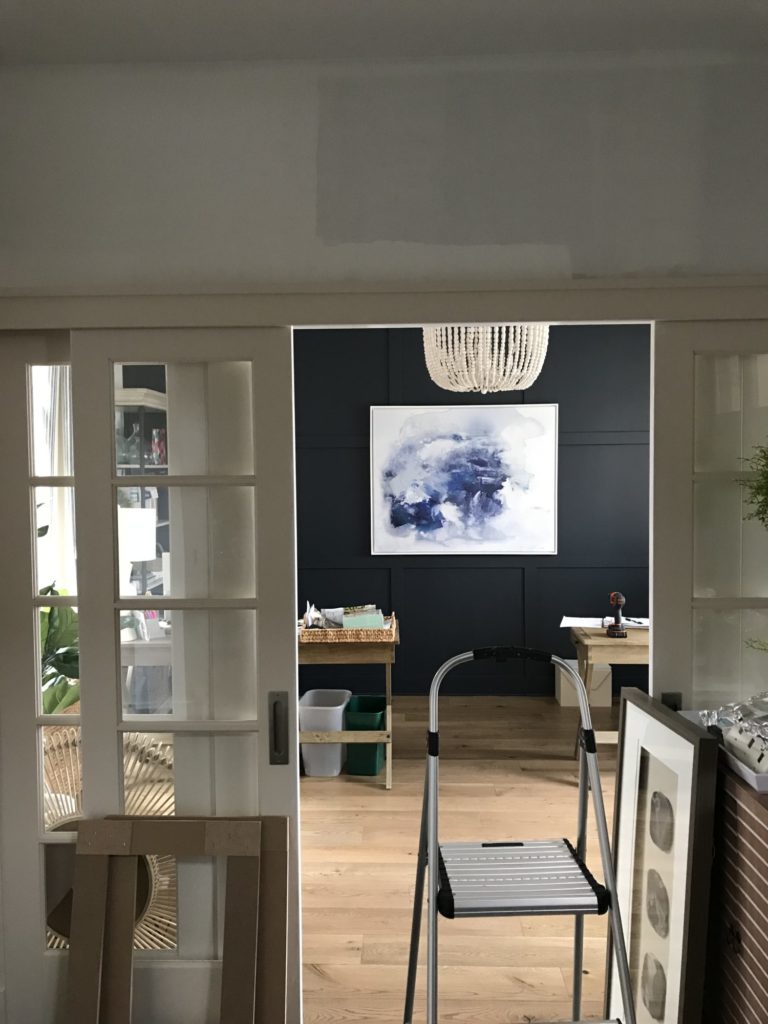 And if you can't already tell, I'm going to have a lot of trim work painting ahead of me! Good thing I don't hate painting 😉
I also stripped all of my pillow covers to officially switch over to spring. This is the beauty of just having one set of forms and then just using pillow covers though. You're not always having to store a billion pillows (just the covers)! It's usually a bit chaotic while I'm in the process, but I'm ready for my second and final spring tour tomorrow! Be sure to check back in tomorrow to check it out!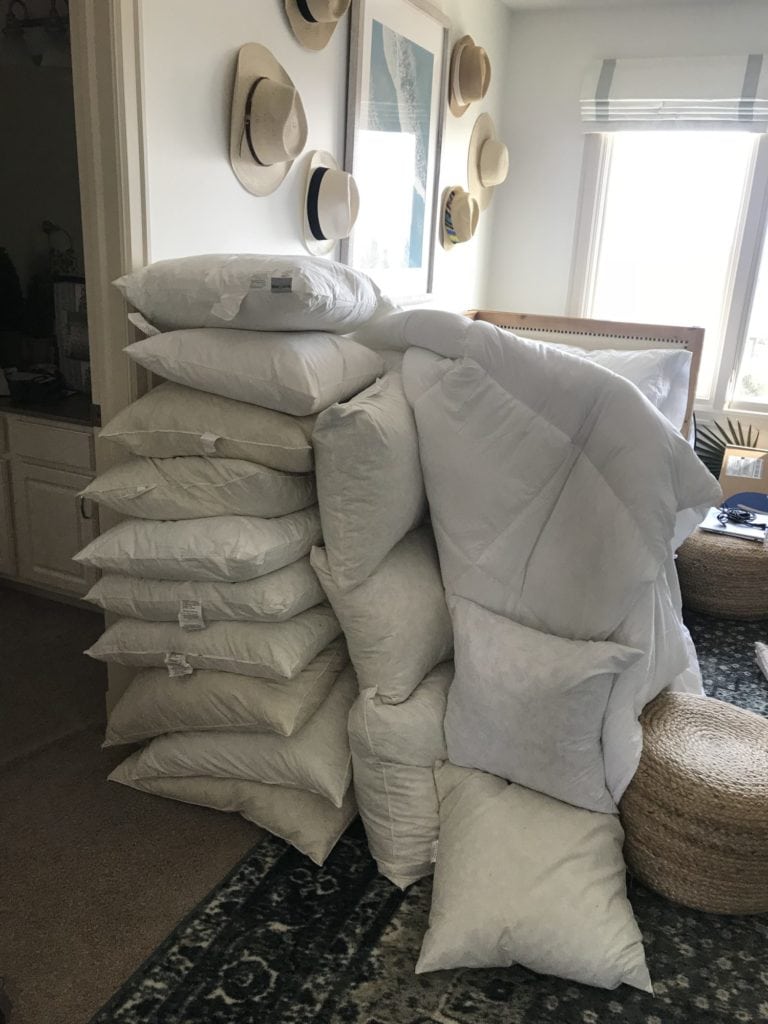 Sunday, I had Kurtis help me get the new rug down in the guest bedroom. That's always a process! We basically had to strip the bed so we could move the rug a few inches at time underneath it. It has those little mini support legs underneath every foot or so, so that made it extra fun! But, I'm excited how this is coming together!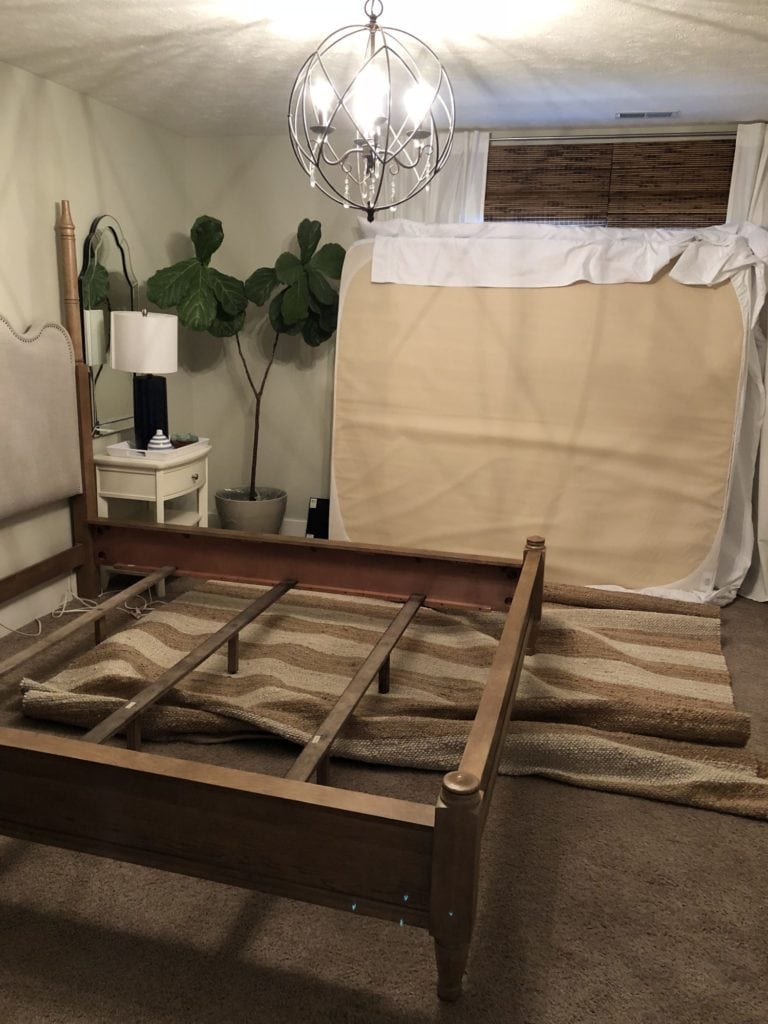 Around Town and for Fun
Friday night I decided to join in the March Madness fun and headed over to the party. Sadly Creighton lost (even though I was wearing my Creighton blue) but had a lot of fun playing darts and hanging out with the crew.
Saturday I had to make a quick run to The Color Store to pick up a more Benjamin Moore paint and some swatches and samples for all the projects mentioned above. At 10:30 I went to Jill's baby shower, and I'm absolutely loving how her nursery is coming together! She's going to be adding an animal print gallery wall, as well, but it all looks so cute! I'm obsessed with that wood bead chandelier and the rocker that converts to a regular chair!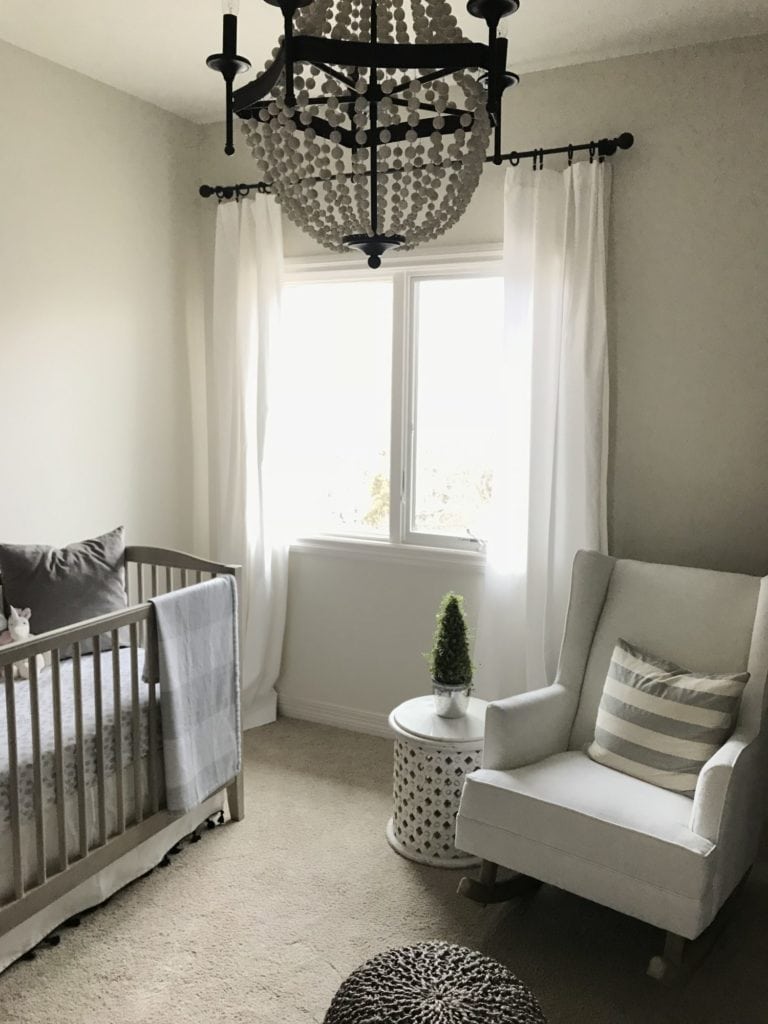 Cute Jill and little Scout. Can you believe she's due in exactly one month?!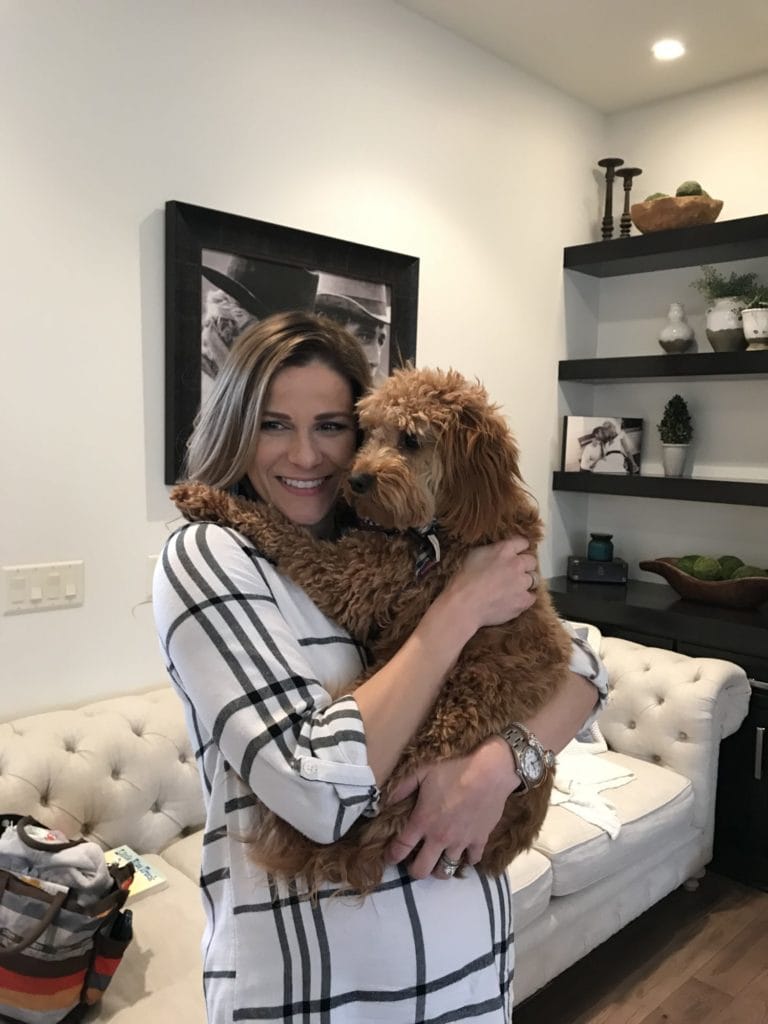 While I was at the shower, Kurtis showed rental #2 to a potential new renter (the current tenants leave 3/31). He and Nick then headed to manly things while the girls were having a baby shower 😉 On Friday, we actually scheduled a Sunday appointment to look at another potential rental (exactly like our other three) but it sold within 24 hours. The Omaha market is crazy right now, especially at the entry-level home price point.
Saturday afternoon was pretty low-key. The weather was cloudy and gloomy so it was a good day to lounge around and pretend like it was still winter. Because, come next week, we're full-on embracing spring and warm weather and not looking back!
Since I was painting nearly all day Sunday, there wasn't much time for fun. Kurtis was "studying" for his upcoming fantasy baseball draft so at least we were both a bit productive!
Recent Outfits and Sale Alerts
I shared this outfit in my last Wednesday Watch List, but I wanted to mention it again in case you missed it because this truly is a favorite. I'm obsessed with this lightweight cardigan that can make me look a bit more polished, even in a basic t-shirt. And this necklace officially goes with everything!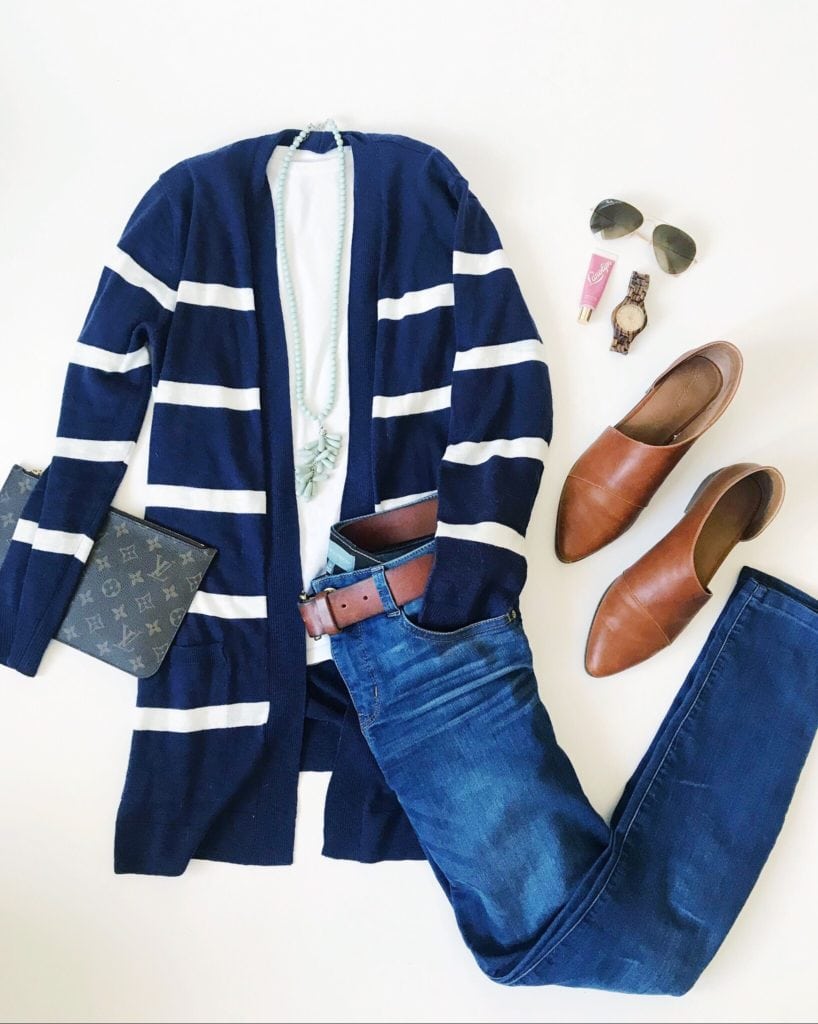 Striped Open Cardigan | Perfect White T-Shirt | Skinny Jeans  (cropped version here) | Clutch | Necklace | Booties | Sunglasses | Lipgloss | Wood Watch
Many of the St. Patrick's Day Weekend Sales have been extended to today:
I'm meeting with our roofers and landscapers (just for a mulch bid) today. Tomorrow I get my "real" crown on my tooth I broke in Maui and then meet with the kitchen designer and cabinet maker afterwards. I'm headed to Austin on Wednesday for a blogging conference and looking forward to catching up with old friends. I hope you all have a great week!
If you would like to follow along on more of my home decor, DIY, lifestyle, travel and other posts, I'd love to have you follow me on any of the following:
Pinterest / Instagram / Facebook / Twitter / Google+
disclosure: some affiliate links used