Over the weekend, I wrapped up some much-needed painting in the upstairs hallways. Turns out, I had started this project in early December….and just finished it Saturday. This entailed having our thermostat hanging by wires, no outlet covers, no vent covers, etc. for nearly four months. I rock! Not a sexy and fun project, but much needed, nevertheless.
But I must say it feels great to have this area wrapped up. All I have left to do is paint the side walls in the stairway and above the windows on the main wall and this area will be DONE! Unfortunately it was a very overcast day when I took the after photos so it all looks a little dreary. But you can definitely see the difference in paint tone and sheen. I went with my trusty Behr Castle Path in an eggshell finish, as I had on the lower level.
This post contains affiliate links for your shopping convenience. Click here to read my full disclosure policy.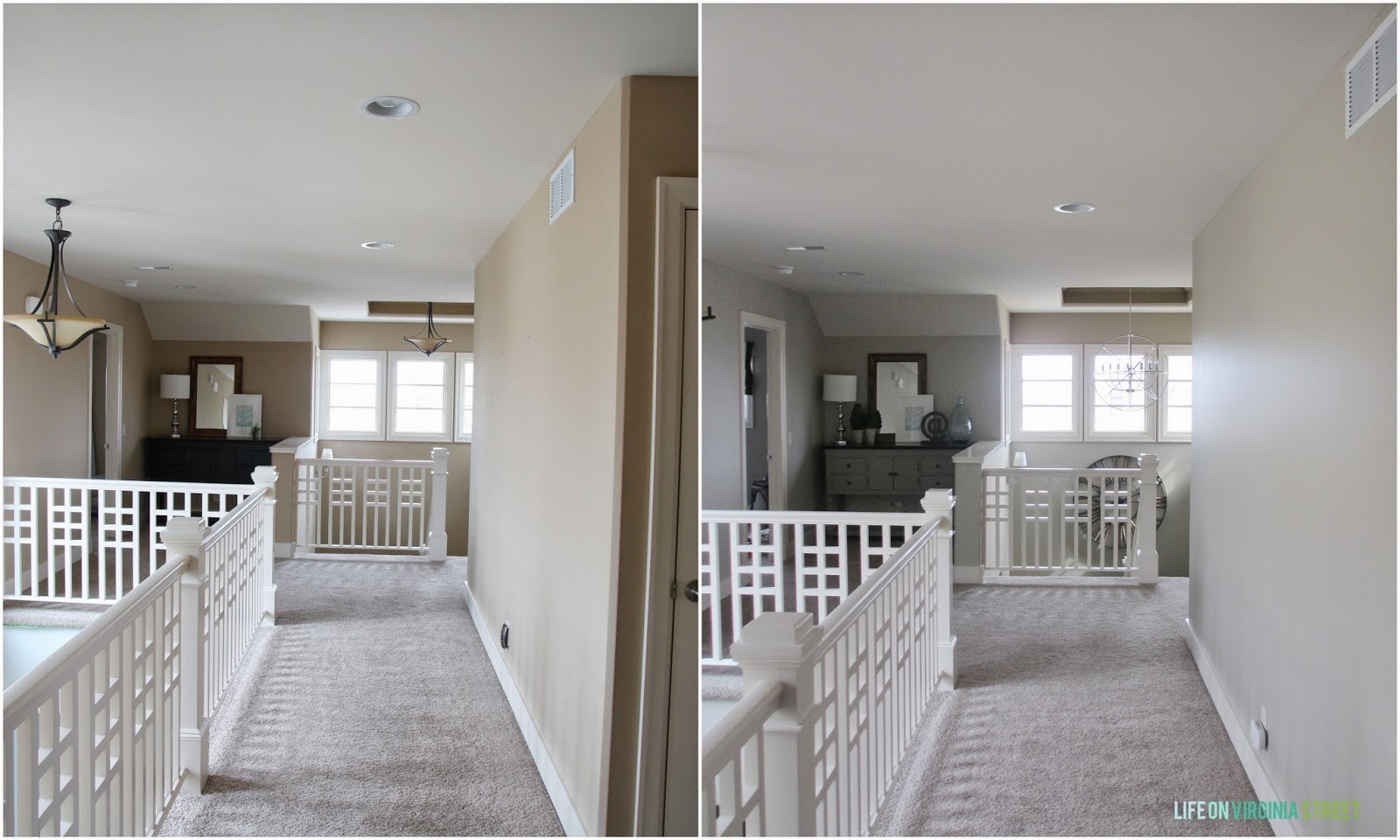 My top priority in this space now is to find two lights for the area overhanging the lower hallway overlooking the courtyard. Ideally I would like a smaller version of the light we hung over the staircase to complete this space, but I'm having a hard time finding a good match at an affordable price. I can't even tell you how crazy it drives me to having such different lights in this space – I need uniformity! And these mission-style orange-toned lights don't look so hot with the new wall color and giant orb light in the entry.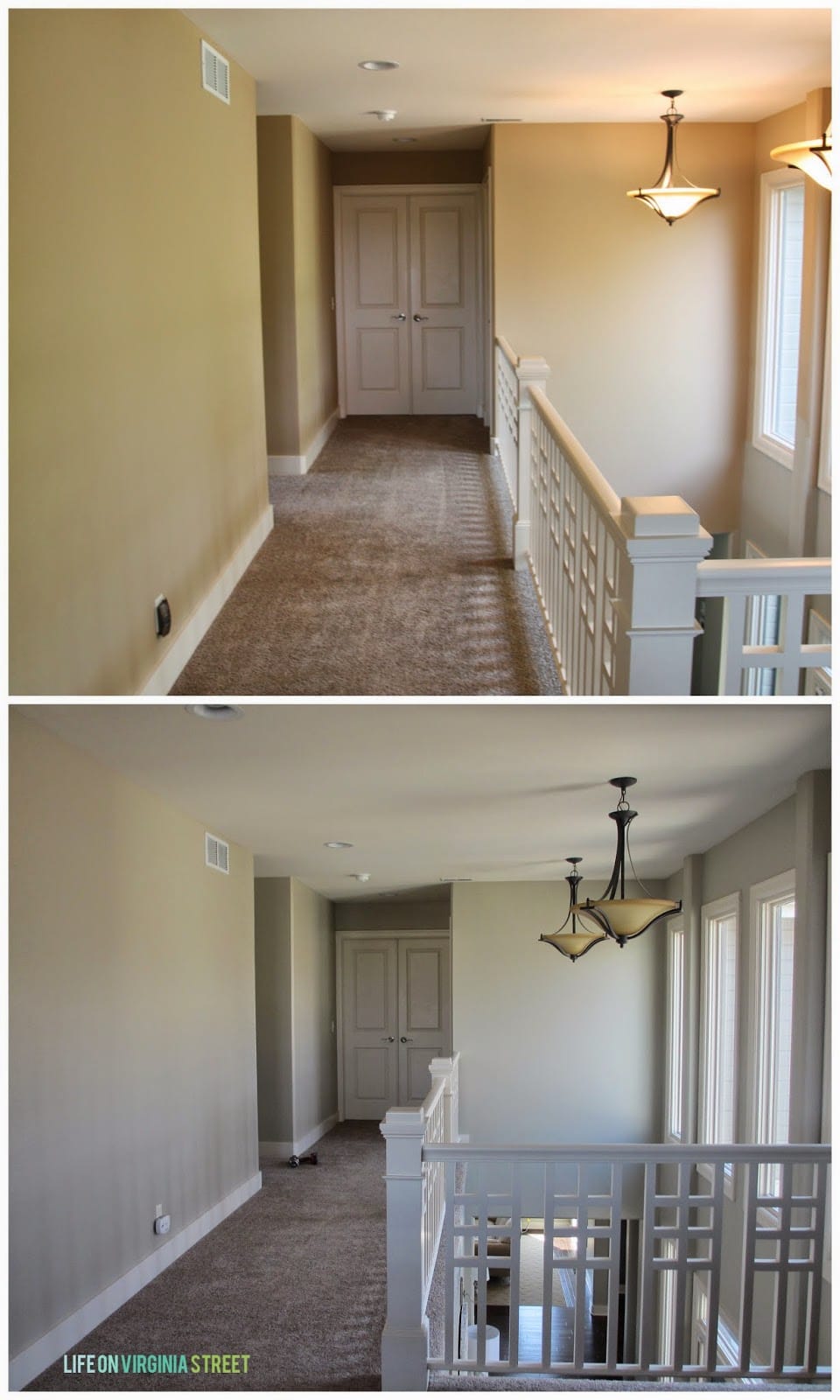 This next photo really helps to illustrate the difference in the original paint color versus the Behr Castle Path.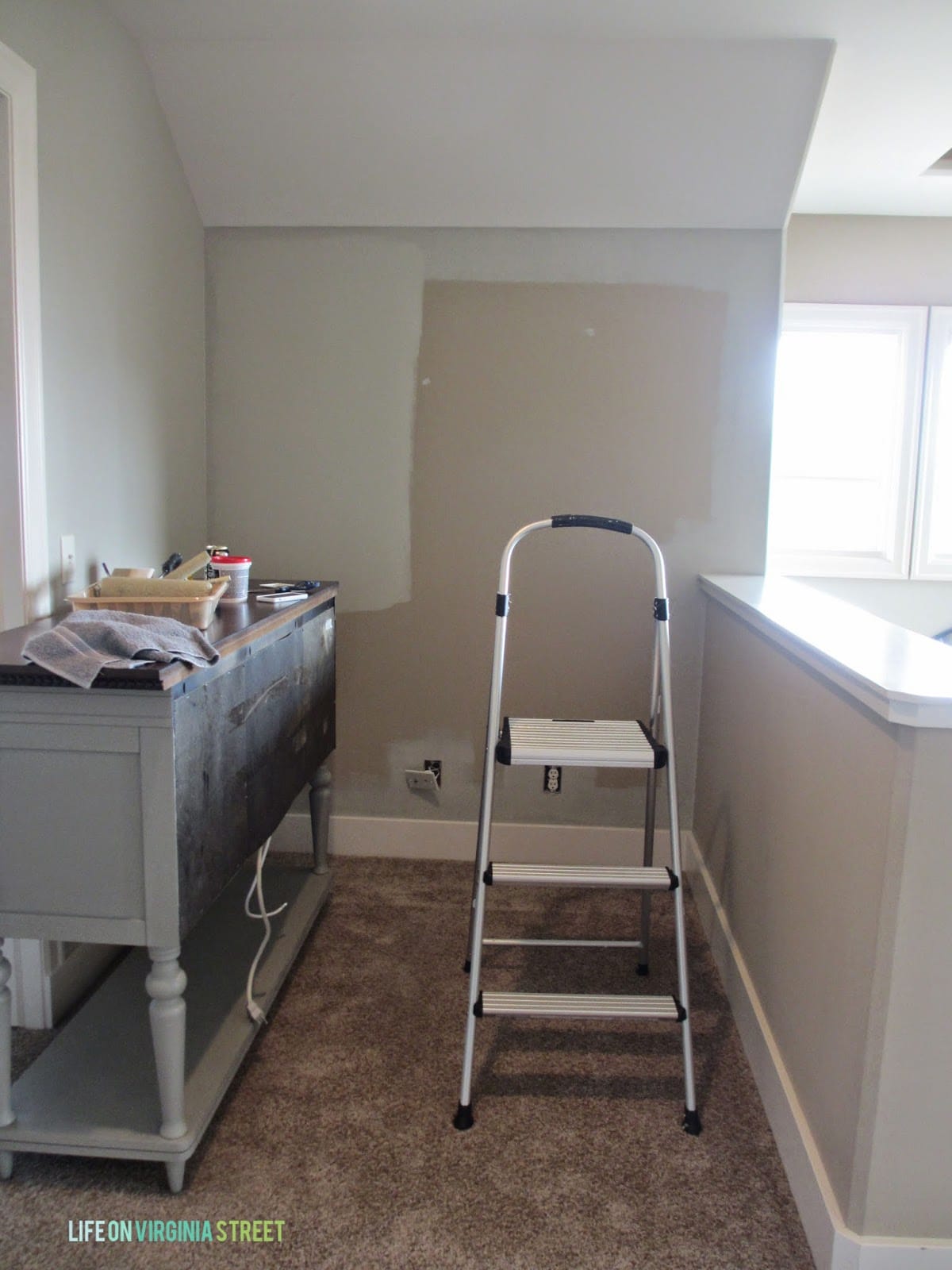 The painted buffet table housing our wi-fi looks so much better now against this wall. I found an almost identical buffet table here where all the work is already done for you!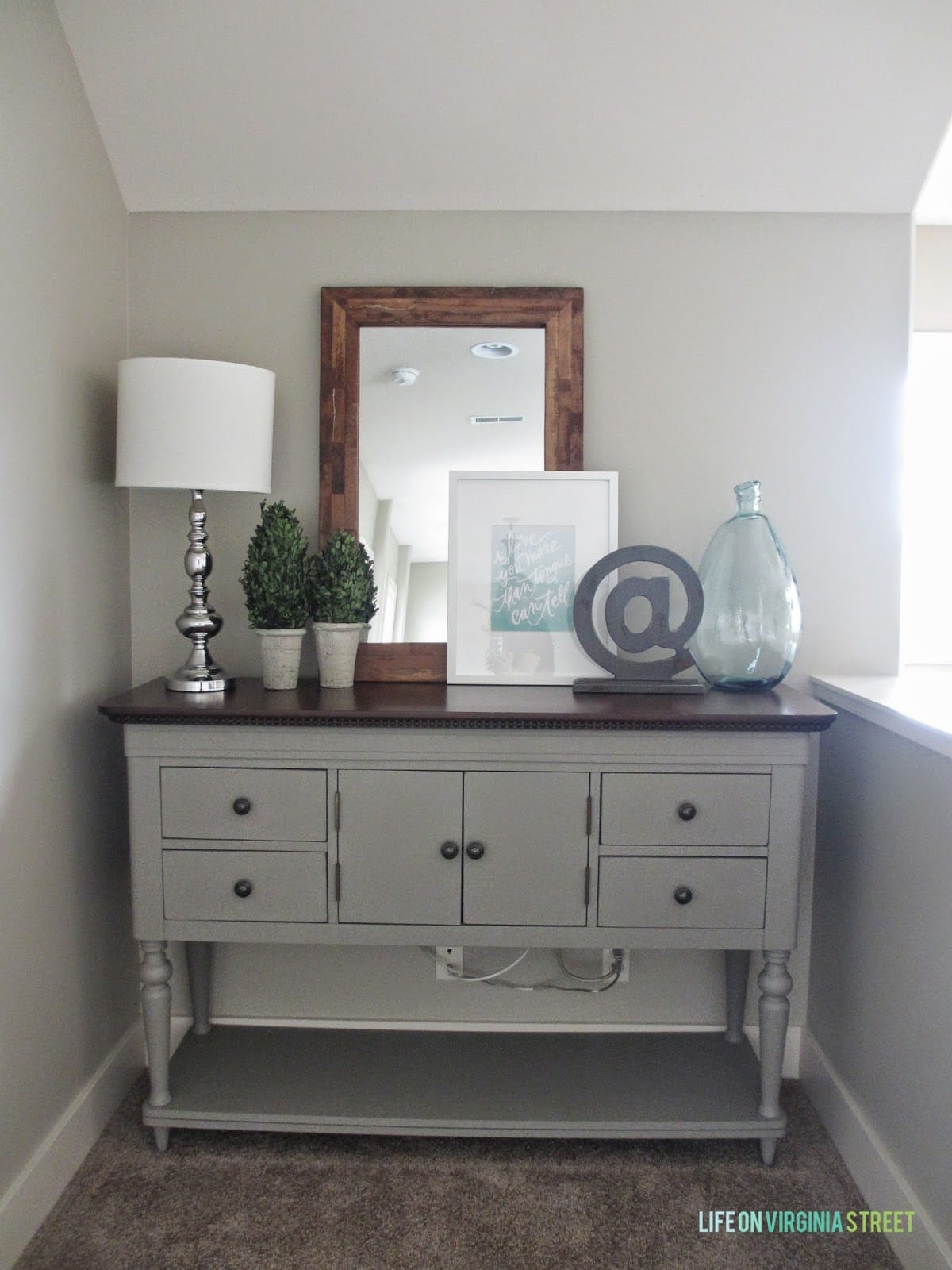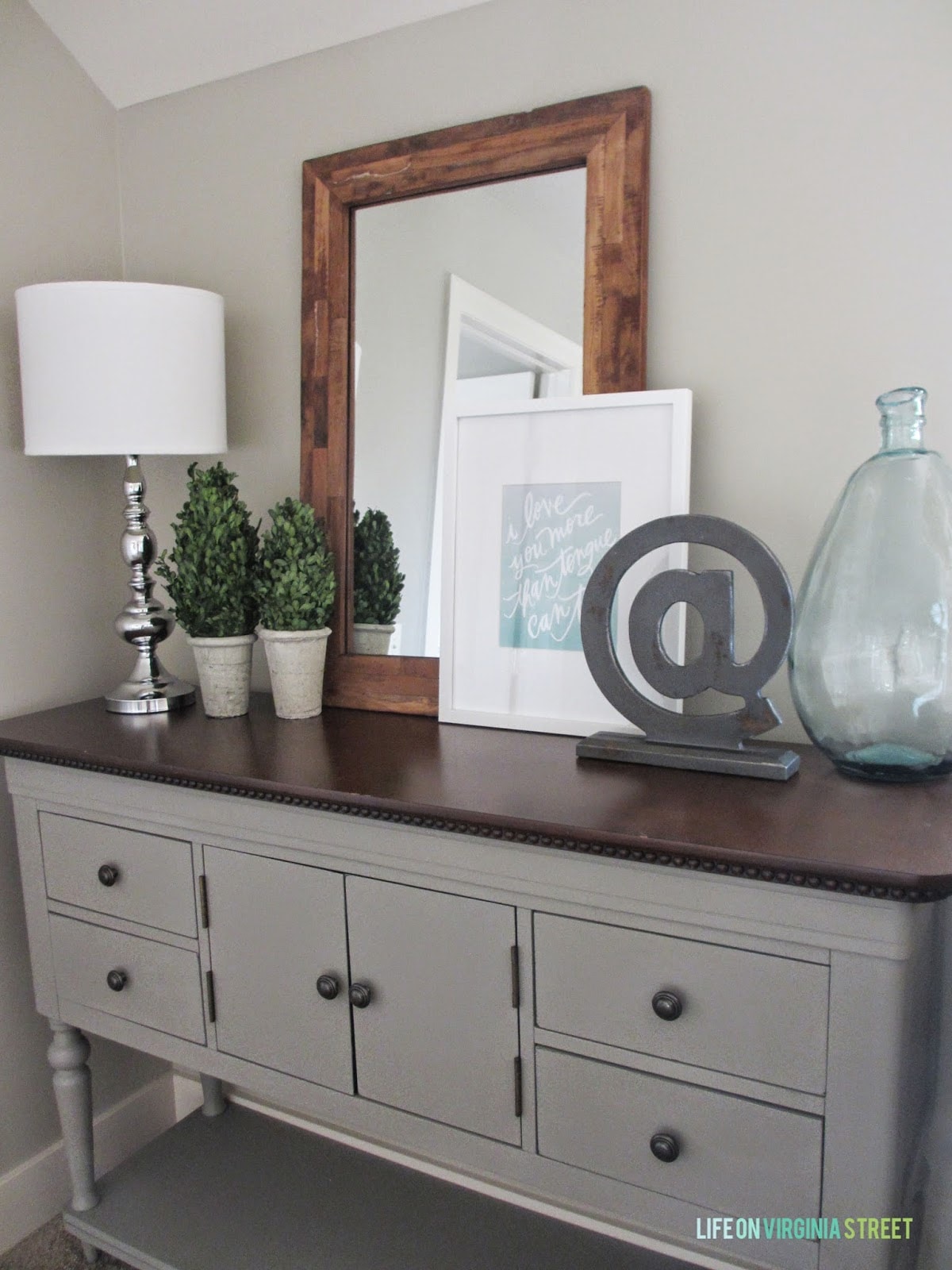 Although I consider this a "boring" project and one my husband technically forced me to wrap up before I started anything else, it is a huge relief to have this space done. One less random area in our house without plate covers and with green Frog Tape covering the walls!
Maybe one of these days I'll get around to actually styling the space to make it much prettier. Definitely need some things on the long hallway wall. Slowly but surely!
GET THE LOOK OF THIS SPACE (CLICK ANY IMAGE BELOW FOR MORE INFO):

If you would like to follow along on more of my home decor, DIY, lifestyle, travel and other posts, I'd love to have you follow me on any of the following:
Pinterest / Instagram / Facebook / Twitter
disclosure: some affiliate links used