Welcome to this week's Wednesday Watch List, where I share the random things that captured my attention and stole my heart over the past week!
This post contains affiliate links for your shopping convenience. Click here to read my full disclosure policy.
1 – This laundry room from Whittney Parkinson Design stopped me in my scroll this week, but it turns out the entire home renovation tour is super drool worthy! You can take the full tour here. Every single detail is so good! I'm loving that gorgeous kitchen, too!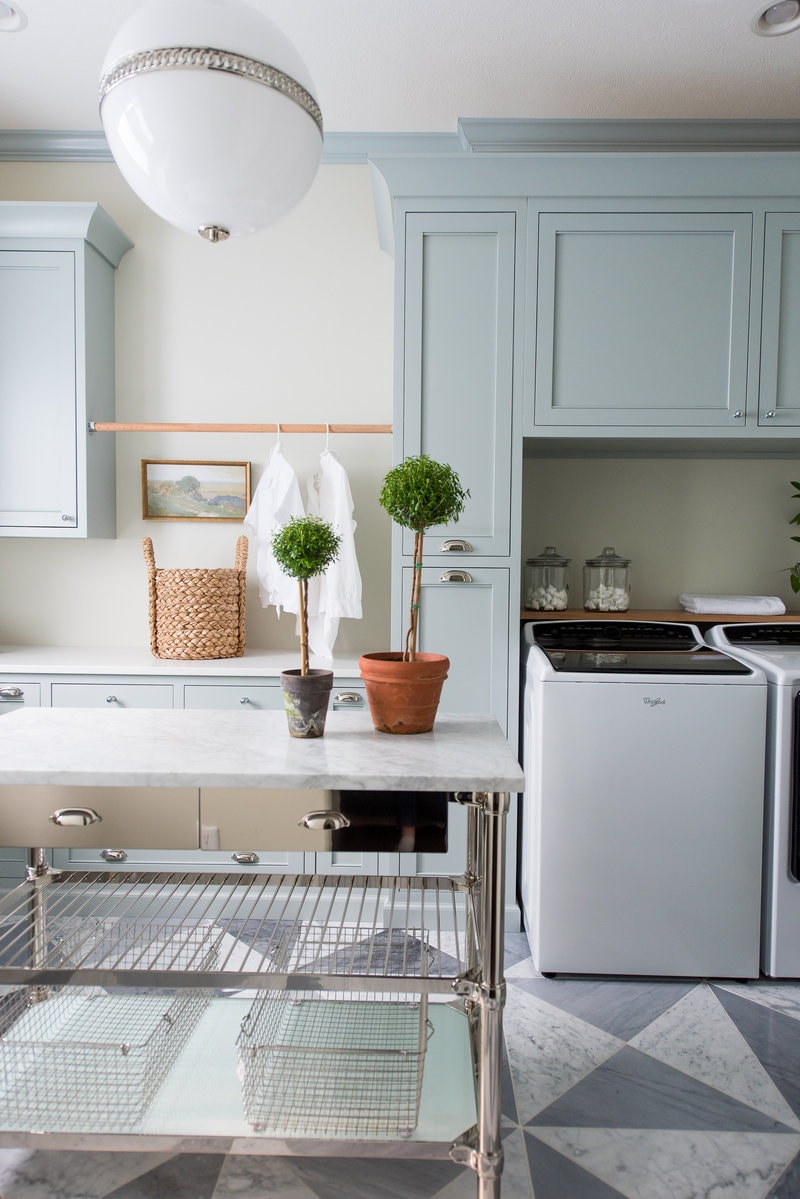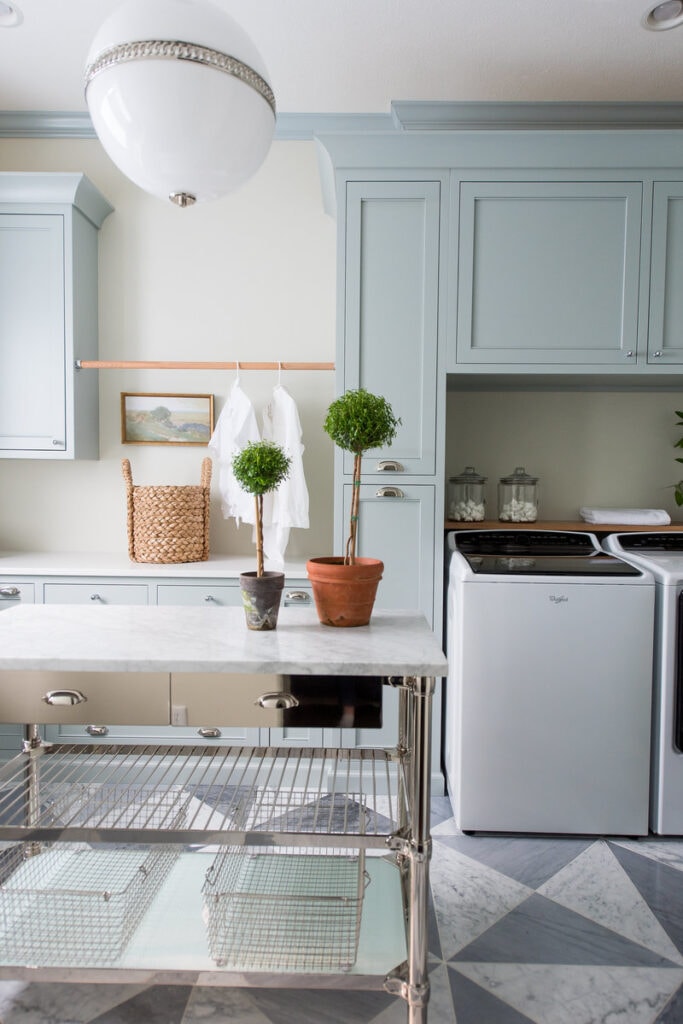 2 – This floral ruffle collar crepe top is in a pattern that's a bit more bold than I would typically go, but I ordered it (after loving my solid version) and can't say enough good things about it. It's so cute on! It's on sale today (44% off on sold and 52% off on the floral) and tons of other items sitewide are 30% off today with code SPRING. The heavier weight of the crepe is very forgiving and flattering. If you're considering it, I found it to fit true to size and I like how long the sleeves are. It's also worth reading the reviews on the solid version (it's the same material and fit) rather than let the one bad review on the floral skew your opinion (unless you're 5'11" with a similar body type).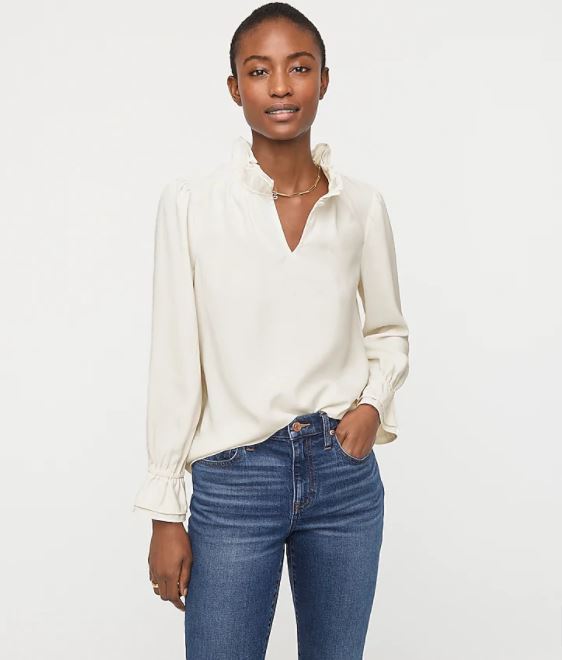 The floral version of the shirt is the same print as the dress, and the same fit as the ruffle collar top, in this collage I shared a few weeks back!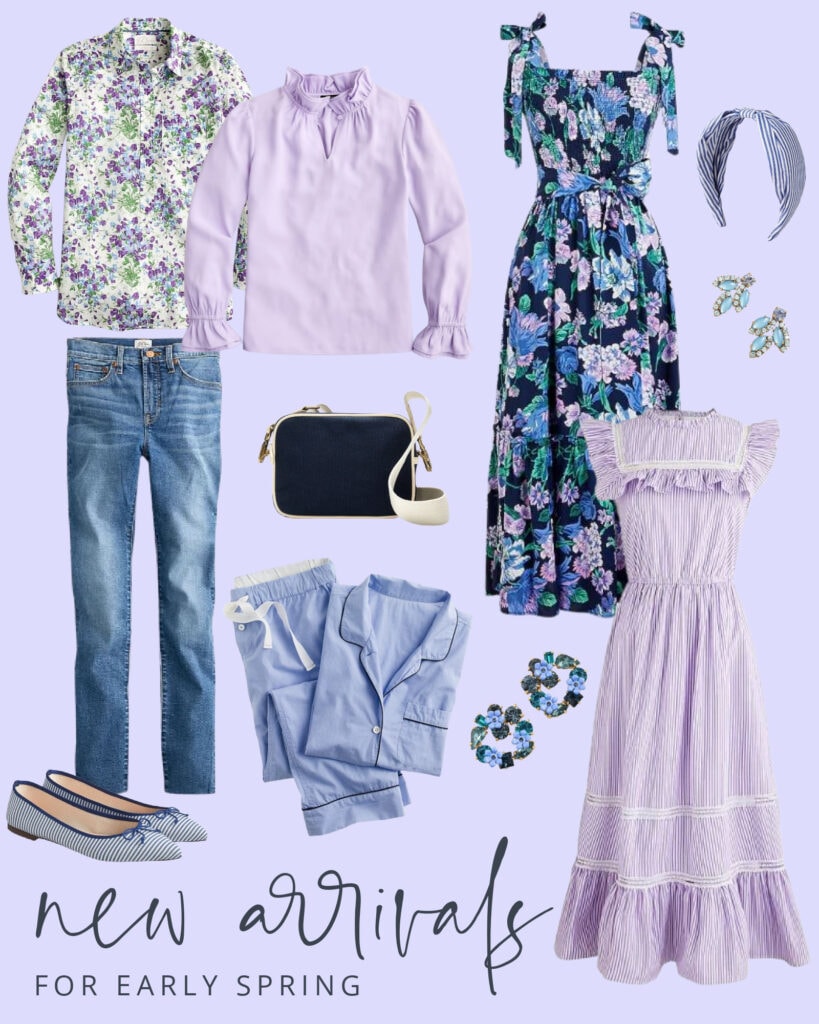 SOURCES: Floral Top | Ruffleneck Crepe Top | High-Rise Jeans | Striped Flats | Canvas Camera Bag | Pajamas | Smocked Bow Shoulder Dress | Striped Knot Headband | Crystal Leaf Stud Earrings | Floral Wreath Earrings | Tiered Stripe Ruffle Top Dress
3 – Kurtis isn't usually impressed with many kitchen "gadgets". However, I promptly ordered these Toss and Chop Salad Tongs after my friend Ashley shared them in her stories to shred chicken. Holy crap they're amazing and way less messy than trying to shred with a fork! They're obviously designed for vegetables and salad fixings, but they work so well on chicken, too! On Sunday when Kurtis was making his buffalo chicken dip for the Super Bowl, it took him about 30 seconds to quickly "shred" all six giant breasts of chicken I had boiled. We threw them all in a big mixing bowl and went to town. Kurtis said they're one of his favorite inventions of all time. That's saying a lot!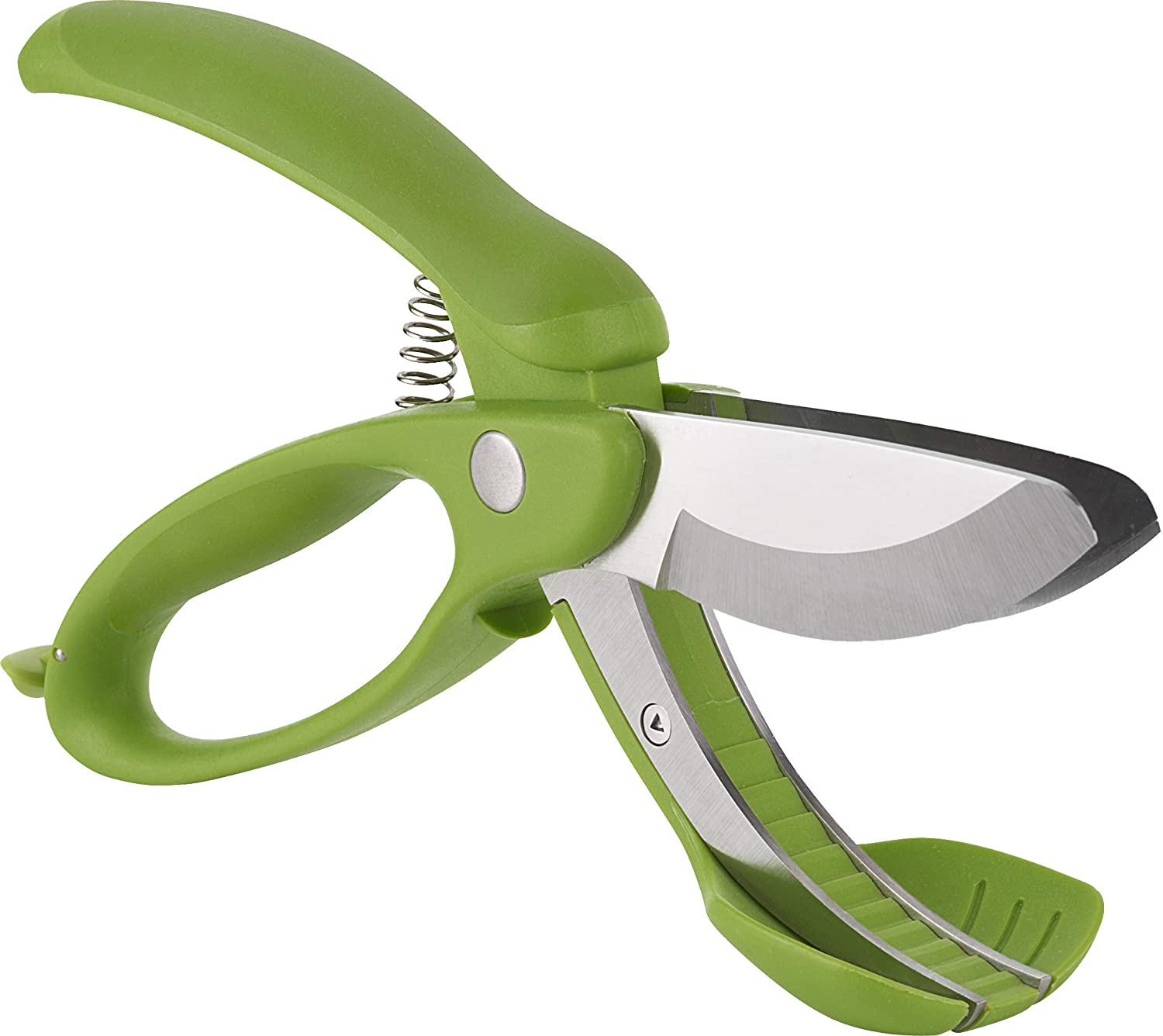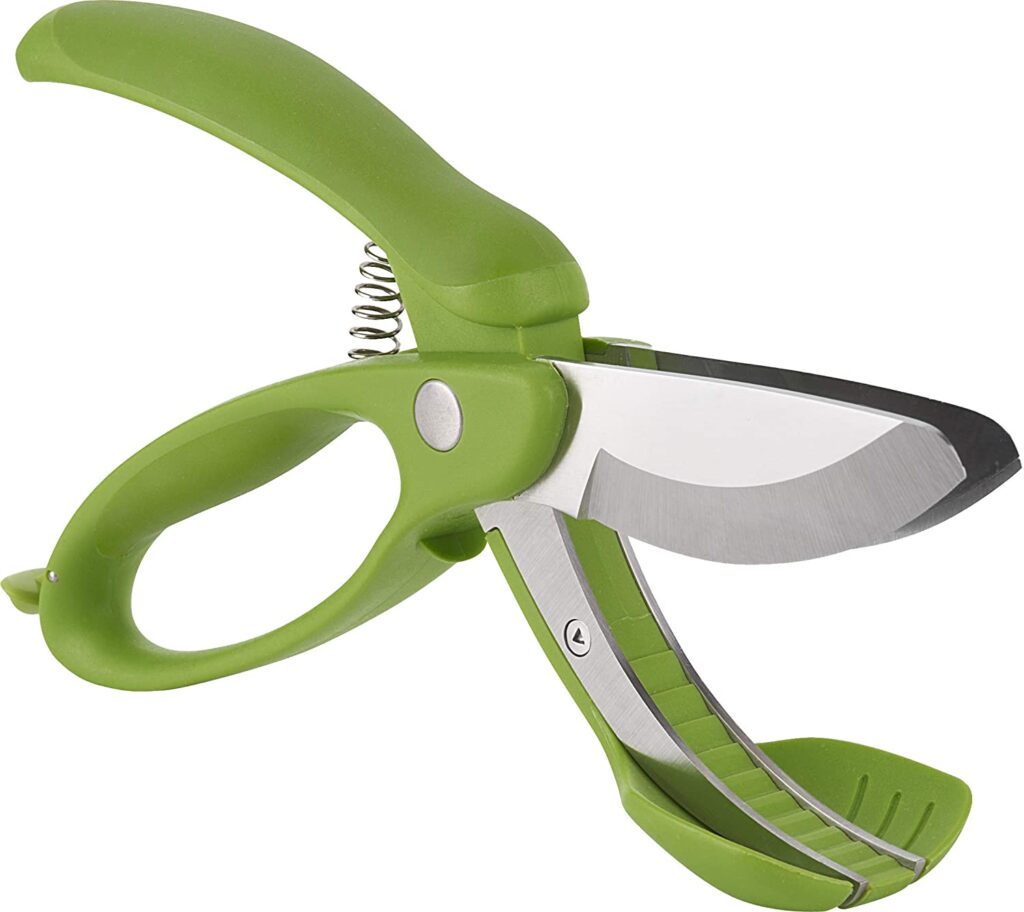 4 – I ordered these cherry blossom stems to use for some light Valentine's Day decor but more importantly for spring decor. Such a fun way to add a pop of color – especially if you don't love decorating with pink otherwise.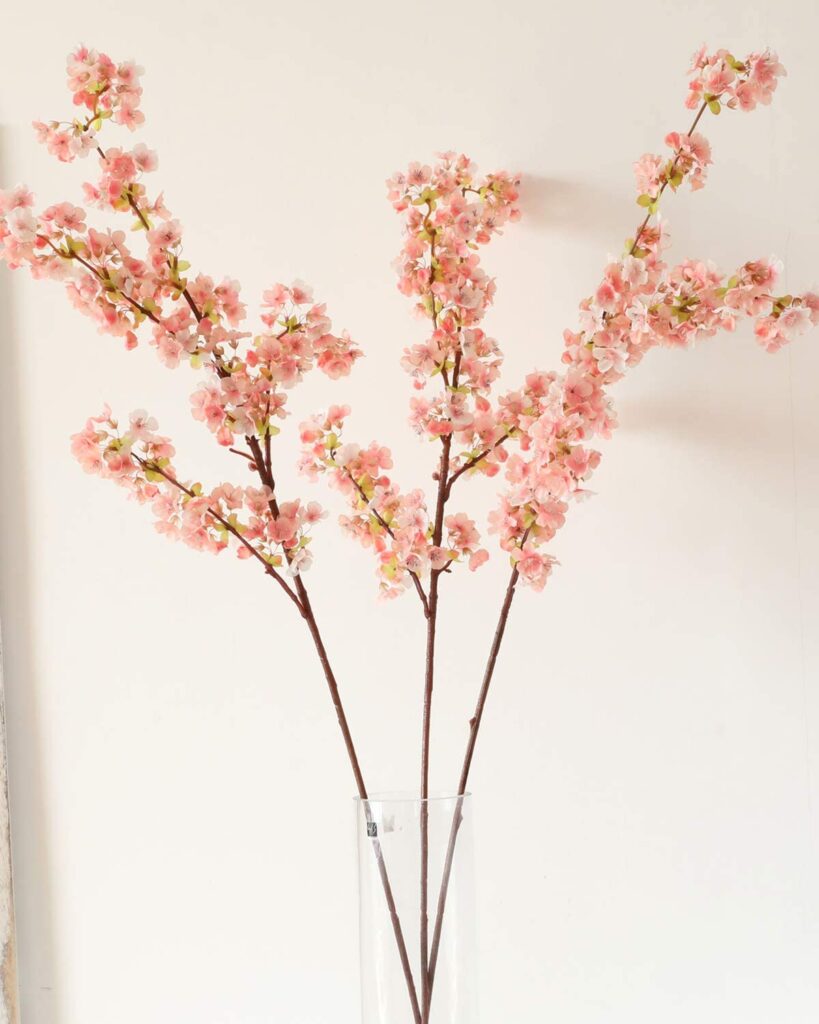 The stems are pretty substantial (I have the stems bent about four or five inches up in each of the images below). I ordered two bunches (which is six stems total) and they're beautiful! They're nearly as big as the Pottery Barn ones I have, but you get three stems for about half the price of one PB stem! A few petals did fall off in transit, but they're so dense I wasn't concerned about it (I couldn't even tell where they came off). And they almost look more realistic when it looks like they've dropped from the branch so I scattered a few on the cabinet. It looks like they're selling quickly, but I'm pretty sure this set and this set are the same ones if the others sell out!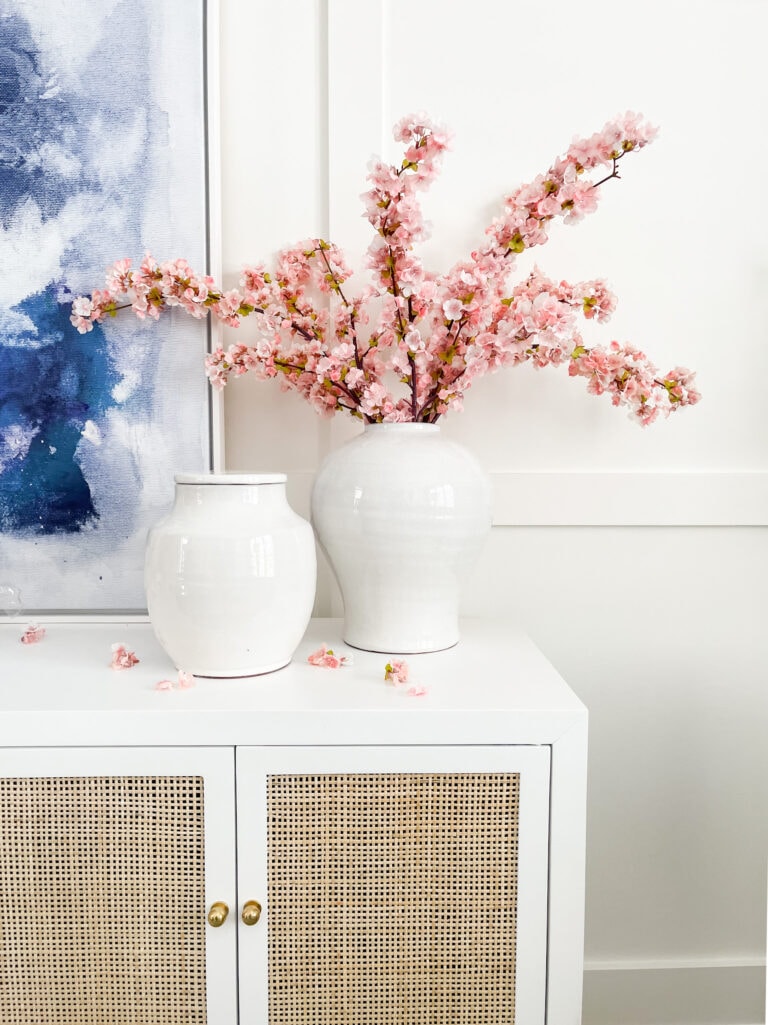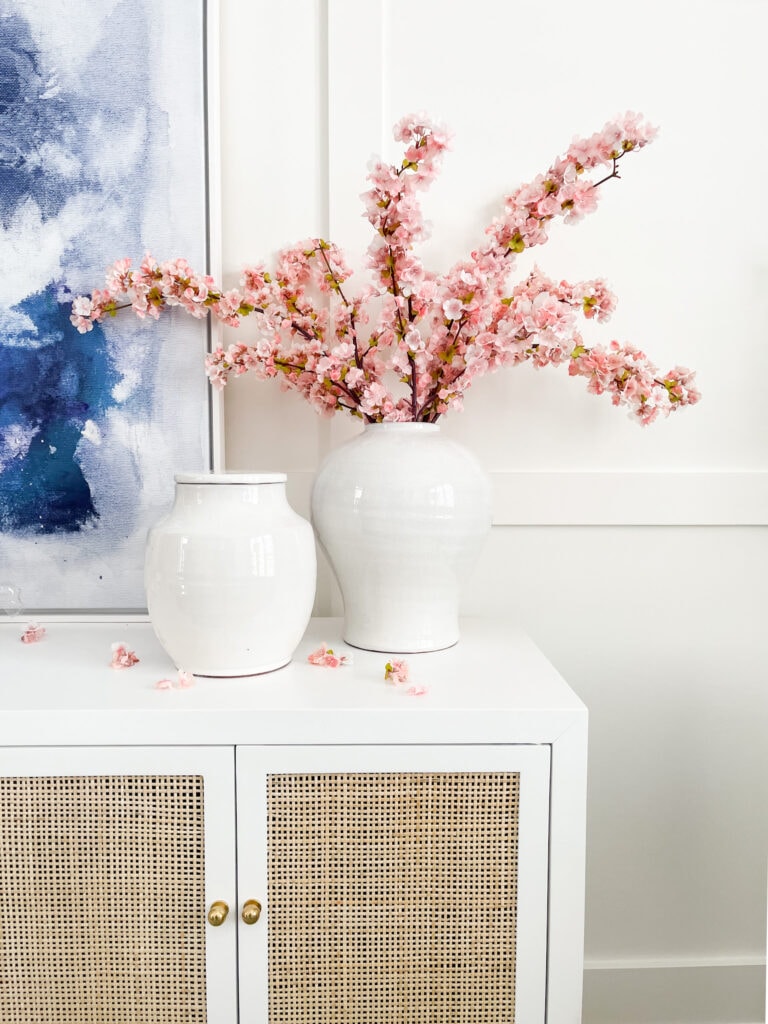 SOURCES: Abstract Art | Cane Cabinet | Smaller Urn | Larger Urn | Faux Cherry Blossom Stems
You may have also seen in my Weekend Recap post that I ordered these faux tulips and have been loving them too! I have two bunches in this vase because my vase opening is so wide. But they look very life-like! I even had a friend message me after she ordered them. Her husband asked her why she was wasting her money on real flowers. Ha!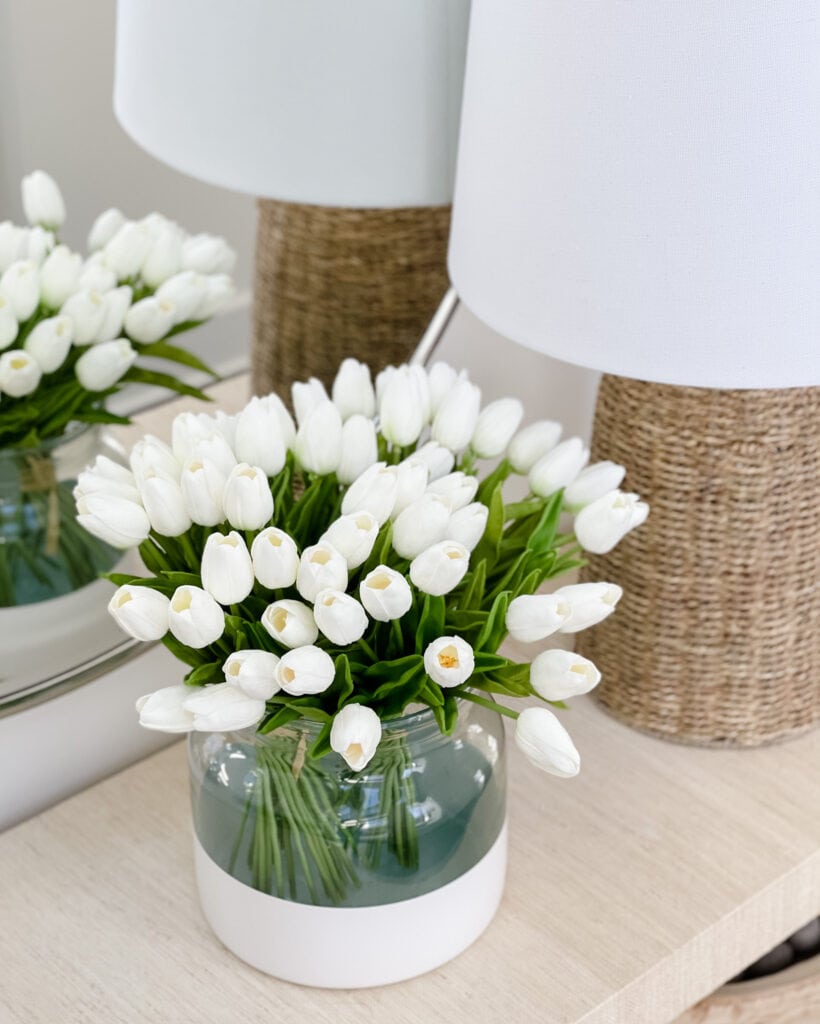 ENTRYWAY SOURCES: Faux Tulip Stems | Paint Dipped Vase | Raffia Console Table | Seagrass Lamp | Similar Mirror
5 – Remember our cute little spindle nightstand in our guest bedroom? It's been sold out for as long as I can remember, but it finally came back in stock this week! It's a bit more ivory in person than it looks below, but we absolutely love it! It also comes in a pretty gray color and is super sturdy.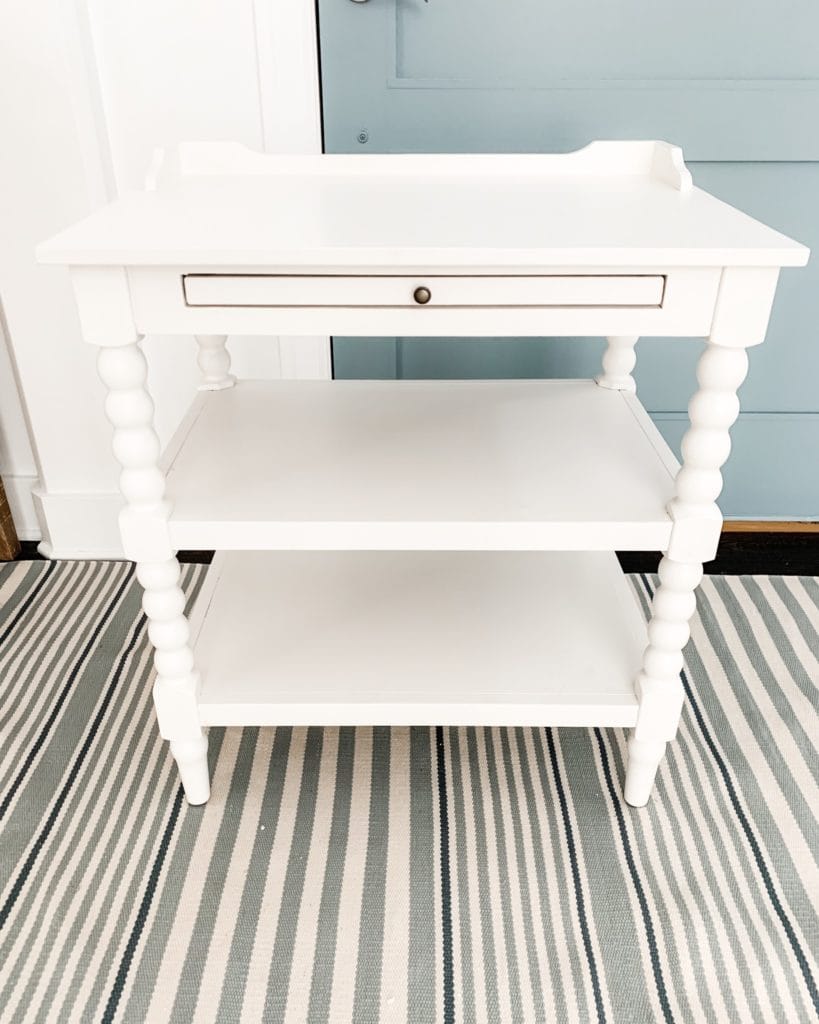 SOURCES: Indoor/Outdoor Striped Rug (definitely more blue in person than this old iPhone pic makes it look) | Spindle Nightstand
And although it's a bit harder to see here, here is how it looks in the room!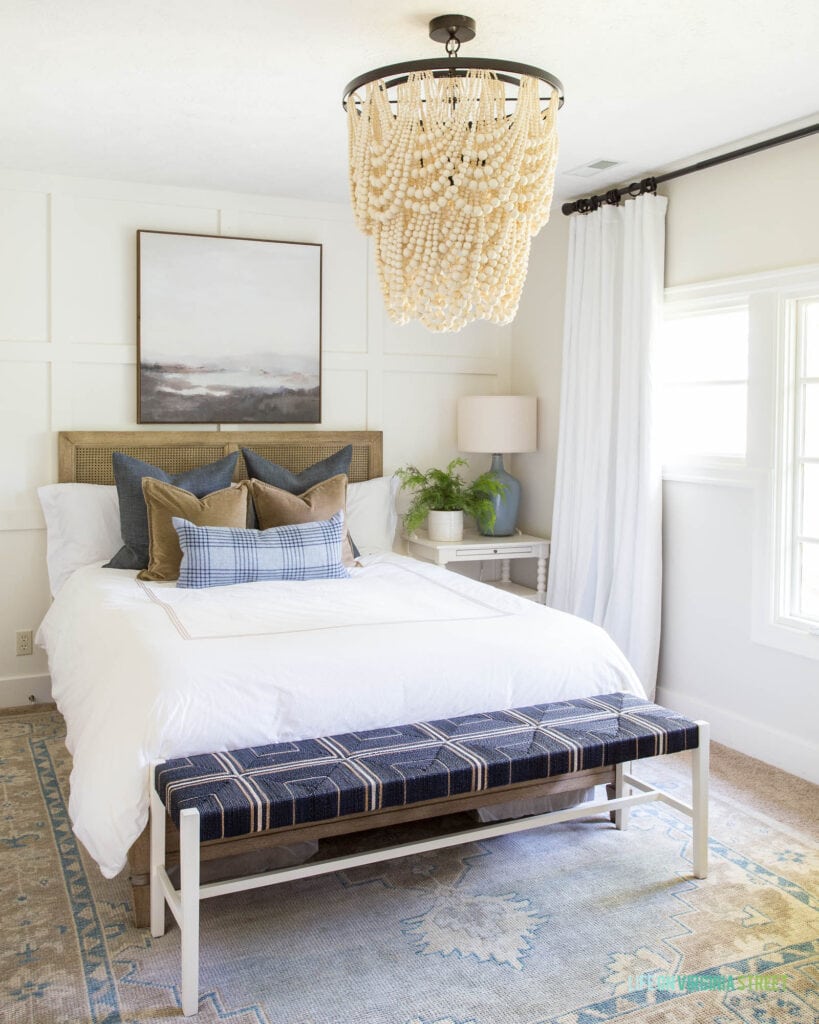 GUEST BEDROOM SOURCES: Wood Cane Bed | Hand-Knotted Rug | Bead Chandelier | Abstract Art | Spindle Nightstand | Belgian Linen Drapes | Iron Curtain Rod | Iron Finials | Iron Curtain Ring Clips | Woven Bench | Linen Pillows | Velvet Pillows | Plaid Lumbar Pillow | Ceramic Lamp | Faux Fern | Hotel Style Duvet Cover
If you would like to follow along on more of my home decor, DIY, lifestyle, travel and other posts, I'd love to have you follow me on any of the following:
Pinterest | Instagram | Facebook | Twitter
disclosure: some affiliate links used