Welcome to this week's Wednesday Watch List, where I share the random things that captured my attention and stole my heart over the past week!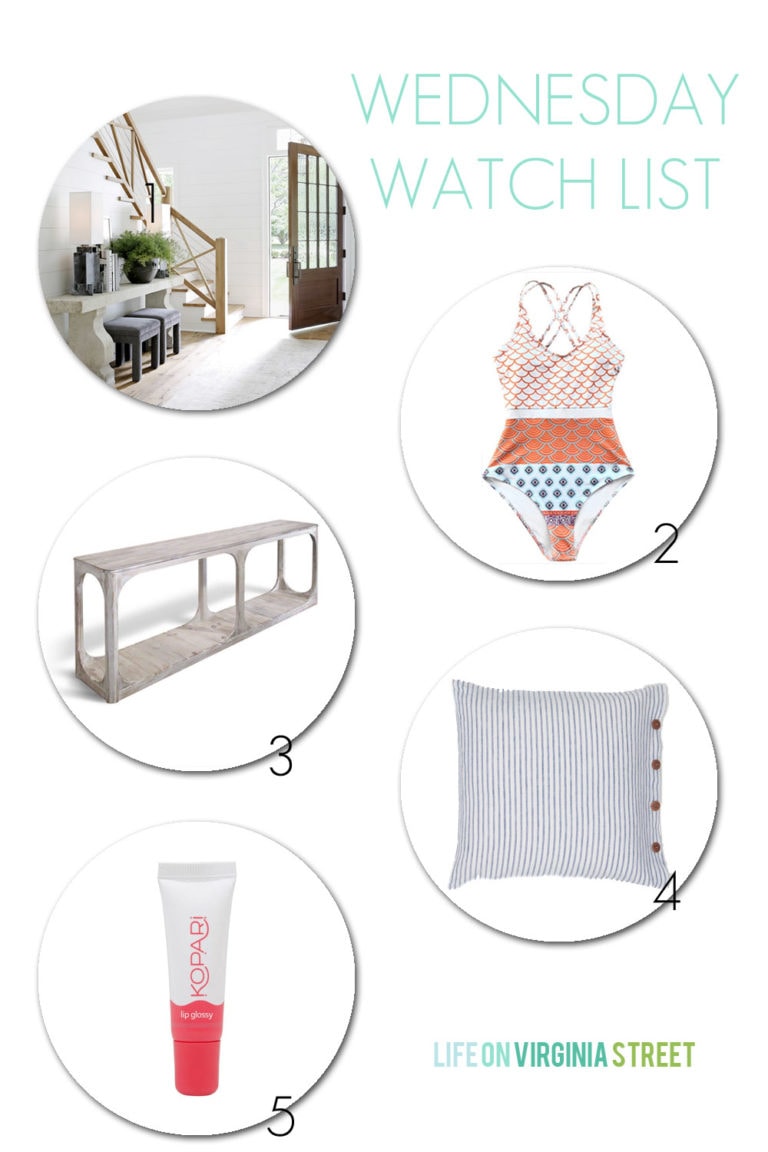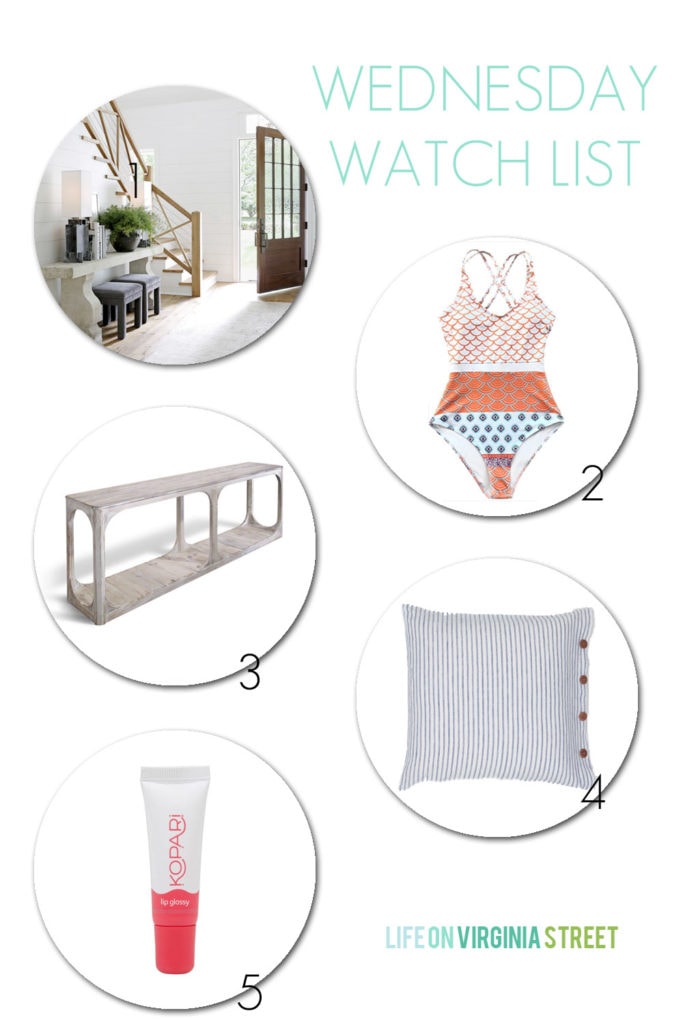 This post contains affiliate links for your shopping convenience. Click here to read my full disclosure policy.
1 – I'm loving the gorgeous entryway in this home tour from Rachel Halvorson! I also am obsessed with the natural wood pocket doors in the kitchen!
2 – I came across this darling bathing suit yesterday and about died when I saw the price (especially since it looks like it could be designer). I've heard a lot about this brand lately, and it finally gave me the motivation to make a purchase. They do take a few weeks to arrive, and I've heard sizing can run small (but they do go up to XXL), so I thought I'd give it a try for the price! I'm hoping I love it because there are so many other cute options at great prices! And if you search through their listings, some actually do come with prime shipping without the delay!
3 – So, remember this console table that I shared in this coastal modern console table round-up post? I have been obsessed with it for months but really didn't want to spend that much on a new table for our entryway (and it continues to be back-ordered). It sounds like many of you loved it just as much, and just this week, I was sent to great alternatives by two different readers! Check out this option from Wayfair and this option from Etsy. So great, right?! Now I just need to decide which of the two alternatives to go with.
4 – How perfect are these striped linen pillow covers for spring and summer?! I just love the button detail! I've always been happy with the quality of pillows covers here too (it's where I get most of my velvet ones)! This pillow also comes in a gray and white striped version, as well, if the blue and white isn't your thing! If you're looking for something similar that's only $3.99, be sure to also check out these striped pillow covers in four colors!
5 – When I was in Dallas a few weeks ago, I received some of this lipgloss, and basically haven't stopped wearing it since. I was super stoked about getting to try it in person because I had been hearing a lot about their products. The lipgloss is made with coconut oil, vitamin E and shea butter, and basically none of the bad crap and smells like absolutely coconut heaven. I actually received all the items in this kit, but I haven't be as consistent about using the other items (but I have been loving the coconut rose toner that is in mist form). I'll report back on the other items if I'm loving them. I'm likely going to order this lip trio that has tinted options since I'm loving the brand so much!
If you would like to follow along on more of my home decor, DIY, lifestyle, travel and other posts, I'd love to have you follow me on any of the following:
Pinterest / Instagram / Facebook / Twitter / Google+
disclosure: some affiliate links used