Welcome to this week's Wednesday Watch List, where I share the random things that captured my attention and stole my heart over the past week! I apologize for the silence all week. My husband's grandma passed away unexpectedly last Thursday night, so we made a trip to Iowa for the services and to spend time with family and didn't get home until Tuesday night. She lived an amazing 91 years, but she will be deeply missed!
I haven't had a chance to go through all the survey responses since I was unplugged for four days, so I'll likely circle back on that next week (and announce the winners at that time). I appreciate your understanding, patience, and support! The responses I've gone through so far have been so helpful – thank you! This also delayed my newsletter launch, so I'm thinking I'll make it live next Monday!
Now, on to this week's picks.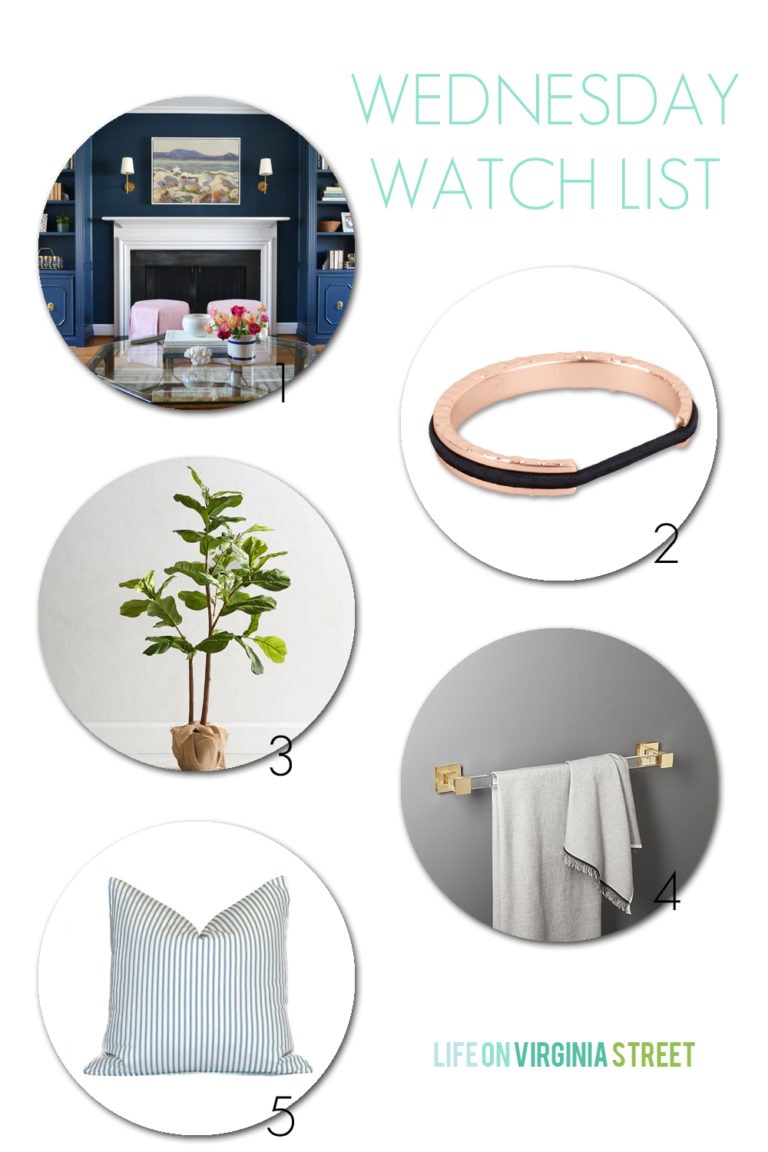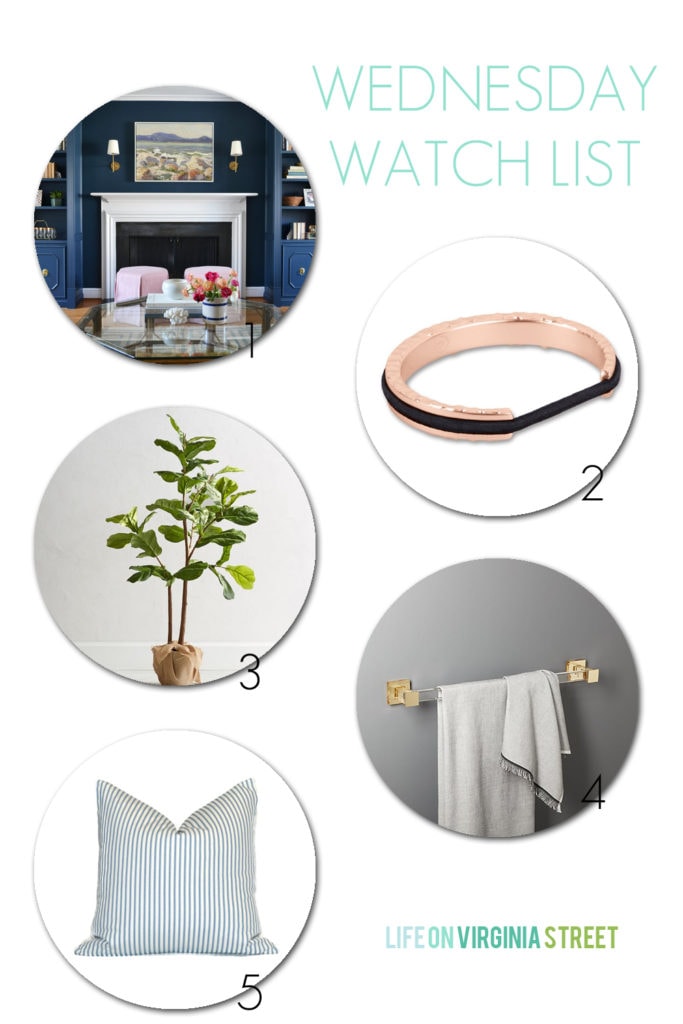 This post contains affiliate links for your shopping convenience. Click here to read my full disclosure policy.
1 – You know I always love a good before and after project, and this library living room makeover is stunning! It's hard to believe it's the same space!
2 – If you're like me and live with the ever-present hair elastic around your wrist (and accompanying indentation), this bracelet is for you! It holds your hair elastic without the painful indentation and looks cute at the same time! It comes in a variety of finishes, but the rose gold version is on sale right now! It also makes for a fun gift idea for the long-hair gals in your life!
3 – I'm still a huge fan of using fiddle leaf fig trees in home decor, and I love that Pottery Barn just launched a smaller version of their fiddle leaf fig tree. I've owned several 'live' versions in the past, but the last one (that was doing amazingly well) died when one of our cats used it as her litter box when we were in Italy last year. So, I'm going faux from here on out. I had previously owned the 7′ version, and while they were running a sale last week, I bought the 5′ version (it's $100 less!). It arrived late yesterday afternoon and I can't wait to get it in it's home to share with you guys. I love the double stem the new one has, as well! They take a bit of work once you get them out of the box, but overall, I'm very happy with both of them! Side note: I had also added this gorgeous artwork to my cart during the sale because I had some credits to use from our sofa purchase. And then I saw it was $299 to ship. What?! Do any insiders know if there's ever a time PB waives the oversize shipping fee? I debated on the artwork for three days and really had my heart set on it for the dining room, so it was a total bummer when I saw the shipping amount.
4 – If you're in the market for some new towel bars, I'm loving this brass and acrylic towel bar option! It comes in three lengths and definitely ups the glam factor in a bathroom!
5 – I know several of you were bummed that my navy ticking stripe pillow sold out before you had a chance to buy it. So, I've found a few others here, here, and here that look very similar and would give you the same vibe in your own home!
If you would like to follow along on more of my home decor, DIY, lifestyle, travel and other posts, I'd love to have you follow me on any of the following:
Pinterest / Instagram / Facebook / Twitter / Google+
disclosure: some affiliate links used