Welcome to this week's Wednesday Watch List, where I share the random things that captured my attention and stole my heart over the past week!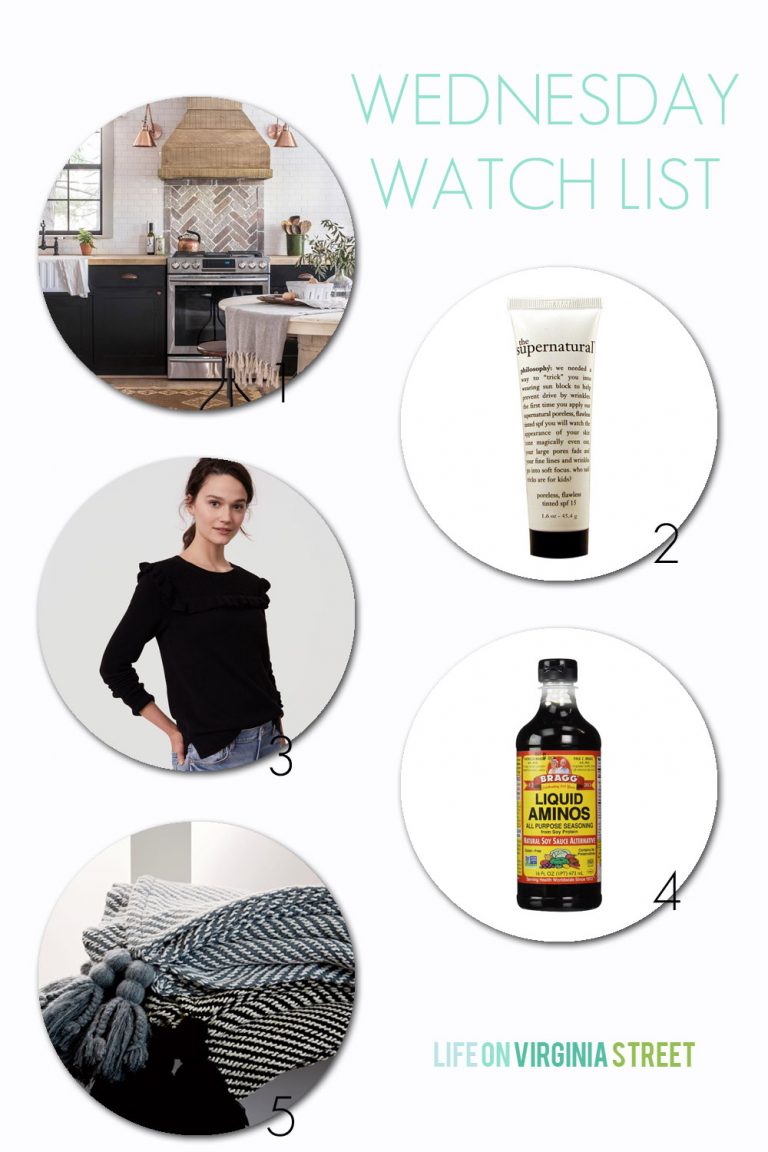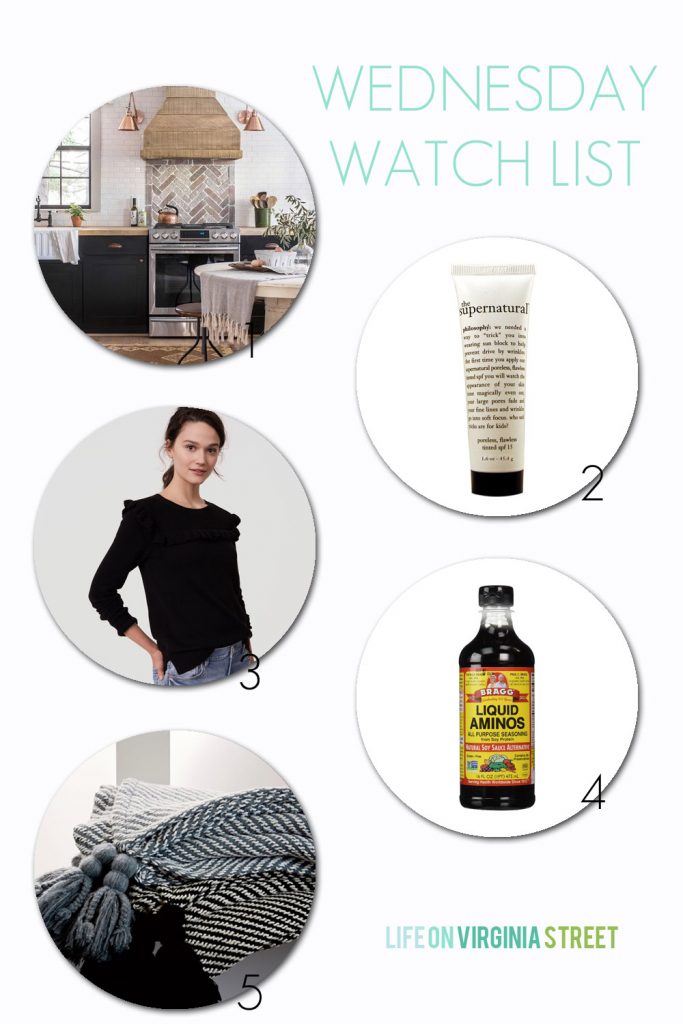 This post contains affiliate links for your shopping convenience.
1 – This kitchen reveal is one I've waited a long time for and it turned out even more beautiful than I ever expected! I really want to do a flip now after watching this project unfold!
2 – I've been using this primer and pore minimizer for about a month now and I'm really loving it! I have large pores on my face, and I feel like this not only reduces the appearance of them, but I also feel like my makeup stays on longer. There's actually been a few days where I'll use this and then add some light blush or bronzer and not even add foundation! It also has SPF 15 which is an added bonus.
3 – I did some sale shopping on Monday for our trip to California this week. The weather will likely be colder in Southern California than it will be in Omaha, so sweaters are still a must for me! This lace back sweater was one of my favorite finds. I got the blush color and I love the added detail on the back! It's a lot cuter on that it looks on the model in my opinion. I also got this adorable scallop neck sweater (PS talk about terrible images on their site – so hard to see any details). It comes in 15 colors and I wanted all of them but they only had a handful in my size. So, I went with the lilac color and love it for spring!  I also ended up buying this black ruffle sweater at LOFT and it has quickly become my new favorite! I love that it's slightly longer than most sweaters like this. I almost bought the ivory version as well because I loved it so much!
4 – File this under one of the most random recommendations I've shared before. But lately we've been loving Bragg Liquid Aminos for so many meals we've been making. It tastes similar to soy sauce but has significantly less sodium (even far less sodium that the low-sodium soy sauce). And it tastes really good! We've been obsessed with buying bags of broccoli slaw (the kind with shredded carrots and cabbage) and then cooking it in some coconut oil (this has been our favorite) and adding the liquid aminos. We've had it with seared ahi tuna, chicken, and even by itself and it is so good! We'll also just add the liquid aminos to meat if we want to add a little flavor to grilled chicken or other items that may be bland. A little bit goes a long ways!
5 – I bought two of these diagonal stripe tassel throws on Monday in the blue color. I can't wait until they arrive. They look like the perfect throws for spring! And be sure to check bac k tomorrow because I have a fun round-up with tons of cute spring throws.
If you would like to follow along on more of my home decor, DIY, lifestyle, travel and other posts, I'd love to have you follow me on any of the following:
Pinterest / Instagram / Facebook / Twitter / Bloglovin' / Google
disclosure: some affiliate links used