It's no secret that summer is my favorite season of the year. I love everything about it – the weather, seeing neighbors more frequently, the food, the fashion, the decor, and especially the pool time! Today I'm sharing some fun new summer finds from Walmart for both women's fashion and backyard fun! Plus, details on a restock that I don't think you'll want to miss.
This post is sponsored by Walmart and contains affiliate links for your shopping convenience. Read my full disclosure policy here.
Walmart continues to impress me season after season, and this might actually be my favorite set of fashion finds yet!
I made two collages with some of my favorite finds last week, and ended up ordering quite a bit from each of them. SO many cute, on-trend pieces! Near the end of this post, I have a few mirror selfies  showing some of the pieces I ordered! I love that so many of these items can be worn just as easily for a backyard barbeque as they can a night out. Just swap some accessories and you're good to go!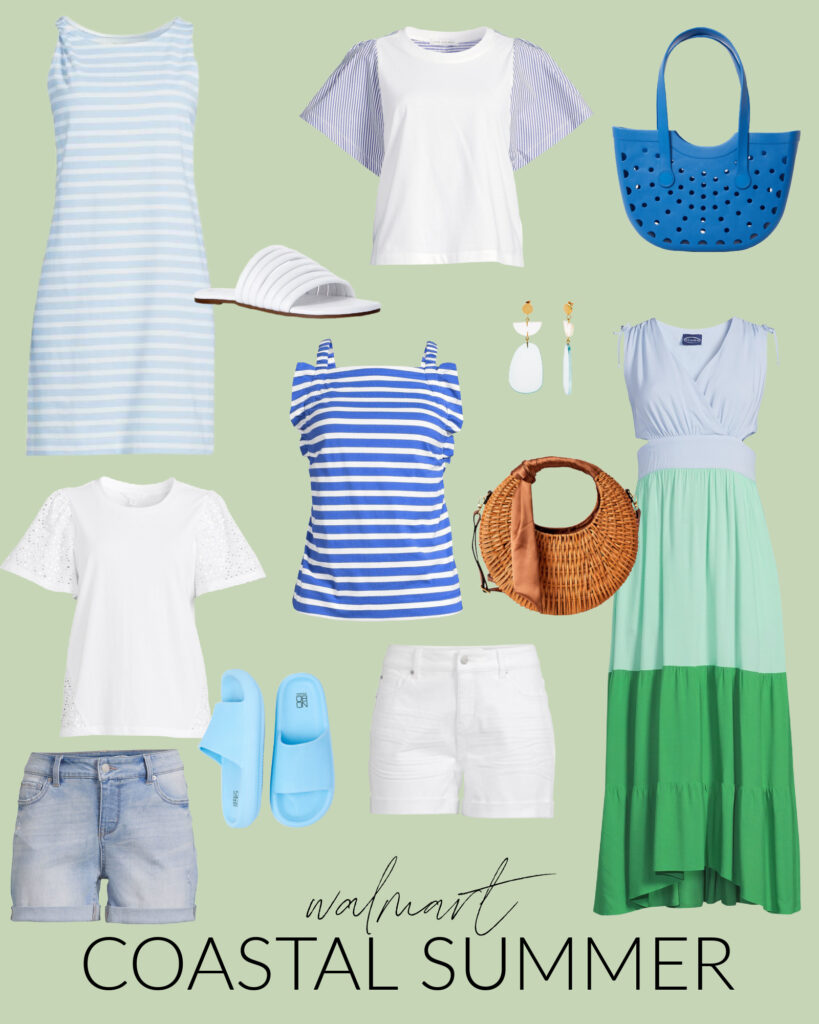 SOURCES: Twist Shoulder Tank Dress | Multi-Band Sandals | Striped Flounce Sleeve Top | Molded Beach Tote | Eyelet Sleeve Tee | Denim Shorts | Striped Shirred Tank Top | Pool Slide Sandals | White Denim Shorts | Resin Earrings | Straw Crossbody Purse | Colorblock Maxi Dress
You can see the Pool Slide Sandals and Molded Beach Tote from the graphic above live in action below! I have seen similar Molded Beach Totes every time I'm in Florida and love this much more affordable version. Perfect to ensure sand and water don't get trapped inside with your belongings! I also love that Walmart has so many items quickly available for epic backyard summer fun, like this leaf pool float and striped beach towel. The towels are such a great price and on the thinner side, so they dry quickly for a fun-filled day at the pool or beach. Thanks to my friend Jill for modeling the pool float while I manned the drone 😉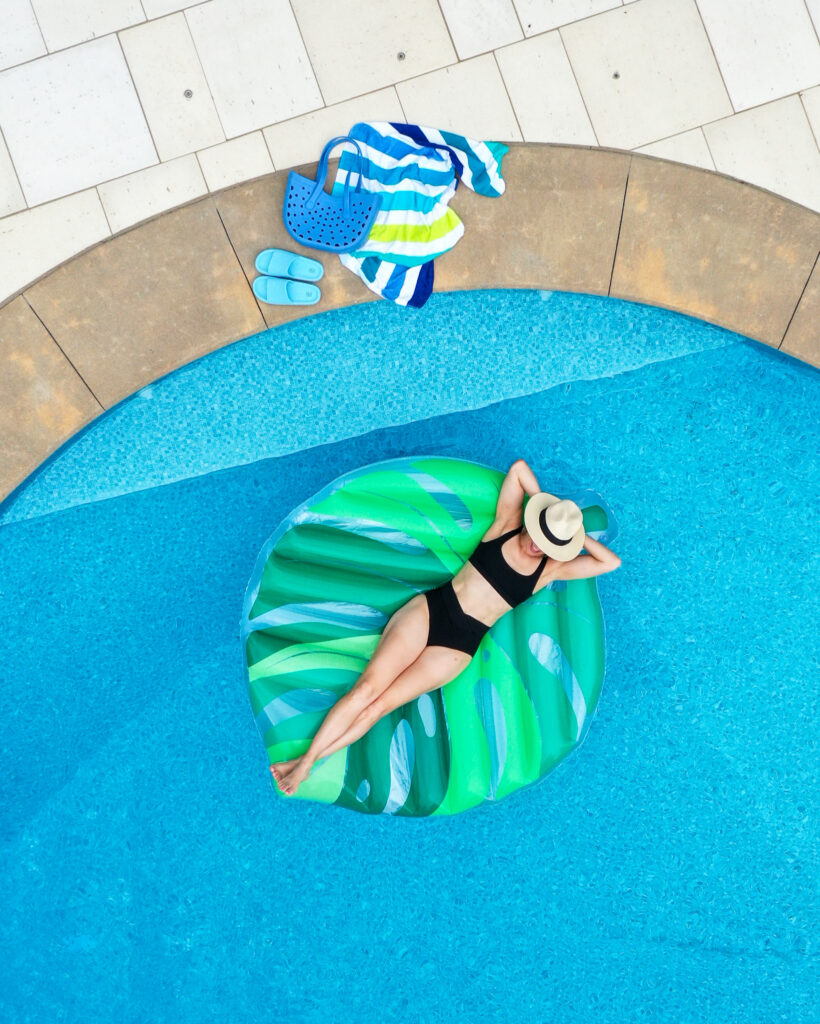 I also picked up two of these lounge pool floats and can't get over how affordable they are! Jill and I spent most of Saturday afternoon in them and they were so comfy! Added bonus that they have a cup holder – it's like the fashion equivalent of pockets on a dress 😉  Zoe even hopped on Sunday to join her. The floats are definitely spacious and the arms are typically much more level when a four year old hasn't joined you! Zoe is obsessed with these unicorn goggles her dad found for her at Walmart last week.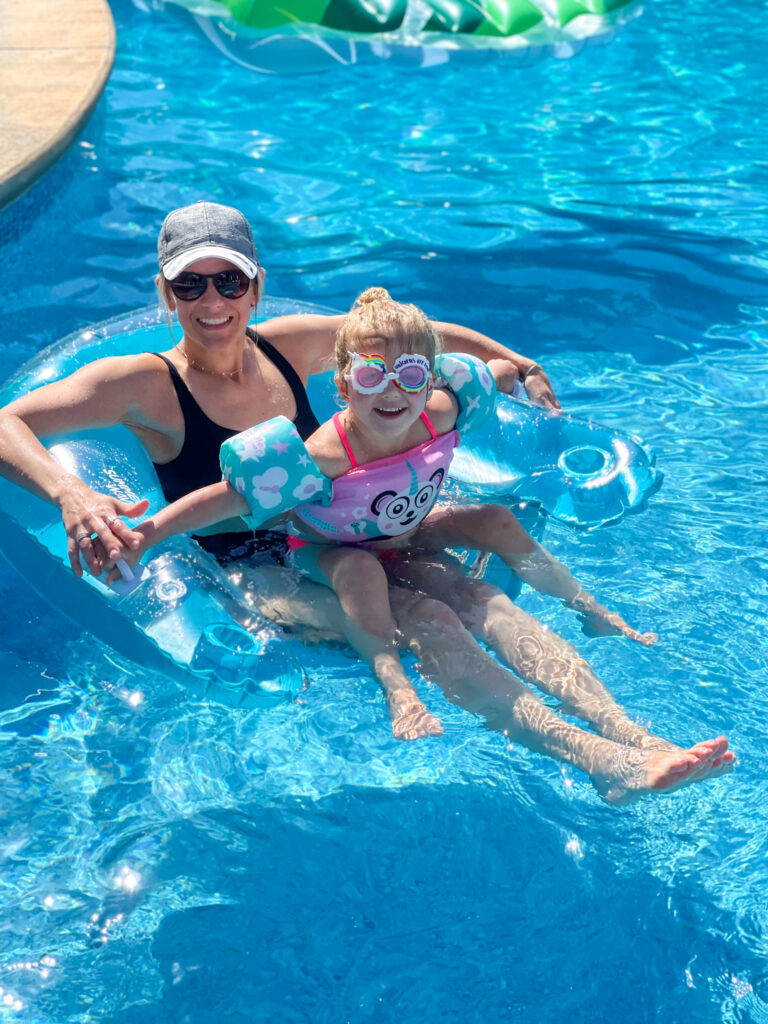 Following are a few other backyard finds that are sure to make your summer even more fun and enjoyable! These foam raft loungers are an investment but by far Kurtis' personal favorite. My parents gave us two the year we opened our pool (six years ago!!) and just gave us a refreshed set this past Christmas! Click any of the images for more information on each item. Who needs an expensive vacation when you can create the fun right in your own backyard?!

Circling back to summer fashion, if you're like me, I love to bring out my bright and colorful pieces in the summer! Orange is trending hard right now, and all of these finds are such a great way to incorporate the color!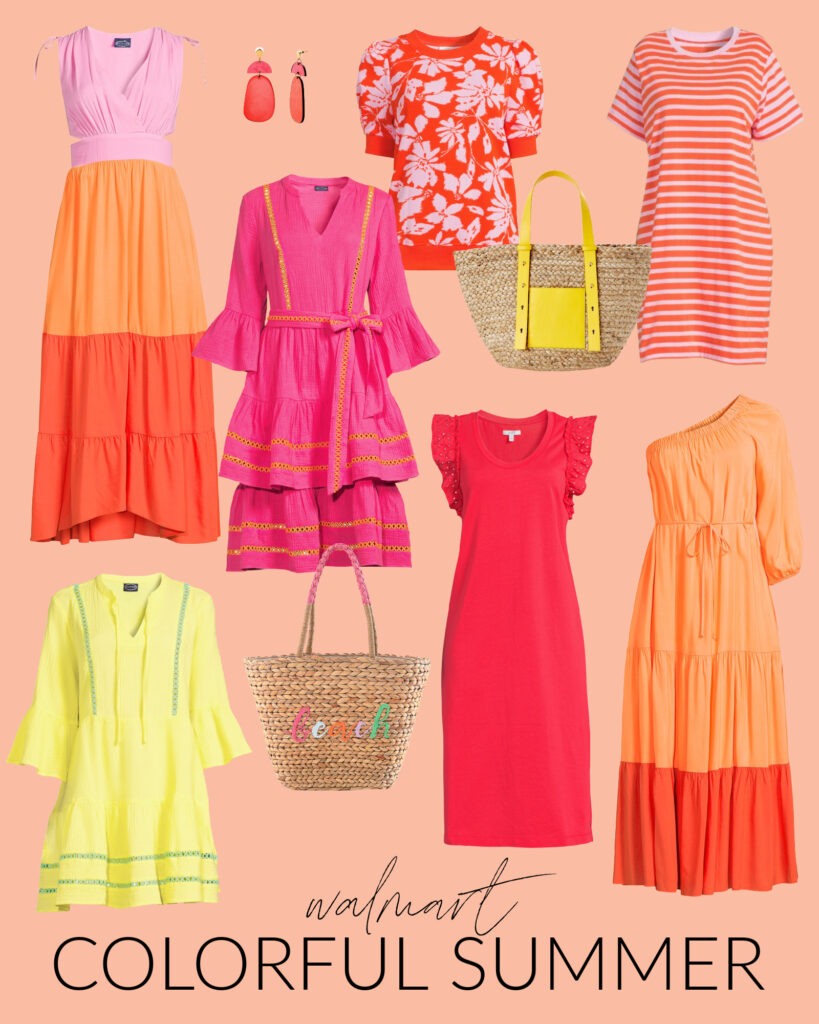 SOURCES: Colorblock Maxi Dress | Resin Earrings | Tiered Belted Mini Dress | Floral Sweatshirt Top | Woven Jute Pocket Tote | Striped T-Shirt Dress | 3/4 Sleeve Tiered Dress | Straw Embroidered Beach Tote | Ruffle Sleeve Midi Dress | One-Shoulder Maxi Dress
Here are a few of my favorite finds from my order! I ordered my regular size Large in all items, with the exception of the striped Twist Shoulder Tank Dress (I went with an XL for a looser fit).
I also ordered this dress in a Large and absolutely loved it (the colors are SO good), but am going to reorder an XL in that too. It does fit true to size, but I like having the option to use as a dress or coverup so I don't want it clingy!
Kurtis said he loved this Floral Sweatshirt Top and it's one of my favorites too! The colors are so good for summer.
The Striped Flounce Sleeve Top looks very designer! The dress shirt type material is not only on the sleeves but also down the back. It has more of a cropped fit, but I am 5'8″ with a long torso and still didn't find it too short. Just something to note if you prefer a longer fit!
This Eyelet Sleeve Tee was a quick favorite (I wore it to dinner that night)! Very forgiving and does have the eyelet running up the side in a triangle pattern (you can see it near my hand in my pocket).
This 3/4 Sleeve Tiered Dress is also a large and is very generously sized. I think if I would have ordered down though, it would be much too short since it's already on the verge (I'm 5'8″ for reference). If you're not worried about length, I would size down in this one.
This Striped Shirred Tank Top is darling and so unique, but would definitely require a strapless bra. I'm wearing a regular one so you can see how it peeks out. But in the back, the straps cross and are open. It's super cute though and the material is sturdy and forgiving.
You can see Hawkeye made a brief appearance in the last frame below.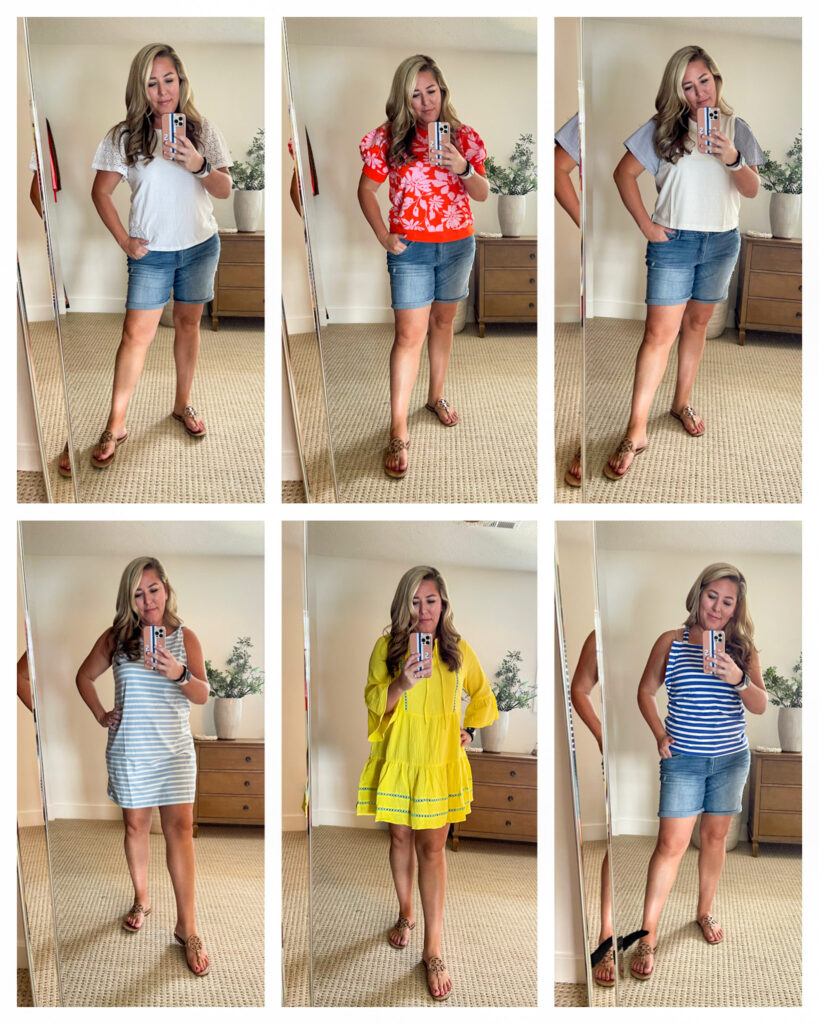 SOURCES: Eyelet Sleeve Tee | Floral Sweatshirt Top | Striped Flounce Sleeve Top | Twist Shoulder Tank Dress | 3/4 Sleeve Tiered Dress | Striped Shirred Tank Top
Lastly, I'm excited to let you know that our outdoor swivel chairs we have and love are back in stock! As most of you know, these typically sell out super quickly once they're restocked so I don't know how long they'll last. But as of time of publishing, they are in stock and available for free freight shipping! The coordinating sofa and sectional are also in stock. And if you're looking for even more patio furniture finds, be sure to check out this post!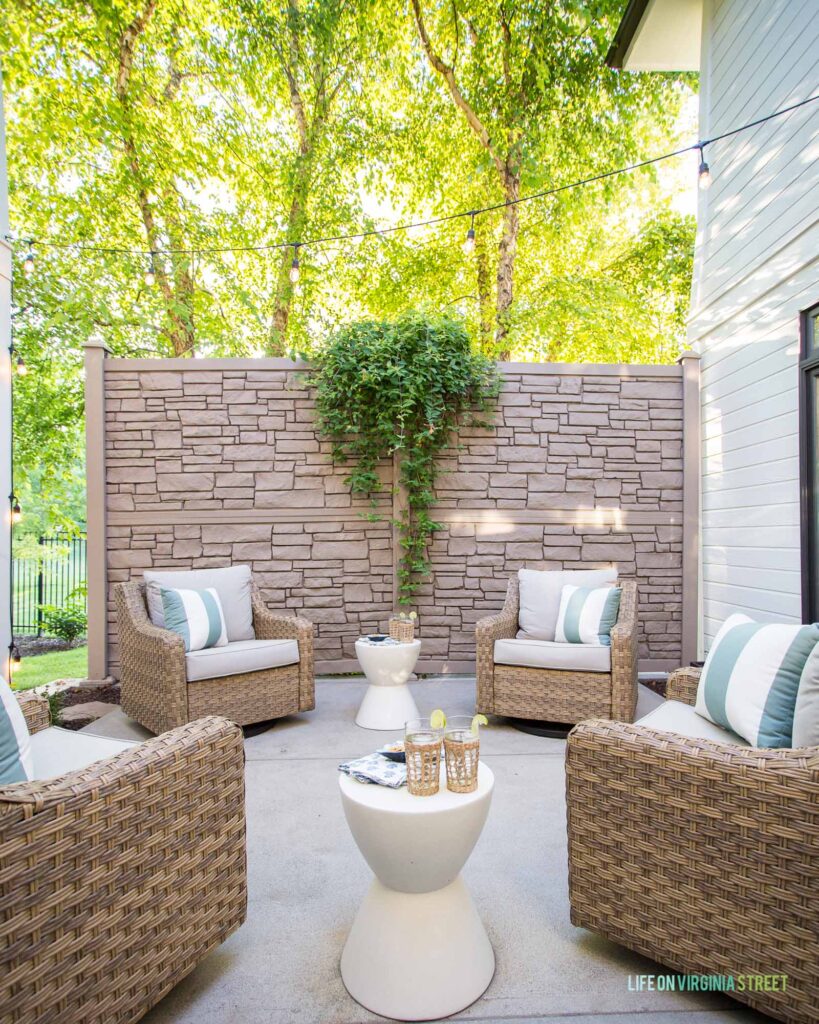 I hope you found a cute & fun summer item or two that you can enjoy this season!
If you would like to follow along on more of my home decor, DIY, lifestyle, travel and other posts, I'd love to have you follow me on any of the below channels: