I've tried to be more consistent about doing a monthly Walmart round-up since you all seem to have loved my last two (here and here)! So, I'm back today with even more Walmart Home finds for summer! It's pretty clear that their home decor game is getting stronger by the day, and I think you'll love this latest round of picks!
This post is sponsored by Walmart and contains affiliate links for your shopping convenience. Click here to read my full disclosure policy.
First I'll share some new finds from around our home. Although this may look staged, I swear I literally opened the door to take a cute shot of my new wreath, Hawkeye walked out and posed and Henley made it look like an action shot. I don't think I could replicate this for a year if I tried 😉 It's pretty clear we're all in love with summer and being outside!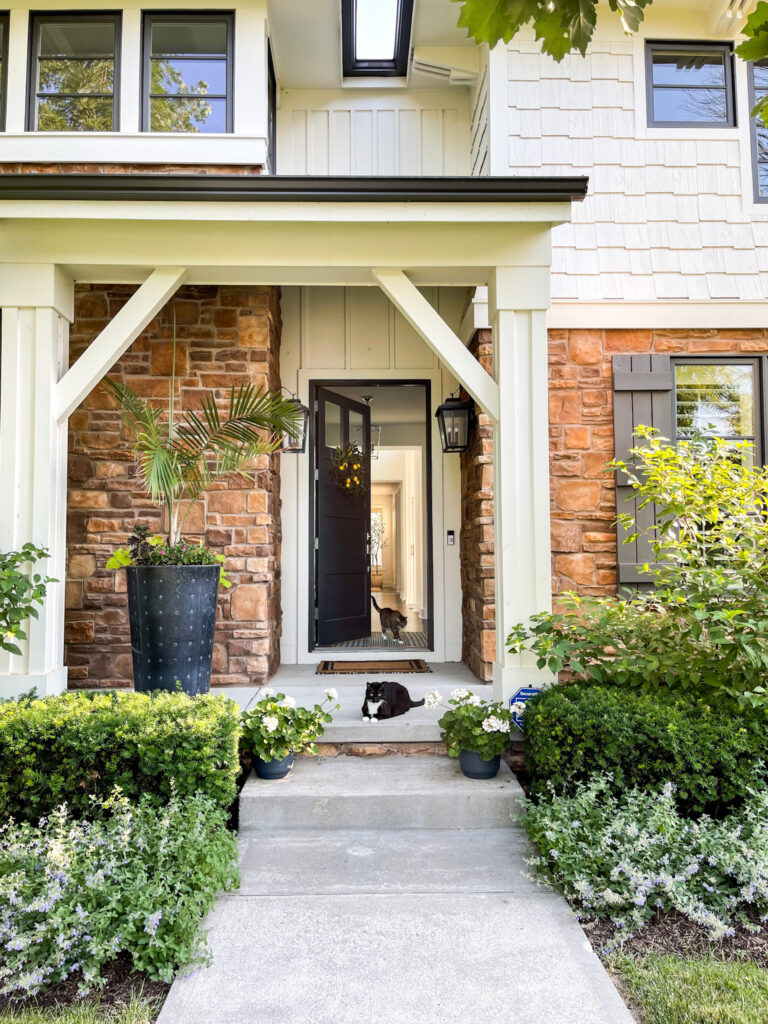 Here's a closer look at the lemon wreath. I love that it stands out on our dark brown front door! Our porch gets very little natural light so those lemons just make everything feel so much more cheerful! So perfect for the summer months, especially with citrus decor being so on trend right now.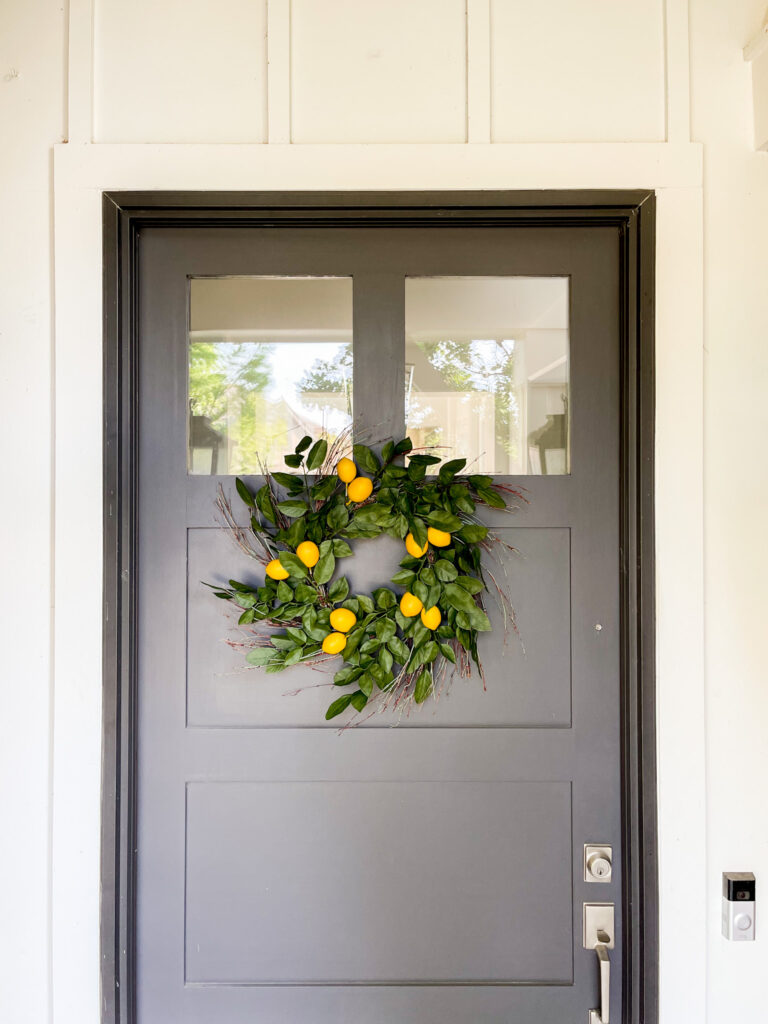 I'm loving all the fun, beachy vibes in this next collection of items I found at Walmart. And how gorgeous is that affordable Rattan Pendant Light? It reminds me a lot of the ones we have in our kitchen.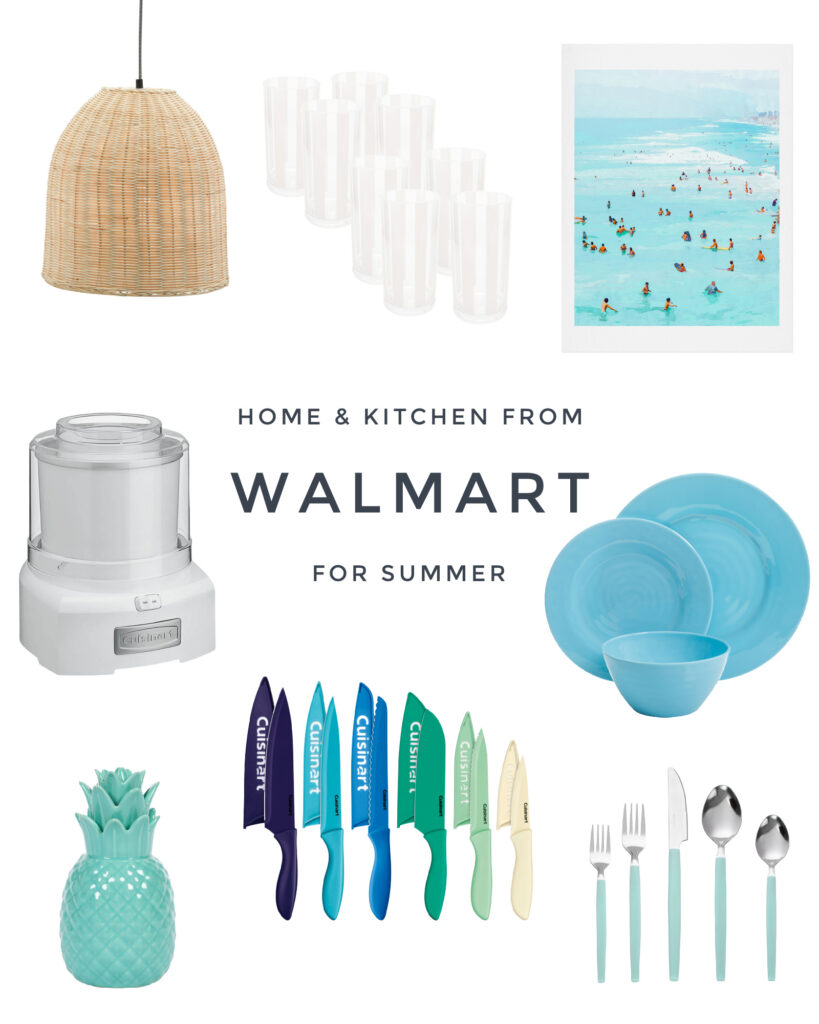 SOURCES: Rattan Pendant Light | Striped Outdoor Glasses | Beach Art (framed version here) | Ice Cream Maker | Melamine Outdoor Dishes | Ceramic Pineapple Set | Ombré Kitchen Knives | Flatware Set
We have the highly-rated Ombré Kitchen Knives and they couldn't be cuter!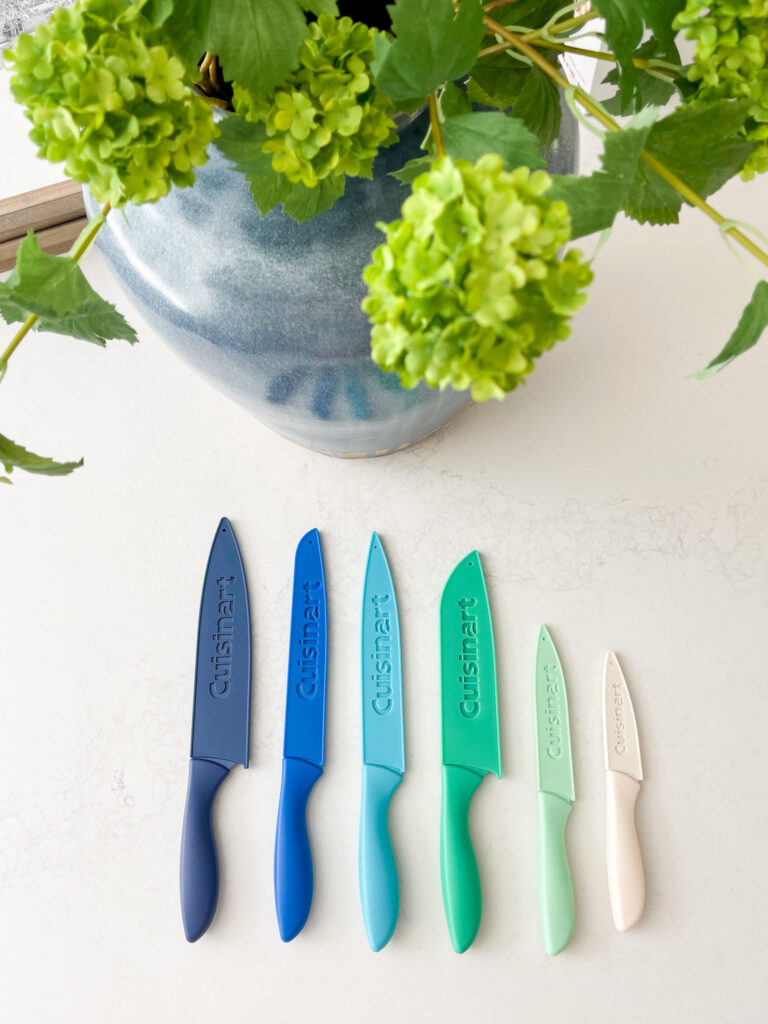 Also, fun fact: Kurtis loves ice cream. Maybe more than anyone I know (next to my dad??). For me, it's just okay (don't hate me!). If he could eat a Butterfinger Blast (or Blizzard or whatever the name is at the time), he'd be a happy boy for life. So I got this fully-automatic ice cream maker out for us to try – it takes only 20 minutes! I personally love that I can make sorbet in it, and he's ecstatic he can have fresh ice cream at his disposal. It just arrived, but the reviews have me very optimistic, that this will be our new favorite this summer! I'm exciting to start trying a bunch of unique recipes!
You may recall, we also have the Striped Outdoor Glasses shown above and have been super happy with them! I actually bought them for the pool house, but we have them in our kitchen cupboard now to use on a regular basis. They're so perfect for summer, and any space you don't want to have actual glass a part of.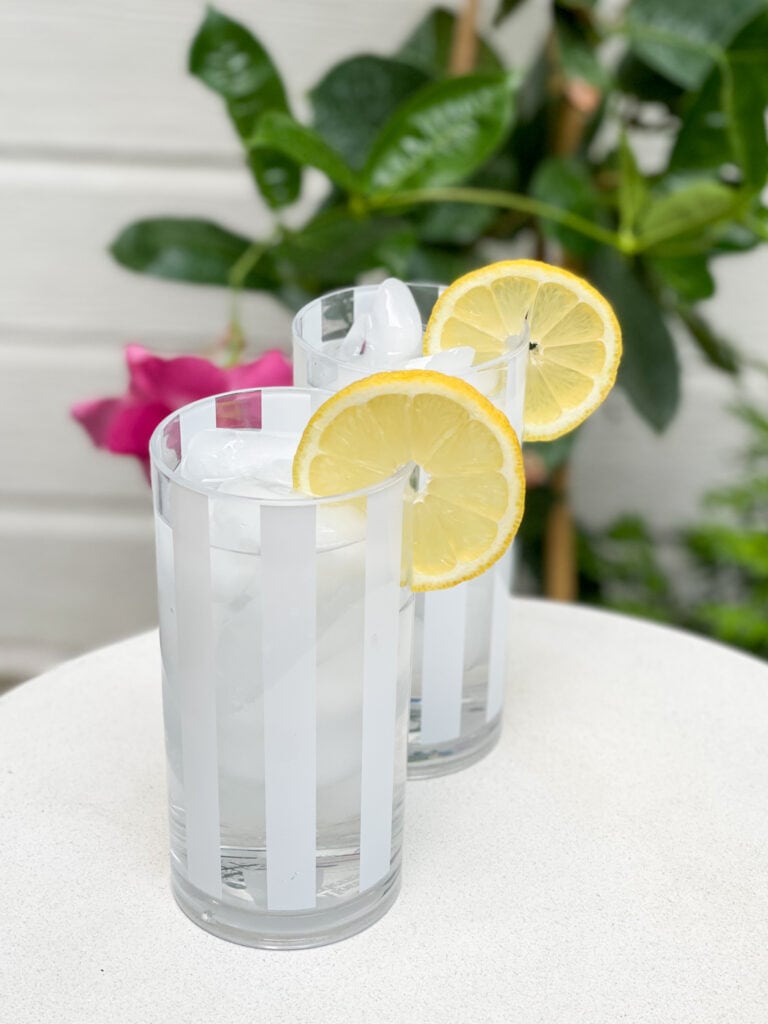 Walmart also have tons of new wall decor with a chic vibe – and it all starts as low as $15! Most of them come in a variety of sizes, as well!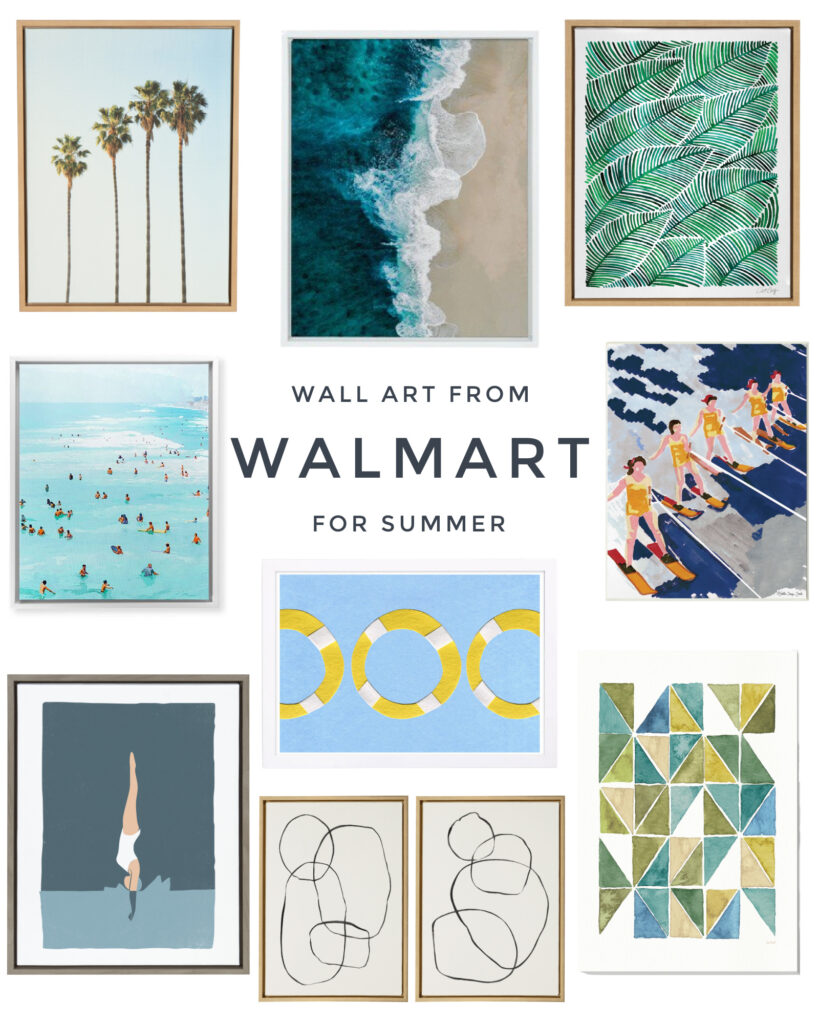 SOURCES: Palm Art | Coastal Beach Art | Tropical Leaves Art | Surfer Art | Waterski Art | Diver Art | Lifesaver Pattern Art | Abstract Squiggle Art | Green Geometric Art
If you caught yesterday's post, you know that last night Walmart also launched a collaboration with Gap. It's the first ever Gap Home collection – and although last night you could buy a few items, the full collection launched this morning! I've already placed an order for several pieces, and will plan to show them to you next month when they arrive! Here are a few favorites – most of which come in a variety of colors, too! So many are perfect for freshening up your guest room for incoming guests or even your own bedroom!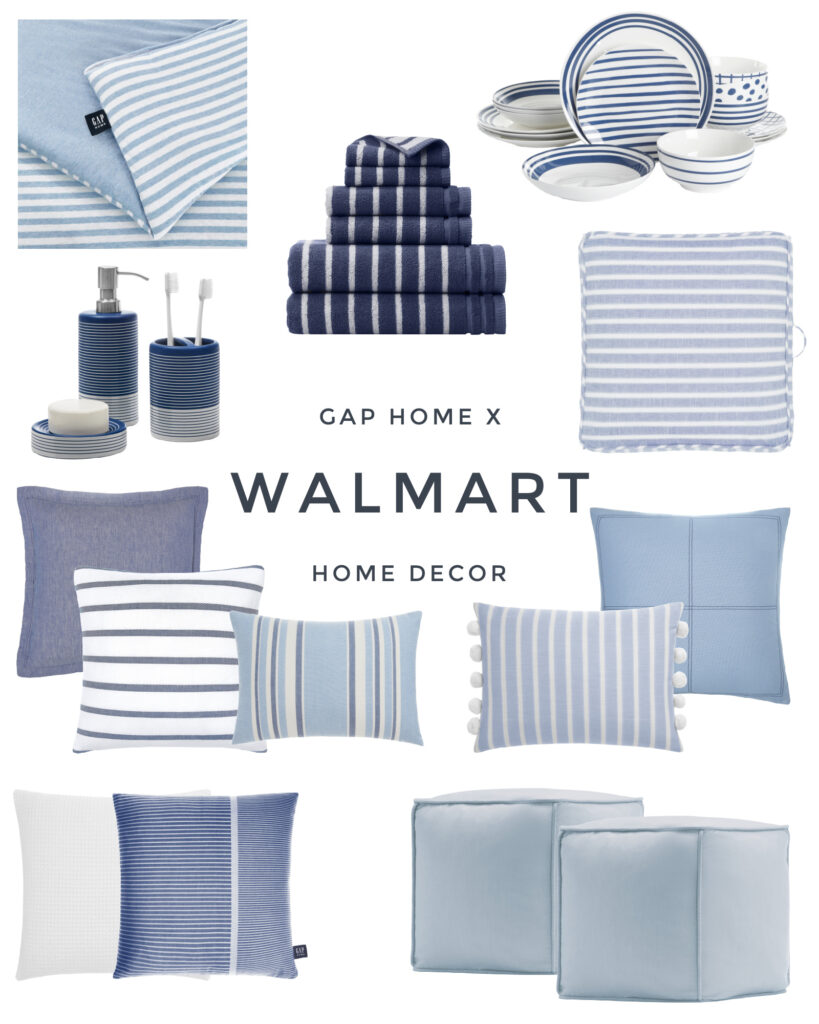 SOURCES: Striped Bedding | Striped Towels | Dishes | Striped Floor Cushion | Ceramic Bathroom Set | Contrast Stitch Throw Pillow | Washed Denim Throw Pillow | Waffle Throw Pillow | Striped Throw Pillow | Striped Lumbar Pillow | Striped Chambray Pom Pillow | Asymmetrical Stripe Pillow | Washed Denim Floor Pouf
Here are a few more fun items. Click any of the image below.

And lastly, there were a lot of local restocks this past week on our courtyard patio set since my last post! If you've been wanting it and still haven't been able to snag it yet, I'd recommend ensuring you have your store preferences loaded on Walmart's site. This past week seemed to see a lot of activity with restocks (at the store level, not for shipping). A lot of people have been able to find it online at their local store, purchase it online, and then go in for pick up! It's also worth checking if this set is in stock for you to purchase online and pick up locally. It's another favorite and looks very similar!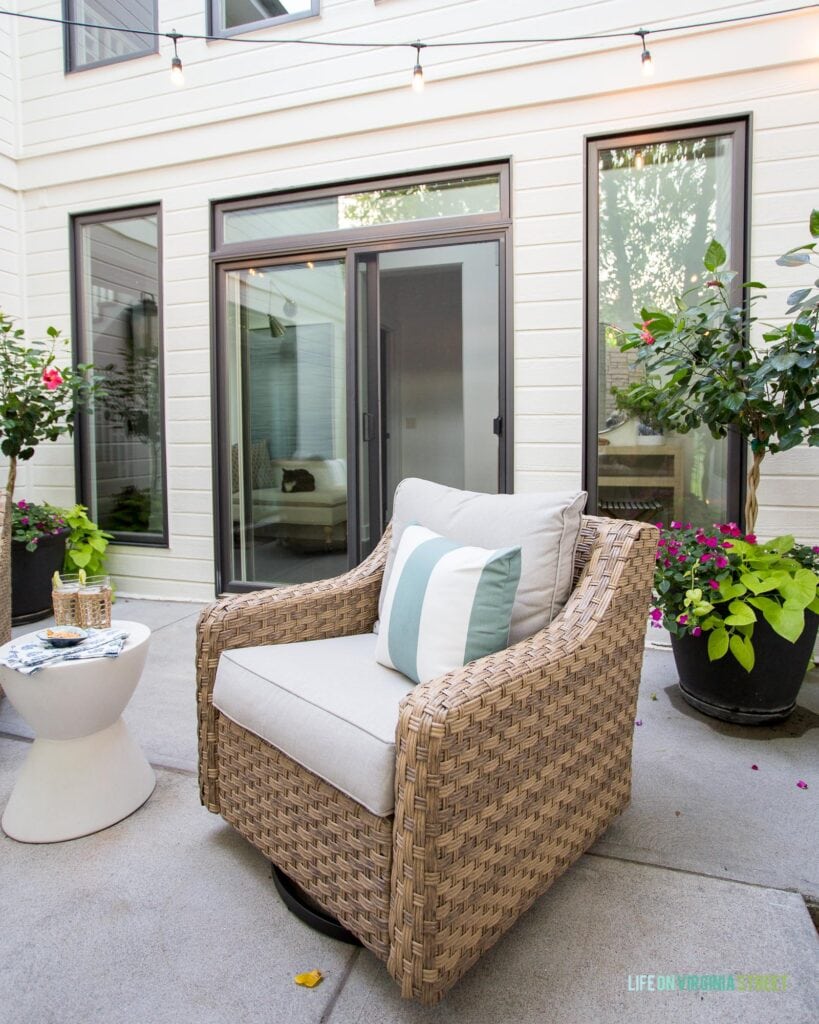 SOURCES: Outdoor Swivel Glider Chairs | Concrete Side Table | Similar Outdoor Striped Pillow
I'll also be back soon with some Walmart fashion finds!
If you would like to follow along on more of my home decor, DIY, lifestyle, travel and other posts, I'd love to have you follow me on any of the following:
Pinterest | Instagram | Facebook | Twitter
disclosure: some affiliate links used