A little over a month ago, I shared our initial plans to convert my craft room into our den. Today I'm going to share some updated progress and changes we've decided to make since I first shared those plans!
This post contains affiliate links for your shopping convenience. Click here to read my full disclosure policy.
Initial Den Design Plans
As a reminder, here is my initial design board for the den. You can read more of the background on the room conversion from my craft room to a den in that post.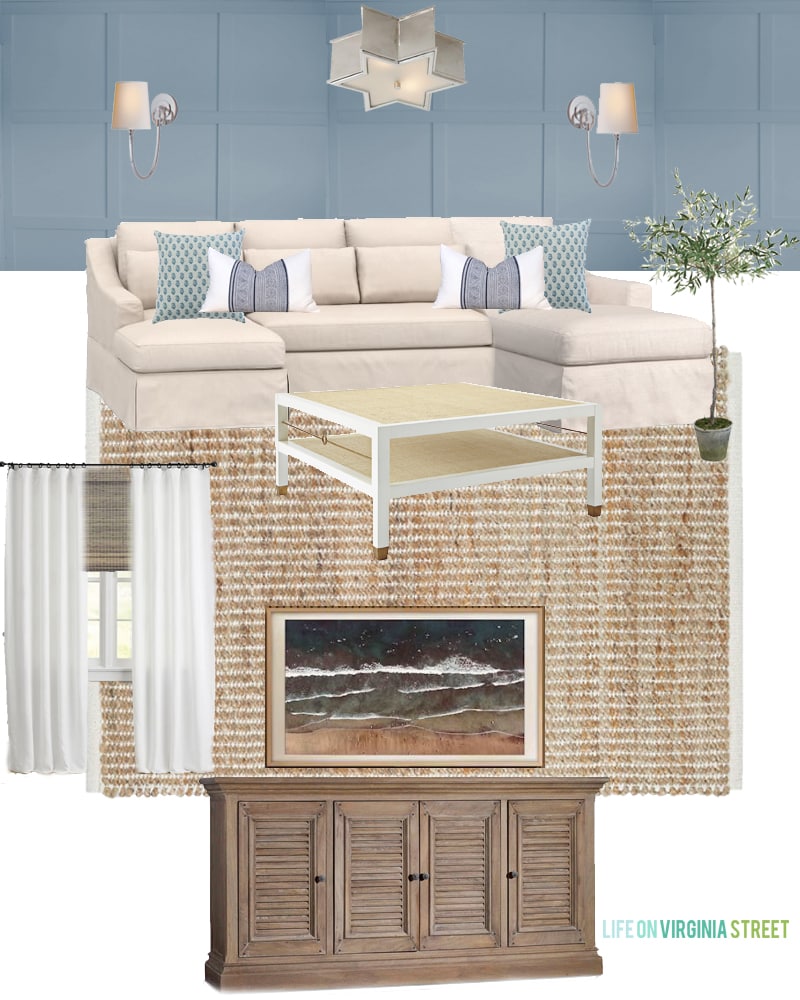 Sectional | Coffee Table | Rug | TV Stand | Drapes | Woven Shades | Star Light | Sconces | Olive Tree | Square Patterned Pillow | Lumbar Pillow | TV with Art Mode
Den Progress
Before we get into the changes we've decided to make with the initial plan, I thought I'd share some updates on our progress so far! I know many of you said you like seeing more of the actual details versus just a reveal without any real life thrown in! So, a definitely dose of real life below. You may want to cover your eyes for some of the pictures!
I found out last week that our sectional components have all arrived in Kansas City and are ready for freight delivery. Unfortunately, that process can take another week or two before they offer an Omaha delivery, but it made me realize I had better get moving on the room!
Over the past few weeks, I've been purging, sorting, cleaning, and hauling items from the craft room into the basement. Admittedly, the room was rather terrifying after the holidays and me just throwing stuff in here to get it out of the way! That habit has to stop!!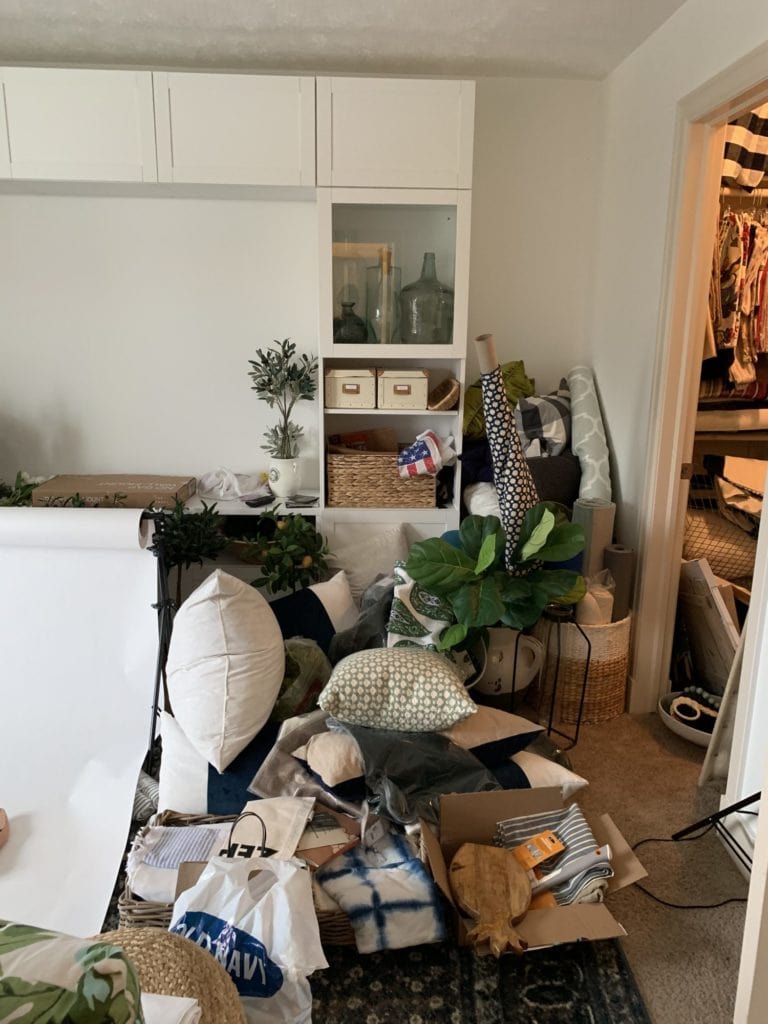 I shared a few weeks ago the long line of donations I gathered. It felt good to pack up and donate stuff I hadn't used in some time or knew I wouldn't use again going forward.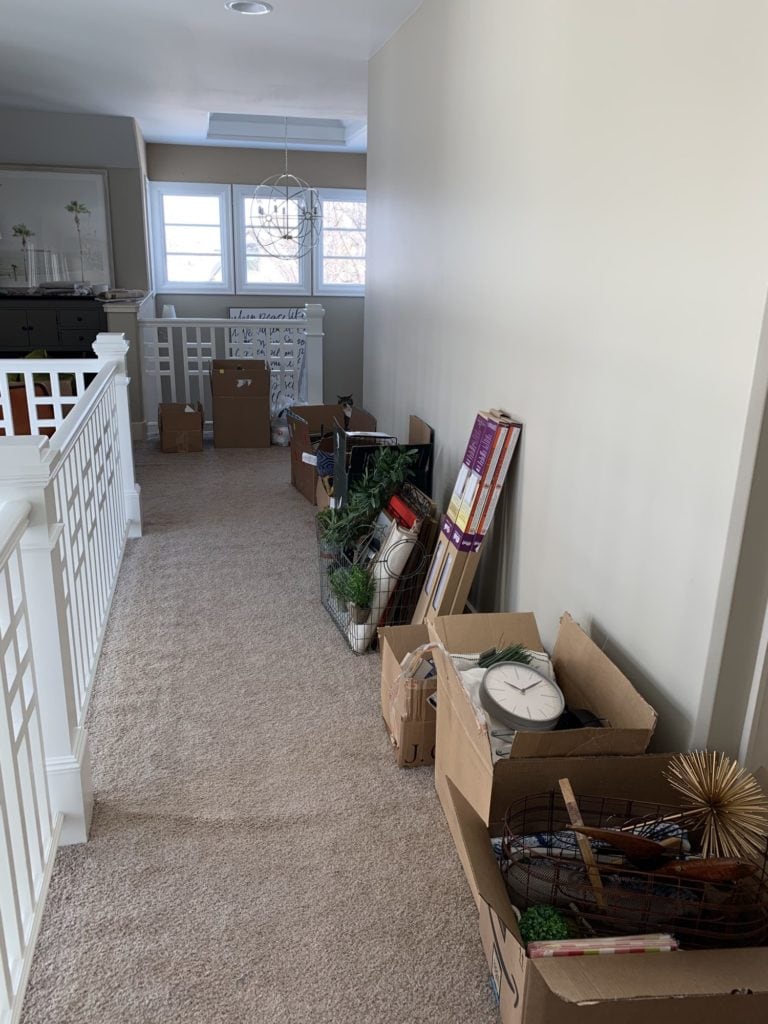 This past weekend, we took down the IKEA BESTA. We had secured the upper cabinets to the wall, so I'll have some patching to do. But, the board and batten may cover some of that a bit as well. Next, we need to take down the daybed and sell that, as well.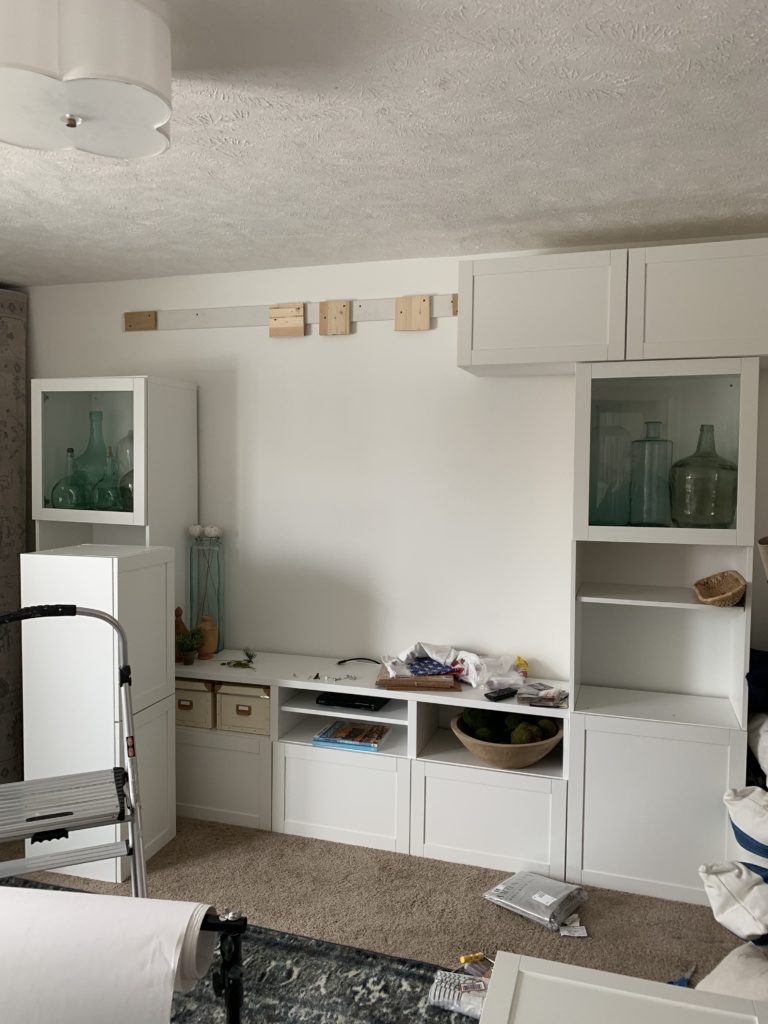 On Saturday, I did all the "hard math" for the grid pattern on the wall. We'll be doing a similar pattern to the walls in our office and guest bedroom (you can find the full tutorial here). However, after thinking it through and drawing out some looks, I'm going with more grids this time around. We'll have a total of 28 squares on the wall behind the sectional and I'm excited to see the busier pattern! You can see below my "map" of the room (definitely not drawn to scale). The second image shows my board and batten plans. The top row was testing eight squares (too busy) and the other with seven (just right).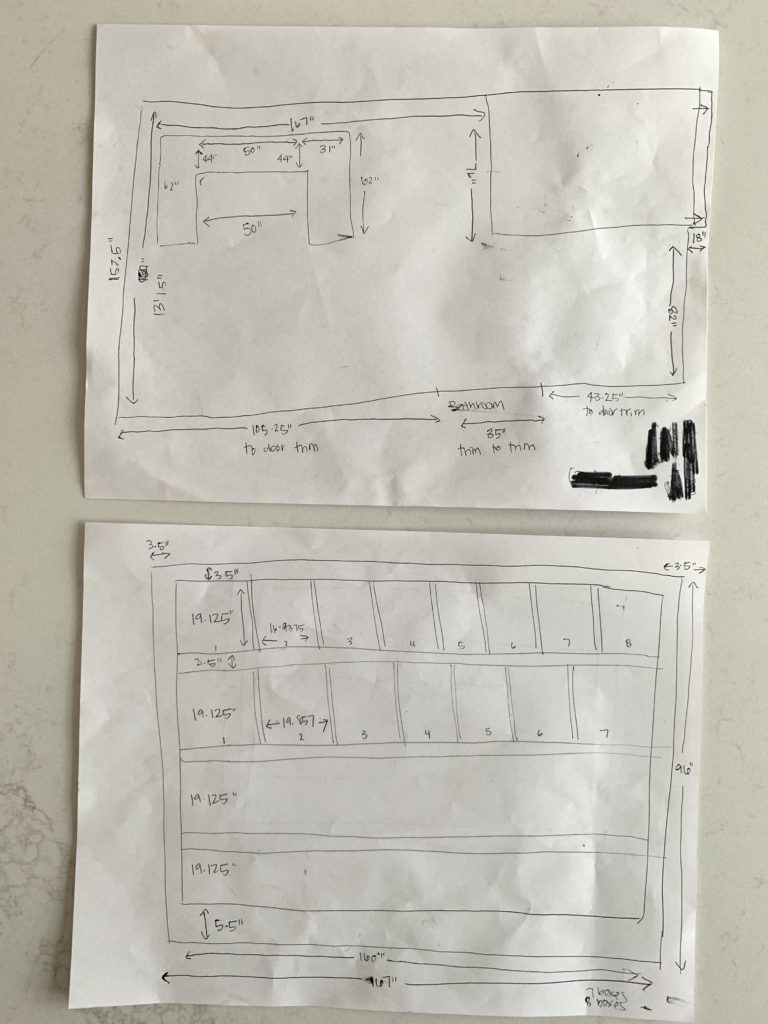 Sunday we loaded up my small SUV with the boards. Thankfully we live close to Lowe's since the back door had to stay open to accommodate the boards 😉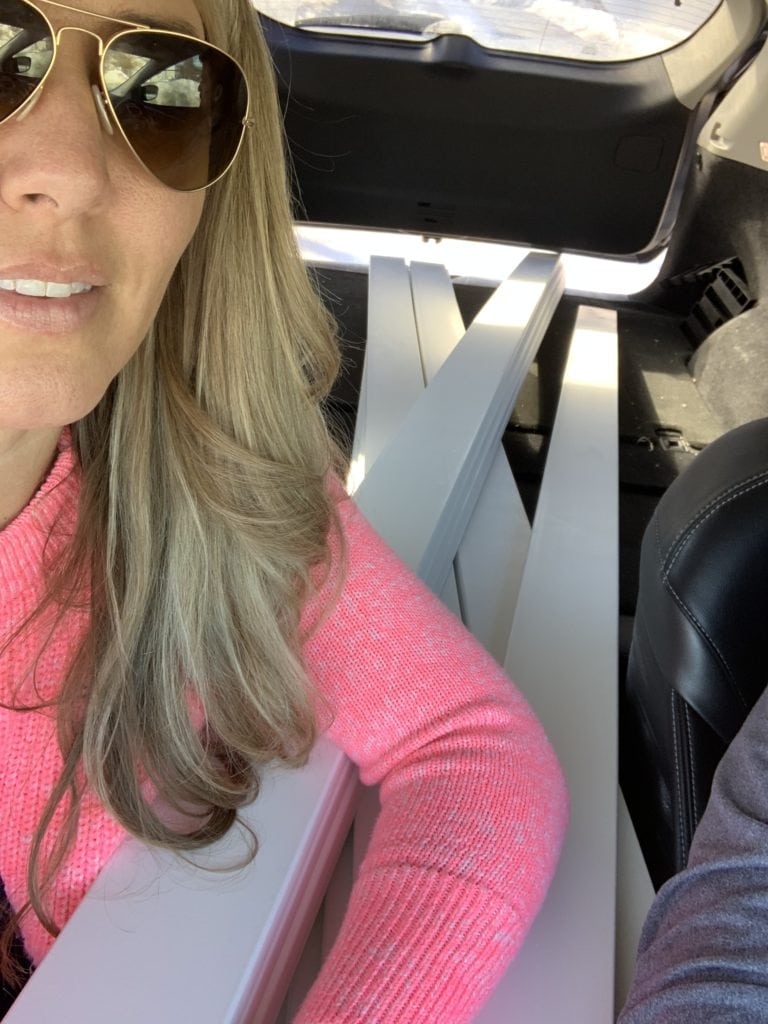 We're hoping to get the wall "built" this weekend, and then I'll have a lot of caulking and painting to do to get it finished!
Updated Den Design Plans
After a few months of planning, following are our updated den design plans and moodboard!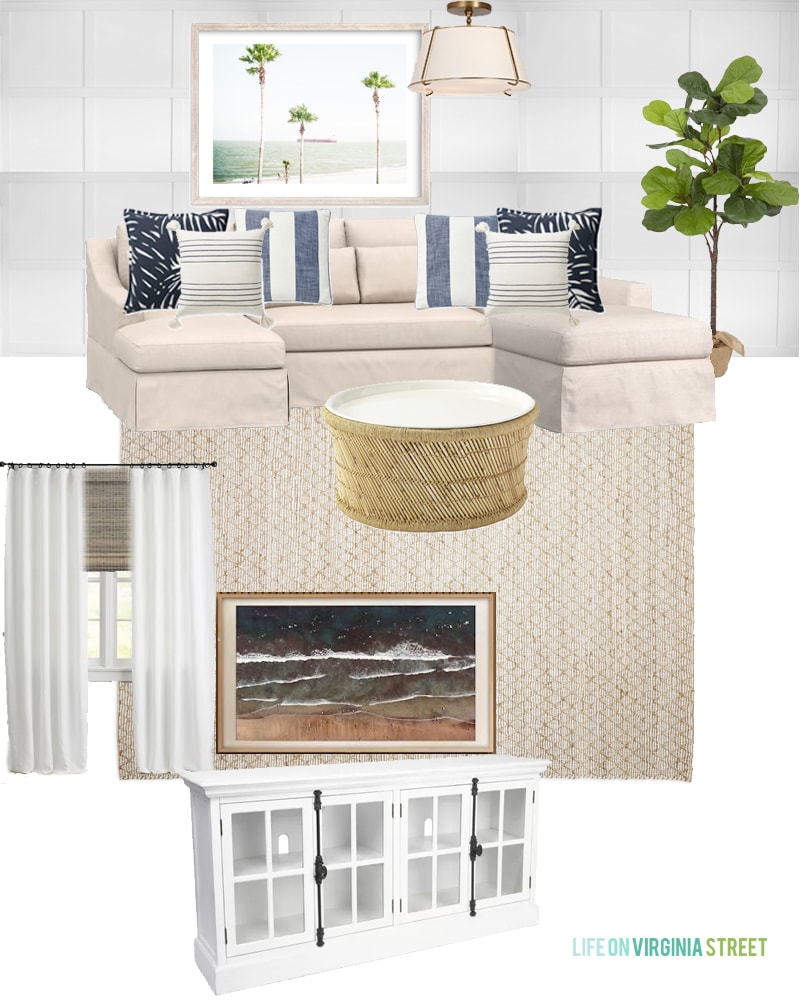 Sectional | Coffee Table | Rug | TV Stand | Drapes | Woven Shades | Flush Mount Light | Fig Tree | Basket | Palm Patterned Pillow | Striped Pillow | Tassel/Stripe Pillow | TV with Art Mode | Palm Tree Art
So, what's changed? Following are more details on our updated den design plans.
Overall Vibe – I feel like my initial plan was getting a bit too formal looking. We want this room to be a super casual hang out for us to watch TV, movies and to read. So, I had to continue keeping that in mind as I narrowed down some of the products in the room!
The Lighting – I really wanted to add sconces in the space since I didn't think side tables would be likely and I will be using this as a reading room as well. However, since I'd want them hardwired, it was going to be a bit more work that it was worth! So, the sconce idea has now been scrapped, and I'm looking for a flush mount light fixture with 3+ light bulbs to provide adequate lighting! I love this light fixture, but am hoping to find something similar at a lower price point.
The Wall Color – As fun as I think it would be to go with an unexpected color (like the blue in the original design), I'm going to keep it white initially. Since the walls are already Simply White, this will also help cut down on my work once the boards are caulked. The walls will then only need one additional coat versus a few. I figure this is something I can easily change in the future if I want!
The Coffee Table – I really wanted this gorgeous coffee table from Serena & Lily. But, after I put all the dimensions on paper and added the sectional dimensions, it was pretty clear it wasn't going to work. I have 50″ between the two chaises and the coffee table is 40″ square. I was also a bit worried about the natural woven top. So, I've decided to go with this coffee table instead. It's only 36″ in diameter, so it may still be a little snug, but definitely roomier (especially with the circular shape instead of a square). I also love the built-in enamel tray on top! So easy to keep clean and it will be perfect for this more casual space!
The Pillows – As I mentioned in the original design plans, the throw pillows were just placeholders. I reached out to Serena & Lily to see if they wanted to partner on some of the items in the room since their items work so well in our home! When they agreed, I looked at some of their pillows and love the vibe the palm pattern, striped, and tassel pillows will bring to this space. They work even better now that I've decided to add some summery art to the space!
The Art – I've had this palm tree art for a few years now. You may remember we used it in our living room for several years, but now that we have the gallery wall, I've been looking for a new place to use the art. I think it will look perfect in here! I just need to test the scale once the sectional arrives.
The TV Stand – In my initial design plan, I had a natural wood TV stand. I think I'm now leaning towards a white or really light wood option. It's a lot of white, but I think with the sofa and rug having more of a natural tone, I want the TV stand to be lighter (especially since it will hold the big black box known as the TV)! I still haven't found "the one" but this has helped me narrow down my selection process.

I'm hoping in the next week or so I'll be getting the call to schedule the sectional delivery! Kurtis and I plan to crank out all the board and batten this weekend so that I can start caulking and painting before the sectional arrives! Things will start moving a lot more quickly now! I'll be sure to share more updates soon!
If you would like to follow along on more of my home decor, DIY, lifestyle, travel and other posts, I'd love to have you follow me on any of the following:
Pinterest | Instagram | Facebook | Twitter
disclosure: some affiliate links used