Here is a recount of my travel files: Laguna Beach & Southern California!
In February, Kurtis and I headed to Southern California for his company's annual incentive trip. We stayed at the gorgeous Montage Laguna Beach, and today I thought I'd share a bit about our lovely trip and where we ate/drank/shopped!
Admittedly, Southern California in mid-February isn't necessarily an ideal time to visit (especially if you're wanting pool time). But, thankfully the rain held off for the most part and we had a warm-ish day or two while we were there!
Rather than provide a day-by-day journal of sorts, I've broken this post into details on our hotel, the places we ate and drank, where we shopped, and other activities we did. Keep in mind we were there on a semi-business trip, so several hours each day (or more) were devoted to that portion of the trip. But, I've included all of our favorite stops from our free time below!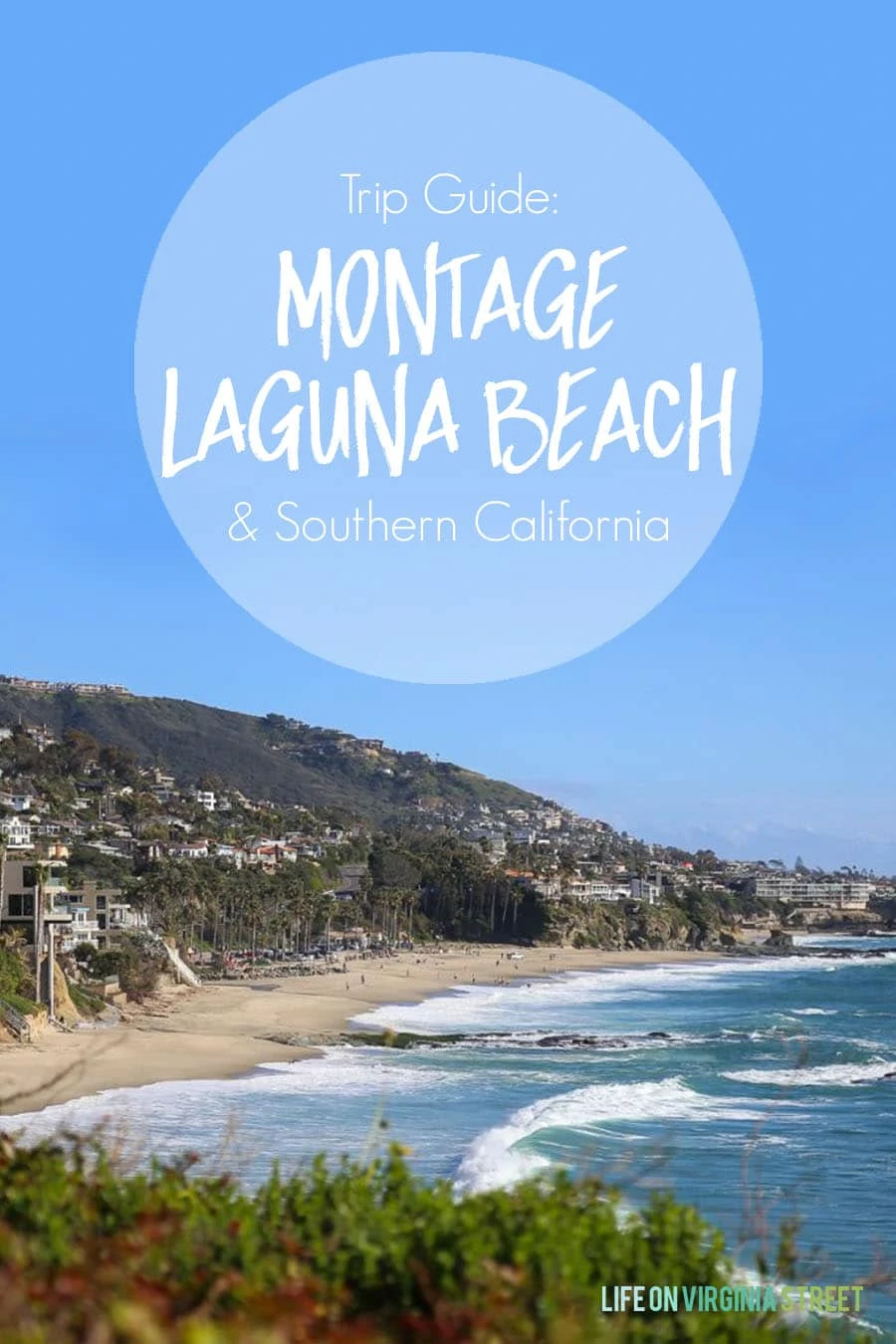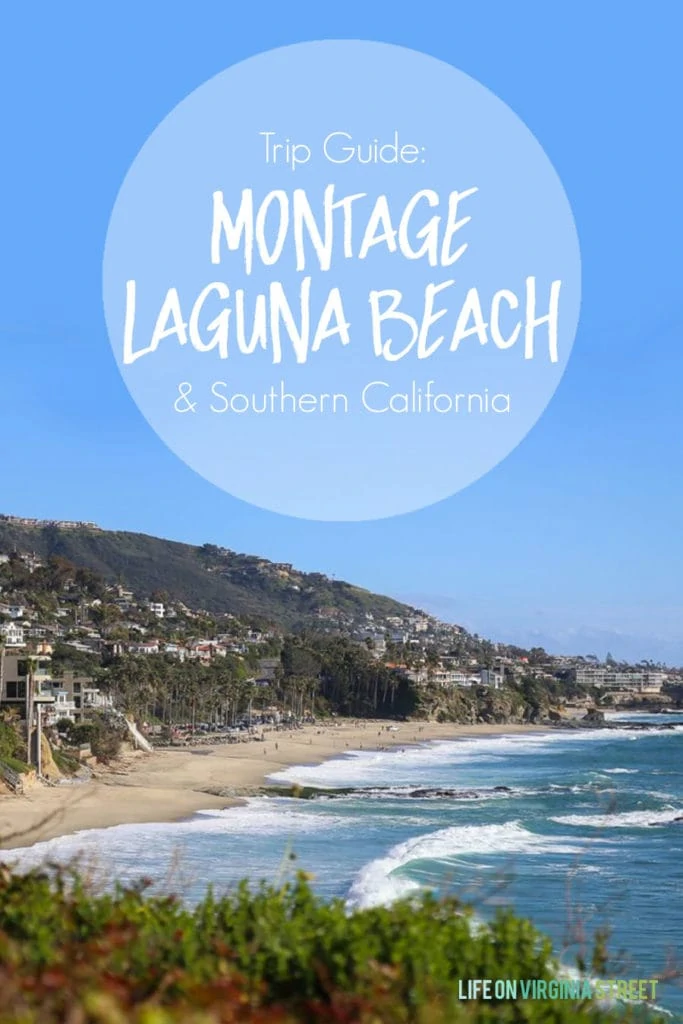 Where We Stayed: Montage Laguna Beach
As I mentioned, Kurtis' event was at that Montage Laguna Beach. The Montage sits on the Pacific Coast Highway right in Laguna Beach. If you've read here for any amount of time, you know I'm a beach girl and when I get a chance to stay in a surfing town, I'm in heaven. I love the laid-back resort vibe and can't get enough!
The location of the hotel was perfection! We could get around easily and the views and the property were beyond beautiful!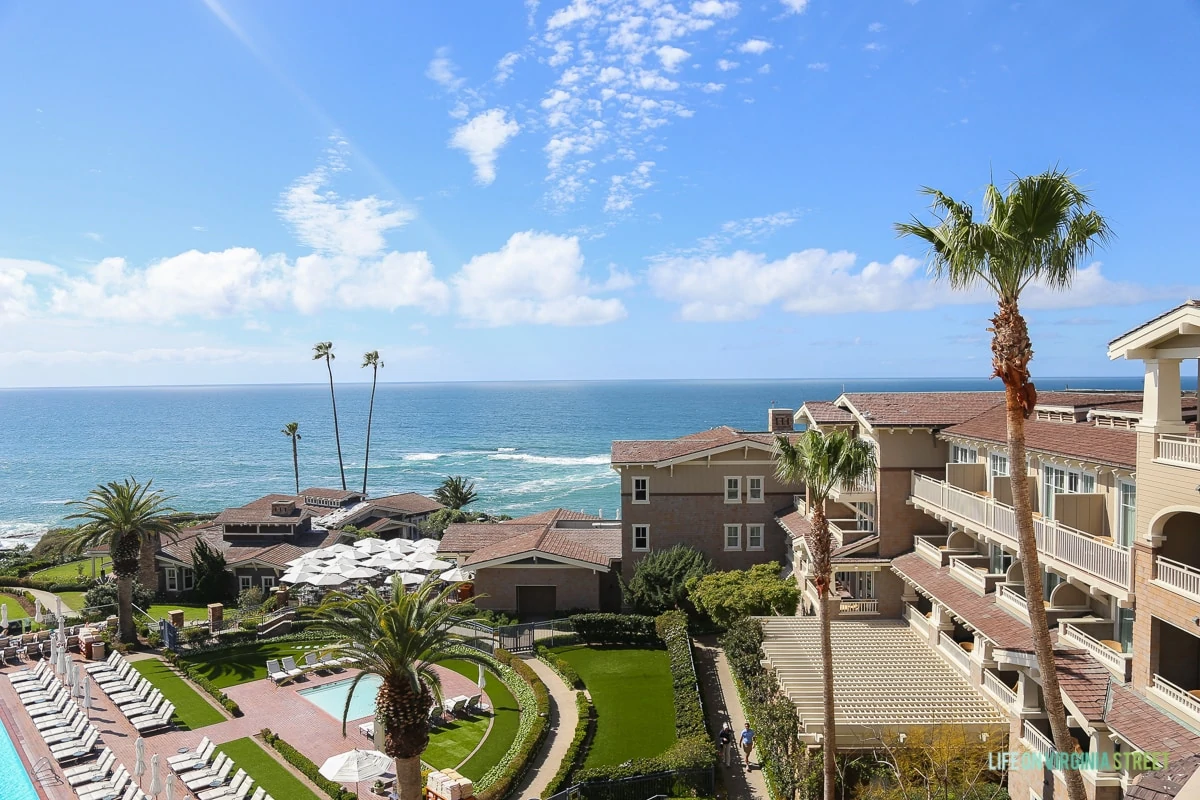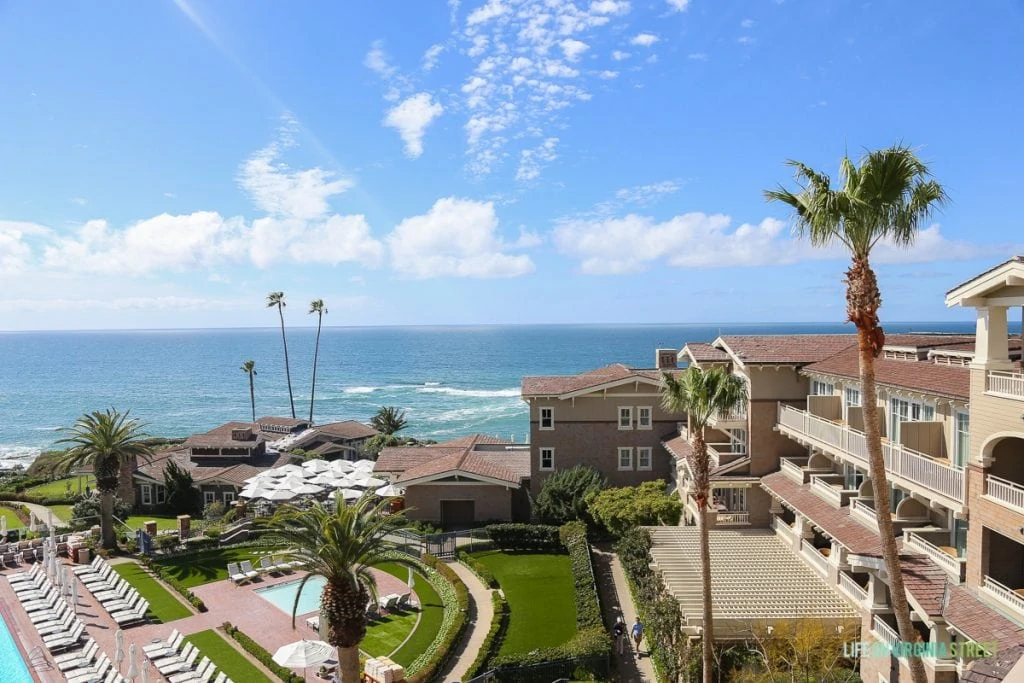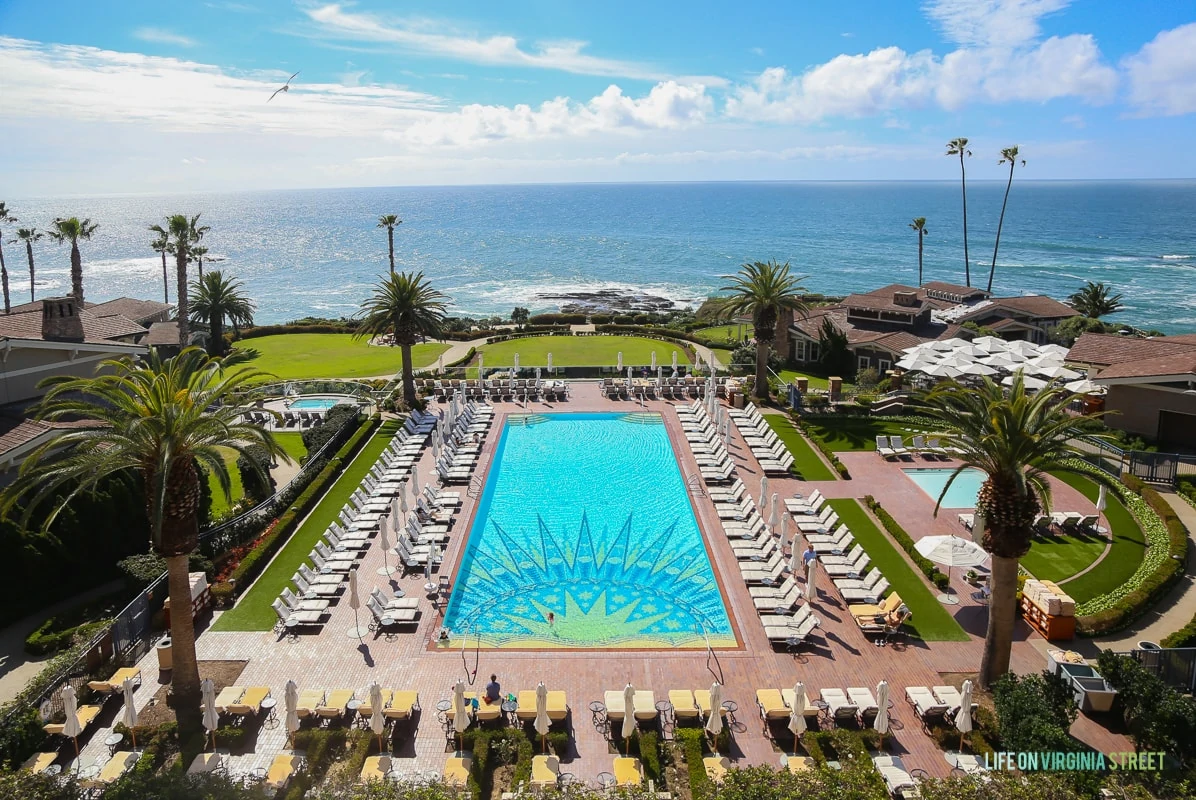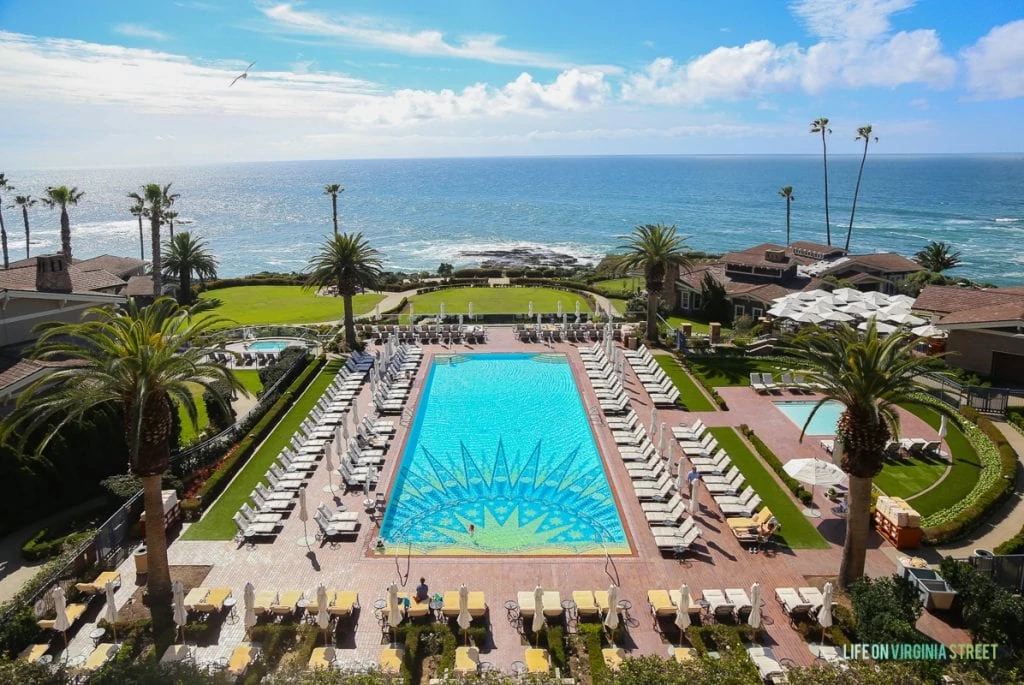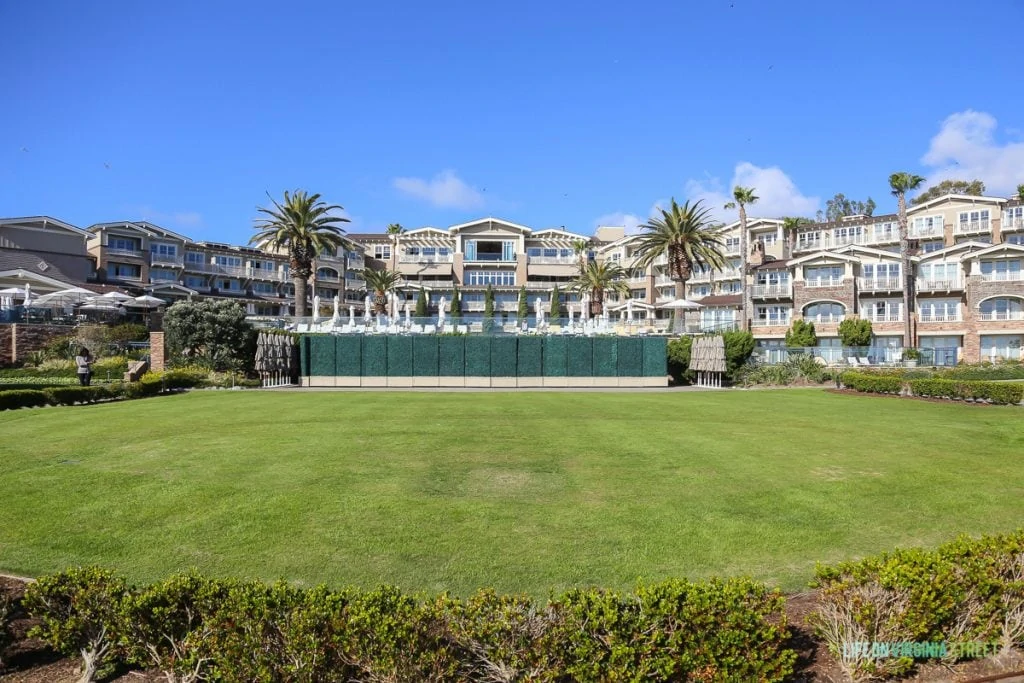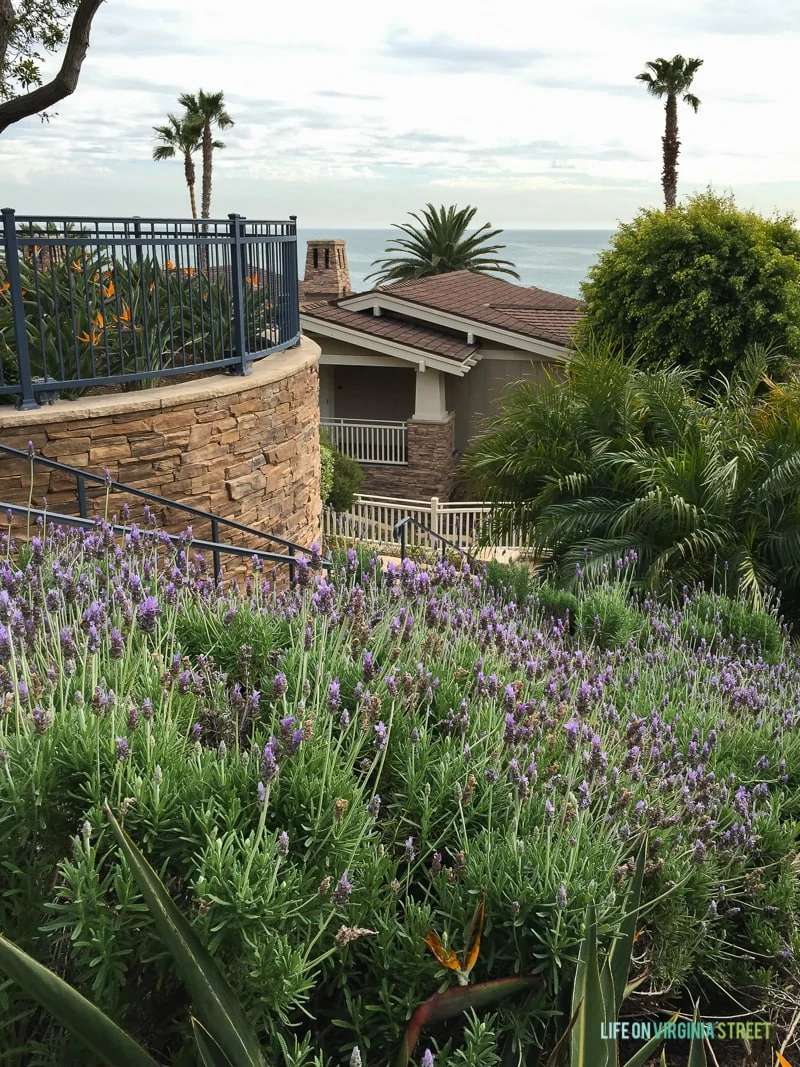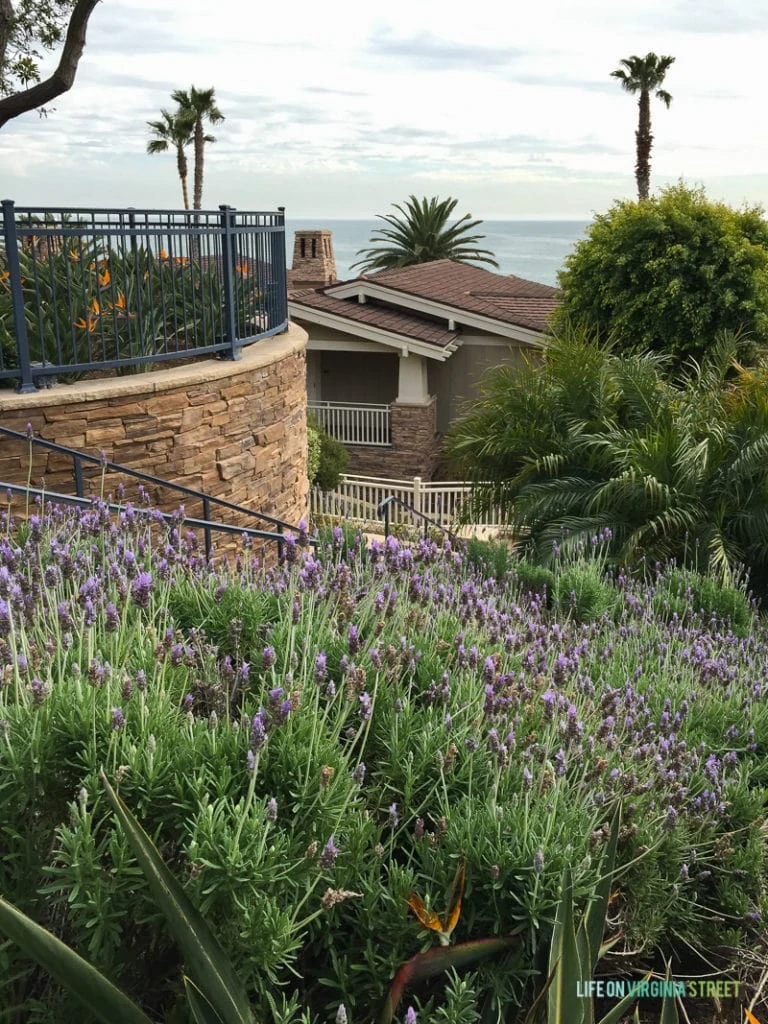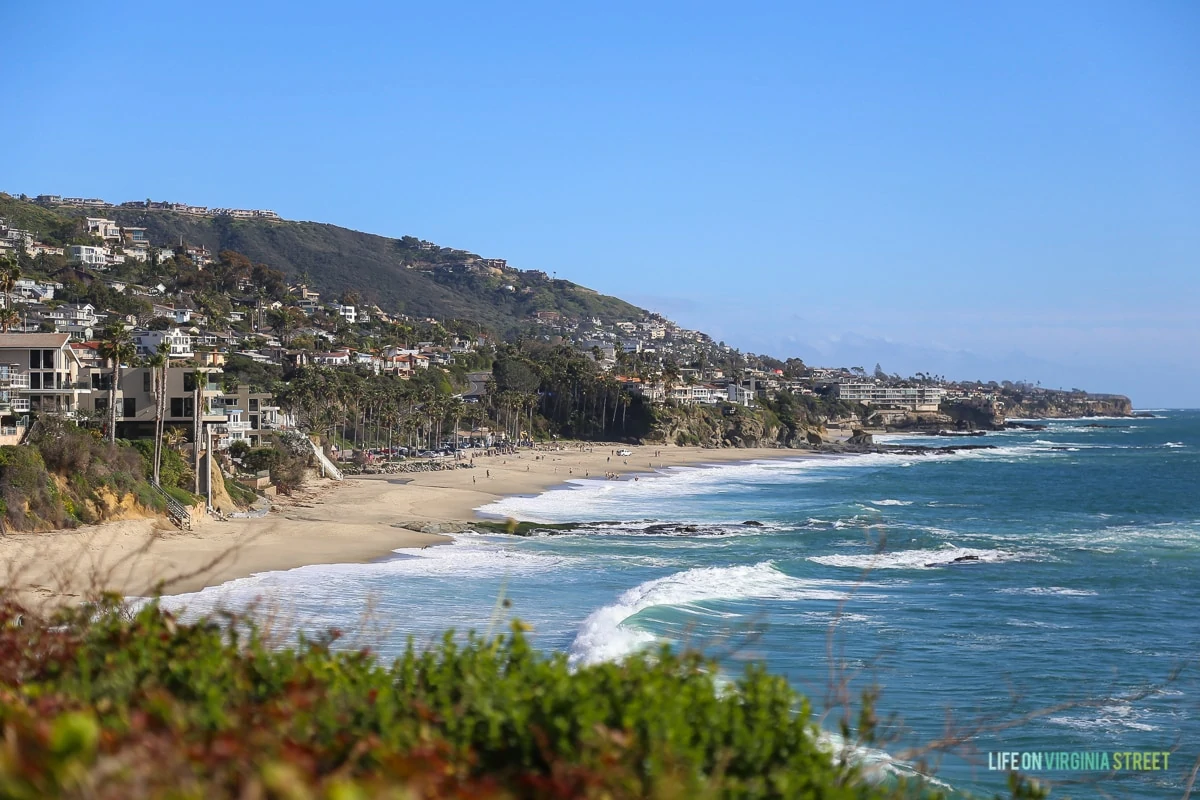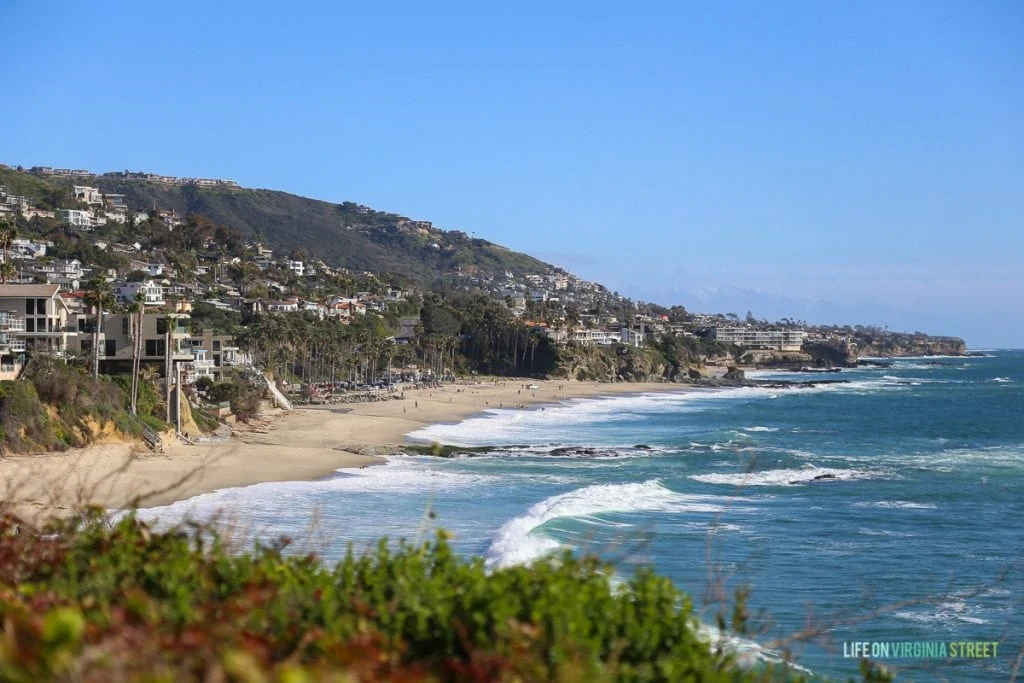 The rooms were large and well-equipped, but I felt like the decor was a bit on the formal side for the beach vibe and didn't seem to flow with the gorgeous exterior. Word on the street is that there will be room renovations happening shortly though! They were obviously still beautiful. And I loved nothing more than opening the large sliding door, letting the sun come in and relaxing on that sectional at the end of the day!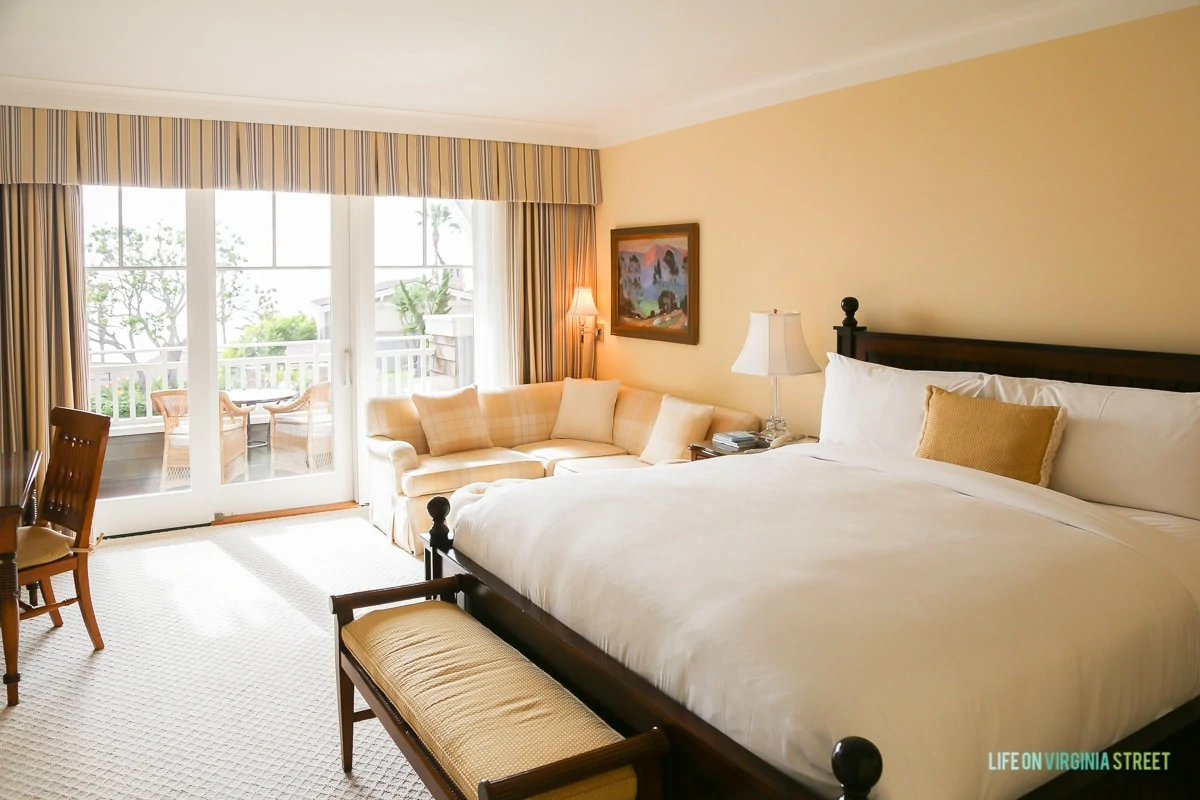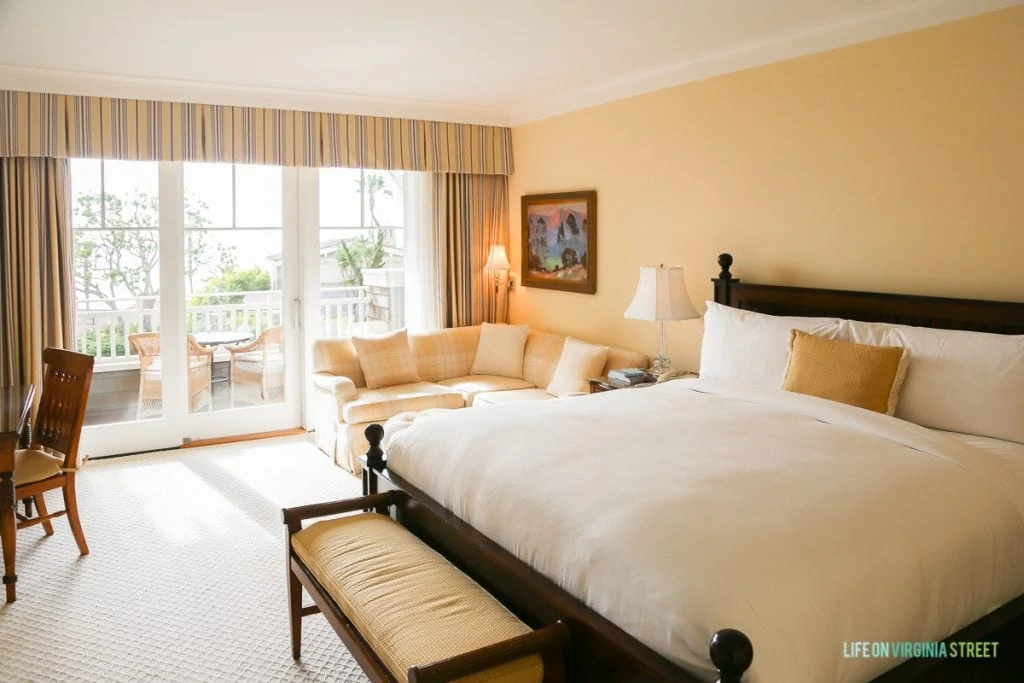 Each room had a private balcony and we loved waking up to have a delicious breakfast on the balcony each morning! It was really cold but comfortable once we layered up. There's nothing better than enjoying coffee outside while looking at the ocean!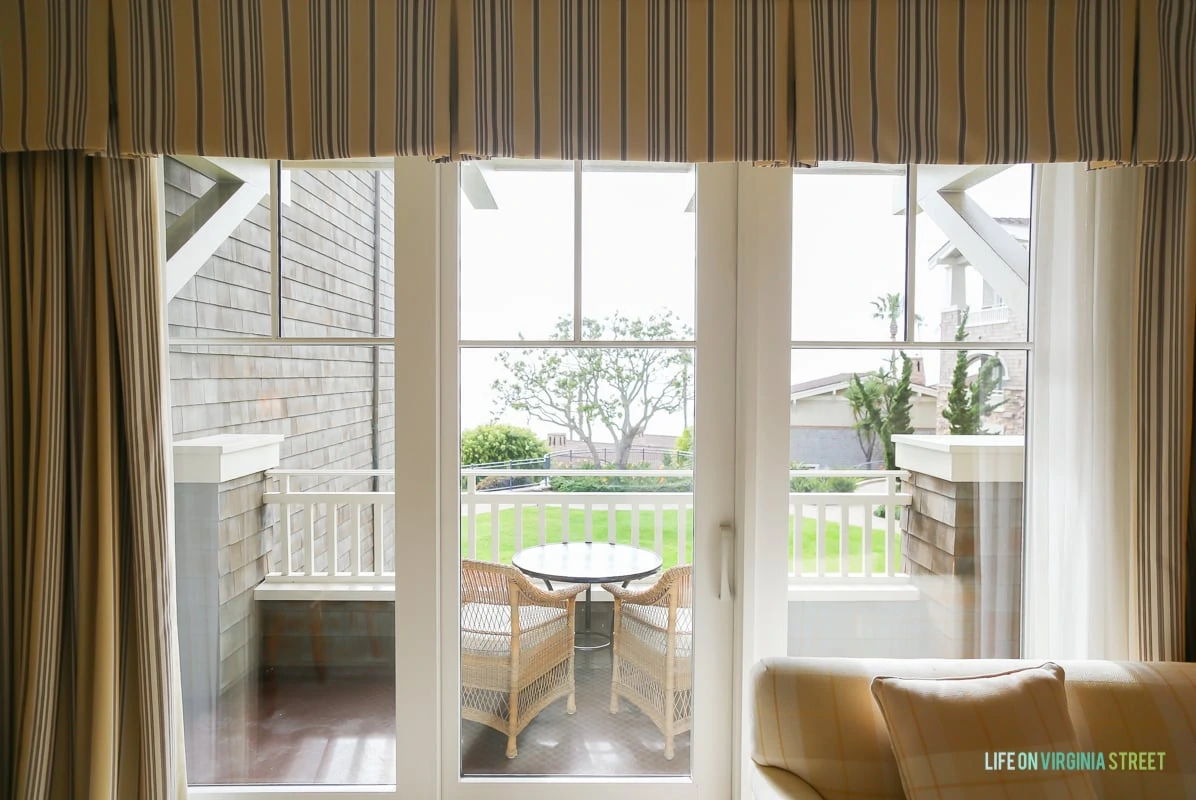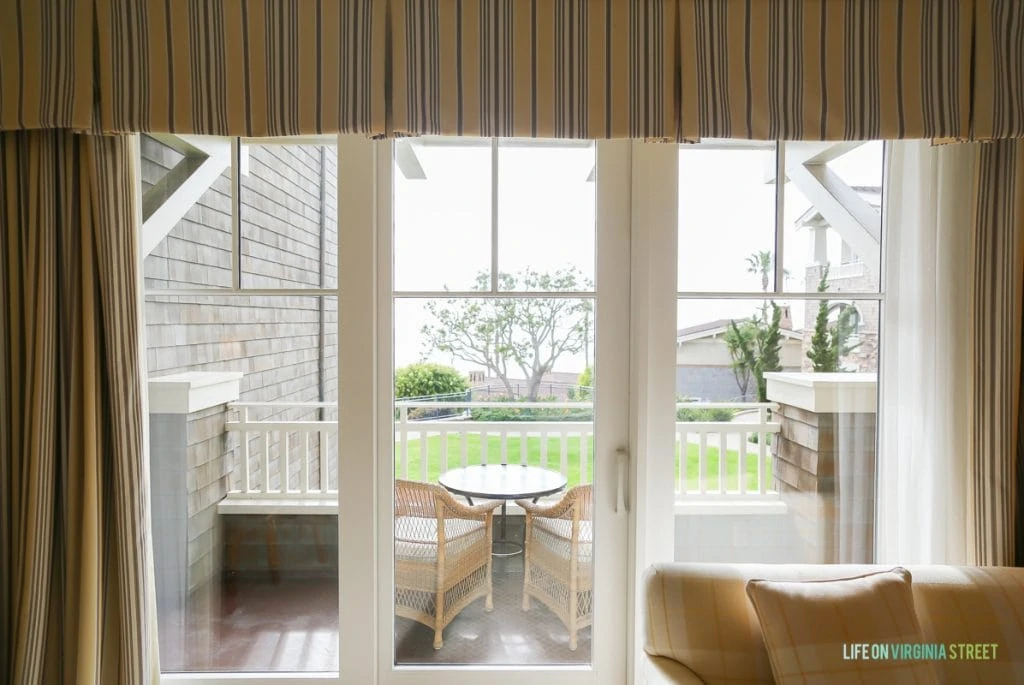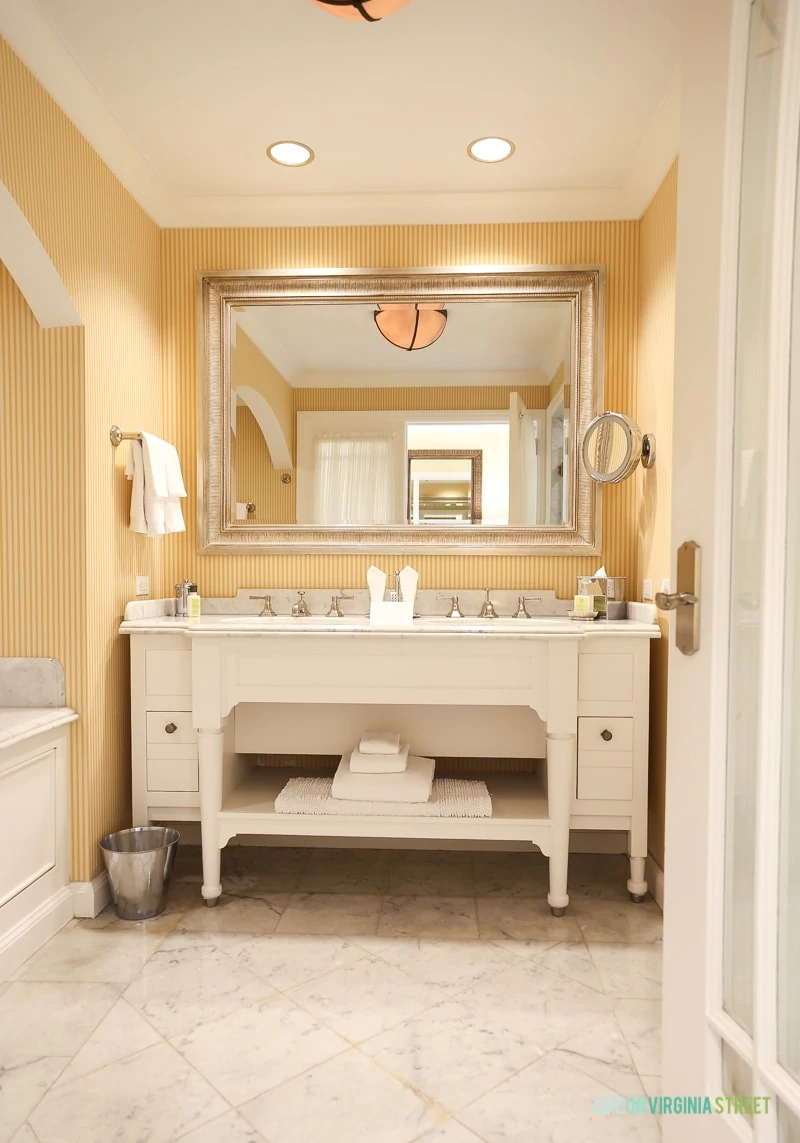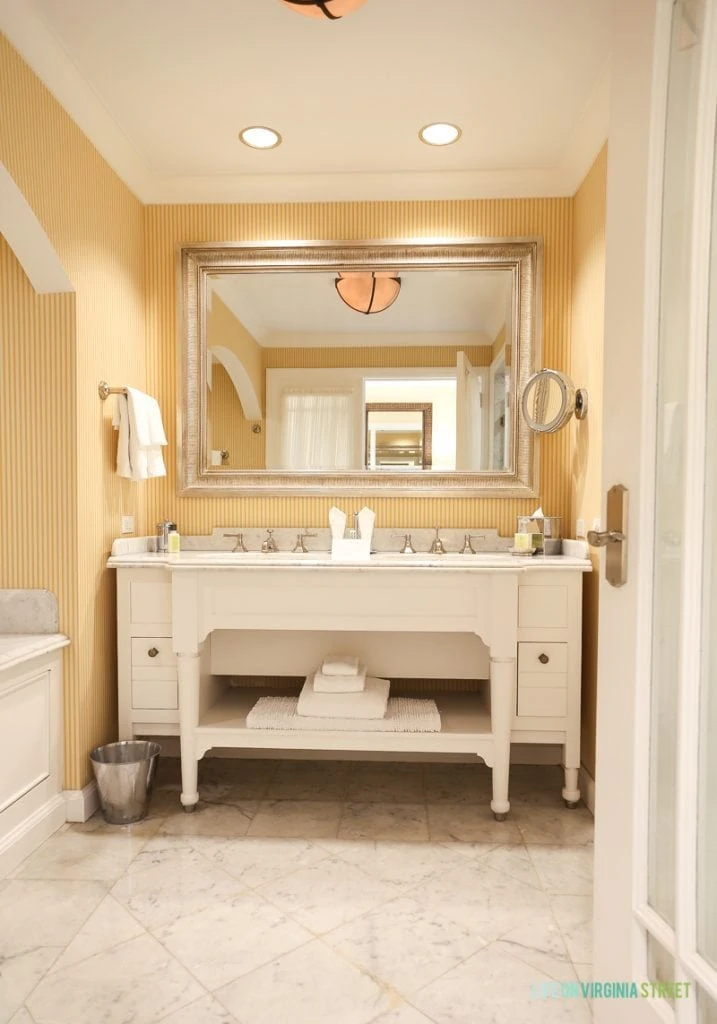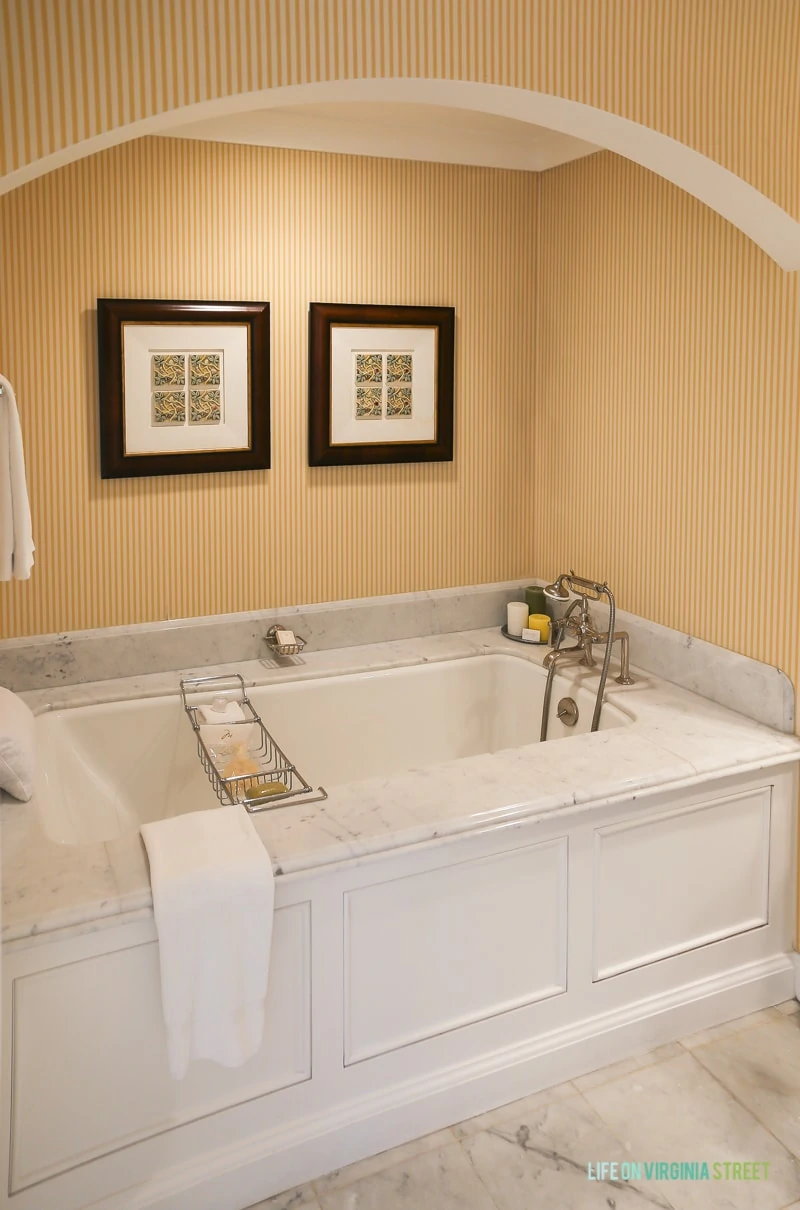 Where we ate and drank
Montage – We felt like the food at the Montage was excellent. We had at least one breakfast, lunch and dinner while we were there and didn't have a bad meal. Each morning we would have room service delivered to our suite and we'd eat out on our balcony. It was really cold eating in our pajamas, but we'd usually throw on a sweater, light jacket or robe from the room because we really wanted to be outside and enjoy that stunning view! TIP: The alcohol in the mini bar (and even around the resort) was outrageously priced. So, we made a quick trip to the CVS across the street and bought a few bottles of wine for a fraction of the cost!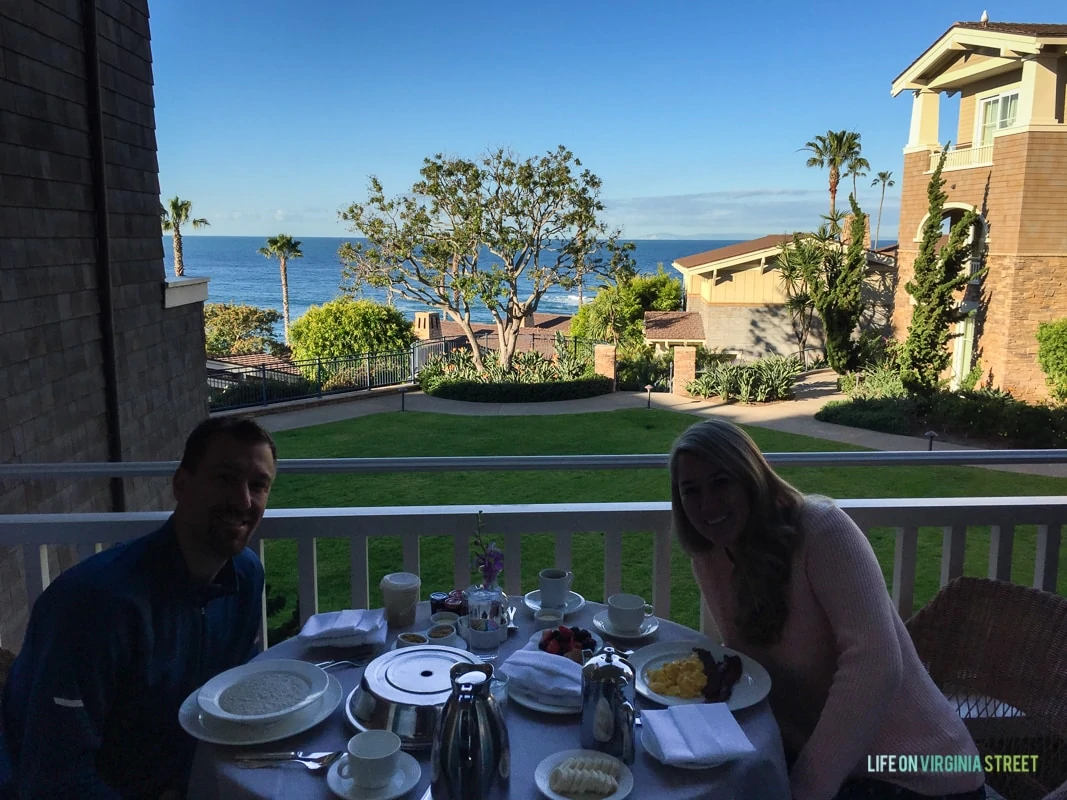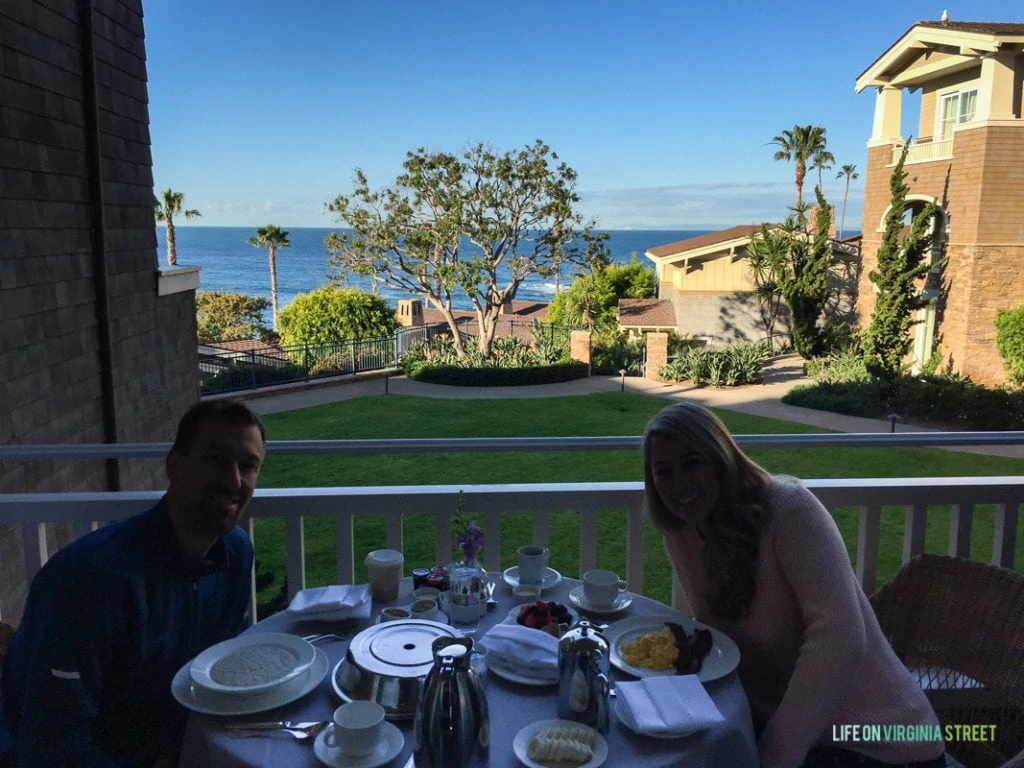 Splashes at Surf and Sand Resort – Splashes was recommended as the best happy hour in Laguna because the food and drinks are great and the views are stunning. It was really windy the day we went (which made it pretty cold out) but we found a sheltered corner with sun and it was absolutely beautiful!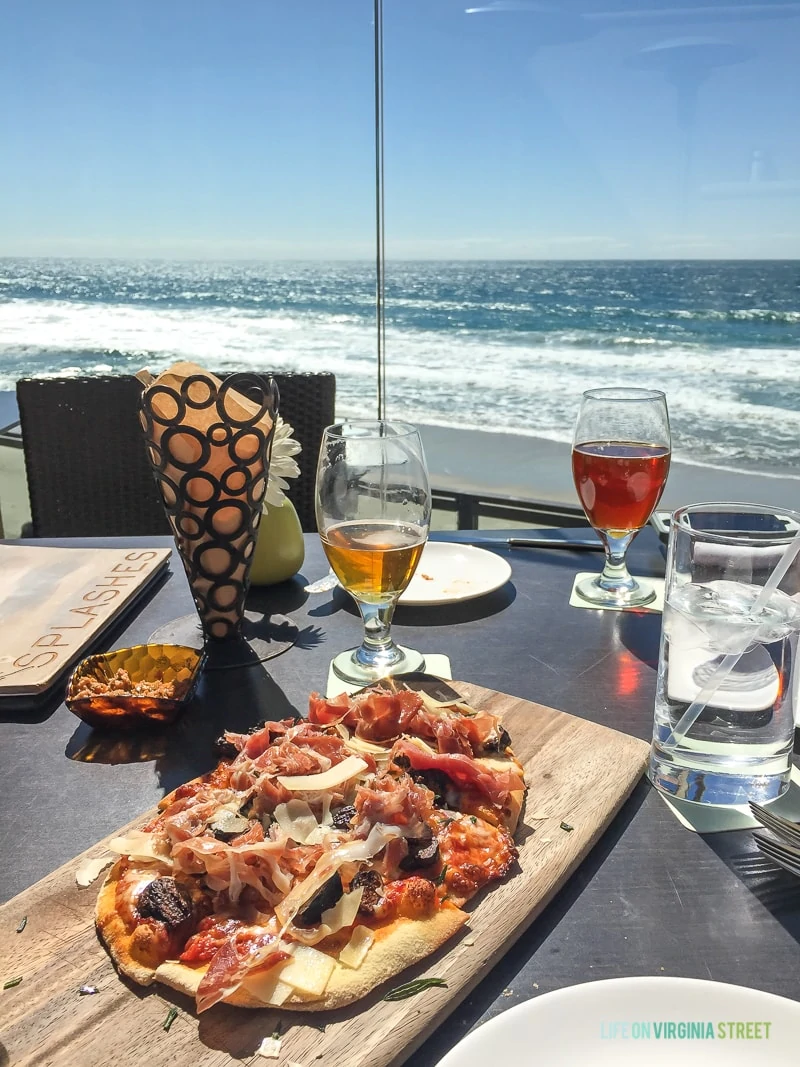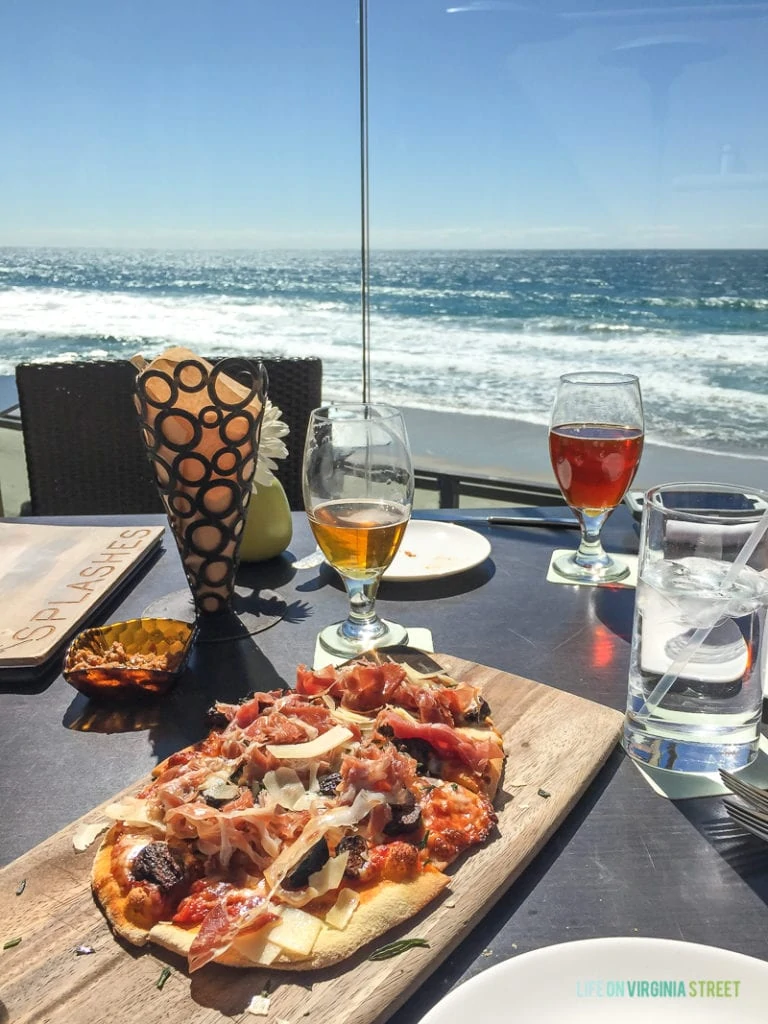 Selanne Steak Tavern – We ate at Selanne Steak Tavern in Laguna with a group of nearly 25 people one of the evenings. Each time we are on this trip, there is one evening that is regional dine-around and we were assigned to go with the west region. We've known most of the west region for over a decade and we always have a so much fun when we're together. I didn't get a great shot of the restaurant but we were on this gorgeous covered patio (they had the enclosures up) and the food was to die for. Kurtis and I both had the surf and turf and we all had so many appies we were stuffed by the time we left. I think all 25+ of us agreed our meal was beyond excellent. Highly recommended for a higher-end dinner out!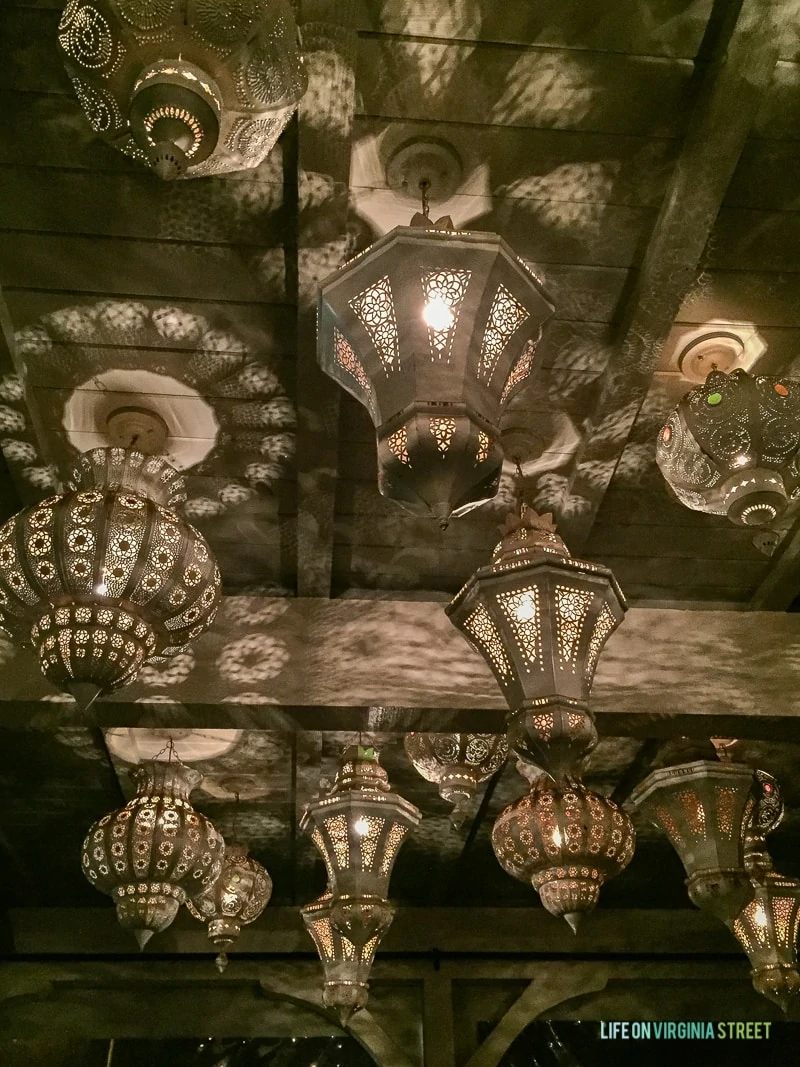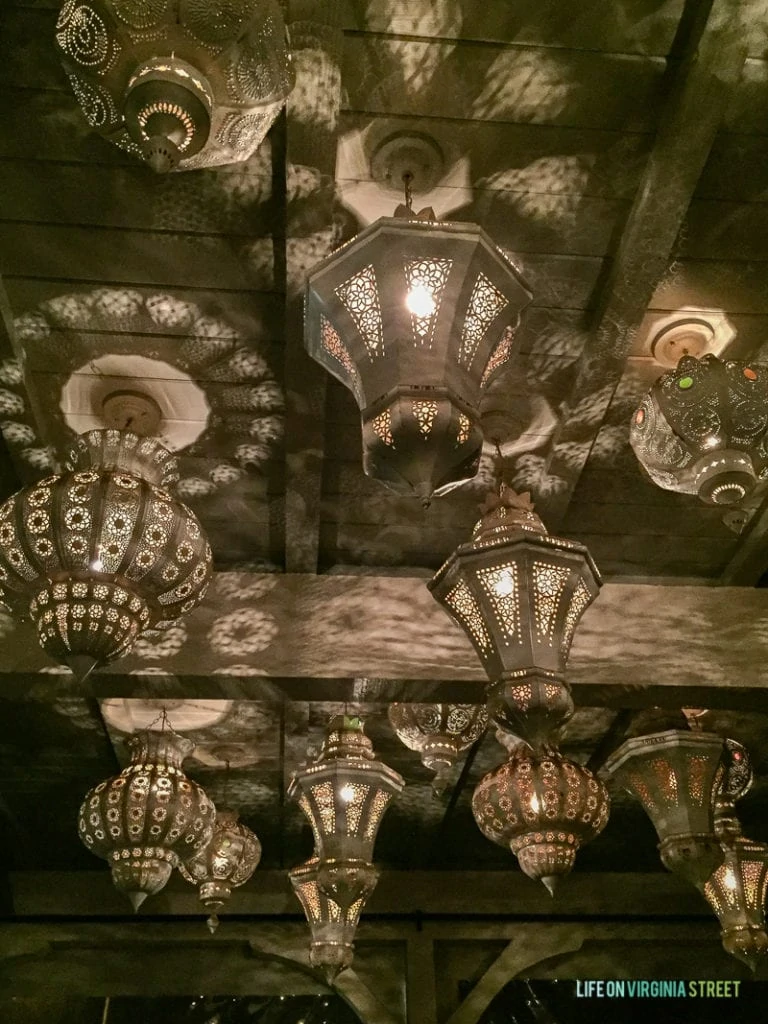 33°N at Monarch Beach Resort – We have friends with a daughter that is the bartender at 33°N so we stopped in to meet her and enjoy a few drinks. Although the resort is not on the beach-side of the PCH, the views were absolutely breathtaking. The resort was rented out exclusively for one convention, and it was pretty clear the vibe was fun. They had a DJ by the pool and had brought in those giant rubber duck pool floats you see in the distance.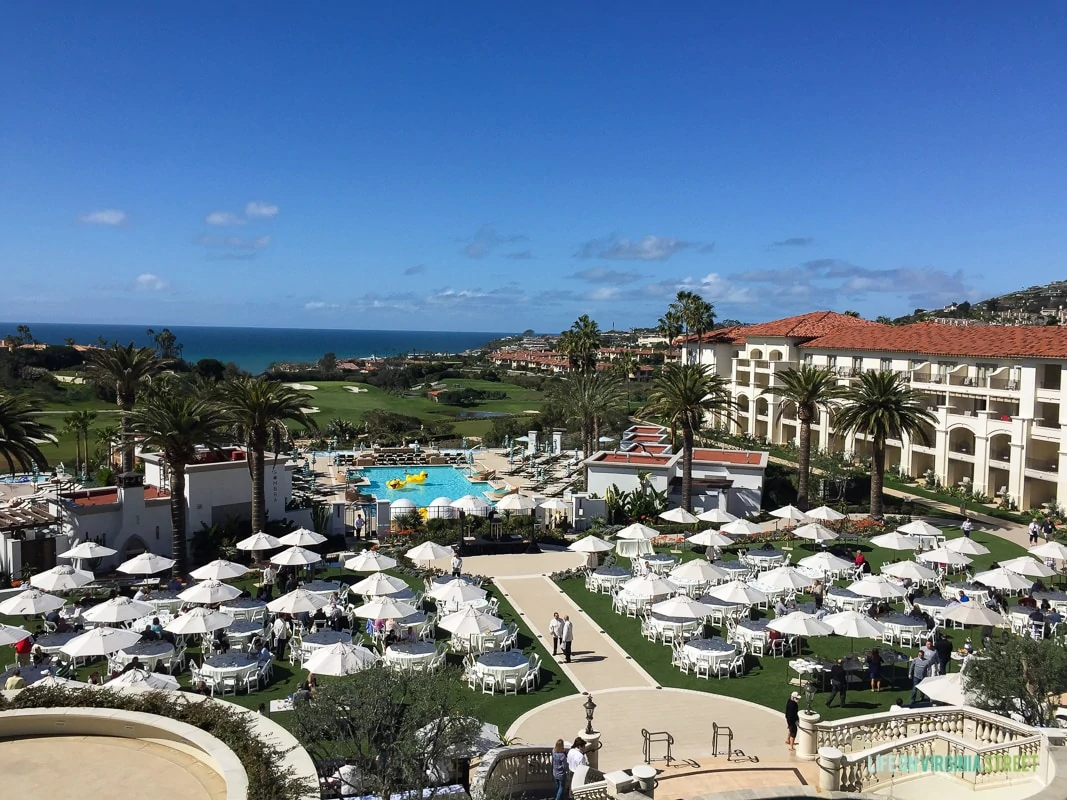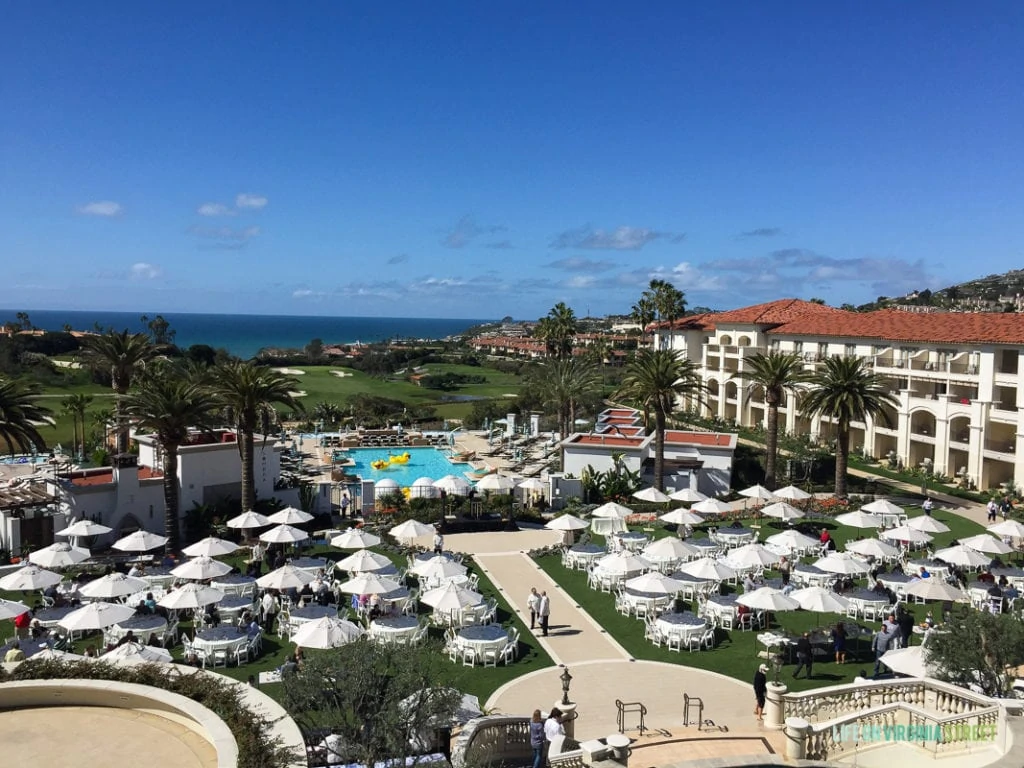 We had the delicious dragon fruit mules – so good and highly recommended!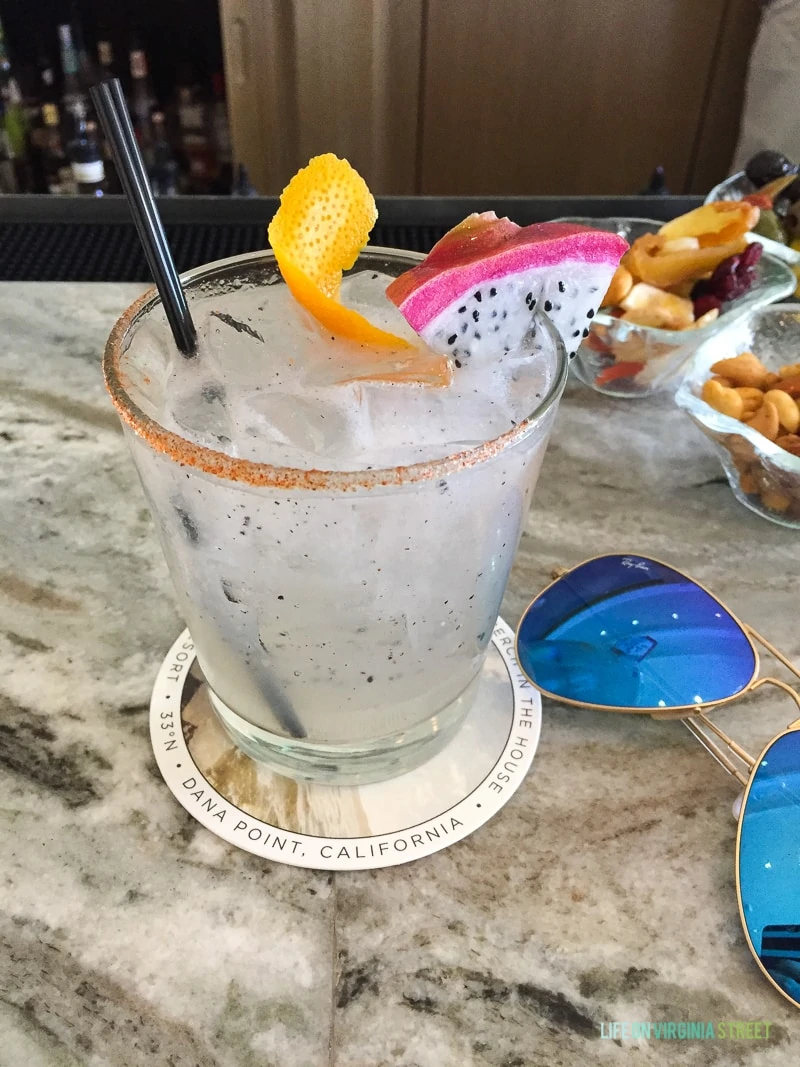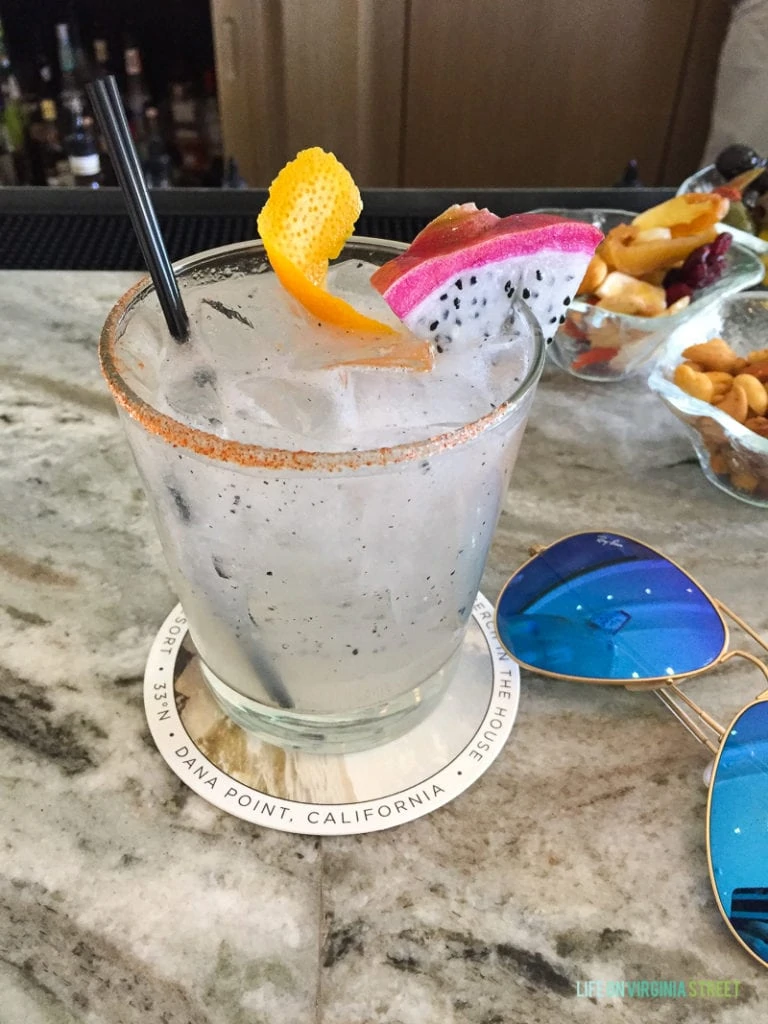 I really loved this chair in the lobby!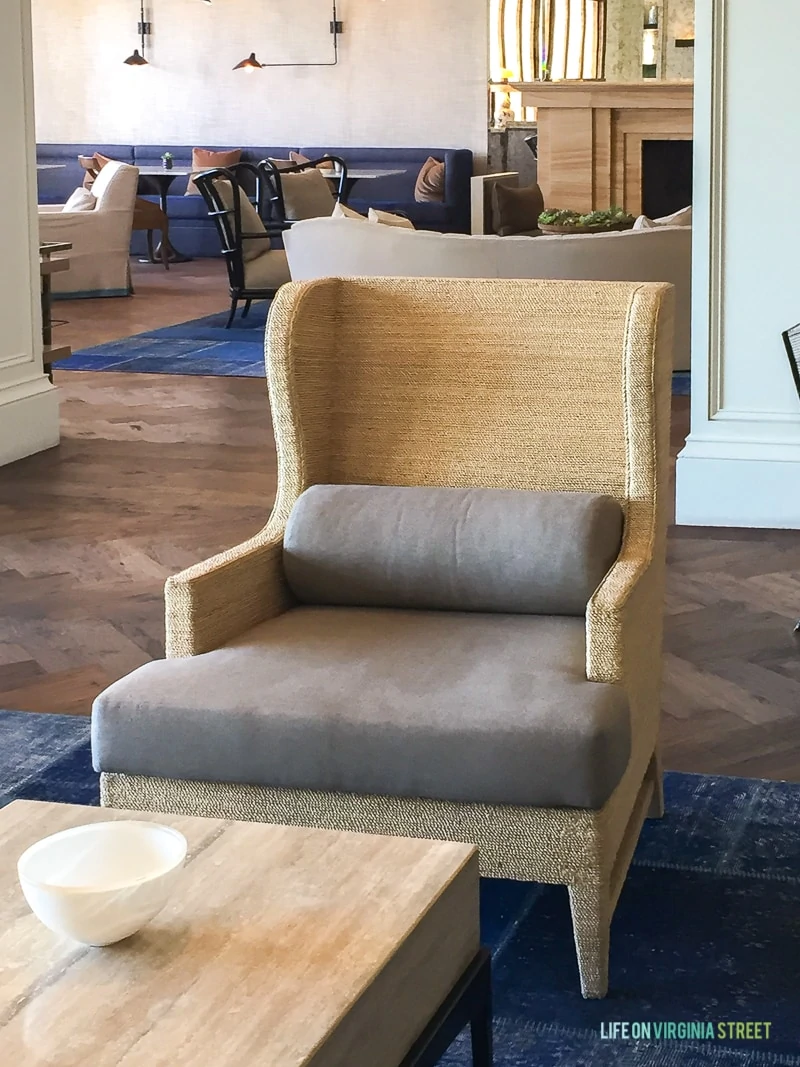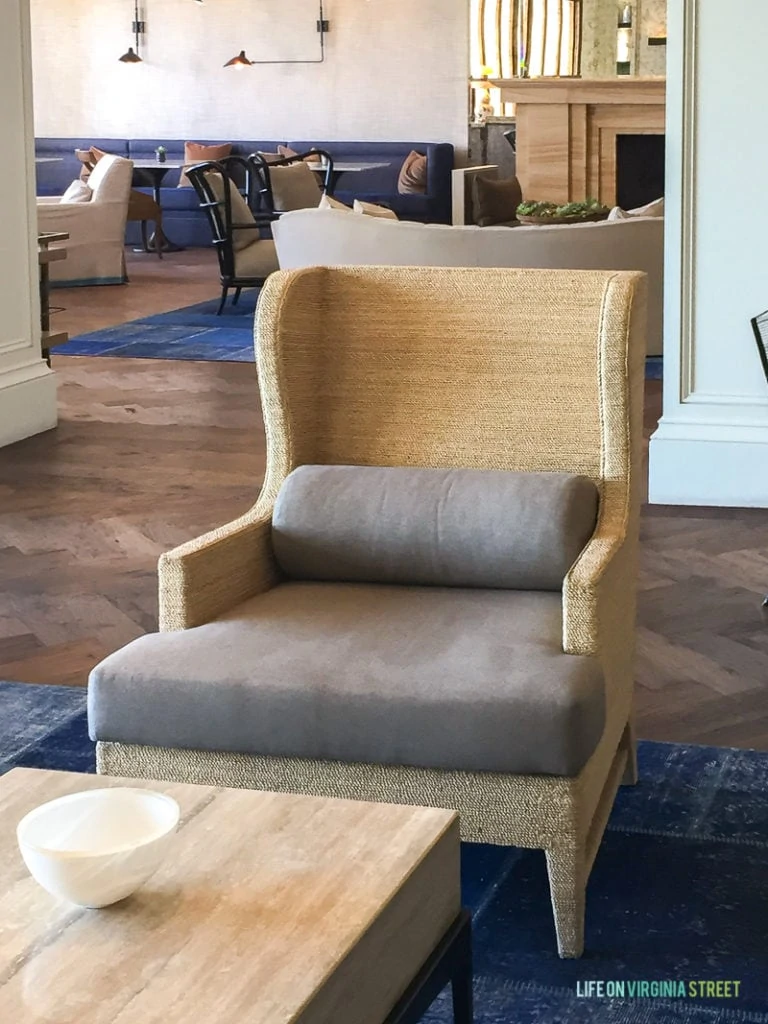 Lighthouse Balboa Cafe – an excellent spot for brunch! There are views of the marina and the food and drinks were amazing! The decor and overall vibe were appealing, as well. Kurtis ordered the bread pudding French toast and said it was one of the best things he had ever eaten.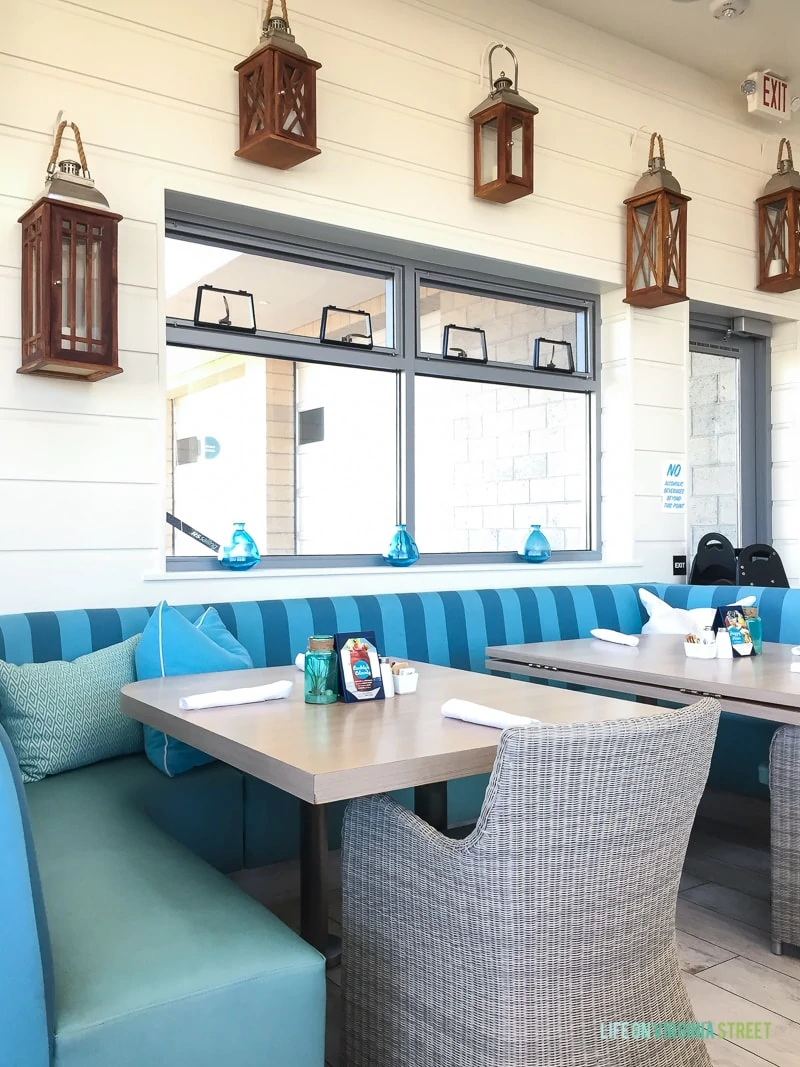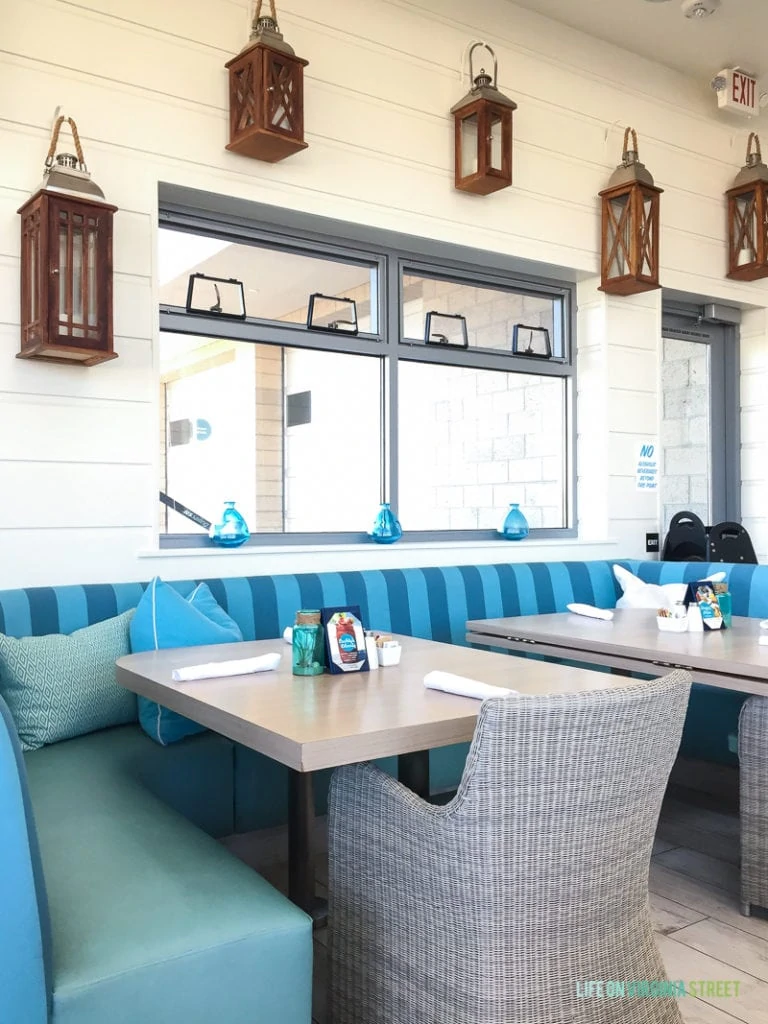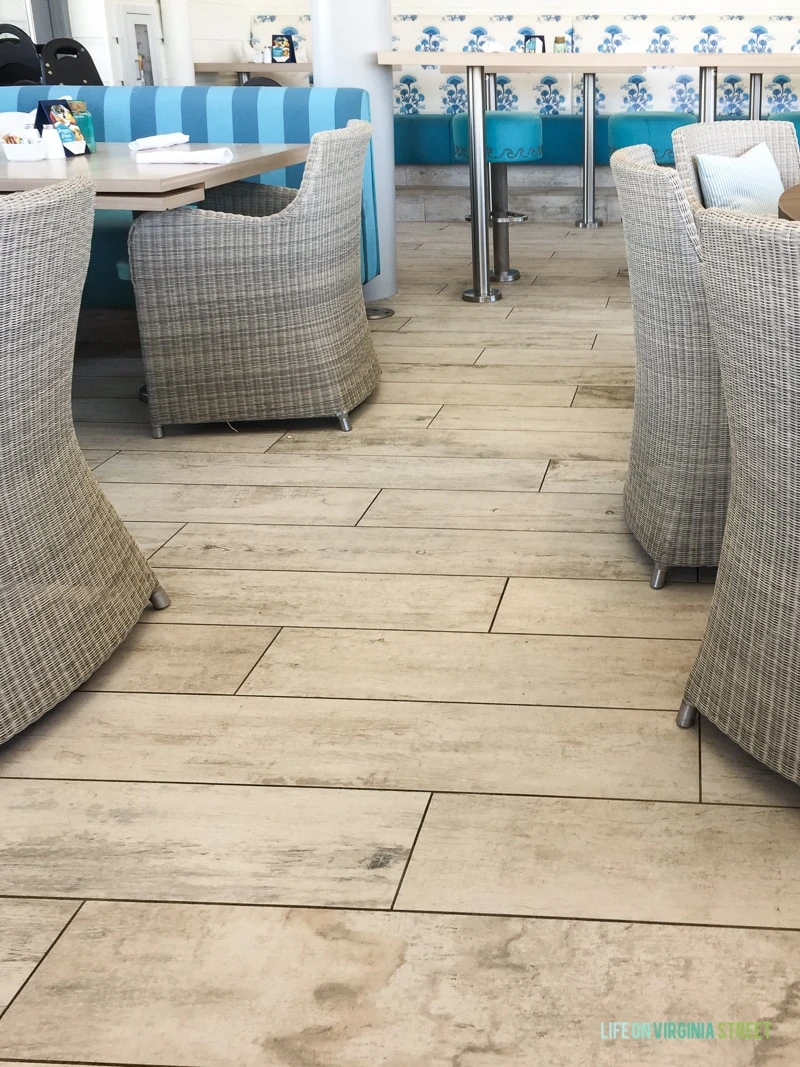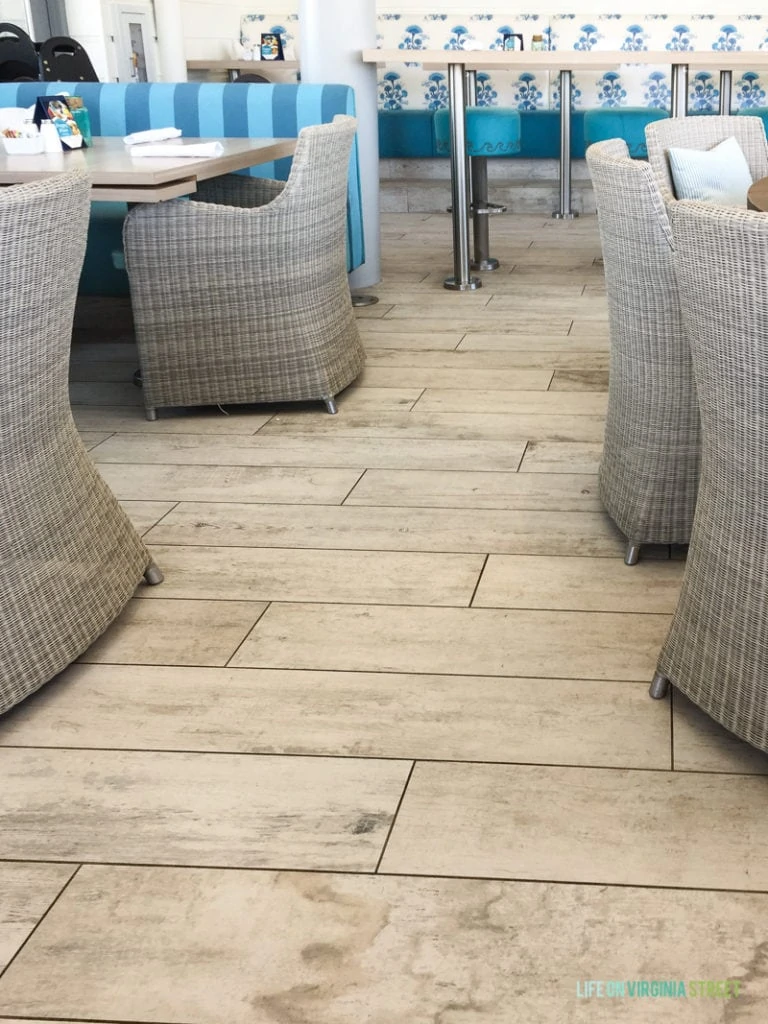 Hopdoddy – This meal was a last minute decision as we were shopping at Fashion Island. However, the burgers and beer were incredible. It's a farm-to-table style restaurant and the burgers were rather killer. Our only complaint was that they allowed dogs on the patio at the tables. It wouldn't have been a huge deal but the table next to us made the mistake of feeding their dog a bit of burger – and then seemed shocked that he barked the entire meal asking for more. It didn't make for the most relaxing lunch 😉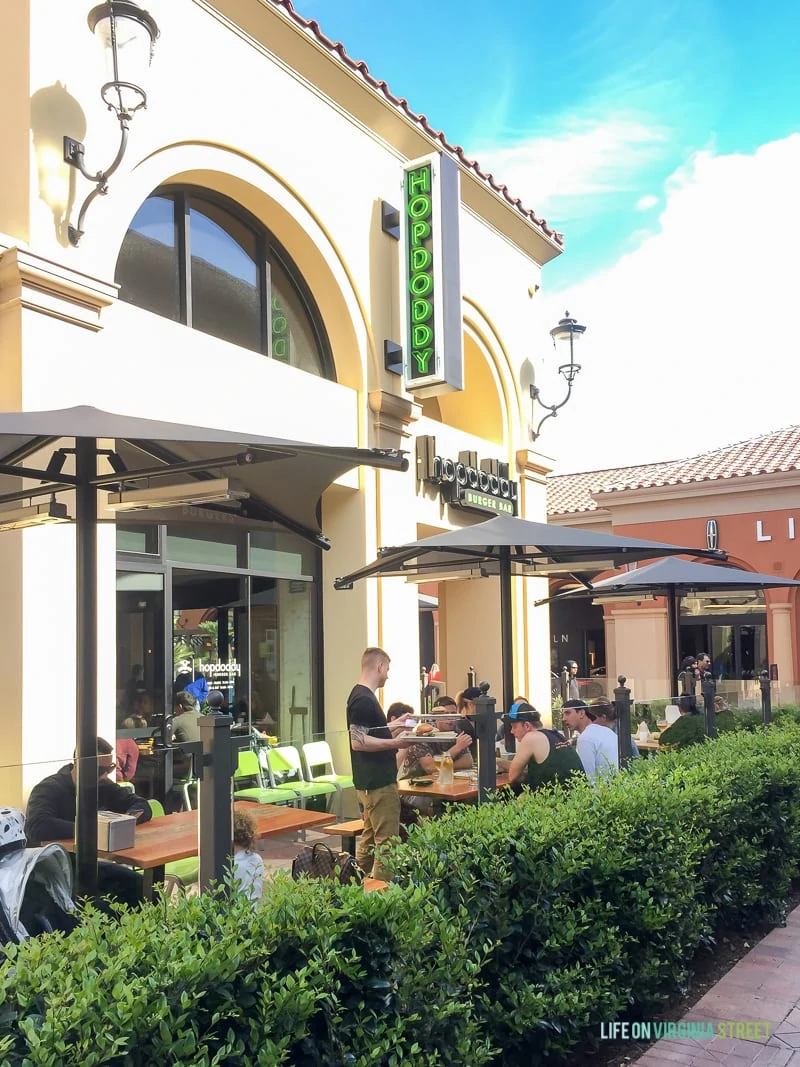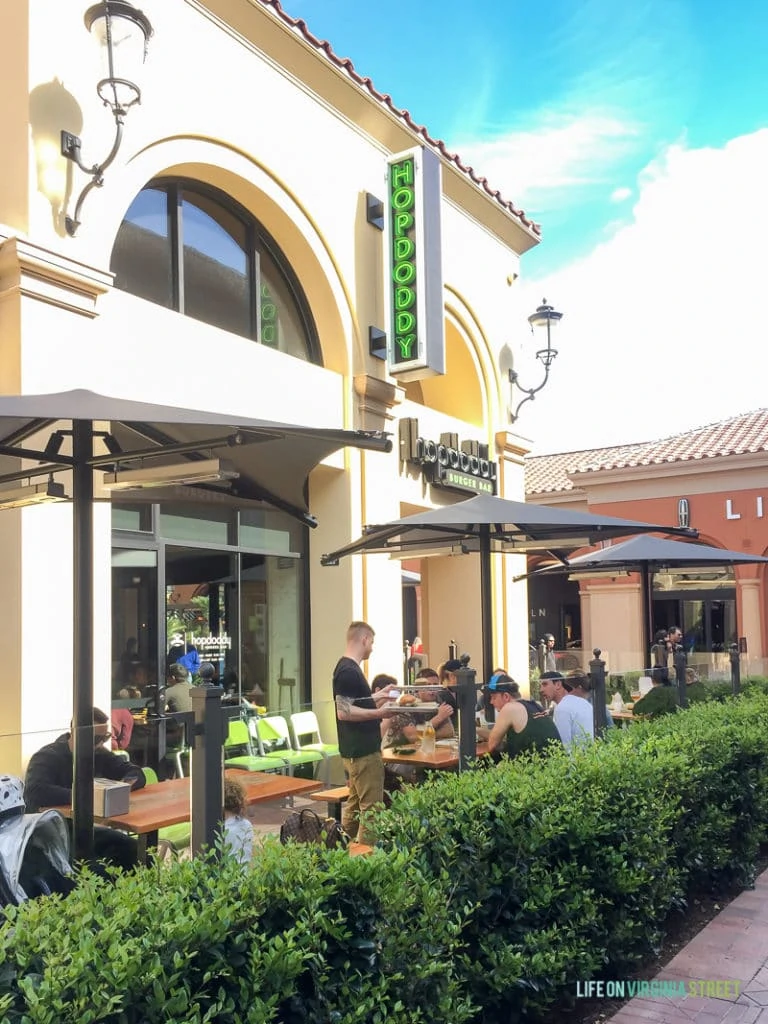 One of the days we actually drove down to San Diego because Kurtis wanted to do a craft beer tour. We made three stops and loved every single one for different reasons!
Green Flash Brewing – When we pulled up, we honestly thought we went to the wrong brewery (for the second time that day). It looked like a big commercial space and not somewhere you'd actually go to test the beer. But, the good news is, we found the right place! We loved that Green Flash had four sizes of beer to order, and after our first round, we quickly realized it was best to go with tiniest size so you could taste more (and at a fraction of the cost). They had a small beer garden outside off to the side of the building and it filled up quickly after we arrived (shortly after it opened). It sounds like food trucks frequently show up as well to serve meals to those that want them.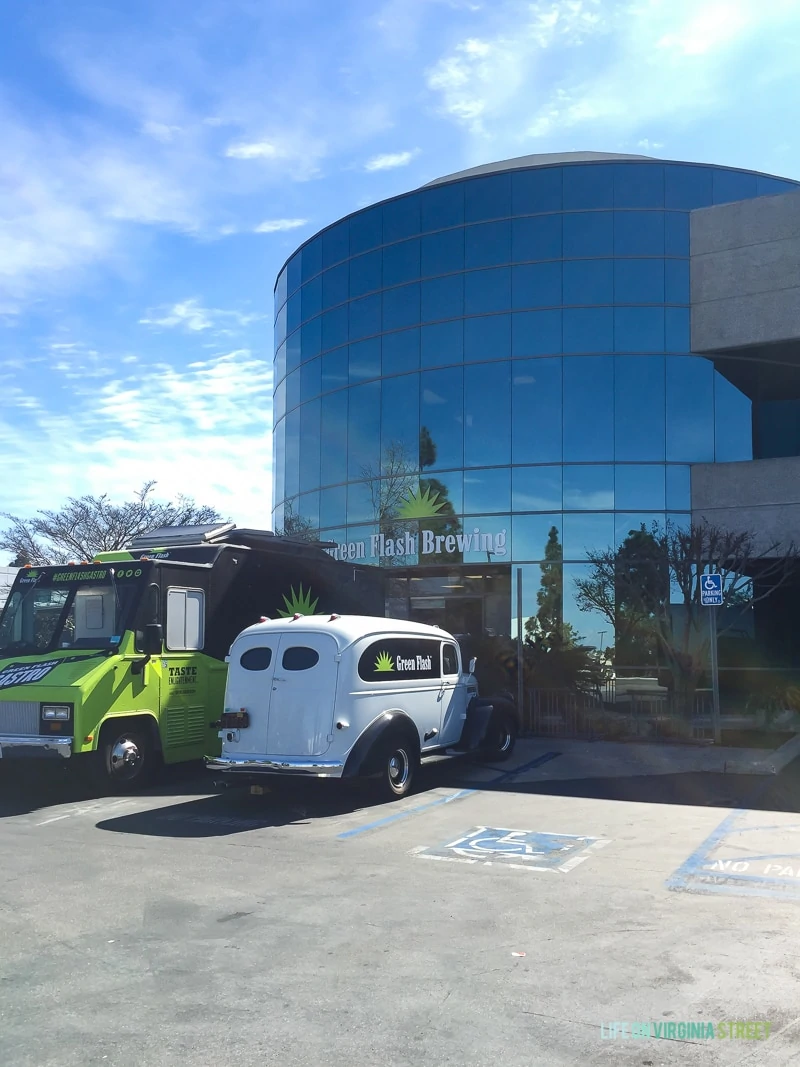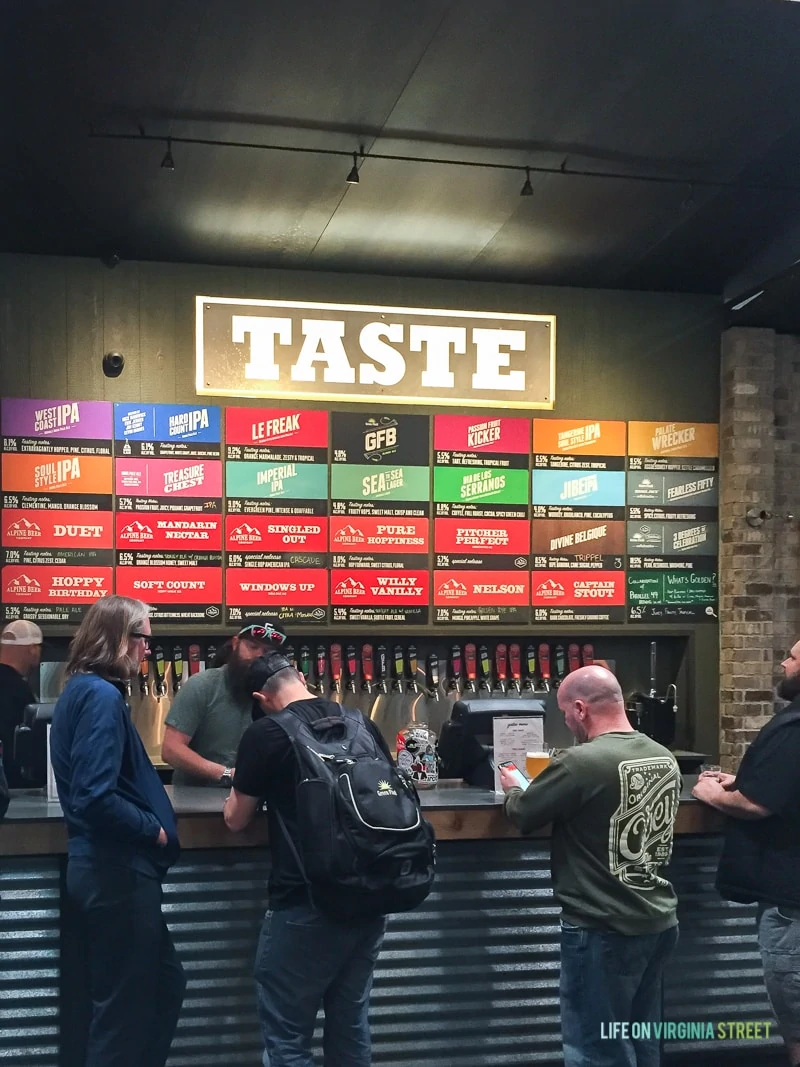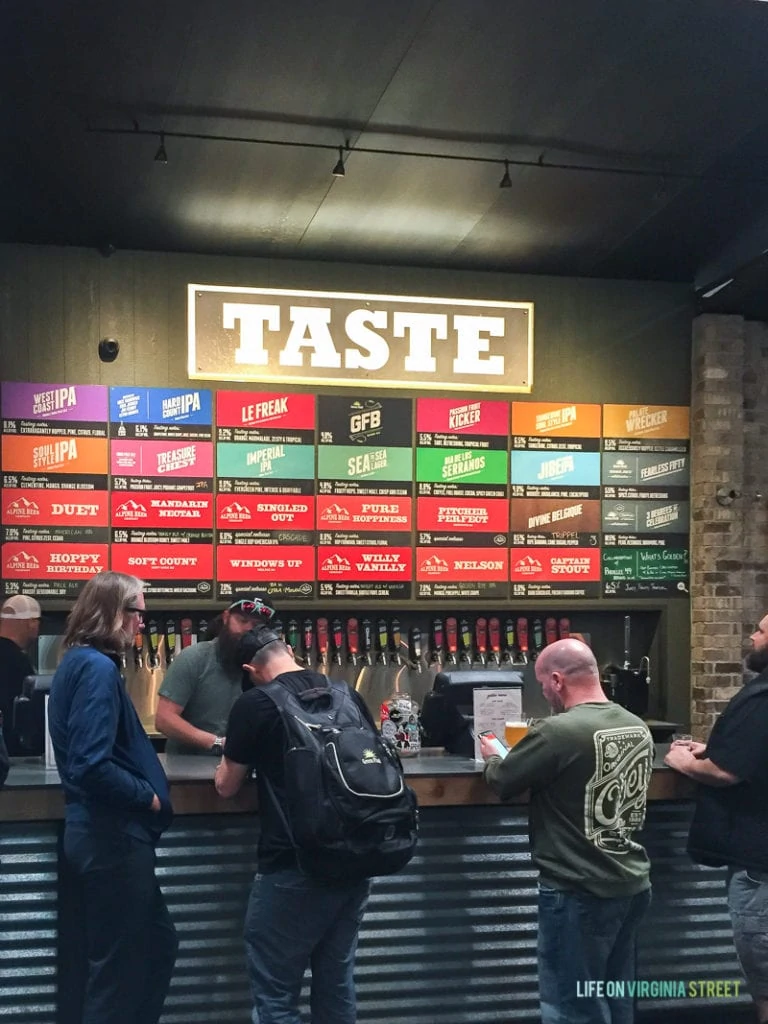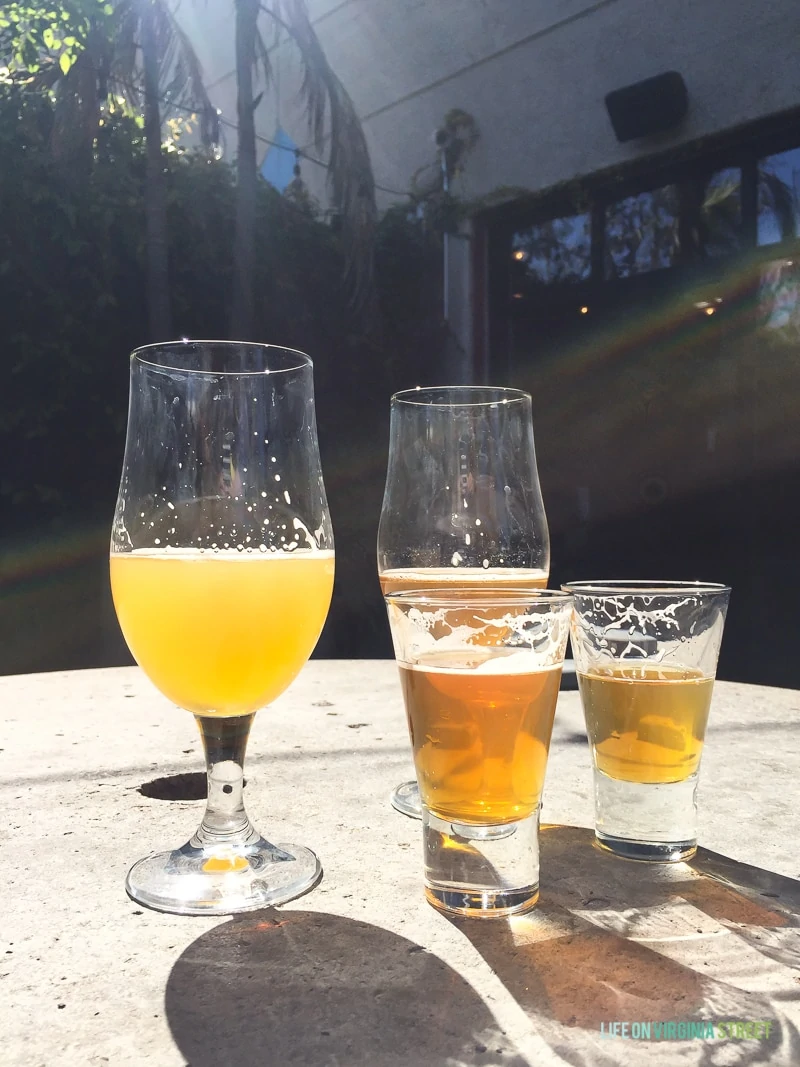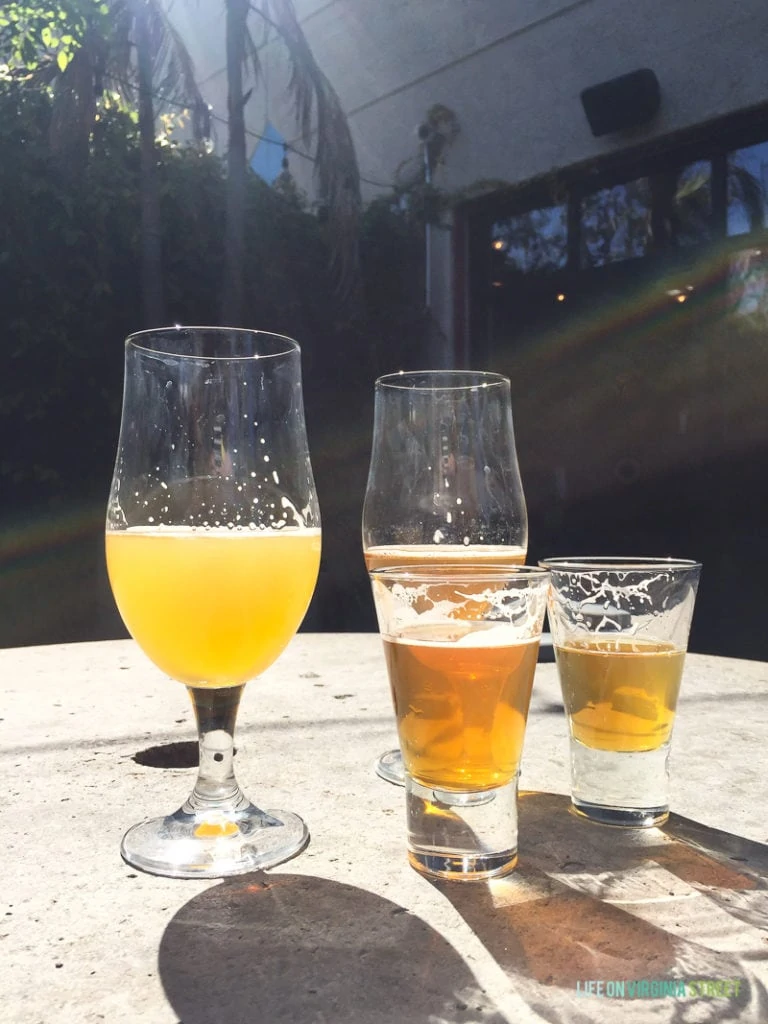 I took a picture of this door because it's actually a garage style door that rolls up into the ceiling, but also has a working door in the colder months. Pretty genius!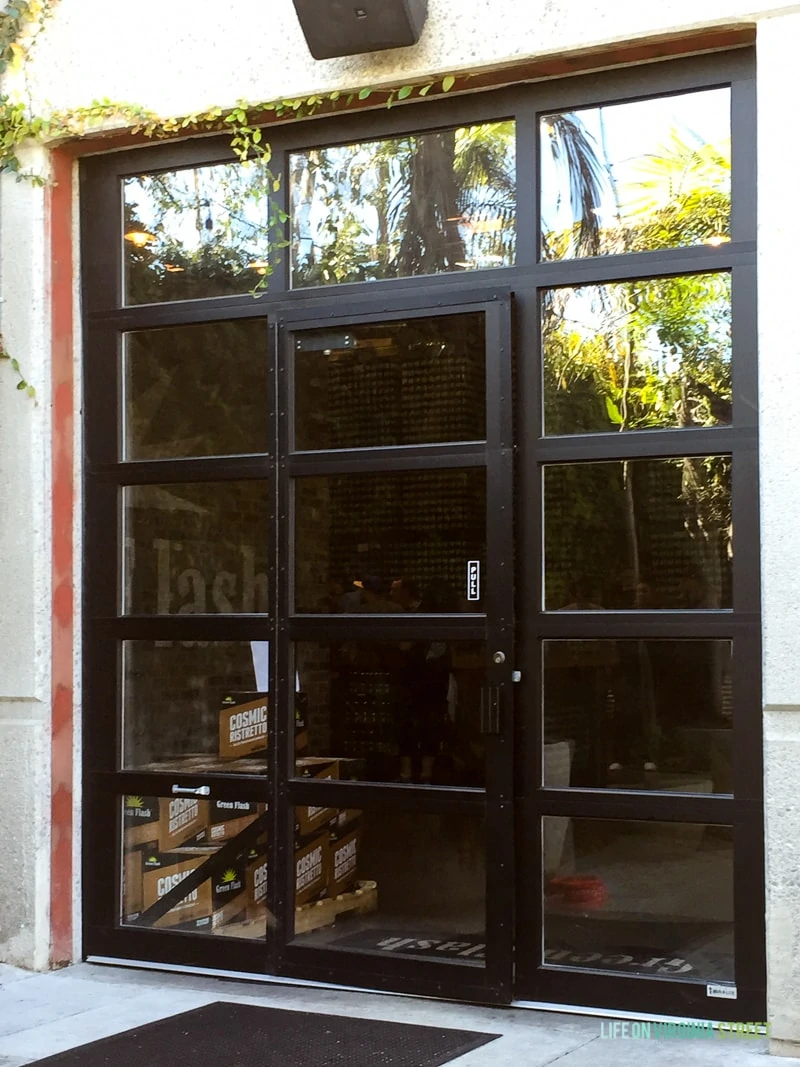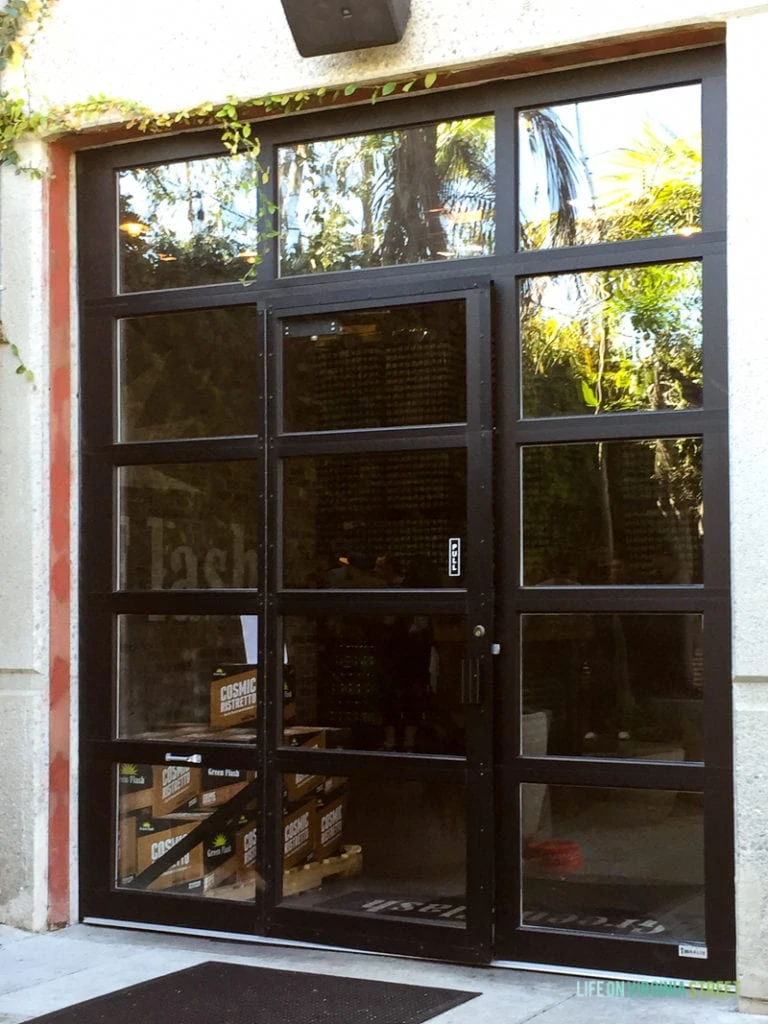 Stone Brewing – So, we actually drove all the way to San Diego on accident, thinking we knew which Stone location we were going to (we were there nearly 10 years ago). Turns out we were wrong. It ended up taking us nearly an hour extra, but it was fun to drive around! The Stone Brewing location in Escondido is our favorite and is in the middle of a lot of action. However, they have this gorgeous forest-like space built up around the perimeter and is such a cool location to hang out for an hour or two! This is one of only two pictures we have together from the whole trip. I need to start getting better about this!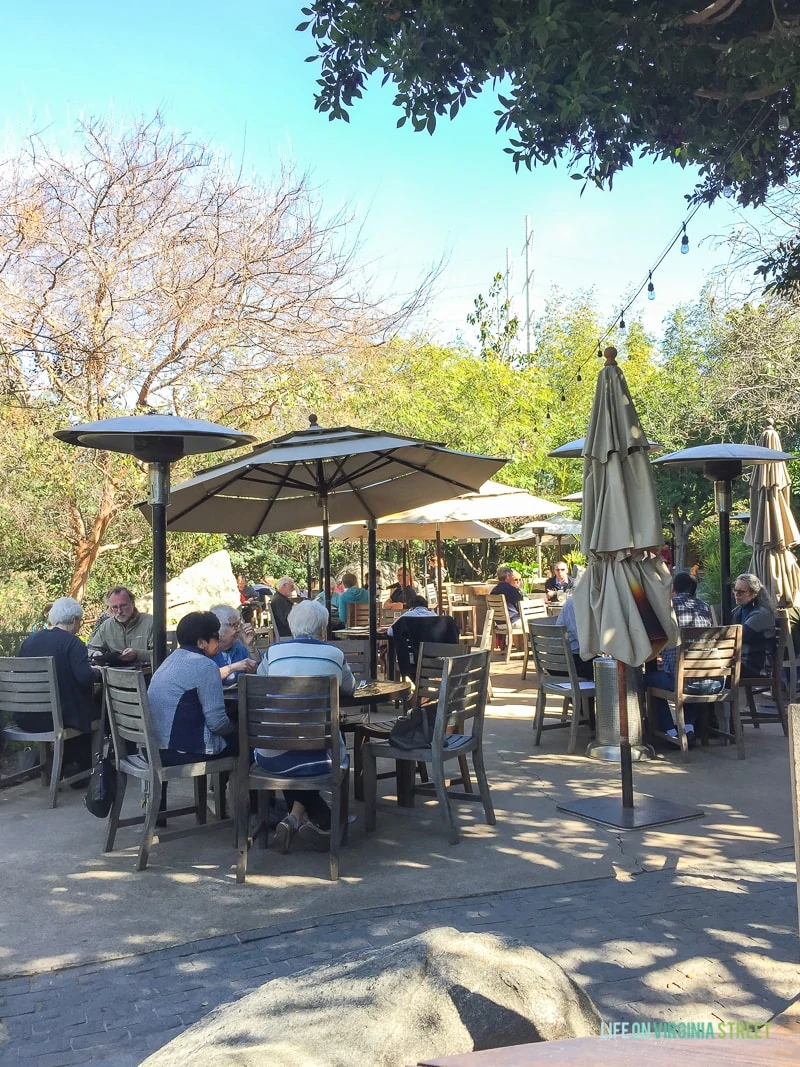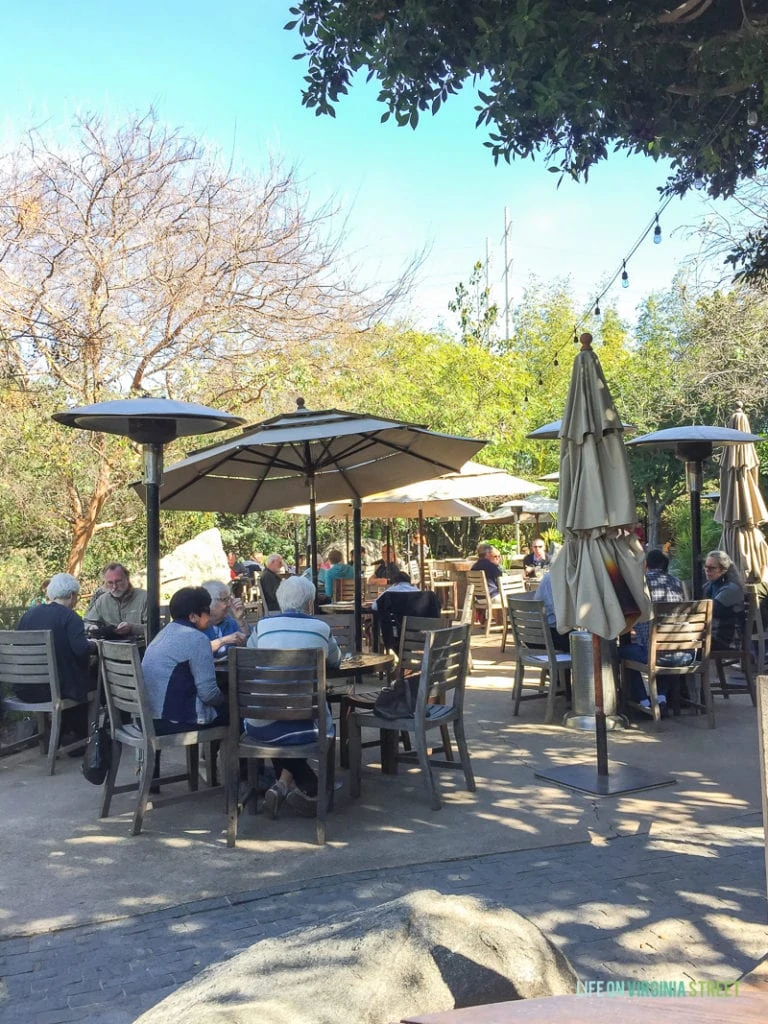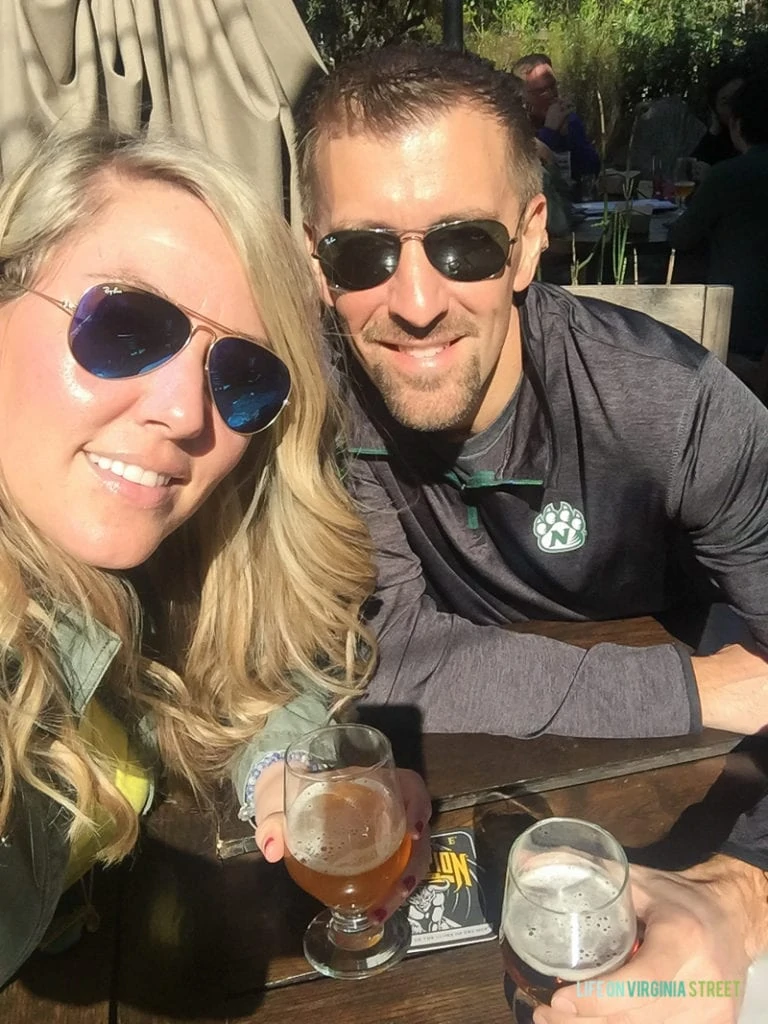 Pizza Port in Solana Beach – This was our last stop down south. It was funny because Kurtis and told me about it from a prior trip he had been on and said he loved it and maybe we should try and find it. As we were talking about it, my friend Chelsea saw one of my Instagram stories and said we were fairly near to one of her all-time places. Turns out – they were talking about the same place! So we obviously had to make it happen. The local craft beer selection was great and the pizza was crazy good. The atmosphere is very relaxed with picnic tables, arcade games, a jukebox and a younger crowd. We loved it!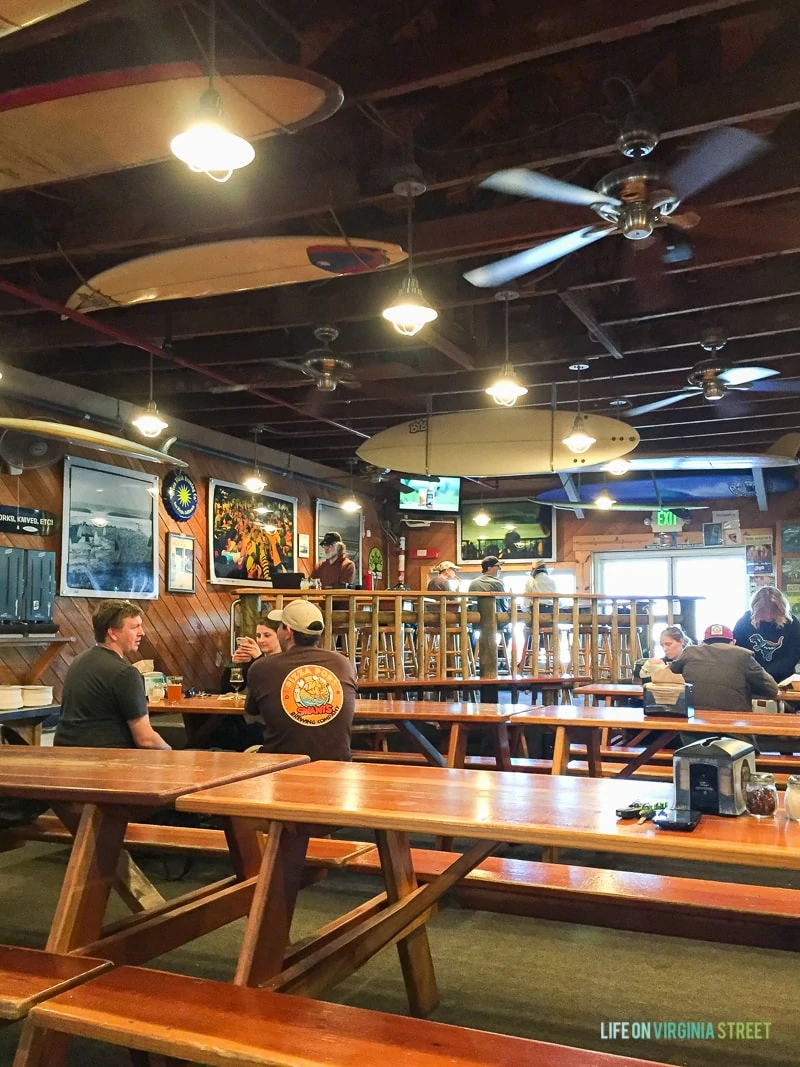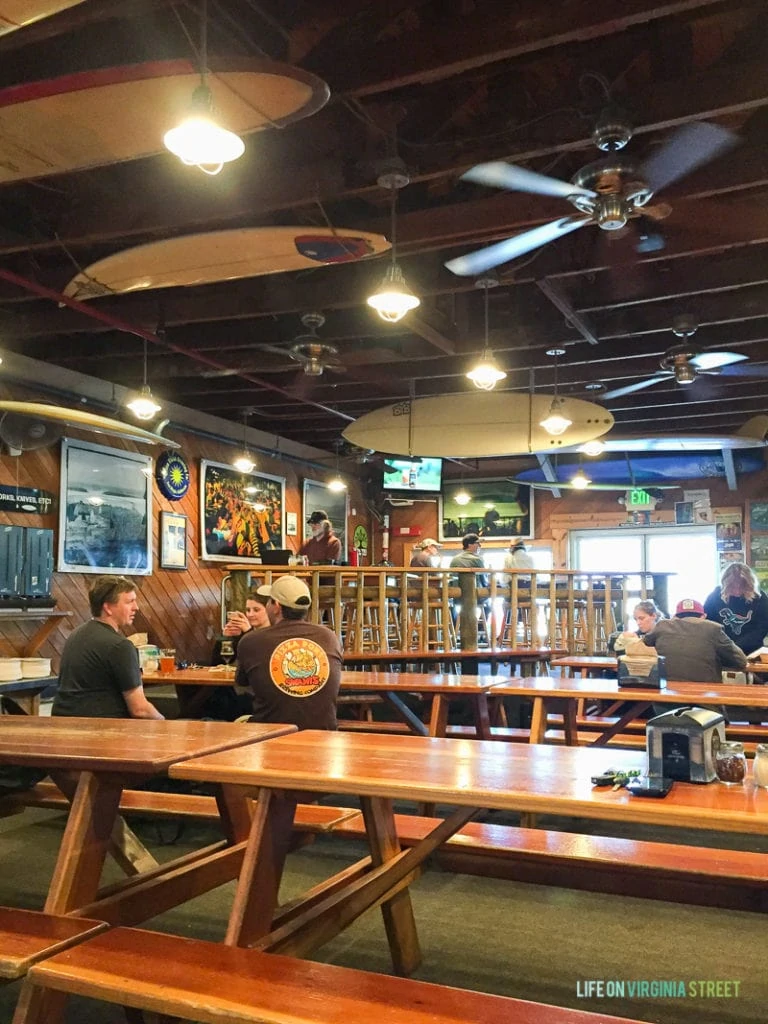 Where we shopped
I was excited to hit up some of the home decor stores I had heard of from other bloggers, and they didn't disappoint!
Tuvalu – This is a relatively small shop but I loved literally every single decor item they carried. They offer everything from furniture to pillows to my favorite candle. Everything has a coastal vibe and is full of neutrals, blue and greens.  The ladies working were super friendly and helpful and it was a great start to our day of home decor shopping!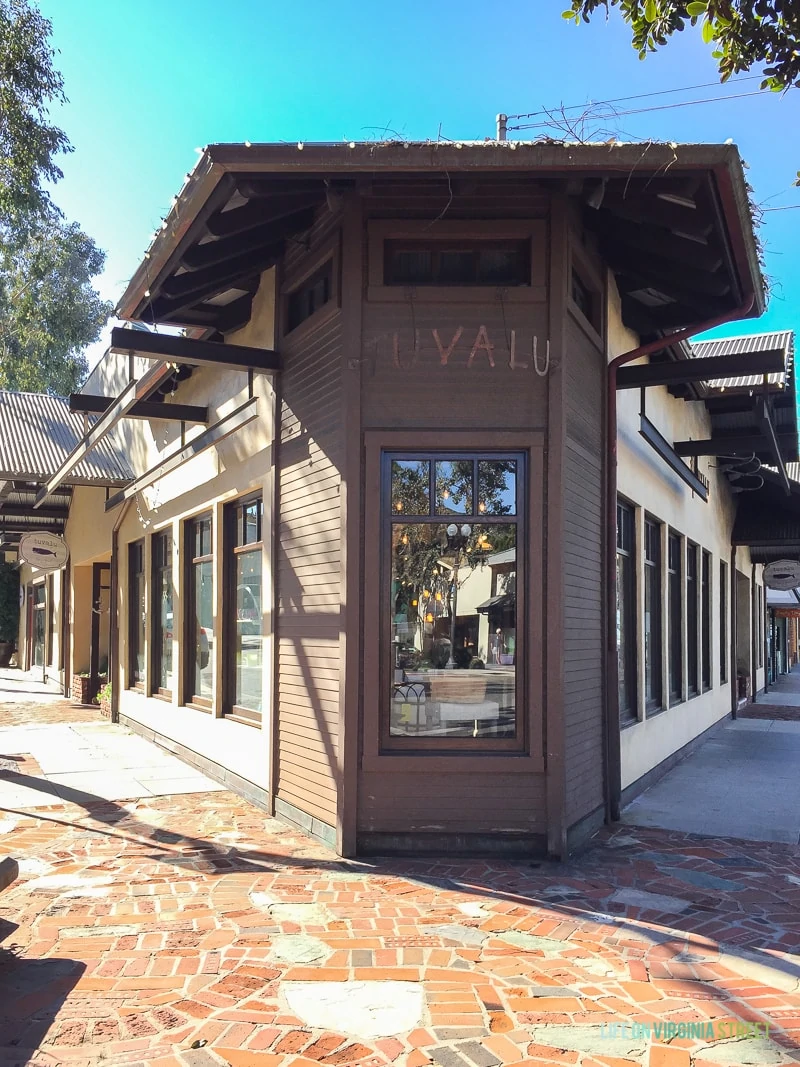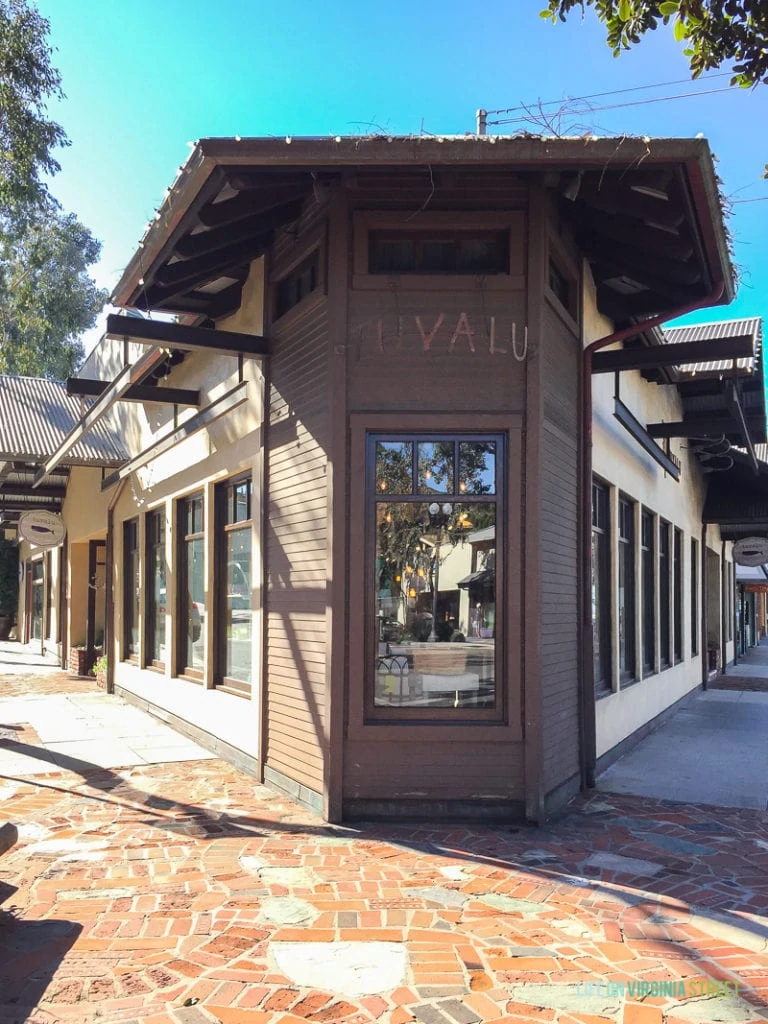 Juxtaposition Home – This store is absolutely stunning and full of so many gorgeous displays. But it is really pricey, especially to someone that loves HomeGoods prices. The style is coastal, mixed with boho, mixed with a French vibe. It's worth stopping just to be inspired and because they do have many items at decent pricepoints. This is where I picked up many of the gorgeous glass beads I shared a few weeks ago.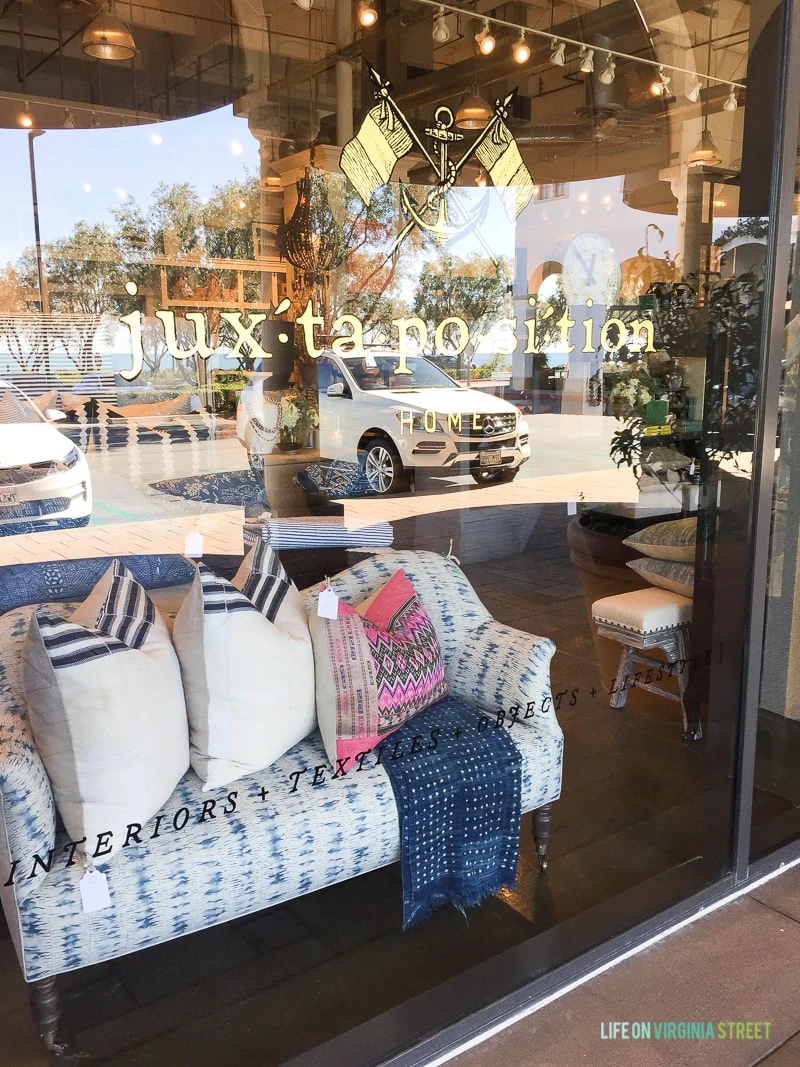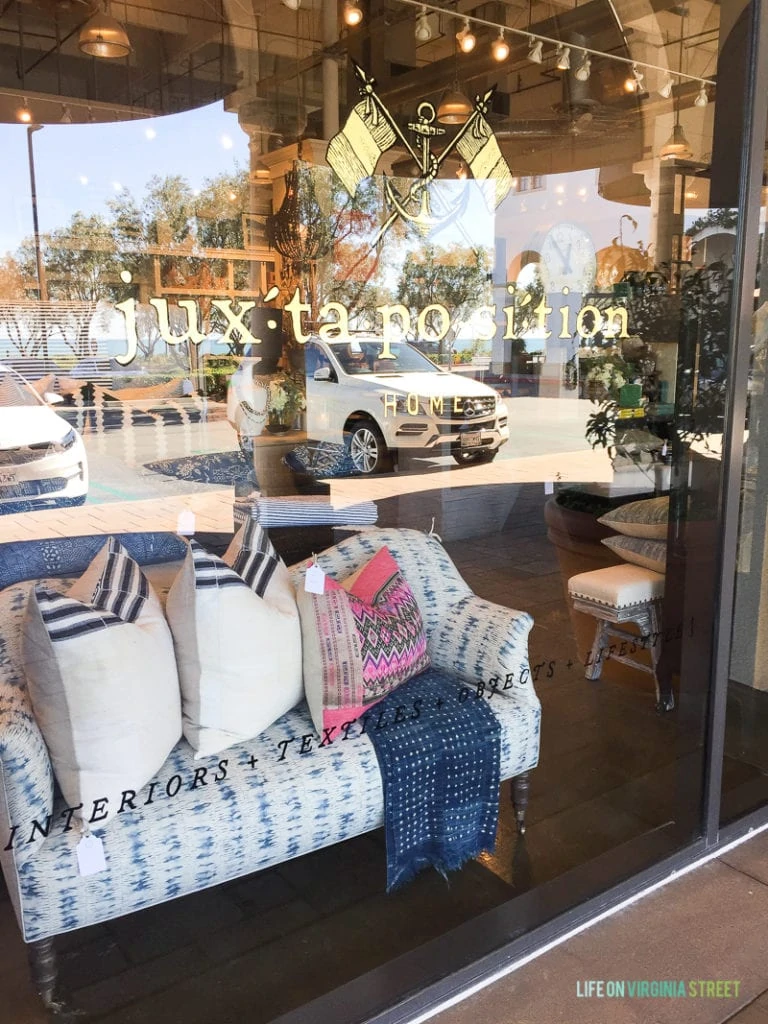 Bliss Home & Designs – Another beautiful store with a coastal vibe. This one felt more interior-design-firm-y versus retail store (even though it is definitely a retail store)  but I still enjoyed it!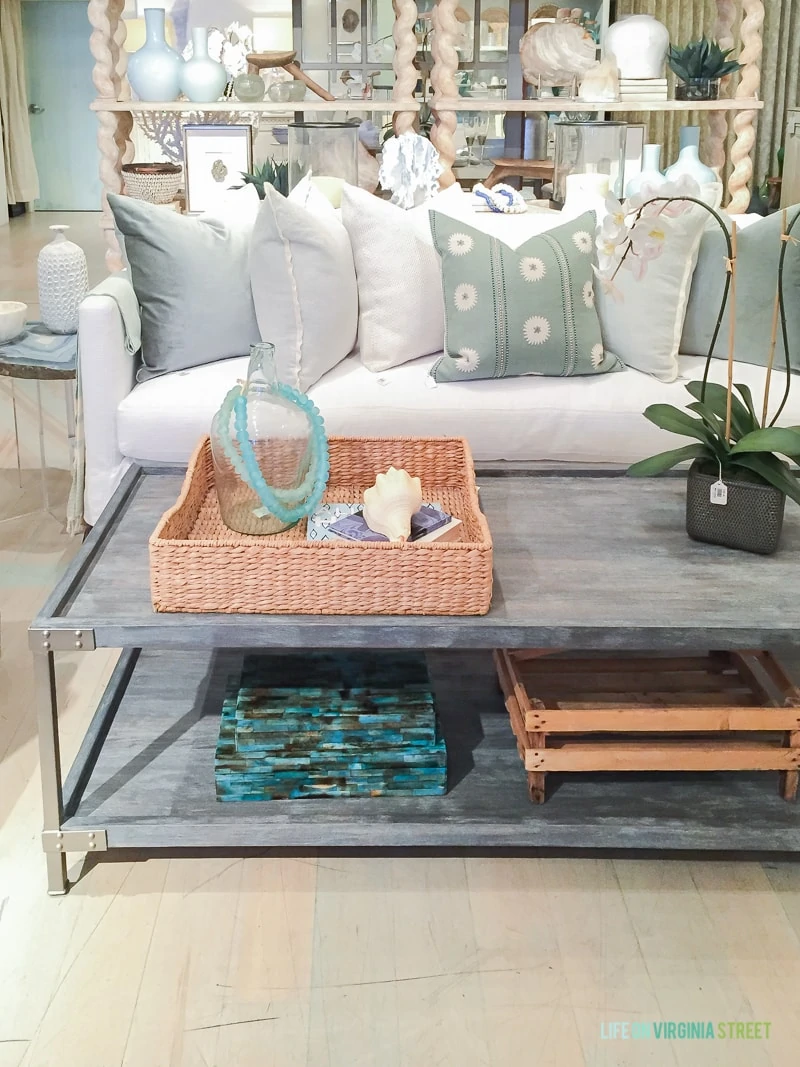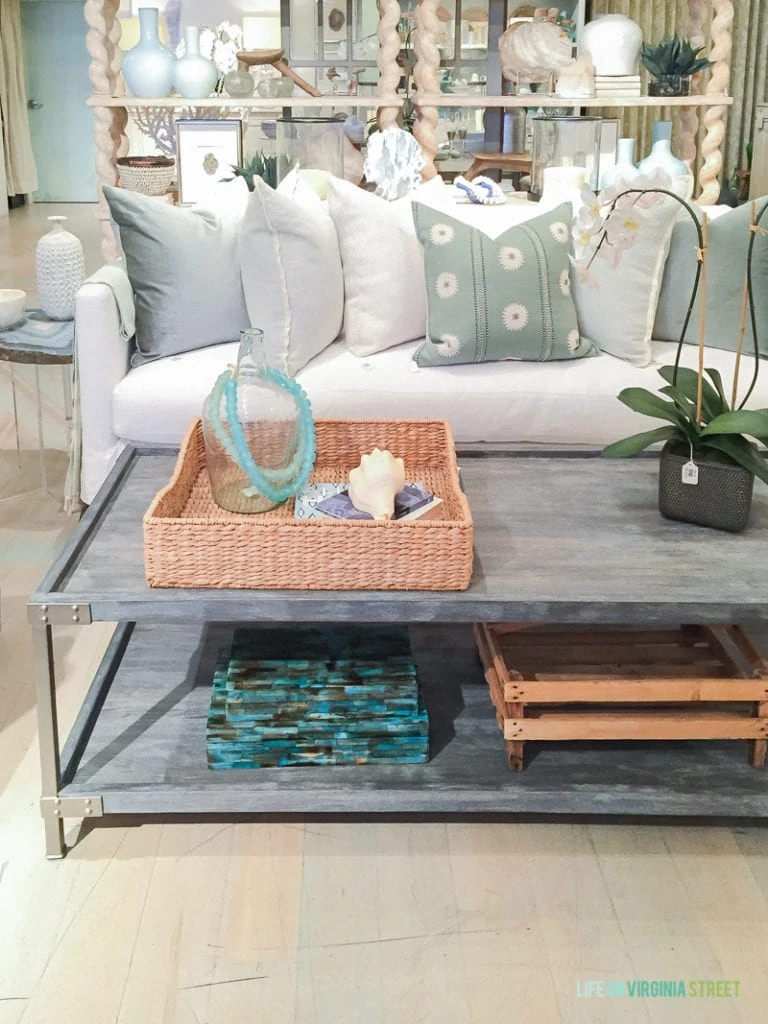 Serena & Lily at Lido Marina – Although I didn't buy much, one of my favorite shops visually was Serena & Lily at Lido Marina (Newport Beach). This area is still a bit under construction, but it's pretty clear, the design was well thought out and the area is going to be beautiful! The shop, although rather small, was filled with inspiration and I couldn't get enough of the outdoor area. I think I took more pictures at this store than I did anywhere else on our trip.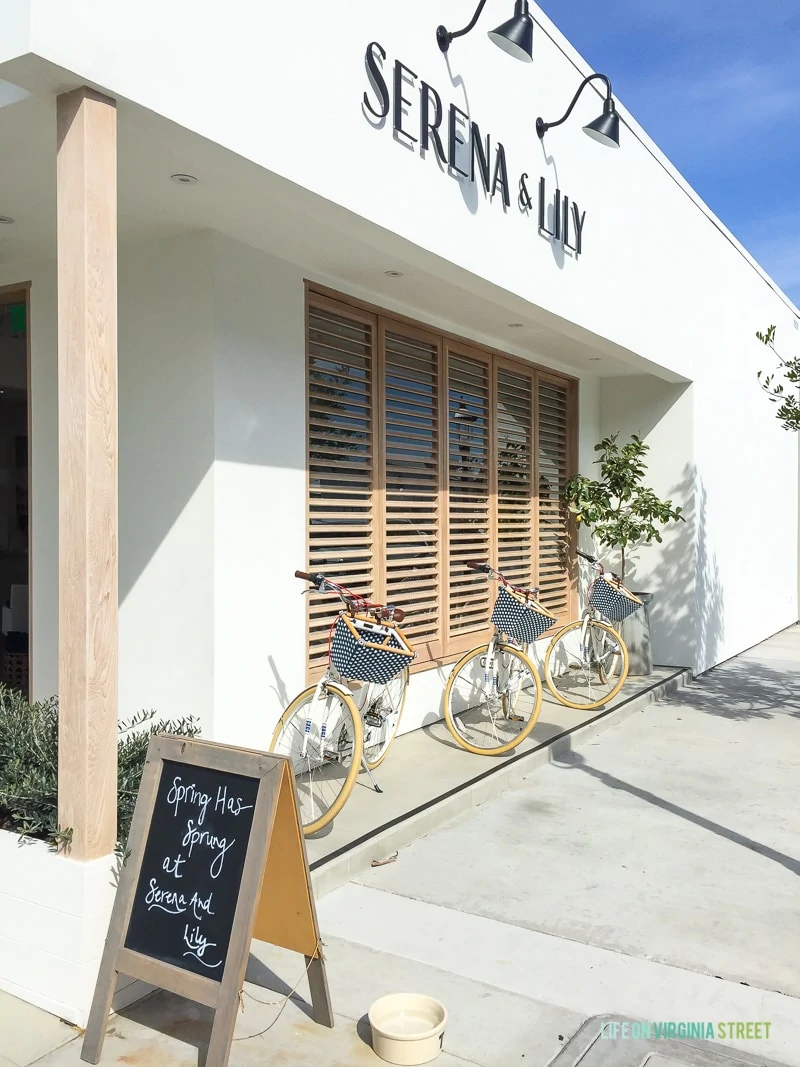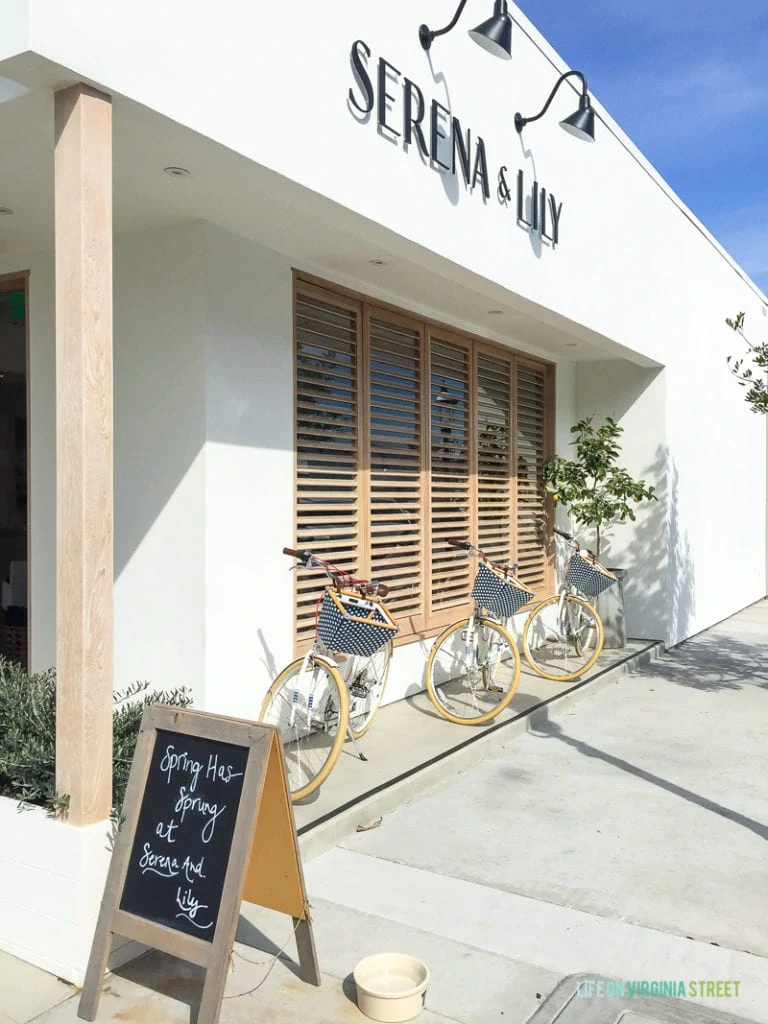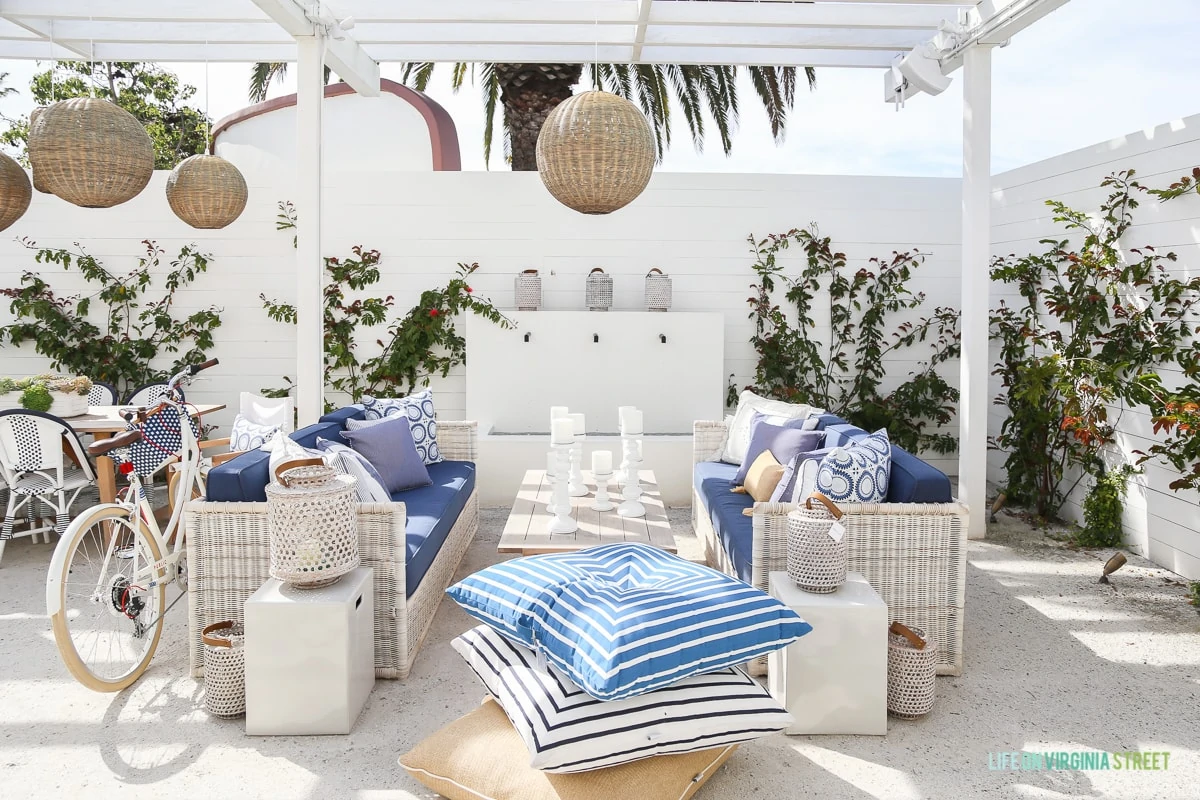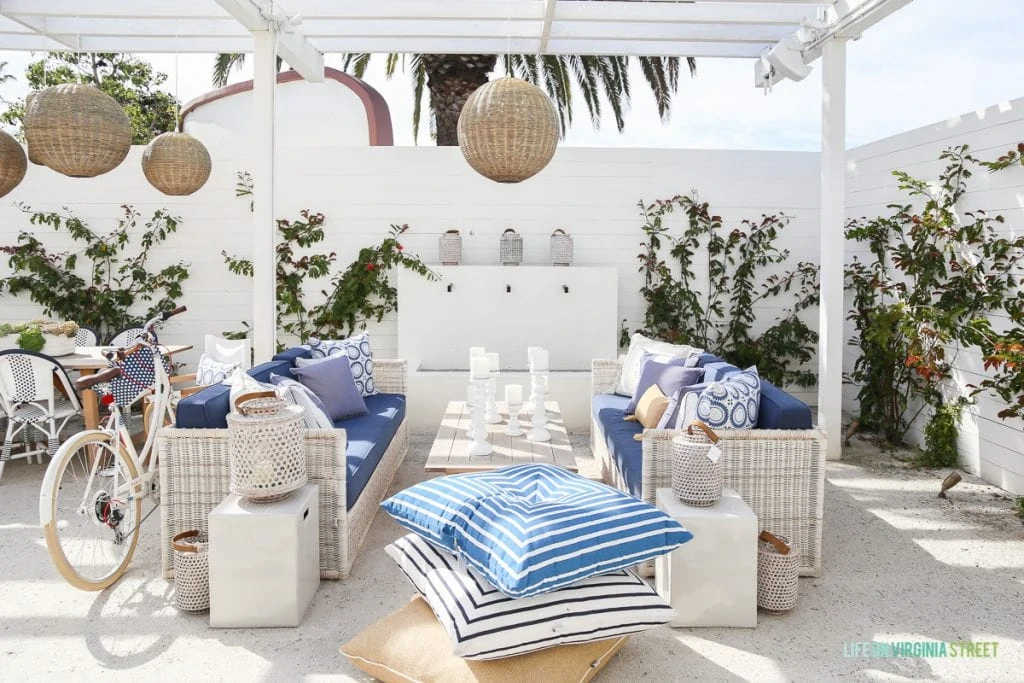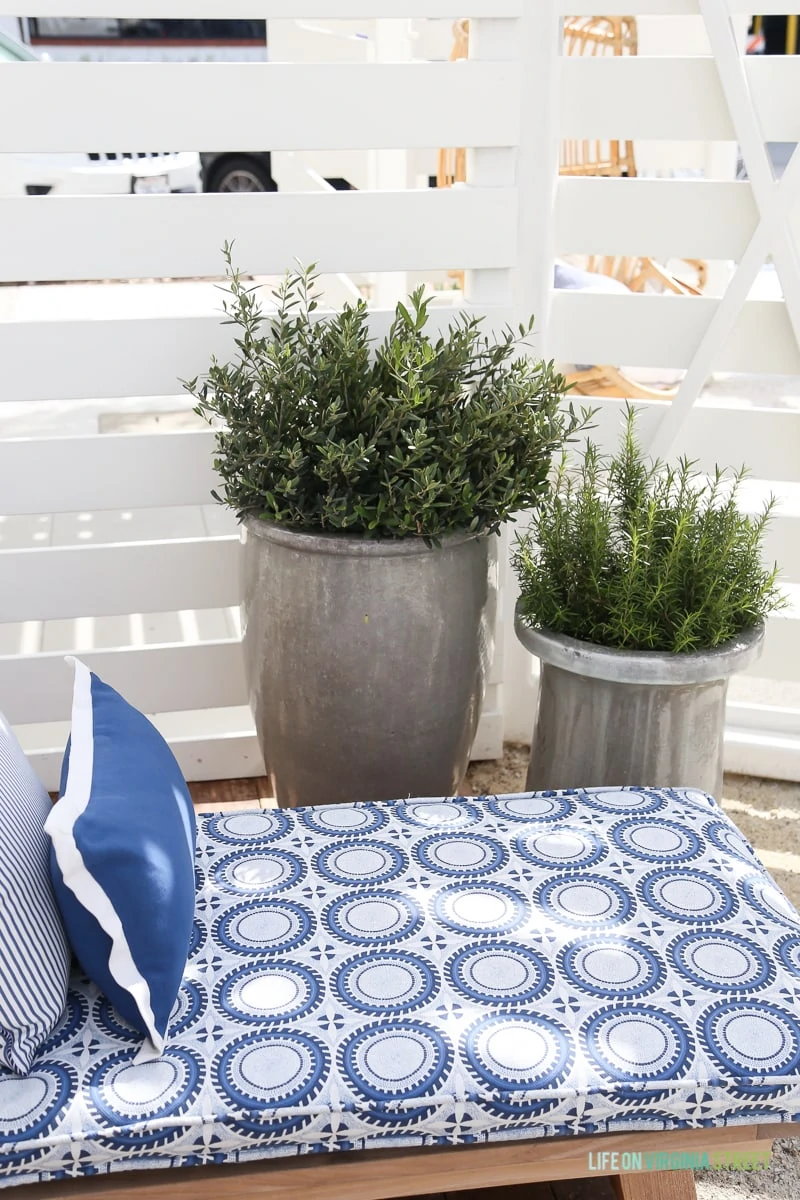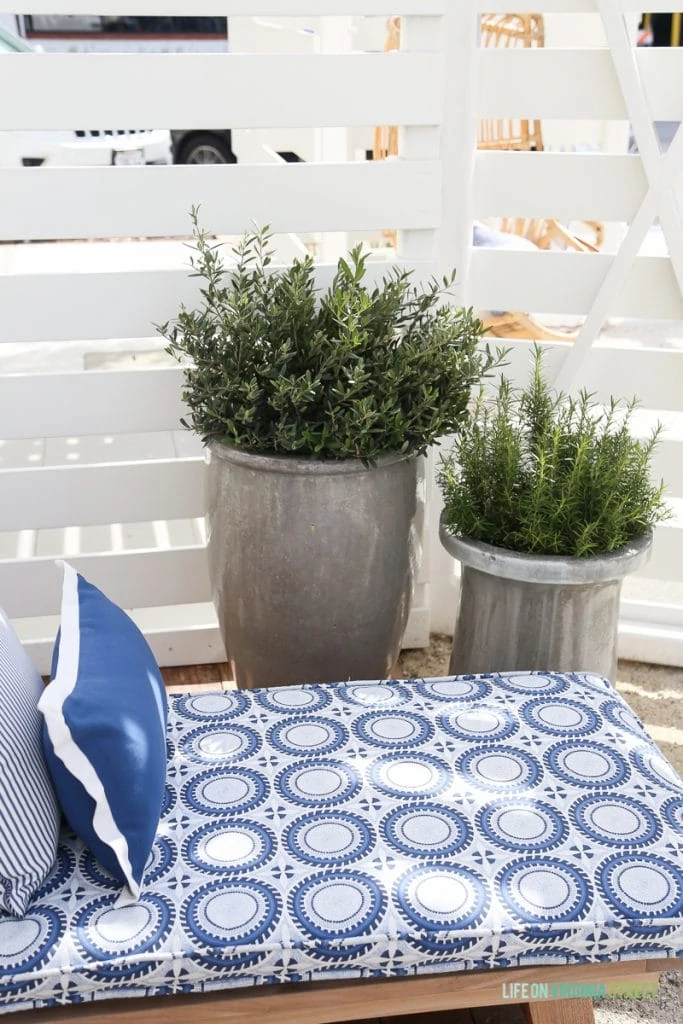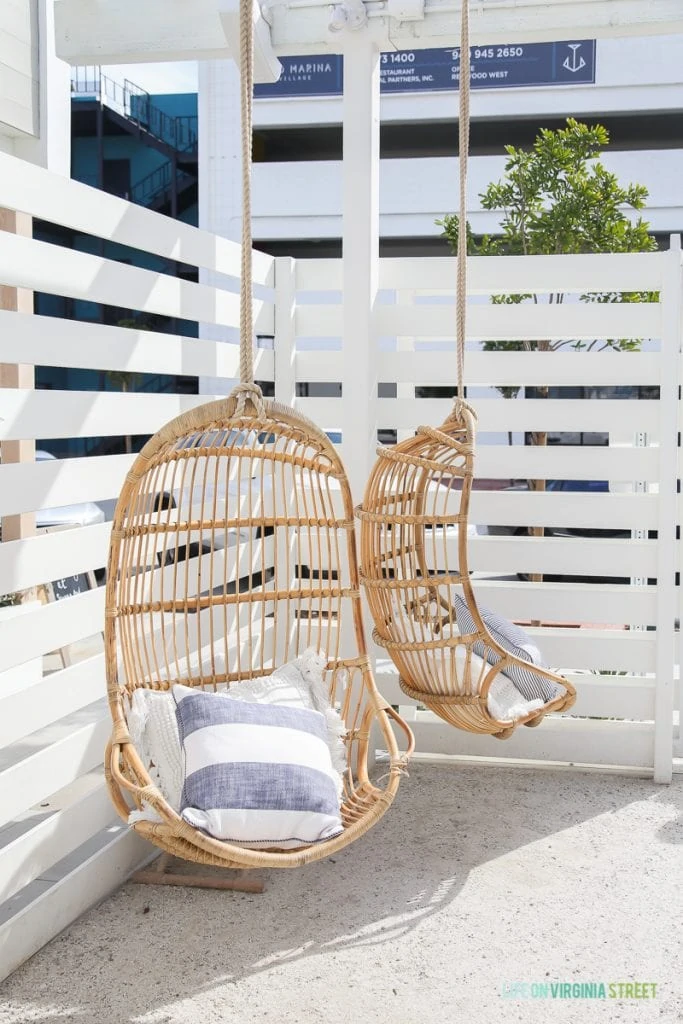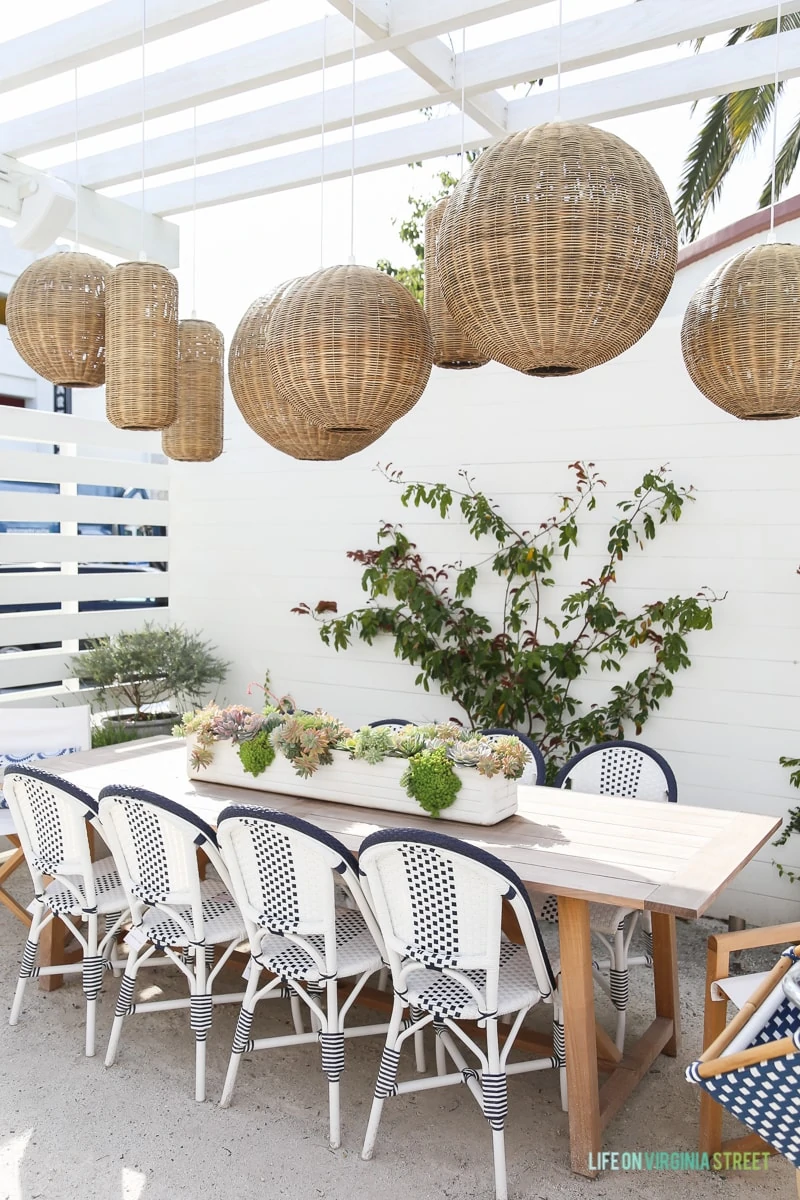 Fashion Island – We rounded out our shopping at Fashion Island. It's your basic outdoor mall, but only more beautiful. It also included a lot of stores we don't have in Nebraska like Nordstrom. I especially enjoyed the newly upgraded Anthropologie, which was over 20,000 square feet and had shoppable rooms and a large home decor section. I was excited to hit Nordstrom to test out what is my now-favorite perfume.
Other Things we Did in Southern California
Newport Beach Pier – The day we headed up to Newport, we wanted breakfast (this is the day we at at Lighthouse Balboa Cafe) but nothing was really open once we finished eating. So we took a walk down the Newport Beach Pier on Balboa Peninsula and watch the surfers and enjoyed the sun a fresh air. You know you have legit arrived in California when you take in the views here. There was an overabundance of both surfers and seagulls here, but it was fun to watch!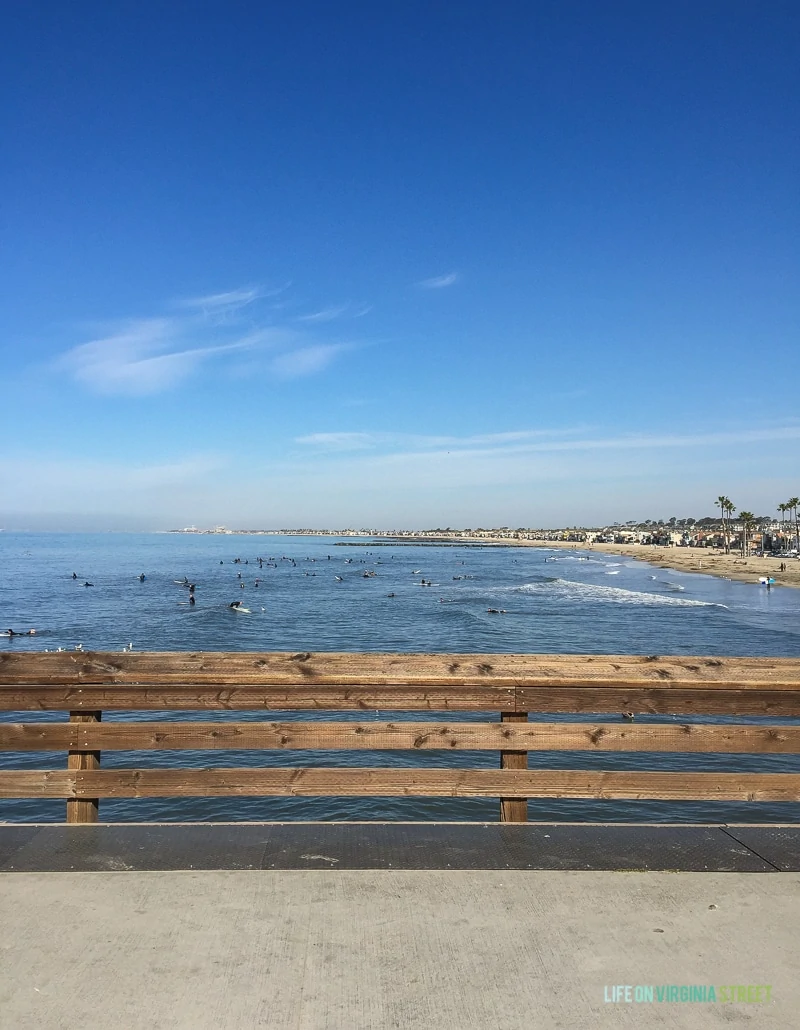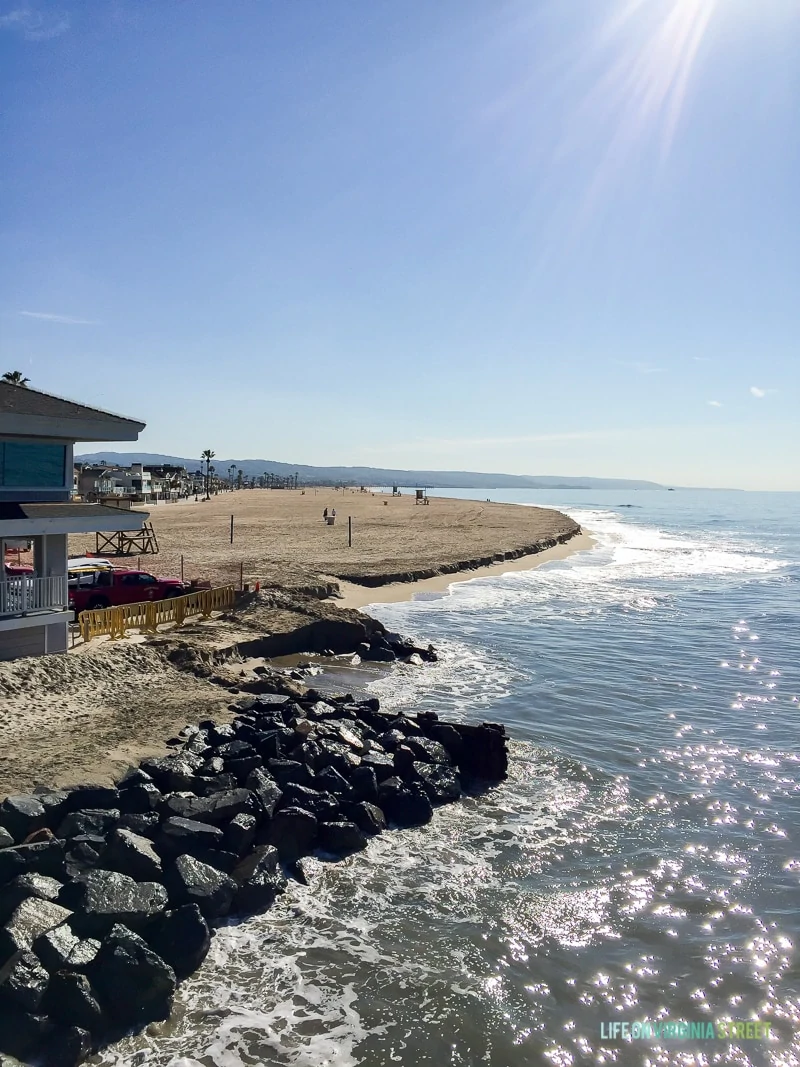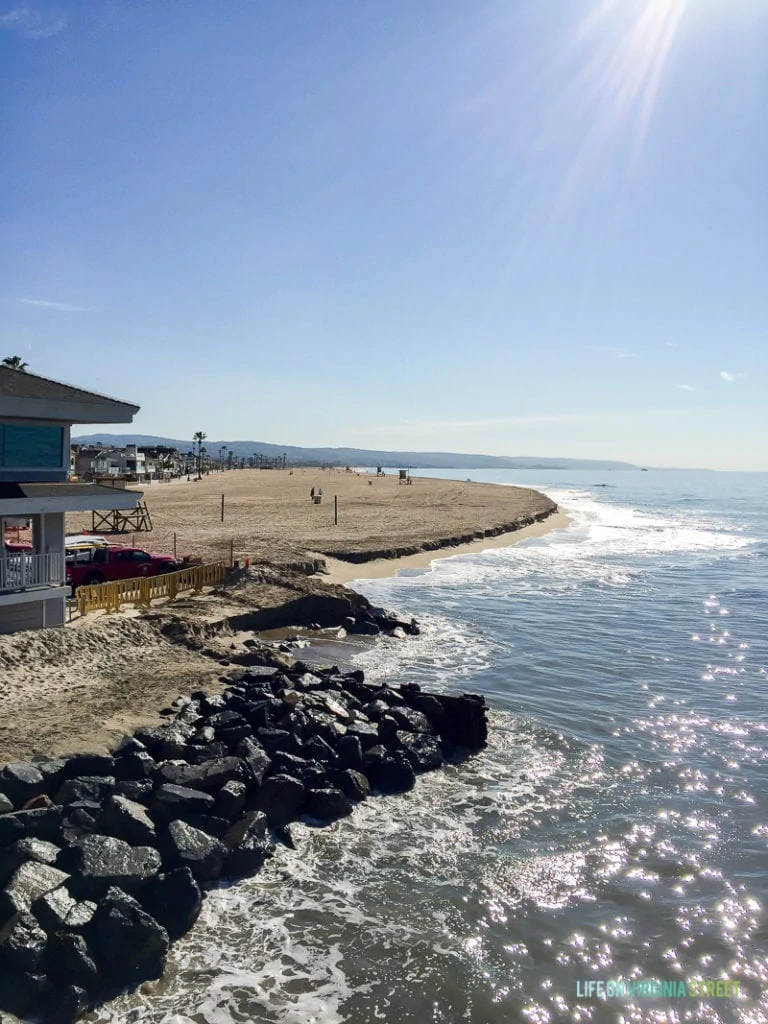 House Stalking on the Balboa Peninsula – If you love looking at houses as much as I do, it's worth a quick drive around the peninsula (or even over to the island) to check out the stunning homes in the area. I think this jaunt finally proved to Kurtis that we need to paint our house. So much inspiration and beauty here!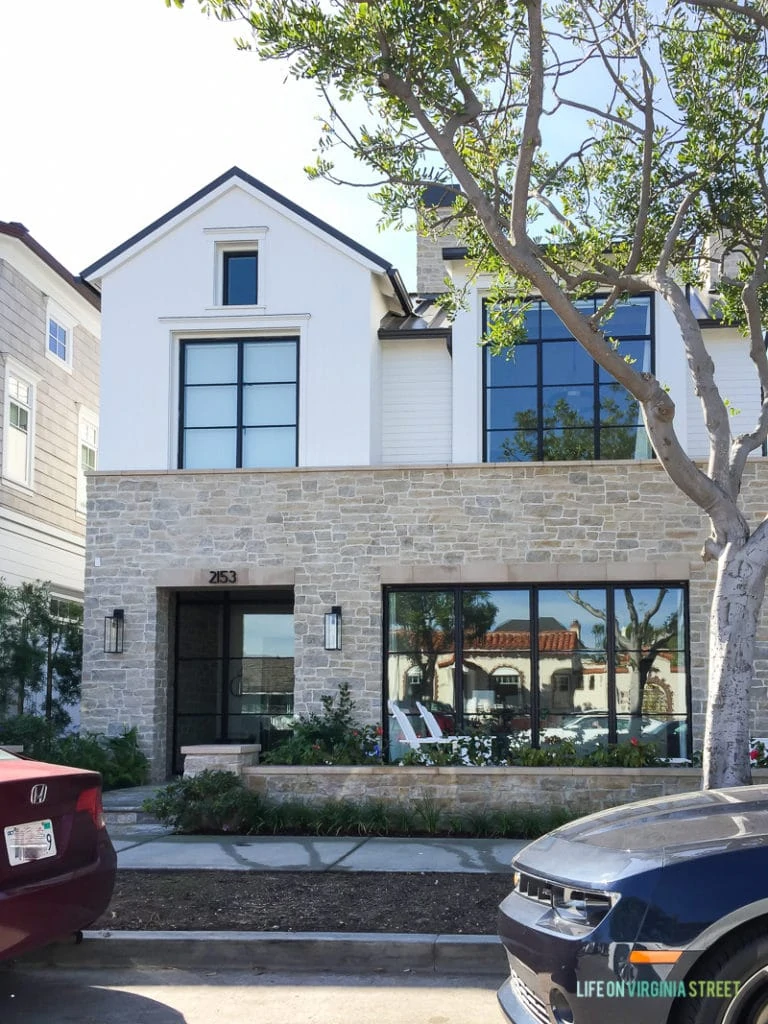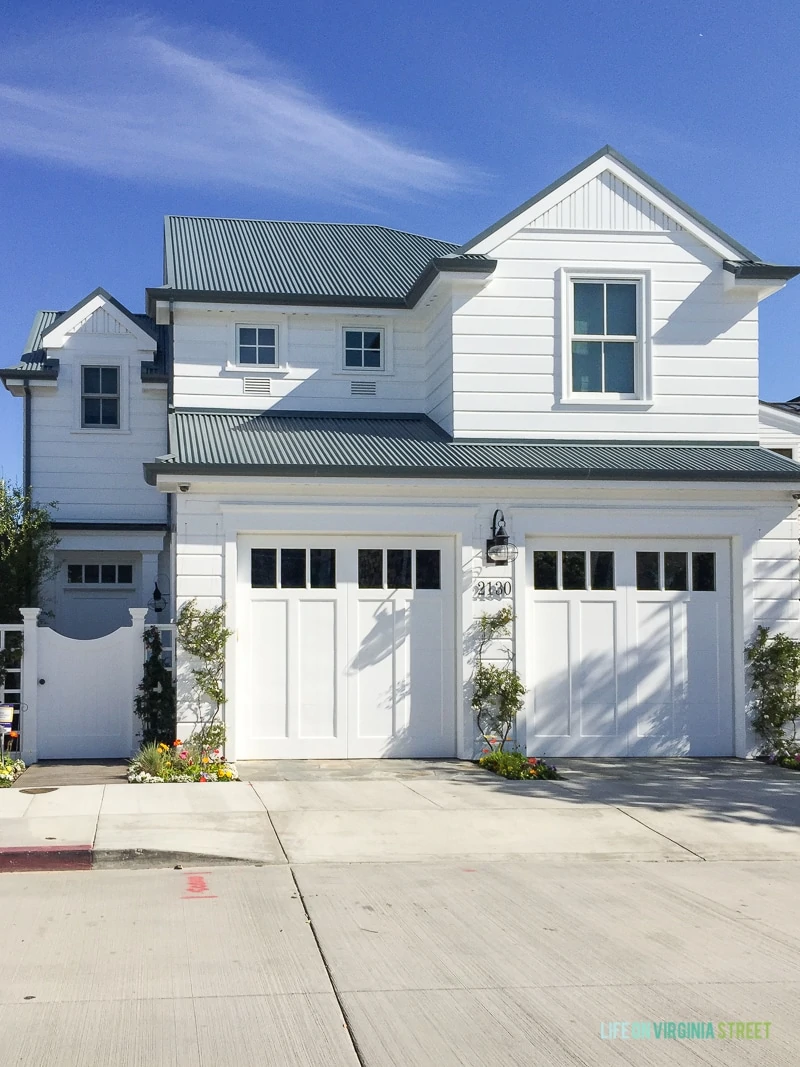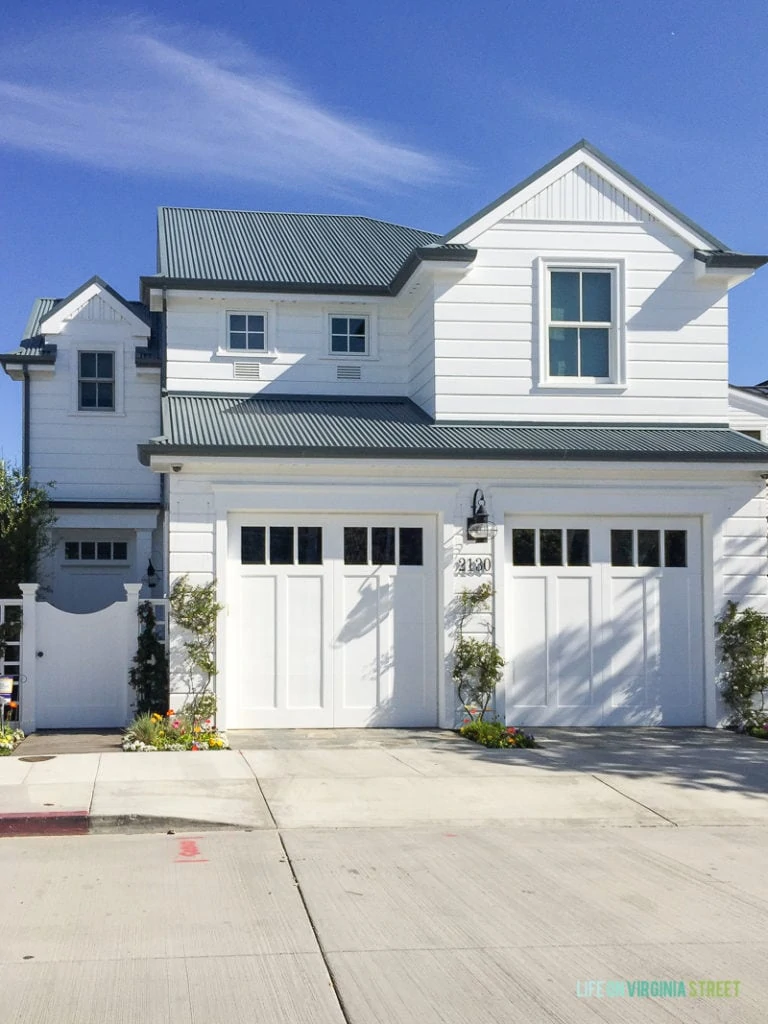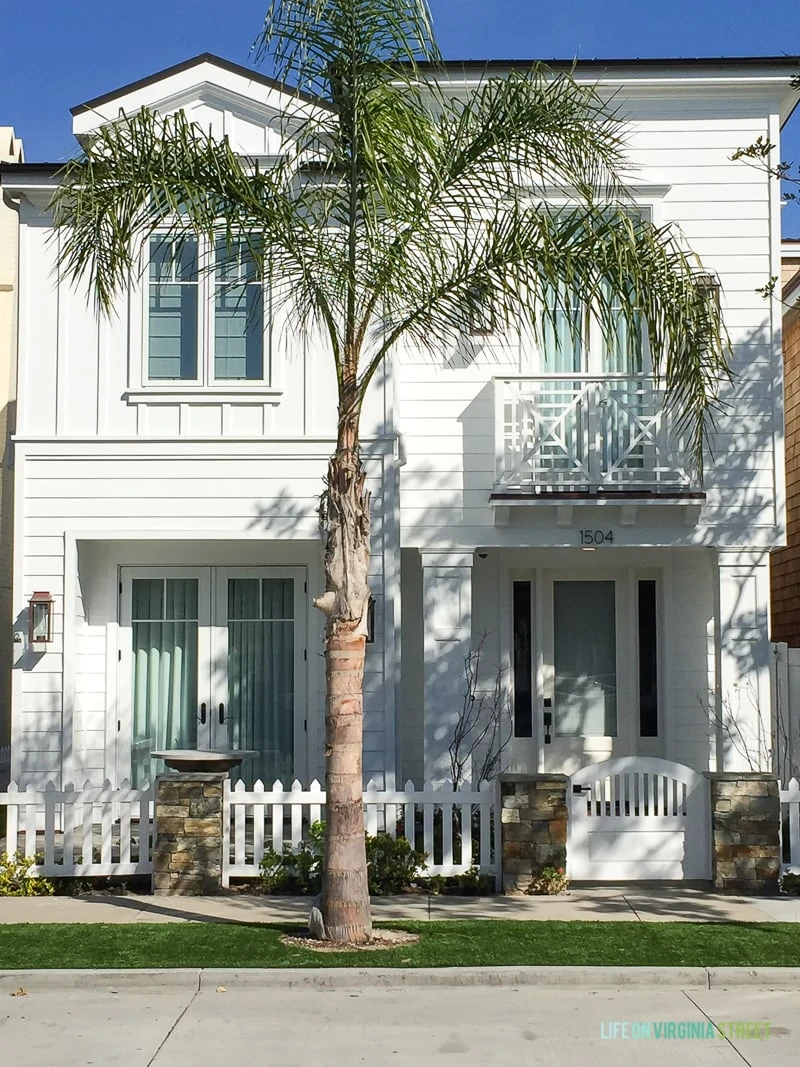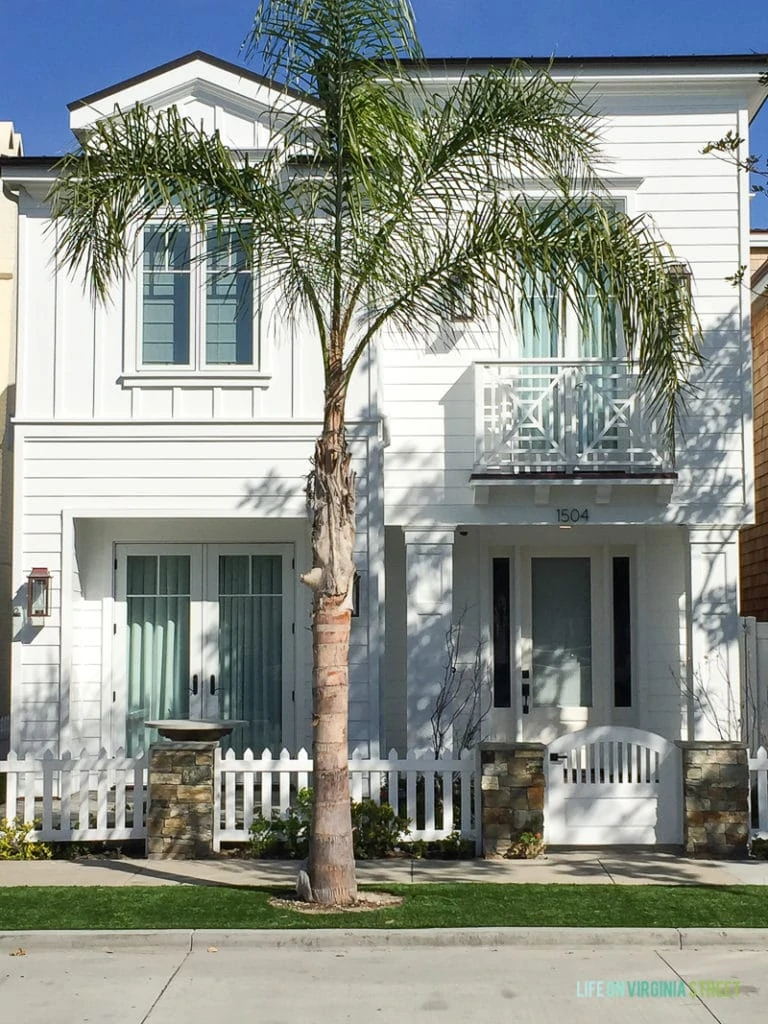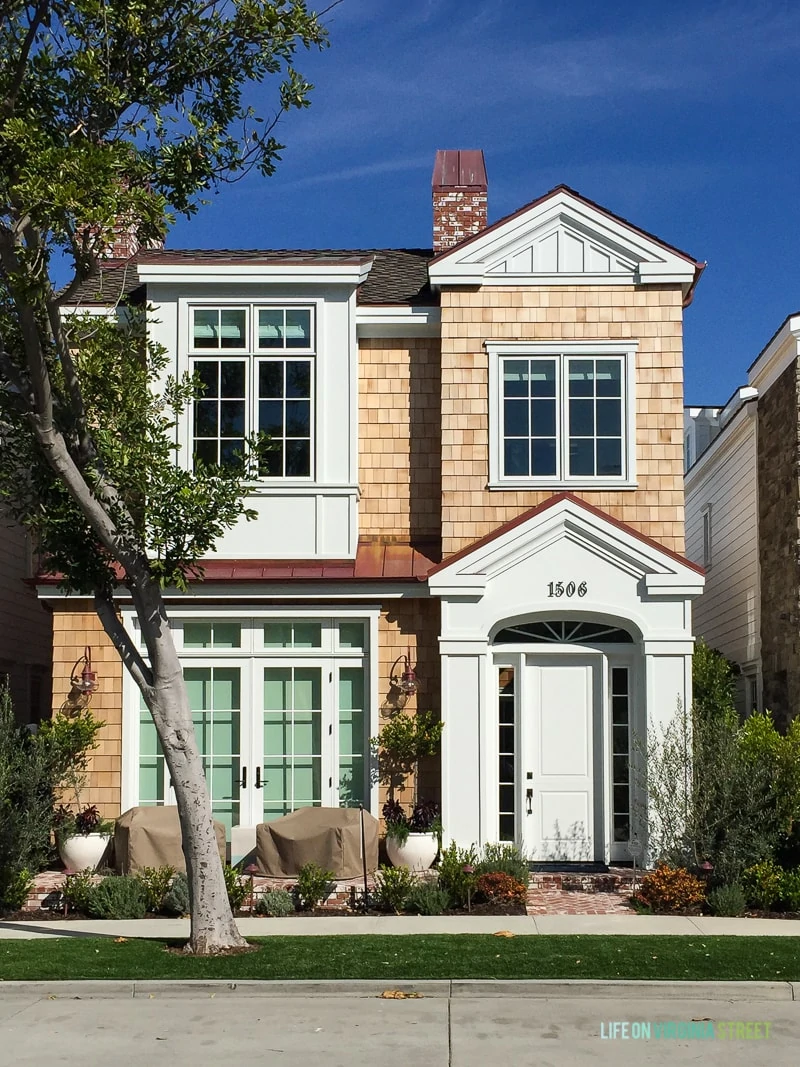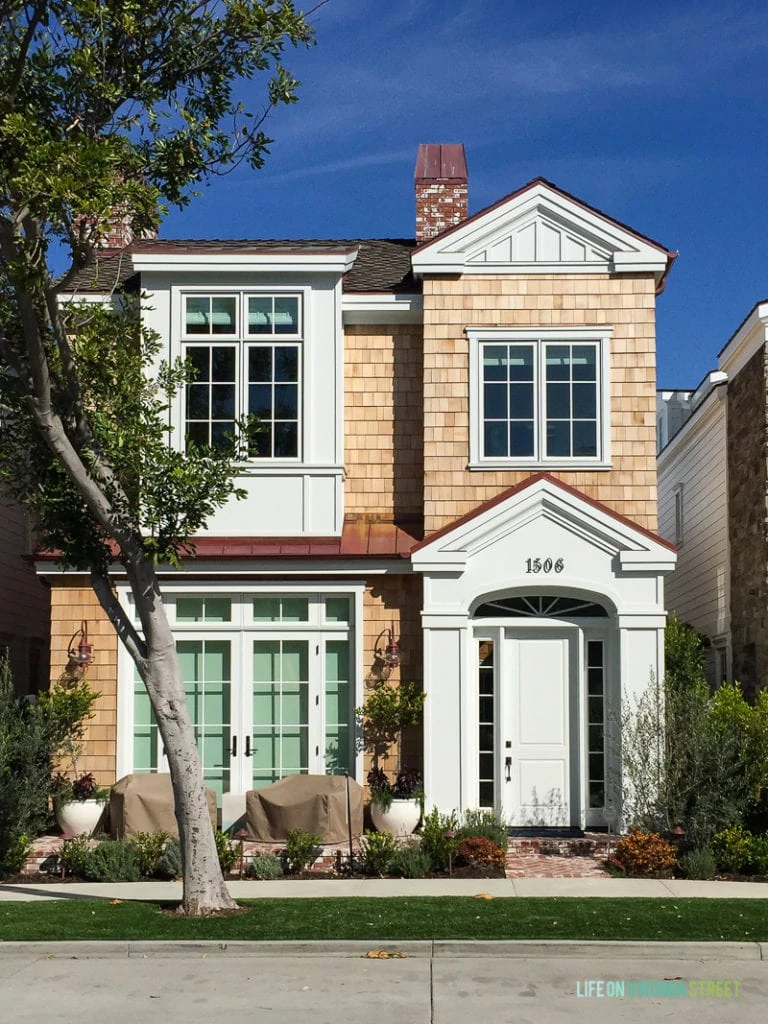 Montage Spa & Work Out Facilities – One of the days we were there we chose 'spa day' for our excursion. Kurtis and I each had massages. I usually only get about one massage a year (typically on this trip). I wasn't super impressed with my massage – especially when I heard how much they cost. But, Kurtis also used the gym and other spa features and said it was amazing. The treadmills are lined up facing the ocean, and he said it was some of the most enjoyable workouts he's ever had.
Walk Along the Ocean – The Montage has gorgeous, landscaped paths that lead down to the ocean. The views are stunning and it's such a great location to watch the sunset. We also heard there is a great hiking trail right across the highway from the Montage for those that want a bit more rugged exercies.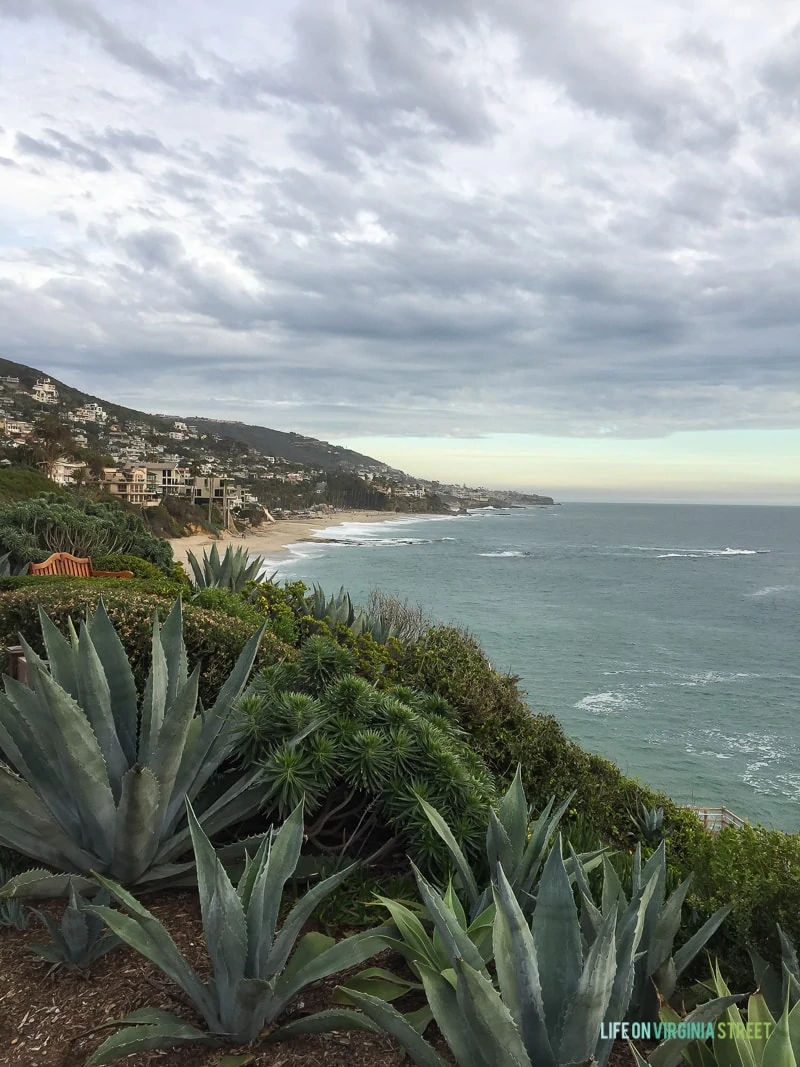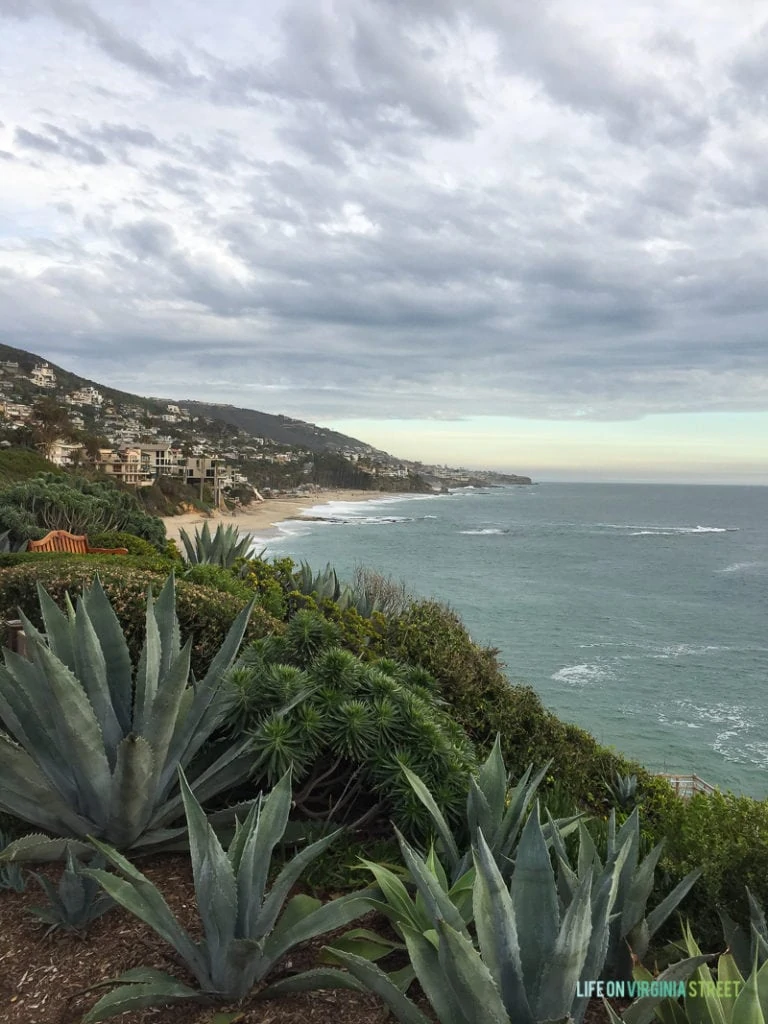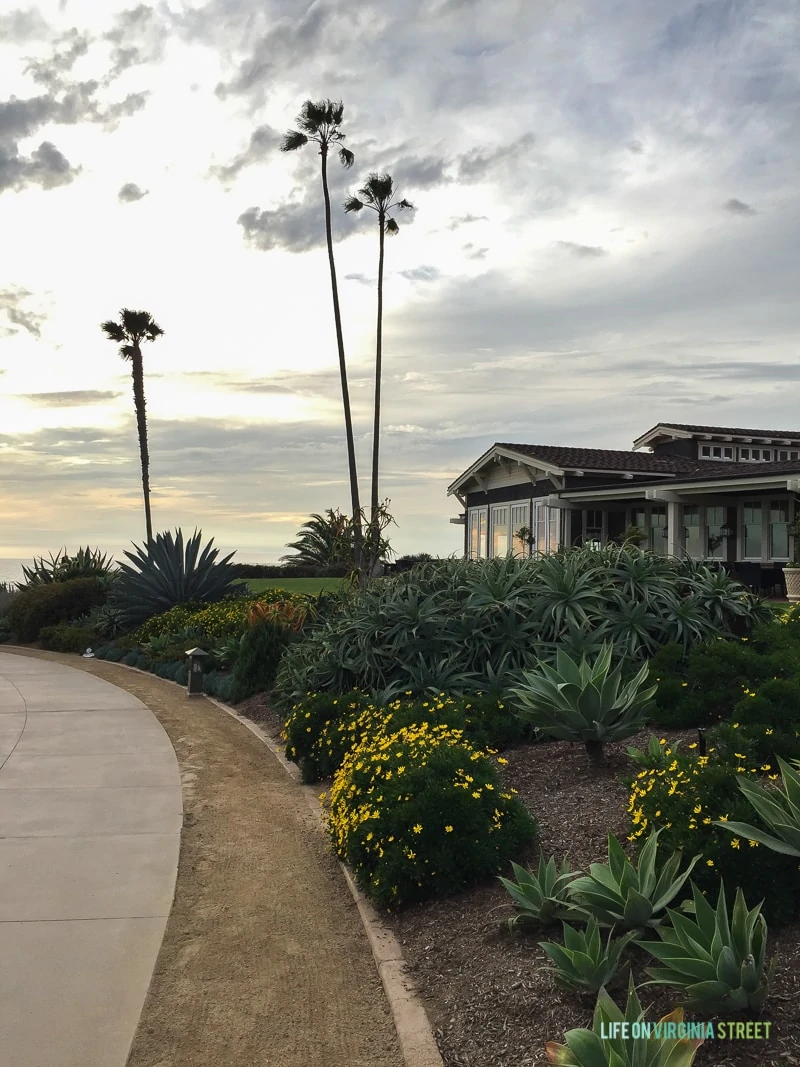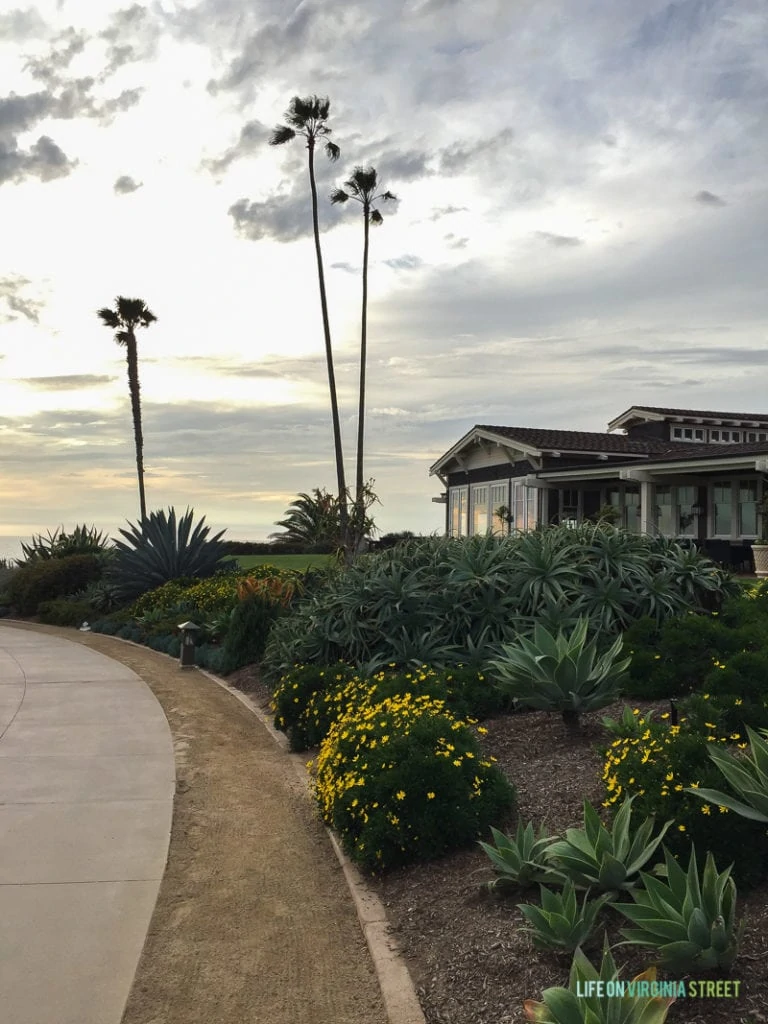 That about wraps up our trip! We always love visiting California and we can't wait for the next time we get the chance to go back!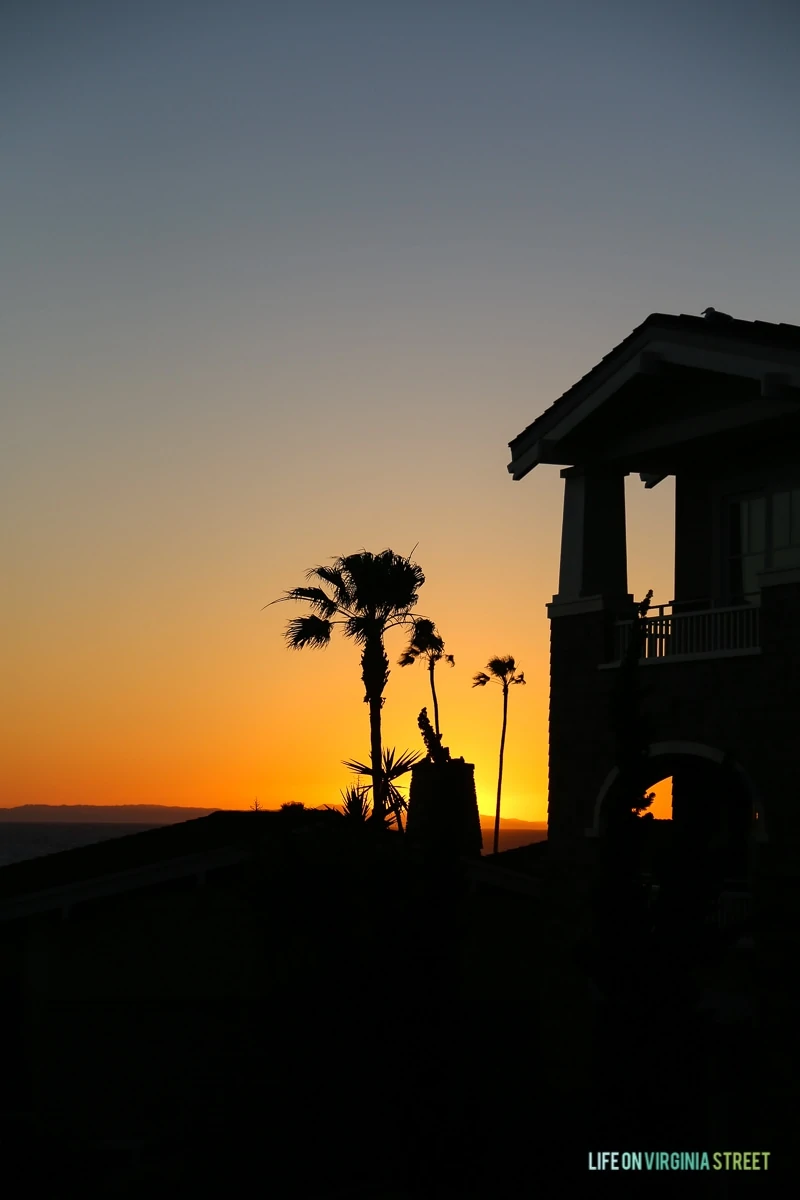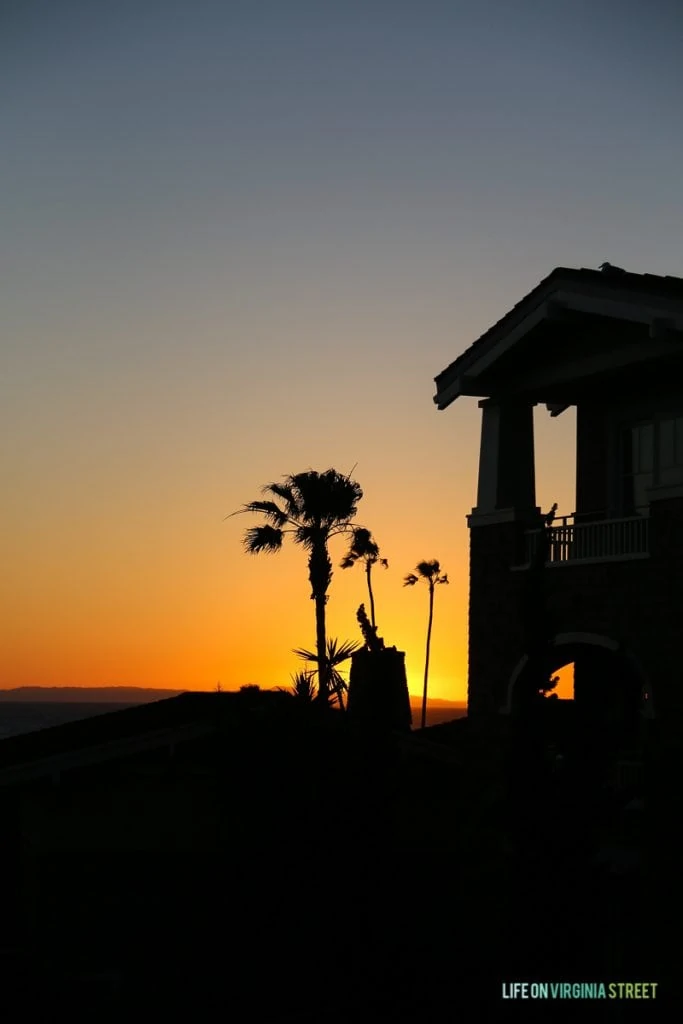 If you would like to follow along on more of my home decor, DIY, lifestyle, travel and other posts, I'd love to have you follow me on any of the following:
Pinterest / Instagram / Facebook / Twitter / Google+
disclosure: some affiliate links used