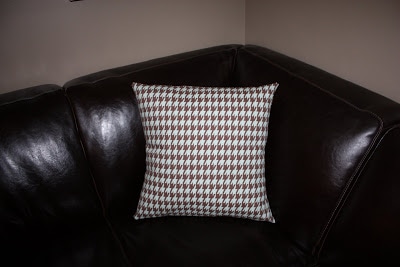 The longest part of this whole project (especially if you already know how to sew – which I did not) is measuring/cutting the fabric. I wanted to use the 24″ x 24″ pillows which are on the larger side but these instructions could be used for all sizes (you would just need to scale down the measurements). This size would require 1 yard of fabric max (you only really need 30″ in length and 44″ in width but I would definitely get a little extra). I found it much easier to use a graphic print such as this one to help my lines match up. I made my last pillow tonight from start to finish in about 45 minutes. HOPEFULLY these directions make sense – coming from a non-sewer I can say this should not be too difficult, so if it turns out that way, my directions may be bad. So, let me know if you have any questions.
First cut out a square that is 22″ x 22″ (yes, smaller than the pillow form you will use – this helps to create the tautness). You could probably make it slightly looser if you don't want it so firm. Set this piece aside for the time being.
The second "square" needs to be 30″ x 22″ (the extra length is for the foldover part where you will insert the pillow). Then, cut the 30″ x 22″ (you can really do it however you want) but I cut it into a 16″ x 22″ piece and 14″ x 22″ piece. Take each of these two pieces and fold and iron on the end you just cut from (it will be the two pieces that were previously connected). Here are what the three pieces you now have should look like: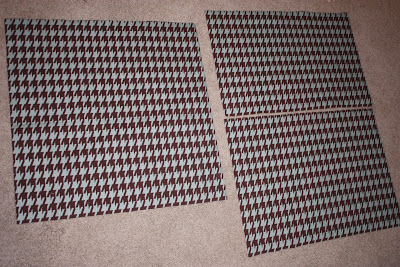 Take each of these two pieces you just cut (on the right in the photo above) and fold and iron on the end you just cut from (it will be the two pieces that were previously connected – this helps to keep the pattern semi-uniform). Fold about 1/2″ of fabric and iron a straight edge (this helps when you sew the hemline). Do the same on the other piece. You will then sew down this area that you just ironed down (I usually try to go from the middle area to the loose end for a range). See third photo below for the post-sewn lines. You will then want to fold the fabric one more time (this time about an inch or sew) and then iron that line down. You do not need to sew this one. This will help to create a finshed edge if anyone decides to peep inside you final project. The last photo shows both sides (with my finger lifting it) so you can see which sides are where. Remember – these lines do not need to be perfect – they will all be on the inside of the pillow.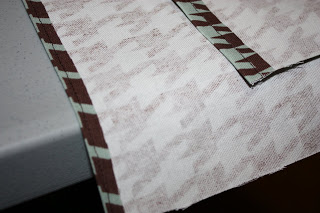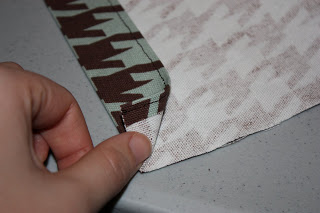 Now, you are ready to sew the pillow together. Take your 22″ x 22″ inch piece that you set aside and lay it face up. Lay your other pieces on top of it face down (so that if you were to look at it from any side you would see the back of the fabric). The pieces you have already hemmed should over lap, so simply line up all the raw edges. The picture below demonstrates this, but I have slid the pieces over a few inches so you can see which pieces are where.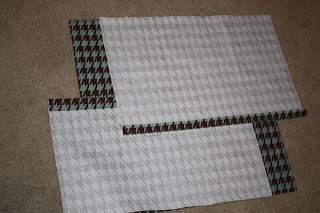 I have found that it is easiest to sew the top and then the bottom first – these would also be the top and bottom of the photo above (so you don't have to mess with the overlapping pieces first). You may also find it easier to temporarily pin these pieces together because the line needs to be as straight as possible (I had to unpick my first pillow four times until I was satisfied). Here is what it should look like (from the back) once you have sewn the top and bottom together: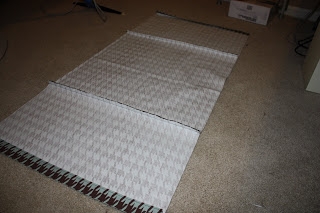 Now line up all the side pieces (remember when you hit about 1/3 or 1/2 way down, you will have three layers to sew through). Make sure they ALL line up, so again, I would recommend pinning them together. Once your sides are done – the hardest part is over!!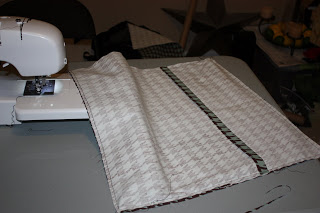 You will want to snip each of the corners (without damaging the parts you have sewn) to help create a pointier finish on the ends. Now flip the cover inside out ~ it may help if you have something pointy (but dull) to stick into each of the points to get them all pushed out.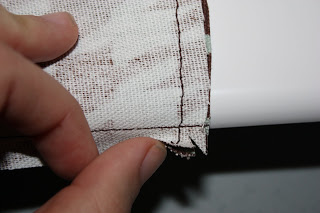 I bought these particular pillow forms at Hancock Fabric but know they also carry them at JoAnn's (you should be able to get them 30-50% off a few times a month so I recommend buying them then). Now just stuff the pillow inside the case ~ you will have to help feed it into the corners, and remember it will be a snug fit so be careful not to pull out any of your stitches. My mom does variations of this same pillow by adding buttons, etc. (similar to what Pottery Barn currently has) so the options are limitless! It is also nice that because the pillow is not sewn shut, you can use the same mold for seasonal pillow covers!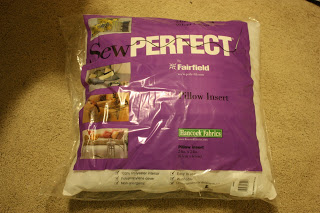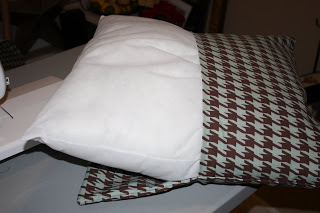 Here is a shot of my three pillows I managed to complete! If anyone has any questions at all trying this out, feel free to let me know!