Sharing our recent Kauai trip recap along with helpful tips and advice on things to do in Kauai!
Switching gears today from home decor to focus on travel – another one of my passions! Today I'm sharing our recent trip recap along with ideas on things to do in Kauai!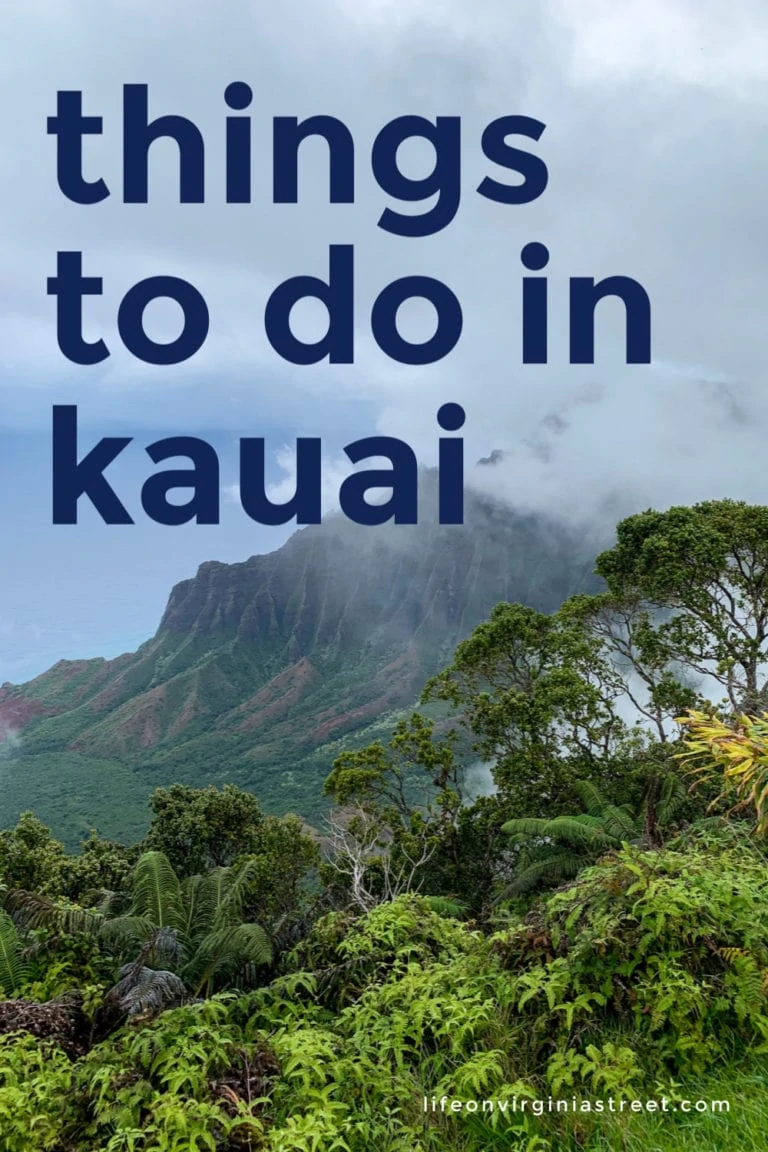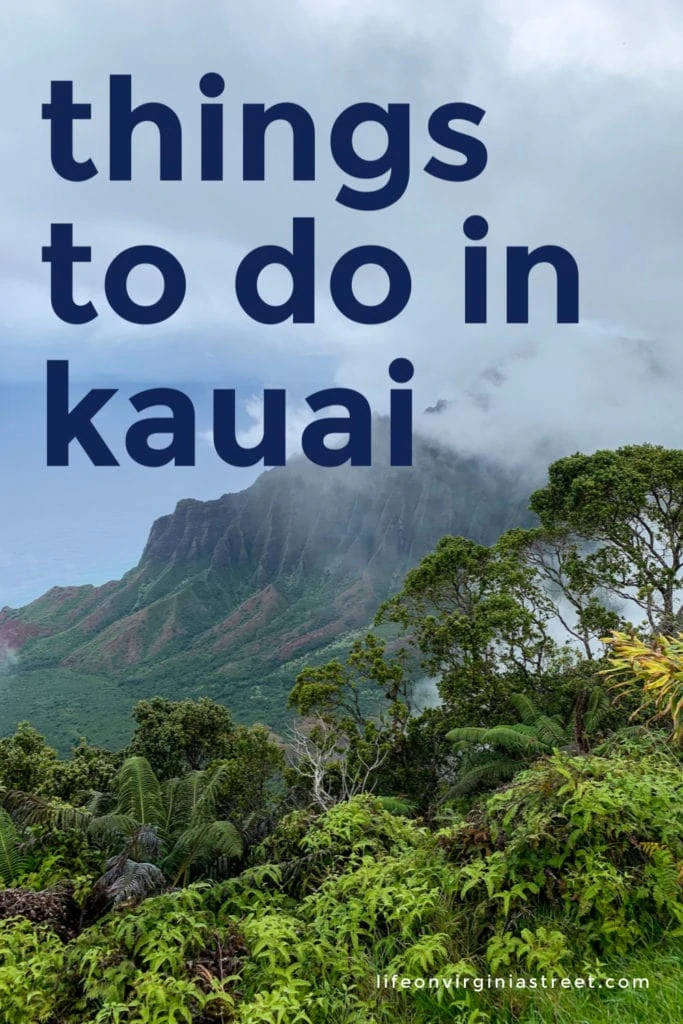 Kauai is one of the most magical and beautiful places on the planet. And I don't say that lightly! I had visited the island once before, the year I graduated high school (22 years prior). Needless to say, it has changed a lot, and we were able to explore the island so much more this time around!
We booked the trip rather last minute (about three months out). It was our year to spend Christmas with my side of the family and we all decided that rather than putting the money towards tickets to fly to Salt Lake to my parents' house, we'd all meet in Kauai!
We went the first week of December because it was more cost-effective than the actual week of the holiday. We knew going into it, it is their rainy season but we made the most of it! So, keep in mind, a lot of our itinerary and activities were based upon the day's weather.
For a little background info, we went on this trip with my parents (mid-60's) and my brother and sister-in-law who are a few years younger than us. Our activity preferences range from super active and adventurous (not me) to lazy beached whale status (me). I feel like we achieved the perfect mix of activities that everyone was able to enjoy!
I'll first be digging into the actual activities we recommend in Kauai, then places to eat in Kauai, followed by details on where we stayed on the island and other general Kauai travel tips.
Things To Do In Kauai
There are countless activities and things to do in Kauai! Following were some of our favorite experiences. Further down I'll also share frequent recommendations I received, but we weren't able to do because of our schedule and the weather.
Waimea Canyon
The biggest surprise of the trip for me was our visit to Waimea Canyon. It is absolutely one of the most breath taking places on the planet! I had seen photos once before when Kurtis and my brother had visited years back, but it truly is something that cannot be captured in photos. You are missing out on one of the real gems of Kauai if you do not visit! And this is coming from someone who usually doesn't love views or hikes or time spent away from the beach!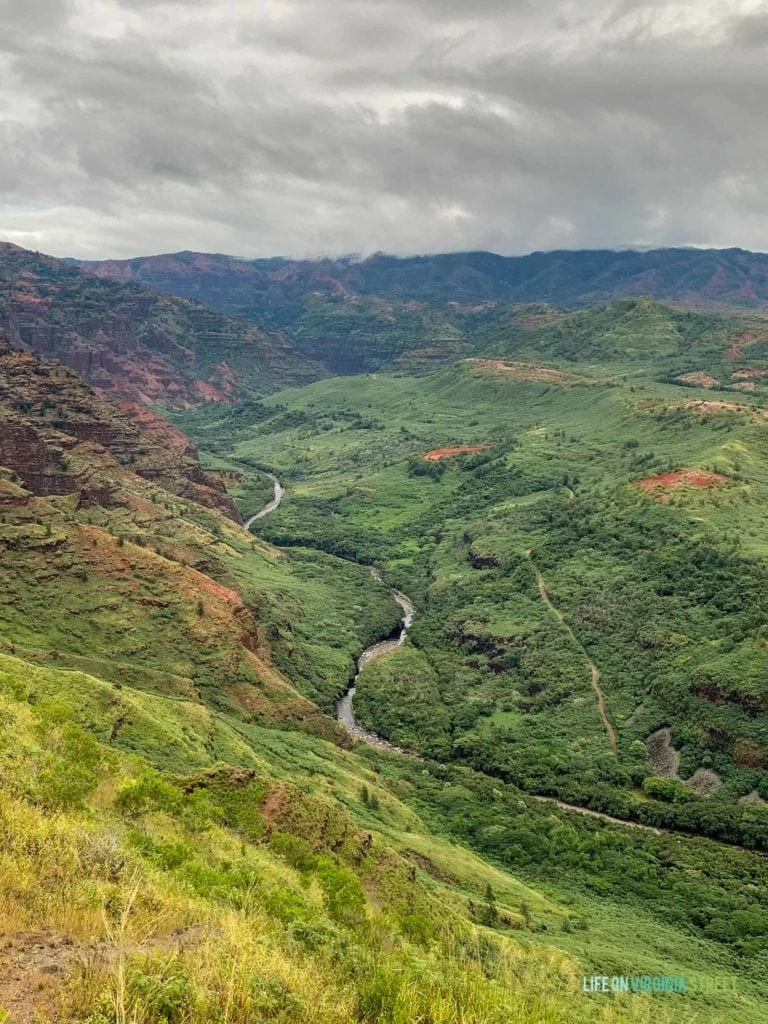 Not to sound cliche, but it is beyond impossible to capture the beauty of the canyon! It's commonly referred to as "The Grand Canyon of the Pacific" for good reason!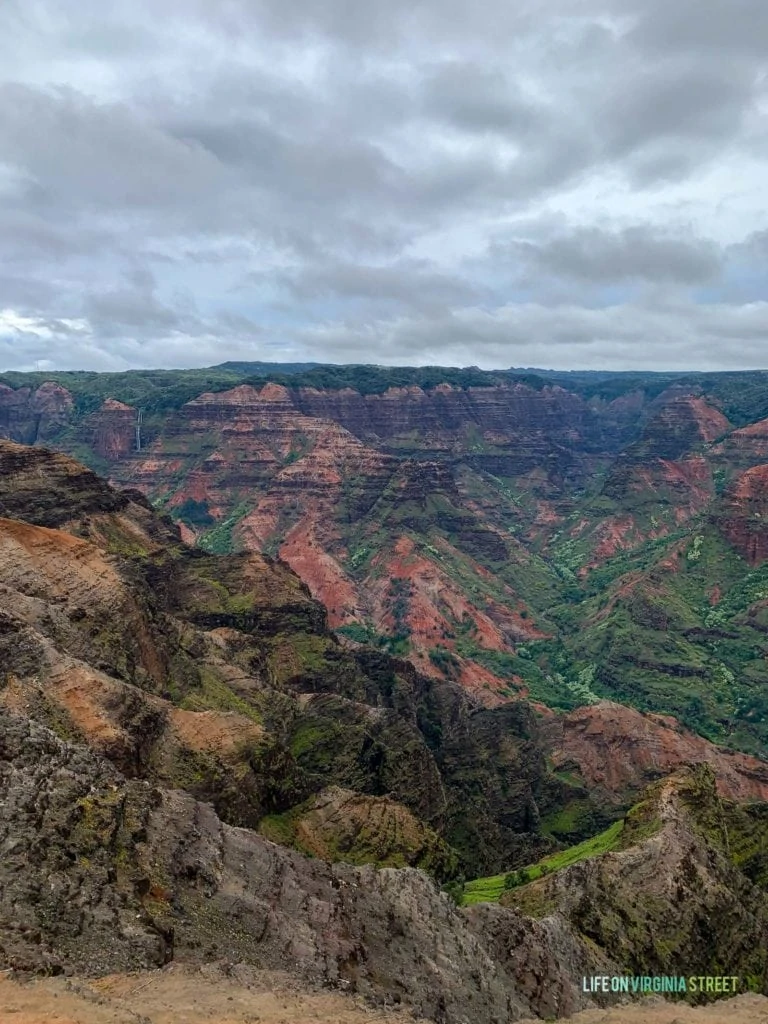 The colors were unreal and it felt like we were nowhere near a Hawaiian island! We didn't necessarily have a plan to for this trip. Rather, we pulled over at various rest stops and parking lots to explore a bit. It was right before Kurtis' hip surgery, so we weren't able to do much hiking. But we spent a few hours exploring this beautiful area!
Travel Tip: If you love hiking, you could easily spend a full day in this area. There are bathroom facilities but not much else within the park. You may want to pack water and a lunch if you plan to be there for a longer period of time! Additionally, the canyon is best viewed when it's a clearer day. We also found that afternoons seemed to have the best chance of visibility. You also will need to pay a one-time small fee to park in the lots within the park ($5 at the time of our visit).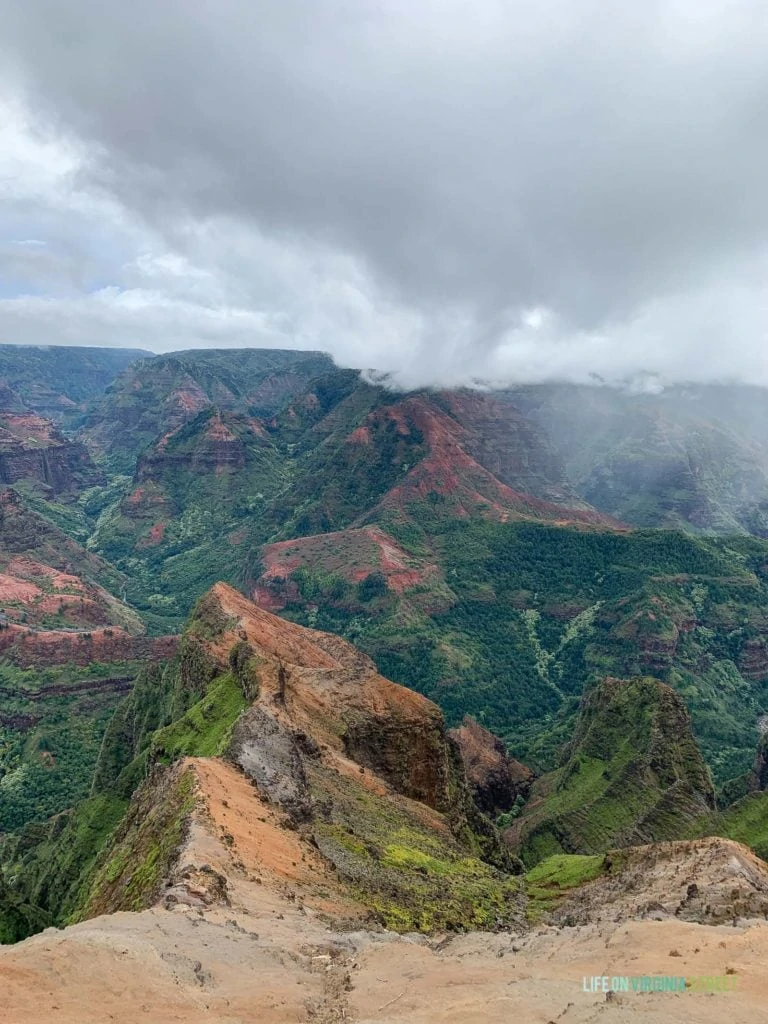 We made the drive all the way to the top of Koke'e State Park and were rewarded with beautiful views of some of the NaPali coastline!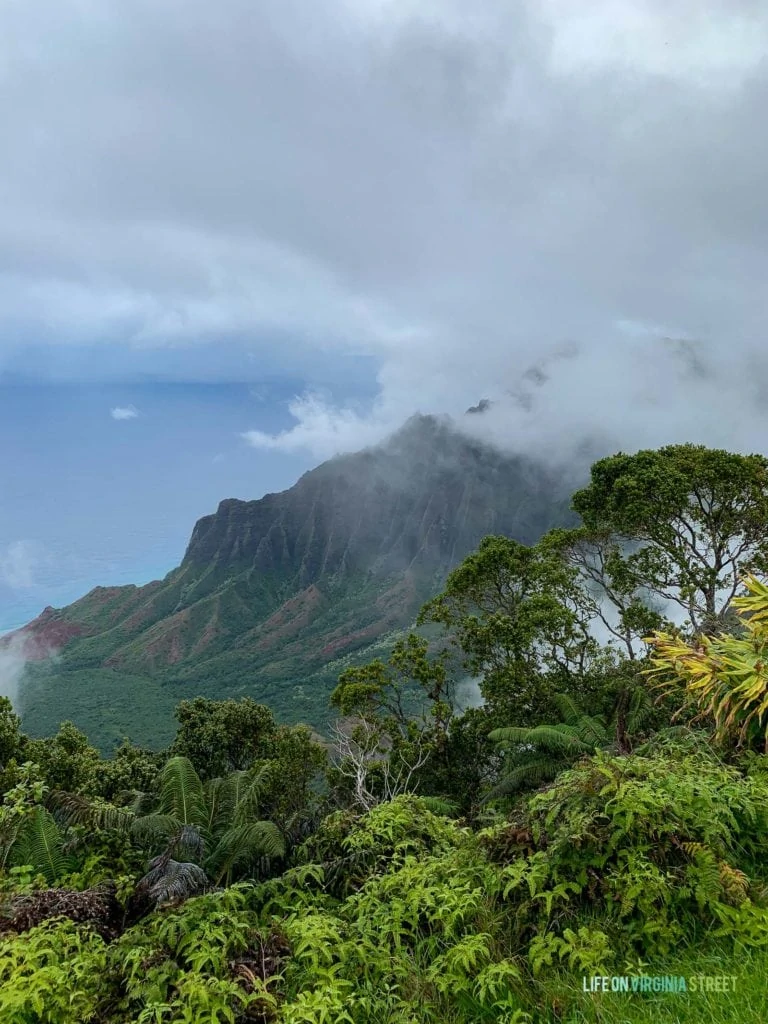 You'll find roosters and chickens all over the island, including at the top of the mountains! Photo credit on this one goes to my brother. We laughed at the end of the trip when the bulk of his camera roll was photos of chickens and not much else.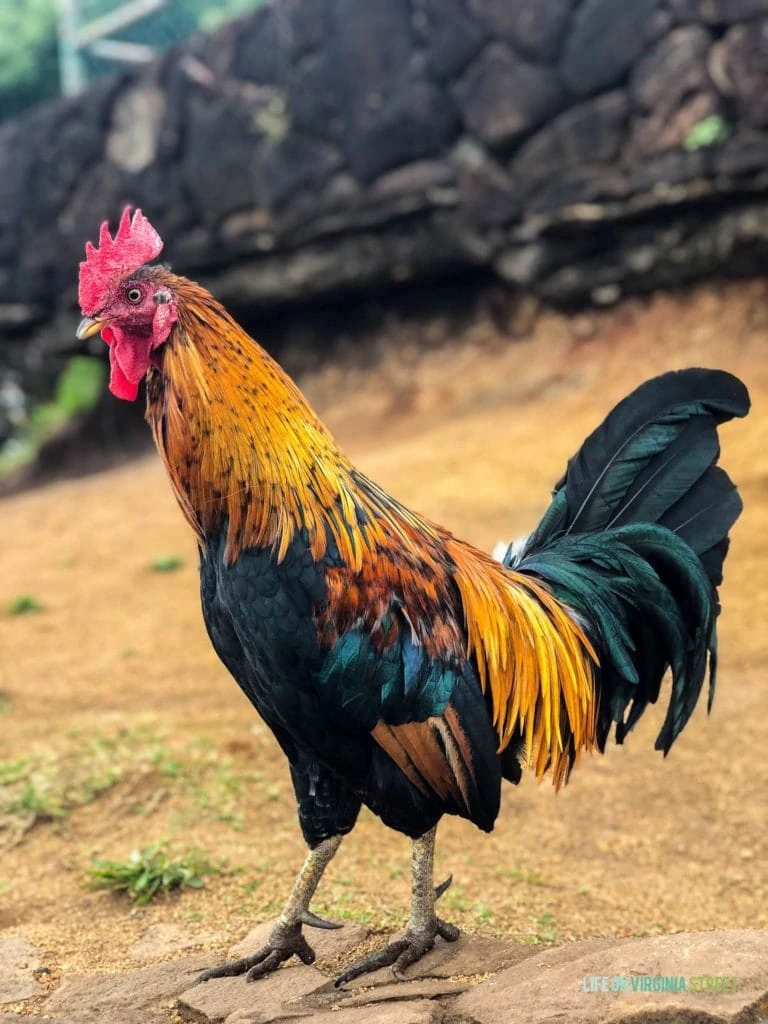 Visit the Spouting Horn Blow Hole In Poipu
If you spend a day or more in Poipu, you'll want to visit the famous Spouting Horn blow hole. It's easy to access with a parking lot and vendor area nearby. We only spent about 20 minutes here, but it was fun to watch the the blow hole in action (both visually and audibly)! This is one of the most widely photographed landmarks on the island and is worth the trip to see.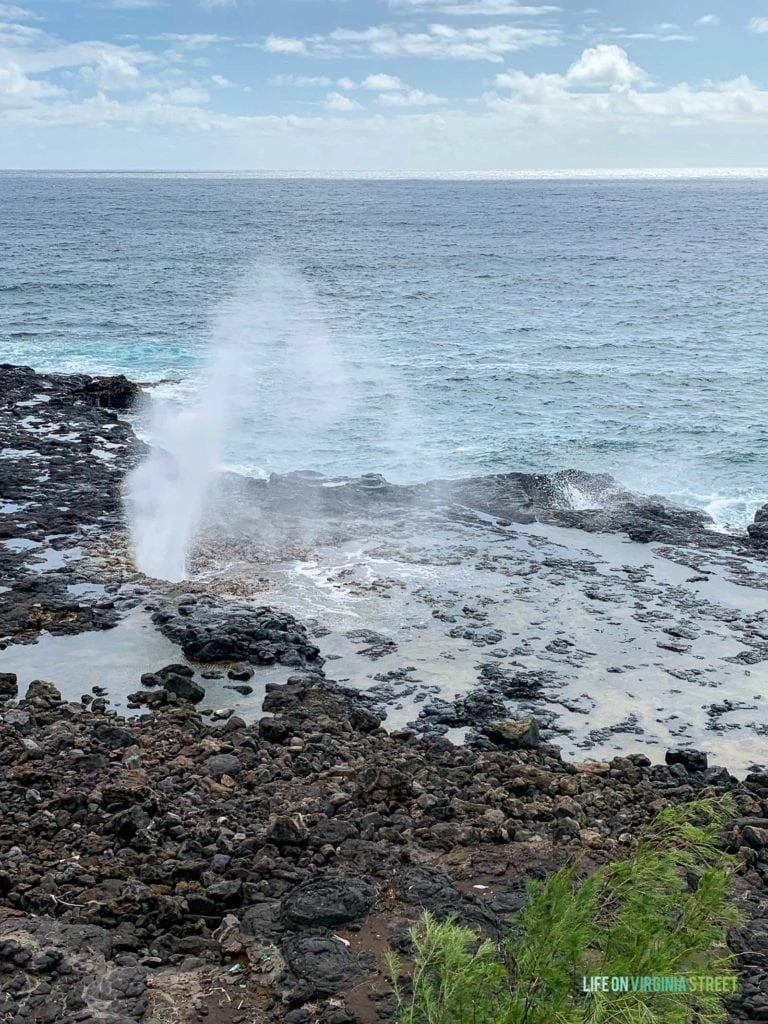 Visit Poipu Beach
As you'll see below, we visited two extremes of beaches in Kauai. The popular touristy beach is Poipu Beach. It surprisingly had great snorkeling. It also had a nice little sandbar protected by rock, so it's a great place to take kids in the water as well.
Travel Tip: We parked in the public parking across the street and my family rented snorkeling gear at Brennecke's, across the street.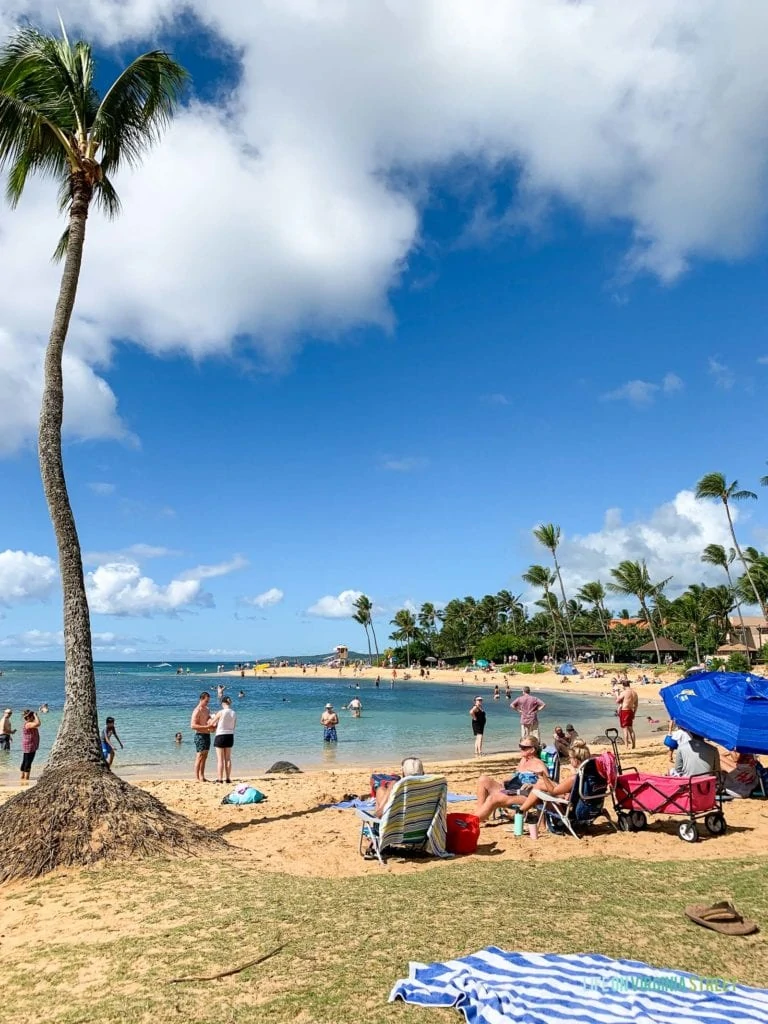 The day we were there, there were three sea turtles on the beach. They didn't have a care in the world and were happily sunning themselves on the sand. Much like all of the humans there who hadn't seen the sun for a few days!

We also saw an endangered monk seal on the beach! And don't let the proximity of the zoomed in photos fool you. They stake off a rather large perimeter around them when they come ashore so people don't bother them. They're so cute though!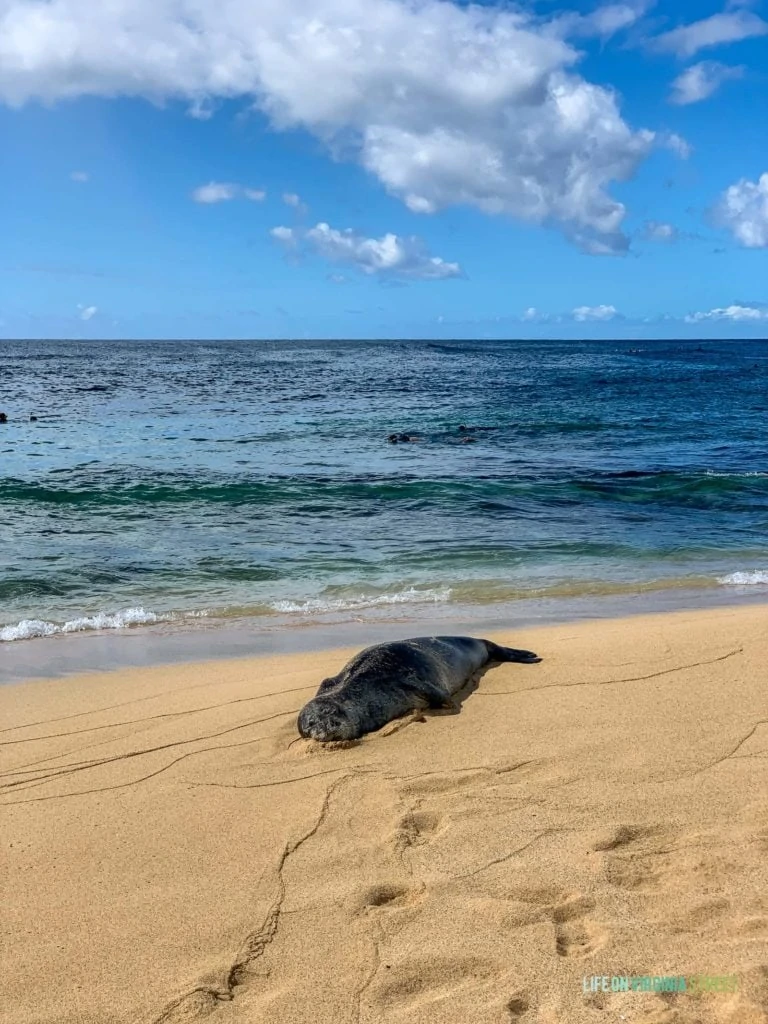 Polihale State Beach
On the other extreme, we visited Polihale State Beach. We tackled this trip the morning we went to Waimea Canyon. It was about a two hour drive to the entrance of the beach from Poipu. From there things got a little crazy. The dirt (mud) road was rather extreme and we thought multiple times we were going to lose a tire and/or have whiplash. My brother and sister-in-law had been there before and assured it was worth the trip.
Travel Tip: A 4×4 is a must if you want to make this trek. Not only for the drive in, but many of the parking spots are on sand.
Once we got there, it was absolutely beautiful and only had about a dozen other people within site. The weather wasn't great but we watched surfers, walked the beach, and just enjoyed being in the warm-ish weather!
In the image below you could see the start of the NaPali Coast at the end of the beach.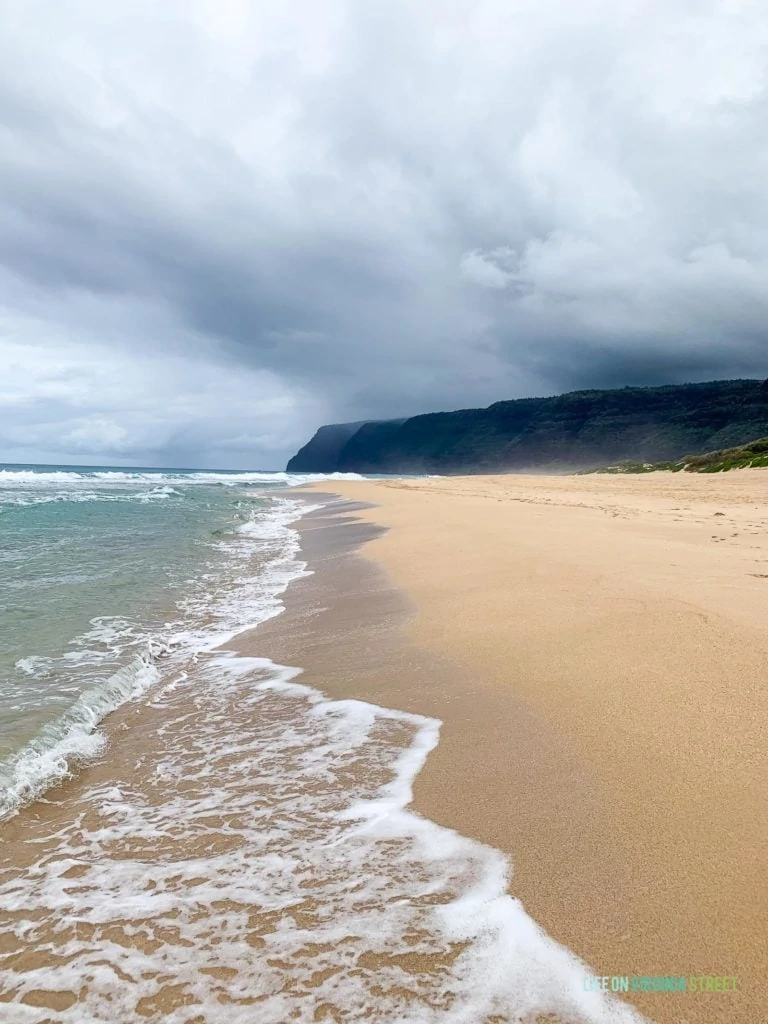 Such a pretty view and so peaceful!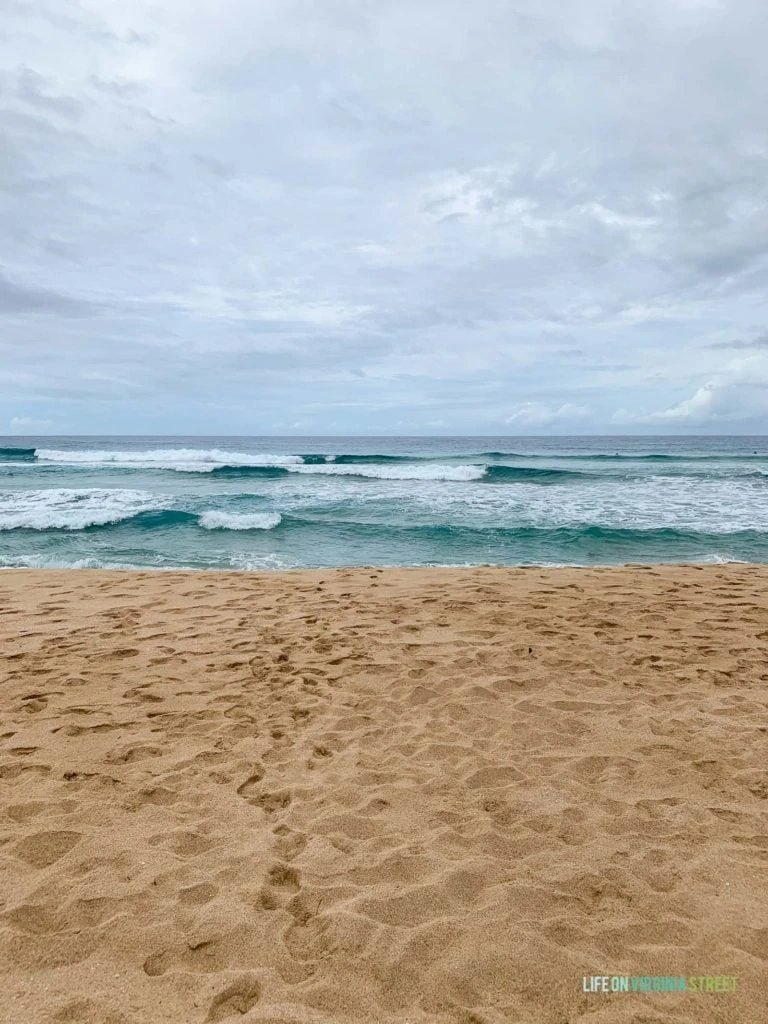 This beach is rather secluded and far away from amenities. Which is great if you're looking for a quieter beach, but you'll want to come prepared!
Spend a Day (or Two) in Hanalei
Hanalei may very well be one of the most charming surf towns I've ever been to. After grabbing lunch at the food trucks (see more in the food section further down), we headed to the beach and watched the surfers for hours! It was so peaceful and beautiful! Be sure to hit up their shopping in town too! Such cute surf shops that are perfect for t-shirts and souvenirs to take home.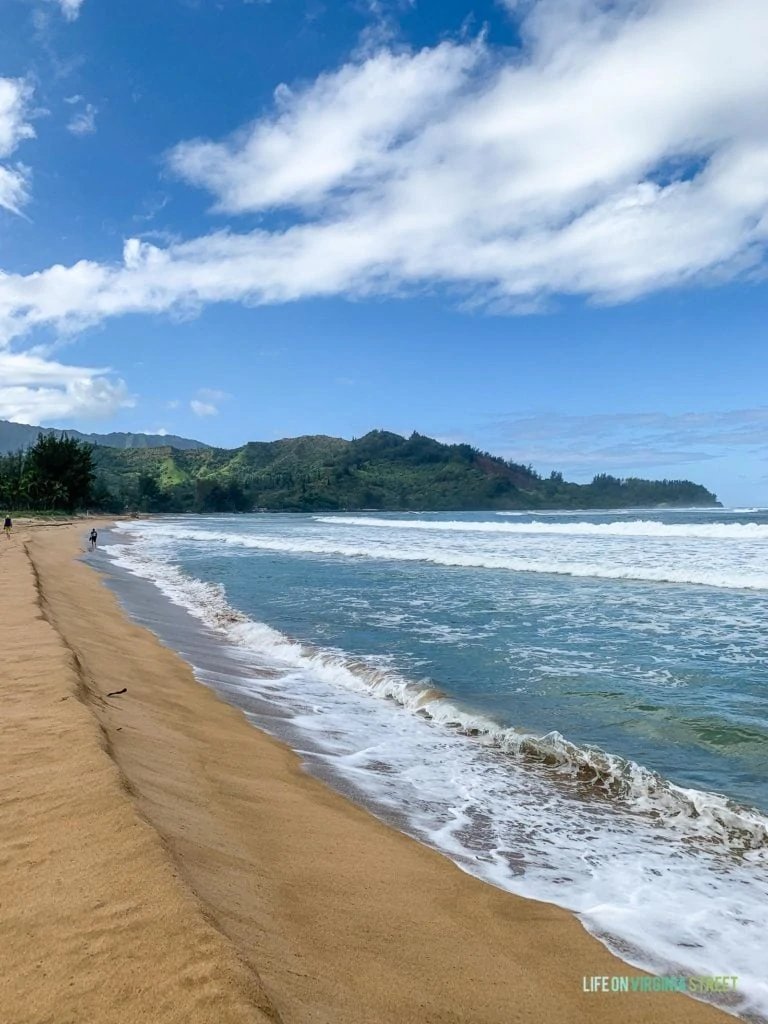 Although we didn't go to the pier this time around (since most of us had been), you'll want to ensure you check out the views from Hanalei Bay Pier, as well!
Hanalei is nearly an hour and a half from Poipu, so you'll want to allow a full day to explore the area if you're staying on other parts of the island. The drive there is very enjoyable, going through small towns as well as jungles!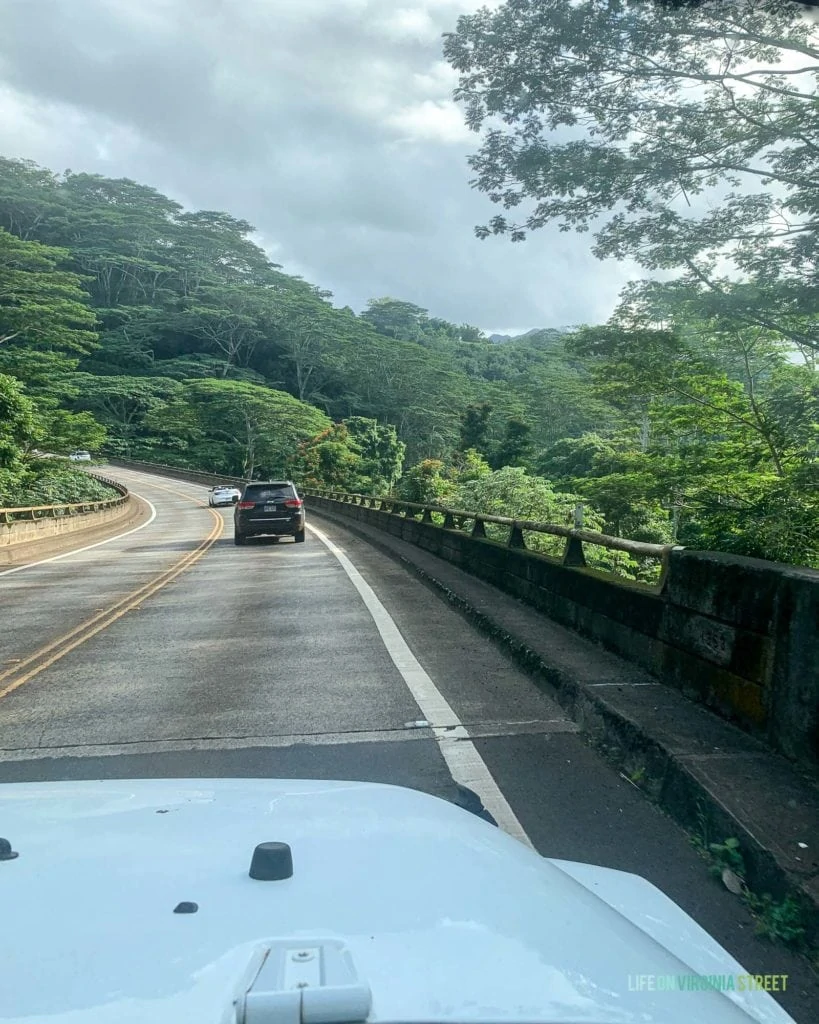 Enjoy Some Pool Time
The pools at the resorts in Hawaii are in a league of their own! There are few places in the world that have such lush and tropical grounds!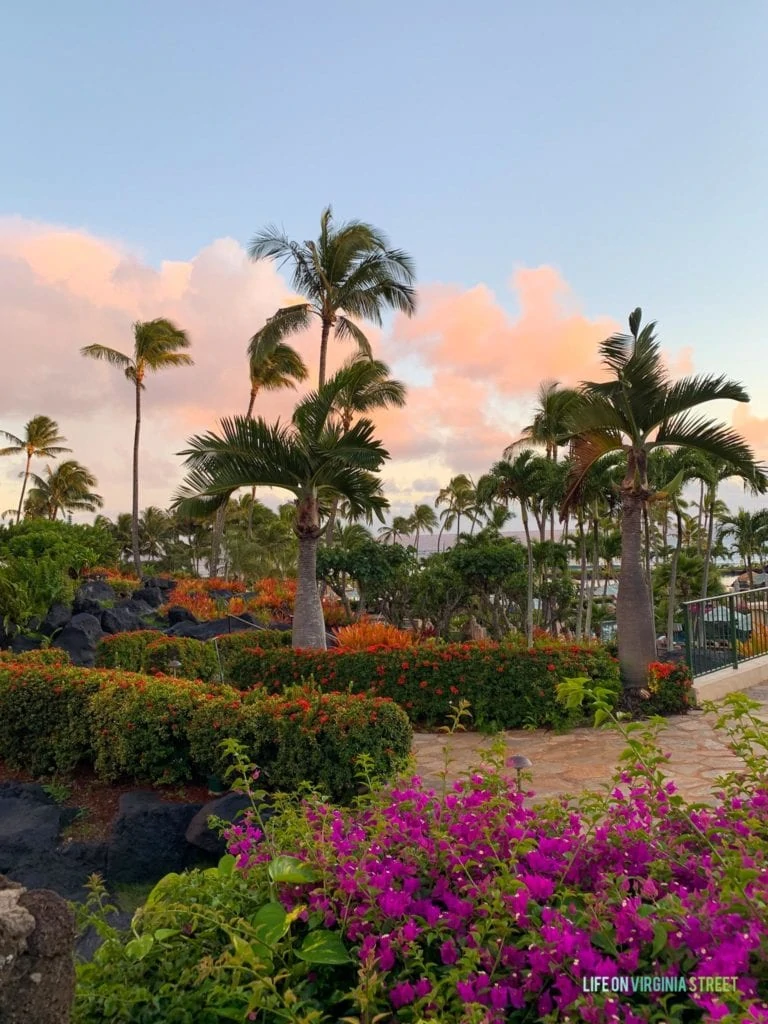 Although I would obviously not recommend spending every day at the pool we tried to make it a priority to spend at least two days at ours. We stayed at the Grand Hyatt Kauai and we both agree it had some of the most beautiful landscaping and pool spaces of any hotel we've ever stayed at!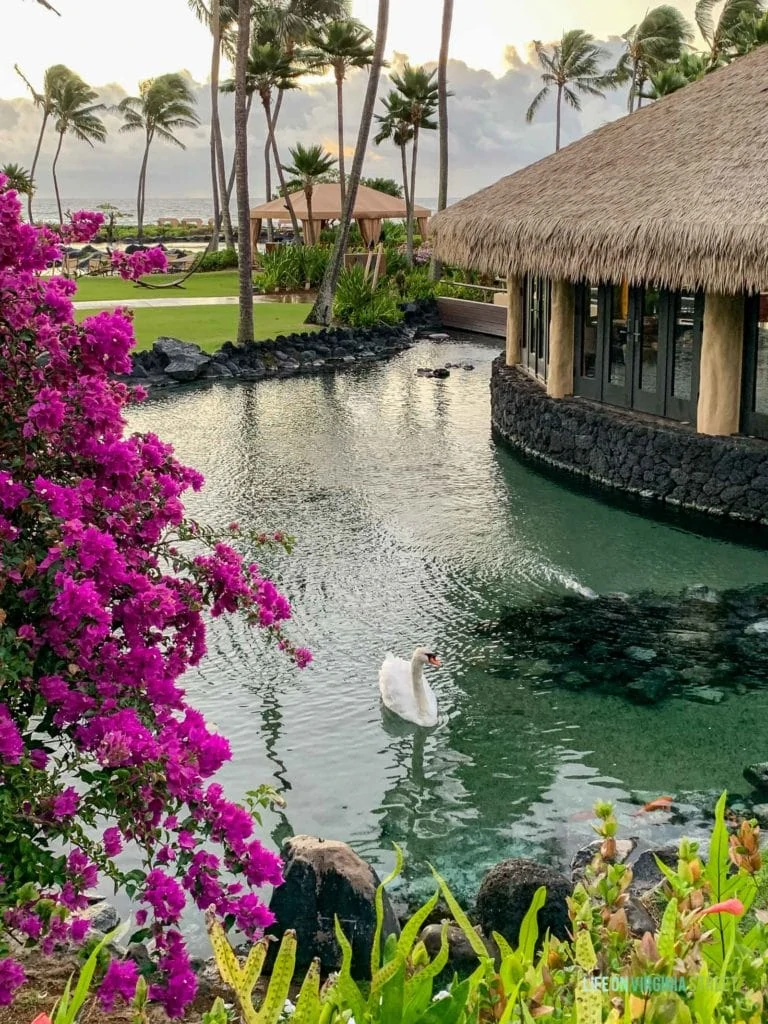 Not only that, the food and drinks offered in the area were excellent. And the best part? Even if you don't stay at the Grand Hyatt, you can actually buy day passes to use their pool facilities at resortpass.com. They are not cheap (since they obviously want to limit the number of non-guests using the facilities) and need to be purchased at least a day in advance. But, it's essentially a mini-waterpark with a lazy river, water slide, a salt pool and more.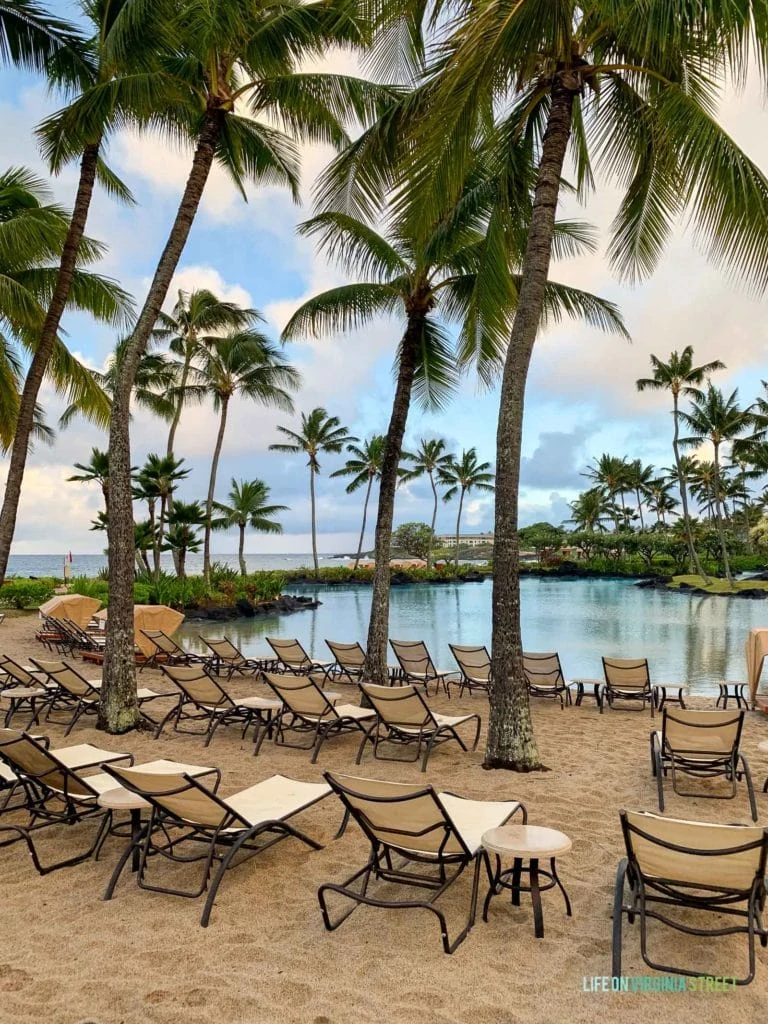 I have even more details about our stay at the Kauai Grand Hyatt at the end of this post if you're interested!
Additional Recommendations For Things To Do In Kauai
I took it to Instagram and got a lot of other great ideas and tips for things to do in Kauai. You can see most of the responses in this post (some are also further elaborated upon there). Unfortunately with the rain we experienced, our days were limited for some of the more "adventurous" activities. But I heard recommendations for the following multiple times while we were there:
If possible, do not miss the NaPali Coast! Sadly our weather did not cooperate to view one of Kauai's most famed areas. The next few bullets highlight ways to take in this must-see area of Kauai.
Captain Andy's Sunset Dinner Cruise along the NaPali Coast – strongly recommended from others!
Kayak the NaPali Coast
Helicopter Ride Over the NaPali Coast (Jack Harter tours without doors was most recommended). Much of the beautiful scenery (and waterfalls) in Kauai can only be seen by helicopter!
Go mountain/cave float tubing. My family actually did this the day after Kurtis and I left and thought it was a lot of fun. But keep in mind you go underground and wear helmets with headlamps the entire time. It's not for the claustrophobic! Their biggest complaint was how cold it was since it wasn't a sunny day!
Snorkel at Tunnels Beach
If you're visiting between November and April, look into a whale-watching tour. We've experience similar tours in Maui and absolutely loved them. The humpback whales are truly beautiful animals and so much fun to watch!
ATV Tour and Ziplining with Princeville Ranch
Visit Hanalei Bay Pier
Attend a luaua. Smith Family Luau & Luau Kalamaku were both recommended luaus
Hike Kalalau Trail. This is only for the experience hikers and adventurous crowd. My brother and sister-in-law made this 22 mile trek with a 10,000 elevation gain. It took two days and was a total bucket list item. They said it was absolutely beautiful, but equally as brutal 😉 If this is of interest of you, do your research! And be sure to check into the permit requirements. Needless to say, I will never experience this hike, but they were so happy they did!
Farmer's Market in Poipu
Brennecke's Beach Broiler (great for lunch views). Grab snorkel rental gear next door at the surf shop and park across the street to visit Poipu Beach.
Acai Bowls at Little Fish Coffee
Enjoy Sushi at Dolphin Restaurant in Hanalei
Grab a drink at Princeville Resort to enjoy the view and ambiance
Where To Eat in Kauai
To limit unknown expenses (and because  the rest of my family is fairly light eaters), we'd try to eat a big breakfast each day and then an early dinner. Since my family was staying at a timeshare condo, we also had access to a full kitchen and outdoor grills for times we didn't want to go out to eat!
Sunset Dinner at Beach House Restaurant
I received the most recommendations by far to do a dinner at Beach House Restaurant at sunset. We all agreed prior to the trip that in lieu of exchanging Christmas gifts, we'd treat ourselves to a really nice dinner and not feel guilty regardless of what we ordered. So, we headed to Beach House Restaurant! The food was excellent and the Mai Tai came highly recommended. We ordered something different from dinner and we were all thought our meals were delicious!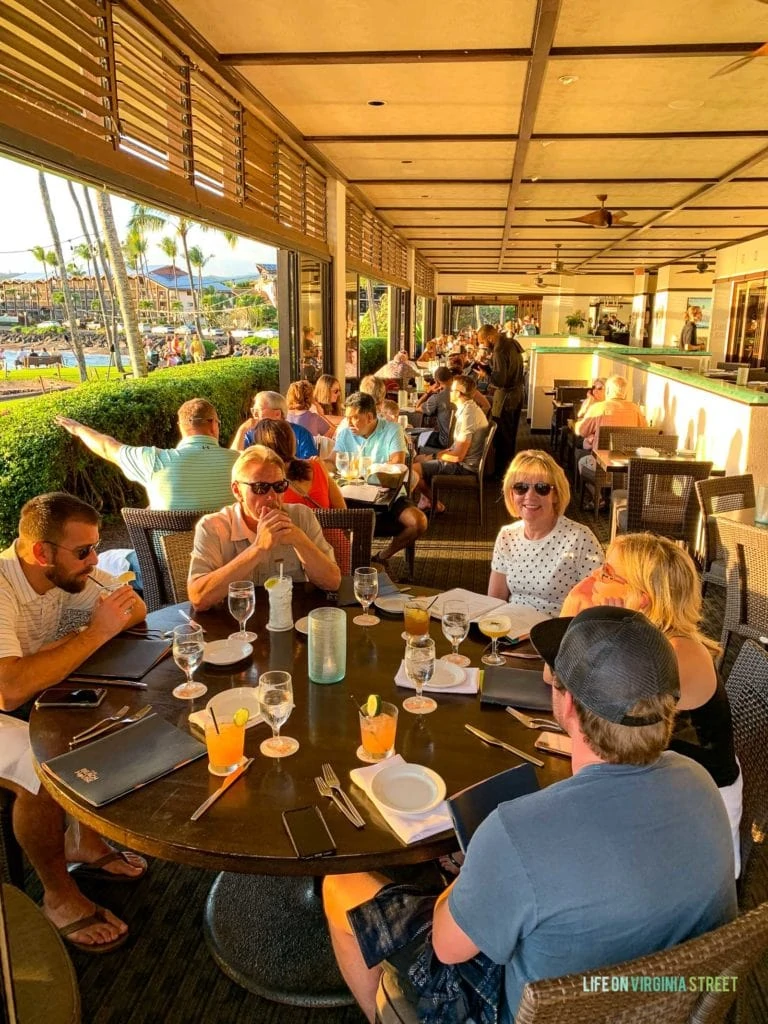 Be sure to also grab a photo while you're there! The lighting just before sunset was so beautiful! For us it was one of the few times on the trip we all wore "real" clothes and put makeup on 😉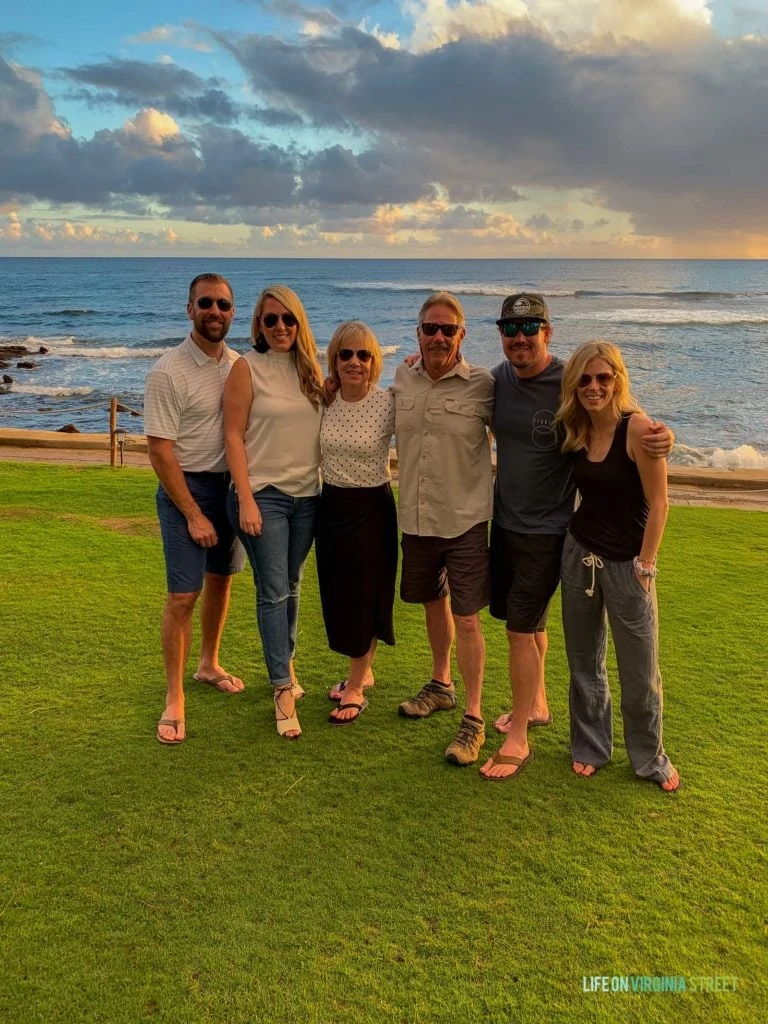 Not a bad view for dinner at all!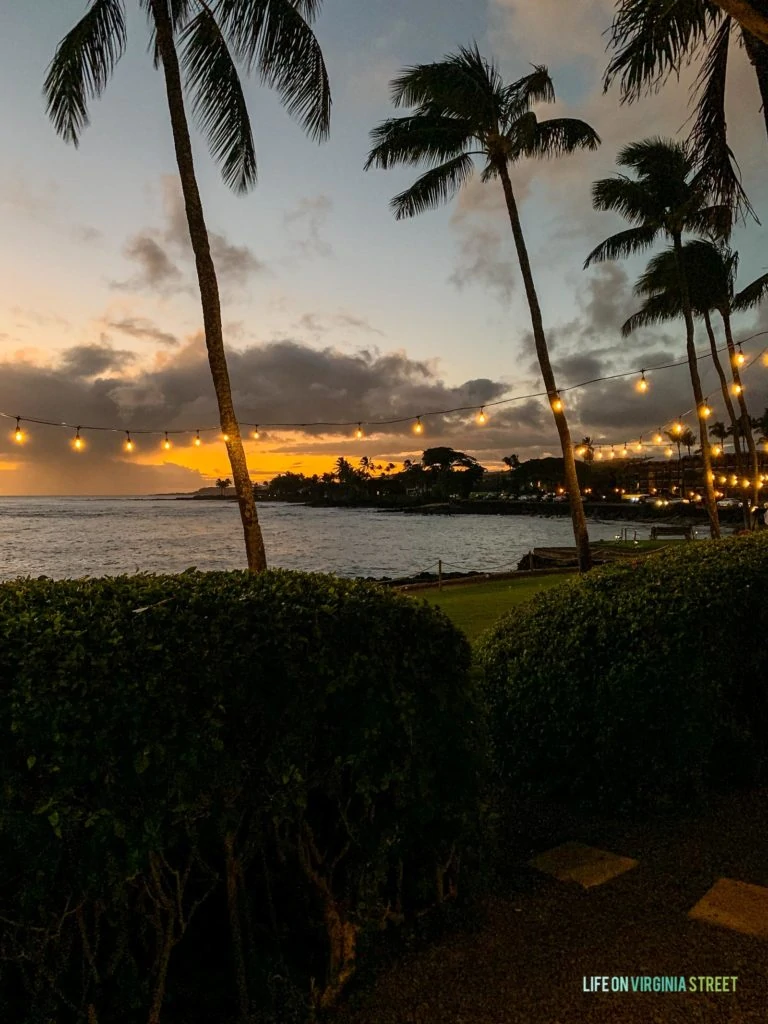 Travel tip: Due to popularity of this restaurant, you'll want to ensure you make a reservation. Since we visited in the slow season, we were able to make a reservation for the end of the week upon arrival. We wanted to make sure we got in on a clear night. However, you may need to book in advance during busier seasons!
Da Pizza Place & Chicken In A Barrel in Waimea
After visiting Polihale State Beach, we decided to grab lunch in Waimea. We ended up stopping at Da Pizza Place & Chicken In A Barrel, two restaurants in one building. It was just off the main highway and we were looking for something fairly quick and low-key. This spot was perfect! It was on beautiful grounds and the back side of the building has a large covered deck where you can eat!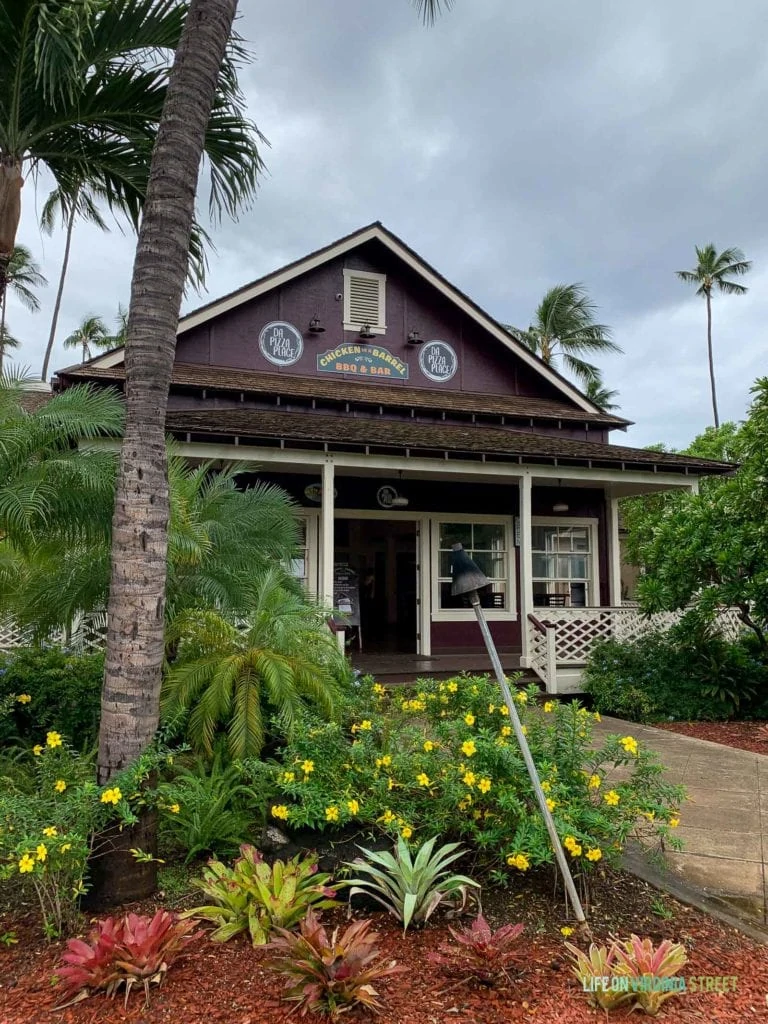 The interior is equally as charming! It's a great casual lunch spot and would also work well if you have kids with you!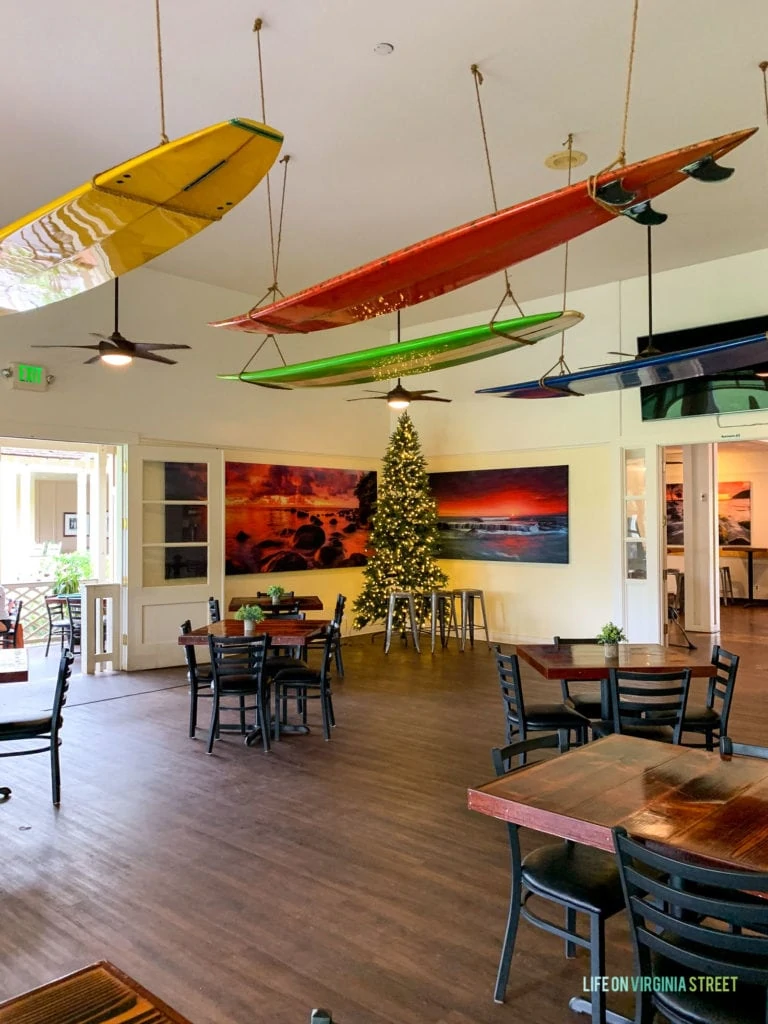 The guys were expecting more Hawaiian-style barbecue, so they preferred the pizzas over the barbecue they ordered!
Shave Ice at JoJos in Waimea
You can't go to Kauai, or Hawaii in general, and not get a shave ice. I'd have one (or more a day) if it were up to me! The most recommended spot for shave ice was Jojo's. We made sure to visit in between our trip to Polihale State Beach and Waimea Canyon. It was definitely worth the stop! We all got different flavors (although we could have shared two of them among all six of us). They are HUGE! But so delicious and worth trying! And the macadamia nut ice cream in the bottom was heavenly!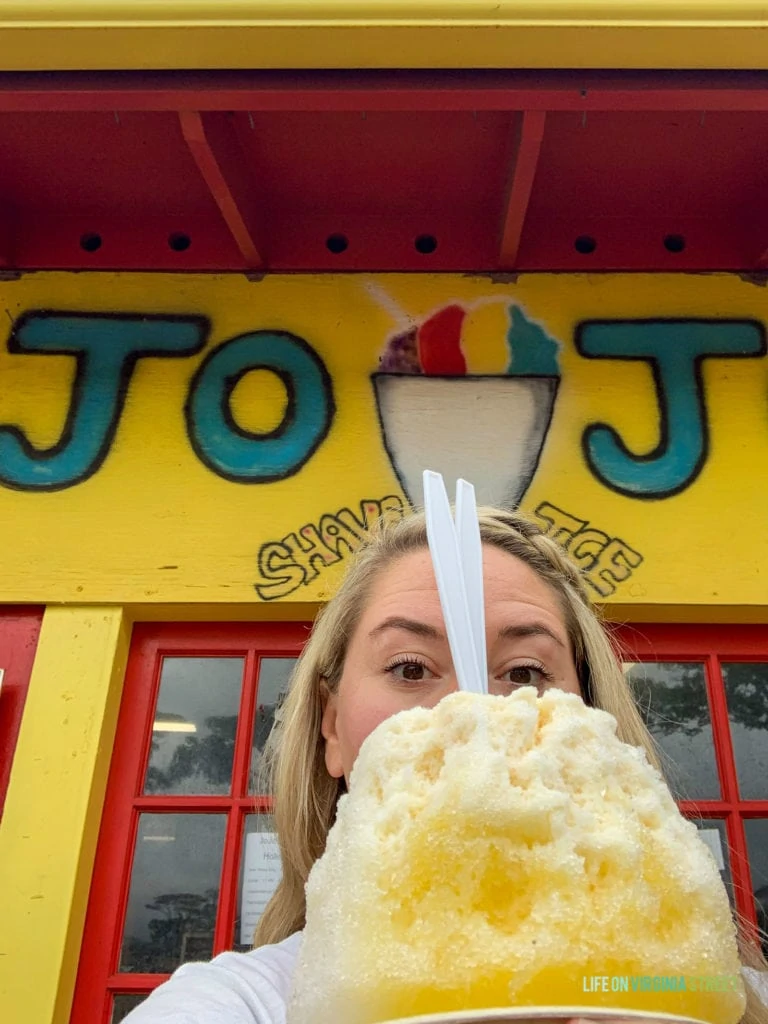 Plan on Lunch at the Hanalei Food Trucks
We had multiple people recommend the food trucks in Hanalei. So, the day we headed that direction, we started first with lunch there. There are about a half dozen food trucks permanently parked in a lot off their main road. Since we started our time in Hanalei here, several were not open yet so we did a little shopping first. Turns out their "Open" times vary on too many things to list, so plan to be patient and flexible if you want lunch here! But the food was good and it was a fun experience!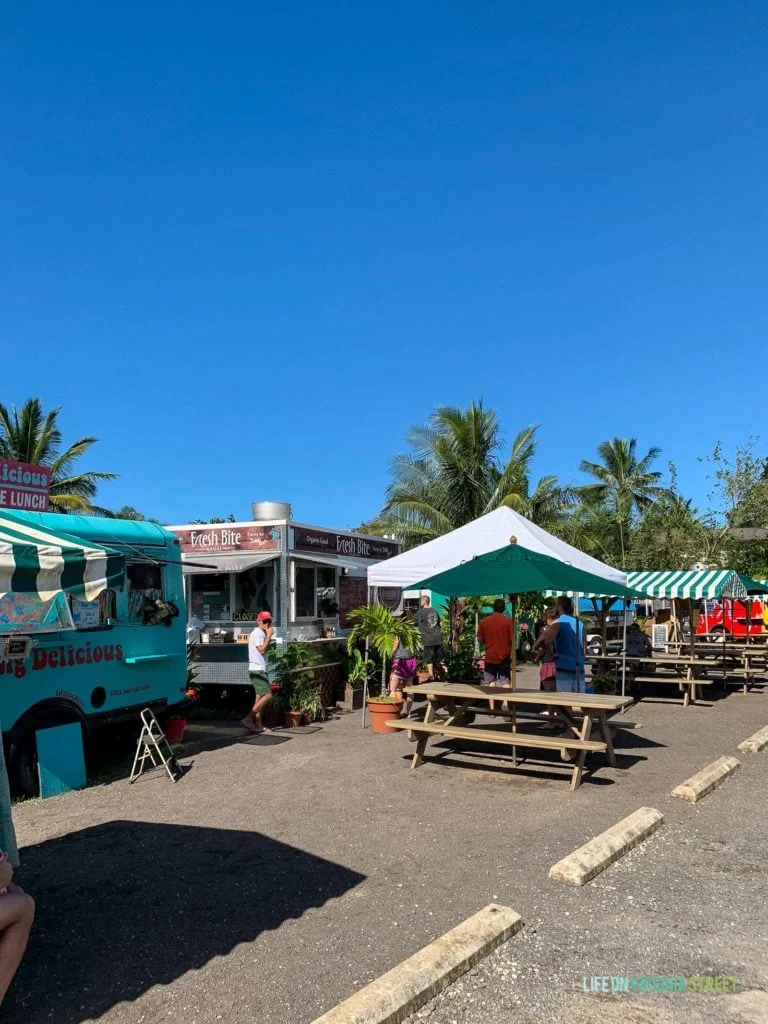 Puka-Dog
Sadly, we didn't try a Puka-Dog until our last day on the island. They're essentially Hawaiian style hot dogs fully encased within their bun. If you've been to Nebraska, I'd equate it to a Runza for hotdogs. They have toppings ranging from sweet to savory to spicy and we thought they were delicious!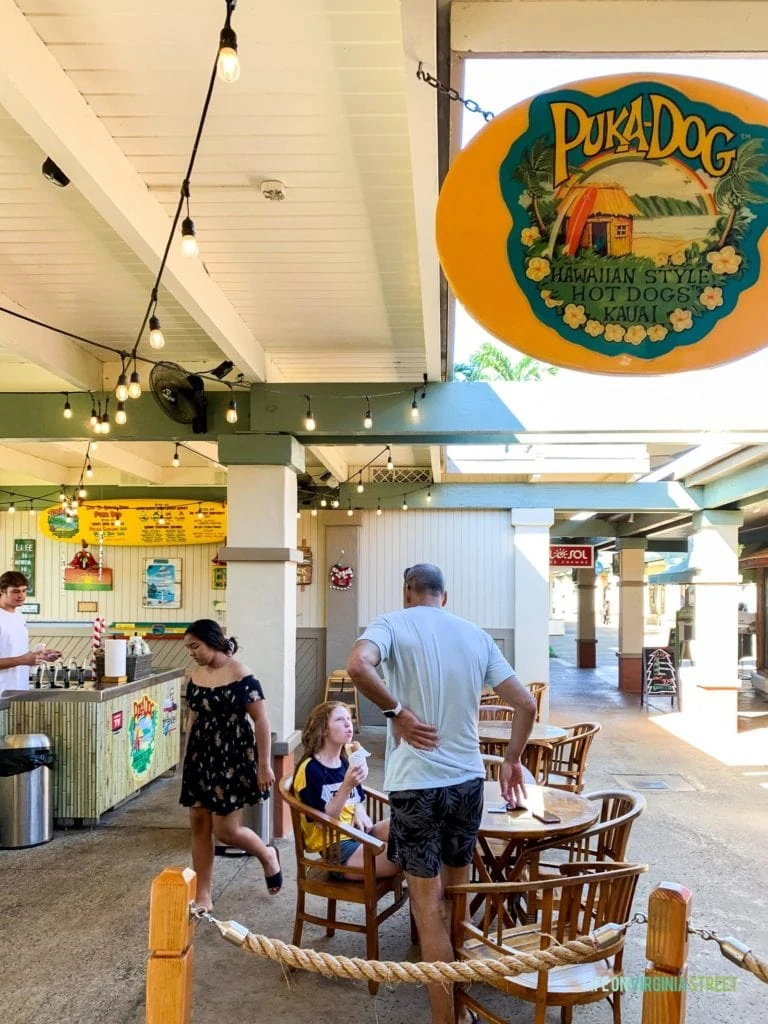 The Shops at Kukui'ula
This was perhaps the place we ordered the most meals. It was easy to do a little shopping and grab lunch or dinner. They have a wide range of restaurants so it's easy to find something everyone will love! Although the development is in Koloa, it was a quick five minute drive from Poipu. Recommended restaurants include The Lanai, Merriman's, Tortilla Republic, Eating House 1849, and many more! I didn't get any great photos of the area because it was raining nearly every time we went, but it's a super cute area!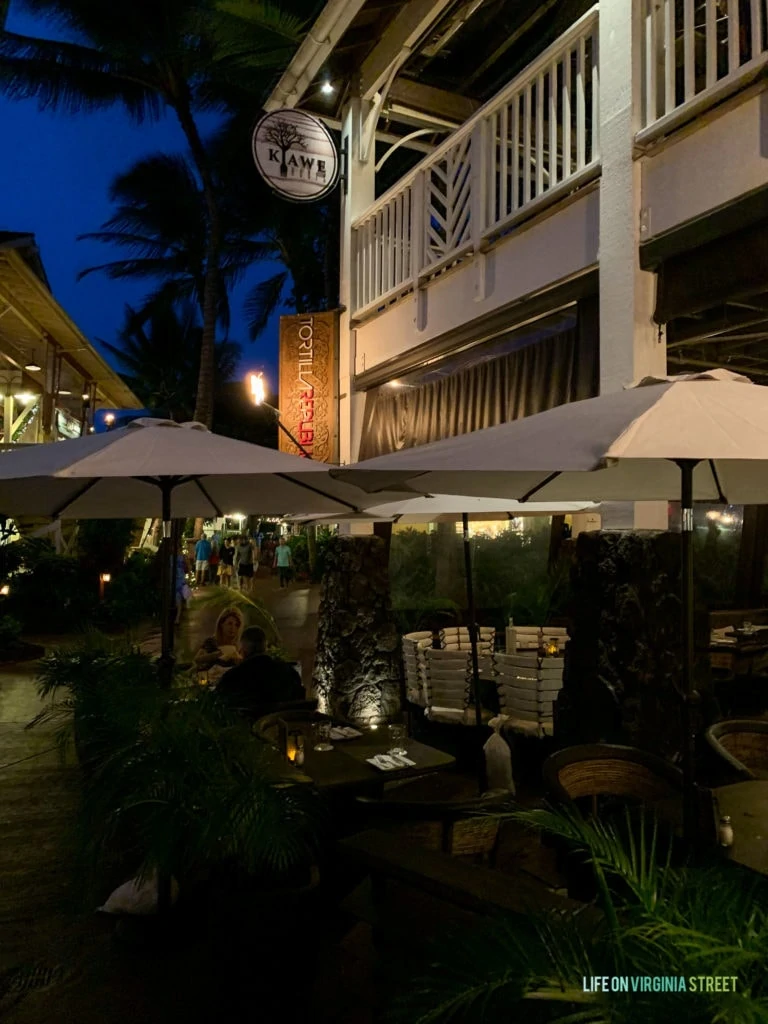 Where To Stay in Kauai
As mentioned, we stayed at the Grand Hyatt in Poipu. The grounds were stunning and rooms were nicely equipped but not overly fancy by any means. It's one of the more expensive properties on the island, but the location is excellent and everyone was very friendly. We had a partial ocean view with a lanai and it was so nice to sit outside and enjoy coffee or just look at the beautiful views. We would absolutely stay there again.
The first morning there, I walked the property to take some photos (while my family was all working out). It started down pouring, as it can frequently on Kauai, but what resulted was the most beautiful rainbow over the property!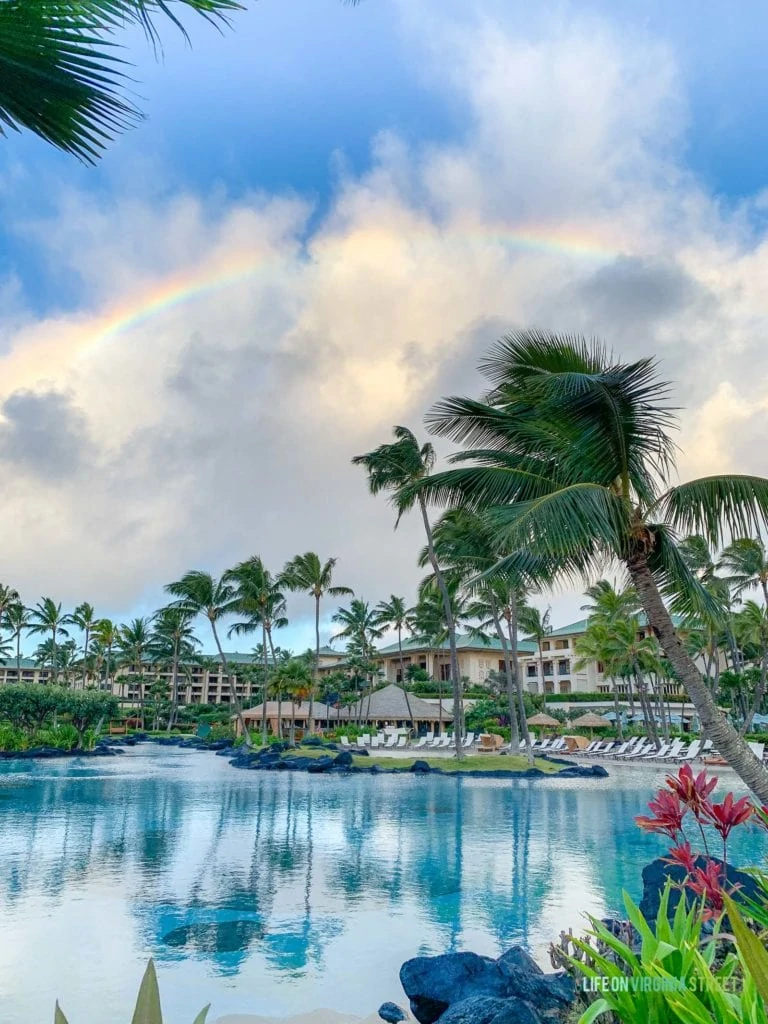 This view from my brother and sister-in-law's condo had the perfect view of the Grand Hyatt Kauai. You can really see the expanse of sandy beaches and beautiful water!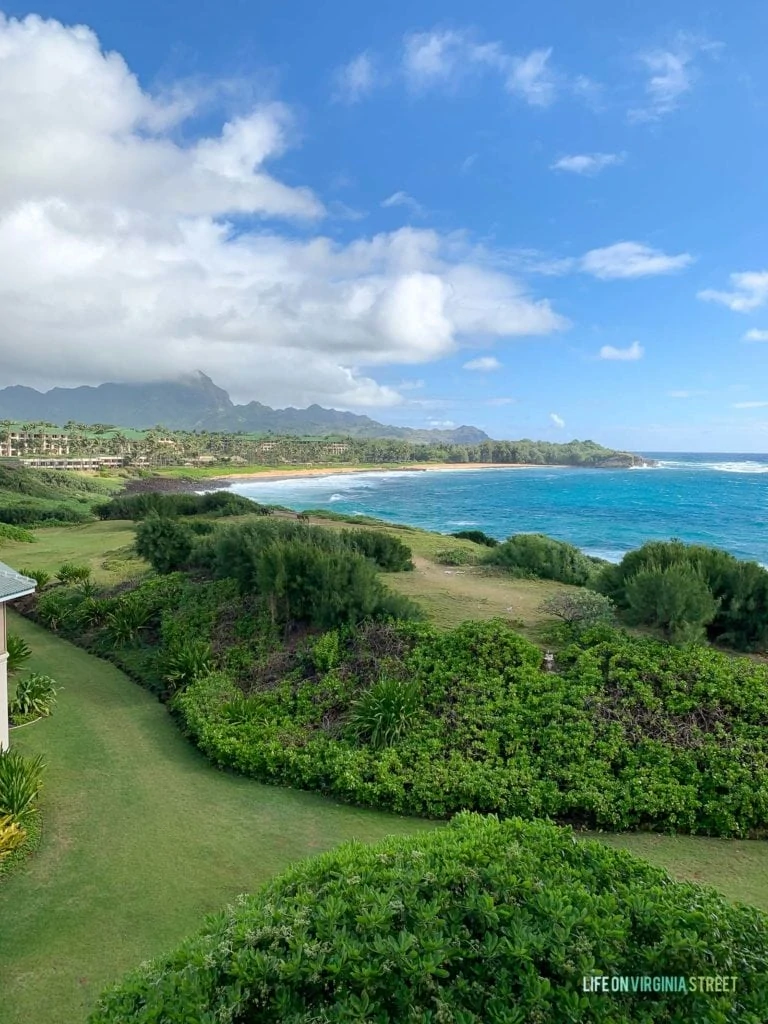 I'd highly recommend the coconut lattes each morning from the lobby coffee bar. I had mine with almond milk, and it now may be my favorite latte combination of all time! And the view from just outside the coffee bar was so beautiful every morning!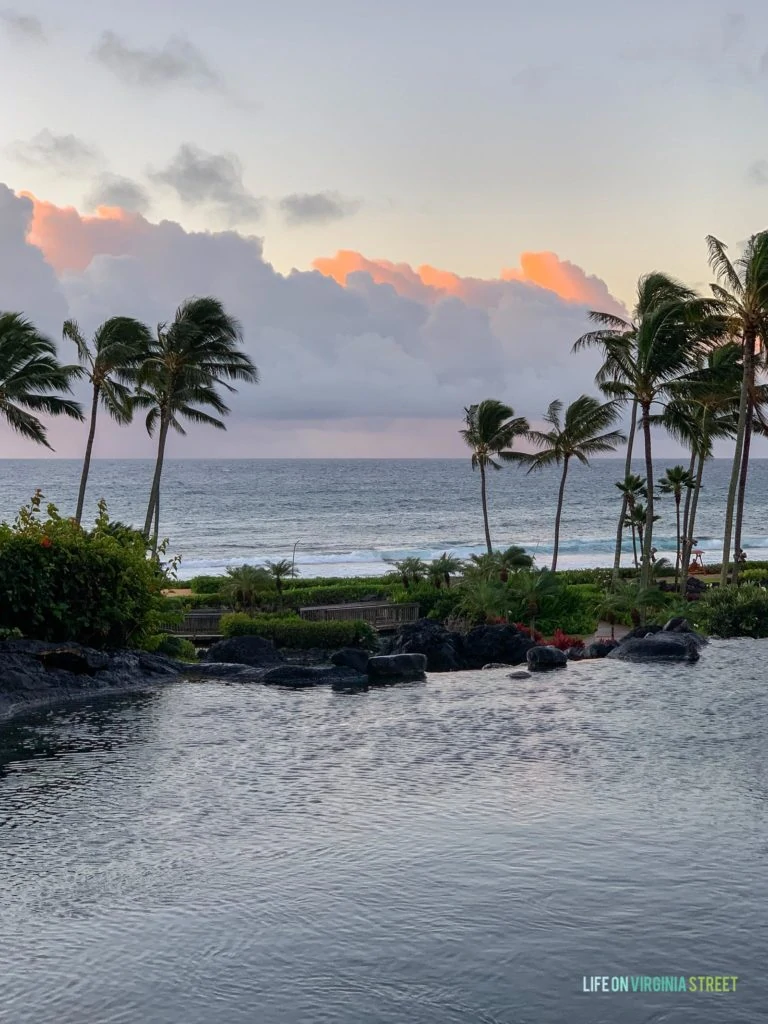 Although we never ate dinner on property, Donderos' and Tidepools came highly recommended!
And the Christmas lights and trees around the property made the experience even more special!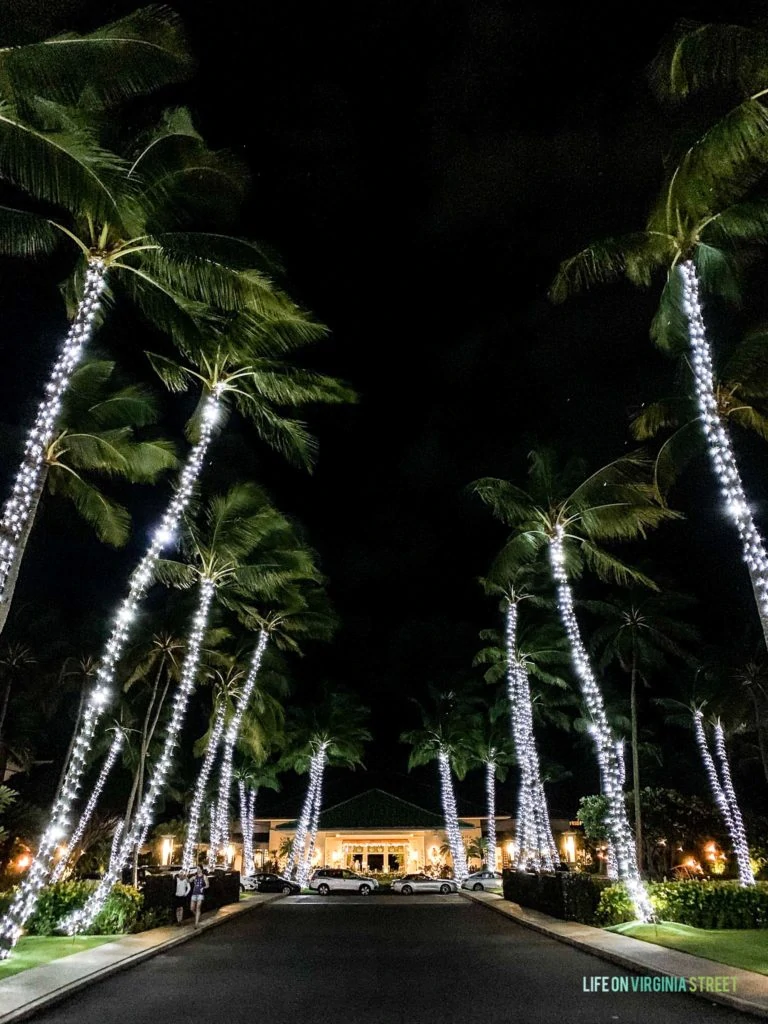 The evening Kurtis and I were set to fly out, we were greeted with another full rainbow on my brother's lanai. The perfect way to end our trip!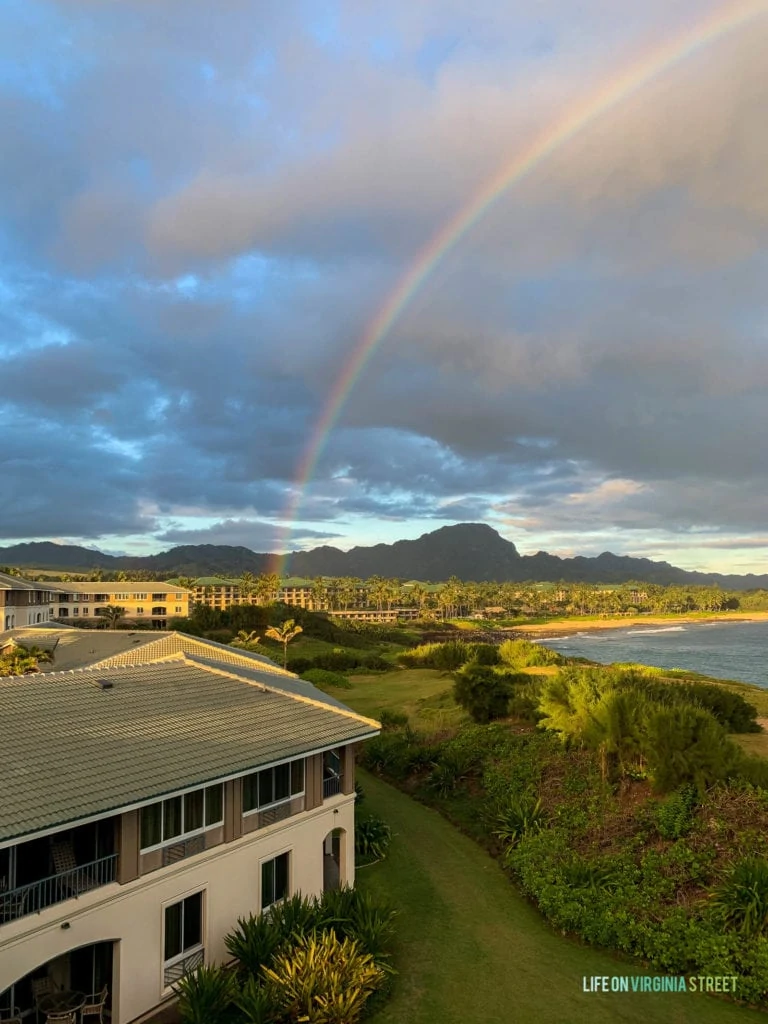 General Kauai Tips
There's a Costco on the island in Lihue near the airport, as well as several local groceries stores throughout the island. If you're looking to save a bit on food and drink expenses, it may be worth stocking up for your condo or hotel room. If you go this route, you may also want to get a cooler so you can pack lunches and drinks to take around the island with you on day trips.
Be flexible with your plans. Even if you don't visit during the rainy season, expect the unexpected rain showers. It's just part of the island's charm and you'll enjoy yourself much more if you just roll with it! There's a reason the island is so lush and green!
Kauai has a much slower place of life so it's important to embrace that!
The dress code is really casual on the island. In most restaurants in the evenings, you saw everything from shorts and sandals to more dressed up outfits.
Kauai is a rainy island, but it also has rainy seasons (as we encountered). If you want to ensure the  most sun time, ensure you plan accordingly.
If you plan to boogie board or snorkel a lot on the trip, it may be worth buying your own equipment the day you arrive. New guests will be happy to take your board when you leave. This will help save on the rental costs!
Honolua Surf Company is our favorite place to buy Hawaiian surf shirts, shorts, etc. We stock up in their stores every time we visit Hawaii.
If you're planning to rent a car, splurge on a 4×4 Jeep. We got one with a removable top, but because of the random downpours during our stay, we never took the top off. However, we always had the windows down to enjoy the fresh air. We believed this was absolutely worth the expense, and made our long drive times much more enjoyable! It was especially fun to have during drives in Waimea Canyon, the tree tunnels, Polihale State Beach and even just around town!
Not gonna lie. After our trip to the island of Kauai, we were all brainstorming ways we could move there permanently. It is one of the most incredible places in the world to visit, and absolutely worth adding to your bucket list!
If you have any questions or would like any more details about anything from our trip and experience, please let me know in comments! On the flip side, if you have any other tips or recommendations, I'd love for you to leave a comment below so other's can benefit as well!
If you would like to follow along on more of my home decor, DIY, lifestyle, travel and other posts, I'd love to have you follow me on any of the following: