I'm the first to admit that projects in the warm months are tough for me. I would so much rather be outside lounging, enjoying the warm weather, or even working in our yard.
However, in the colder months, I seem much more productive. It's likely because, if I don't have something to keep me busy, I go stir crazy in our house while it's so miserable outside.
With the holidays rapidly approaching, I know my time will be mostly be filled with adding festive touches to our home. Yet this year, I have another fall home tour and three Christmas home tours already lined up. However, in the downtime between gearing up for those posts, I plan to tackle some of my to-do list.
Without further adieu, following is my six-month to-do list:
FINISH THE MUDROOM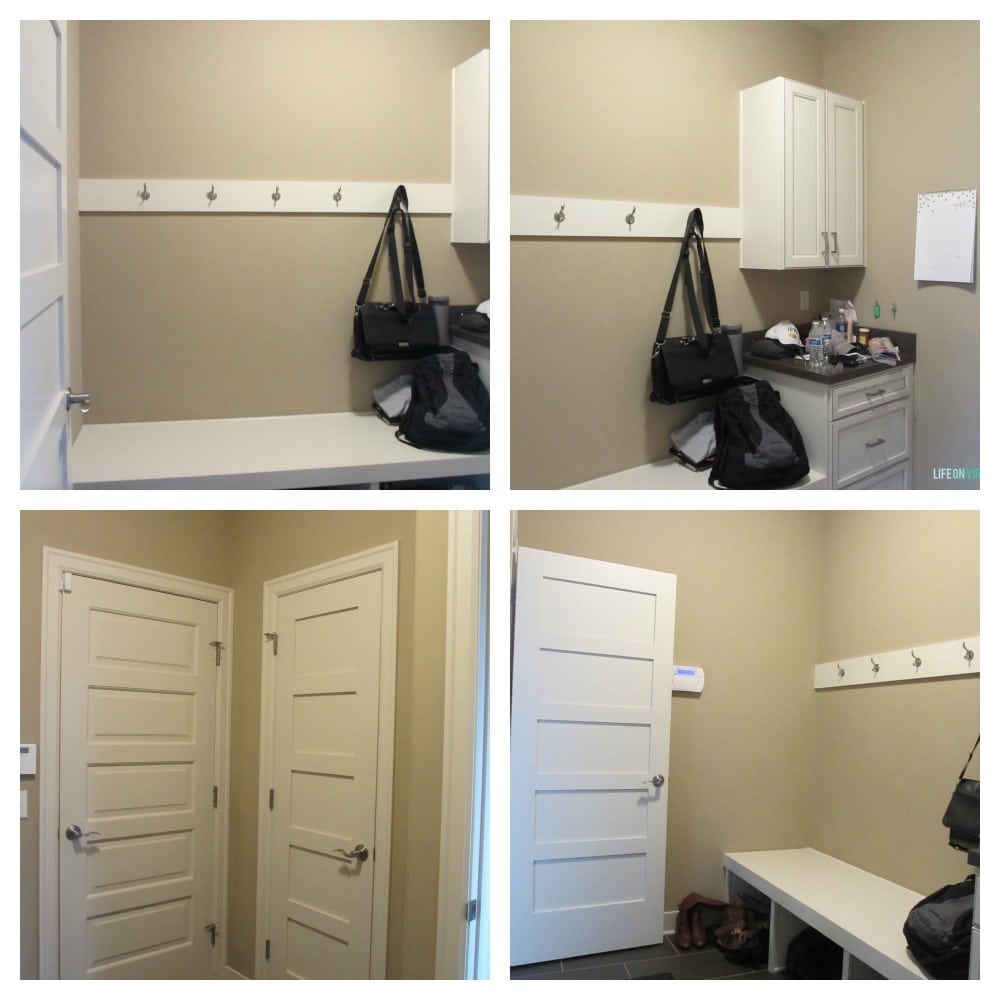 We started this project over a year ago a made some good progress fairly quickly, but I honestly haven't touched a space in nearly that year's time. I need to paint the planked walls, paint the cabinets and bench, cover the countertops with the marble contact paper I bought, paint the doors and trim, add a second coat of paint to the walls, and style the space. Admittedly, it doesn't look horrid in photos at this point (which is why I likely haven't been as motivated to finish it), but up close, it is a bit of a disaster. Honestly, we have done the bulk of the heavy lifting and there isn't that much left to complete, so I need to get a move on it!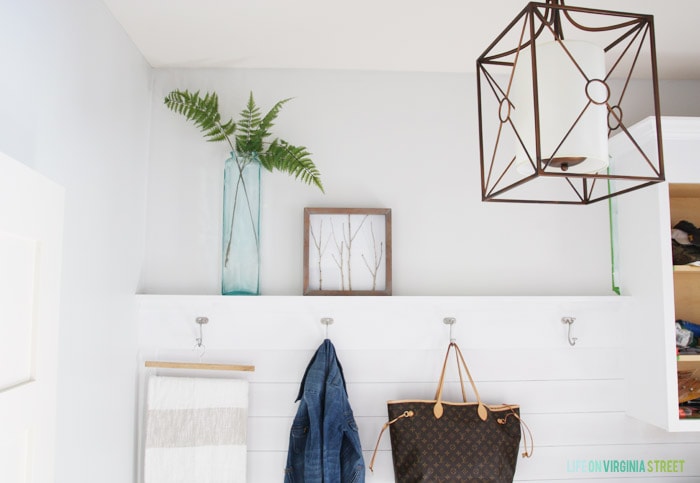 FINISH THE MASTER BATHROOM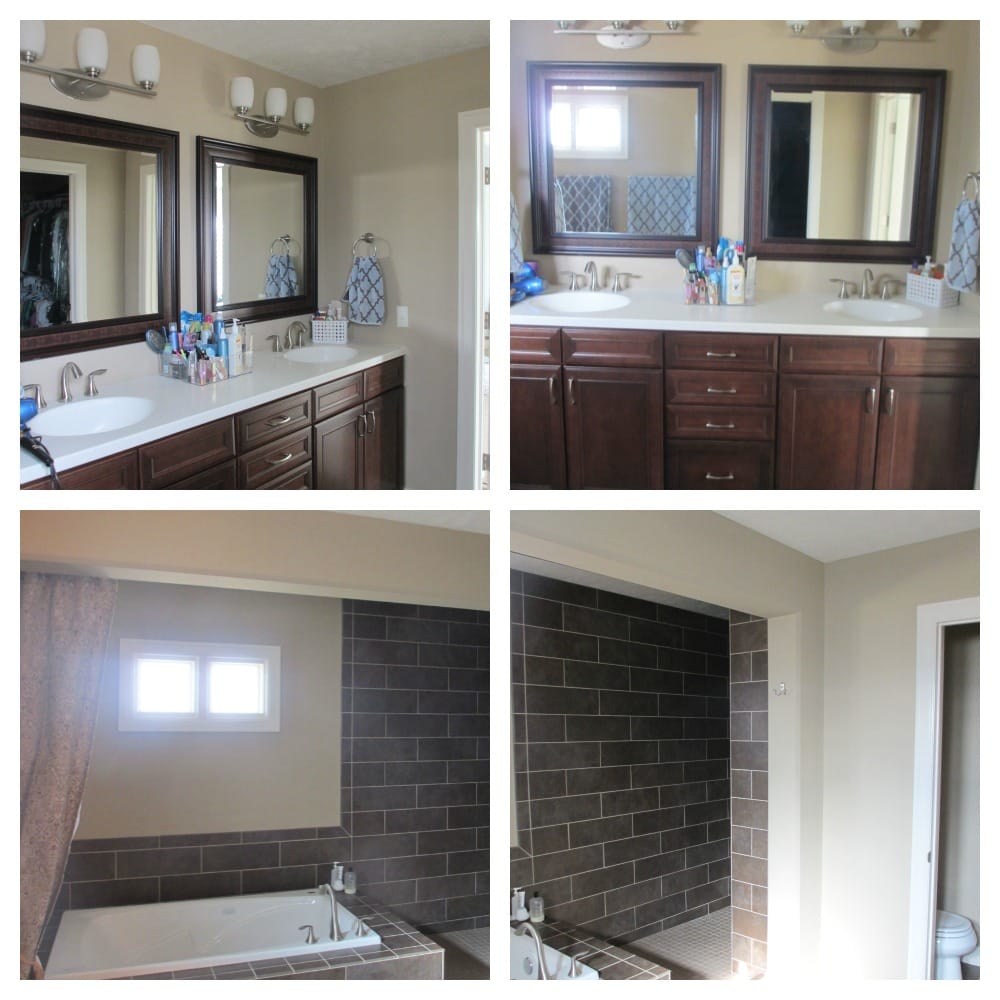 This is another project I started and then abandoned (actually in favor of starting on the mudroom). Again, the changes are minimal – second coat of paint on the walls, paint the doors and trim, and style. Definitely doable!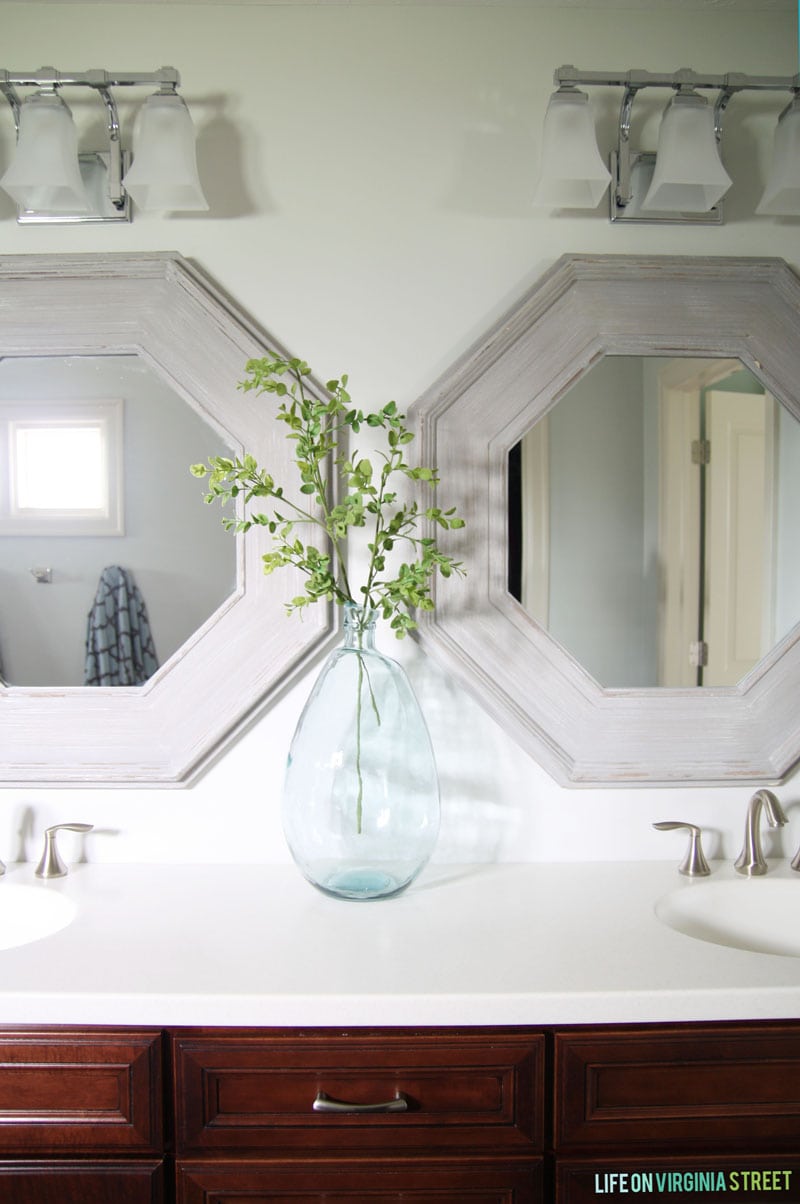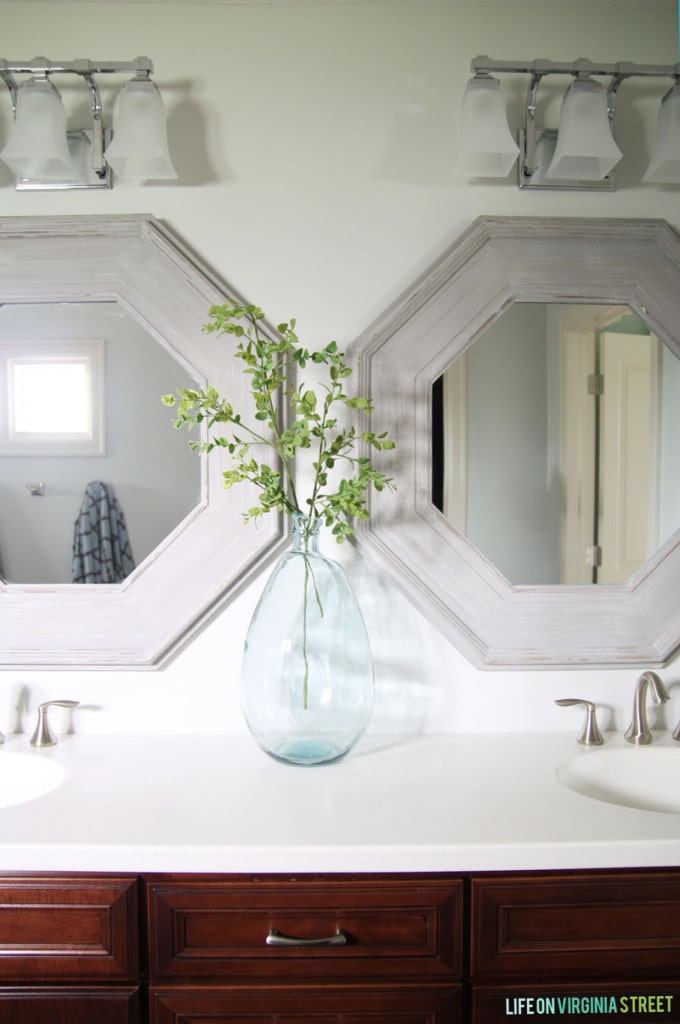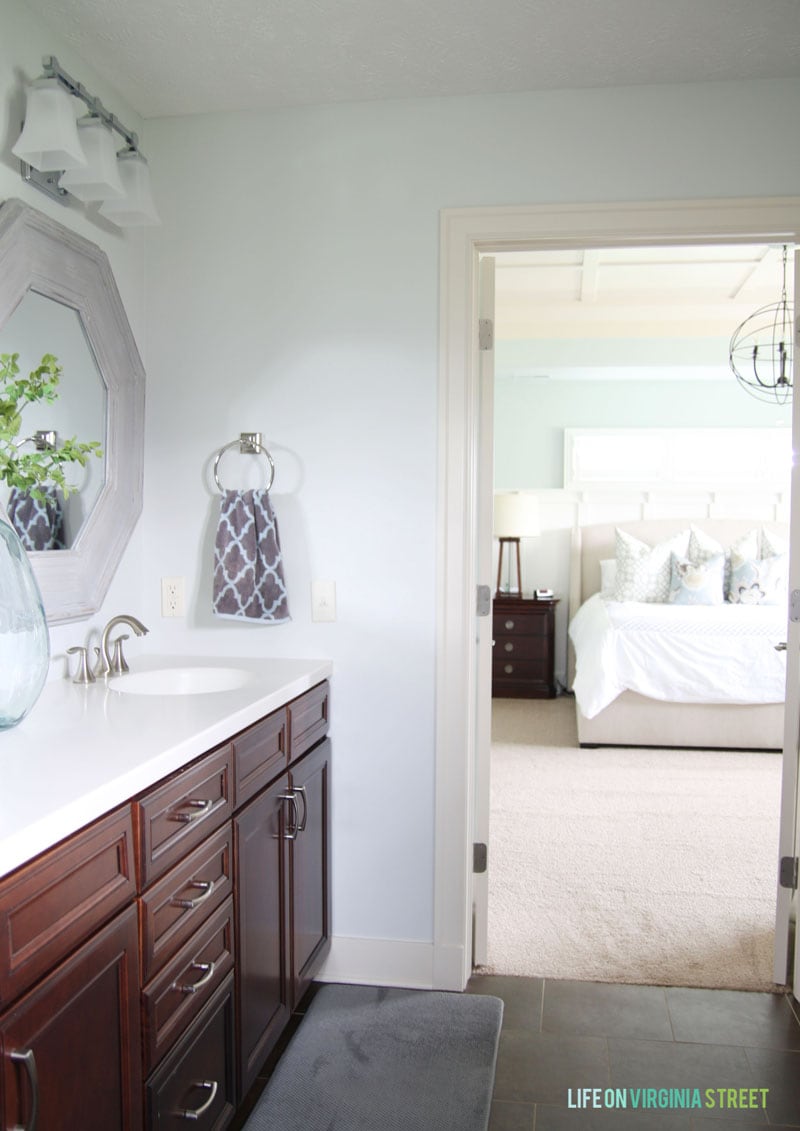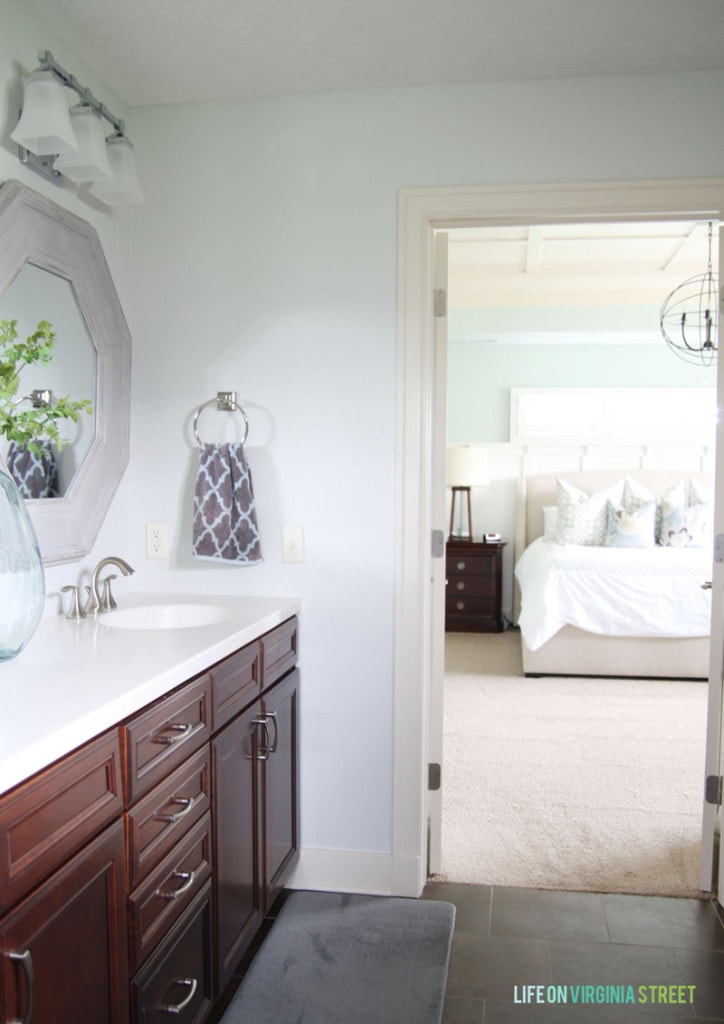 KING GUEST BEDROOM
Granted, this room is "done" however, it has never actually felt like "me" or that it flowed with the rest of our house the whole time. I'll likely start some scheming over the colder months on simple ways I can change things up a bit to make it a space I love more. I think it's a beautiful room, but unfortunately, it feels like a compilation of images I saw on Pinterest and a blend of styles that just aren't my own. I'm hoping I can change that pretty easily.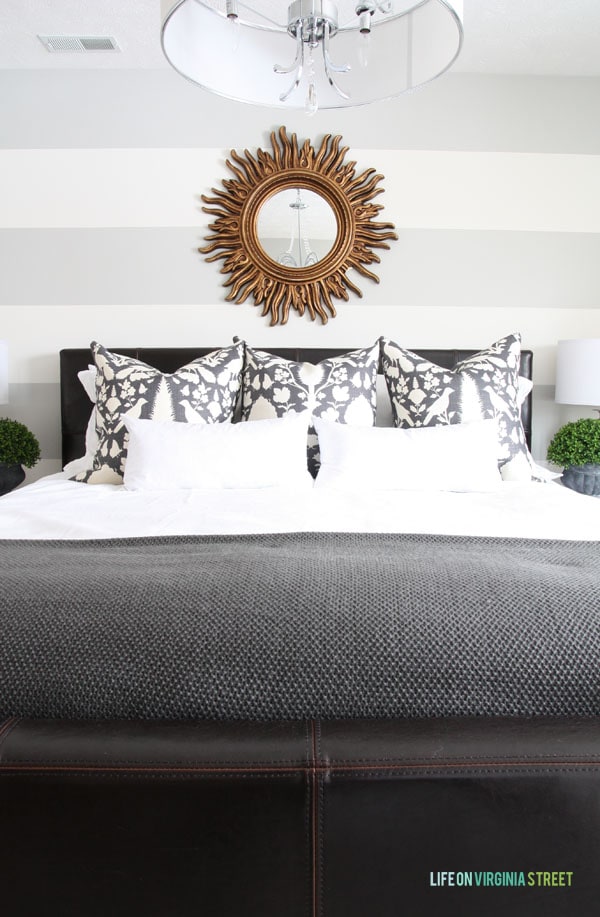 NEW PROJECTS TO START:
JACK + JILL BATHROOM
This is one of the few spaces left in our house that still has the original paint color. I wrote a lengthy, inspiration post here. At minimum I'd like to get some paint up. Ideally, I'd like to replace the flooring and cabinetry/countertops.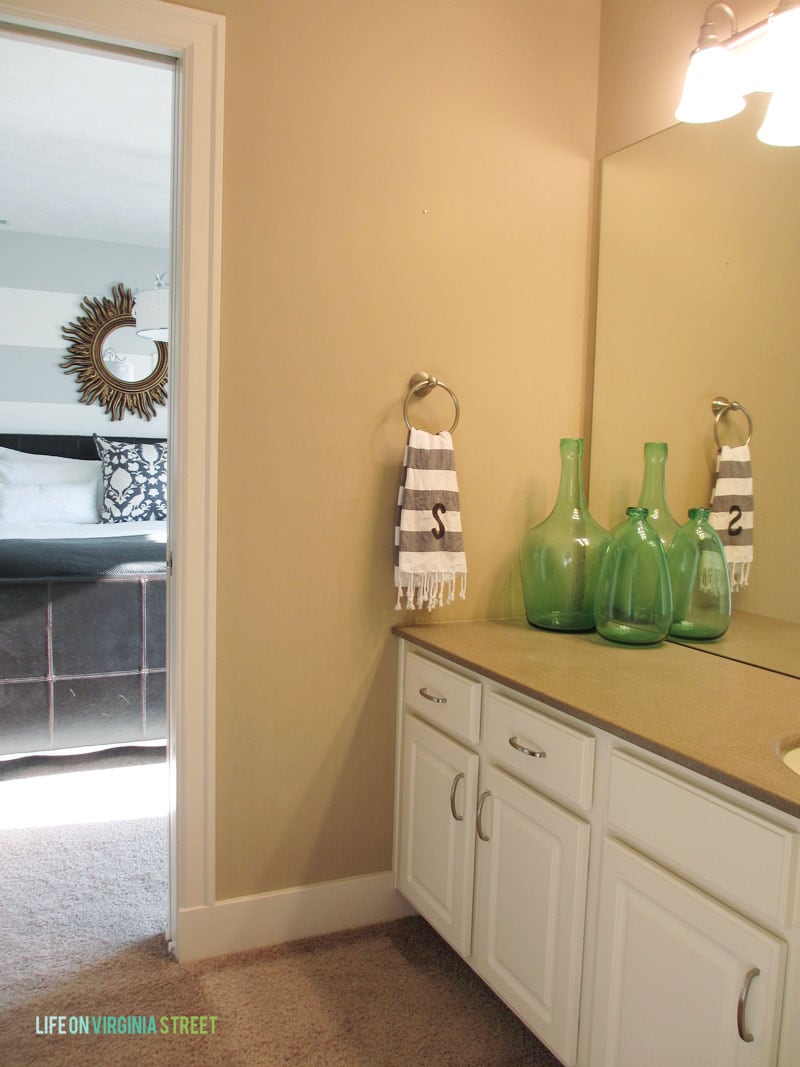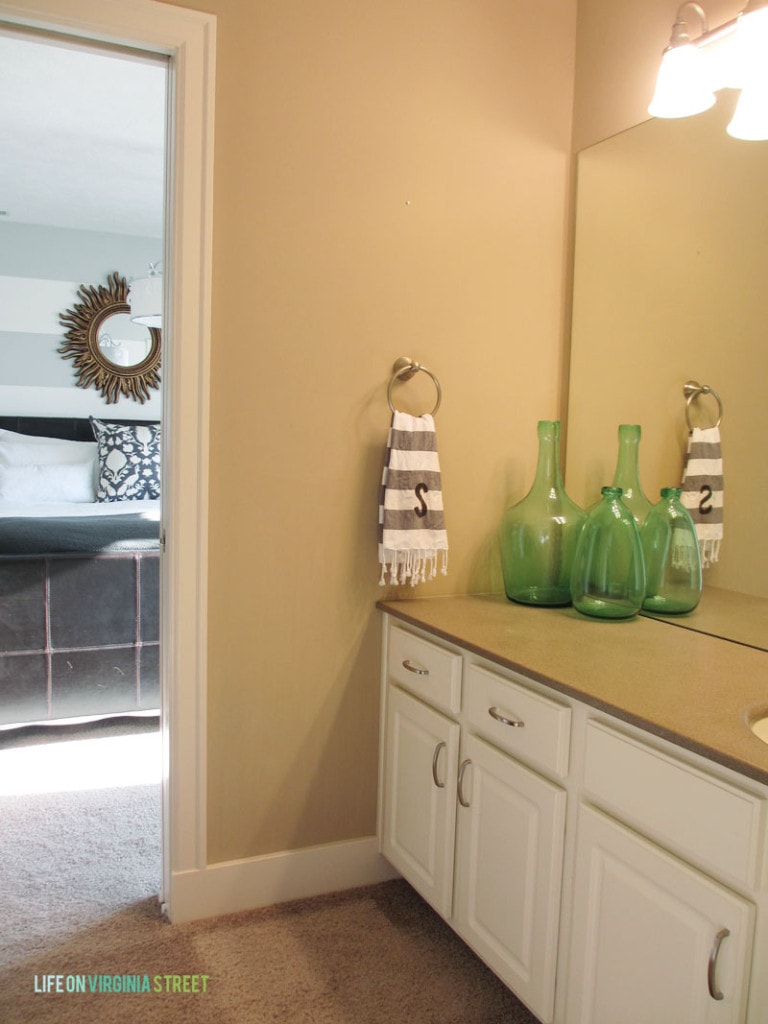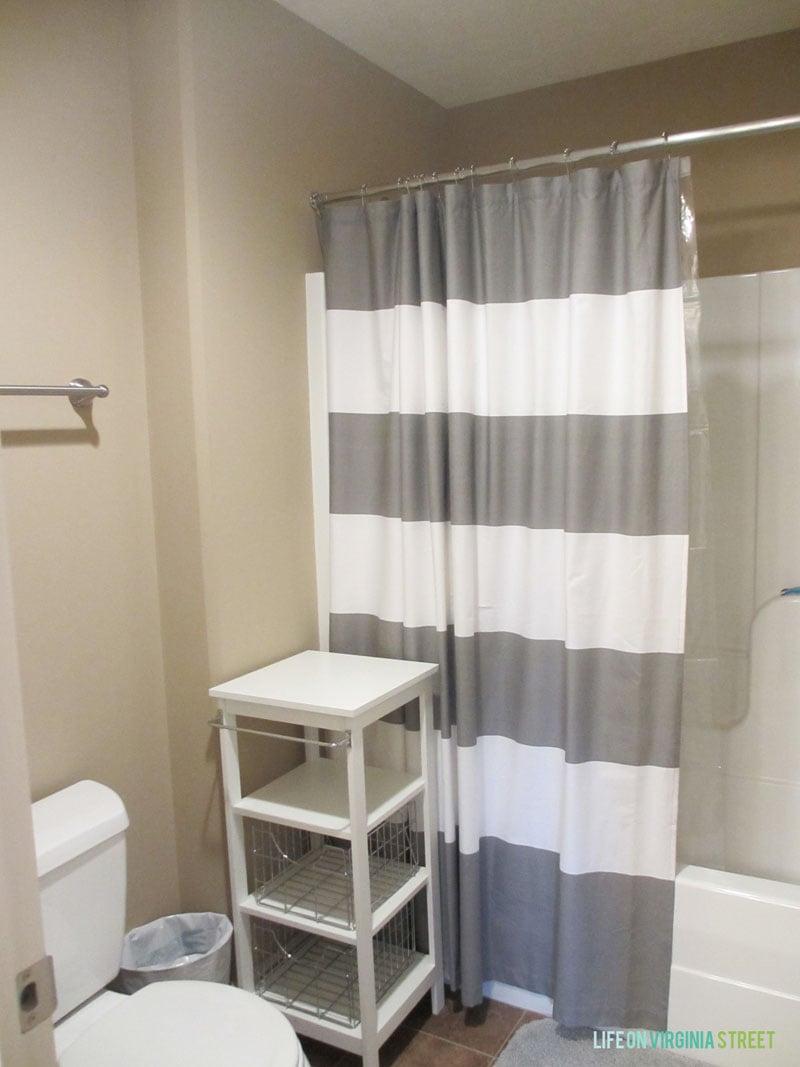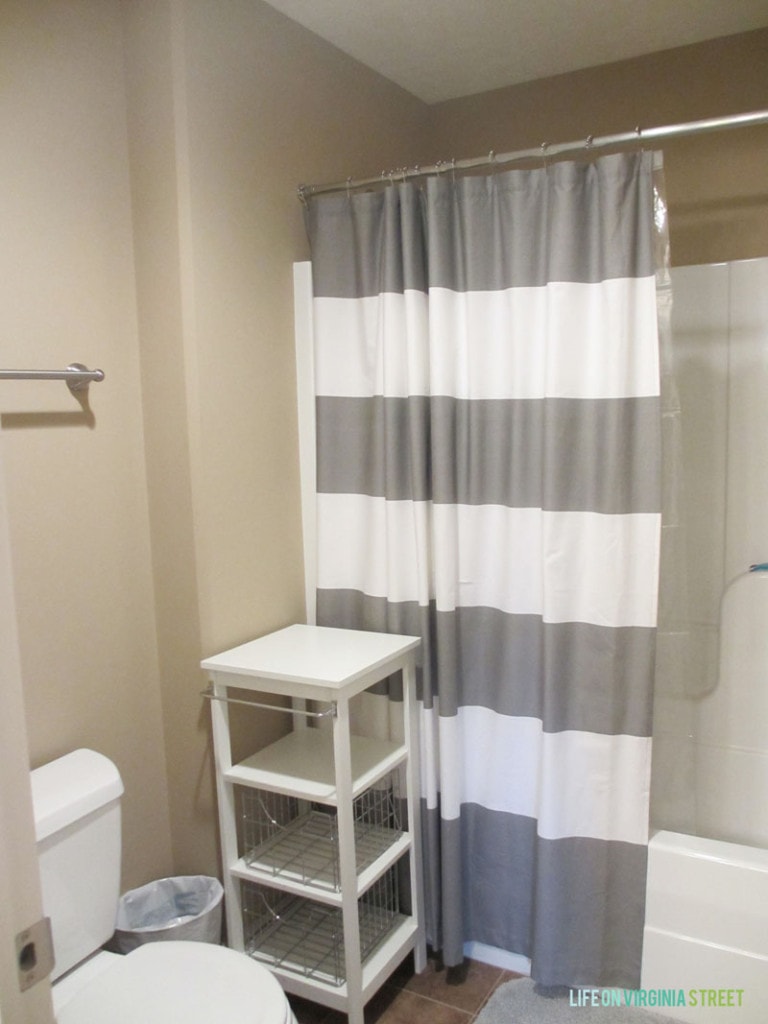 PAINT THE DINING ROOM CEILING
Actually, all of the ceilings need to be painted on our main level. Our main level has all smooth ceilings, so the builder painted it the same color as our trim color (which was a pinking cream color). It may be hard to see in photos, but the ceilings need a fresh coat or two of bright white paint to fully remove the warm tones from the spaces. The dining room will be the first place to start since it's fully contained and the room is fully finished otherwise. Hopefully this is a project I can complete in a day.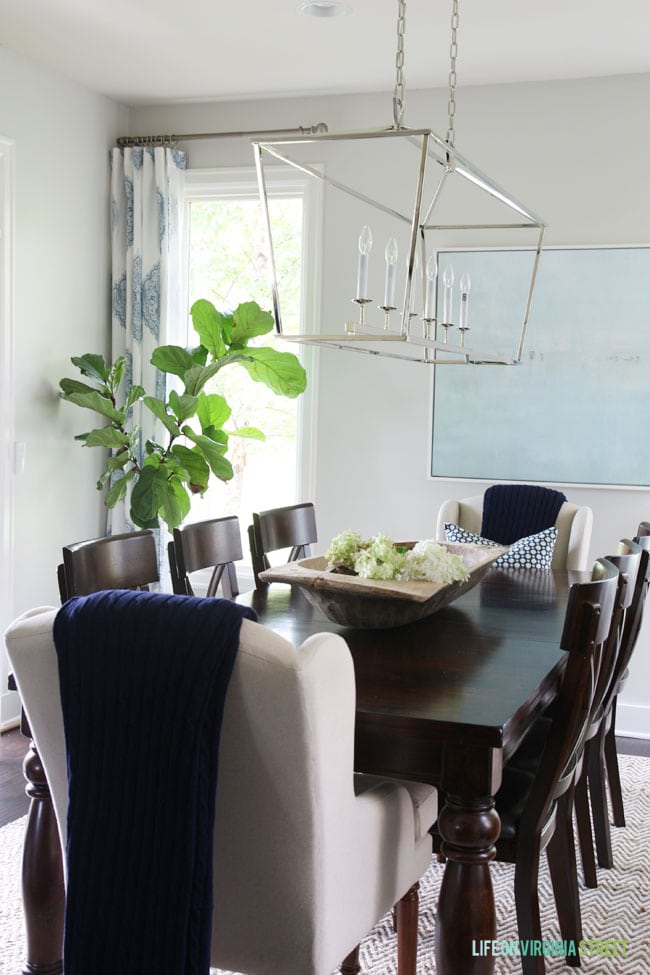 STAIRCASE
The main staircase walls. I'd love to add a board and batten treatment and paint it all white. The first picture below is the current state of the staircase and the second photo serves as inspiration. In addition to the board and batten treatment, I would also love to remove our carpet from the stairs as well, but that will likely be a bit further down the line.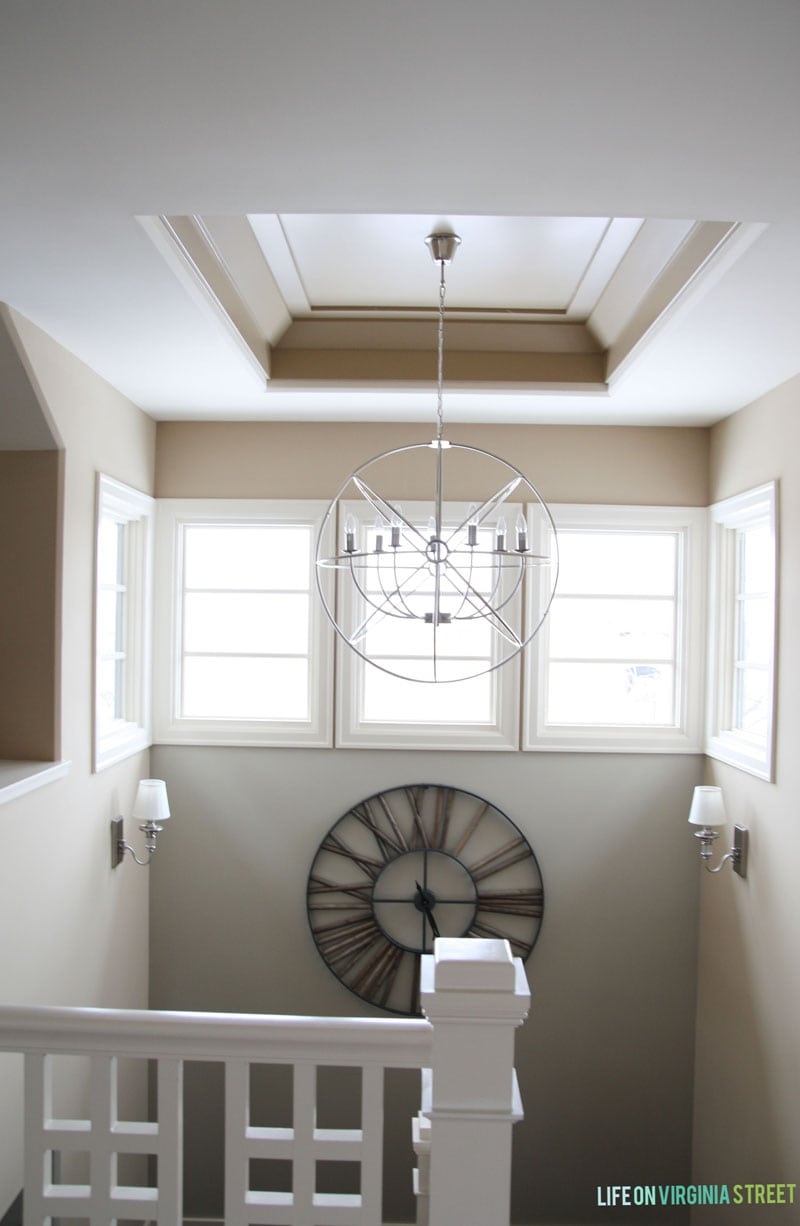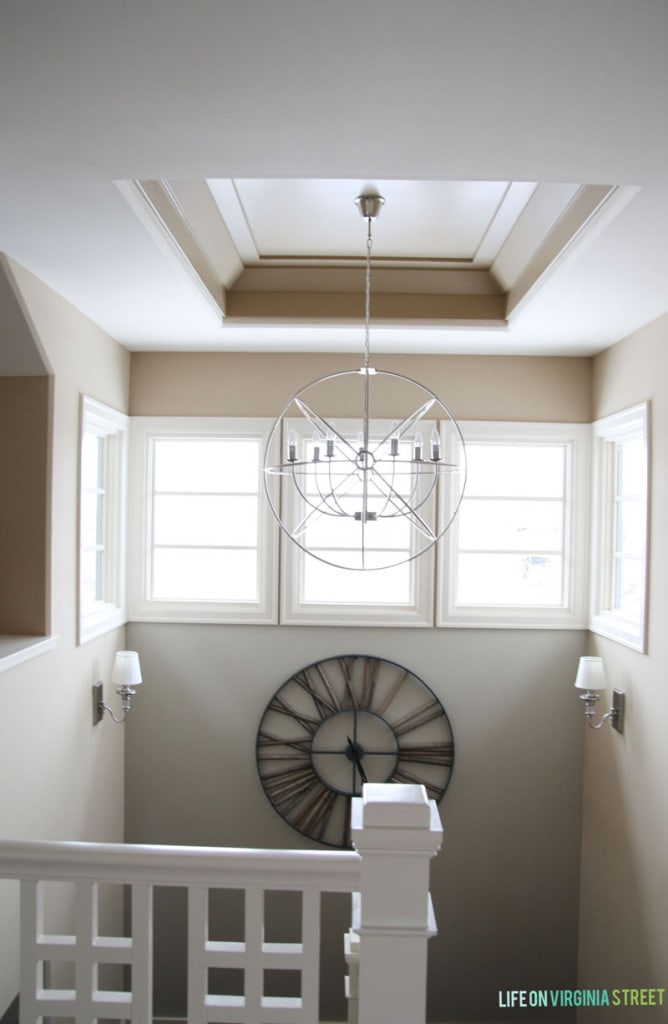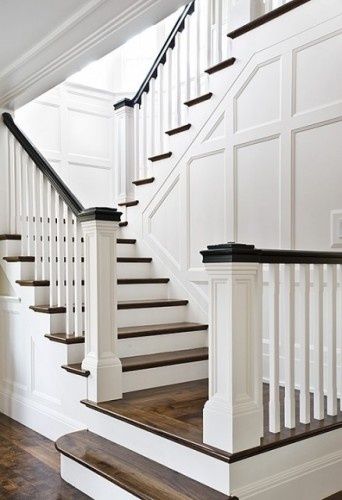 POWDER BATH
I'd love to find an affordable way to light up the powder bath. It is currently painted Behr Castle Path, the color we have throughout most of our house, but it is so much darker in here because there aren't any windows. I'd also love to find a remnant we could use to replace the countertops to remove all the orange tones in the space (the mini backsplash also needs to be destroyed). Down the line, I would love the lighting to be sconces that flank the mirror, but that is a much bigger project than I'll likely get to over the next six months.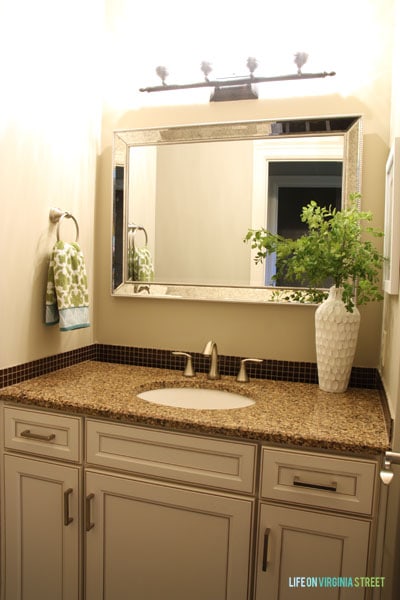 Admittedly, the to-do list is rather lengthy. But, I know if I put it out there, I can hopefully accomplish at least 75% of the list. Hopefully the upcoming pool will motivate me to get all these tasks done in the colder months so I feel freer in the warm months!
Do you find yourself doing more projects in the colder months too?
If you would like to follow along on more of my home decor, DIY, lifestyle, travel and other posts, I'd love to have you follow me on any of the following:
Pinterest / Instagram / Facebook / Twitter / Bloglovin' / Google
disclosure: some affiliate links used