Cue the cheering! I think we've finally narrowed down a layout and design for our pool. There are still a lot of details to work out, but we're getting there and I feel quite a bit closer to the finish line!
If you've been following the blog for awhile, you know it has been our intention almost from day one to add a pool to our backyard. In the fall of 2013 we had met with a landscaping company to draw up plans. Just "hypothetically". You can read more about that in this post.
This year, I decided to get down to figuring something out. It wasn't going to happen if we just sat around and dreamed (and saved) for it. We had a landscaper and pool company meet with us in May or June this year, right before we left to Italy. The plans were beautiful, but they just didn't feel like 'us' (and unfortunately I was asked not to share the plans so I am honoring the request). We knew we still needed to get multiple bids at that point no matter what, but the reality was, with a busy summer, I didn't make any more calls until August.
In August we met with another pool company and landscaping team. Justin from Kloos Kutters drew up the plans and we're finally at that excited point where things are starting to click.
The crazy part? The moment where both my husband and I both felt like something 'clicked' was when Justin brought us a sample of the paver he envisioned. Keep in mind, at this point, I had provided him with what was information overload ("here's my pool inspiration board, here's my exterior house board with the look I want our house to have someday, I like this image but not this part", etc. etc.). But, I feel like he got it! Which can be challenging given that my thought process can be contradictory at times 😉 And now, the paver we can't not have even if it is increasing the budget. There's a muddy footprint on it, but I think you can see just how beautiful and lifelike this really is!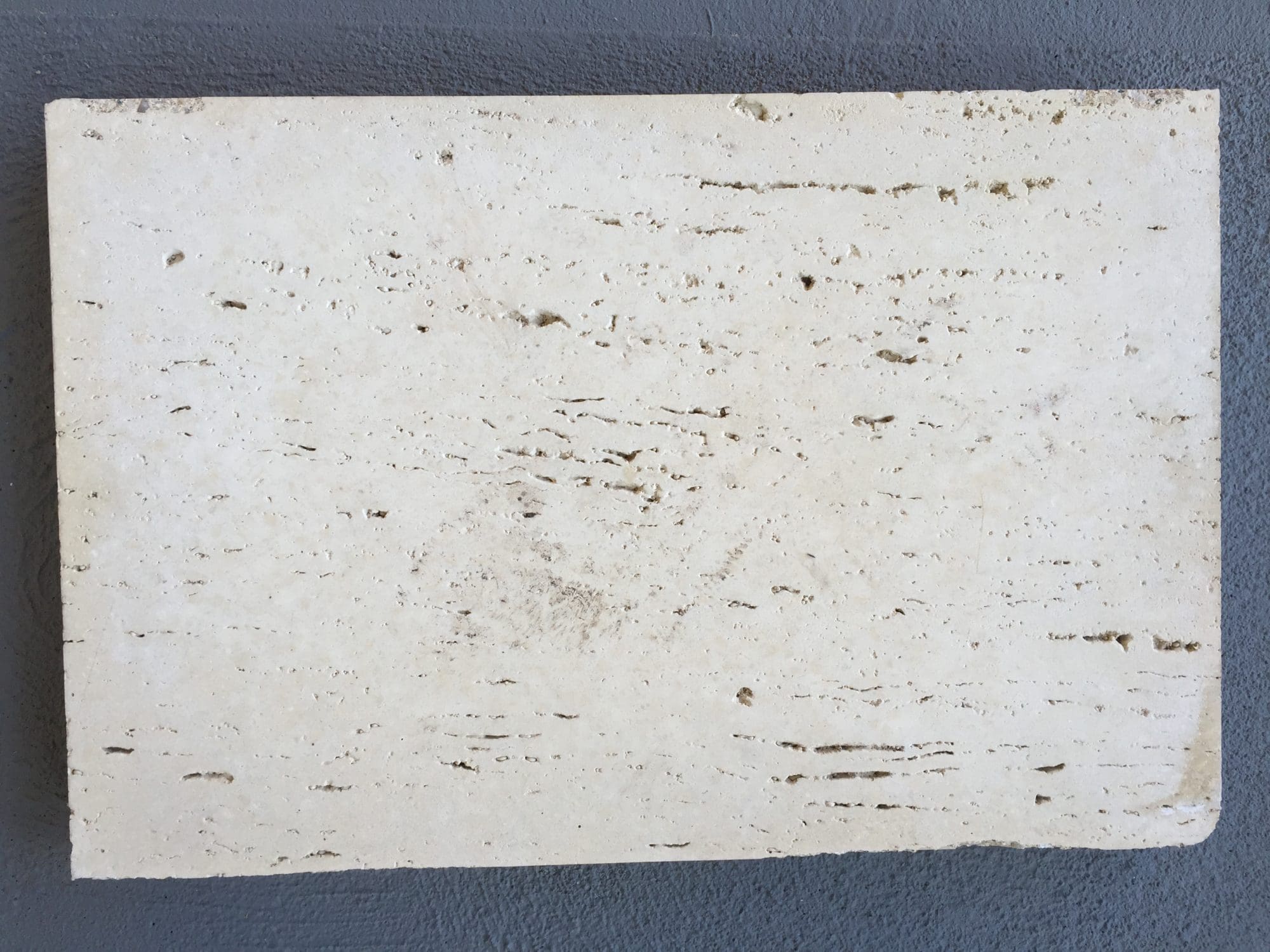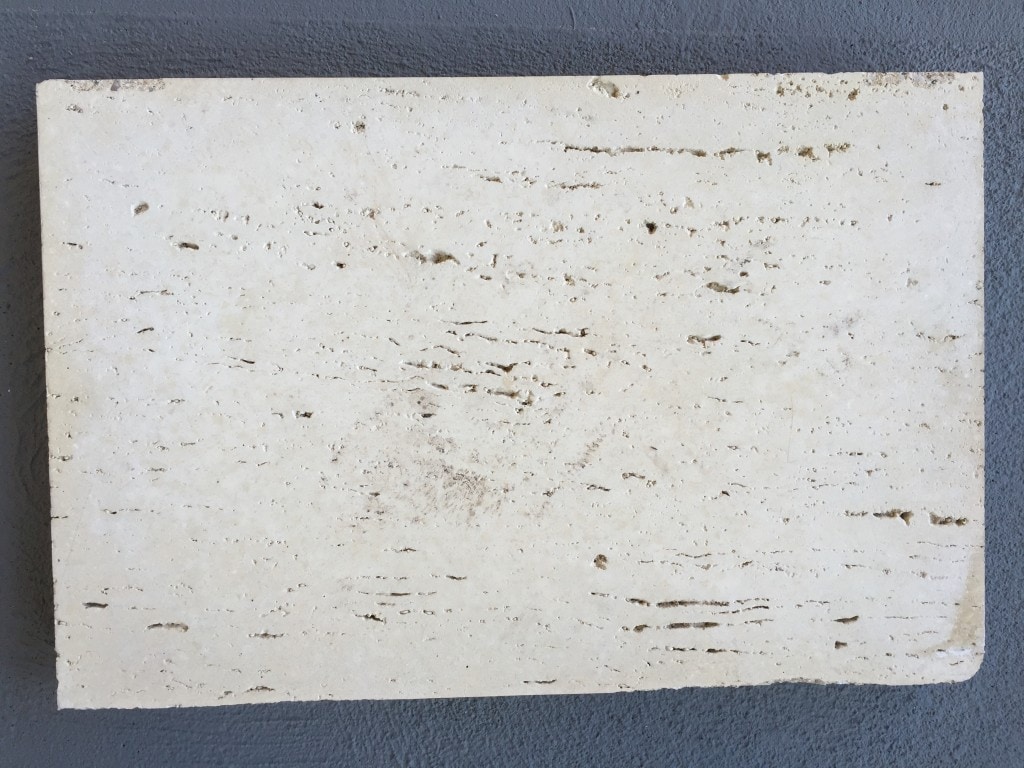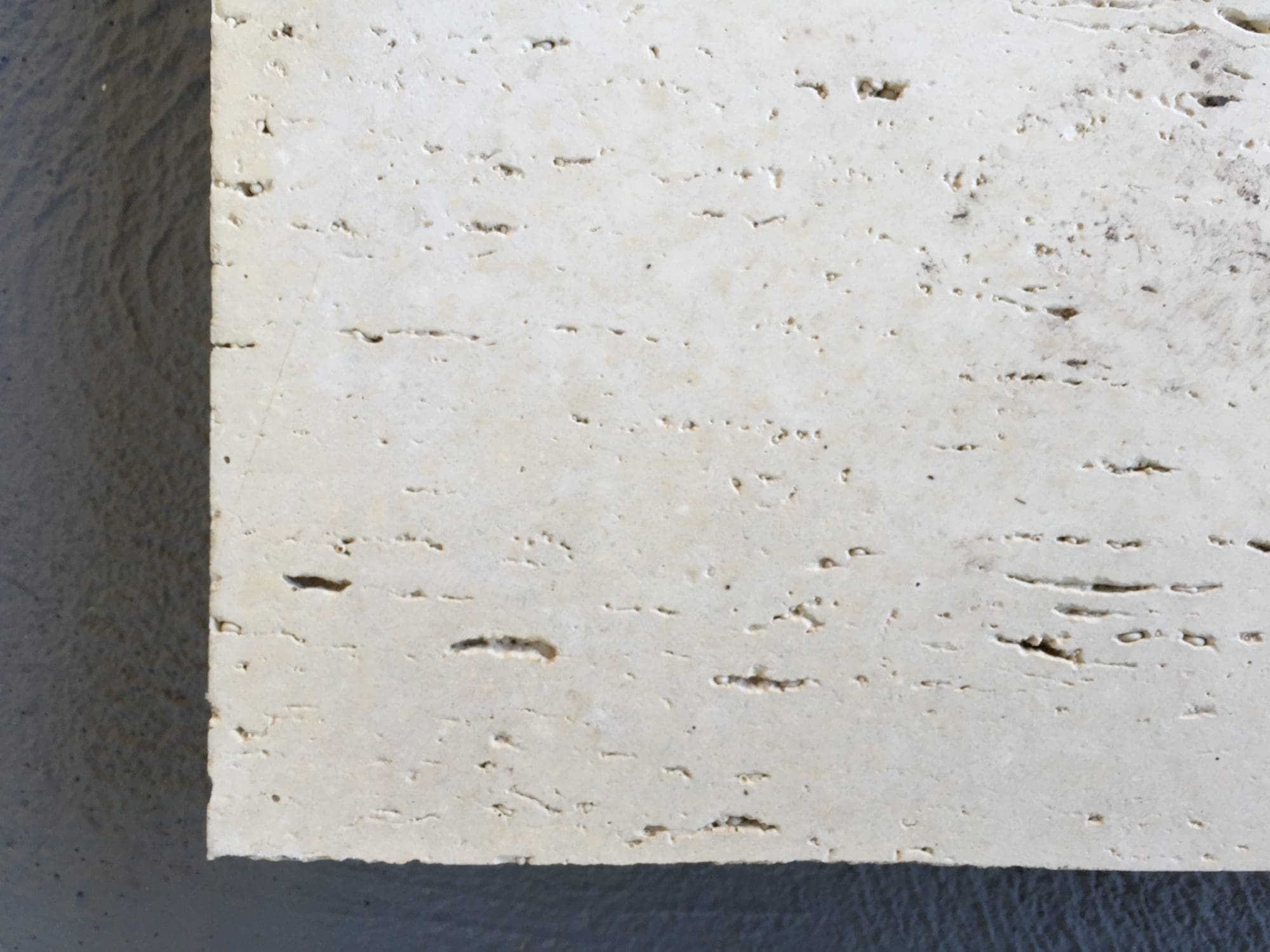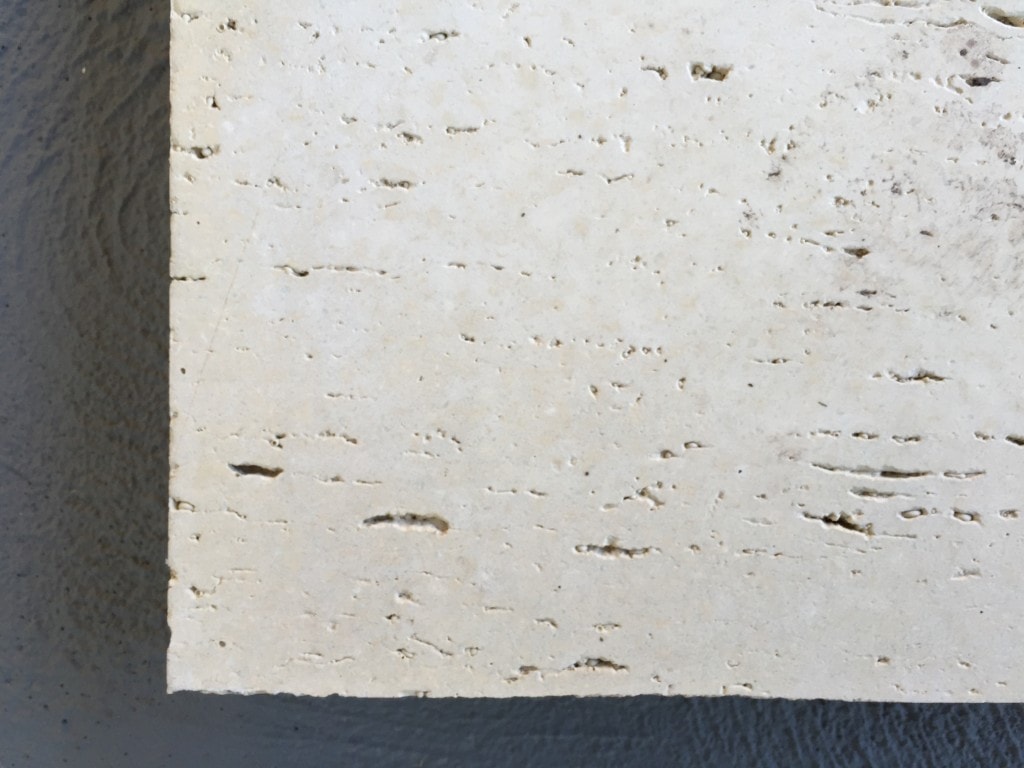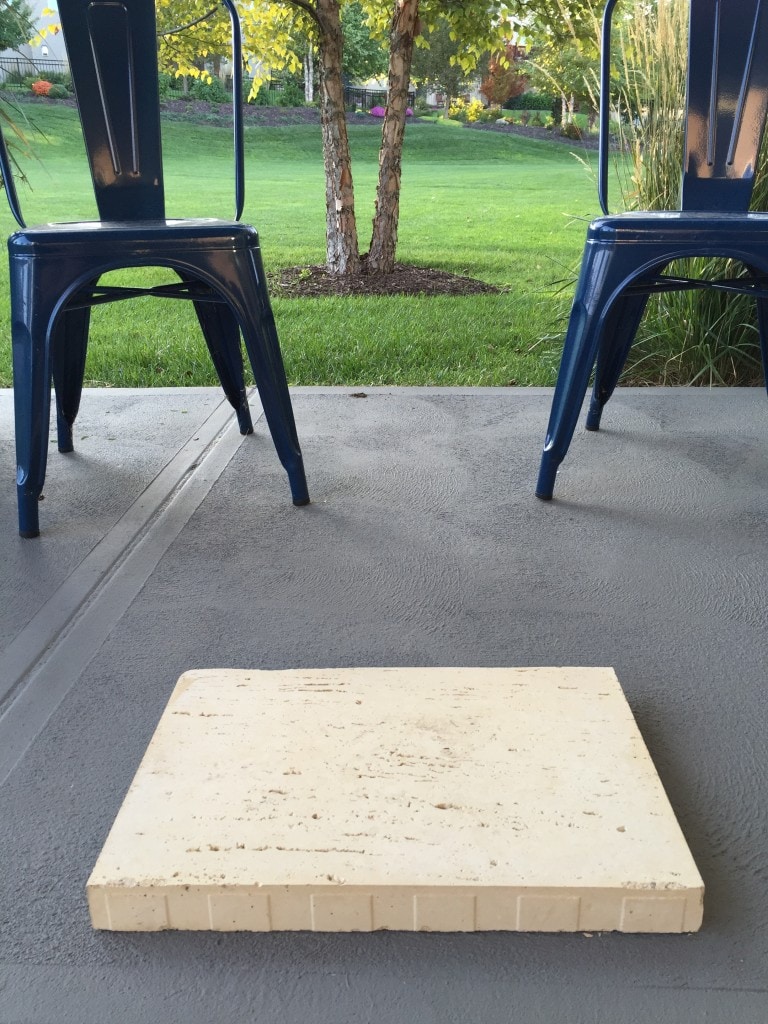 We were able to test it in 100+ degree weather and it doesn't get hot to the touch. It also has a bit of grit to it (and you can apparently add more) so that it isn't slick when it's wet. This is the exact look we wanted! Whenever I heard the word paver, I was thinking of the stuff you pick up at Lowe's for landscaping projects. Good stuff, but not the look I wanted for the pool. I'm glad we found something that both my husband and I are in absolute love with!
Okay, before we get to the actual plans. I want you to see this fancy image I labeled so you can orient yourself with where/how this all works out. In other words, don't look at anything other than the labels so when you get to the "in focus" plans it makes sense from a layout standpoint.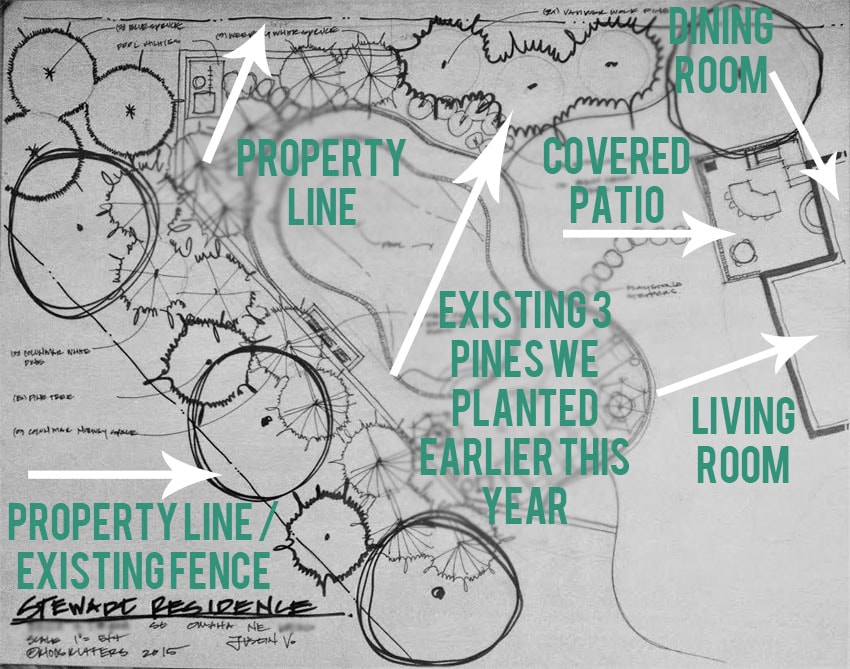 The image below shows a similar view to the one on the plans. Although this photo is even further back than the plan shows, you can see the living room (where the fireplace jut out is) and the covered patio (where the post with the roof is). You can also see one (almost two) of the three pines shown above. So really, the pool will sit on the far side of the lot (along the line of pine trees) and there will still be quite a bit of greenspace on the other side (closer to where I'm standing in this old picture).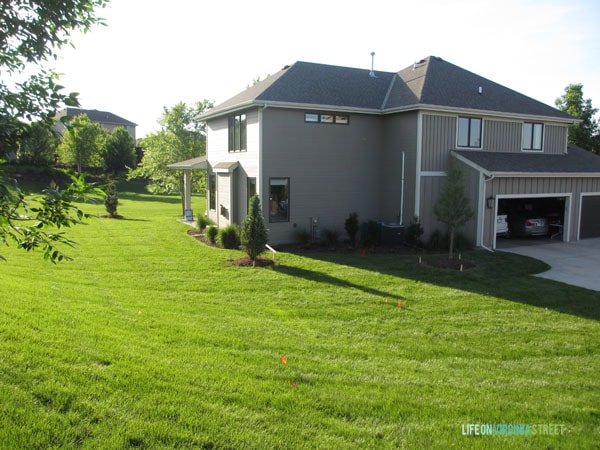 This gives a better view from the perspective of the house looking up the hill, all in the direction the pool will be.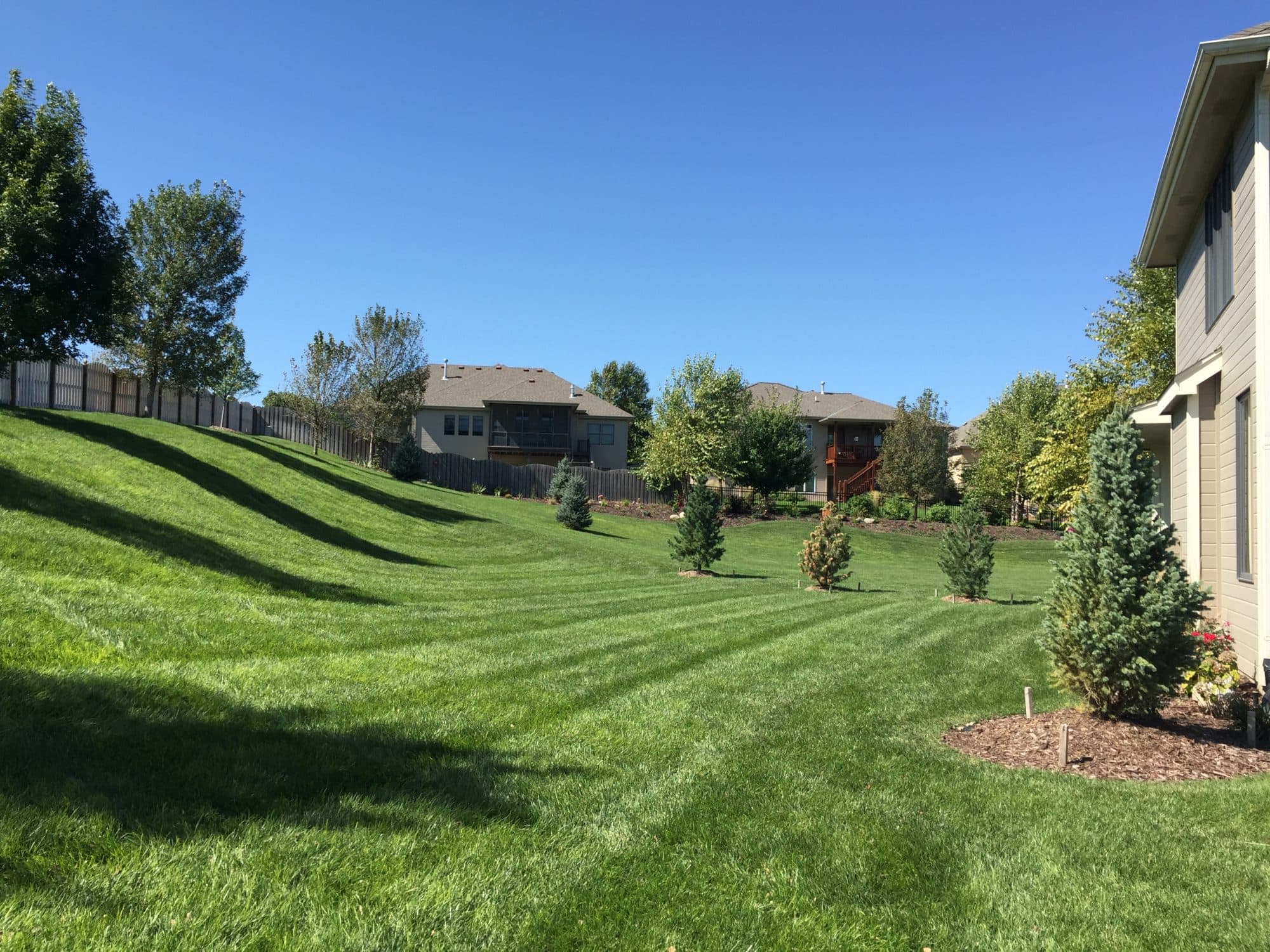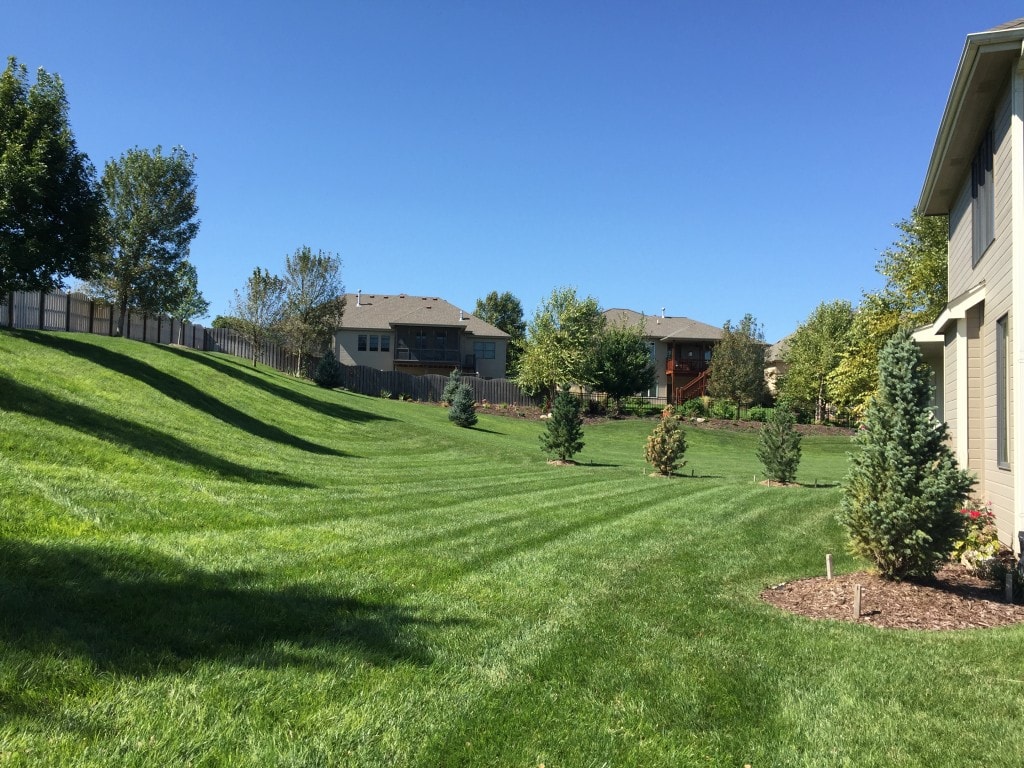 Now for the plans. This was round one before we made any recommendations and provided any thoughts. I won't go into too much details but will highlight what we knew needed to be changed right away.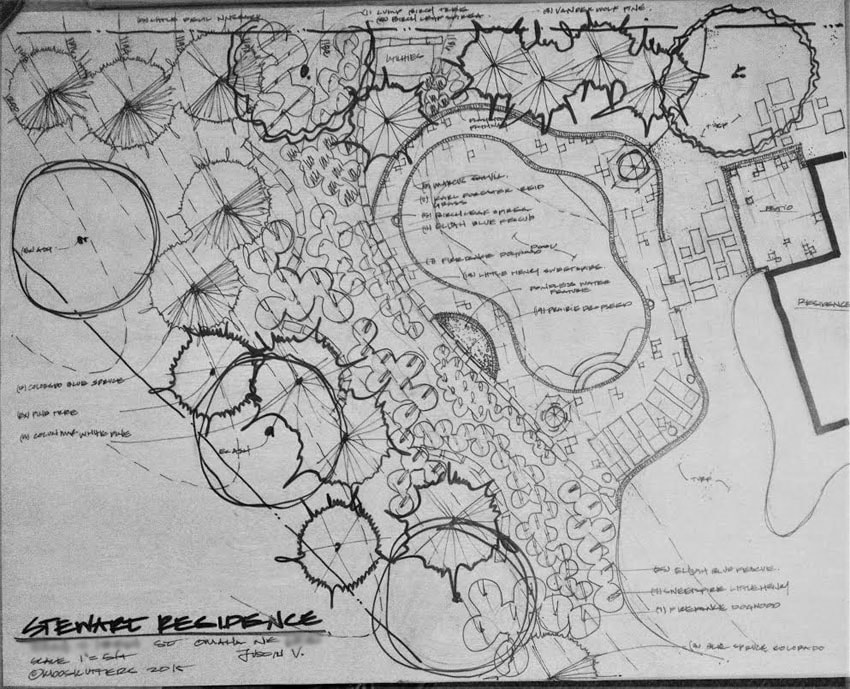 This plan required very little excavation of the hill, which was cheaper, but left us with a few issues. Namely, it brought the pool fairly close to the house and also required we have a lot of mulch up on the hill.
There is a two-level limestone wall (probably only two feet high) around the back side of the pool (the side on the left of the image below) and then just limestone mini-walls around trees up through the landscaping.
This plan did incorporate the "checkerboard" effect I loved with large square block and grass outlines leading up to the house.
The bulk of our yard was covered in pool and patio, and in our minds, the pool was always cut out of the hill.
Justin made some modifications as requested, and he came up with the following design (which will, for the most part, be fairly final at this point).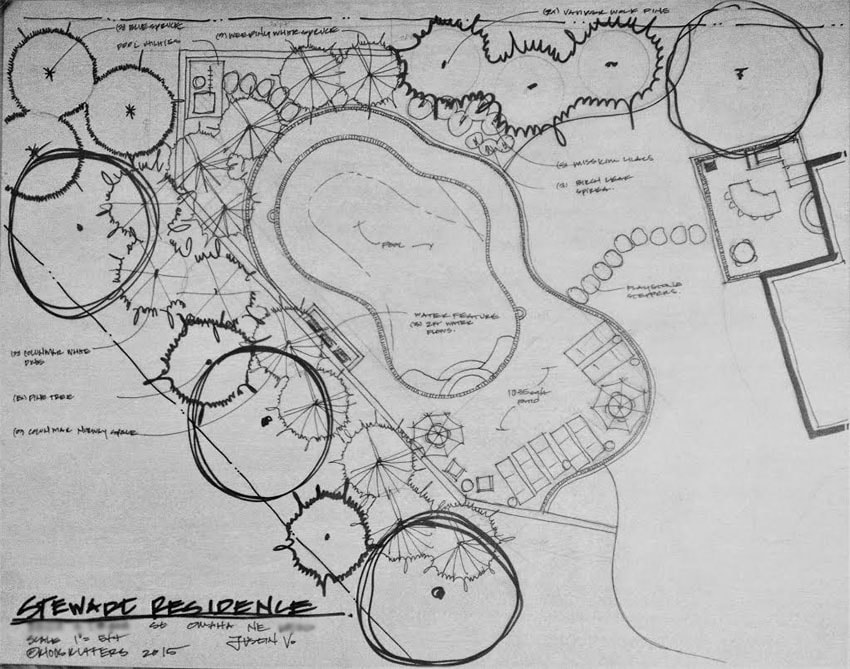 Key characteristics:
A large concrete retaining wall (indicated by the double lines running around the backside of the pool on the left in the image above). The wall will be faced with a matching ledgestone and/or travertine-like stone.
To save on cost and to plan for future updates (see more below) we talked about just doing a flagstone walking path out to the pool. If I recall, it's about 15-20 feet long.
The pool bid itself includes the pool and liner, built in bench seating in two locations, in-floor self-cleaning system, and LED lights.
You'll also see a box jutting out from the retaining wall (across from mid-pool where the curves are). That would be three seperate water features that would fall either to ground-level or in an elevated box about a foot off the ground. The waterfall "sound" was something my husband really wanted after hearing it at our neighbor's, but we were indifferent if the waterfall had to fall into the pool or not.
This plan allows for a lot of entertaining space, which also equals more pavers and more $$. We may scale the patio back for phase I and add on down the road as needed.
You'll also note this iteration of the plan includes a slightly larger covered patio (you can read more on the specifics of that below).
This pool shape and layout makes the most sense for our yard. We went back and forth on pool shape, but with the awkward shape of our lot, this shape seems to fit better than a traditional rectangle. It was also the shape my husband really wanted, and at the end of the day I had to let him have a few wins 😉
Long-long-term, we would love to build a balcony off our master bedroom. The most likely spot would be over the covered patio (which, on the second floor would come out of our master bath). This would allow for us to expand the covered patio (which, in it's current state isn't all that useable) and would allow for us to have a killer view for coffee in the morning. The image below serves as a gorgeous representation of what I envision for the balcony. Granted, we'd have a slightly less modern vibe, but I just can't get this image out of my head.
If those plans ever do come to fruition, then I would like to see the covered patio look something like this:
As you can see, I like to dream big. The master balcony may never happen, but the second plan accommodates for that extension should we ever go that route. So, what are your thoughts at this point? Any feedback or recommended changes? I'm sure over the next 6-9 months the plan will continue to evolve but I finally feel like we are making great progress in the planning department!
If you would like to follow along on more of my home decor, DIY, lifestyle, travel and other posts, I'd love to have you follow me on any of the following:
Pinterest / Instagram / Facebook / Twitter / Bloglovin' / Google
disclosure: affiliate links used