I will show you the easiest way to paint a ceiling!
This post is sponsored by HomeRight, but, as always, all thoughts and product love are my own.
You all know I'm not afraid to paint. In fact, I actually really enjoy when I paint walls and quickly see progress and a transformation occurring right before my eyes.
One of the things I absolutely hate painting most? Ceilings. Although this can be a dreaded task, it is also one that completely change the look of your space. It is so important to not neglect your "fifth wall." A dingy ceiling can hinder the look of a room, regardless of how beautiful it is otherwise.
The great news is, this past weekend I found a new handy tool that made me hate this task significantly less! So, today I'm going to share the easiest way to paint a ceiling.
Tips On Painting A Ceiling
But first, a little background.
We've lived in this house for almost three years, but from day one, it was clear to me that the ceilings on the main floor and the trim and doors throughout our home were not white. They were a peachy cream color (that was more exaggerated next to some paint colors than it was next to others). With our more gray-toned palette, the trim was shockingly obvious. When I did our most recent dining room makeover, not only did I paint all of the trim, but I knew the ceiling would need to be painted as well.
Flashback to about five years ago when my cousin and I decided to help my grandma out by painting her living room ceiling. She had suffered some minor water damage and the ceiling plaster wasn't looking too hot. So, we thought – hey, with the two of us, we can crank it out in about an hour. Wrong. It was the worst job ever. Paint was dripping everywhere, we were constantly going up and down ladders, and we could barely move when we finished nearly four hours later.
Needless to say, painting the ceilings in our own home was not a task I looked forward to. At all. However, since the rest of the dining room had since been finished, I knew it was time to stop avoiding the task.
Choosing A Ceiling Paint
As far as the actual paint goes that I used on the ceiling, I really did zero research. Basically walked into Lowe's (which is right around the corner from our house), and found a paint that looked like it could do the job. Then I bought the Valspar Interior Flat Ceiling Paint and I opted to leave it untinted, as I didn't want any strange undertones. In the end I was really happy with the selection, and I forgot what a breeze it is to work with flat paint – no roller marks!
I ended up using the HomeRight PaintStick EZ-Twist roller and it worked like a dream and is by far the easiest way to paint a ceiling. It took us about five minutes to figure out how to get the paint tube to fill, but once we did, it worked like clockwork! I can't tell you what a difference it made not to have to dip the roller in paint every time I ran out – especially while painting a ceiling! You essentially hook the Paintstick up to the paint can, pull the end, and it fills up the paint tub – much like using a syringe.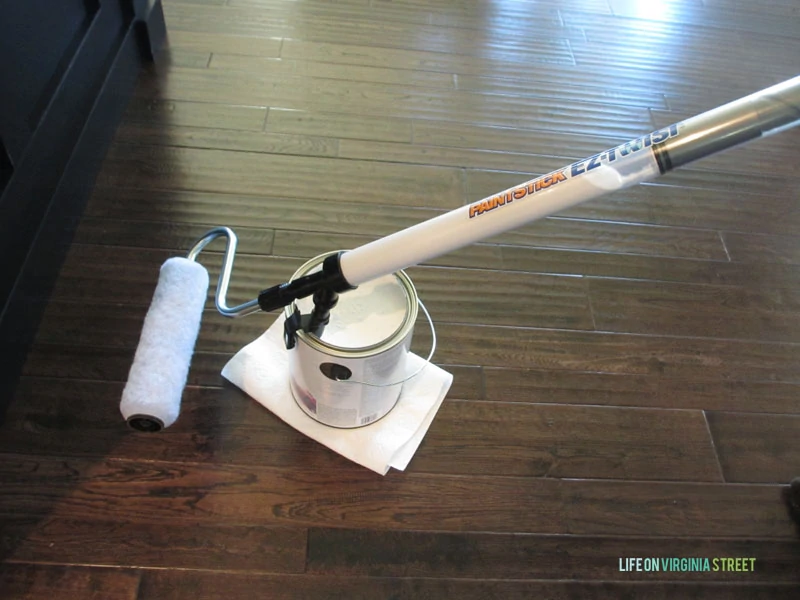 In addition to the fact that you don't have to keep reloading your paint as you move about your project, I also loved the splash guard on the roller – key for when you're painting ceilings!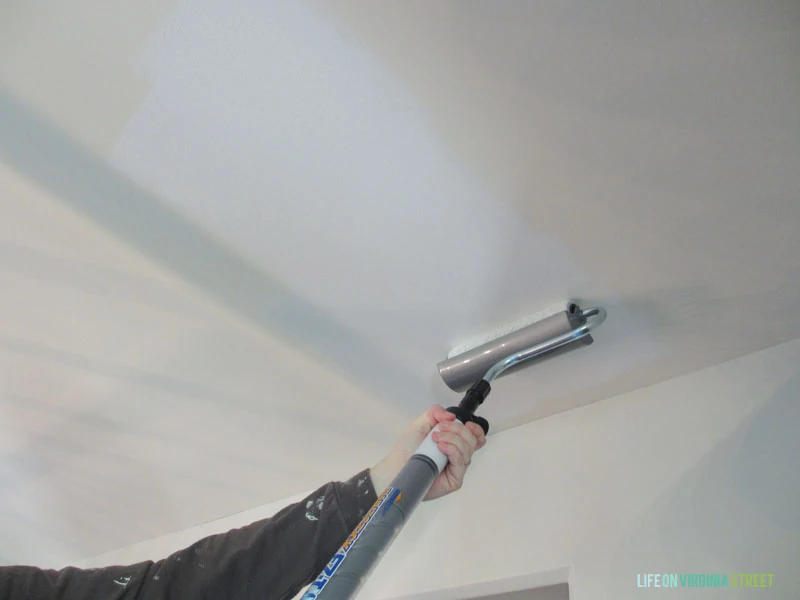 The full job took about 90 minutes start to finish – so much better than I had anticipated!
To demonstrate just how dramatic the change really was, here are some in-progress shots. Even my husband was shocked at just how bad the original color was. Pretty obvious where I had painted and where I hadn't, right?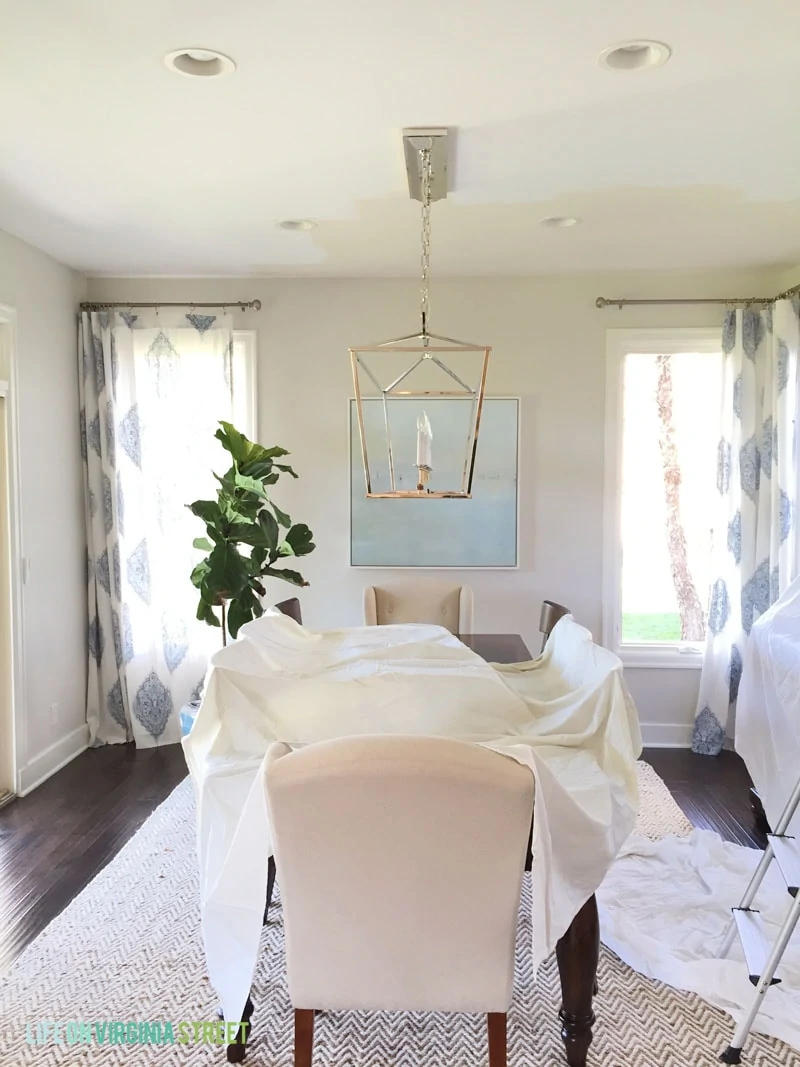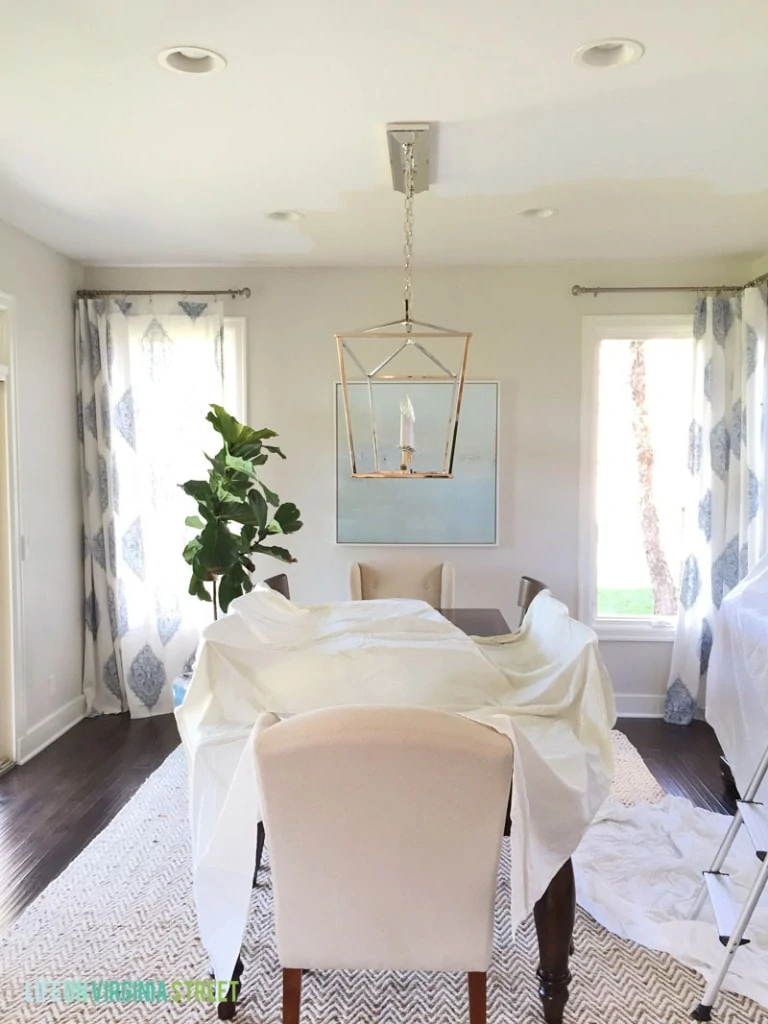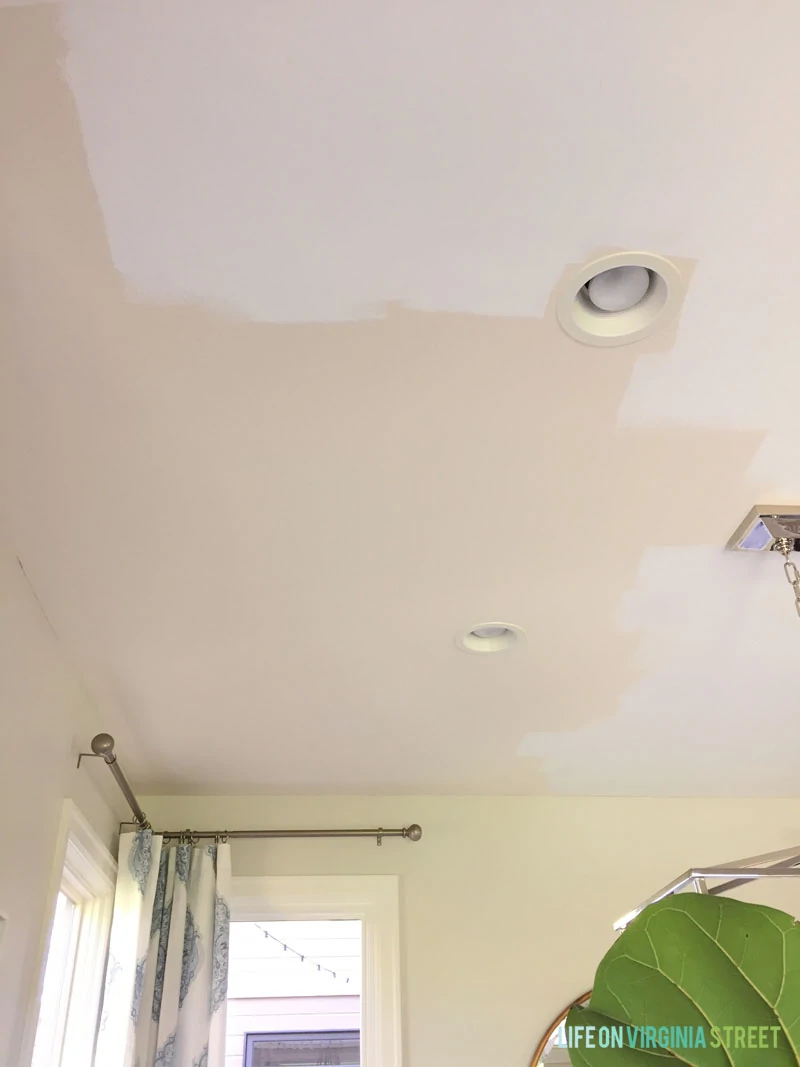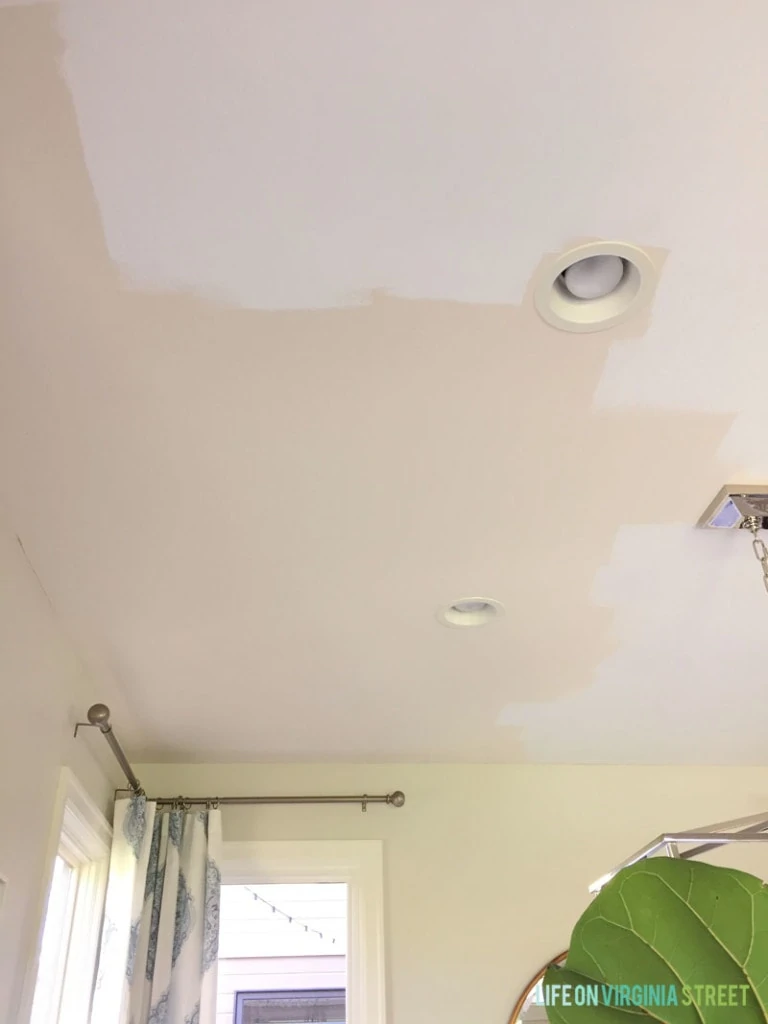 Isn't that crazy? Until you see "real" white against the old color, it doesn't look that bad. Then, it's like "what?!?"
And now the afters! Looking side-by-side, the difference may seem subtle, but I can assure you the room just glows now without the dingy overhead coloring! As you can see below, in the before and after, I feel like everything looks sharper and less fuzzy now around the ceiling. I know it's not incredibly dramatic in these photos but it is a night and day difference in real life and I'm so glad I finally got around to completing this project!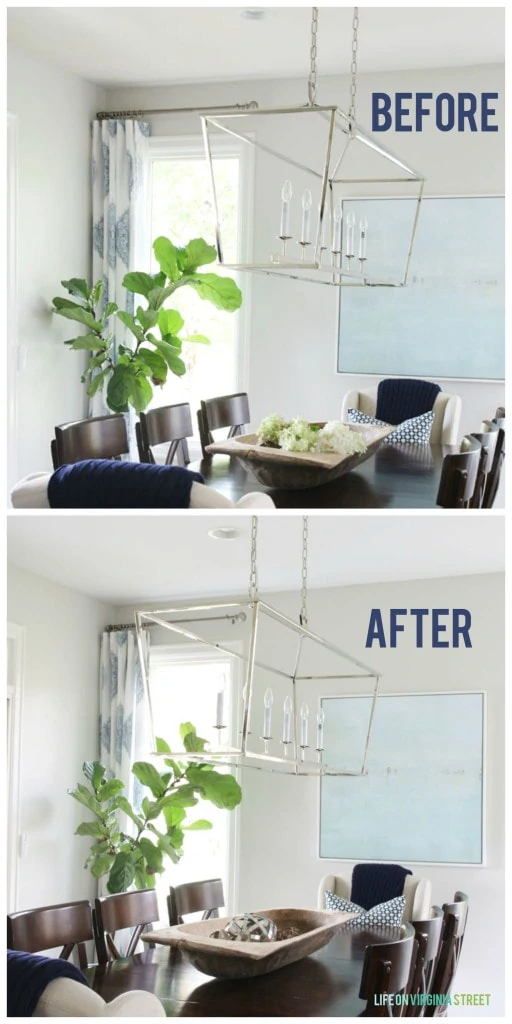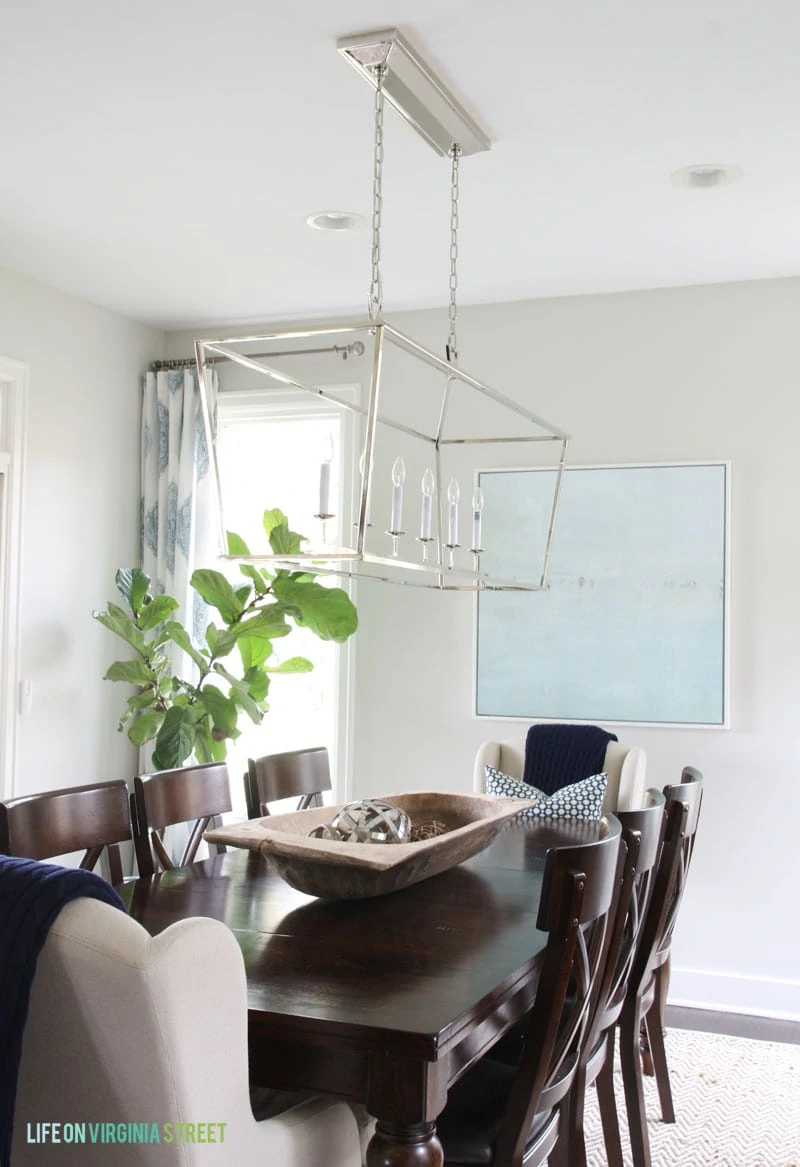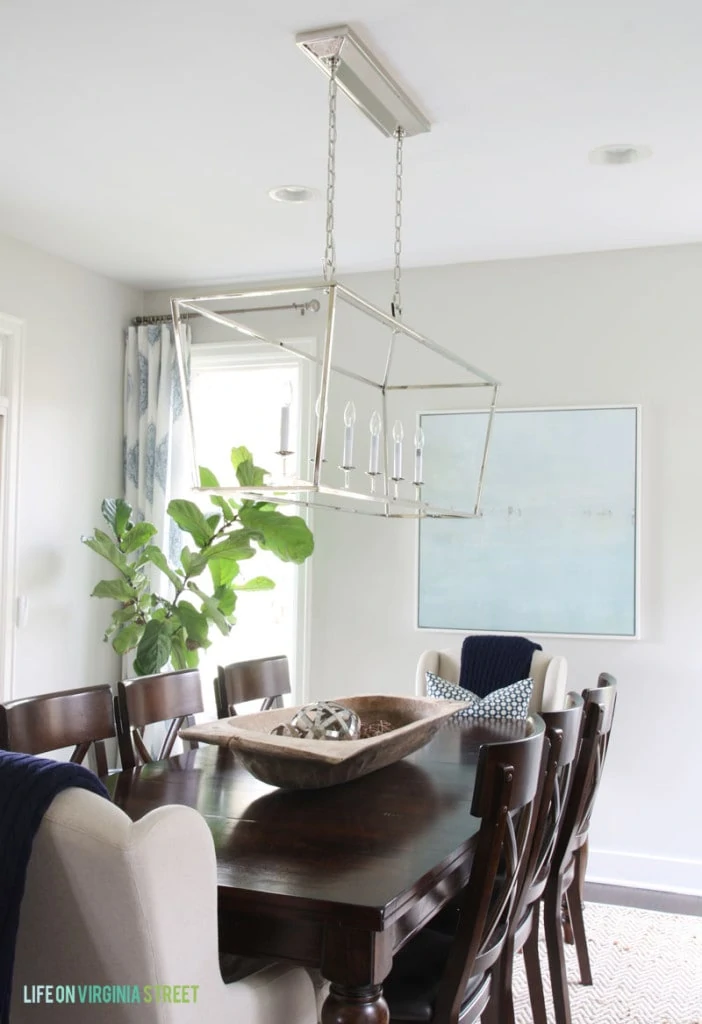 I feel as though the walls actually look like a light warm gray now (as they were intended to look), instead of powder blue! For those that are new around here, the wall color is Behr Silver Drop and the window and door trim is Behr Swiss Coffee.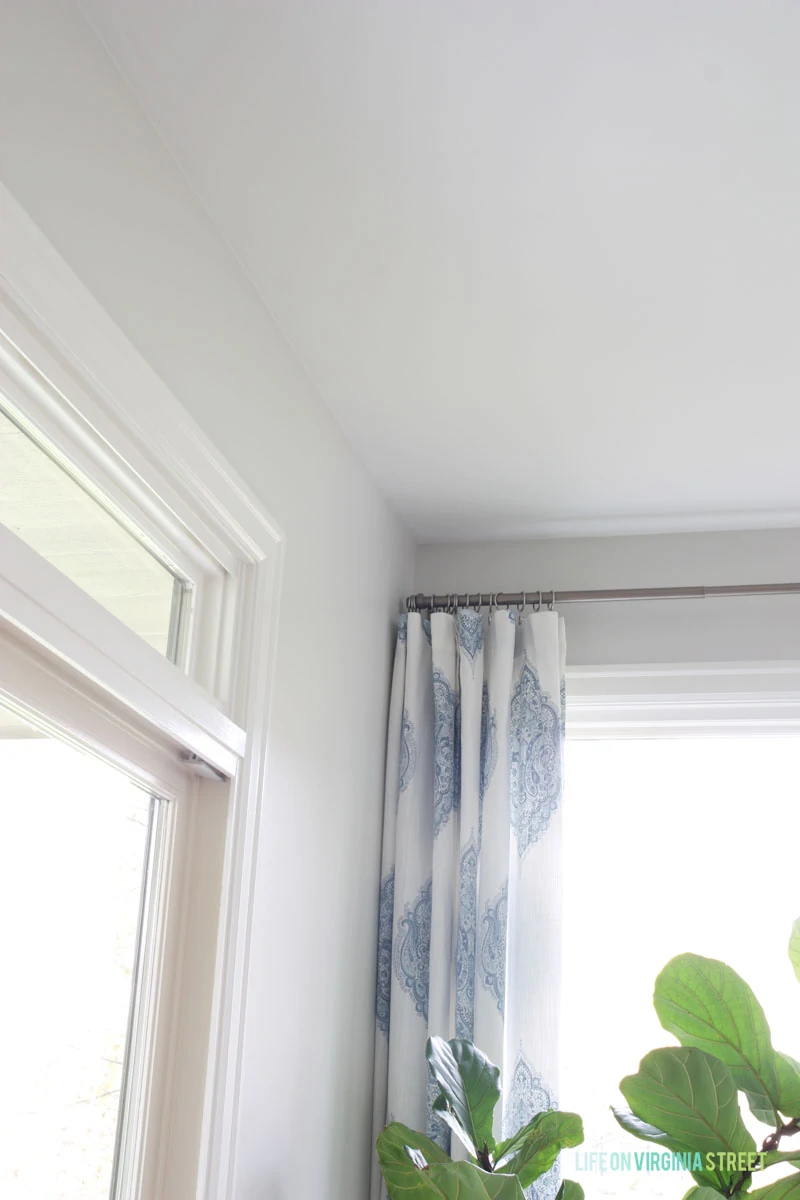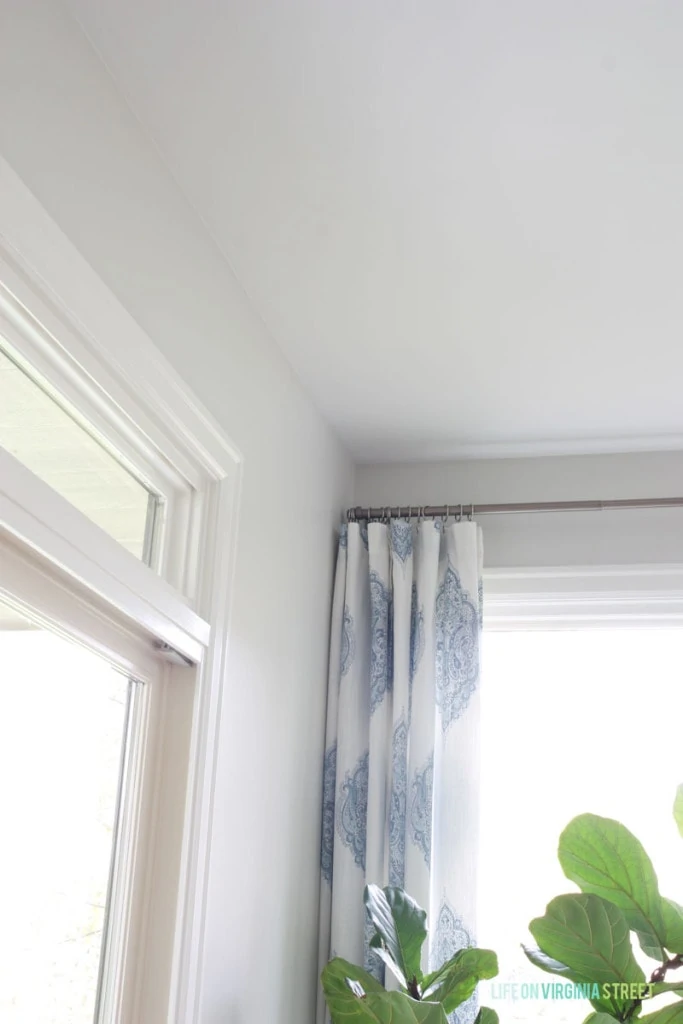 Doesn't it just feel so much more crisp and clean? I am actually somewhat looking forward to painting our living room and kitchen ceilings now! You can find all sources for the items in this room in this post.
Dining Room Decor
As is always the case with room makeovers, we now realize we need to replace the casing on our can lights thought because they are obviously very cream now in comparison to the bright white ceiling.
A big thanks goes out to HomeRight for their genius roller and for sponsoring this post. It's been awhile since I've really been motivated to paint again, but I can't wait to try the roller on the walls now! I feel like the HomeRight PaintStick EZ-Twist roller is a total game changer. I'm looking forward to trying out all of the other painting products that HomeRight offers!
If you would like to follow along on more of my home decor, DIY, lifestyle, travel and other posts, I'd love to have you follow me on any of the following:
Pinterest / Instagram / Facebook / Twitter / Bloglovin' / Google
Disclosure: This post was sponsored by HomeRight. However, as always, all love of the products are my own. I only share products I use and love, and that I believe my readers will also find value in. Some affiliate links are used in this post.