A collection of the best fall candles along with detailed descriptions of each one. It's the perfect mix of autumn scent options including florals, pumpkin, wood, spices, fruits and more!
Admittedly, I don't burn a ton of candles year round. However, when fall rolls around, I basically have one burning every waking hour! There is something so welcoming about the scent of a good fall candle that makes our homes feel so much cozier! Today I'm going to share the best fall candles and are go-to favorites!
This post contains affiliate links for your shopping convenience. Click here to read my full disclosure policy.
The Best Fall Candles
During other seasons, I have one or two candles I burn almost exclusively (this candle in the summer and spring and this one for the holidays). But, in the fall, I have no less than a dozen scents I love burning depending on my mood! I also find that I'm a bit more willing to splurge on candles in the fall, since it helps me cope with being trapped inside the house for months on end!
Today I'm sharing all of my all-time favorite fall scents with a little description of each. Hopefully you'll find a candle that you love as well! In the details section, I also included Kurtis' favorites (and which he hated of the ones I liked)!
I'm sharing even more details about a few of the fall scented candles below.
Fall Candle Scent Details
ONE: 1531 Mexico – This is my current favorite. I first picked up the candle at a boutique in Newport Beach a few years back. I'm typically not a fan of rose-scented candles, but the Damask Rose paired with soil (sounds weird, but is so good), just gives a really pleasant, cozy, earthy scent. It is one of the few that both Kurtis and I love and it just smells like "home" whenever it's burning! I actually use it all winter too (outside of the Christmas season). The candle is getting harder to find though. I used to be able to get it on Amazon when I needed a new one, but, currently, I can only find it here.
TWO: Capri Blue Pumpkin Clove – This lovely pumpkin scent is a bit sweeter than the Pumpkin Chai scent below, and has a touch of vanilla to it. It reminds me of pumpkin pie and vanilla ice cream or whipped cream! You can get it here.
THREE: Capri Blue Spiced Cider – If you prefer more of an apple scent, this candle is by far my favorite! Sparkling berries and grapes mix with harvest apple and cinnamon within a soothing vanilla and Canadian fir base that make for a yummy fall scent. You can get it here or here.
FOUR: Diptyque Feu De Bois – If you love the scent of being outdoors in the fall leaves with campfires nearby, this scent is for you! It's the perfect candle for cold and dreary days or when you want to be curled up by a wood burning fireplace! This is another one that works well in the winter and doesn't scream "fall".
FIVE: NEST Pumpkin Chai – This is a more traditional warm fall scent, but I love that it's a bit of a "spicy" pumpkin scent versus the more traditional sweet pumpkin scents you find. This is my favorite of all the pumpkin scents I'm sharing. You can buy it here.
SIX: Yankee Candle Spiced Pumpkin – This reminds me a lot of the Capri Blue Pumpkin Clove but at a better price point. It has the sweet pumpkin smell with subtle spice undertones, finished with brown sugar. You can get it here.
Last night, I lined all of these (and several others) up on the countertop for Kurtis to give his opinion as well. He said he hated Diptyque Oranger (so I took it off my list entirely), liked all of the others, but loved the Yankee Candle Spiced Pumpkin and Capri Blue Pumpkin Clove for a traditional scent. He also really liked the Diptyque Feu De Bois for a less traditional scent. Although he wasn't quite so eloquent in his descriptions, but that's what I got from his grunts, faces, and comments 😉
Lastly, if you don't have a wick trimmer, I promise you'll love having one in the fall and winter. It not only cuts your wick, but catches it in the base so you don't have ash and soot everywhere. We love ours!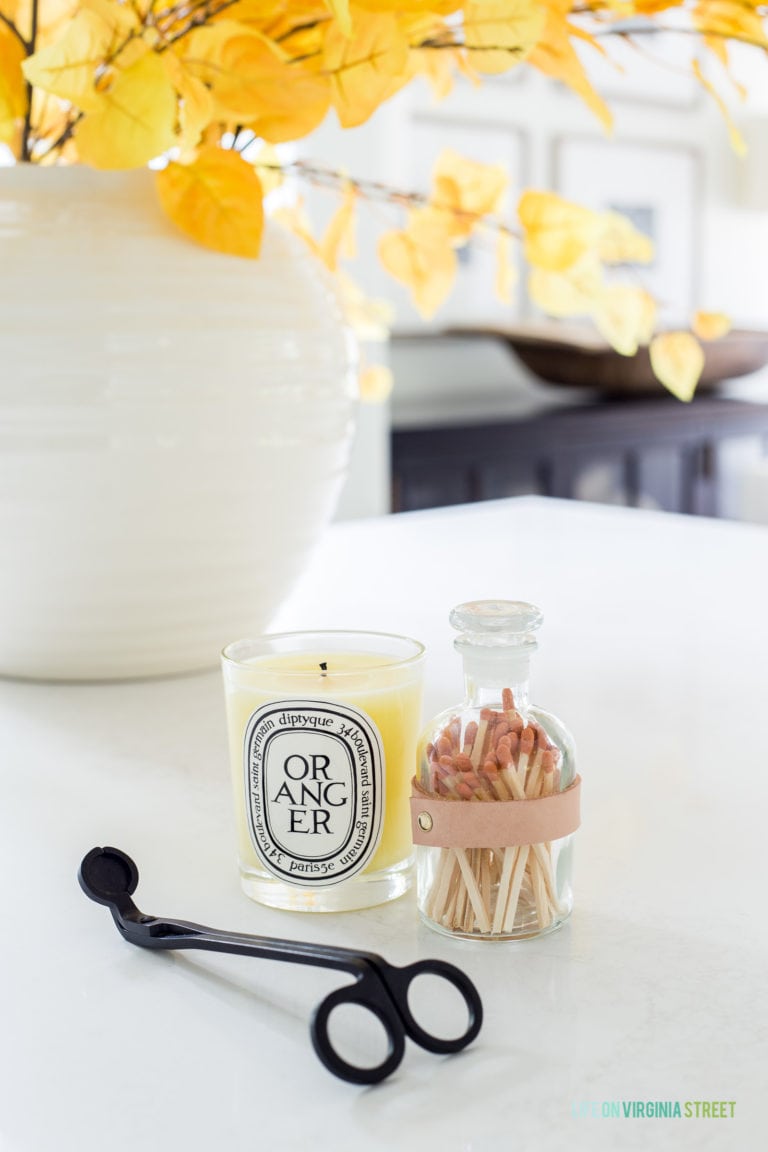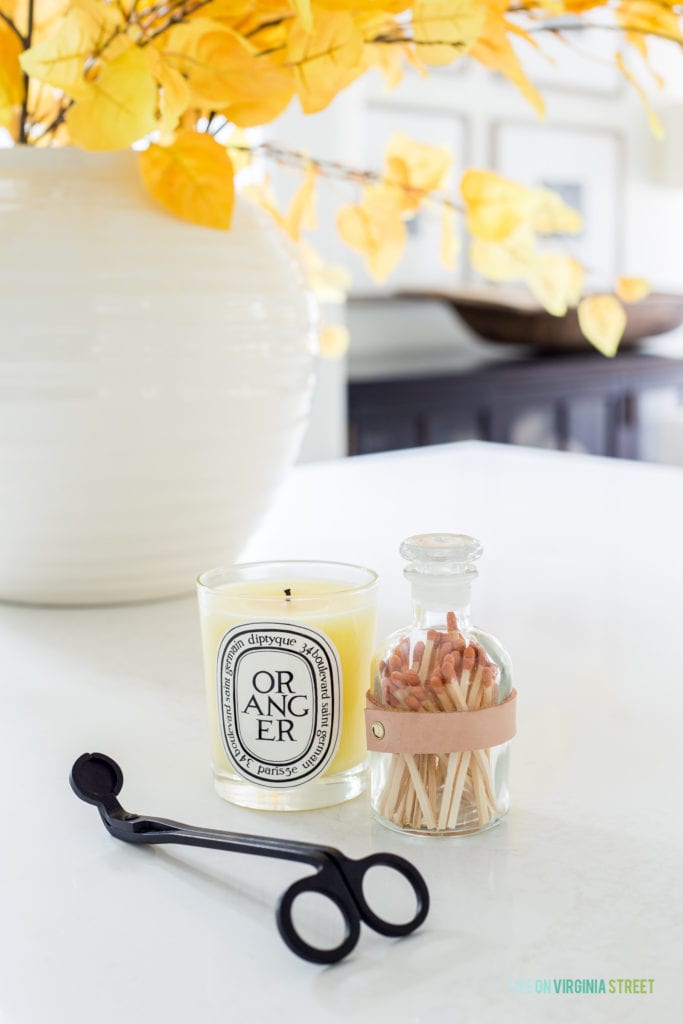 Oranger Diptyque Candle | Wick Trimmer | Leather-Wrapped Matches Jar (bought locally at Amethyst Home)
Are there any other fall candle scents I should know about that you love? I'd love to hear!
If you would like to follow along on more of my home decor, DIY, lifestyle, travel and other posts, I'd love to have you follow me on any of the following:
Pinterest | Instagram | Facebook | Twitter 
disclosure: some affiliate links used