I know the last thing most of you are thinking about this time of year is swimsuits. However, there are some killer deals out their right now if you are willing to try out an online purchase (and the cold weather is making me long for hot summer days and our trip to Maui in June). I love fun swimsuits, but hate how expensive they are when you buy in the summer. However, Victoria's Secret (always the best for suits in my opinion) has some great clearance ones (I bought two last week and got an additional 20% off the markdown, making them less than $20). I also got an email from J.Crew that they currently have an additional 20% off their sale items. Many of theirs are also selling for less than $20. Some sizes are picked over, but there a still a lot of cute clearance styles left (last I looked at J.Crew). I try to stick with tankini styles, but sometimes get brave and wear some of the more modest bikinis. The great thing about both Victoria's Secret and J.Crew is that all pieces are sold separately so you can customize your top and bottoms to whichever works best for your body style.
I picked up this Kenneth Cole tankini from Victoria's Secret in aqua (yes that tiny little rectangle next to the photo – I couldn't get it any bigger)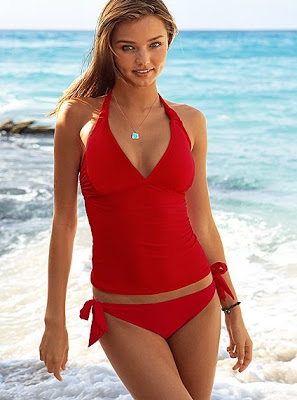 This is the other one I got from VS. The one shown looks really ugly (I do not like the print at all) but I got it in the solid cobalt blue color (shown on the bikini photo). My bottoms are slightly different too (no rings and they aren't as low). It is actually a really cute suit.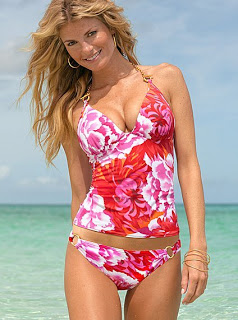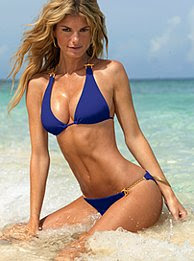 I got these pieces from J.Crew today online (their extra 20% goes until tonight at midnight – enter code EXTRA20 at checkout). Not sure about the retro look but at $7.99 each instead of $50 I'll give them a try! I got all three tops and the solid brief bottoms in both the aqua and kelly green (I don't like the low rise and they only had small sizes in the matching polka dots). Maybe these will be my motivation to work out before Hawaii! The good news is if they work, I have three new swimsuits for cheap – if they don't work, none will work so the whole order will be a return.
This may be my next purchase if the J.Crew polka dots don't work out. These are cool because they come in stripes, solids and a million colors as well as cuts so you can mix and match. They are also currently cheap and aren't even sale items yet.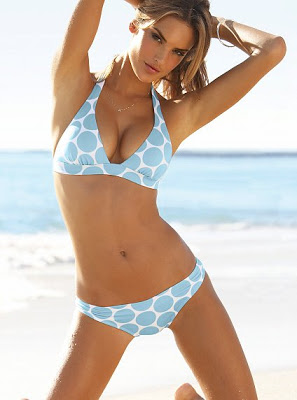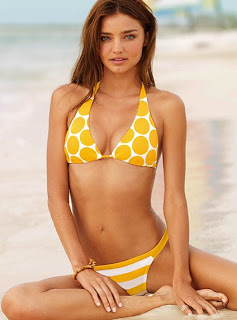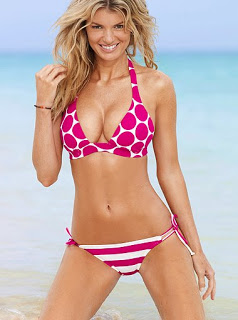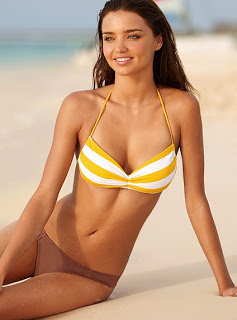 The 6 degree weather outside is really making me long for summer…