Here is a collection of the best summer dresses for all occasions!
It's hard to believe, but we're only about a week away from our Mediterranean cruise! I've been planning out my summer outfits as much as possible, since packing to go overseas needs to be well thought out! Today I'm going to be sharing the most gorgeous summer dresses I'm planning to pack for our dinners on the cruise each night. A few would even work well as during the day with the right shoes! My hope is you'll find one or more you love for summer weddings, church, vacation, or even just dinner in town!
This post is sponsored by Nordstrom and ShopStyle and contains affiliate links for your shopping convenience. As always, all thoughts and opinions are my own. Click here to read my full disclosure policy.
Nowadays, I find that I rarely wear dresses. And when I do, I pull one out from the back of my closet (sometimes, age unknown). But, with our upcoming trip, I knew I couldn't wear the exact same dress to dinner every night of the cruise! So, I turned to Nordstrom for some new lovely looks since I know their selection is large and they have a great variety of styles! Plus, their shipping and return policies are pretty hard to beat!
All of the dresses shown below fit true to size, and I'm wearing a size 12 in all of them. And side note: I had grand plans to shoot these all outside, but it was 45 degrees and misting so we had to compromise a bit. If it looks like there is snow falling and/or you notice major hair frizz, you now know why 😉
This first striped tassel dress from Eliza J is definitely a favorite find! I think I actually shared it a year or two ago in my Wednesday Watch List but never had a reason to wear it. So, it was the first one I scooped up for the cruise! I can't get enough of the clever stripe and tassel combo!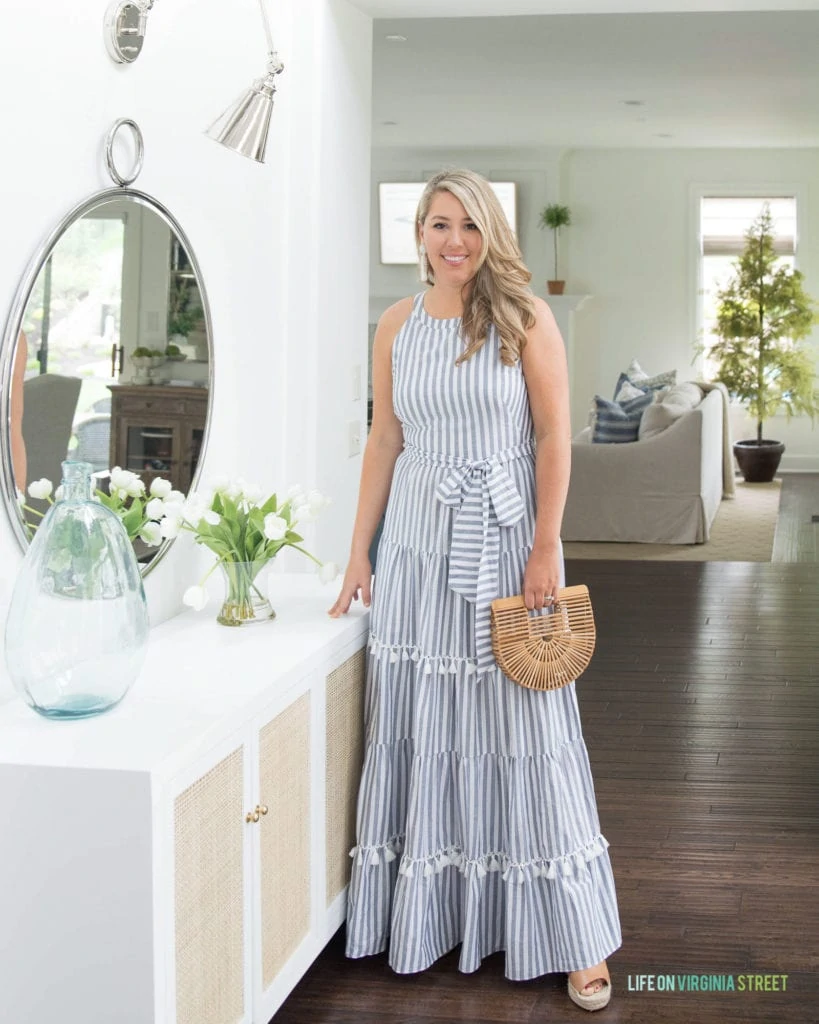 Striped Tassel Dress | Wedge Sandals | Bamboo Purse | Similar Earrings | Lip Gloss (Berry)
It also has a cute cut-out back, but you can still wear a strapless bra with it.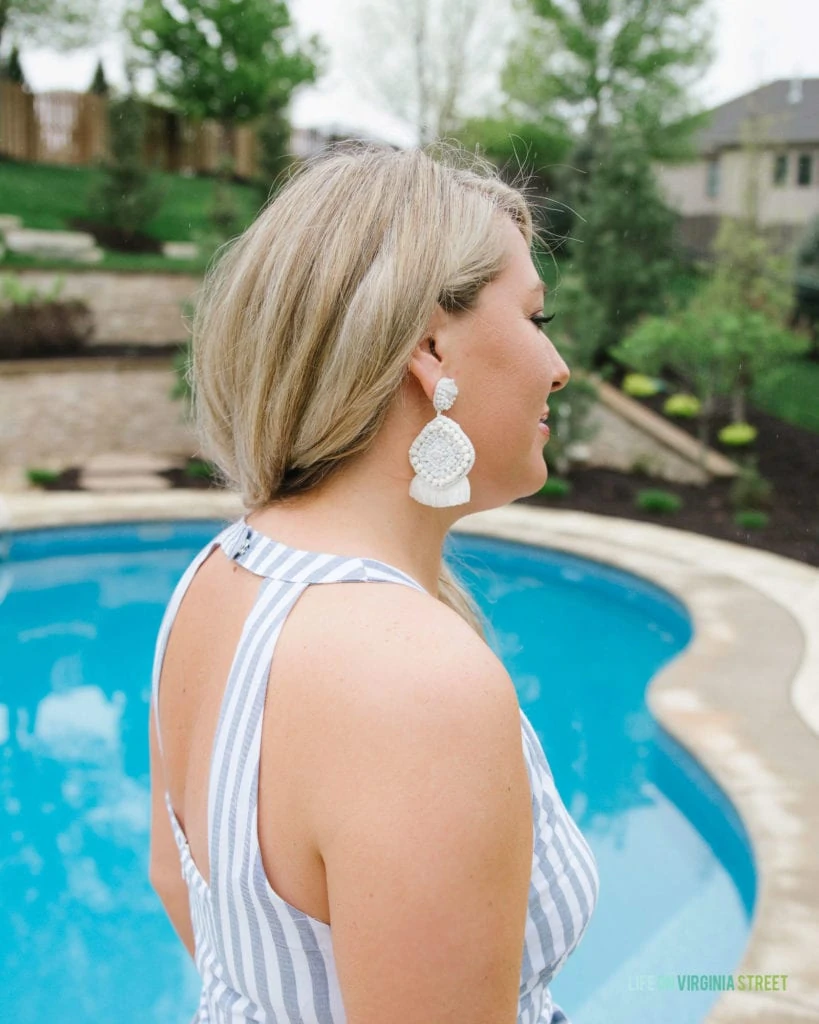 Striped Tassel Dress | Similar Earrings | Lip Gloss (Berry)
I love the tiered bottom half. For some reason it made me feel like a true Southern belle!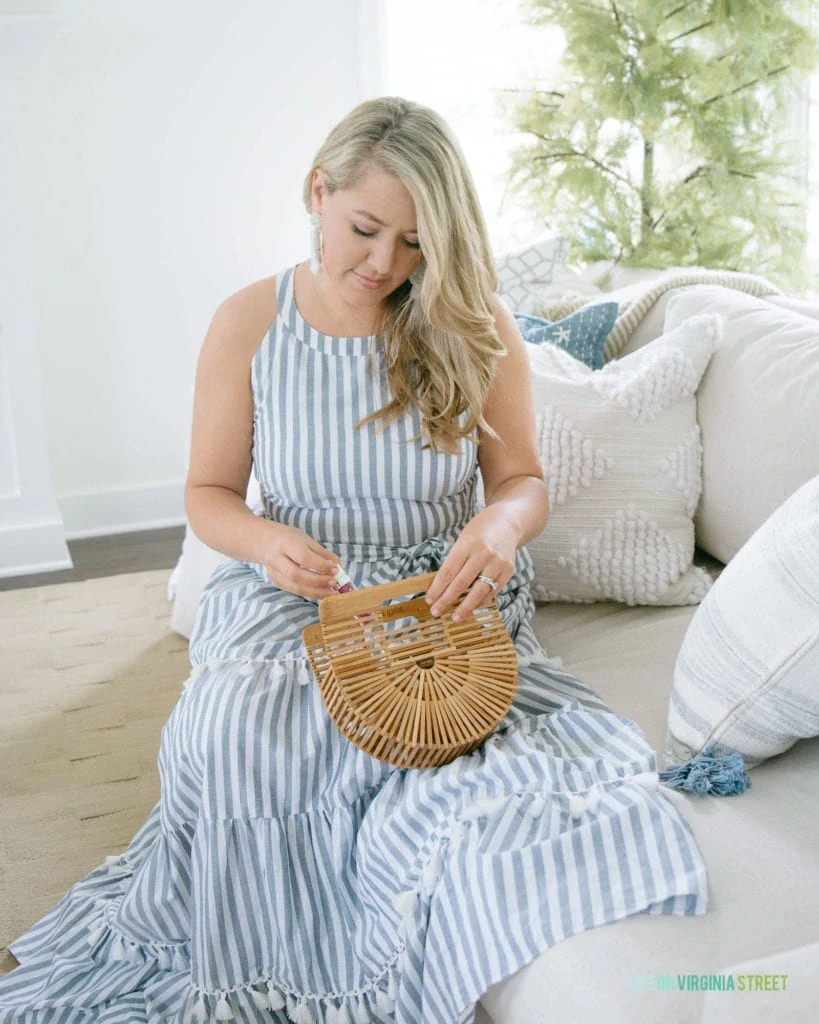 Striped Tassel Dress |Bamboo Purse | Similar Earrings | Lip Gloss (Berry)
This floral dress from Eliza J option is definitely one of those items that looks a lot cuter on a body than on a hanger! I feel like this may be the most versatile of all the options and could easily be worn to church, a wedding, or even paired with a denim jacket for a casual dinner! And the blue and white botanical combination felt very Mediterranean-cruise-ish to me 🙂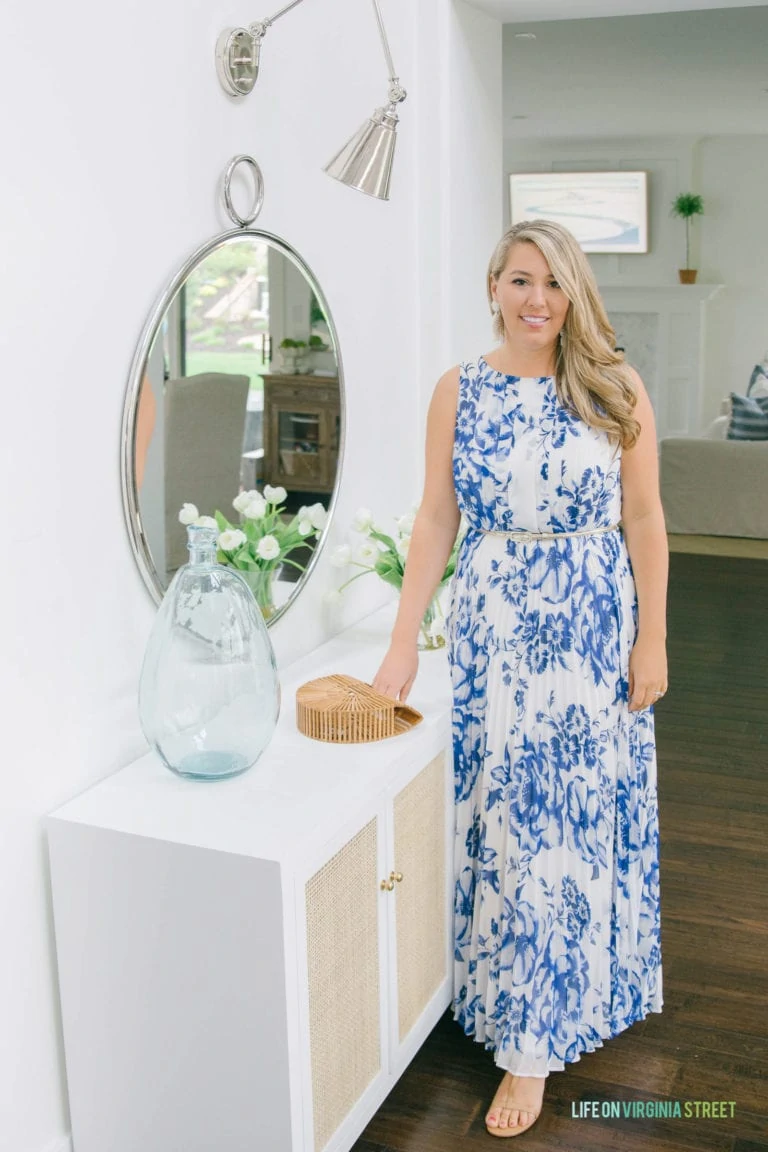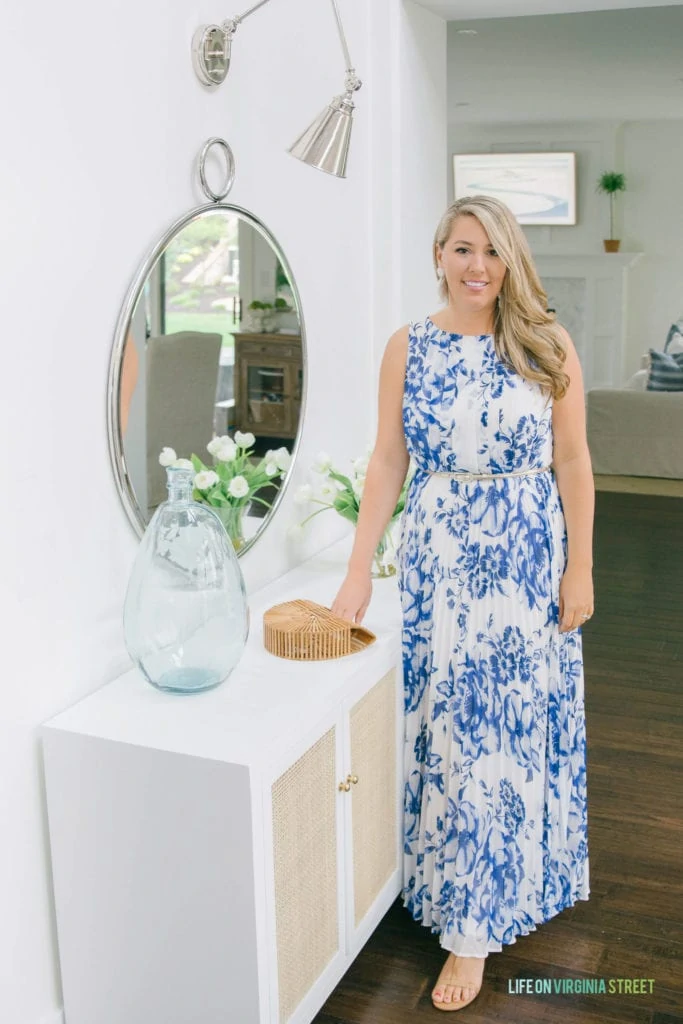 Floral Dress | Bamboo Purse | Tory Burch Wedge Sandals | Lip Gloss (Berry)
The pretty pleat details are what drew me in on this one! The dress is also really comfy and I love the pretty colors! The belt is included but you could easily remove it or swap it for a different option to change up the look!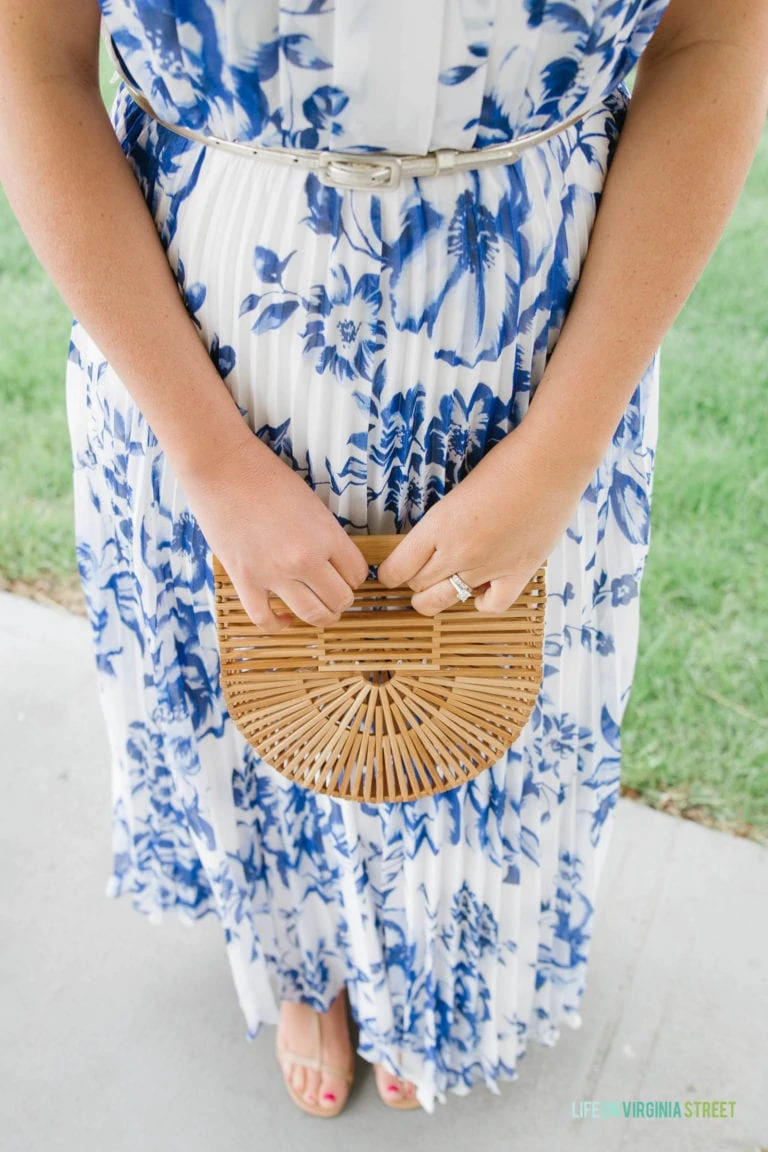 Dress | Bamboo Purse | Tory Burch Wedge Sandals
I always love to bring along a fun small purse when we travel. This bamboo purse from Cult Gaia has been my go-to for over a year and it's perfect for date nights out, when I just want to bring along my lip gloss, cell phone and a small holder for a credit card and cash.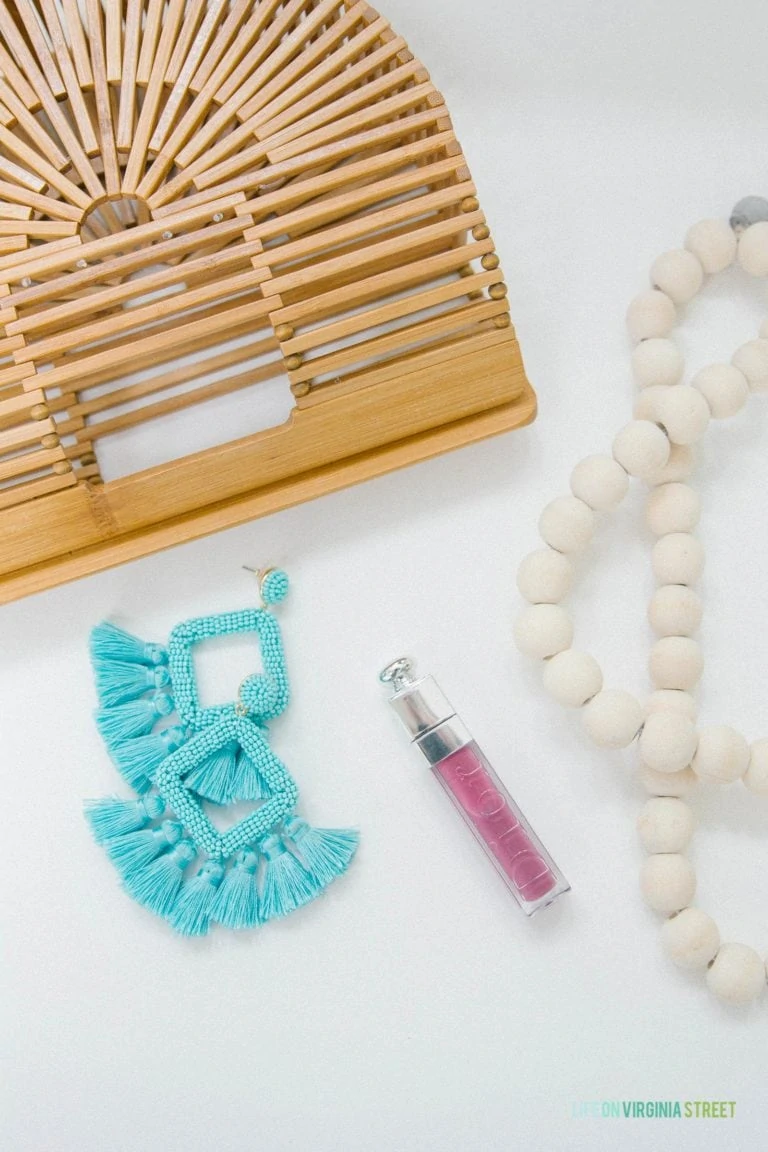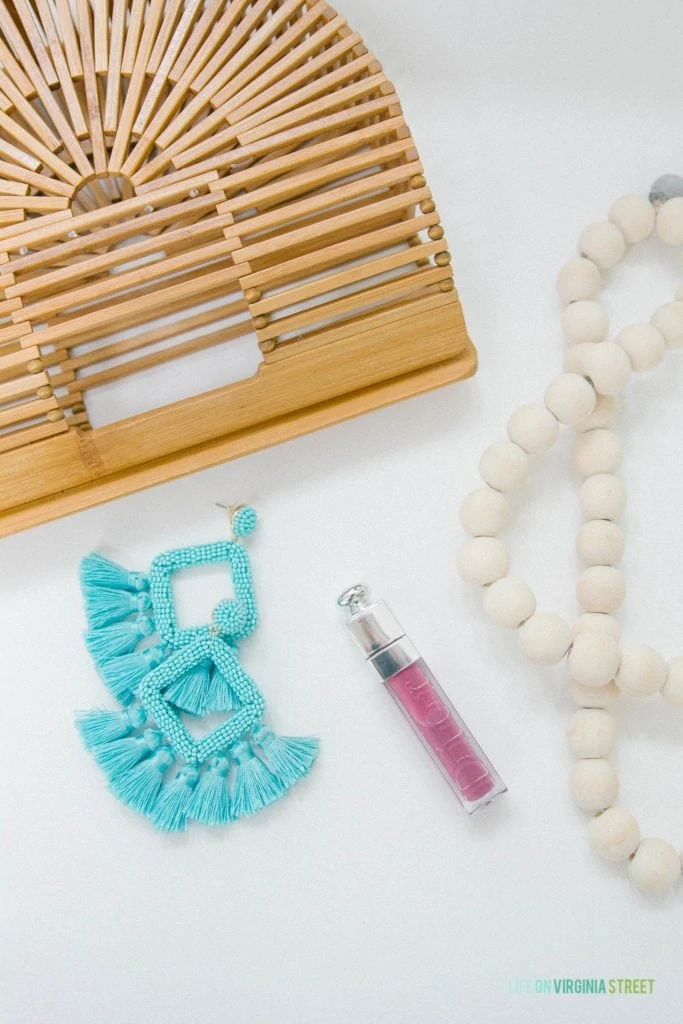 Bamboo Purse | Beaded Tassel Earrings | Lip Gloss (Berry)
I shared this striped dress in a recent Wednesday Watch List post and knew I had to give it a try! I mean – Nordstrom and J. Crew basically make up my dream team 😉 Although it's a lower cut than I typically opt for, I thought it would be fun for vacation. I love every single statement detail on this one – including the pockets! The bodice is definitely more fitted, and the skirt is flowy and so fun! I'm wearing flat sandals with it here, and it still comes a few inches above the ground on me (I'm 5'8″).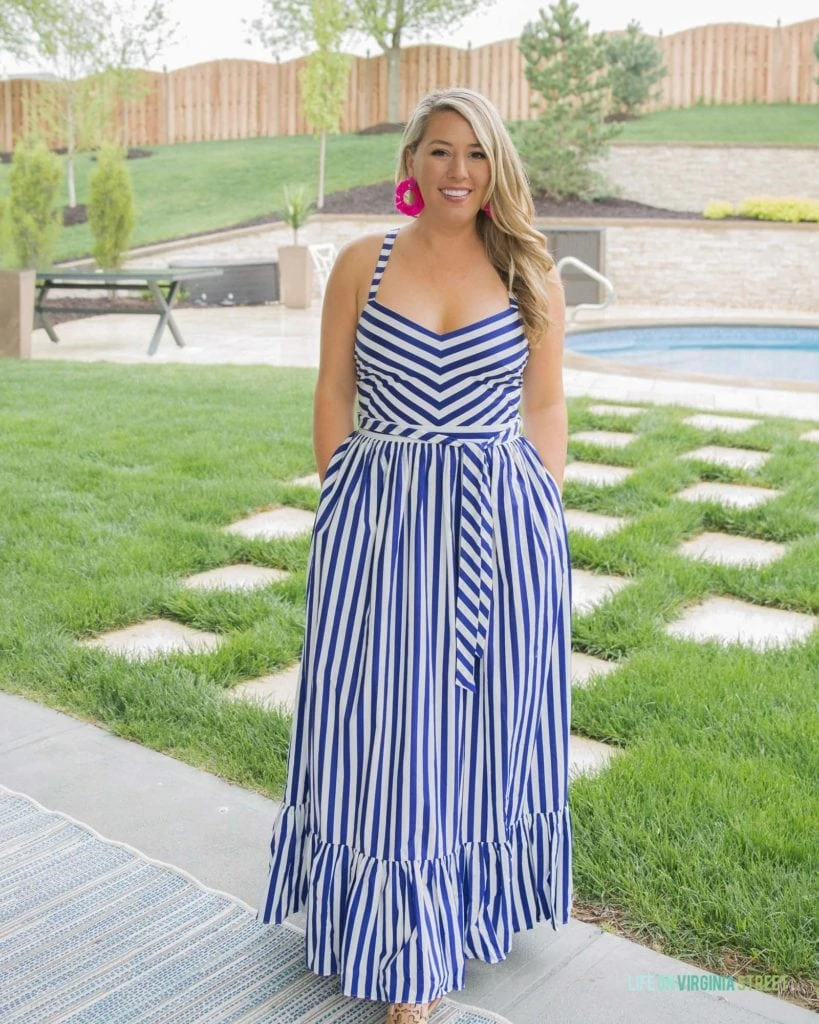 Dress | Sandals (Makeup Color) | Tassel Beaded Hoop Earrings | Lip Gloss (Berry)
The back is criss-crossed, and the straps are adjustable with several buttons, making it work for most torso lengths! I also love the subtle ruffle detail along the top hem in the back.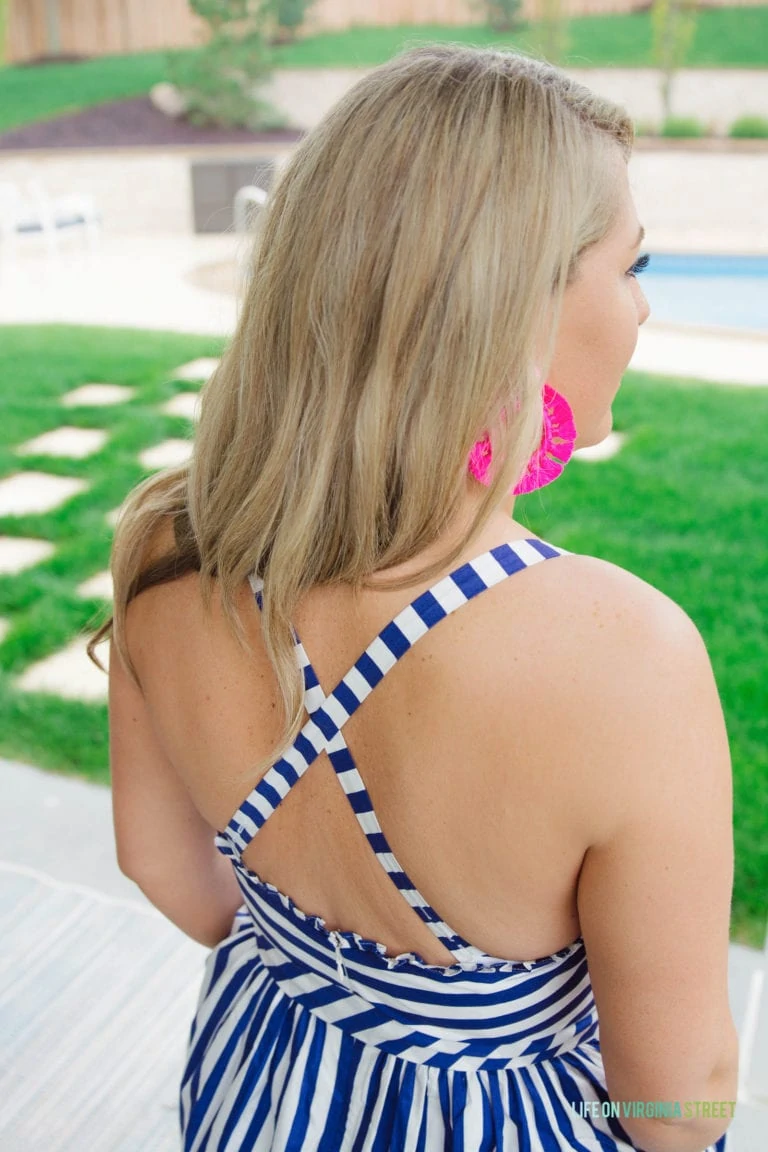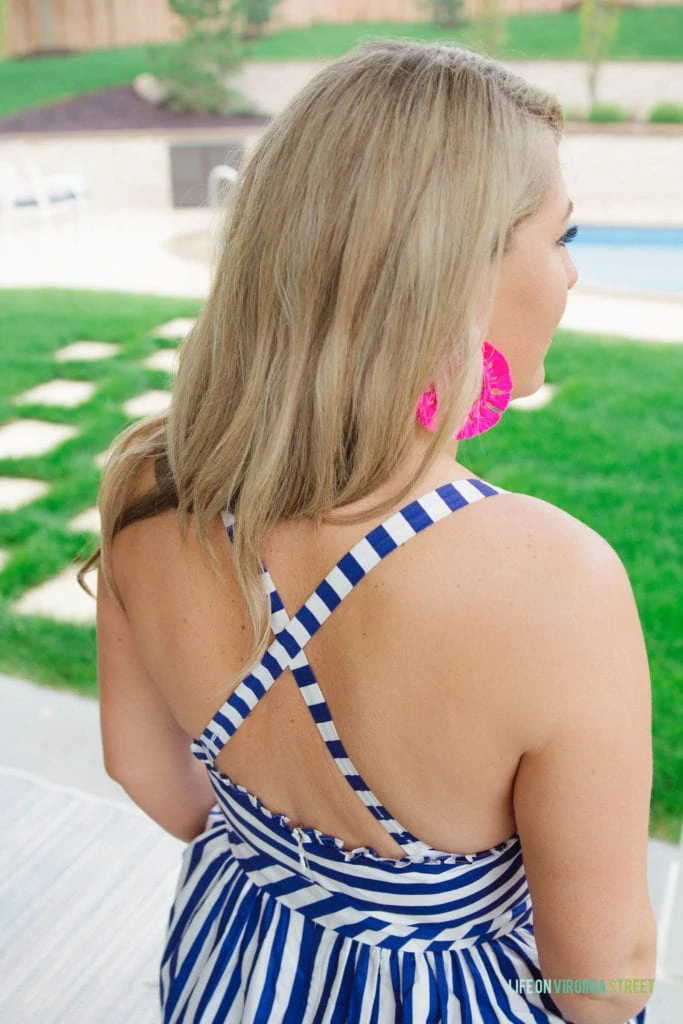 Dress | Tassel Beaded Hoop Earrings
This scarf print dress, also from Eliza J, is one I had my eye on for a few years! I finally decided to give it a try and I'm so glad I did! I love the longer length on this beauty and paired it with my favorite wedge sandals. This dress fits true to size and is a bit roomier on top if you have a larger bust. But you can also adjust the tightness up top to some degree with the scarf necktie. It also comes in plus sizes here. I love the colors on this one a lot more than I expected to and the graphic print is strategically placed and very flattering!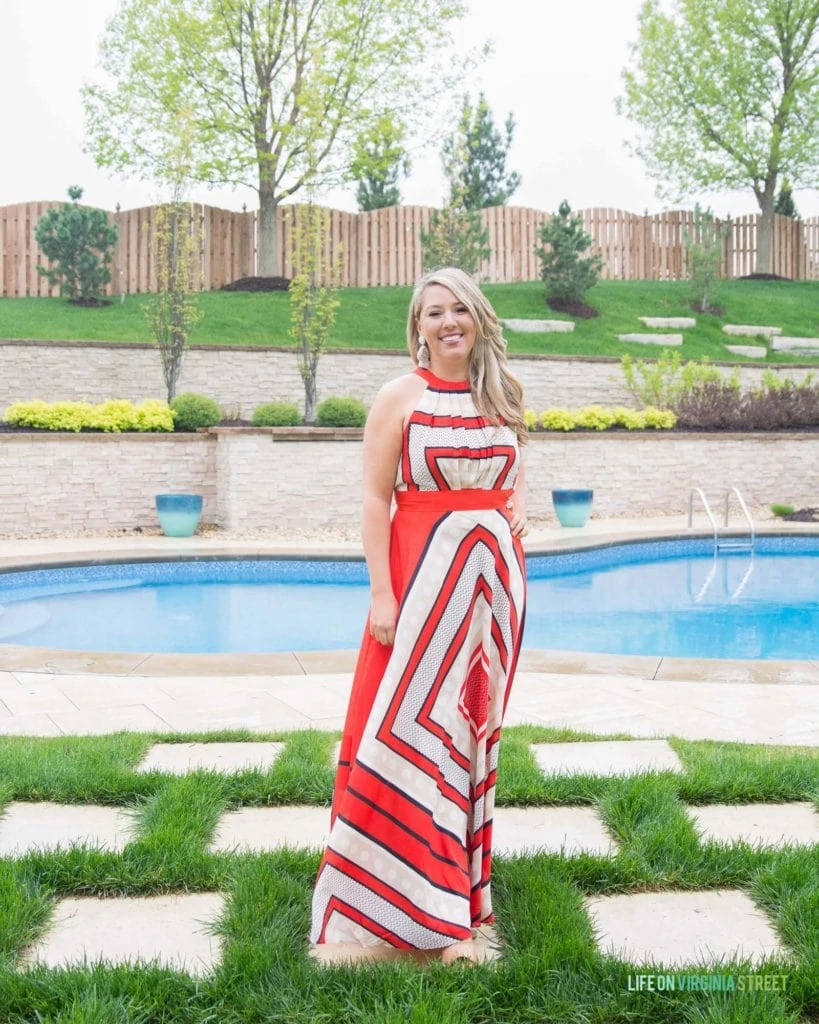 Scarf Print Dress | Wedge Sandals | Lip Gloss (Love Child)
Can you even believe this gorgeous neckline and back tie?! I seriously couldn't love it more.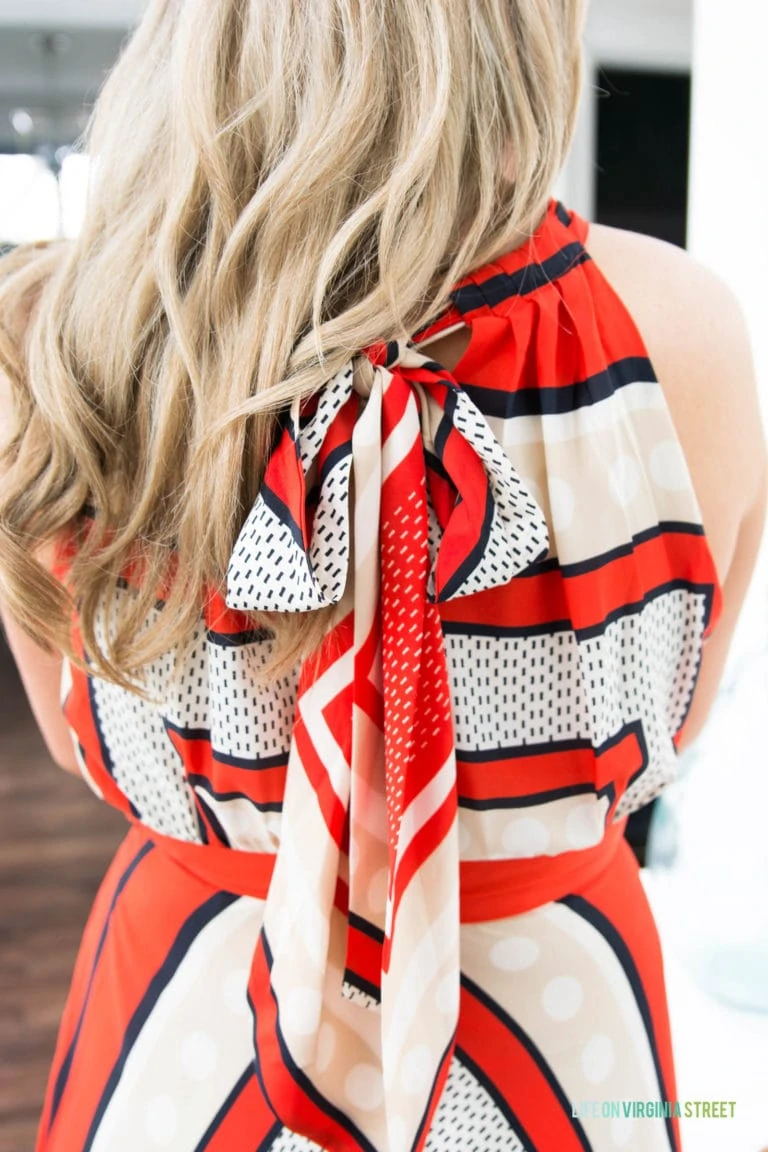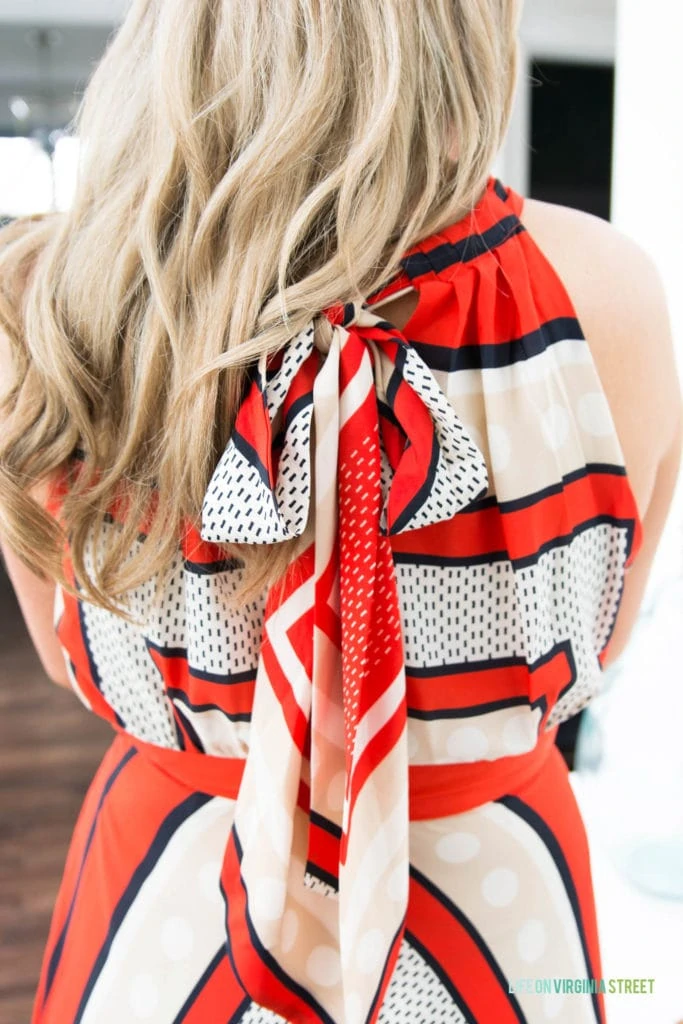 A few other dresses to note:
Following are a few more summer dresses from Nordstrom that I'm loving lately! Click any of the images below to learn more about each dress.

I can't wait to wear each of these dresses on our cruise! And I hope you found one or more you love, as well!
If you would like to follow along on more of my home decor, DIY, lifestyle, travel and other posts, I'd love to have you follow me on any of the following:
Pinterest | Instagram | Facebook | Twitter 
disclosure: some affiliate links used
Photos by the talented Mandy McGregor