For the last week or so, we've been focusing on getting our outdoor living spaces back in shape for the season. We've made a lot of great progress and I'm excited to share the updated spaces with you over the next few weeks. Today I'm going to share all the details on our summer courtyard refresh!
This post is sponsored by At Home. As always, all thoughts and opinions are my own. Click here to read my full disclosure policy.
If you've read my blog for any amount of time, you may recall that our courtyard was one of the reasons we bought the house. It is such a unique feature and our house is essentially built like a C with most of the room facing it. On our main floor, our office, main hallway, and our dining room all surround the courtyard.
I actually hadn't taken any styled photos of our courtyard since before we painted our house white last year! Everything I found was of our courtyard with brown paint. The conversation set/firepit was one of our first purchases after we moved. We knew we wanted to make the courtyard be as magical as we envisioned it. The furniture has served us well the past six and still works fine. So we weren't looking to replace it, but rather, just freshen everything up. Here's how the courtyard looked shortly a few months after we moved in, about six years ago.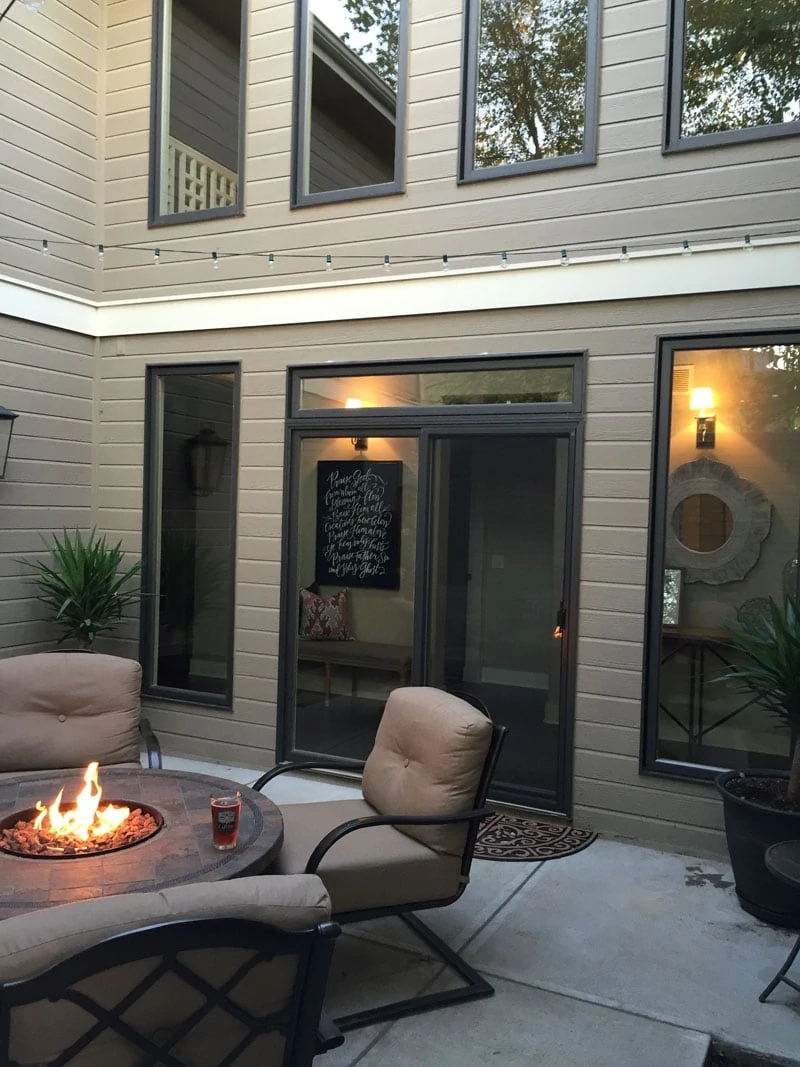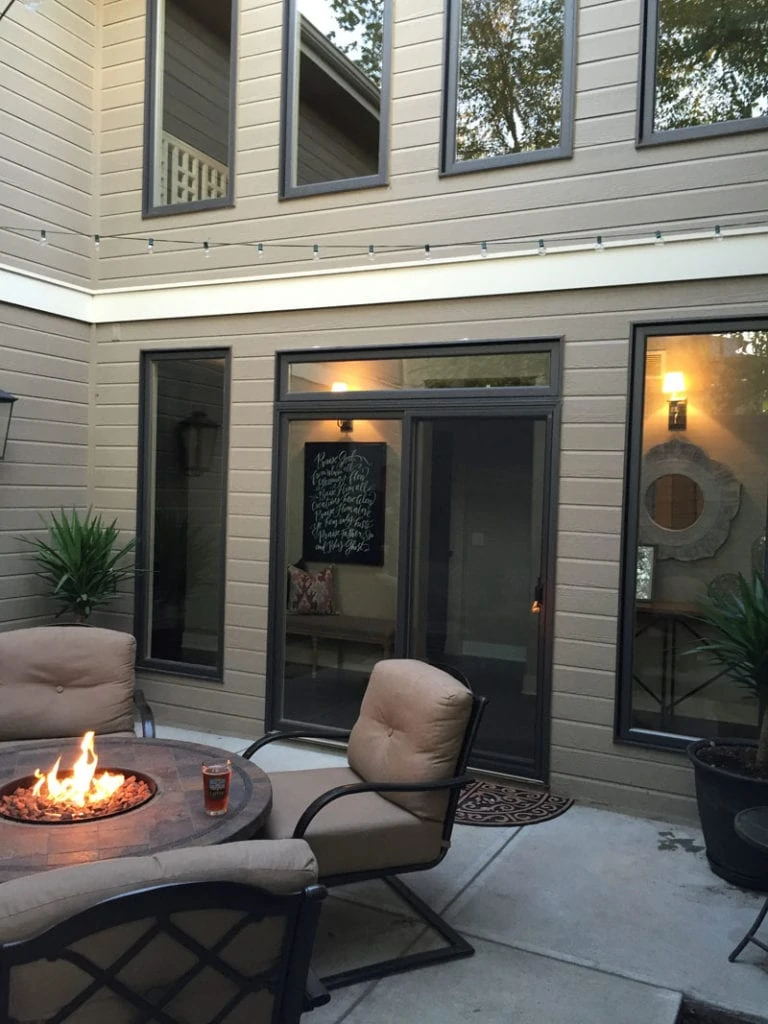 So, when At Home asked if I had any outdoor spaces that needed a little refresh I jumped at the opportunity to get our courtyard back into shape!
Before we tackled the decorating side of things, first and foremost, we needed to clean the space up! With the roof replacement and painting last year, our courtyard was neglected and never really got a good cleaning (and therefore, not much use)! So much fall debris had built up under all the furniture too!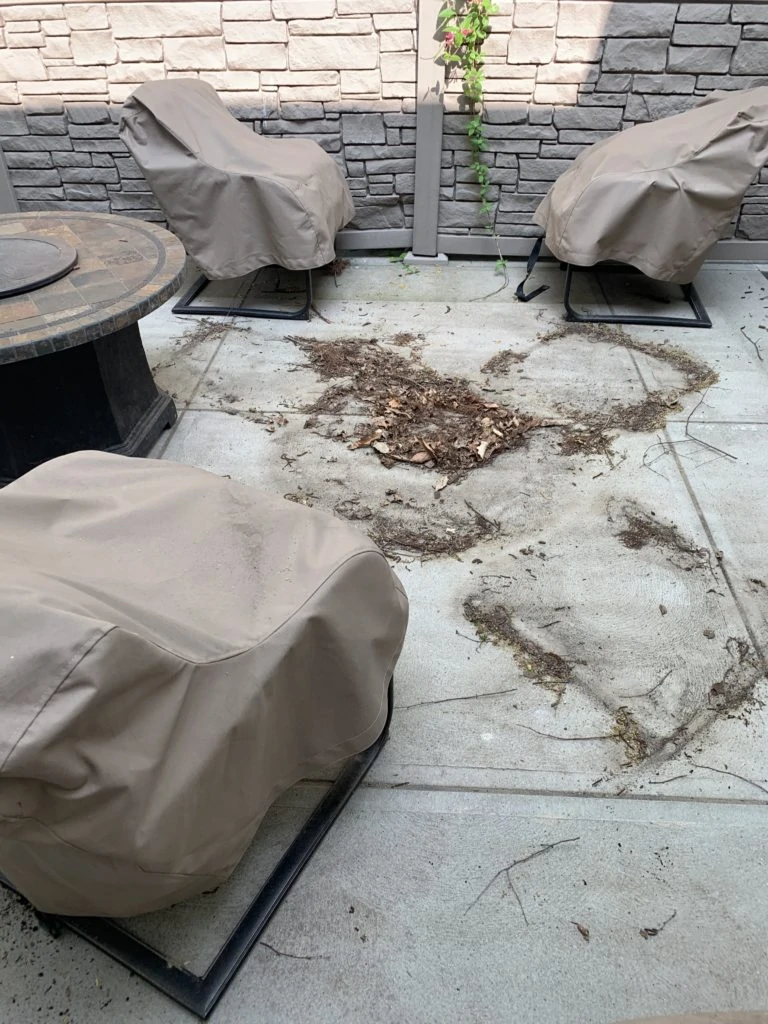 I also had some dead boxwoods I needed to pull.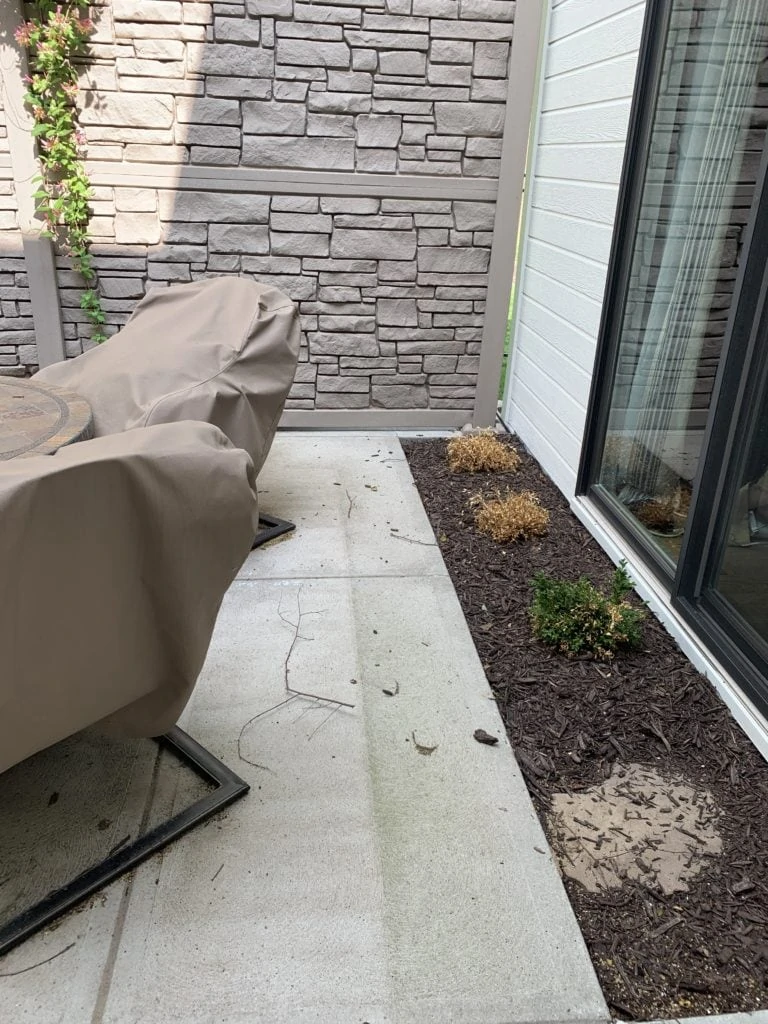 Last weekend, we hauled everything out of the space and Kurtis power-washed the concrete. Holy cow! It made such a difference! The concrete suddenly looked new again! Here it is still wet, but you can see the difference is pretty dramatic!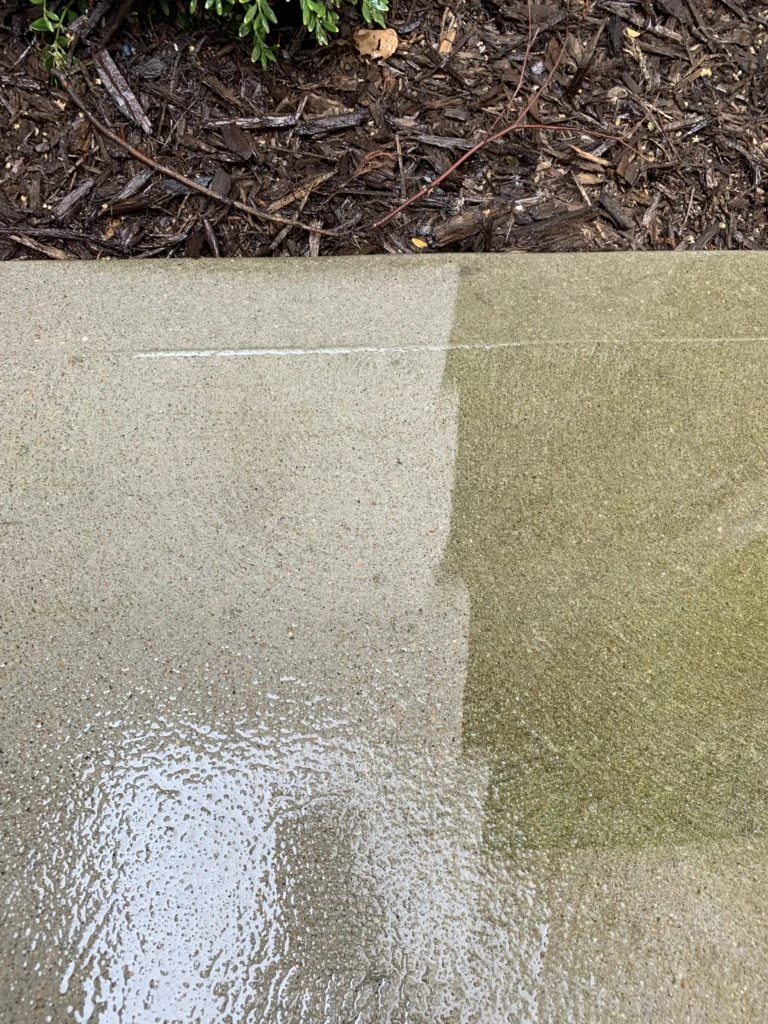 Once everything was fully cleaned and dried, I worked up a plan to refresh the space! Here's a peek at how the space looks now on an every day basis! I'll share more details and photos below, as well as how it looks when we're in entertaining mode.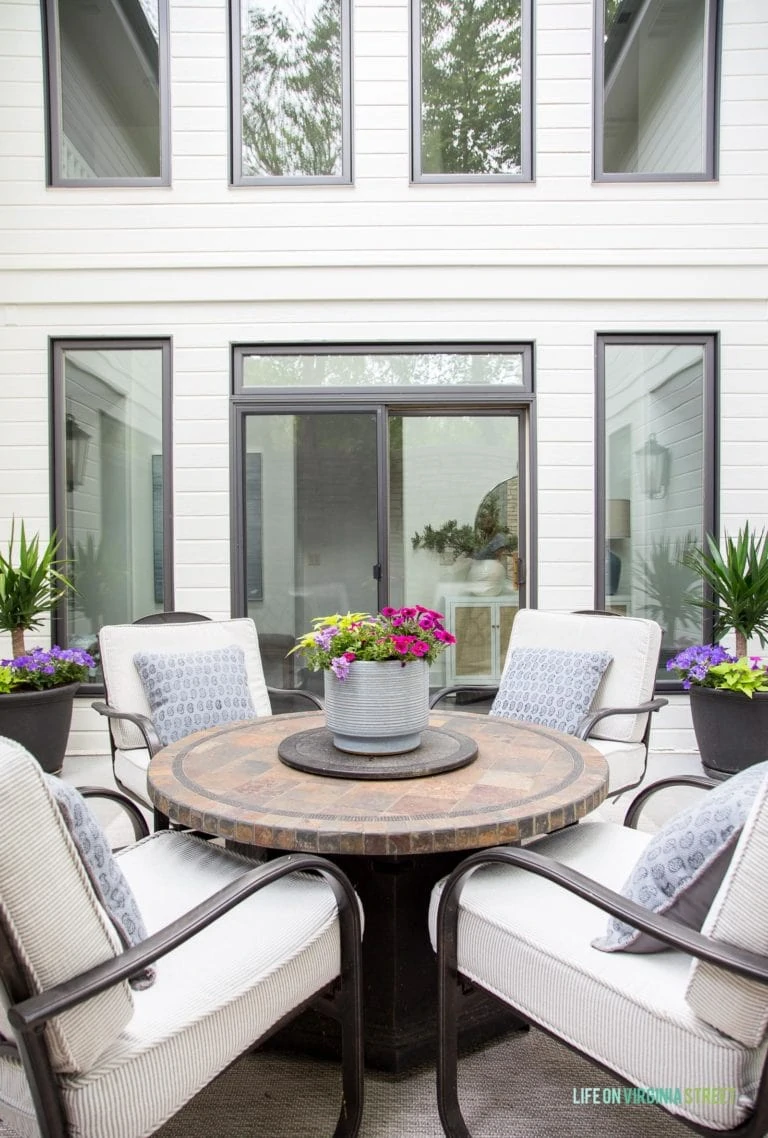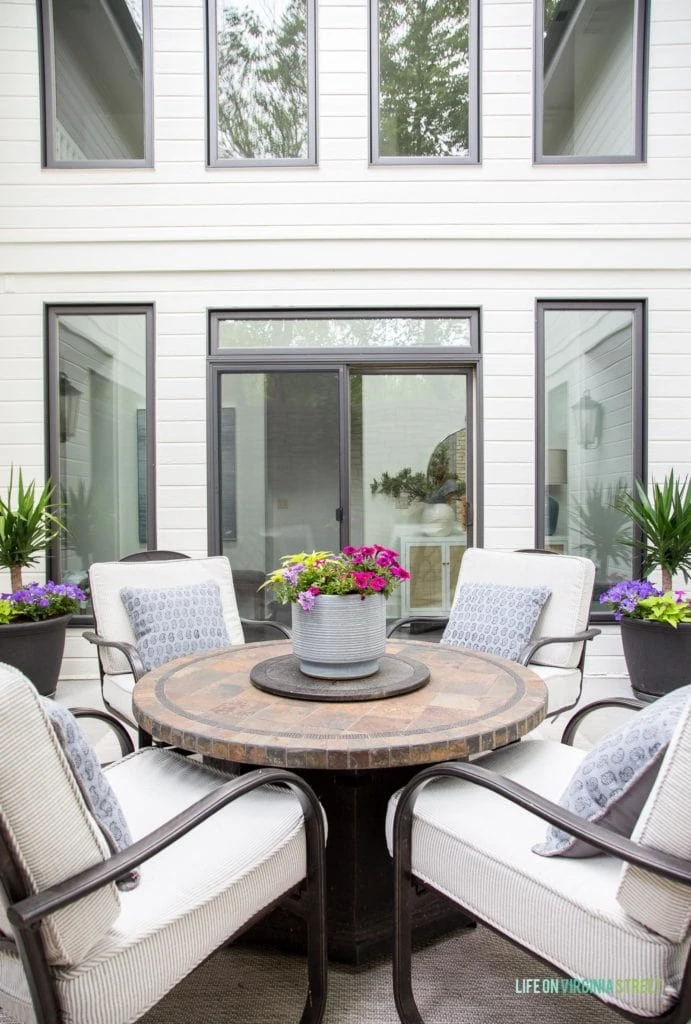 At Home doesn't currently offer online shopping, so if you want to see their huge selection of patio furniture and decor you'll have to find a local store. However, you can watch my Instagram Stories today to follow along on my shopping experience at At Home from a few weeks ago! Their selection is unreal! And besides three or so items you see in these images, every single thing in this post was found at At Home.
Once in the store, I immediately started with cushion replacements. Our old dark brown ones that came with our six year old furniture set badly needed to be replaced after six years of use. I wanted something lighter and brighter and more modern looking, and I couldn't have found a better option. Were these seersucker-style cushions not made for us?! Because I love such colorful flowers and plants in the summer months, I decided to keep my decor selections as neutral as possible. I have a full post on summer planter ideas with tons of flower combos I love if you're interested!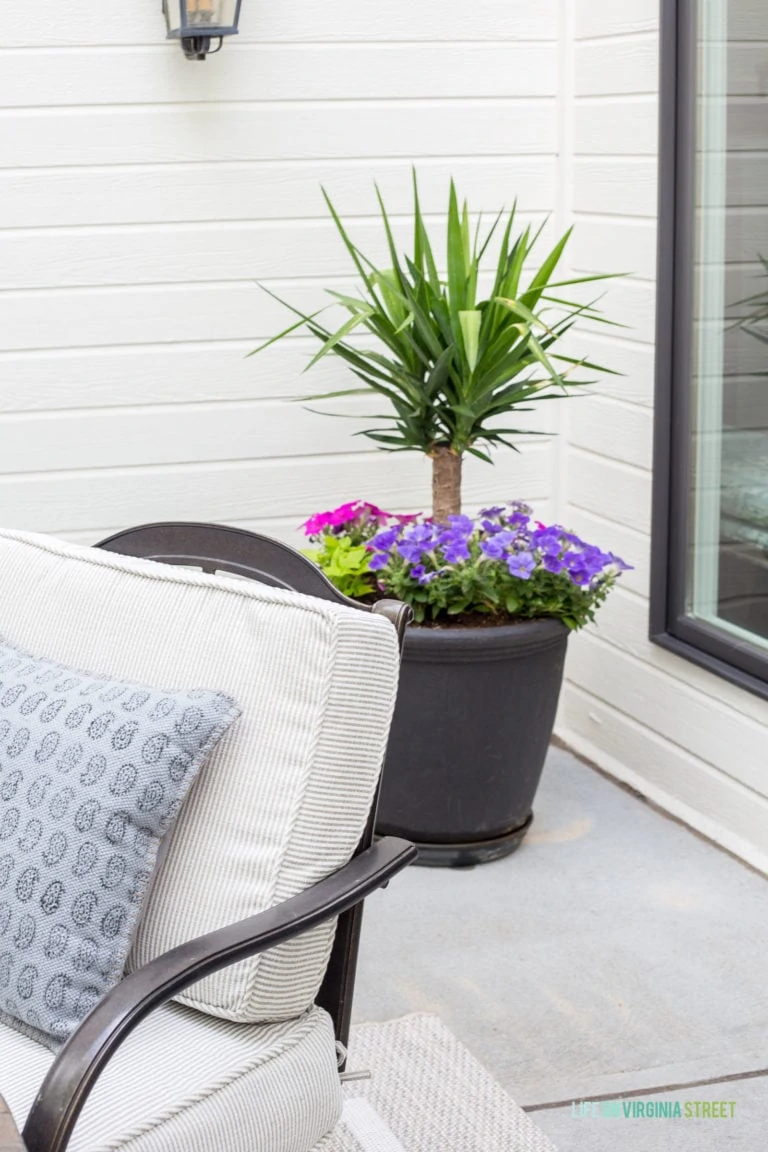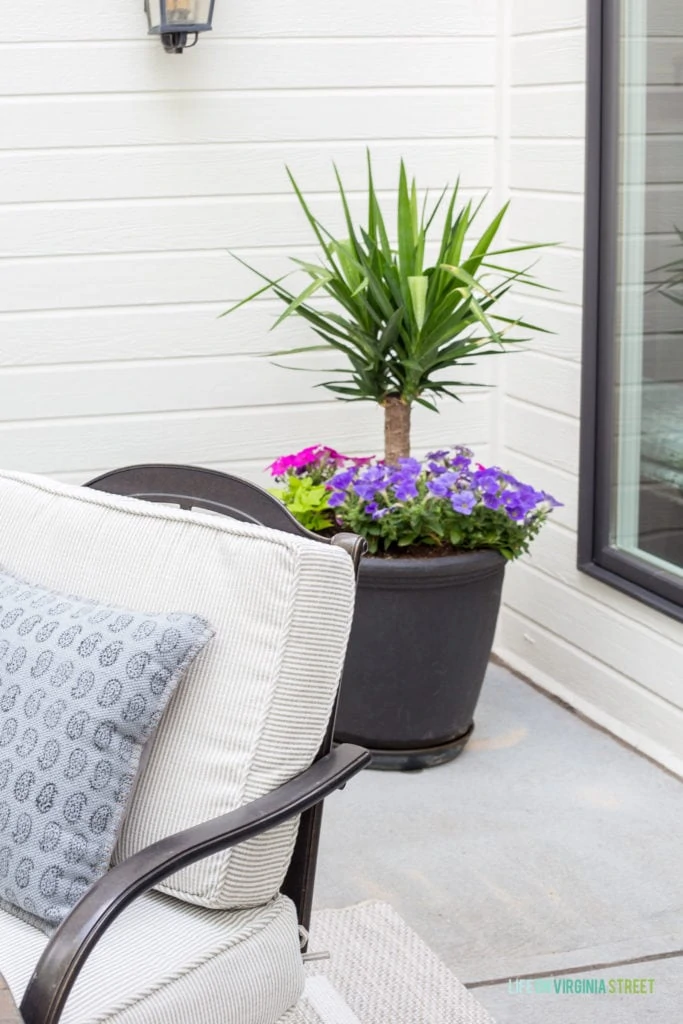 And you guys know I've been all about the block print look this year, so these pillows were another fun find! They're actually indoor pillows, but we always have the chairs covered in inclement weather so I decided to take a chance on getting them because I loved them so much.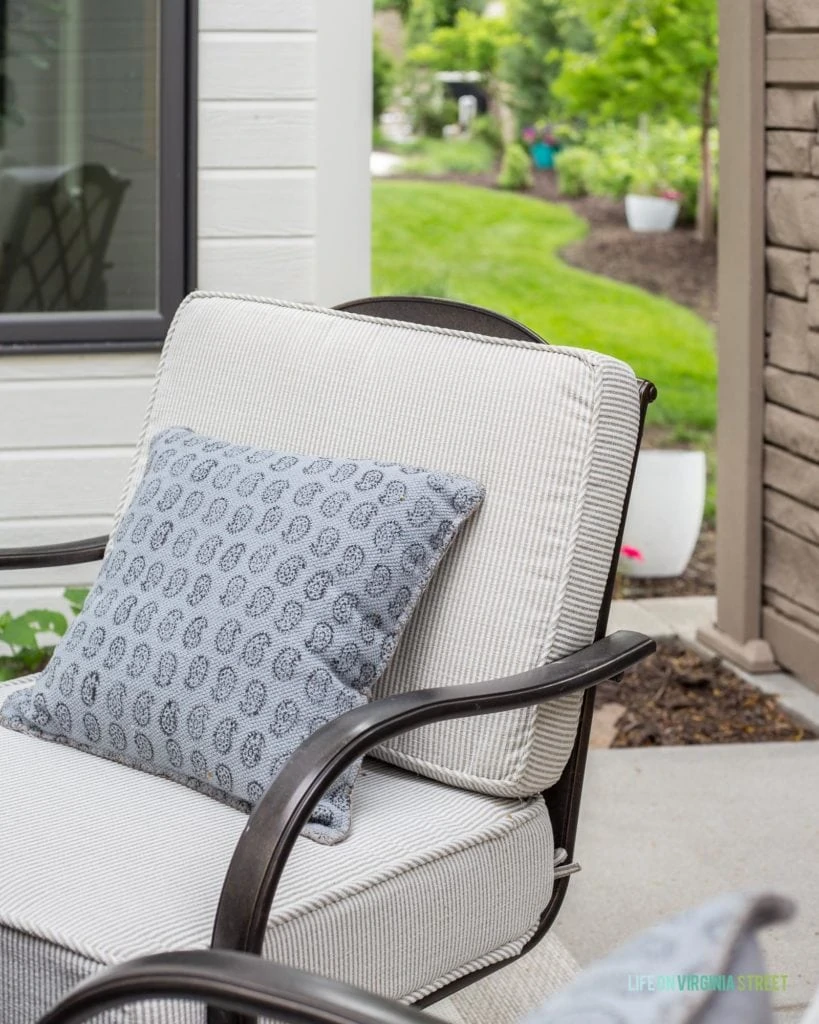 I also knew I needed to replace our old (rotting) rug, and I struck gold with this neutral and affordable option. I loved the old striped rug so much, but since the courtyard is seen from three+ spaces in our home, the bold pattern seemed to compete with what was going on indoors. So, I knew this simple, neutral border rug would be the perfect solution!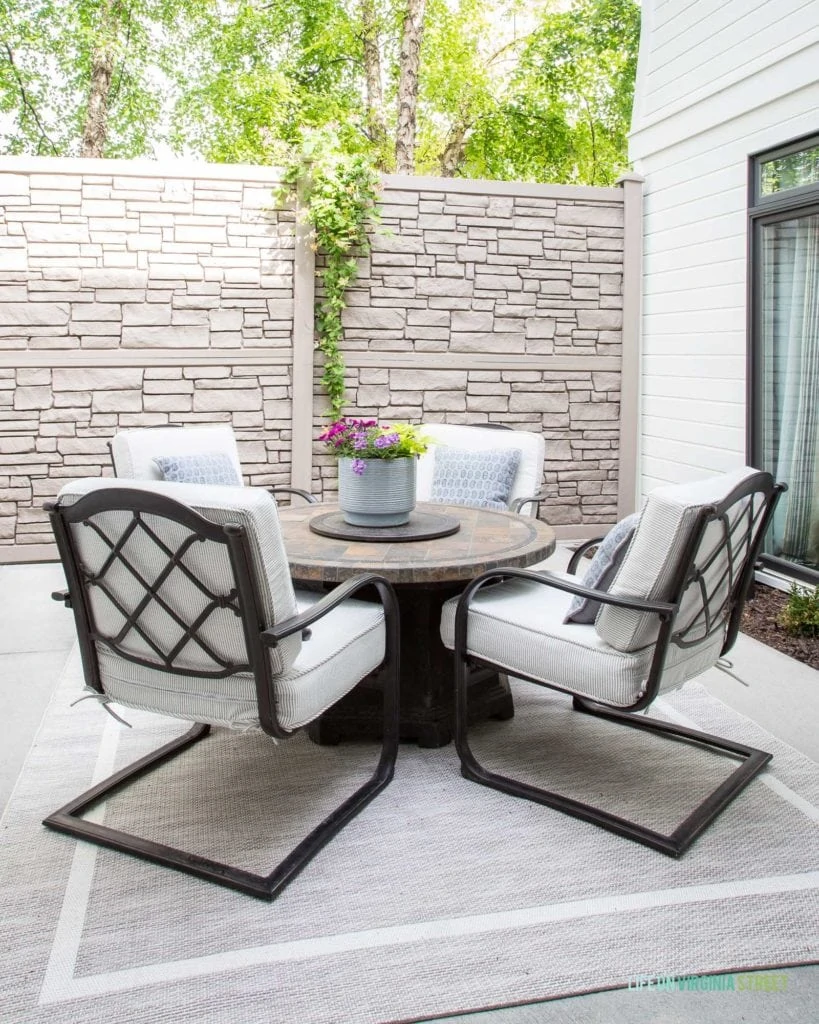 Our new drone came in for the rescue with this overhead shot where you can really see the rug! Can you also see all those birch tree seeds in our gutters? Those things have been the bane of our existence this past week. They are everywhere outside and I had to use the leaf blower in between shots to get all these photos.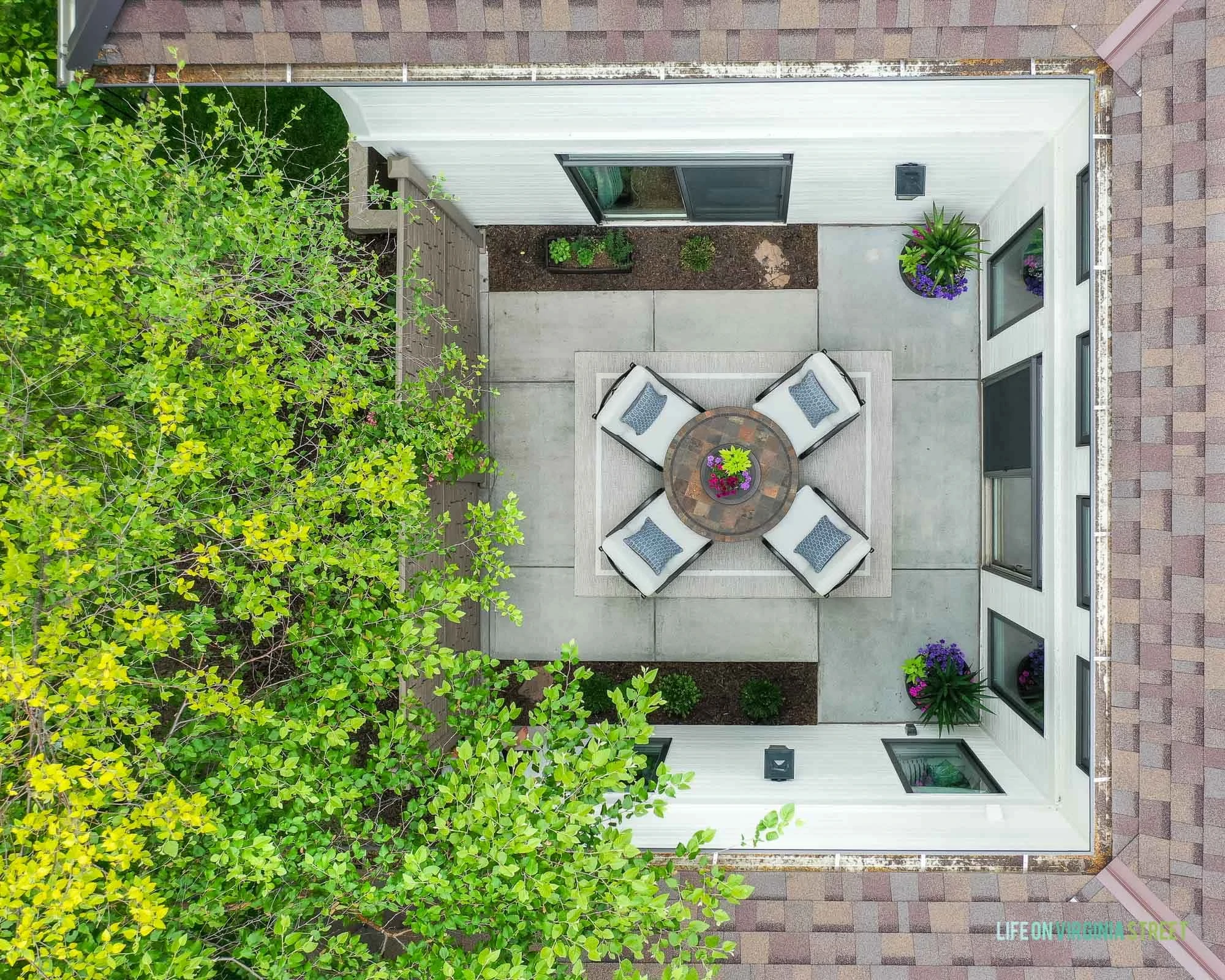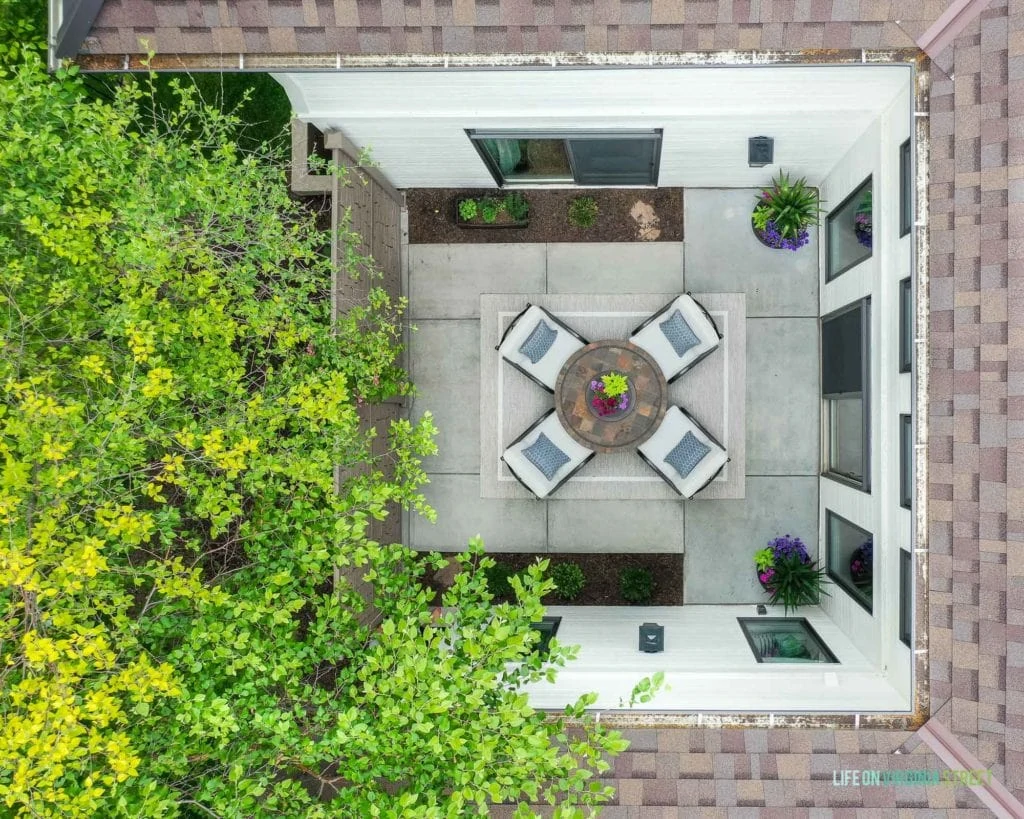 Another issue I wanted to address in our courtyard was our old herb garden. Since it had grown in size over the years, I had multiple pots in the courtyard to accommodate, and it was starting to look cluttered. When I found this huge rectangular planter, I knew it was the perfect solution to hold all of our herbs in one spot. It fit perfectly where I pulled all the dead boxwood bushes. We now have basil, dill, spearmint, cilantro and rosemary on hand to use all summer long!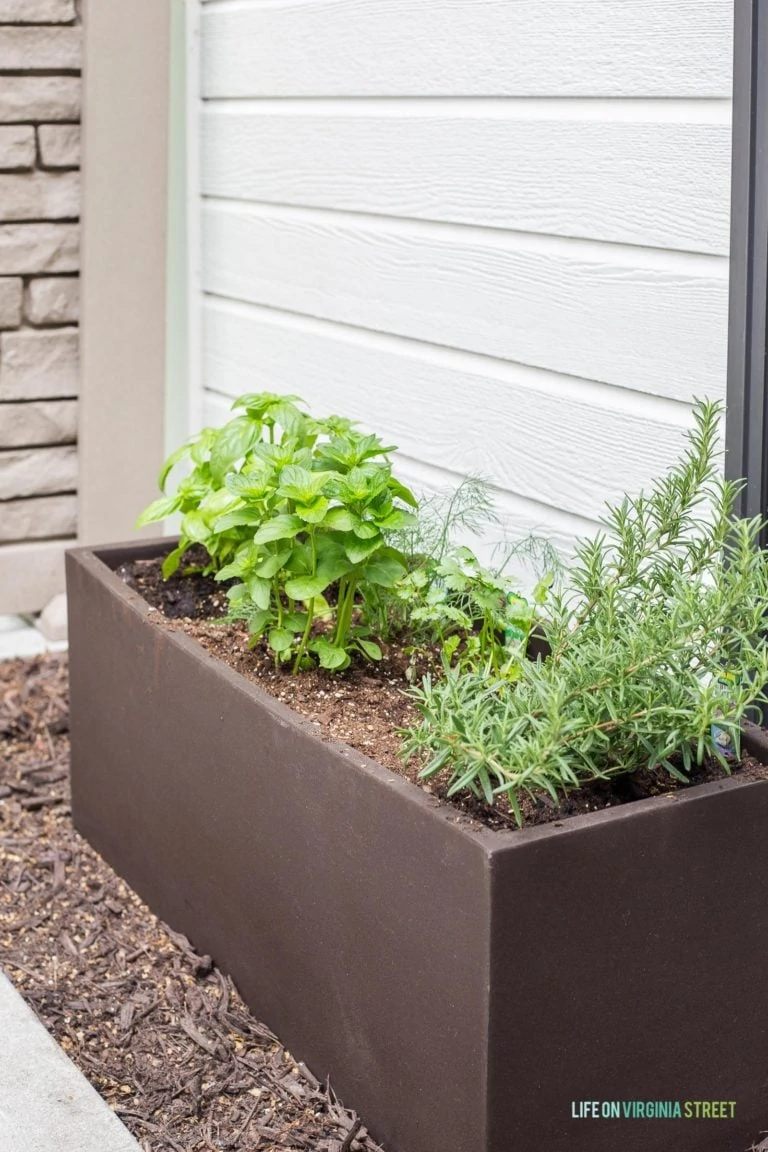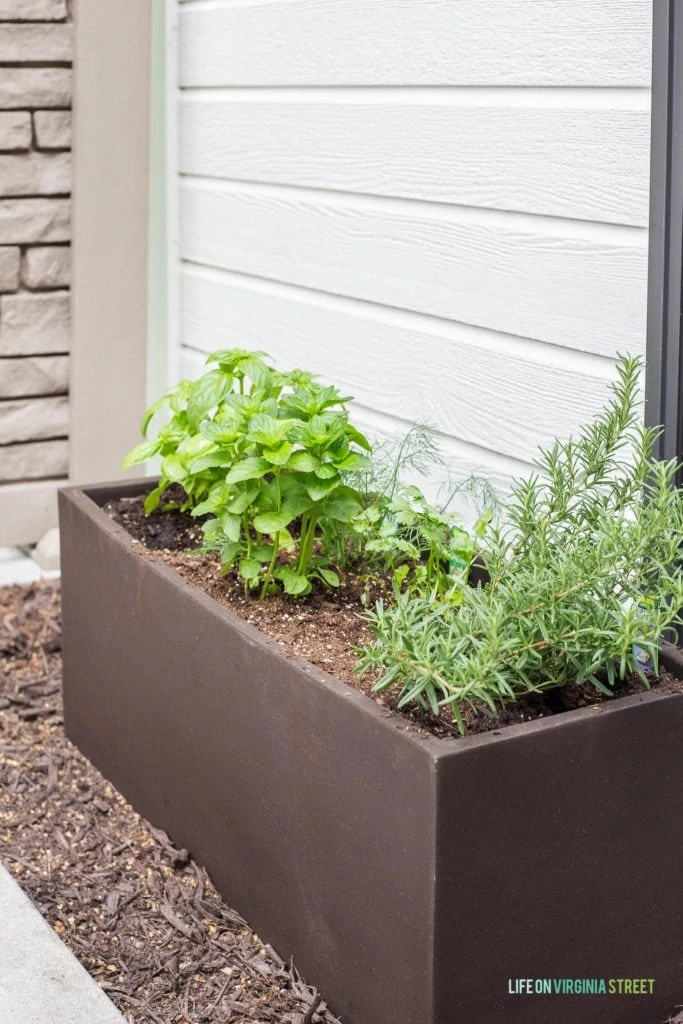 And here's a look at the courtyard dressed up a bit for entertaining!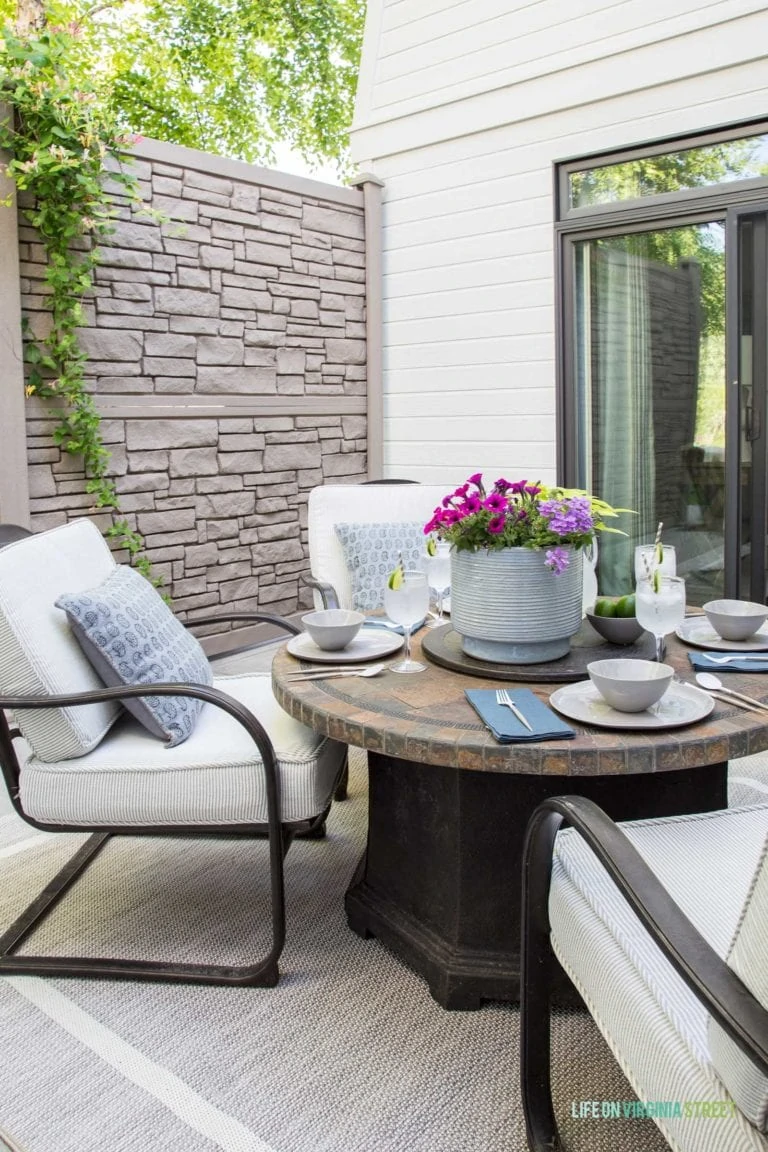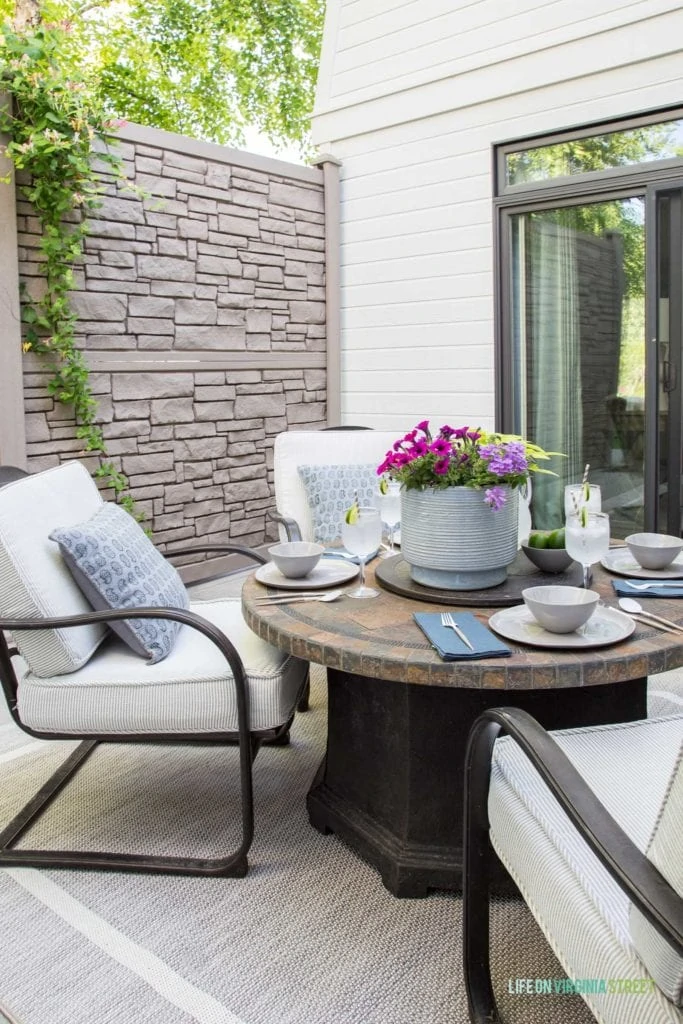 It's such a cozy spot to eat meals.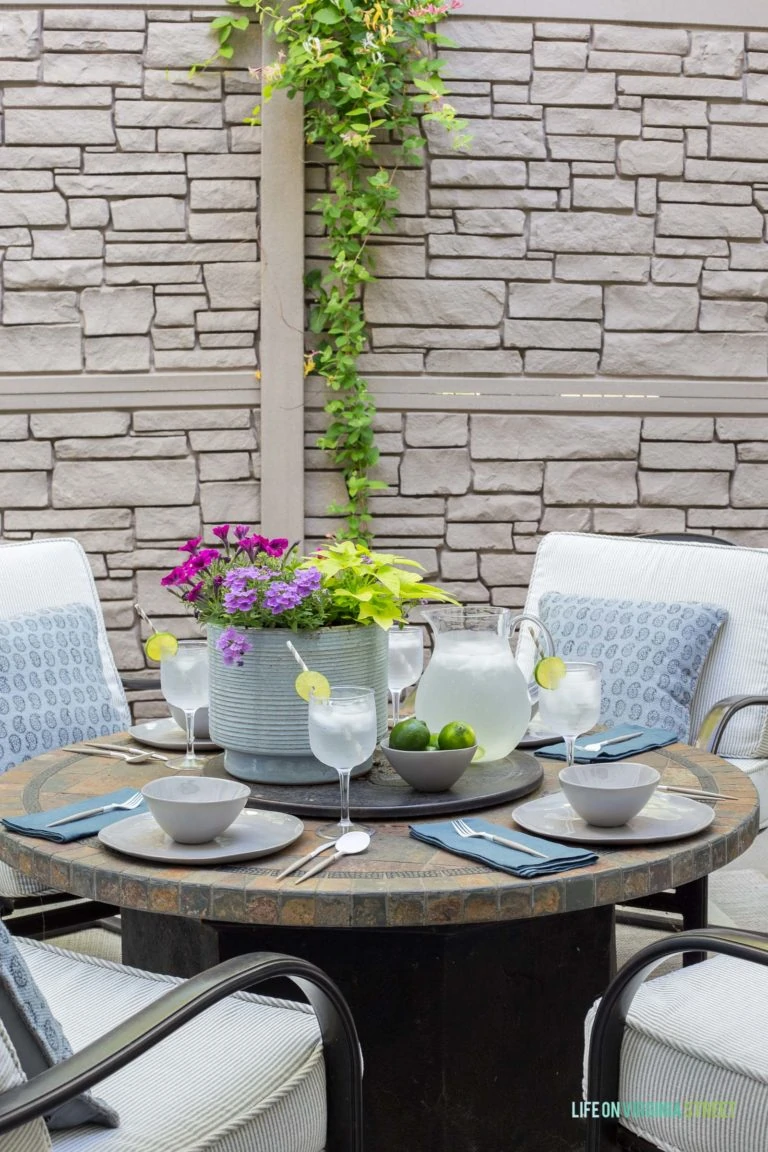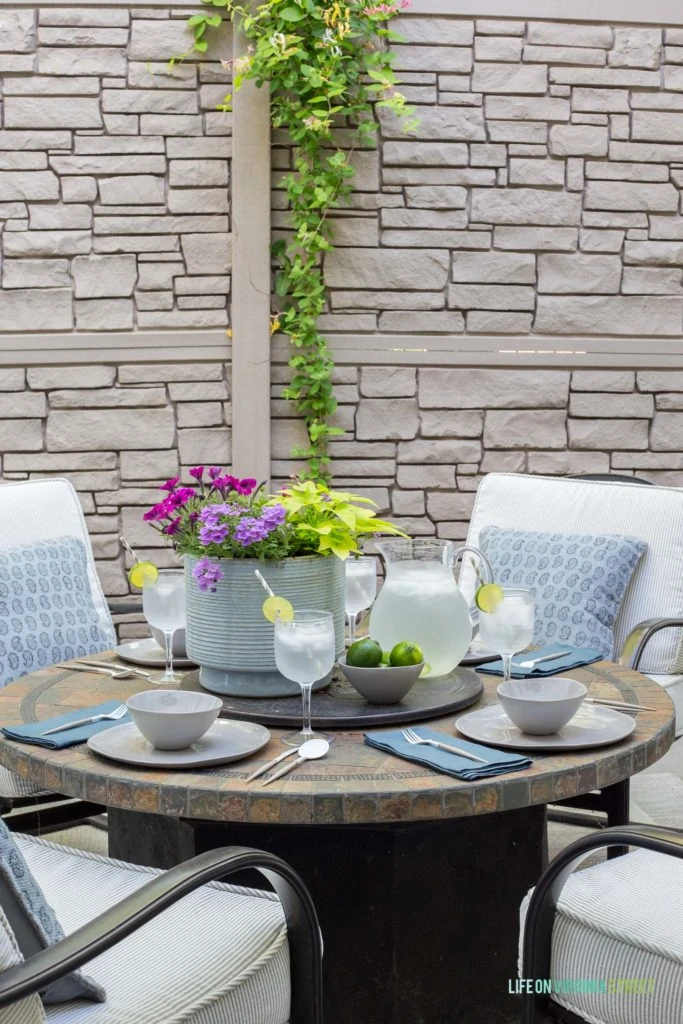 I also love the addition of a flower pot on the firepit table. I'm not sure why I had never thought to do that before, but I love the color it injects on our very brown table. I fell in love with this beautiful ceramic pot the second I saw it!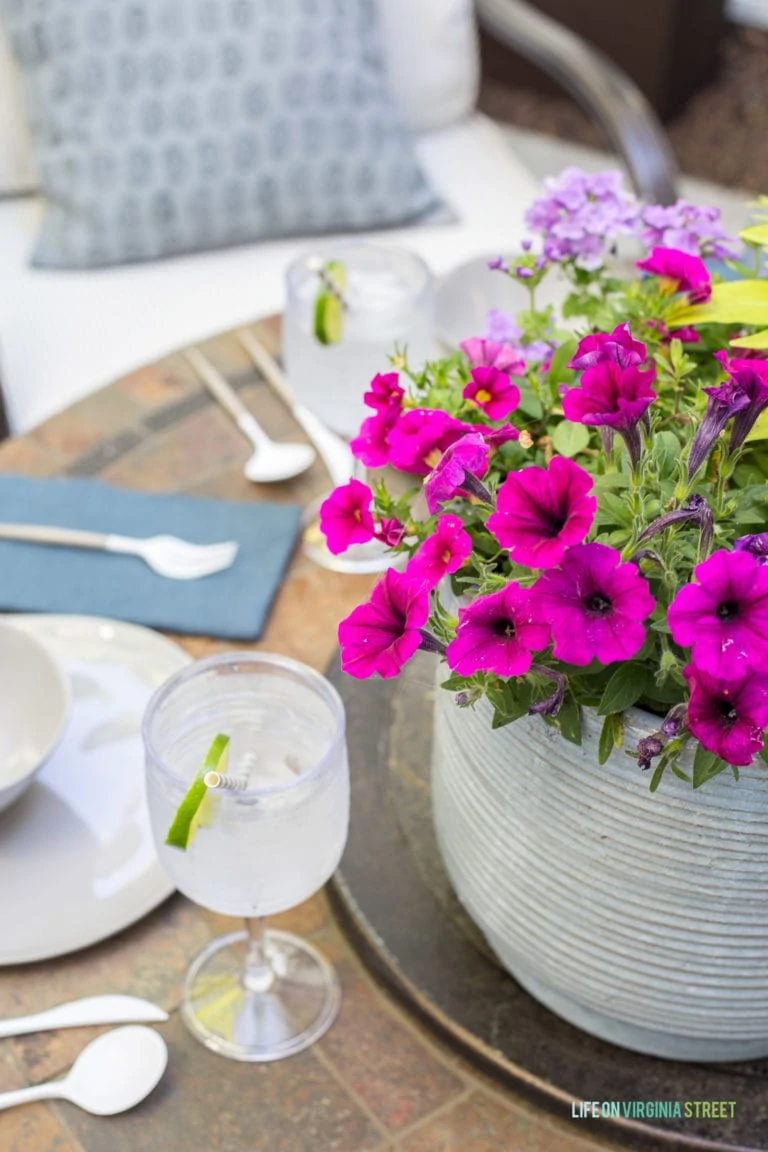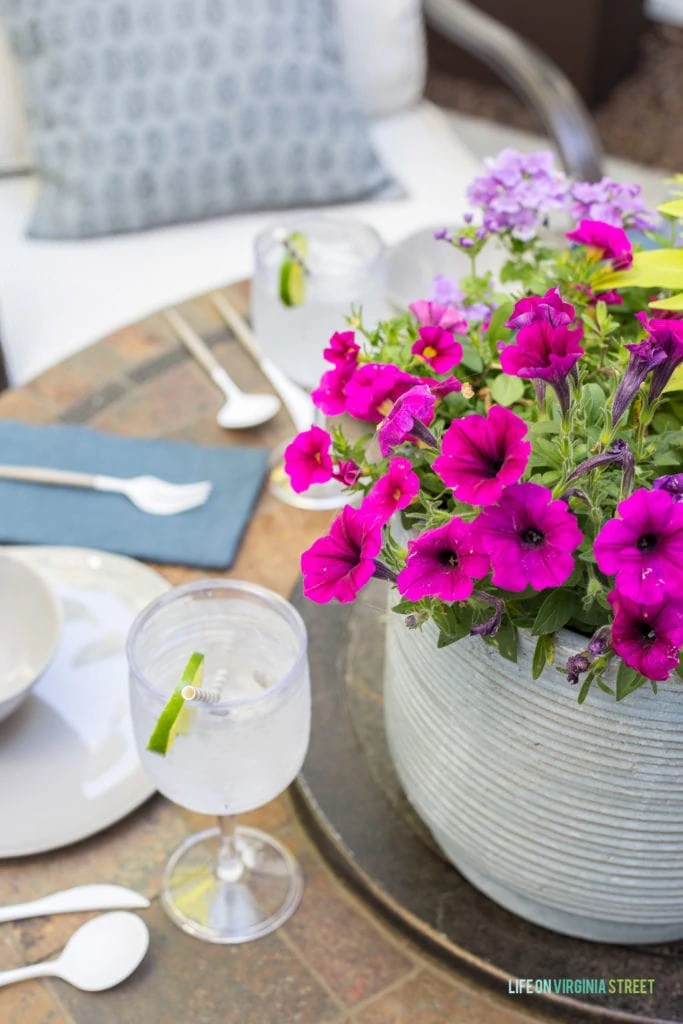 I also found a cute little side table that is perfect to bring out to the courtyard when we have friends over. In the past, I always found I needed an extra surface for drinks or snacks since the firepit table doesn't have a ton of extra surface area. This one works perfectly to hold this cute little white tray (a summer must-have).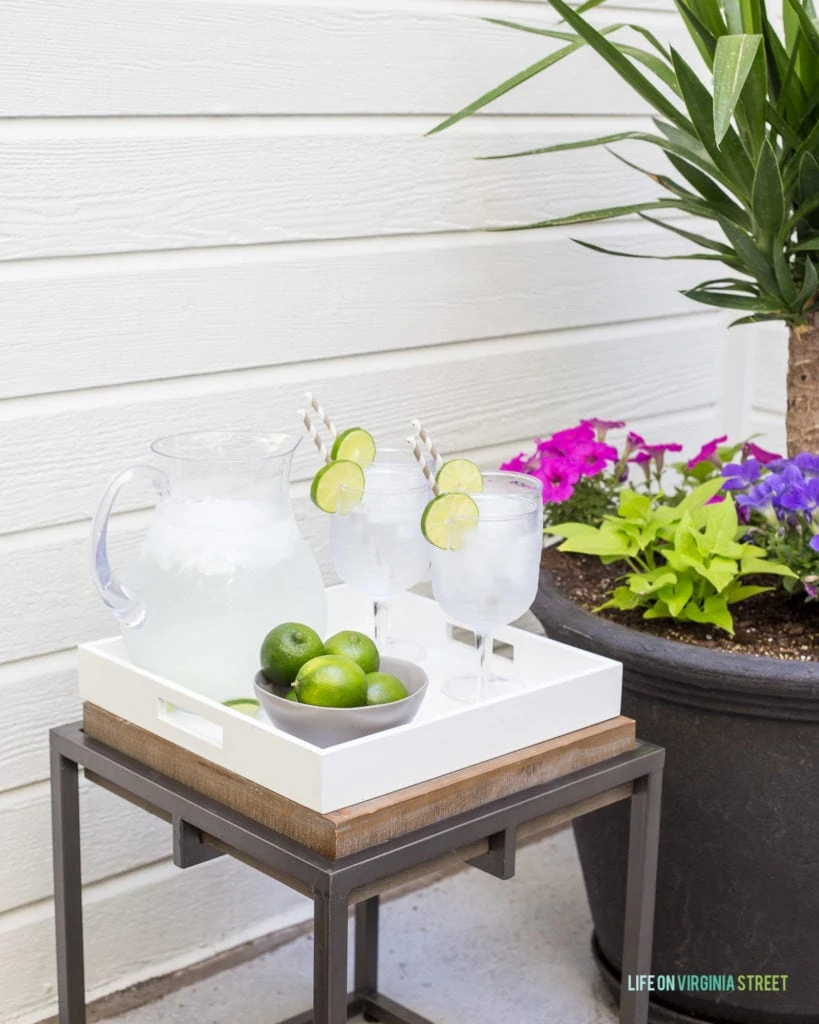 We try to enforce a strict no-glass policy in the summer now that we have a pool, so I'm always on the hunt for stylish serving pieces that are substantial and don't look cheap. I love the pitcher and glasses I found!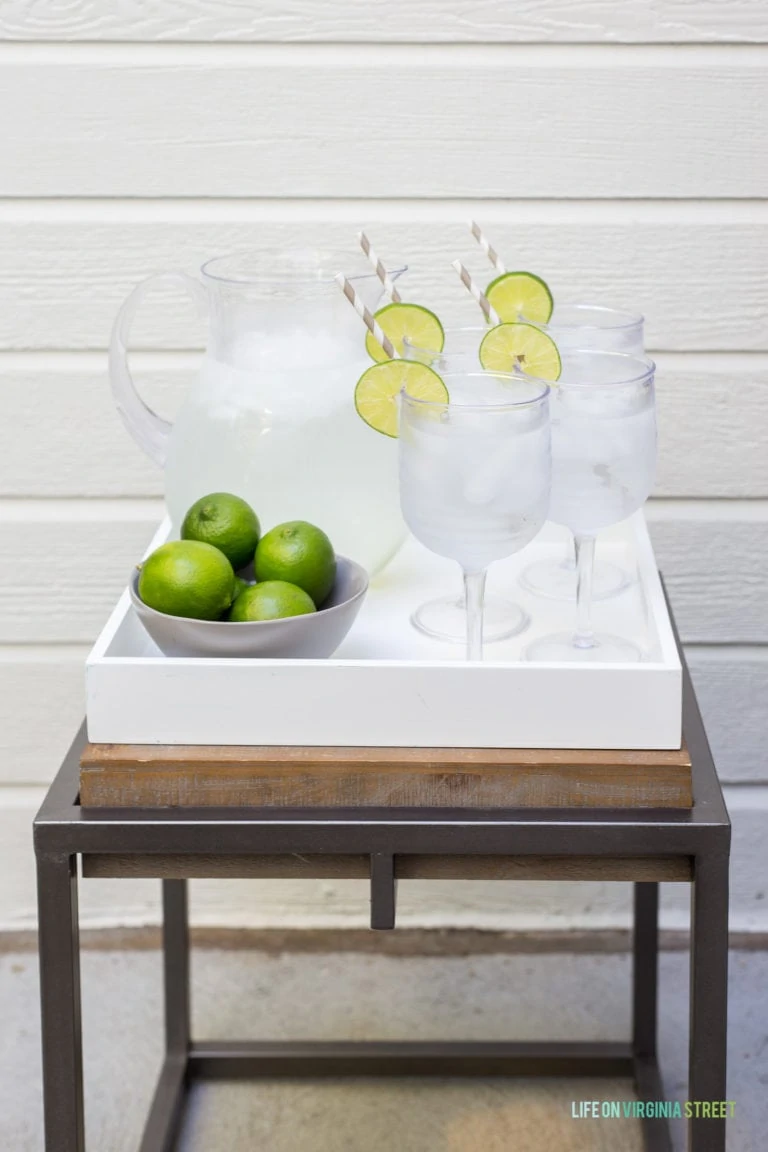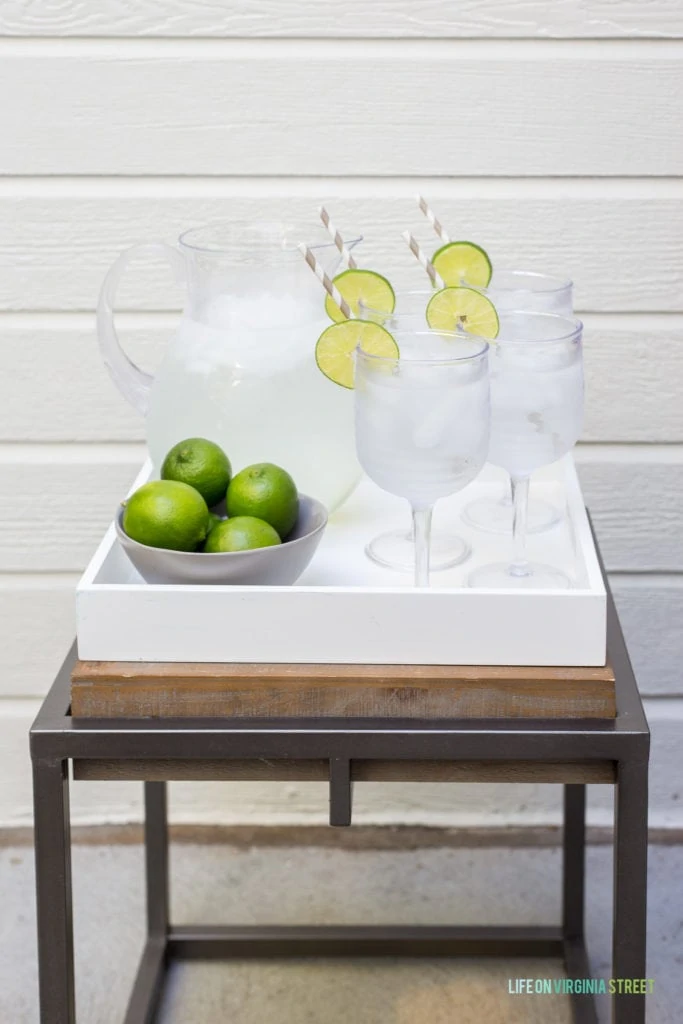 We also use melamine dishware on a daily basis in the summer. I found these gorgeous gray/taupe-y plates and bowls that look like ceramic but are actually melamine! The re-usable plastic utensils and striped straws I found at At Home coordinated perfectly!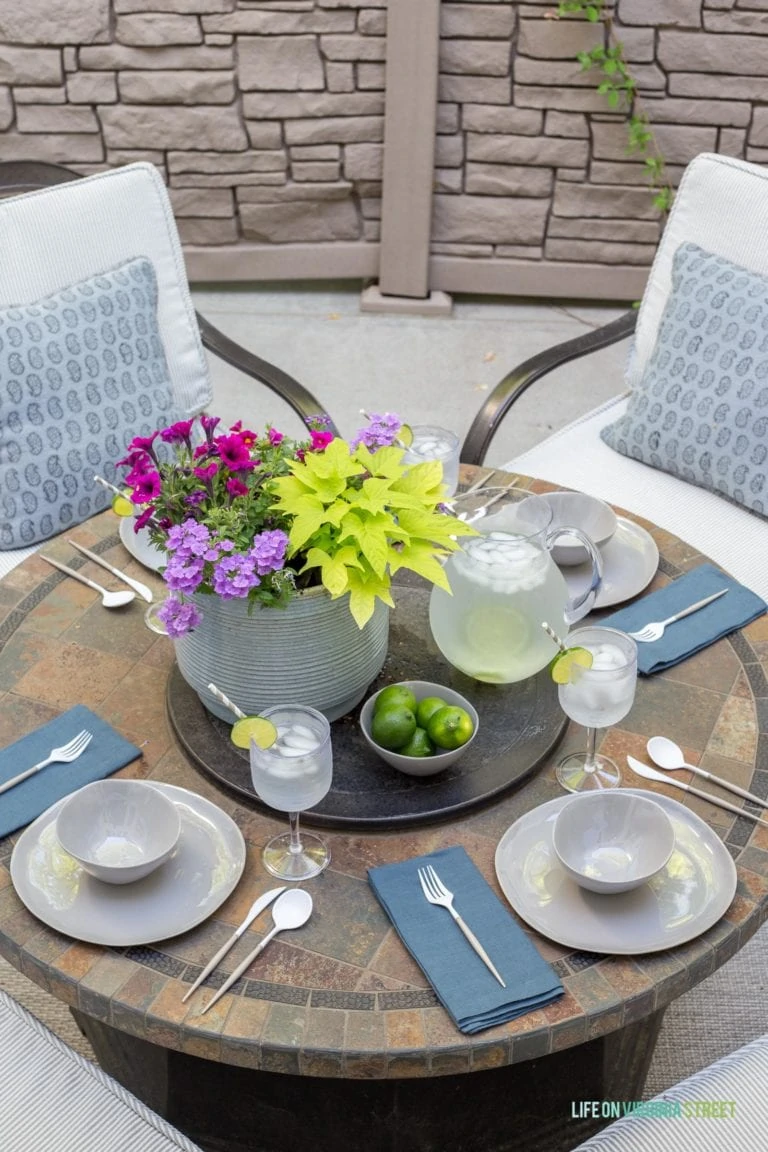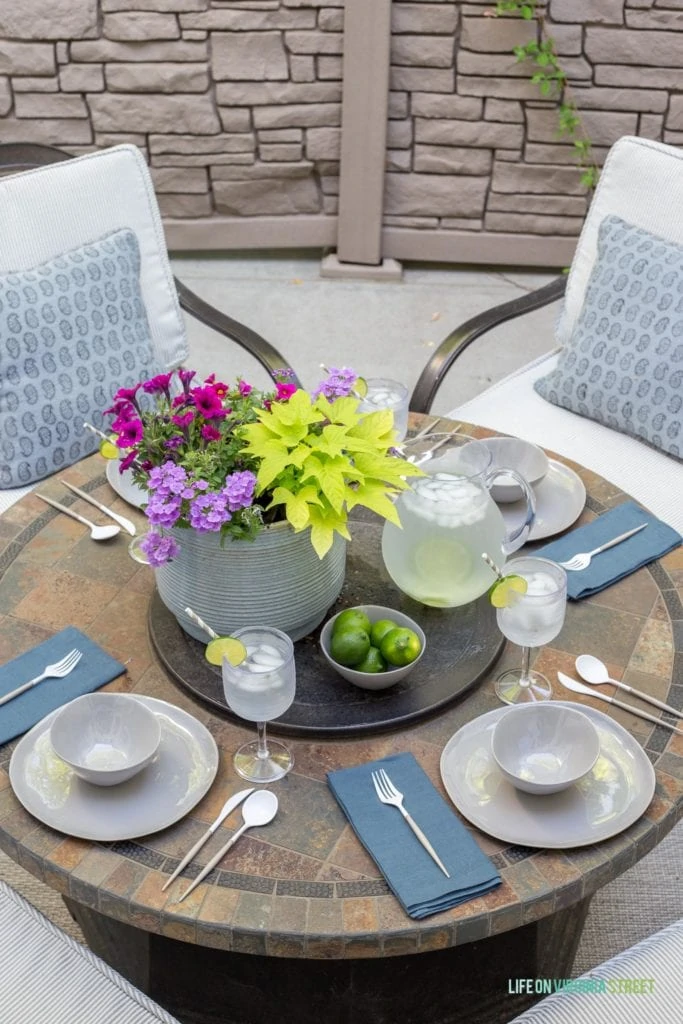 We're so happy with this new lighter, brighter and more colorful courtyard space and can't wait to spend more time out here all summer and fall!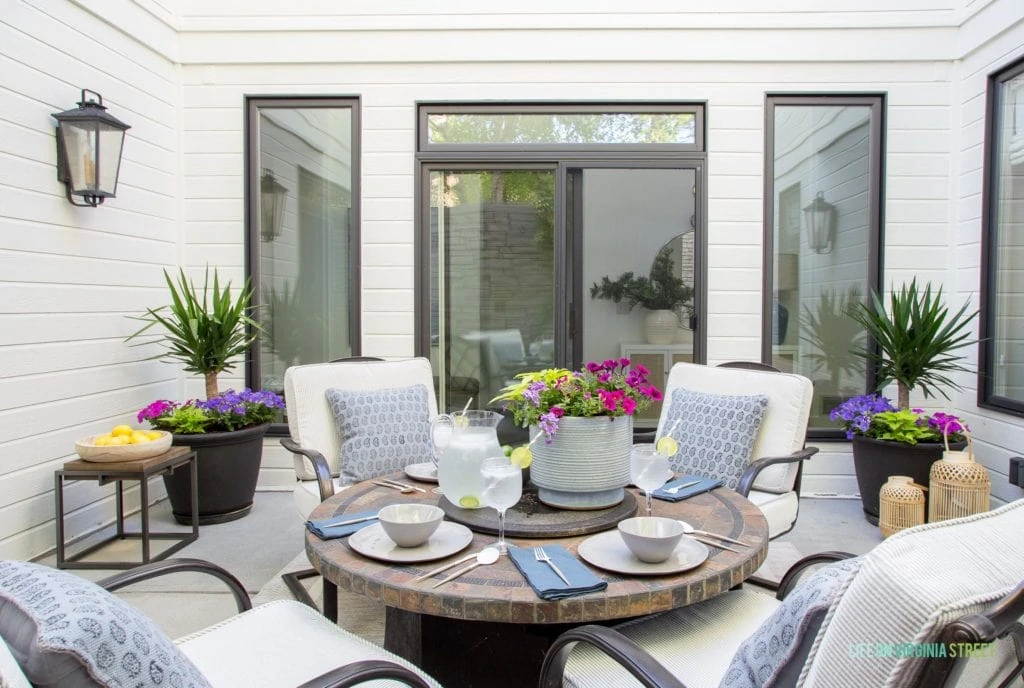 If you would like to follow along on more of my home decor, DIY, lifestyle, travel and other posts, I'd love to have you follow me on any of the following: