The minute the calendar flips over to September, it seems like it's full-blown football season around here! In case you haven't heard, Nebraskans love their football. Today I'm going to share some stylish tailgating ideas and tips to make you enjoy the tailgating season to the fullest extent!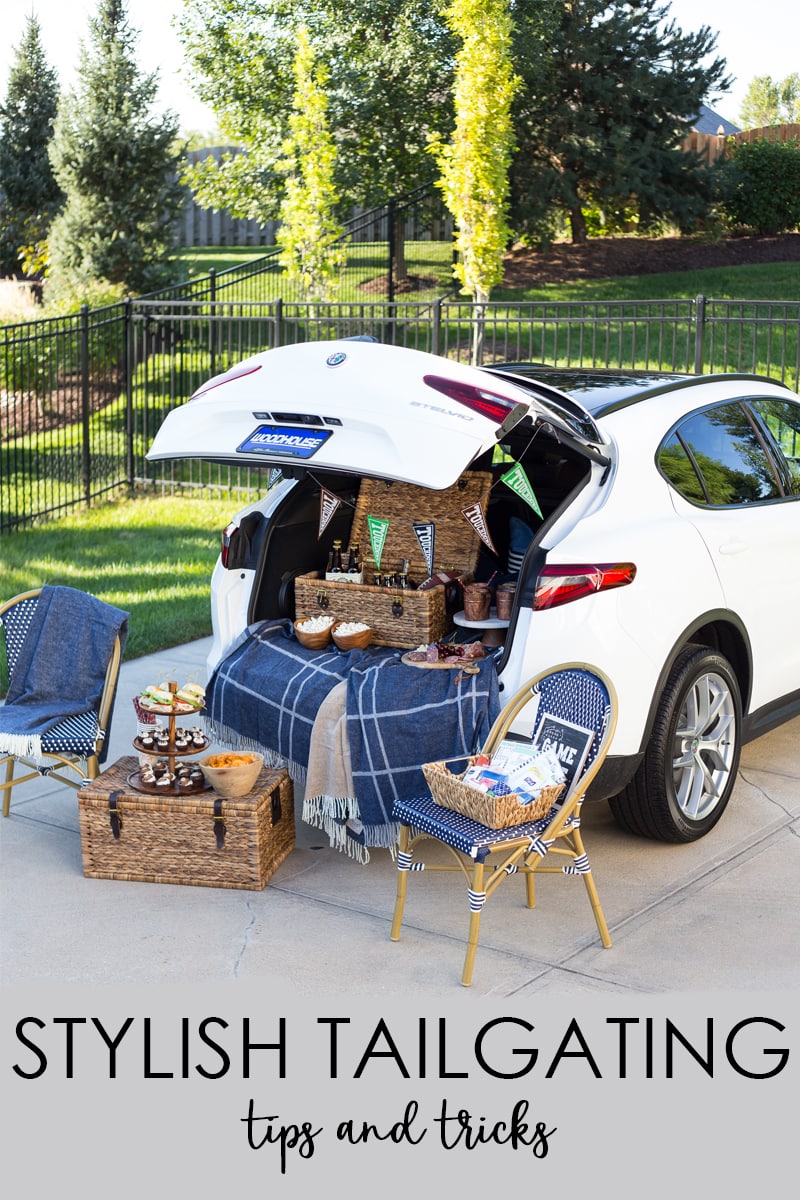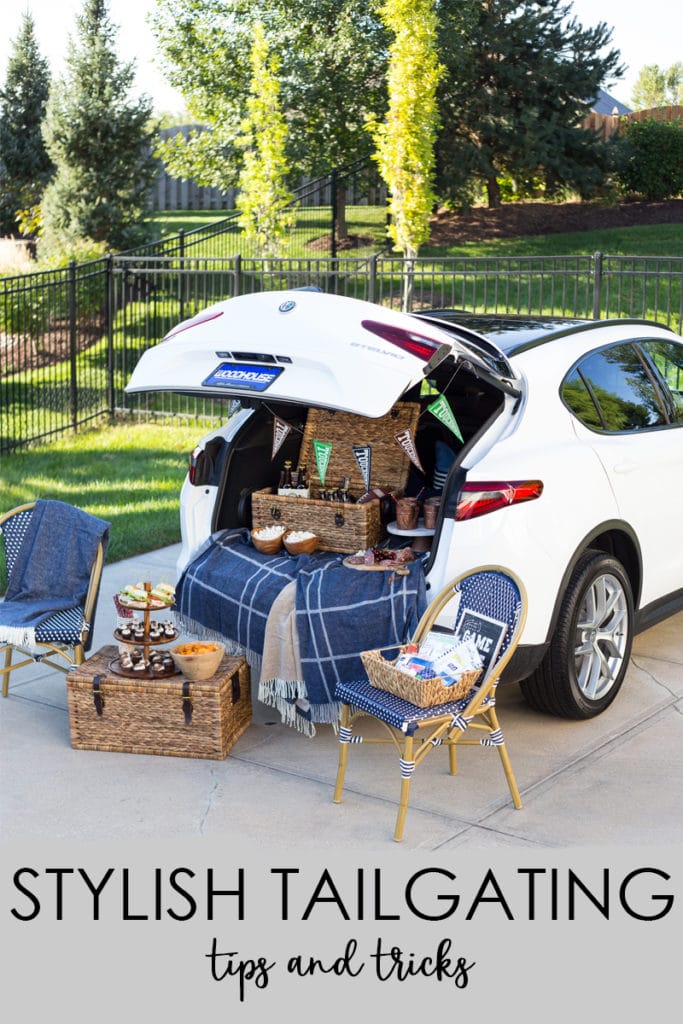 Thank you to Woodhouse for sponsoring this post and lending me an Alfa Romeo Stelvio for these photos. As always, all thoughts and opinions are my own. Click here to read my full disclosure policy.
I'm the first to admit that I mostly love the social aspect of football games: the socializing, the food, the drinks, the fun. The game itself is just a bonus. But, that allows me to put more effort into the side of football season I love!
Our household is a bit of a mixed fan base. I went to the University of Utah and Kurtis went to (and played football for) Northwest Missouri State. We both went to graduate school at the University of Nebraska (Lincoln and Omaha) and Kurtis grew up as an Iowa fan. Plus, most of our friends and family are Huskers fans. So, it seems like there's always a game to be celebrating in our house or with friends. Following are some tips to make your game day tailgating experience go much more smoothly and to add a stylish spin to your event.
Treat Tailgating Like A Picnic
Once you arrive at your tailgating site, access to much else is usually limited. So, I like to treat my pre-tailgating prep as I would a picnic. Make a list of everything you'll need and make sure it will all fit in your vehicle. I'll get into more details shortly, but you want to be prepared and also comfortable upon your arrival. Pack plenty of blankets, pillows, chairs, food and drinks to ensure you'll enjoy your tailgating day to the fullest! Much like a picnic, also assume that everything you pack must come home with you (including trash). But, that doesn't mean your tailgating event can't be stylish!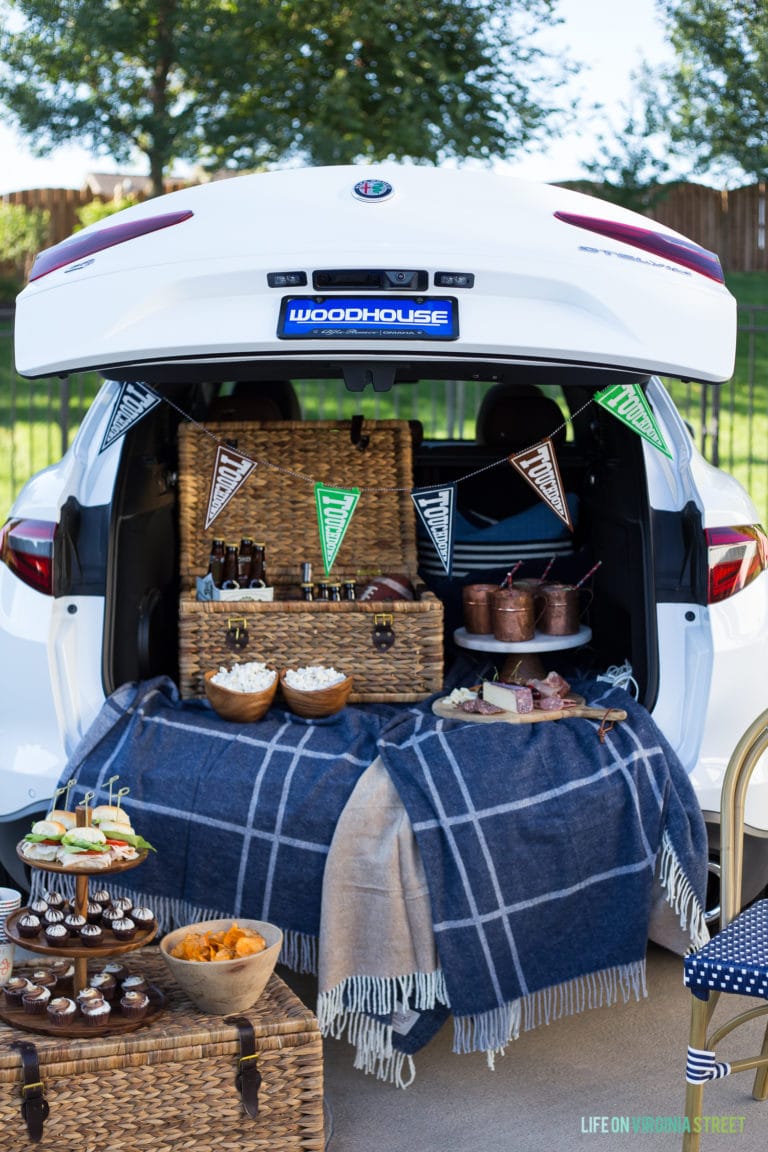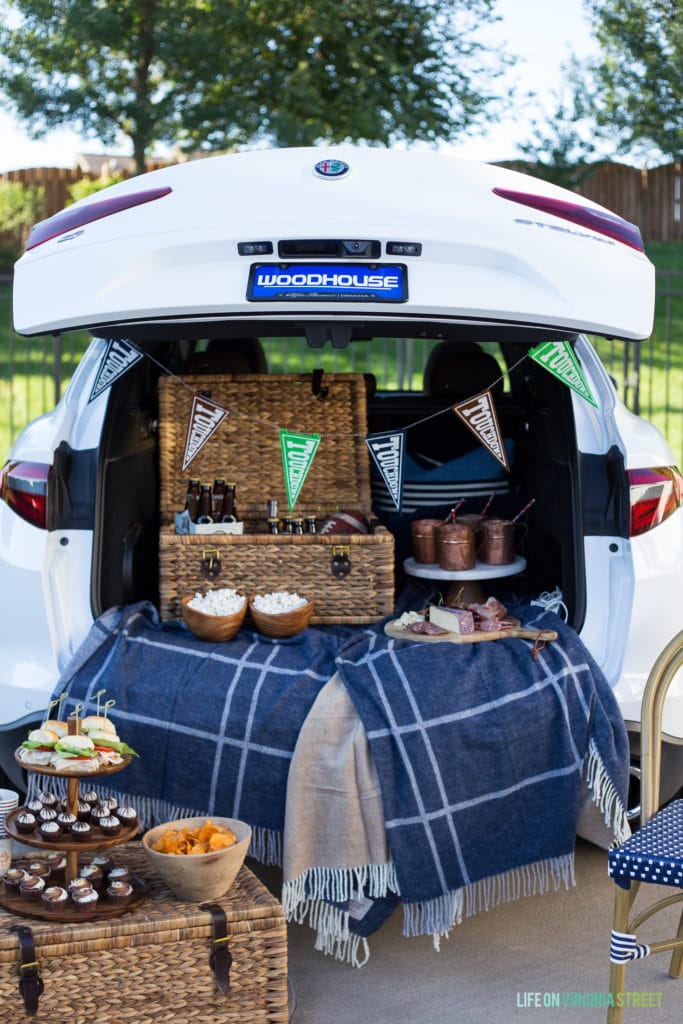 Remember, you can still support your favorite team without solely decorating with licensed merchandise. Pull out your favorite cozy fall blankets and pillows in your team's colors. I always love plaid this time of year, and think it adds a bit of a vintage vibe to the tailgating spread.
Let's talk about more tailgating specifics below.
Research Your Tailgating Site Ahead of Time
A week or two prior to your game day event, be sure to research possible tailgating locations. Each site varies on what they do and don't allow so you want to ensure you know what to expect! You'll want to know best locations, rules, access to facilities, when the lot opens and closes, etc. You'll also want to verify if open flames are allowed to grill, if you can bring alcohol, and other things you may just assume are okay otherwise. This will help make your prep process go much more smoothly!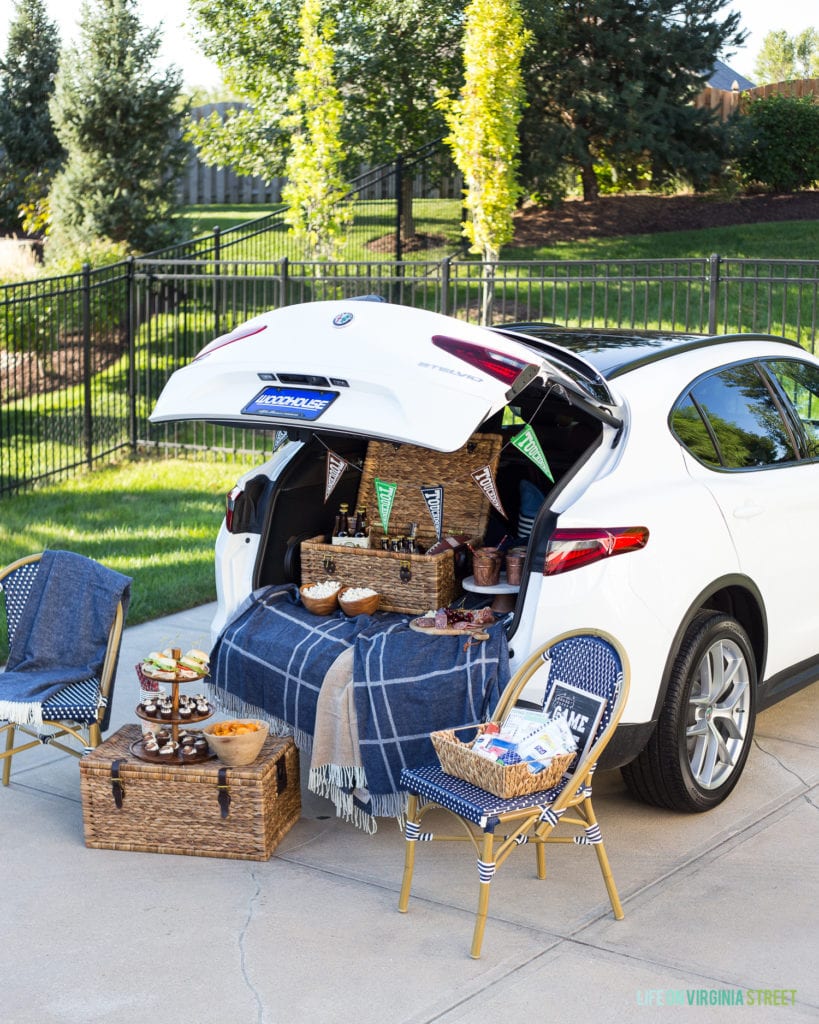 Pack Multi-Tasking Pieces
Find pieces like these baskets that can multi-task in a number of ways (I found mine at HomeGoods). Use them to load up all your tailgating supplies, then for safe hauling in your car so things don't get smashed, and then to serve once you're at your tailgating location. I used one to store drinks, plates, cups, etc. The other acts like a coffee table of sorts to serve from!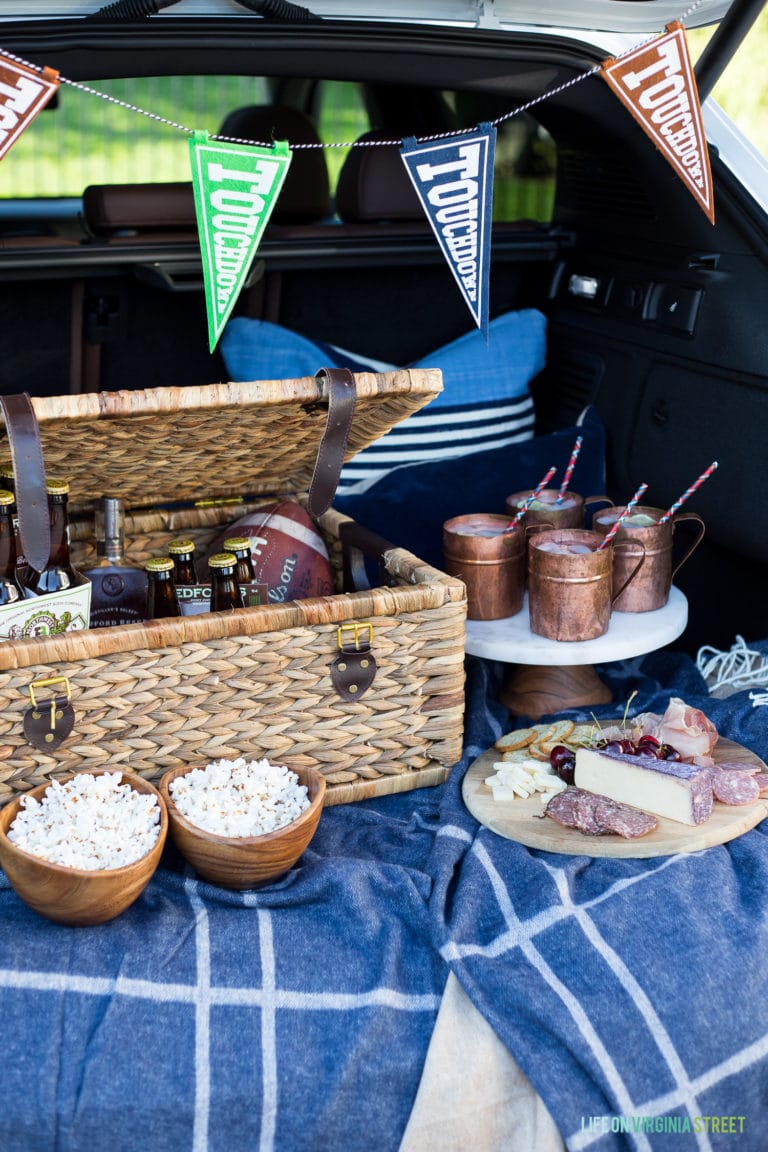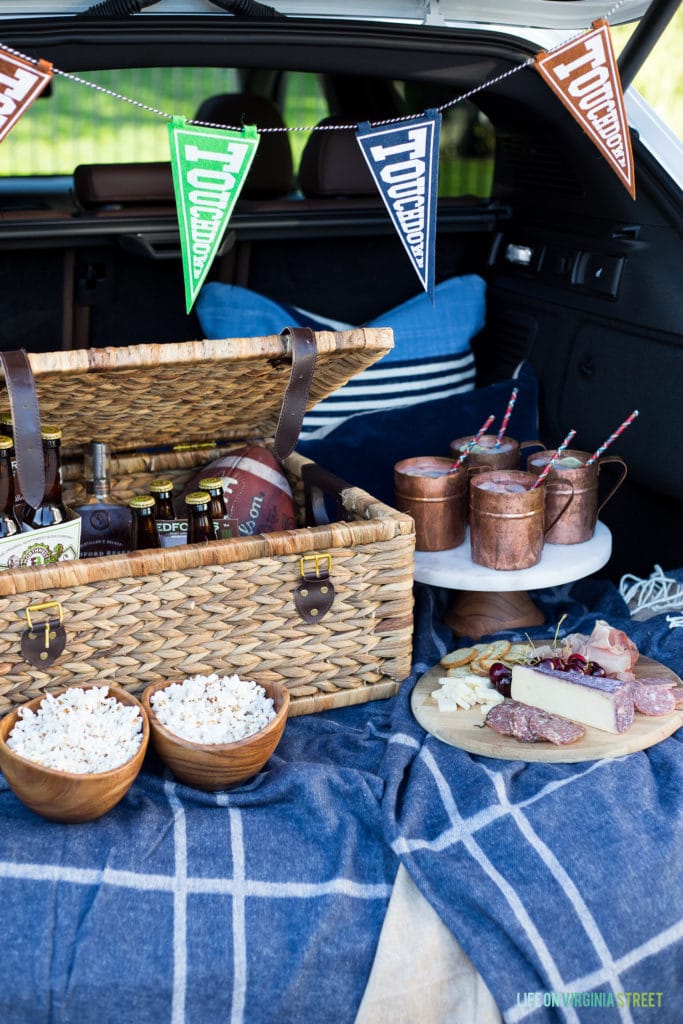 I also love using decor that can be used time and again. I found these cute felt pennant banners in the dollar section at Target. The strings are easy to attach to your vehicle with a few pieces of tape, and won't get damaged in the wind or elements like paper pennants would. I love that they could also be used for football parties at home!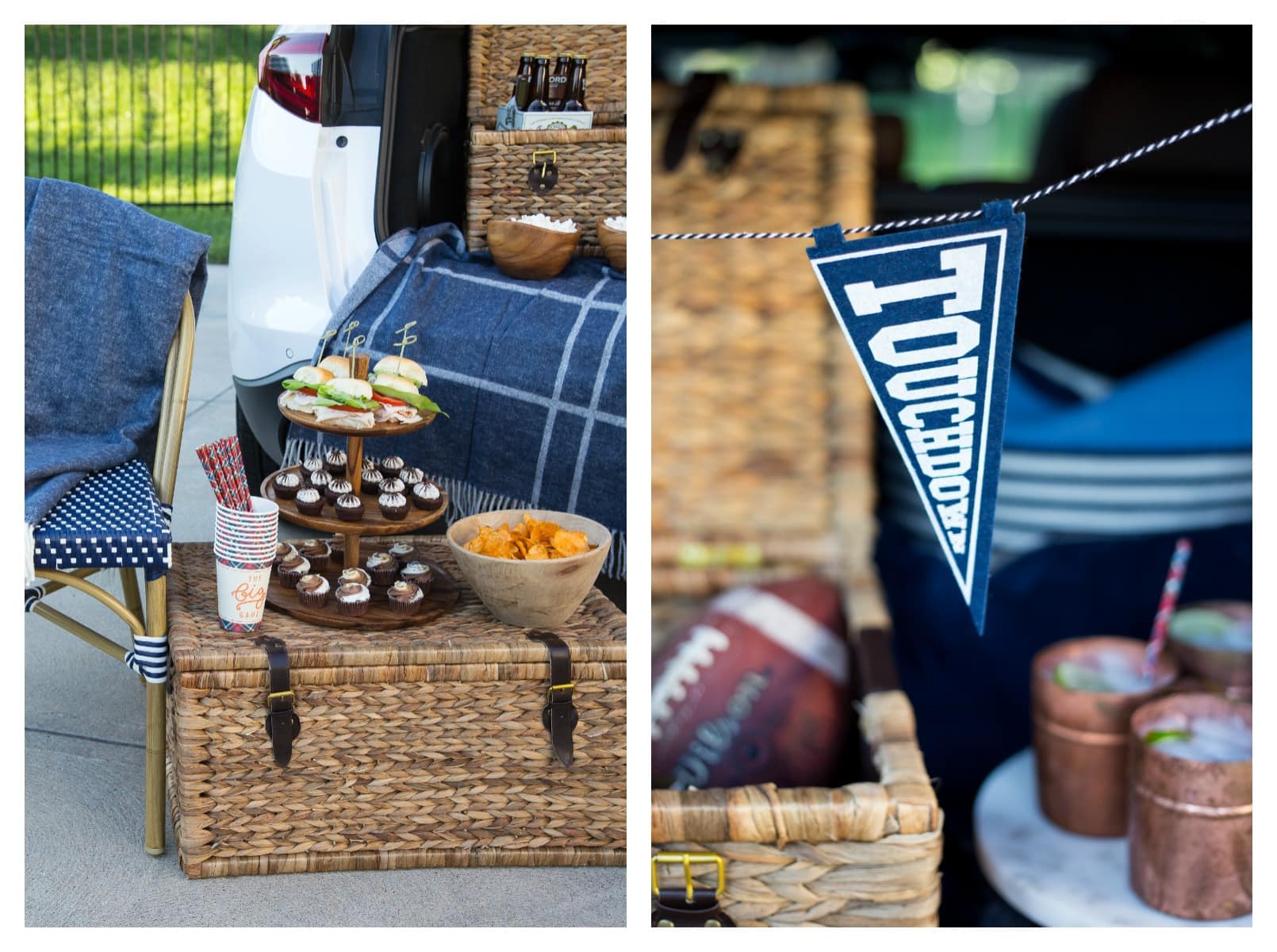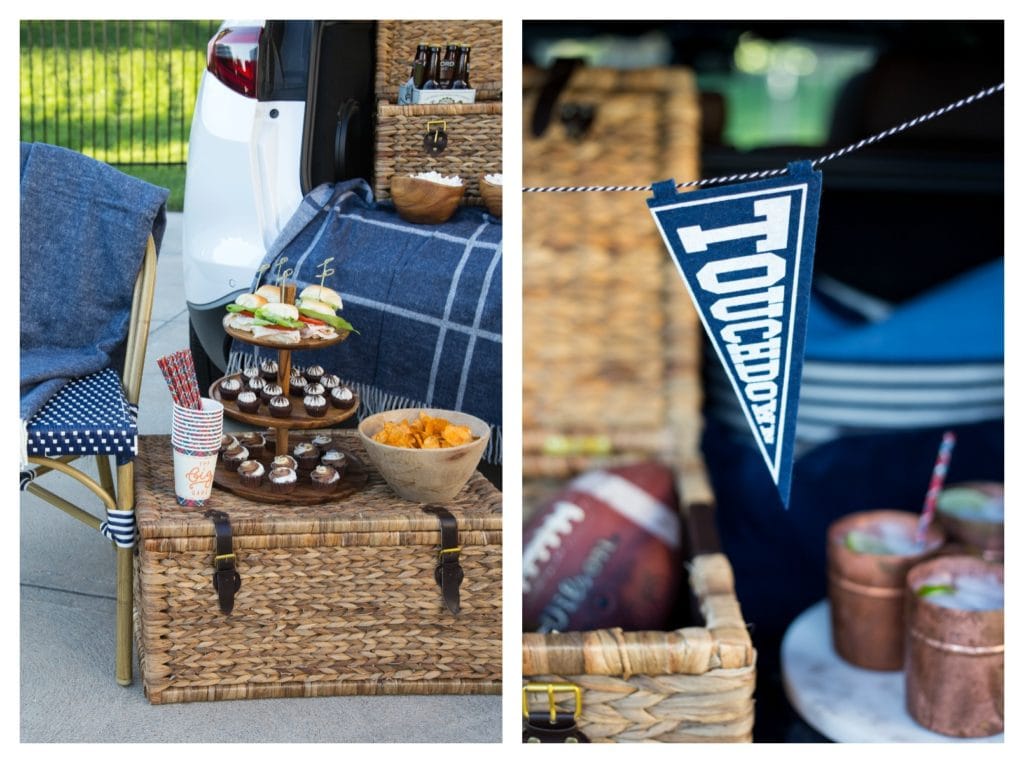 Keep the Food and Drinks Simple
Although I like to keep the food and drinks creative, that doesn't mean they can't also be simple. Try and prep as much of the food ahead of time before heading to your tailgating location. Have all of your garnishes and food cut ahead of time and keep them in individual baggies. Limes, tomatoes, lettuce, cheese, etc. This will allow you to spend more time enjoy your tailgate and less time prepping!
I like to stick with finger foods and other items that are easy to store, eat, and pack up. This way they can also be eaten immediately upon your arrival, or whenever people get hungry. For colder months, various types of soup in thermoses and mugs work great too!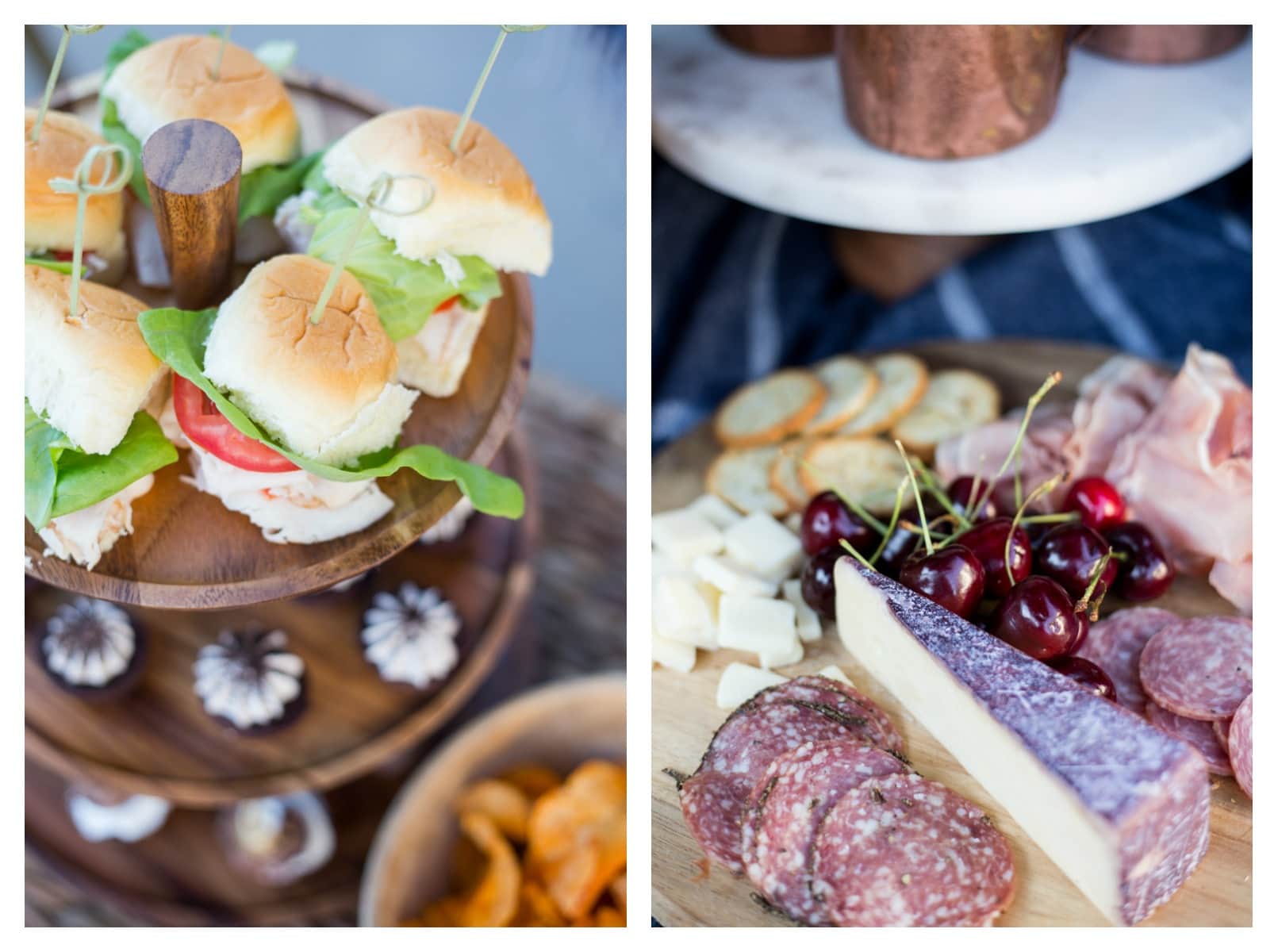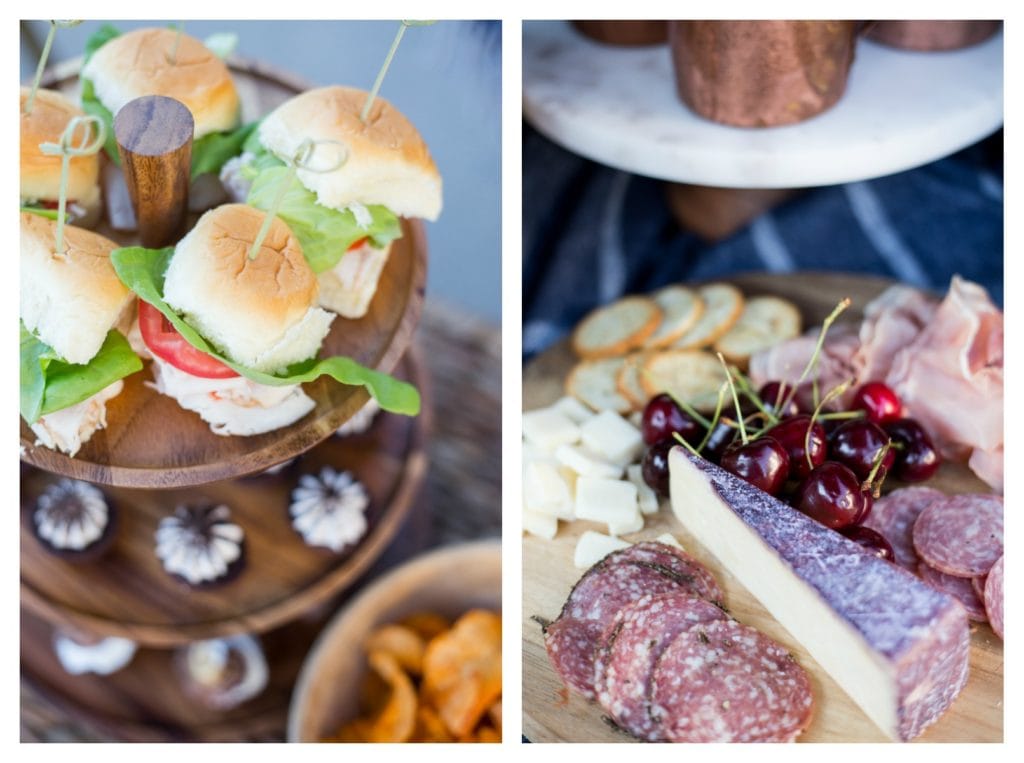 I like to have a signature drink in addition to plenty of beer, soda and water. Kentucky mules are a favorite of ours this time of year and are a simple mix: bourbon, ginger beer and a lime wedge or cinnamon stick! Easy and the perfect flavors for fall!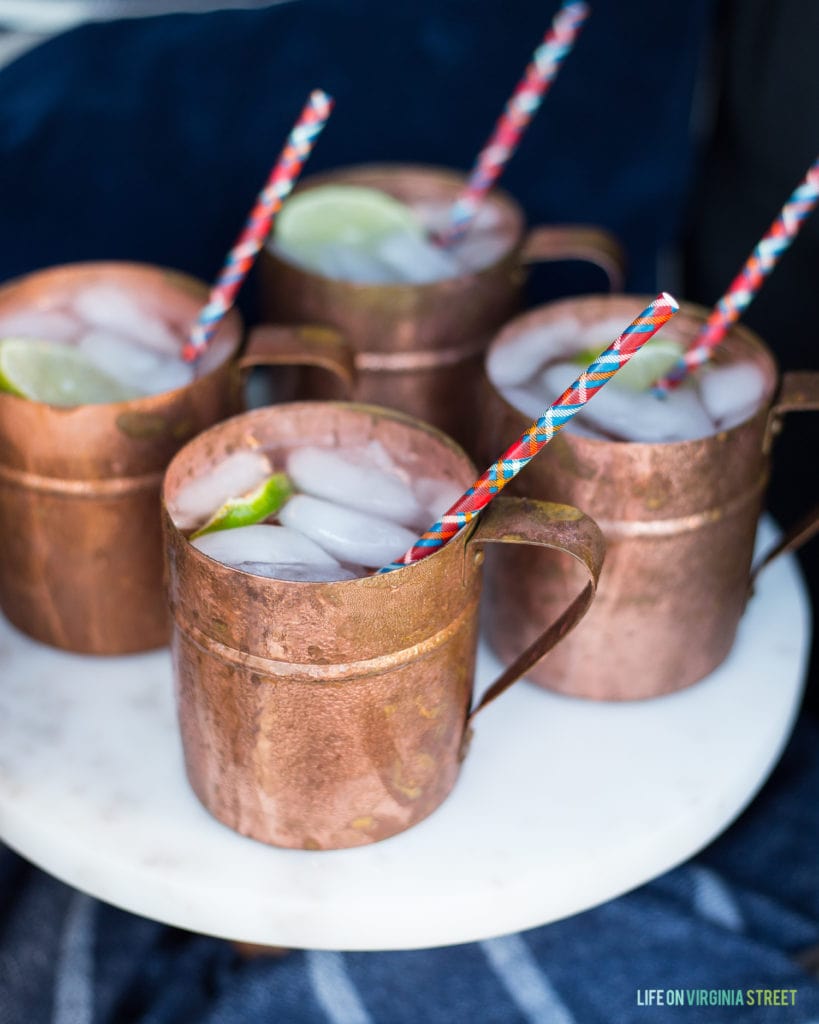 I also like to bring along a few frozen bottles of water so that, as the day goes on, you still have some cold water! Plus – they'll keep other items cold until they melt!
Be Prepared for the Unexpected
Take some time to prepare a small "emergency" kit that you can keep in the back of your car. I found most of these items in the travel section at the store. I used a small basket I had on hand to throw in items like sunscreen, bugspray, bandaids, tissues, ponchos, chapstick, paint reliever, wet wipes, hand sanitizer and really anything else you may wish you had while tailgating. I even threw in a few football themed games for those days where tailgating may include rain and your stuck in your car for a bit! This is a great place to also store extra garbage bags so you always have some on hand, as well as an umbrella or two. The best part is this kit could really be used year round and helpful to have in any car!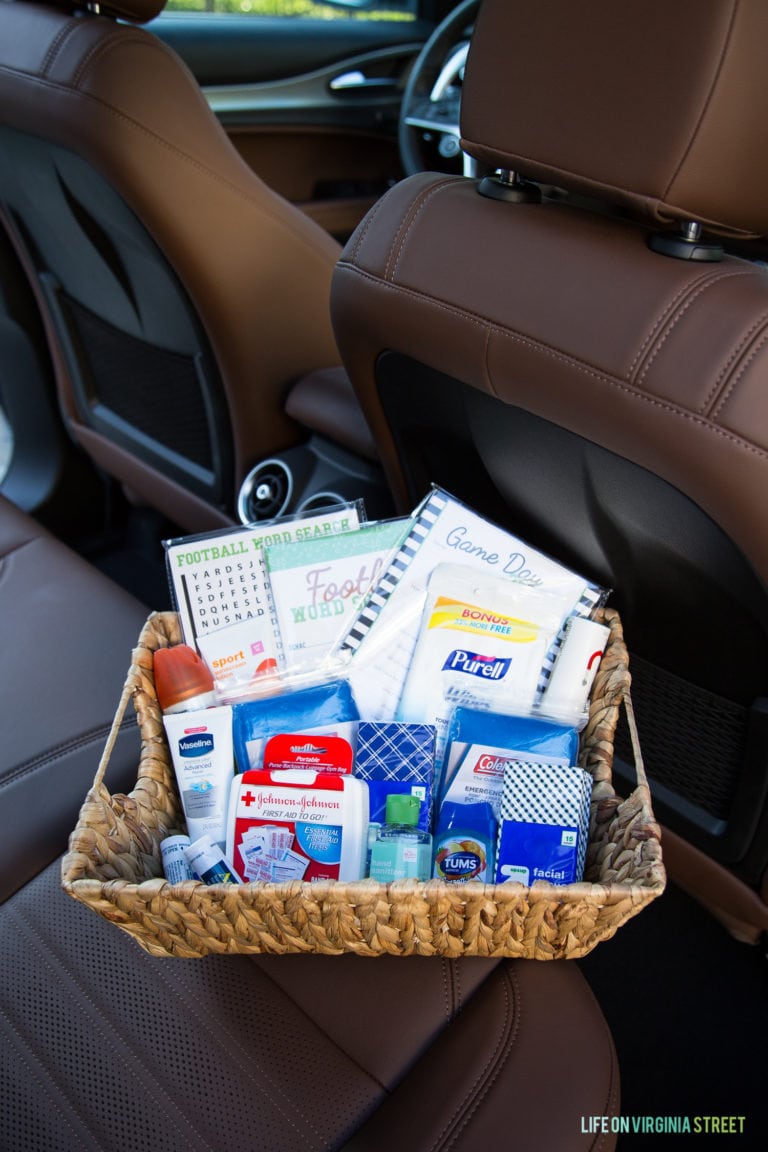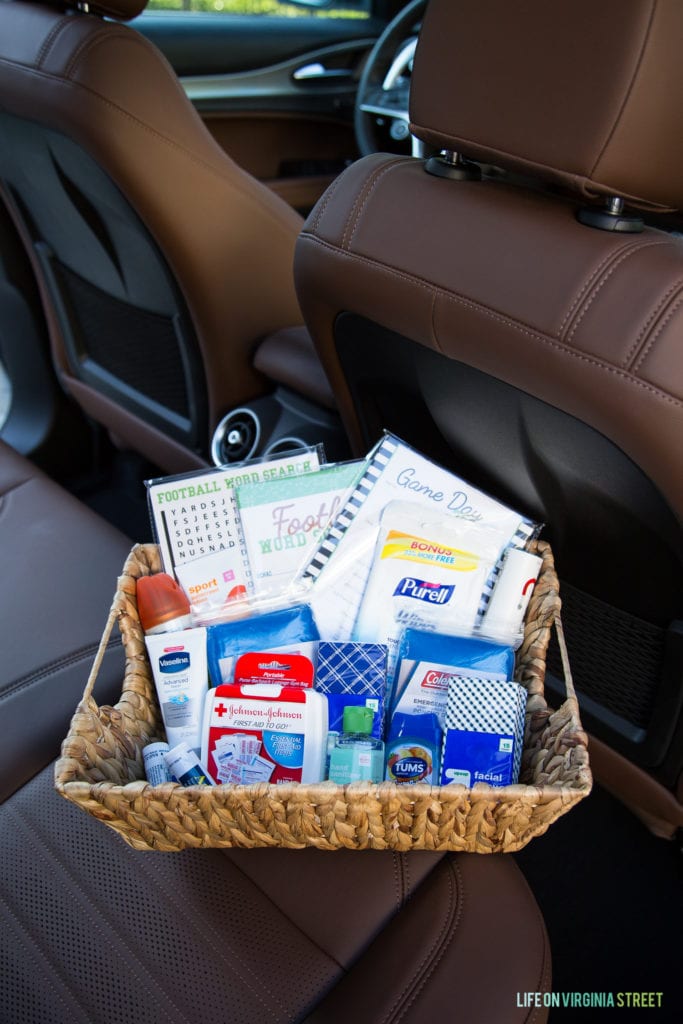 Bring the Right Vehicle
SUVs and cars with large trunks work best so they can also work in unison with your tailgating! Not only will they enable you to pack all the essentials you'll need for the big day, but they also help once you're on site to act as your home base!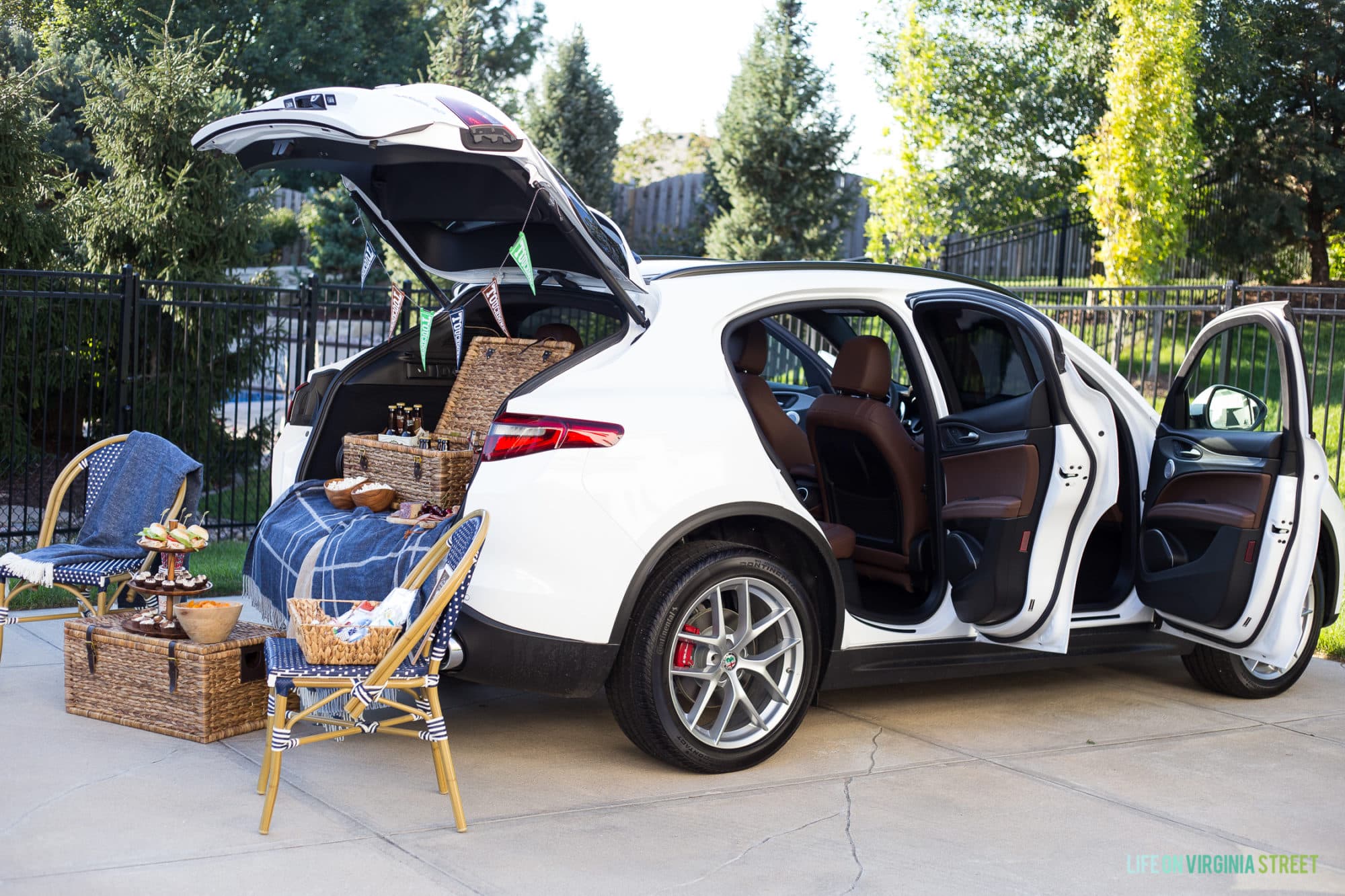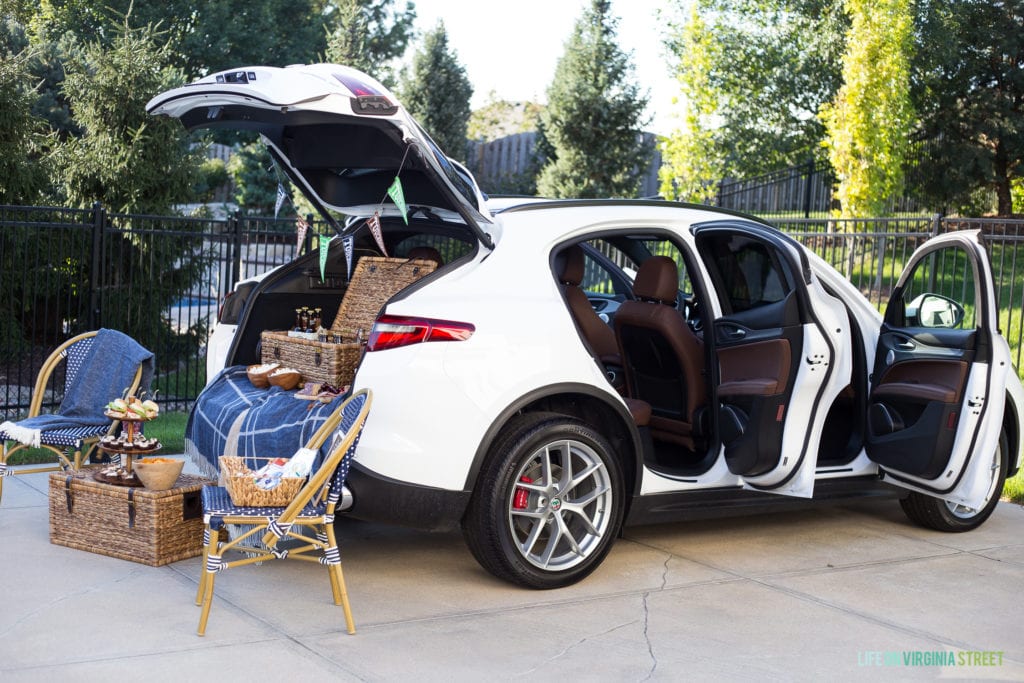 As soon as I got home with the Alfa Romeo Stelvio, I told Kurtis we need to trade my old SUV in for this one! I immediately fell in love and wanted to share a few quick facts if you're not familiar with the SUV or brand. The Italian brand is back in the USA for the first time since 1995 and Woodhouse now has an Alfa Romeo dealership in Omaha! The company is 108 years old with a rich racing heritage (you'll pick up on this as soon as you drive it)!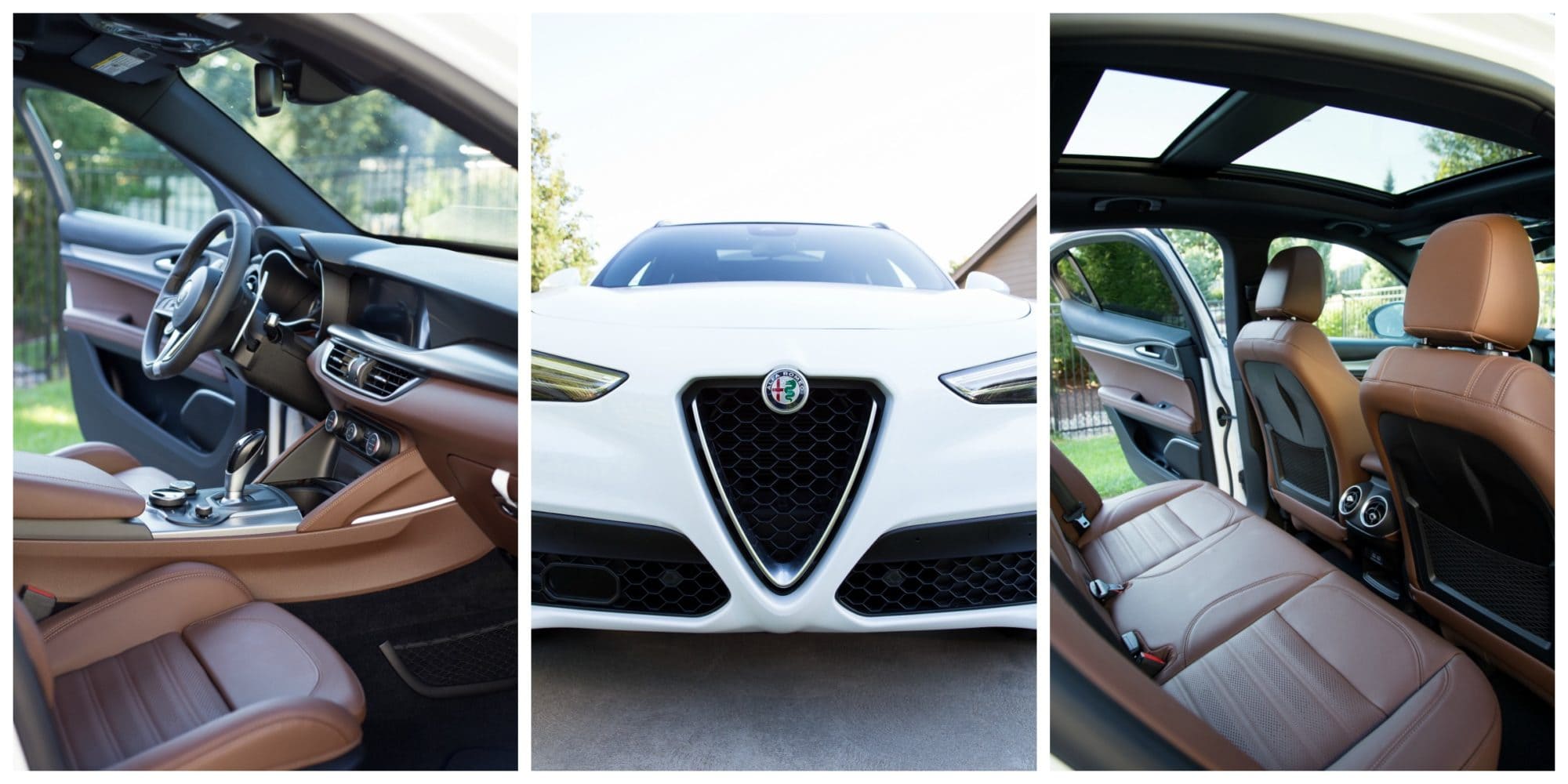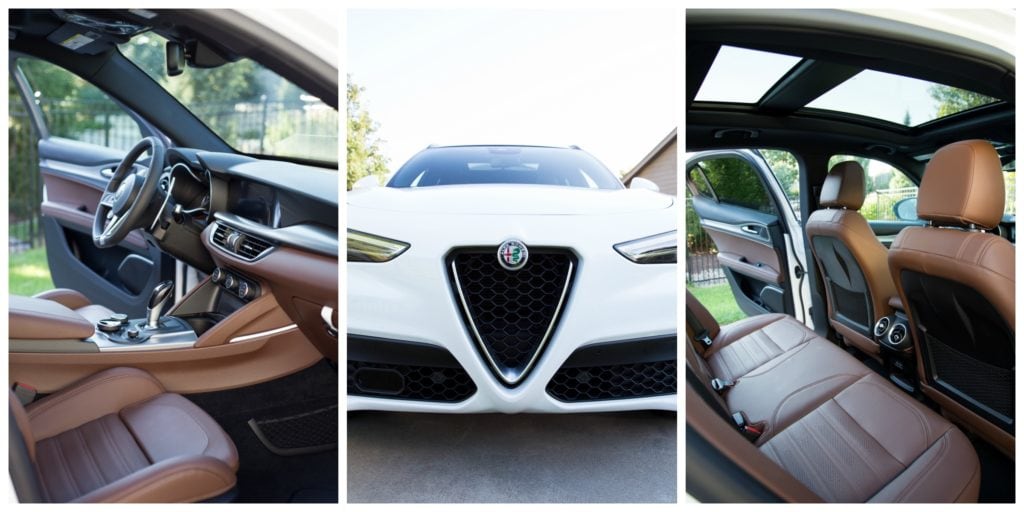 I loved the rich brown leather and luxury details (that don't come with a luxury SUV pricetag). It doesn't even feel like your driving an SUV (it's so sporty!) but it has the convenience of an SUV's size. It was so fun to drive while Woodhouse let me borrow it for this photoshoot!
Let the Party Begin!
Once you're all set up, it's time to celebrate your team! Put those chairs, blankets, music, food, drinks and games to use so you can enjoy your tailgating experience to the fullest!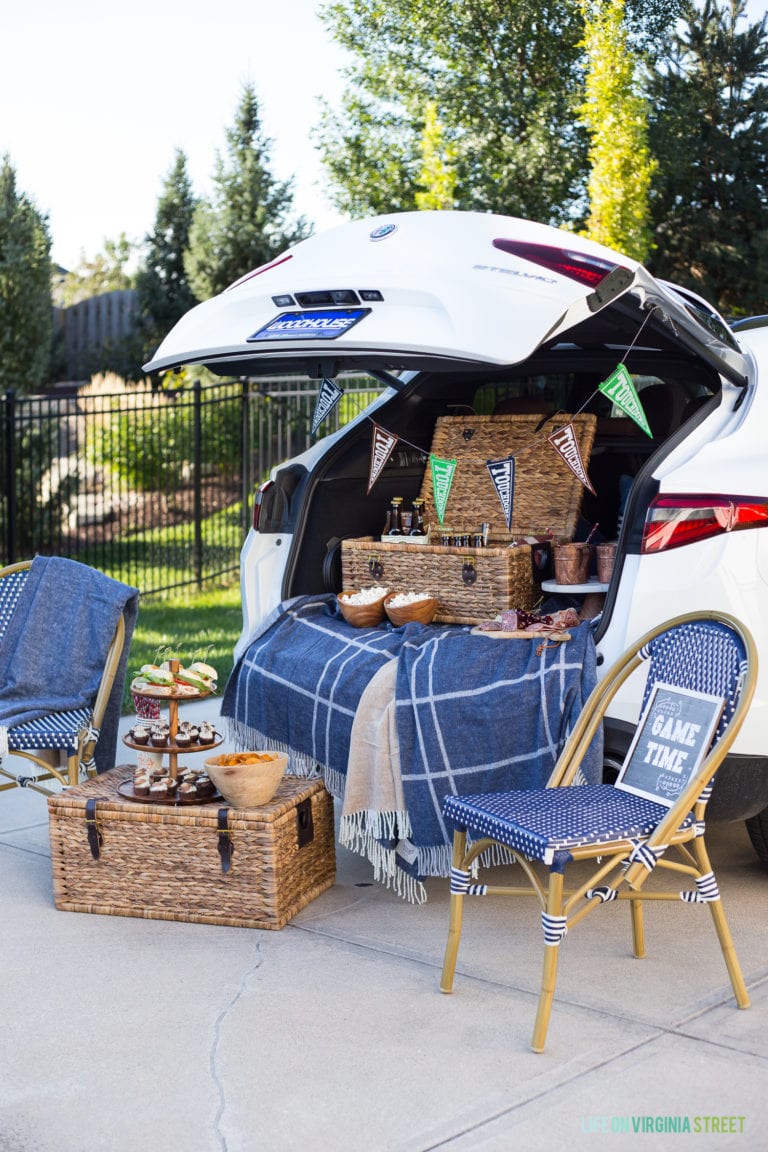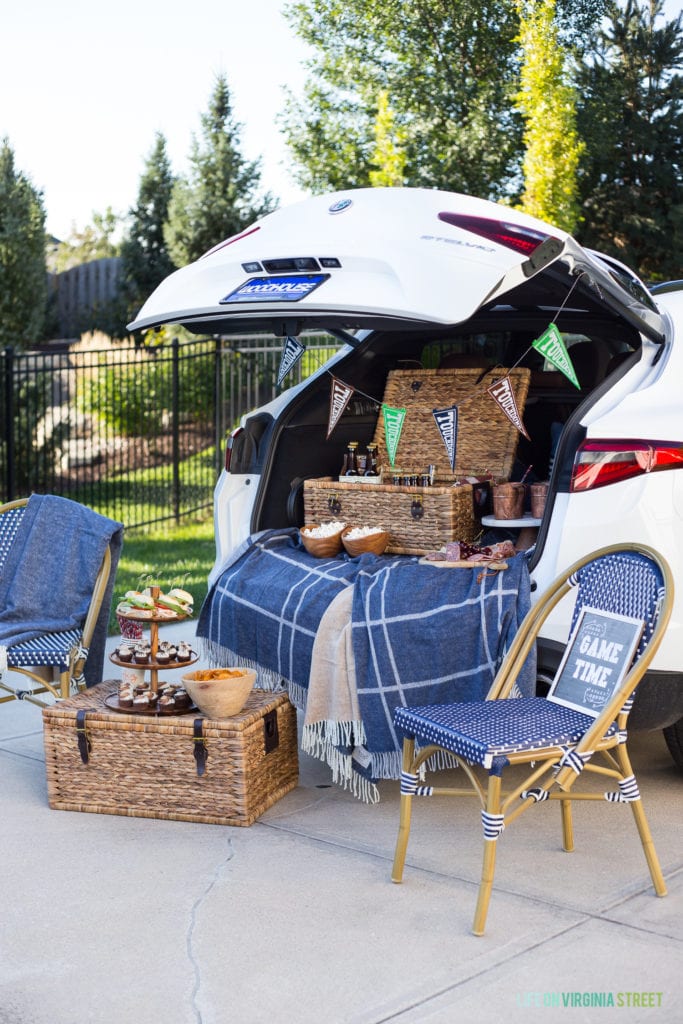 I hope you found these stylish tailgating ideas and tips helpful! And a big thank you to Woodhouse Alfa Romeo for lending me this gorgeous car and for sponsoring this post! Happy football season!
If you would like to follow along on more of my home decor, DIY, lifestyle, travel and other posts, I'd love to have you follow me on any of the following:
Pinterest / Instagram / Facebook / Twitter / Google+
disclosure: some affiliate links used