In a house with dark hardwood floors, lots of natural light, and three cats, it's a never-ending battle to keep our hardwood floors clean. It seems like fur "tumbleweeds" show up hourly. Because of the shape of our house as well as ease of use, we prefer to use stick vacuums on our main level, and only have a corded vac upstairs where all the carpet is. We've gone through a number of stick vacs over the years, and today I'm sharing our Samsung Jet 75 Cordless Stick Vacuum review, as it's our favorite stick vacuum we've tried yet!
This post is sponsored by Samsung and contains affiliate links for your shopping convenience. As always, all thoughts and opinions are my own. Click here to read my full disclosure policy.
As I mentioned, over the years, we've gone through a number of stick vacs. With Kurtis having worked from home for most of the past year and a half starting with his hip surgery in December 2019, I told him last spring he needed to chip in on more of the cleaning routine. It's amazing how much more quickly your house gets dirty when you have another person inside an extra 50 hours a week! And while Kurtis despises vacuuming with our corded vac upstairs, he doesn't mind using stick vacs at all (thankfully)!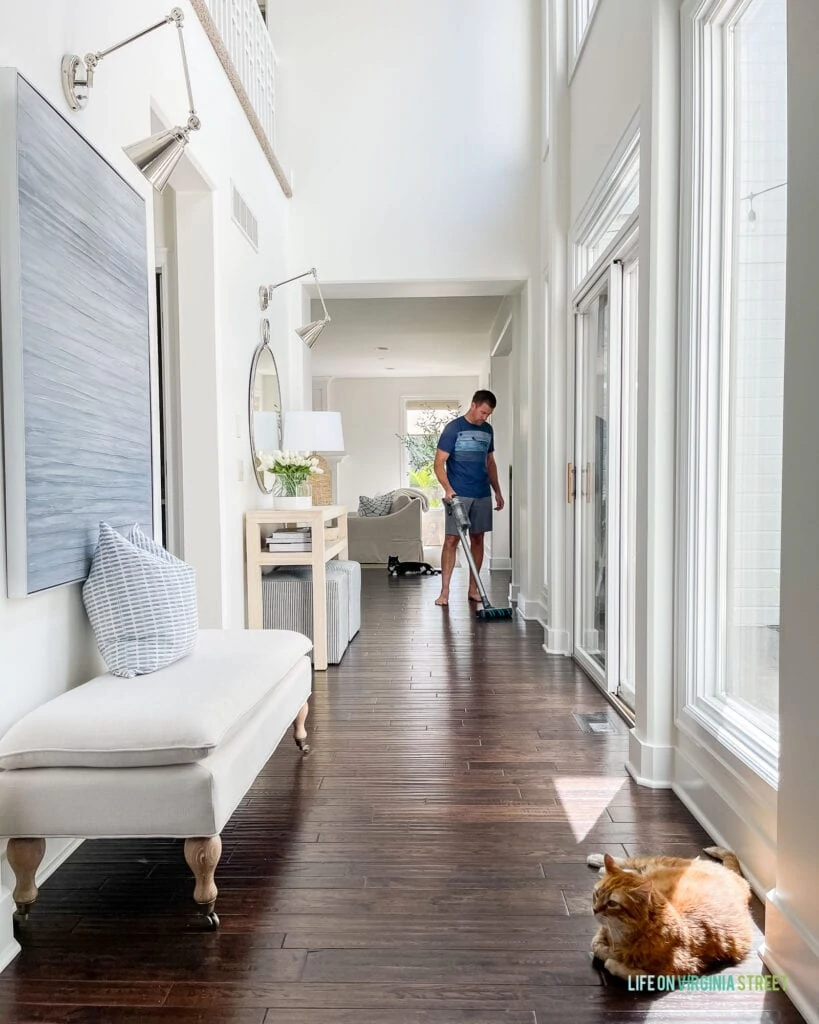 With models we had used in the past, I can't say we really ever had issues with suction features. The biggest issue for us has always been battery life (or lack thereof) and some operating aspects and features. When I was researching alternatives to our prior models, I consistently read excellent reviews about the Samsung Jet 75 stick vacuum, and we're so glad we decided to try it! In addition to battery life, I'll share all of our favorite features below. And side note: you can currently save an extra 35% when you bundle the vacuum with at least one eligible accessory, which makes it cheaper than purchased alone!
Favorite Features of the Samsung Jet 75 Stick Vacuum
Removable/Reusable Battery – As mentioned, one of the biggest issues I have with our older stick vacuums is battery life. Even when fully charged, I could barely vacuum the hardwoods in our kitchen, hallway and powder bath before it died, leaving me with an un-vacuumed entryway and office. I'd then have to charge it for a few hours before I could finish the job. The Samsung Jet 75 has a longer battery life, with 60 minutes of continuous run-time. And the best part is, the battery is removable, so you can have an alternate on hand if you'd like! For us, the one battery for 60 minutes has been a vast improvement over our prior stick vacuum, so we haven't yet needed to purchase an alternate battery. But we love that that's an option in the future!
Multi-Surface Attachments – I love the variety of attachments that come with the Samsung Jet 75. You can use it on everything from carpet to hardwoods to tile to furniture to window coverings and so much more! It's also lightweight (6-pounds) with a 180-degree swivel head so cleaning overhead isn't an issue either! We especially love the Mini Motorized Tool, which is perfect for using on the back of our sofas where the cats sit. I love that the "brush" is rubber so it doesn't pull the fabric or make it fuzzy like other brands have in the past. After reading through the manual a bit more, I saw this tool also reduces allergens because it removes fine dust in addition to pet hair. Definitely a win in our household!
Power Button – This seems super random, but I love that the Samsung Jet 75 has an actual power button. Our prior stick vacuum was trigger operated, so you had to pull the trigger the entire time you were vacuuming. I didn't realize how much I hated the trigger feature until I tried the Jet 75 with a power button! Not only that, Kurtis and I have both been shocked multiple times by our old one because the trigger was basically on top of the battery charger outlet. So, when you'd hold the trigger and slip at all, you'd get buzzed.
5-Layer HEPA Filtration System – The filter system captures dander (a must for us!), pollen and other allergens for cleaner air in your home. The main cyclone and metal mesh grille filter pick up large clumps of dust, the Jet Cyclone and microfilter capture fine dust, and an ultrafine dust filter traps 99.999% of microdust. I also love that the dust bin is dishwasher safe so you can clean it frequently for easy maintenance!
Sleek Design – I know this is a ridiculous thing to mention, but it's so true! I hated that our last stick vacs were red and yellow and purple. And although the vacuum is in our cleaning closet 95% of the time, I love that the Samsung Jet 75 has a sleek silver gray finish.
Clean Station Option – What really sets apart the Samsung Jetstick line from competitors is the optional Clean Station. If you dislike emptying traditional stick vac dust bins, the Clean Station does all the dirty work for you! You can read more about it's features here.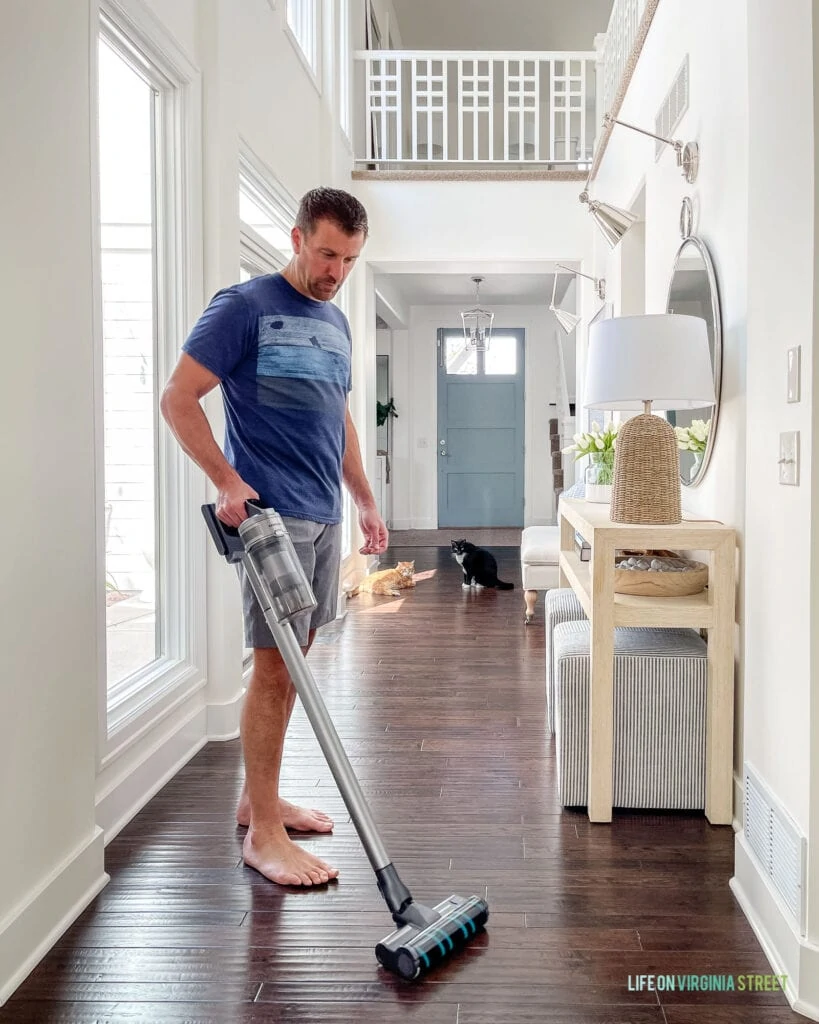 Additional Samsung Jet Cordless Stick Vacuum Models
Although we chose to get the Samsung Jet 75, there are several other models & packages in the series. After some research, we felt like the 75 best fit our needs but here is a little more info on the additional models to help you know which may be right for you!
Samsung Jet 90 – This is the model I almost purchased, but ultimately decided the Jet 75 was best for our needs. In addition to everything the Jet 75 offers, the Jet 90 has a telescoping pipe (in lieu of the fixed one on the 75) to allow for various operating lengths. The other main difference is that the Jet 90 charger can actually charge two batteries at one time (although only one is included), so you always have a back-up ready if you purchase a back-up. The Jet 75, while it does allow use of a second battery, can only charge one battery at a time. With that, the Jet 90 charging station must be wall-mounted, whereas the Jet 75 charging station can be wall-mounted or placed on any surface. For the difference in price, we felt confident about selecting the Jet 75 for our needs!
Samsung Jet 70 Pet and Samsung Jet 60 Pet – Similar to the Samsung Jet 75 in many ways, these models are more cost-effective but do have shorter battery times per battery. But, you do still have the option to buy an additional 40 minute battery for each of these (in lieu of the optional 60 minute battery you can buy for the other two models).
I hope you found this review helpful! Overall, we've been incredibly happy with the Samsung Jet 75 and it's been a great addition to our cleaning routine! I'll also be hopping on my Instagram Stories later today to share some of my favorite features live and in action!


If you would like to follow along on more of my home decor, DIY, lifestyle, travel and other posts, I'd love to have you follow me on any of the following:
Pinterest | Instagram | Facebook | Twitter
disclosure: some affiliate links used