This is a sponsored post written by me on behalf of At Home. All opinions are 100% mine.
Potted herb gardens are one of my favorite summer treats! And yes, I call it a treat because there is something pretty special about being able to step outside and pick fresh herbs from planters you've nourished throughout the season.
We've ultimately decided that a potted herb garden in our courtyard is the best solution for us, given that the first year we had an  herb garden, I let it run wild in one of the beds in our courtyard. And it was legit wild. Years two and three, I went with potted versions, but I quickly realized I had way too small of pots. This year, I decided it was time for an upgrade!
I headed to At Home to check out their Outdoor Decor Collections. I was completely blown away by the quantity of outdoor selections they had! Rows and rows of pots and planters of all sizes and styles. These black and white planters were a favorite but not quite right for the look I was going for.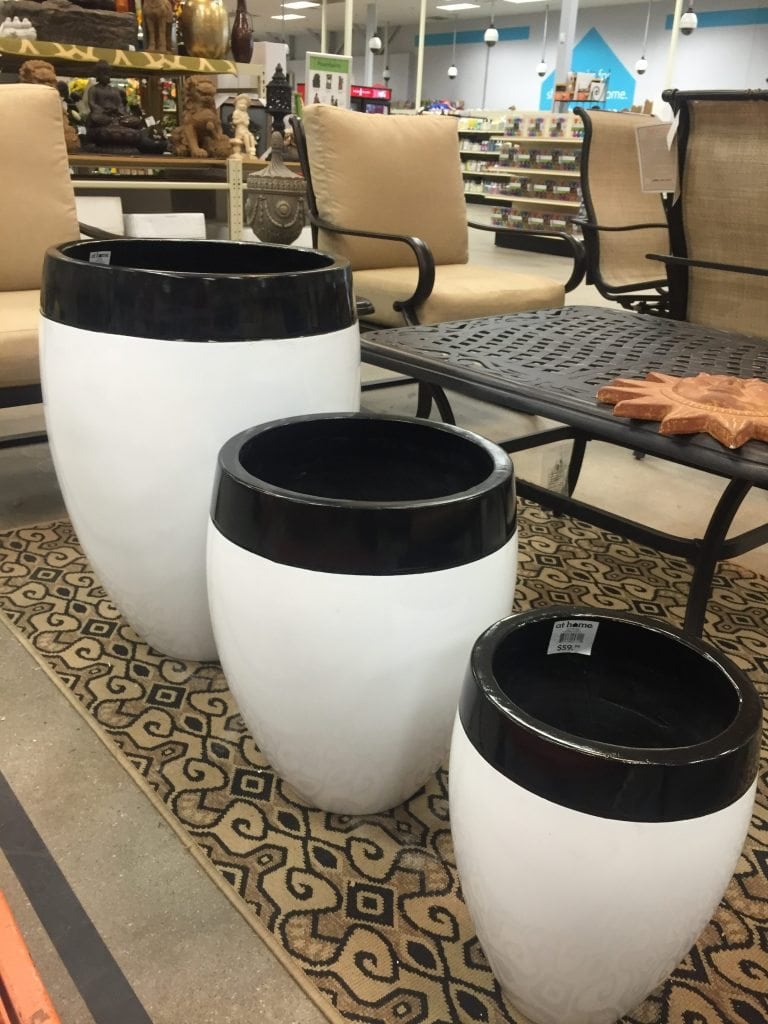 I loved the look of these concrete planters but they were heavy and not ideal for me to carry around the courtyard. But they were so pretty!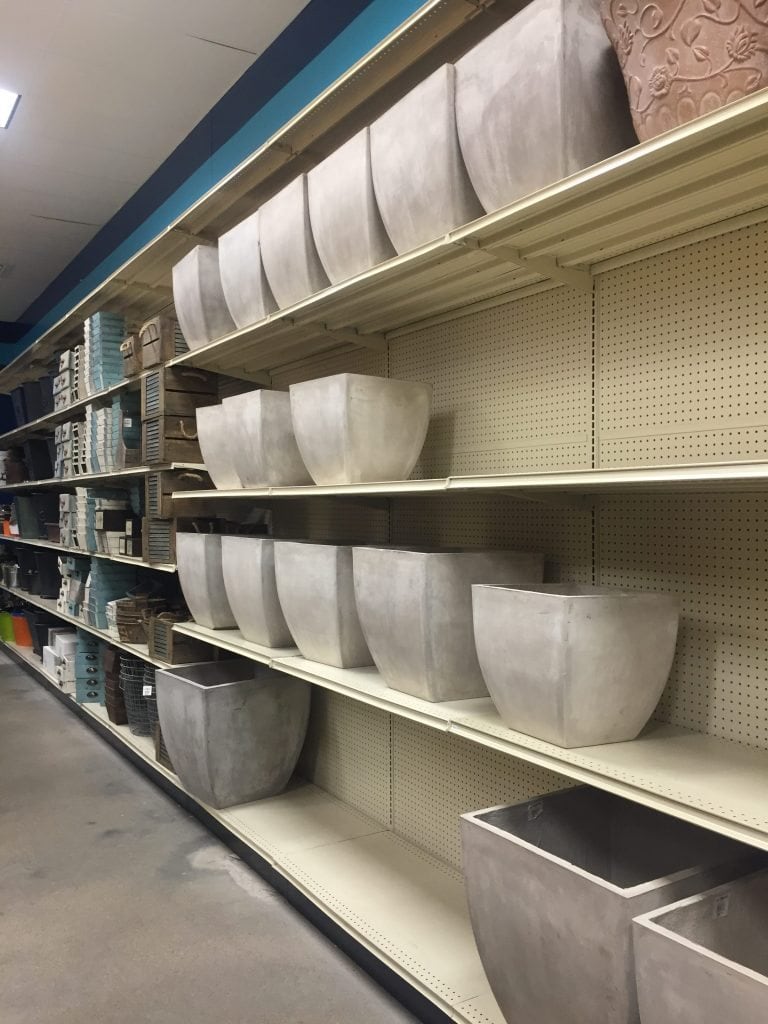 I actually might go back for those giant black pots because I feel like my flower/palm planters in the courtyard are a bit too small for how huge the plants get by the end of summer. These bad boys were huge.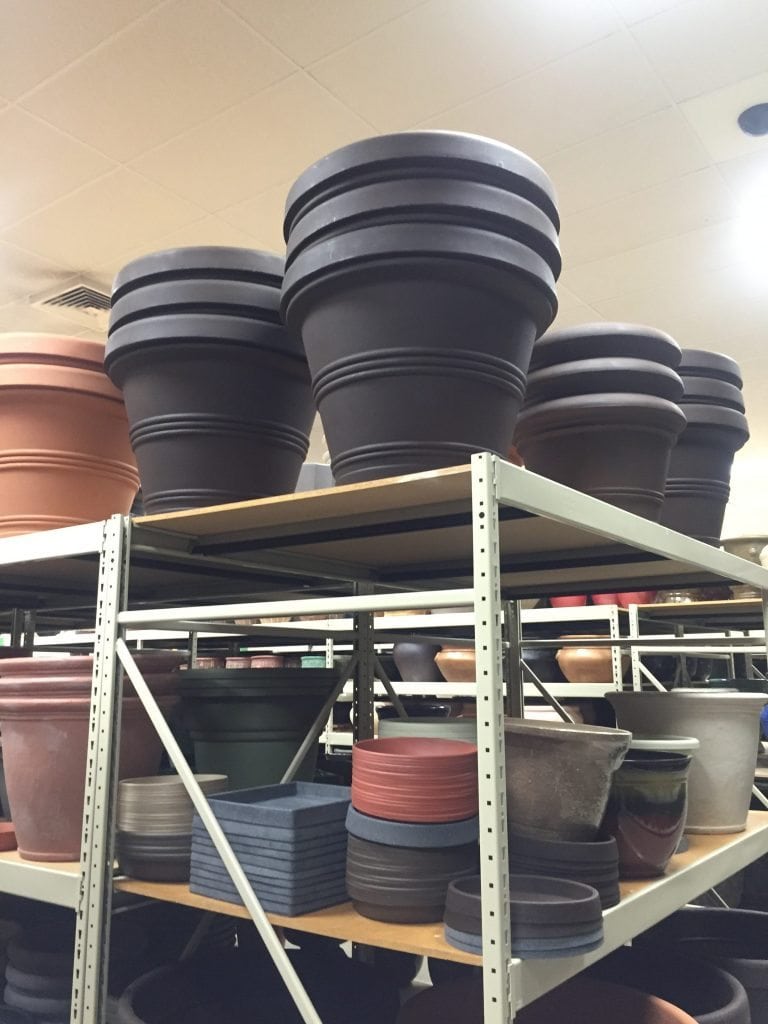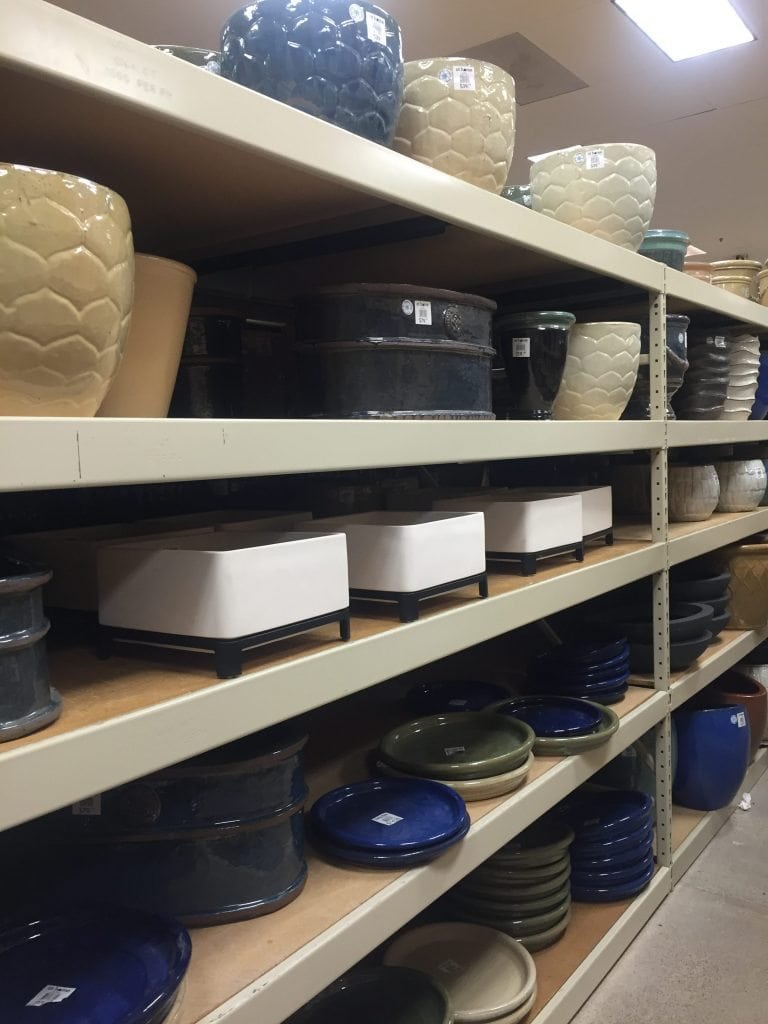 I'm telling you. If you're looking for beautiful planters at all price points, you definitely want to check out At Home. The selection was unreal and I'll likely be back for more once our rain lets up! I see flower planting in my future next weekend. I knew I wanted something lightweight because I tend to moved the herbs around in our courtyard throughout the summer. So, I went with this white and royal/navy blue resin planters. They look like ceramic, but are crazy light and will add the perfect amount of color to our courtyard this summer.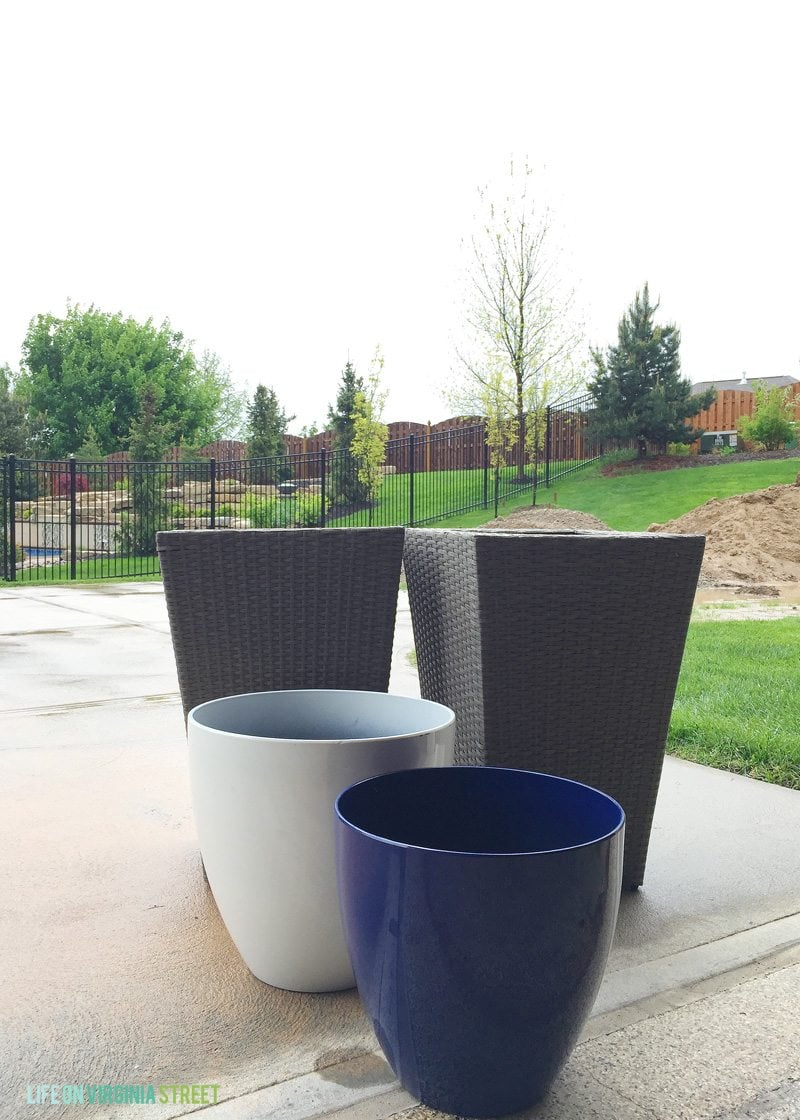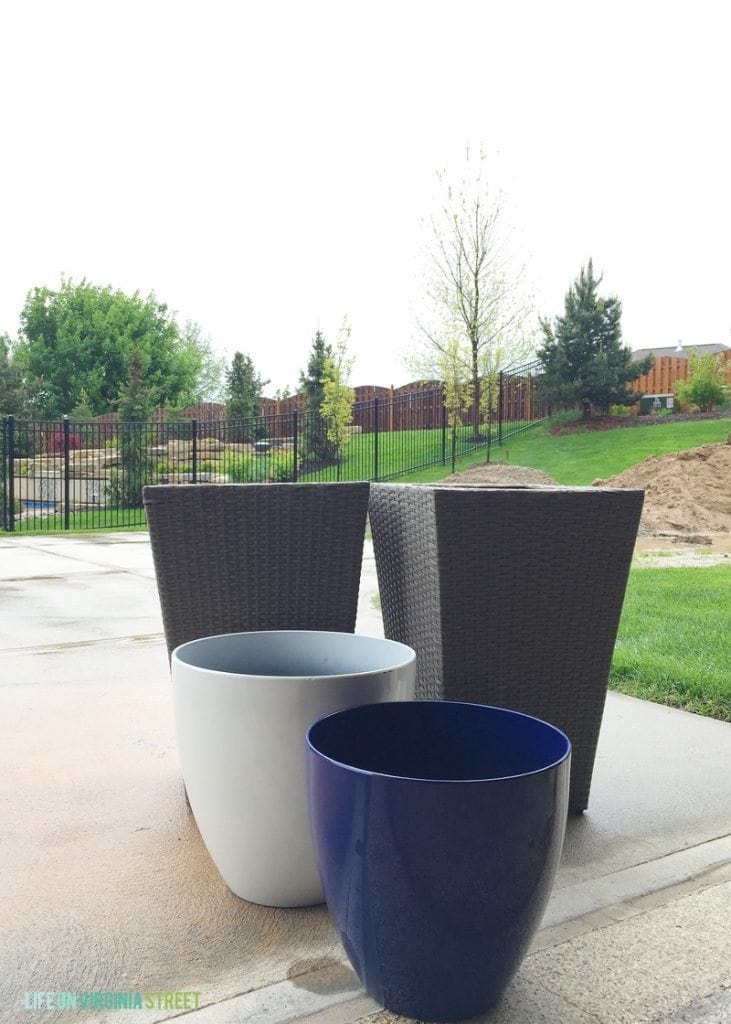 I also got those tall woven planters but those are for a different project once the rain stops 😉
Next, I hit up our local nursery, Lanoha. For about $20 I got more than enough herbs to last us the entire season. I consider it a total steal, given that a small pack of basil at the grocery store alone runs about $5 and will only last for a very short window. If you have your own basil plant at home, even if you're constantly picking leaves, it will continue to replenish itself. And we use a lot of basil each summer. This year I went with three different varieties!
Another favorite is dill. In the summer time, we tend to eat more fish, and we love to make our own homemade tartar sauce with fresh dill. Once you go fresh, you'll never want dried again!
I also added some rosemary and lavender – mostly because I love the scent of both and I love their pretty leaves. They are definitely great ones to have on hand if you regularly sit outside near your herb garden. The smell is diving!
I filled both of the pots with a potting mix about 80% of the way full. I then added a layer of vegetable potting soil to nearly the top and then mixed it all together.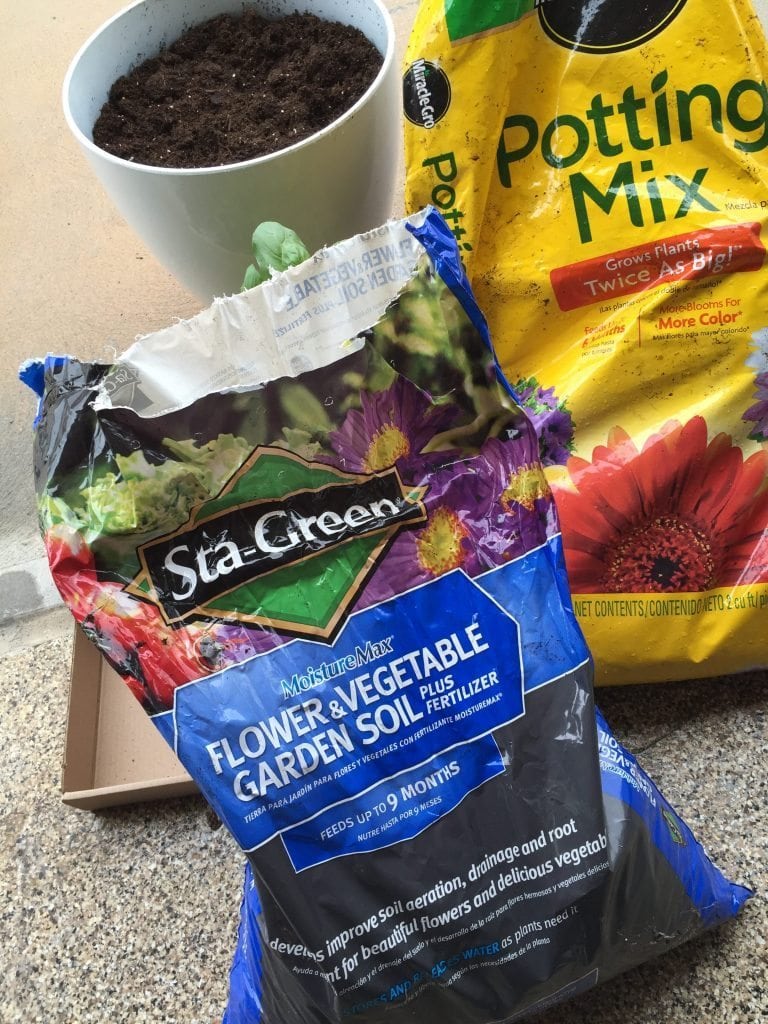 Next, I decided where I wanted each plant before actually planting them in the pot. I wanted to keep the basil all in one pot and opted to put that in the larger one, because I know just how huge basil can get.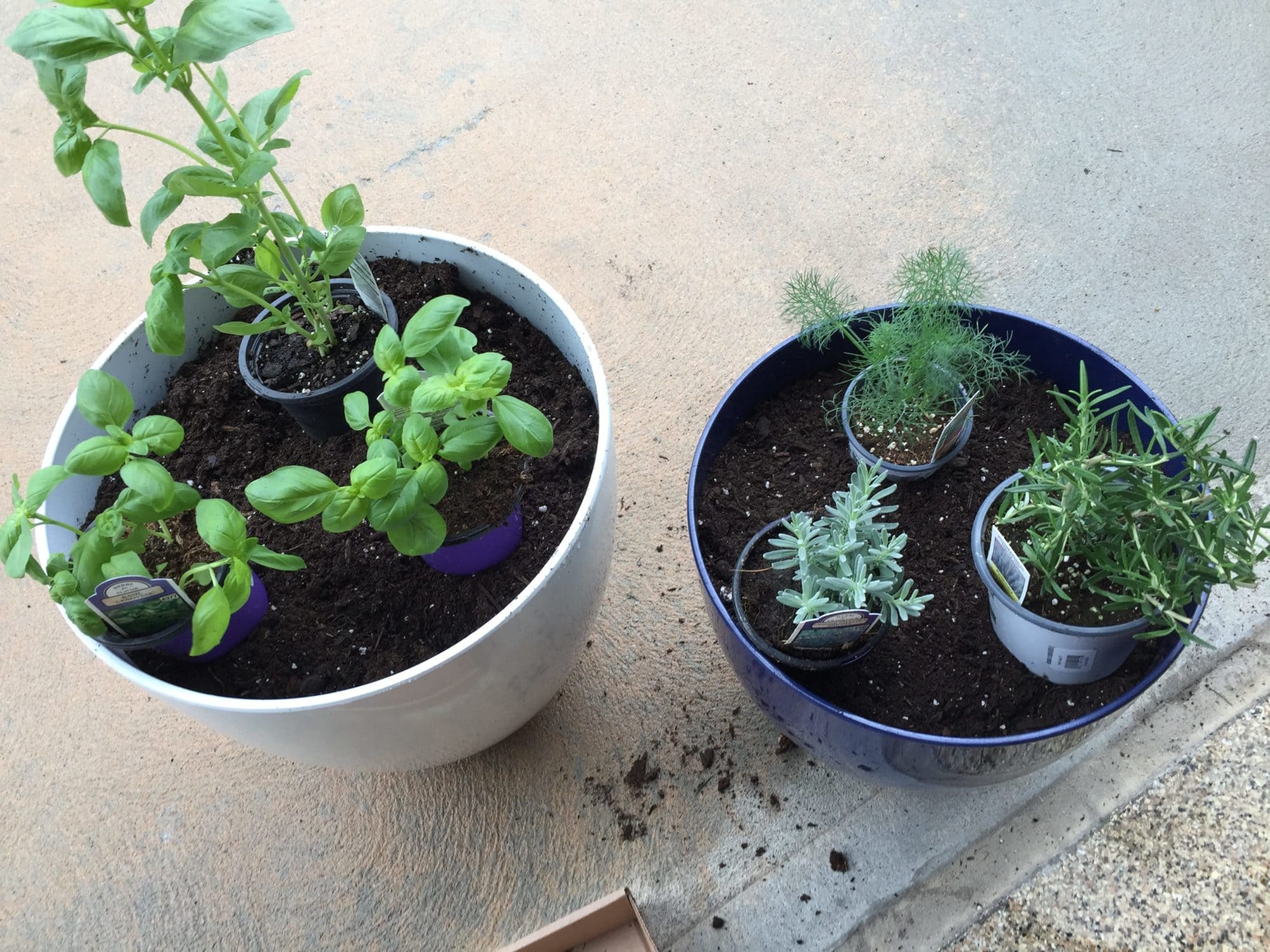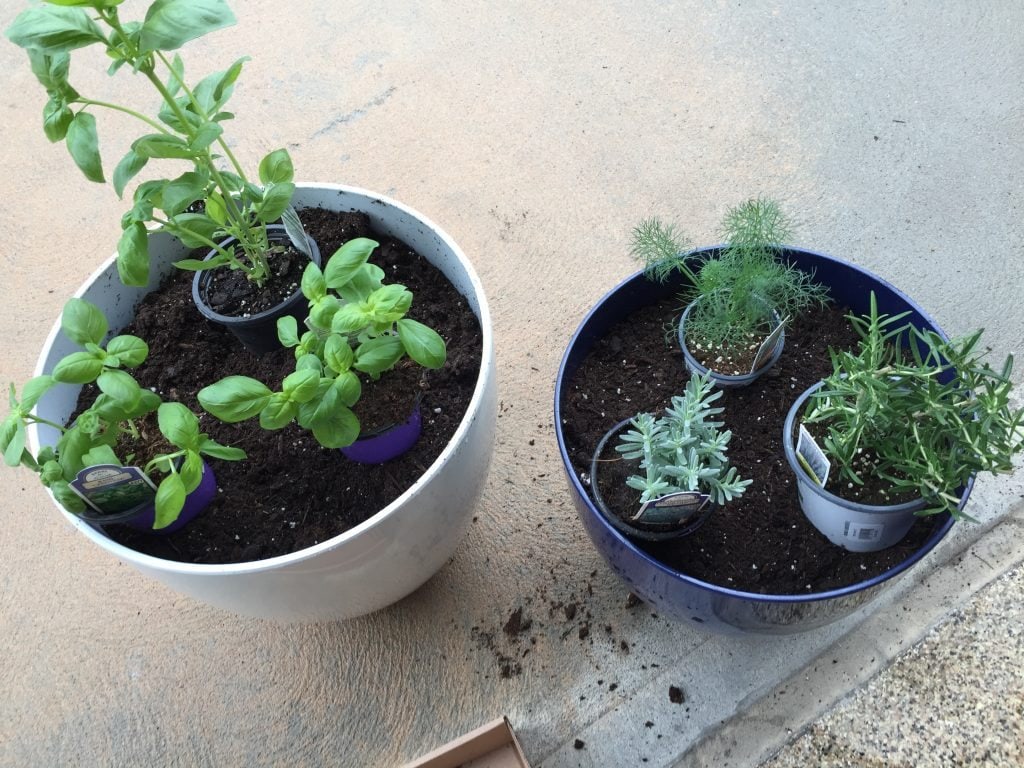 And, the final product! I left the labels in for the time being, but will likely remove them within a month or so once I am more easily able to identify them all.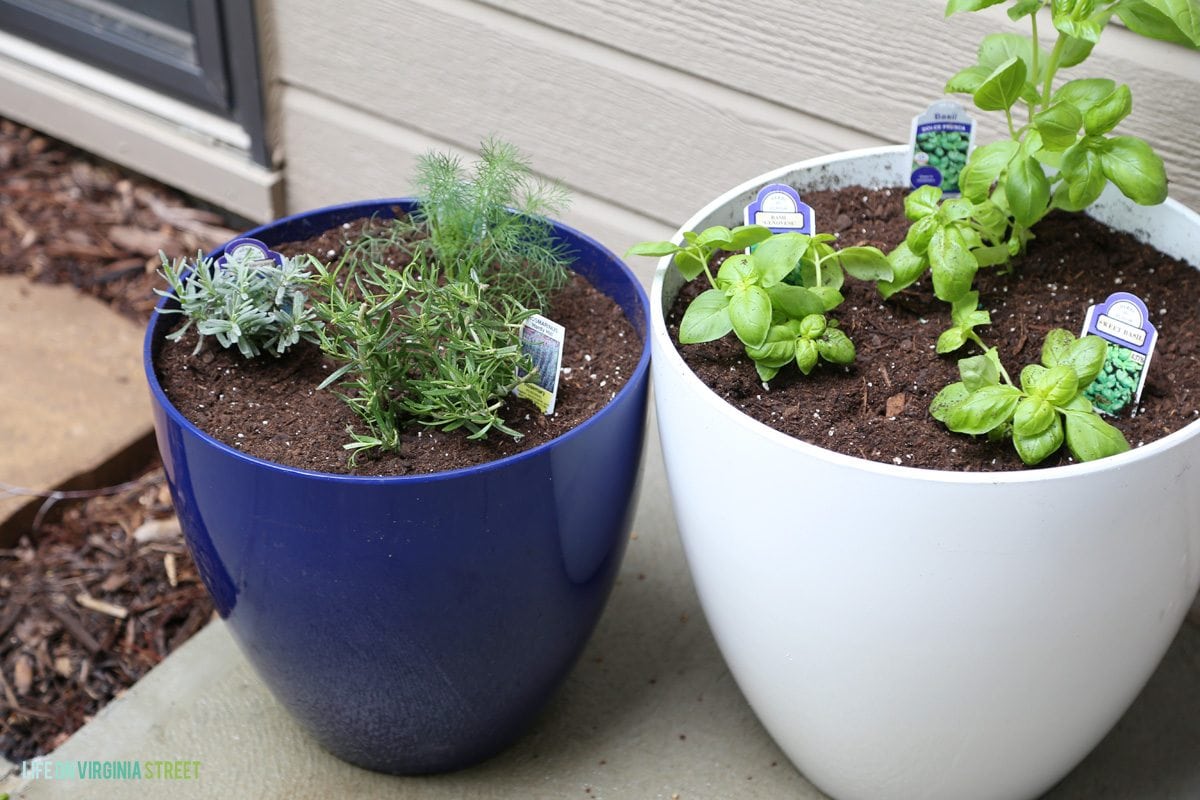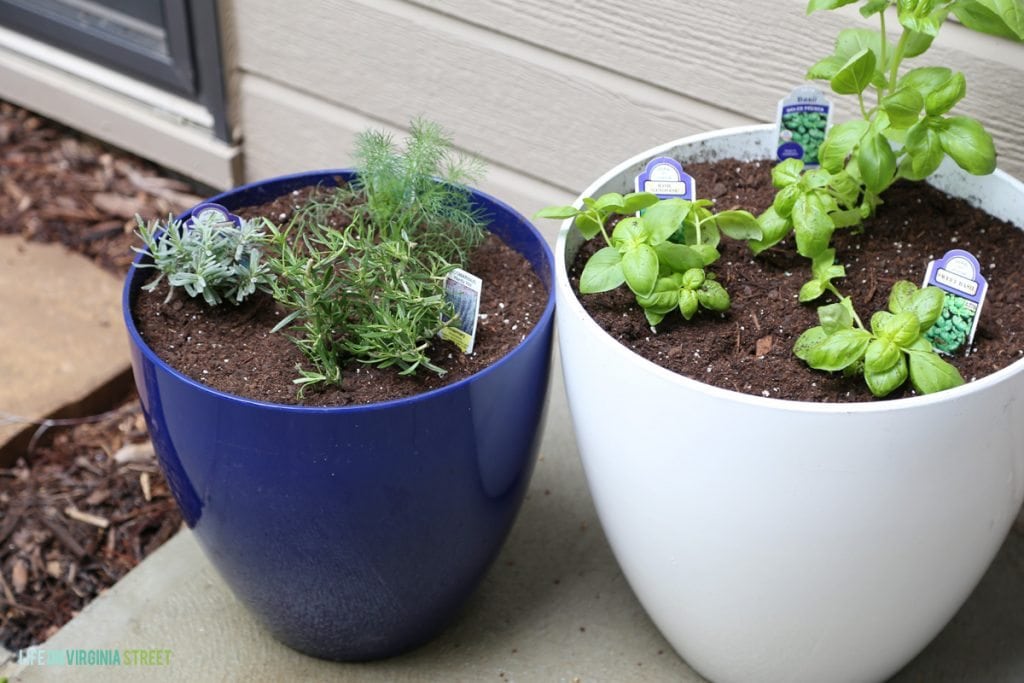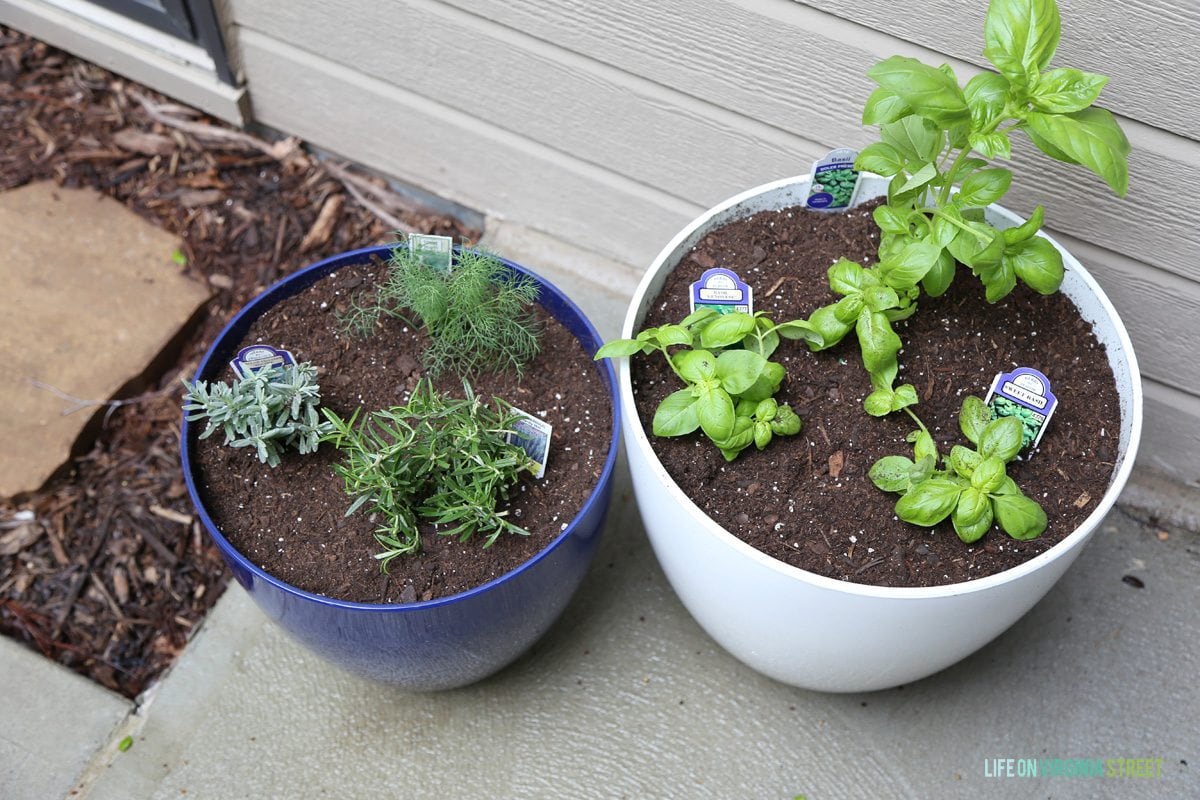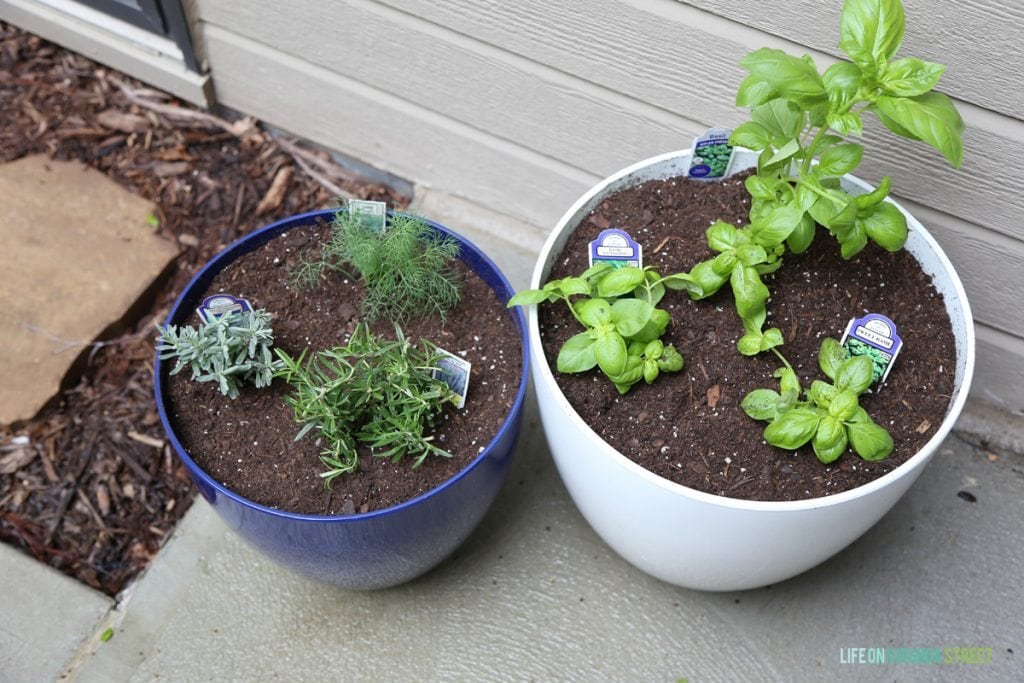 I absolutely love the blue and white planter combo (there's a really good chance I'll be going back to At Home for more) and I think it's the perfect accent for the green herbs. And, although the plants may look small now, I can pretty much guarantee within a month, these plants will be so large I'll be having to trim them regularly.
Once I had all the items for our potted herb garden, it honestly took me less than 20 minutes to fill the pots, plant the herbs, water them and move them to our courtyard. Such an easy project that will pay huge dividends all summer long!
So, do you have an herb garden? Would you ever try a potted herb garden? If you love my planters as much as I do, you should probably also check out At Home Patio and Outdoor Entertaining sections!
If you would like to follow along on more of my home decor, DIY, lifestyle, travel and other posts, I'd love to have you follow me on any of the following:
Pinterest / Instagram / Facebook / Twitter / Bloglovin' / Google