It seems crazy to me that we're already in week 4! I swear it feels like we just started the pool/backyard project last week.
If you're new around here and want to get caught up, you can check out these other posts about where we started and the progress we've made so far.
The backfill of the wall didn't get 100% complete on Friday as planned, but it was wrapped up Saturday. Justin from Kloos Kutters then flagged the pool area and sprayed the lines for the patio. With the dirt cleared and the paint and flags added, it suddenly started to feel like a real space!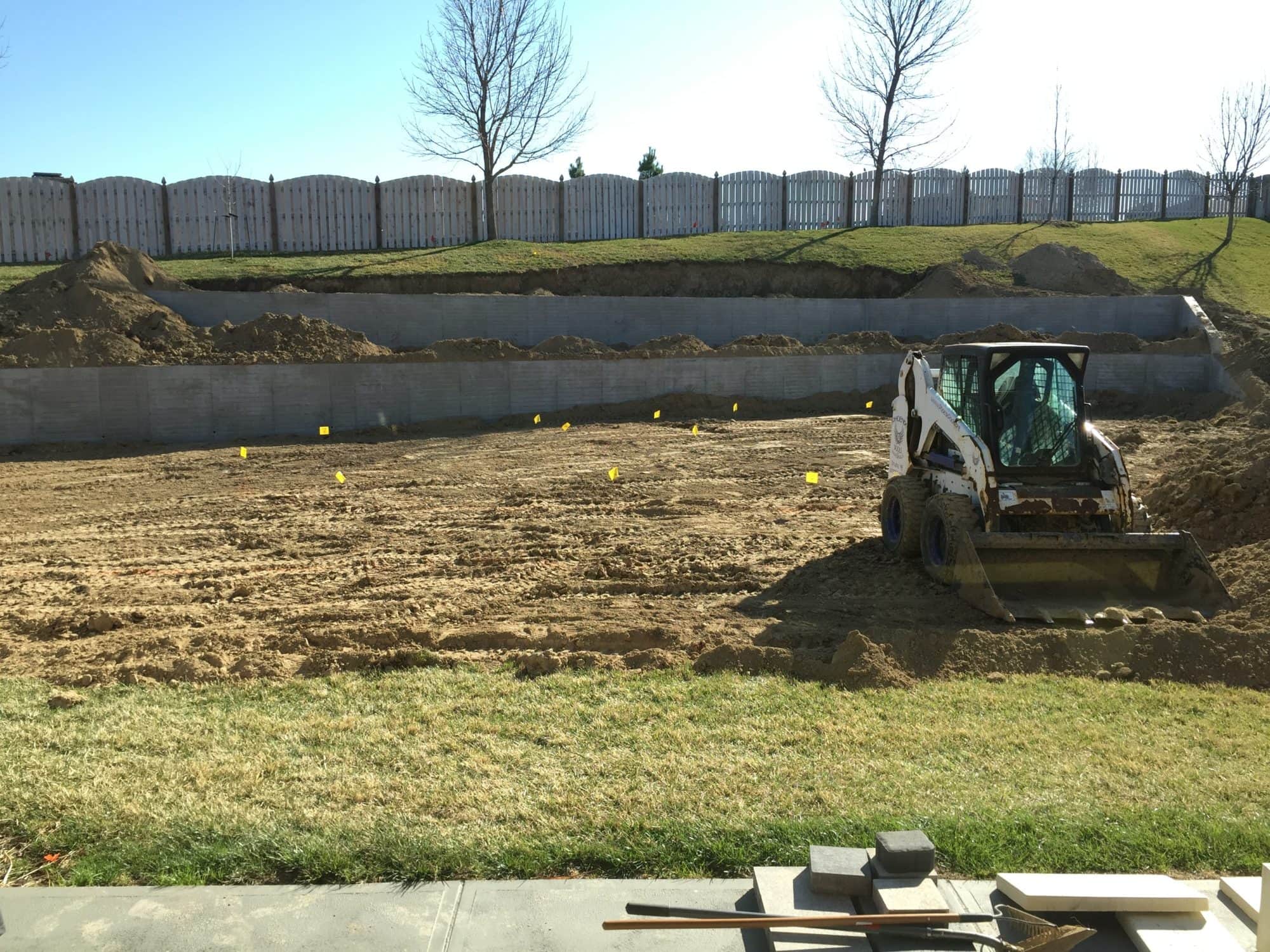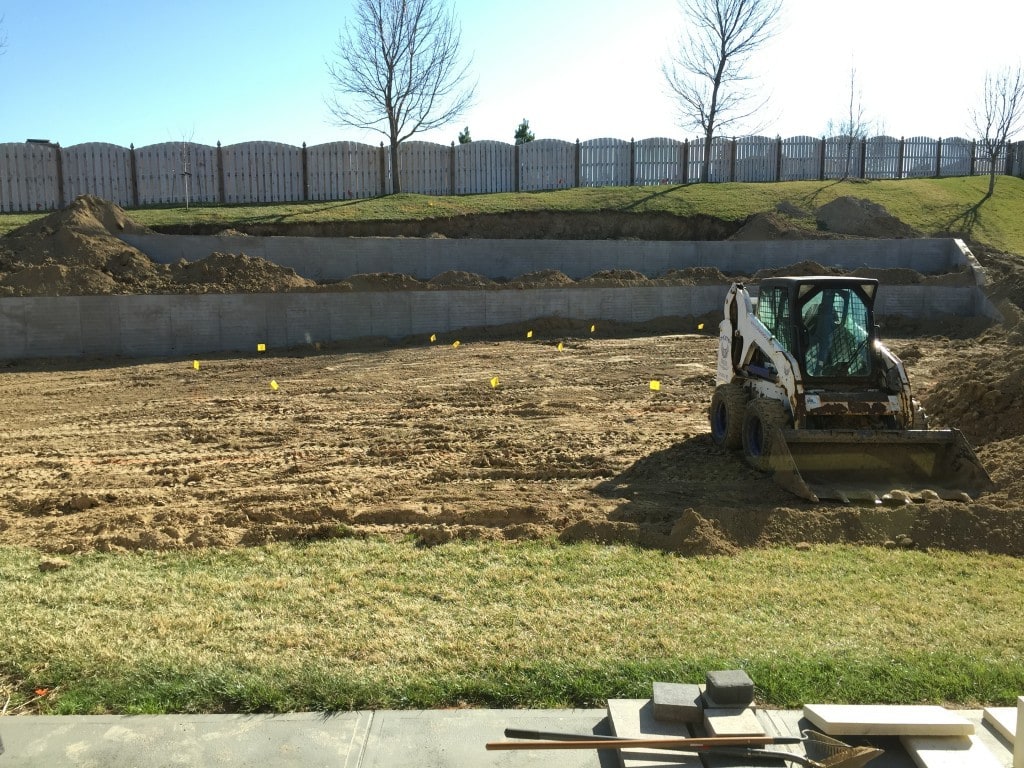 Can you believe only four weeks ago, this same view looked like this?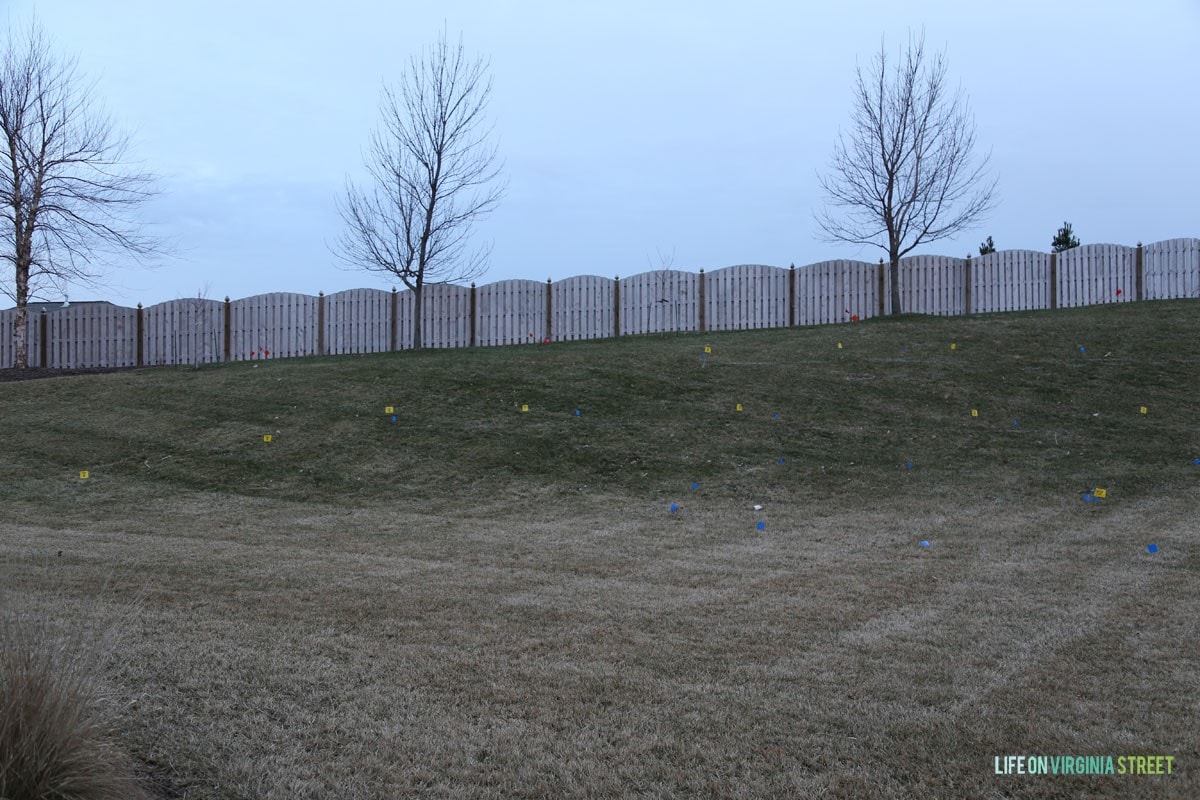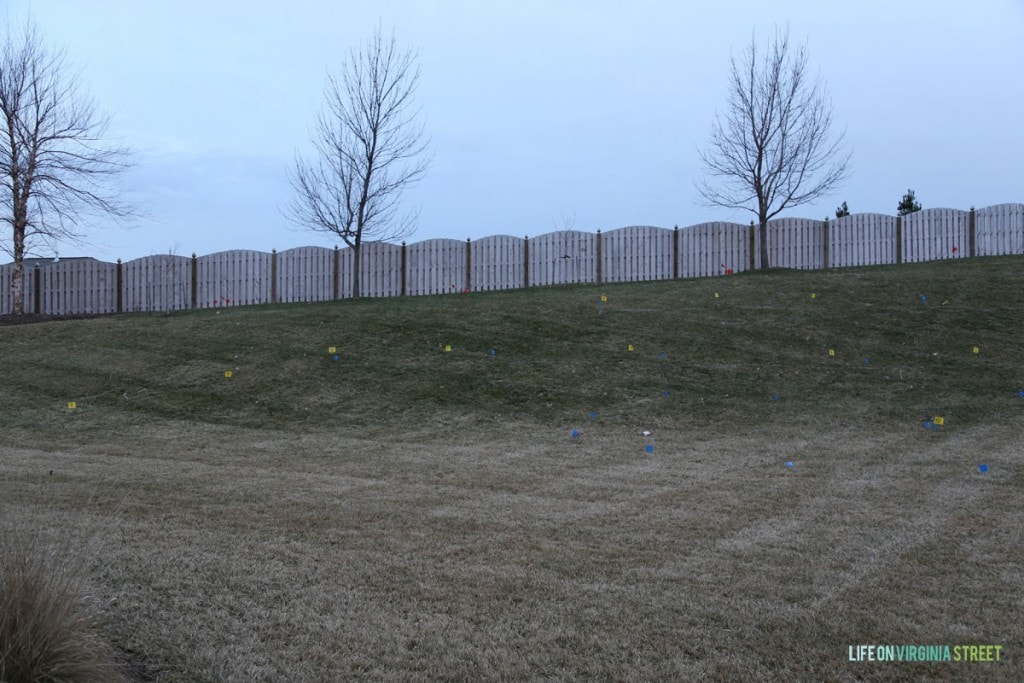 Because of how wide the concrete company poured the footings, we now have to figure out a new solution for the deck drainage. I just want a pretty pool area and don't think of all this technical nonsense (so obviously that's why we work with someone that does). It might be difficult for us to get the travertine up tight next to the wall. I also didn't want a landscaping bed for a foot or two off the lower wall either, because I worry the mulch would stain the travertine and it would ultimately not get the water it needed.
So, we looked at this as a possible solution. Mexican river rocks between the pavers and the wall like in the image below.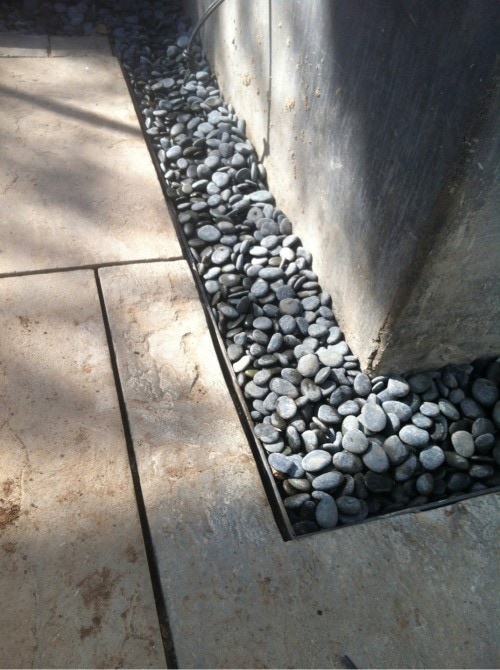 The other alternative would be to run a metal channel drain, with sloped pavers, to allow for water run-off.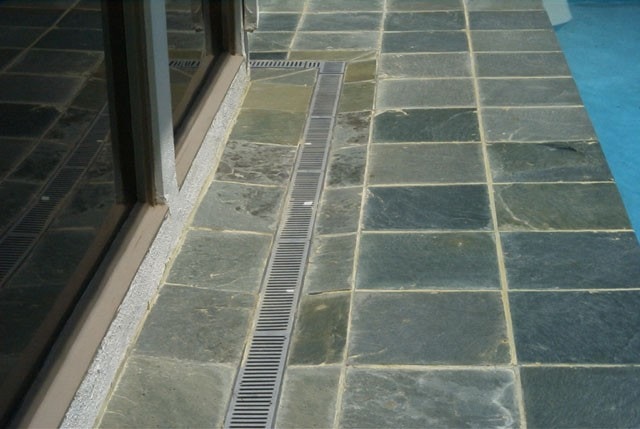 The second option is a lot more costly for parts (and pavers) and I actually like the look of the first image. However, it would require a lot of Mexican pebbles to run the length of our 145 foot wall and outskirts of our fountain area. So…I'm still torn.
Keep in mind we are going to have three 3-foot water scupper waterfalls dropping from the lower wall. Our designer, Justin, has proposed either dropping to the flat ground level into Mexican pebbles or into a metal pan of some sort. But the water dropping will look similar to the one below (but we'll have three side-by-side) and in the image below that: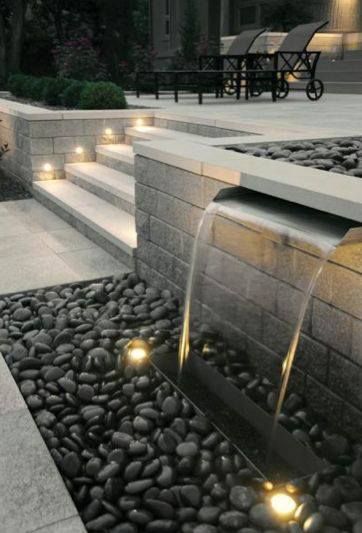 We also need a solution for a pathway to run from our covered patio to our pool deck. Because we may expand the covered patio some day, we aren't removing the concrete and didn't want too permanent of a pathway running to the pool deck. I had always loved the checkered paths with grass and pavers, much like the look below: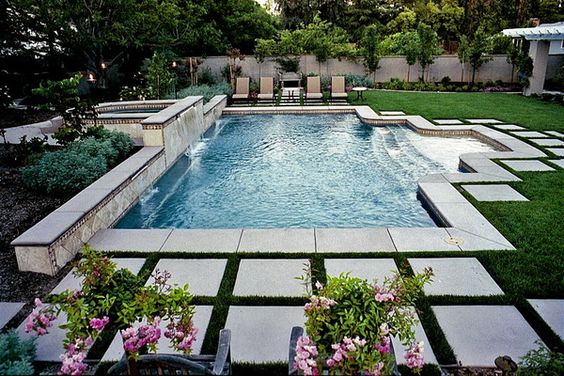 However, it sounds like they are really hard to maintain and to water in our climate. So, I thought if we did the Mexican pebbles/river rock by the wall, we could add it to the stepping stones like below. I actually really like the look, just maybe not in our yard?: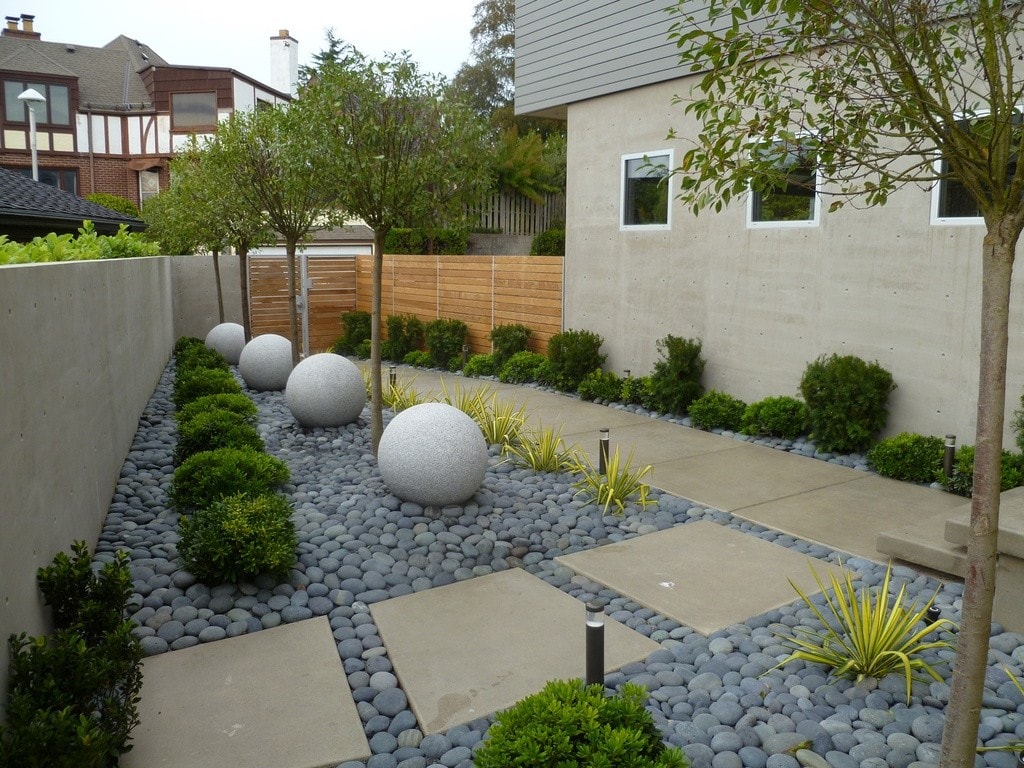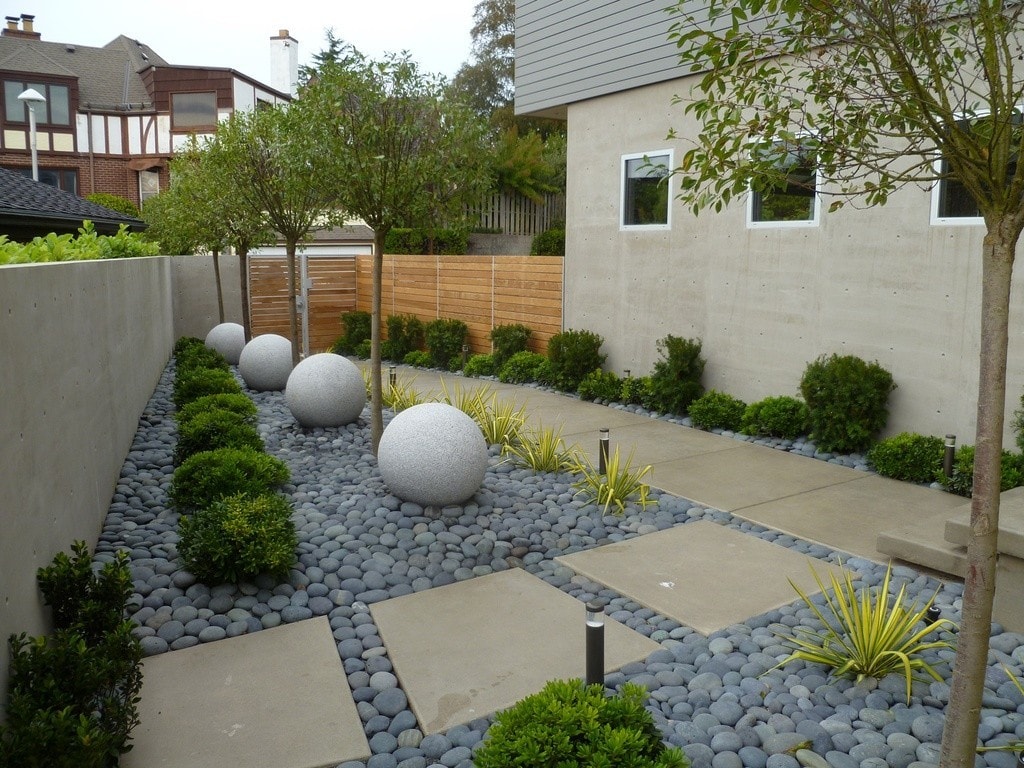 And then I thought it might look to modern. Exactly like the picture above does. Haha. I feel like I'm back at square one. Maybe this same look but with a stone/pebble that matches the pavers better? I really don't want a lot of contrast, and I worry the dark gray of the Mexican river rock my give the space too much of a modern feel. Any other suggestions here? I just don't want ten different colors/textures/etc. I want the water to be the focus and the rest to just compliment it. Suggestions are completely appreciated!
Let me tell you. Google Images is basically my best friend right now. It can find any image of the random thoughts I have in my mind at any given point. I basically want it to look like the beach when I walk out my door and when I think of that, it doesn't involved dark river rock. Still deciding on this one!
BUT… you guys were a huge help last week! I completely turned over the water (chlorine vs. salt) decision to my husband and after talking to several people and reading all of your comments, he decided to go down the salt water path. Thank you again for everyone that chimed in!
We have word now that the pool excavation will be starting today, regardless of the light snow we got last night. So, next week should definitely be full of updates. And, I plan to update you soon on how I feel the addition of the pool will require a few updates on the inside of our home. My husband is super stoked for more changes 😉 Have a very happy Easter weekend everyone!
If you would like to follow along on more of my home decor, DIY, lifestyle, travel and other posts, I'd love to have you follow me on any of the following:
Pinterest / Instagram / Facebook / Twitter / Bloglovin' / Google