I can't believe it's already July! Seriously, where has the time gone. Next week might be the last pool progress report! The remainder of outstanding items were almost all wrapped up this week!
If you're new around here or have missed my other progress reports, you can get up to speed here:
A Pool + Backyard Update | Progress: Week 1 | Week 2 | Week 3 | Week 4 | Week 5 | Week 6 | Week 7 | Week 8 |Week 9 | Week 10 | Week 11 | Week 12 | Week 13 | Week 14 | Week 15 | Week 16 | Week 17
I touched on a few updates in my last weekend recap, but I'll reiterate them here, as well so they're all together. Saturday I completed the bulk of my photo shoot to share with you guys in a few weeks. I am really happy with how it turned out, and now that most of the images are ready, it is killing me not to share them with you right away! I'm so good with patience 😉 But, I can promise you, the styled space looks nothing like the images I'm sharing below. However, you can see these photos look a lot closer to completion that week's past.
Wednesday night after dinner, Justin and Kurtis got more of the large flagstone cut for the water feature. It was a dusty mess, but totally worth it to see the progress!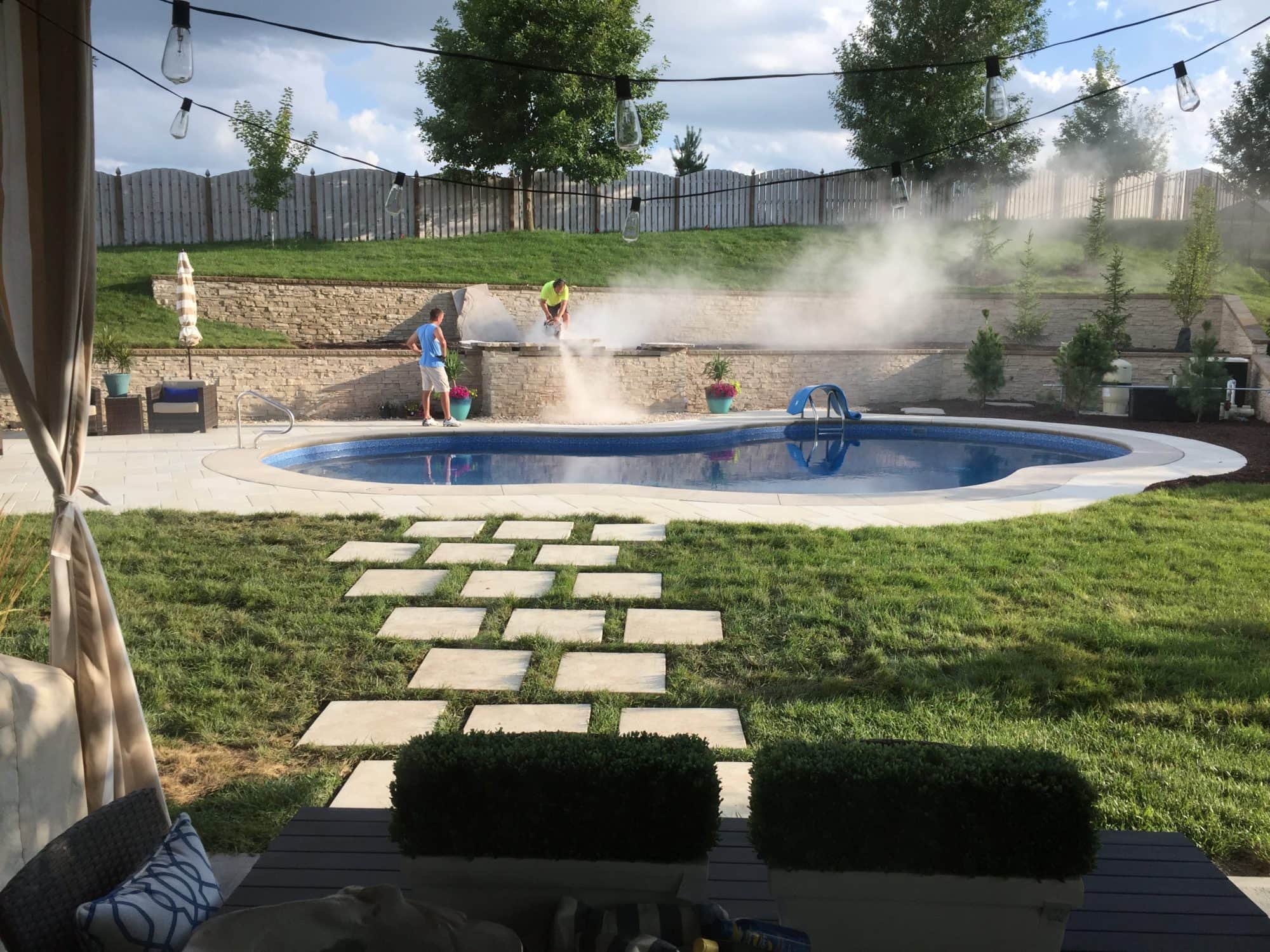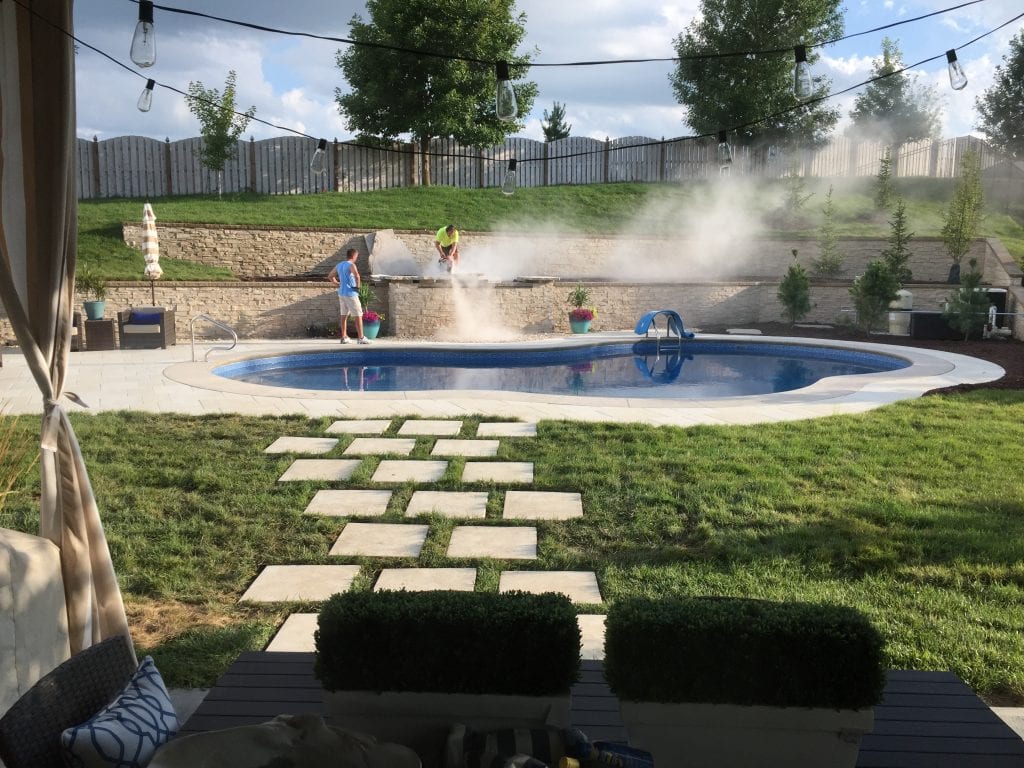 You can see Justin had previously set the paver pathway, as well, earlier in the day. We're going to pick up a few more pavers and make the path a bit wider towards the top left hand side, where the natural curve leads to the main pool deck area. Once we can trim the grass in between, I think it's going to look amazing!
We used the leftover flagstone to make a pathway over to the pool control panel. The shape has been changed since the below photo (and we plan to beat that back stone up a bit so it isn't a square) but we love the functionality it provides. It was clear pretty quickly that jumping out of the pool to turn on lights/water feature/etc. through the mulch with wet feet wasn't ideal. I plan to add quite a few plants around the pathway this weekend to make it blend better.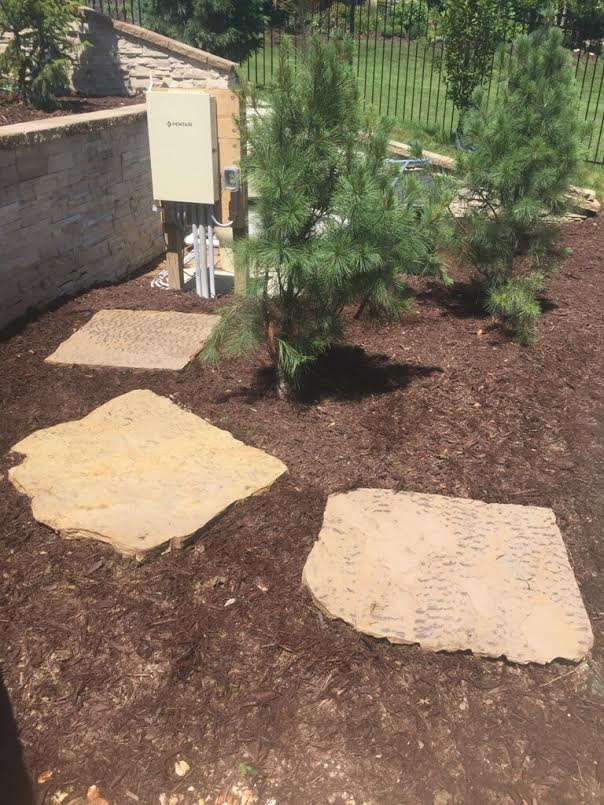 We also got all four of the outdoor curtains hung and we added some towel hooks from HomeGoods. We used our new favorite toy and had everything up much quicker than we expected! I'm shocked at just how muc h the curtains added to the space and it's ridiculous how happy they make me.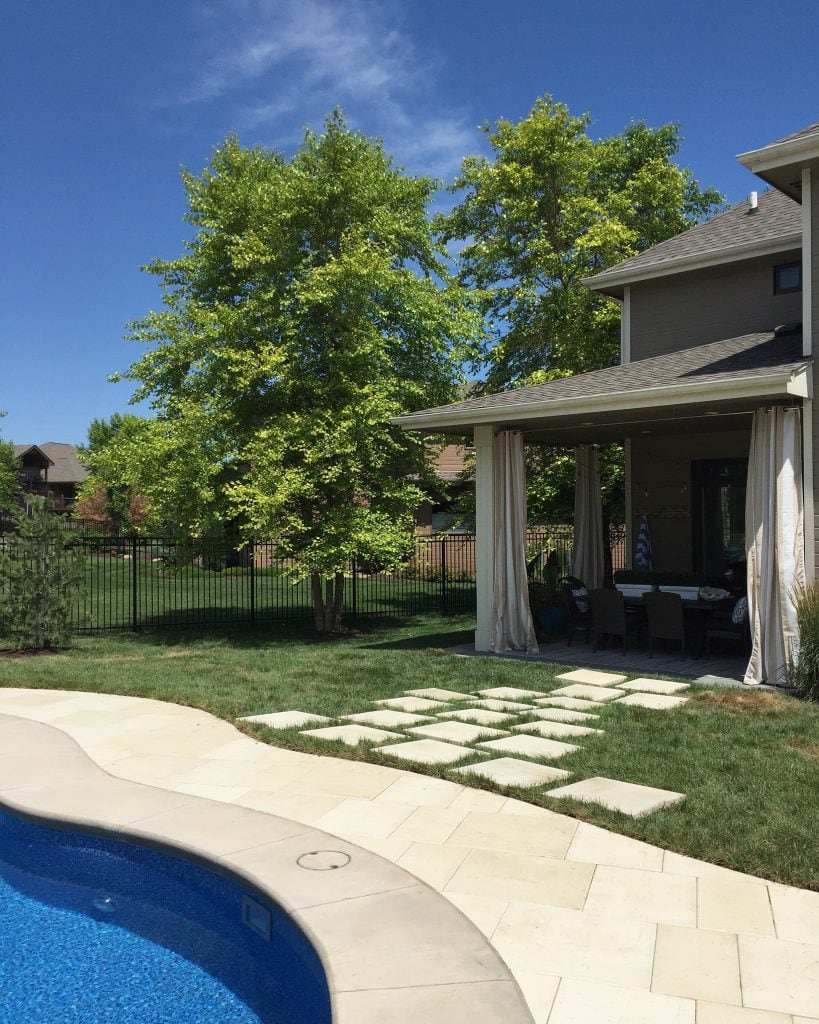 Thursday the lawn unexpectedly got mowed and the path looked so much better! We've definitely decided we need a few more pavers though.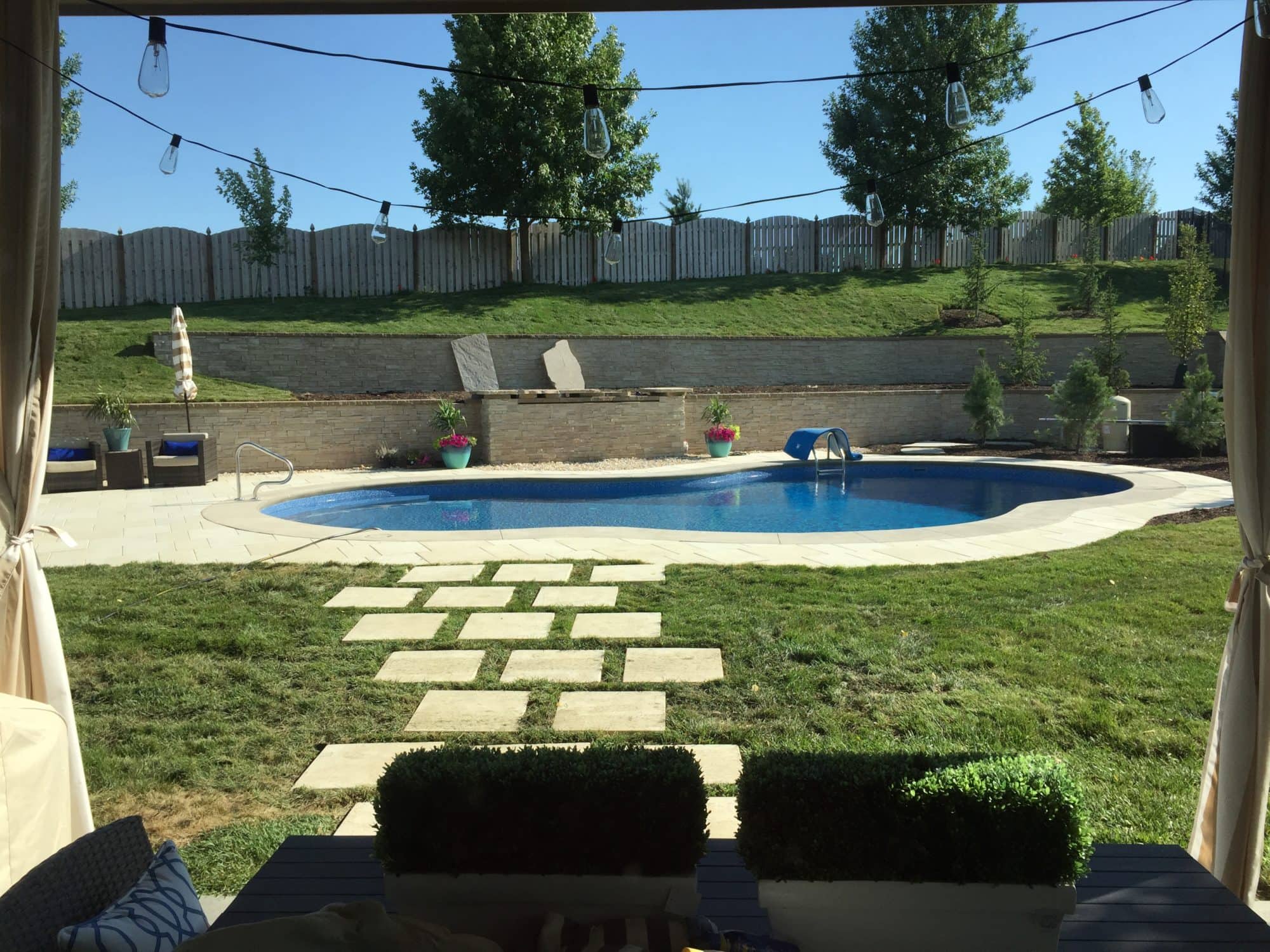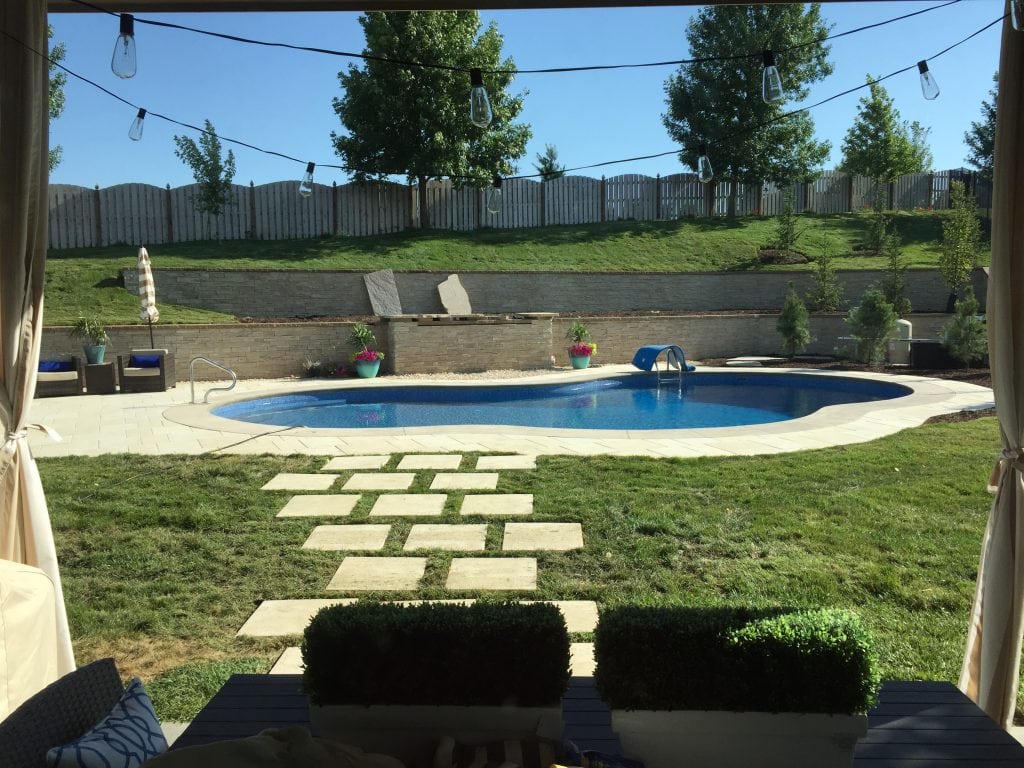 The sod still has a little ways to go, but it's getting better! Much better than the view 18 weeks ago.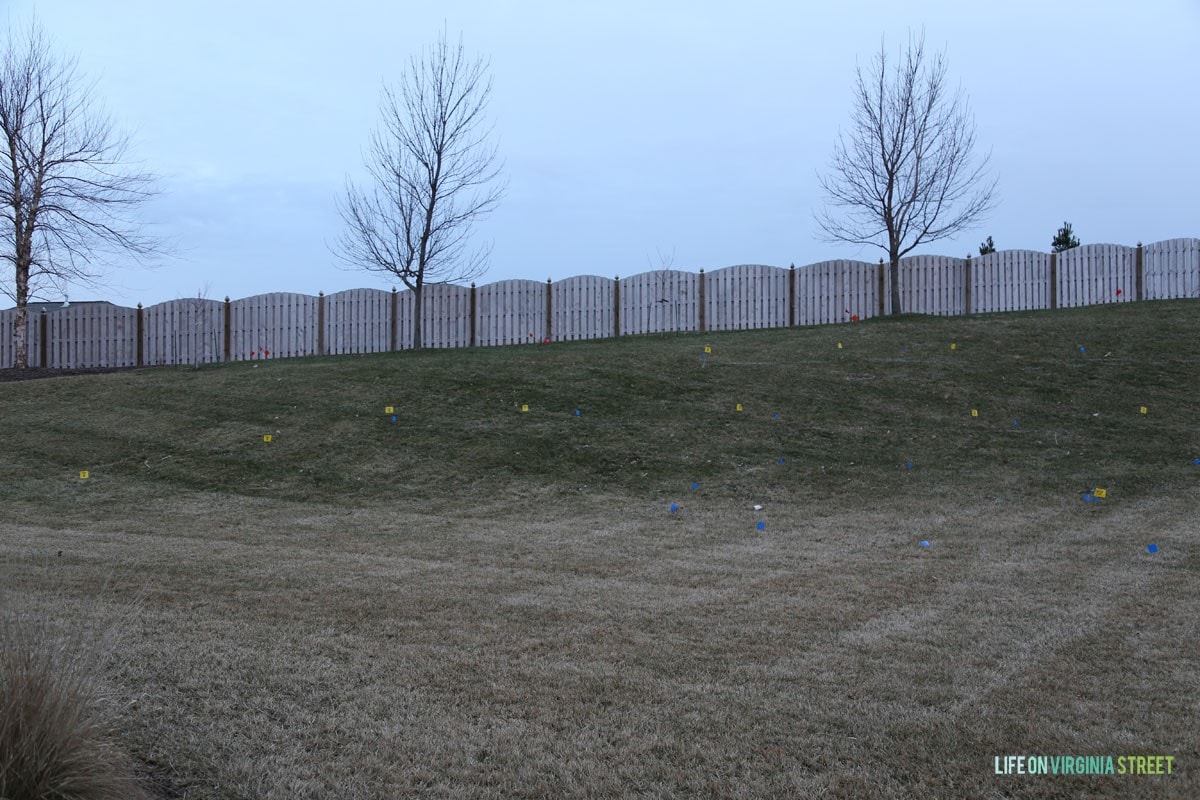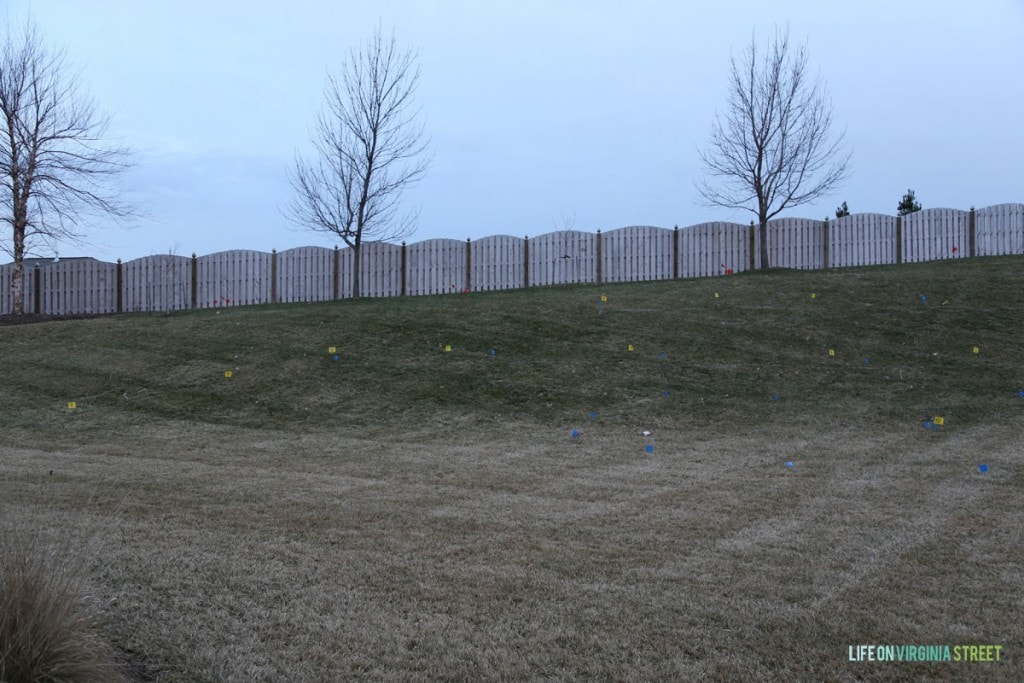 The guys mostly wrapped up the water feature last night, but it was too late for pictures. I'll share that next week.
The big reveal is currently scheduled for July 20th, but I'll let you know if if that date happens to be sooner. I'm so excited to share ALL the details for you guys. I'll be sure to included all the sources on everything as well as things we learned along the way and how we budgeted for this project. Probably more than you'll ever want to know! 😉
Our staycation starts today and runs through Tuesday. Unfortunately, we have a few crappy weather days (on 69 for a high Saturday!), but maybe it will allow us to finish everything up without the crazy heat. Hopefully I get all the planting done I need to with the cooler weather.
Lastly, if you haven't already, be sure to enter my giveaway for a  20v MAX* Lithium Cordless Drill AND a Circular Saw from BLACK+DECKER. You can enter in this post. The giveaway ends Monday night, so don't miss out!
Have a happy and safe holiday weekend!
If you would like to follow along on more of my home decor, DIY, lifestyle, travel and other posts, I'd love to have you follow me on any of the following:
Pinterest / Instagram / Facebook / Twitter / Bloglovin' / Google
disclosure: some affiliate links used in this post.