To be honest, nothing happened in terms of hardscaping this week on the backyard project. With us being in Minneapolis last weekend, it definitely slowed things down. Then, Kurtis was out of town Monday thru Wednesday, and I was technically on a business trip (in Omaha) Monday and Tuesday, so I wasn't around much either. But, I do have a few other updates to share with you.
If you're new around here or have missed my other progress reports, you can get up to speed here:
A Pool + Backyard Update | Progress: Week 1 | Week 2 | Week 3 | Week 4 | Week 5 | Week 6 | Week 7 | Week 8 |Week 9 | Week 10 | Week 11 | Week 12 | Week 13 | Week 14 | Week 15 | Week 16
Early Sunday morning, while we were in Minneapolis, we got three inches of rain. By the time I got home that night the pool was way too full (borderline danger zone since the skimmers were fully submerged) so I had to figure out how to drain it on my own (since Kurtis was still in MN for work). It was a bit sketchy, but ultimately I figured it out after frantic calls with Kurtis and texts with Shane at Phoenix Pools. I also had to empty the clogged skimmers (and found a skeleton of some sorts) – and then Kurtis found two dead frogs in them when he got home Wednesday night. I swear the skeleton I found was a fish – for reals – but I'm not even sure how they would be possible. We definitely felt like legit pool owners at that point after finding dead animals in the skimmers. 😉 Ugh!  Below are images of the water level on Sunday night as well as the valves I had to learn to maneuver to drain the pool.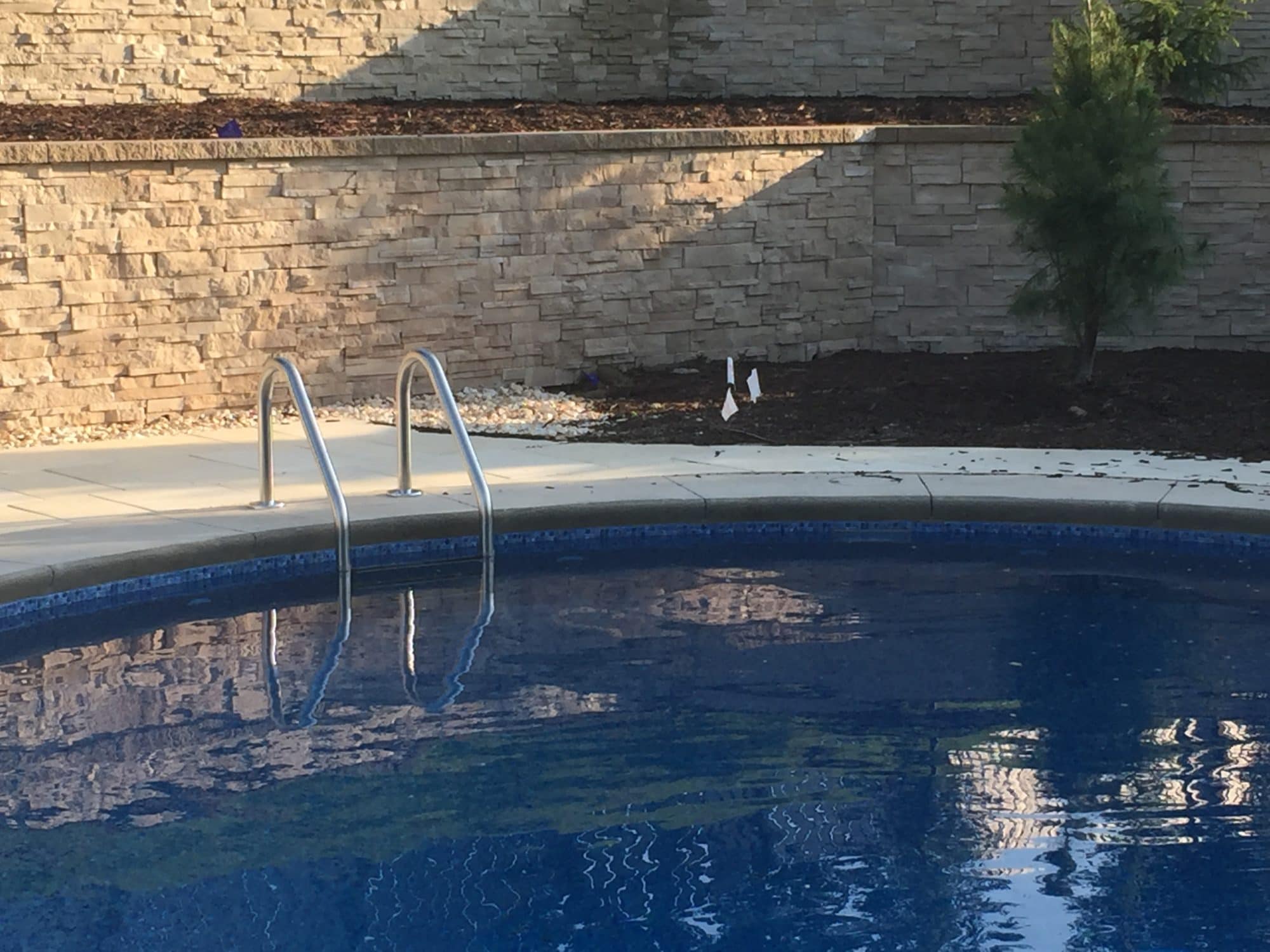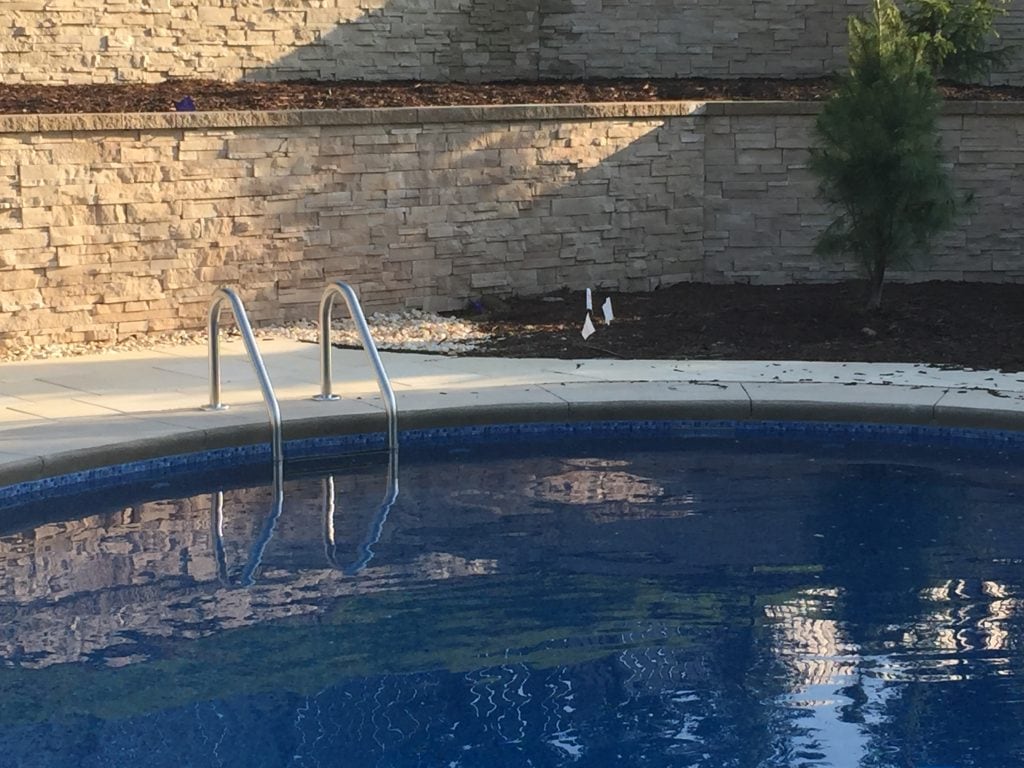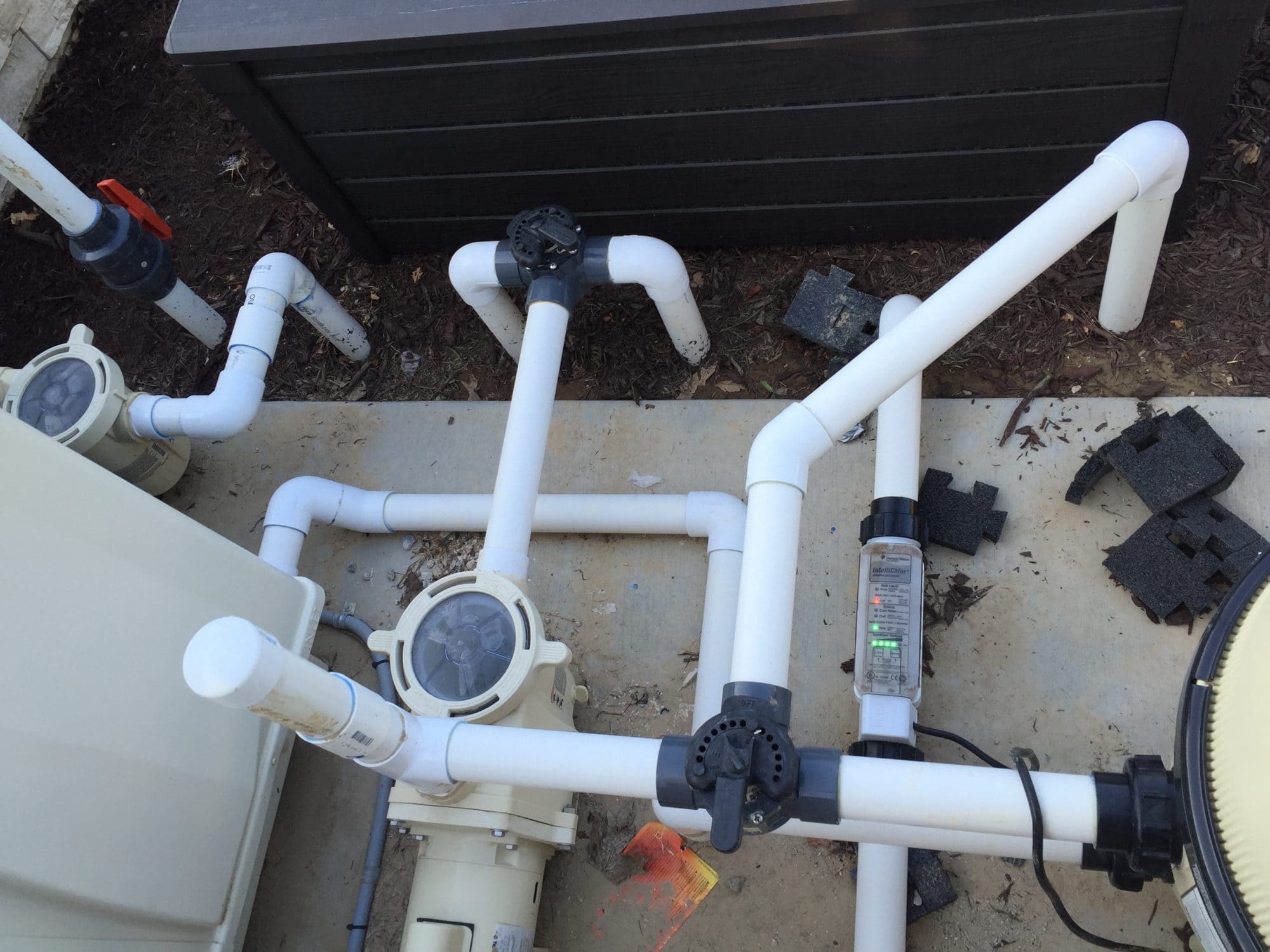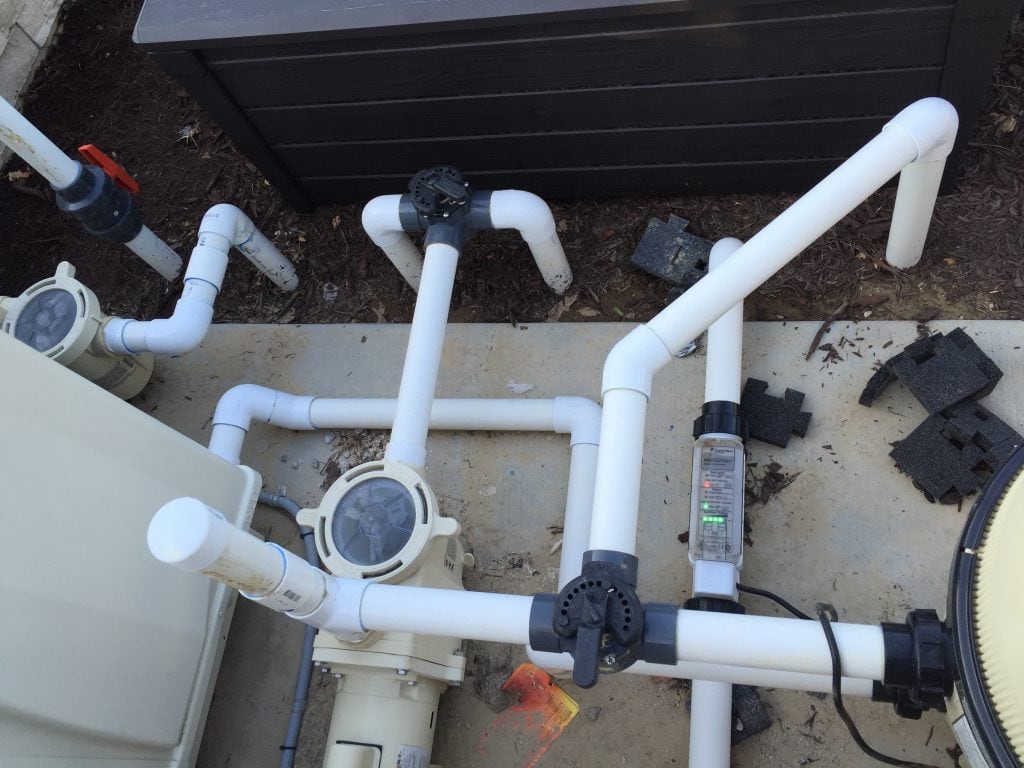 Monday, I took our water in for the first time to be tested. But with the oncoming storms, I was advised to not update any chemicals until the storms passed.
Wednesday night, we put our last two chaise lounges together, and suddenly, by sunset, it looked like an (almost) finished space. And the sky was beautiful, so I couldn't help but take a few pictures.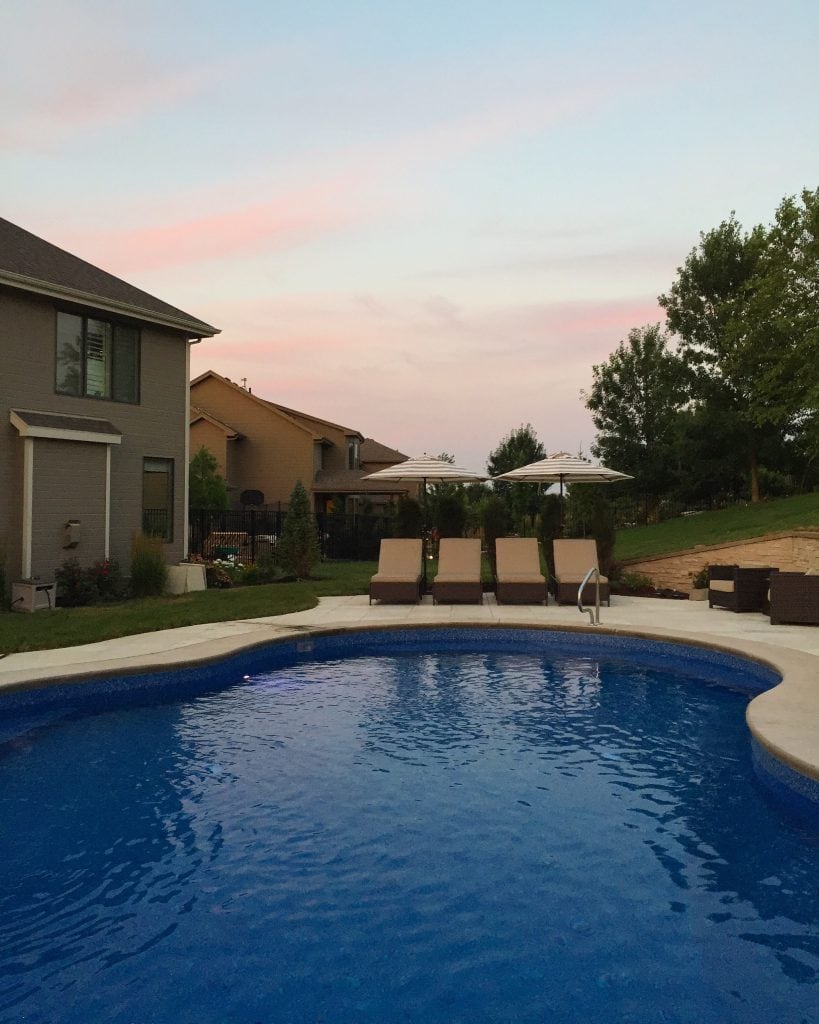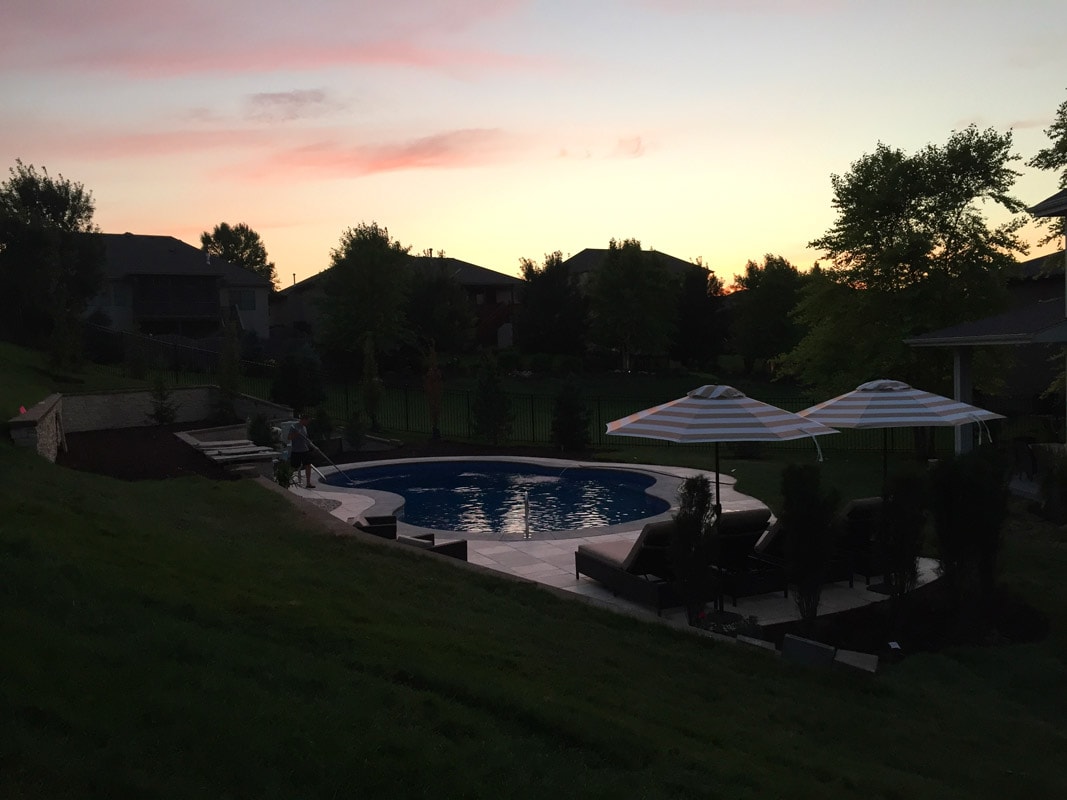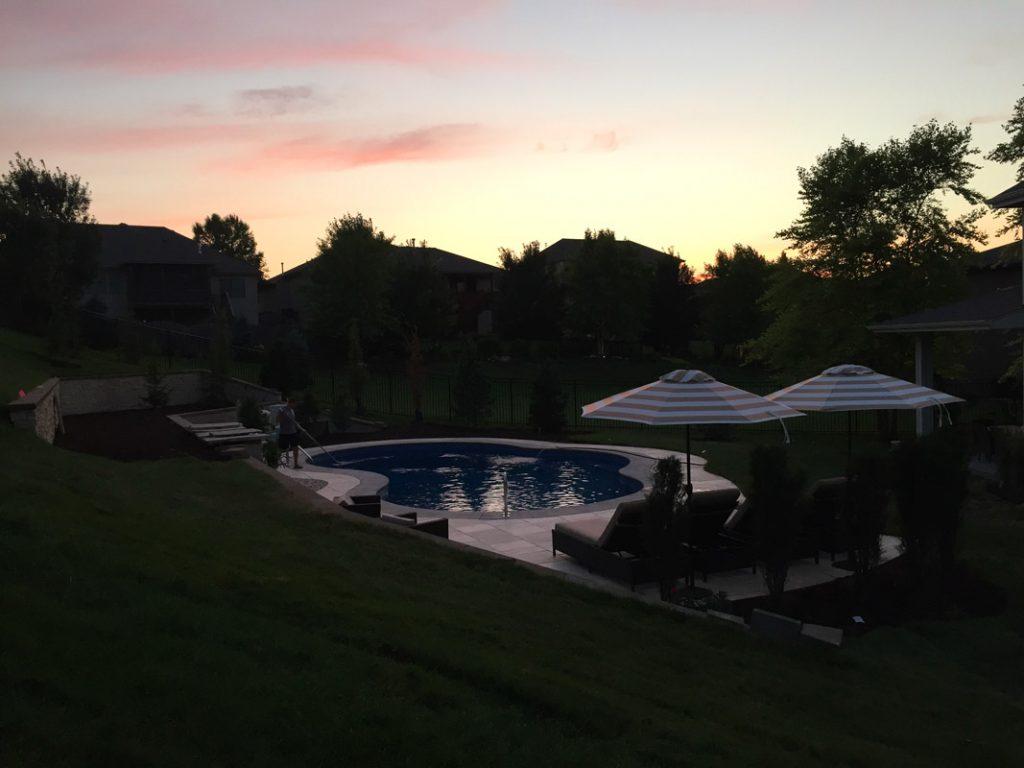 Chaise Lounges | Umbrellas | Conversation Set
Last night, we got two of our striped outdoor curtain panels installed (I ordered these ceiling mount curtain rods over the past week). We were going to DIY the rods, but in the essence of time, I found something on Amazon and it seemed like they were cheaper than the parts it would take to make our own. They technically aren't outdoor rated, so we'll see how well they work. I will say, I am obsessed with the curtains even more now that they are up in the space! They completely change the look of the back of our house. I can't wait til the other two are up! Now I'm just hoping the humidity and the heat act like a self-ironing tool so I don't actually have to iron them 😉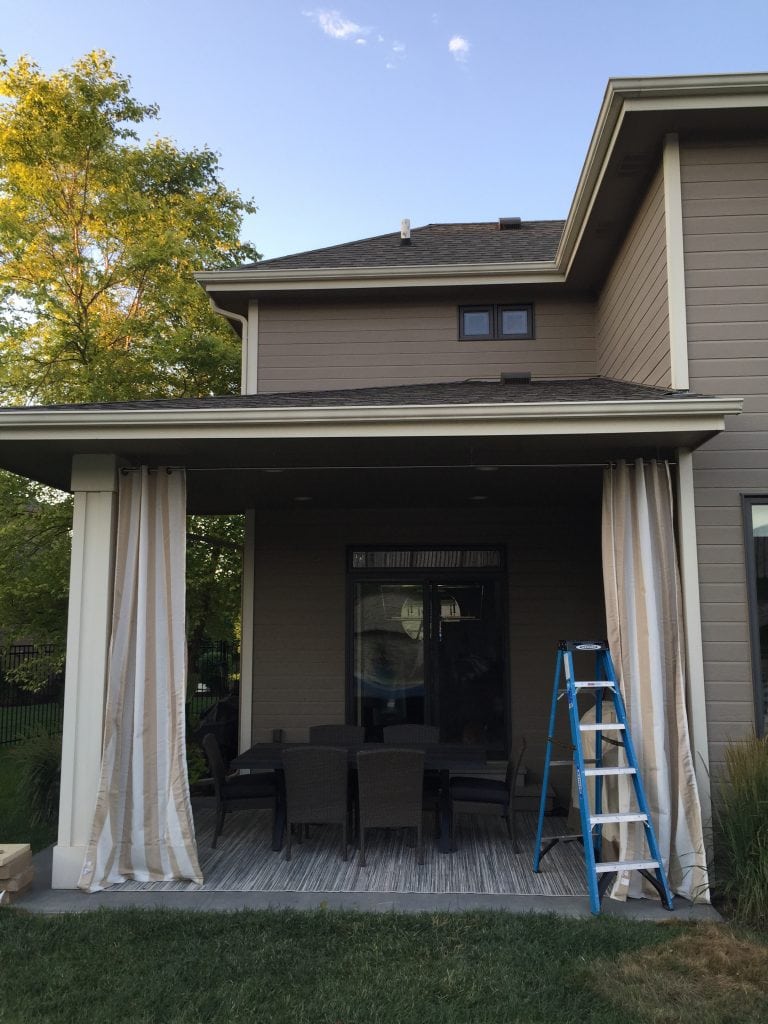 A view from the other direction. This is after we were swimming last night so that water feature stone is wet (hence the reason we want to seal it so you don't see those water marks). I just love this look – even with wrinkled curtains!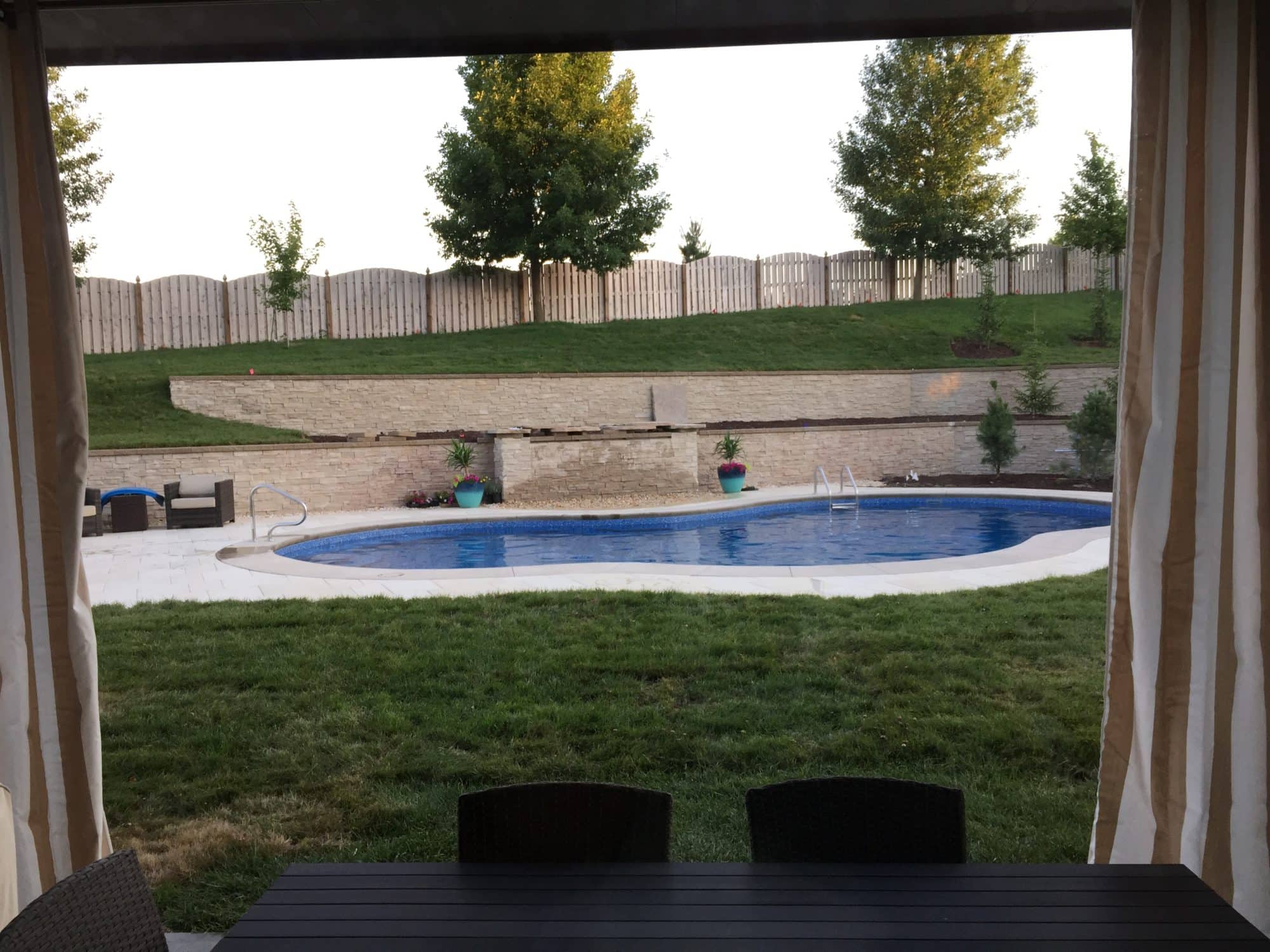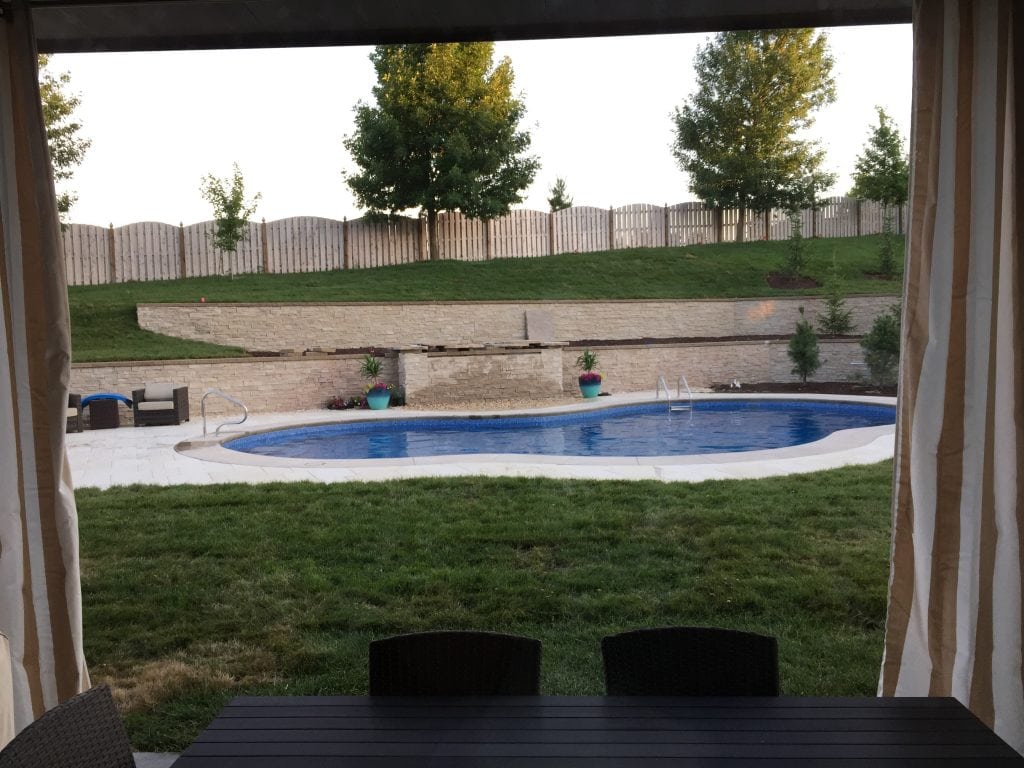 Justin is coming over Saturday to wrap up our pathway (and hopefully the water feature) so we are so close to being officially done! I'm actually doing my final reveal photo shoot this weekend and will be sharing within another three weeks. Everything is going to look so different than what you've seen so far – I'm so excited to share it all!
I have Part III of my summer home tour up next, so be sure to check it out. I've also included a few more shots of the covered patio updates. Have a great weekend!
If you would like to follow along on more of my home decor, DIY, lifestyle, travel and other posts, I'd love to have you follow me on any of the following:
Pinterest / Instagram / Facebook / Twitter / Bloglovin' / Google
disclosure: some affiliate links used in this post.