Wow – what a week! It was originally forecast that we would have rain and thunderstorms all week, so we were pretty sure nothing would progress on our project. But luckily, we ended up with late night storms and fairly beautiful days in between, so things were still accomplished!
So, I heard you all loud and clear that you don't want the pool updates to stop! I didn't know if they were becoming obnoxious at this point and if it would be more fun to wait until the official reveal before I shared more updates, but it sounds like a lot of you really enjoy the progress, so I'll plan to continue. I really appreciate the feedback you gave!
If you're new around here or have missed my other progress reports, you can get up to speed here:
A Pool + Backyard Update | Progress: Week 1 | Week 2 | Week 3 | Week 4 | Week 5 | Week 6 | Week 7 | Week 8 |Week 9 | Week 10 | Week 11 | Week 12
I mentioned in the weekend recap that we ended up ordering eleven trees and five buckthorns on our trip to the nursery with our designer Justin. They're all supposed to be planted today, which for me, is practically the equivalent of winning the lottery. The trees are going to totally change the look and feel of the backyard (even though the trees are small) so I'm anxiously awaiting their arrival!
In other exciting news, our fence posts went in on Wednesday! Another huge step towards getting water in the pool. I know some people hate fences, but I'm actually a fence lover. There's something comforting about the walls and the boundaries #imreallyweird. We have a 60″ gate on our driveway side, and a 42″ gate on our landscaping side that will be installed. The fence panels will go up as soon as the gates have been fabricated (which should be about 12 business days). Then the liner can go in the pool and water can be added!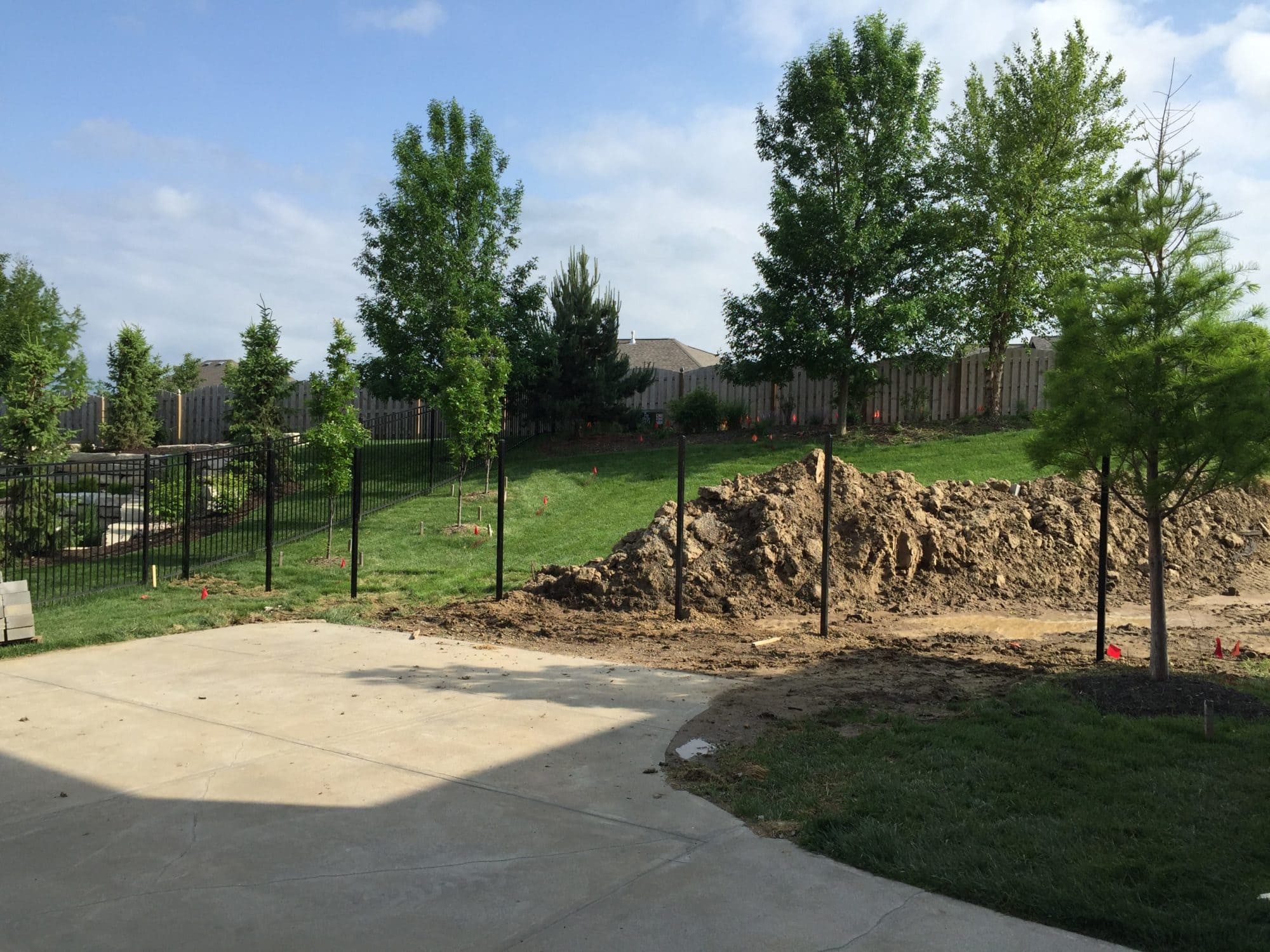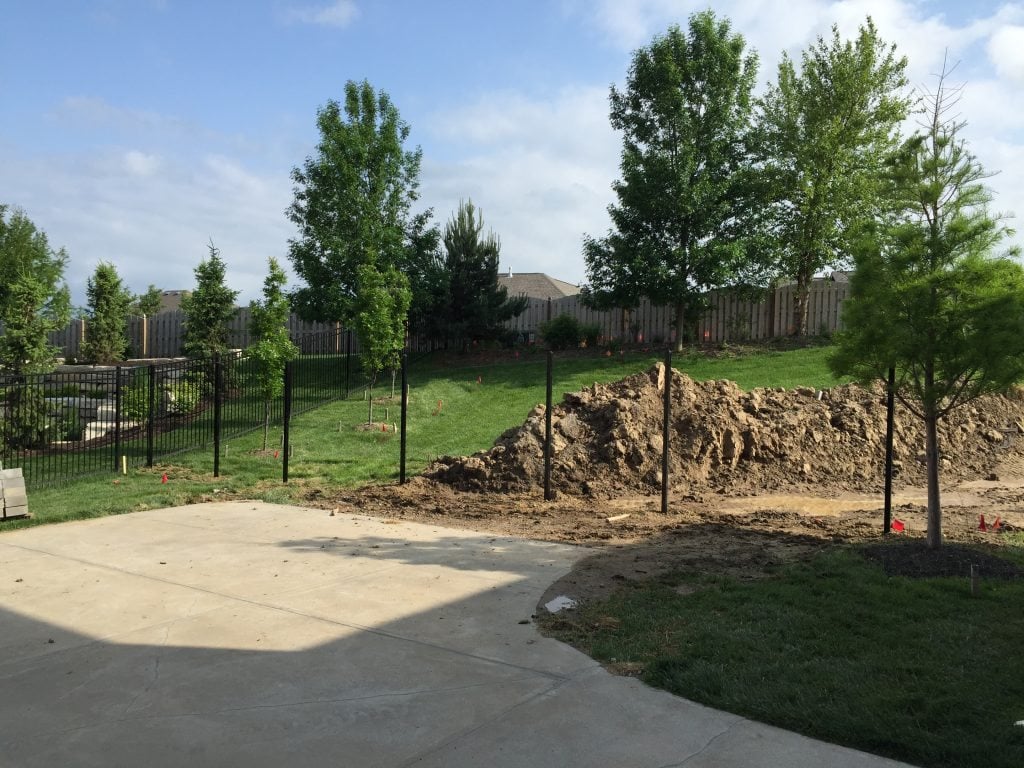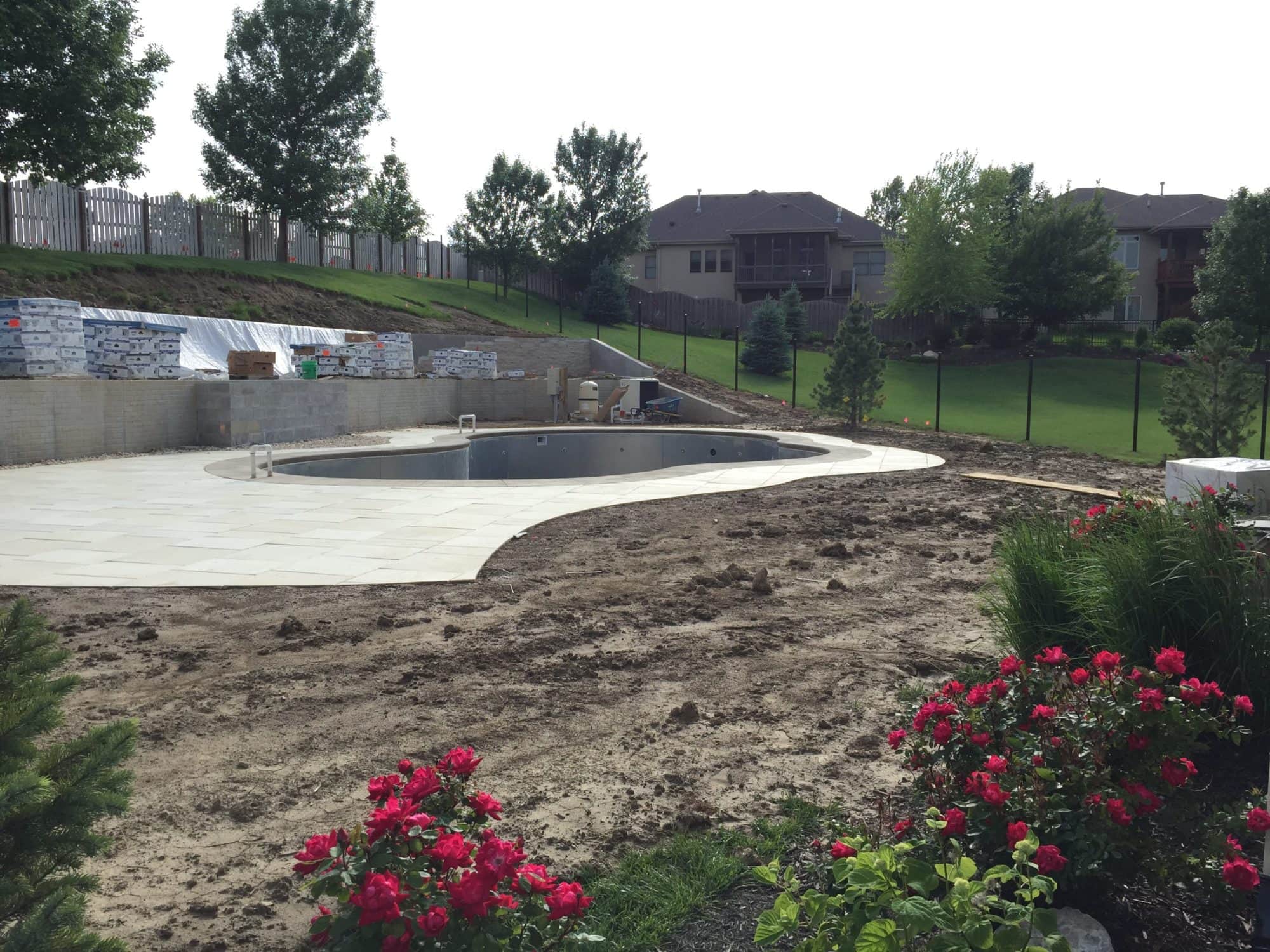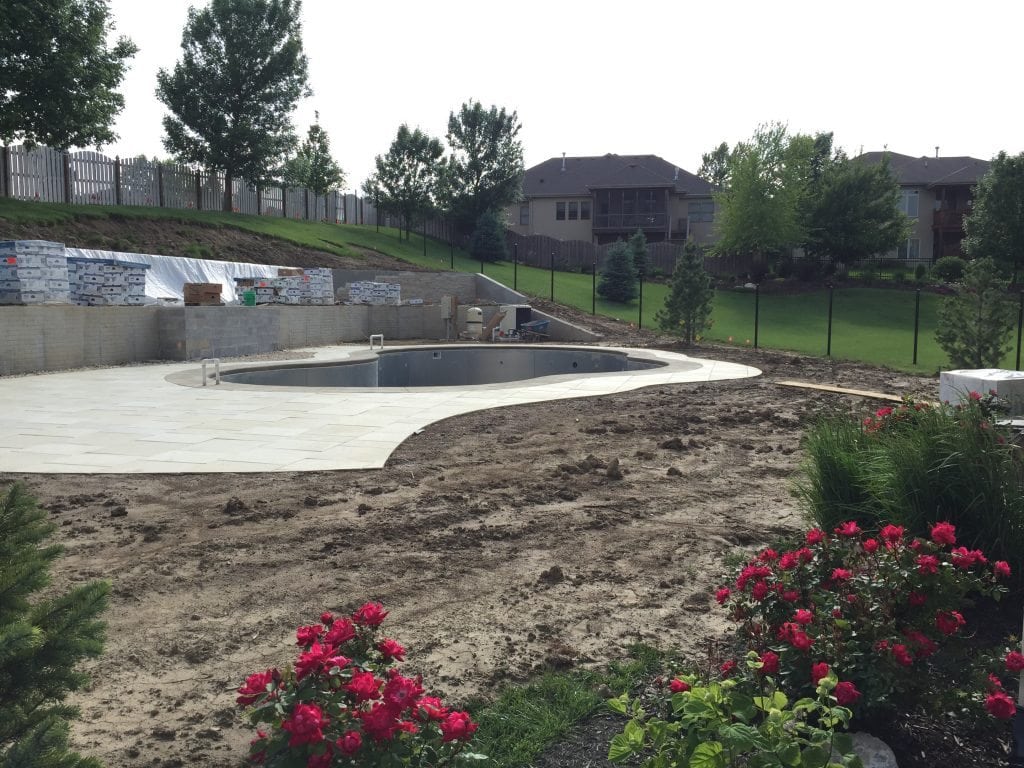 As you can see, our patio is FINISHED and a lot more grading got completed (although some of it already washed with all the nighttime rain we've received). But, another HUGE step is that the stone veneers have started going up on our retaining wall. I can't believe how much I love this update! I was actually used to staring at the concrete walls, so it is really exciting to see the pretty finish!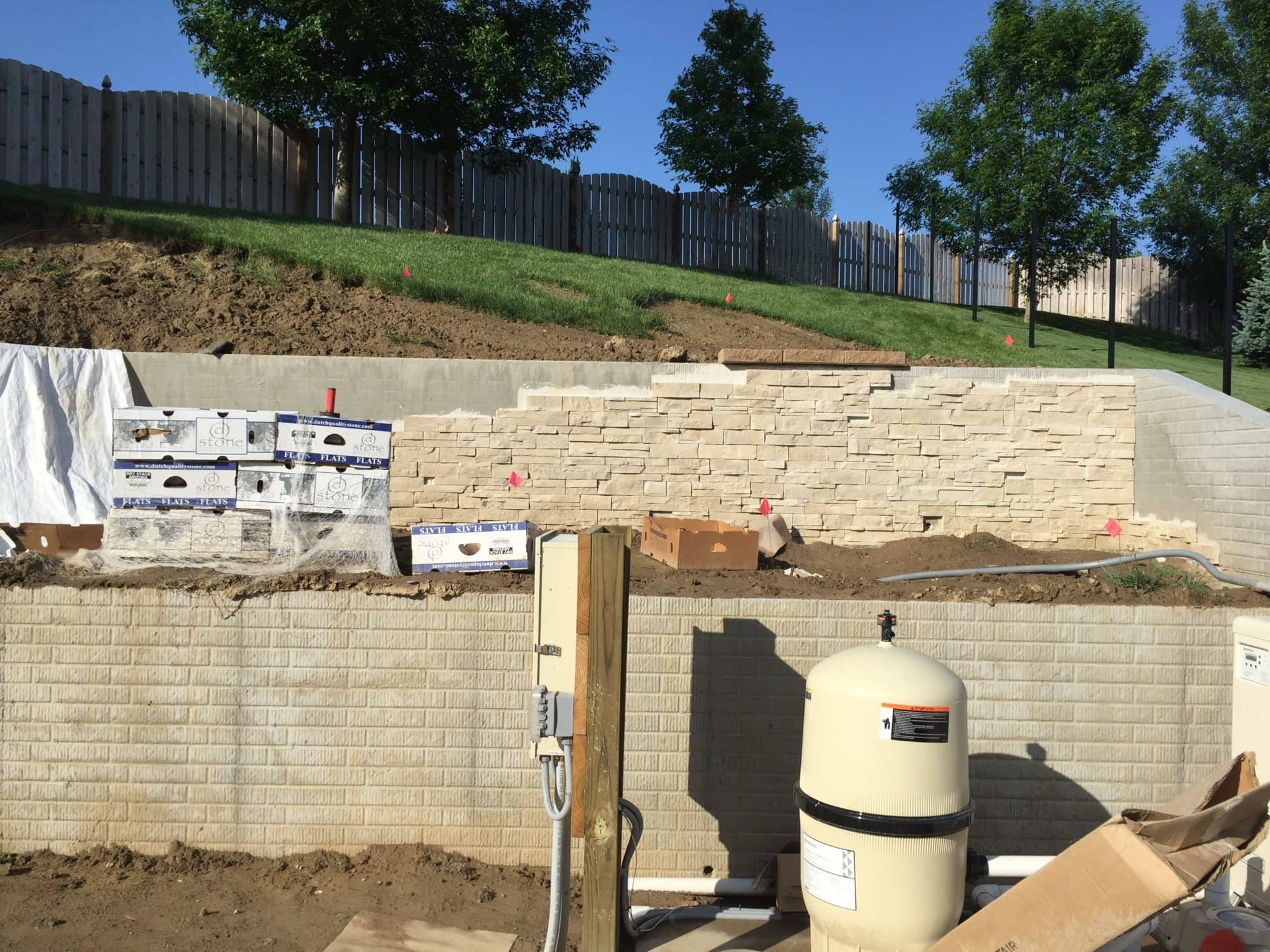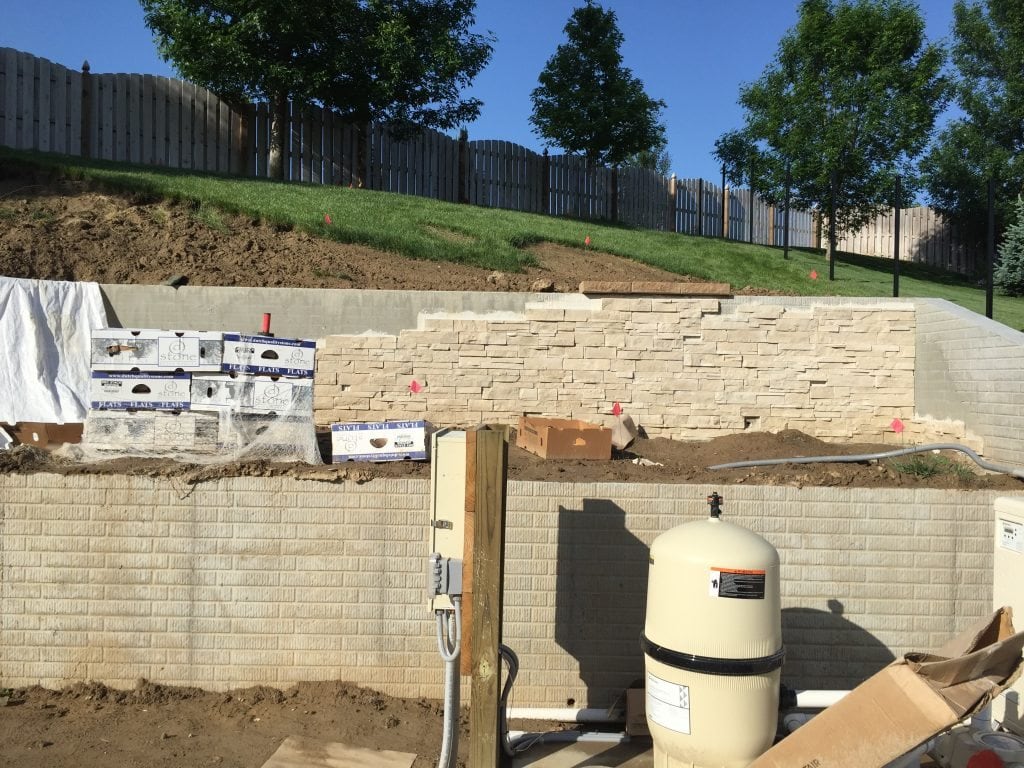 Lastly, our water feature wall has been built! It's now so much easier to see where our three three-foot wide falls will drop from….AND the stones they fall into (along with the drainage system) are all in place. I've used so many capitalized words and exclamation points I'm sure you can sense my excitement with this progress!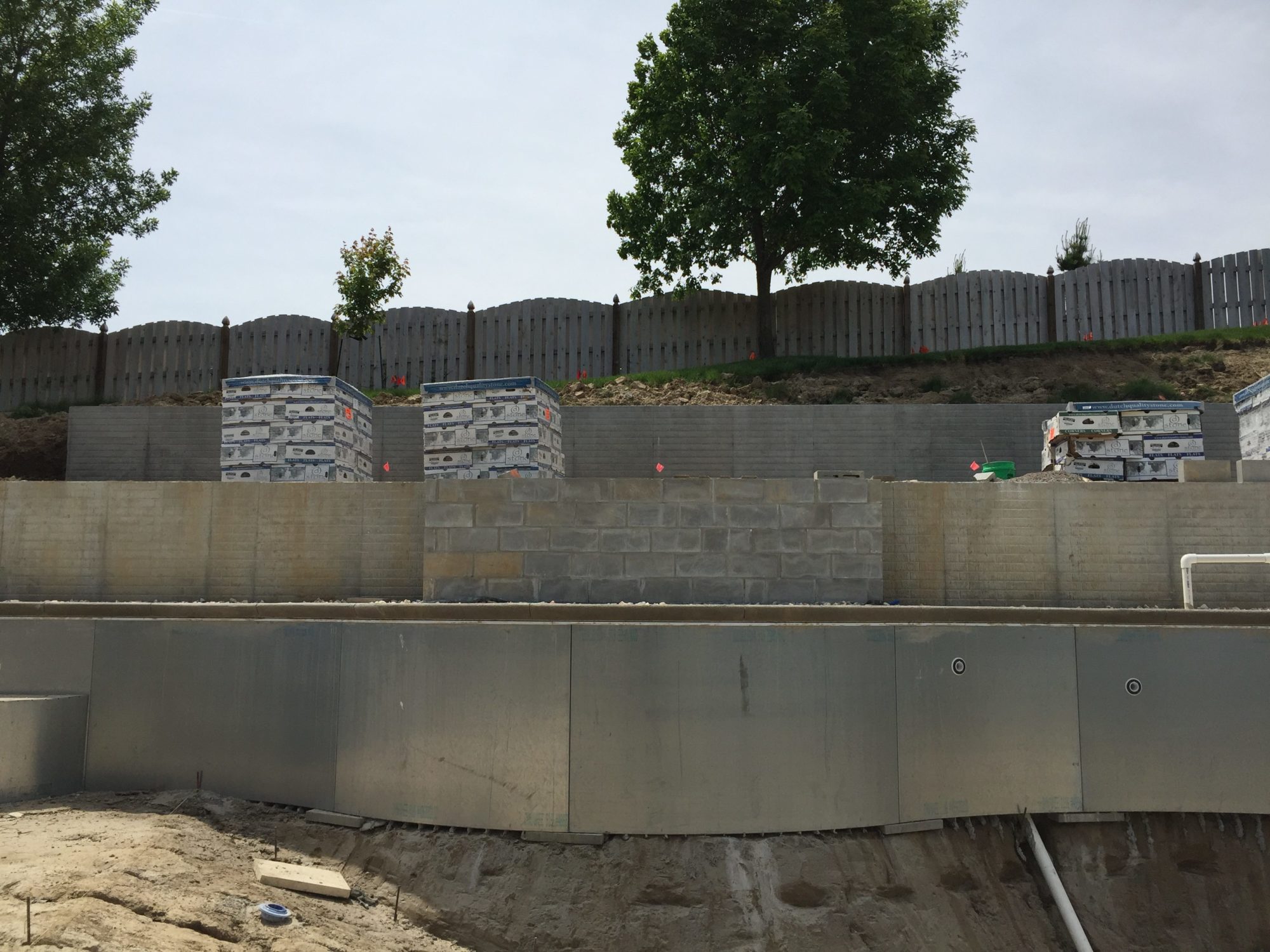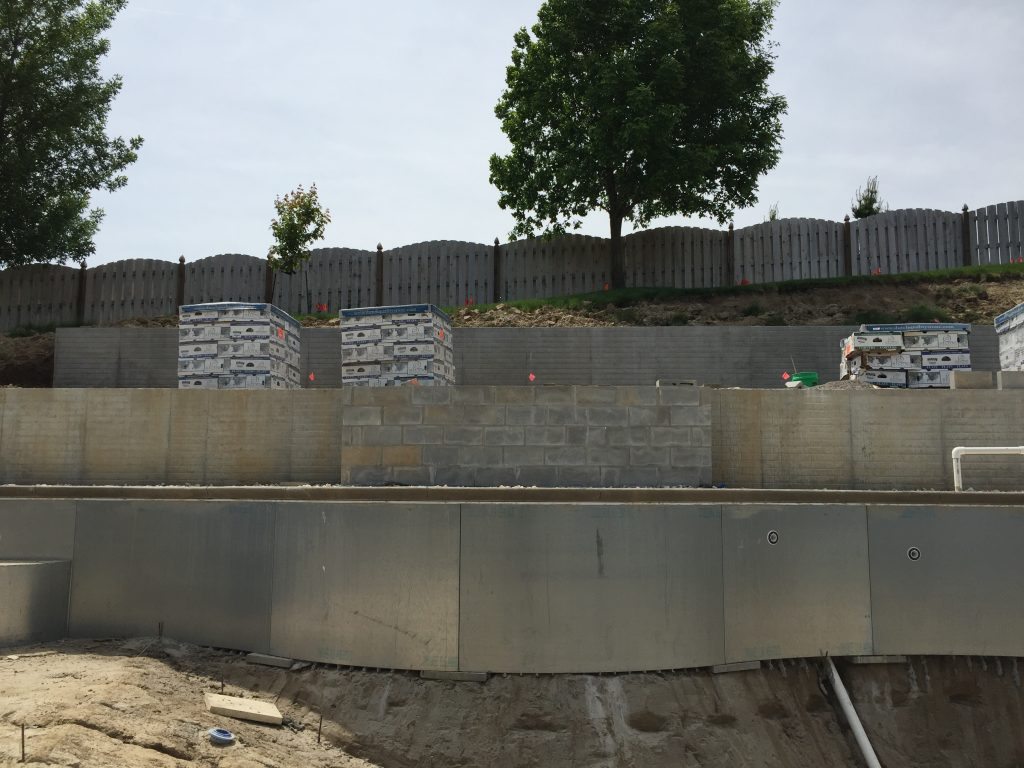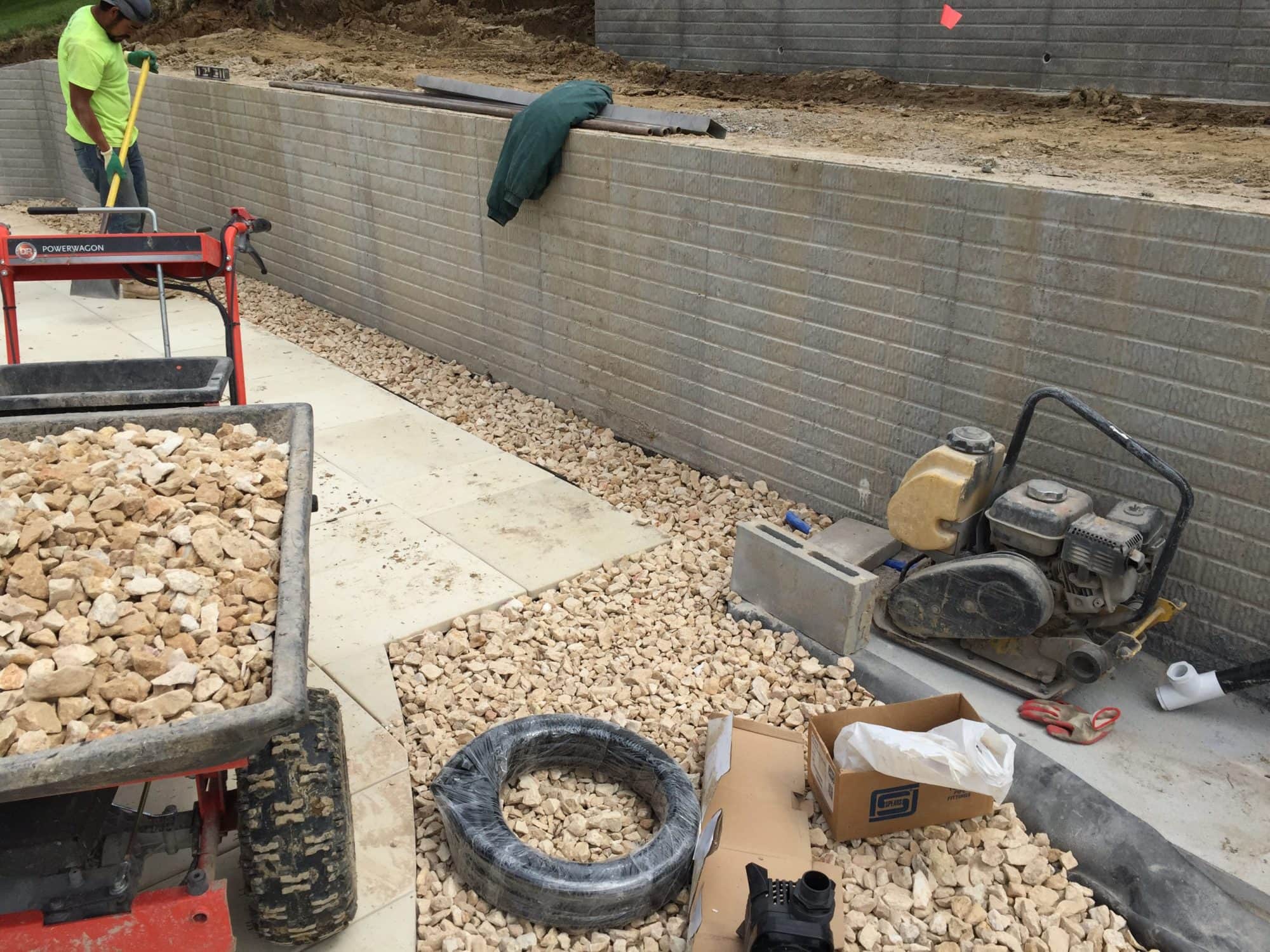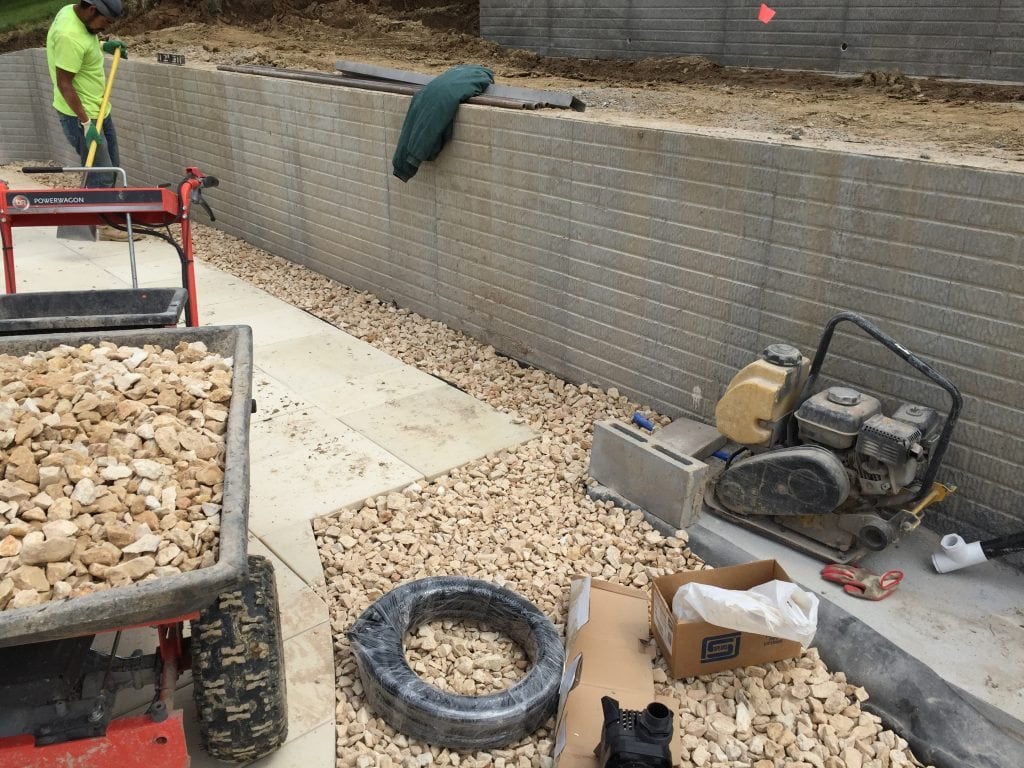 We also played around with the placement of our 2×2′ paver pieces that will be the pathway from our covered patio to the pool.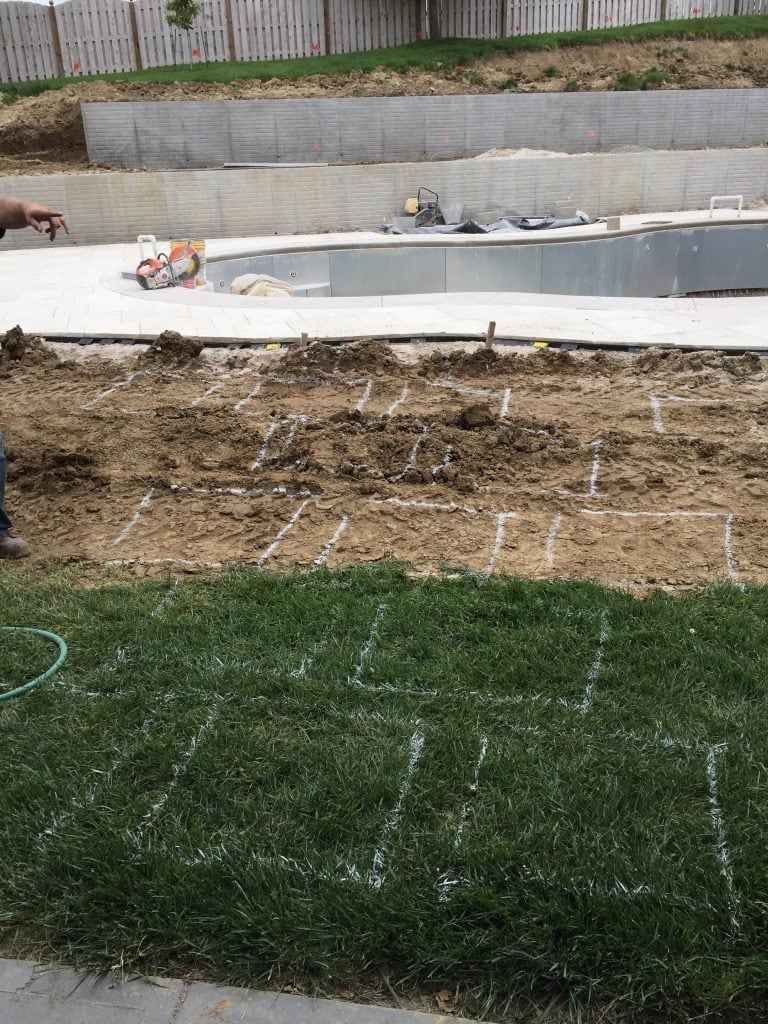 I ended up making a last minute change on our chaise lounges. The chair I originally wanted was temporarily out of stock, and a new one I love even more (although slightly more expensive) hit my radar. So, we are now ordering four of these Serta Outdoor Chaise Lounges. I love the angular shape of the cushions, versus the rounded top on the one I had originally selected. I think it will be a great move!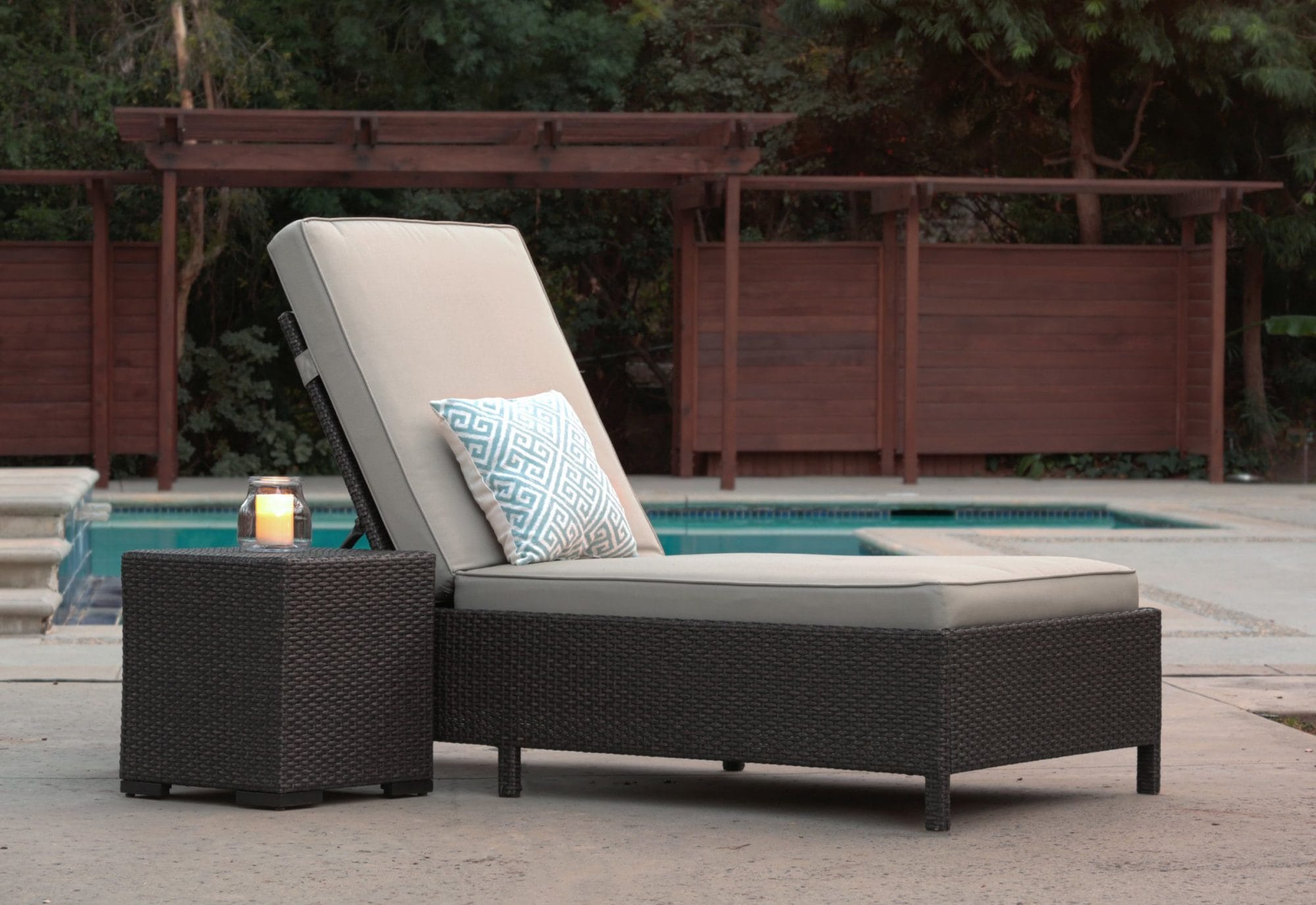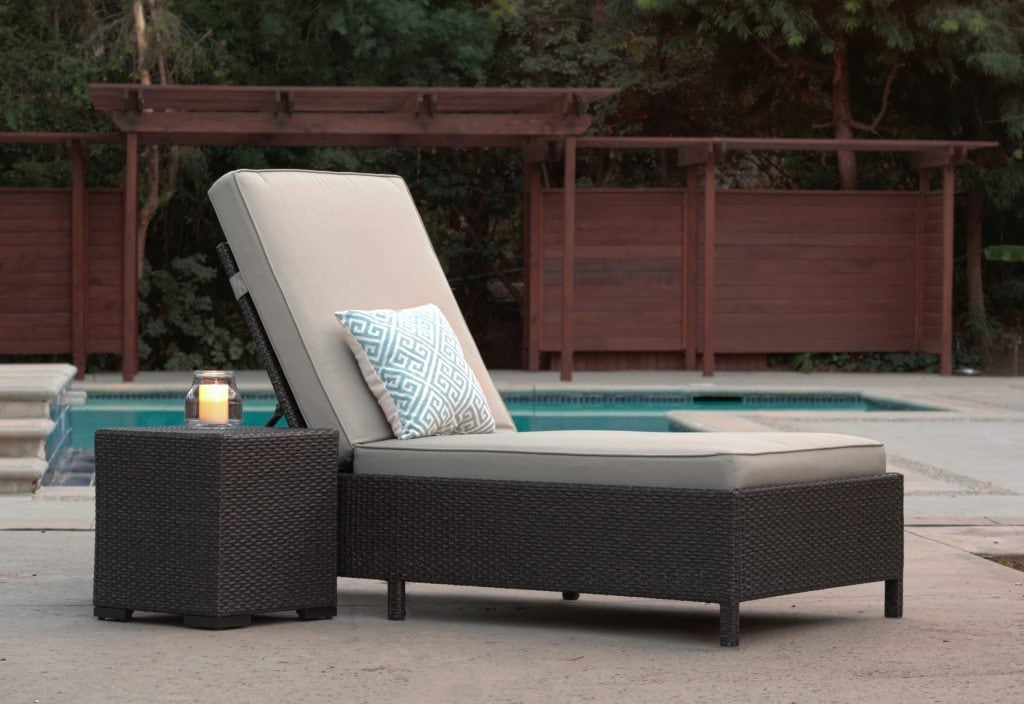 Next week, the Phoenix Pool crew will be back (weather permitting) to starting fixing the water-washed grade in the pool and getting the concrete poured. Hopefully the following week will include the liner so we can start filling this bad boy up with water! Have a wonderful holiday weekend friends!
If you would like to follow along on more of my home decor, DIY, lifestyle, travel and other posts, I'd love to have you follow me on any of the following:
Pinterest / Instagram / Facebook / Twitter / Bloglovin' / Google
disclosure: some affiliate links used