As spring and summer approach I decided now was the time for a courtyard refresh!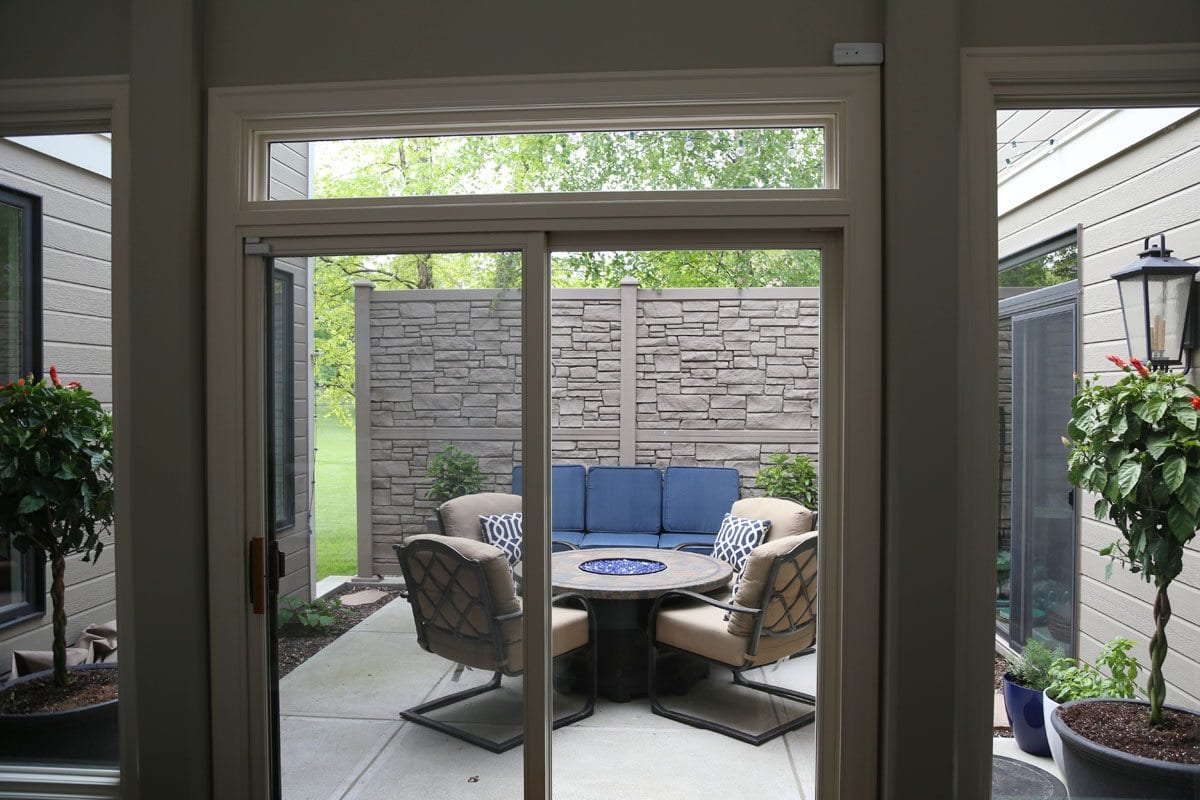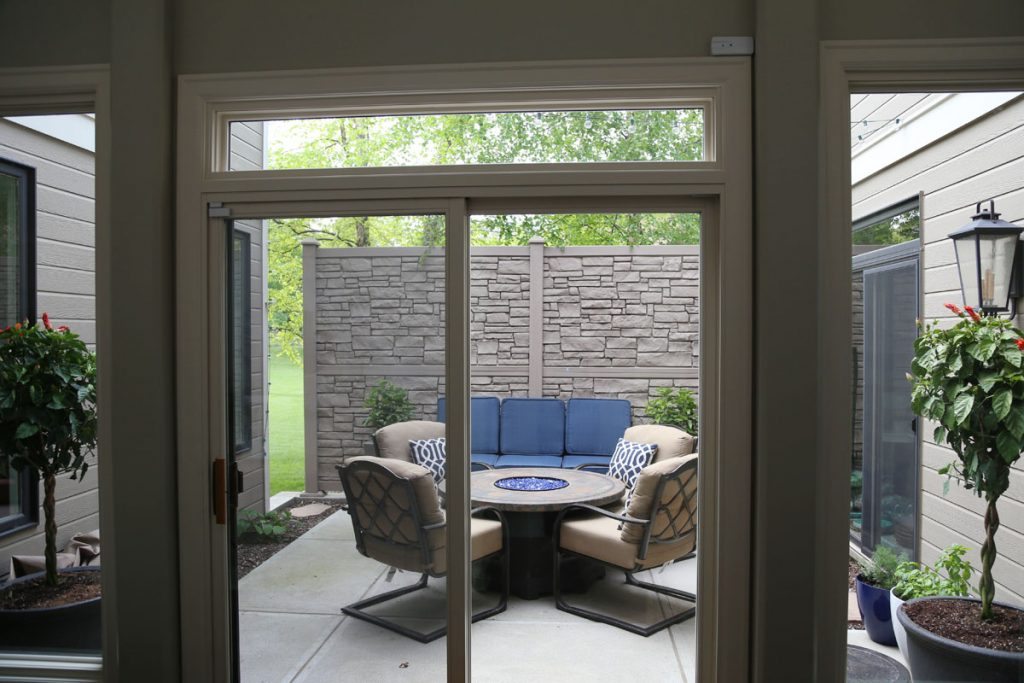 This is a sponsored post written by me on behalf of At Home. All opinions are 100% mine.
Our courtyard is one of our favorite 'rooms' in our home. We love this private little nook off the side of our entryway and when the weather is nice, it's a perfect little outdoor retreat.
Over the weekend, I spent an hour or two refreshing our courtyard. There was some spring cleaning that needed to occur, including blowing out leaves, brushing off chair cushions, planting new blooming annuals, etc. I also made a few 'pretty' updates that I'm really excited about.
Outdoor Couch
Last year, we moved our DIY Outdoor Couch into the courtyard, as well, and the cushions had seen better days. We were never great about bringing them in when storms approached, and the multi-color striped fabric was never may favorite (perhaps another reason I 'accidentally' left them outside at all times). They were desperately in need of being replaced.
I headed to At Home for new cushions, because when I was there for my herb garden planters, I remember seeing rows and rows of the eye catching cushions at reasonable prices. The color and design selections are insane. Below you can see seven solid rows of patio cushions (and there were at least four more not in view).  All the patterns came in a variety of sizes, which I loved, and made it easy for me to find a bunch that would fit our couch.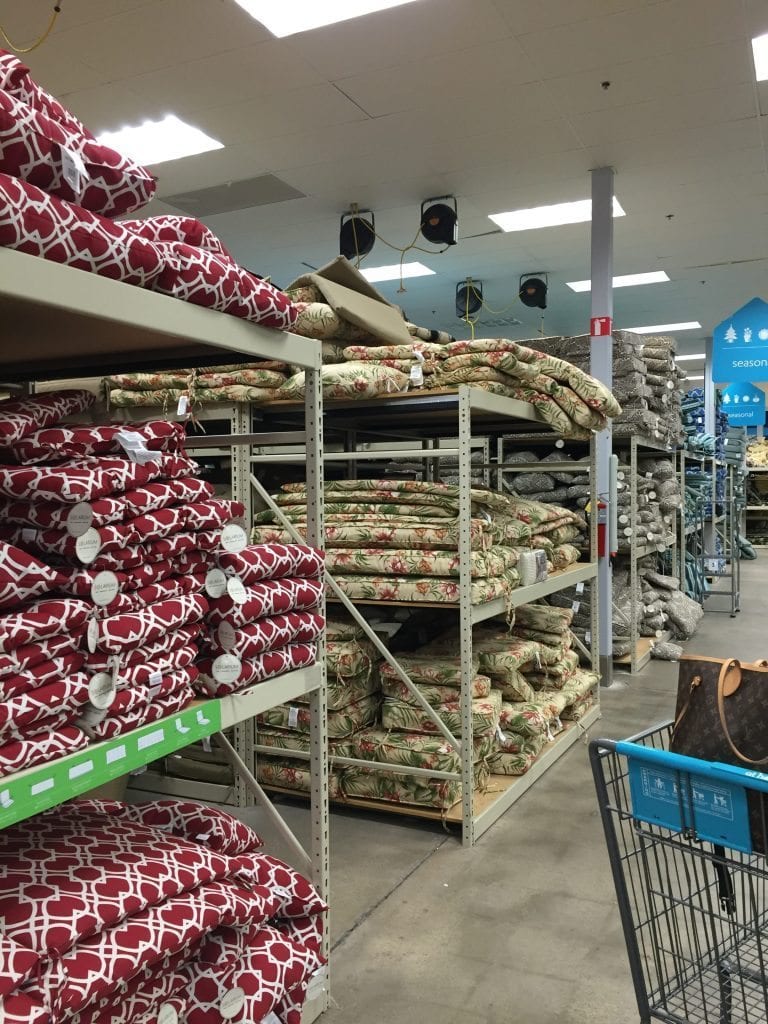 I was looking for a simple navy and found a great fit with this multi-tonal midnight blue cushion. It's slightly lighter than a true navy but I loved the bold cobalt mixed with the navy that from afar looks like a solid blue.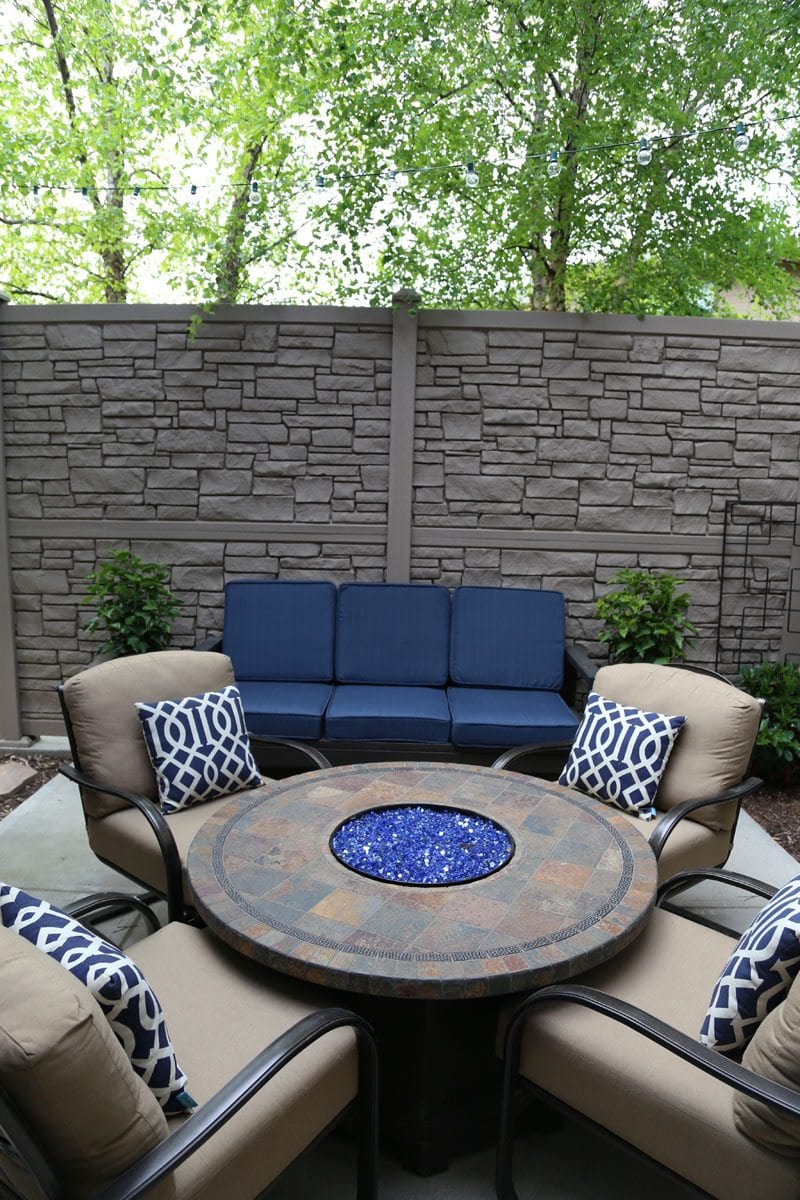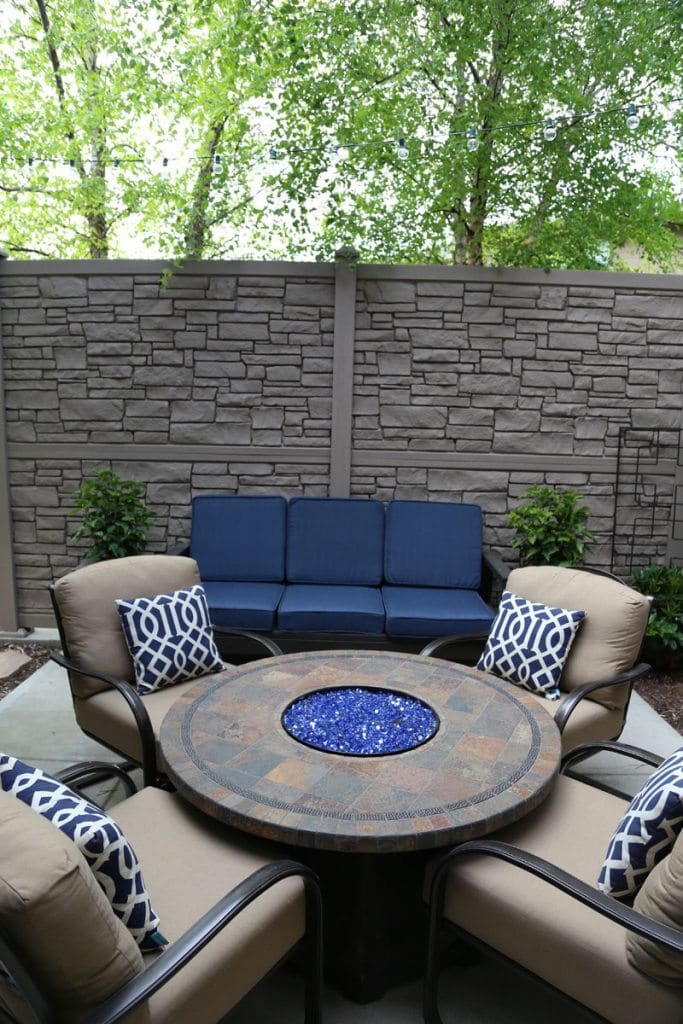 Our throw pillows are about six years old and also need to be replaced, but I thought they looked cute with the new blue cushions on the couch. You can see I also added some hibiscus topiaries to my big black planters. I love the height and color they add.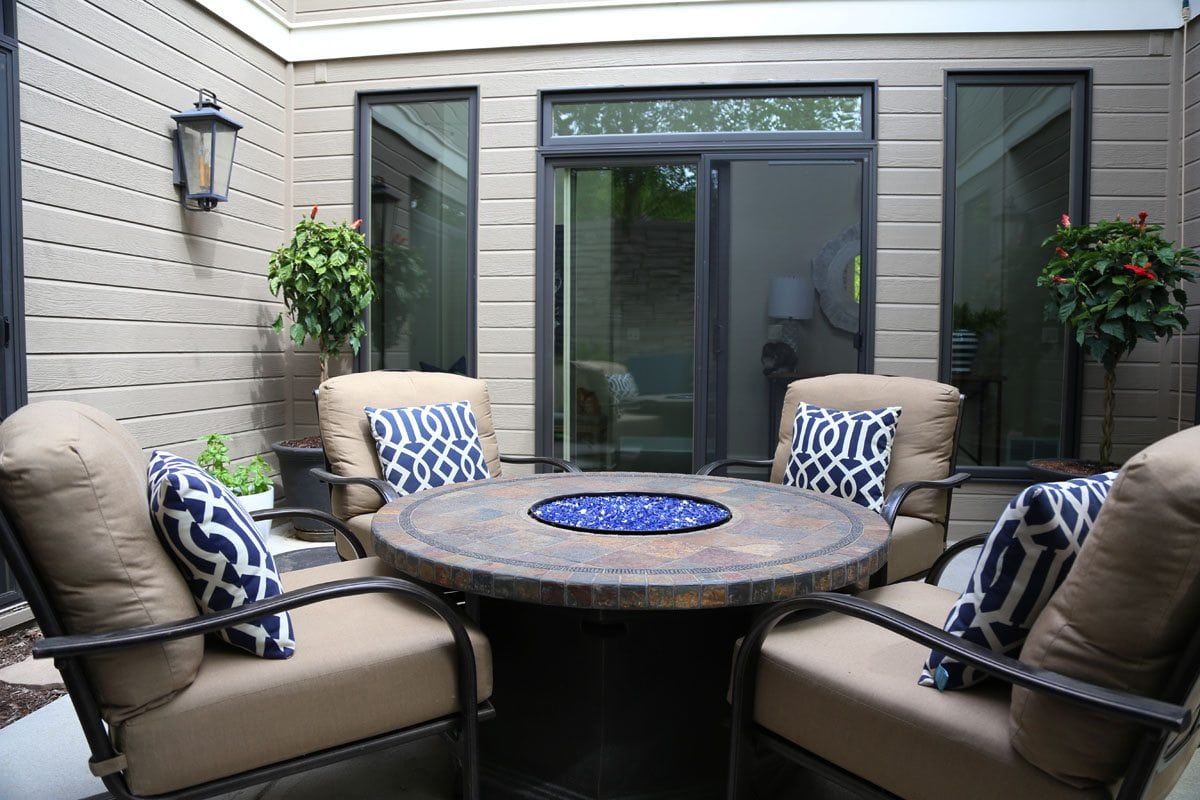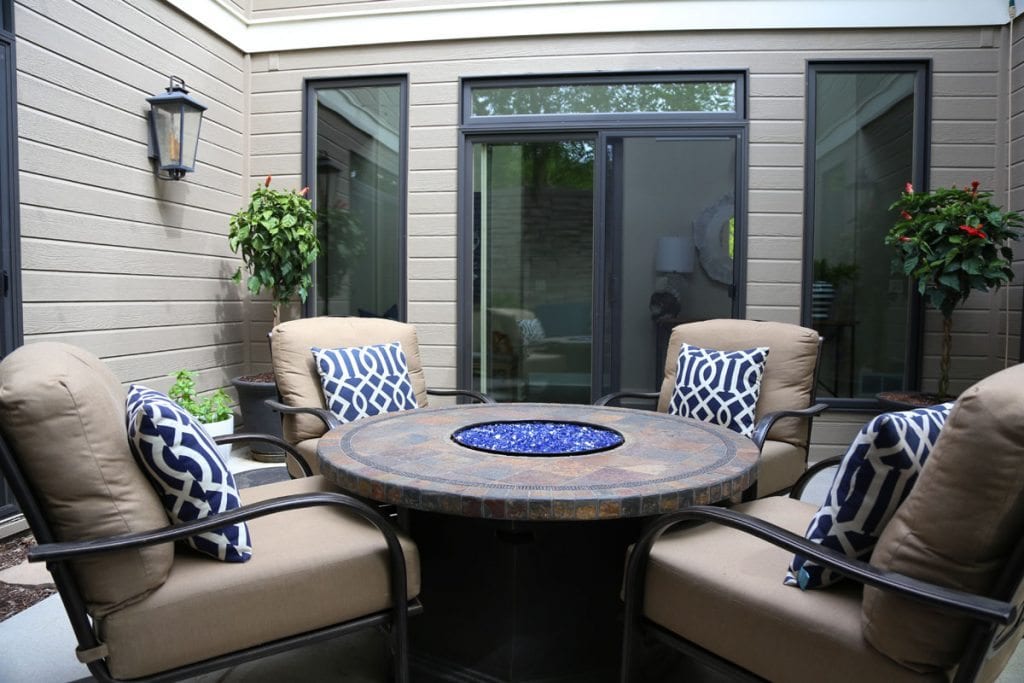 The hibiscus plants definitely add a pretty tropical vibe, and I can't wait for the smaller bushes around the outdoor sofa to bloom like the ones on the topiaries have started to do!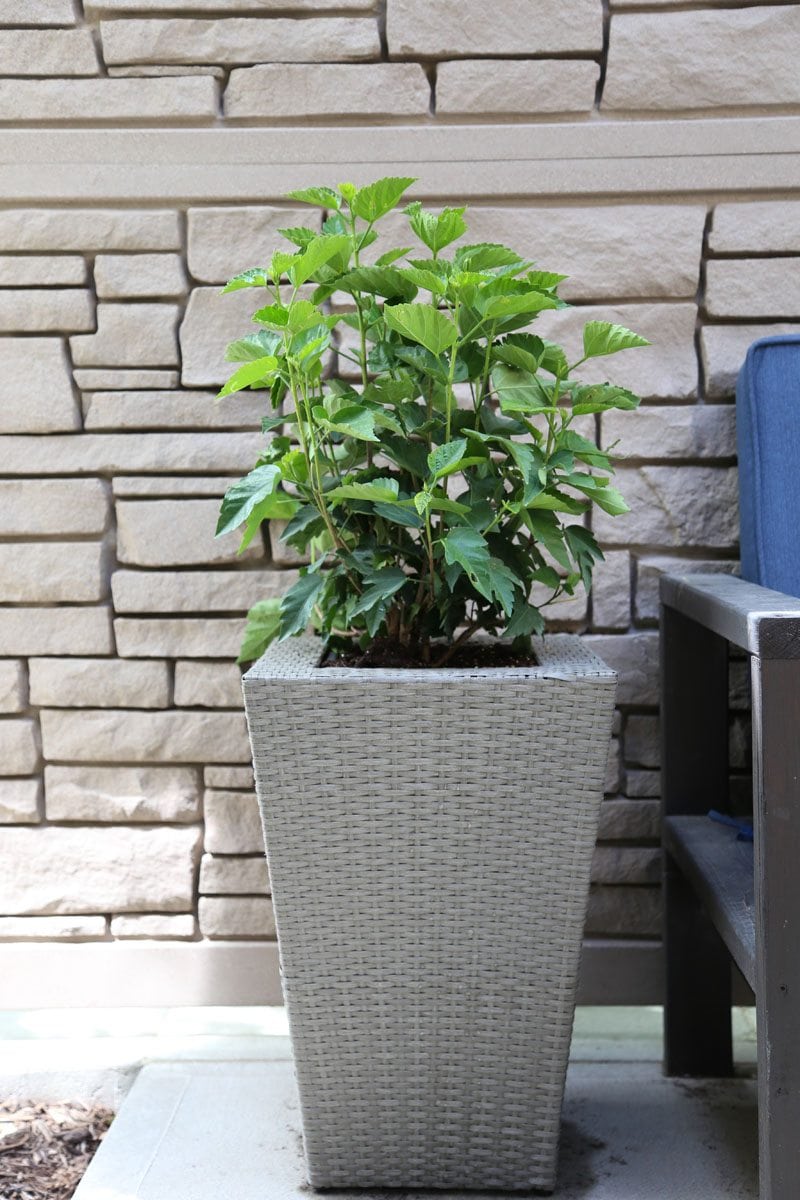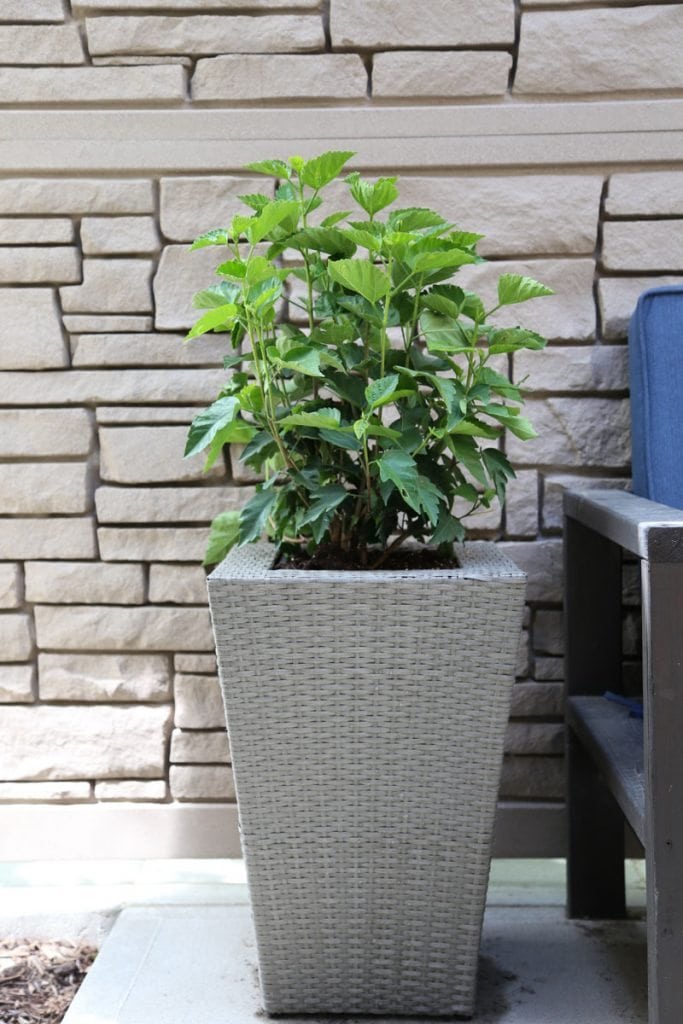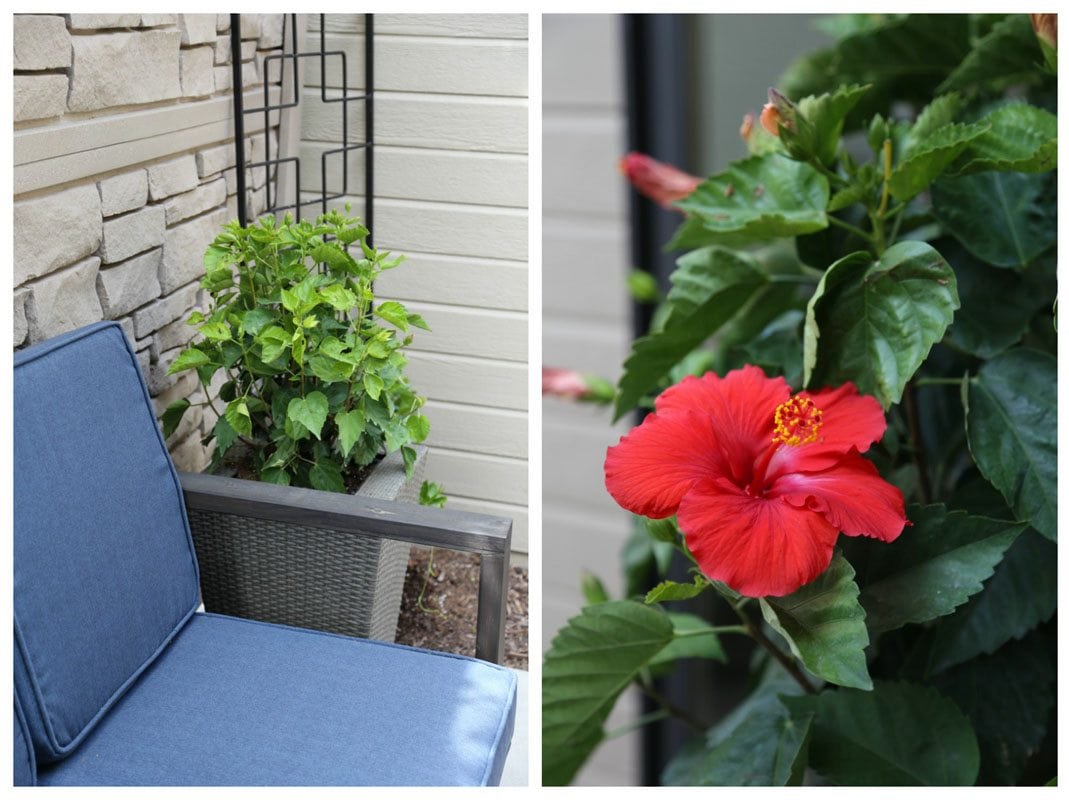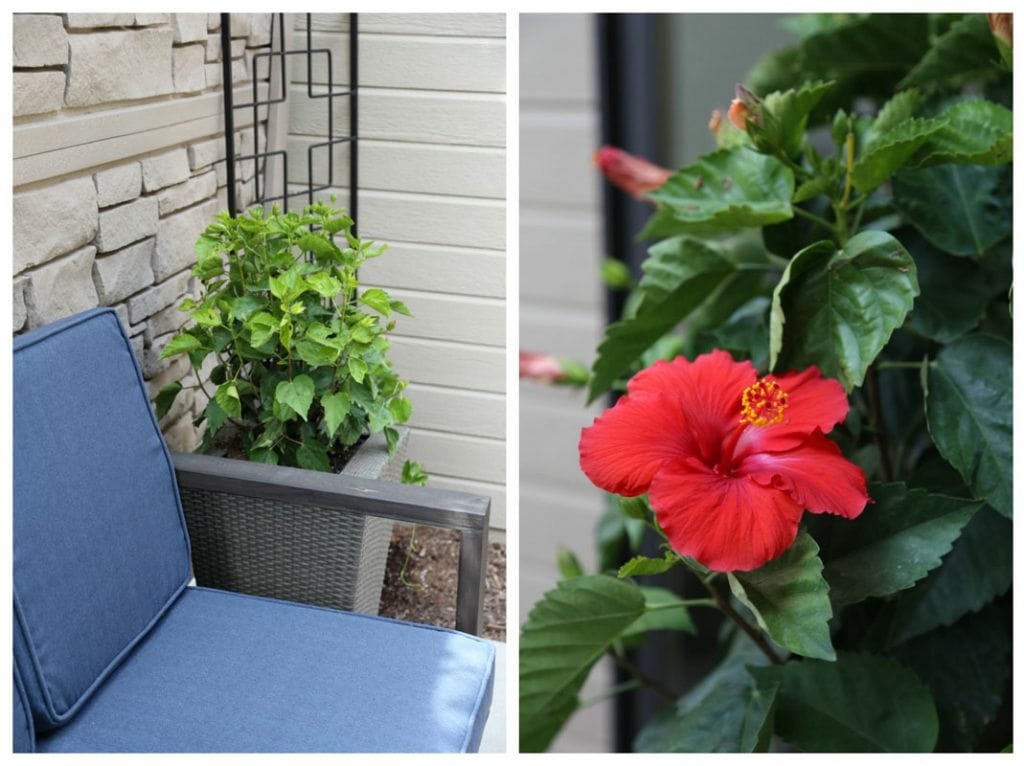 The blue cushions are such a great contrast to all the neutral in our charming courtyard. Between the color of our exterior walls and the fire pit set cushions, things were getting a bit too drab and colorless. The blue definitely adds some much-needed personality and looks so good with all the green plants and colorful flowers!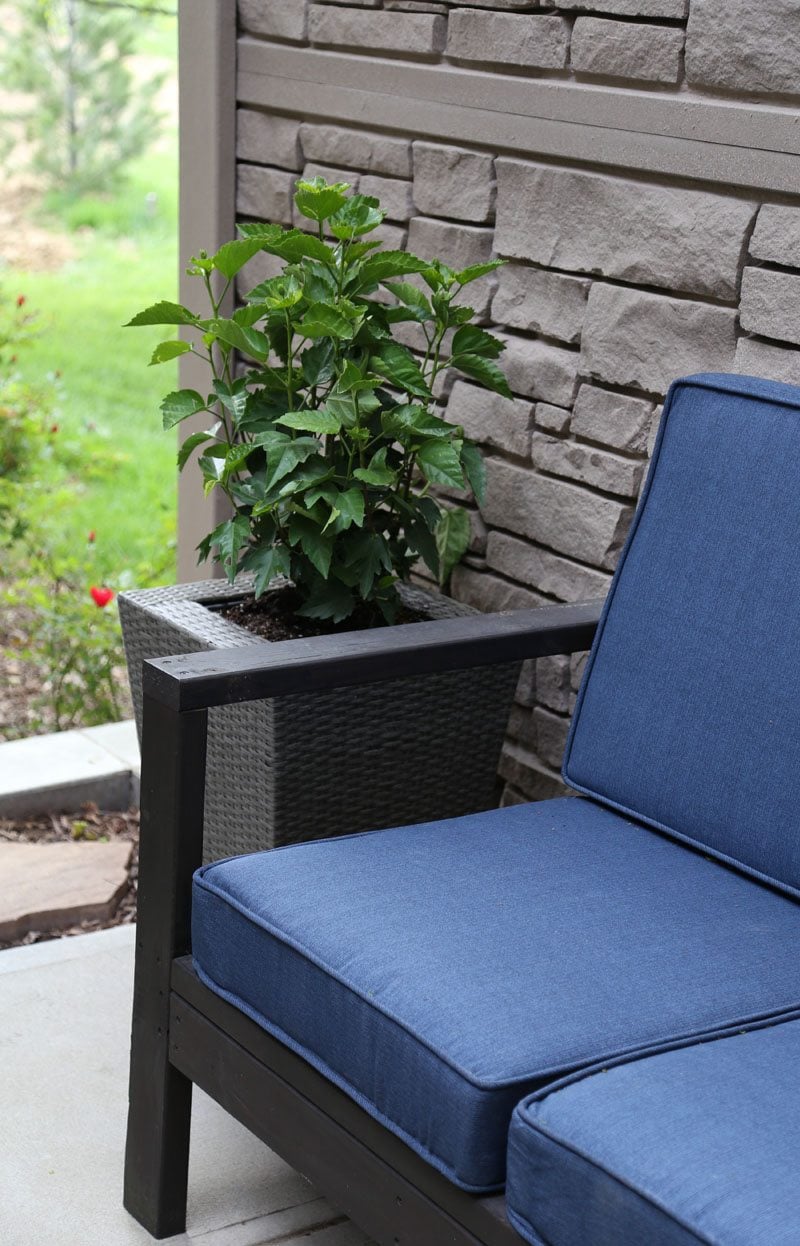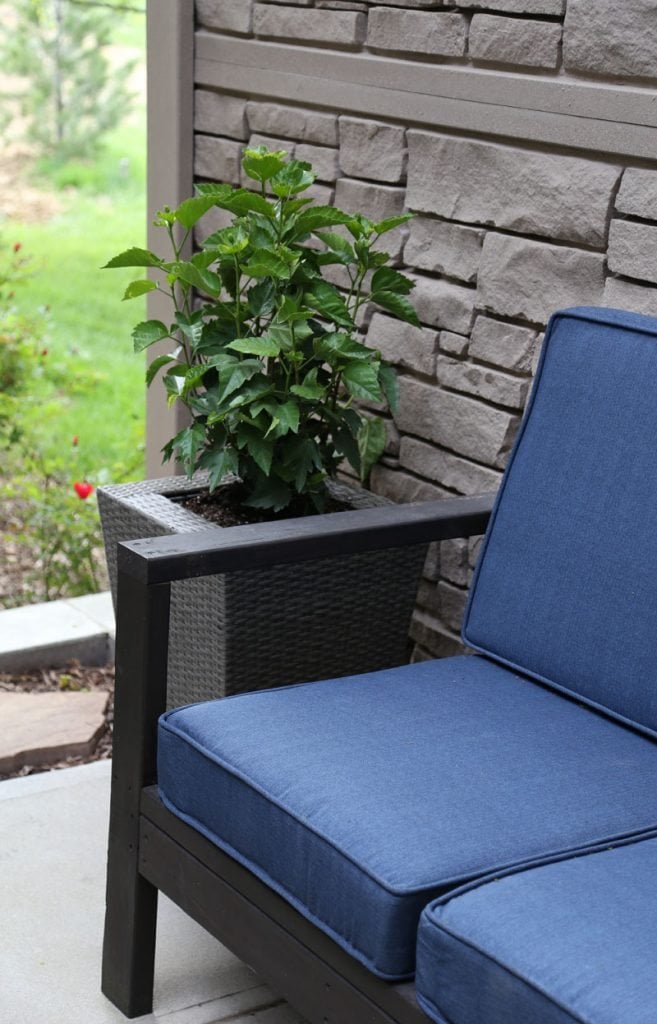 I absolutely love the woven texture on the two tall planters I got at At Home and filled with some beautiful hibiscus bushes. The driftwood-colored finish is perfection! I only wish our morning glories would bloom all summer, rather than just in the late spring. The purple is so pretty!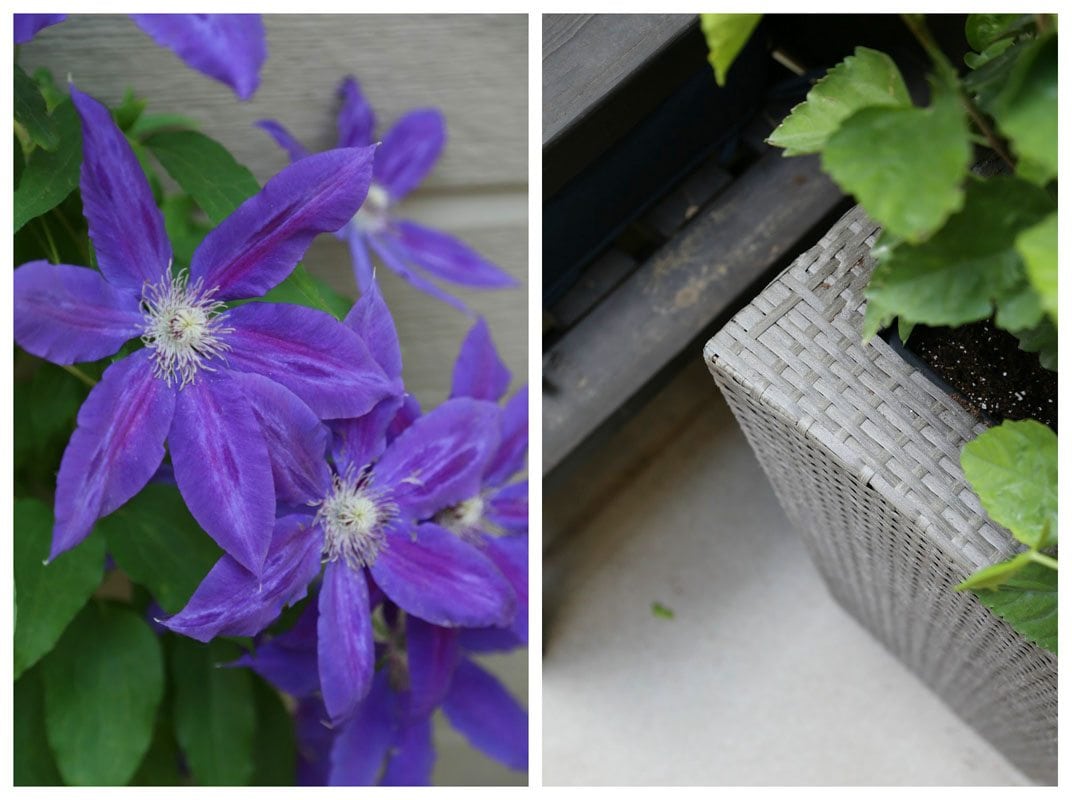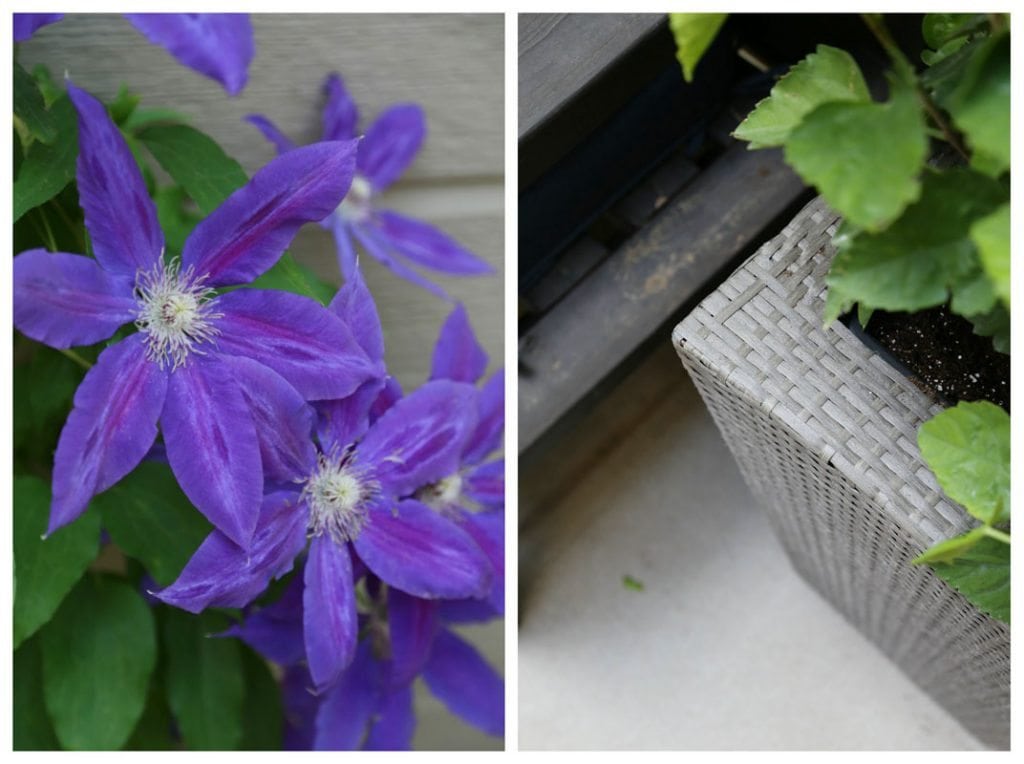 I'm definitely loving the view now a whole lot more when I walk in from the garage after work each night! If you look closely, you'll also see our herb garden planters in the mix. It's amazing what a few hours of work and a few new pieces can do to create some homespun charm. Bring on the warmer weather!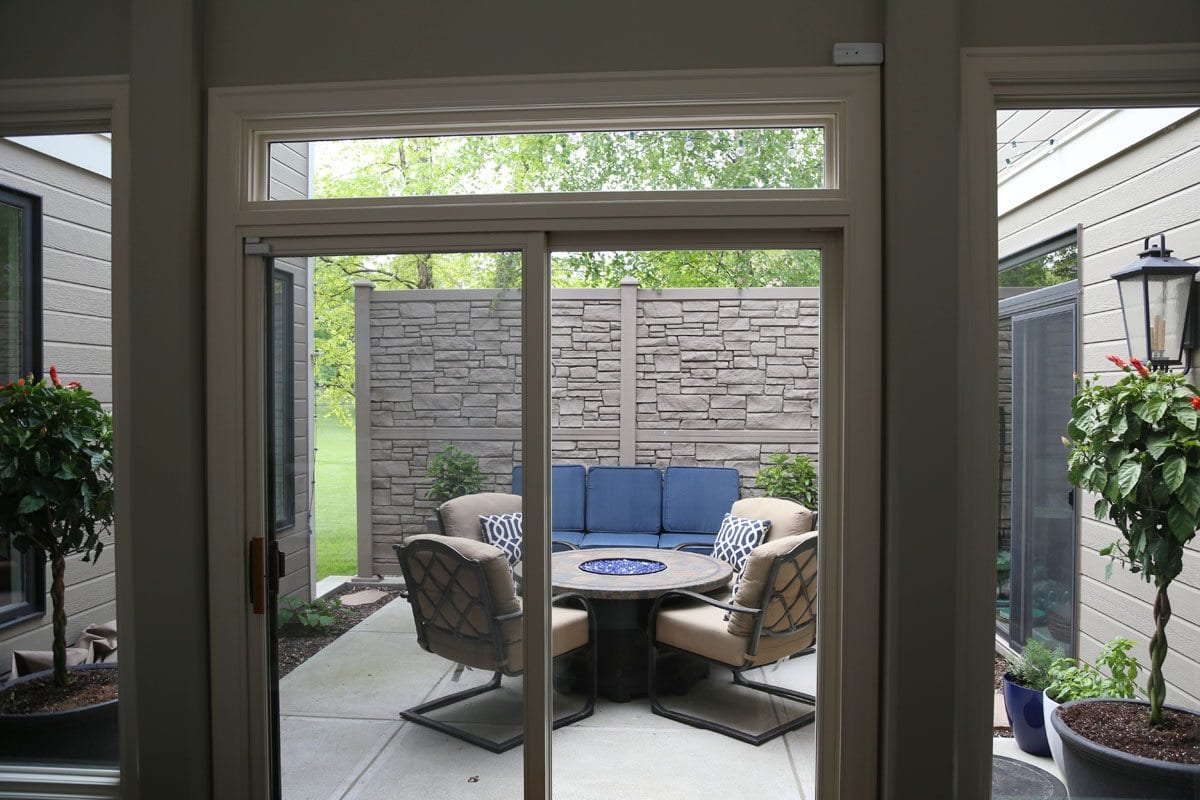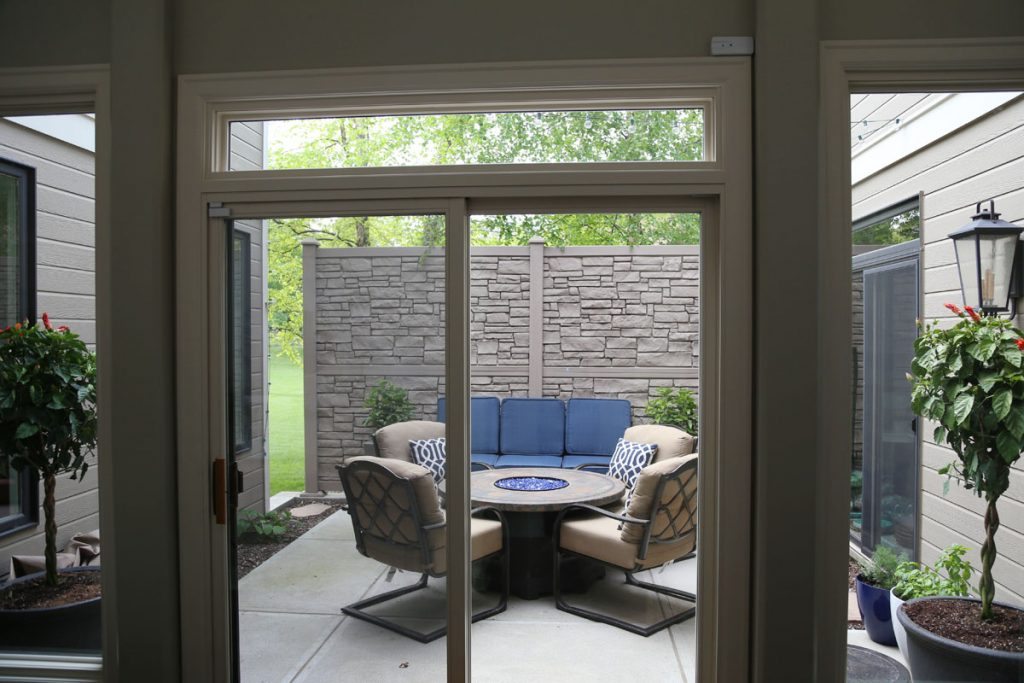 For more inspiration, be sure to check out At Home Patio, Outdoor Entertaining, and Outdoor Decor Collections.
If you would like to follow along on more of my home decor, DIY, lifestyle, travel and other posts, I'd love to have you follow me on any of the following:
Pinterest / Instagram / Facebook / Twitter / Bloglovin' / Google