I mentioned yesterday that Omaha had some crazy weather this week while I was in Houston. There was 12-18 inches of hail in some areas – so much that snow plows had to clear areas out. Crazy, right? We didn't get nearly that much hail at our house, but it rained significantly both Monday and later Tuesday night and into Wednesday morning. BUT, even with the weather, there was some significant progress on the pool deck this week (tarps are live savers)!
If you're new around here or have missed my other progress reports, you can get up to speed here:
A Pool + Backyard Update | Progress: Week 1 | Week 2 | Week 3 | Week 4 | Week 5 | Week 6 | Week 7 | Week 8 |Week 9 | Week 10
I came home Friday afternoon to a tarped yard. Since it rained over the weekend too, this was crucial to still allowing for work to be done late Monday morning.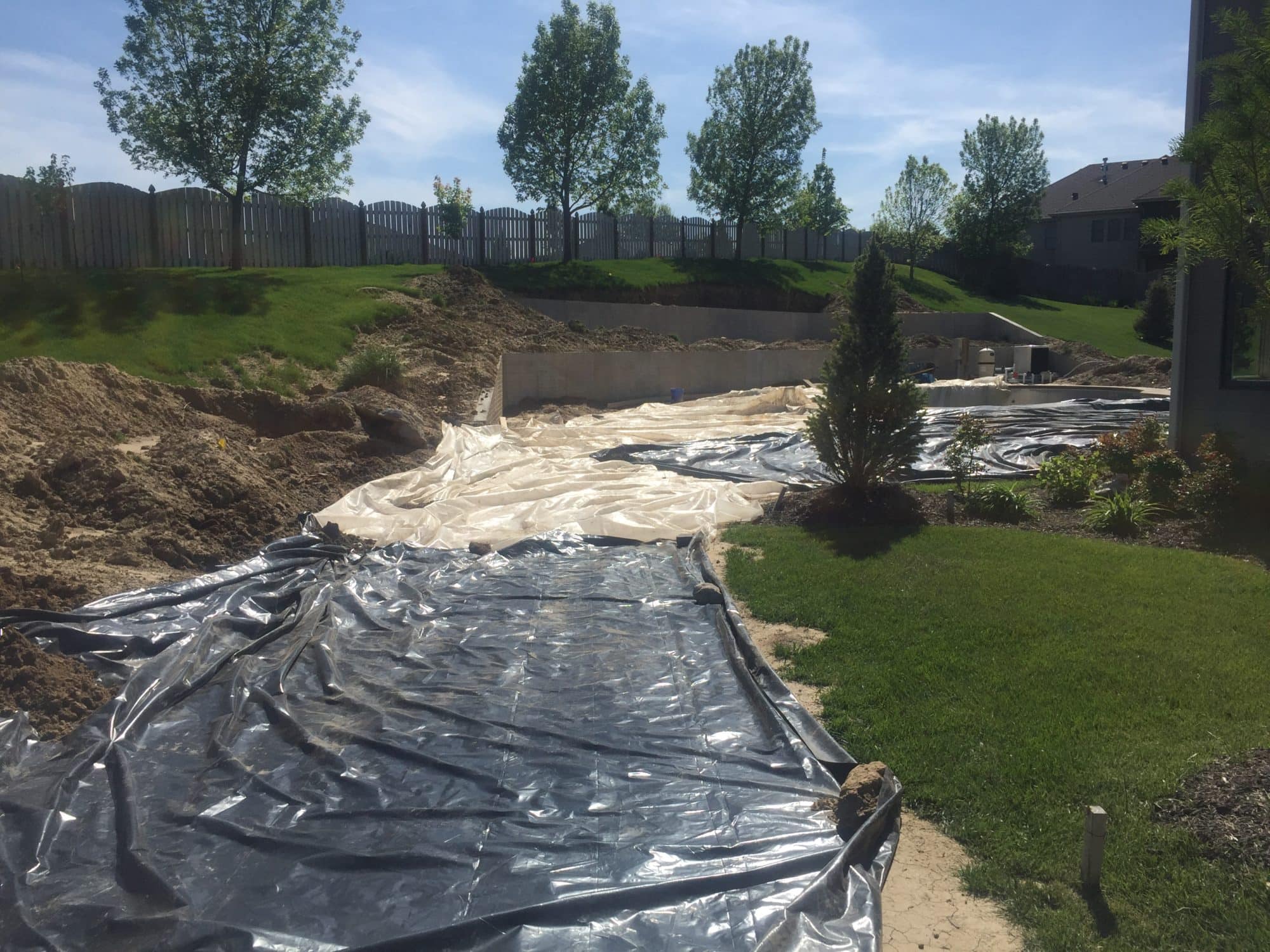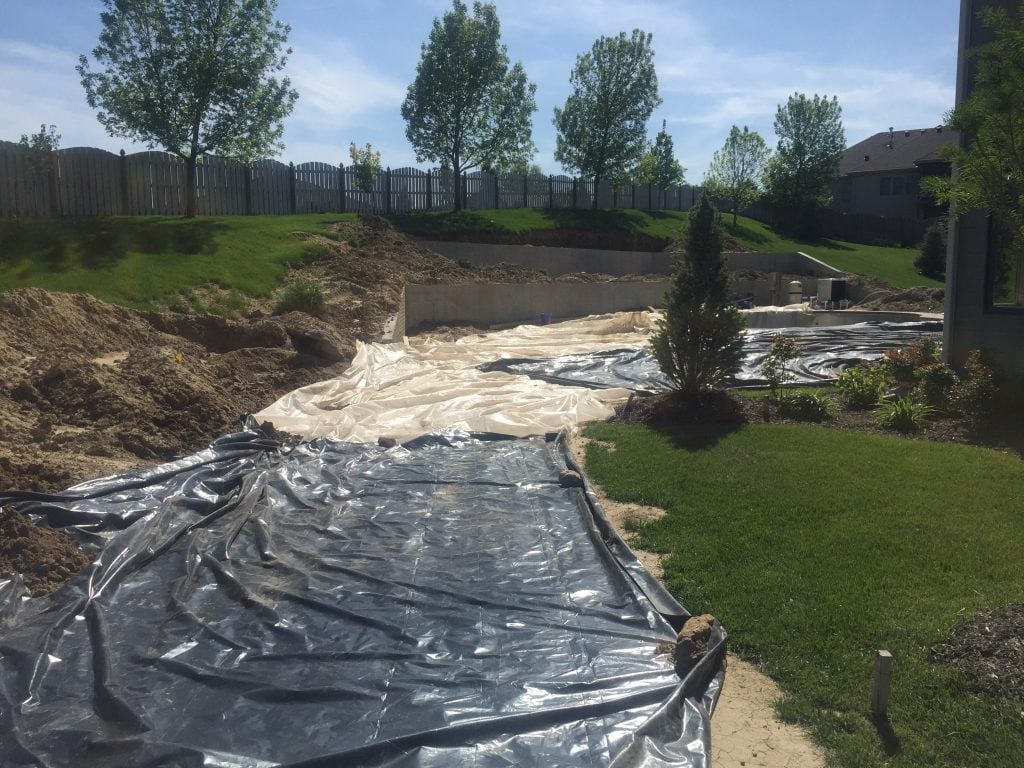 To give you an idea of just how much rain we got while I was gone, check out how full with water the pool is (you can see it on all the tarps as well). It was a complete mess. You can see a lot of mud washed down into the deep end too, so it's likely all going to be re-graded before the concrete comes in a few weeks. But, the good news is, you can also see they started changing the pitch on that back hill to make it quite a bit less steep.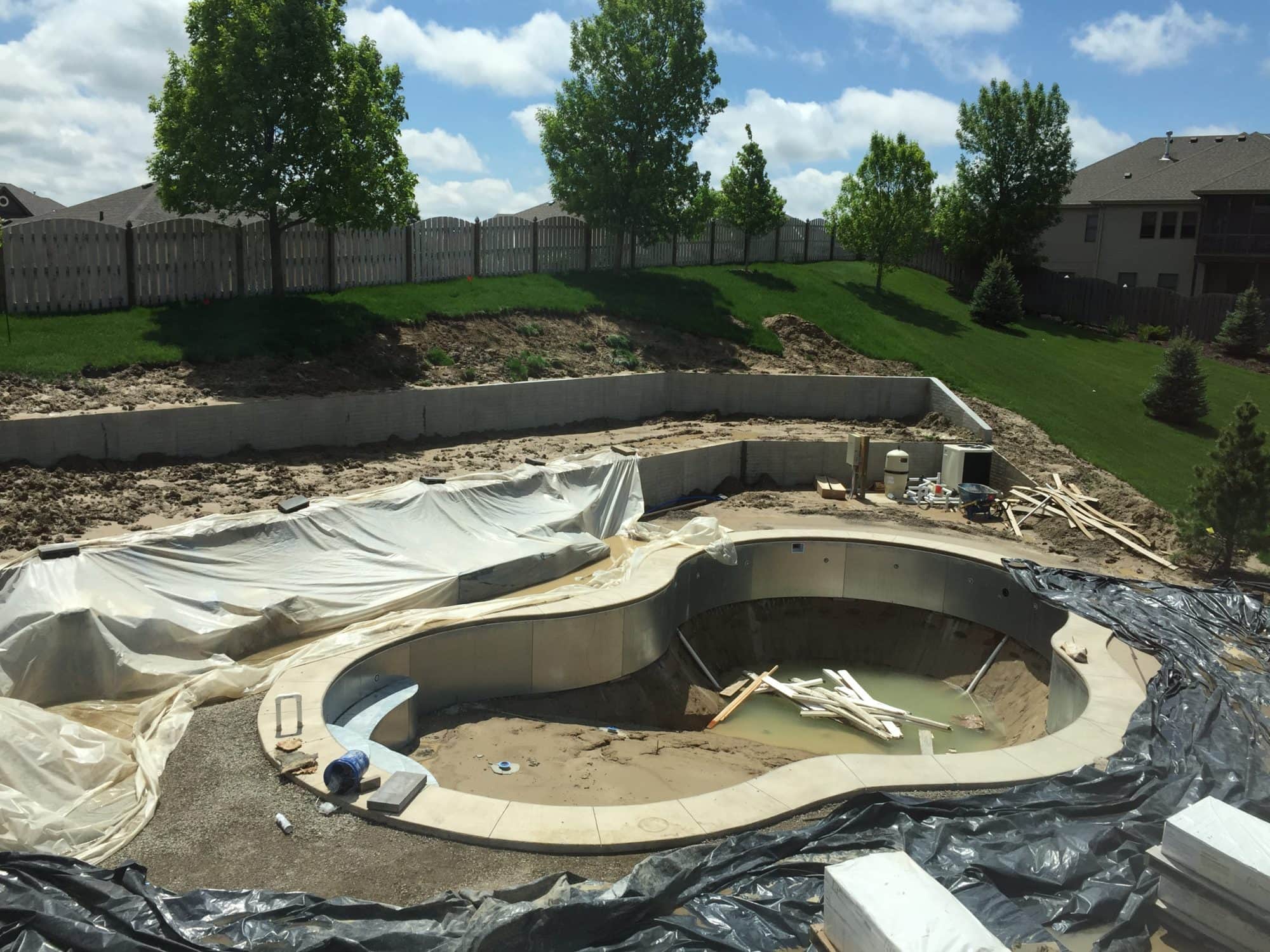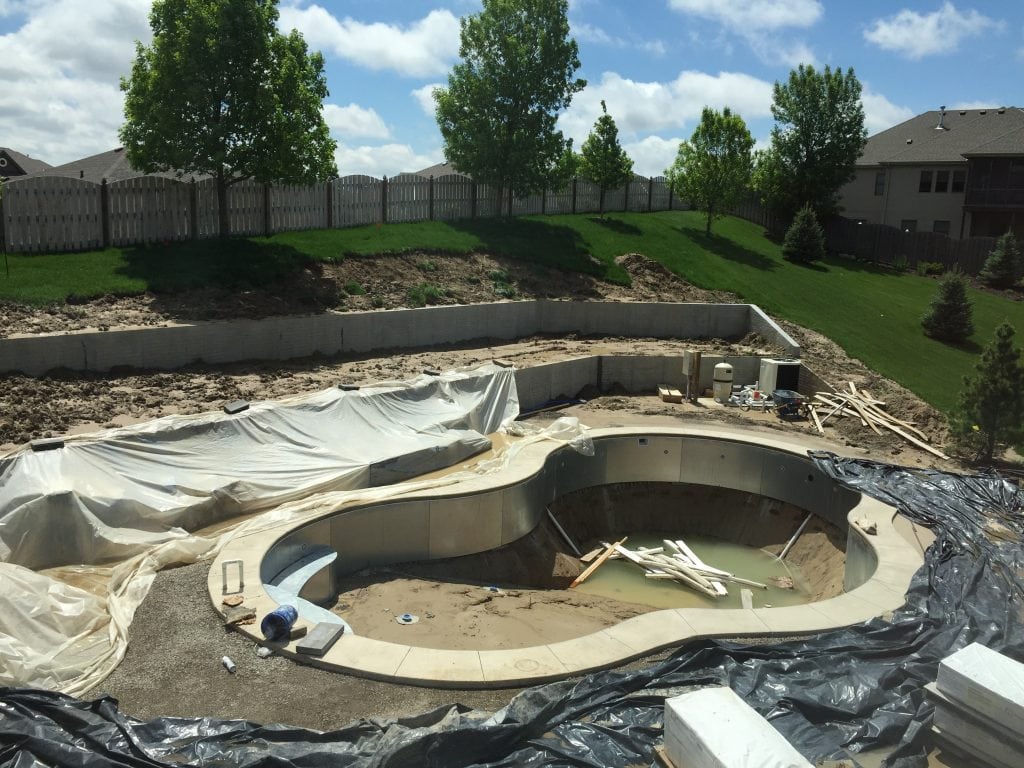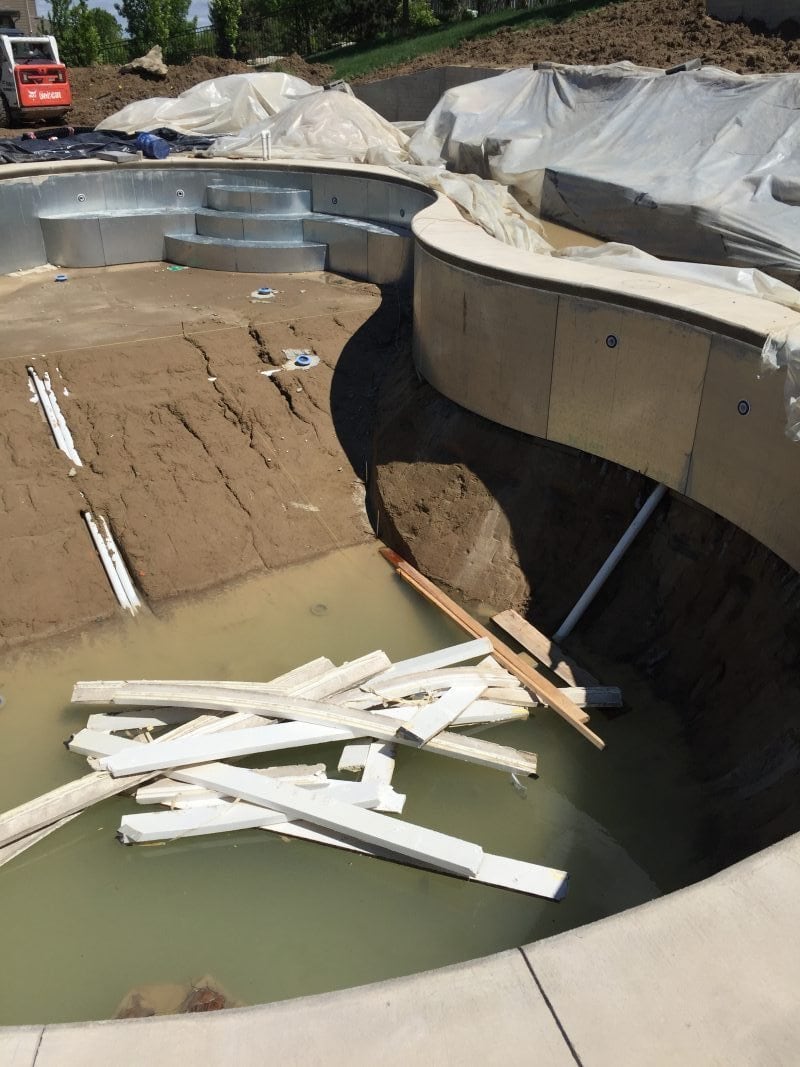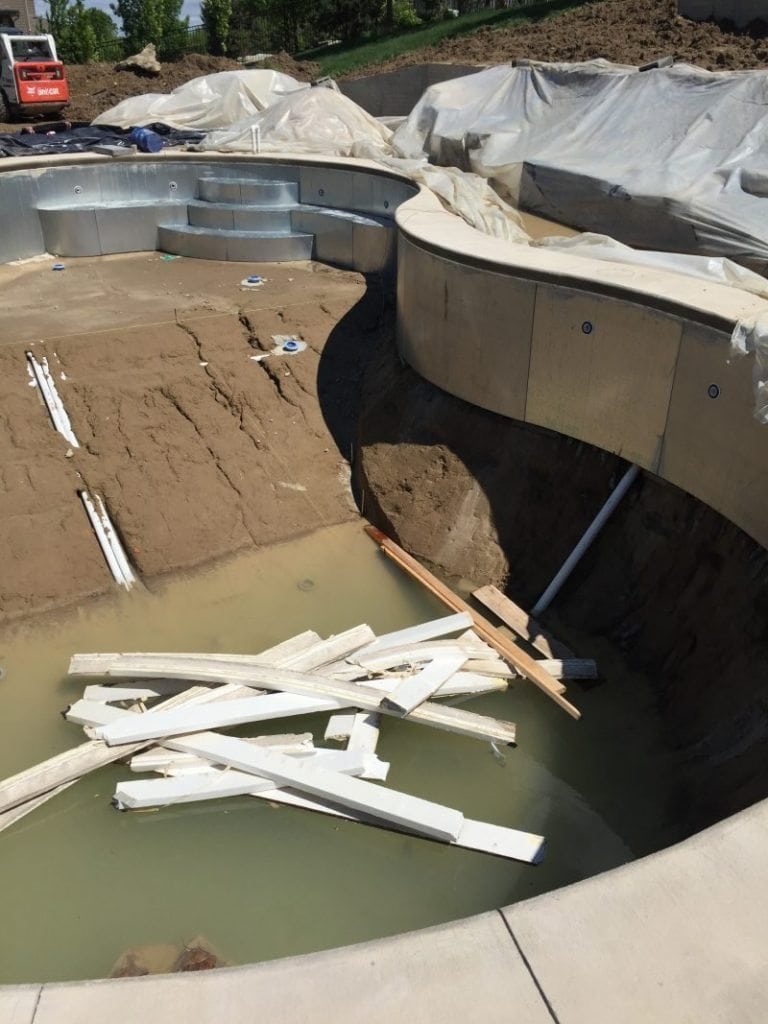 The wall they had started to build for our water feature had sunk into the muddy water, and ultimately collapsed. I had to climb under this tarp to get the pictures but I think it gives you a pretty good idea of what happened. The good news is this happened before everything was finished and it can be better engineered going forward.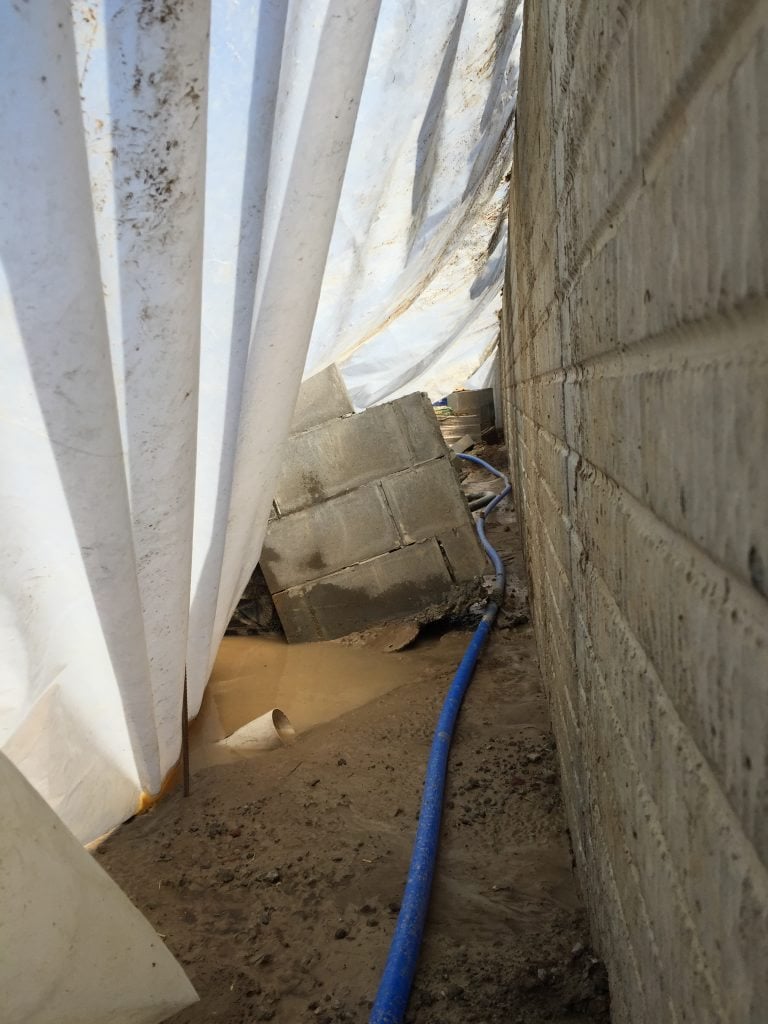 When we got home last night, it was fun to see the pavers starting to go in! They are in very early stages of planning out the patterns and cuts (they aren't leveled or anything), but it was fun to see how everything will ultimately tie together.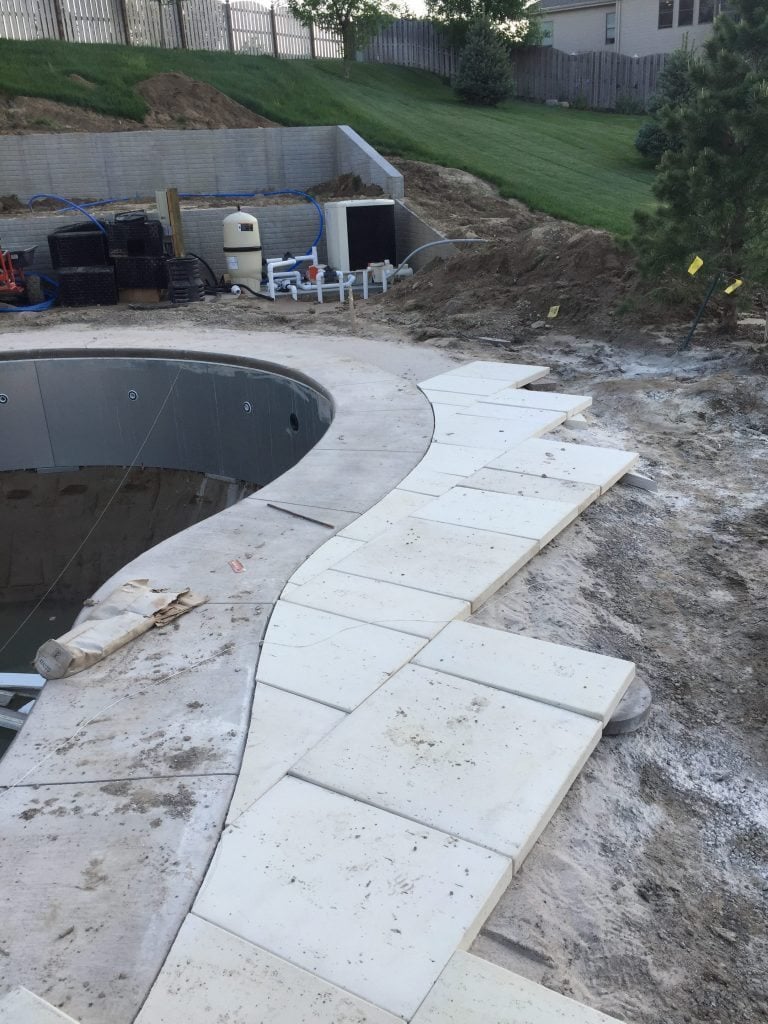 You can see they dug the hole for the drain and the new concrete footers for our water feature wall.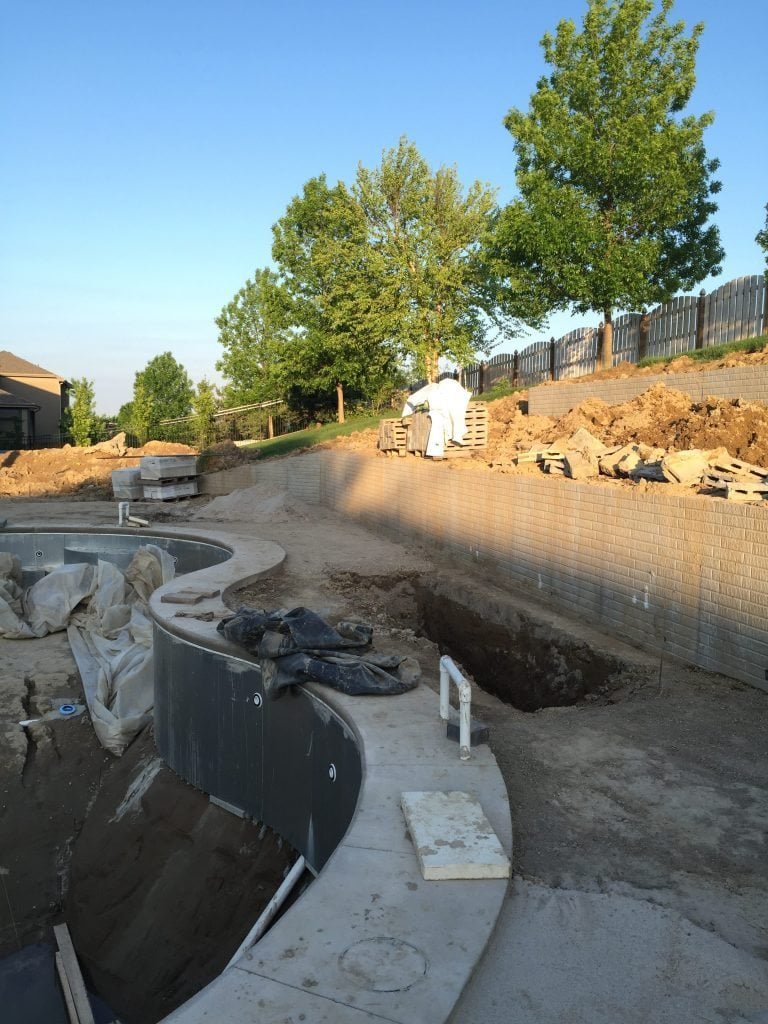 In the picture below, you can see where the water feature will go. I know it was never 100% clear in images I showed before. Here you can actually see paint on the walls for the two ends, as well as the mid-point. This is where are three water sheets will flow down to ground level. The drop will be from about 6″ below the top of the wall for a total of 3.5′ drop. We were interested in the sound of flowing water more than anything, but I also think it will be a beautiful feature. While I was in Costa Rica, Kurtis also convinced me (it was his birthday) to have lights added to it, so apparently at night he'll have 150+ color options for the water feature. Not my style, but I figure I can turn it to white when he isn't looking 😉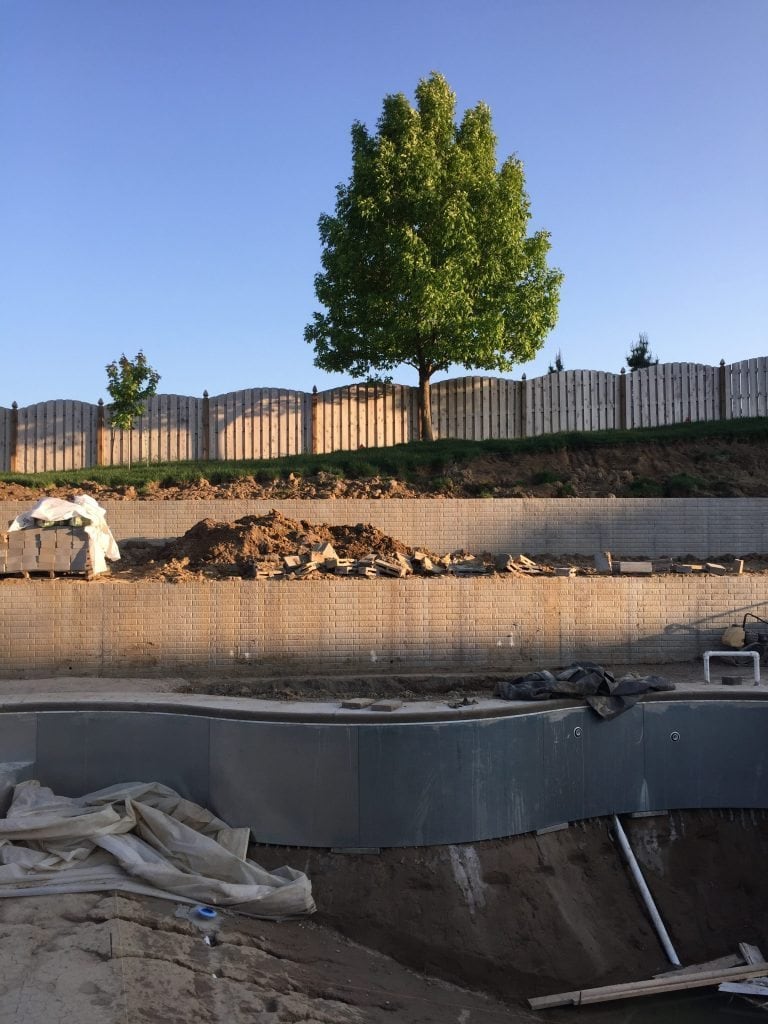 We're meeting with the designer first thing this morning because I'm not 100% sure I love the shape this side of the patio has taken. This is our sun deck where the chaise lounges will go, but I feel like it looks like a half basketball court at this point. It perhaps needs a few more curves to make it less round. It might be an optical illusion right now the way the sand is piled up, but I want to ensure things are good before they're finalized!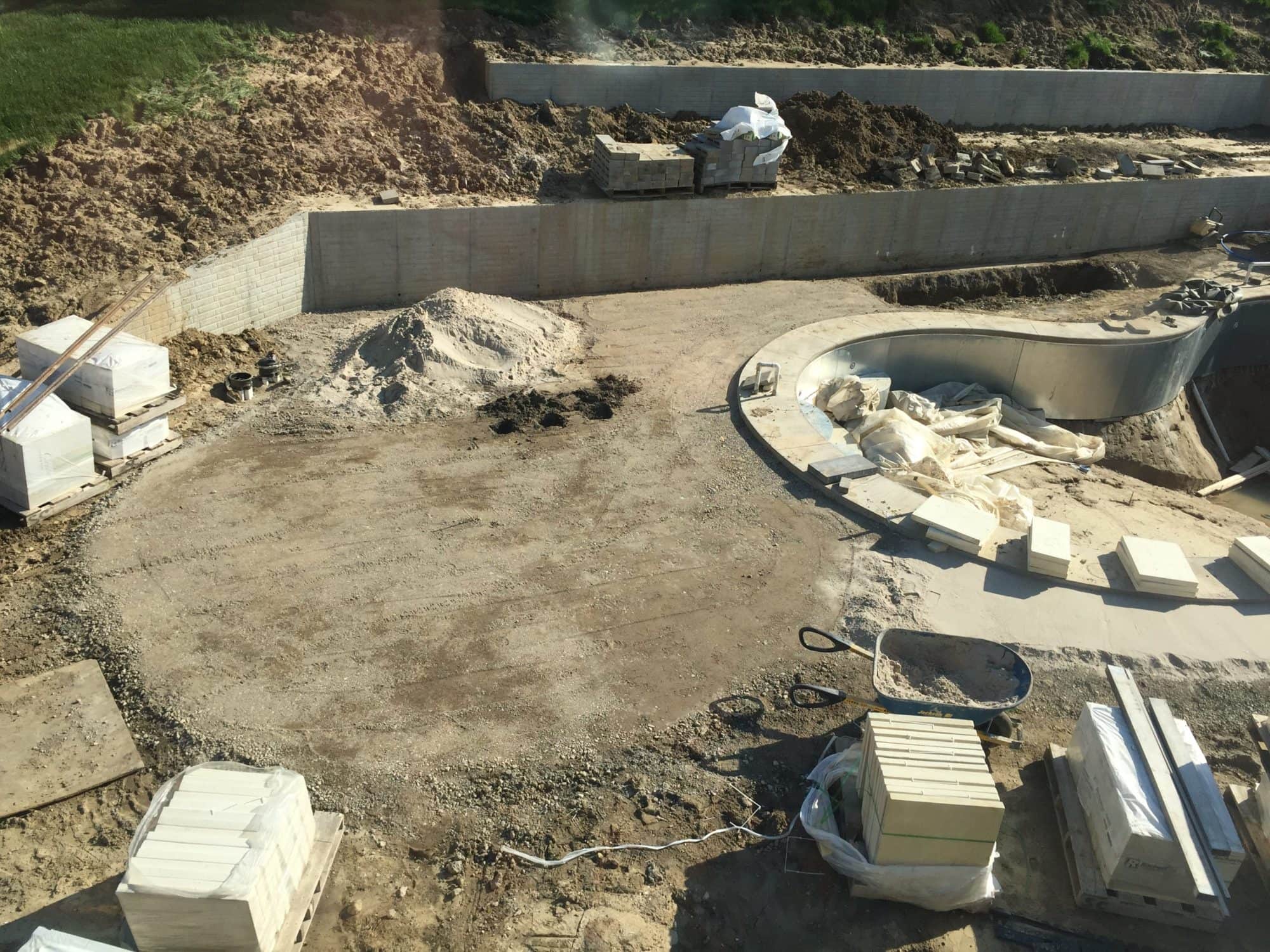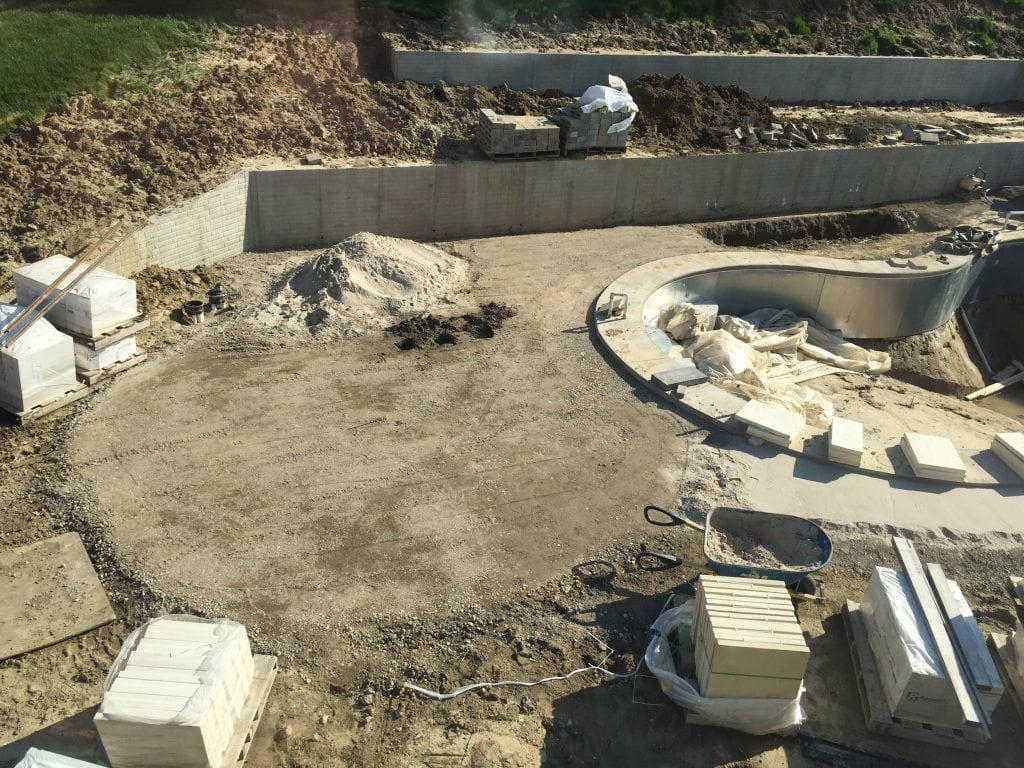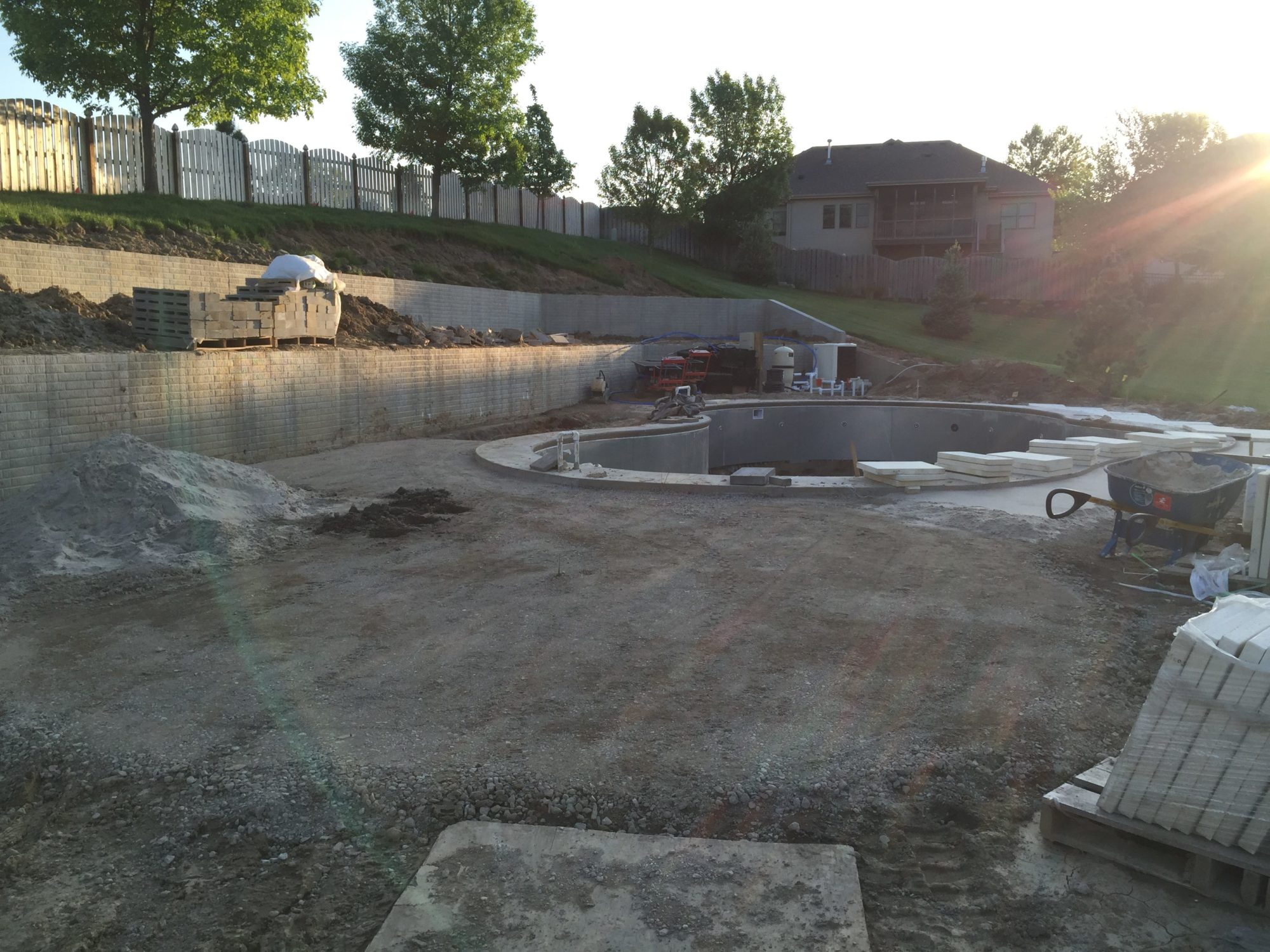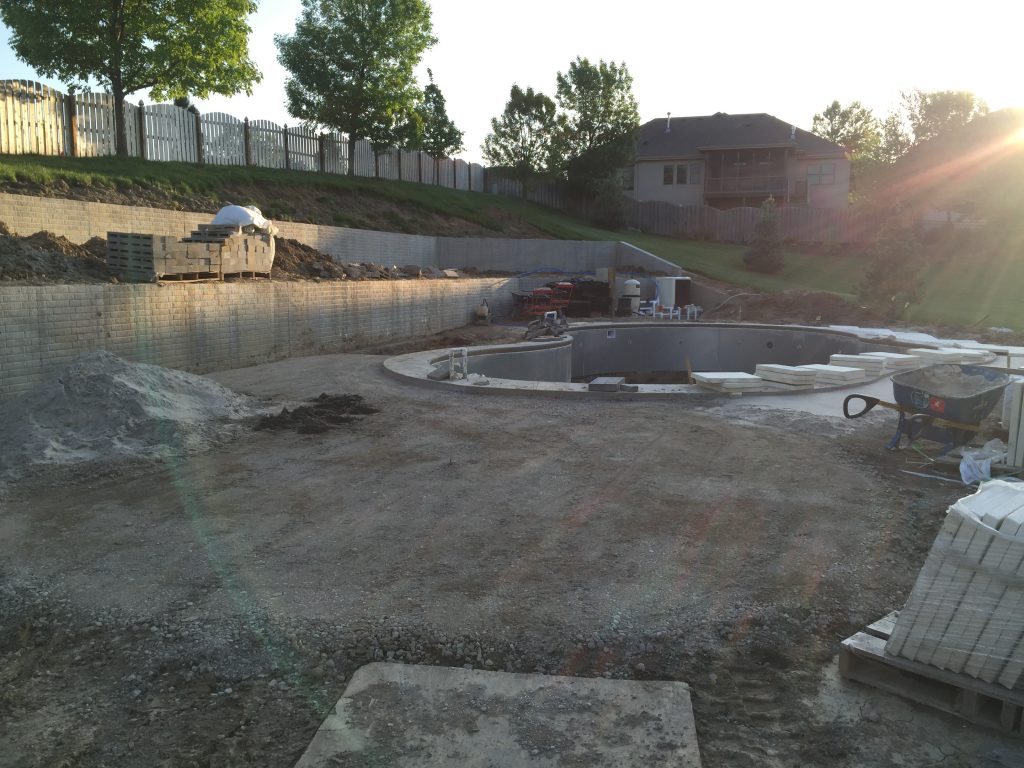 If you look closely below, you can see the tape measure on the ground (because that's what I do). It is pulled to 6.5′ which I was guessing was a rough length of a chaise lounge chair (their probably longer). But, as you can see, we have tons of room given that you don't even see the edge of the 2′ coping. We thought it was going to be tight, but it definitely isn't. That's why I'm thinking we may need to shift resources (pavers) a tad from this side to other areas.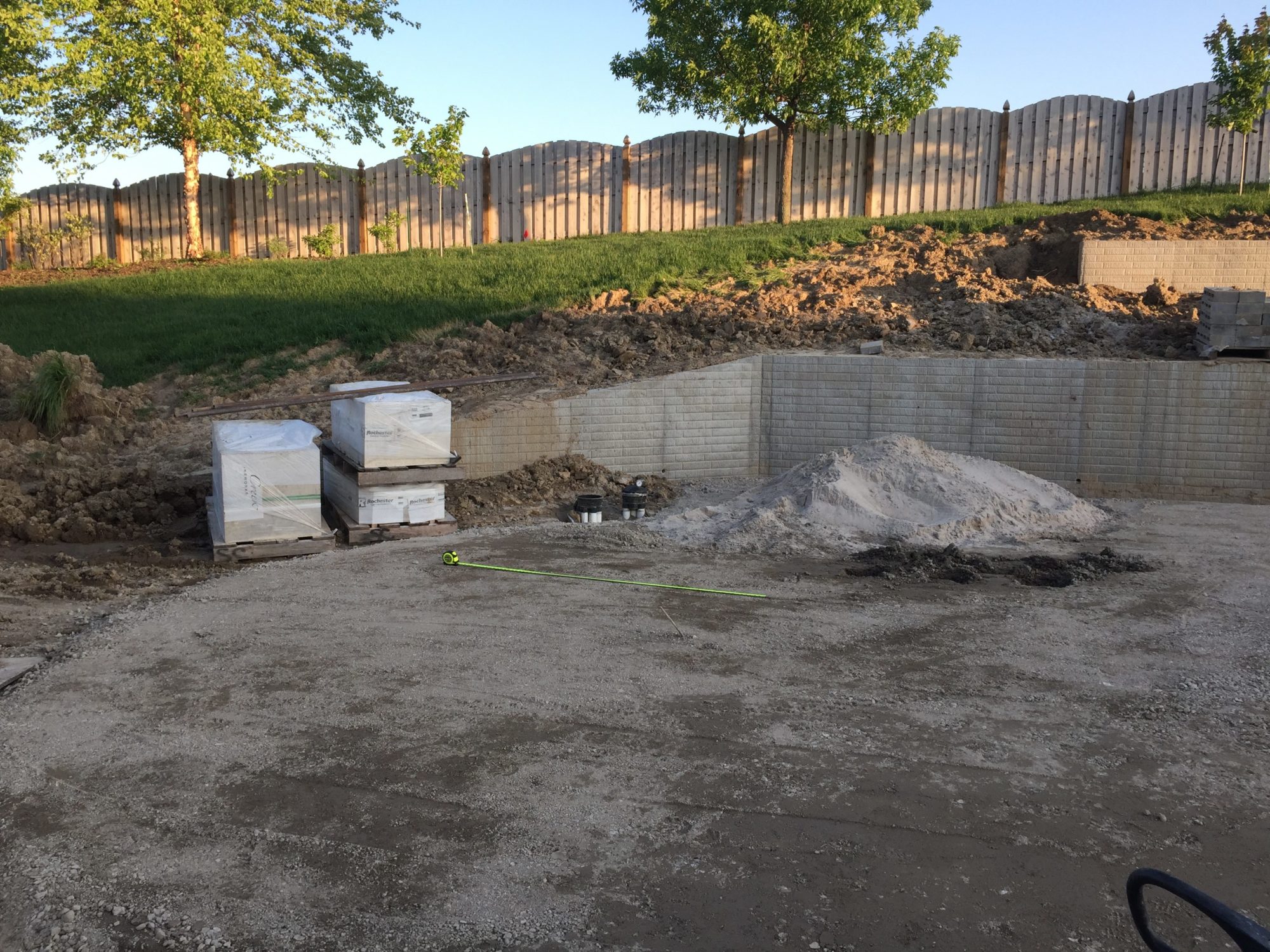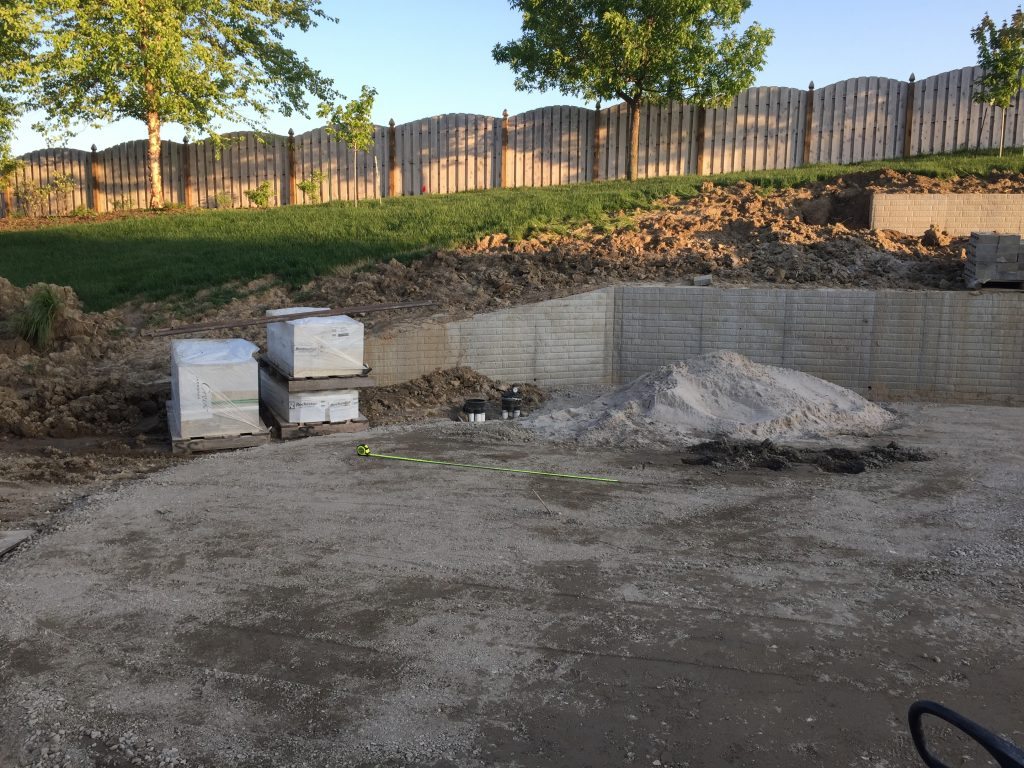 Lastly, I actually pulled the trigger on the outdoor curtains I talked about last week. They must read my blog because I got a "20% off your entire purchase coupon today only" email like two days later. I couldn't resist. The price was still crazy, but given that its the only place I can get the 124″ length, I didn't have a choice and my mind was pretty much set on them. They're custom order at this length so they probably won't be here for three weeks or so, and then we'll have to DIY the curtain rod. This image from our friend Jeff's house is what we're thinking we'll do.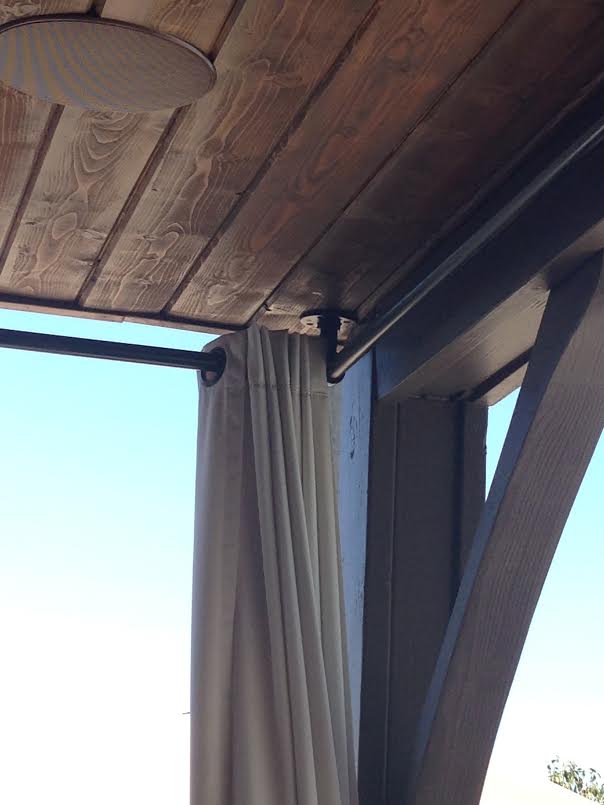 If you would like to follow along on more of my home decor, DIY, lifestyle, travel and other posts, I'd love to have you follow me on any of the following:
Pinterest / Instagram / Facebook / Twitter / Bloglovin' / Google
disclosure: some affiliate links used