Far too often, I make progress in a room in our home but don't end up sharing until I think it is officially "reveal" ready. Which means half the time I never end up sharing progress (unless it's in a Weekend Recap) because I never think it's good enough to share. However, I've decided that mentality is somewhat lame, and you guys probably appreciate the small projects just as much! Not only that, the small ones tend to be the ones that feel much more manageable to readers. So, today, I'm sharing with you a simple painted interior door update and the little makeover that followed in our entryway. Is it perfect? No. But still exciting nonetheless.
Before I show you the updated space, I thought it would be fun to take a look a prior looks in our entryway. This is how it looked shortly after we first moved in.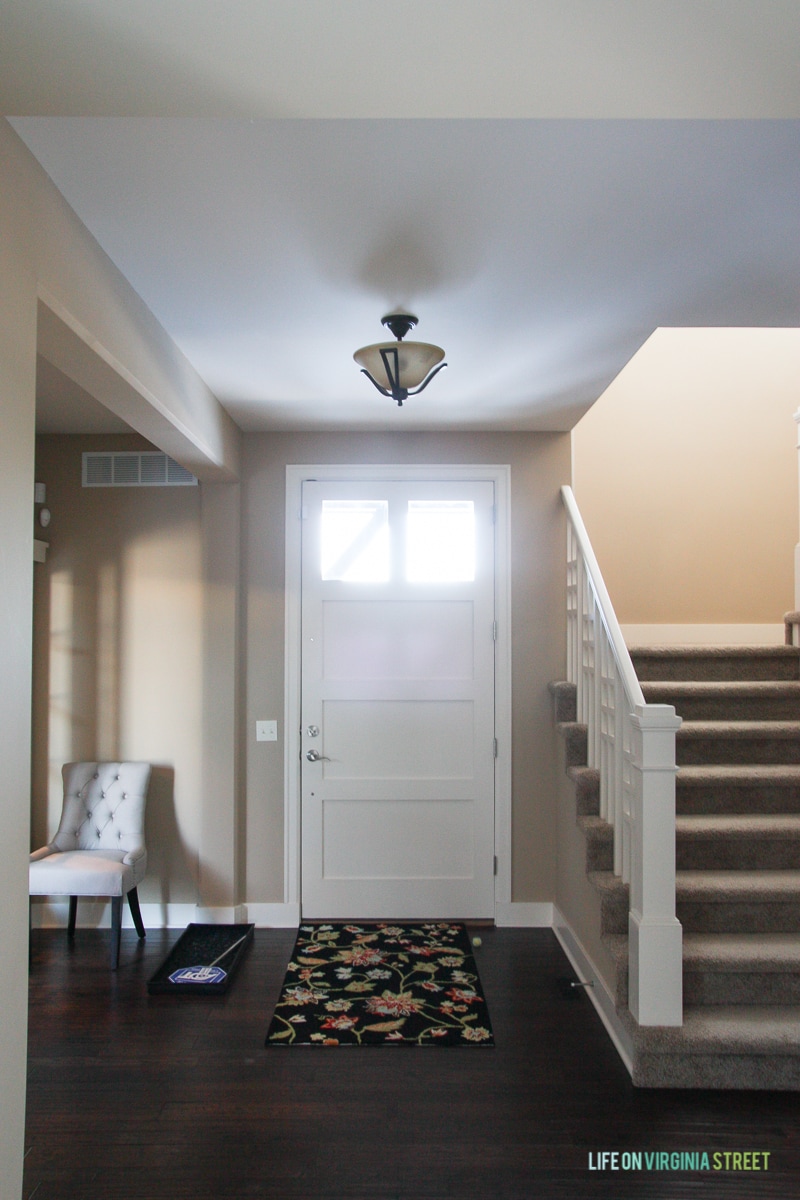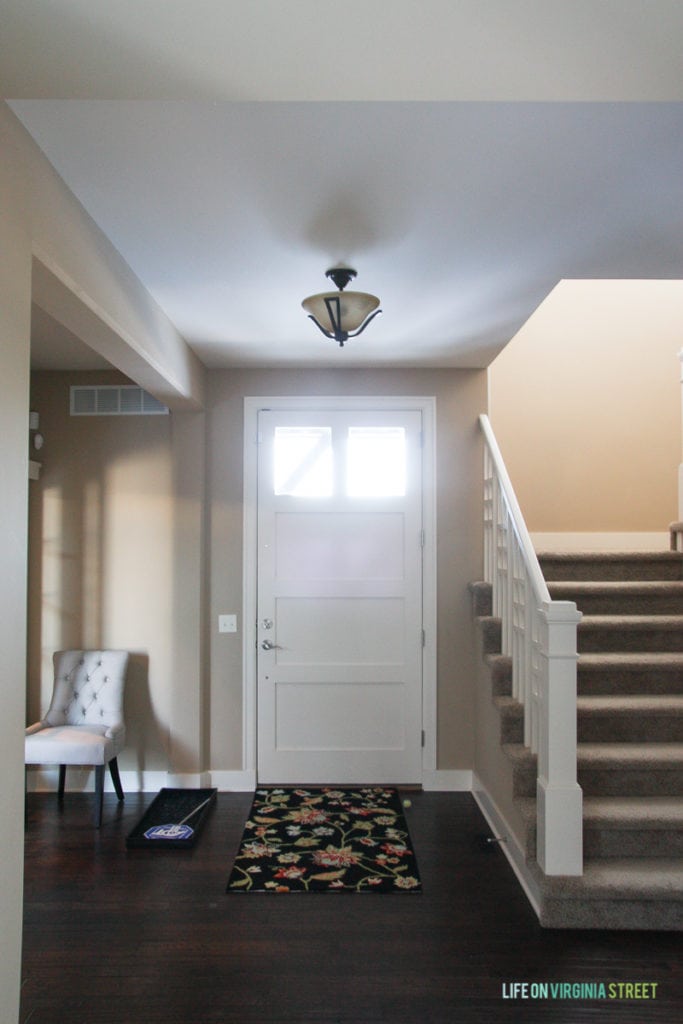 I then painted the entryway Behr Castle Path and styled the space a little more with items we already had on hand the first spring we lived in our house. We also updated the light fixture to something a bit more glam and bright. You can read more about that in this post.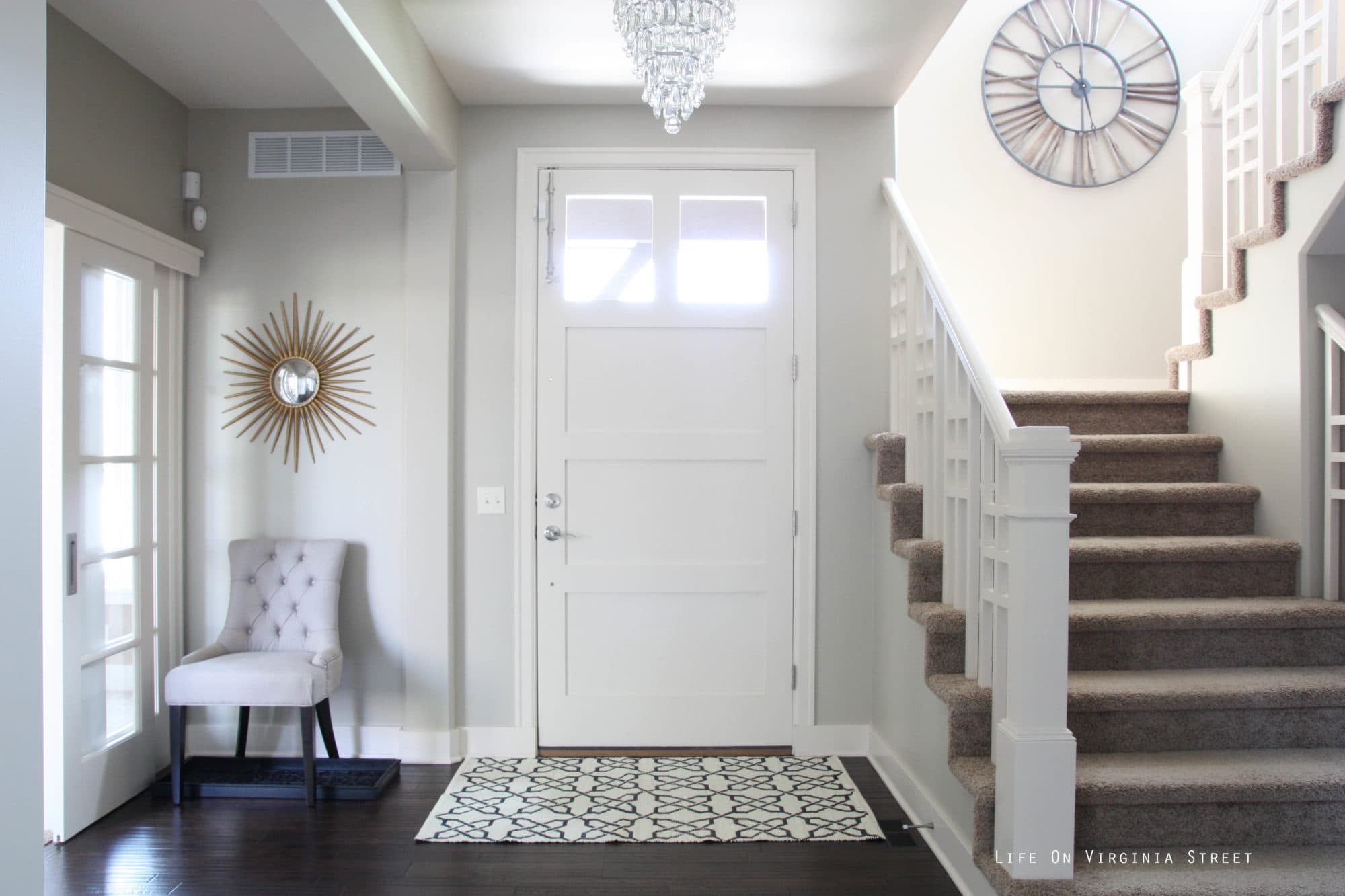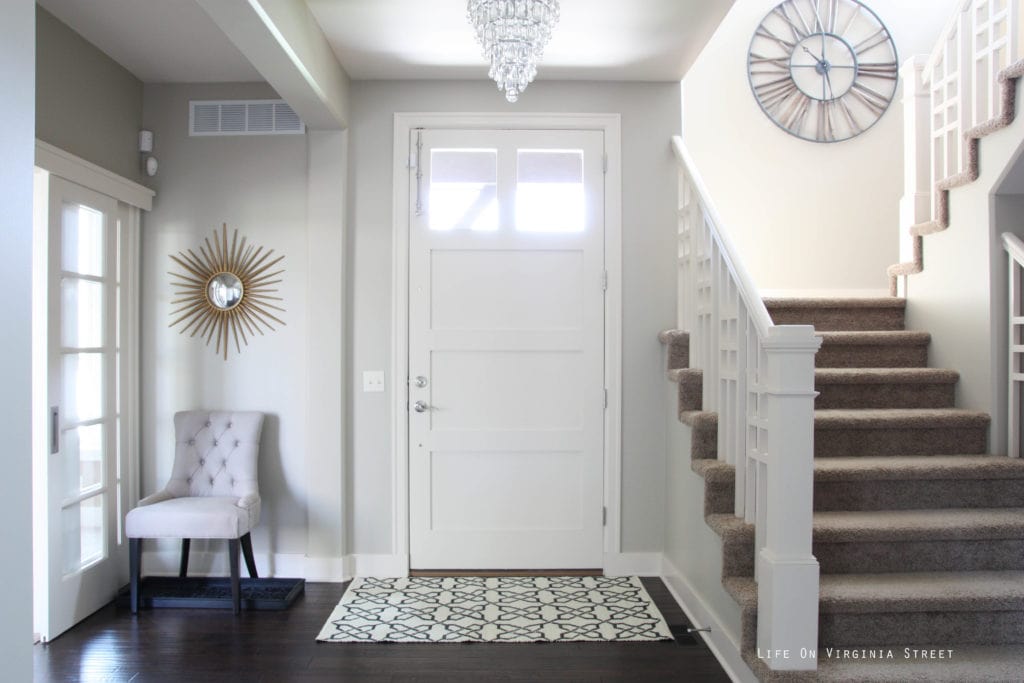 That fall (2014), I then decided to paint the interior of the front door Behr Elephant Skin to add a bit more interest to the area. You'll notice not much changed. And to be honest, with the exception of seasonal decor, it pretty much looked exactly like this until this past week. I loved the look, but as I mentioned in my post on interior painted doors, I had really fallen out of love with gray. It's just a bit too cold for my style as I move to a bit warmer feeling. I'm thinking of lightening up the wall paint down the road (Behr Castle Path). It only looks as bright as the photo below in perfect lighting, but most times of day it looks darker. But for now, the wall color stayed.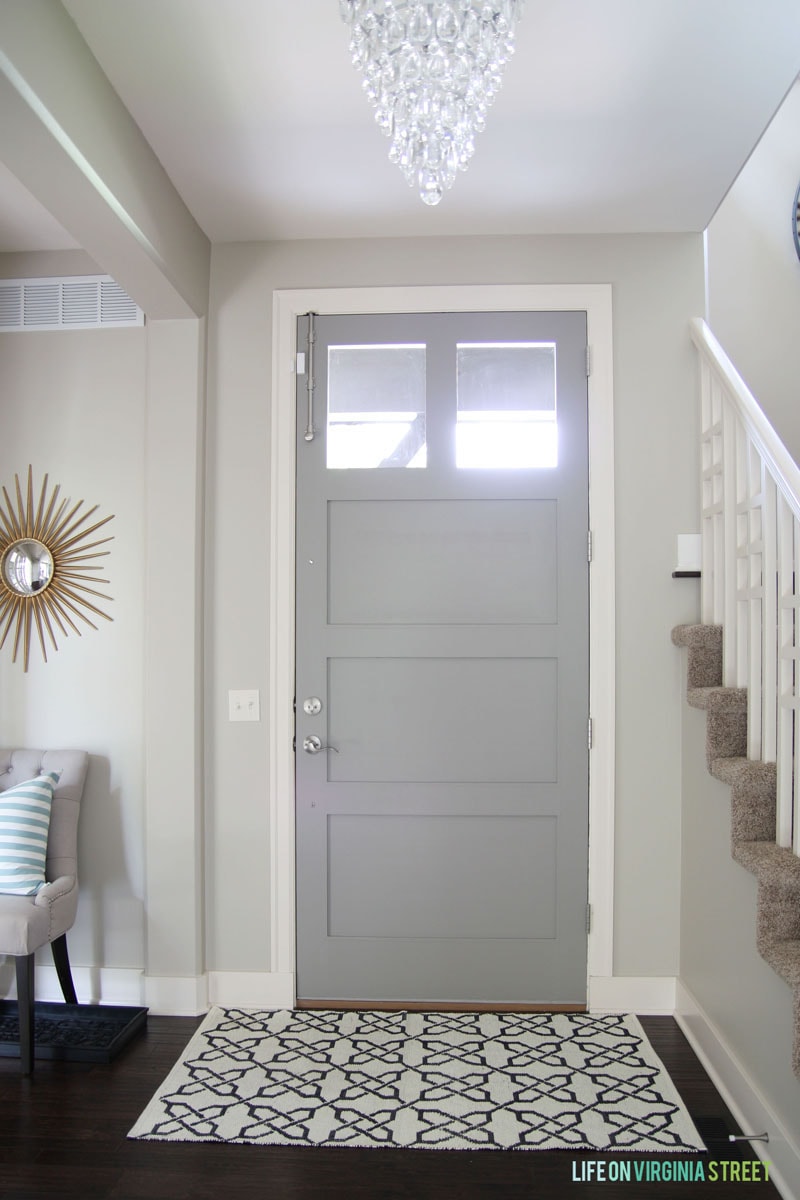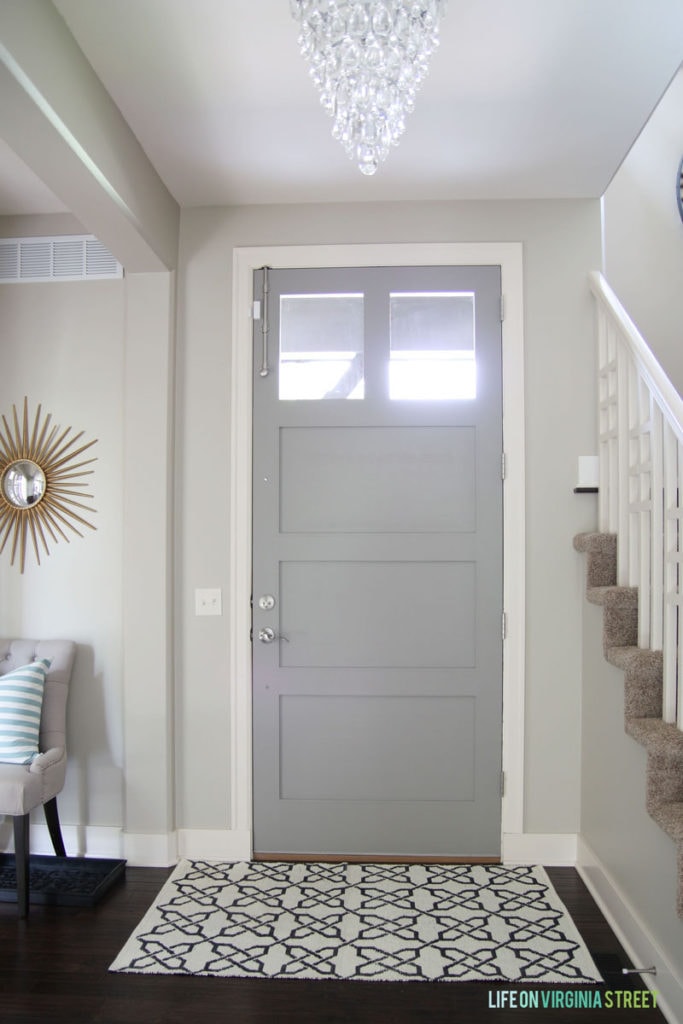 I sold the gold starburst mirror on a whim a few weeks ago on our local Facebook page, and that initiated the entire makeover. Once I started painting the office ceiling and realized how badly I needed to carry the white into the entryway, the more the makeover spiraled. I had known for awhile that I needed a larger entryway rug, and as of now, all of that has also been updated!
Here is how the space looks today!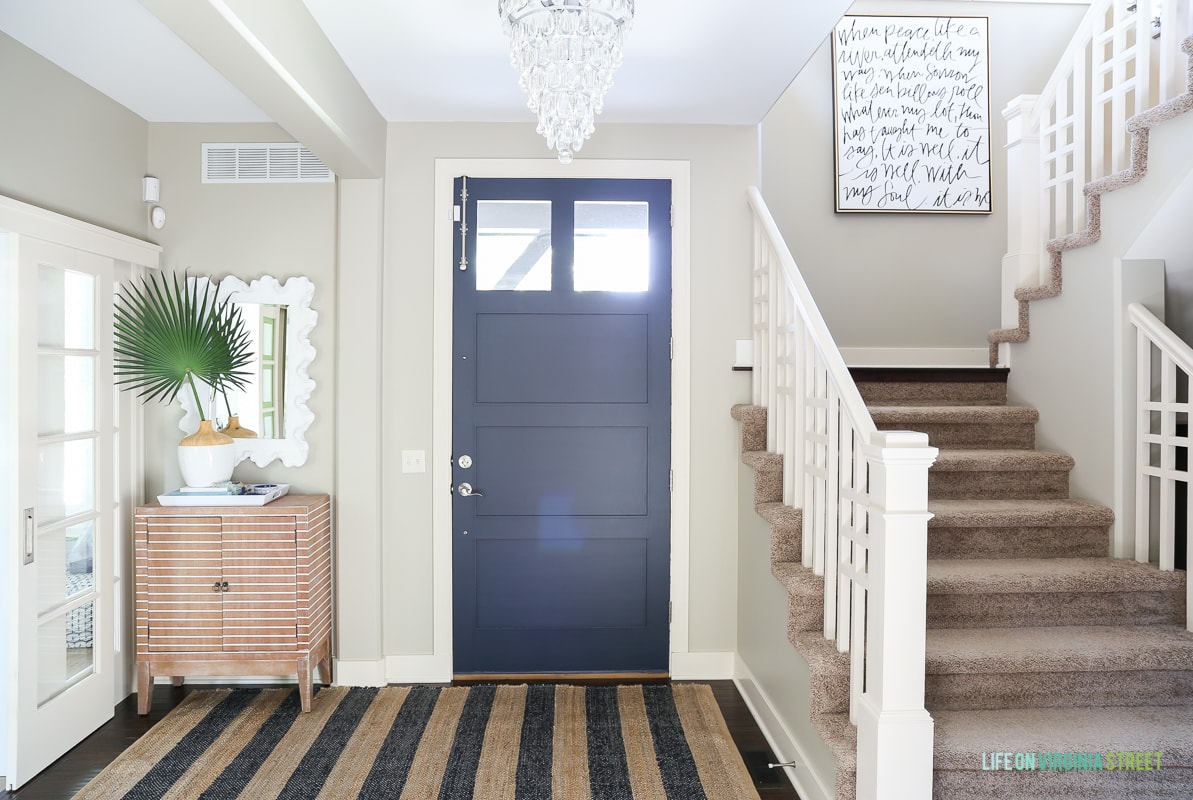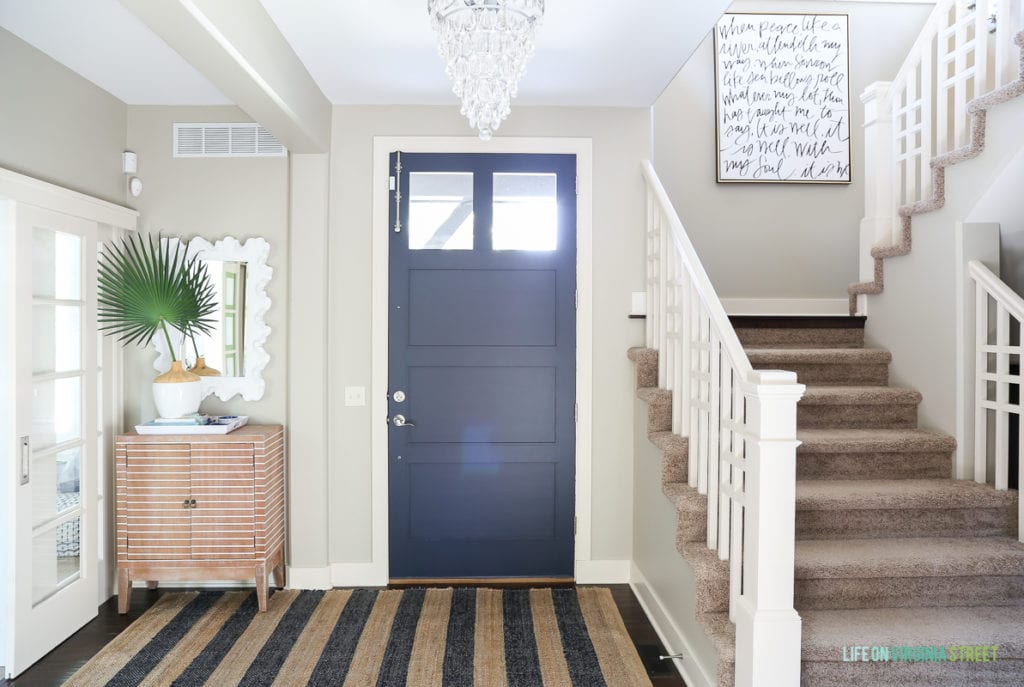 I painted the door Benjamin Moore Hale Navy to match our office and powder bathroom details. The change is helping things flow better and look much more intentional on our main level! I did two coats, and all in, the project took me less than two hours. I love that I could use paint I had on hand, and the only purchases I made for this entire space were the new striped jute rug and the white 'coral' mirror.
I brought the striped cabinet down from the guest bedroom , because once I added the feet it was too tall to work with the headboard as a nightstand. The chair that had sat in that corner for years was rarely used, and a table with a catch-all tray seemed like a much better alternative. These updates also help make the space look a bit more balanced next to our eight-foot tall door.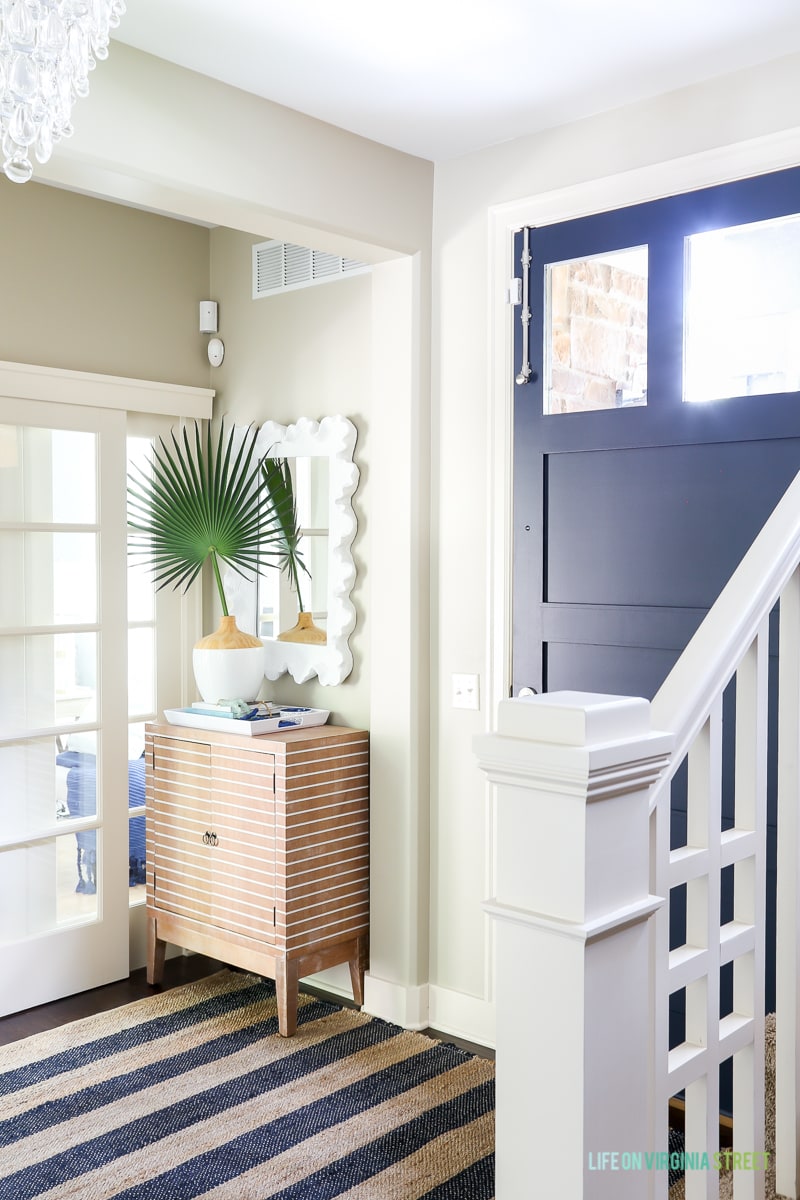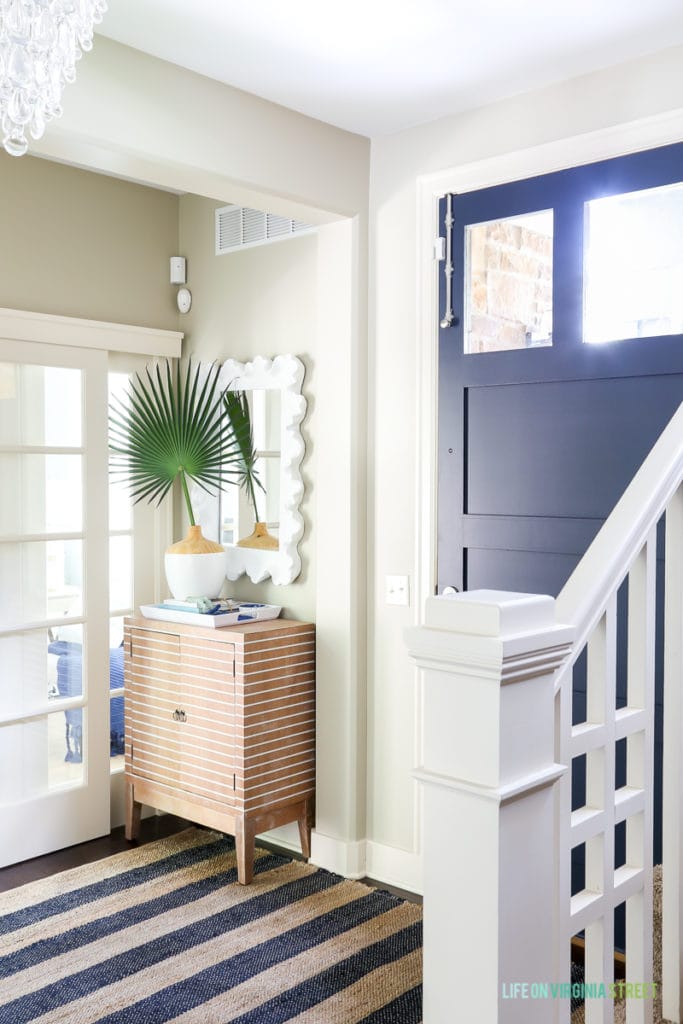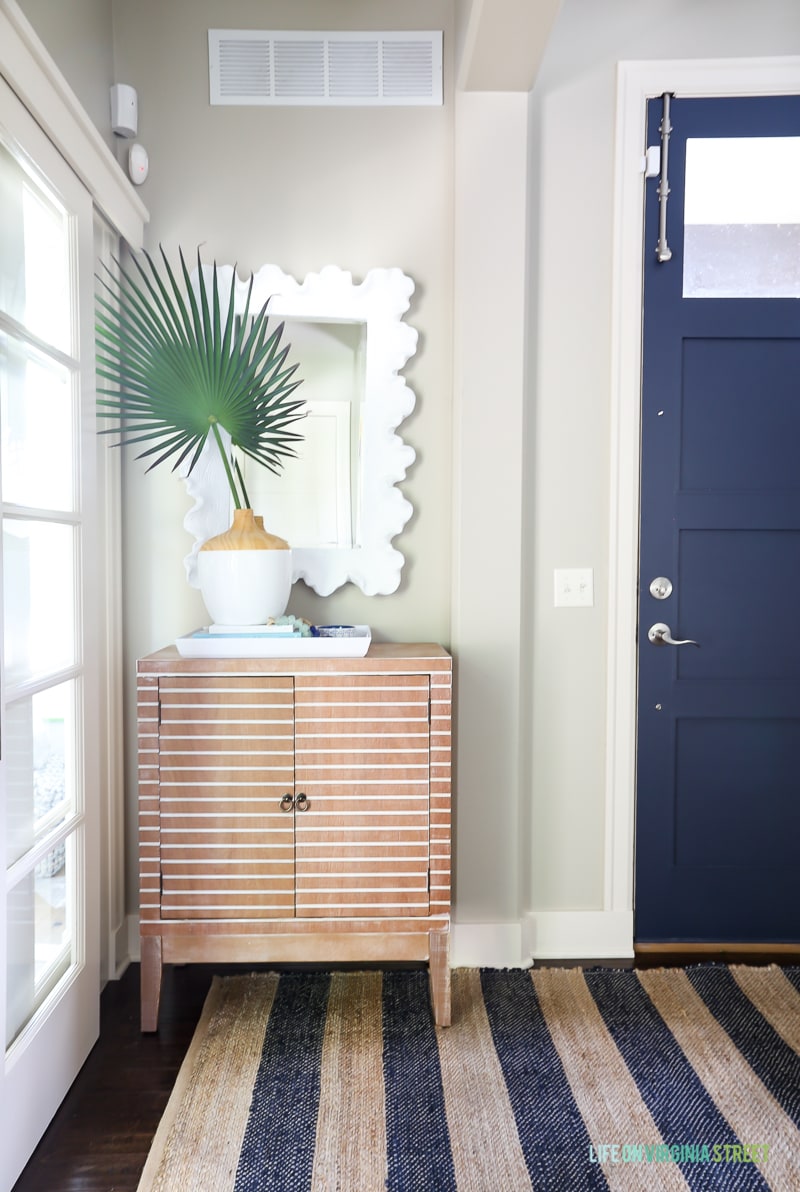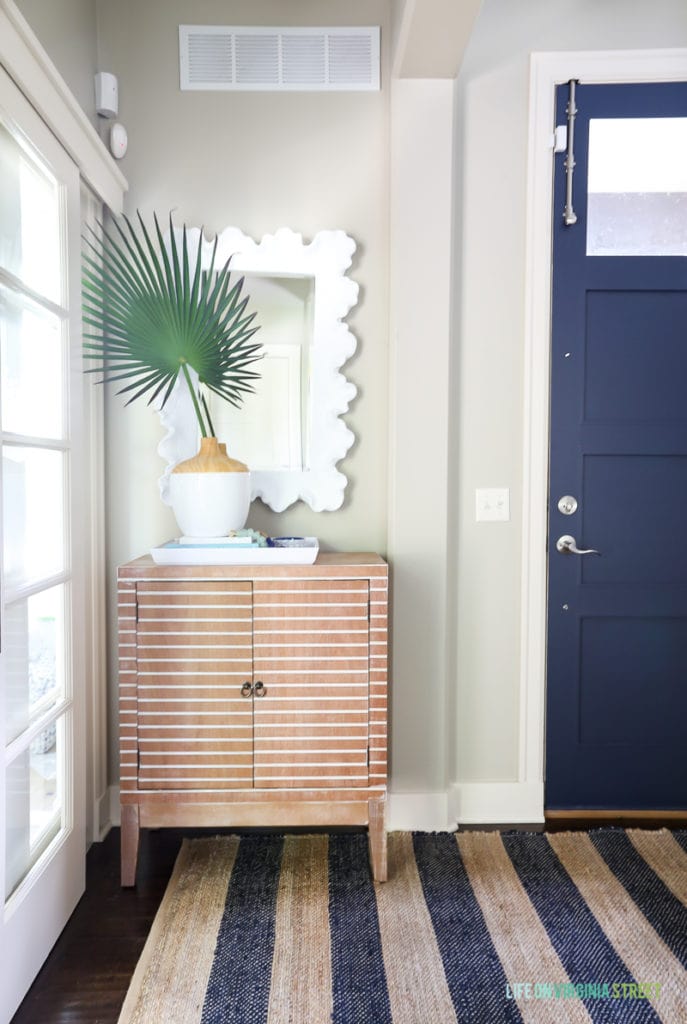 I love how much light the new mirror reflects into this previously dark little corner.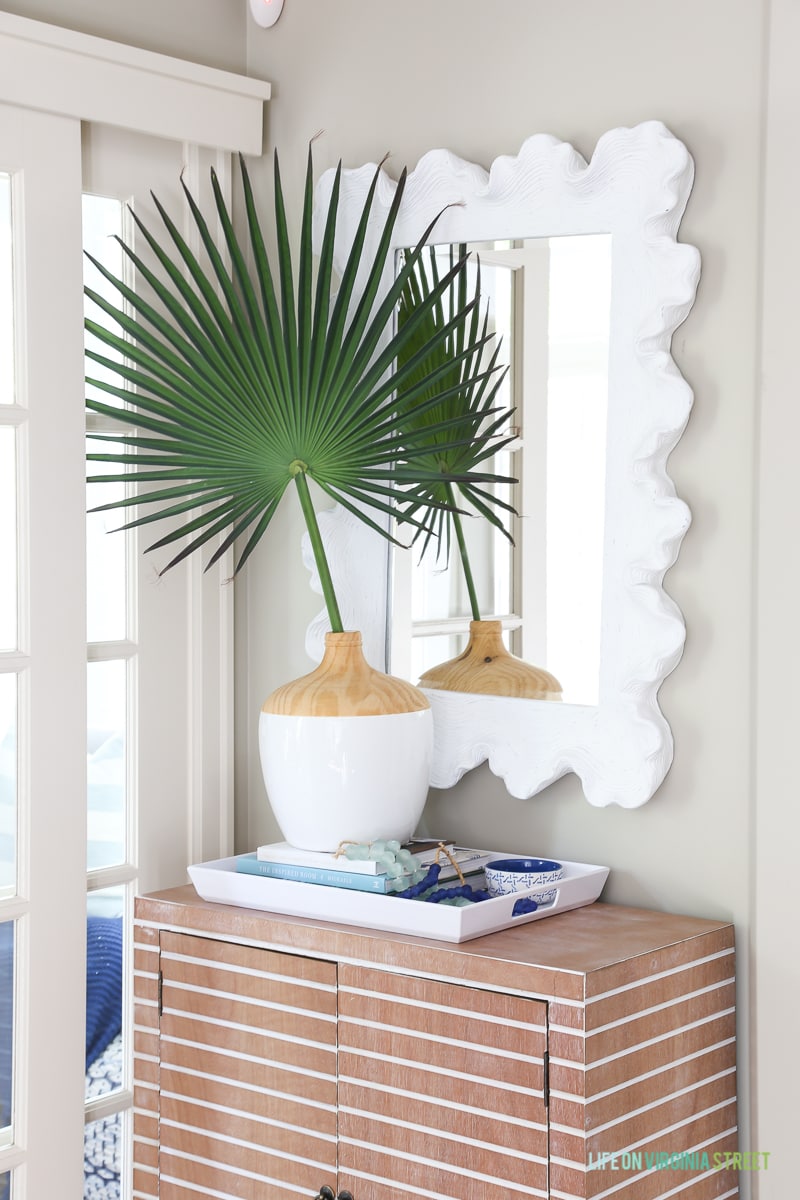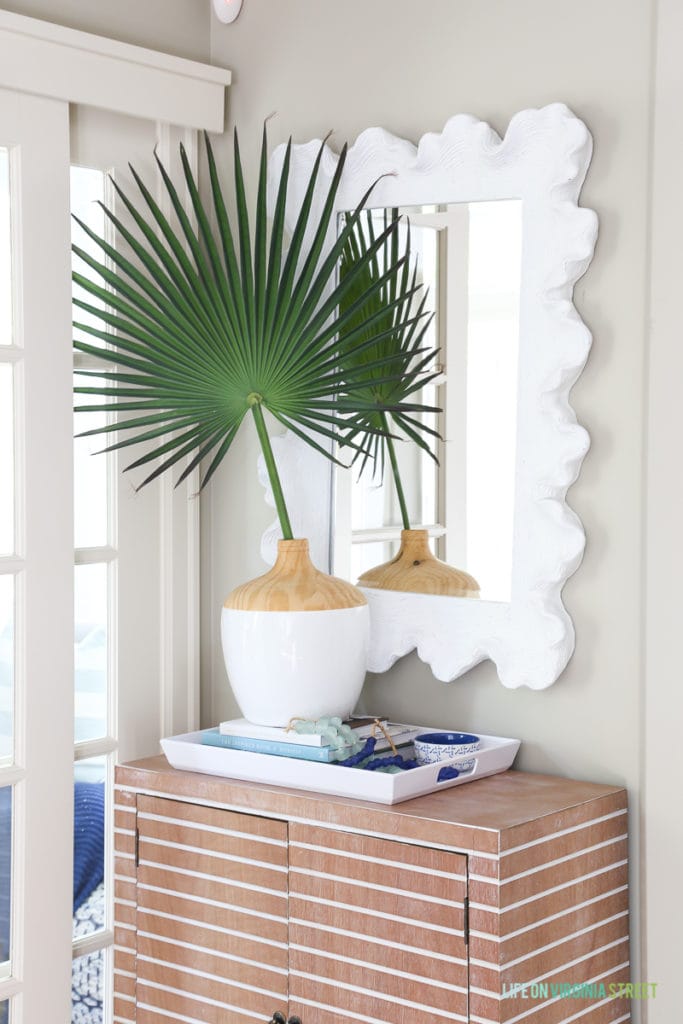 Not only that, I absolutely love the detail on the mirror. The ruffled edges and waves with the distressed matte finish is so beautiful and really gives off that coral vibe! Perfect for the beachy look I love.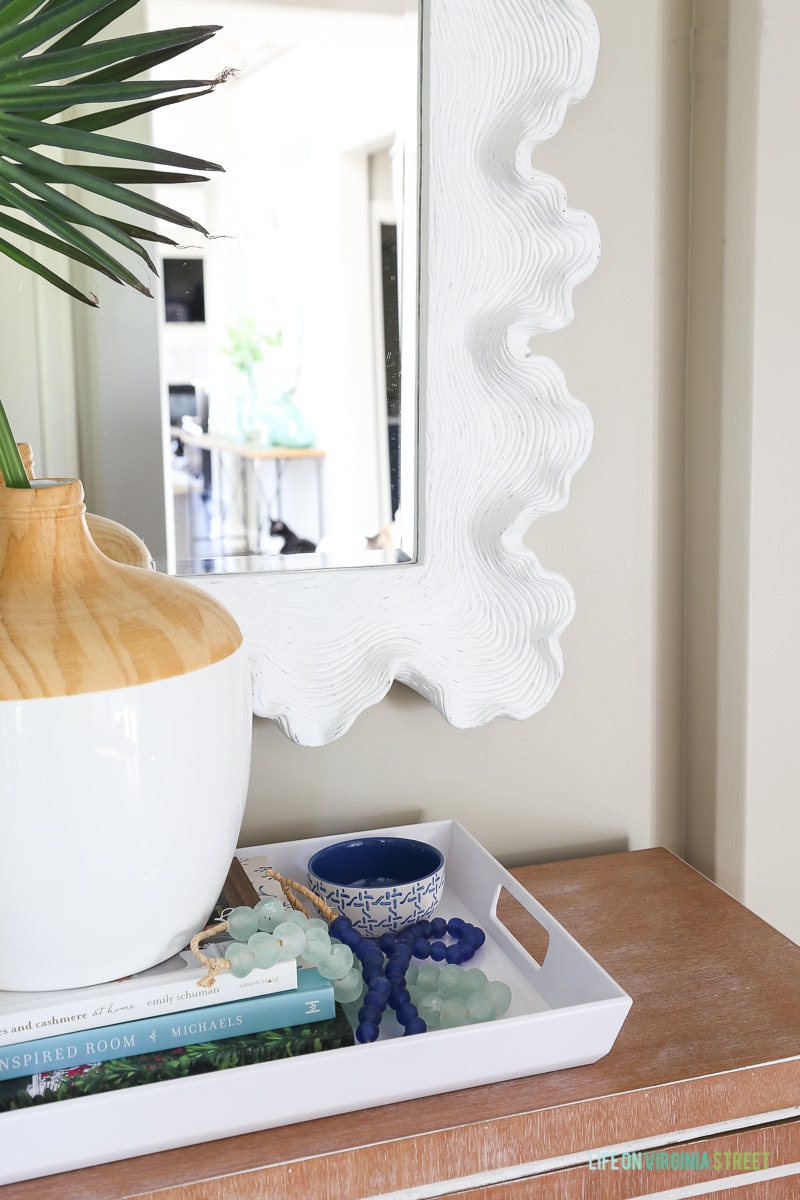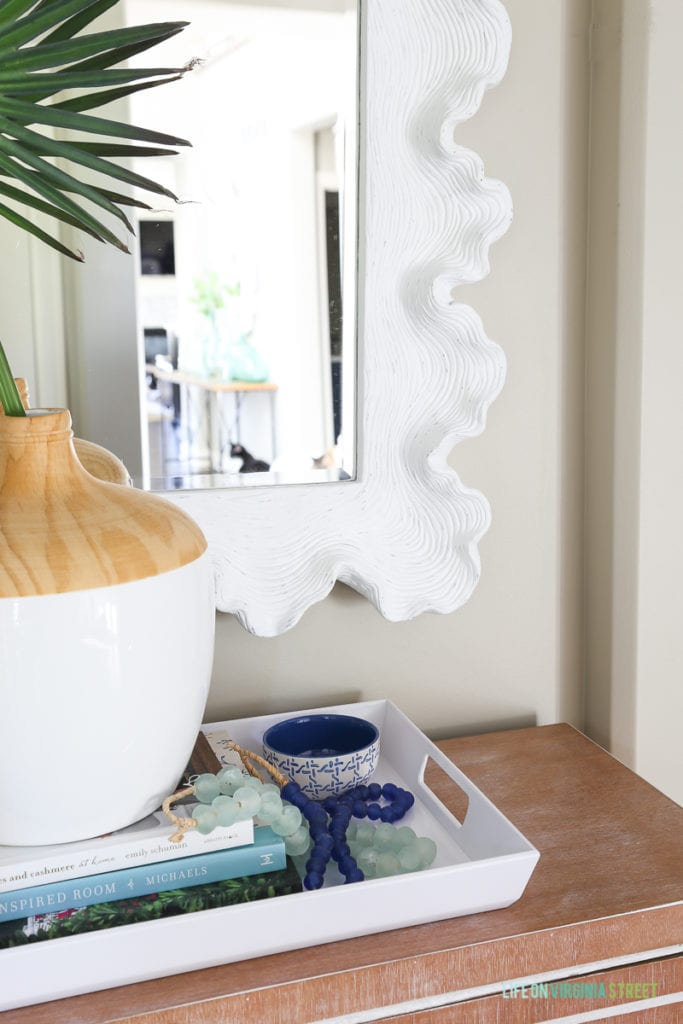 Now I just need to finish painting the office doors white so that you won't see the green frog tape in the mirror reflection! Overall, I'm really happy with how this makeover ended up! Stripes, palm fronds and navy blue forever 😉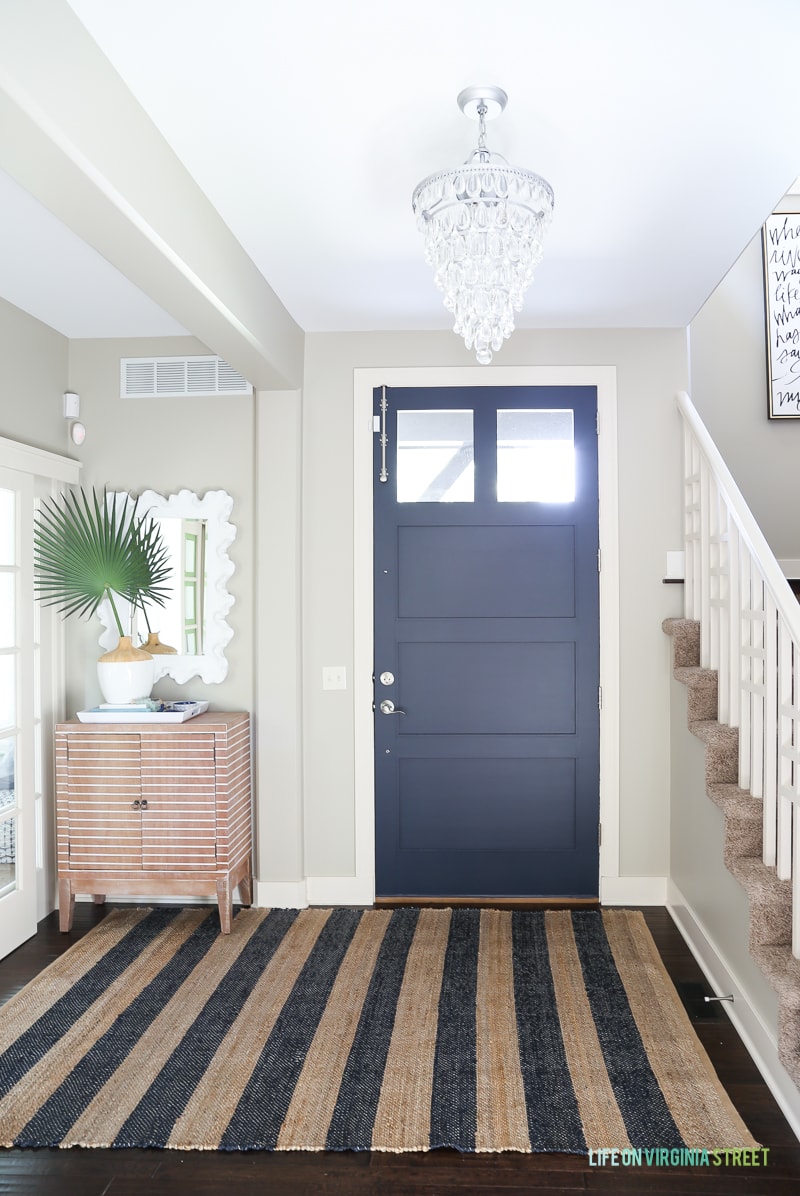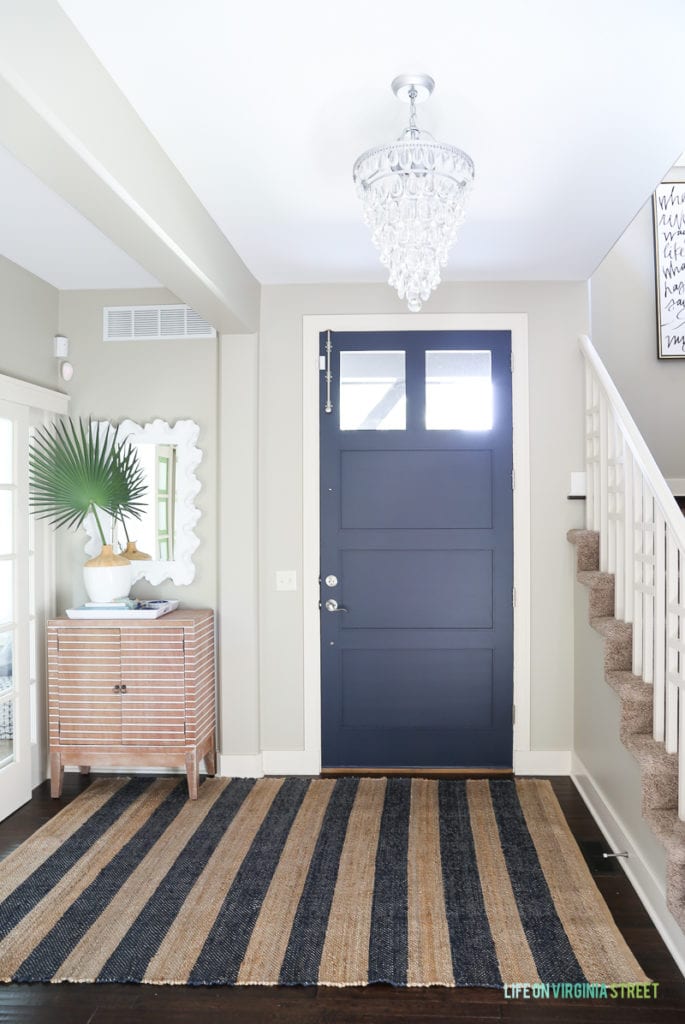 I hope you enjoy this little update as much as I do! I know it's not perfect and I'm sure I'll make a few tweaks over the coming weeks, but it feels so good to have an entryway that better fits the style of the rest of our home!


If you would like to follow along on more of my home decor, DIY, lifestyle, travel and other posts, I'd love to have you follow me on any of the following:
Pinterest / Instagram / Facebook / Twitter / Google+
disclosure: some affiliate links used
Linking up to: Thrifty Decor Chick