Mexican food is my favourite so it's no surprise that I throw the best outdoor fiesta taco parties!
Thank you to Bed Bath & Beyond for partnering with me on today's post. As always, all thoughts, opinions, and product selections are my own.
Kurtis' family is coming in town this weekend for a family pool party weekend! We're really excited to host them, and with their arrival, I've been scheming up delicious meals that work well for parties and large gatherings. We have a couple of great ideas, and today I wanted to share one of those with you.
In our house, Taco Tuesday could seriously be every day of the week. We never, ever get sick of Mexican food. And, in a large group setting, I love how easy (and delicious) a taco bar can be! With that, I'm always excited to scheme up new taco party ideas.
Today, I decided to share with you a fun summer spin on your typical taco bar. This time, with flavourful grilled tacos as the superstar. Rather than cooking typical hamburger meat in a skillet, this idea involves steak and chicken on the grill, to make the ultimate taco feast! I turned to Bed Bath & Beyond for all of my outdoor entertaining and tablescape needs. I love that they have such great collections both in stores and online. I think you'll agree when I share all of my cute finds below.
This pretty ombre table runner set the stage for the bold color scheme (mine runner is the 90″ version). These are my "core" colors and when I can get them all in one cute piece, you know I'm sold! I then added in this set of napkins (I only used the blue but love all three colors) and these really affordable and colorful place mats (I bought both the blue and the green because I know we'll get a lot of use out of both).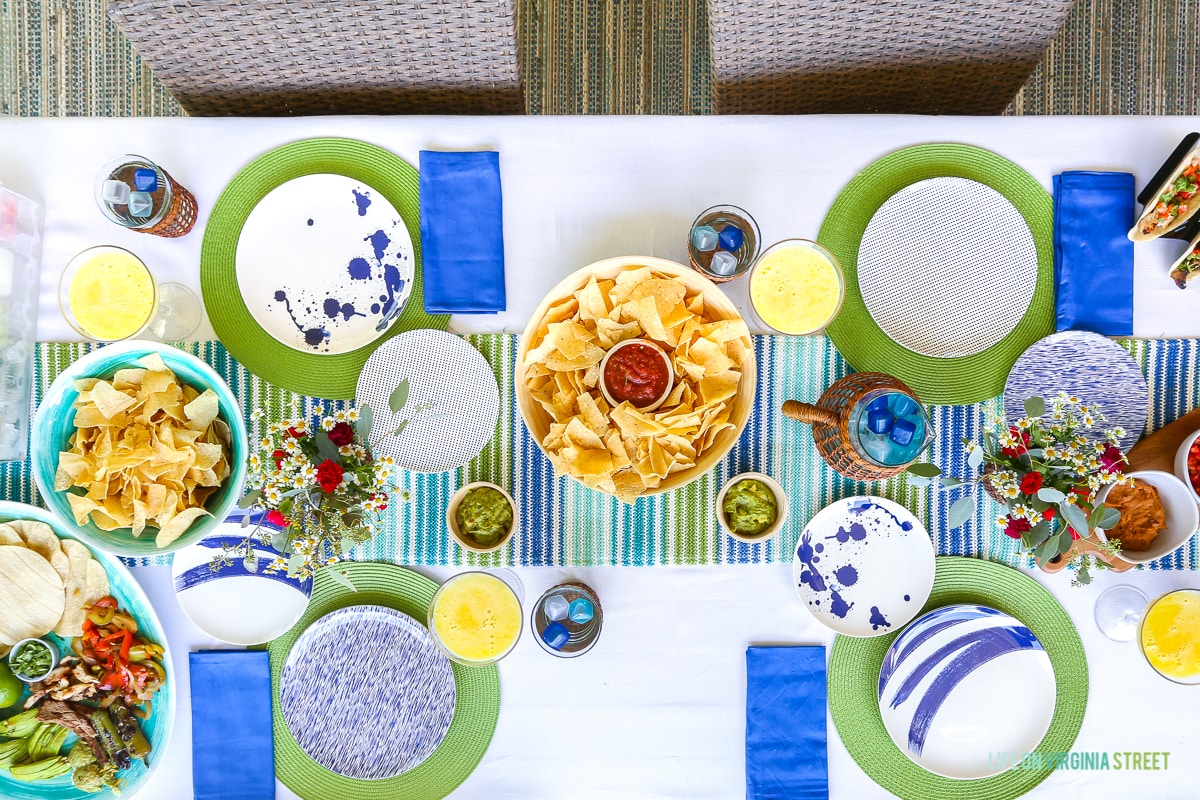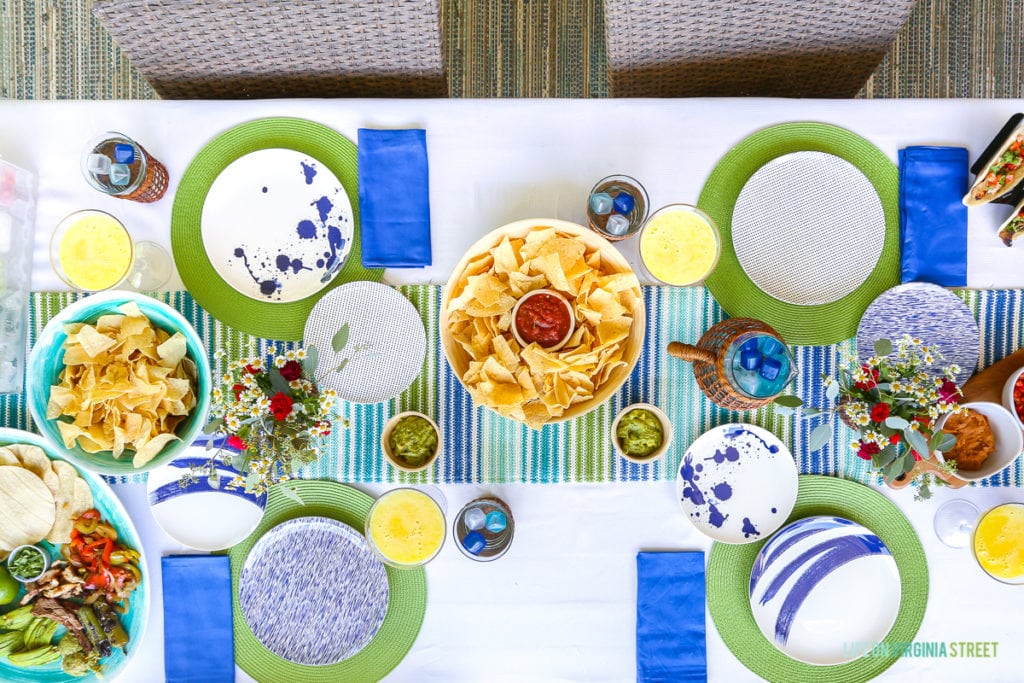 I love the funky vibe these blue and white melamine plates bring to the table! Not only that, they abide by our "no glass by the pool" rule. These shatterproof margarita glasses are the perfect table compliment. This wooden serving paddle is an easy way to look organized with your sides/sauces, and it makes them even easier to pass them around to your guests.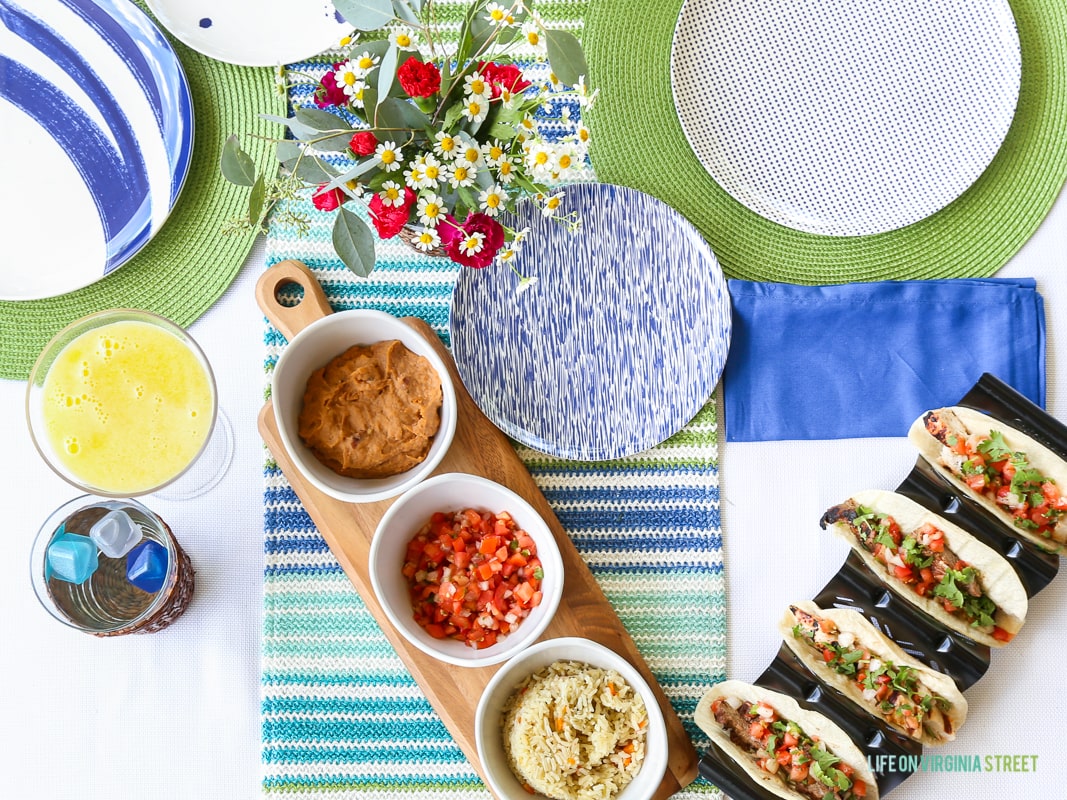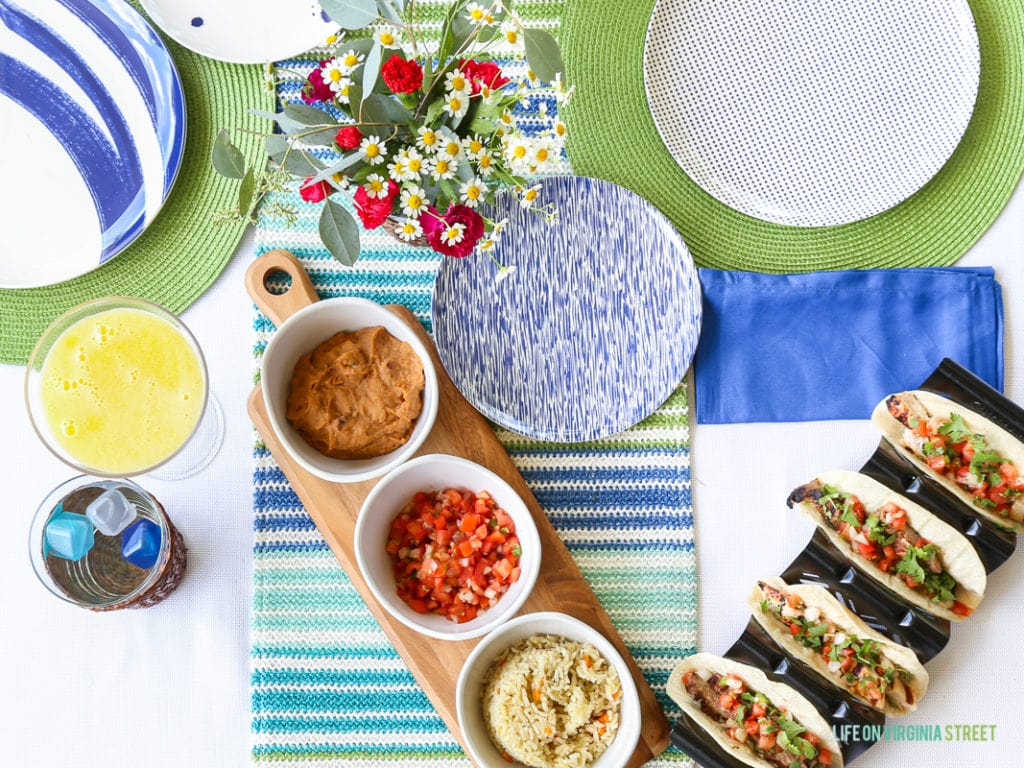 We're absolutely loving this Cuisinart Taco Grilling Rack. We've actually used it several times since it arrived! You can use it to throw your assembled tacos on the grill or in the oven to heat/melt all the ingredients together. It is also incredibly helpful when you're trying to assemble your tacos.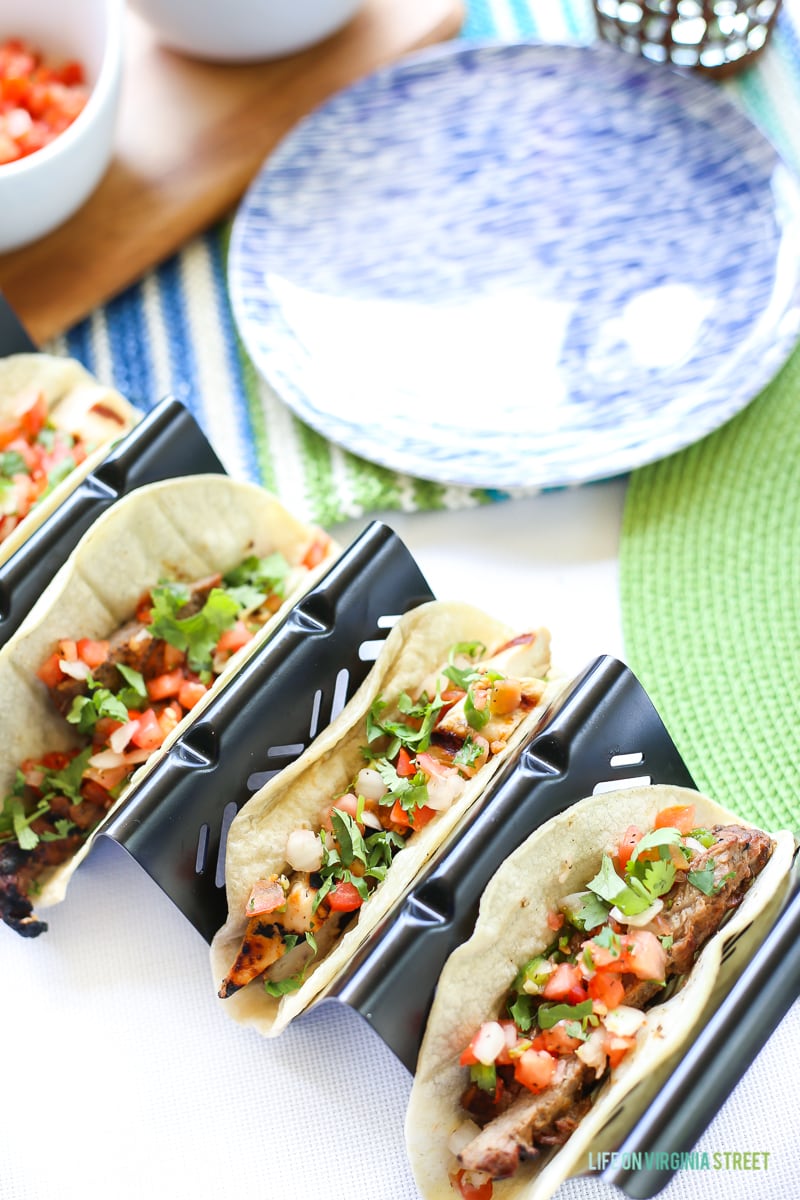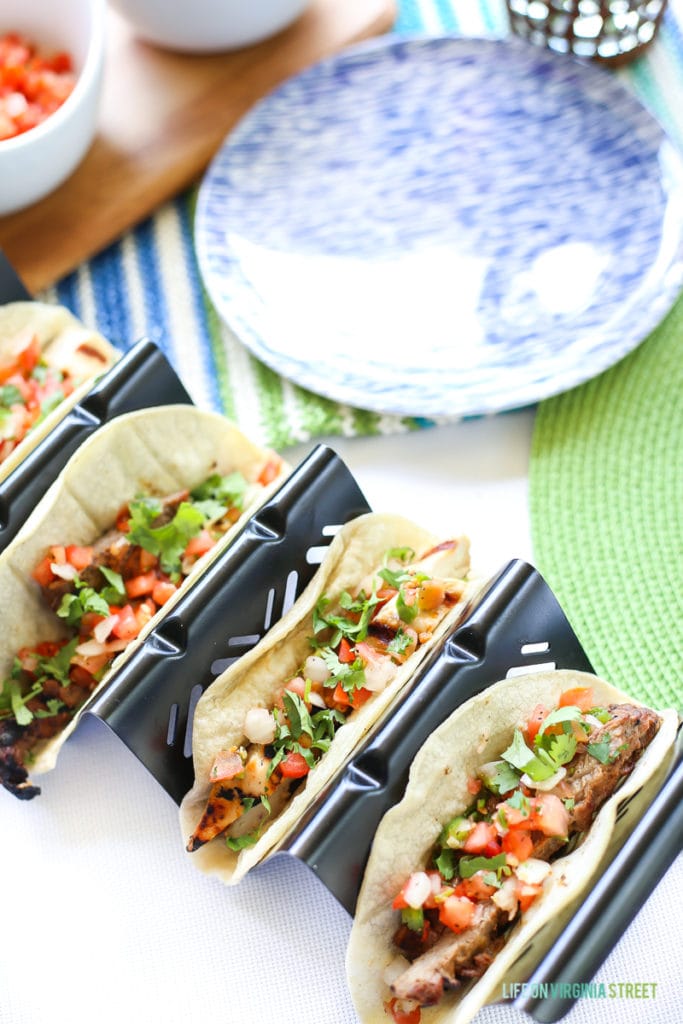 The swirl bowl and swirl serving tray, although both covered with food, are also gorgeous! Kurtis actually thought they were ceramic until he picked one of them up. I love the gorgeous adventurous color and details. I'm also loving the condiments on ice pack – a great way to serve items that need to remain chilled during the hot summer months. It doesn't stay cold indefinitely, but it's great for keeping items like sour cream, cheese, lettuce and other veggies chilled throughout your meal! I love doing minimal prep work and then allowing guests to finish off their food to their liking. It's a win-win for everyone!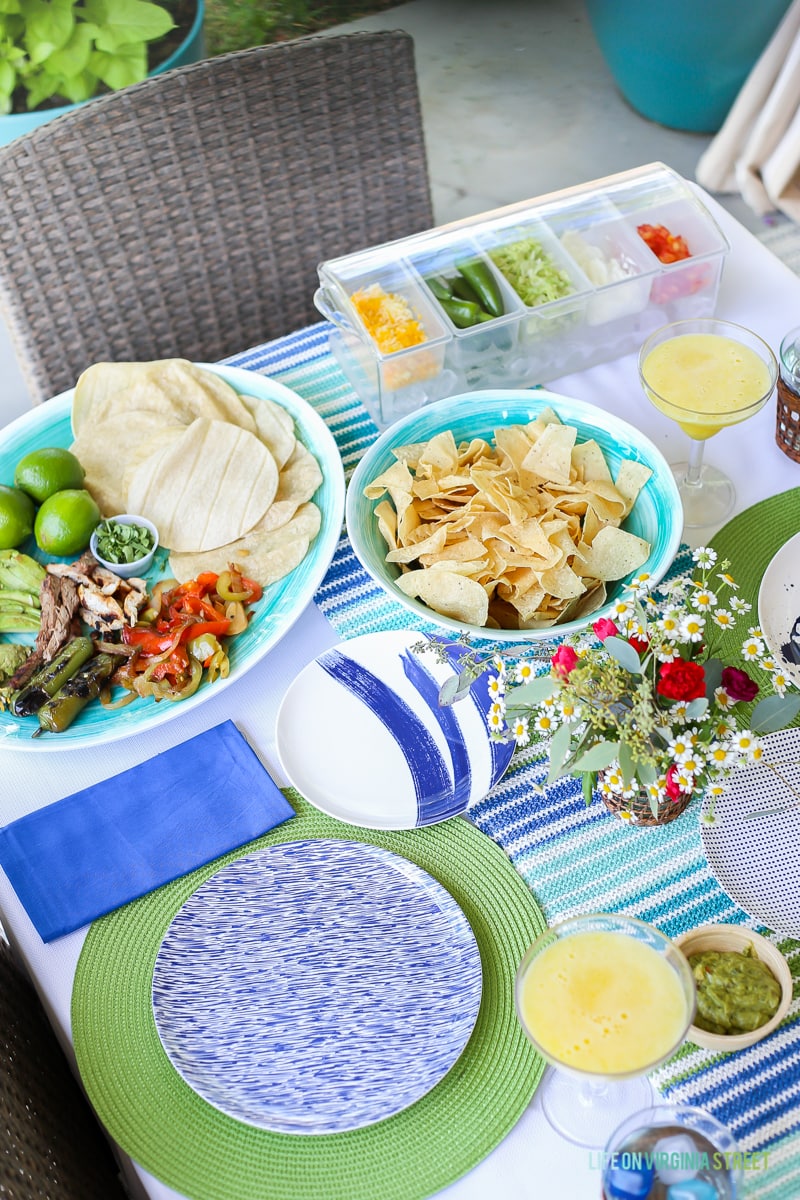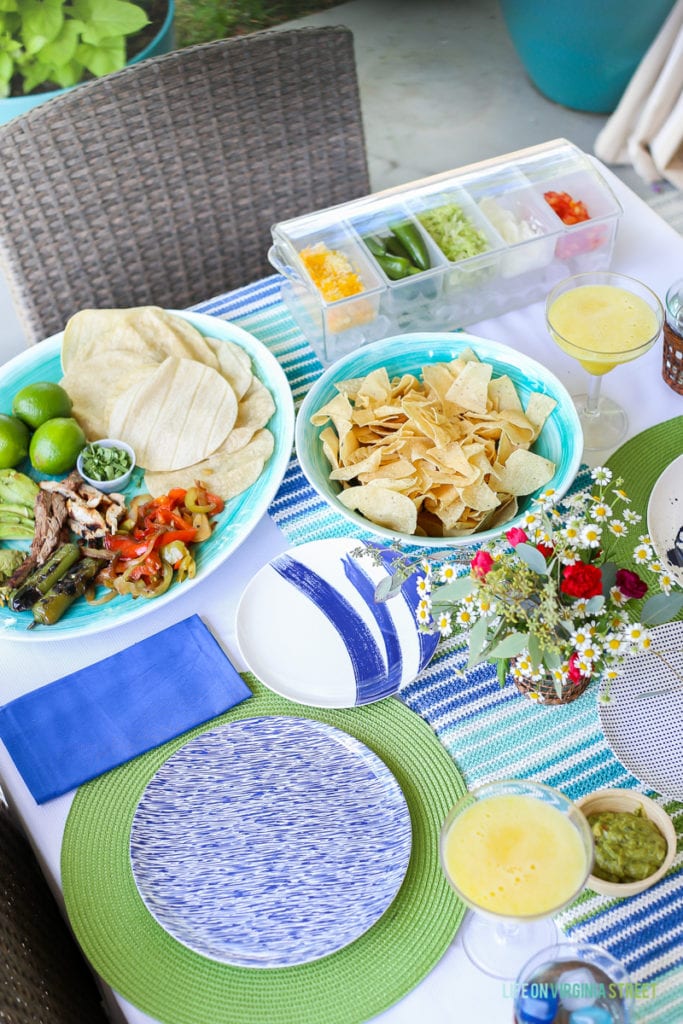 I love tools that make cooking/prepping easier. The avocado slicer and corn stripper and both work like a charm! We actually grill corn on the cob on a weekly basis around here, but funny enough, Kurtis won't ever eat it off the cob. So he's actually used the corn stripper multiple times already! But it also works great for fresh corn in salads, salsa or in a taco bar.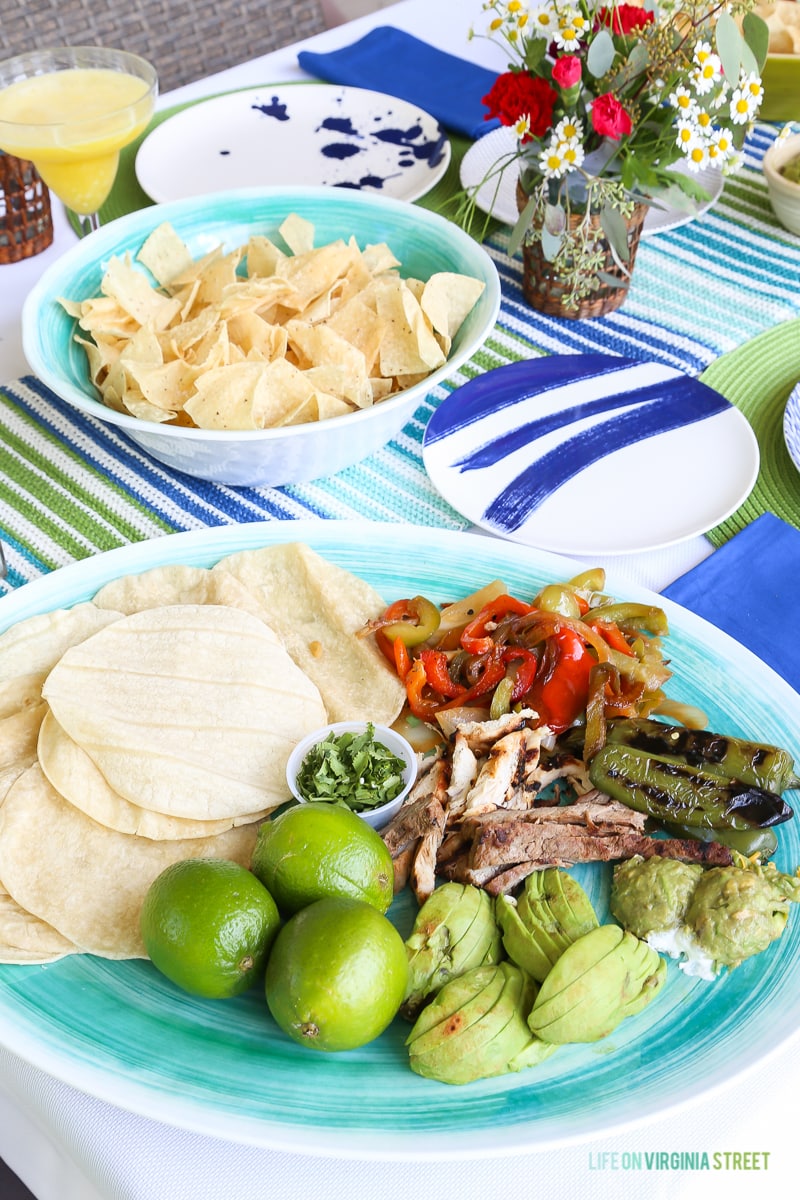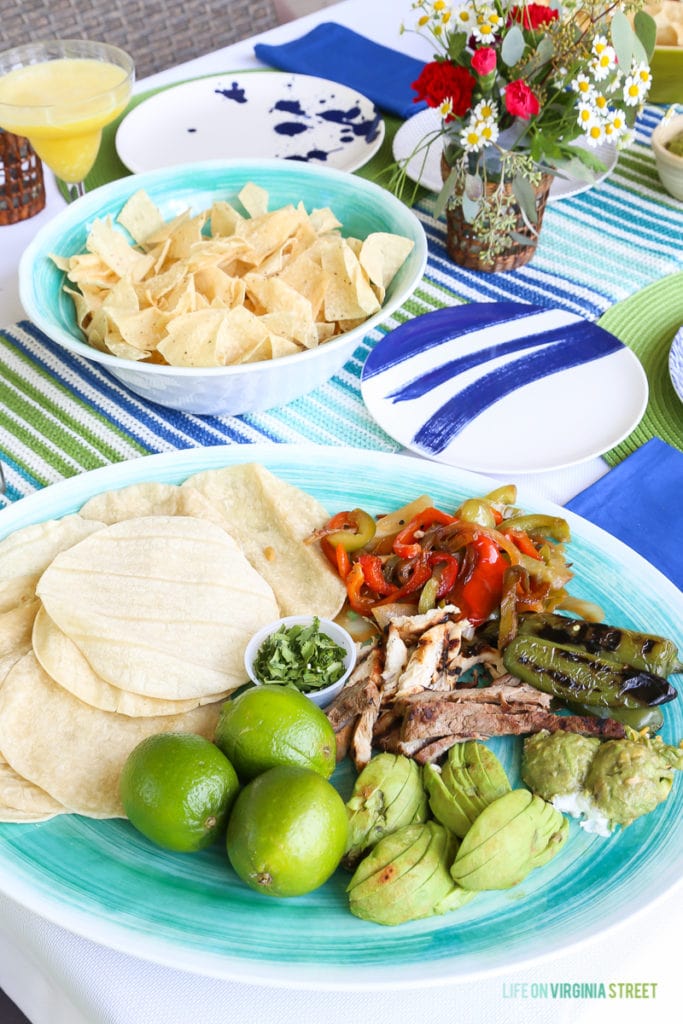 If  I haven't mentioned it before (or a hundred times before), we could also eat chips and salsa every night. But can you believe I never had a proper set to serve them in? This bamboo chips and dip set is the perfect solution!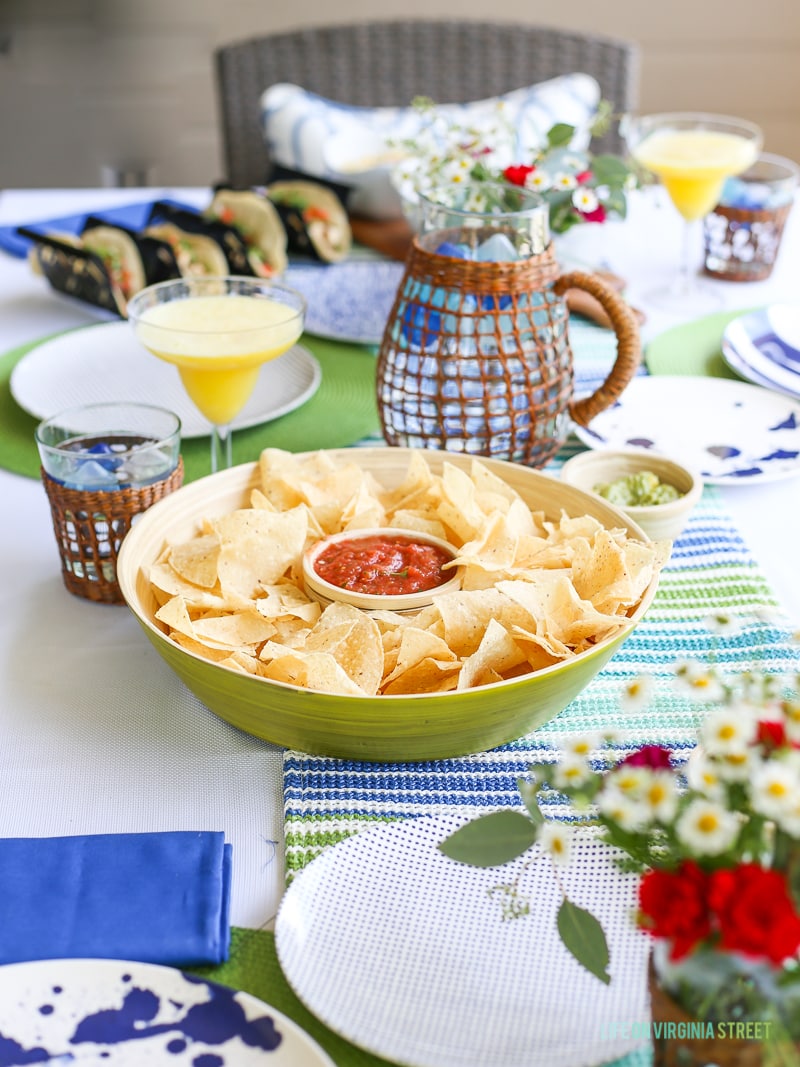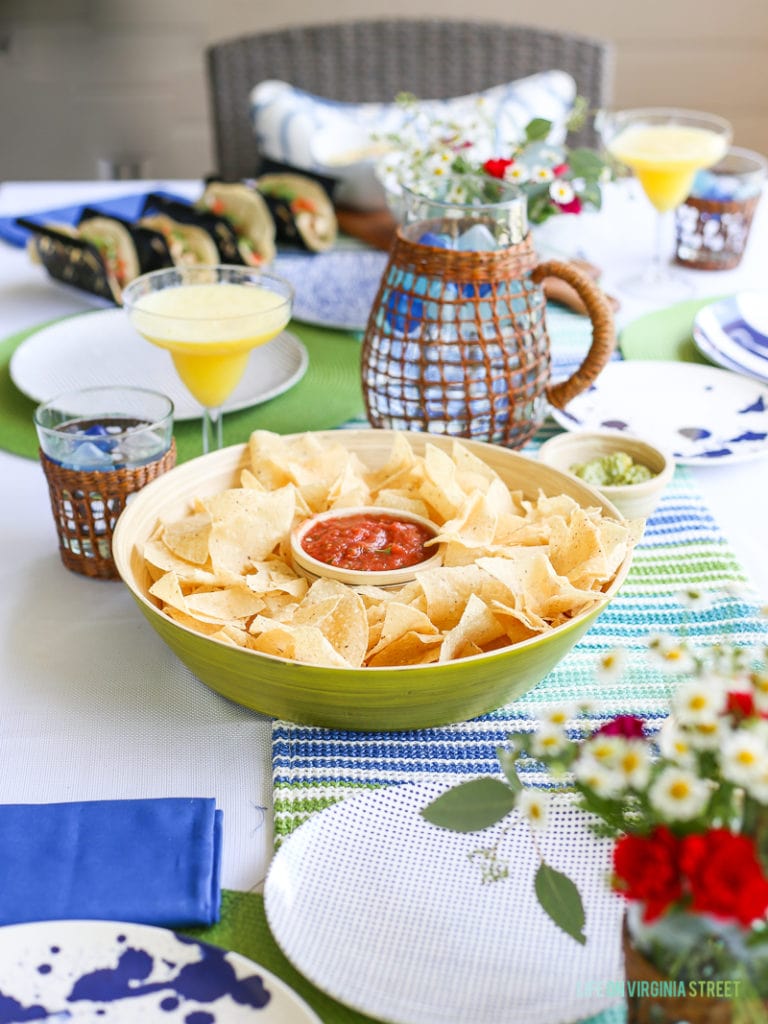 I'm already hungry again looking at these tacos for the fiesta!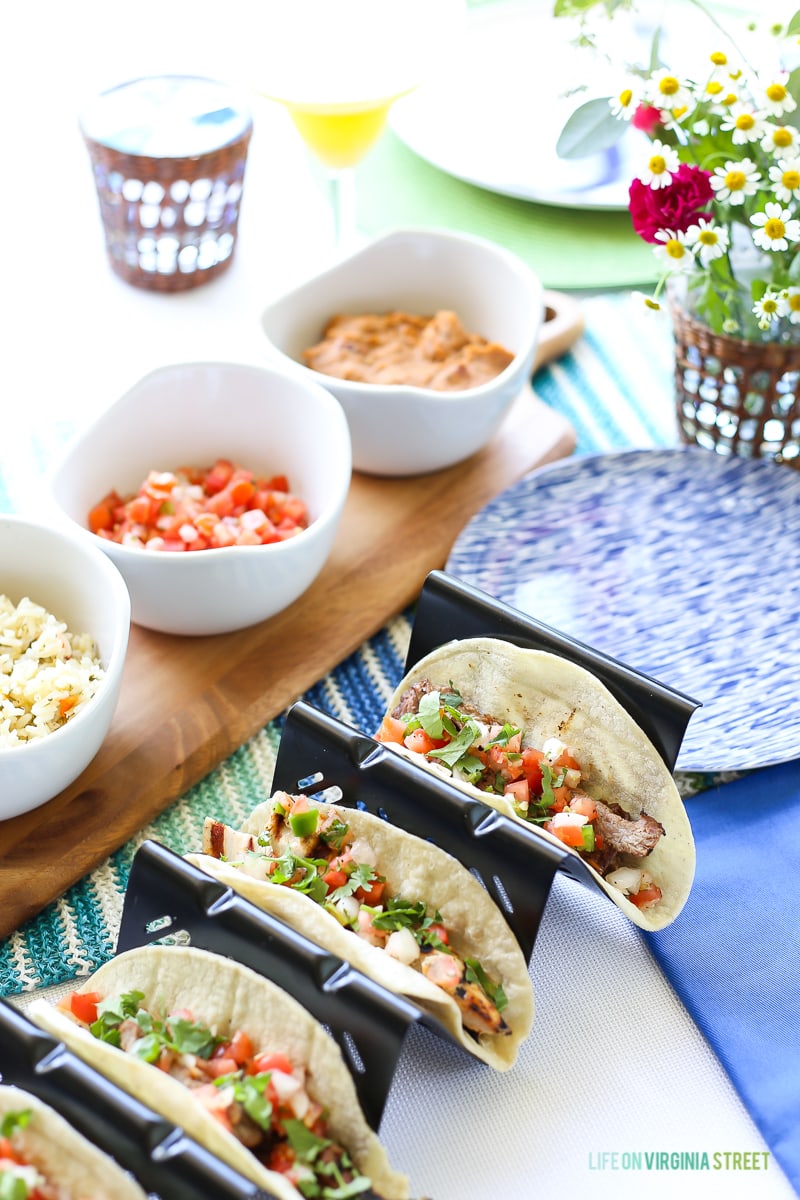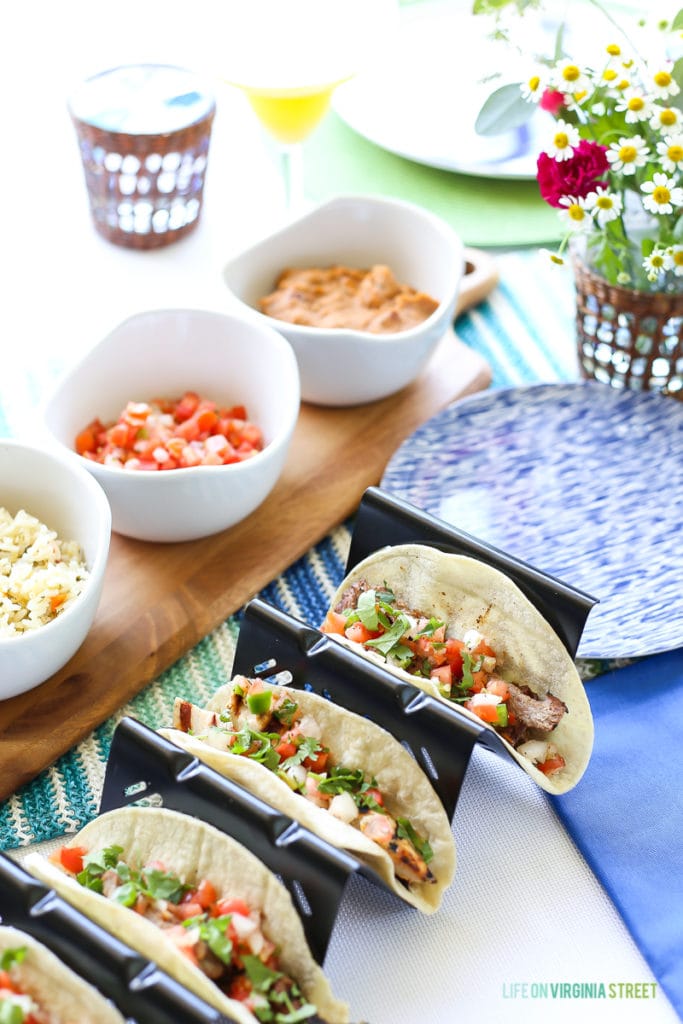 I am also loving these cabana stripe turkish towels! They are not only super absorbent (and fast-drying) they are also incredibly soft. And the stripes and tassels aren't a bad feature either 😉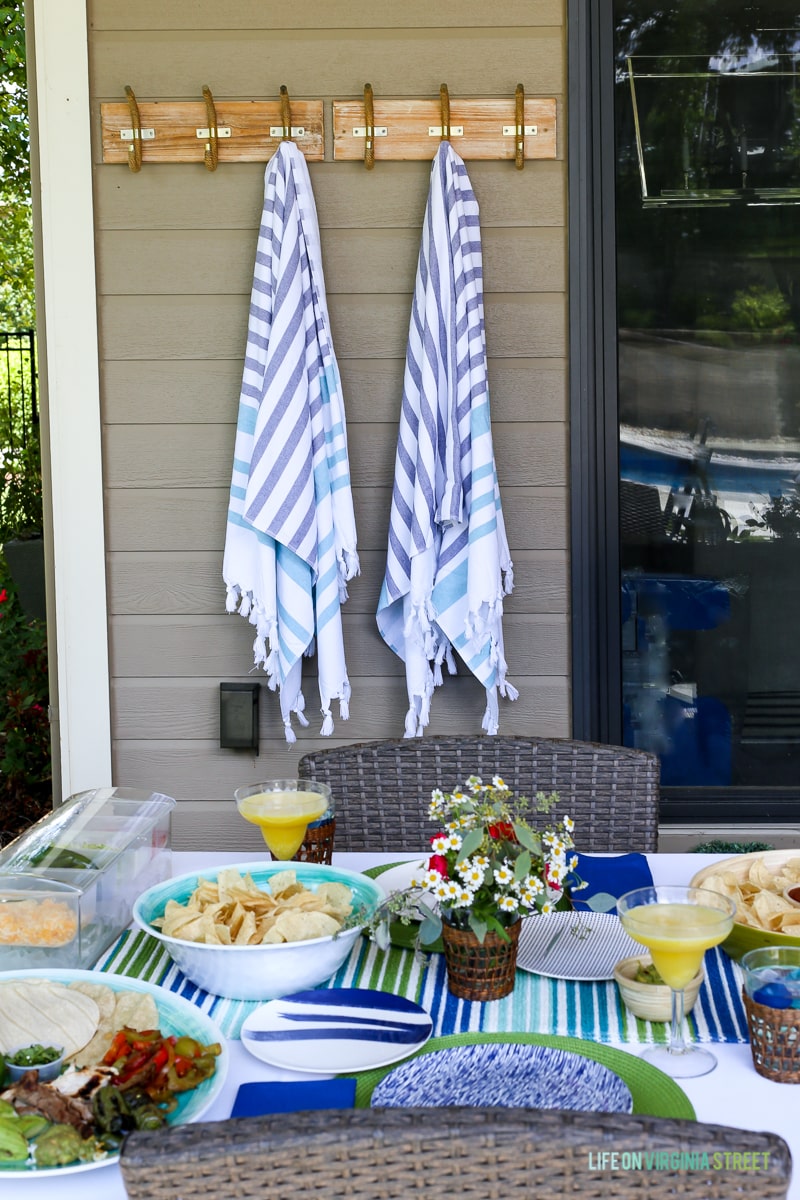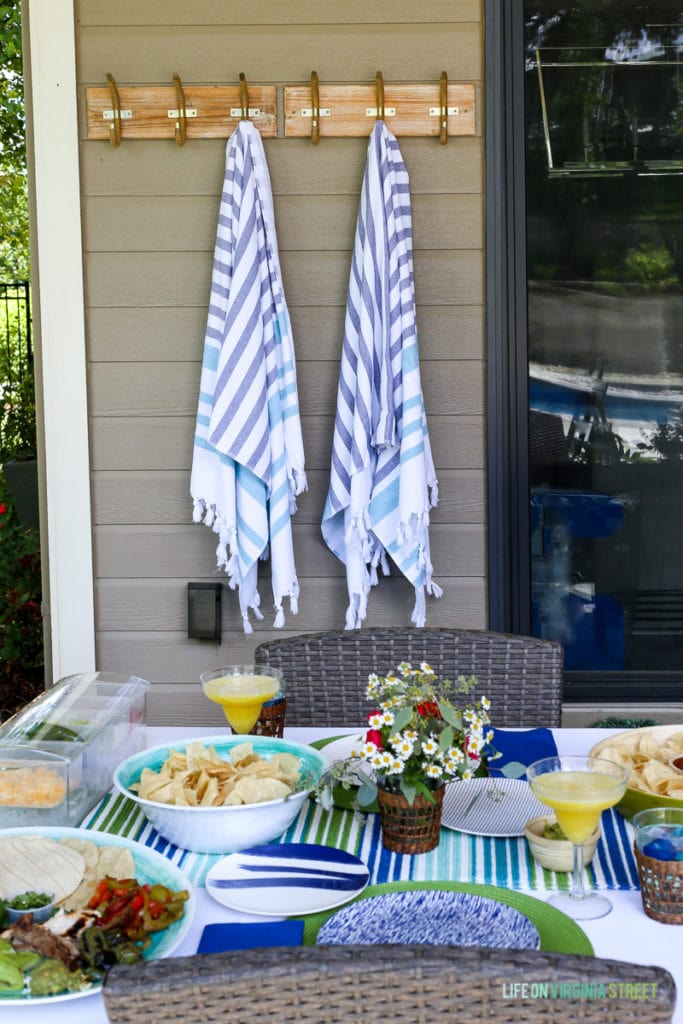 The rattan sleeve water pitcher and matching tumbler cups are some of my favorites to add a beachy vibe to any table setting! Add in these reusable ice cubes that look like sea glass, and I can't get enough!
Want a super yummy and somewhat healthy alternative to your typical margarita? We love the ones in the Vitamix recipe book. You basically just blend one orange (peeled), one lemon (peeled), one lime (peeled), 2 oz. Triple Sec, 6 oz. Tequila, and 4-8 cups of ice. Add agave nectar or sugar to taste. It's so delicious and so refreshing on a hot day! The perfect pair with tacos!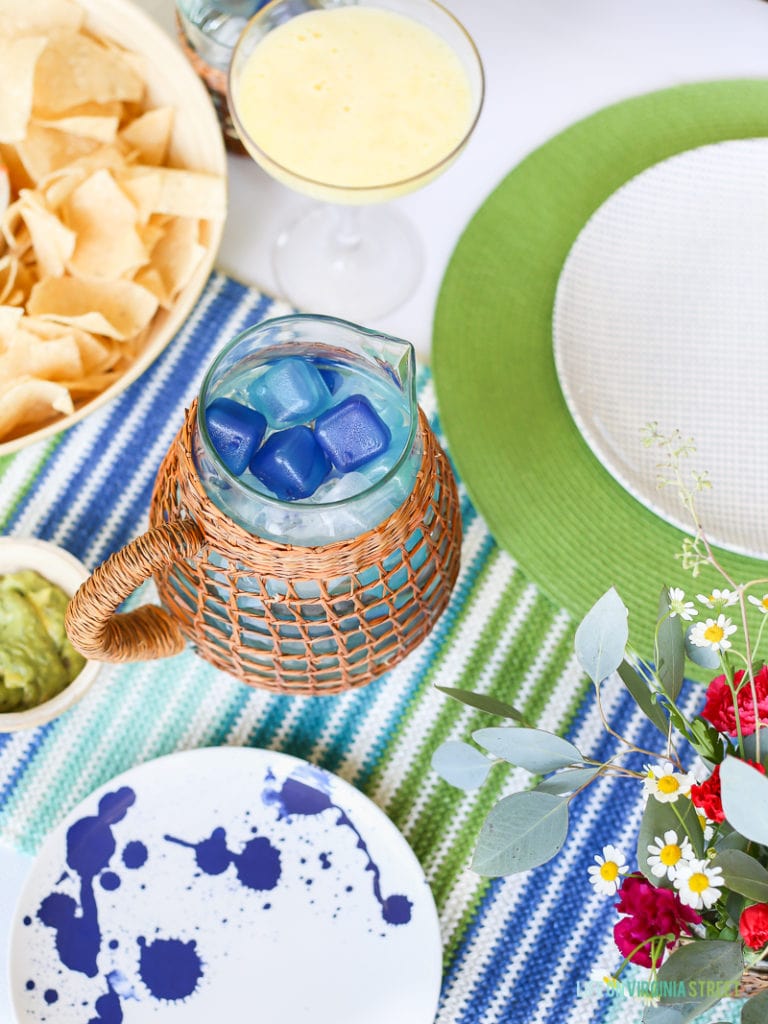 You know I'm all about simple entertaining, so I kept the floral centerpieces small and easy. I used two of the tumbler glasses, added Scotch tape in a grid over the top of the glass, and added some colorful flowers from Trader Joe's. Since this was an outdoor dinner, I left them a little unruly and more natural, to avoid a formal vibe.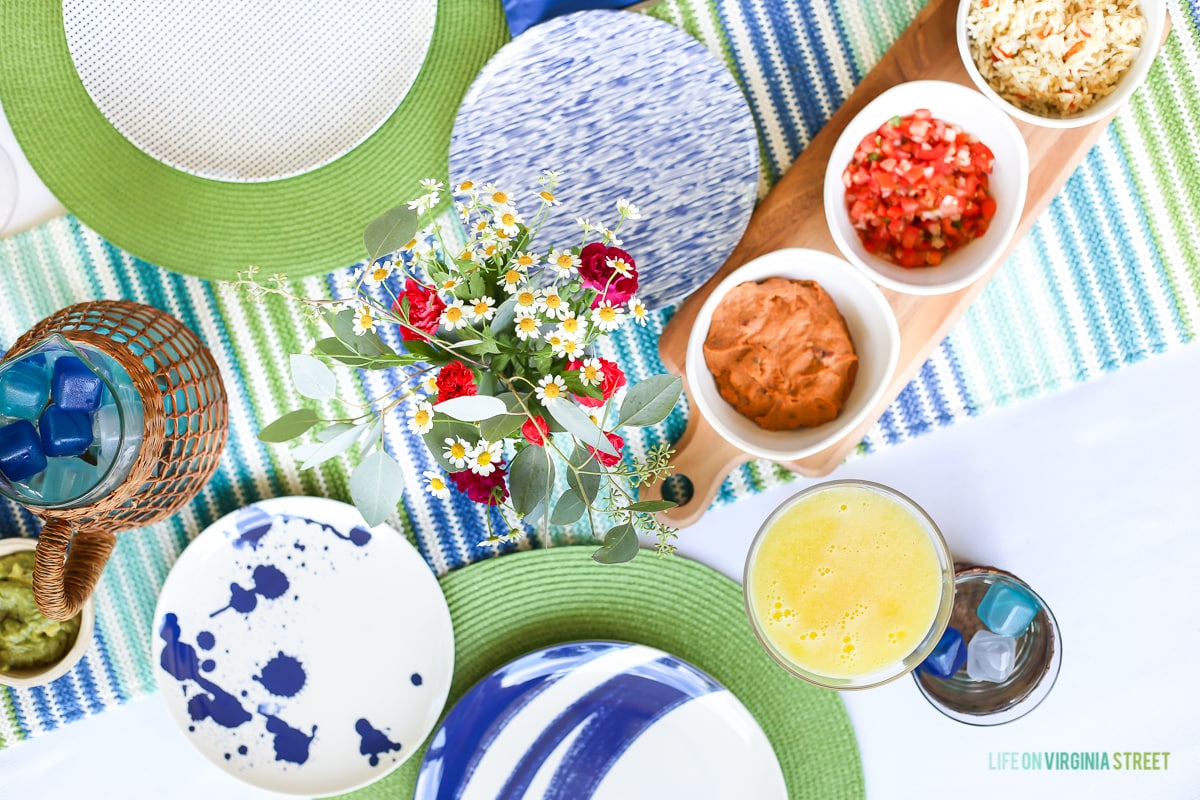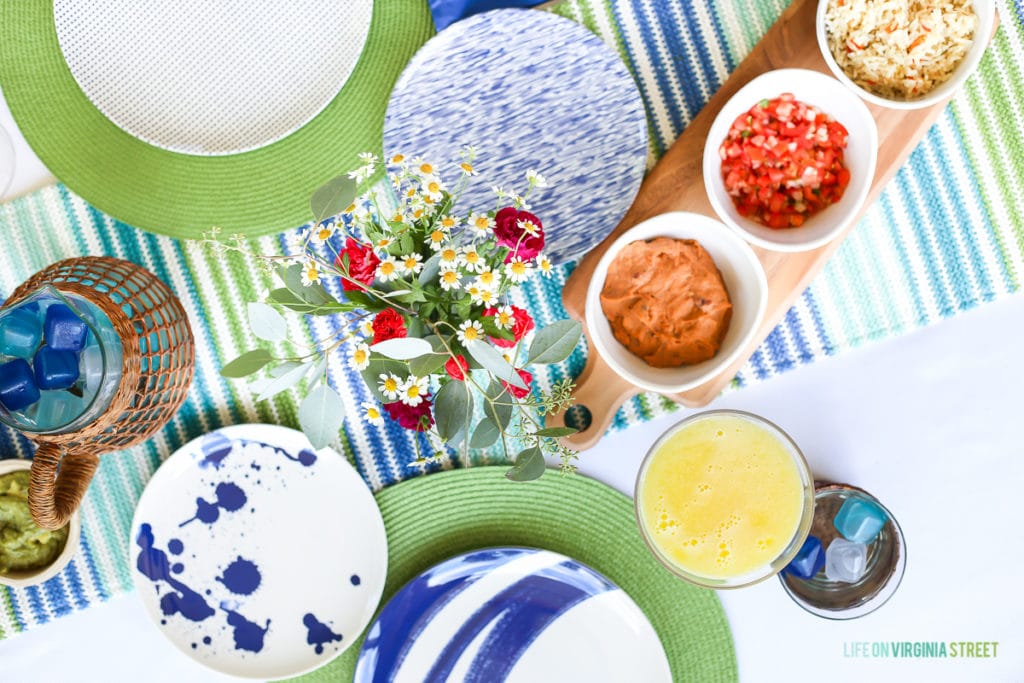 I seriously need to move somewhere where we can eat outdoors everyday! Do you love dining al fresco as much as I do? Are you as obsessed with tacos as we are? Have a great weekend friends!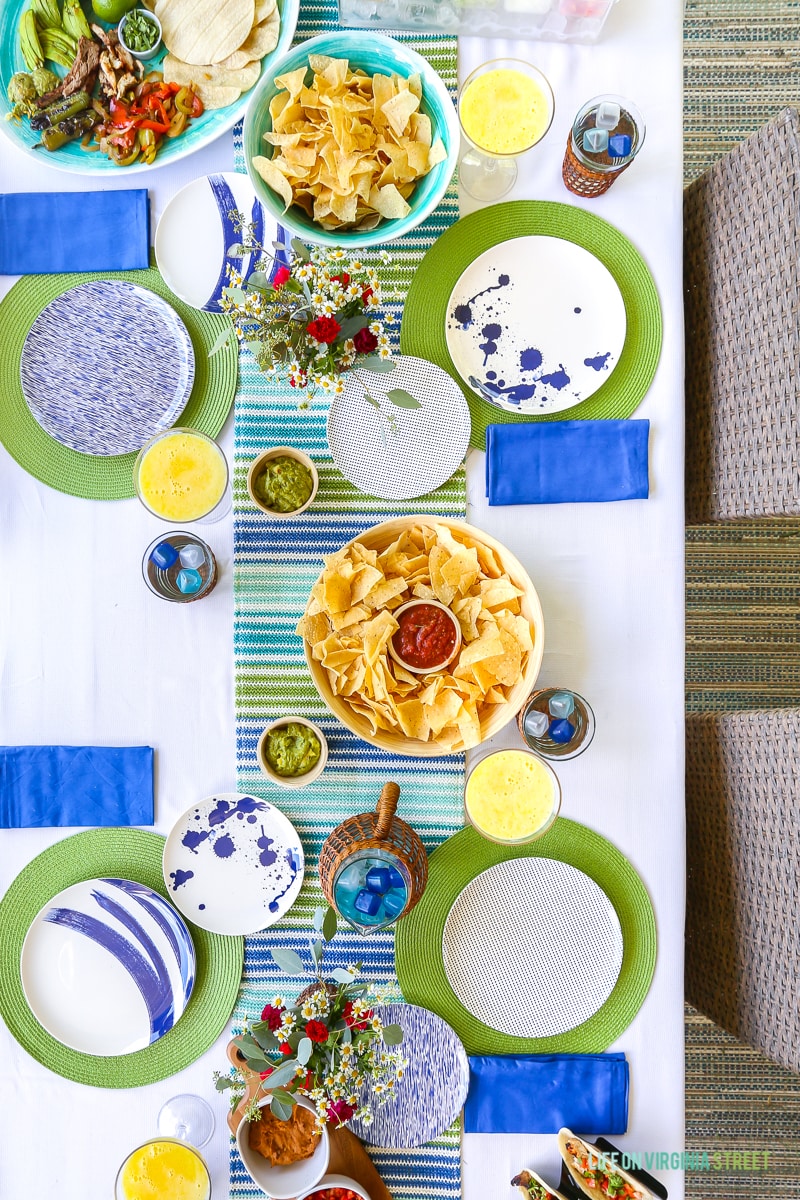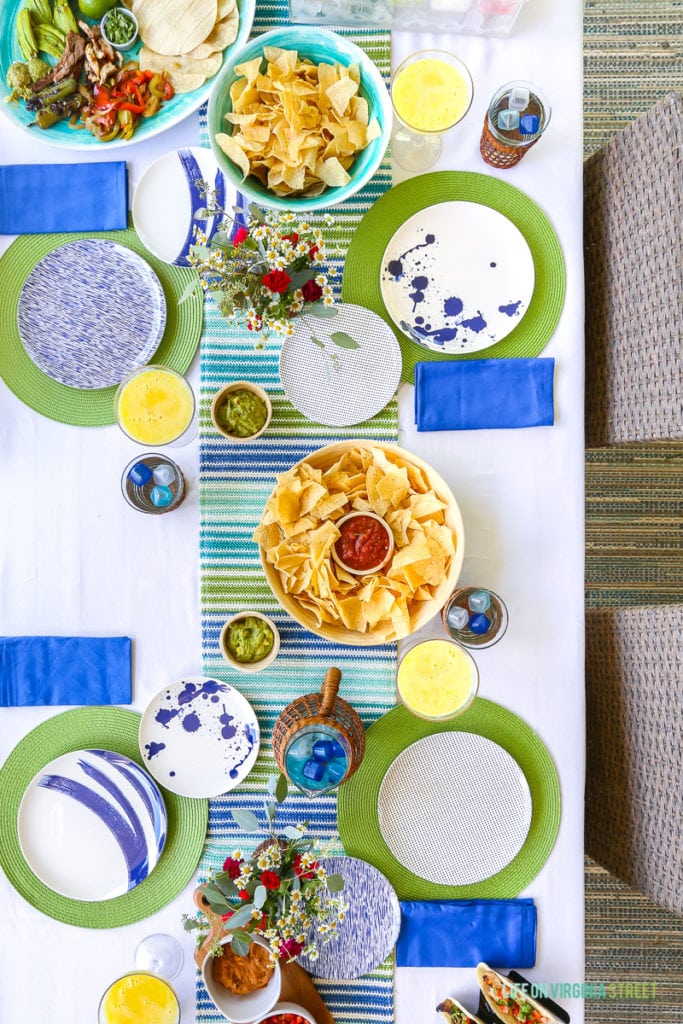 If you would like to follow along on more of my home decor, DIY, lifestyle, travel and other posts, I'd love to have you follow me on any of the following: