This post is sponsored by Home Decorators Collection as part of their #HDCrugsforthesummer
Now that the bulk of our construction has come to an end in our backyard, it's time for me to start on the fun stuff – the decor!
Our covered patio has long been a source of contention for us. Once our grill and smoker are there, the space is pretty small and doesn't leave us a lot of room for furniture (we'd love to do an outdoor sectional here, but it just isn't feasible). So, as we began our backyard renovation, I decided this area would work best as an outdoor dining area.
I've been planning the space for some time, but it has been a wreck lately with all the construction. Since this is the most convenient location to get out to the pool area from our house, we were constantly bringing in mud and salt water when we'd walk inside to our dining room.
As of last week, our patio still looked like this: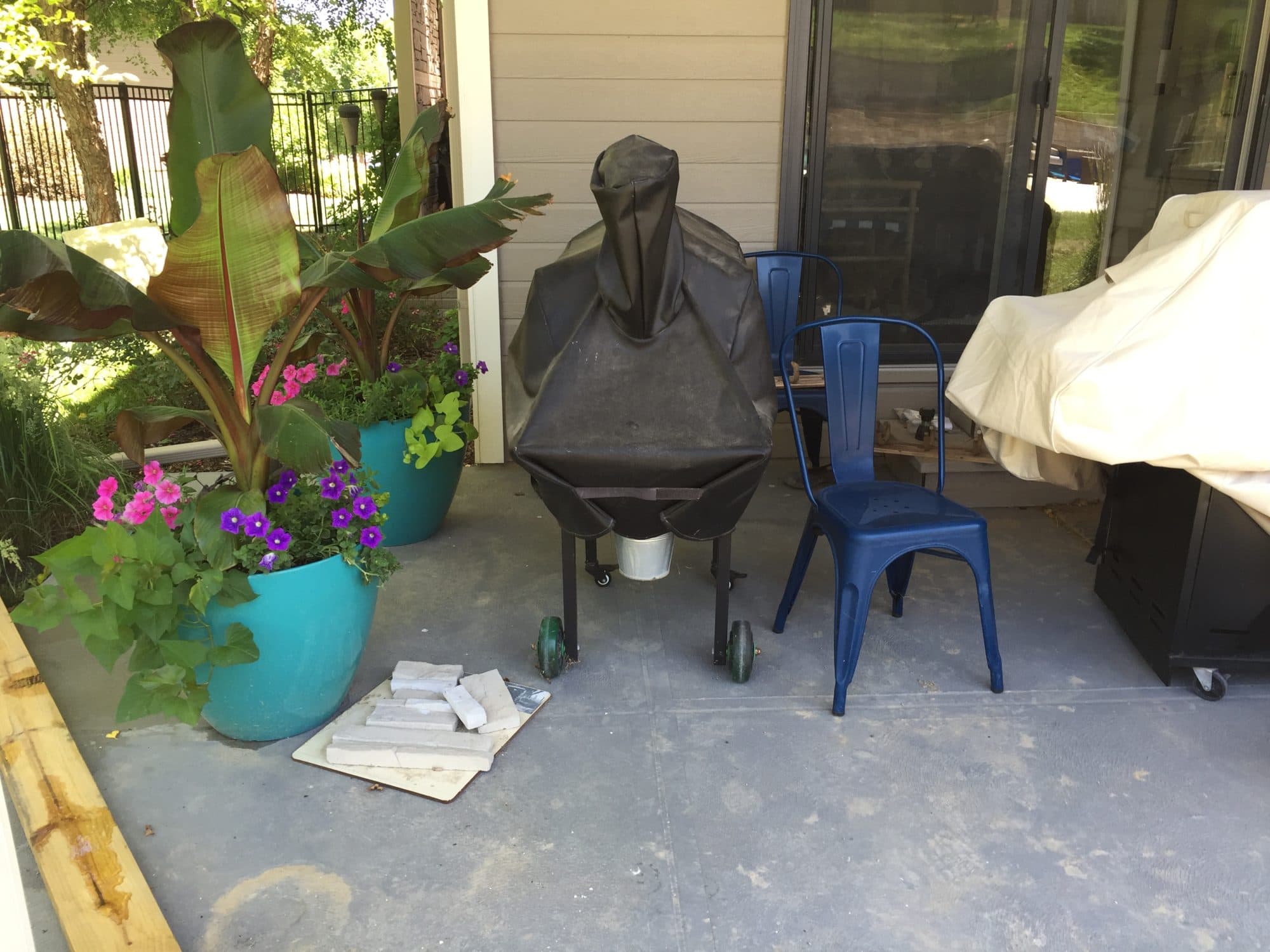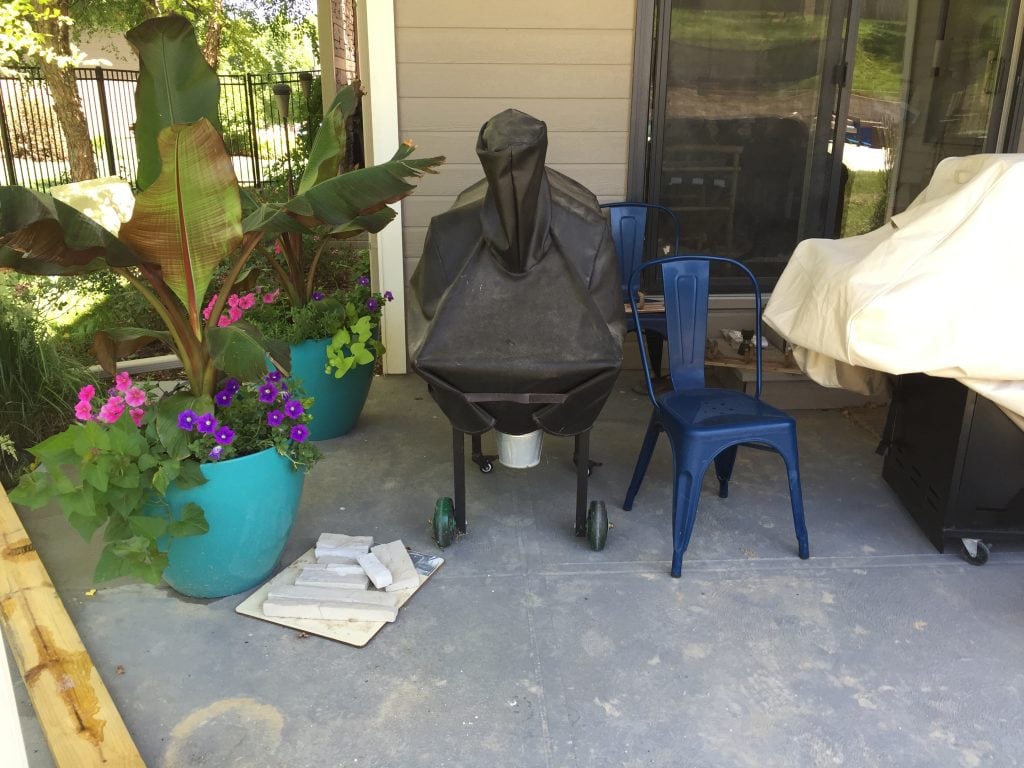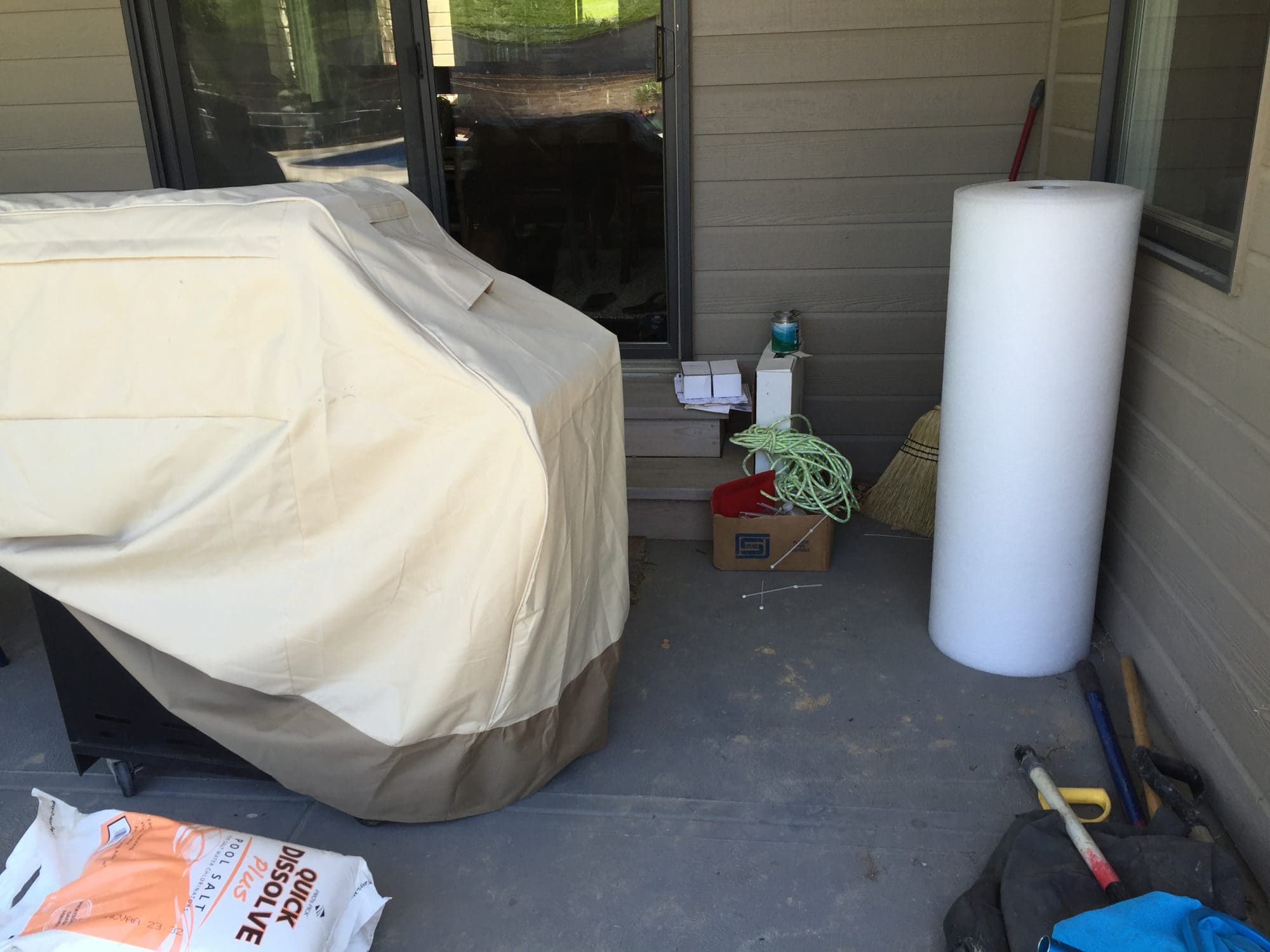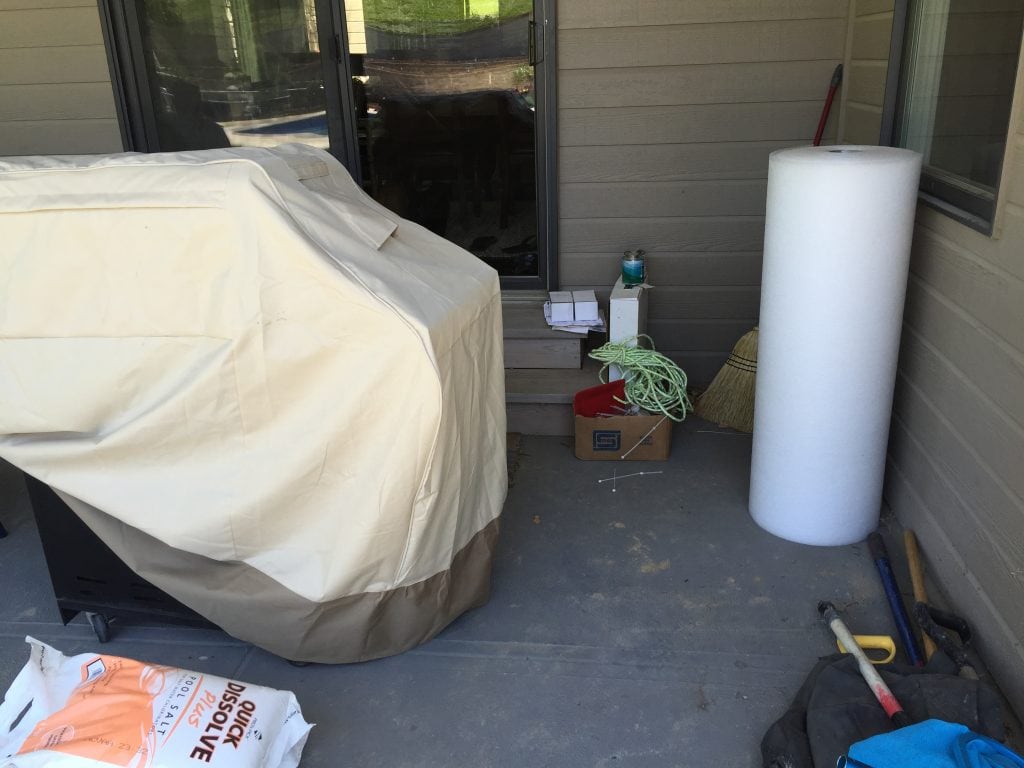 There were tons of tools/equipment/supplies from all the various companies that had been working in our yard and it was all completely filthy. And it's hard to tell in the pictures, but the layer of dust/dirt was pretty thick. No wonder our hardwoods inside were so gross!
One of the original items I searched for was a large outdoor rug to cover as much of our painted concrete patio as possible. Not only was the gray paint a bit too dark for our new pool pavers that will soon butt right up to the space, but the dark gray clearly showed too much dirt. We also needed a rug (rather than concrete) for us to wipe our bare feet on before going into the house.
To be honest, I stress out a bit when it comes to buying large rugs. I never know if I should go for a neutral textured rug, a pattern, etc. Outside versions make it almost more daunting because you want to make sure it will last in the elements! I looked through site after site, but ultimately feel in love with one at Home Decorators Collection. They have so many gorgeous outdoor rug styles to pick from in a ton of sizes and shapes.
When I saw Wharf Area Rug in the Azure color (8'6″ x 13′), I knew it was perfect. It had blues, grays, tans, whites, turquoises – pretty much every color I'm using in our backyard space and knew it would help tie in all the colors perfectly. And although it definitely has movement, I also loved that it wasn't a pattern, which gives me flexibility down the road if/when I want to swap out my throw pillows.
Once it arrived, I was even more sure of my decision! I'm not going to show you our whole patio makeover yet because I still have several things to wrap up, but you can get a sneak peak of the new outdoor dining space with the rug below!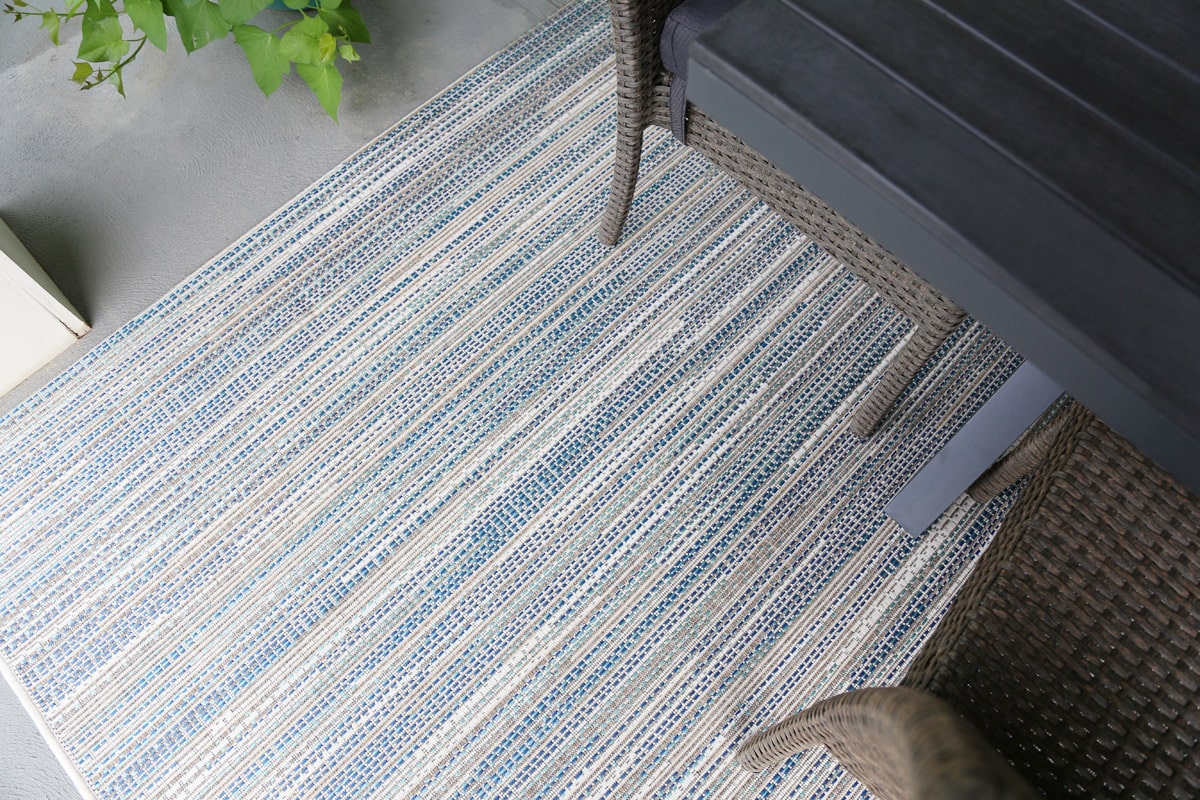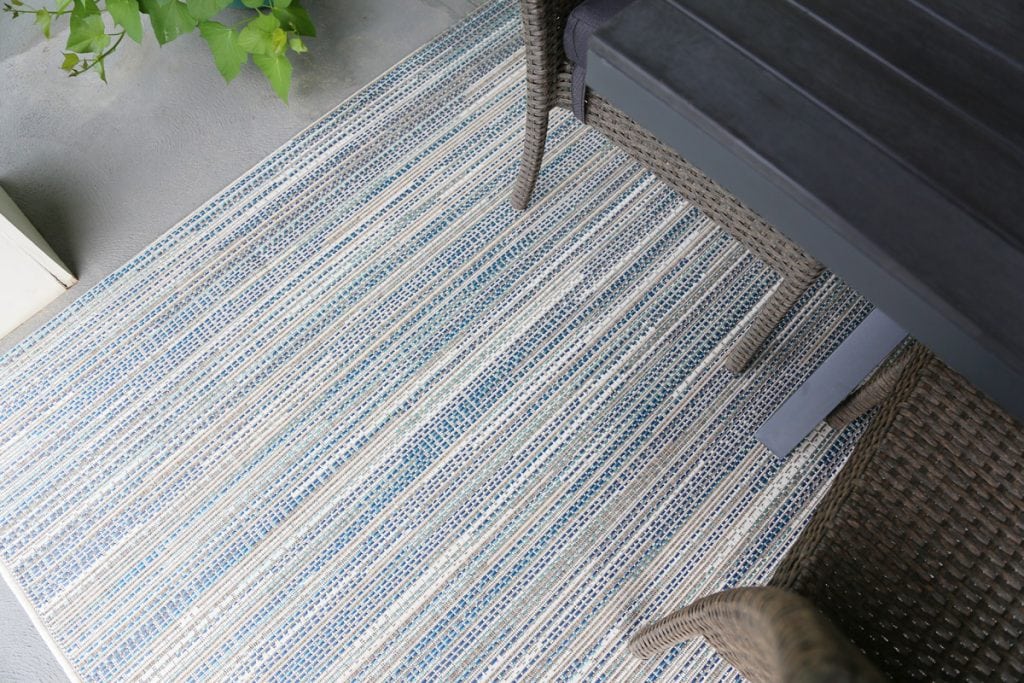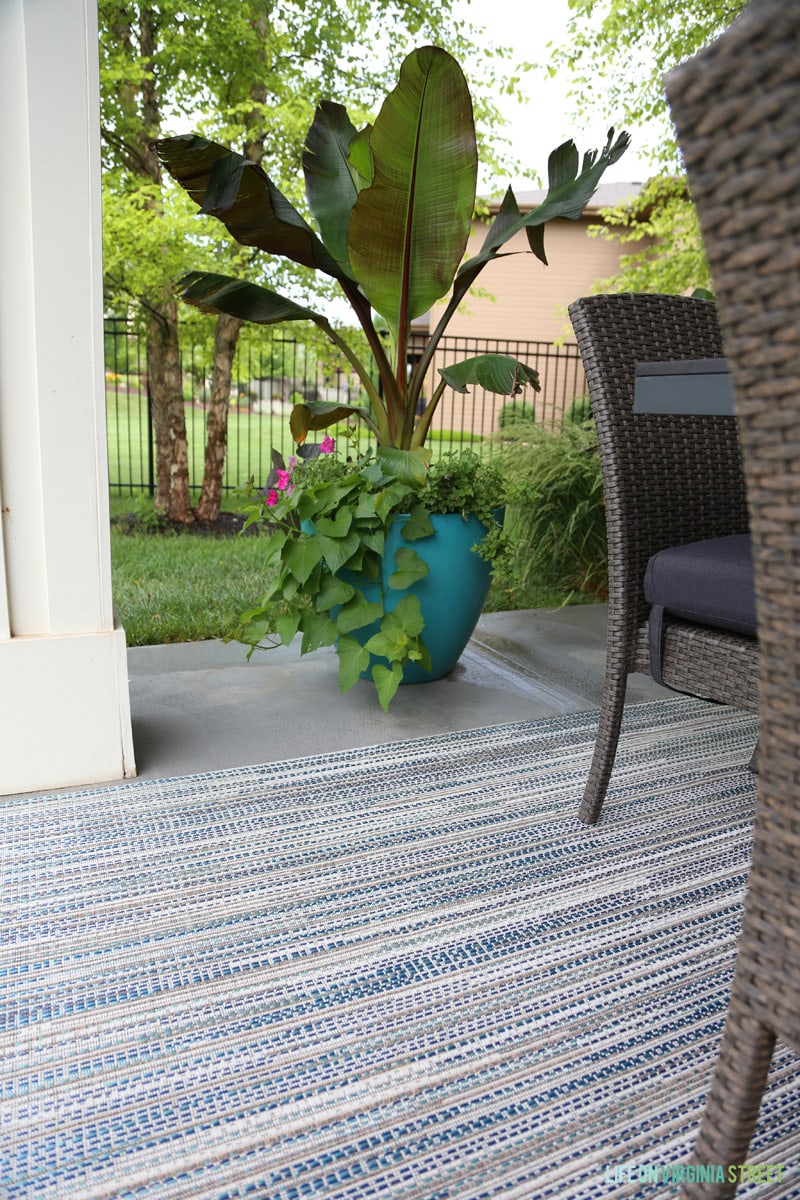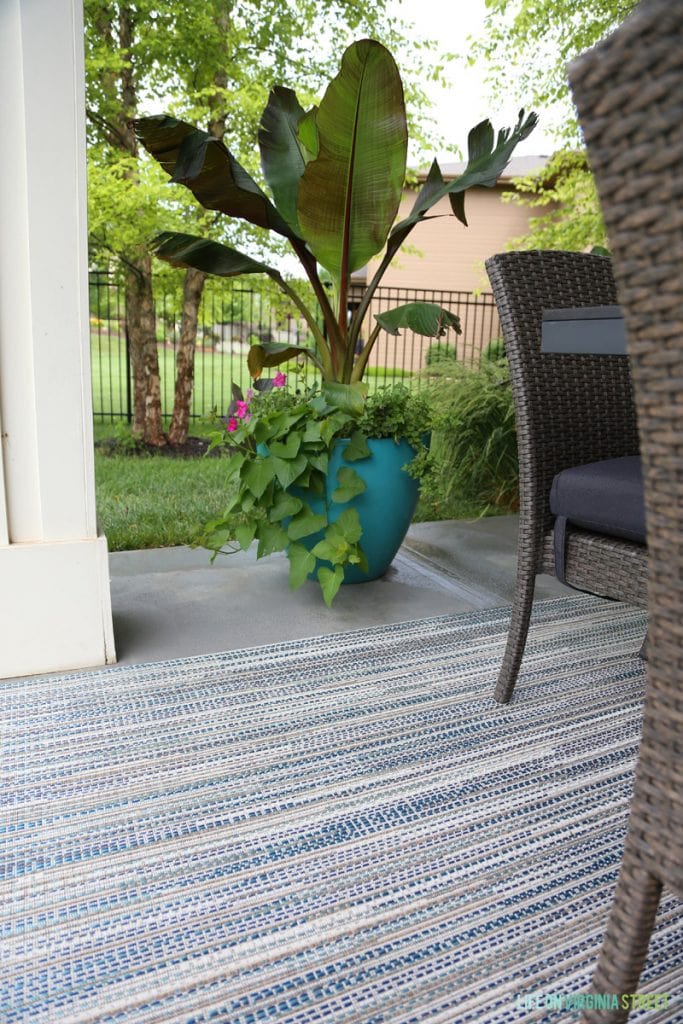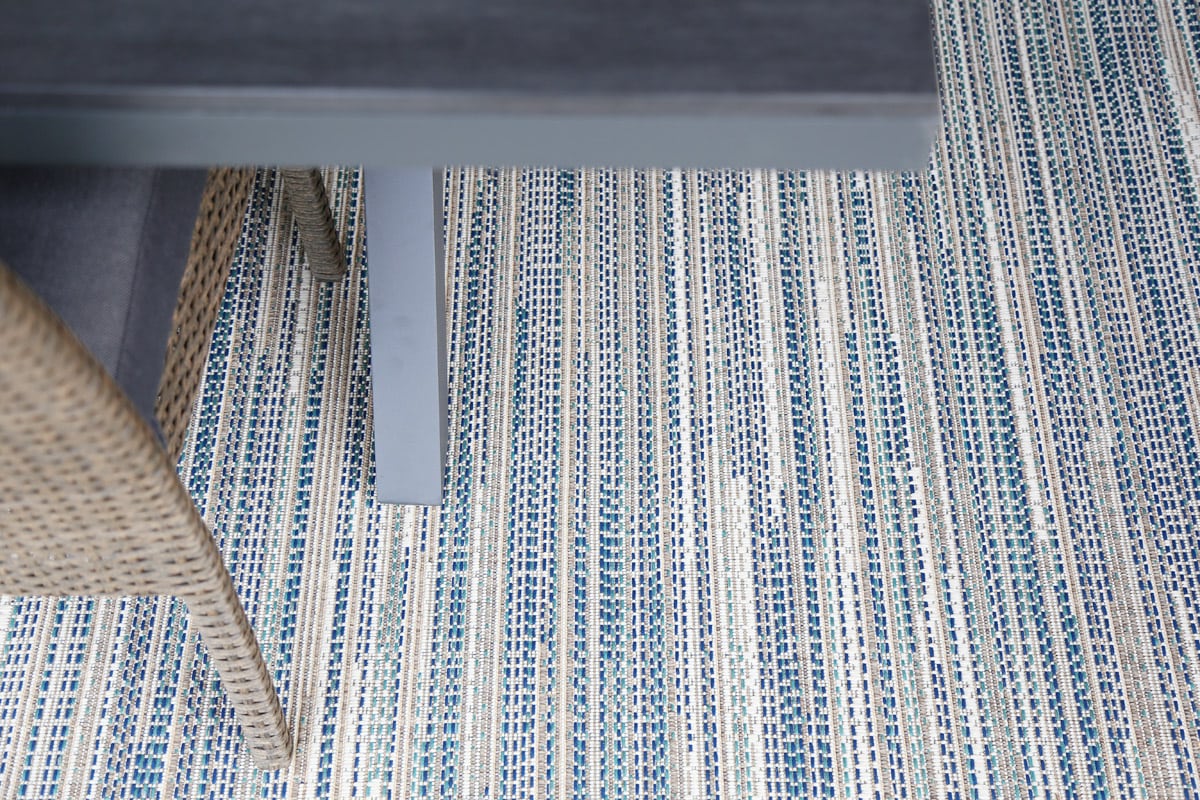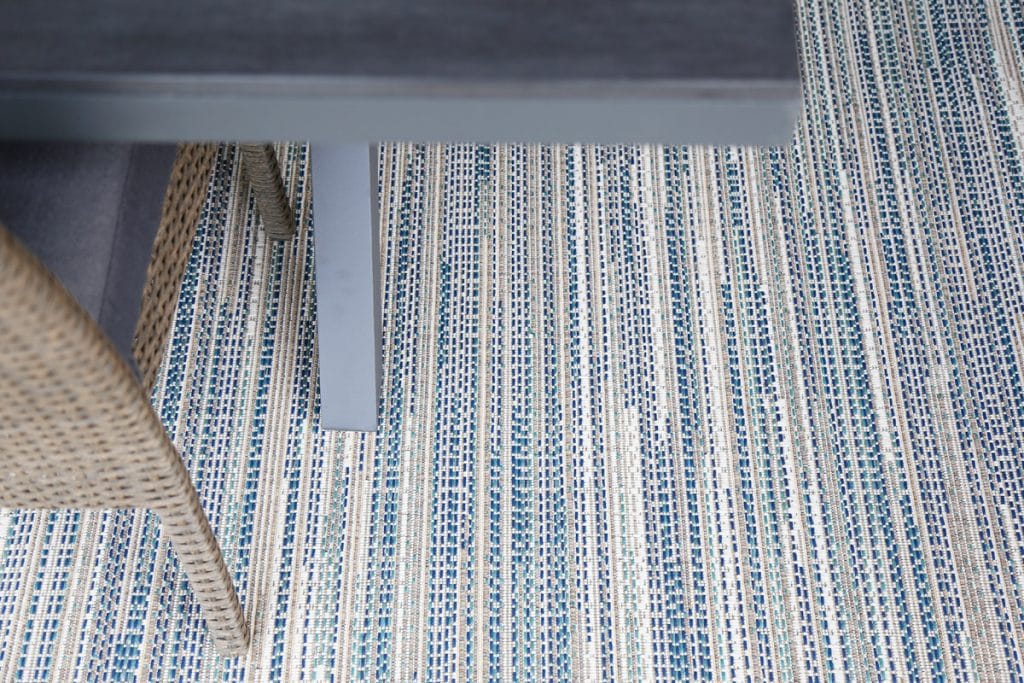 We already got a pretty massive rain storm over the weekend (three inches of rain!) and I was worried what it would do to the rug. But honestly, it looks good as new and I can tell the areas that were most saturated have already fully dried out (as has the concrete underneath). I couldn't be happier!
And perhaps my favorite view of the rug. I love how the colors completely mimic the pool, pavers and stone on the retaining wall. Now I'm just counting down the days until our checkerboard pathway from the pool deck to the patio gets installed!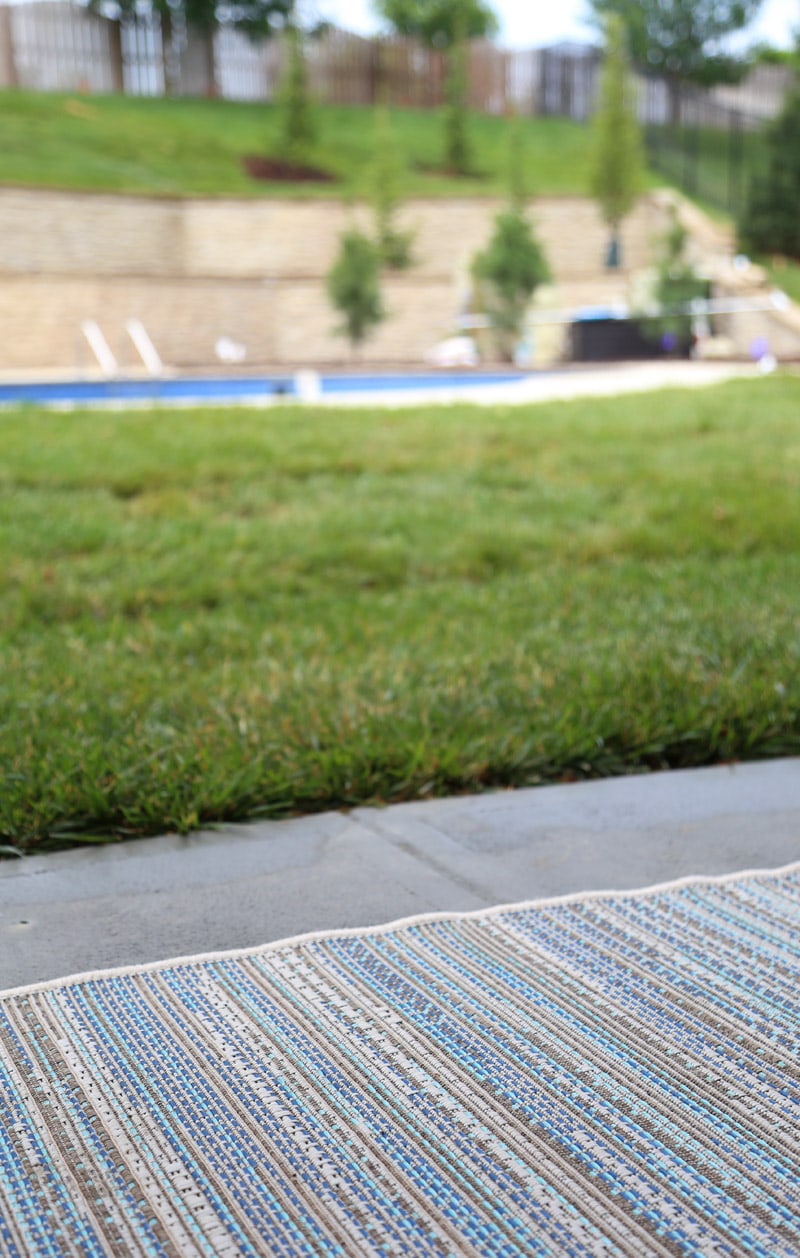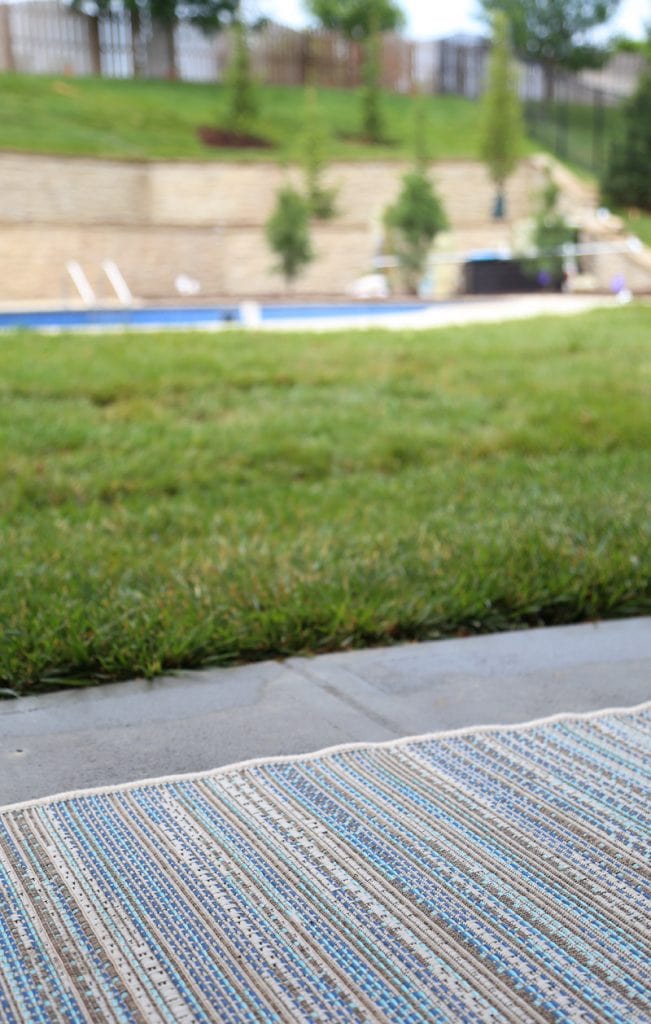 And, because I couldn't control myself with all the cool outdoor items at HDC, I also ended up buying this doormat for inside the sliding door, these glass bottles for the outdoor table and two of these outdoor side tables for out by the pool! These three items haven't arrived yet but I'll be sure to share them once I have them incorporated into our outdoor areas!
The space definitely still has a ways to go, but the minute the rug went down, I started getting giddy with the possibilities for this area we've never loved or really ever used (other than for grilling). Next up, I have to hang the outdoor curtains, add throw pillows, hang our string lights, attach our towel racks and get it all styled. It sounds like a lot, but the rug and furniture has already made such a difference that I feel like we're almost there!
Now, be sure to check out the other rug selections from my four blogging buddies:
Monday – I Don't Know How She Does It
Tuesday – Me!
If you would like to follow along on more of my home decor, DIY, lifestyle, travel and other posts, I'd love to have you follow me on any of the following:
Pinterest / Instagram / Facebook / Twitter / Bloglovin' / Google
disclosure: some affiliate links used