I wanted to share with you my Halloween porch all decorated for the trick-or-treaters!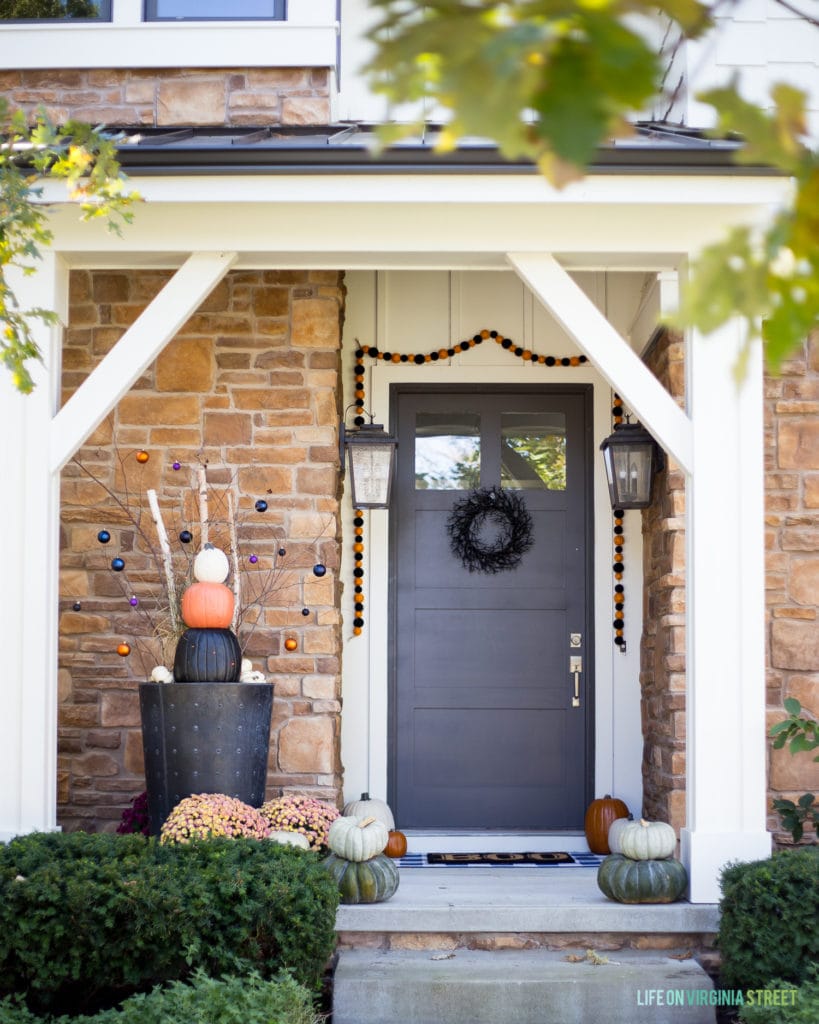 About a month ago, I shared our fall porch, but sadly "Nebraska fall" struck a few weeks ago with a random snowstorm that killed a lot of my cute plants. Womp, womp. Since there was still a good chunk of October left, I decided this year, it was time to decorate our porch for Halloween!
In the really early days of my blog, I used to decorate several rooms in our home for Halloween. Many times, the cats would also get costumes (cutest things ever!). But the reality is, I just don't love Halloween, so it's hard to work up the energy to decorate for another holiday. We get a lot of trick-or-treaters in our neighborhood, so this year, after the rogue snowstorm, I decided it would be fun to decorate for the kids that visit and live in the neighborhood! Nothing crazy, but just a bit of a festive touch to inspire.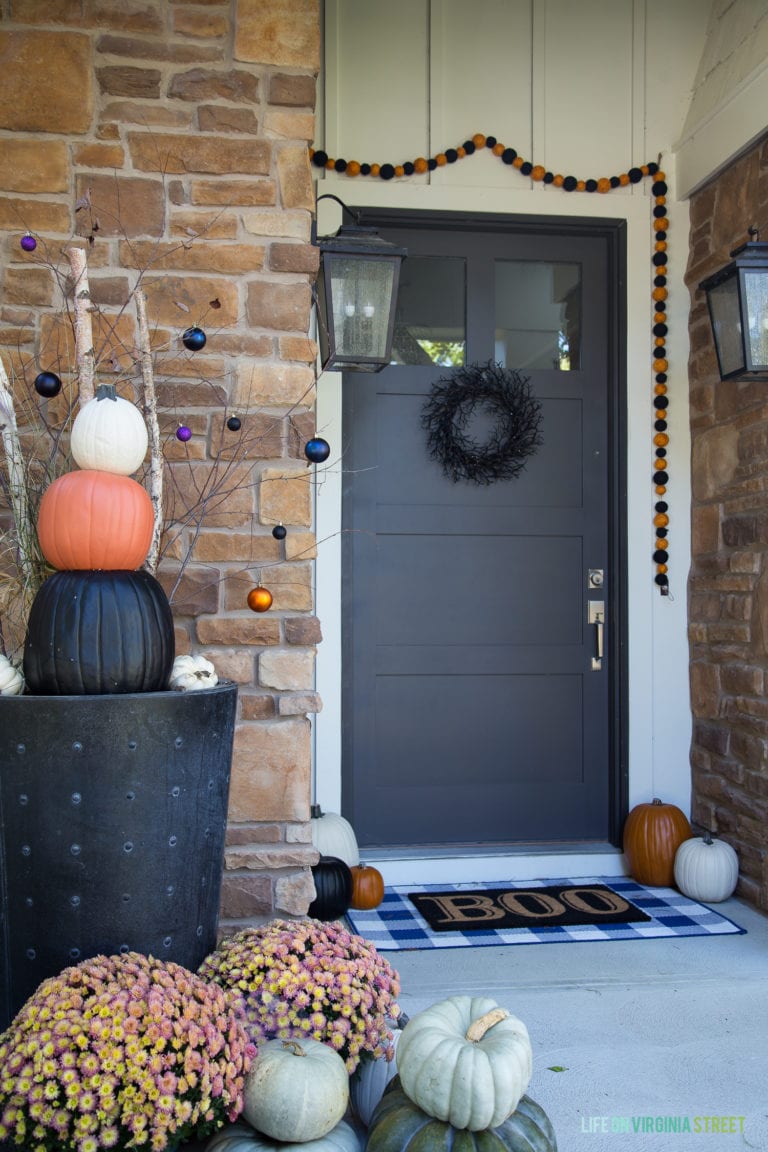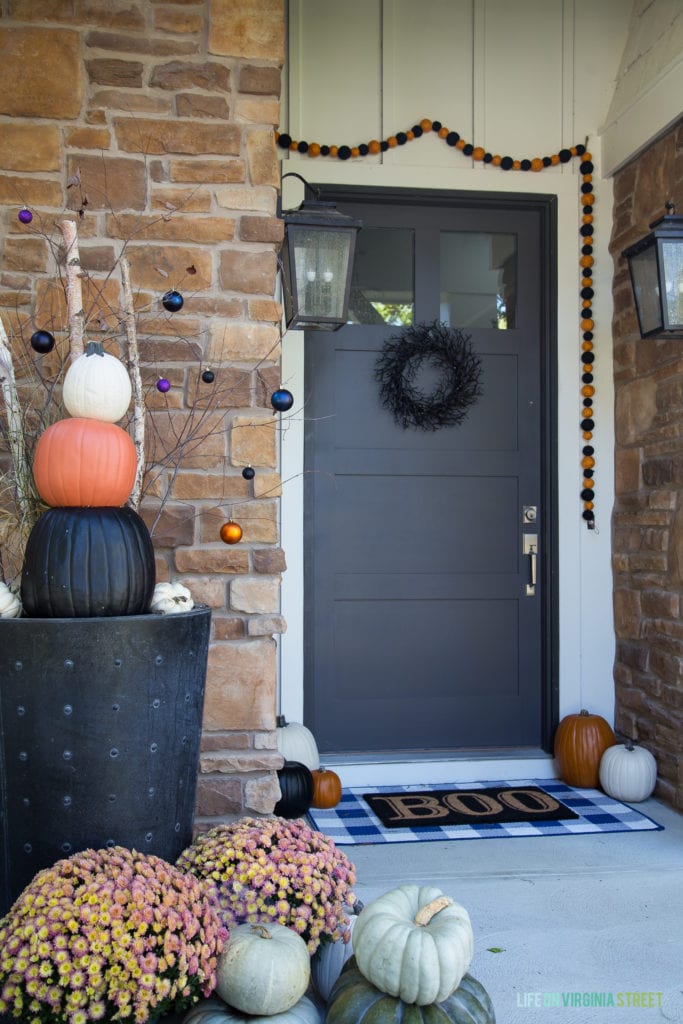 This post is sponsored by JOANN and contains affiliate links. As always, all thoughts and opinions are my own. Click here to read my full disclosure policy.
Because the cabbage and kale died with the snow (as did a few mums), I knew my planter was the first thing I would need to address. I schemed up ideas, and ultimately decided I wanted to create a pumpkin topiary with faux pumpkins so I could use it again down the road (and it would sustain the cold temps). I used a combination of sizes and colors of Funkins to make this cute pumpkin topiary. Even though they're faux, the Funkins are designed to be carved, so I knew it would be easy to cut off two of the tops without much effort.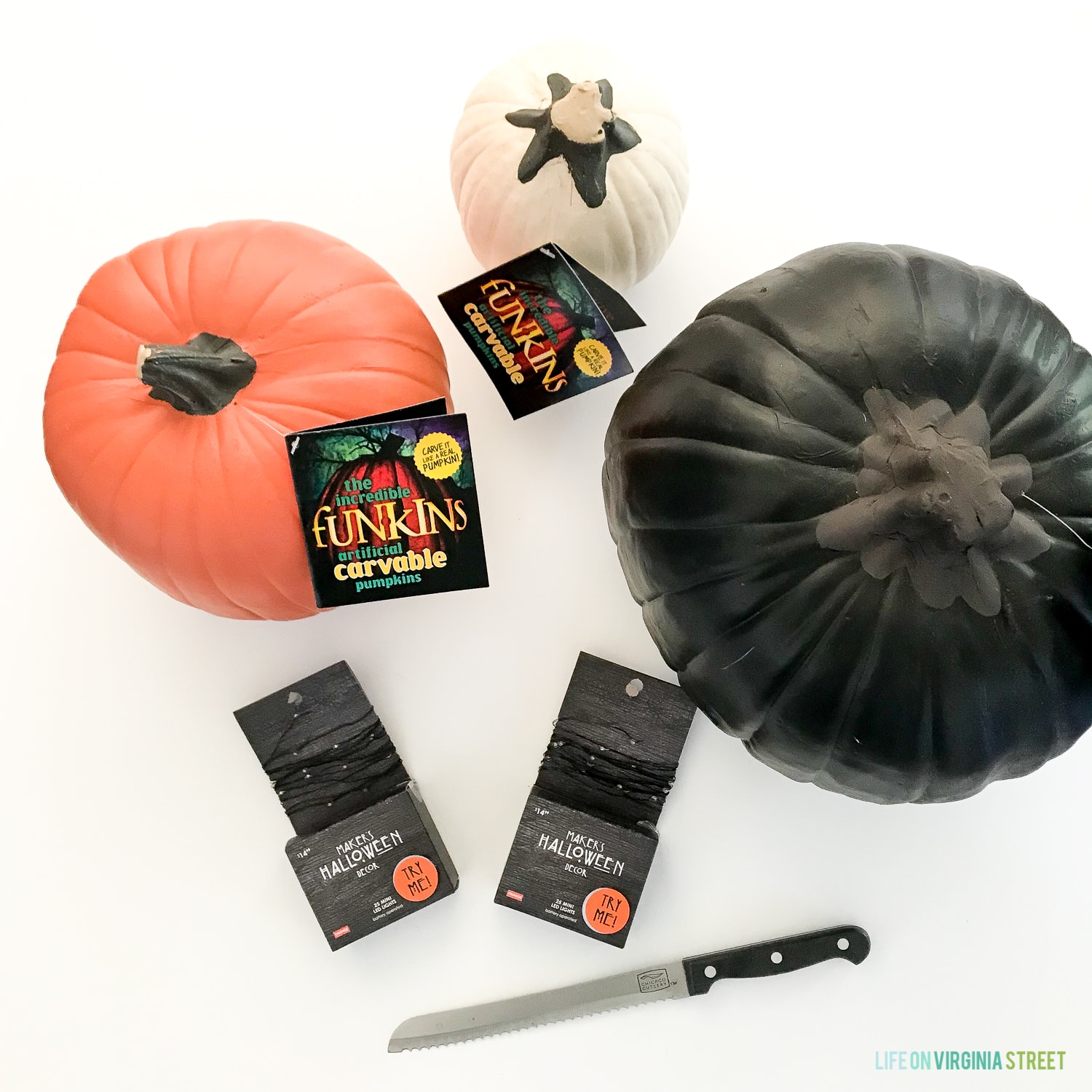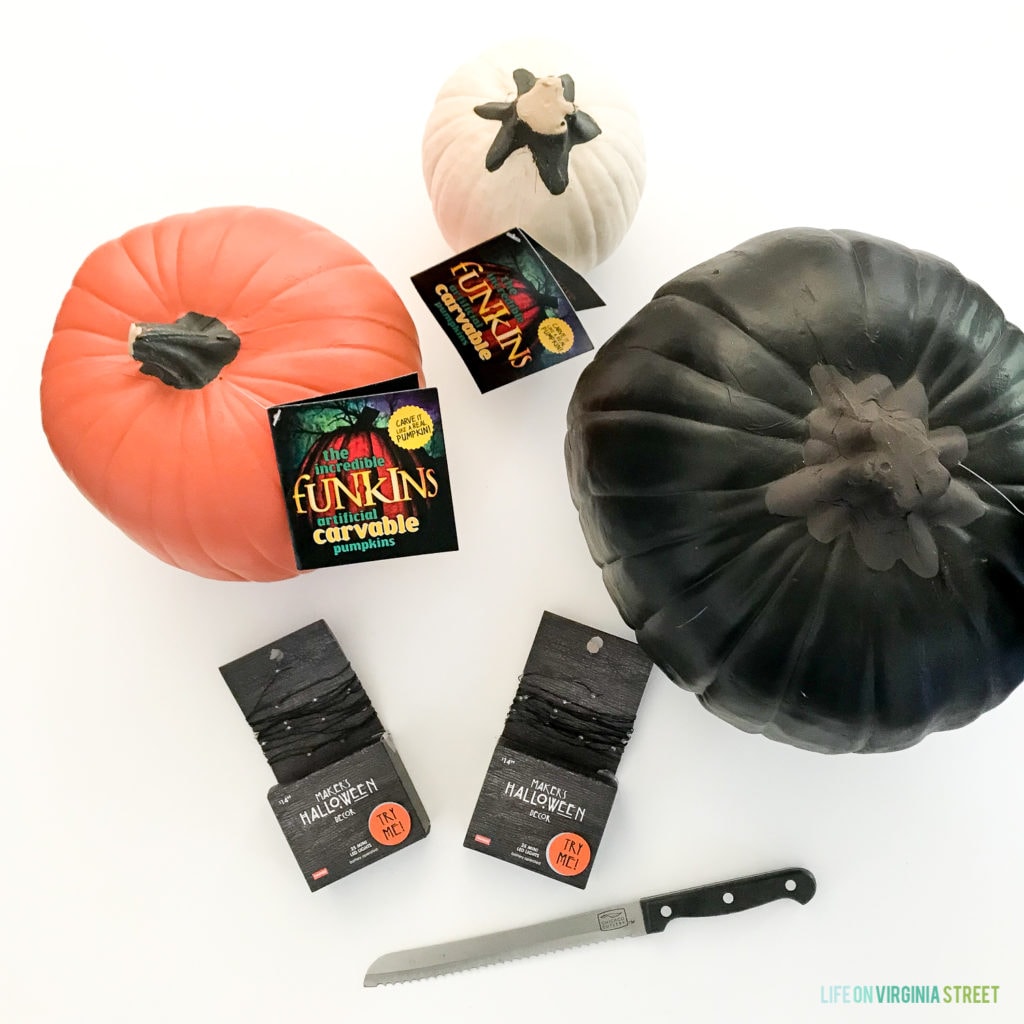 I literally just used our serrated bread knife from our kitchen to "saw" the tops off of the two bottom pumpkins. Then I glued all the pieces together!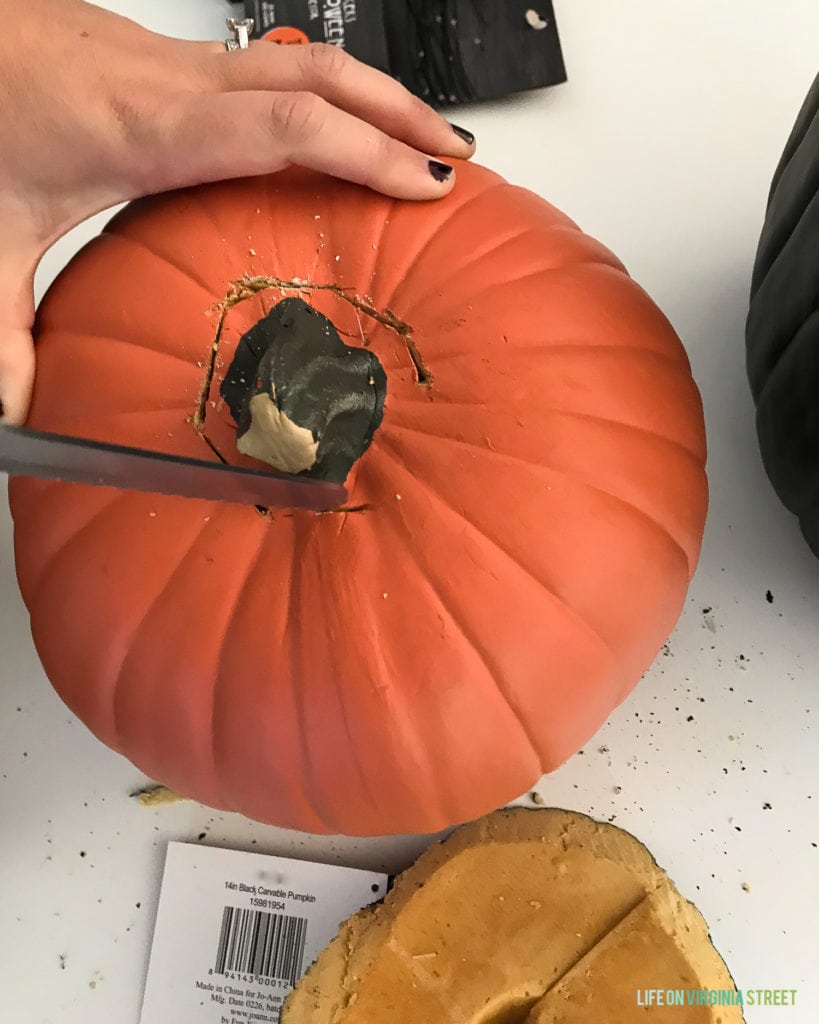 It turned out perfect!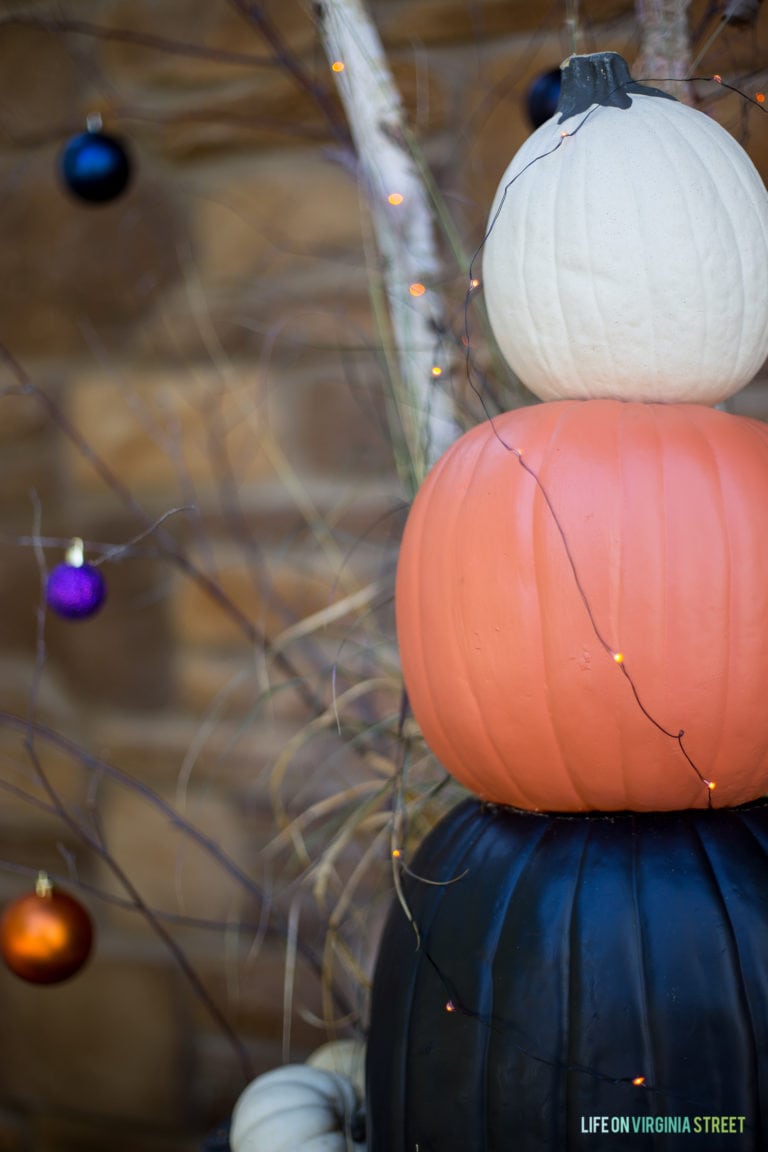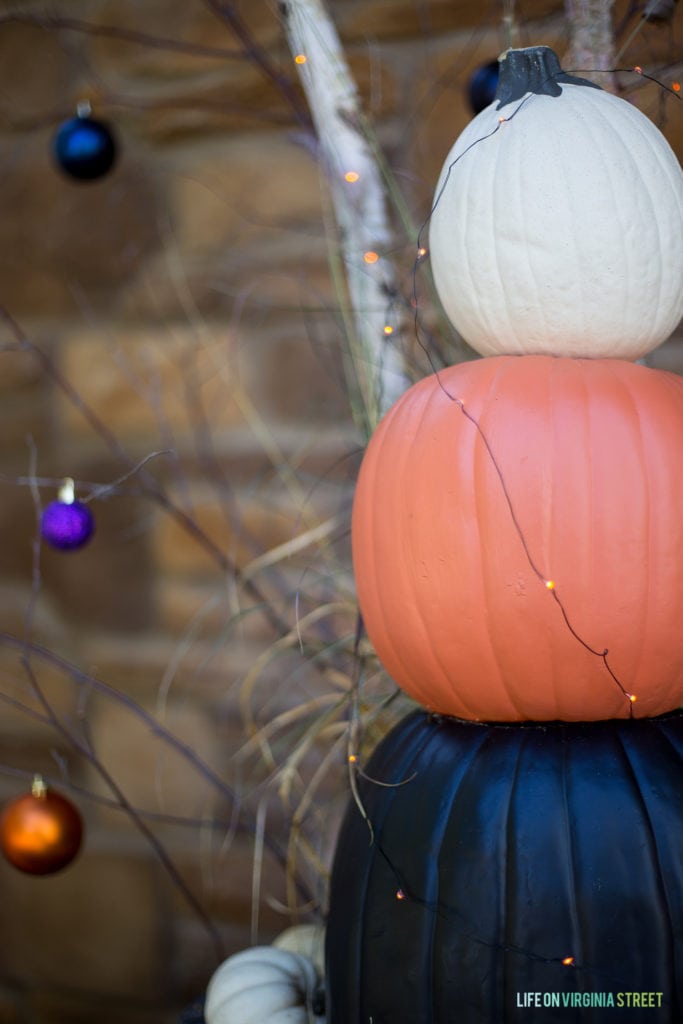 I left the birch logs and ornamental grass from my fall porch, but then collected some fallen sticks and branches around the yard to create a "Halloween tree" vibe in the back of the planter to create some dimension. Some of the sticks still had dried birch leaves on them, which I love! I then added in a few of these colorful Halloween ornaments. It's unusual to find navy blue paired in with traditional Halloween colors, so you know I was immediately drawn to it – the colors are so good together! I only used about half of the pack to decorate my stick tree – which is perfect in case the crazy Nebraska winds take any away in the next week or so!  I strung two strands of these mini orange lights throughout the sticks and pumpkin topiary. They look so cute at night, and the cords are nearly invisible during the day! I filled the empty spaces on the bottom of the planter with real mini pumpkins I had leftover from my fall porch.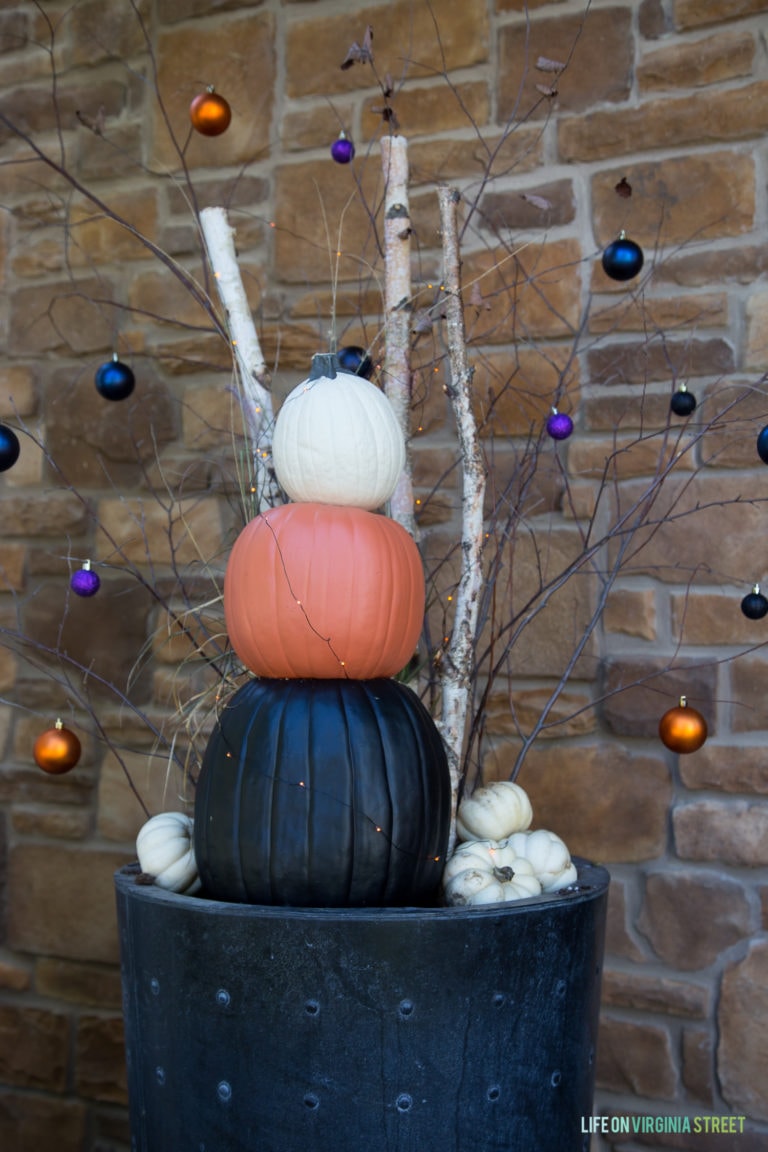 I used this Boo doormat layered on top of our usual buffalo check mat to add a fun, festive feel to the stoop. It gets the Halloween message across without feeling overly spooky! I then hung this darling orange & black yarn ball garland over the door. The black glitter wreath is subtle but also adds a fun element to the overall look – plus it's 75% off right now!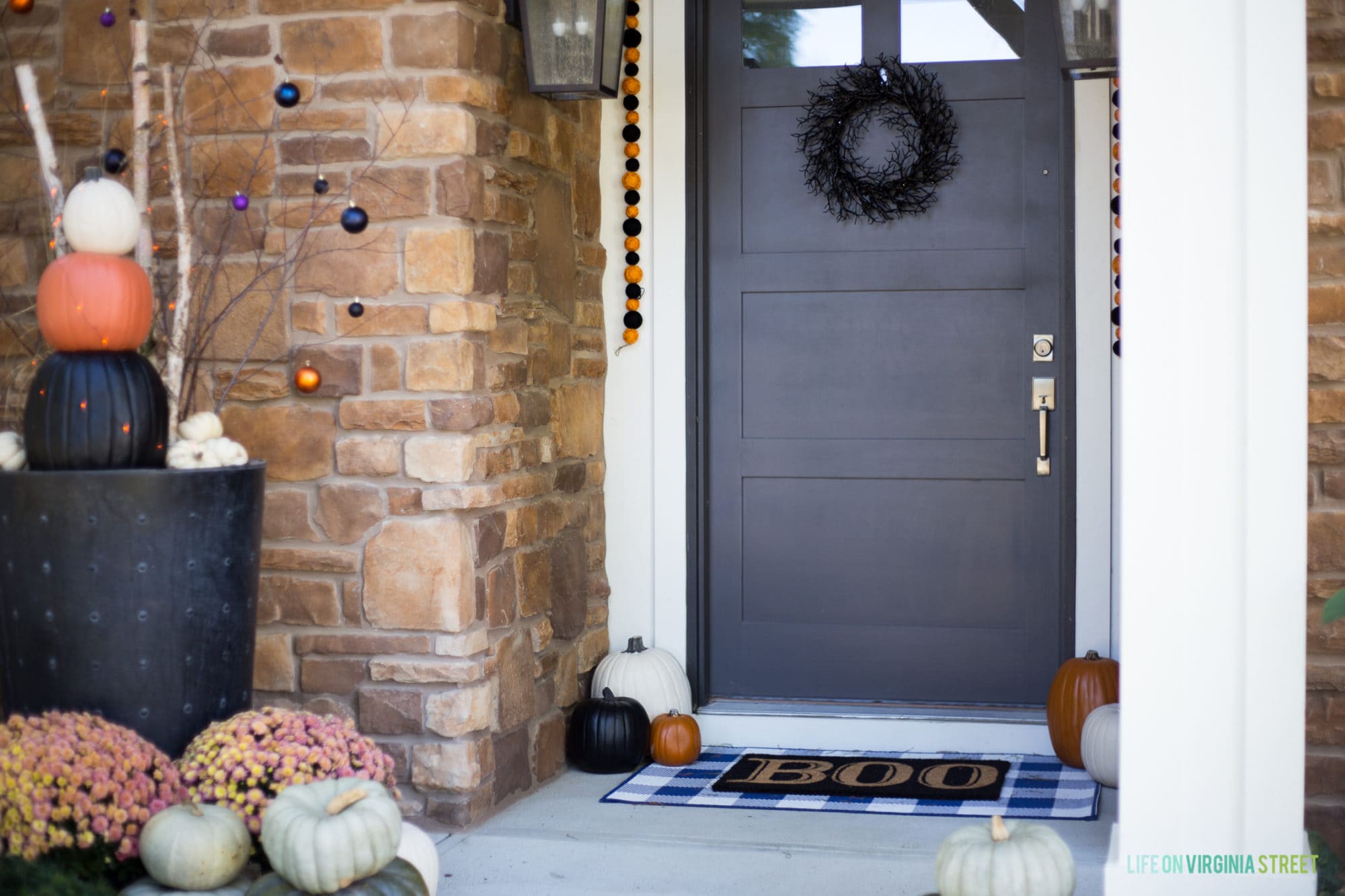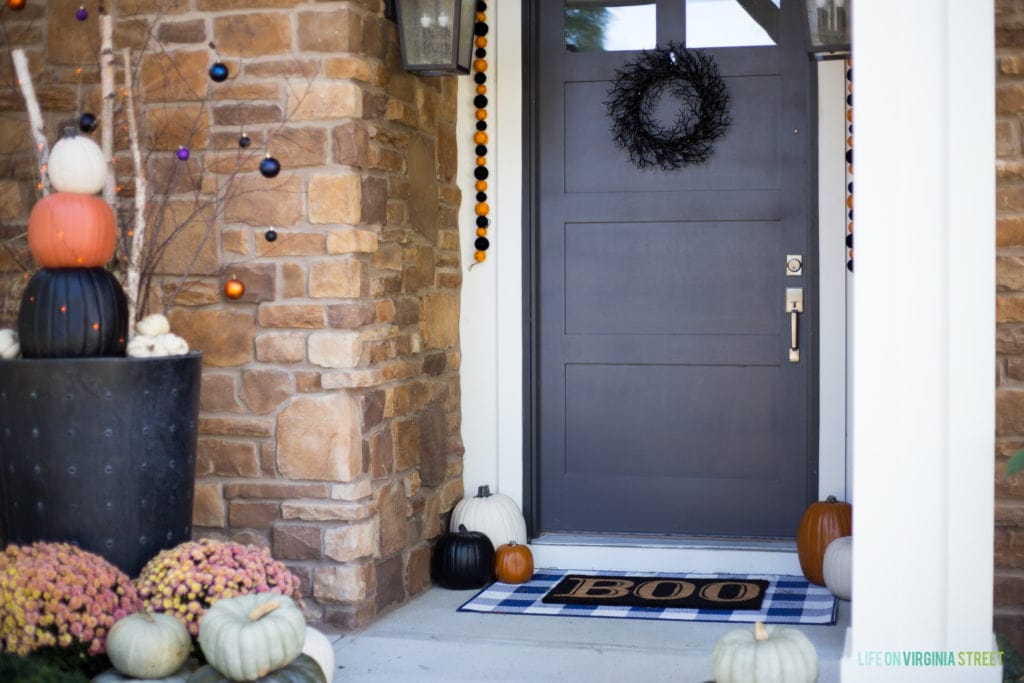 I think the overall look is still very Halloween-y without being creepy or scary!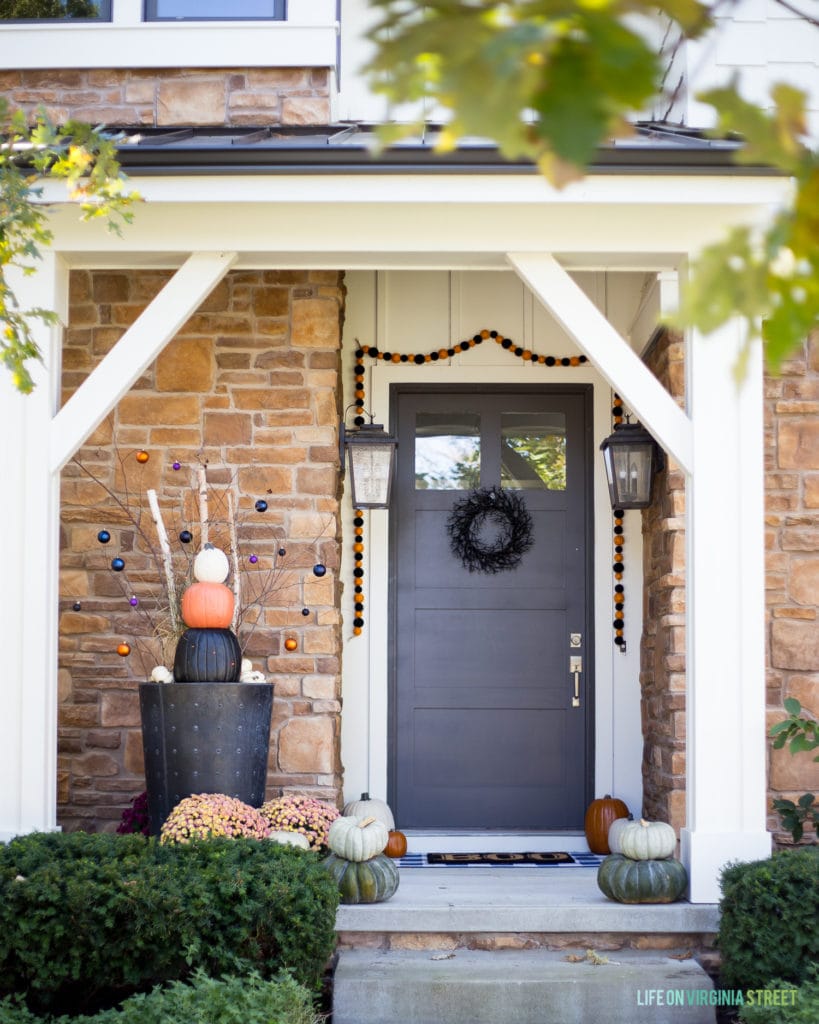 And it looks equally as cute at night! The topiary looks so pretty surrounded by those mini orange lights!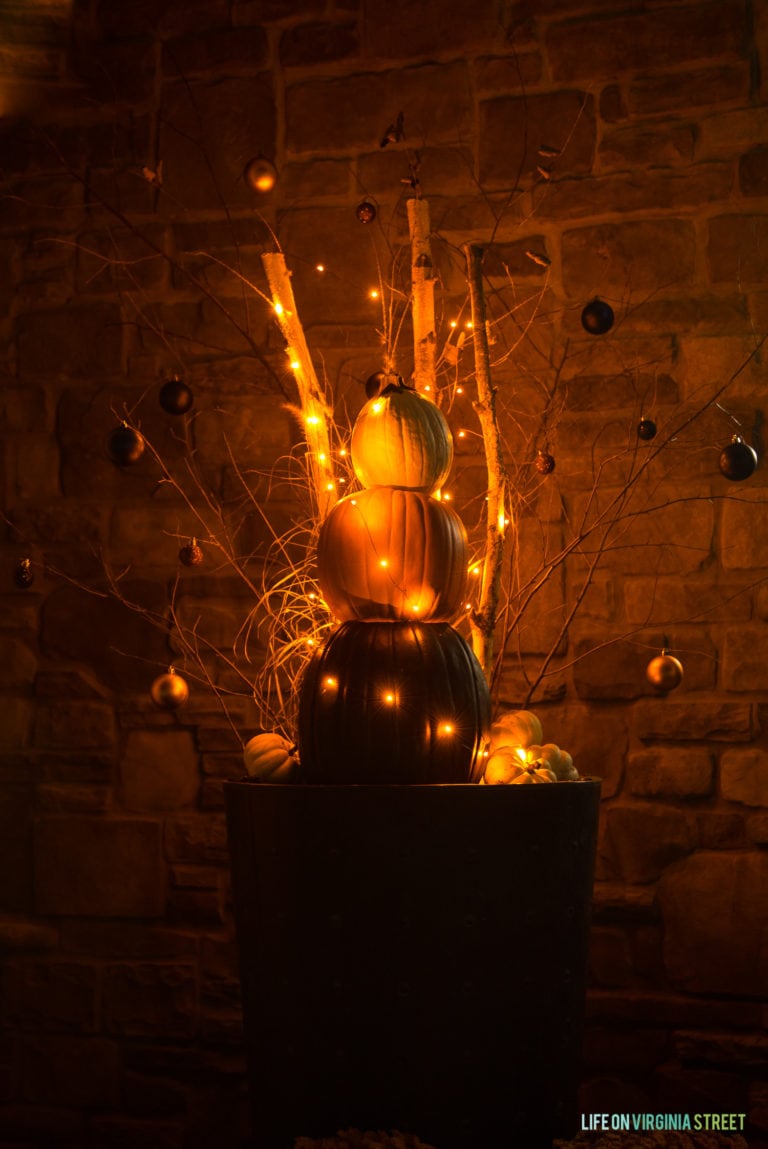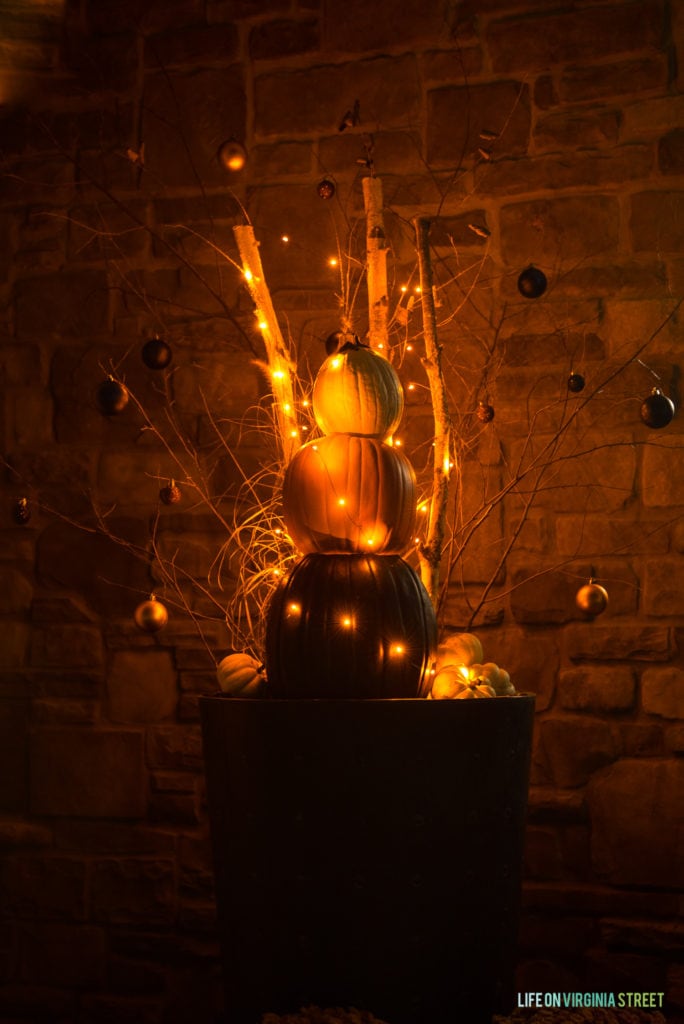 Bring on those trick-or-treaters!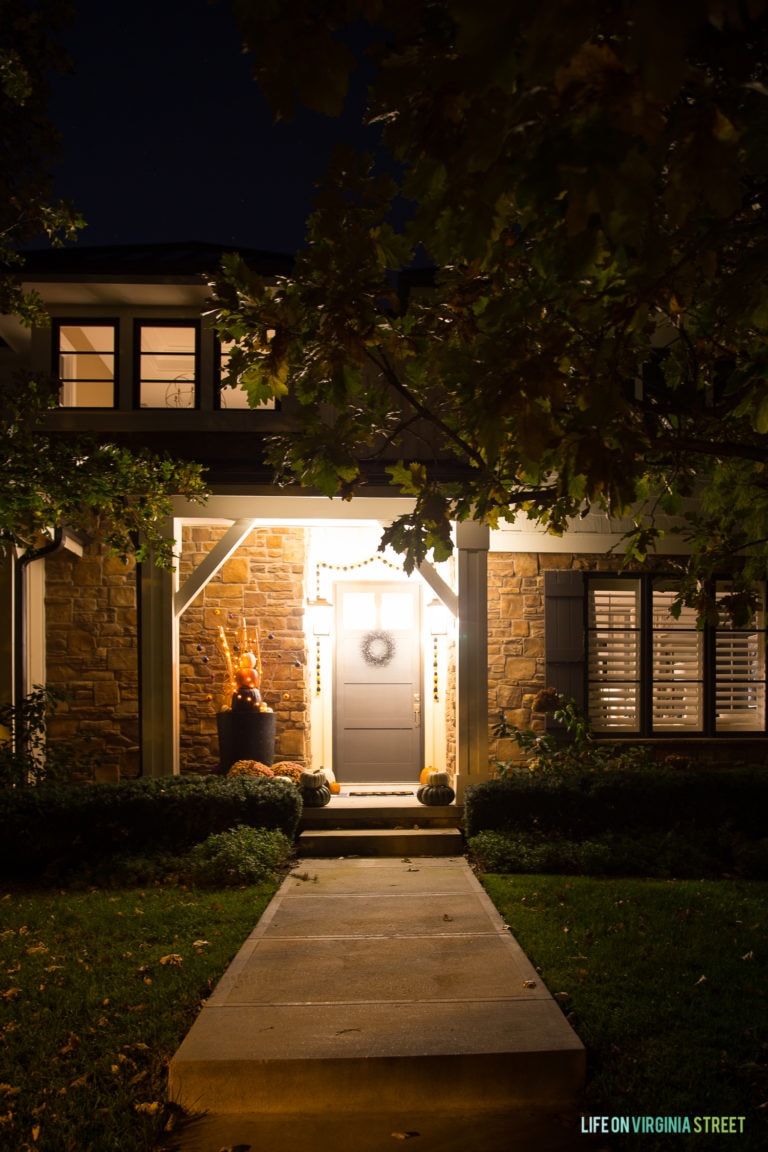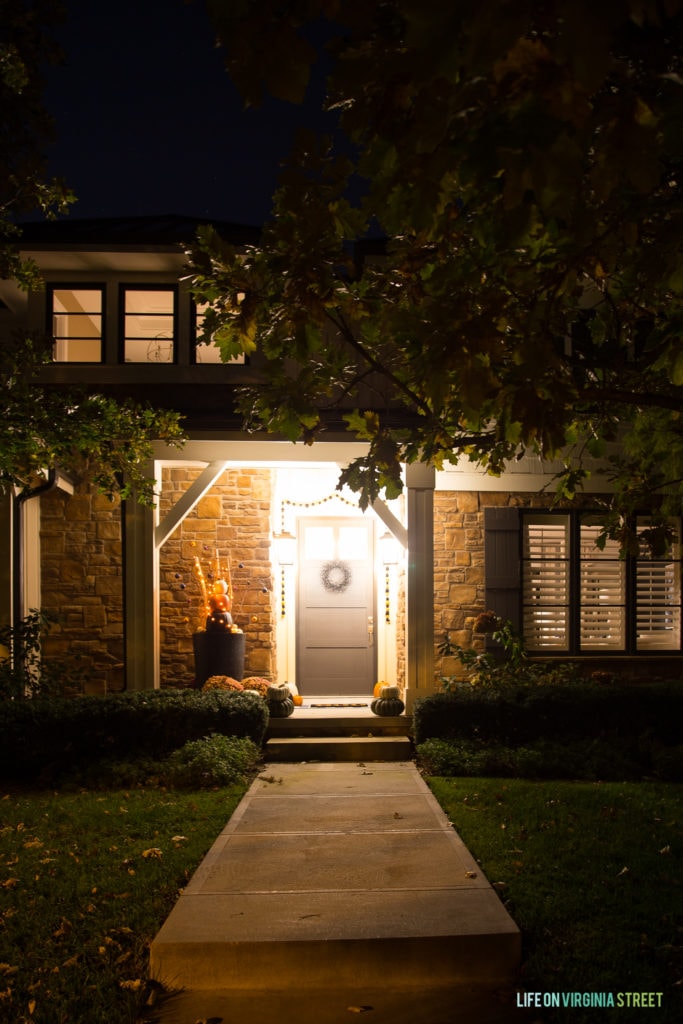 Do you decorate for Halloween? I may be a convert – or at least as far as my front porch is concerned!
If you would like to follow along on more of my home decor, DIY, lifestyle, travel and other posts, I'd love to have you follow me on any of the following:
Pinterest / Instagram / Facebook / Twitter / Google+
disclosure: some affiliate links used