Beautifully designed mood boards that offer Christmas decorating ideas for multiple rooms in your home.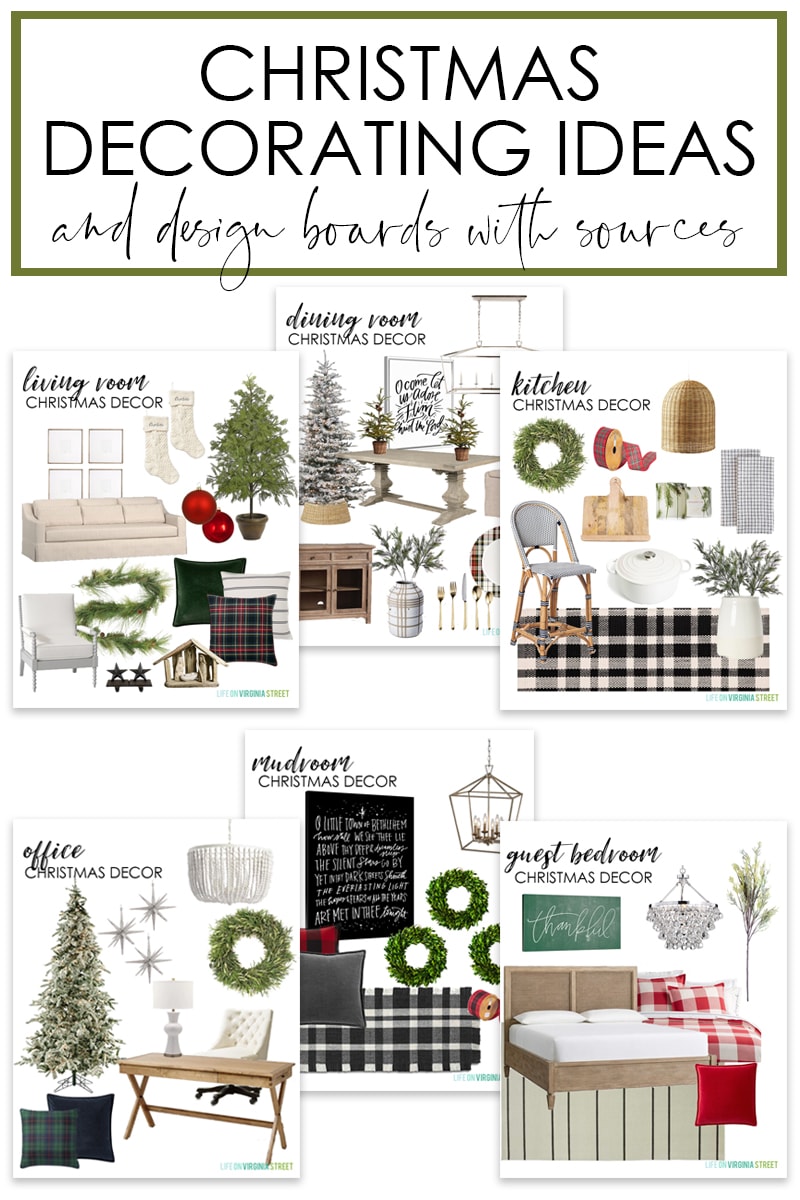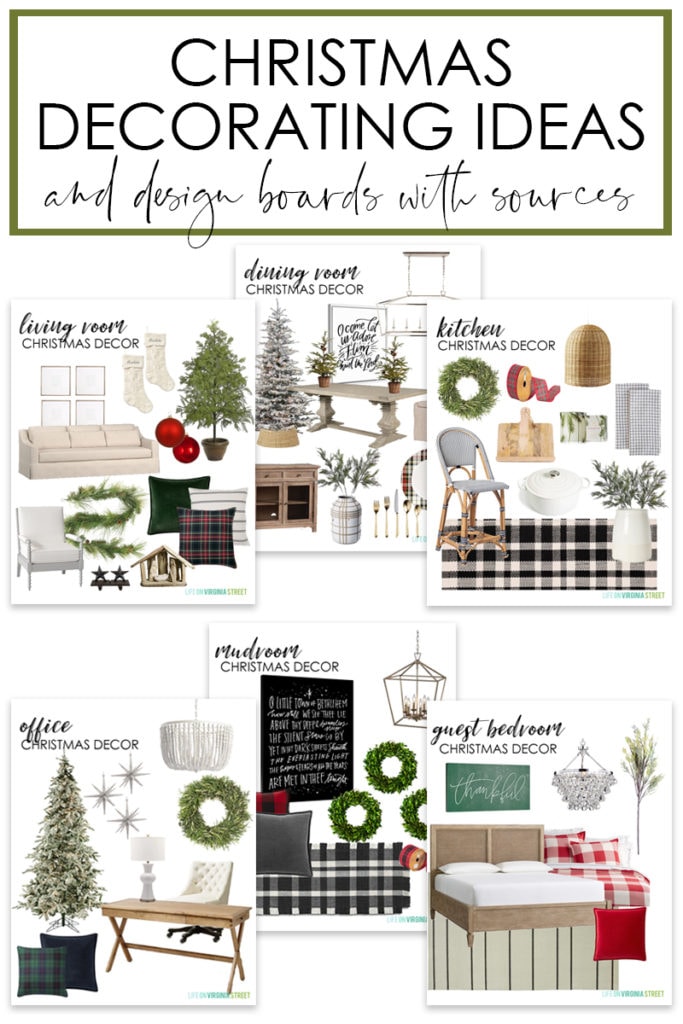 This post contains affiliate links for your shopping convenience. Click here to read my full disclosure policy.
Yes, I know it's way too early to be talking about Christmas even though it's exactly two months away! But last year, several of the items I used (like our flocked Christmas tree) sold out well before Thanksgiving. Not only that, nearly all of my Christmas decor was sold out by the time I shared my Christmas home tour the first week of December. I had several people ask if I could share my decor plans early on, which then helps you take advantage of any holidays sales that come up before you actually need to decorate! I took a poll on Instagram late yesterday afternoon, and by evening, I already had 1053 (92% of those polled) in favor of sharing it vs. 8% saying it was too soon. So, I decided to move forward with the post since I already had everything ready.
Christmas Decorating Ideas
Today I'm sharing my tentative Christmas decorating ideas and plans, along with the items I already have on a hand (or similar finds if no longer available) and a few I've purchased. I've found that by seeing everything "on paper" helps to finalize any decor items I may still need – or don't need to buy because I have something similar! Hopefully these mood boards will give you some inspiration for your decor in the month or so ahead!
The funny thing is, a month or two back, I had officially declared I wasn't going to use any red in my holiday decor. But, like many other years, I started seeing all the cute plaid and tartan holiday decor and I got sucked back in to the traditional colors. So rather than using a deep navy and lime green color palette like I thought I would, I'm back to the classics along with plaid on plaid on plaid (and a bit of buffalo check thrown in for good measure). It's the only time of year you'll see red and black in our home!
Following are the mood boards I created for each of the rooms I plan to decorate. I'll probably add another room or two into the mix, but currently don't have plans for them yet. These are loose plans that help me to figure out the direction I want to take each space. This also helps me to avoid over-buying things I don't need! The sources for each of the items shown are linked below each mood board. I hope you enjoy these plans as much as I do!
Living Room Christmas Decor Plans
I'm keeping most of the design elements in our living room the same. I'm going to attempt to add my own lights to our cypress tree and then maybe add a few ornaments here and there to it. I'm most excited about the Reversible Tartan Plaid Pillow Covers I ordered. They are red velvet on the back so they should be really pretty! We also love having lit garland on our mantel so I'll plan to do that again, but I think this year I'm going to do away with the wreaths on the windows in here.
Dining Room Christmas Decor Plans
I'll be using our flocked Christmas tree in here again. It's been going in and out of stock the past few weeks, but it looks like it's finally back in stock again! We were really happy with ours for the price and it's convinced me flocked trees may be my new favorite. Not much will be changing in here from prior years other than some cute plaid dishes and some pops of red here and there. It looks busy on the mood board but I think it will work well in real life when it's all spread out!
Kitchen Christmas Decor Plans
I like to keep our kitchen rather clutter-free, but I plan to find a cute plaid rug like this runner (comes in 3 lengths). This brand is one of my favorites because they offer indoor/outdoor options which are perfect for kitchens, entryways, dining rooms and other high traffic areas! This striped tassel runner is another darling option at a lower price point. I just worry it wouldn't wear quite as well.
Guest Bedroom Christmas Decor Plans
In the next few weeks, I'm going to address this guest bedroom more than I have in the past. I've always decorated it, but it's time to refresh the sheets, etc. I'll als obe adding this buffalo check duvet for a fun holiday spin. Stay tuned!
Mudroom Christmas Decor Plans
Although our mudroom is small, and still not quite finished, it's the first room we see when we walk into our home from the garage. So, I always like to keep it festive! I was so happy when I saw these buffalo check pillows I used a few years ago are back in stock!
Office Christmas Decor Plans
Our office is the only room in the house that I plan to keep fairly neutral. This is the only tree that faces the street, so this year I finally bought a new flocked 9′ tree. The Christmas tree we had been using in here was going on ten years old and the lights on the bottom half were visibly duller than the top. Not only that, the cats had broken many of the lower branches. I'm excited to try this new one!
Has anyone else started planning their holiday decor? I find that if I'm prepared, I can set up much more quickly and enjoy the holidays and decor that much more! And don't worry. You actually won't see any Christmas decor in our home until the time is a bit more appropriate. At least a few more weeks 😉 I'll be back to fall/Halloween talk tomorrow!
If you would like to follow along on more of my home decor, DIY, lifestyle, travel and other posts, I'd love to have you follow me on any of the following:
Pinterest | Instagram | Facebook | Twitter
disclosure: some affiliate links used