I decorated our front porch for fall the other day, and since we don't have much to show on the inside of our home yet, I thought it would be fun to give you our fall front porch tour today! The updates are very simple, but we're excited to be able to use this space and have it reflect the new season.
This post contains affiliate links for your shopping convenience. You can read my full disclosure policy here.
Admittedly, neither Kurtis nor I thought we were front porch people. Give us a great private back yard, and we're all in. But we never understood the appeal of hanging out on a front porch.
However, that mentality has quickly changed now that we have a large porch at the end of a quiet street to enjoy! Our porch is essentially a backwards L shape. As you come up the steps from the walkway you face the door and then to the left is the area shown below that has views of the pond across the street. I created a video here with more views if you want to check it out. Sometimes that is easier than photos to see the layout!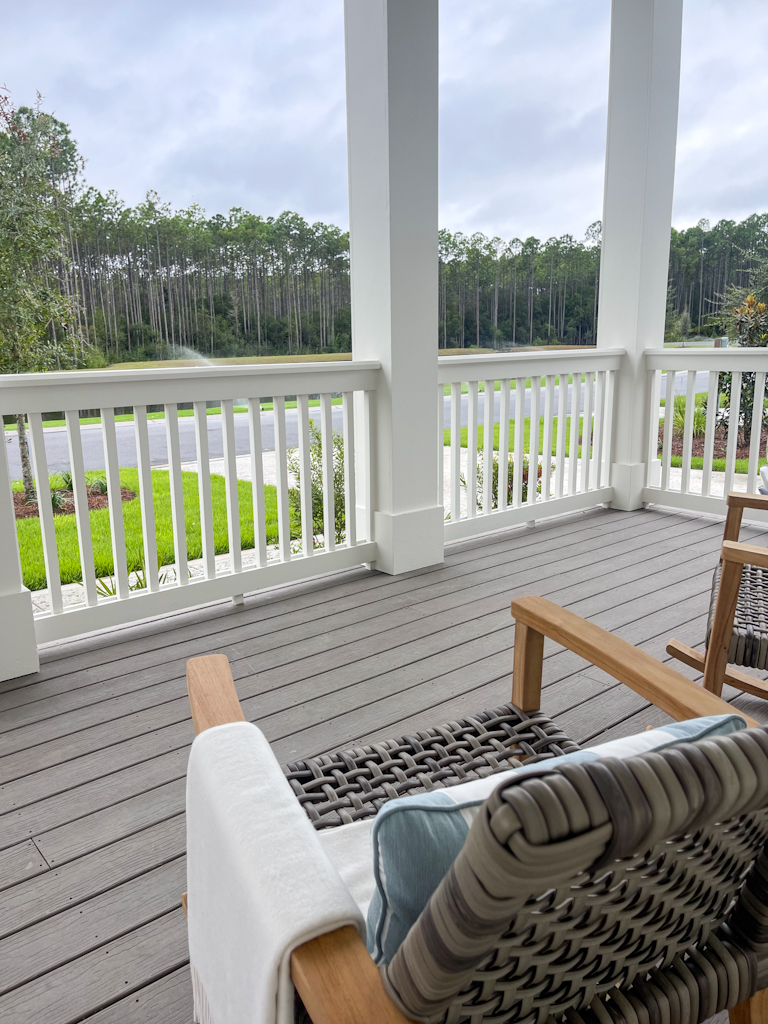 The update all started with the addition of  this olive tree I picked up at a local nursery. Having a live olive tree has always been a huge bucket list item for me. It's the little things, right?! Now I just need to keep it alive, but thankfully the climate here should help. I'll probably move it to the backyard in a month or so, because they do like full sun, but I need to wait until I find a larger, more permanent pot for it! I picked up the little heirloom pumpkins at Publix (our local grocery store), and love the green and bluish green tones of the ones I found! We got our gas lanterns through our builder, but I found the same ones online and linked them below.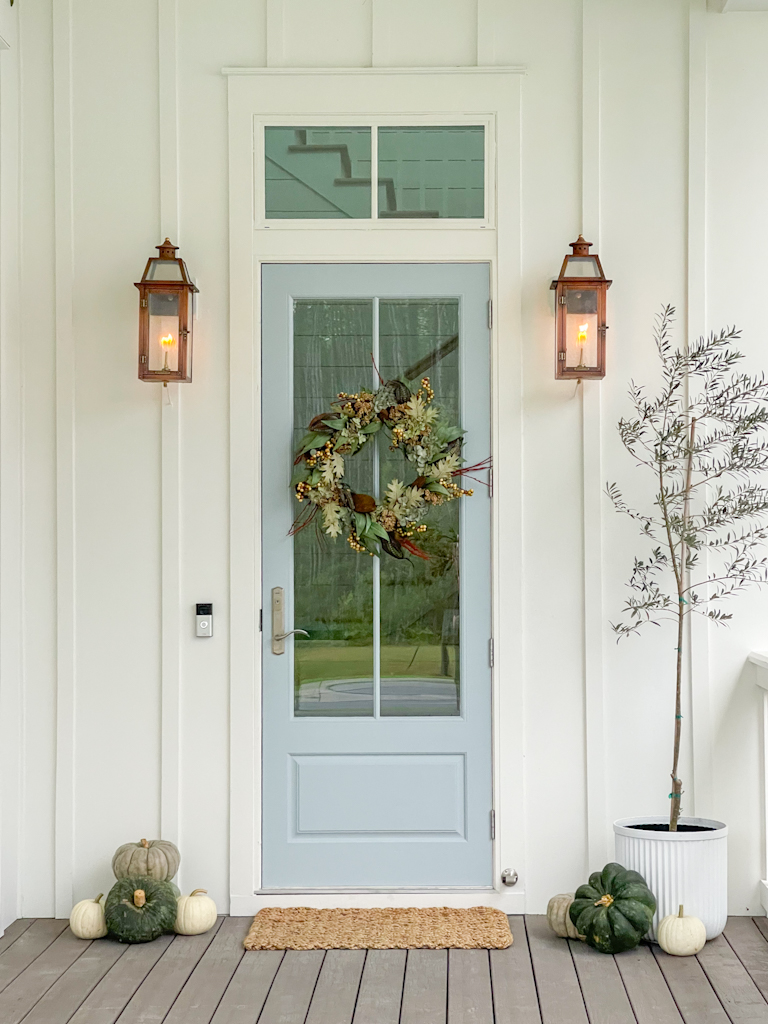 SOURCES: Gas Lanterns | Fall Wreath | Woven Door Mat | Fluted Planter | Pumpkins: Publix grocery store | Live Olive Tree: Clay 30A | House Color: Sherwin Williams Greek Villa | Door Color: Sherwin Williams Niebla Azul
Here's a closer look at the pretty fall wreath – the colors are so good for fall! The woven shades I ordered for our front door still haven't arrived, so right now you get a full view of our entryway inside too 😉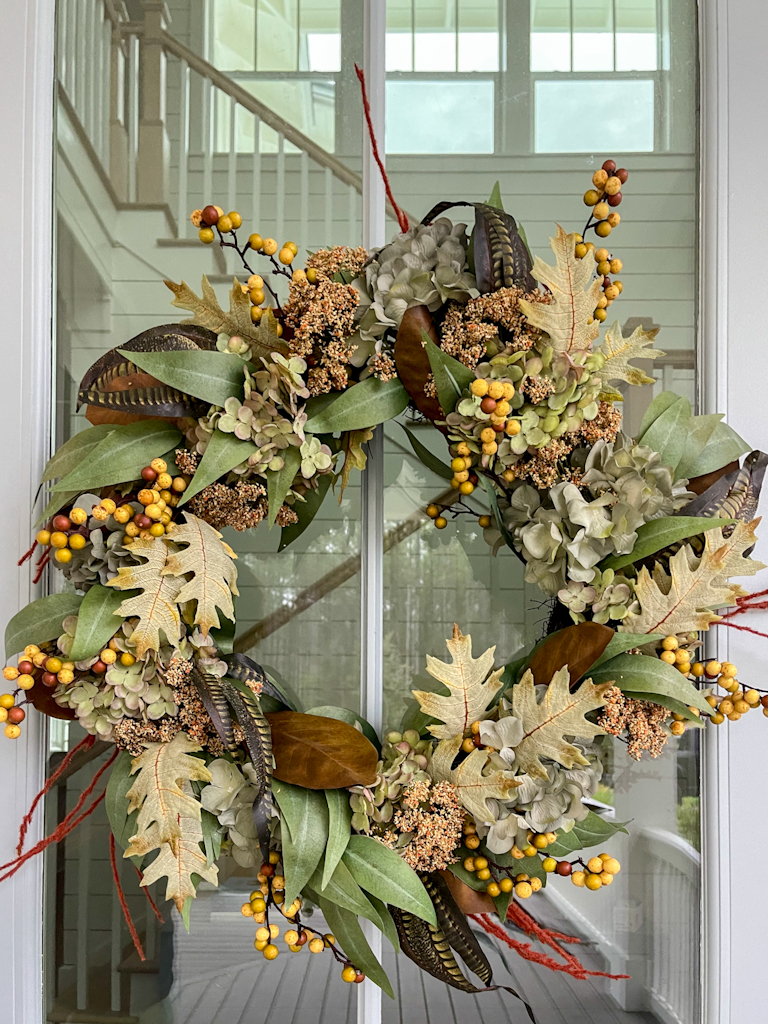 When Kurtis saw the rocking chairs I ordered, he thought they'd be way too little. But they work surprisingly well even for tall people and are much comfier than he expected! I think the sloped back is what gives the appearance of a smaller chair, but I preferred the less traditional rocking chair look. They also come in this really pretty white option with weathered wood, but I felt like we needed some contrast against our white exterior. But they're super sturdy and excellent quality. The color of the blue (resort stripe Glacier) on these outdoor pillows is probably the best I've found yet in outdoor options. It's so beautiful!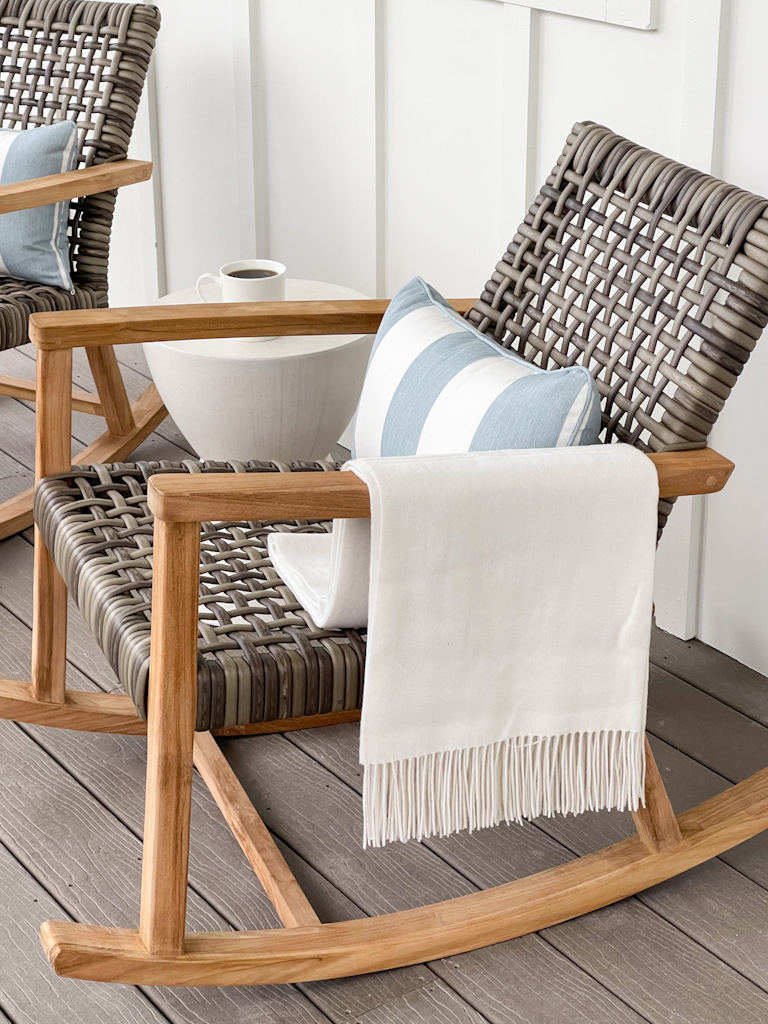 SOURCES: Outdoor Rocking Chairs | Striped Outdoor Pillows | Side Table | Cashmere Throw Blanket
A week or so back after our chairs had arrived, we quickly realized that the local deer love to spend their mornings out around the pond. We could seriously watch them for ages and we love checking in on them each morning now. We also see a lot of cranes and the cutest little otter that comes to play in the pond. Thankfully no alligators so far!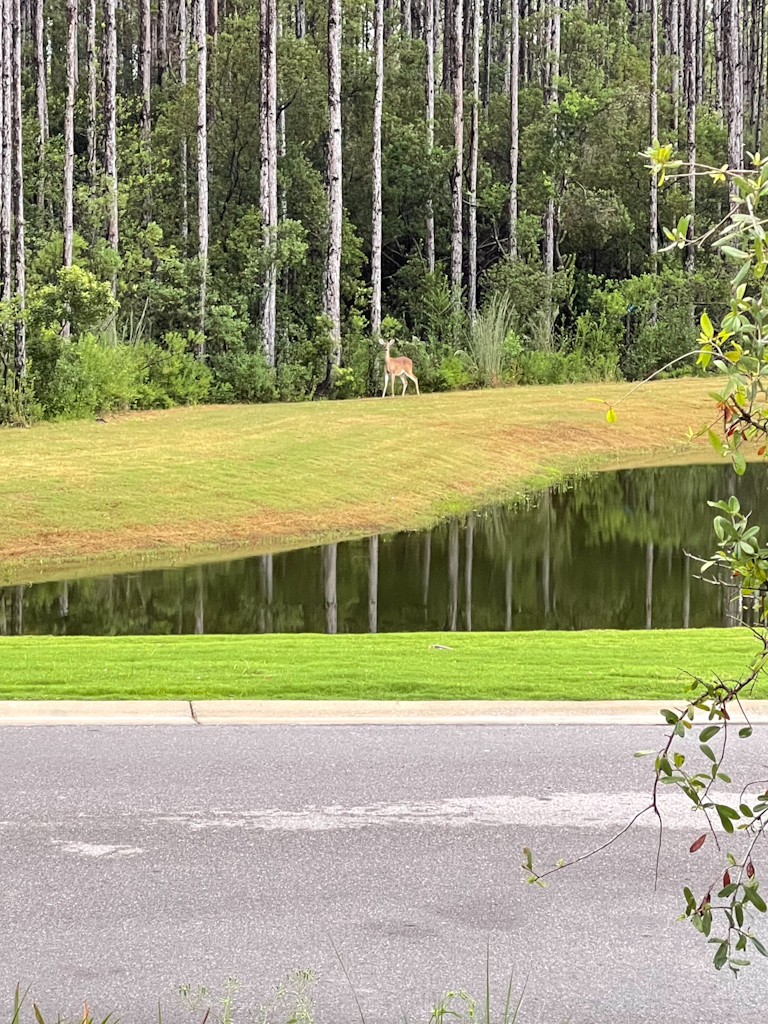 The mornings and evenings are just so beautiful out here!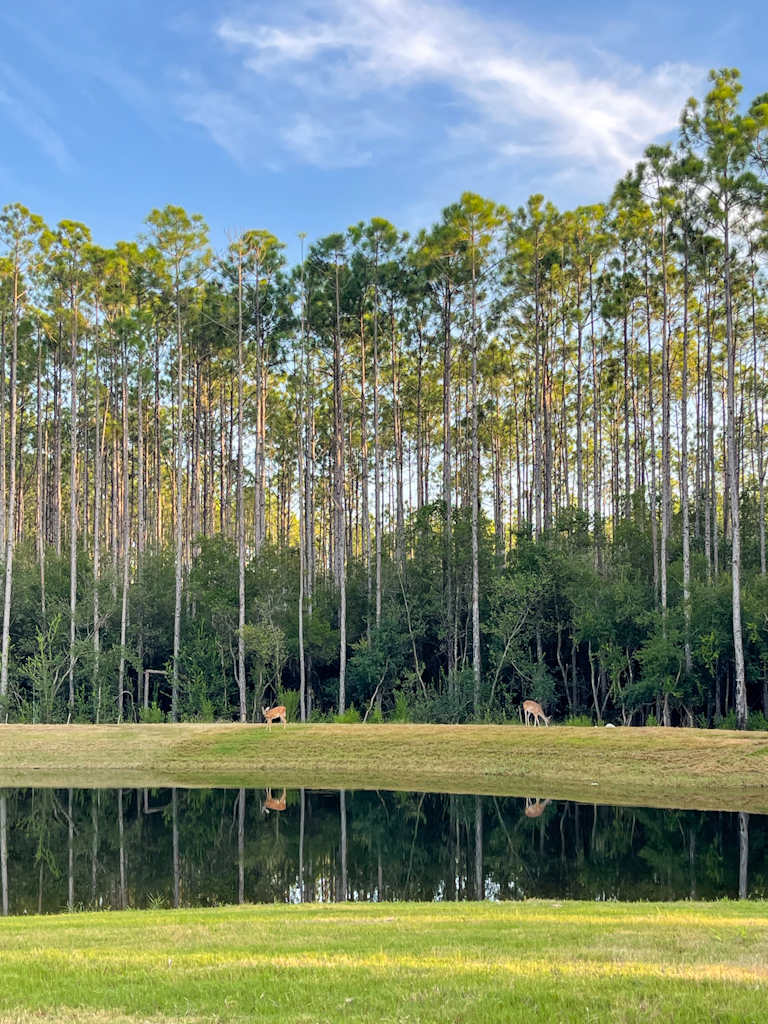 Eventually I'll add more planters to this side of the porch, but for now, we're just enjoying having it more functional and useful!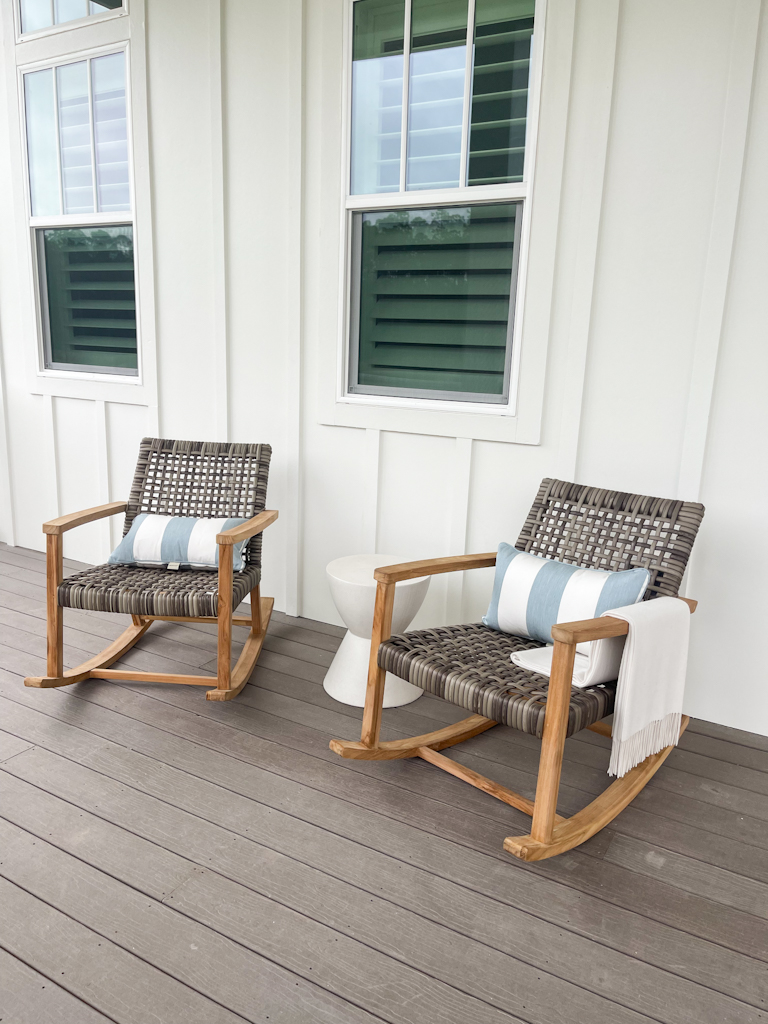 Super simple updates, but I hope you enjoyed this little tour! I think we're really going to enjoy this additional outdoor space over the years!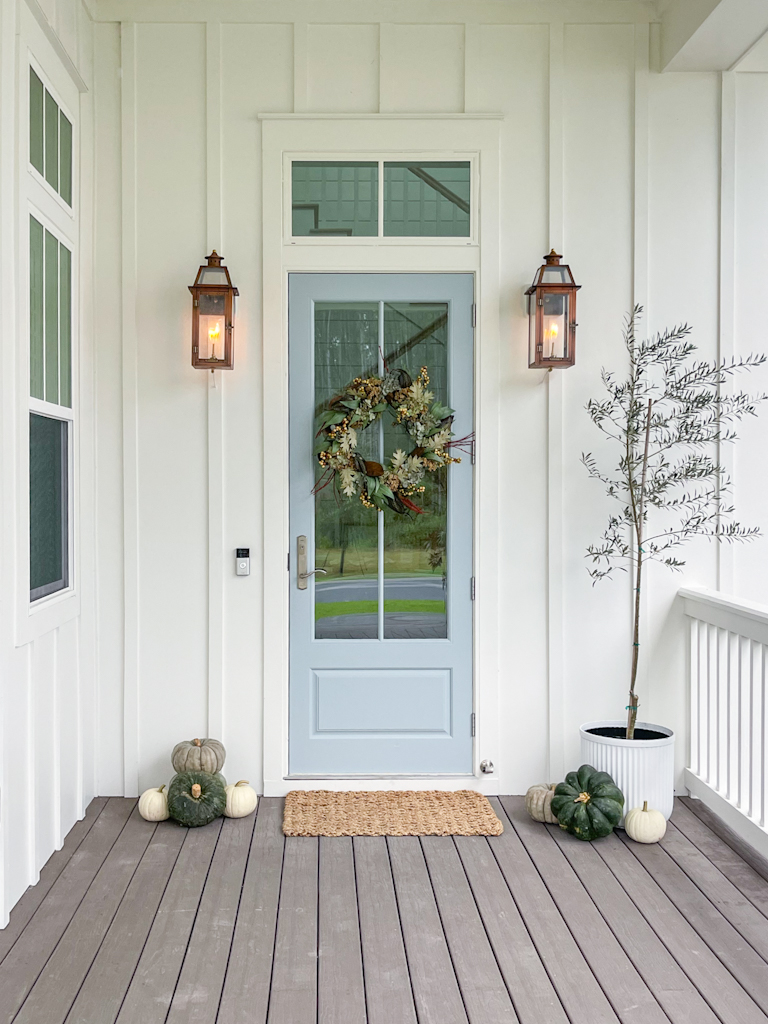 SOURCES: Gas Lanterns | Fall Wreath | Woven Door Mat | Fluted Planter | Pumpkins: Publix grocery store | Live Olive Tree: Clay 30A | House Color: Sherwin Williams Greek Villa | Door Color: Sherwin Williams Niebla Azul
If you would like to follow along on more of my home decor, DIY, lifestyle, travel and other posts, I'd love to have you follow me on any of the below channels: