My home office has come a long way since we first did our walk through and ultimately moved into our house.


But, I can honestly say, as much as I loved this makeover, it never felt 100% me or 100% finished. I think everything felt just a bit too formal with the massive desk, structured chairs, dark wall, etc.
Secondly, my husband really wants a small desk in the space for days he works at home and/or needs a desktop to work from. He asked for me to carve out an area for him to have space so that we could have more of a shared office.
With all that being said, I'm moving forward with a mini-makeover.
Over the past few months I've been thinking of easy changes I could make to accommodate what we were looking for and to make the room flow better with the rest of our house. The first thing that came to mind was paint. I still love that this room has a dark feature wall (the only dark paint in our entire house) and I wanted to keep it that way. The first color that came to mind was navy.
Here are some navy spaces (along with their paint colors) that inspired me to move forward with the change. Granted, many are kitchens, but I think these images show the colors I was considering beautifully!
So, as you can likely guess from the title of this post, I ended up going with Hale Navy. Changing the board and batten grid wall from Sherwin Williams' Urbane Bronze to Benjamin Moore's Hale Navy was an easy (and affordable) move, and I love it so far.
Hale Navy is definitely a grayer version of a traditional navy blue, but that's what I loved about it. After seeing the image of the office above, I really considered the BM Deep Royal as well, but in the end, it looked a bit to saturated and blue when I saw the chip.
Saturday I set about painting the office. Here's how it looks now: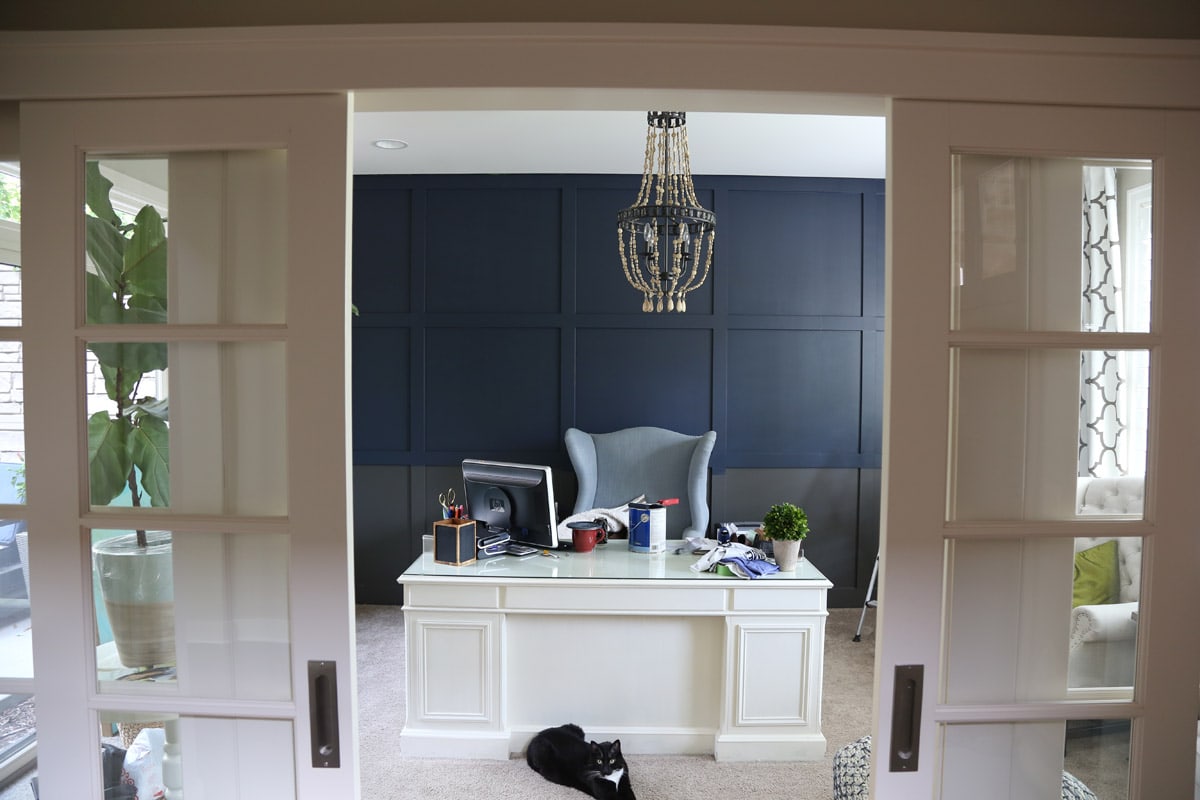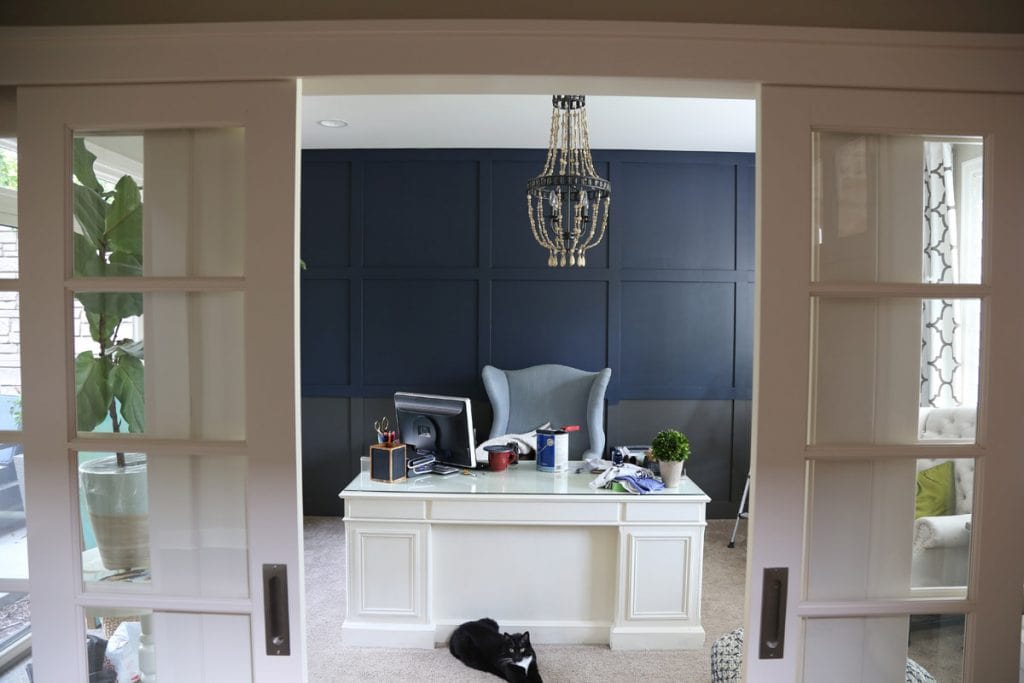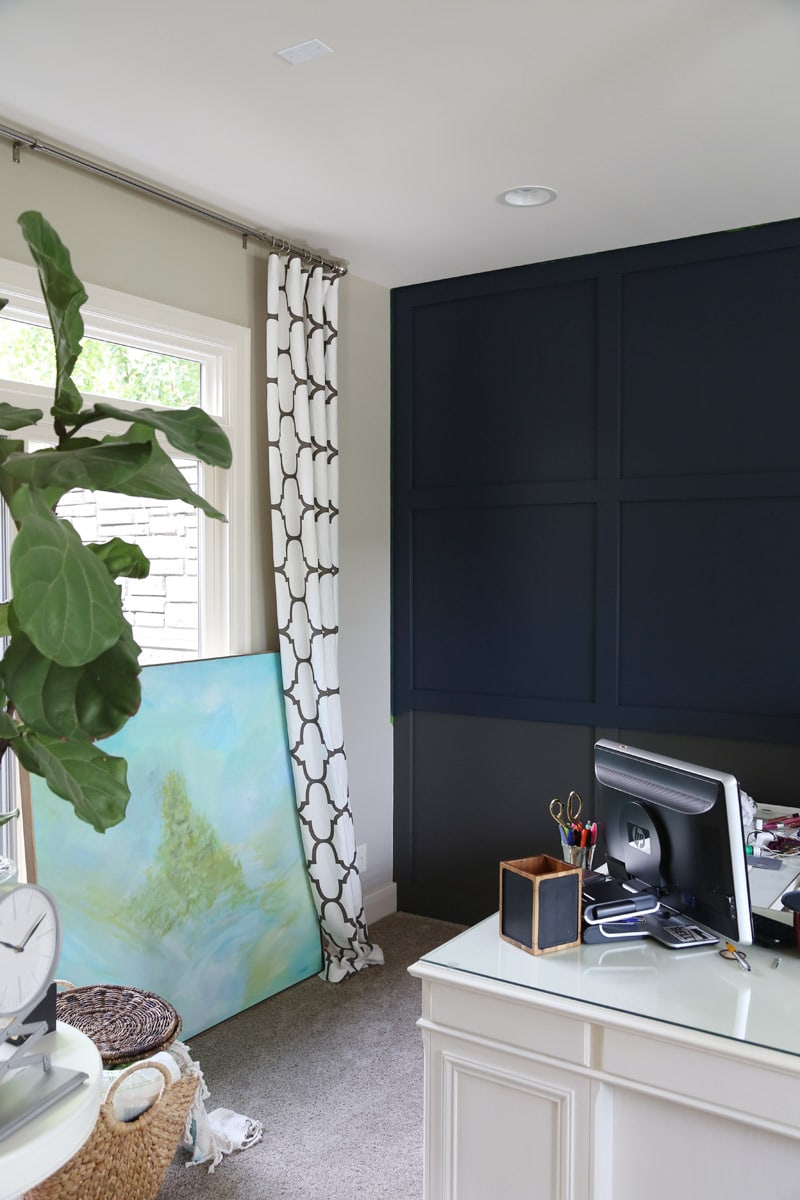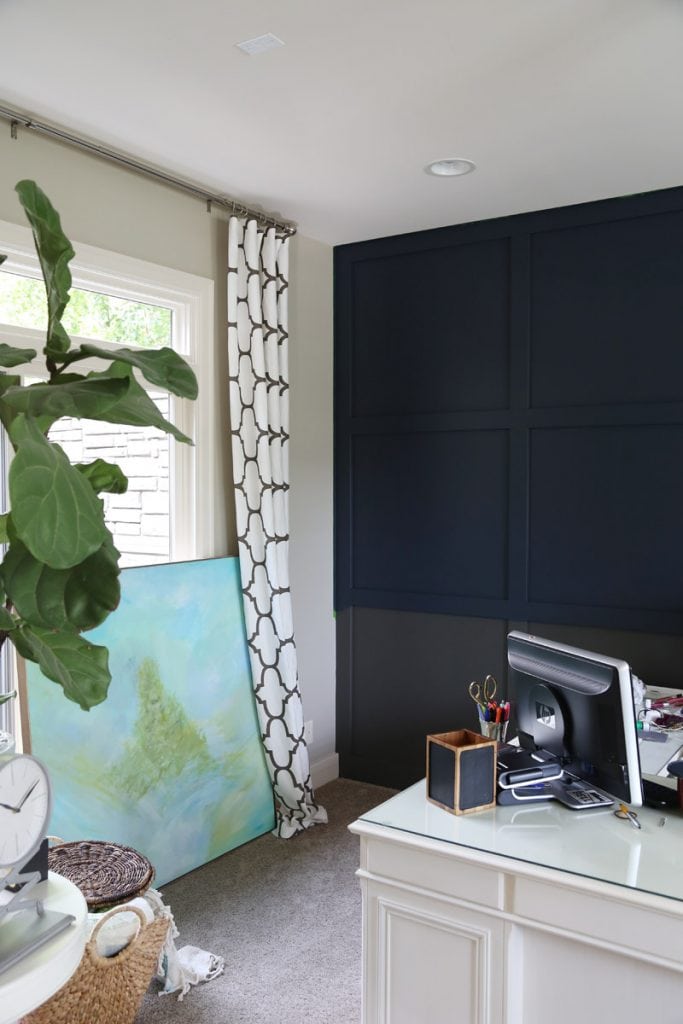 In terms of other decor. I'm still working on some desk solutions and trying to figure out if we keep the pair of linen chairs or move them elsewhere in the house. I still love my DIY drapes (made with this fabric), but am wondering if they'll still look okay once everything is done. I'm keeping my eyes open for other affordable options (or the Indigo version of the same fabric for a killer price). A few other design ideas and random notes:
I still need to finish painting the lower panels, but that also requires us moving the desk that weighs at least six trillion pounds. We almost got divorced moving it into the house, so even though I only need a foot or two gap, I'm not looking forward to trying to move the beast.
Ultimately, the desk may go entirely. It is huge and has far more storage than I'll ever need. After the makeover nearly two and a half years ago, I have yet to have ever  sealed the paint. With it's size, it is far too easy for me to hide stuff behind it rather than deal with. So, I'm thinking I need to simplify. It is also destroying the carpet (which we hate anyways).
The carpet needs to go. Other than the inset carpet in our living room, this is the only carpet on our main floor. Carpet weirds me out (it could be the whole 'four cats' thing). We've talked for years about replacing it with hardwood and since the job would be fairly small, it may be something we can tackle soon.
As you can see two photos up, the trim desperately needs to be painted in this area (as does it nearly everywhere in house). I've talked about this a lot over the past few years, and I think I'm finally ready to tackle the job in the office area. This entails painting all the baseboards, window trim, transoms, closet and French doors. Ugh. Not something I'm looking forward to.
I may also change the other three walls to a white paint color. I just think it looks so much better with the navy. The current color (Behr Castle Path) doesn't look bad with it, but I also feel like it doesn't help accentuate it. Which also brings me to the ceiling. It's the same color as the trim (pink/beige/peach/terrible). It definitely needs fresh white paint too.
I'll likely be replacing my DIY "Wood" Bead Chandelier. I haven't even begun to look for something new (surprisingly) but it's time for something that flows a bit better with the entryway.
My DIY Artwork may stay, but it will depend upon how all the other design elements play out.
I'm working with a limited budget here (hello, pool project) so some of these changes may take longer than others. I'll be working real-time/summer-time here, so it won't be a super quick update. But, I'm excited with the progress so far!
SHOP THE LOOK OF OUR CURRENT OFFICE:

I'll keep you posted as this makeover evolves over the next month or so. It's a bit backwards for me to just paint without having thought too much about my final plans, but at least it is forcing me to put the gears in motion! Stay tuned for more plans (once I actually make them). 😉
P.S. If you entered the giveaway for the drill and circular saw, I announced the winner last night! If you are the winner be sure to check your email for a message from me with instructions. Thanks to everyone that entered!
If you would like to follow along on more of my home decor, DIY, lifestyle, travel and other posts, I'd love to have you follow me on any of the following:
Pinterest / Instagram / Facebook / Twitter / Bloglovin' / Google
disclosure: some affiliate links used