The last two days, we have put in nearly 8 hour days landscaping. This may very well rank as the most manual labor I have ever done in my life (I am sure my husband will raise his eyebrows and vigorously nod his head when he reads this).
Friday, we had two new trees delivered and planted in our back yard. When we were selecting the maple tree out at Lanoha's, we knew it would be big, but surrounded by the others it didn't look that big. However, in our fairly small backyard it looks monstrous. The bottom branches are almost higher than our six foot fence. We will have shade on our west-facing deck sooner than expected (definitely not a bad thing). And hopefully, our neighbors will all follow suit and start planting some bigger trees too. The other tree we got is a flowering pear tree.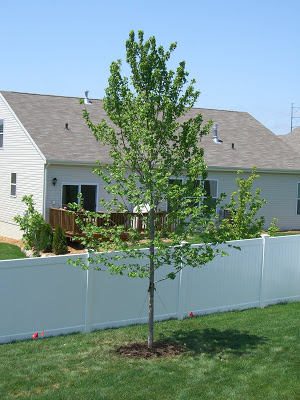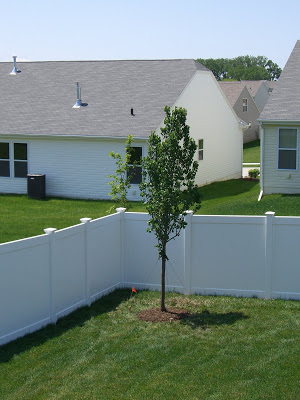 Now, for the final reveal (and hopefully one of the last posts about our retaining wall). We finished the wall and partially mulched and landscaped our front yard. I am really happy with how it finally turned out. We had to haul in A LOT more dirt than expected, and when you are transplanting it in plastic storage totes you don't get very far for a long time. We still need more dirt/mulch/plants in the back half but at least the front half looks finished. Then, we had to rent a UHaul to buy the Japanese maple and 12 bags of mulch. I love the tree though ~ I have always wanted one and it is definitely my new favorite part of our yard. I also love my new planter from Costco – such a bargain at $16 – now lets see how long I can keep it alive. Anyways, here is what it finally turned out like:
BEFORE (October 2007 ~ pre-move in):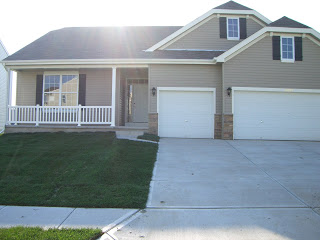 MIDDLE STAGES: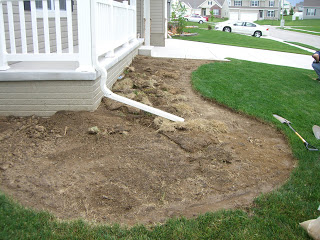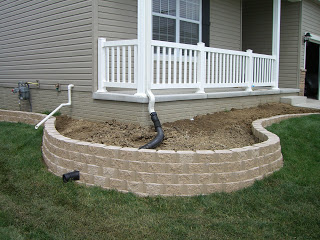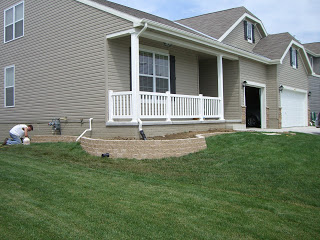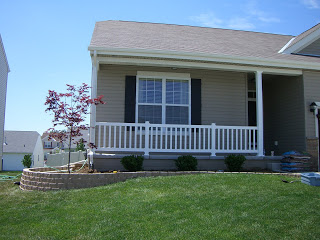 AFTER:
I need to get some better shots when the light is shining on them (by the way – we are not leaving that final brick propped on the sidewalk – the husband still needs to chisel it down). The sun was behind the house when we finally finished. I posted a close-up of the maple so you can see the bright color a lot better.