Today I've teamed up with a fabulous group of ladies (Jennifer from Dimples & Tangles, Kris from Driven by Decor, Lisa from Shine Your Light, and Pam from Simple Details) as their June co-host for their 'My Five Favorites' series. On the first Tuesday of every month, they (and their guest host!) all publish blog posts sharing  five of our favorite of something. The "something" is based on the specific theme they've chosen for that month. Examples from past months include their five favorite paint colors and their five favorite quick and easy holiday decorating tips. This month, their theme is 'fabric' so you know I jumped at the opportunity to join them and share my five favorite fabrics! #fabricjunkie
As a side note, a wrote a post several months back about how to match fabric patterns to end up with a designer-like look. Definitely worth checking out if you need help pairing any of the below fabrics with others you may have on hand!
Now, on to my picks! It was seriously so hard to limit this down to my top five (because I have over a dozen I love so much) but I think the final picks are pretty noteworthy! Please note each of the fabric names are clickable if you want to learn more about each one. P.S. Spoiler Alert – I like pricey fabrics but I think they can totally up the 'wow' factor in a room. This is why I usually sew my own pillows and do other DIY projects – then I can add a bit of these pricier fabrics!
Schumacher Celerie Kemble Betwixt
I could almost argue that this fabric pairs with nearly any other fabric on the planet. Not only is it crazy versatile, but the weave adds tons of texture to a space and is obviously not a cheap fabric. I have five of the colors because I just can't get enough. Betwixt is shown below on the front pillow in our guest bedroom in the 'Bear' colorway.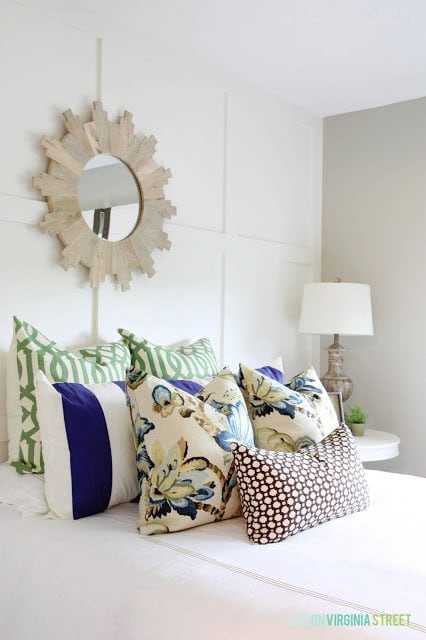 This is another fabric that pairs so well with other patterns. I've used it in the Clove, Seafoam, Ivory and Indigo colorways (and own it in even more because I know I'll need it at some point). The Riad fabric is shown on my home office drapes below in the Clove colorway.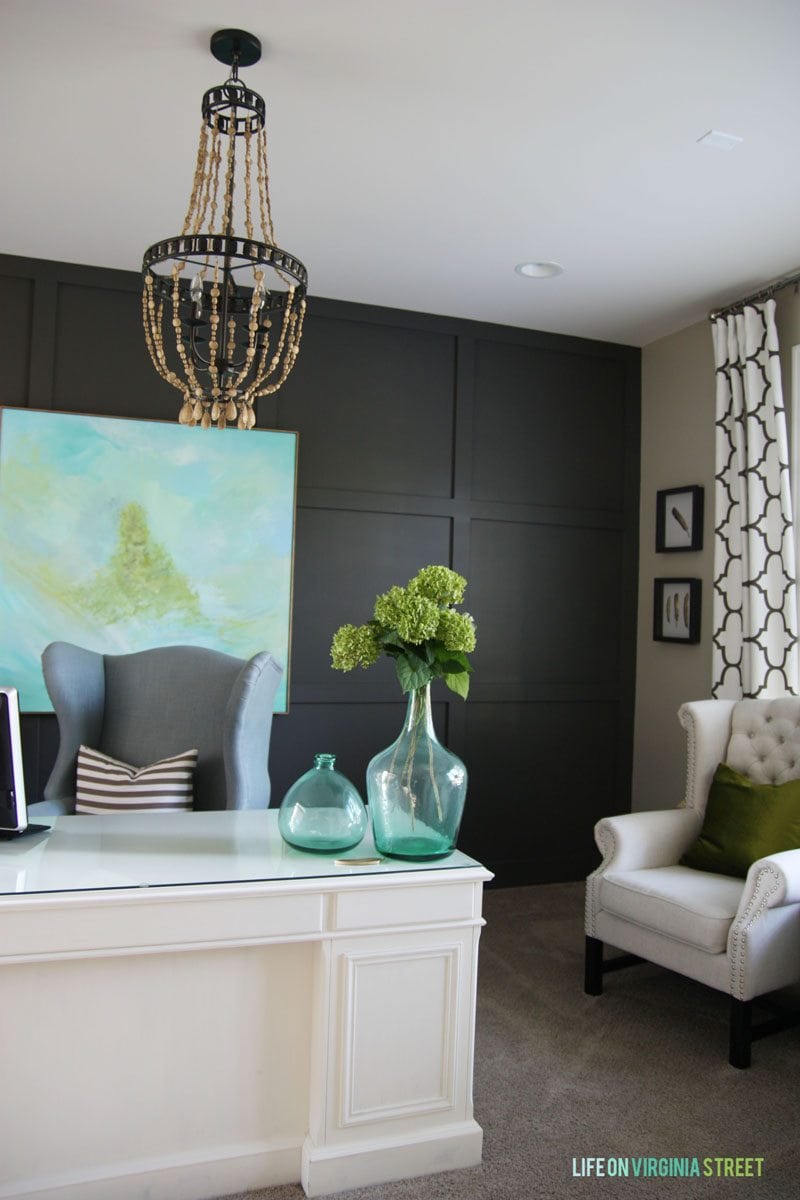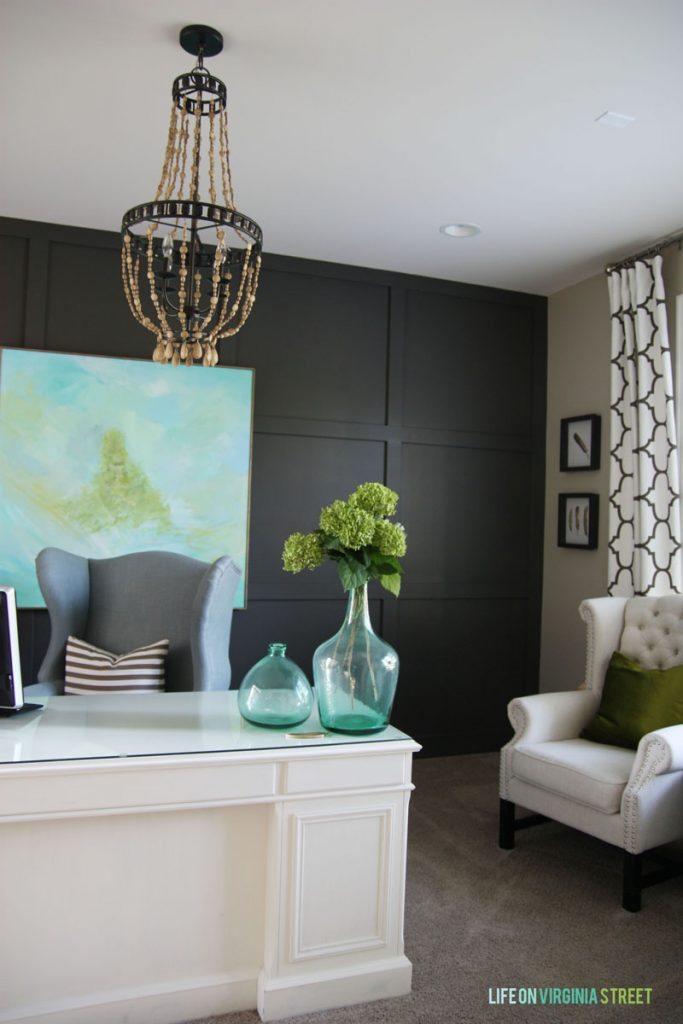 Schumacher Celerie Kemble HotHouse Flowers
This floral fabric is a bit more chinoiserie-feeling than my typical floral picks, but every time I've seen it used, I love it. The mineral (blue-gray) and verdance (green) colorways are my two favorite, but I think the spark (orange tones) looks beautiful every time I see it as well. The fabric is shown on the floral pillows below in our master bedroom in the Mineral colorway.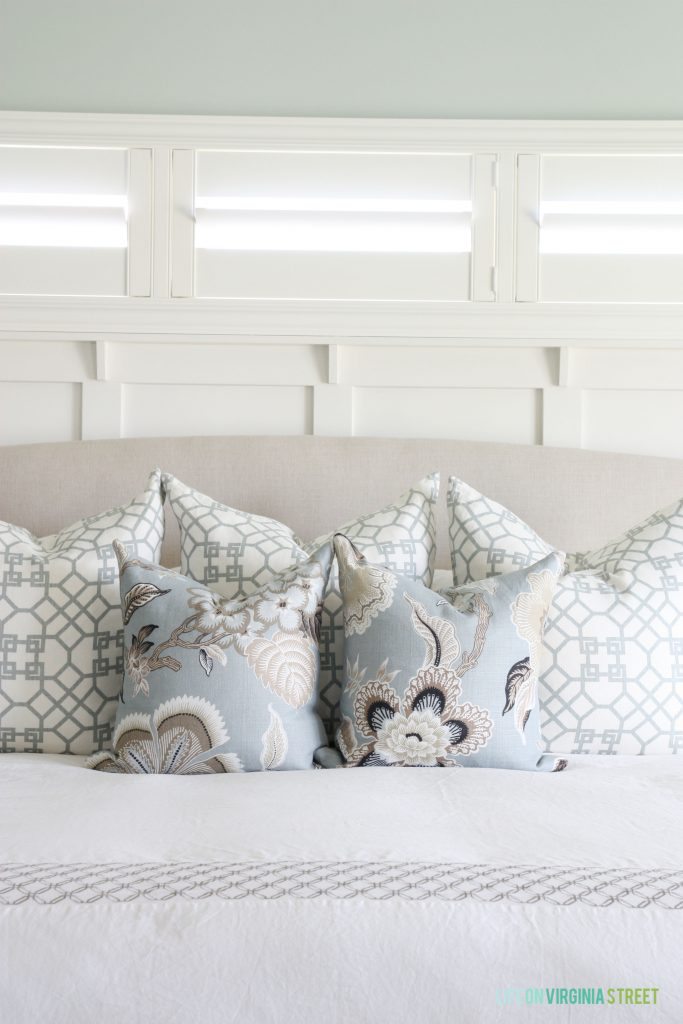 This has long been one of my favorite botanical prints and I recently bought some on eBay and couldn't be happier! I absolutely love the color it injects into our living room. It's shown below in the Original on White colorway.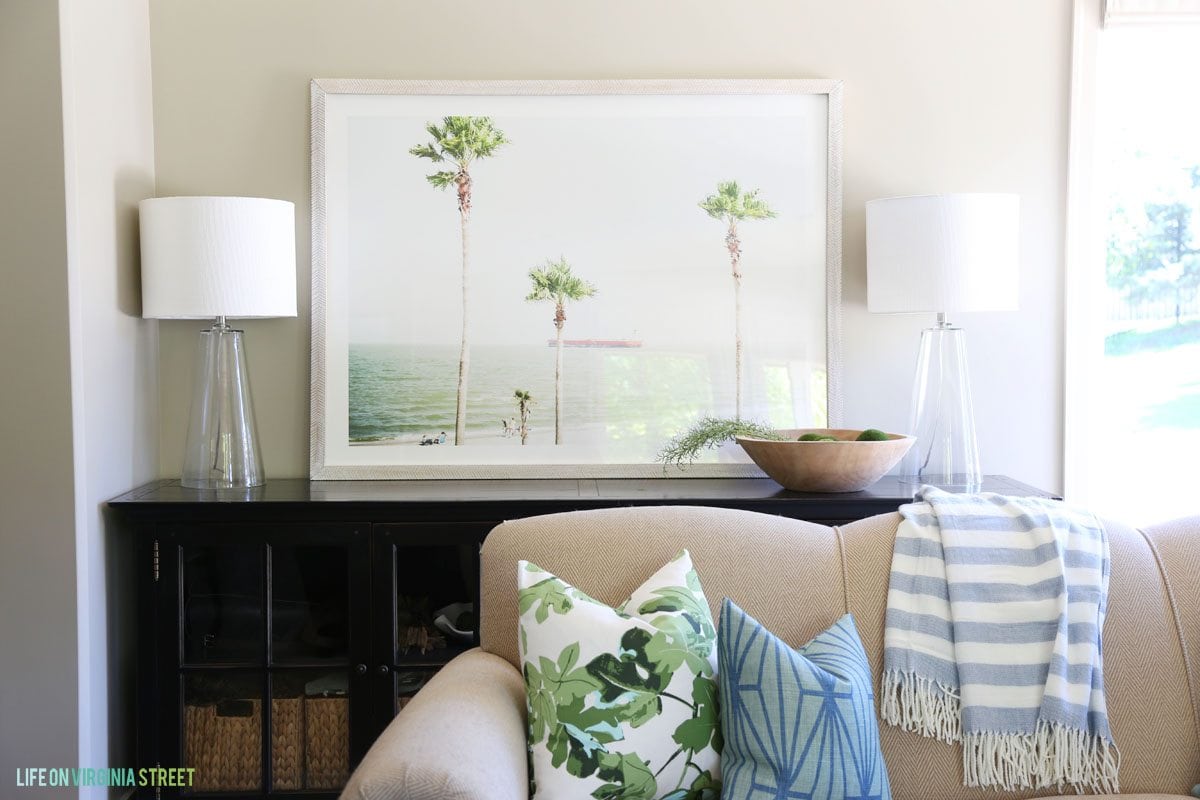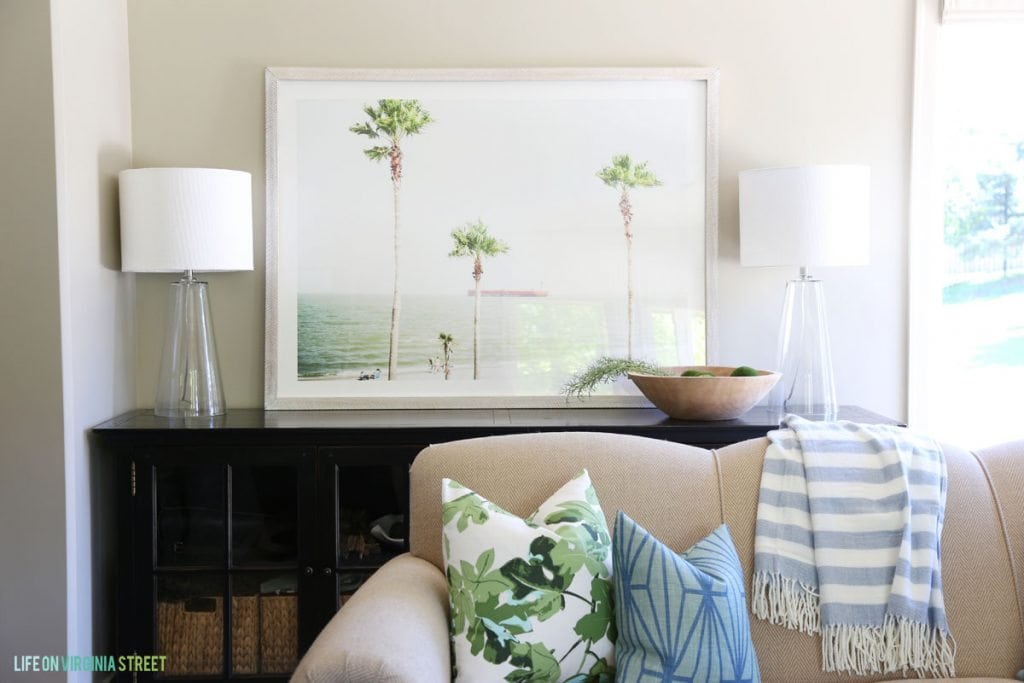 Stripes are like my beloved Betwixt fabric. They can pretty much go with anything! I buy striped clothes, rugs, throws, etc., so why not make striped pillows! One of the best parts of a striped fabric is that it doesn't have to be pricey either, like my other picks! Mix a cheaper stripe with one of the other designer looks, and no one will ever be the wiser! The image below shows the Kravet Windsor Smith Cap Deluca Stripe paired with Betwixt (the first fabric I mentioned). Although it's on the pricier side, I think you can see that a more cost effective fabric would pair just as beautifully!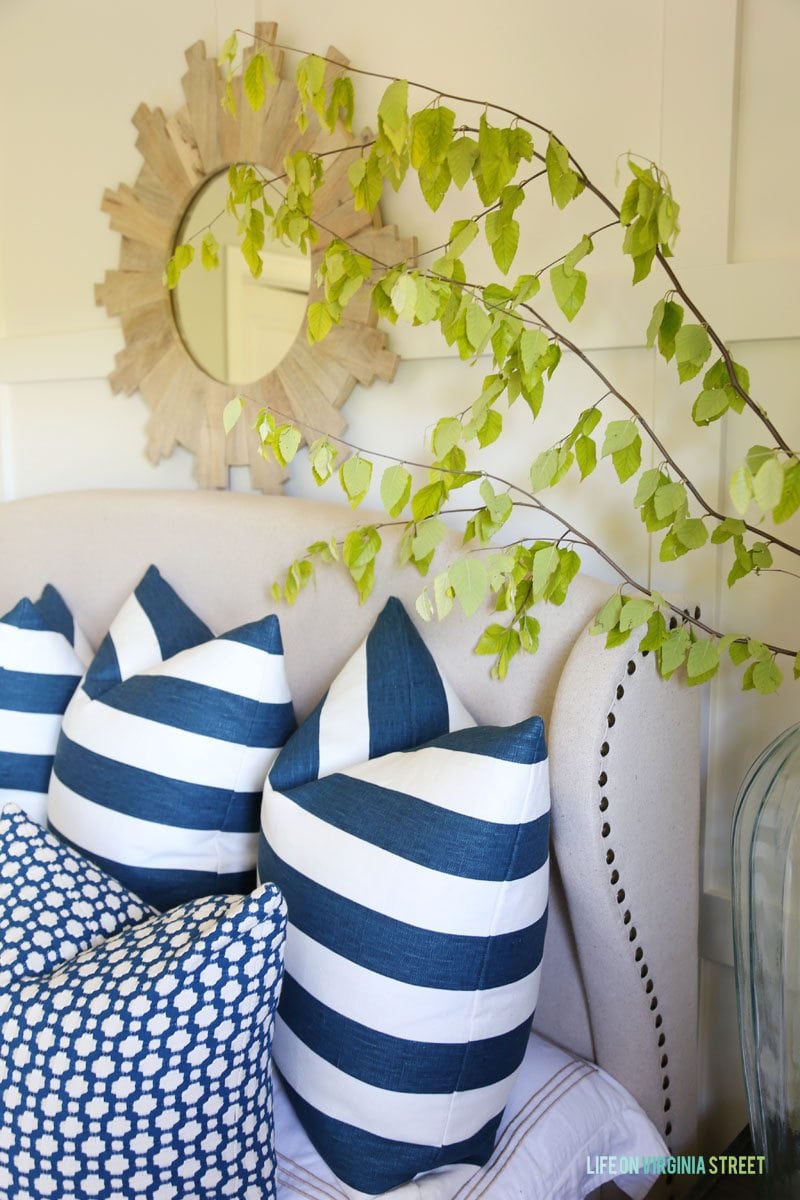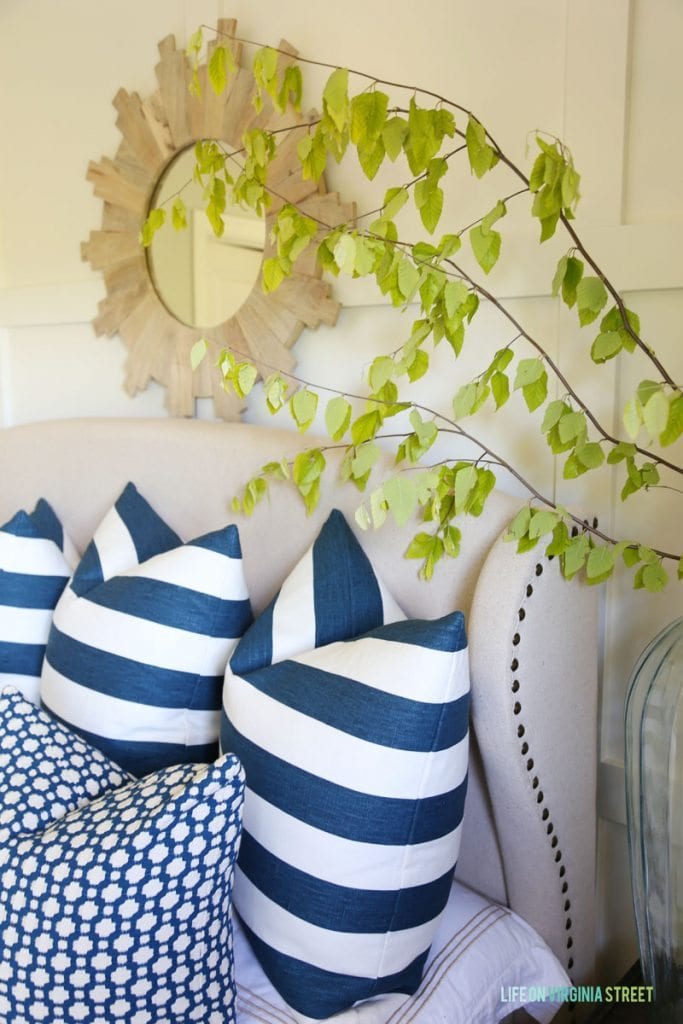 Following are pre-made pillows in my fabric fabrics if you aren't interested in sewing your own! Etsy is a great place to get designer pillows at a lower price than you may pay on some retail sites!

Thanks for stopping by today and thank you to my lovely co-hosts for asking me to be the guest host this month! I encourage you all to check out the 'five favorite fabrics' from the other hostesses. So much eye candy!
Also, be on the look out for my Summer Home Tour: Part II post that will be up shortly!
If you would like to follow along on more of my home decor, DIY, lifestyle, travel and other posts, I'd love to have you follow me on any of the following:
Pinterest / Instagram / Facebook / Twitter / Bloglovin' / Google
disclosure: some affiliate links used