This year I ordered our Christmas cards with Minted and they look amazing!
I am still a huge believer in sending paper Christmas cards. It is one of my favorite nightly events in December to run to the mailbox and check out all the pretty cards from friends and family. Remember my DIY Christmas Card Holder last year? I couldn't wait to fill it with cards as they were received.
I pretty much feel like a rockstar. Not only have I already ordered our Christmas cards, but they have already arrived. Now, getting them out is another story, BUT I am choosing to focus on the bright side.
The Minted Cards
This year I opted to get our cards from Minted. The interface on Minted is one of the easiest I have ever used. Since I knew the photo I was using, I selected a few options: one photo, landscape and then I turned on "Find It Fast", which inserts the photo I've uploaded into their shopping screen so I could get a visual of our photo with each of the designs! You can scroll through really quickly and know which versions are options and which aren't (see how there's writing on our heads on some of them?). You can also change the color schemes on most with the click of a button.
So, I ended up selecting the first option above, but in the navy color scheme. I don't know what we would do for Christmas cards without the annual photo we get taken on my husband's work trip 😉
Then I opted to use the address tool on Minted to not only print our return address, but also address as many of the recipient addresses on the envelopes as possible (there were addresses I was missing, but I'll hand address those once received).
The packaging when it all arrived was so pretty!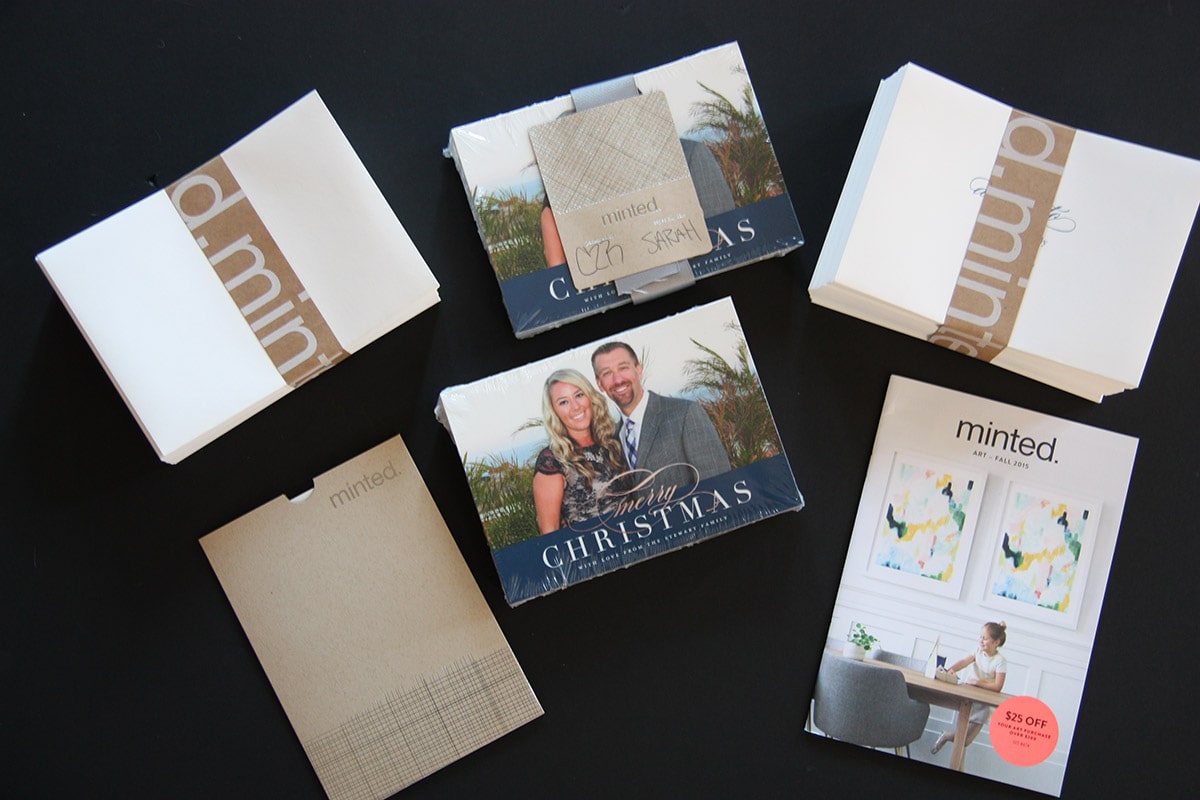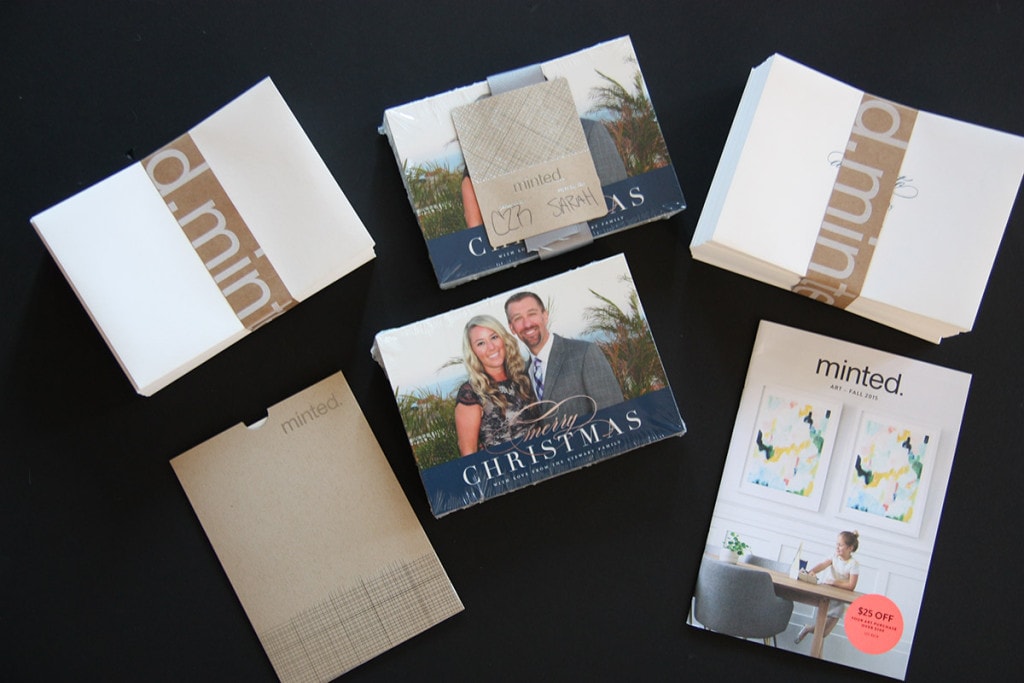 I love how everything turned out! The navy is the perfect non-traditional Christmas color and it goes perfectly with our living room color scheme this year. Because I know you all try to coordinate your Christmas cards with your decor 😉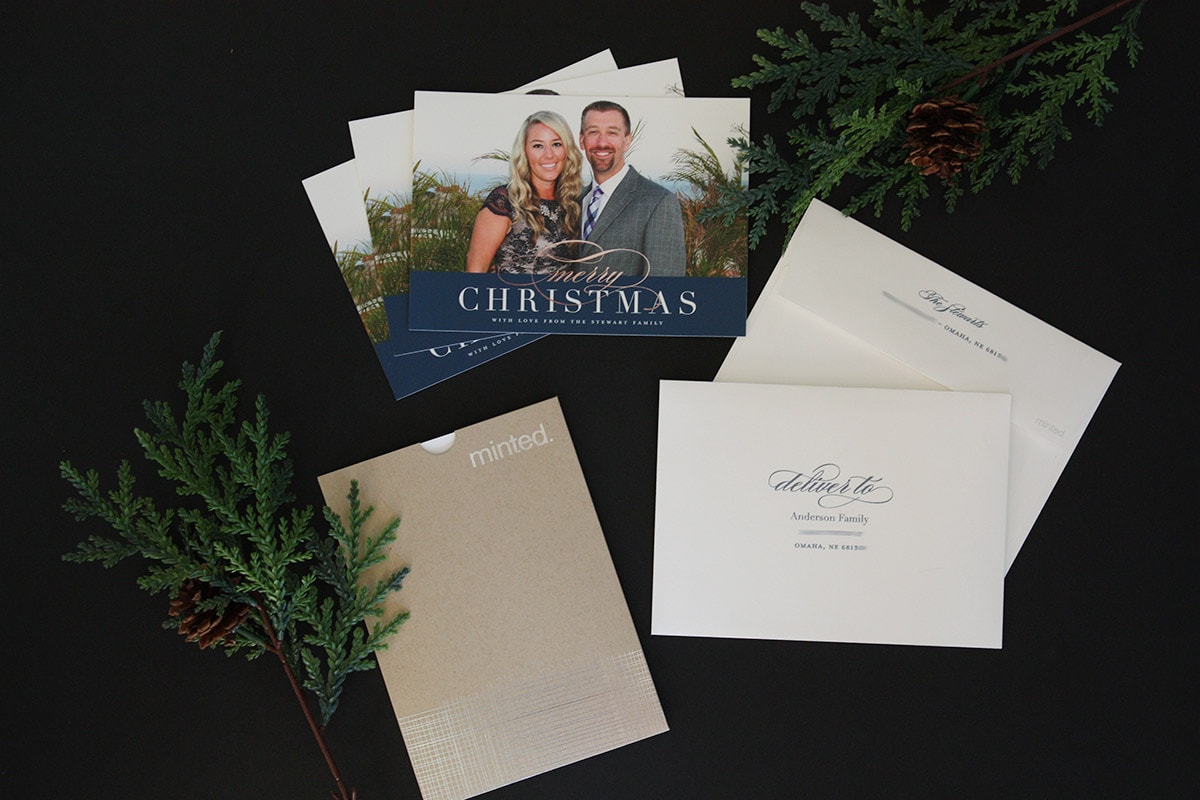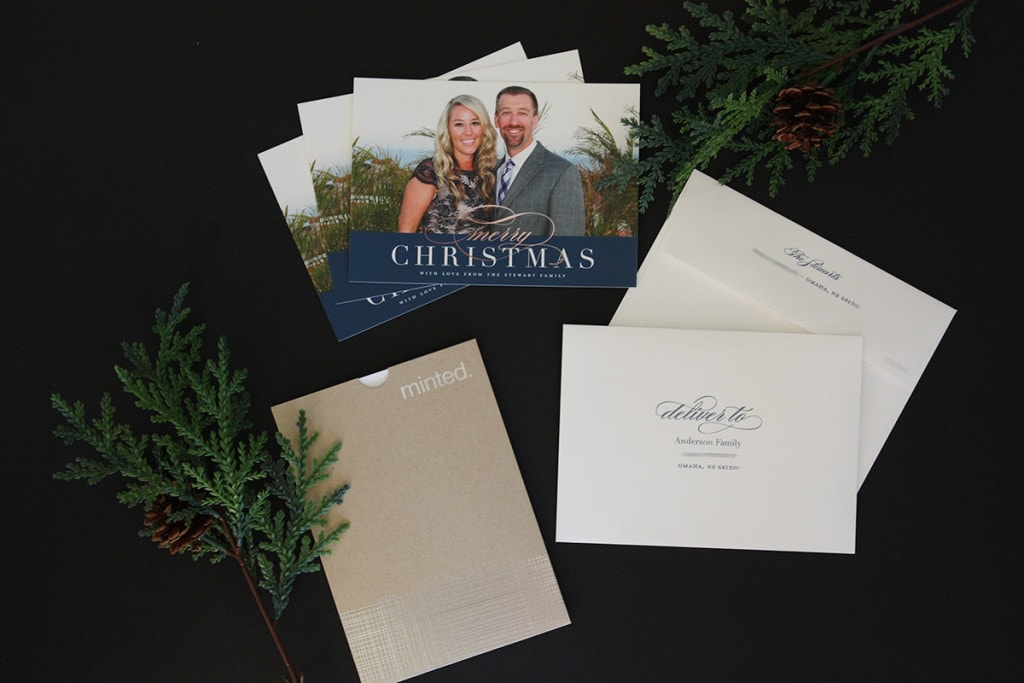 I would strongly encourage you to check out Minted on Black Friday and Cyber Monday, as I know historically, they have really great pricing on their cards at that time. It's a great way to save some money over the holidays if you're a firm believer in paper cards like I am.
Do you still send out paper Christmas cards? Have you already ordered yours?
If you would like to follow along on more of my home decor, DIY, lifestyle, travel and other posts, I'd love to have you follow me on any of the following:
Pinterest / Instagram / Facebook / Twitter / Bloglovin' / Google
Disclosure: This is not a sponsored post. However, Minted did provide me with a store credit to apply towards our Christmas card order. Affiliate links are used in this post.