My parents flew in on Thursday to spend the weekend with us. As usual, we had a lot of fun hanging out with them. I made this recipe for them when they arrived. It was really good but next time if I add more chicken and soup like I did, I will also add more of the Italian seasoning.
We then introduced my parents to Guitar Hero. We just bought the newest Guitar Hero about a week ago (it is by FAR the best ever – such great songs). My parents were a little skeptical at first, but they, like me, hate to fail at things so they played for several hours and have now mastered it. I sense they will soon be getting Guitar Hero for Wii to keep their skills polished.
We then visited every sports/fishing store in the metro area along with every craft and fabric store in the area. The husband, my mom and I entertained ourselves at the "shooting range" games while dad would scope out new fishing materials. The guys were good sports and went to all the girly stores too. I bought some really cute Christmas decorations (mini-ornaments to fill in glass jars, the cute wreath in the picture below and also found all my Christmas gifts for my employees!)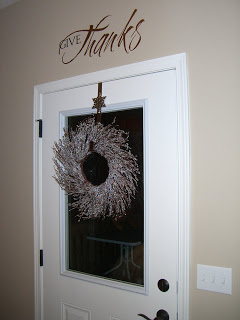 We also made the usual sushi run. We went to baby blue this time, since it had opened since the last time my parents had visited. It was delicious as usual.
I decided I want to redo the look of my living room. I am getting sick of the green wall, and after pricing the cost of rocking it, I will probably just be giving it a coat a of a new paint color. I have a new sewing machine and thought I could maybe just whip out some new curtains. Thankfully my mom was in town to do most of the work. I wanted some Pottery Barn knock-offs and she did a great job! (They are made from some canvassy/lineny fabric that I got for $6.00/yard and then just rolls of grosgrain ribbon that was $2 or $3 for 12 feet – much cheaper than the $109.00 that Pottery Barn charges PER PANEL – I need two panels). They didn't have quite enough ribbon at the JoAnn's in Omaha, so my mom is going to take the curtains home and finish them (you're the best mom!) for fear that I would probably ruin them after all of our hard work if I were to finish them. Now I can focus on making some cute pillows, which sound much easier.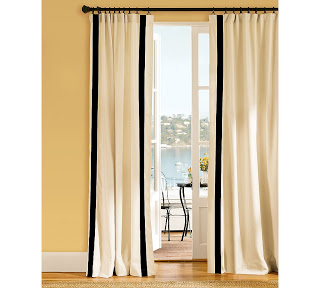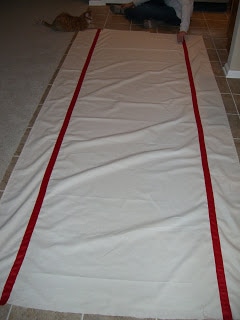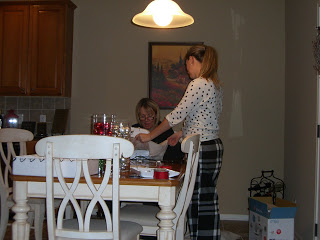 My parents flew in on buddy passes, so unfortunately, they had to leave on the 7:00 am flight this morning to make sure they got back today (we had to leave to the airport at 5:25 am). Thanks to my parents for a wonderful weekend!