I am sharing with you a tour of my house five years after moving in!
Today marks the fifth anniversary of us moving into our current home. To be honest, this has felt like "home" to us for ages and we are so grateful every day that we made the decision to move forward with buying this home!  We love the house, we love the neighborhood, and we have made some incredible friends while living here. At this point, we don't ever see ourselves leaving, which is why we're willing to make the updates we want, to truly make the home feel personal.
I thought it would be fun to take a before & after home tour of our home decor to see just how much things have changed over here around the past five years.  I hope you enjoy seeing our journey!
The bulk of the 'before' photos were taken two weeks after we had moved in. Some of them were taken at night, which I realize makes for an unfair before and after, but I think you'll be able to tell many of the changes are still pretty drastic! To see all of our paint colors through the years, be sure to check out my Paint Colors.
This post contains affiliate links for your shopping convenience. Click here to read my full disclosure policy.
Entryway Before & After:
This is one of the rooms that has undergone two mini-makeovers since we moved in. This summer, I completed the latest update when I painted our front door navy blue. You can get all the stunning details on that latest makeover here.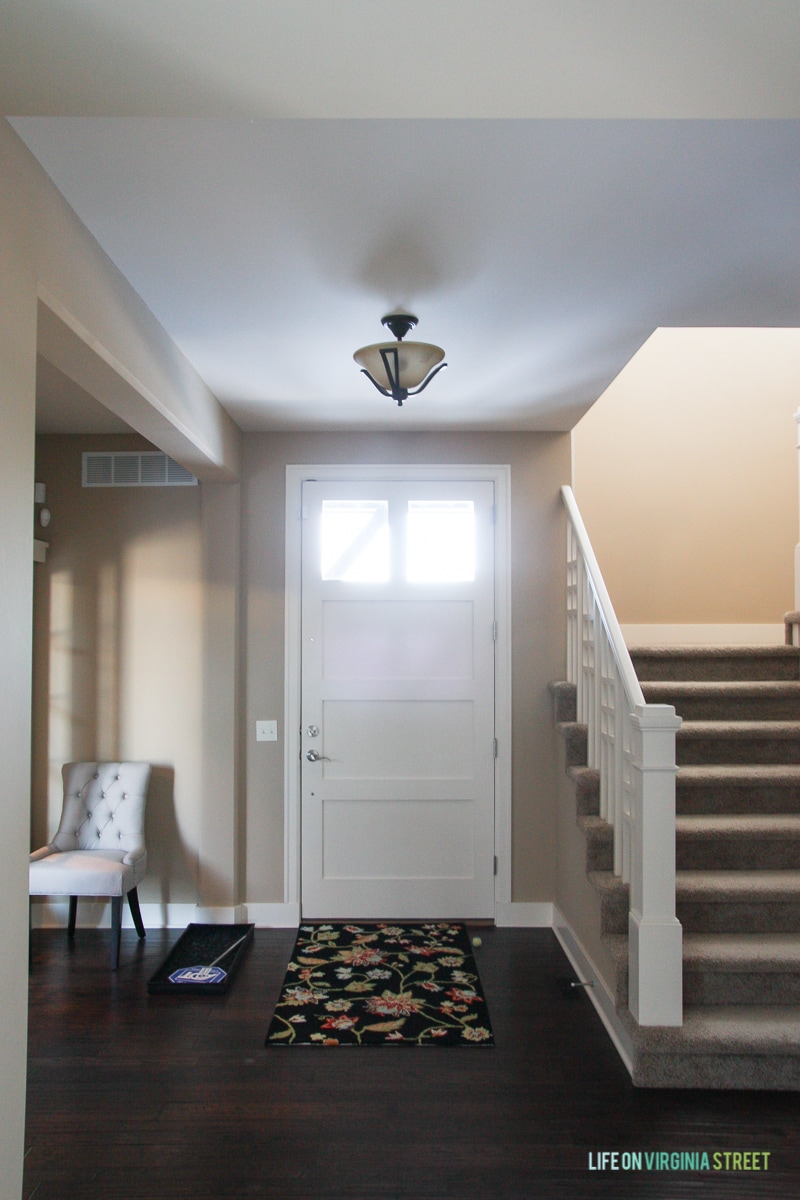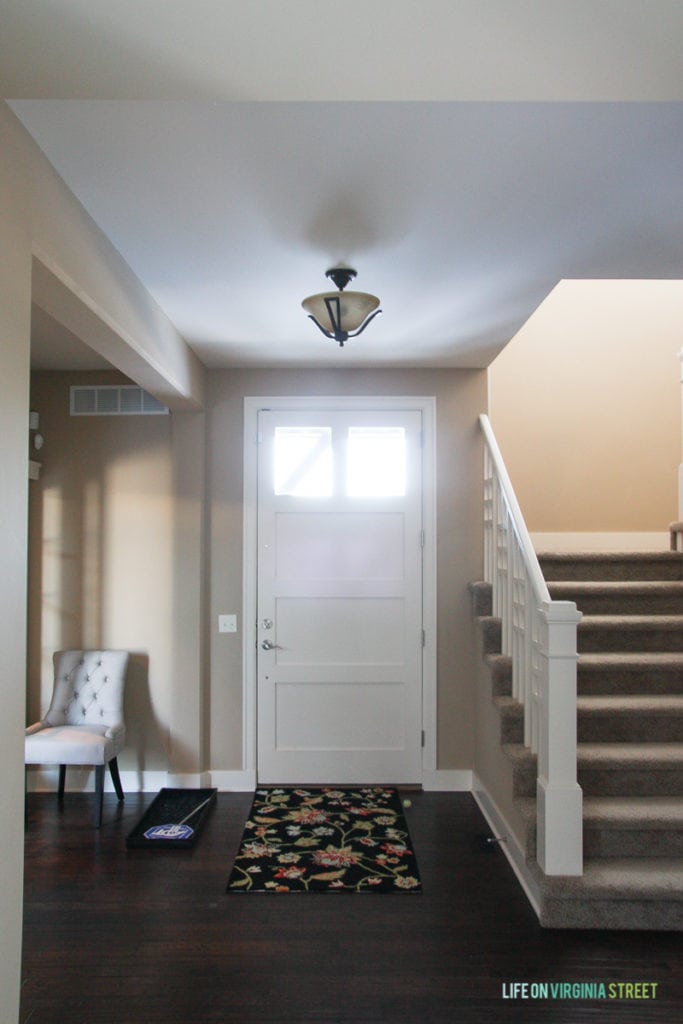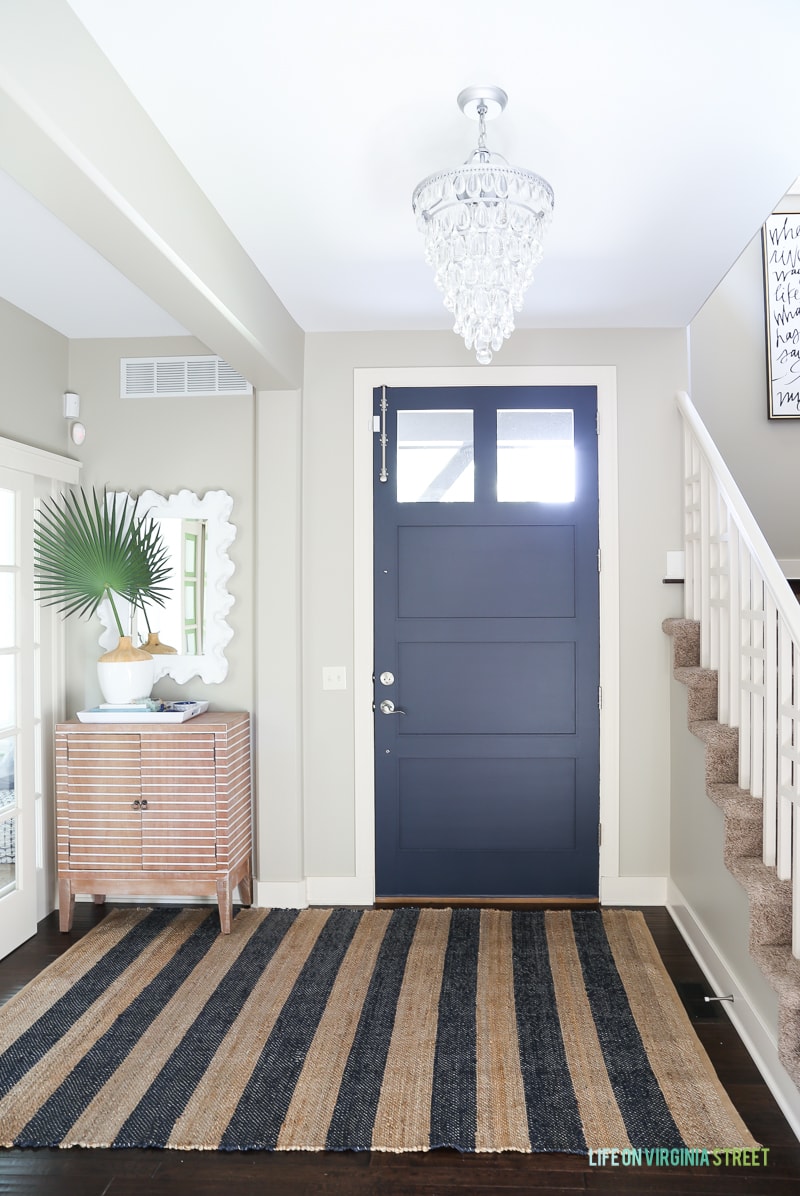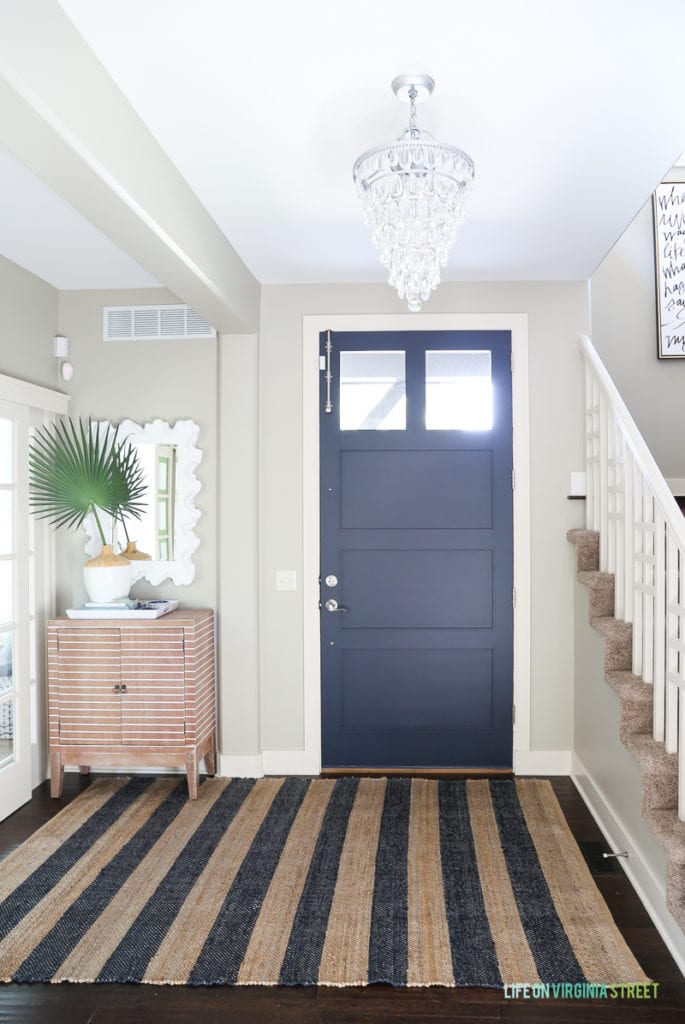 Entryway Hallway Before & After:
When we moved in, the home had more of a Tuscan/Mission Style vibe. I've slowly been trying to transform that into a Beachy/Cape vibe. The 'after' photo below is a bit dated since it doesn't show the navy blue front door, but I wanted to show the dramatic difference in paint and lighting styles.  It definitely brightened up the space!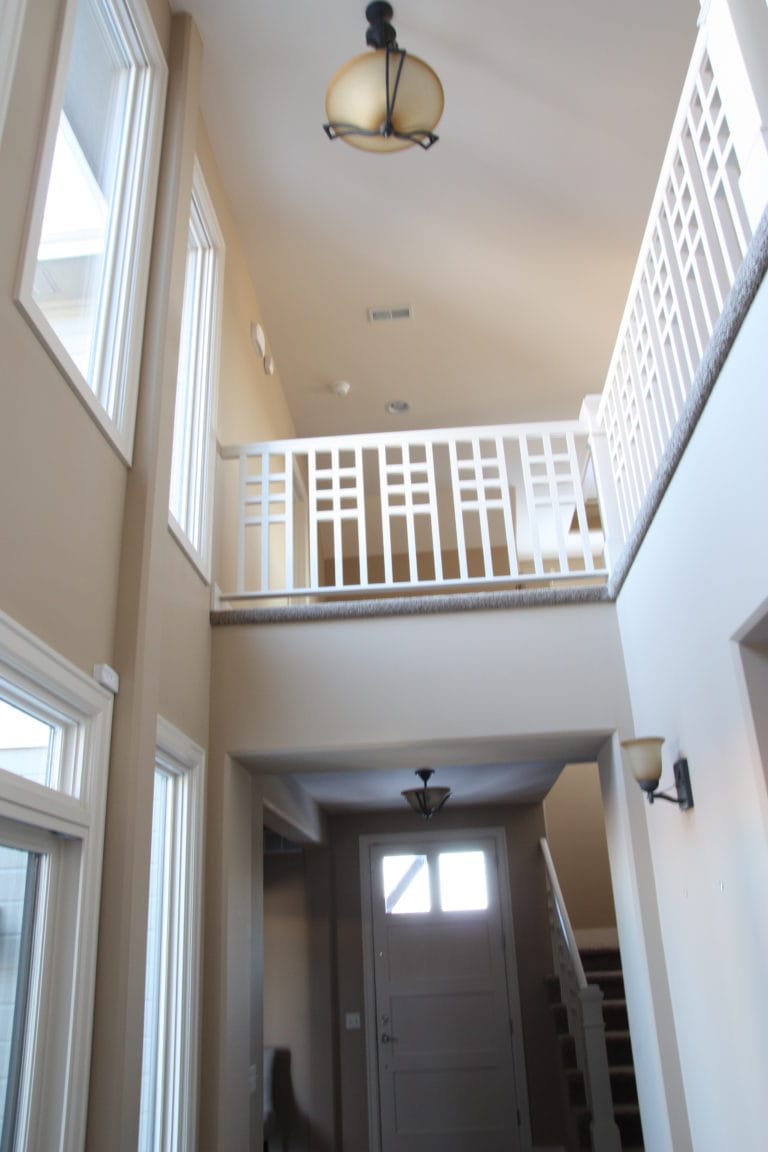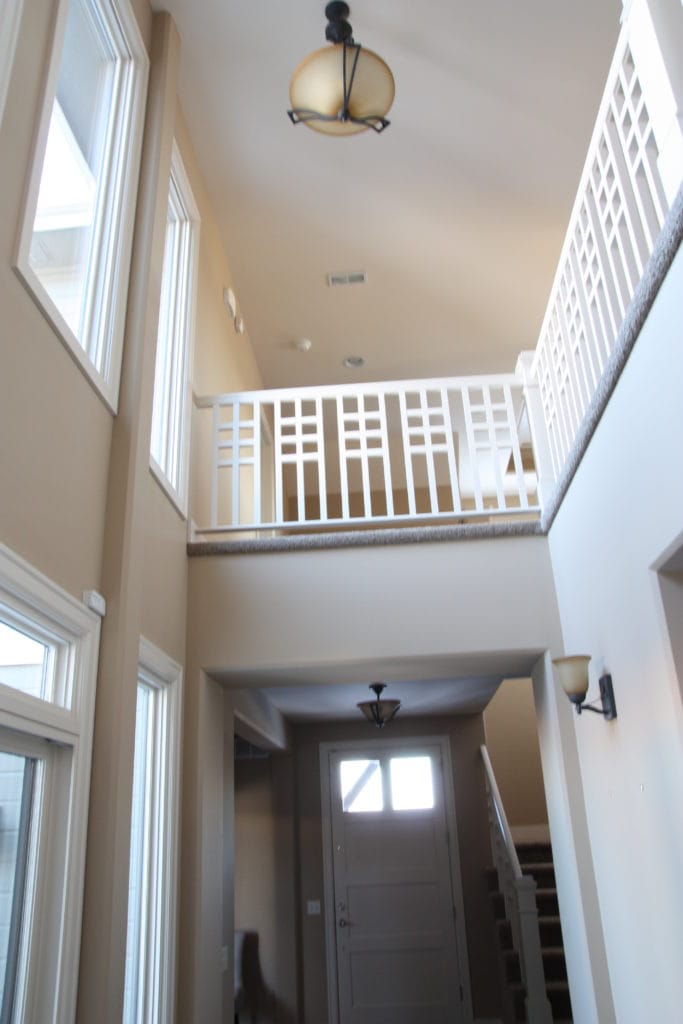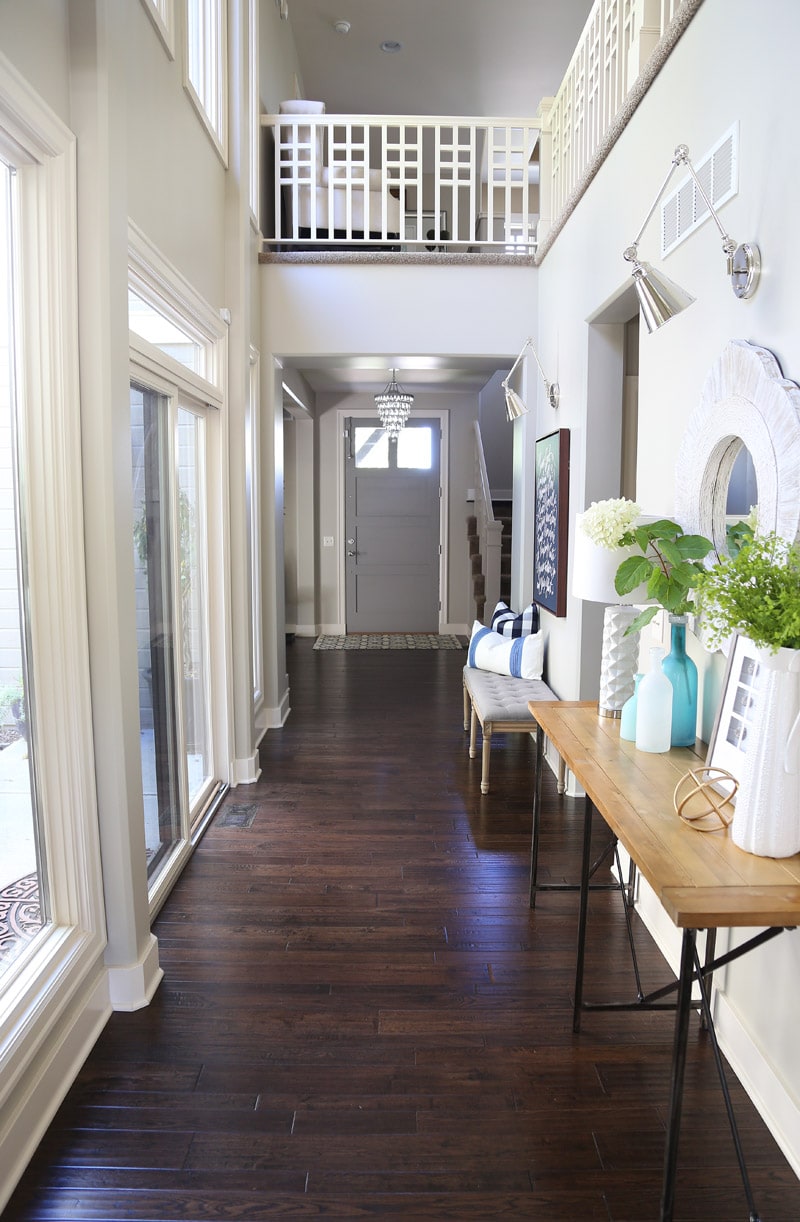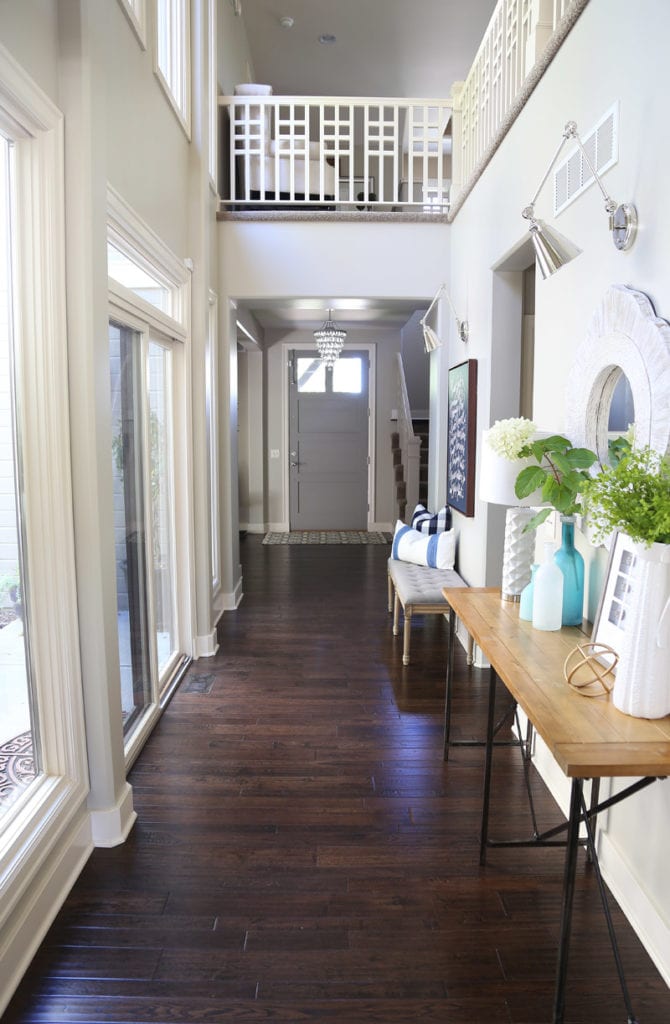 Office Before & After:
Our office makeover was undoubtedly the biggest update in 2017.  It had undergone a few other prior makeovers, but this latest one, when we installed hardwood floors and took all the trim and side walls white, completely changed the look of the space. You can see that makeover here.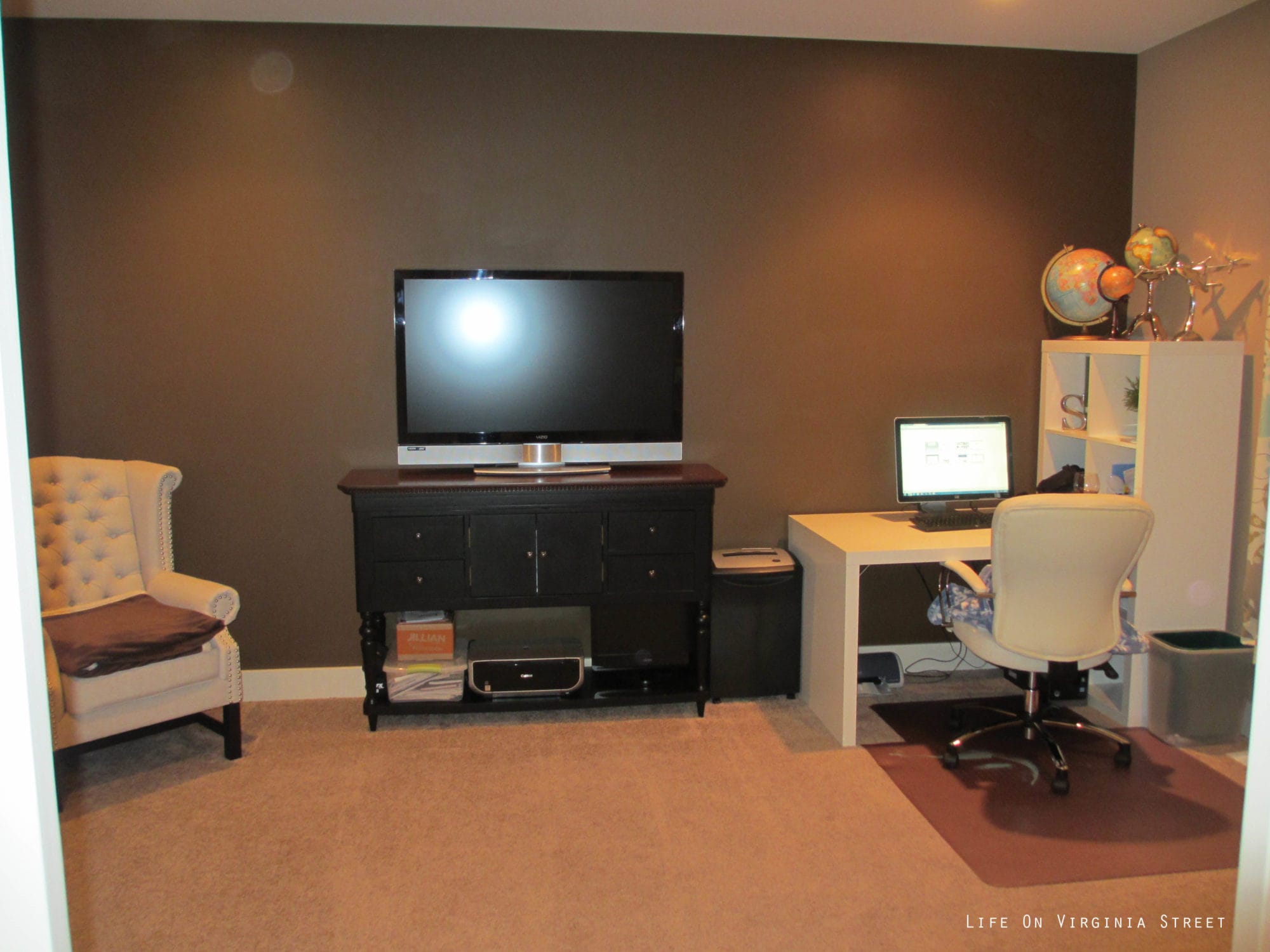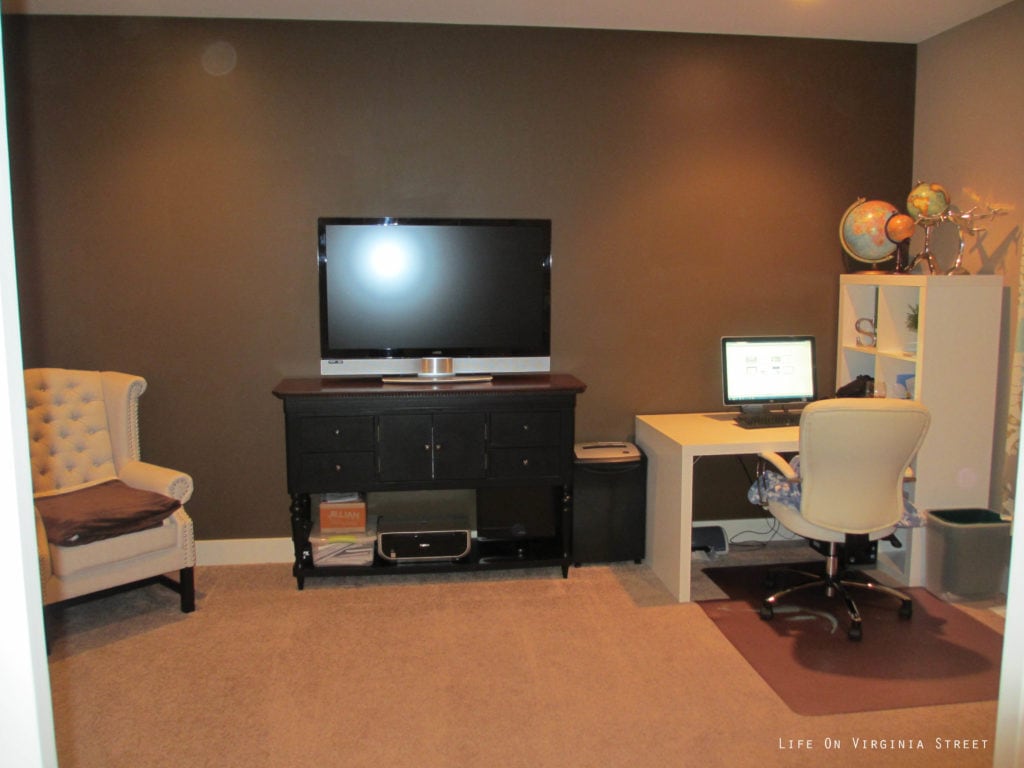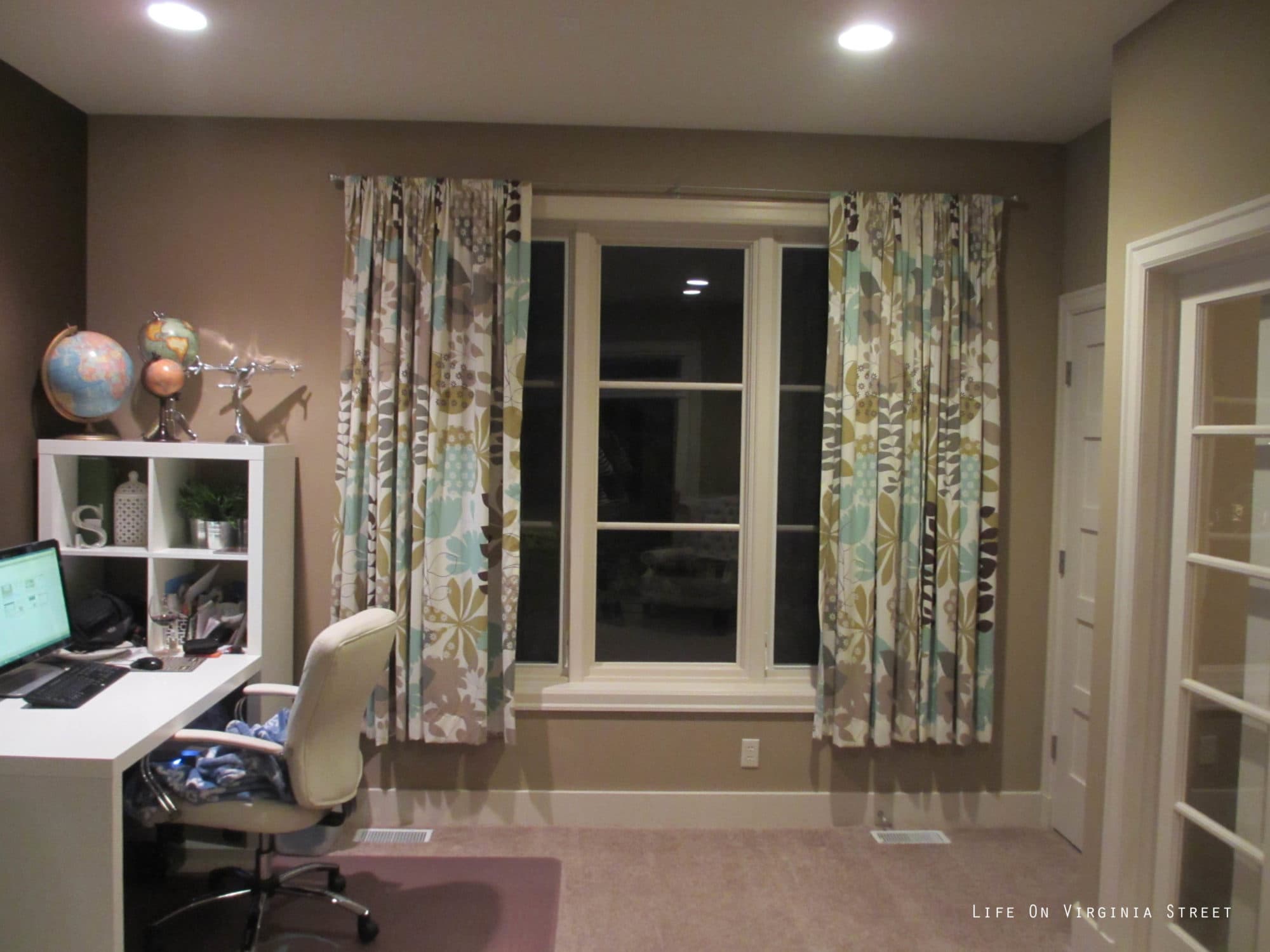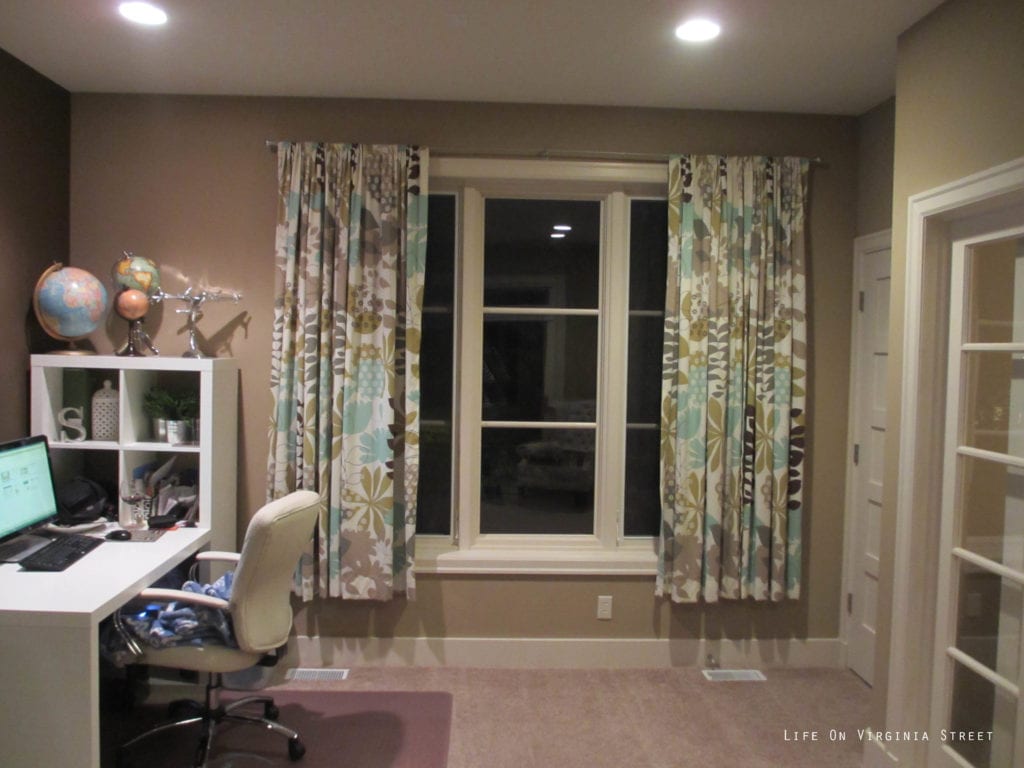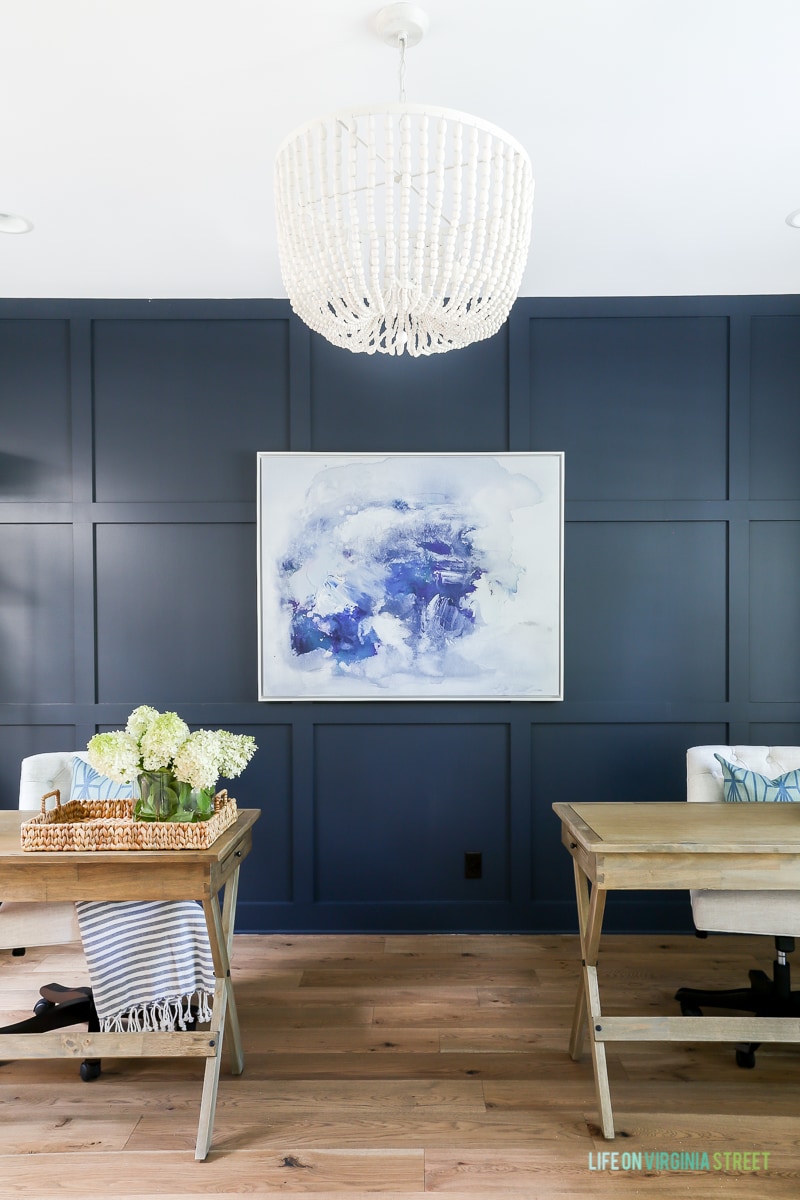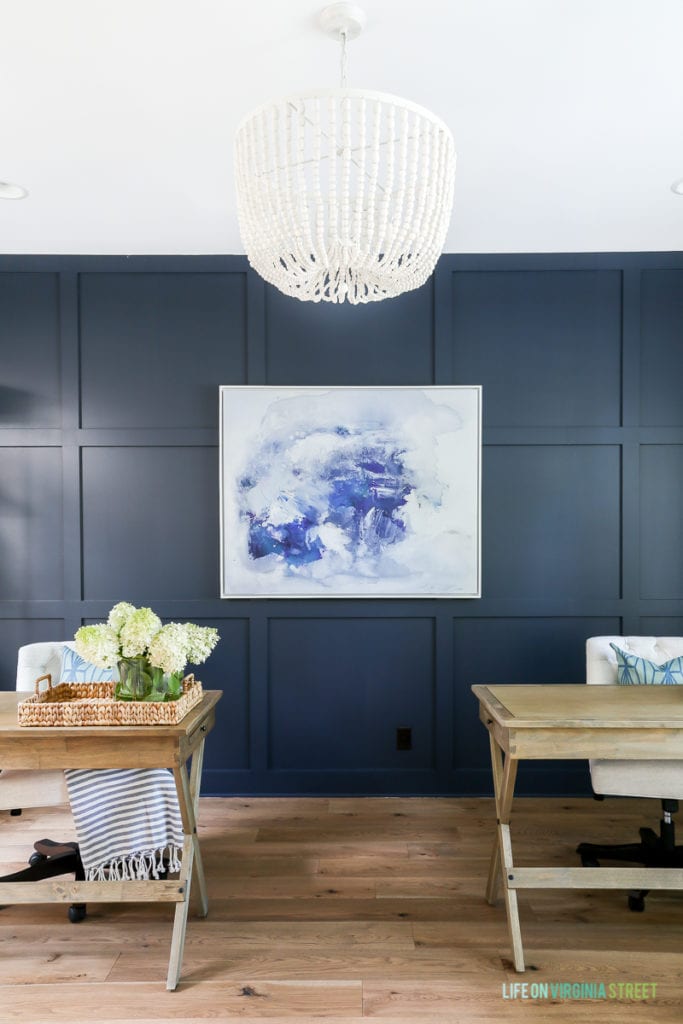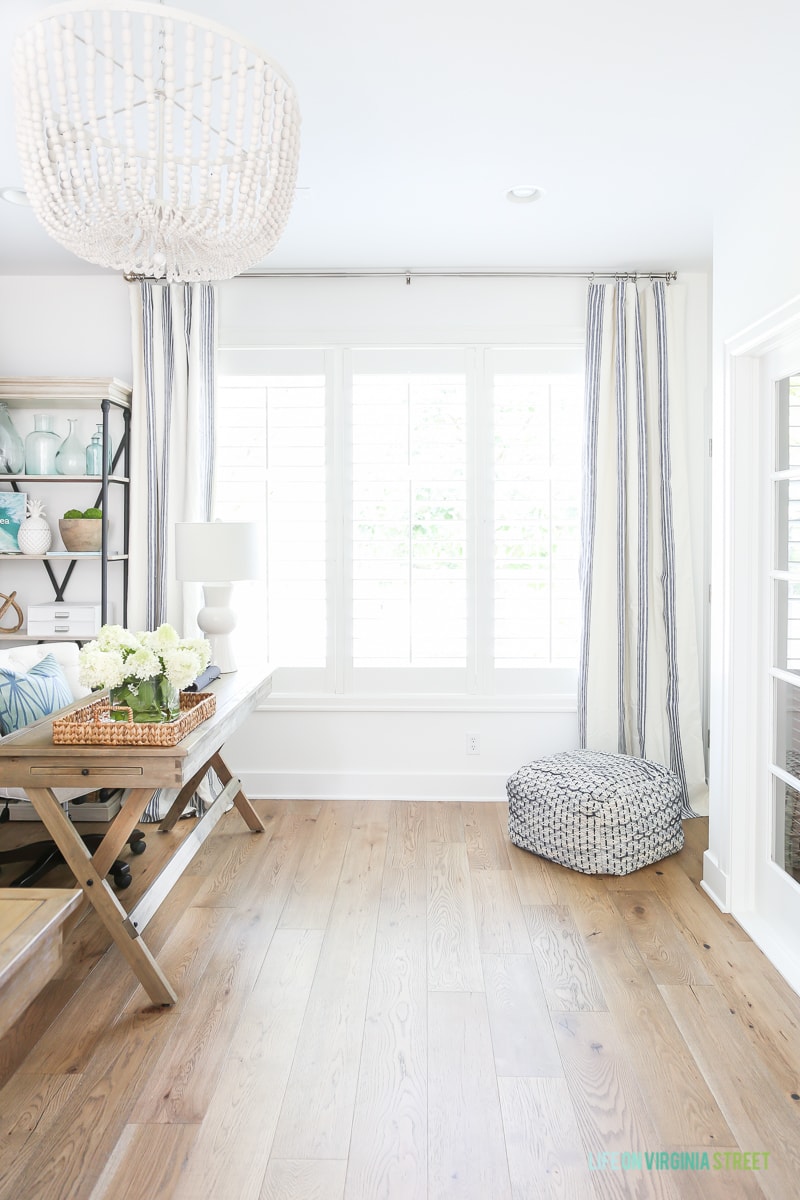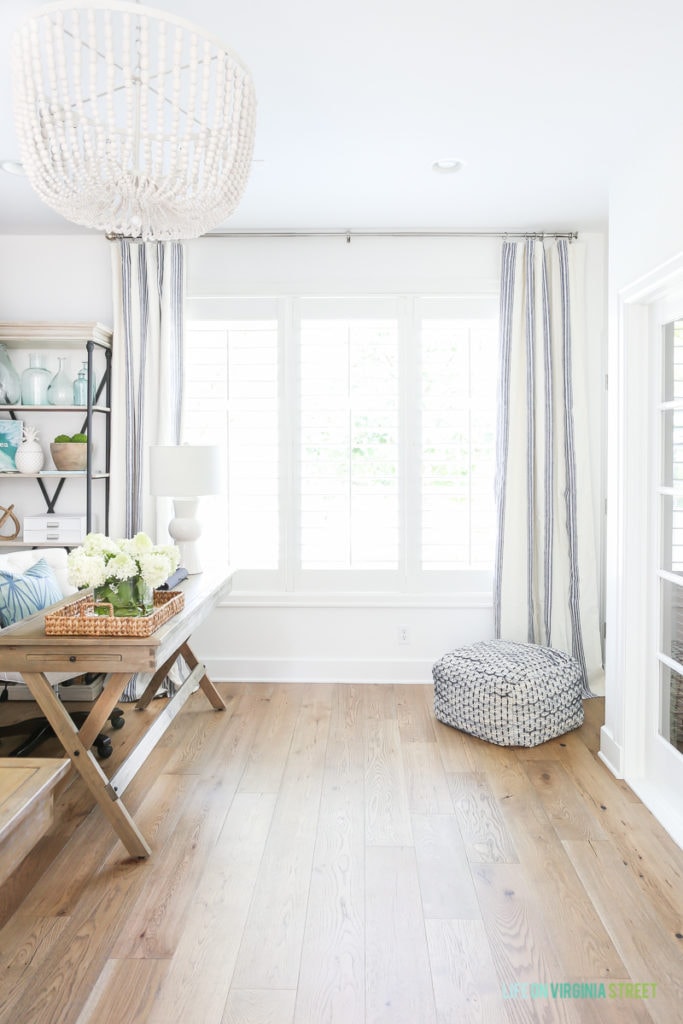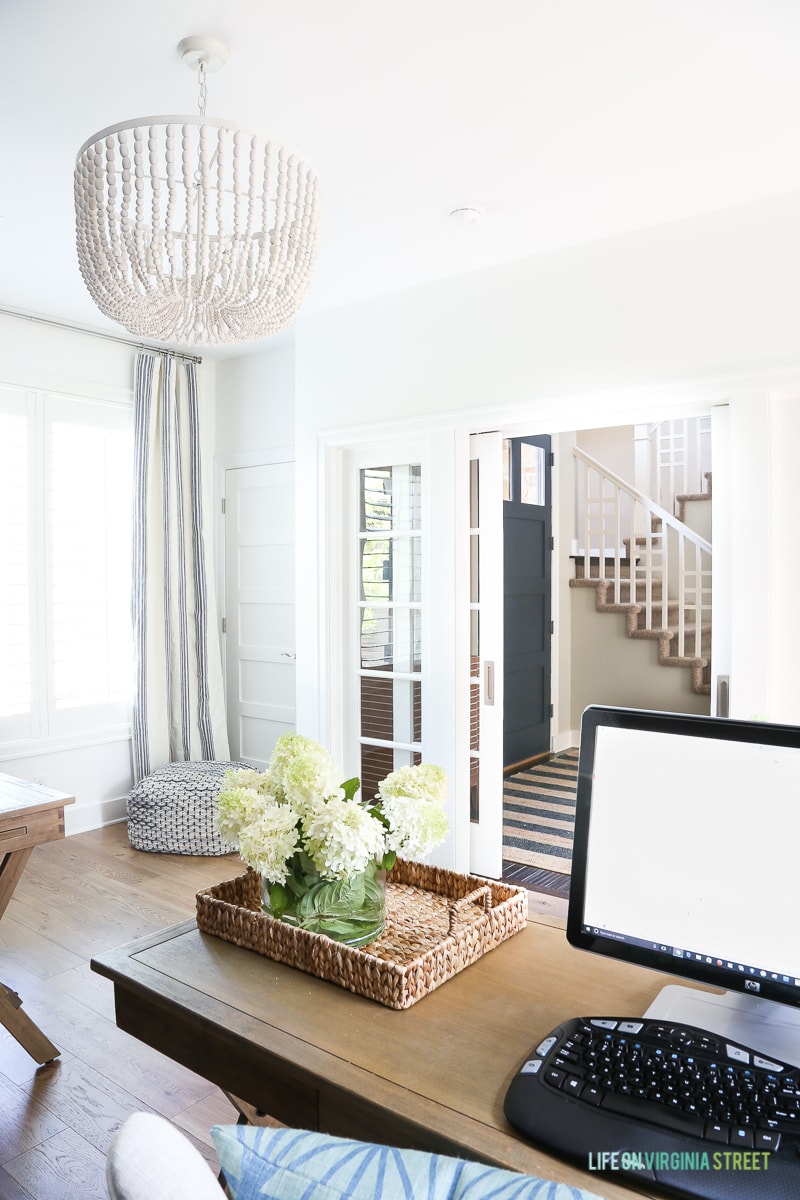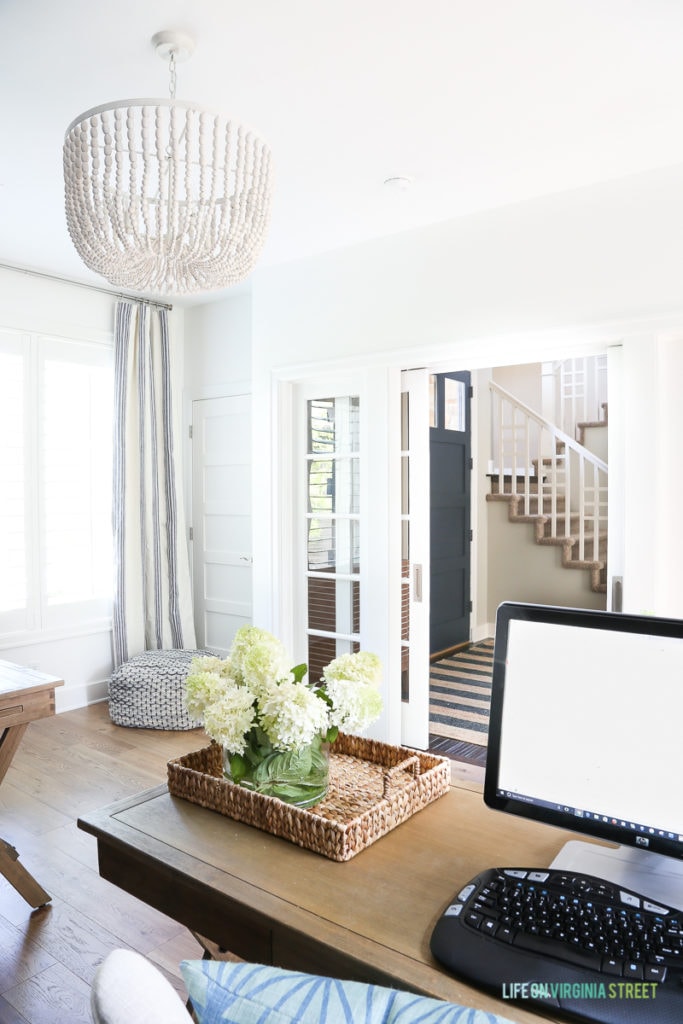 Powder Bath Before & After:
The powder bath was another reveal this year, and one of my favorites to date. The room previously was dark, matte and very beige and brown. I painted the bathroom cabinets, replaced the countertops and lighting, and tore out all the backsplash. You can see the full makeover and get the budget breakdown here plus get the tutorial for painting thermofoil cabinets here.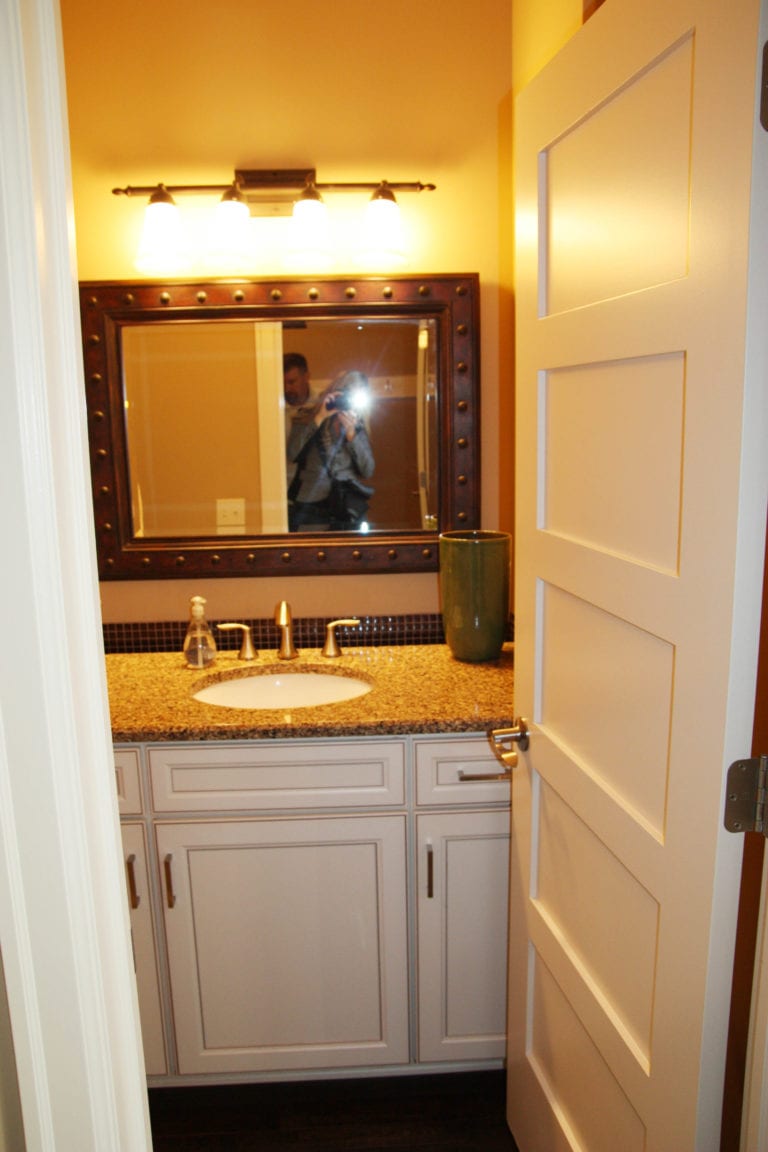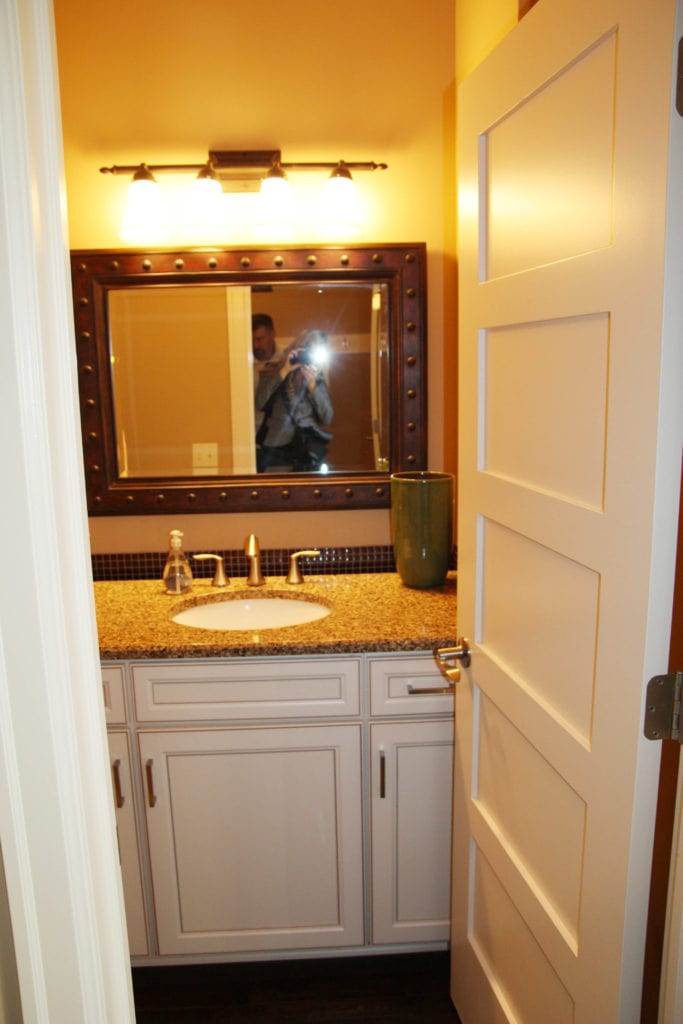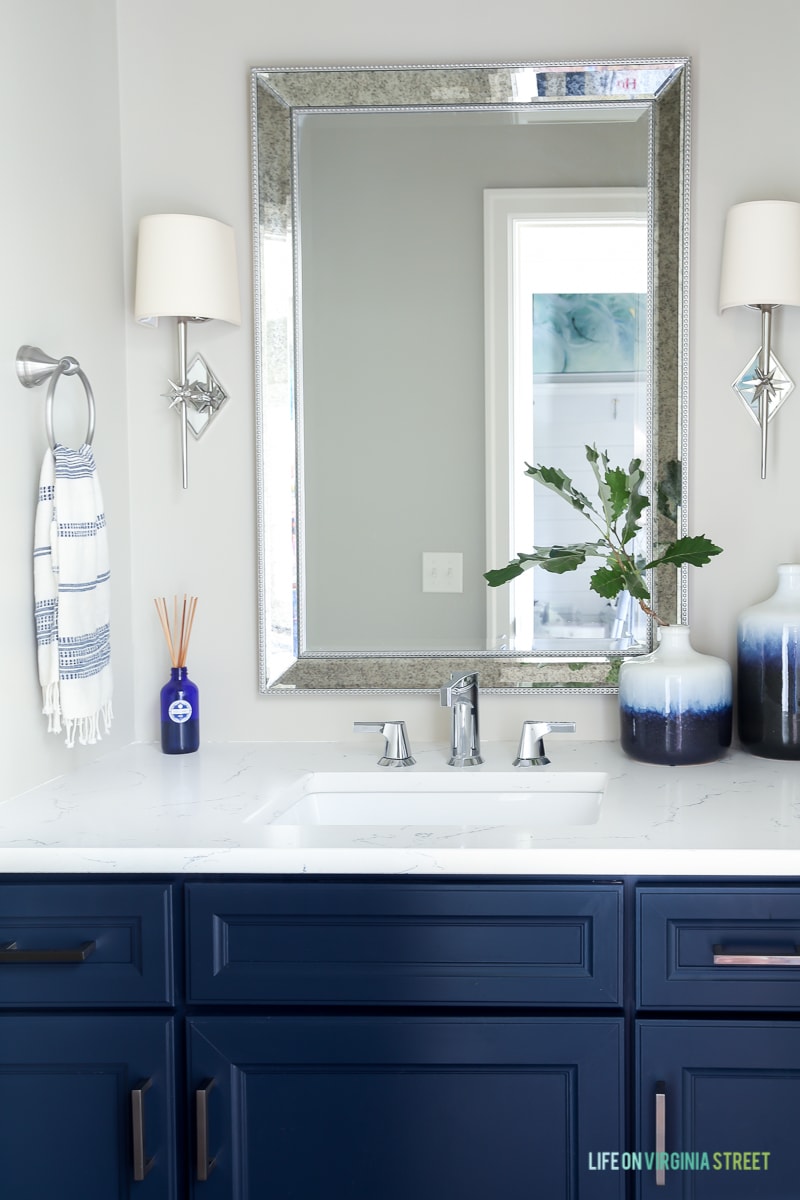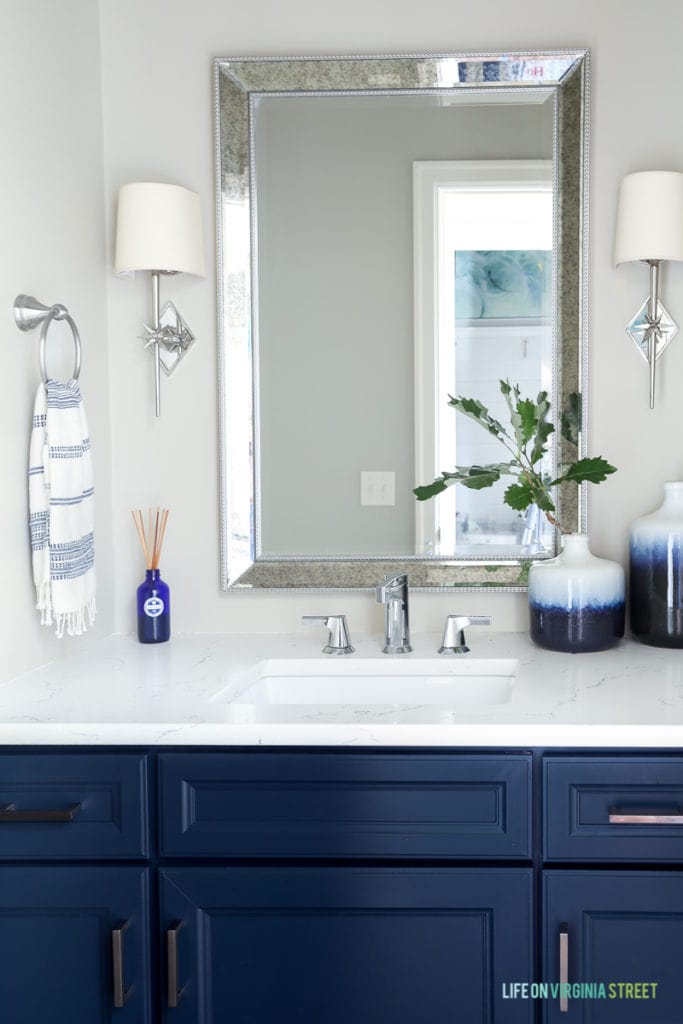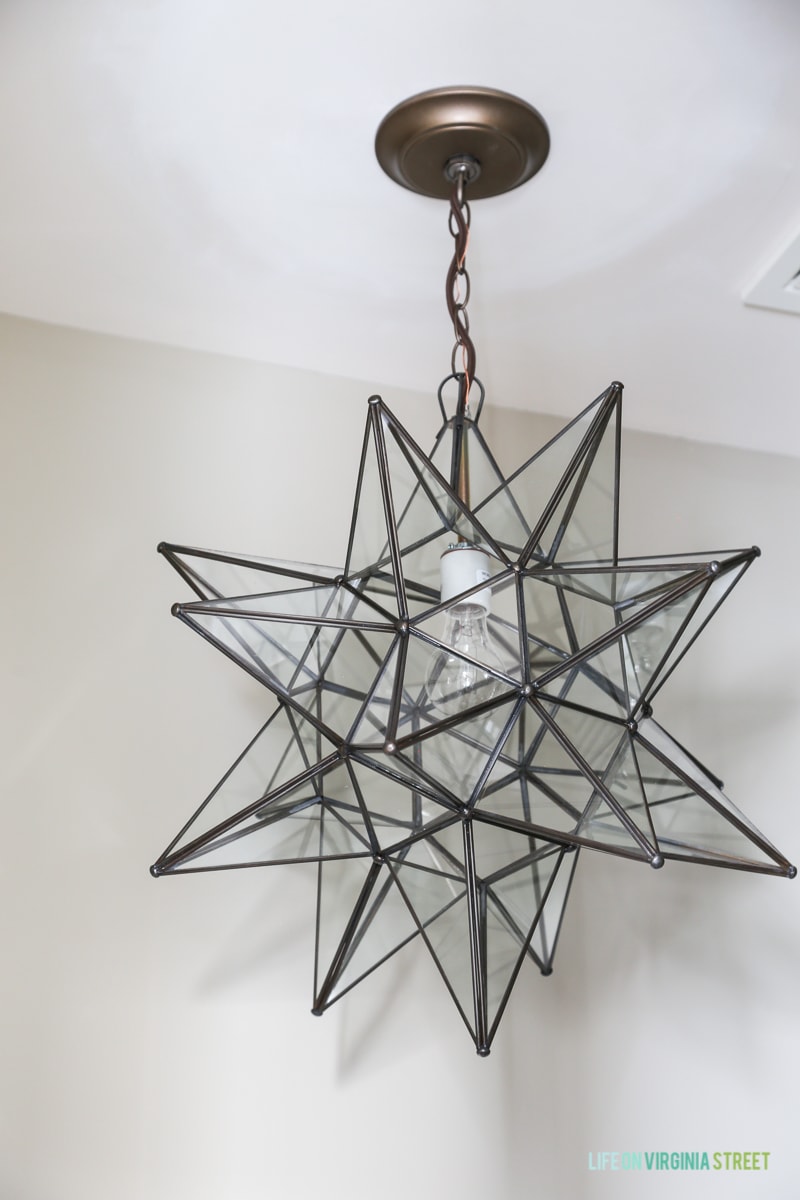 Kitchen Before & After:
Our kitchen has only seen a few updates, in the form of fresh paint on the walls, new pendant lights and a new faucet. Other than that, I've tried to brighten things up with lighter accent pieces and add some color in the form of rugs, etc. We're hoping to do a renovation here soon. Our goal would be to paint the cabinets white, replace the backsplash, get new countertops, and solve the "floating" microwave dilemma. You can see more of that conversation here. We've know since we moved in that changes would need to be made, and we've started the process multiple times, but I think 2018 may be the year we finally move forward with a kitchen renovation! I'll keep you posted!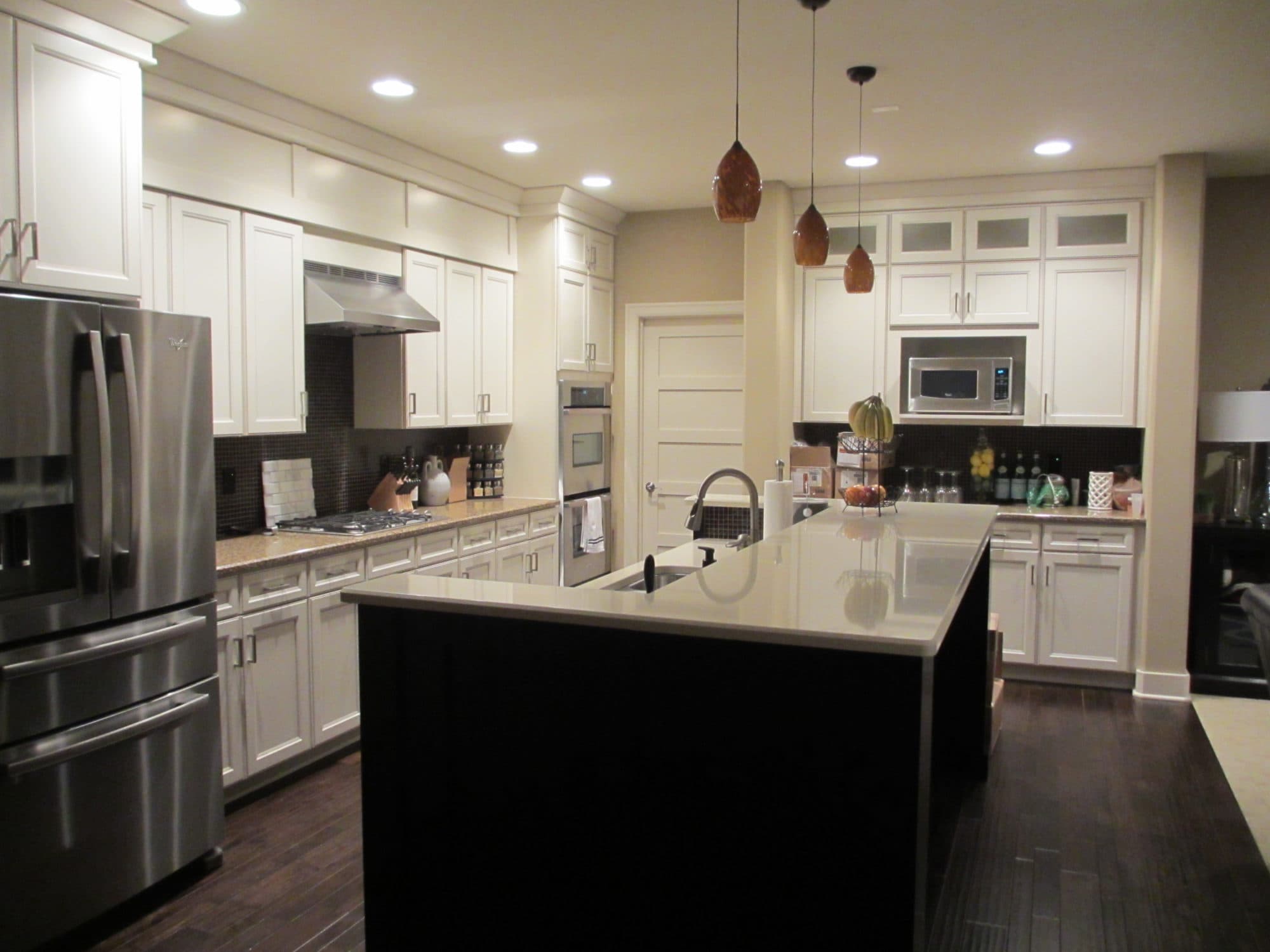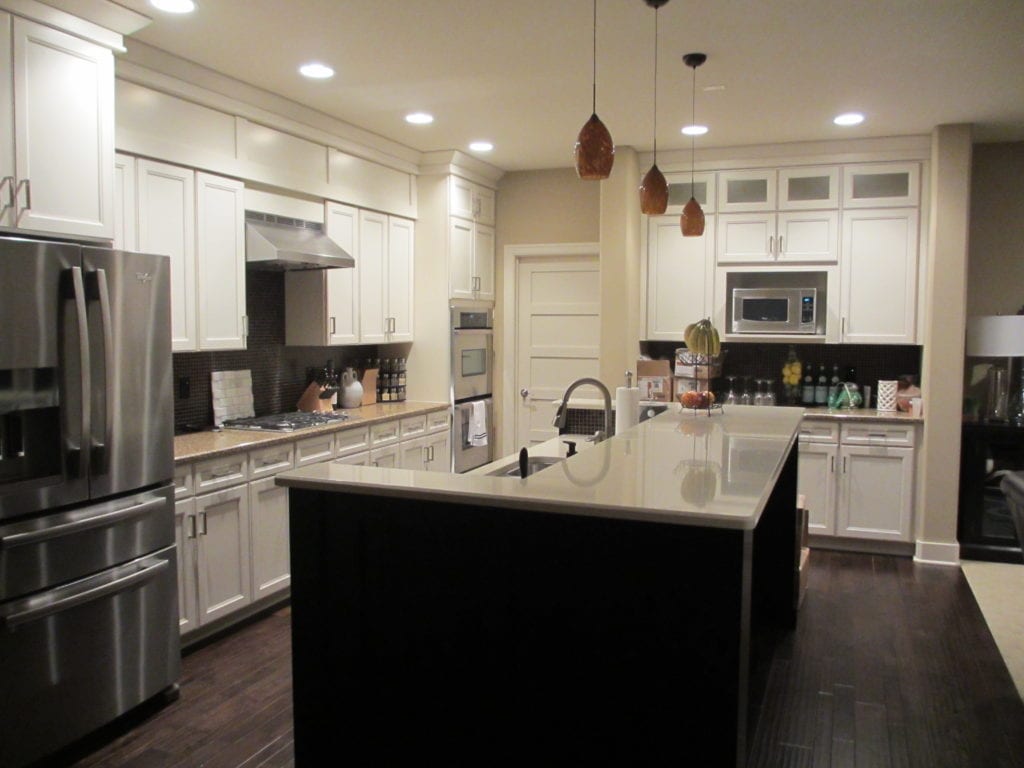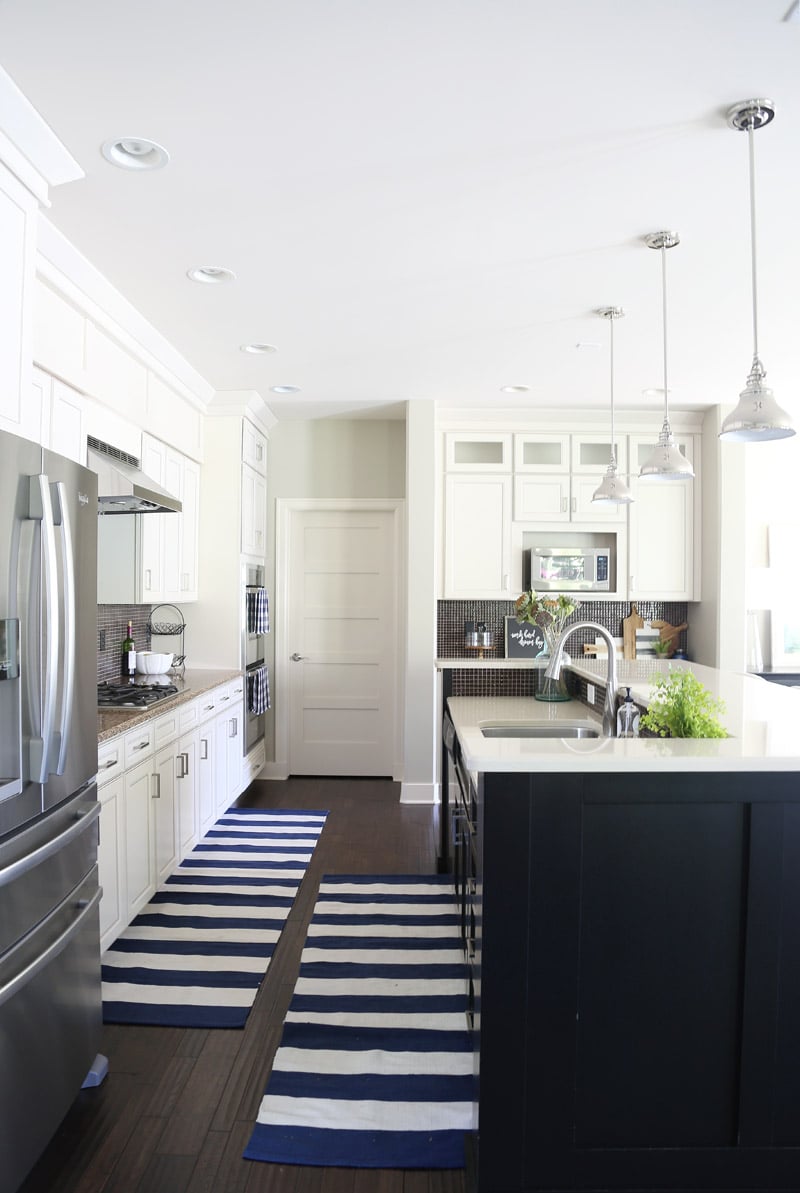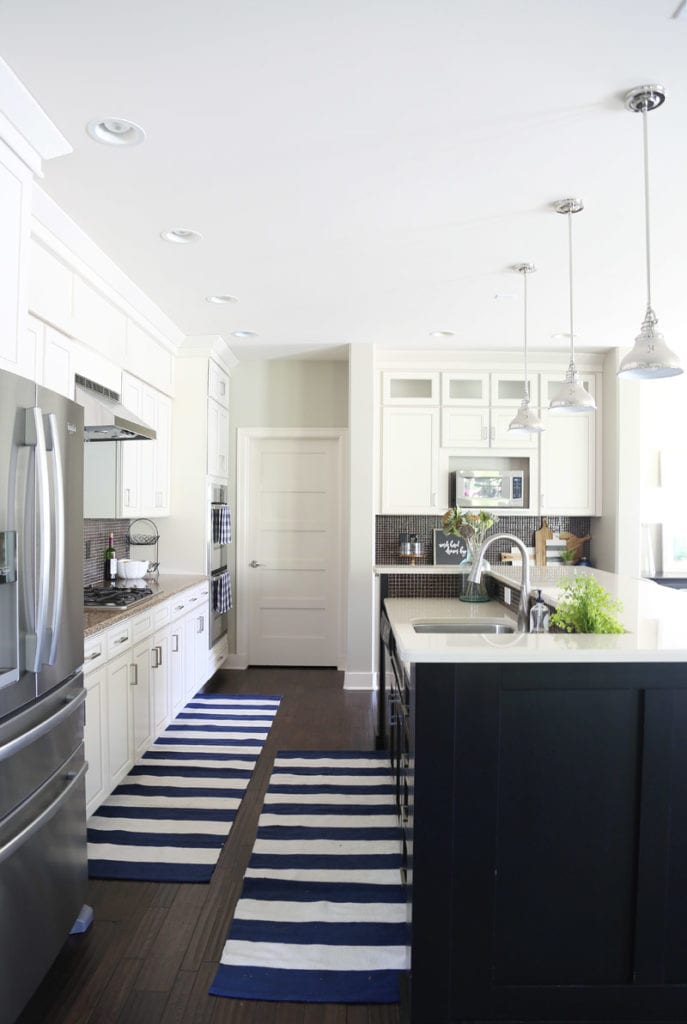 Living Room Before & After:
Our living room has undergone a few painting makeovers over the years, but our recent reveal (all dressed up for Christmas) finally shows the new stylish furniture we just purchased along with the crisp white walls. I'm loving how it's coming together. After the new year, I'll plan to share the space minus all the holiday attire!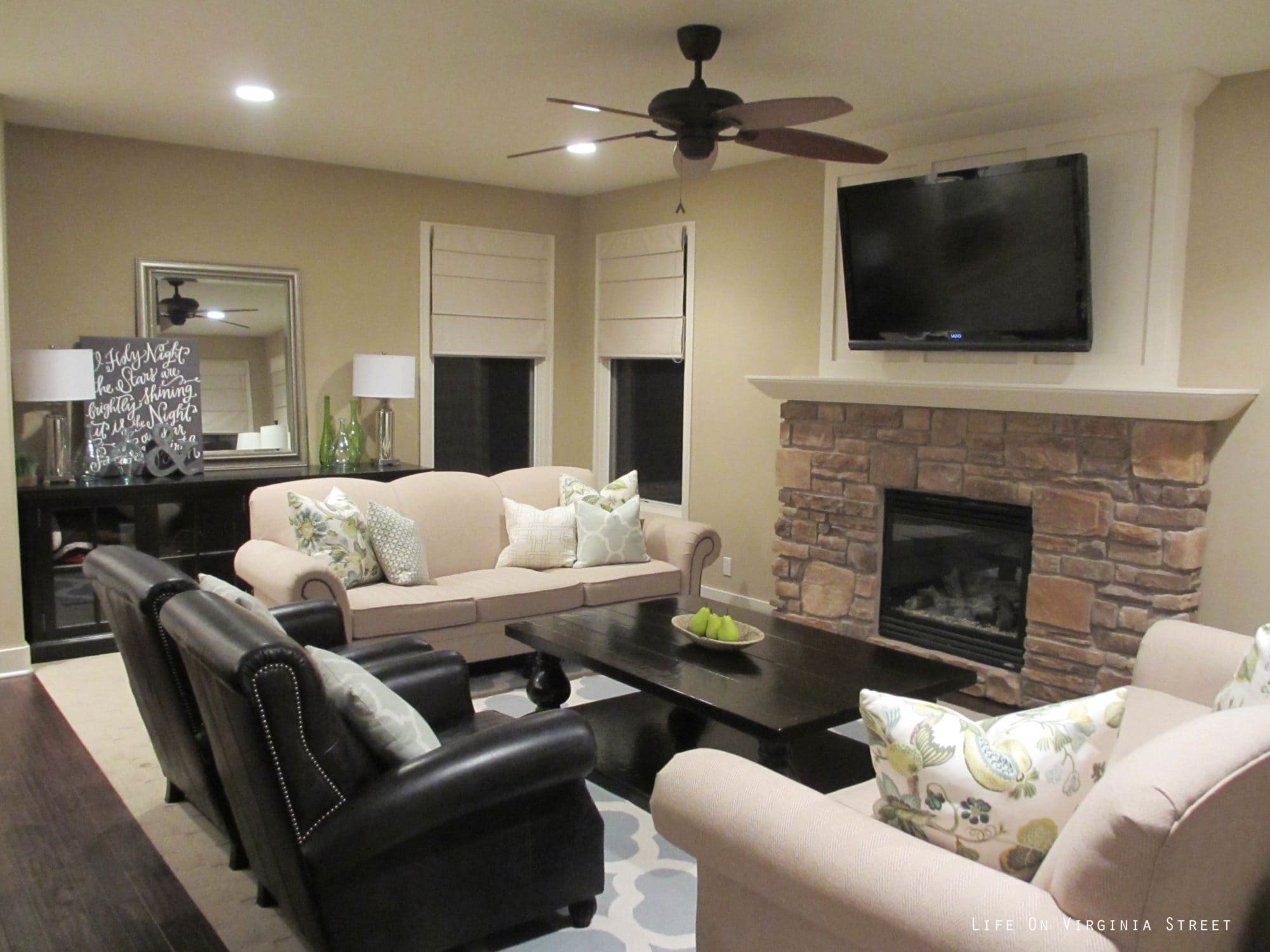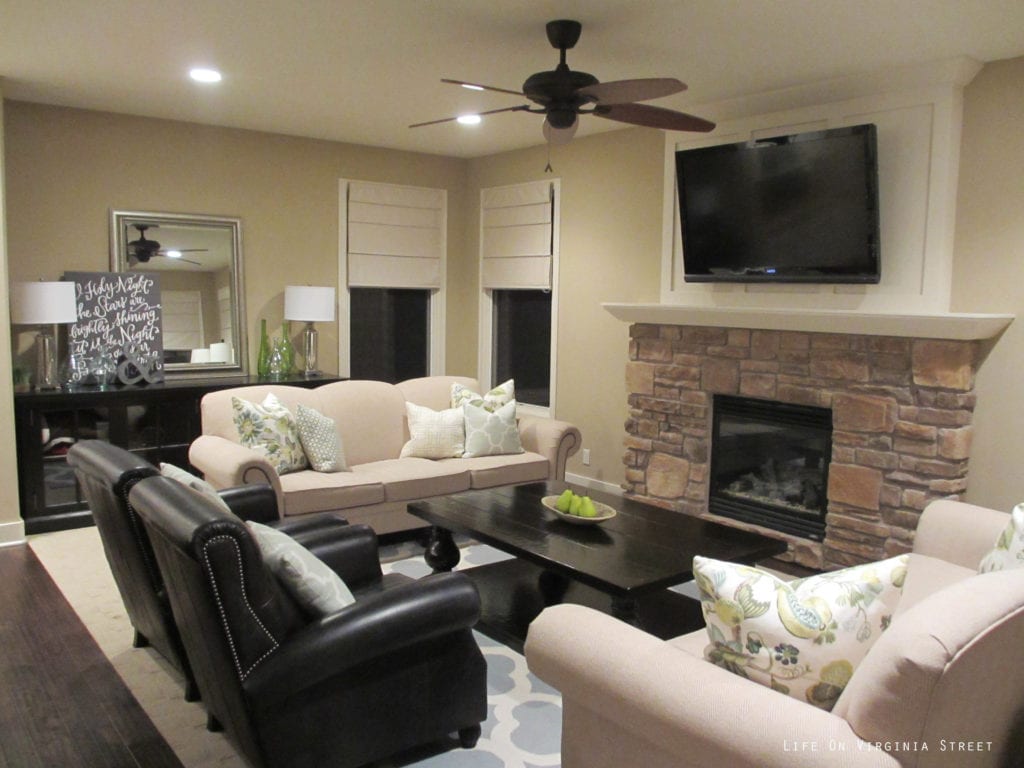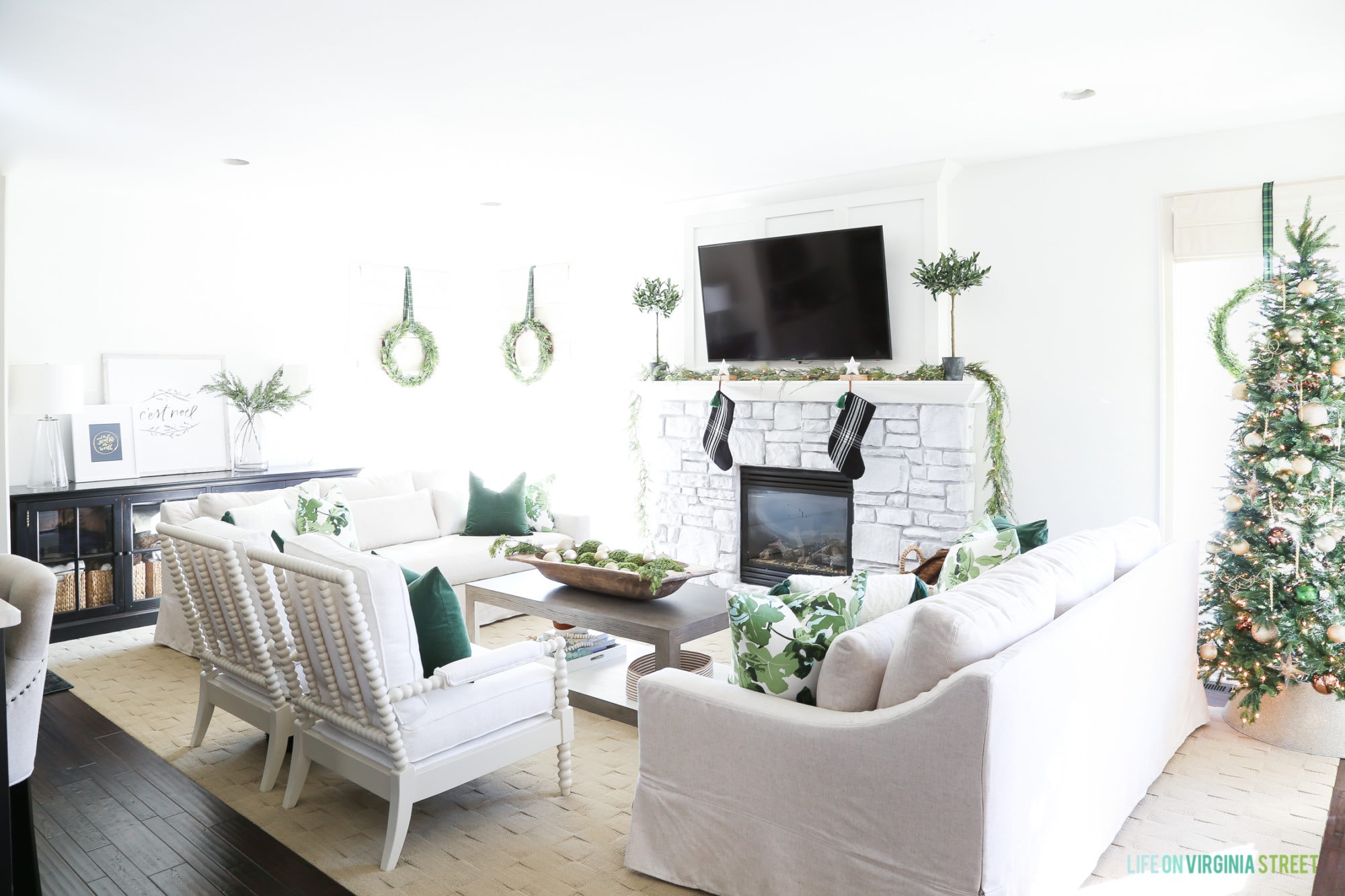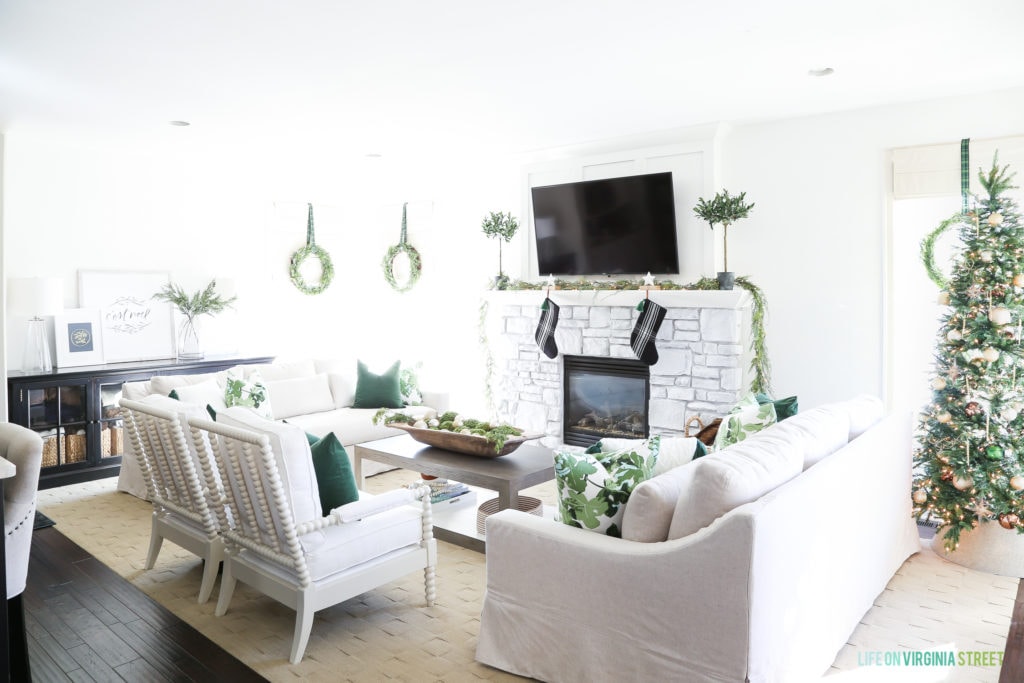 Dining Room Before & After:
When we moved into our home, the dining room walls were lime green. Within two days I had started painting the walls. This room has been a work in progress over the years too, but we love how it's finally come together, with a gorgeous coastal vibe!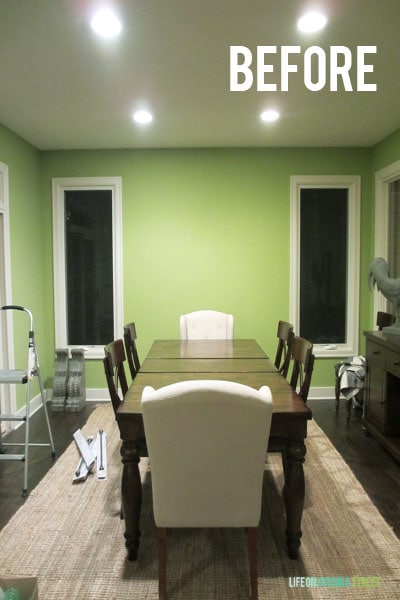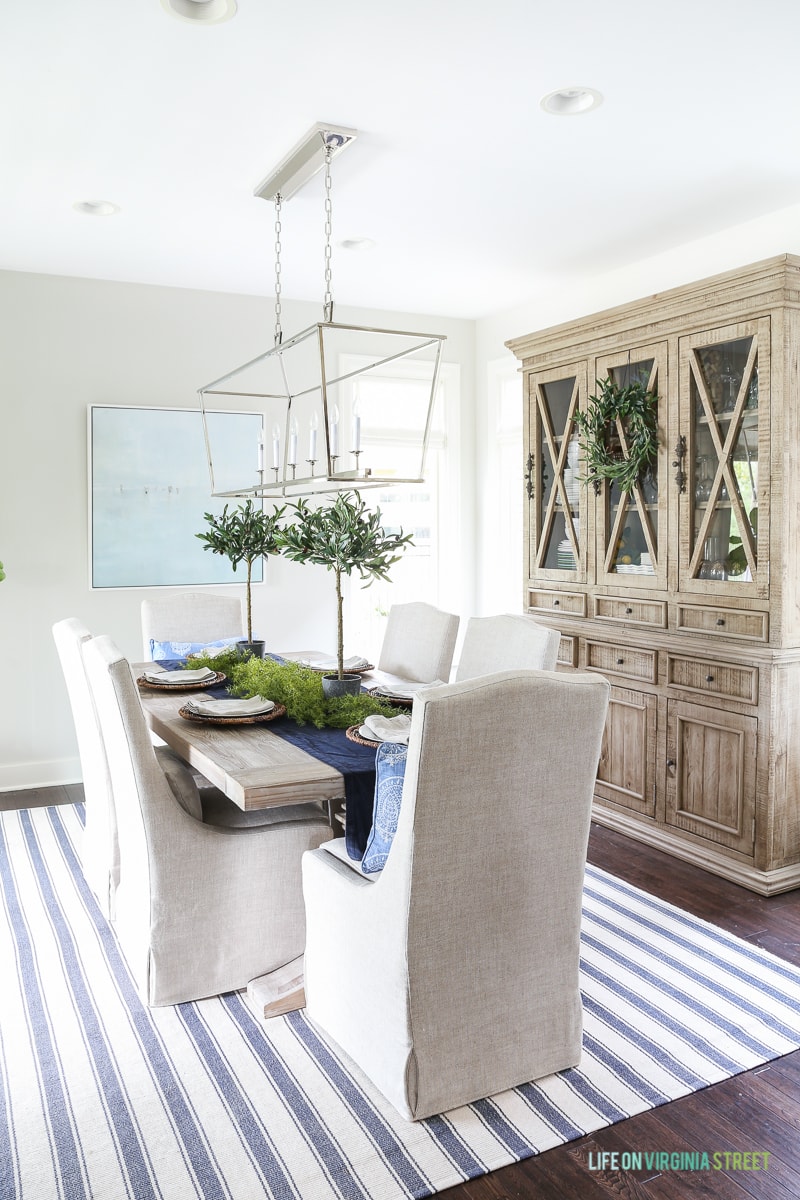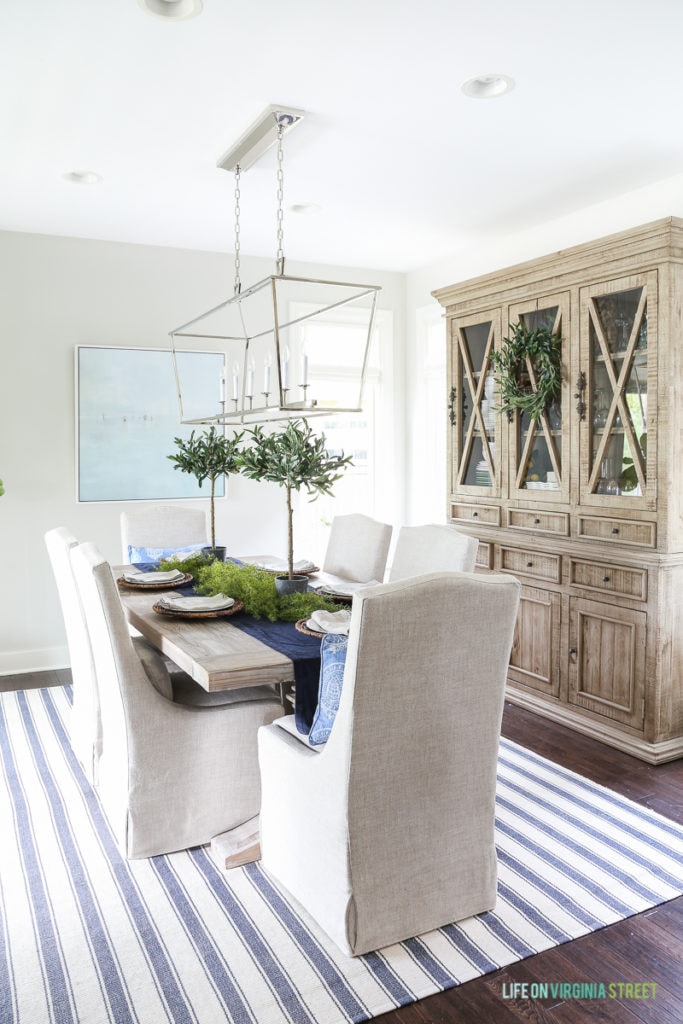 Mud Room Before & After Tour:
This is definitely one of those projects where I abandoned ship a few years ago and never came back to finish it. We added the shiplap (I'm pretty sure before shiplap had even made an appearance on Fixer Upper), it looked better, and I moved on. The cabinets are half painted, the walls are half painted, it's basically a mess. It does have more personality than it did before, but I have a lot of work to do in here. Especially since this is the first room you see when we walk in from the garage!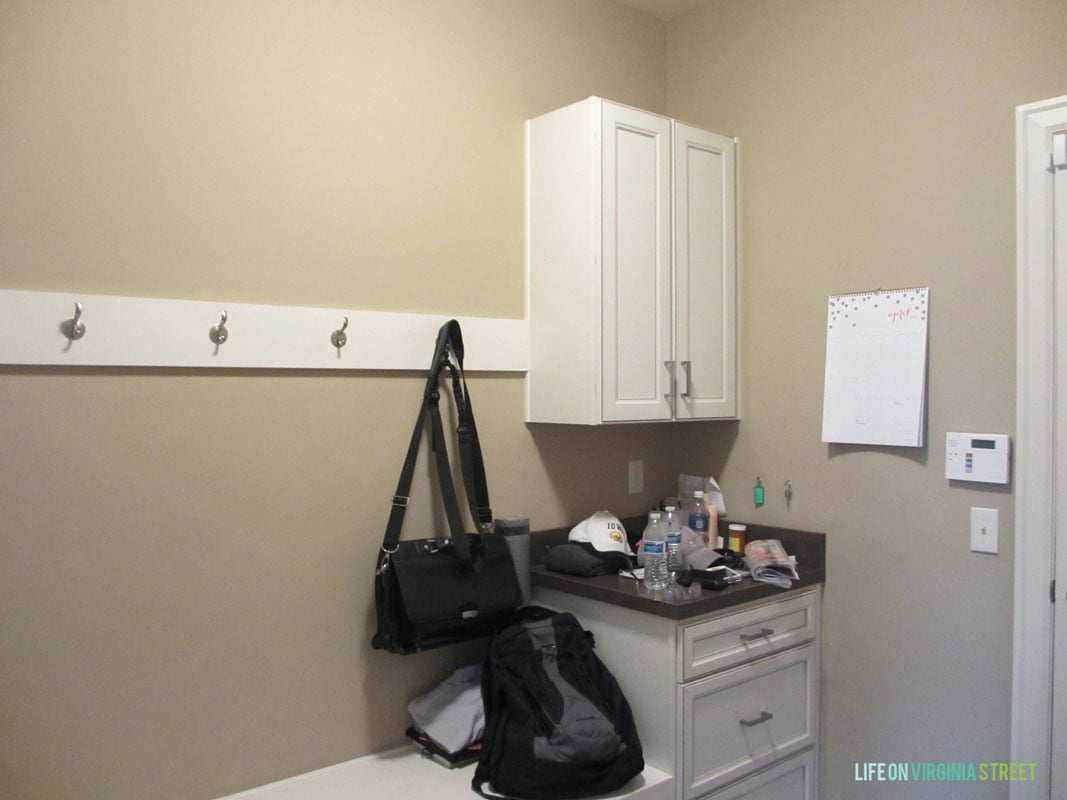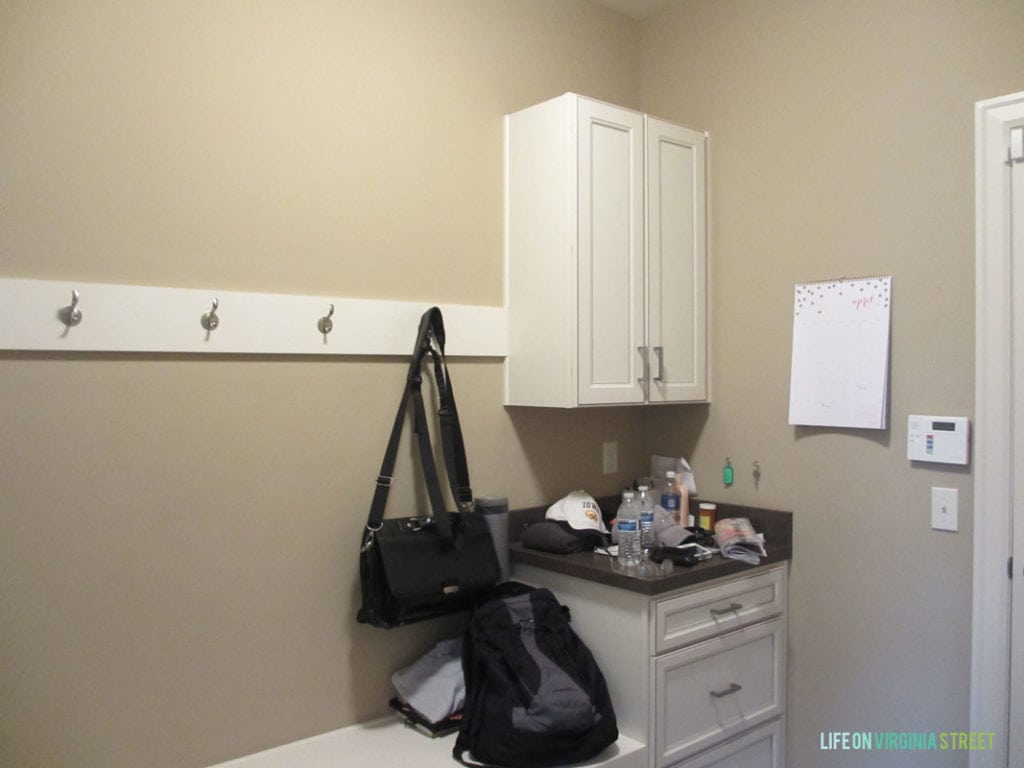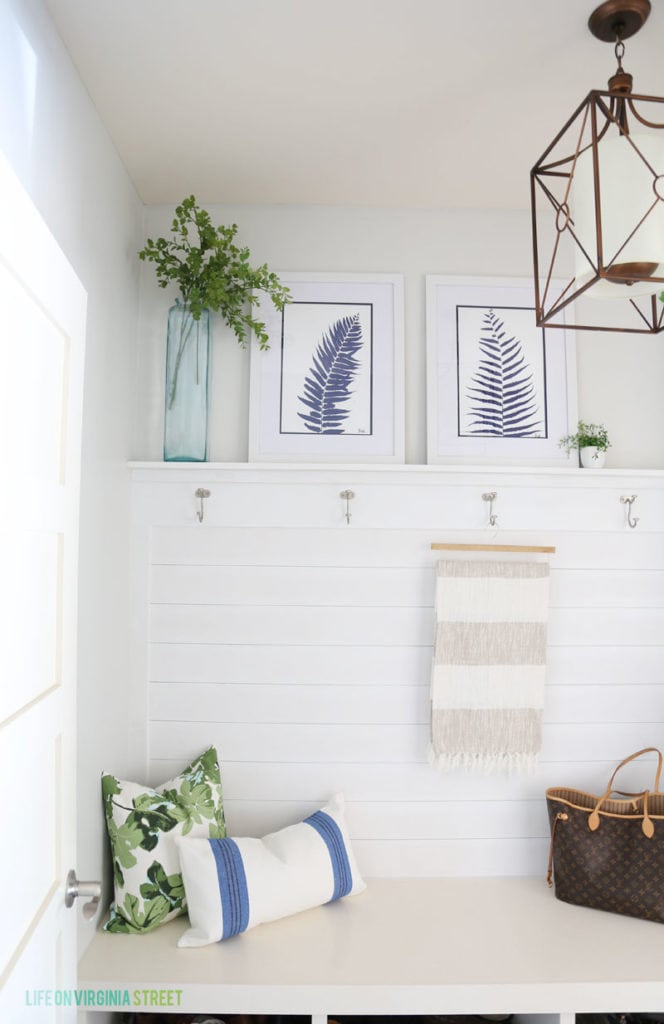 Courtyard Before & After Tour:
When we first walked through the home, the prior owners had the courtyard set up as a seating and mini-garden area. To be honest, the courtyard is what totally sold us on the house. It's such a unique outdoor feature and we loved it! We turned it into our firepit area and used it daily in the summers and fall for the first several years. But once the pool was built, we're wondering if we need to move the firepit out back and then use this as a seating area as well. I'd love to use it to read, etc. You can see my latest update to the space here.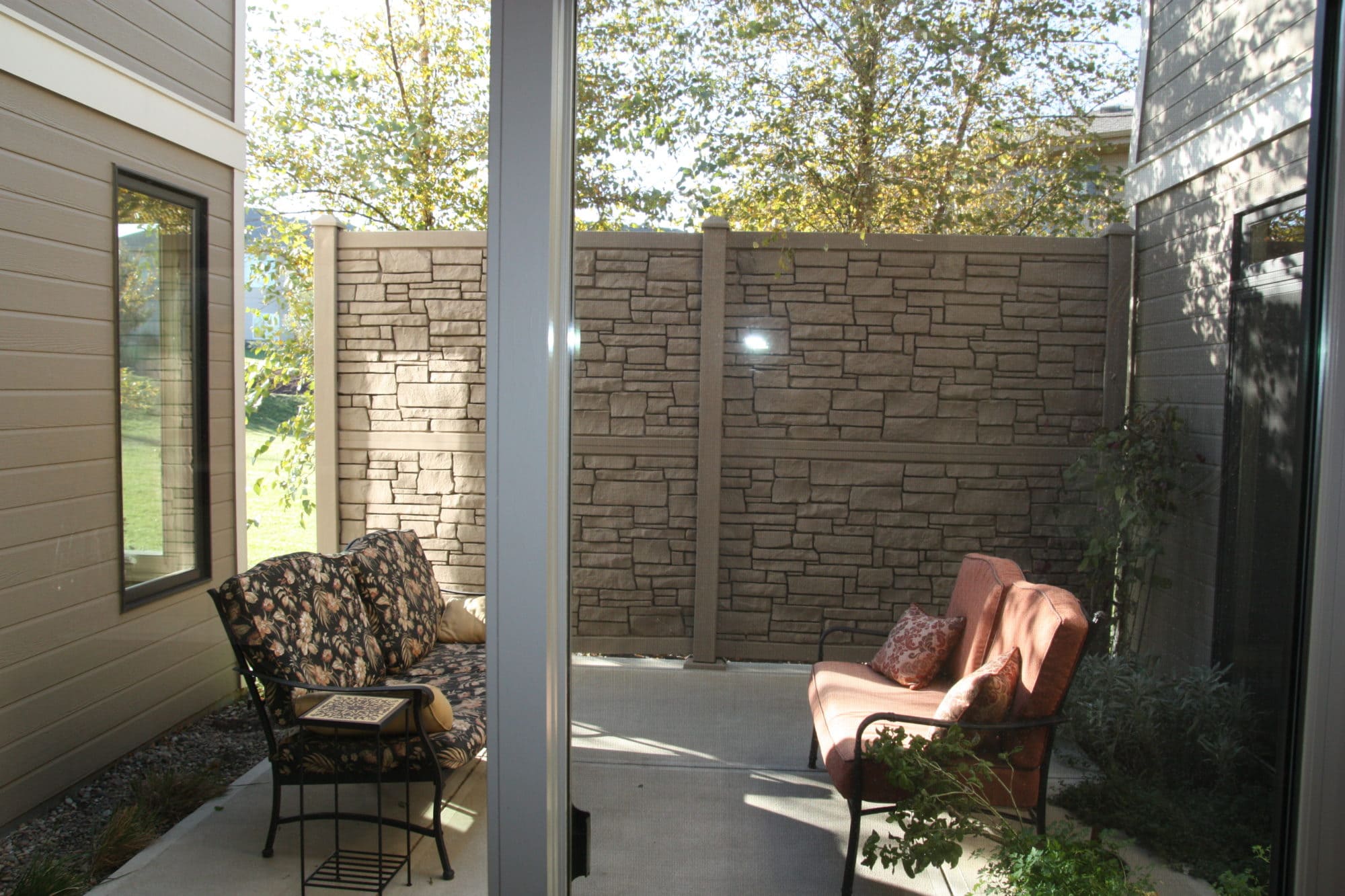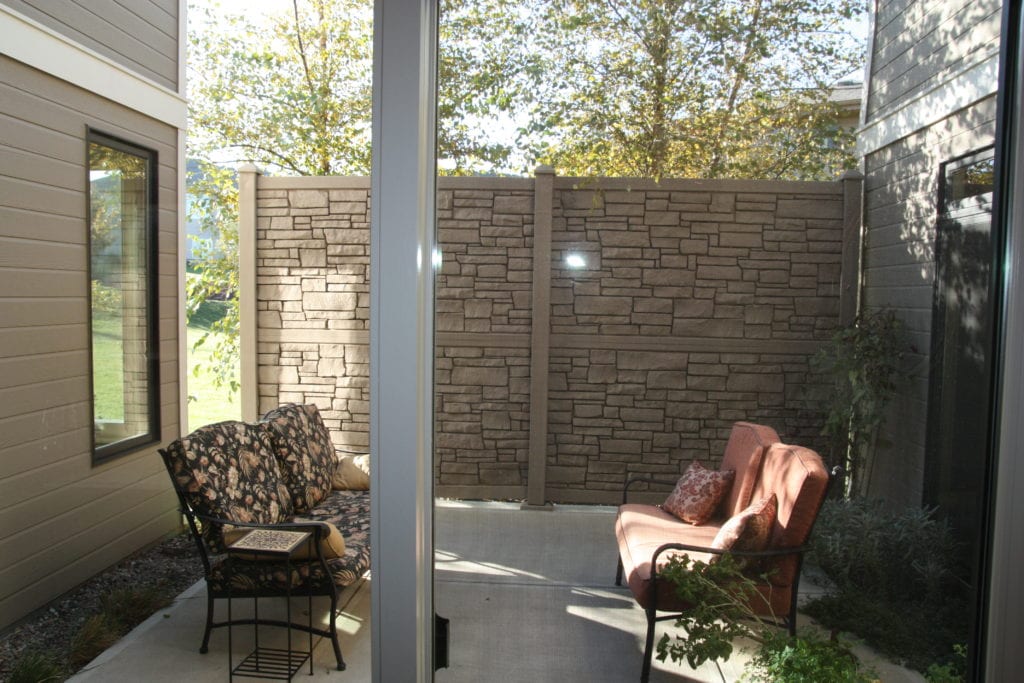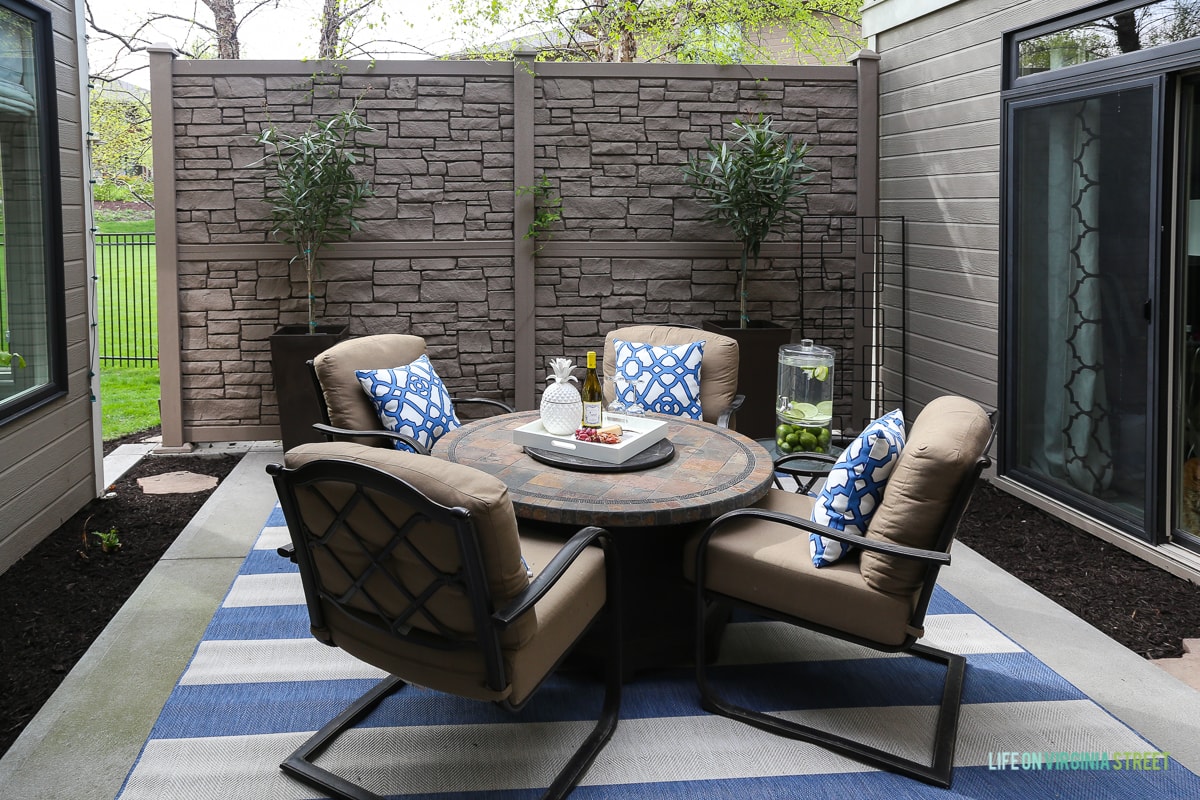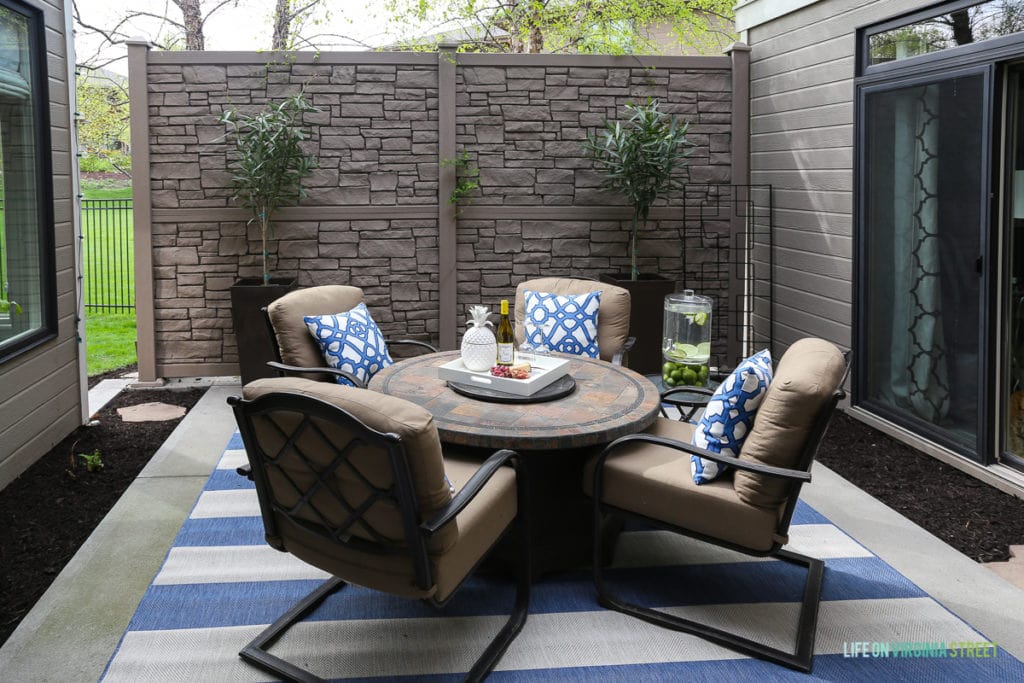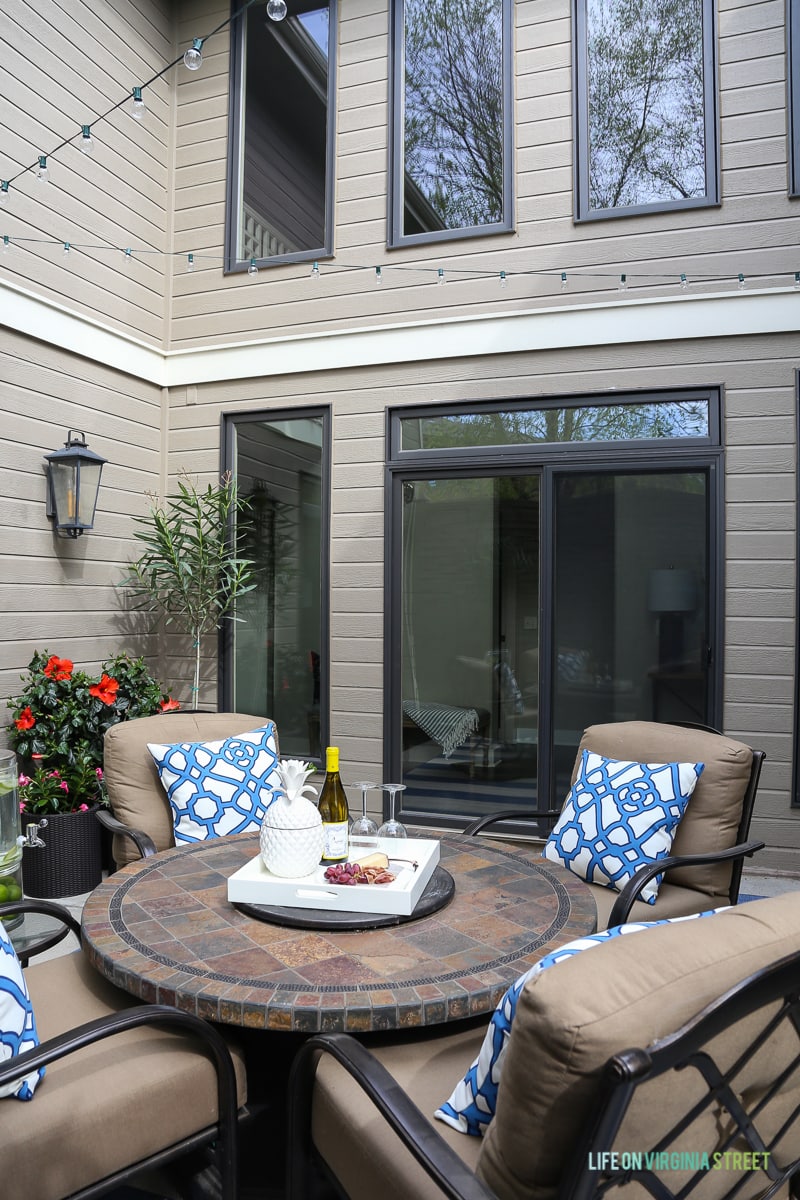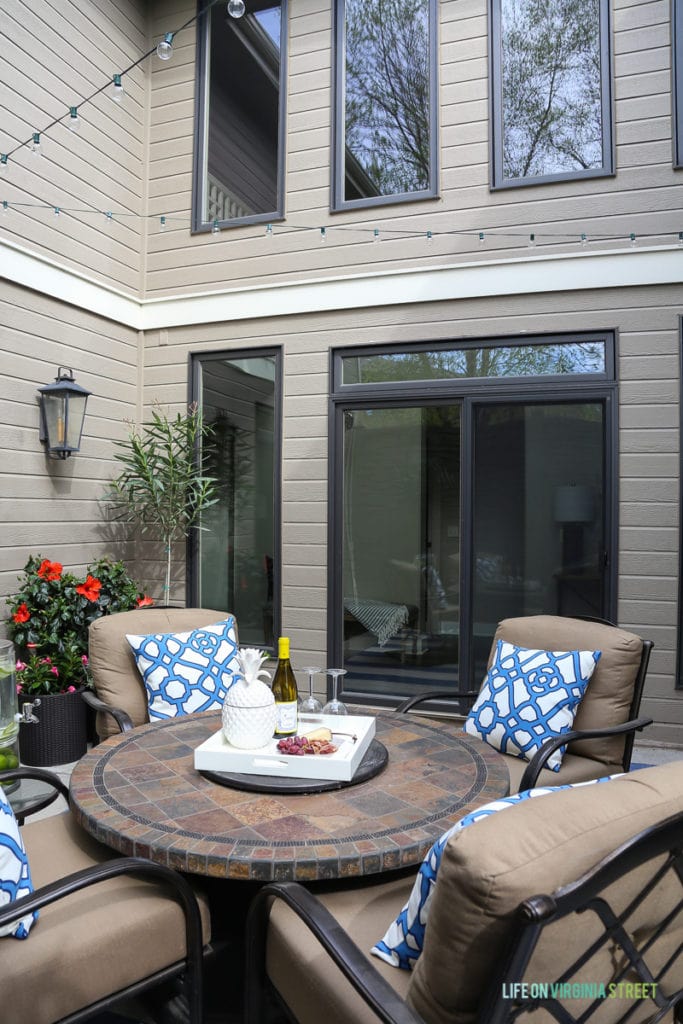 Let's head upstairs.
King Guest Bedroom Before & After
Having two guest bedrooms, we always call them by the size of the bed that's in the room. Because we're super original like that 😉 This fall I finally painted over the stripes that were on the walls for the first few years, and I'm loving the cleaner, fresher, updated look!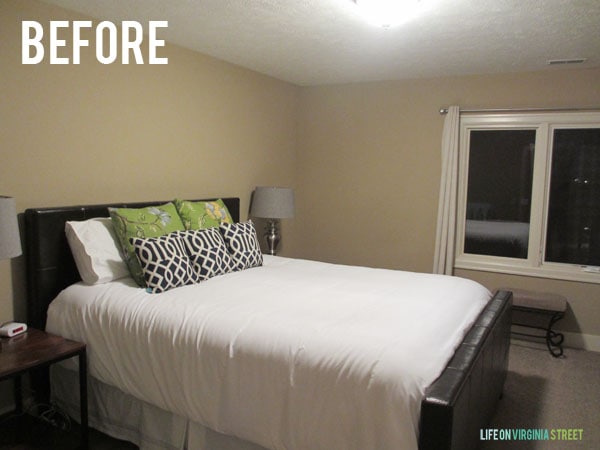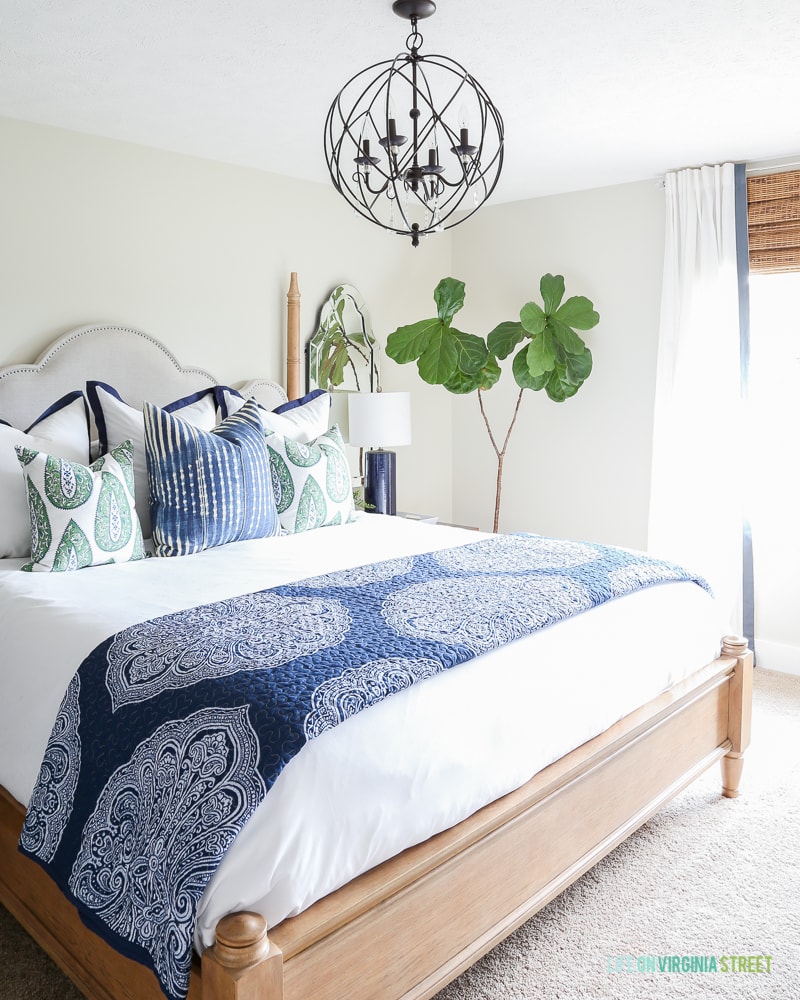 Queen Guest Bedroom Before & After:
This room makeover was one of our very first, and although it's received a few tweaks since, we've done very little to change this room. We couldn't be happier with the board and batten grid we put up the first year here. That project is one I still get messages about, and I love seeing readers' take on this project in their own home and sharing the results with me!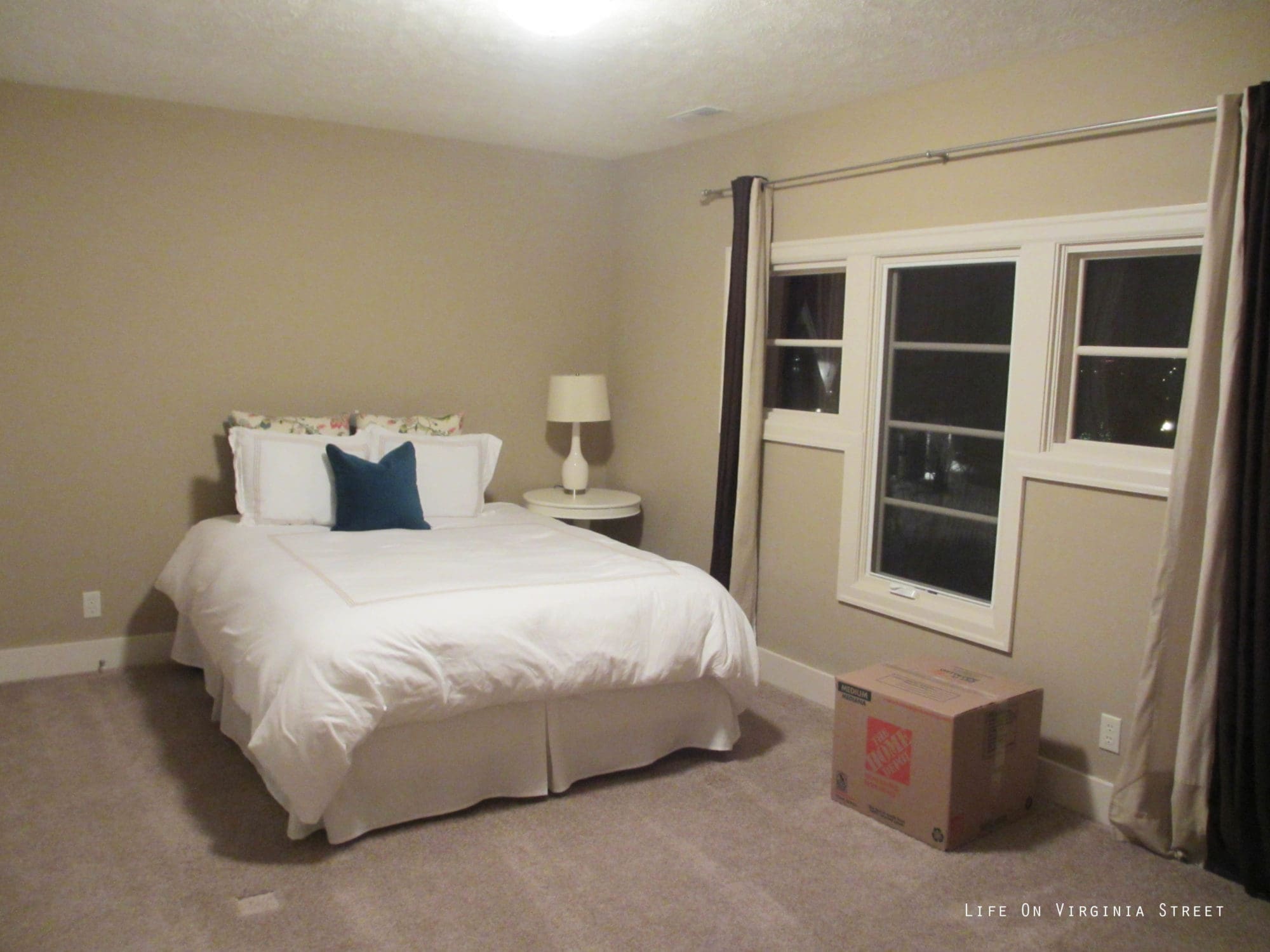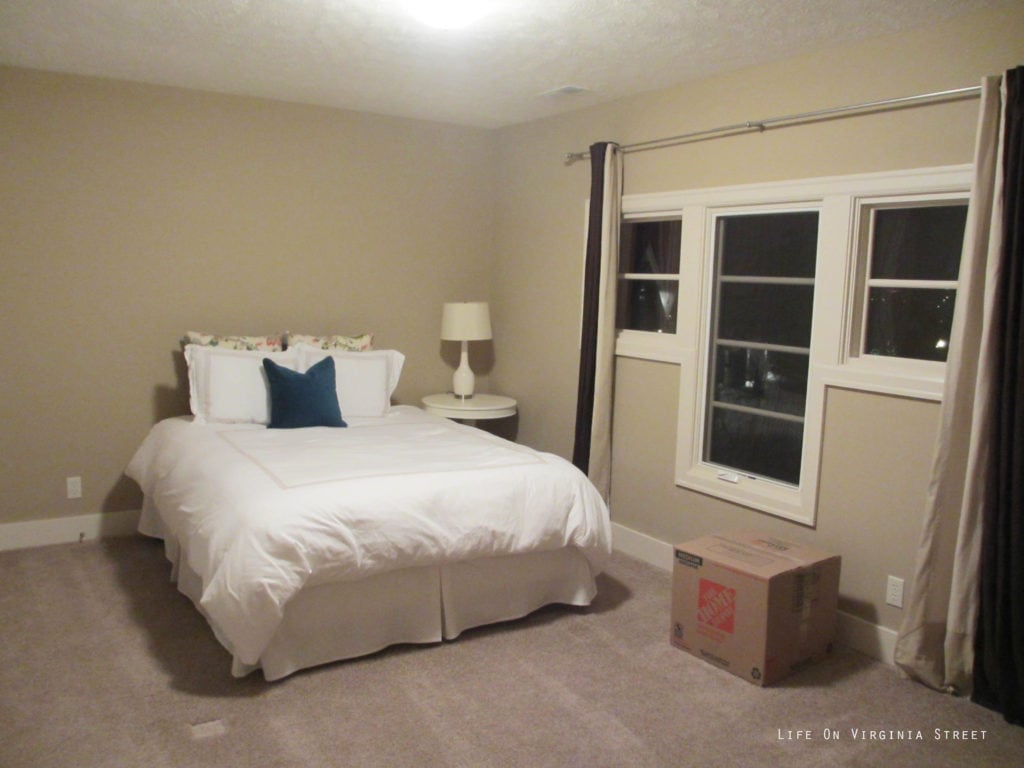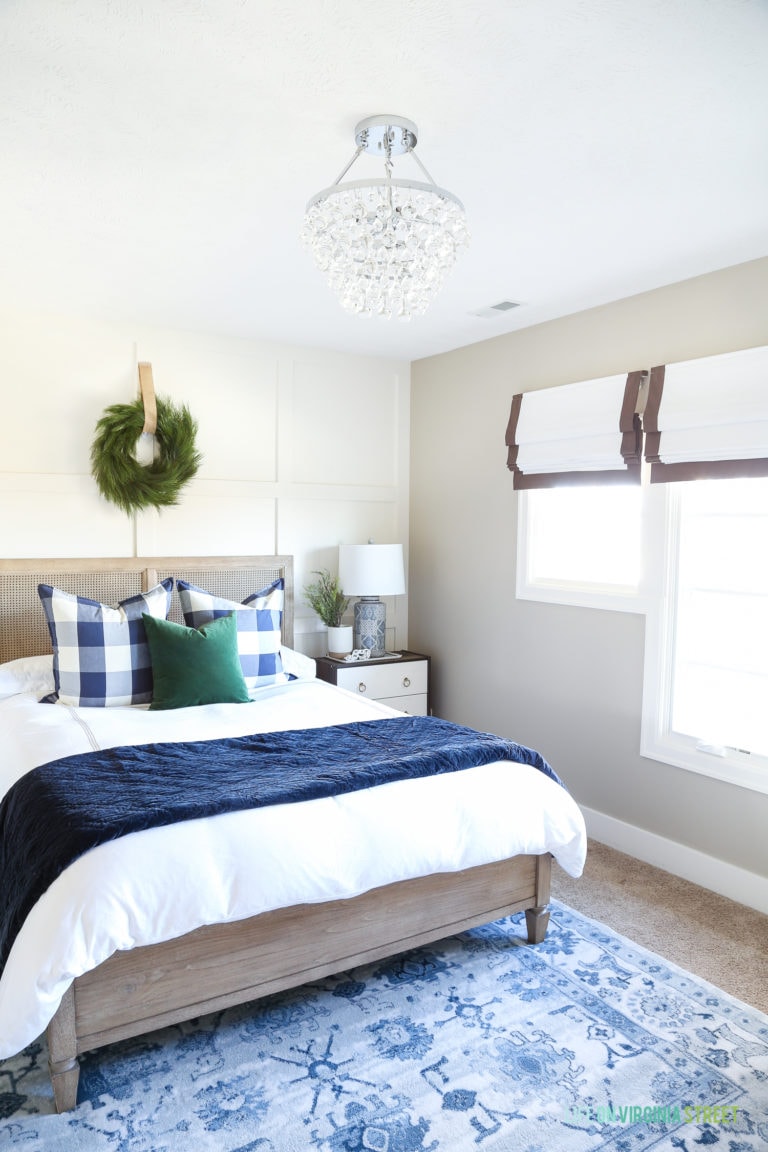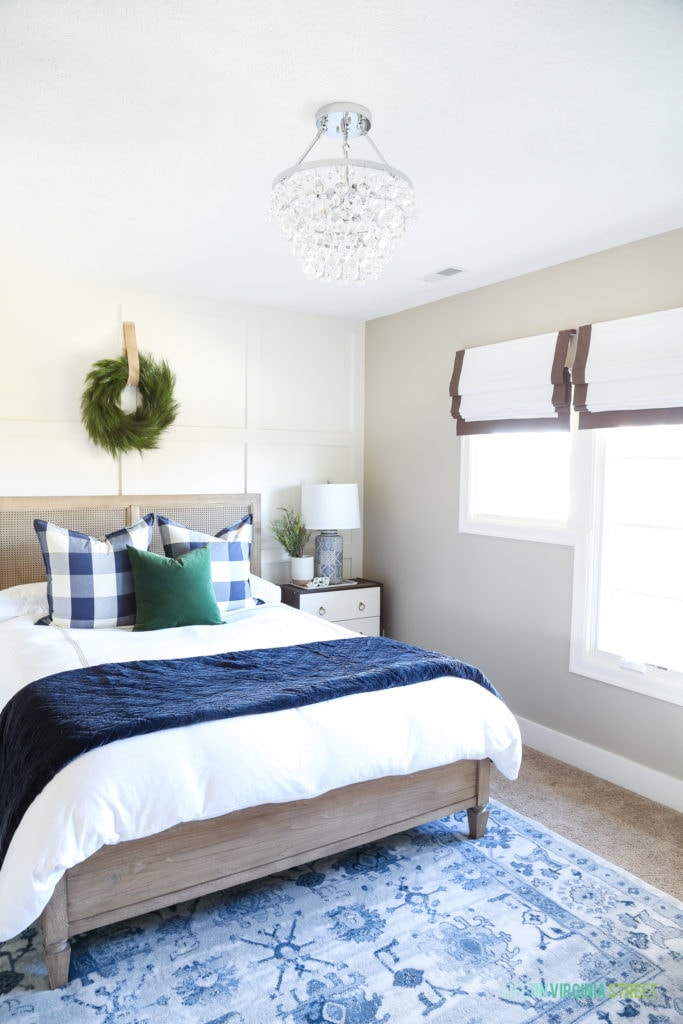 Master Bedroom Before & After:
The master bedroom is on my list of makeovers for 2018. I really haven't done much in here other than paint the walls and swap out the light fixture. I did finally sell that dark leather & wood bench, which I feel like has already helped to lighten the space. But, I want the blue walls gone. You all know I'm obsessed with blue, but I've found over the years I love neutral walls with blue accents in the form of decor. I also need to finally address the almond colored ceiling. The room is bright enough during the day that the color isn't super obvious in photos, but in real life, it needs to go white!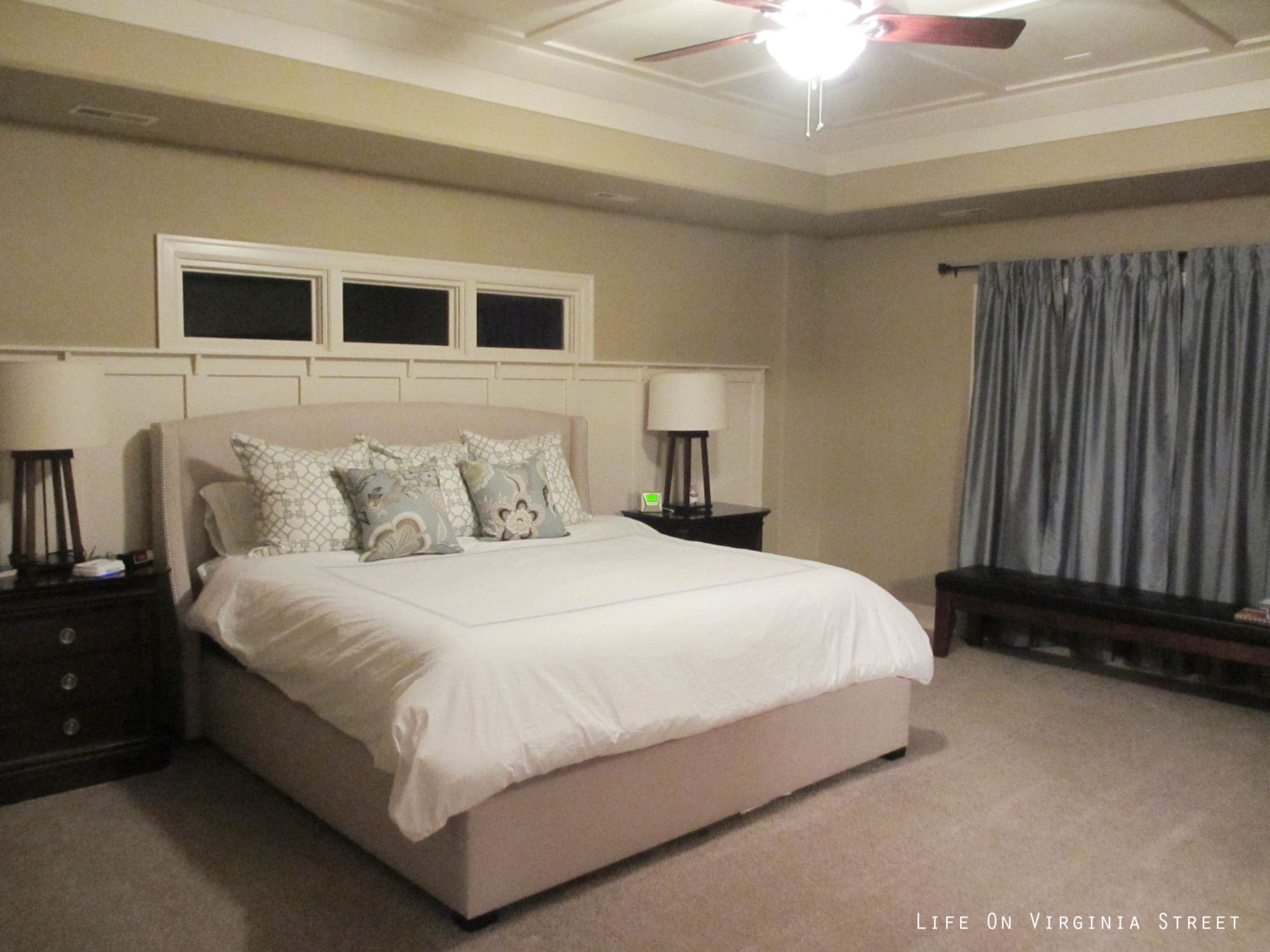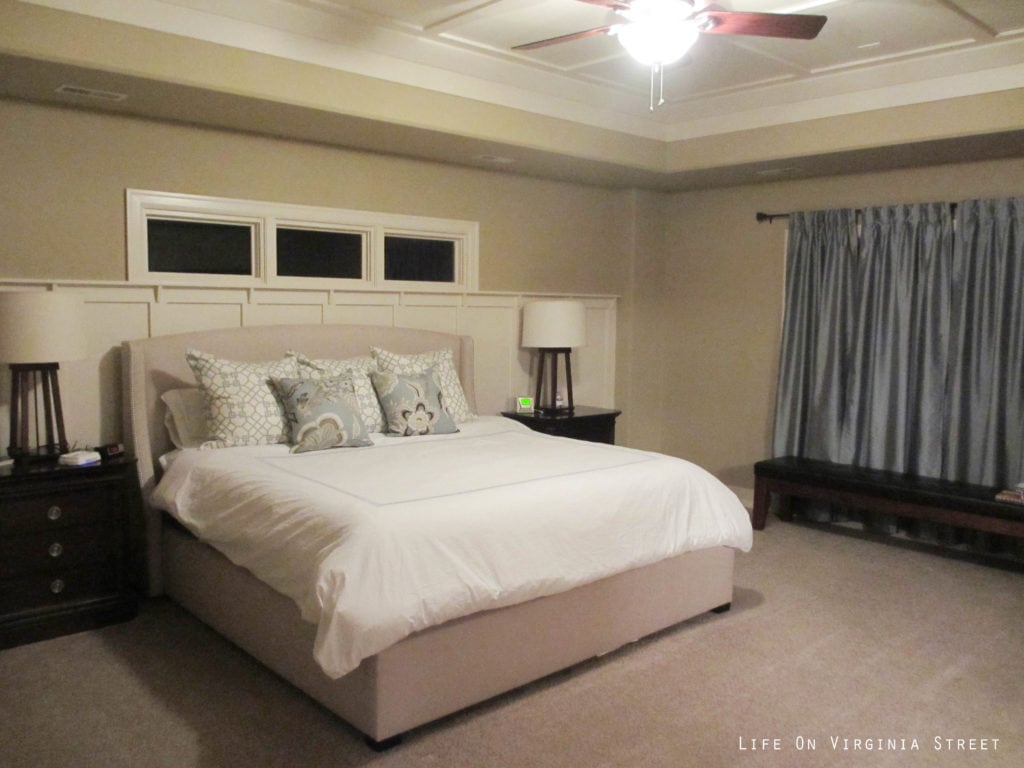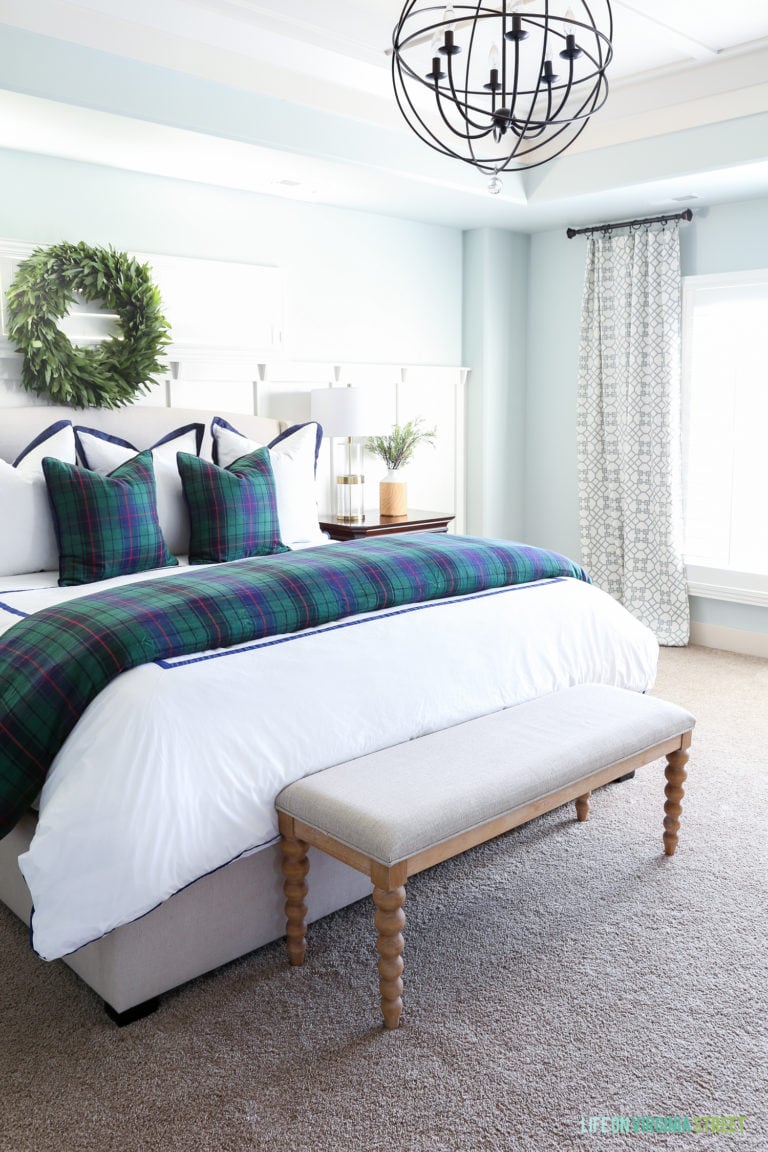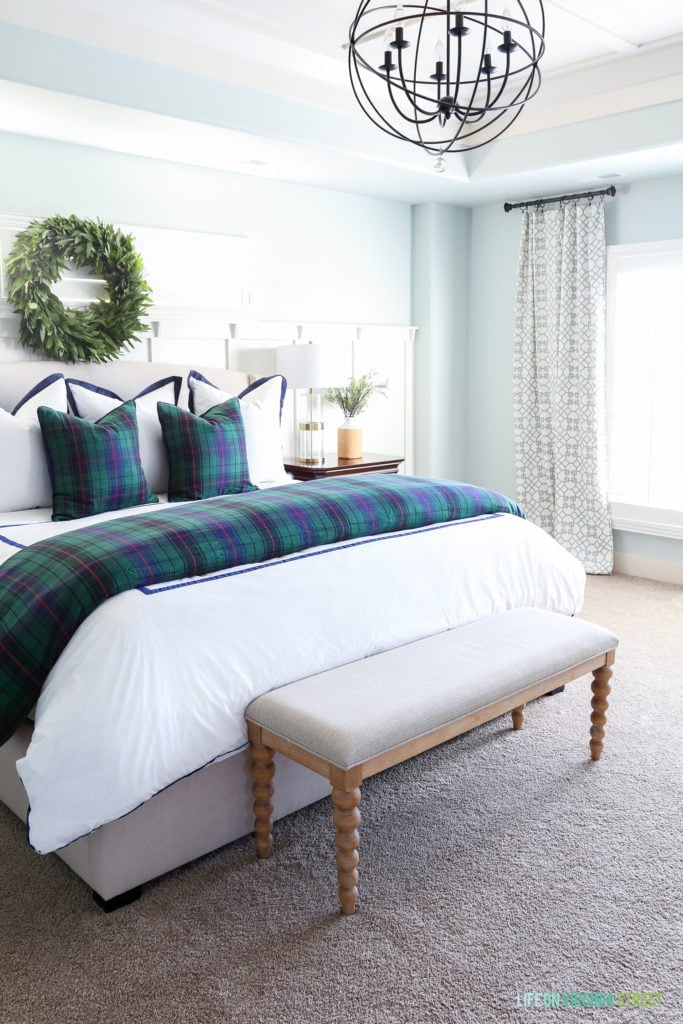 Master Bathroom Before & After:
This is one of those makeovers that was a halfsie. I basically did one coat of paint, added new lights and new mirrors and then abandoned ship. It was enough to make me feel better about the space a few years ago. But, I really need to go back and actually finish the painting and get some organization going in this room!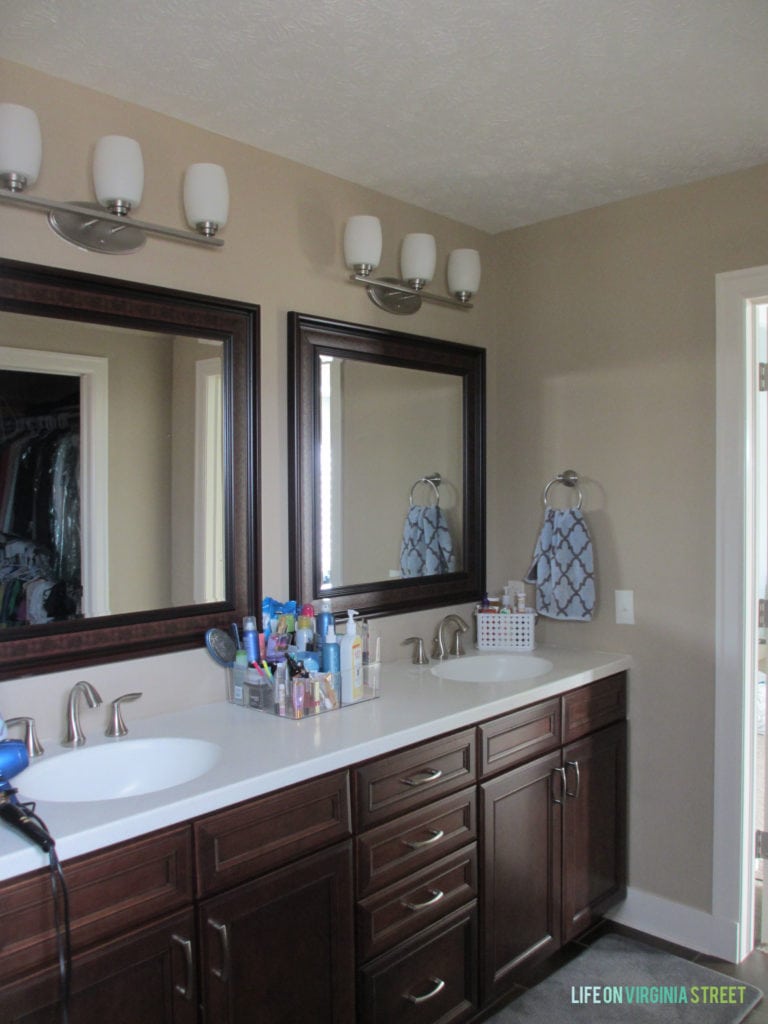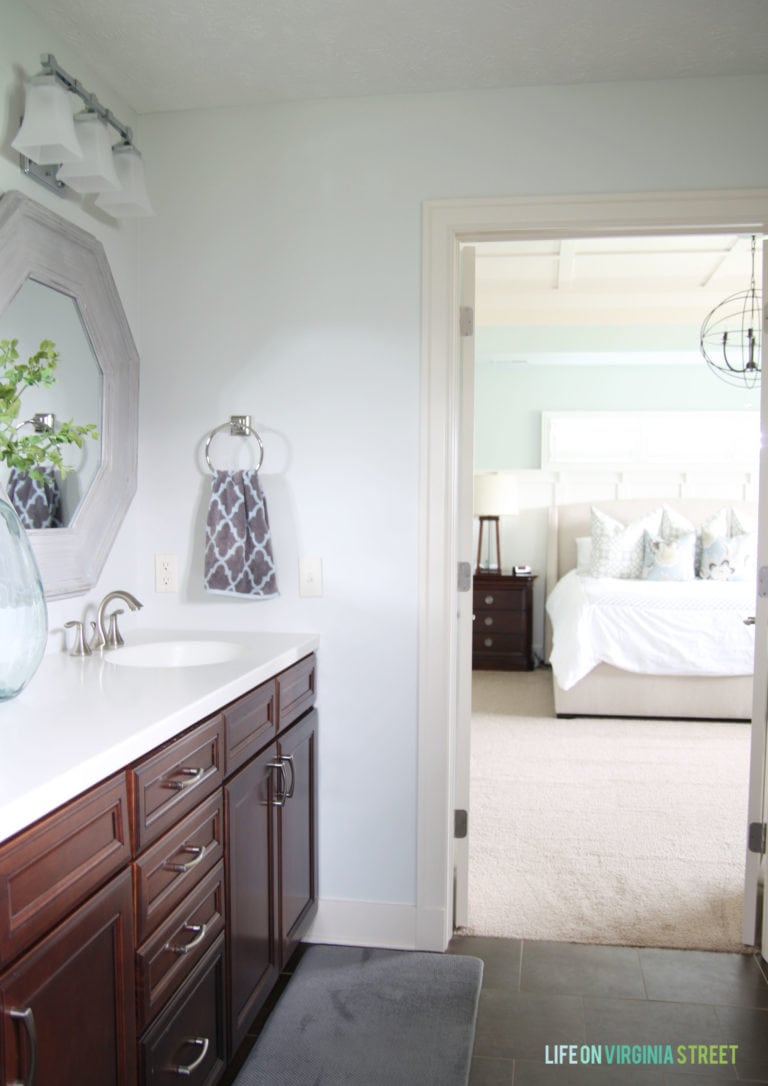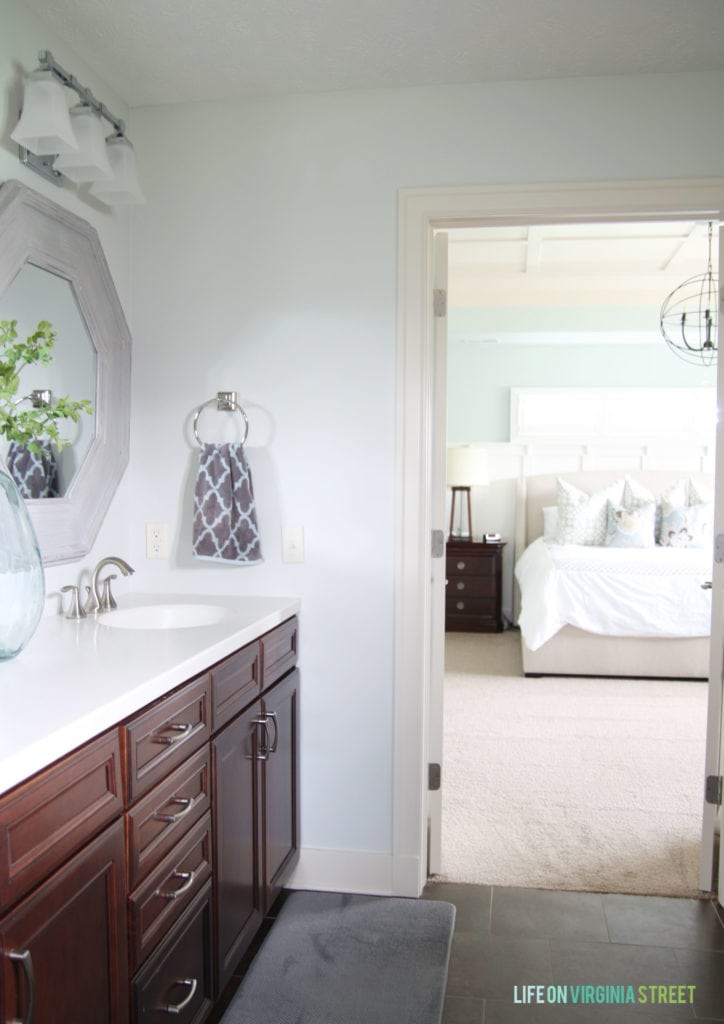 Craft Room Before & After:
This craft room has undergone several customized changes as well. It's hard when a room has to function as a craft room, home decor storage room, TV room (it's the only other one we have outside of our living room), and workout room. But, I think I finally have it to a place that is working well for us!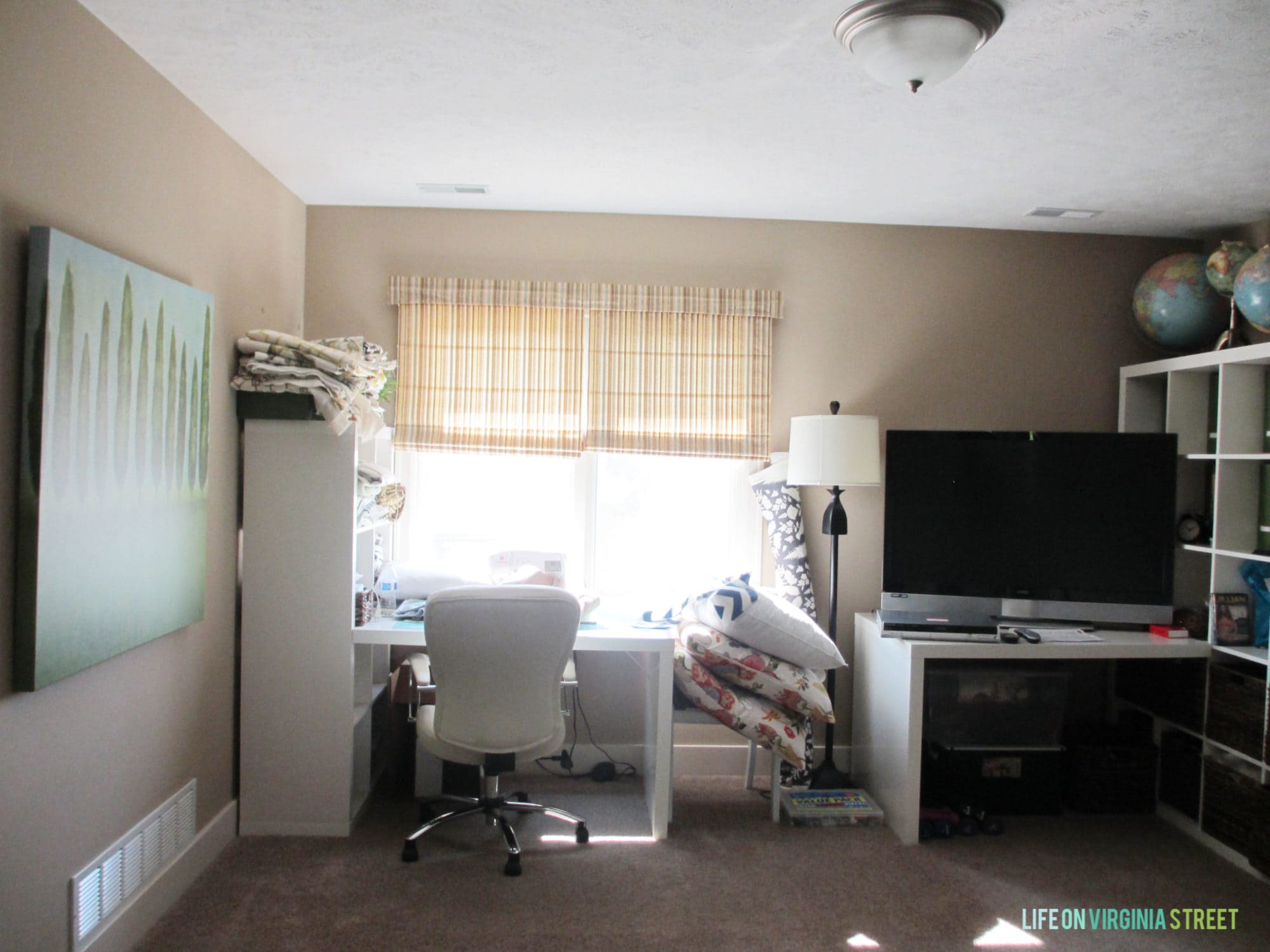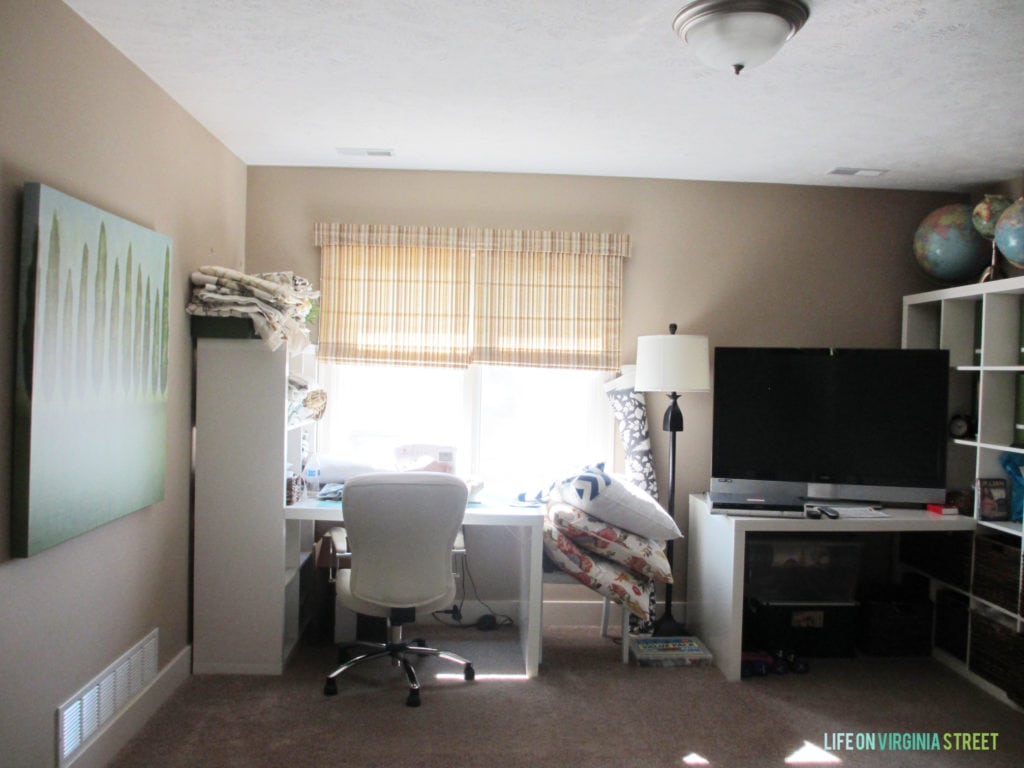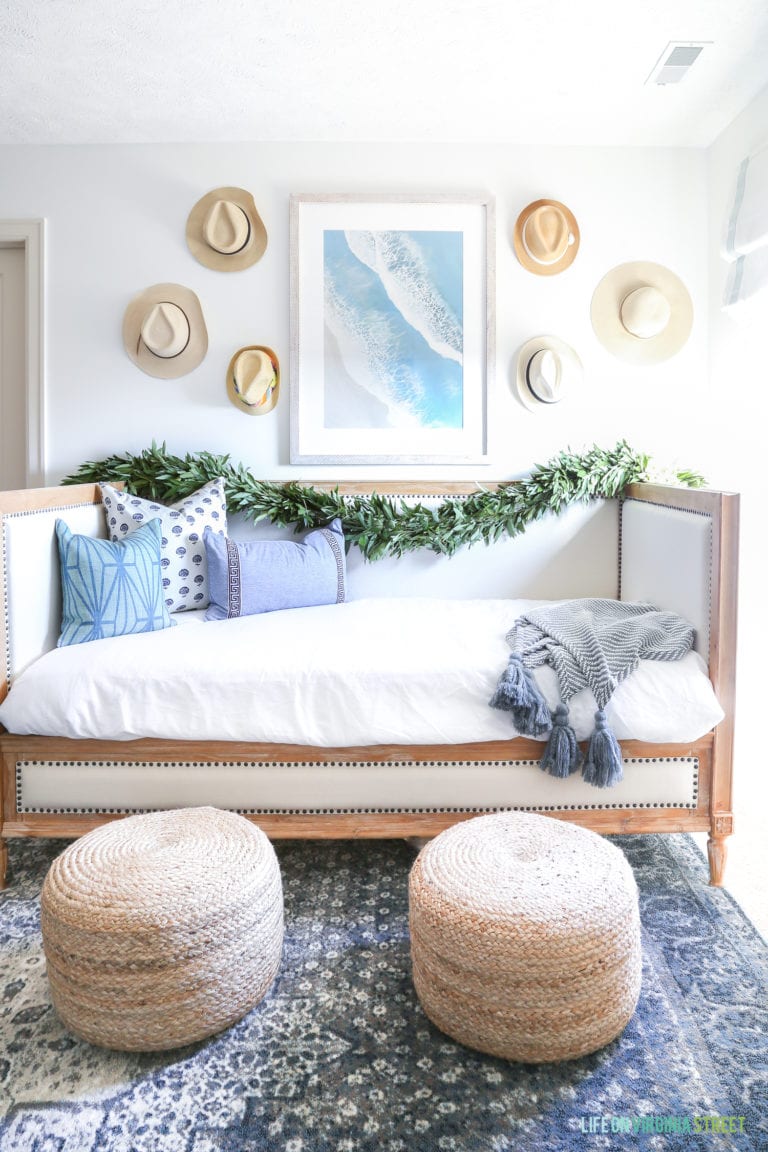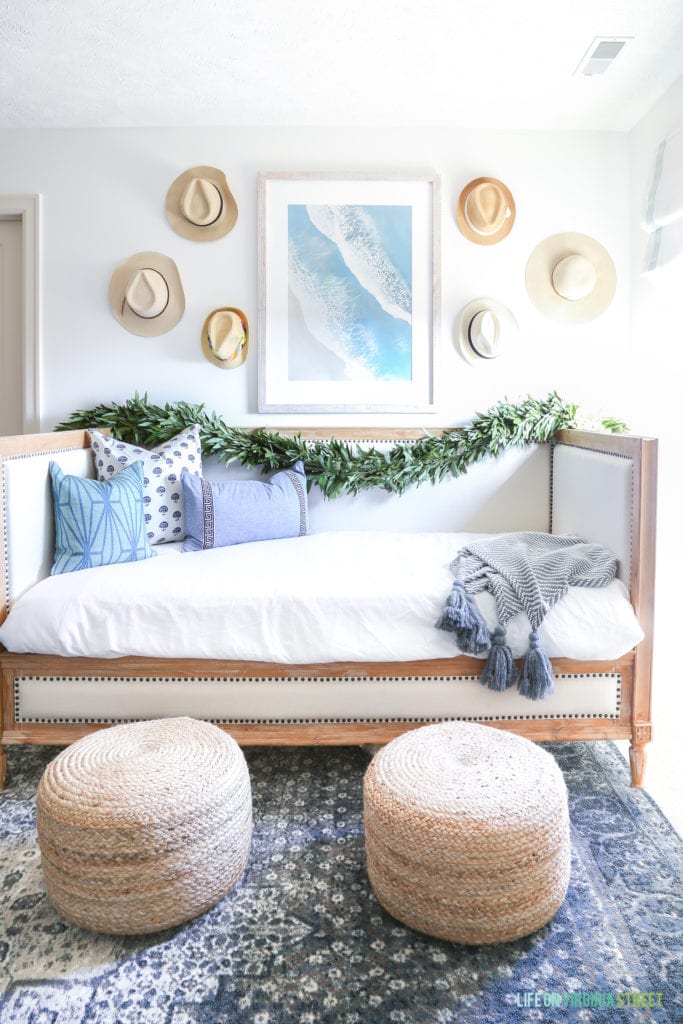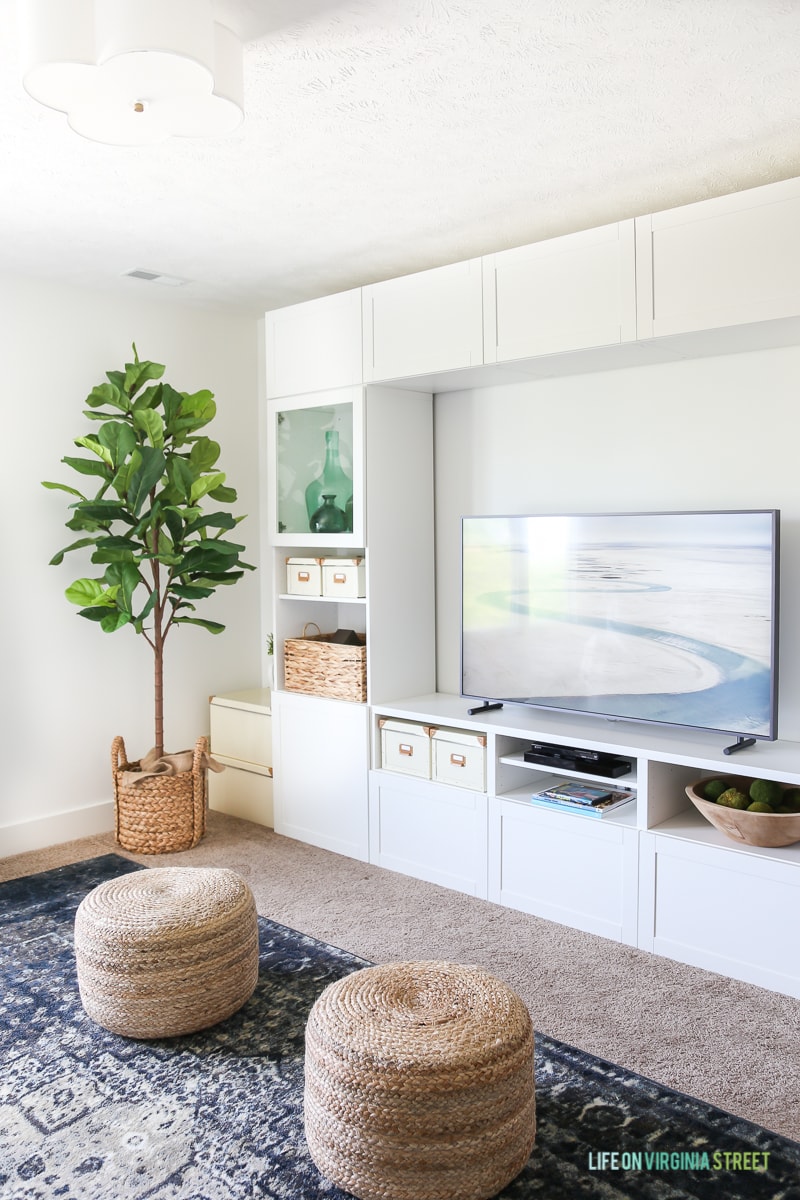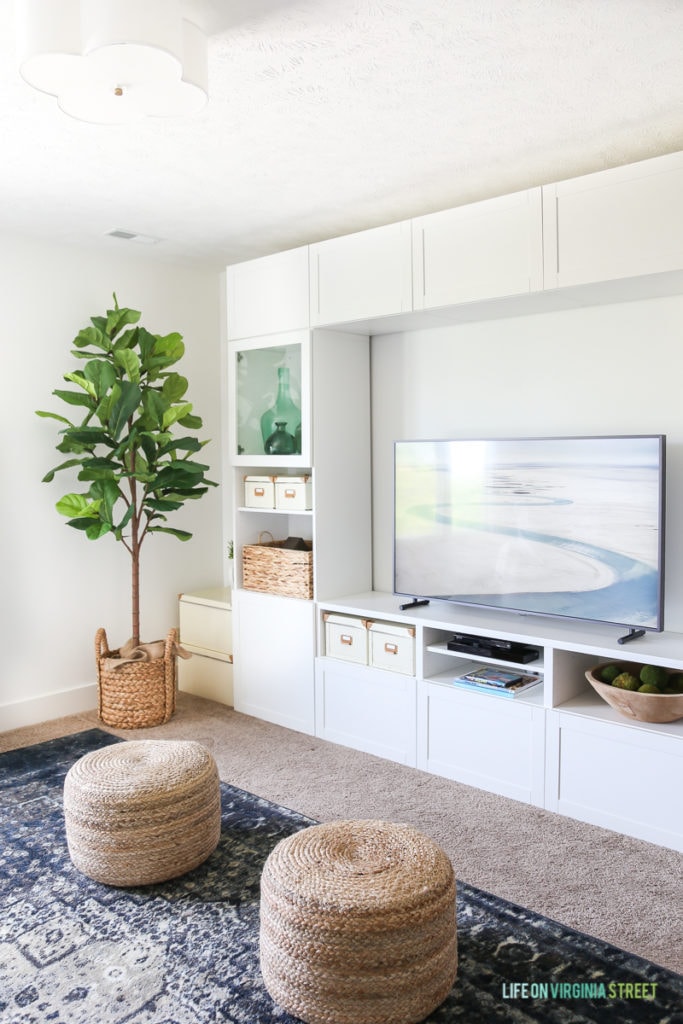 Laundry Room Before & After:
This laundry room makeover from earlier in the year is still one of my favorites. Our little laundry room now has some personality and I couldn't be happier about it! You can get the full tutorial for the buffalo check walls here.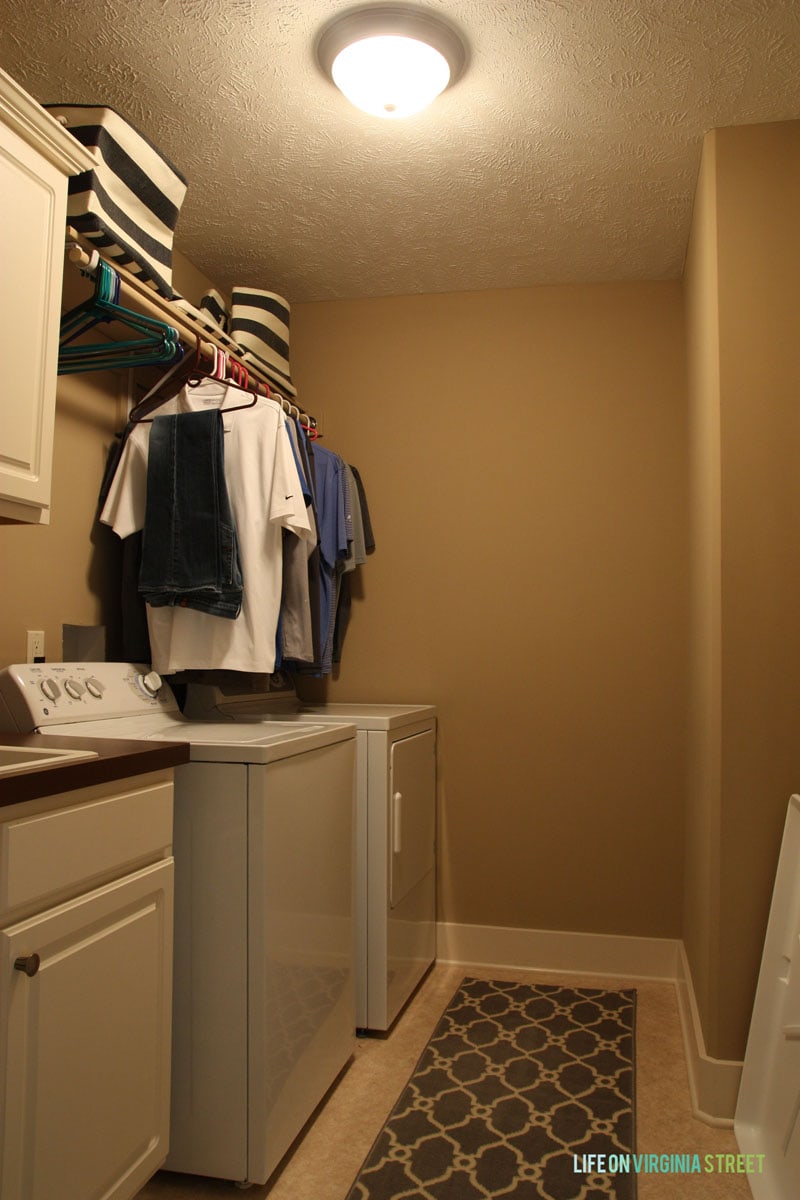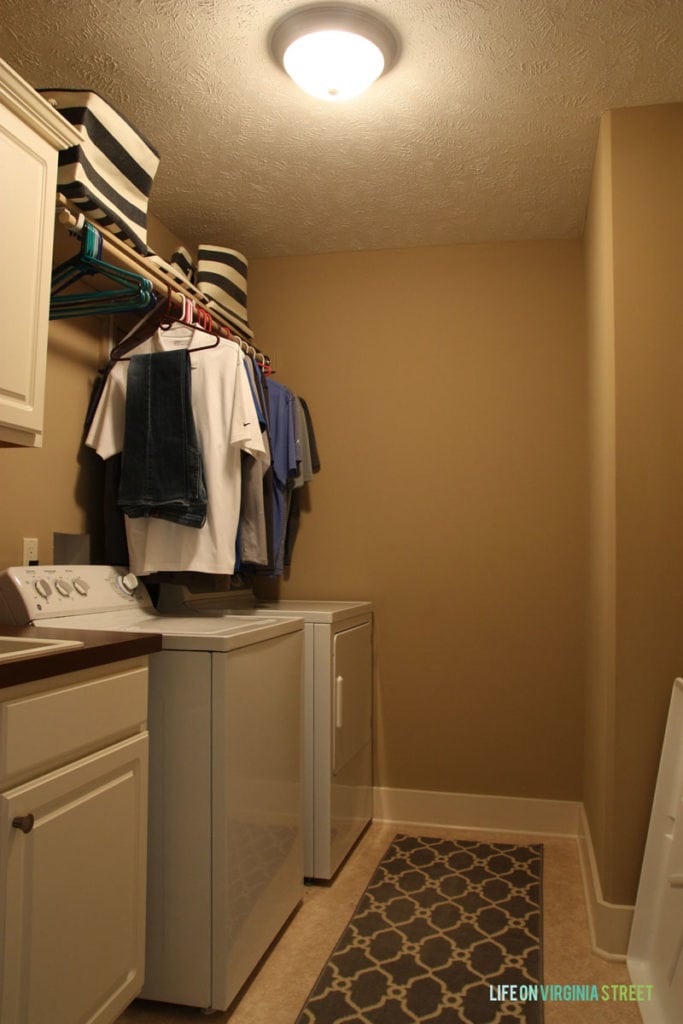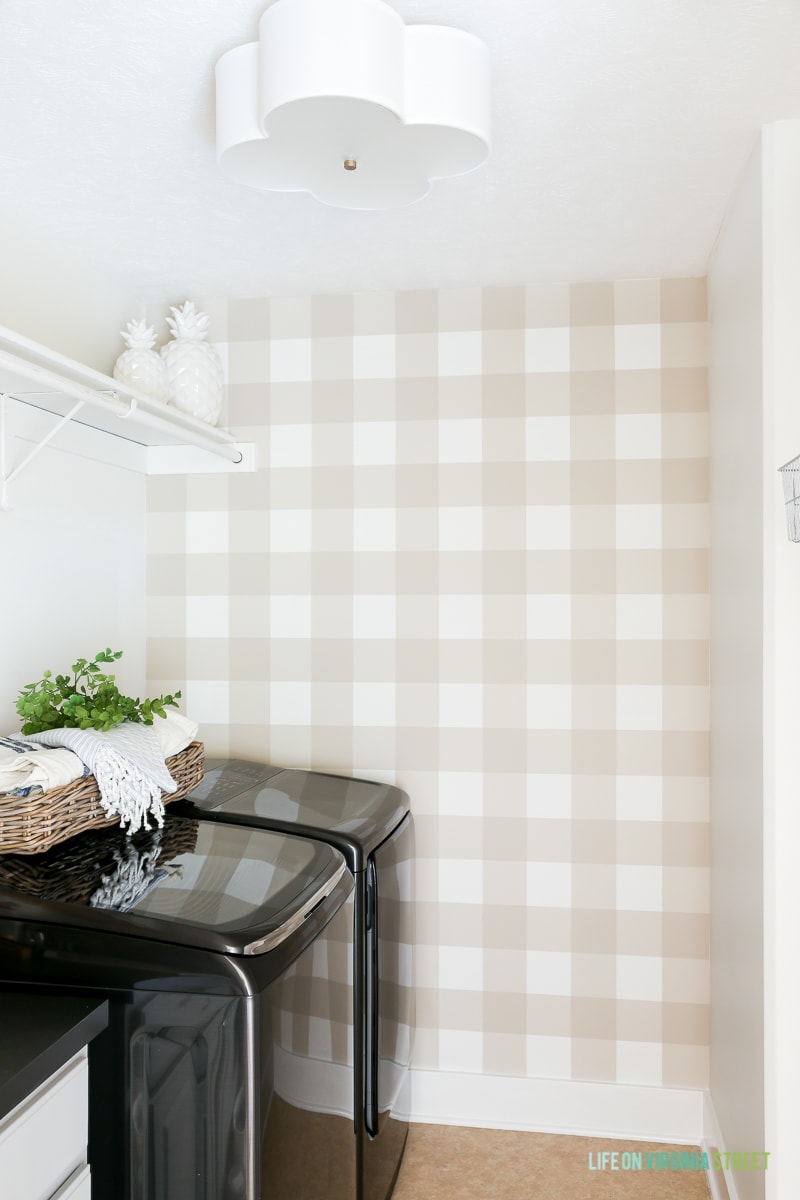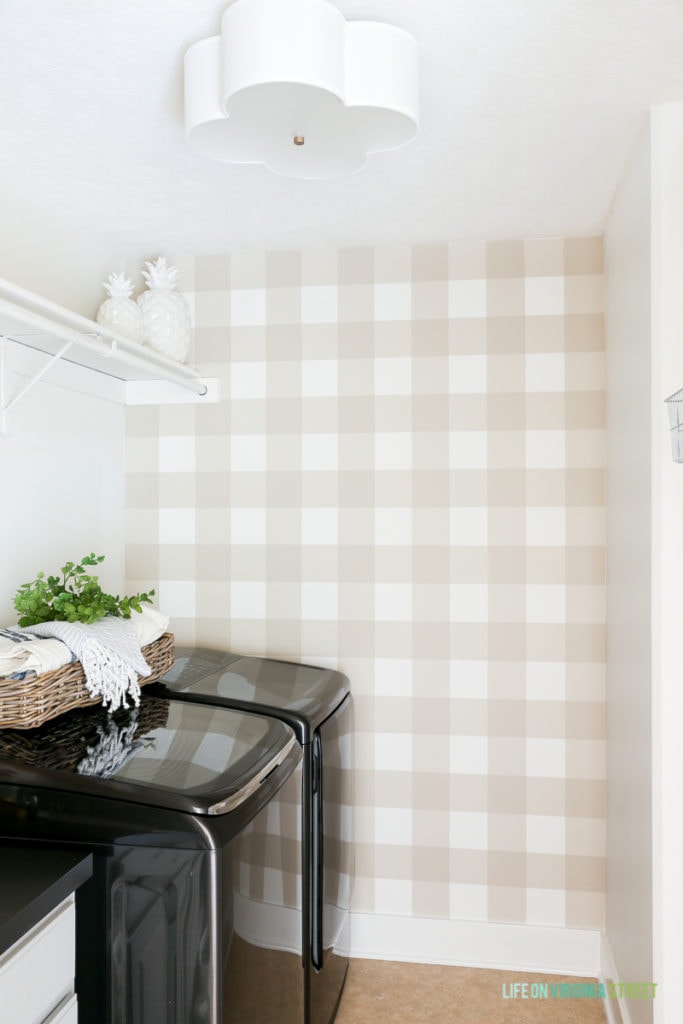 Backyard/Pool Before & After:
The biggest change to our home in the past five years wasn't actually on the interior. The biggest project of all was completely transforming our large backyard. These before and after photos still completely amaze me. We couldn't be happier with our decision to move forward on this project. You can read all about the 20-week process here and see our thoughts on owning a pool one year later here.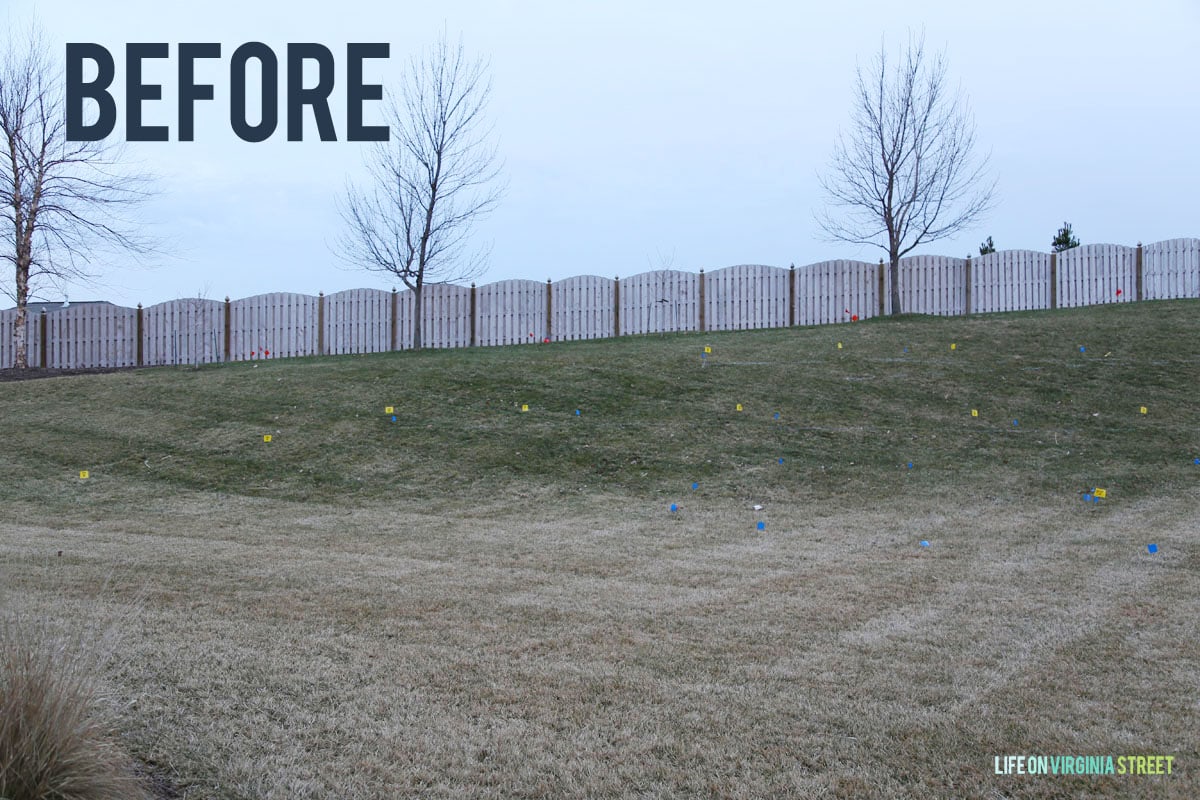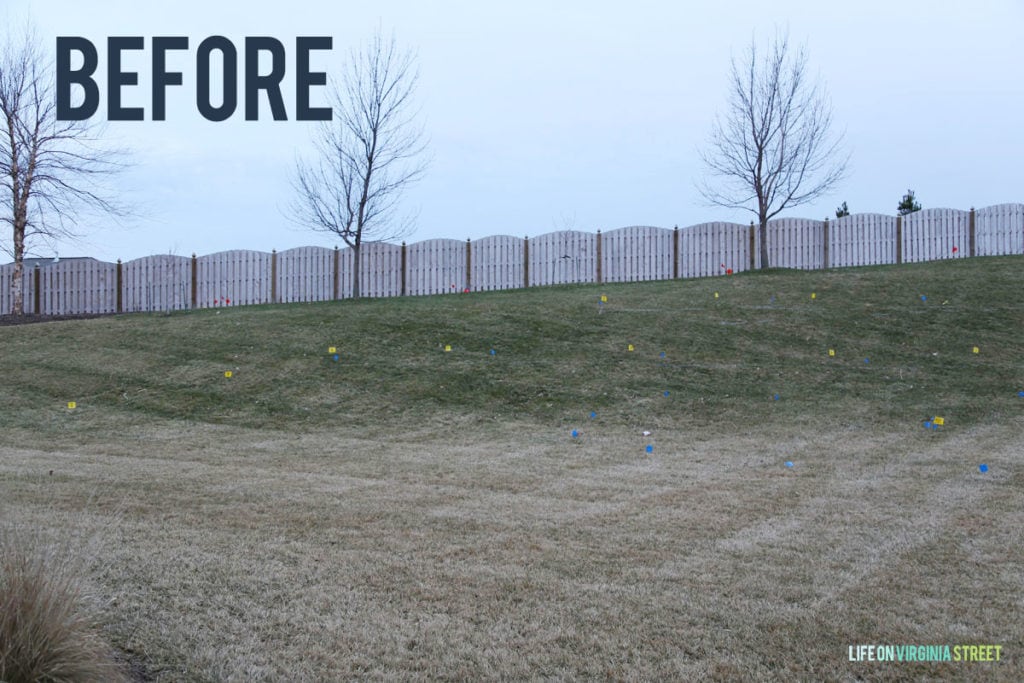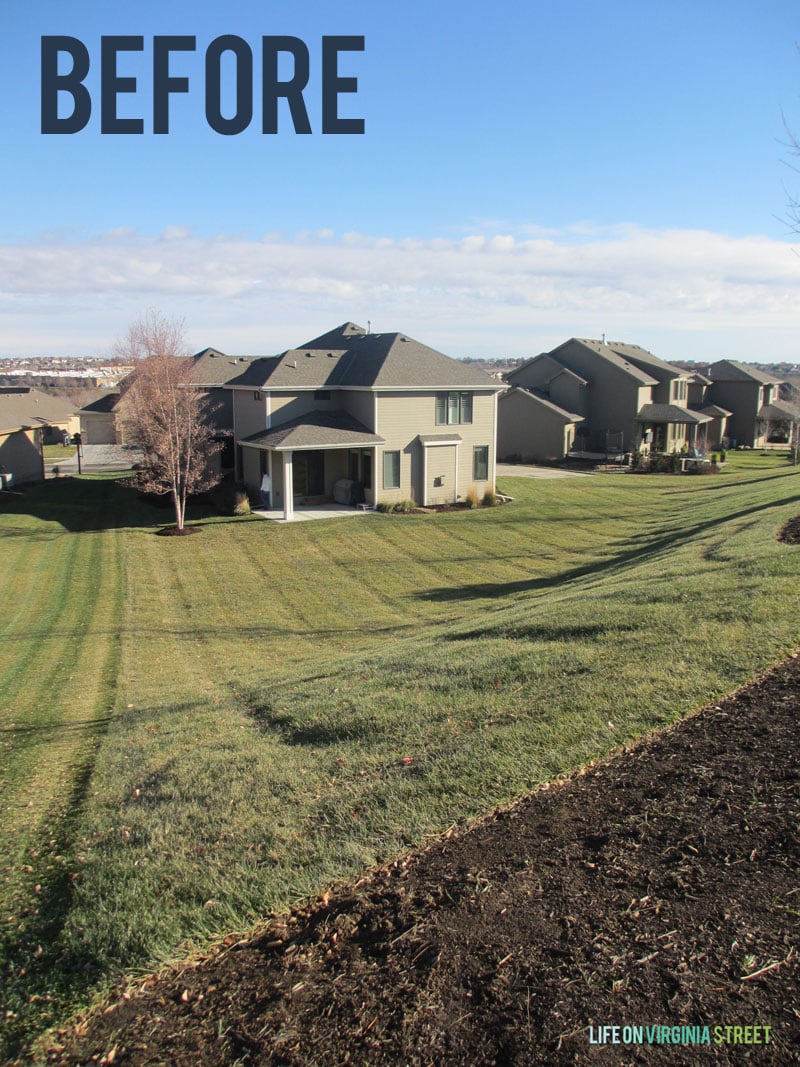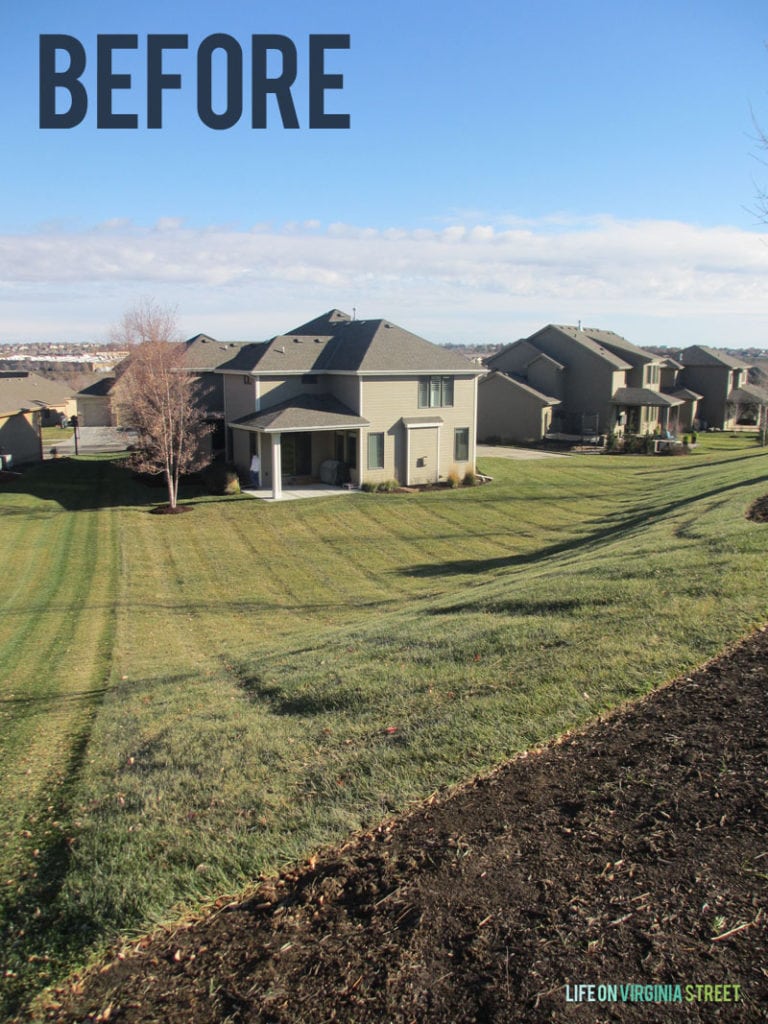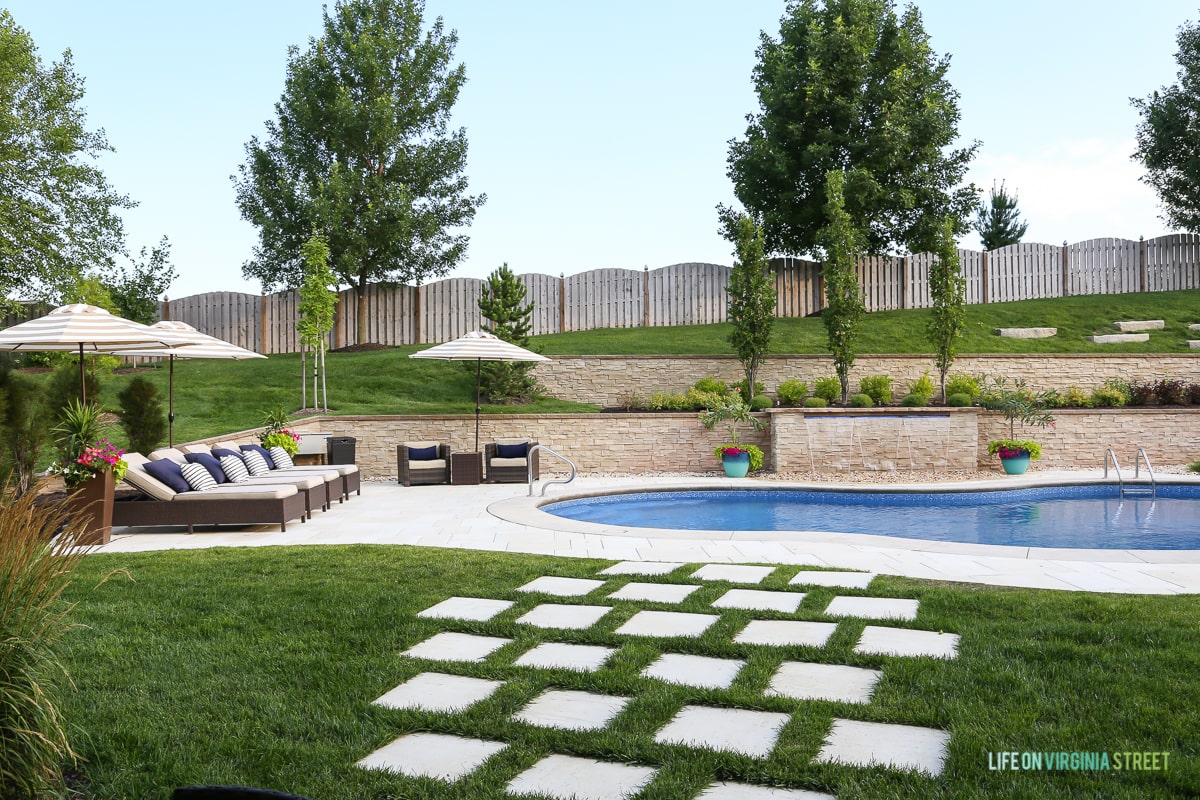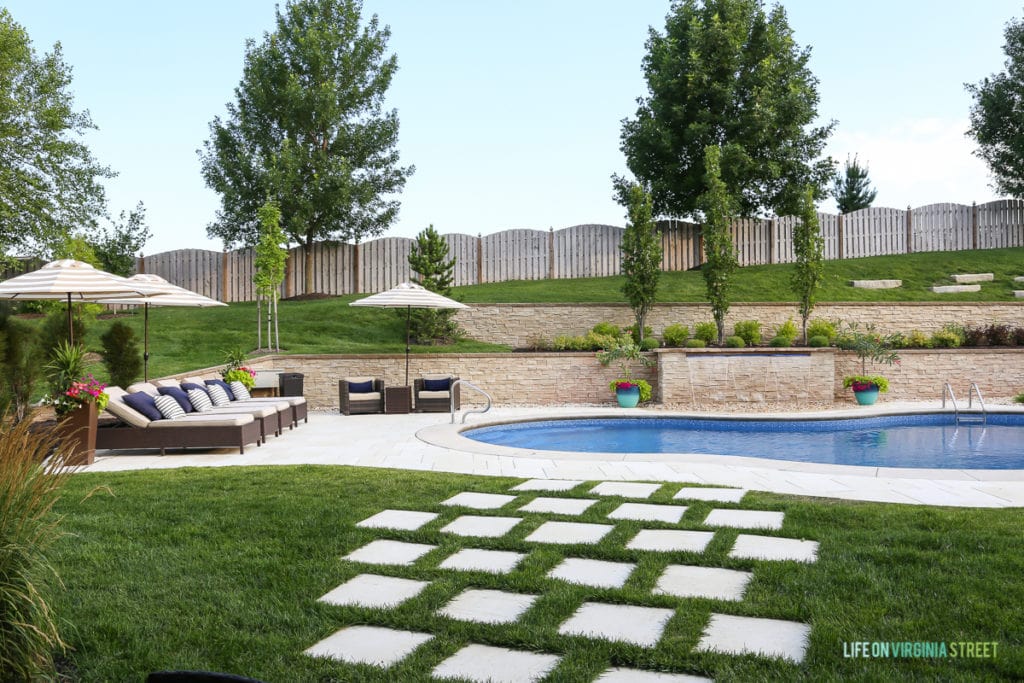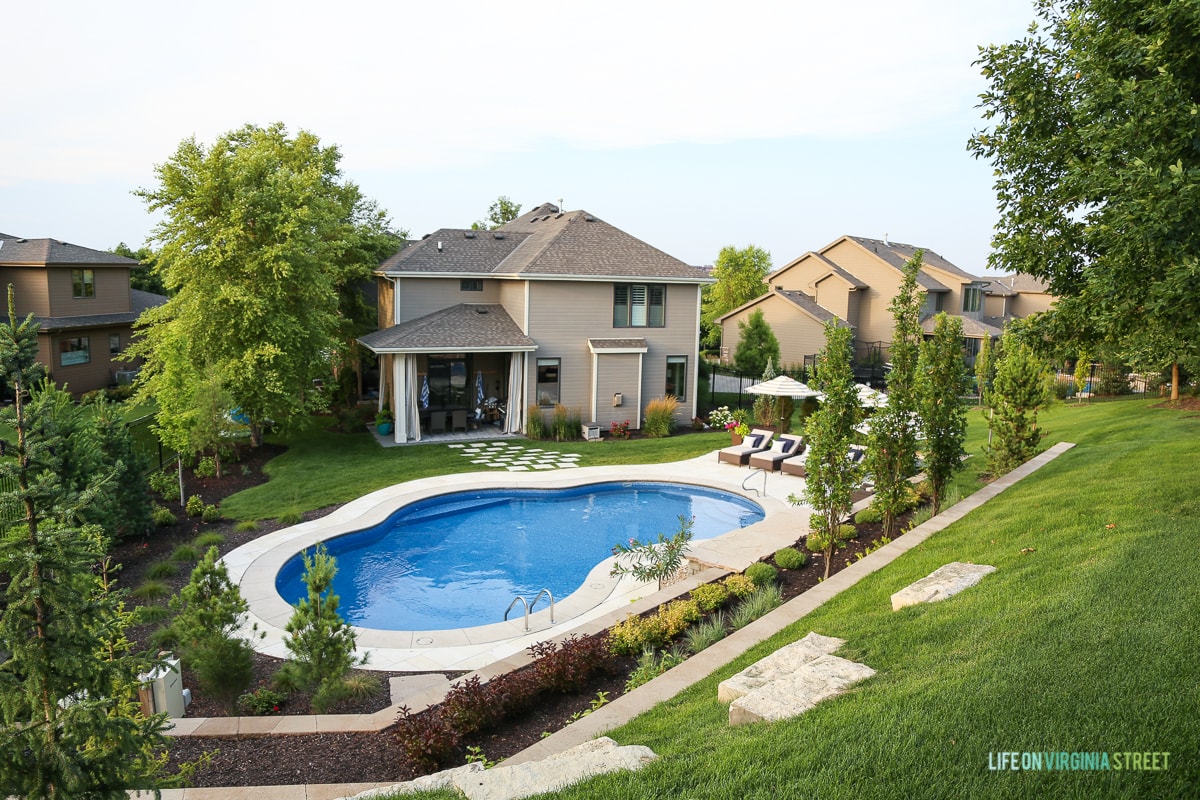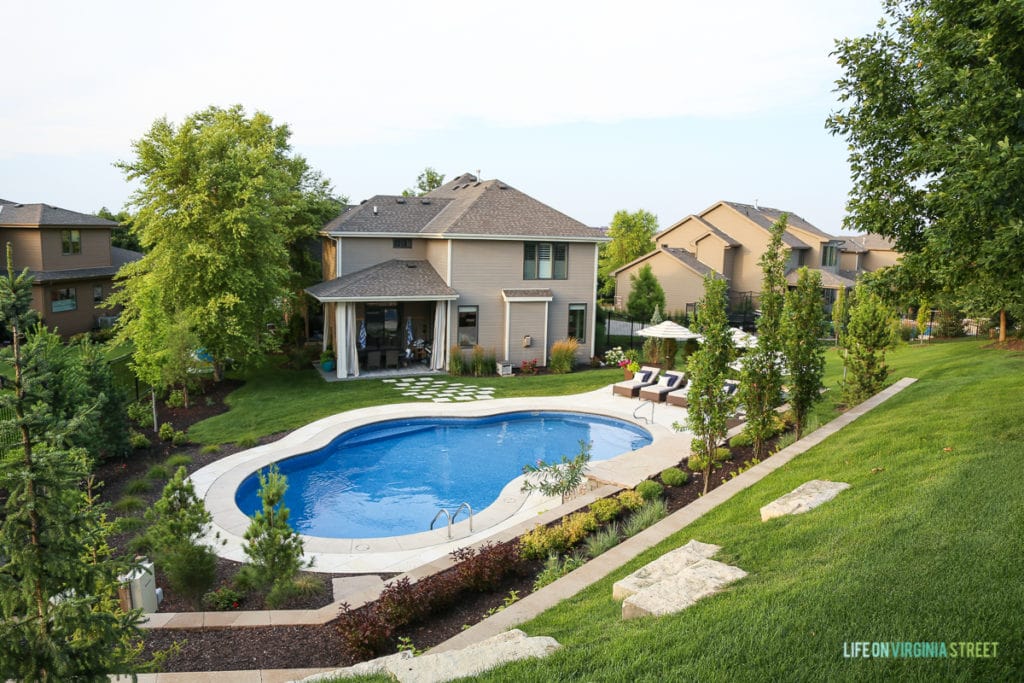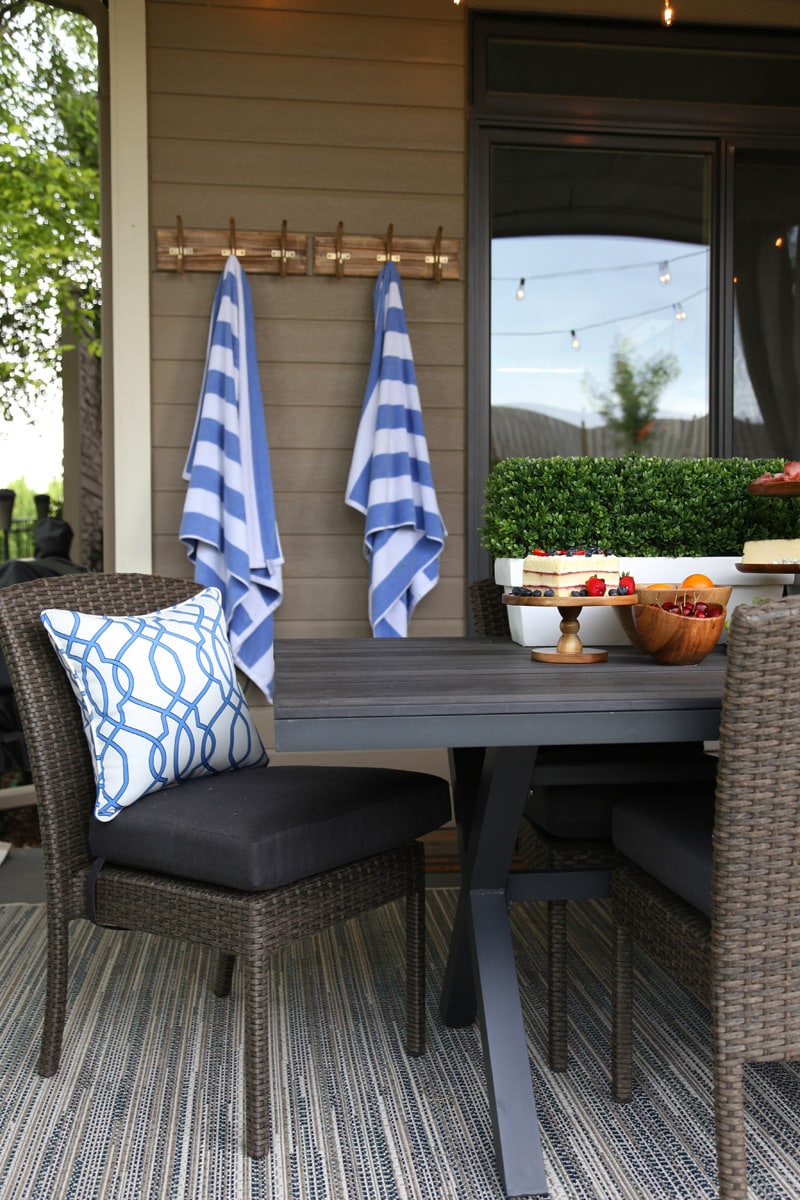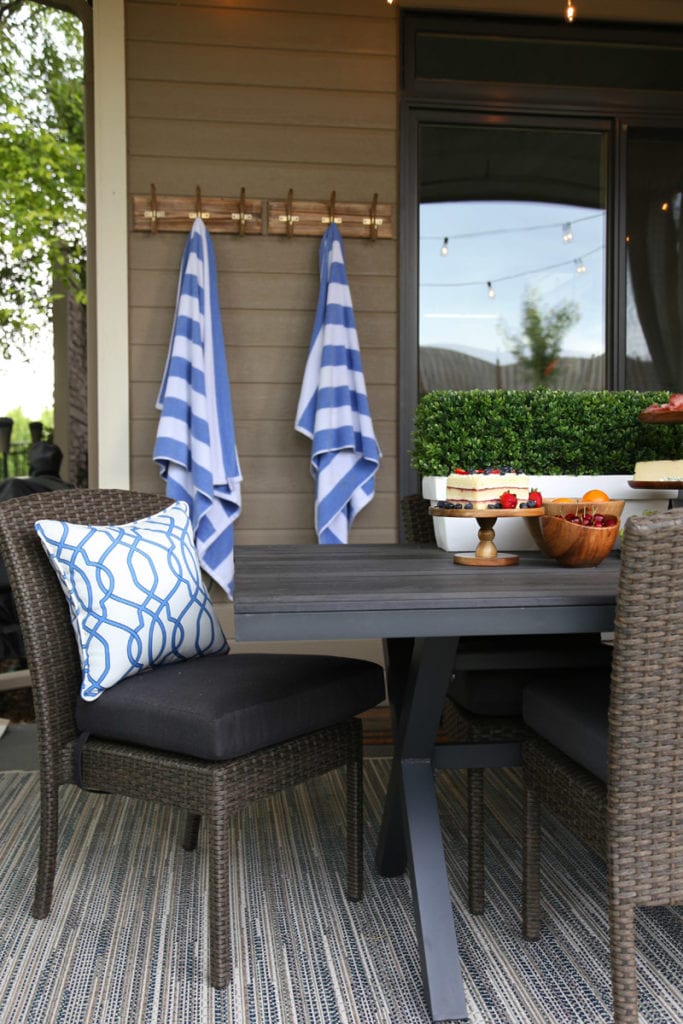 To see more of those rooms or for even more details on some of those I shared today, be sure to check out our one year, two year, three year, and four year anniversary posts to see progress over the years.
I hope you enjoyed this before & after home tour!
If you would like to follow along on more of my home decor, DIY, lifestyle and other posts, I'd love to have you follow me on any of the following:
Pinterest / Instagram / Facebook / Twitter / Google+
disclosure: some affiliate links used