Today I've teamed up with some of my favorite bloggers to share with you My Favorite Things Gift Guide (and an incredible giveaway). Here's how it works. I'm sharing my favorite things and my own giveaway. I then have links to the other participating bloggers and they will each be doing the same thing on their own blogs. So, 13 amazing gift guides and 13 amazing giveaways – all in an Oprah-style favorite things format. Did I mention this is going to be a fun week?
If you're stopping in from my friend Jenna's blog (Rain on A Tin Roof), welcome! Jenna rounded up this group of lovely ladies and she also happens to be one of my all-time sassy and sarcastic friends in the blogosphere.
Following are my favorite items in a multitude of categories. They would make perfect gifts for others or may give you ideas to add to your own wish list!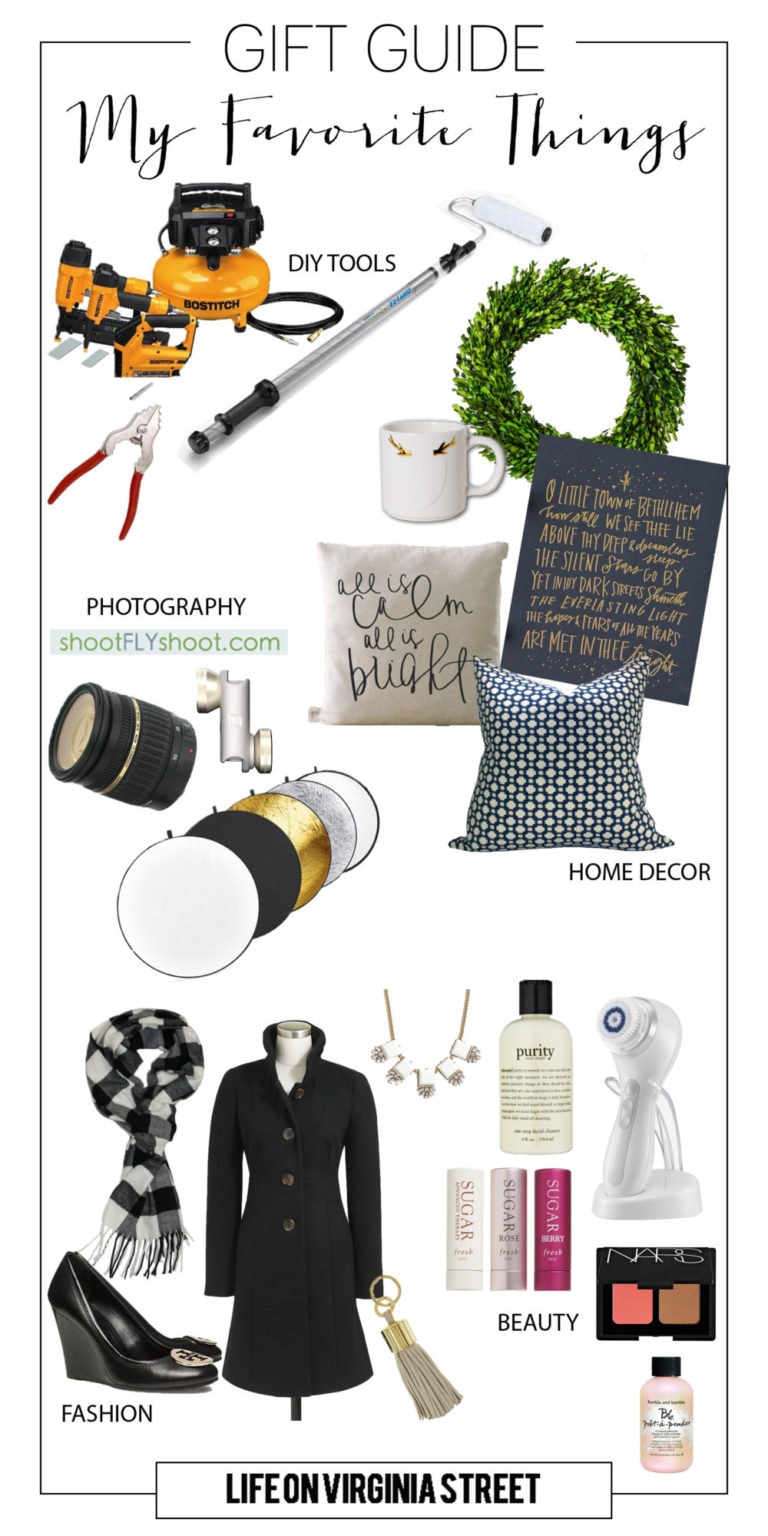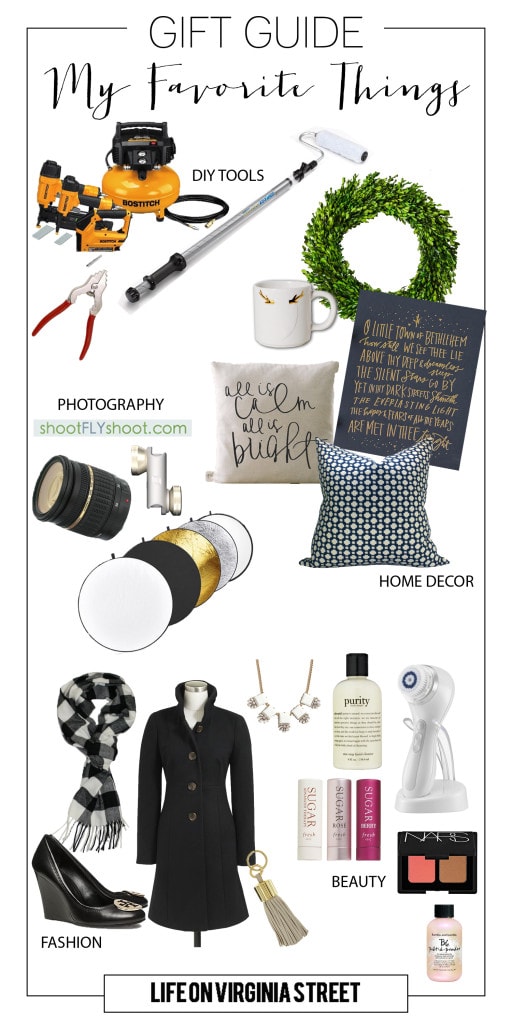 DIY 
From the board and batten in our guest room and office to the planked walls in our mudroom to the updated trim on my desk, this air compressor kit has been a major lifesaver. My husband even used it this fall to pump up our wheelbarrow and snow blower tires (with an extra $2 attachment he got at Lowe's)!
Remember when I recently painted our dining room ceiling? The HomeRight PaintStick was my saving grace and it still tops my list of favorites. I am anxious to try it out on wall soon!
When we had to finally hire an electrician this year to hang our dining room chandelier, he introduced us to chain pliers. My husband and I looked at each other like we had just found gold. Now, every single light we've hung since has been made 10 times easier with this bad boy. When a light fixture chain is too long, you simply use this tool to open and close the links. No more rigged screw-driver-plier stabbing sessions.
HOME DECOR
Have I ever mentioned I love Lindsay Letters? I'm clearly kidding since it's likely only a day or two ever goes by without me mentioning my love for her products. In addition to our new canvas, I added this Bethlehem print to my collection this year. My goal is to own one of everything at some point 😉
Year after year, I continue to go back to my beloved boxwood wreaths in my holiday decor (and really, they can be used all-year round)! I've been very pleased with the quality of this one that comes in both the 21.25″ and 11″ sizes.
I was recently introduced to Parris Chic Boutique and I've quickly become obsessed with their handmade home decor, including pillows, tree skirts, napkins, tea towels, prints and more! I recently order this gorgeous tree skirt, among a few other things and I'm anxiously awaiting their arrival!
There isn't a morning that goes by that I don't have my cup of coffee. It's then usually followed by several cups of green tea. I always love having a pretty mug, and this gold antler crest mug is no exception!
It's not really a secret that I have an obsession with Betwixt fabric pillows. Although I've made all of mine, I've been trying to share more Etsy sellers that make them in the same fabrics I have for those of you that want to add this beloved fabric to your home as well (it goes with everything)!
PHOTOGRAPHY
Last Black Friday, I bought a number of classes from ShootFlyShoot (they were half off, so keep your eyes open in case they do it again)! The classes were so good and I feel like I actually understand my DSLR camera more than ever. These classes are highly recommended!
This 17-50 MM Tamron lens is still my favorite go-to everyday camera lens for my Rebel. I'm looking to upgrade my camera body in the future, but this lens will still work, and I'll probably love it even more with an upgraded body. It goes up to F2.8 which gives that crazy good blurry background effect that we all love!
This five-in-one multi-disc light reflector is not only super affordable, it's a total game changer for taking great pictures.
Want to really up the ability for your phone to take amazing pictures? The 4-in OlloClip provides a fisheye, a macro 15x, macro 10x and wide-angle lens for your phone, completely upping your phone photo game. I've linked to the iPhone 6/6 Plus version, but they make them for a variety of other phones.
FASHION
I wear these Tory Burch wedges nearly every single day to work, and also on the weekends quite frequently when we go out to eat or are running around. They are much comfier than a traditional high heel, yet they look polished and stylish. Highly recommended.
I bought this ruffle collar dress coat a month or so ago and I absolutely love it. Not only is the fit a dream and the style perfect, it comes in at a really great pricepoint!
I'm obsessed with all things buffalo check this season (isn't everyone?) and this black and white buffalo check scarf I mentioned a few weeks back is no exception.
My go-to source for statement jewelry at a great price.
The chunkiest and most beautiful tassels you'll likely ever lay eyes on. I have the black and wine colors and I'm completely obsessed. Clip them on your purseor use it as a key chain – either wayI guarantee you'll get compliments. They would make a stunning, unique gift as well!
BEAUTY
My Clarisonic is one of those rare gems that I've actually used for more than a year (it's been nearly three years now)! I used it every morning in the shower with the deep pore brushes and I swear it has completely changed my complexion for the better.
Along those lines, I've now used Purity to wash my face going on close to five years. I'll occasionally try something else and always go back to this. It by far is the best cleanser for my combination skin and keeps it feeling so clean!
My all-time favorite bronzer/blush duo is a little pricey but is worth every single penny. Both colors are so beautiful and this duo is constantly voted a favorite time and time again by users and beauty magazines alike.
I've mentioned it before, but I am definitely a lip gloss and chapstick girl over lipstick. This Fresh Sugar lip treatment set not only does wonders on my lips but the scents are heavenly. I use it occasionally during the day, but every night I put it on before bed and my lips are so soft when I wake up. The Rose is my favorite.
I used this dry shampoo powder on my hair nearly every other day and I'm obsessed. I've likely tried at least a dozen other brands and nothing else comes even close to comparing in my mind. The bottle lasts me about six to eight months and looks so natural in my hair!
GIVEAWAY
Now for the awesome giveaway pack! Following is the complete list of items I will be giving away to one lucky winner! I really appreciate each and every one of my readers, so for the week of Thanksgiving, here is a gift for you:
– Choice of three prints of winner's choice from Lindsay Letters
– One HomeRight PaintStick
– $40 Store Credit to Parris Chic Boutique
– A Gold Antler Crest Mug from Crane & Canopy
– $5 Starbuck giftcard
– Black and white buffalo check scarf
This giveaway is open to all US residents, age 18+. The giveaway begins today and will run until December 14th at 11:59 PM Central! You can enter in the widget at the bottom of this post and there are multiple opportunities for you to get extra entries. Good luck!
Did you also know that I have three other giveaways going on currently? I am also giving away $1,000 to Target on my Instagram group giveaway?!? That is not a typo folks, so be sure to follow me on Instagram and follow the instructions on this post! I also have a BISSELL ProHeat 2X® Revolution™ Pet Carpet Cleaner giveaway in this post and an Instant Print Digital Camera and Ultimate Olive Lovers Gift Basket!
Be sure to stop by all the other bloggers that are sharing their favorite things gift guide as well as hosting their own giveaways. So many opportunities to win amazing things! Next stop is my friend Rachel from Maison dePax!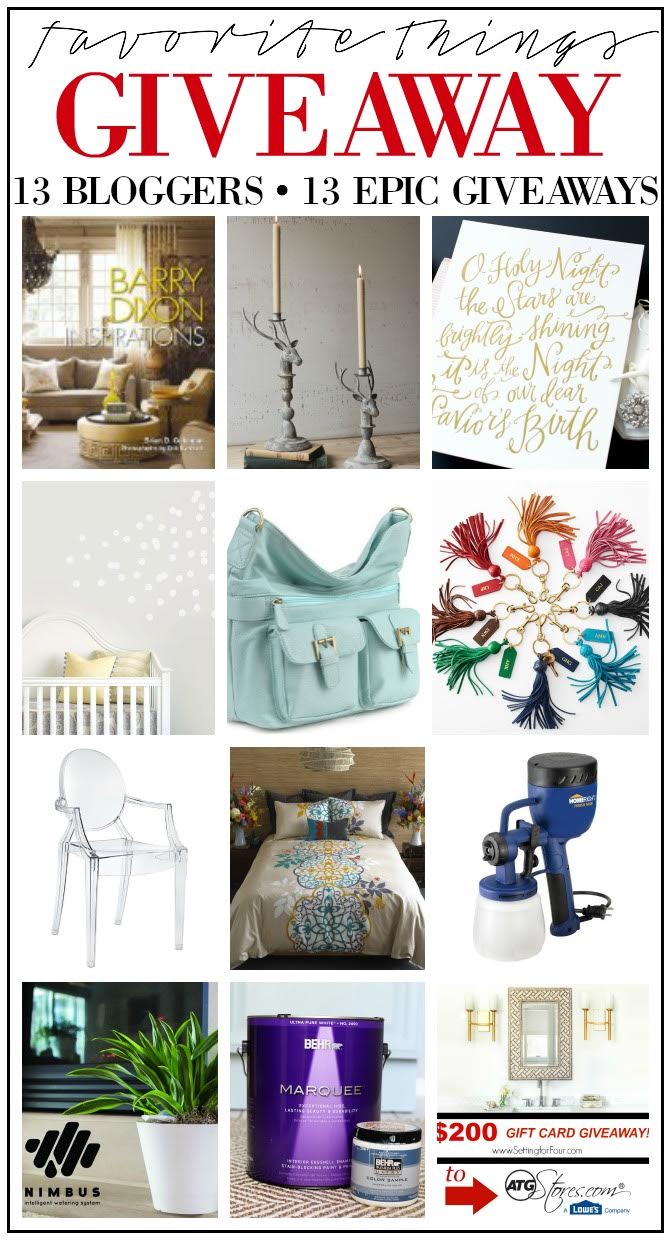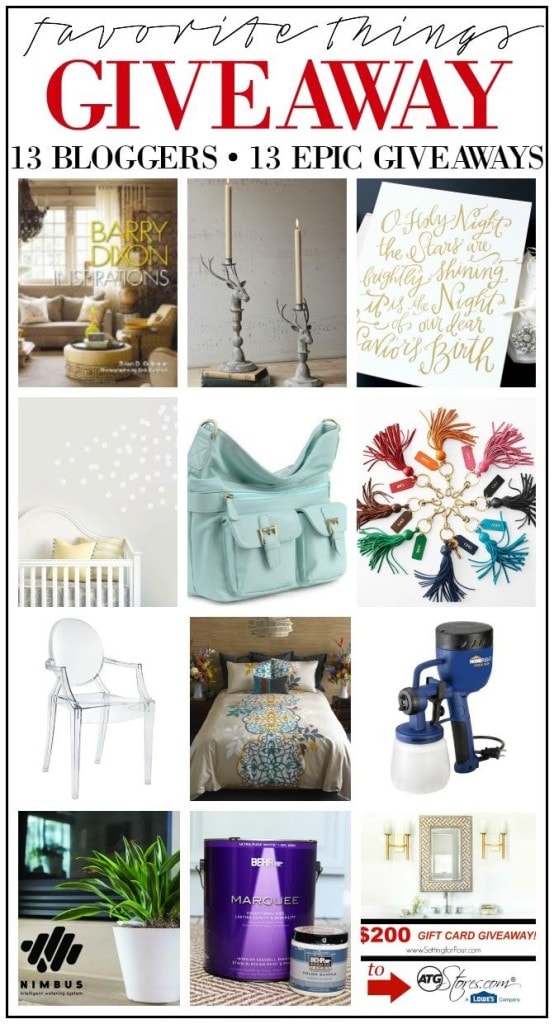 A big thank you to Lindsay Letters, Parris Chic Boutique, HomeRight and Crane & Canopy for saying 'yes' when I asked them if they would provide a few of my favorite things for this giveaway.
If you would like to follow along on more of my home decor, DIY, lifestyle, travel and other posts, I'd love to have you follow me on any of the following:
Pinterest / Instagram / Facebook / Twitter / Bloglovin' / Google
disclosure: affiliate links used in this post