During the summer months, our hardwood floors take a beating. With the usual fur tumbleweeds from our four cats, paw prints, salt water from the pool, and the increase in visitors, it's non-stop abuse. Today I'm going to share my routine for fall cleaning for hardwood floors. Here's what they look like after a day or two without the vacuum and mopping.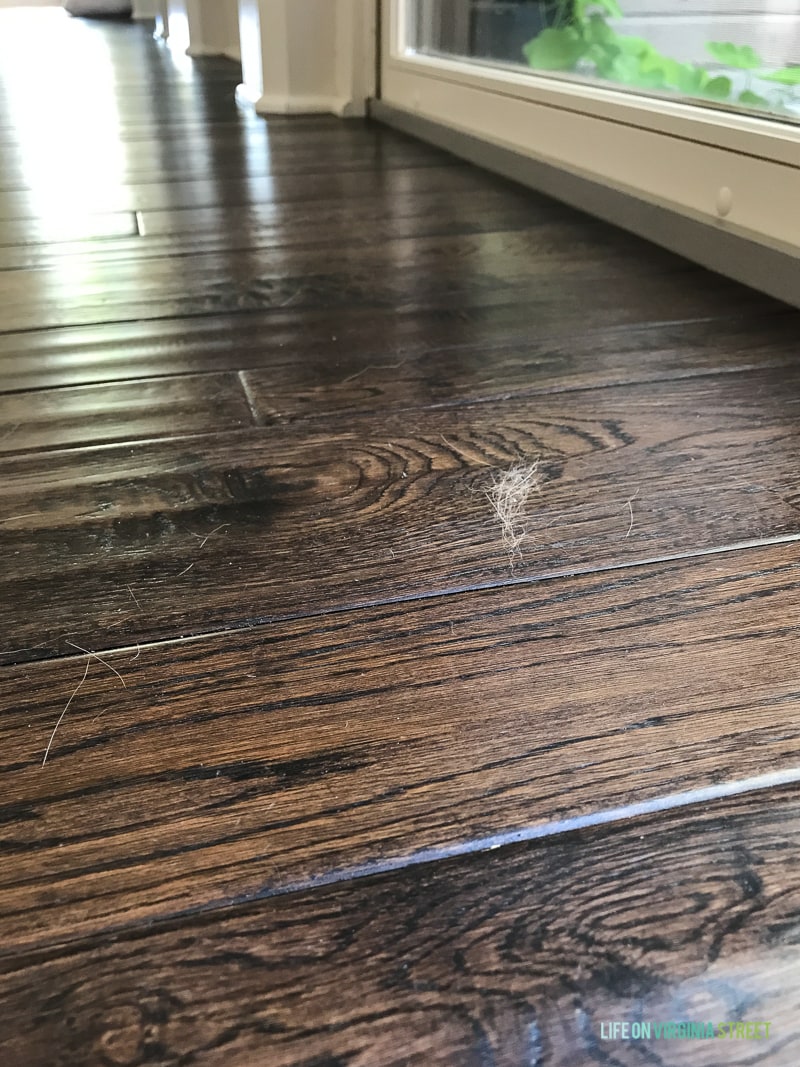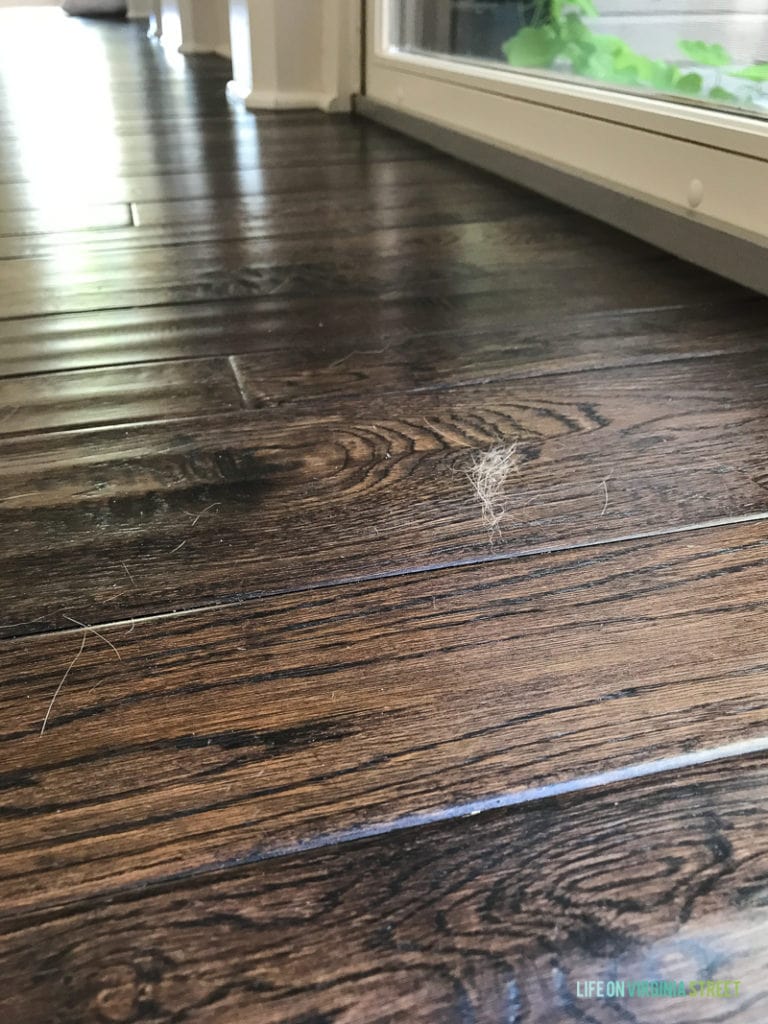 You can also see these spots from the salty water throughout the hallway from our dining room (where you come in from the pool) to our powder bath.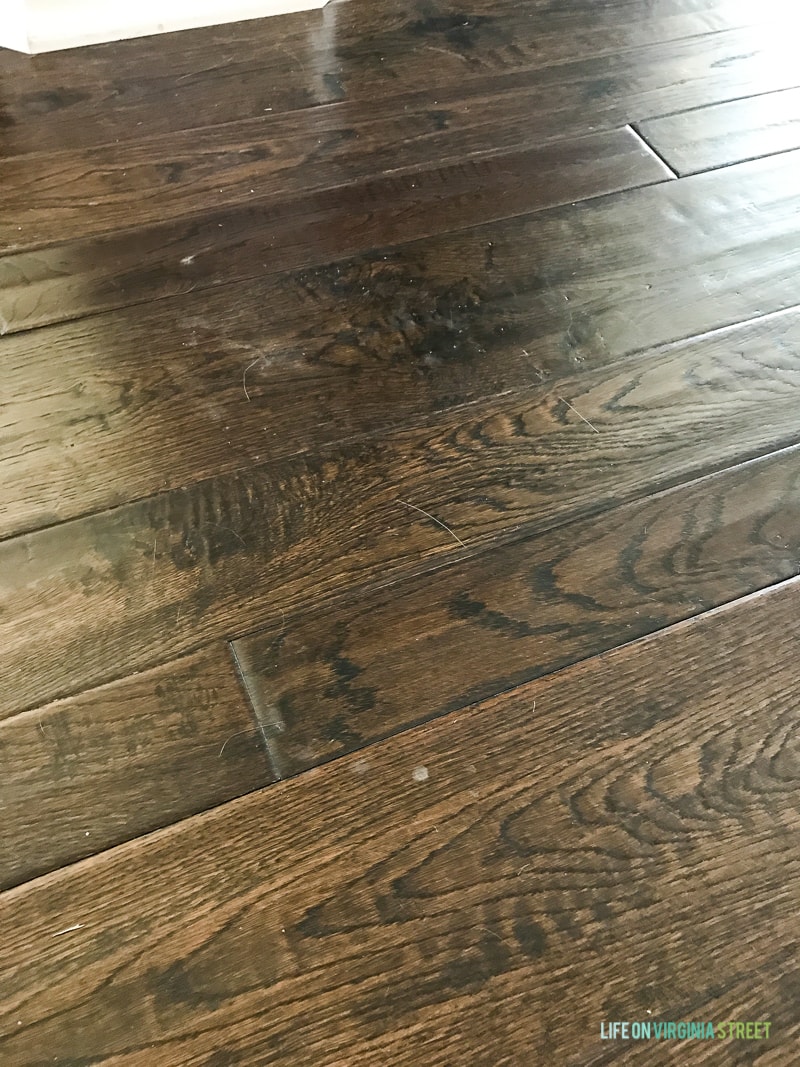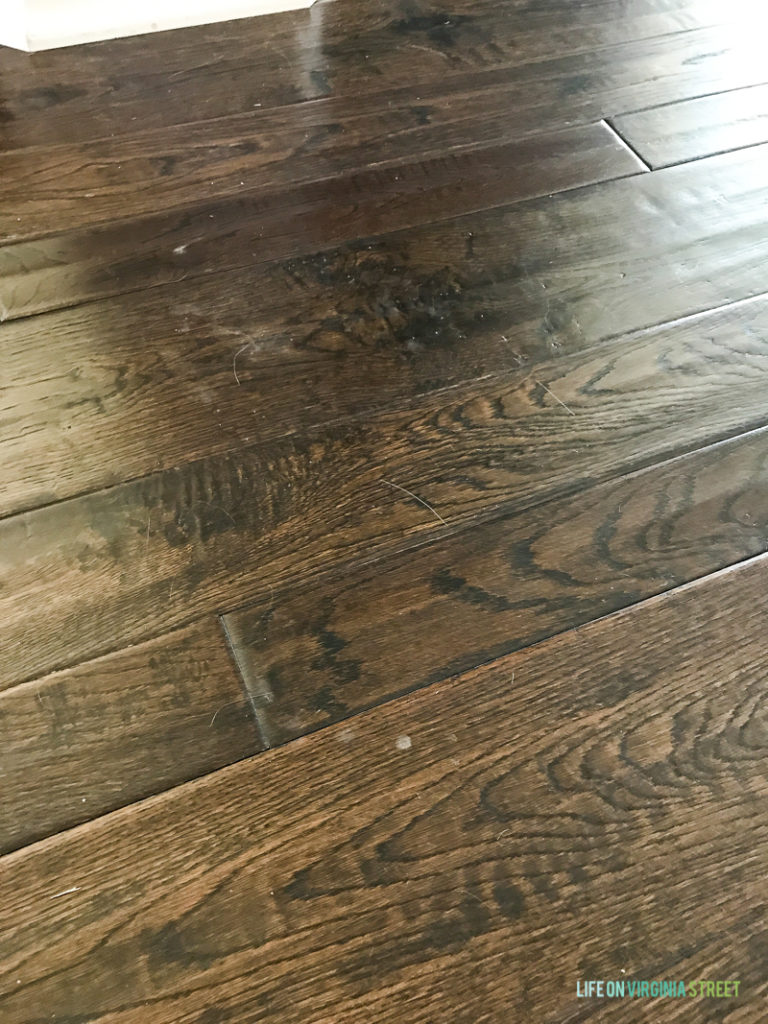 Here's the deal. We don't want anything in our house to be too "precious". We don't make people take off their shoes if they don't want to, and we want people to feel at home when they are in our home. If they're in the pool and need to use the bathroom, we don't make them dry off to come inside first. It may mean extra clean-up for me in the long-run, but it's worth it in my opinion. I can't complain about any of these messes because it means we have happy cats and happy friends in our home causing all the mess 🙂
I use my hardwood vacuum on the floors every other day, if not daily. With the cats, it's not really optional if I want to keep my sanity. But, the grime from summer definitely takes it's toll on the floors since I don't mop nearly as frequently as I should. I've tried lots of products in the past, but I found many were leaving behind a film that just made the hardwoods looks a bit foggy and hazy. It's hard to see in pictures (since the floors still have a shiny property), but it was very clear to us they just weren't glistening like they used to. I blame the product build-up, tiny paw print traffic and the salt water from the pool.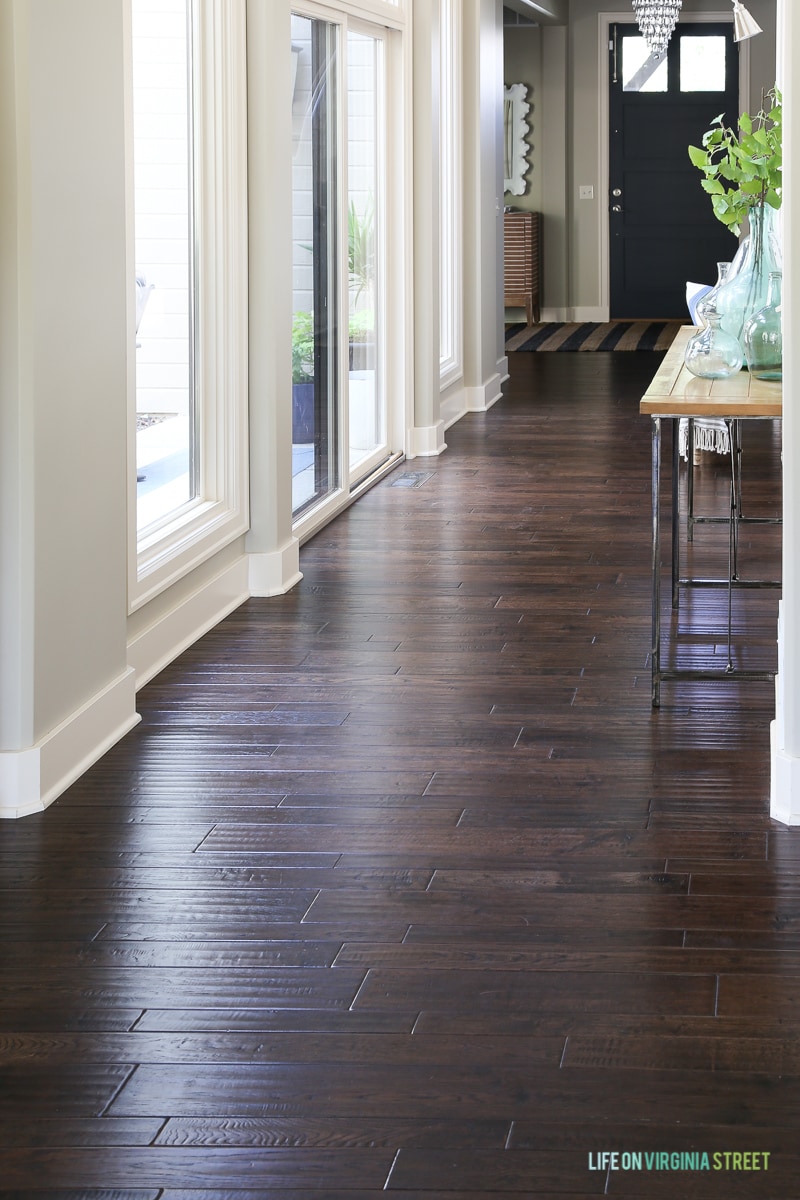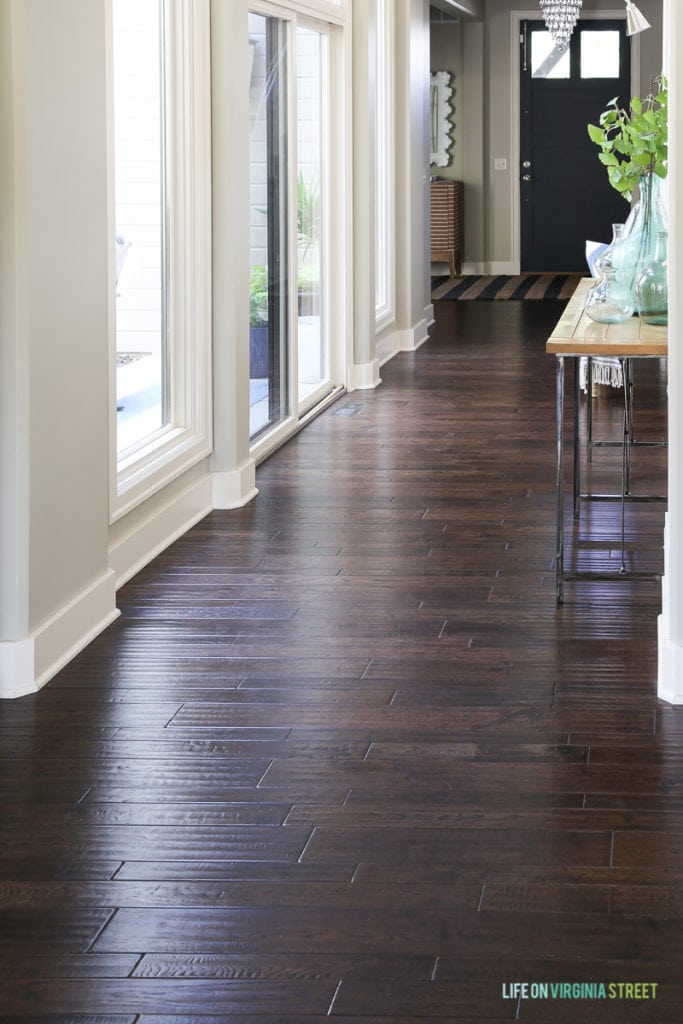 I also don't like to use harsh chemicals while cleaning, but especially not on our hardwoods. A, I don't want to damage them, and B, I worry about the cats walking on them, getting chemicals on their paws, and then ingesting it. Remember, I'm a legit crazy cat lady. I found this affordable Wonder Mop at Target recently and I'm loving the results!
I simply follow the directions on the packaging. Basically you soak the end in hot water for five minutes, wring it out with the built in tool, and then mop your floors. I love that the head is machine washable (up to 50 times) and you can buy super affordable replacements once it wears out down the road. They do also have a cleaning product you can use with it, but for my fall mop, I prefer just the hot water.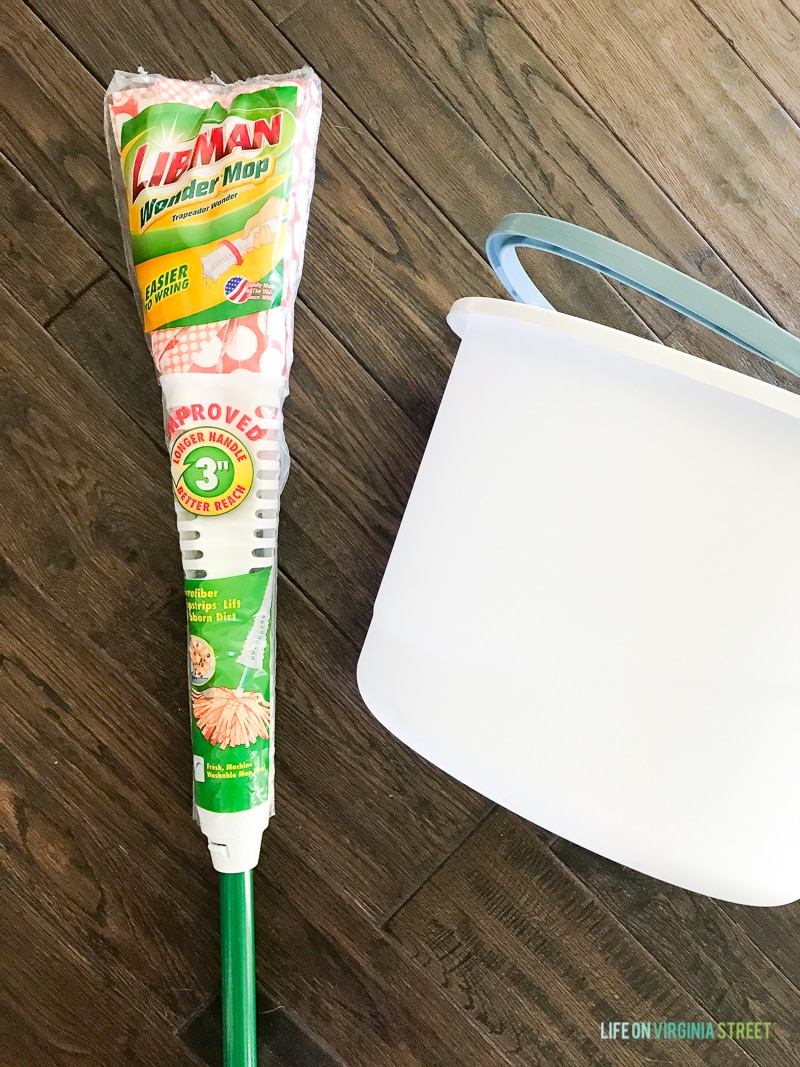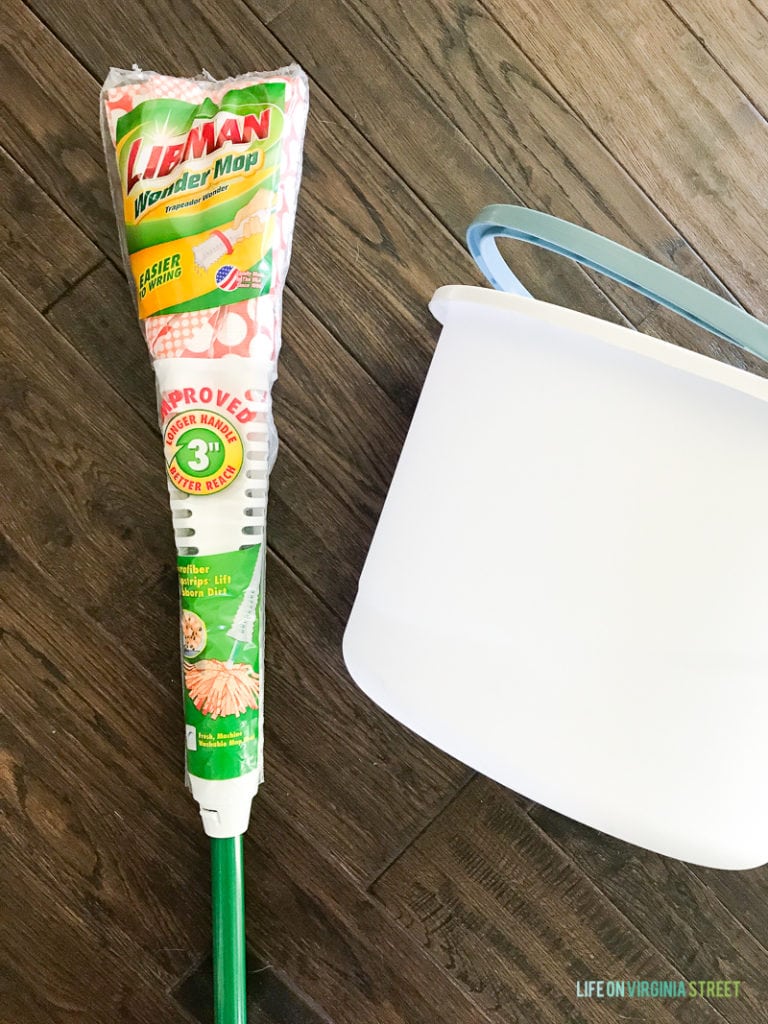 I usually work about ten feet at a time before stopping to soak the mop again and wring out all the collected dirt. I used what I call my 'fake mop' only a week ago, but it's pretty clear the Wonder Mop does a much better job at really getting the dirt and grime up! I also love that the microfiber grip strips pick up any of the fur that I missed (or that rolled in since I vacuumed).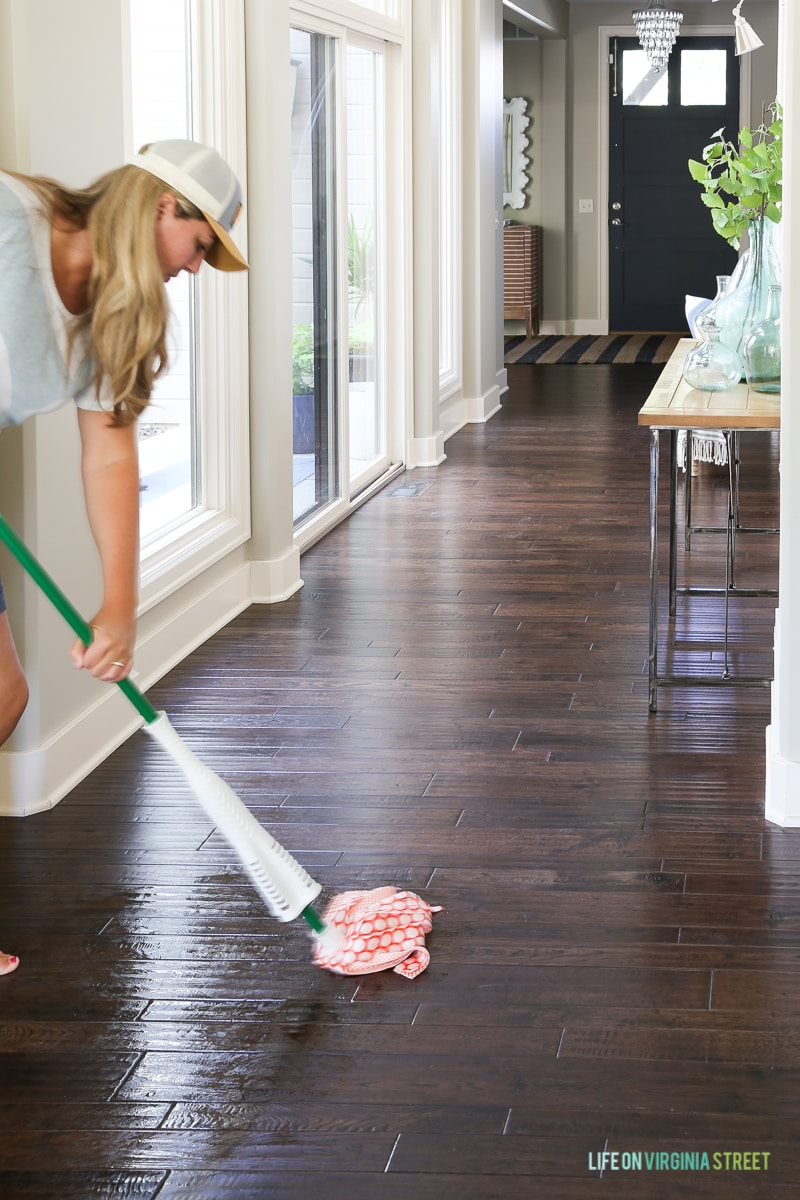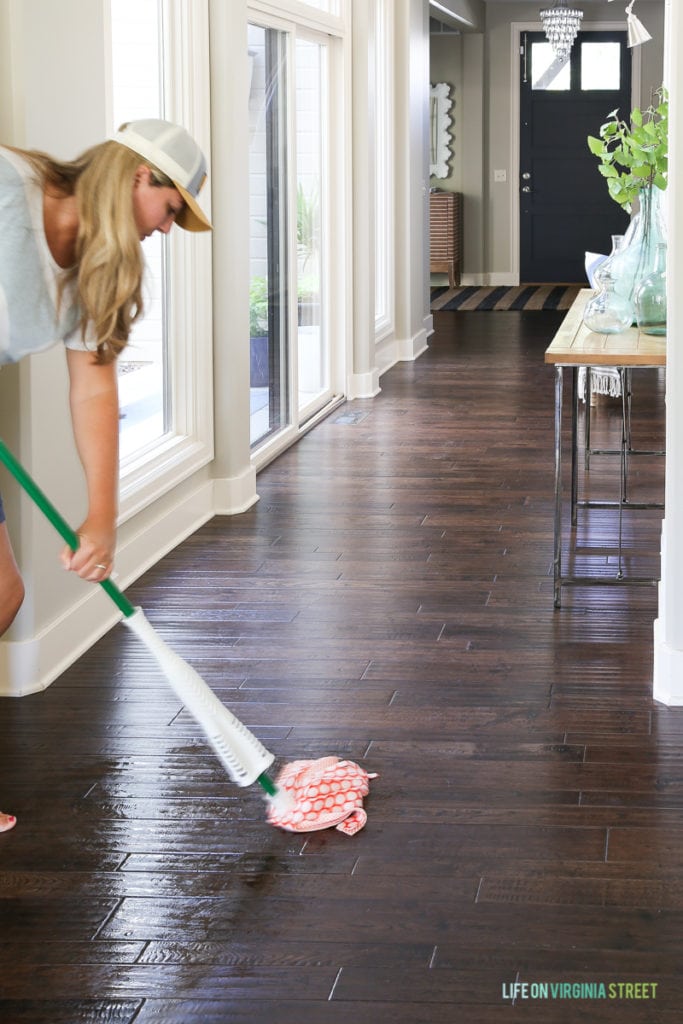 And I know this is super gross, but this is the kind of stuff that motivates me while cleaning. While just mopping that strip of hallway, this is how dirty the water got once I wrung out the mop after I was done. Crazy huh?!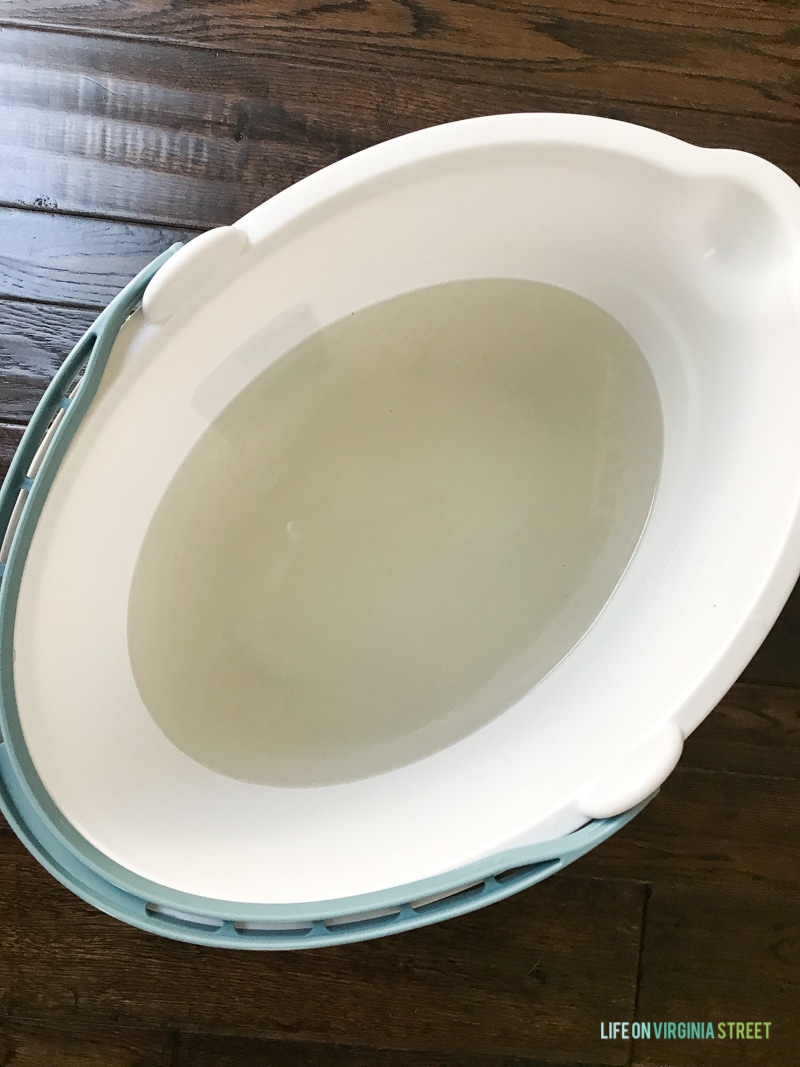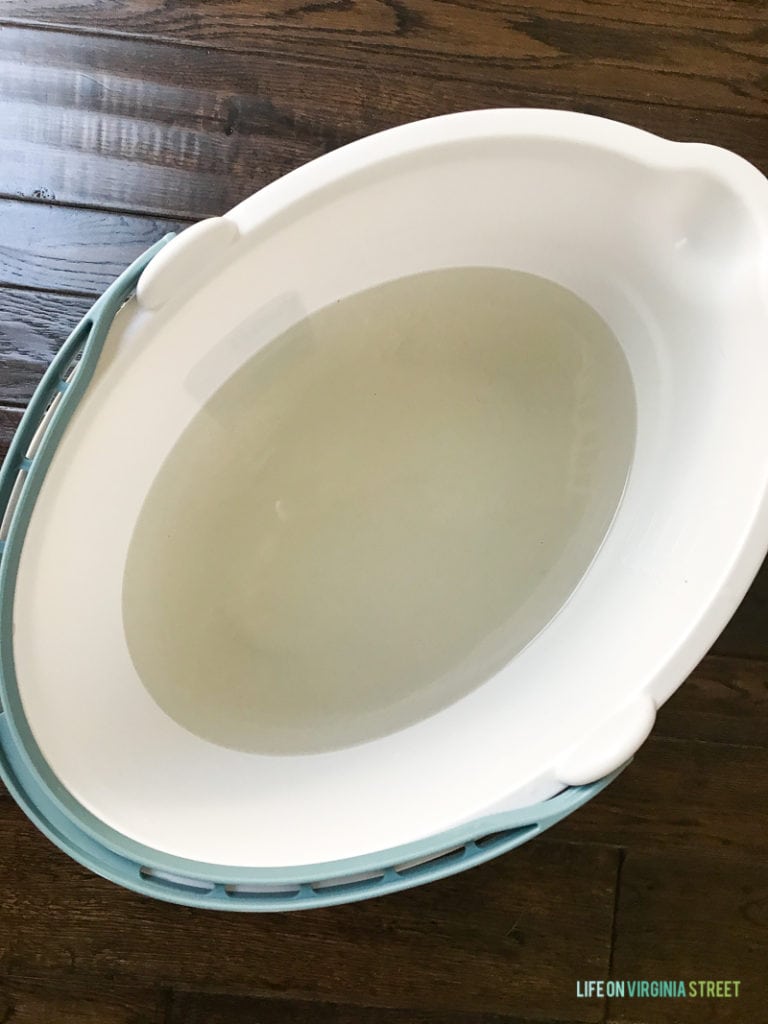 So much better, right?!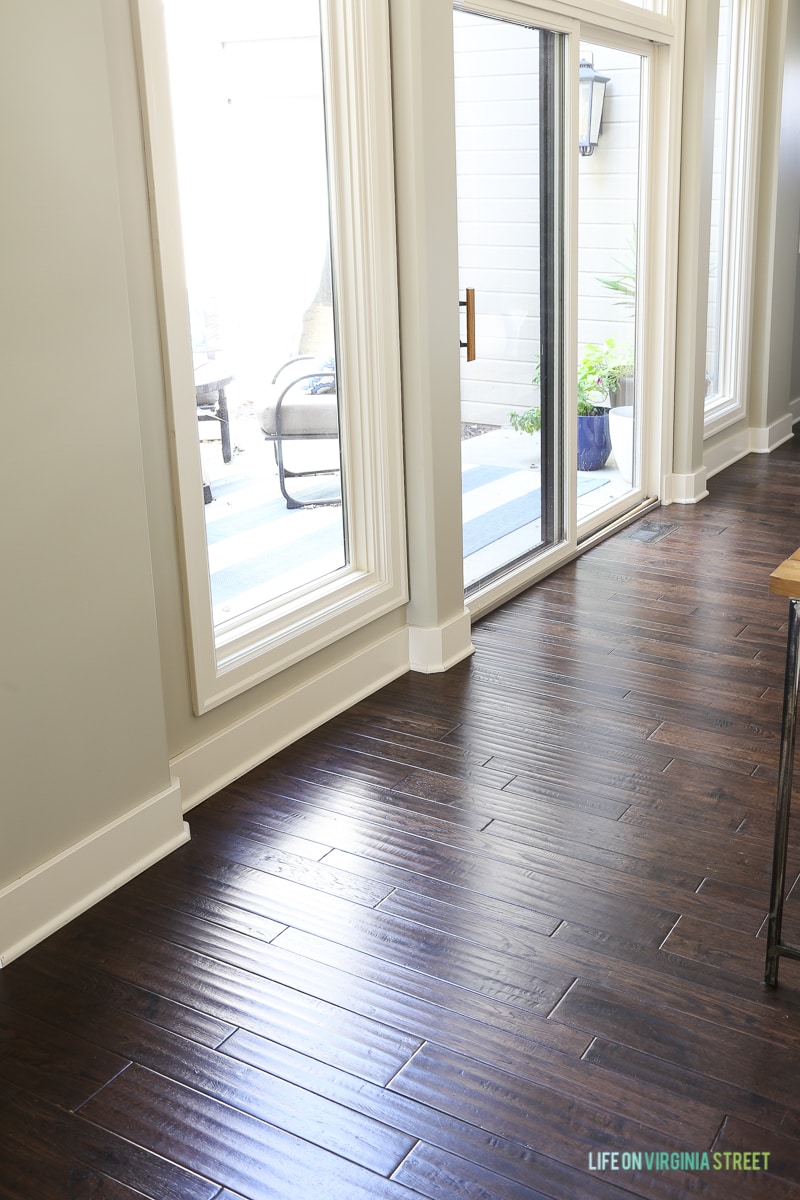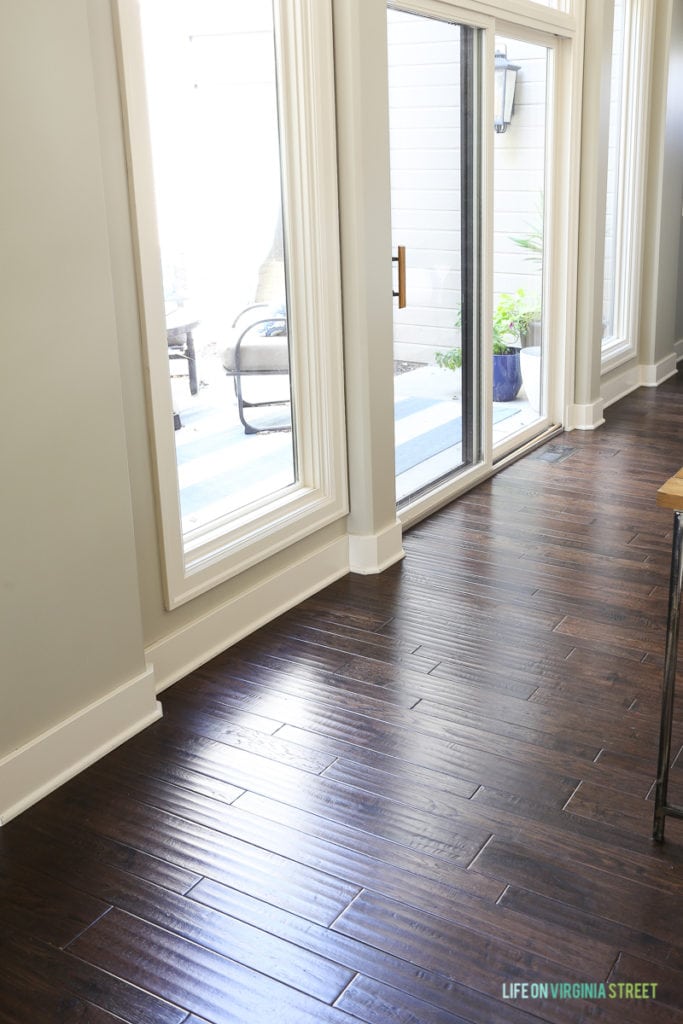 Of course the second the floors dried, the four-legged circus was back in motion 😉 I couldn't even stage this photo if I tried. It's just real life around here!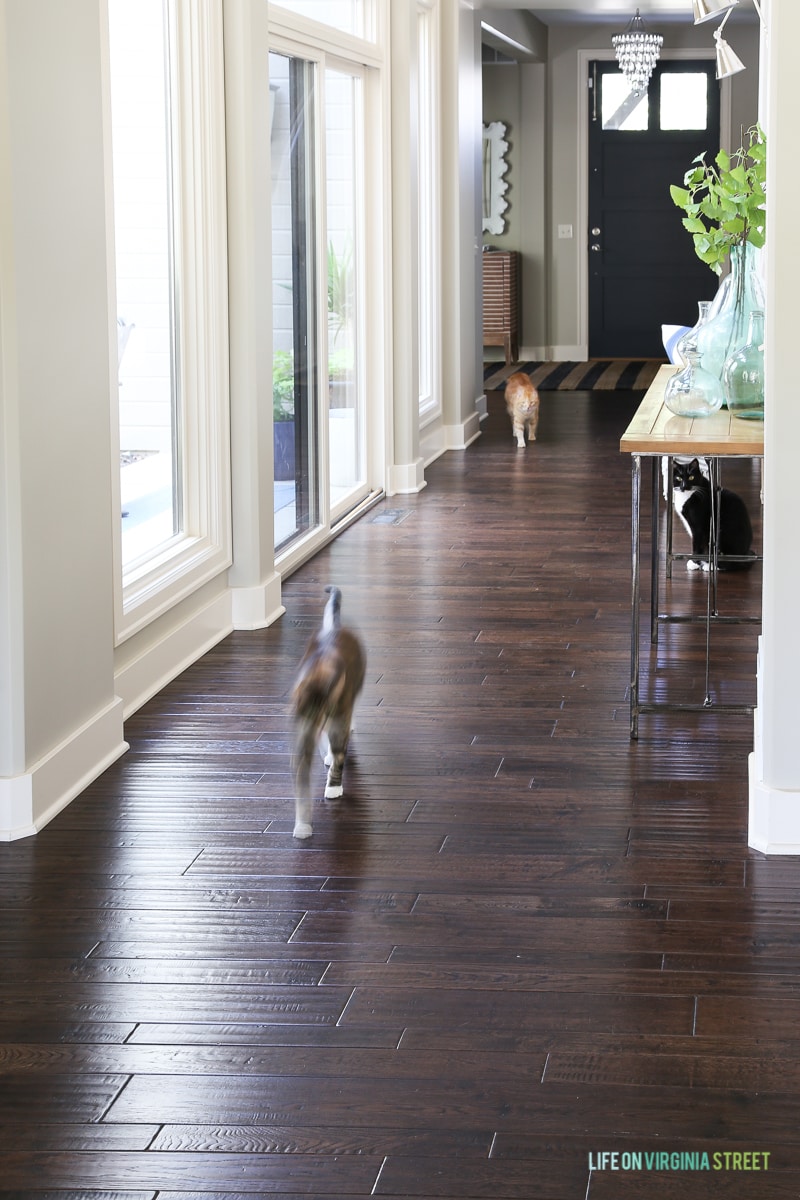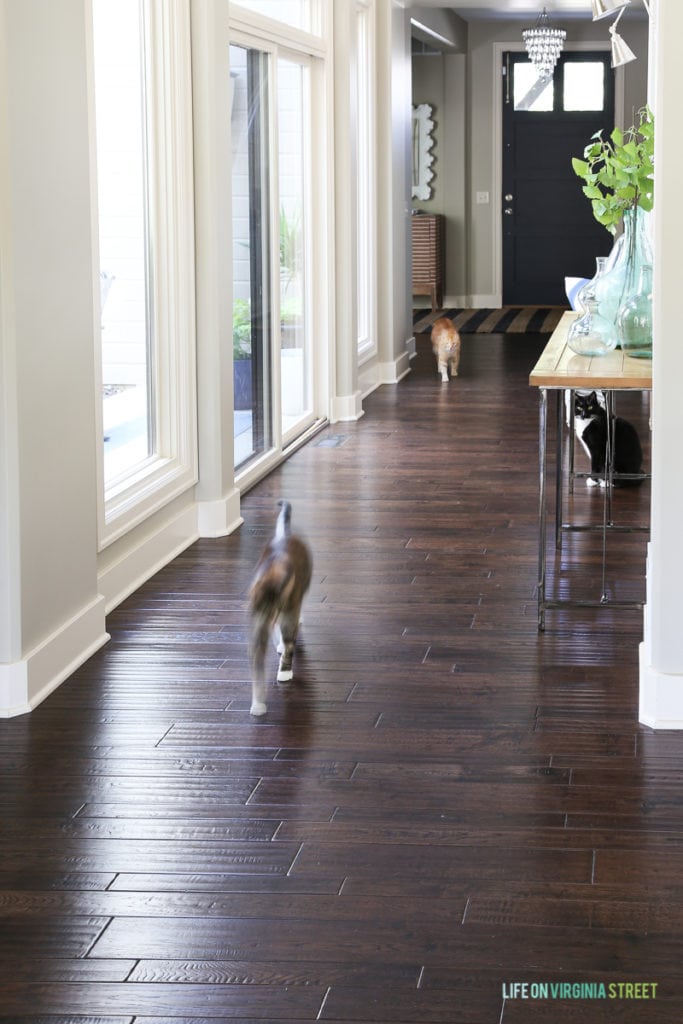 Here's a before and after. See how the shine goes from a bit hazier to a true shine? I love the results!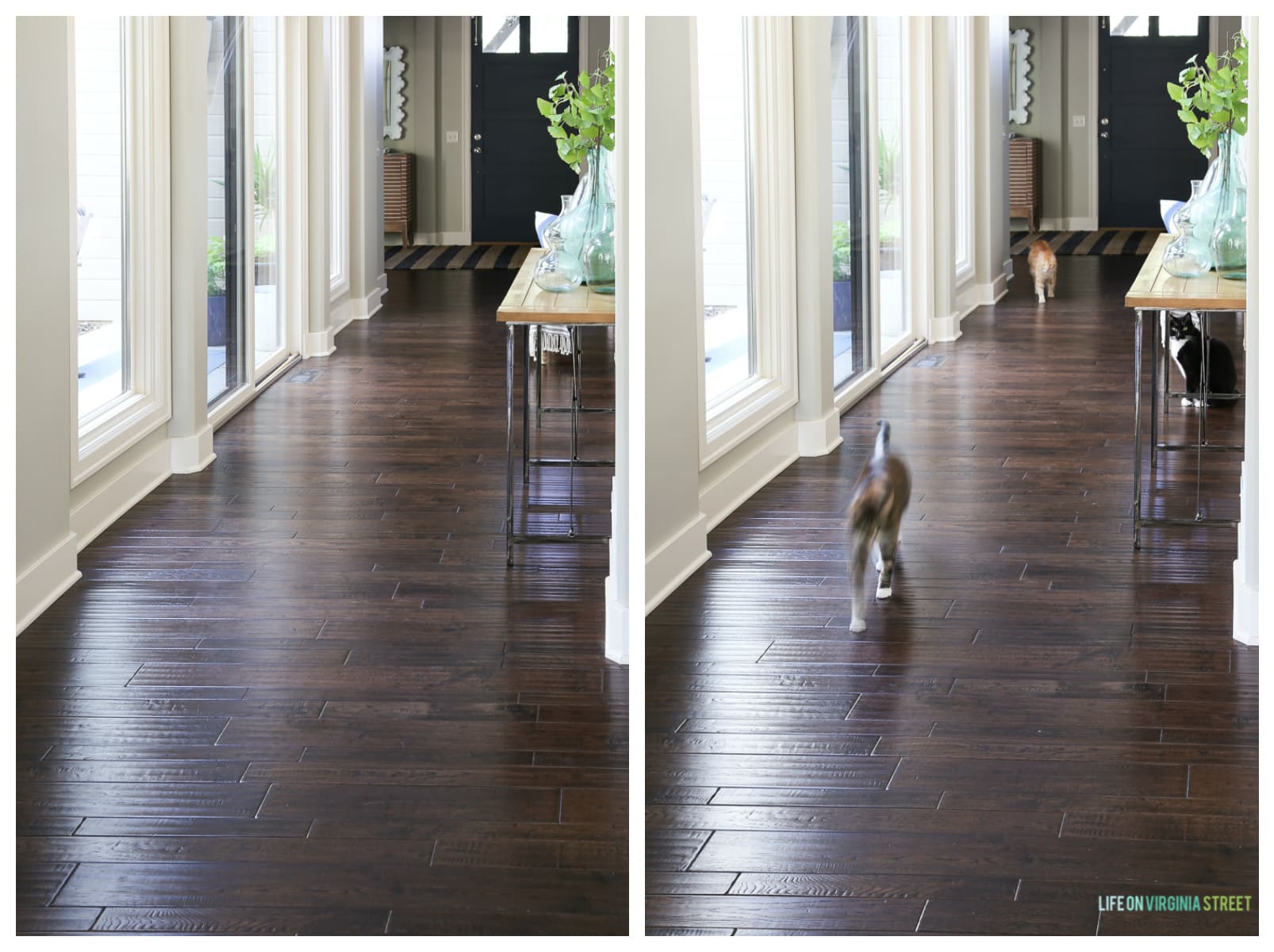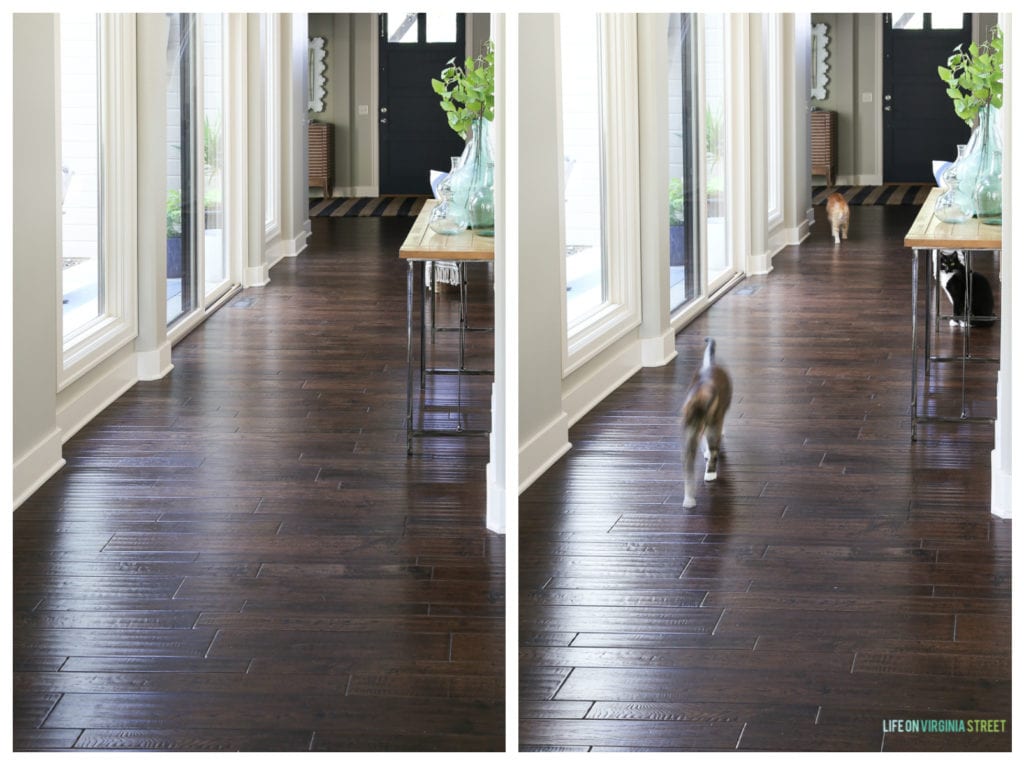 Thankfully this is a fairly quick process (and it works!) so I really need to stick with it. It seems like I forget just how good our floors can look when they're actually fully cleaned! Now, I just need to face reality that today may have been the last pool day of 2017. But I'm holding out for more!
If you want to try the Wonder Mop on your own, you can sign up for The Libman Company newsletter and download a coupon to get $3 off! Not only that, but they currently have a Pinterest campaign where you can pin to win great prizes!
Next week I have a few fall home tours and a mini-room makeover to share with you! Have a great weekend!
If you would like to follow along on more of my home decor, DIY, lifestyle, travel and other posts, I'd love to have you follow me on any of the following:
Pinterest / Instagram / Facebook / Twitter / Google+
disclosure: this post contains affiliate links for your shopping convenience